When it comes to finding cheap things to do in Orlando, you may have a look a bit closer than the pricey theme park tickets.
But that doesn't mean there's nothing inexpensive to do in Orlando – there is!
There's a whole list of free things to do in Orlando here, which is a great start, but this list will also cover the inexpensive things to do in Orlando, even if you have to part with a few dollars.
Part of figuring out where to go for cheap entertainment in Orlando is knowing how to navigate the theme parks and downtown in a way that's suitable to your budget.
From places to watch fireworks for free to local Farmer's Markets to camping and go-karting, there's a lot more to Orlando on a budget than meets the eye!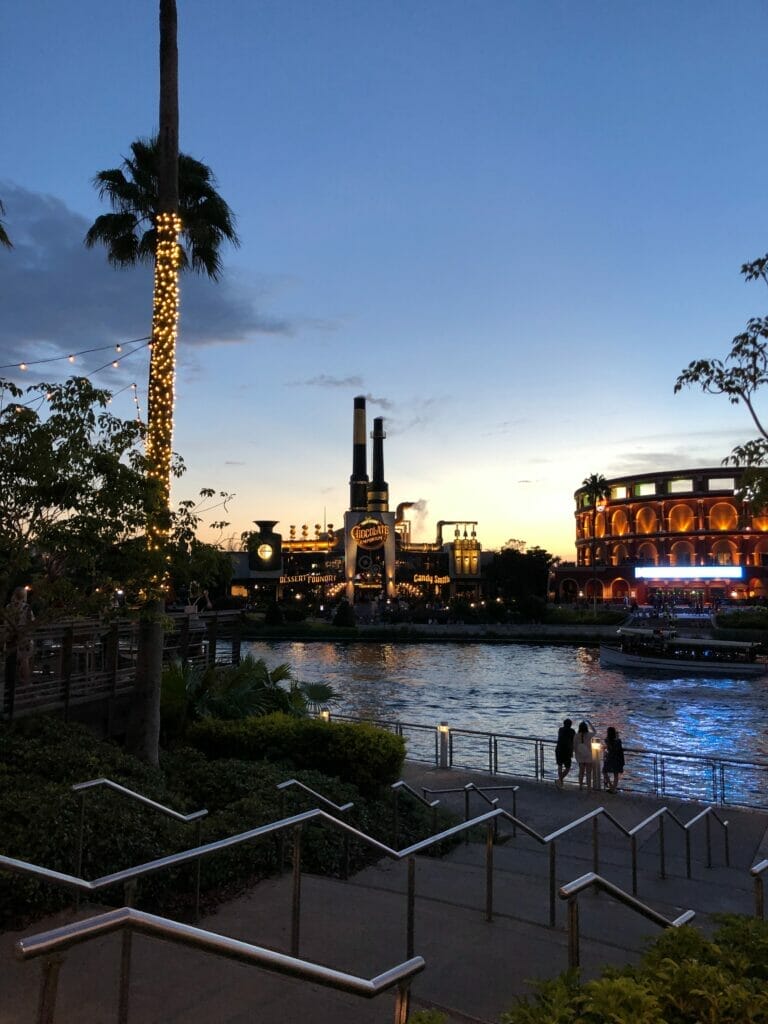 What to Bring to Orlando
If you're not used to the Orlando heat, here are just a few suggestions on what to make sure you have with you, almost year-round.
Getting around Orlando
Don't forget that it's much easier to see Orlando by car so you can get around on your own.
Rental cars are perfect if you're flying into the area.
We recommend using Discover Cars price comparison to find the cheapest deals.
Where to Stay in Orlando
Budget: Mid-Range ($150-$250 per night)
I've stayed in this hotel so many times, I've lost count – and every single time, I want to stay forever.
The Wyndham Bonnet Creek is a great mid-range option with spacious rooms, beautiful pools, a lakeside location with plenty of recreational opportunities for kids and adults alike, and some rooms even have Disney fireworks views.
Relax by the fire pit in the evening, or put on your plush robe and check out the spa. The location is top notch, the price is reasonable for Orlando, and the memories you'll make here will last a lifetime.
Budget: Uh…on one! ($150 or less per night)
If you'd rather spend your vacation money on things to do in Orlando while still being comfortable and happy at your resort, Hilton at Tuscany Village is for you.
The whole resort is sleek and modern, with awesome views from many of the balconies and well-designed outdoor pools (yes, this is Orlando, even the cheaper hotels have a pool!)
Choose from studios or suites, and appreciate the great location that makes you a 4 minute walk from the Outlets and a less than 10 minute drive from Disney, SeaWorld, Universal, and other Orlando attractions.
Cheap Things to Do in Orlando for Families
These are the best cheap things to do in Orlando for families, whether you have a family of 4 or an extended family of 10.
They are activities that the whole family can enjoy, even at different paces or with different interests, and the cost won't be as much as buying everyone tickets to the theme parks.
1. Watch Fireworks for Free from the Wilderness Lodge
You don't have to pay for theme park entrance to enjoy Disney fireworks (and it's all on the up-and-up, no sneaking in!).
Instead of being in the park, you can actually watch the fireworks from the Magic Kingdom park from a few different places, but my favorite being the boat between the Wilderness Lodge and the Magic Kingdom.
Park at the Wilderness Lodge as a day guest, or book dinner there, and then hop on board the boat from the boat dock out back that runs regularly between the Magic Kingdom and the resort.
Time it right and you'll be on the boat watching the fireworks shoot off in the sky.
Talk about Disney magic!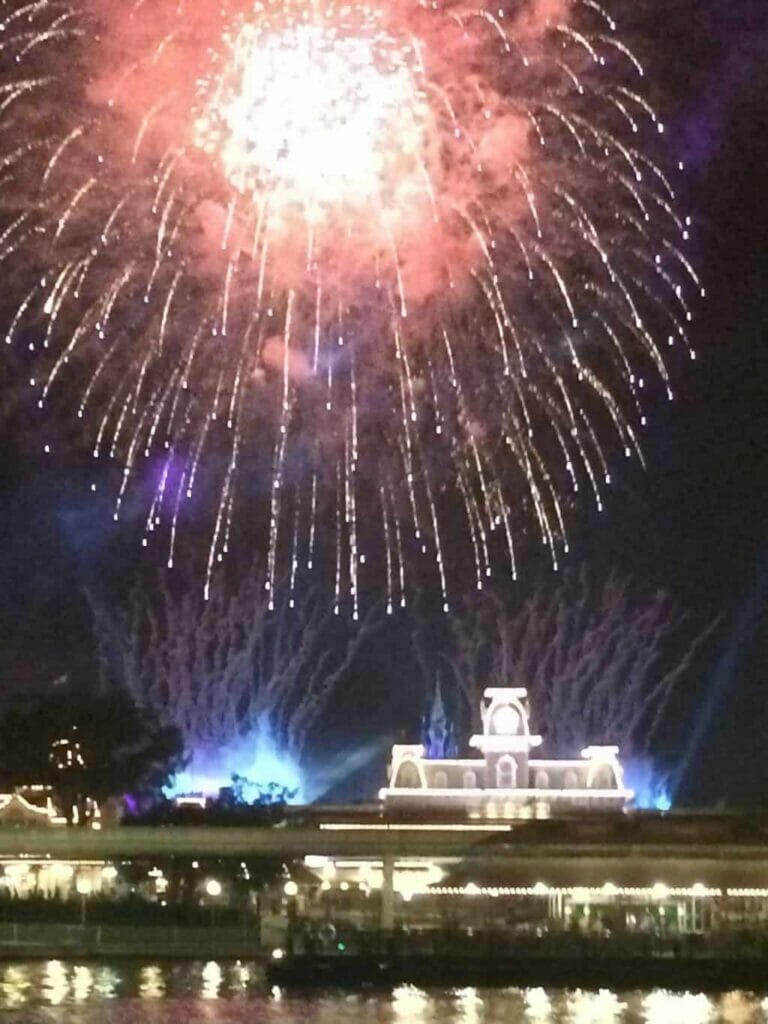 2. Swim in Wekiva Springs
Wekiva Springs is a beautiful place for swimming and canoeing in Central Florida.
There are miles of hiking trails, plenty of Florida wildlife to spot, and the water is always about a 72 degree temperature.
Pack a picnic and have a wonderful day enjoying Florida nature, or book a longer camping trip in Wekiva Springs with 60 campsites to choose from.
Entrance is just about $6 per vehicle, or you can pay by pedestrian.
Learn more about Wekiva Springs here.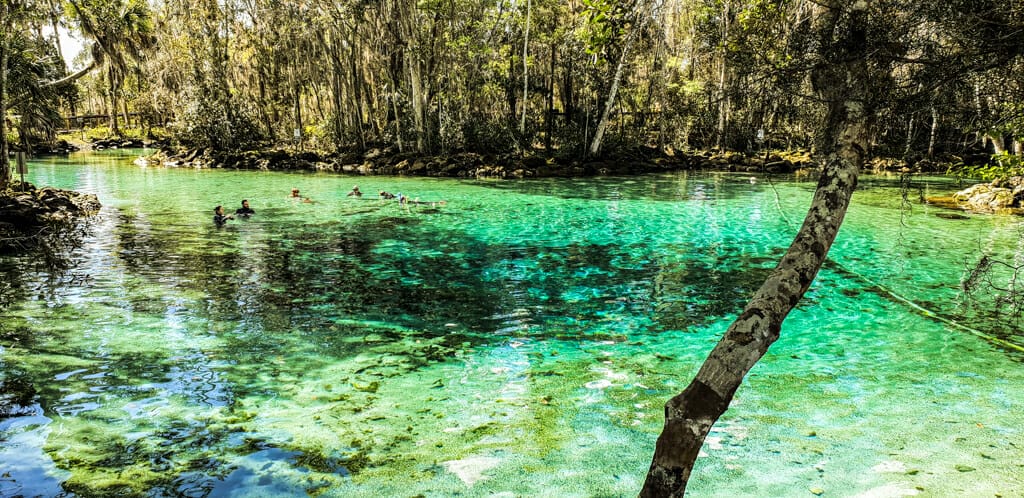 3. Putt Putt Golf at Congo River
There are plenty of places to play putt putt golf in Orlando, but one of the most inexpensive is called Congo River Golf in Altamonte Springs, just a short drive from downtown Orlando.
There are so many obstacles to play in and around, including plane crashes, palm trees, and intense slopes.
There is also a scavenger hunt as you go along where you search for various items around the course.
It's just over $12.00 per adult and $10.00 for kids and you can book here.
4. Get Tickets to a Magic Game
Yes, the Orlando Magic is the Orlando home basketball team that play in the NBA, but did you know that tickets aren't as expensive as you think they might be?
The reason you can get inexpensive Magic tickets?
Unlike other cities where they live and breathe their sports team, Orlando is very much a city for visitors, and many people who do live locally in Orlando are "transplants" from somewhere else, which means they already come in with their sports fandoms.
It's not to say that Orlando doesn't love and support the Magic, it's just that you can get some good deals because they are trying to fill seats oftentimes, rather than it being a race to get tickets.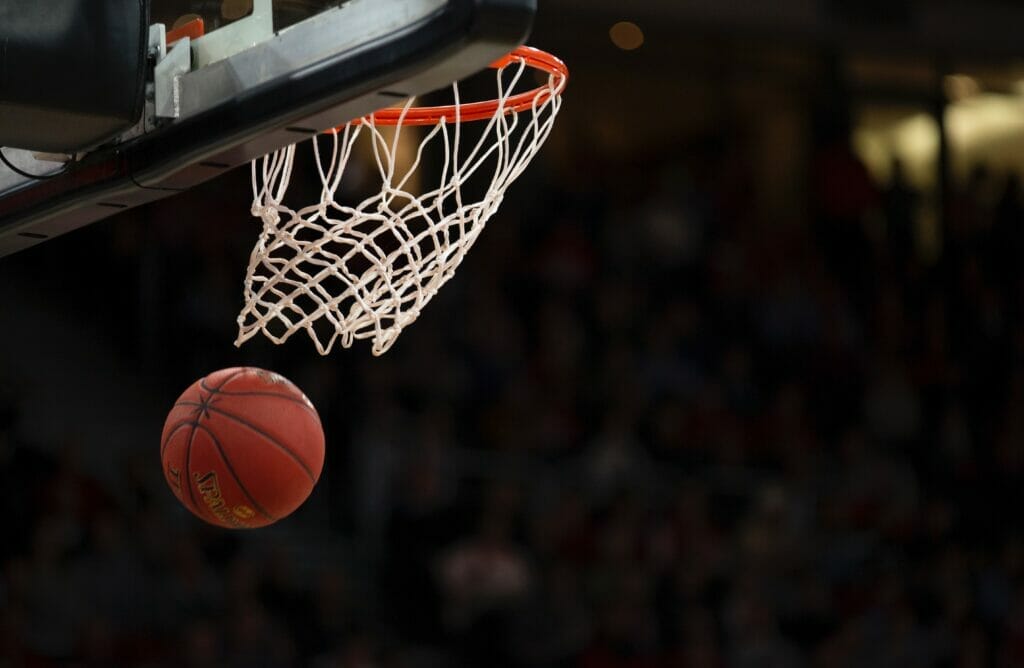 Inexpensive Things for Couples to Do in Orlando
Whether you're in Orlando on a honeymoon or just looking for romantic things to do in Orlando on a budget, these are the best cheap things for couples to do in Orlando.
Have a date night without breaking the bank or just spend some time together without worrying about where the money will come from.
5. Winter Park Farmer's Market
You can go to a Farmer's Market with only a couple of dollars and buy one or two treats and still have a great time.
One of the best Farmer's Markets in Orlando is in Winter Park, where you can enjoy the beautiful atmosphere, tree-lined cobblestone streets, and local vendors selling everything from smoothies to dog biscuits.
Winter Park is also a great place to go to spend the day wandering around and window shopping, even after the Farmer's Market is over.
6. See the Manatees at Blue Springs State Park
Blue Springs State Park is the premier place in Florida to see manatees in the winter months, as they come for the warmer waters and less harsh conditions.
You'll find hundreds of them floating around, and it's truly a sight to see if you haven't seen manatees in the wild before.
Blue Springs State Park is also a great destination year round, and you can take part in swimming, snorkeling, hiking, and other activities.
Entrance is only $6 per vehicle or less if you are coming as a pedestrian or cyclist.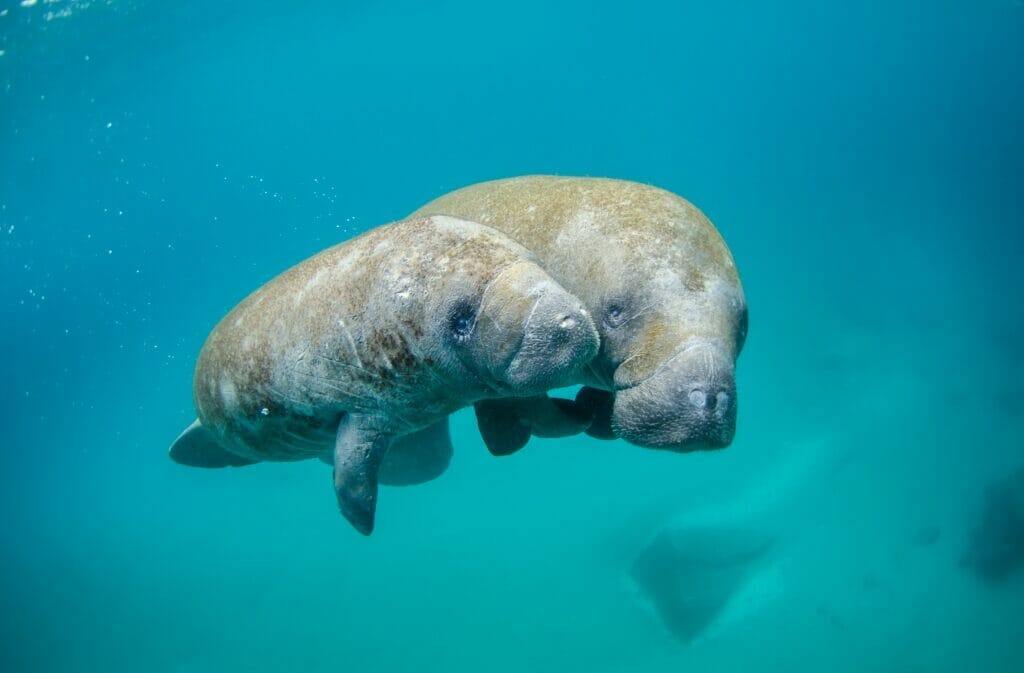 7. Go Window Shopping at the Mall of Millenia
It takes 0 dollars to go window shopping, but you don't want to just go window shopping at any old mall.
No, you want to go window shopping at the Mall of Millenia.
Sure, it's not a cheap thing to do in Orlando if you're planning on splurging in every store you go into, but if you're happy with a pretzel from the food court and then window shopping at stores like Burberry, you've got a fun and cheap day in store!
Everything about Mall of Millenia just feels luxury, from the seating areas to the stores to the escalators.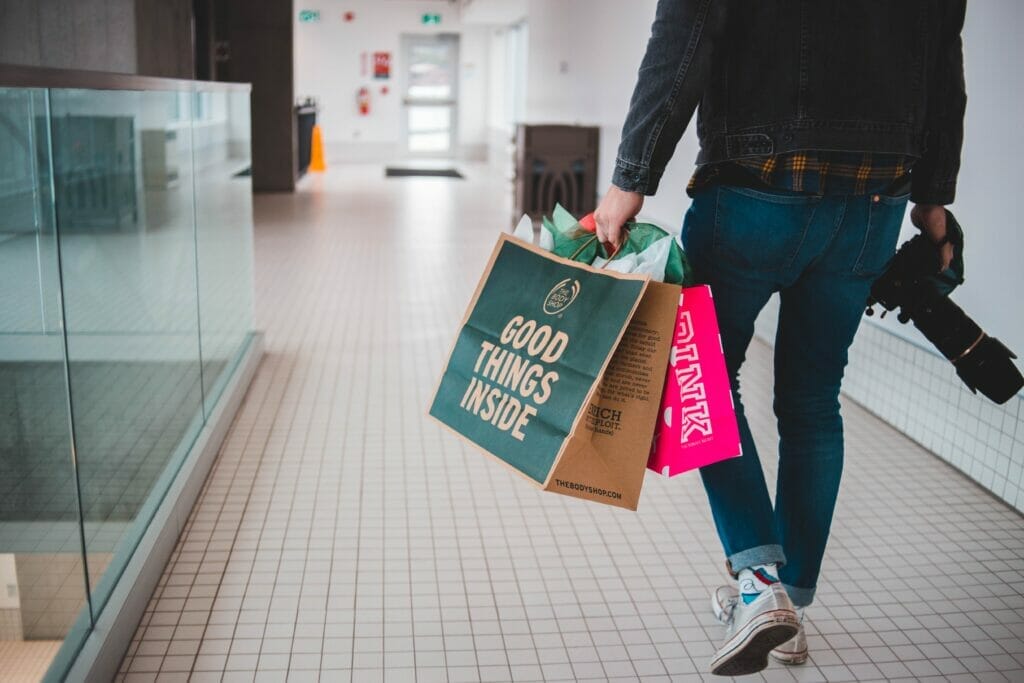 8. Spend the Evening at Citywalk
Citywalk Orlando, Universal's entertainment and dining district, is completely free to enter and you can then choose how much or little you spend while at Citywalk.
You can have a to-go dinner from a cheaper location, or have a sit-down dinner at somewhere more expensive like Bubba Gump Shrimp.
Try a donut from Voodoo Donuts (seriously the best in the area), or you can spend the whole evening just listening to live entertainment and people watching.
There are also plenty of shopping options so you can purchase a souvenir for as much or as little as you want.
9. People Watch at Disney's Boardwalk
Check out Disney's Boardwalk area for a cheap thing to do in Orlando when you just want some atmosphere and to wander around in the beautiful Florida sun.
The Boardwalk is adjacent to the Boardwalk Resort, but you don't have to be staying there to access the shops and restaurants in the boardwalk area.
Stop by one of the stores for a Disney souvenir, grab a cookie from the bakery, or just stroll all the way around the lake, starting at the Boardwalk and ending with your toes in the sand at the Beach and Yacht Club.
What to Do in Orlando for Cheap with Kids
Taking kids to Orlando can be expensive!
They want everything they see, and this city is basically laid out to appeal to them needing to do every single expensive thing.
Here are some options that can be alternatives to the more expensive theme parks, or can just be options you add to the itinerary to save a bit here and there.
10. Participate in Cookie Decorating and Other Activities at Animal Kingdom Lodge
For just a few dollars, or sometimes for free, you can head to Disney's Animal Kingdom Lodge resort with the kids and take part in all kinds of crafts and activities on the daily schedule.
Some, like cookie decorating, costs a small amount, while things like feeding the animals talks and looking through the night vision goggles cost nothing.
Where else in Orlando can you see giraffes roaming savannas outside of your hotel, or meet and greet with African cast members who have come to Animal Kingdom Lodge to teach and inspire about their home country?
You don't need entrance to a theme park, just take the bus to Animal Kingdom Lodge from Disney Springs or drive there directly.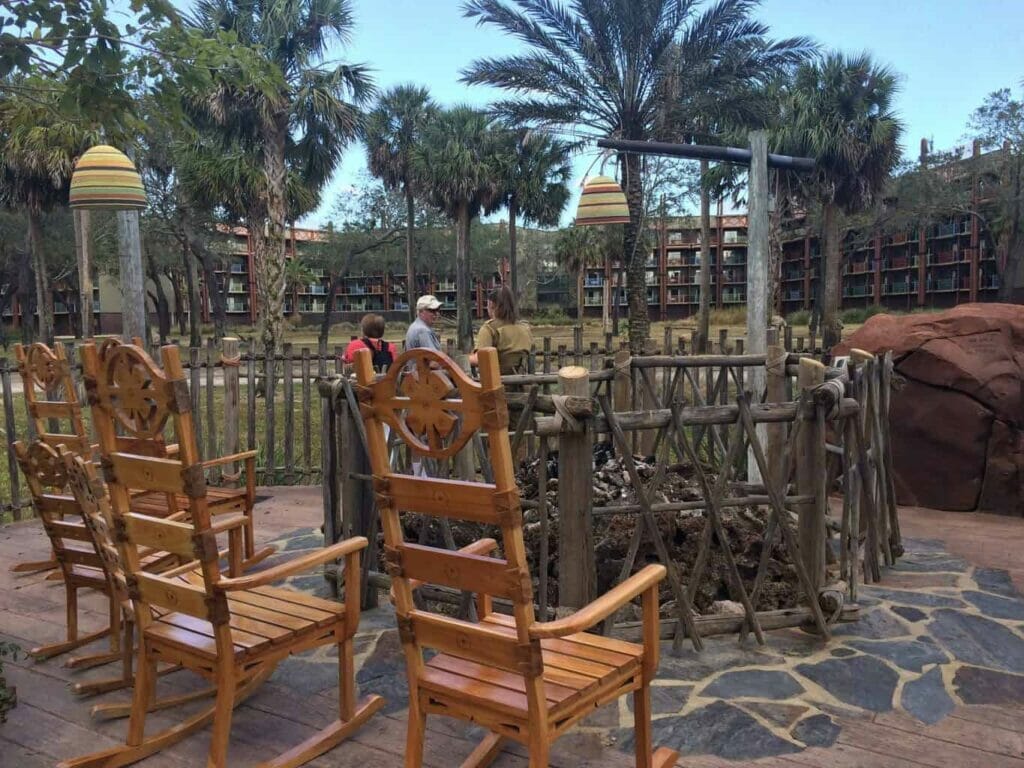 11. Go-Karting at Lil' 500
Looking for more of a local way to have fun?
Removed from the bright lights of the theme parks and I-Drive, you have Lil 500, a go-karting track with three different tracks, one especially for the kids, and lots of entertainment to be had.
It's just about $4.00 per ride, and you can get them cheaper if you purchase in bulk, so bring the kids out for a few laps before heading off to a pizza dinner somewhere nearby and save the money from expensive Orlando experiences.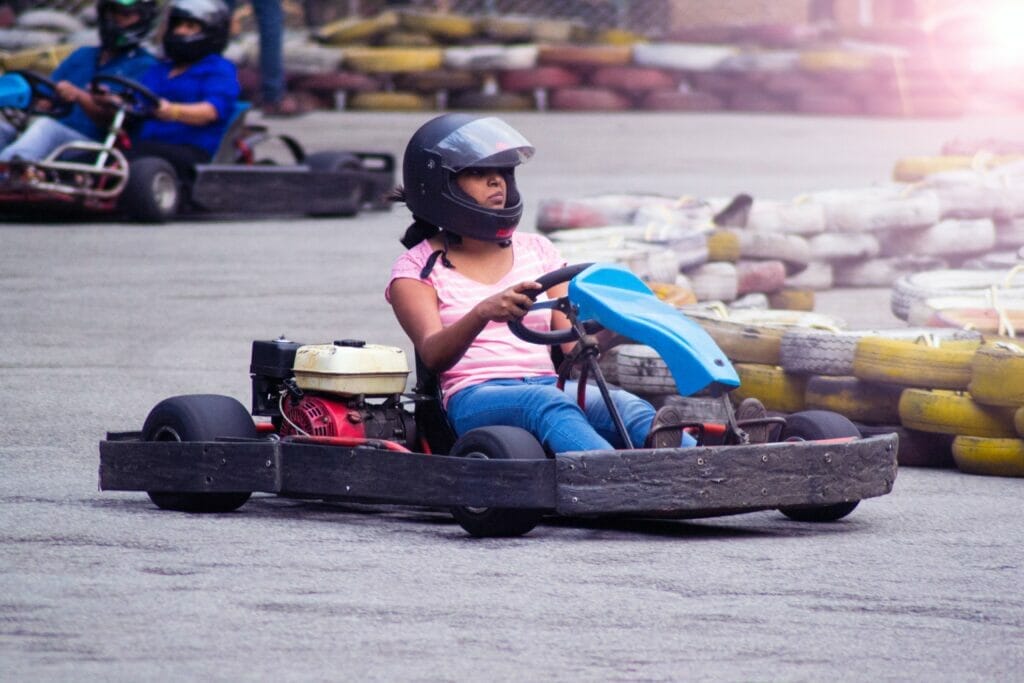 12. Walk the Disney Tree Trail at Disney Springs
Disney Springs, Disney's shopping and dining district, is free to enter and there are so many fun things to do at Disney Springs.
Some of them are completely free, and my favorite is the Disney Springs Tree Trail that you'll find around the holidays.
This will keep the kids super busy as they go from tree to tree, searching for unique ornaments and seeing the different themed decorations from Toy Story to Mulan and Mickey and Minnie and more.
Other cheap things to do at Disney Springs include getting a milkshake from Ghiradelli, enjoying the live entertainment in the bandstand, and trying out the soaps and scrubs at Basin.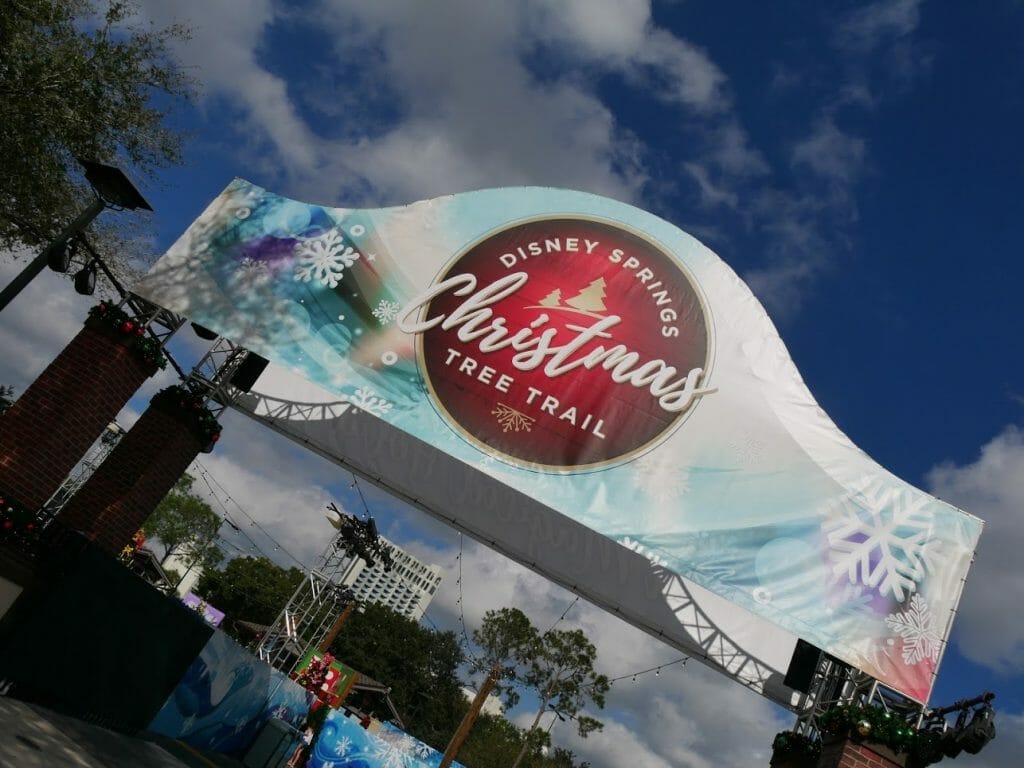 13. Ride Rides at FunSpot
FunSpot America is a super fun amusement park filled with rollercoasters, splash pads, carnival games and other carnival-themed rides.
It's much cheaper than the theme parks as you are paying about $45 rather than $100+ and especially for kids who don't know any different, it can be just as thrilling as the theme parks!
There are also regular deals you can find for FunSpot when in the Orlando area in the newspapers and tourist magazines, so keep an eye out for deals.
Nature-Based Inexpensive Orlando Attractions
Ah, nature and Orlando in the same sentence?
That's right!
Here are some of the cheapest nature-based attractions in Orlando, including some with small entrance fees and others you can visit for free.
14. Tibet-Butler Nature Preserve
Visit the Tibet-Butler Nature Preserve for free and wander through miles of Florida swamp, explore boardwalks that take you past beautiful Florida fauna and spot Florida wildlife flying and crawling around you (if you haven't seen a lizard yet, you will now!).
This is a nice, relaxing thing to do for cheap in Orlando, as it requires nothing out of your wallet and simply an open mind to having a great day in nature.
Leu Gardens is one of Orlando's best botanical gardens, and with tons of different plants in bloom at all times of the year, it's also one of the most beautiful.
Stop and smell the roses in the rose garden, or check out the innovative gardens with new ways of growing plants and introducing species to the Florida soil.
You can learn about growing techniques at special talks and events, or simply enjoy it on your own as you soak in the Florida sunshine.
It's $15 per adult to enter and less for children, which means you'll spend a fraction of the price of I-drive and theme park attractions and get a more authentic Florida experience.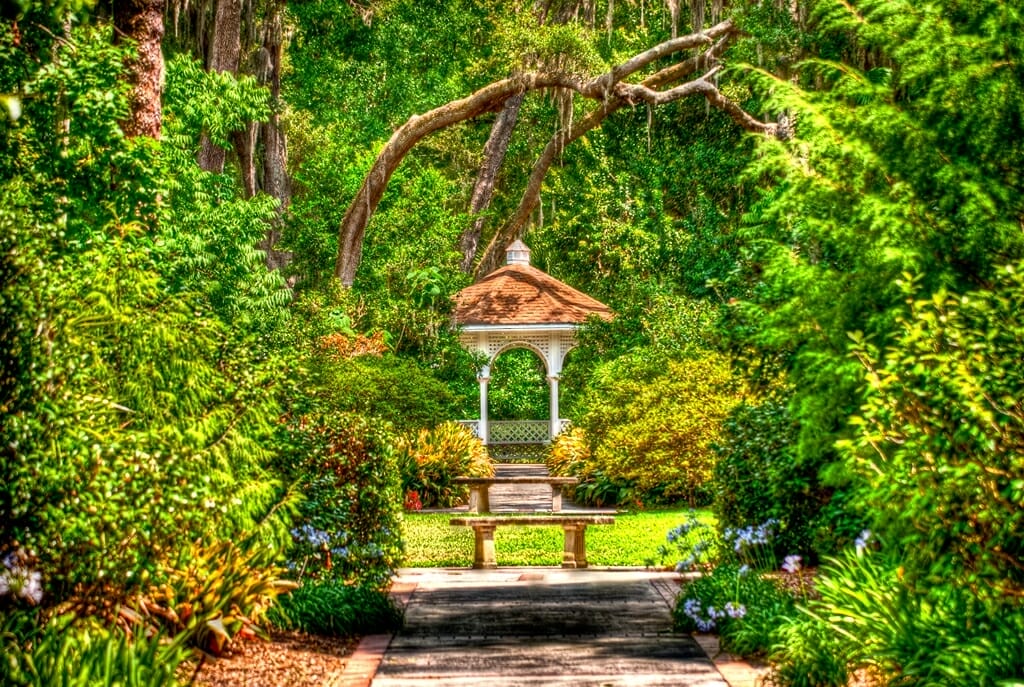 16. Ride Swan Boats at Lake Eola
It's not a visit to Orlando until you've ridden on the swan boats at Lake Eola.
These paddle-yourself boats on Orlando's downtown lake only cost $15 for a 30 minute rental, and you can fit up to 5 people in one boat which makes this an absolute bargain of an activity.
You can spend hundreds per person on expensive fireworks cruises and theme park tickets for the day, or you can spend $15 for some swan boat fun and then head to one of the many restaurants in walking distance and get a hearty dinner much cheaper than you'll find it near the touristy sections of Orlando.
Lake Eola is one of those local gems that Orlando residents know about and love, but isn't as visited by tourists – take advantage of what that means for prices and the quality of the local food options!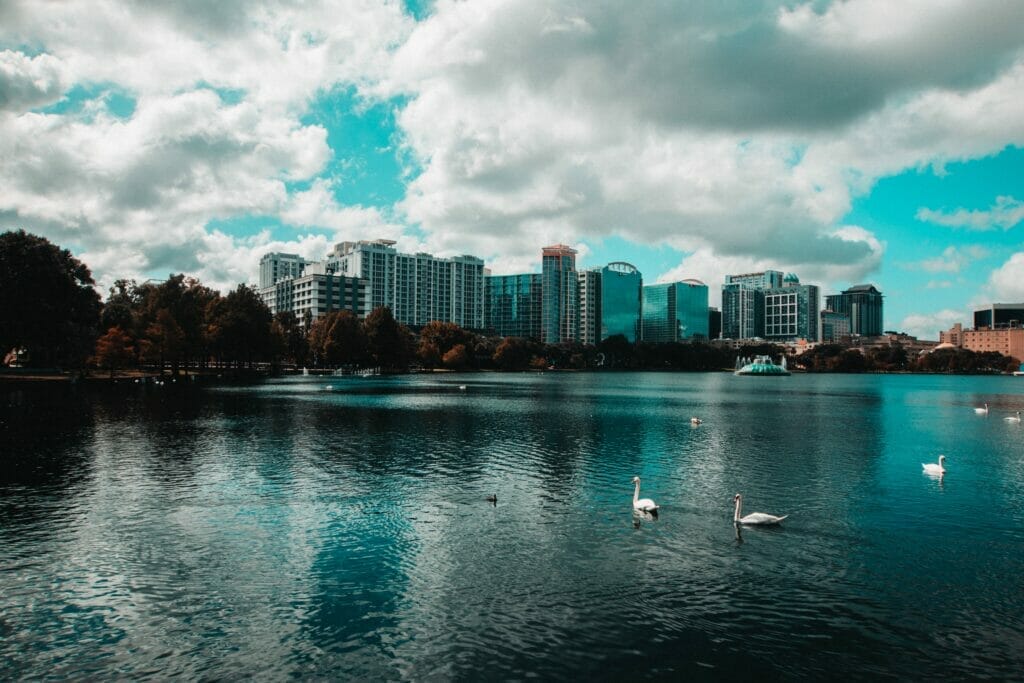 17. Visit Mead Botanical Garden
This free botanical garden in Winter Park is absolutely beautiful to visit, and a great way to spend a few hours.
Regular events make this a special place to connect with the local community, and the butterfly garden and greenhouse provide a gorgeous backdrop for a cheap Orlando day out.
What else should I not miss in Orlando?
If you're visiting Orlando soon, here's a very brief rundown of a few of my other favorites to make sure you don't miss anything!
Hey! Want more Orlando content? Check out these guides!
Get the All-American Travel Secrets!
Don't miss out on America's hidden gems!