No review of Disney's Wilderness Lodge would be complete without me first mentioning that, on the whole, I am obsessed with this resort.
I will do my best to stay as objective as possible, but I write this as a (new) Wilderness Lodge fan.
This is not a huge surprise, as you'll note in my Animal Kingdom Lodge review that I love the "lodge" and "secluded" feeling of both of these resorts, but after my stay at the Wilderness Lodge in June 2018, I've found one of my new favorites, and I hope you do too!
Want insider Disney tips from an expert?
Join 4,000 others in weekly guides to Disney's hidden secrets, gems, and money-saving tips!
Pssst – this printable Disney scavenger hunt is amazing
Since you're already looking up Disney guides, I just wanted to make sure you knew about this printable Disney World scavenger hunt created by a lifelong Orlando native and Disney World fan.
There are over 60 challenges with a full answer key and both Family and Grown Up versions and a bonus Disney Springs hunt for your non-park day!
Hey! Want more Disney World resort reviews? Check these out!
What to Pack for Wilderness Lodge
Wilderness Lodge come with most of the amenities you'll need, but there are just a few things I like to pack in addition.
If you're visiting around Christmas time, this is an awesome rustic shirt for Wilderness Lodge check-in day!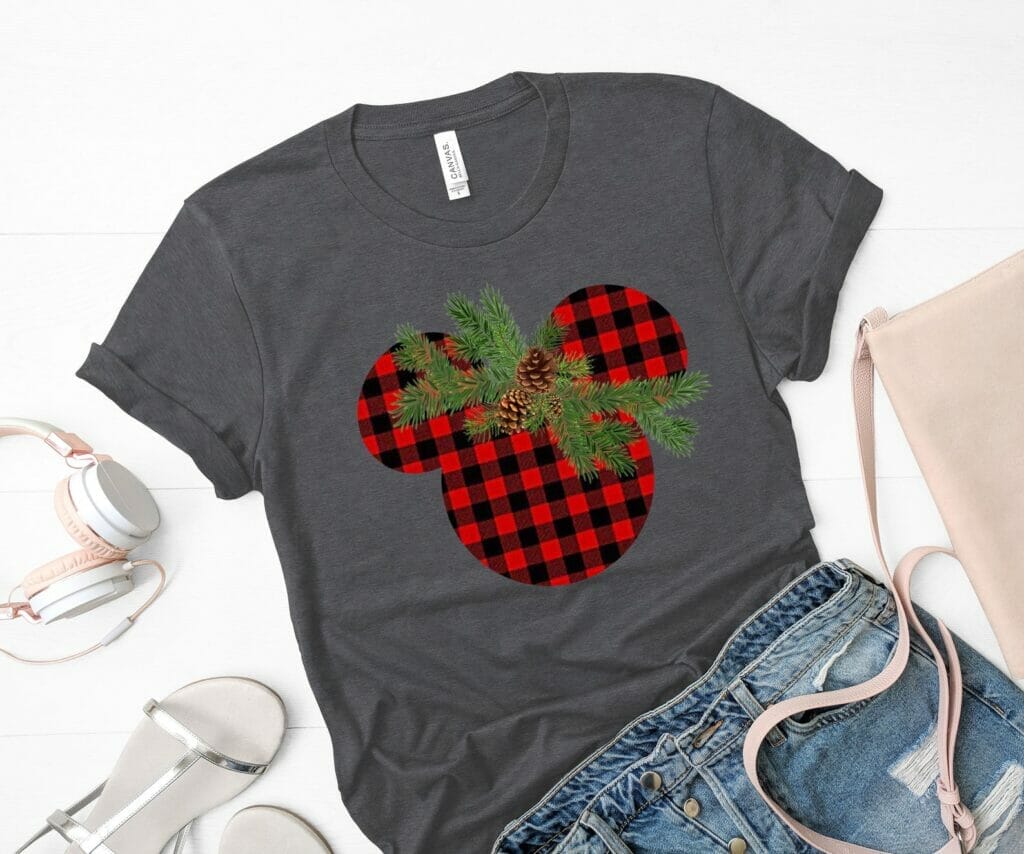 Wilderness Lodge Theming
Let's start off this Wilderness Lodge review talking about one of the best parts of this stunning resort – the theming.
Wilderness Lodge is meant to make you feel as if you're at a vacation lodge in the Pacific Northwest, and they do a very good job of it.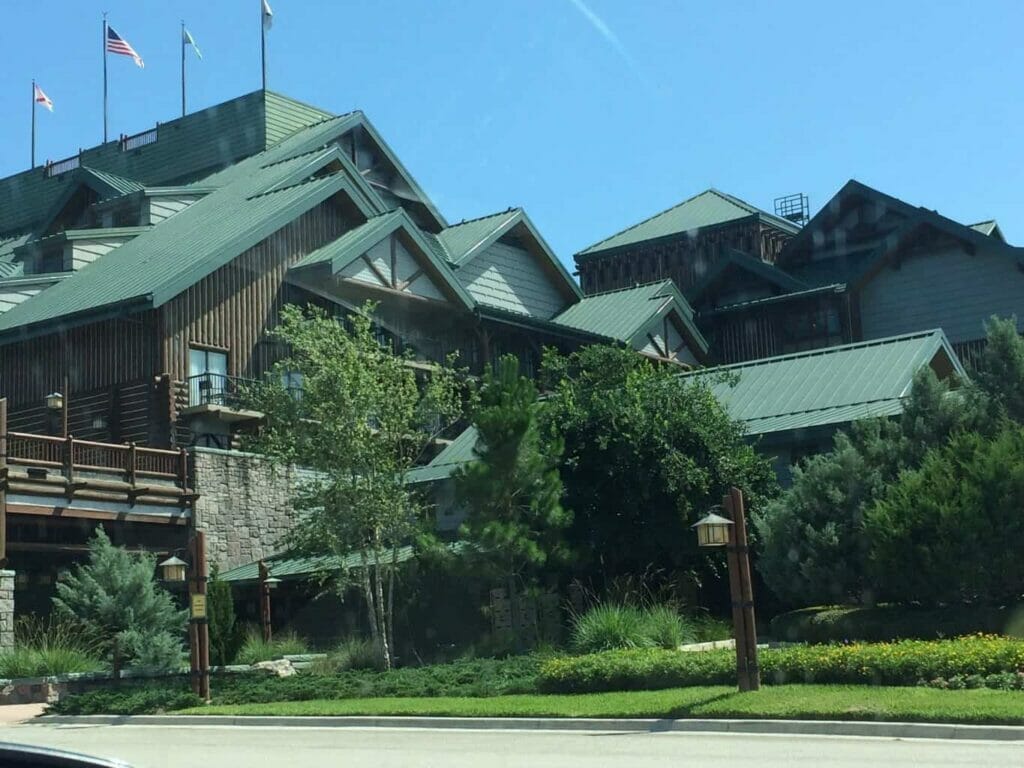 From the moment you step in, you're greeted with giant logs and Americana décor that evoke images of exploring the new frontier and heading West.
This is a geographically varied land, and Disney's Wilderness Lodge plays into this with the boulder formations outside, as well as the creek that runs right through the lobby.
There's also a geyser out back, behind the main pool, that goes off at regular intervals.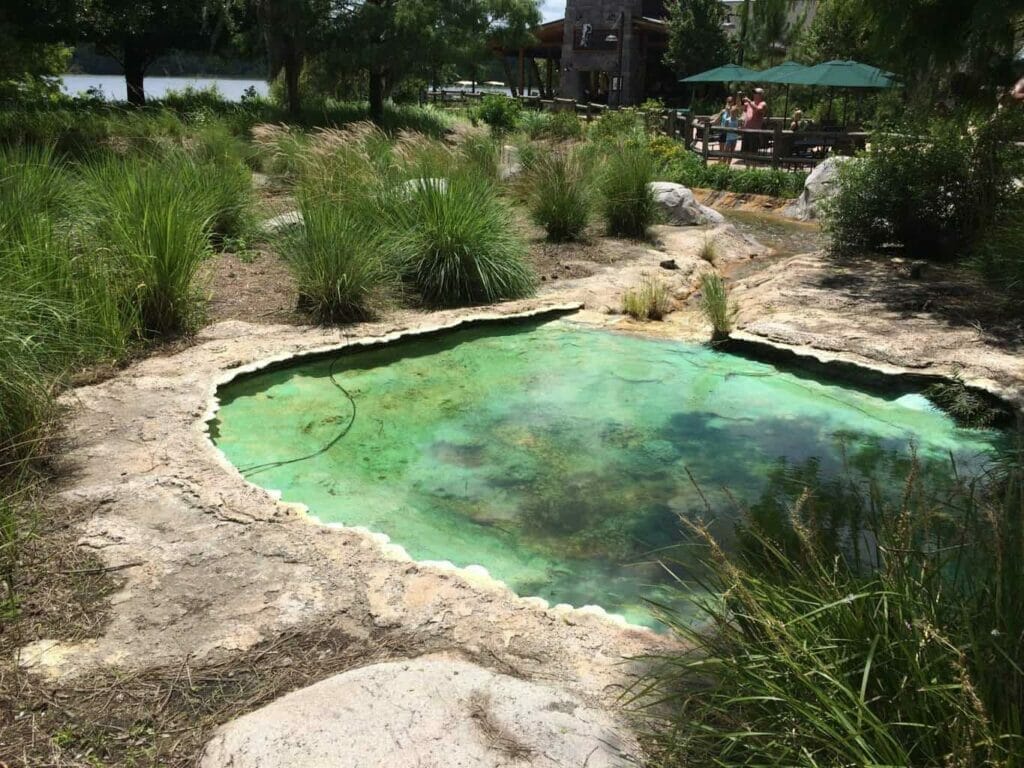 You won't find a plant here that isn't found in the Pacific Northwest, and the location on the lake makes it feel perfectly secluded and relaxing.
You're at Disney without being AT Disney 24/7, and that is priceless to some people.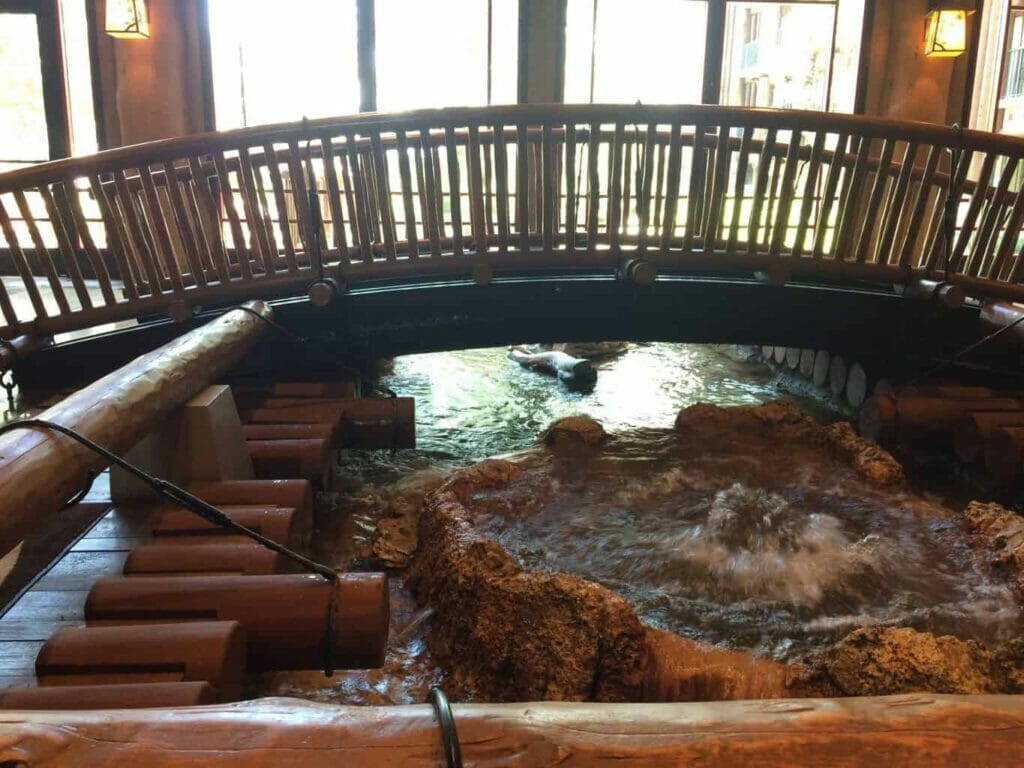 The theming extends into the other areas of the resort, which we'll talk about later, but suffice it to say that the Imagineers have done a fantastic job .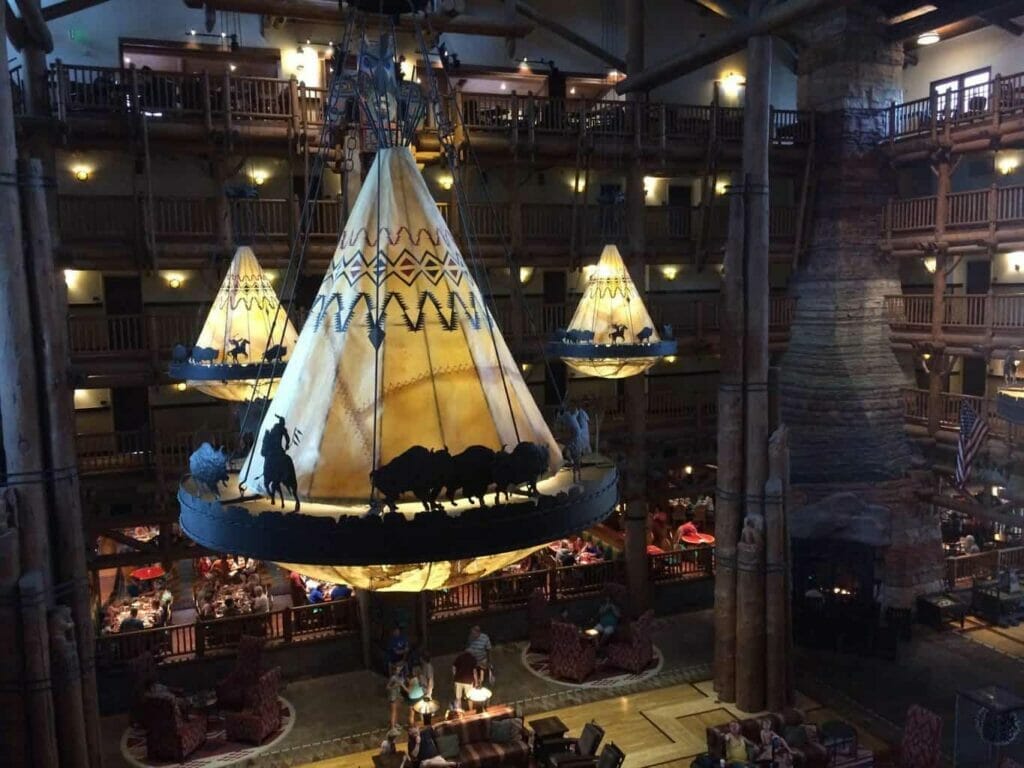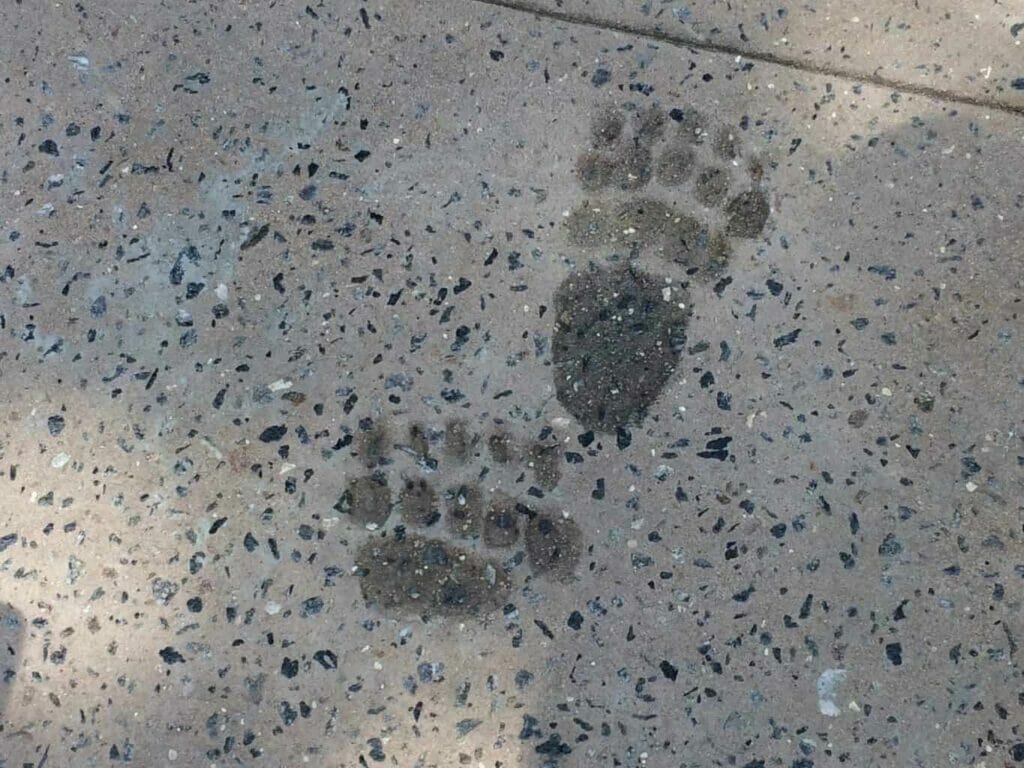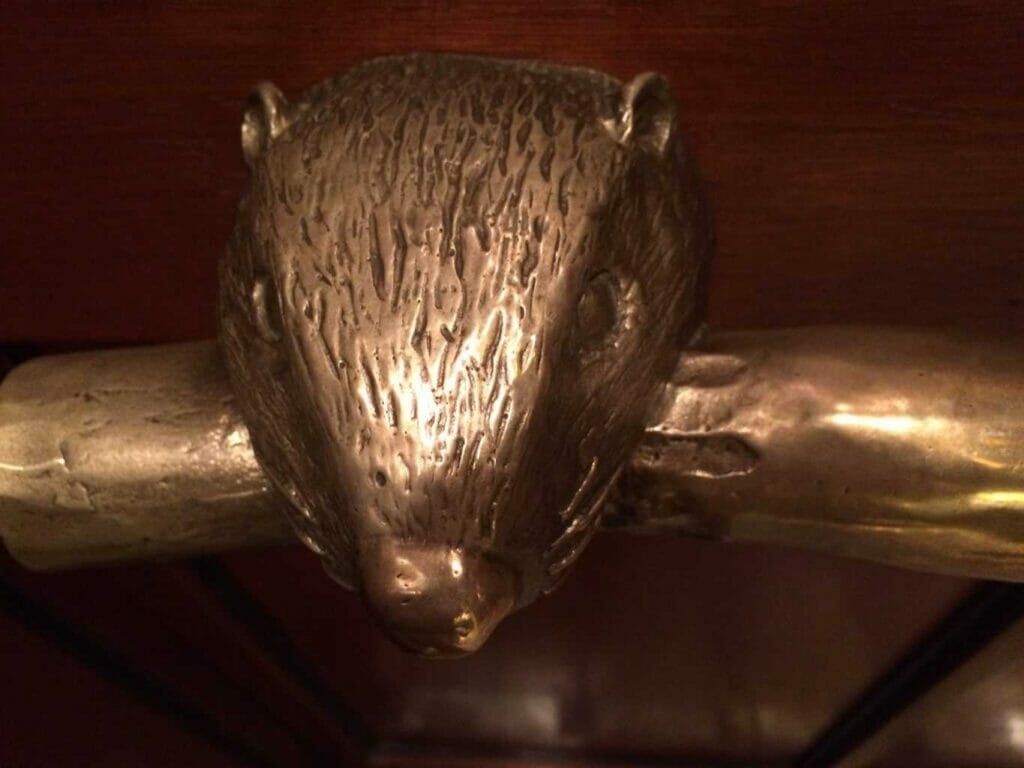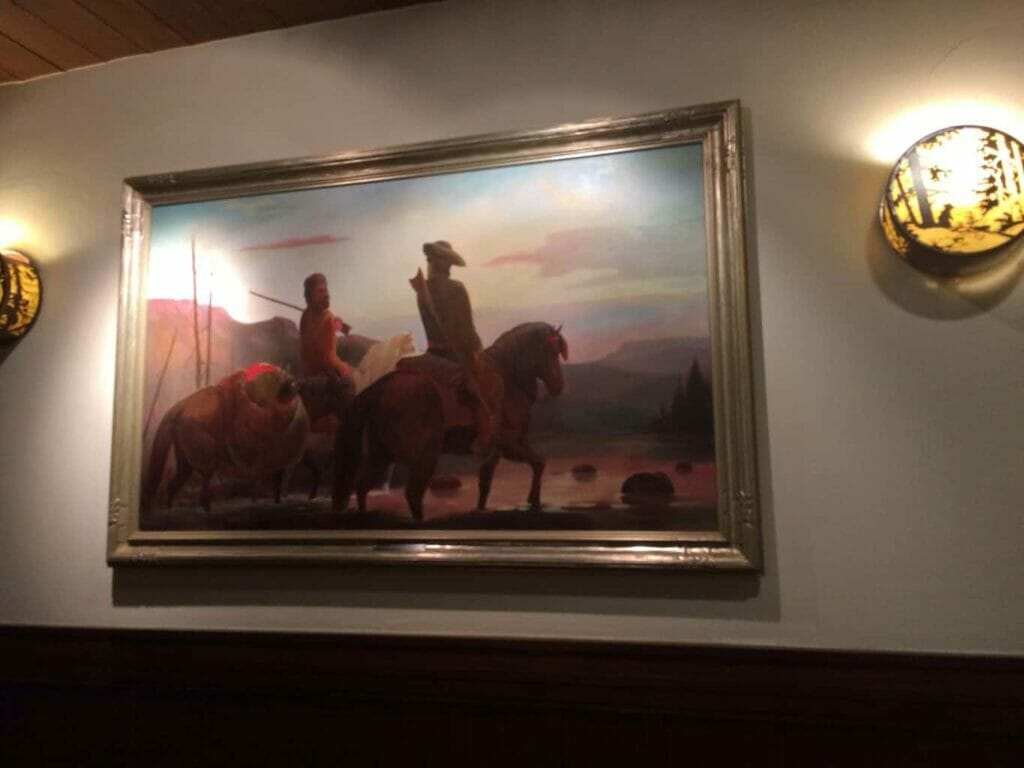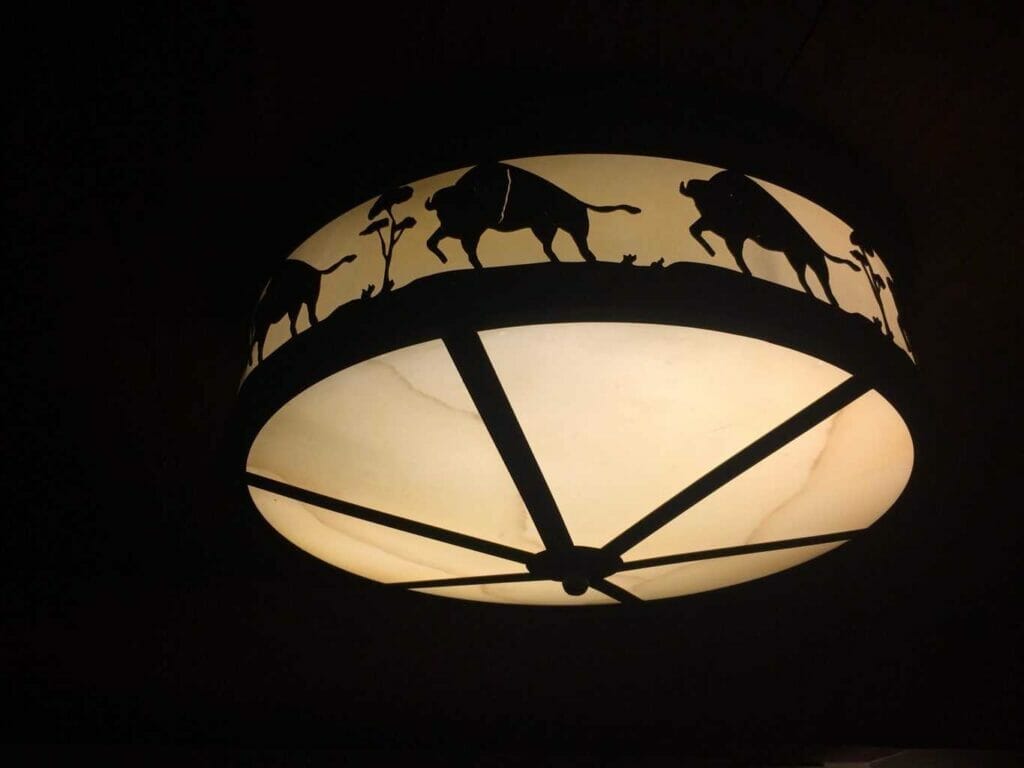 One caveat is that if you're from the Pacific Northwest, you might want to steer clear as there may be little point in coming to Disney to experience theming like your home, as it will never be quite the same (this is the same reason why I'm not a huge fan of Old Key West – I don't want to stay in a Disney resort themed like my home state!)
Wilderness Lodge Staff
Part of what makes or breaks a resort are the staff members.
You can read more in my discussion of how we got upgraded at Wilderness Lodge to see how the staff members went above and beyond for us.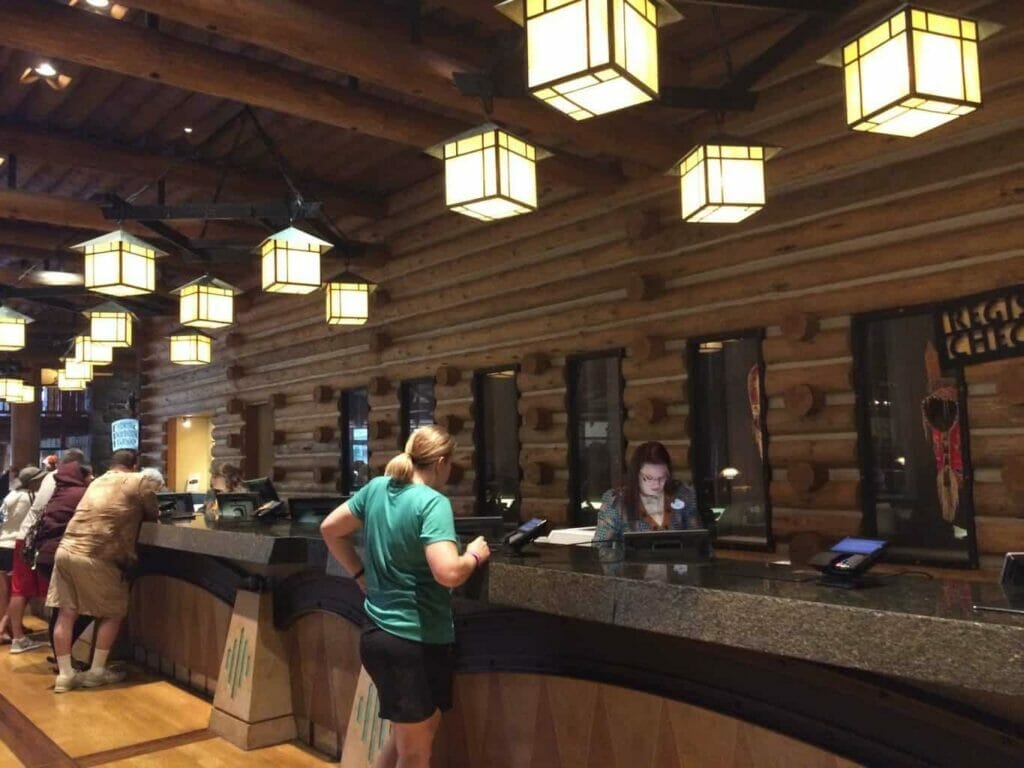 From the check-in staff to the greeting staff to the staff at the food court, everyone we encountered at Wilderness Lodge was friendly, smiling, and happy to welcome us "home."
In fact, our first check-in staff member started off our visit on the right foot with his willing to chat with us and make jokes about our "staycation."
Disney is all about their guest services, and Wilderness Lodge was no exception.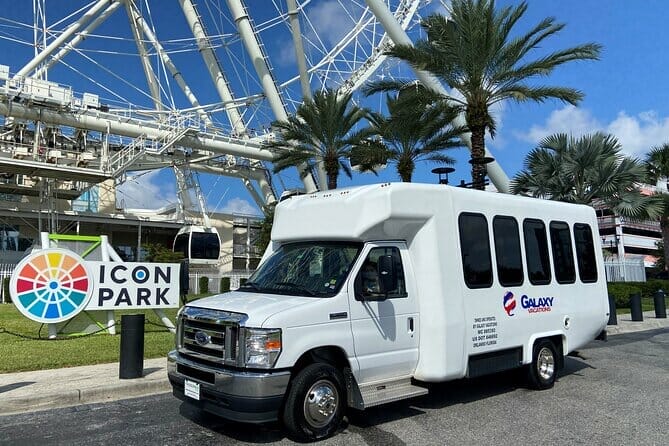 🚌Not renting a car in Orlando?
My favorite shuttle to get from the Orlando airport directly to Disney World is this one with a ⭐⭐⭐⭐⭐ rating.
Activities at Wilderness Lodge
While Wilderness Lodge doesn't have as many activities going on as Animal Kingdom Lodge (in fact, none of the other resorts do – Animal Kingdom Lodge is special in that regard), it had plenty going on, especially for the kids.
Not only are there the regular pool activities, including dance parties, karaoke sessions, and trivia quizzes, but they also offered slime making and T-shirt tie dye, which took place under a covered area in a quieter part of the resort where everyone could breathe a little and enjoy their crafts.
Wilderness Lodge also offers a tour of the grounds, along with a talk about the design and Imagineering of the resort, though this is only offered on select days each week.
Wilderness Lodge Rooms
The rooms at Wilderness Lodge are divided into multiple different types, as part of the resort is what you would think of as a regular Disney Deluxe hotel, and part of it is Disney Vacation Club Villas.
As far as the Wilderness Lodge hotel rooms go, these all hold up to 4 people with two queen beds, a balcony, a table and two chairs, a closed off toilet + shower space and an open area sink + vanity to allow for more people to get ready in the mornings.
Wilderness Lodge Room Views
There are three room view categories at Wilderness Lodge, including: Standard, Nature, and Courtyard
Standard View rooms aren't guaranteed to have a view of anything great, which is why they're called Standard View.
You might have a view of the garbage area, the parking lot, or some other unsavory part of the resort.
That being said, there are Standard View rooms that have views of the Magic Kingdom from the sixth floor – below you will be a maintenance area, but if you're willing to put up with that, you could potentially have a Magic Kingdom view at a Standard View price, which is nothing to complain about!
In general, if you're big on views, I wouldn't book a Standard View at Wilderness Lodge, but if your family is less picky and is more about exploring the interior of the resort rather than appreciating it from your balcony, you should be fine with a Standard view.
Nature View
Wilderness Lodge Nature View rooms have a view of, surprise surprise, nature!
And also, many of them also have a view of Magic Kingdom and Magic Kingdom fireworks.
This is a better bet if you're hoping for a good view.
Courtyard View
Courtyard view rooms look out into the middle of Wilderness Lodge, but because the resort is open towards Bay Lake, upper level ones also look out onto Bay Lake.
In my opinion, these are some of the best views at Wilderness Lodge, even better than Magic Kingdom views.
The reason being that there are other ways to appreciate the Magic Kingdom from Wilderness Lodge (more on that later), and you can't really beat overlooking a sunset on Bay Lake.
Do keep in mind, with all of these views, that there are multiple levels to Wilderness Lodge.
Generally speaking, the higher you are, the better your view will be.
If you're on the ground floor Courtyard View, for example, you'll just be looking out the backs of pool chairs.
Wilderness Lodge Copper Creek Villas
Copper Creek Villas at the Wilderness Lodge are the newest Disney Vacation Club property and were only finished in 2017.
The studio, one bedroom, two bedroom, and three bedroom grand villas are inside the main Wilderness Lodge building.
They also offer Copper Creek Cabins, which are separate buildings out on the lakeside.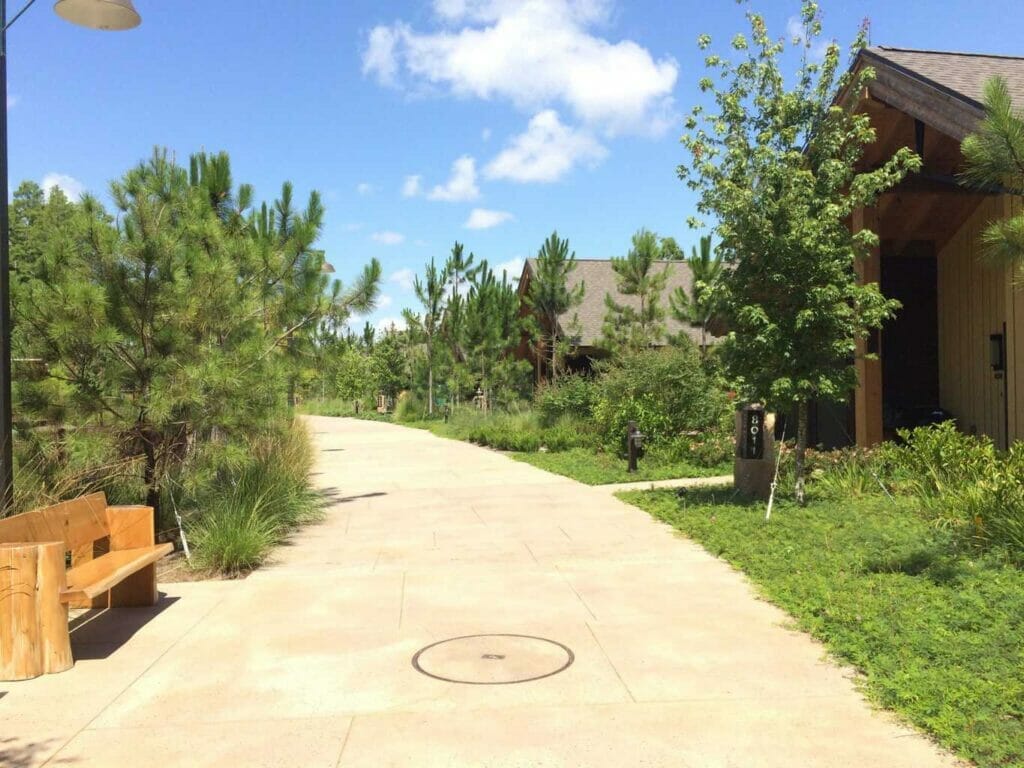 The Copper Creek Villas are absolutely stunning, and where we stayed when we went to Wilderness Lodge.
The design is fun and sophisticated at the same time, the beds are the most comfortable I've ever slept in, the bathrooms are super luxurious with a waterfall shower option and a stand alone bathtub, and the kitchen appliances are sleek and modern.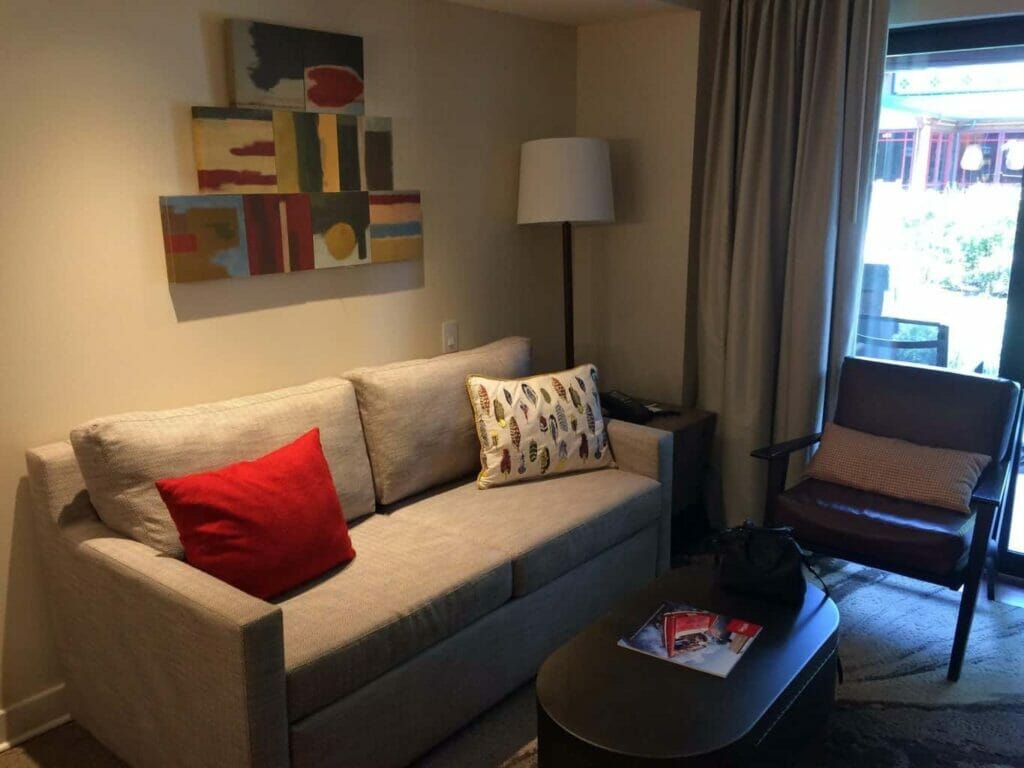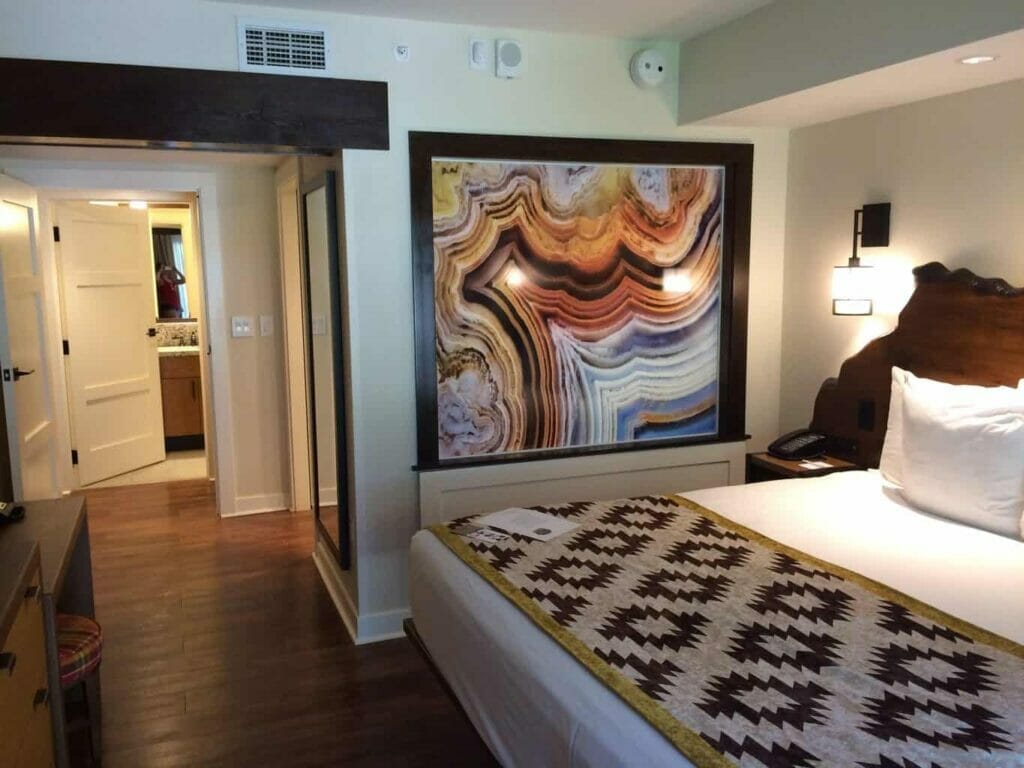 If you stay in the Copper Creek Cabins, this luxury gets catapulted up a notch (seriously, we were listening to someone talk about the cabins while on the boat to the Magic Kingdom and they were obsessed with their hot tub).
Wilderness Lodge Boulder Ridge Villas
The Boulder Ridge Villas at Disney's Wilderness Lodge were the first Vacation Club property at this resort, and they are located in a separate building to the right of the main lodge if you're coming in from the parking lot.
They offer studios, as well as one and two bedroom villas.
They have their own lobby, which is also decorated in a rustic fashion with giant timber logs and references to the Pacific Northwest.
Wilderness Lodge Dining
The places to eat at Wilderness Lodge are varied, and range from a Signature Dining Option to a standard food court (though I say standard – it's a really nice food court with great option!)
The Wilderness Lodge dining option are: Artist's Point, Whispering Canyon Café, Roaring Fork, and Geyser Point.
Between them, there is something for everyone.
Wilderness Lodge Roaring Fork
Roaring Fork is the name of Wilderness Lodge's quick service food court, and I wasn't sure what to expect having been much more familiar with the type of food courts at the Disney value resorts.
What I found was an awesome place to eat with plenty of option and also this adorable campfire cupcake that I devoured in about 3 seconds.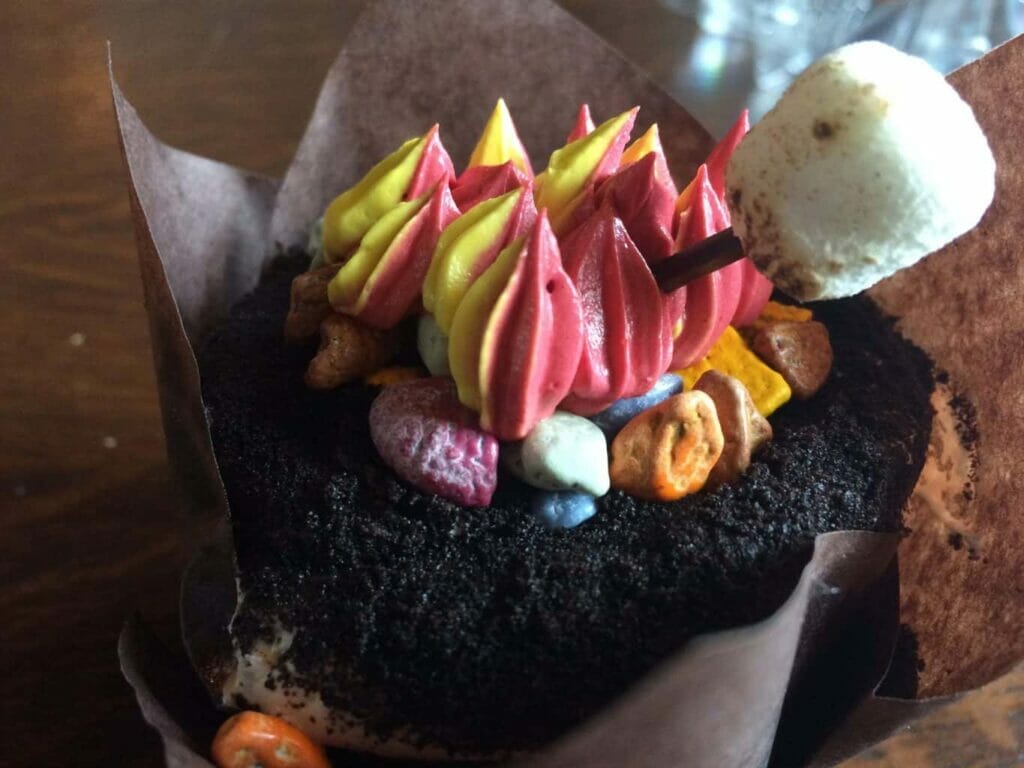 The seating isn't as extensive as at a value resort, because less people are using the quick service options here.
However, in addition to an inside seating area, there is also plenty more seating outside that you can use if the weather is good.
We went back to Roaring Fork a couple of times during our stay, first to have a Mickey bar, then to go back for the cupcake, and finally to see about the breakfast options.
We didn't end up eating a full meal here, but they all looked great and we saw lots of people enjoying their selections.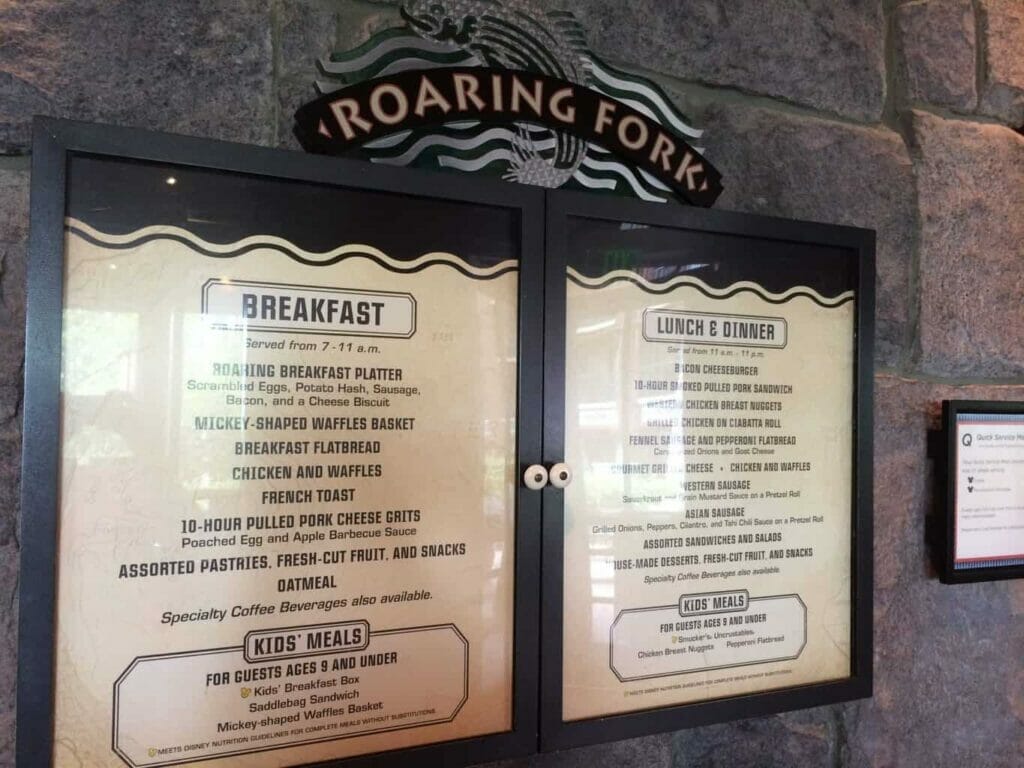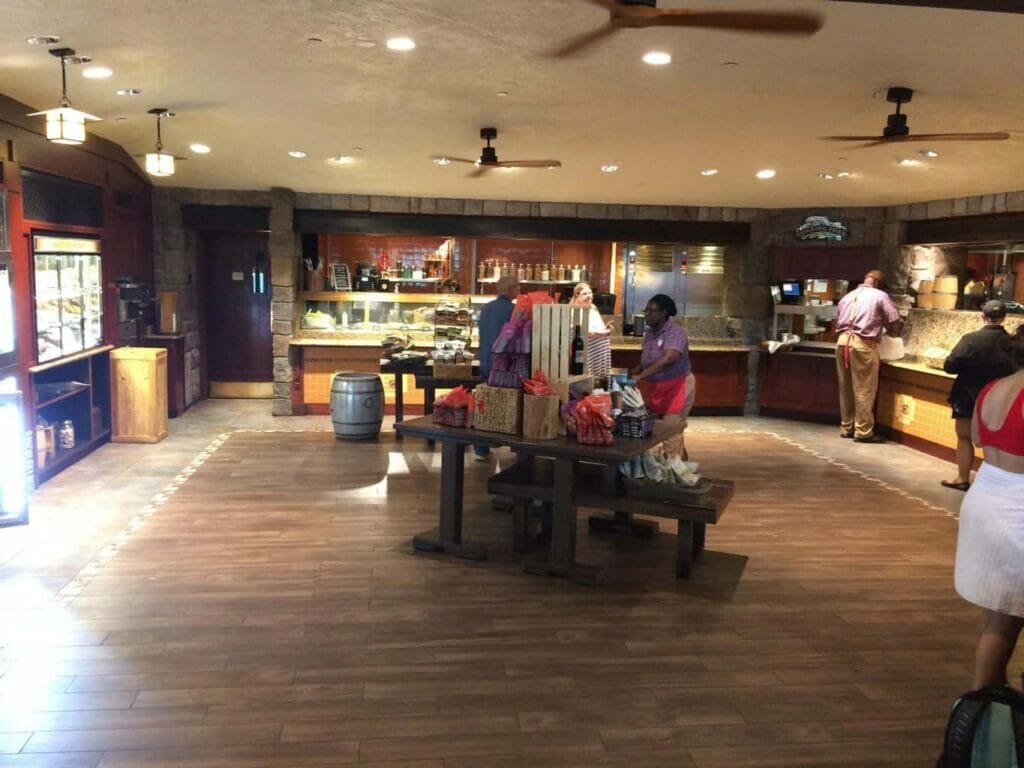 I wouldn't hesitate to recommend Roaring Fork to Disney guests and was truly impressed with it all around.
Wilderness Lodge's Geyser Point
Sometimes, there's nothing like being at Disney while having no visual signs that you're at Disney.
No Mickey Mouse dancing in your face, no castle blasting off fireworks, no princesses meeting and greeting.
Especially if you're on an adults-only trip, finding these hidden gems where you can just relax and soak in the vibe is priceless.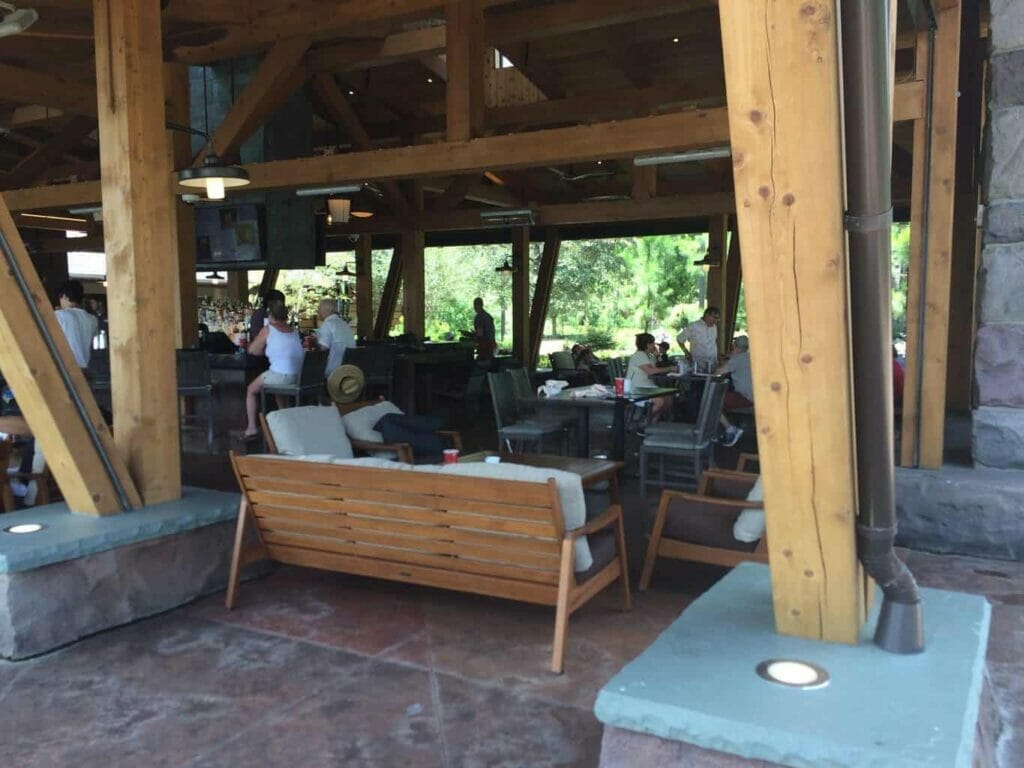 Geyser Point, opened in 2017, is the perfect place for getting away from it all.
Situated out by Bay Lake (but because of the bend of the lake, you can't see the Magic Kingdom from it), Geyser Point has views of boats passing by and Florida wildlife.
You can sit under the covered area in the comfortable lounge chairs and order, or you can order from the quick service window and take it to go.
There's also a full service bar with bar seating, so if you just want to grab a drink and watch the world go by, you're more than welcome to do that.
The option at Geyser Point aren't your typical Disney quick service fare, either.
Wilderness Lodge Whispering Canyon Café
If you're a family looking for a sit-down meal at Wilderness Lodge, look no further than Whispering Canyon.
What once was a rowdy meal filled with antics (have you ever seen a bunch of adults running around on wooden horses?) has been toned down a bit in recent months, but the atmosphere remains one of family fun.
Whispering Canyon Café serves breakfast, lunch, and dinner, and they're most known for the "All You Care to Eat" skillets that is sort of like having a buffet, but your server continually brings you more of what you ask for rather than you getting it yourself.
Wilderness Lodge Artist's Point
Looking for a more upscale dining experience at Wilderness Lodge? Artist's Point is your place (for now).
There are rumors that Artist's Point may change in late 2018, but for now, this is one of the resort's Signature Dining restaurants.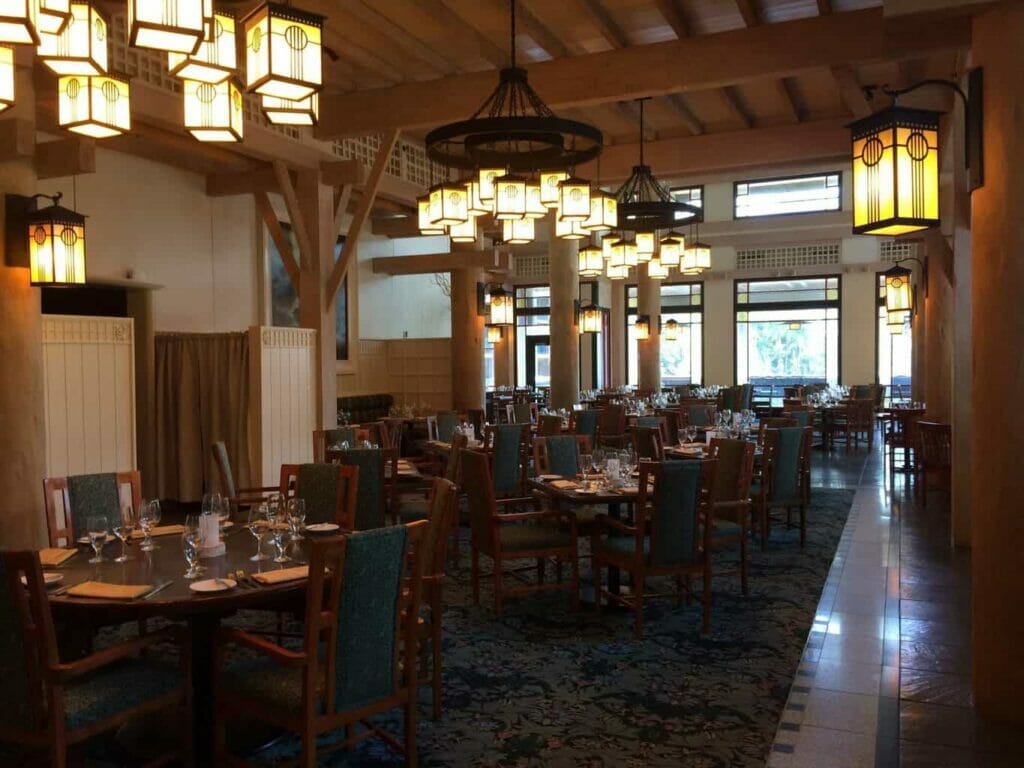 Kids are welcome, but the atmosphere is more of a relaxed, adult vibe where you can hang out with friends and family without having characters in your face or participating in other antics.
It's the antithesis to Whispering Canyon Cafe, which is great as it shows Disney's attempt to diversify their offerings and appeal to a wider range of people.
I've written many times about Disney for adults – it's not just for the little ones!
Wilderness Lodge Gift Shop
I will unashamedly admit that I love resort gift shops, especially in a Deluxe resort.
There is just such a wide range of apparel and resort-specific merchandise these days that I need it ALL.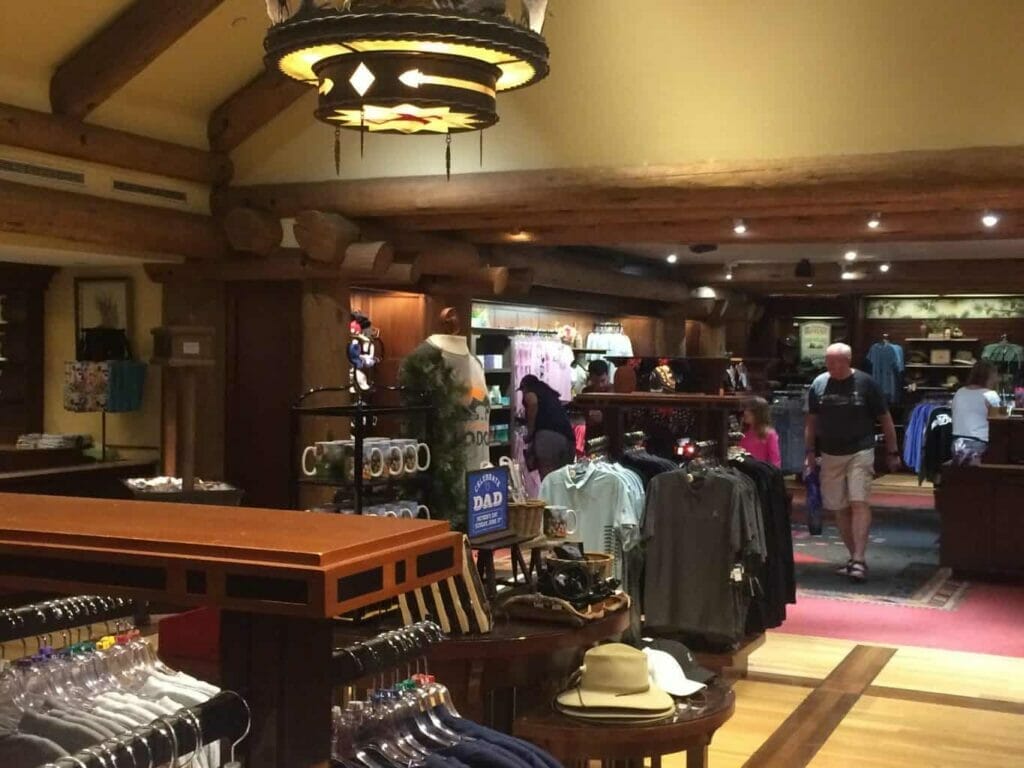 The Wilderness Lodge gift shop has some adorable scenes in glass cases outside, as well as a few rooms to explore.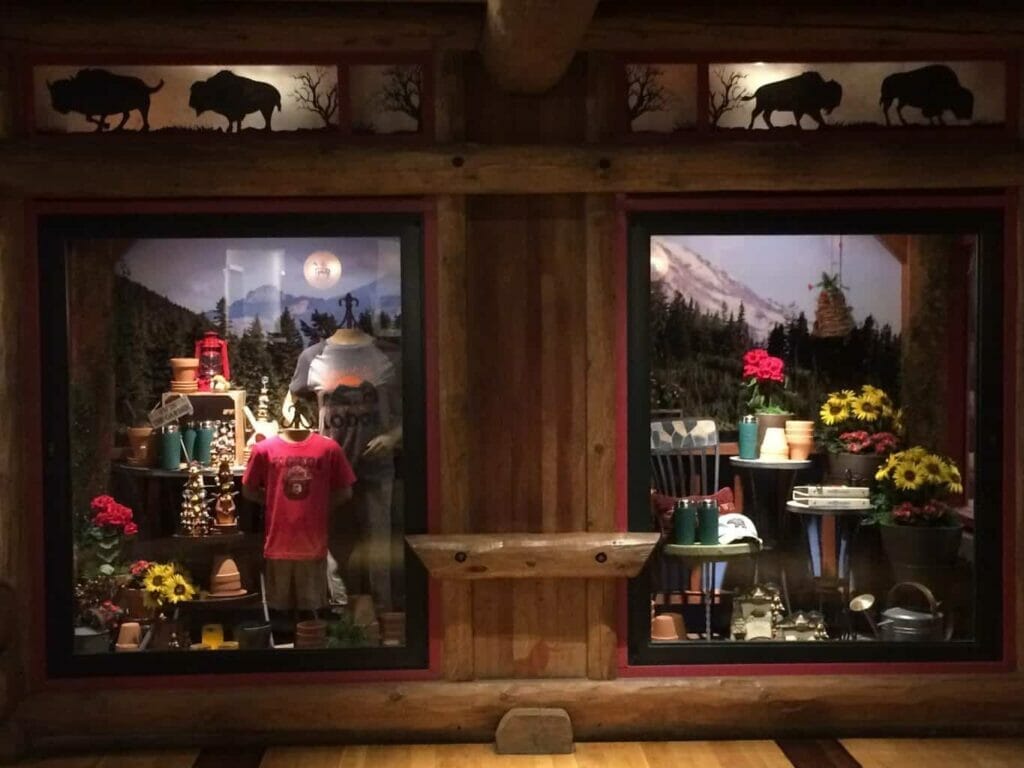 You'll find some of the same merchandise you find in the parks, which is convenient for any last minute shopping on your way out.
You'll also find a grocery section, which is very expensive but a lifesaver if you don't have time to source an ingredient you need for dinner in your villa.
Finally, there is a whole section dedicated to Wilderness Lodge gear, including t-shirts, mugs, magnets, and home decor.
This is a great way to take home a bit of the magic and remember your stay at Wilderness Lodge all year long.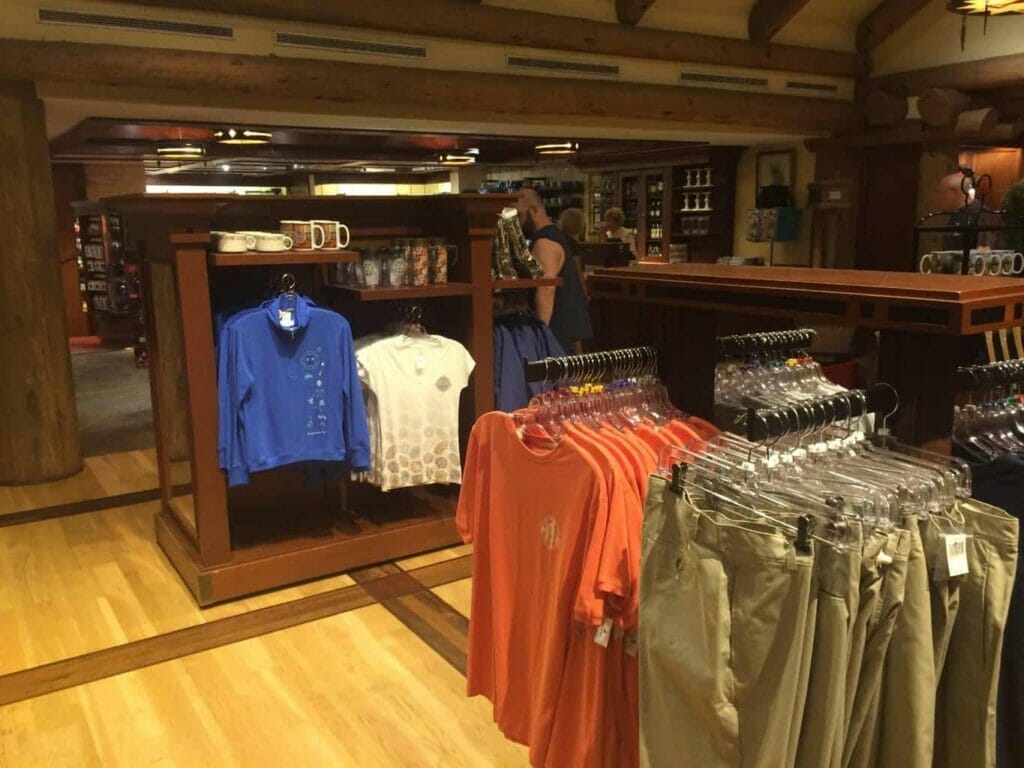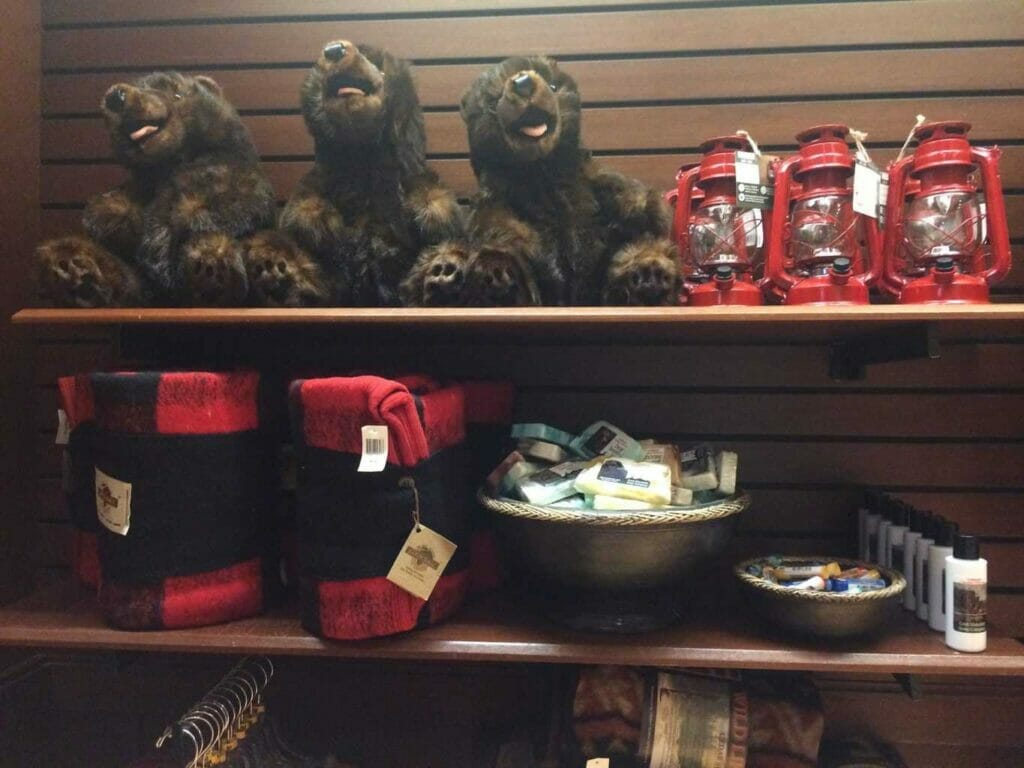 Wilderness Lodge Pools
There are two pools at Wilderness Lodge, the main Copper Creek Springs Pool and the quieter Boulder Ridge Cove Pool.
We swam in both, and they seem to be well-suited to different types of audiences.
The Copper Creek Springs pool has a fantastic waterslide, and nearby a kid's splash area that can't be beat.
It's also more centrally located.
This is the best pools for families and young children, and we've ranked it as one of the best Disney World pools.
This is also where the daily pool recreational activities take place.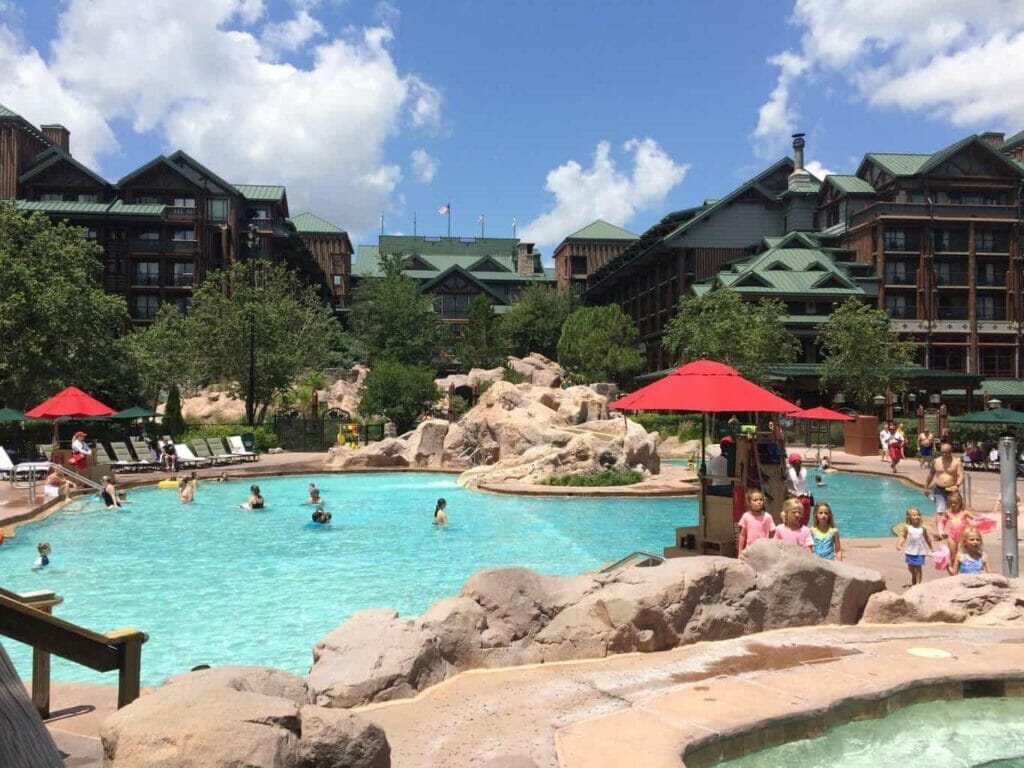 The Boulder Ridge Cove Pool, on the other hand, is more suited to older children and adults.
Everyone is still more than welcome, but it lacks the kid-specific features of the other pool and is a bit more of a relaxing pool without the activities.
You can get towels for both pools down next to the pool, you don't need to bring them from your room.
Wilderness Lodge Recreation
While I've talked about activities taking place at Wilderness Lodge, I thought I'd also address the recreational activities that are available FROM the Lodge, rather than within it.
For instance, at Teton Bike and Boat Rentals, you can rent bikes to ride around all day, particularly on the trains to Fort Wilderness.
You can also rent a canoe, kayak, or motorized boat to take out on the lake for a day of fun that you didn't even know was possible at Disney.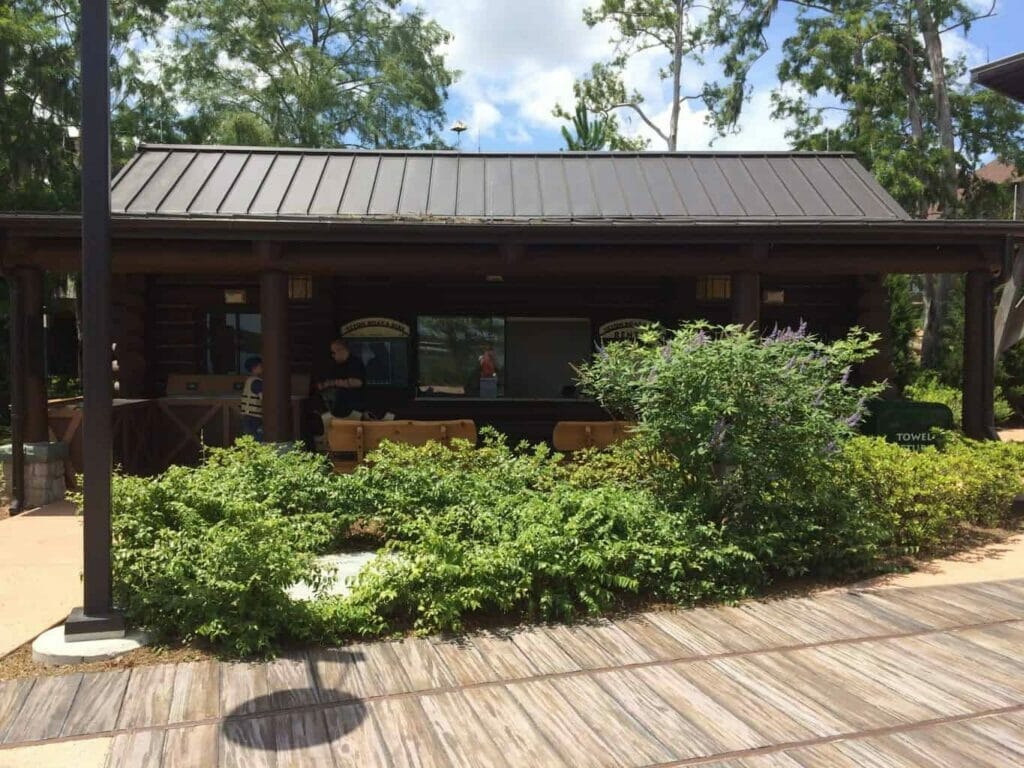 Where to Watch the Fireworks from Wilderness Lodge
There are two main ways to watch the fireworks from Wilderness Lodge, one of which involves making sure that you book a Nature Fireworks View room.
Because of the location of the lodge, you don't get quite the same fireworks experience as you do when you stay at places like the Polynesian, but that's okay, because I've found a great solution…
If you head out to the dock for the boat to the Magic Kingdom maybe 20 minutes before Magic Kingdom fireworks time, you can get on the next boat which will essentially give you a fantastic fireworks view from the boat as you're making your way over to the Magic Kingdom.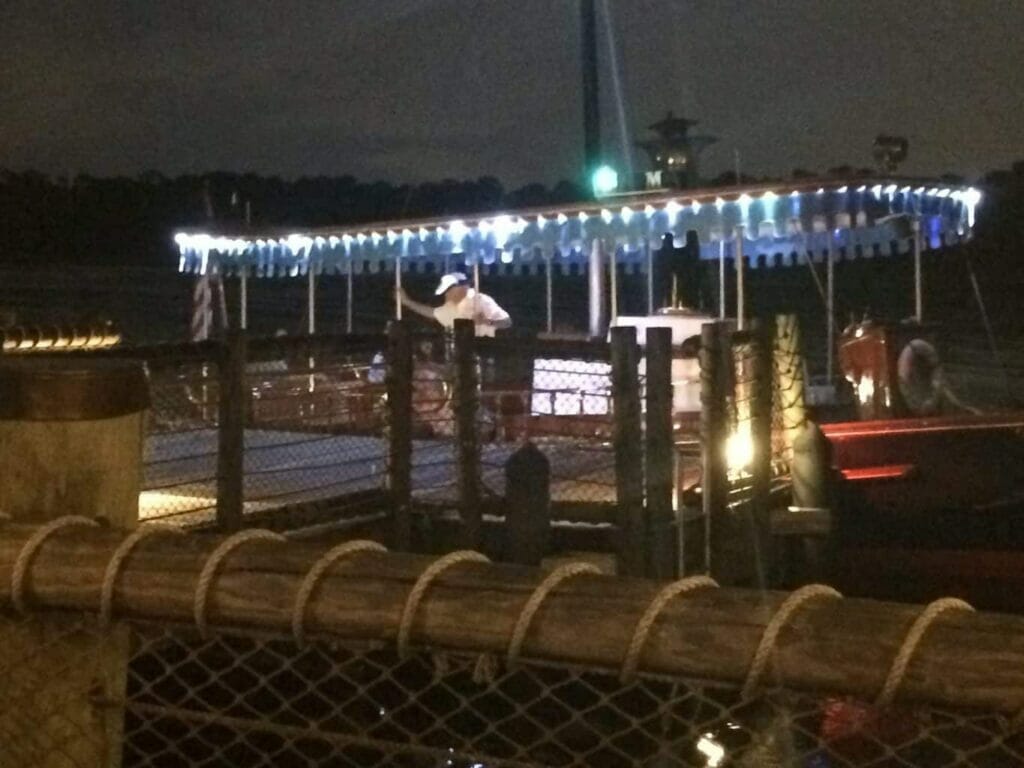 Then, you don't need to get off at the Magic Kingdom – you simply stay on the boat and finish watching the fireworks show as it takes you back to Wilderness Lodge.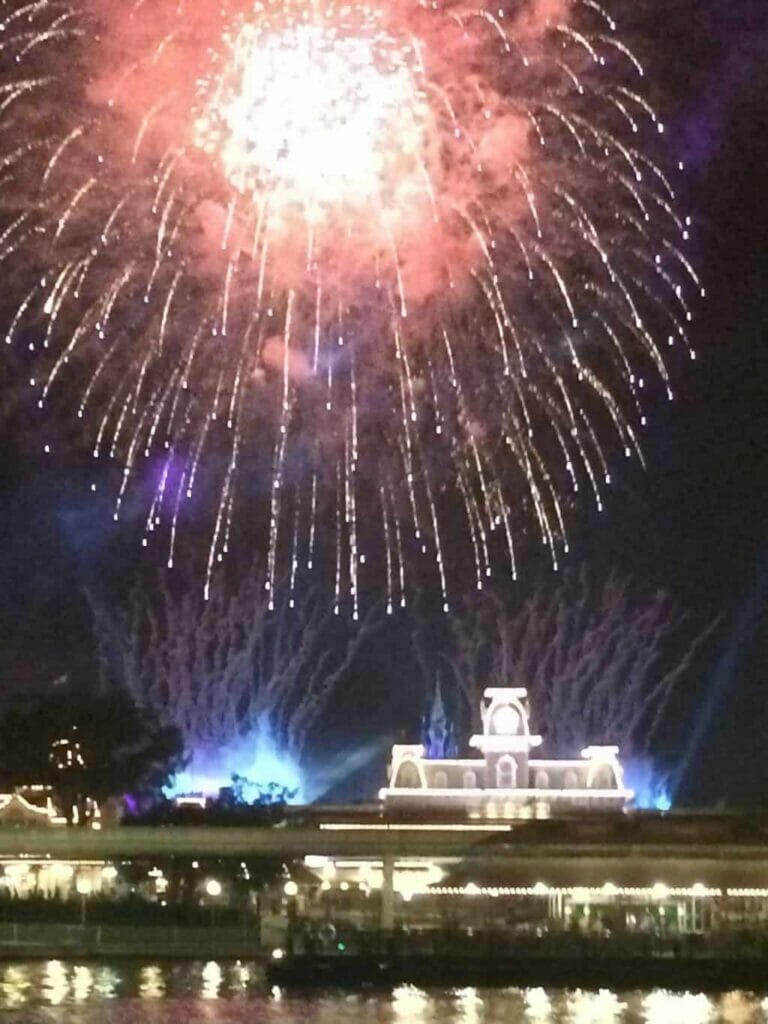 Truly one of the best experiences I've ever had at Disney World, and it costs me nothing extra!
Getting to the Magic Kingdom from Wilderness Lodge
As mentioned, the most relaxing way to the Magic Kingdom from Wilderness Lodge is taking the boat.
It runs about every 15-20 minutes and you'll float past other Disney resorts until you're finally there, right in front of the castle.
I love this boat because, like the buses, it bypasses the Transportation and Ticket Center, so you can spend less time in lines outside of the park and more time in lines inside the park (sorry, but true!)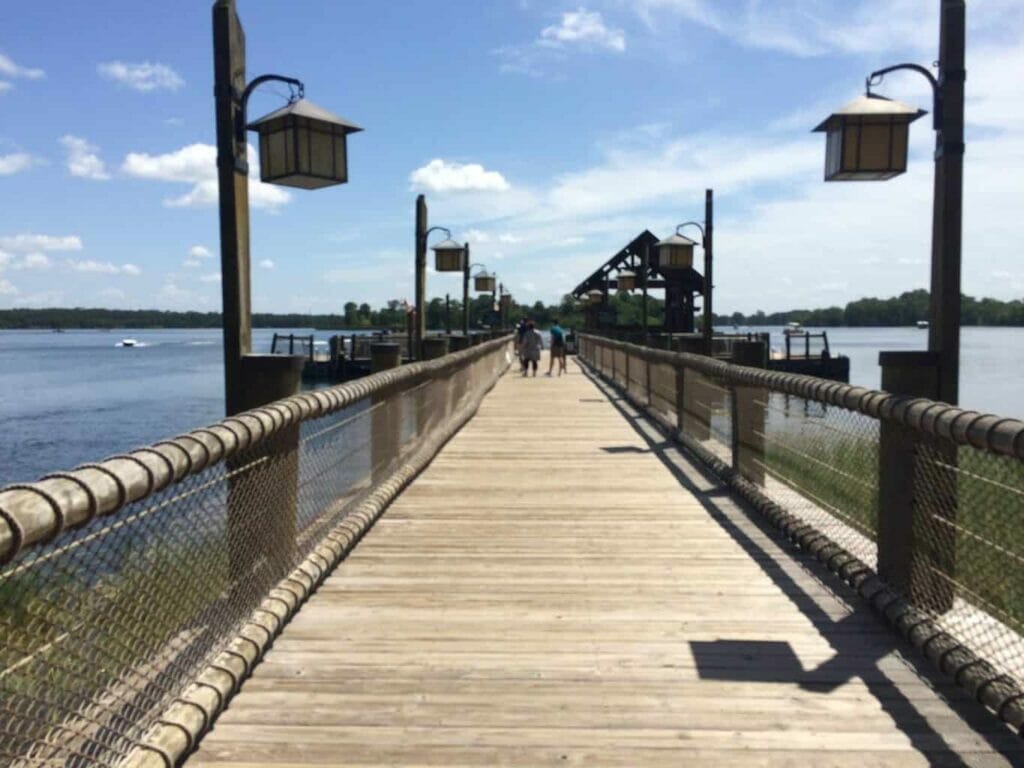 We had great captains each time who were friendly and safety-conscious.
You can also take a boat from the same Wilderness Lodge Dock to the Contemporary and Fort Wilderness if you have dining or recreation reservations there or just want to check out the properties and do some Disney resort hoppping.
You can also take a bus from the Wilderness Lodge to the Magic Kingdom, which will get you there faster than the boat, but has less of a view.
Getting to Other Parks from Disney's Wilderness Lodge
For all other parks and Disney Springs, you can use Wilderness Lodge's free buses that take you from the resort to your destination.
There are screens that let you know how long to wait for the next bus.
Getting Upgraded at Disney's Wilderness Lodge
We ended up getting upgraded at Disney's Wilderness Lodge from a Standard Room to a One Bedroom Copper Creek Villa.
Check out my article on getting upgraded at Disney hotels to learn more about this experience and what went wrong.
Wilderness Lodge for Families
Because Wilderness Lodge is so large and it has direct access to the Magic Kingdom, I think it's a fantastic choice for families and one of the best Disney resorts for kids.
The dining option will appeal to a wide variety of tastes and ages, and the resort has immersive theming while also being one of the calmer properties on site.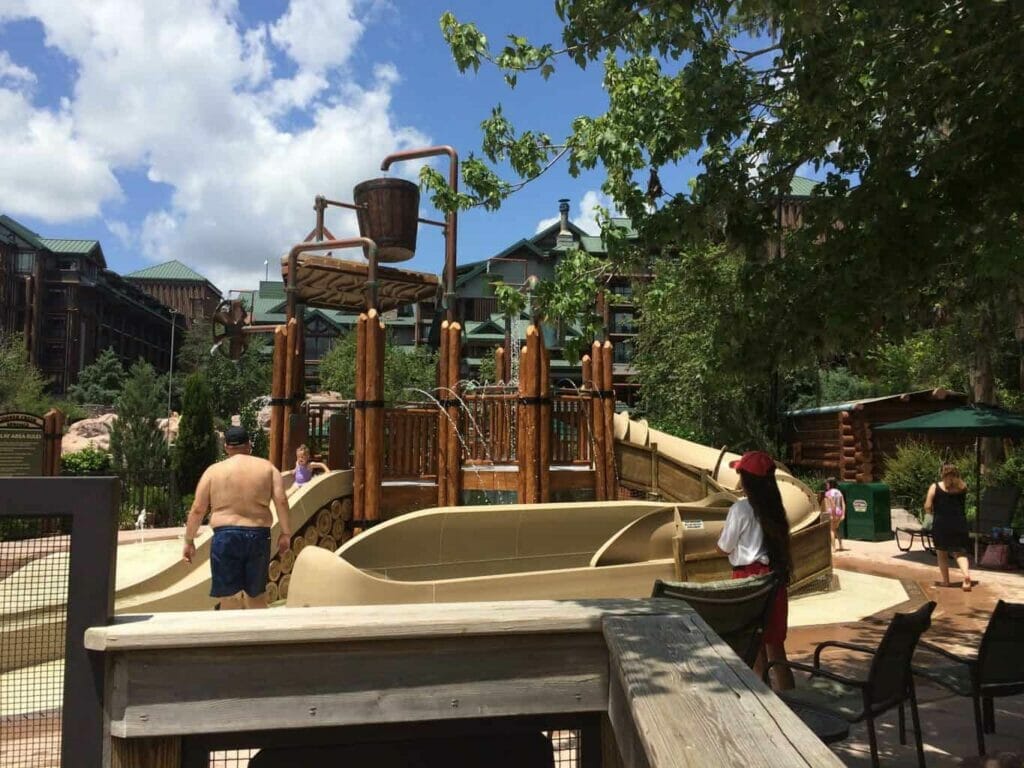 Wilderness Lodge for Couples
There are some resorts that I wouldn't recommend for couples on a romantic getaway, but Wilderness Lodge is relaxing enough that I think it would make a fantastic couples Disney resort.
I can see couples taking advantage of the boat and bike rentals, as well as the bar at Geyser Point and the hot tub at the Boulder Ridge pool.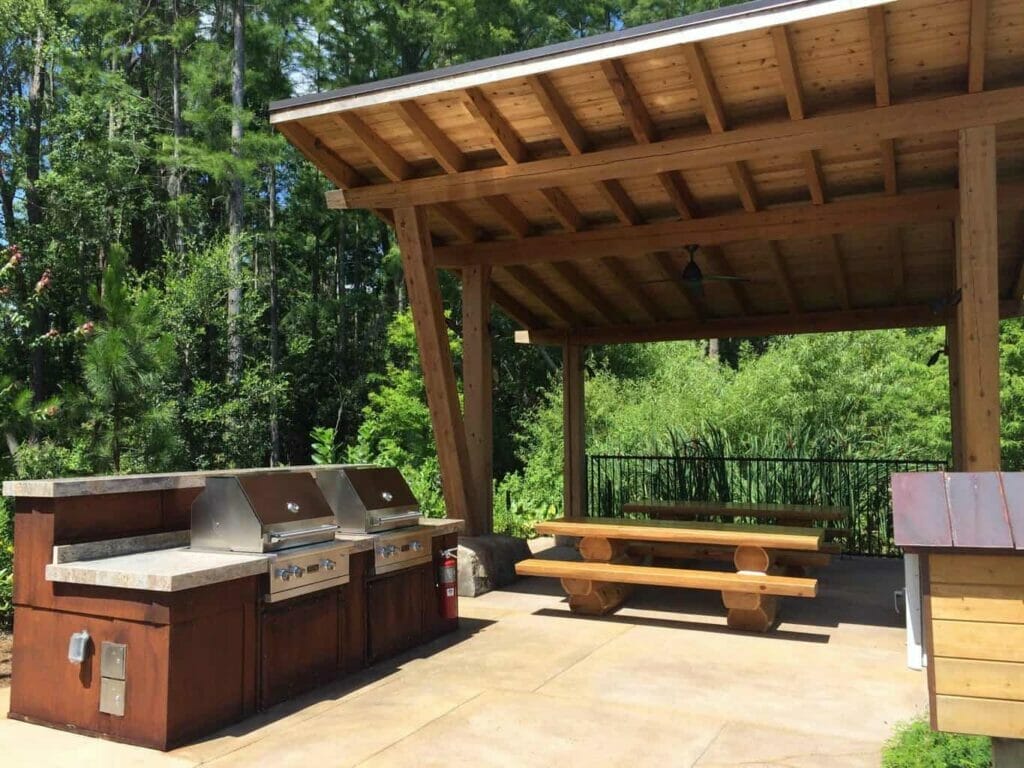 Wilderness Lodge for Solo Travelers
If you're on a Disney vacation by yourself (and more power to you!), Wilderness Lodge would make a great choice for the easy access to the Magic Kingdom if that's your park of choice.
There are also tons of secluded places to lounge and relax without being in the hustle and bustle of things.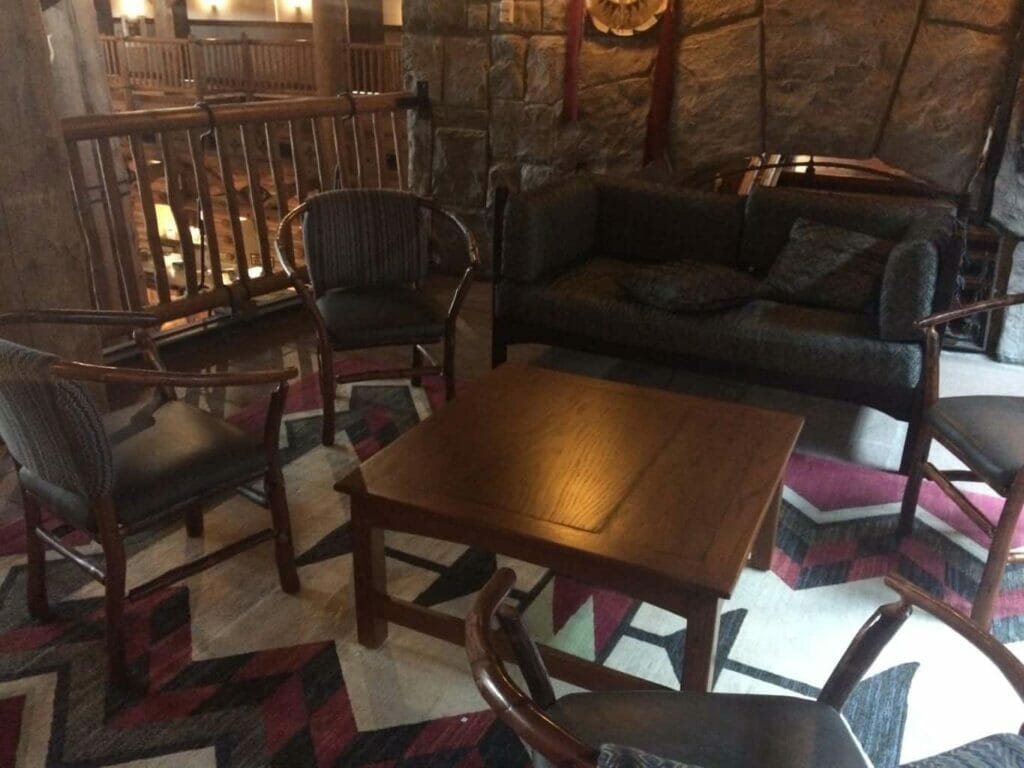 As far as dining goes, if you're not totally happy with going to a sit-down restaurant by yourself, the Geyer Point and Roaring Fork options give you the chance to eat your food wherever you want.
Have you been to the Wilderness Lodge?
I'd love to hear your thoughts on Wilderness Lodge if you're stayed there before, or answer any questions you have about this fantastic resort.
Just comment below and let's chat all things "rustic" Disney!
Get the All-American Travel Secrets!
Don't miss out on America's hidden gems!