Flower power. Skyliner rides. Giant Yo-yos, laptops, and technology from a time gone by.
In this honest review of Disney's Pop Century resort, we'll go over everything from the theming to the quality of the rooms to what kind of Disney guest should book a room here, as well as our personal experience of a trip taken in September 2021 so you know what to expect when you stay.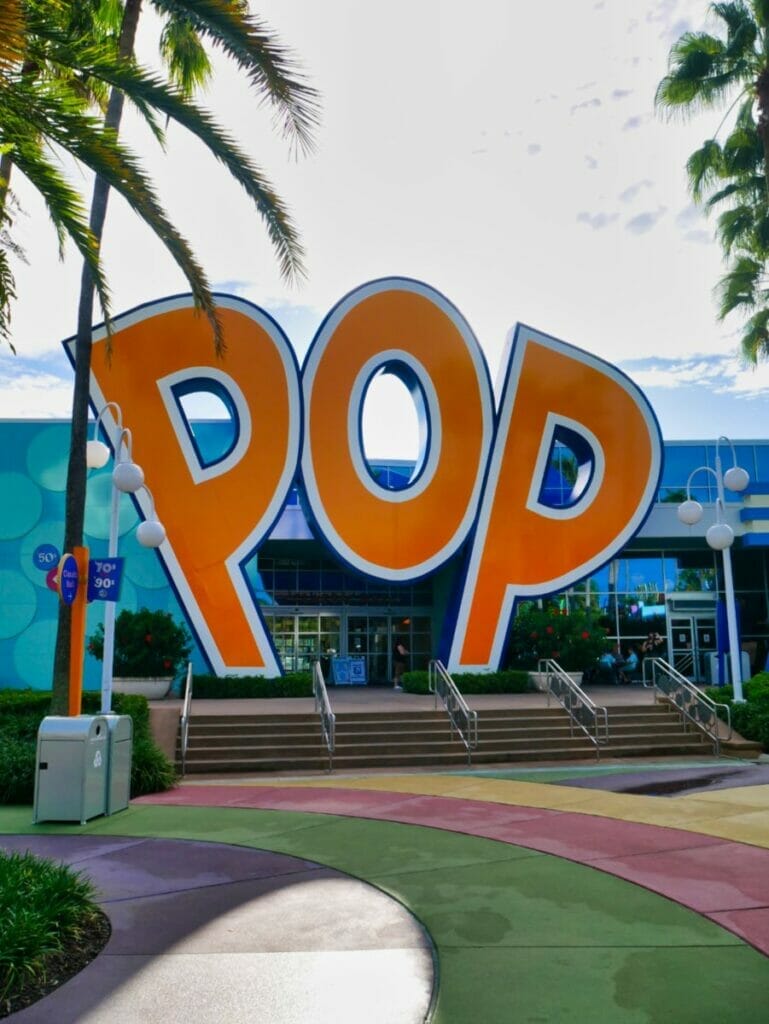 Unlike the resort across the lake, Art of Animation, the "Disney" theming at Pop Century is minimal, with a few statues of Lady and the Tramp and the Jungle Book in their rightful decade areas and some Mickey heads in the rooms.
Instead, the theme is very much a celebration of how we worked, played, and communicated in the 20th century, with decade areas spanning from the 50s to the 90s.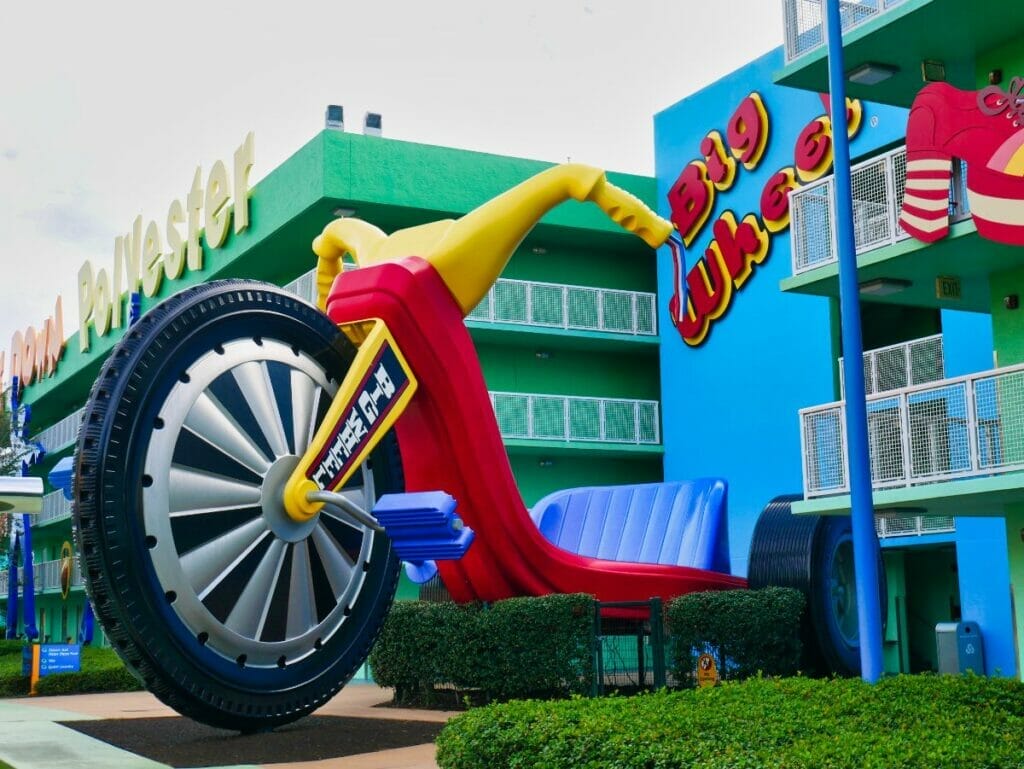 It's colorful, bright, considered a Value resort for a family on a budget, and has more amenities than you might think (and also some drawbacks which we'll talk about when we go over the food court, pool hours, and some of the exterior theming).
Truthfully, it has a little bit of a cult following and can be considered one of the best Disney World resorts for many.
Want insider Disney tips from an expert?
Join 4,000 others in weekly guides to Disney's hidden secrets, gems, and money-saving tips!
Pssst – this printable Disney scavenger hunt is amazing
Since you're already looking up Disney guides, I just wanted to make sure you knew about this printable Disney World scavenger hunt created by a lifelong Orlando native and Disney World fan.
There are over 60 challenges with a full answer key and both Family and Grown Up versions and a bonus Disney Springs hunt for your non-park day!
Hey! Want more Disney World resort reviews? Check these out!
Practical Tips for Pop Century
Before you head out, here are some of the more need-to-know tips about what to expect with Pop Century
Pop Century Resort Address: 1050 Century Dr, Lake Buena Vista, FL 32836
All rooms at Pop Century are for 4 guests, with an additional space available for a pack-n-play with a baby. If you need more than space for 4 guests in one room, check out Art of Animation.
Pop Century Resort is considered in the "ESPN World of Sports" area on Disney property, so if you're following Disney signs, that's how you'll get there!
Pop Century is a Disney Value Resort (though the price is ever increasing thanks to general Disney prices and the addition of Skyliner access), which means that it is considered to be one of the best resorts for people on a budget.
If you need to do laundry, there are guest laundry areas for longer trips.
Pop also offers luggage storage and transfer.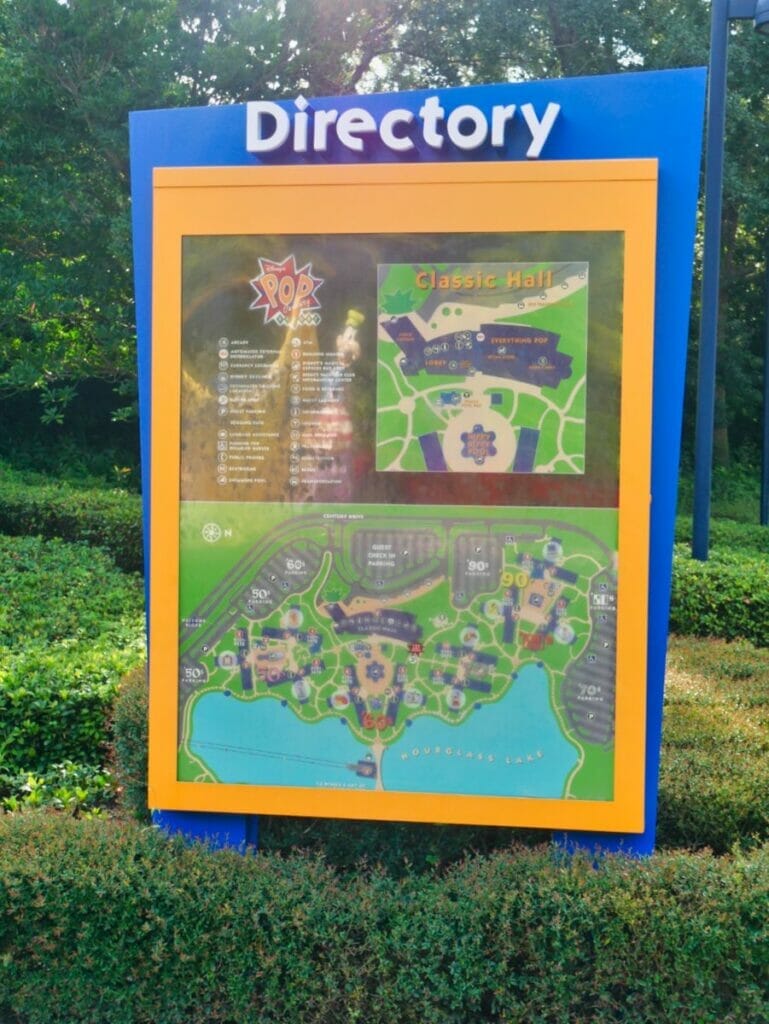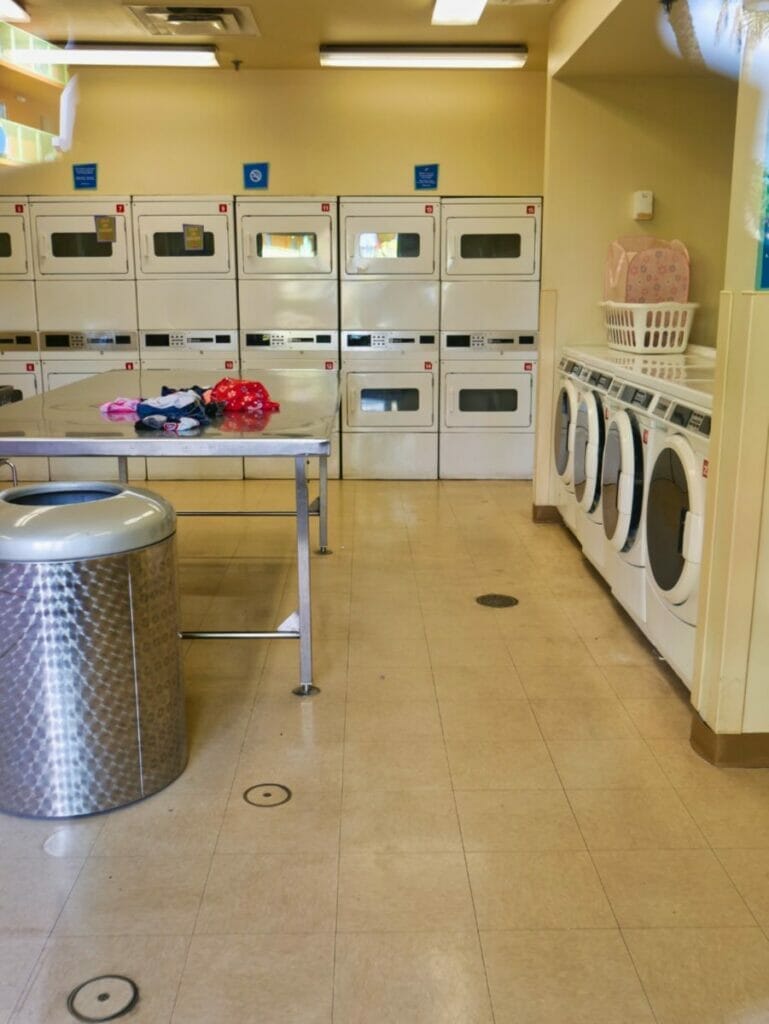 If you're someone who likes to exercise on vacation (not me, but more power to you) or just want some fresh air from your magical family, Pop also has a great running/walking trail along the lake which has fun facts about different important years in the 20th century along the way.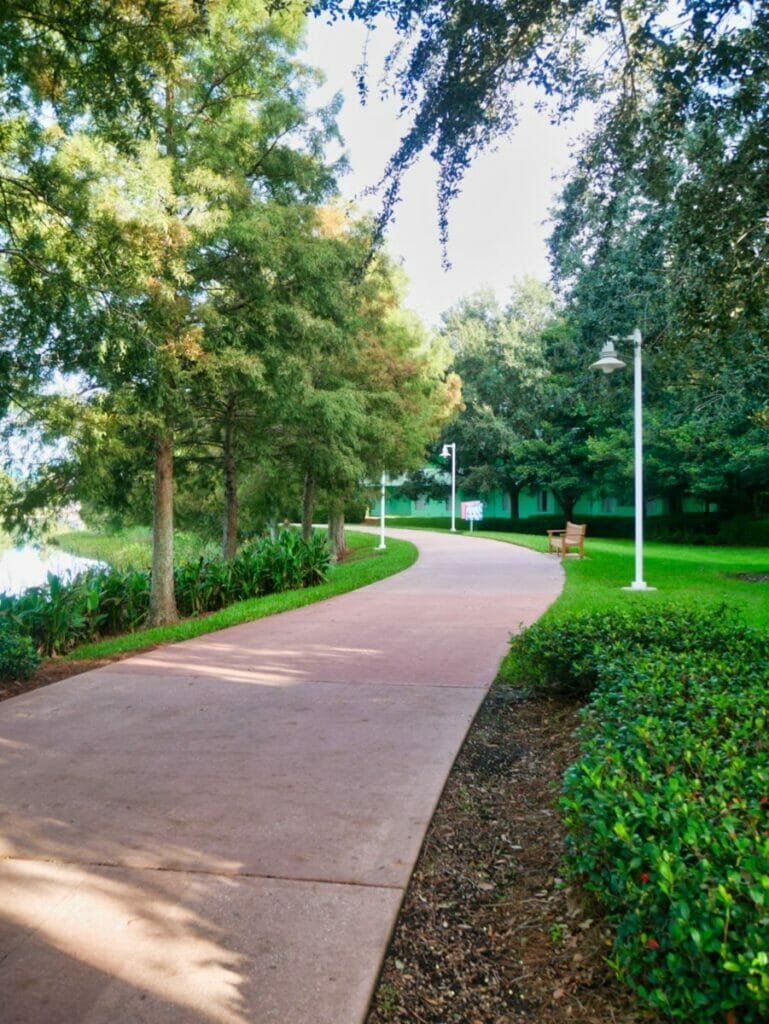 Pop Century Room Categories
There are two types of room categories at Pop Century: Standard, and Preferred.
Pop Century is a motel-style Disney resort, with exterior doors and separate buildings, so the "Preferred" rooms are going to be rooms in areas closer to the main lobby/pool/food court (almost all of the rooms in the 60s area and some rooms in the 50s and 70s).
Preferred rooms will cost you more each night, but will mean less of a walk for you if you are traveling with young kinds, aging parents, or just people who don't want to trek through the resort.
We stayed in a standard room, 6253, which was in building 6 of the 70s themed area and had a great "view" of the lake that Pop shares with Art of Animation.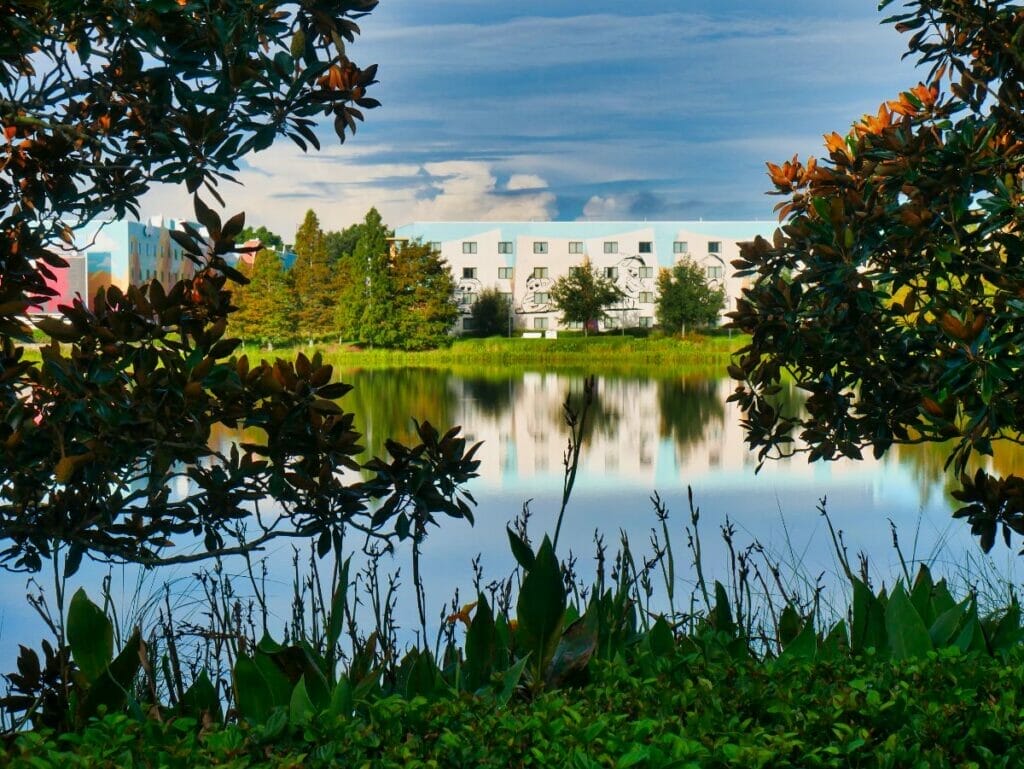 You can submit an additional request directly to the resort for the "view" you would prefer (ie, pool, lake), but they do not separate these rooms into different bookable categories like they do at the Moderates and Deluxes.
Because of this, it's not super common to get upgraded at this Disney resort because there's not much to be "upgraded" to.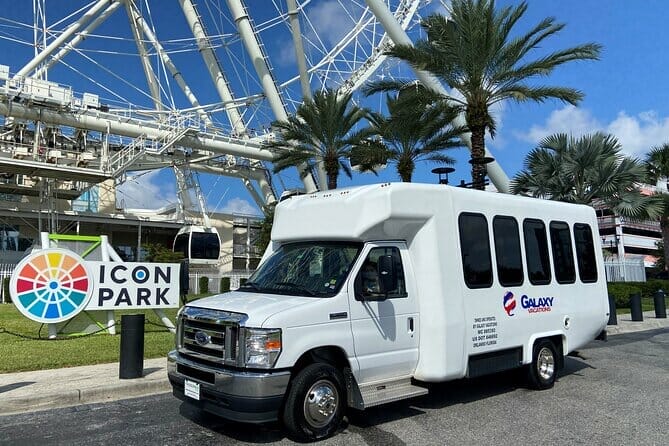 🚌Not renting a car in Orlando?
My favorite shuttle to get from the Orlando airport directly to Disney World is this one with a ⭐⭐⭐⭐⭐ rating.
Pop Century Room Interior
For a value resort, the Pop Century rooms are some of the sleekest on Disney property, with hardwood floors, a Murphy bed (more on that in a minute), and really nice tiling in the bathroom.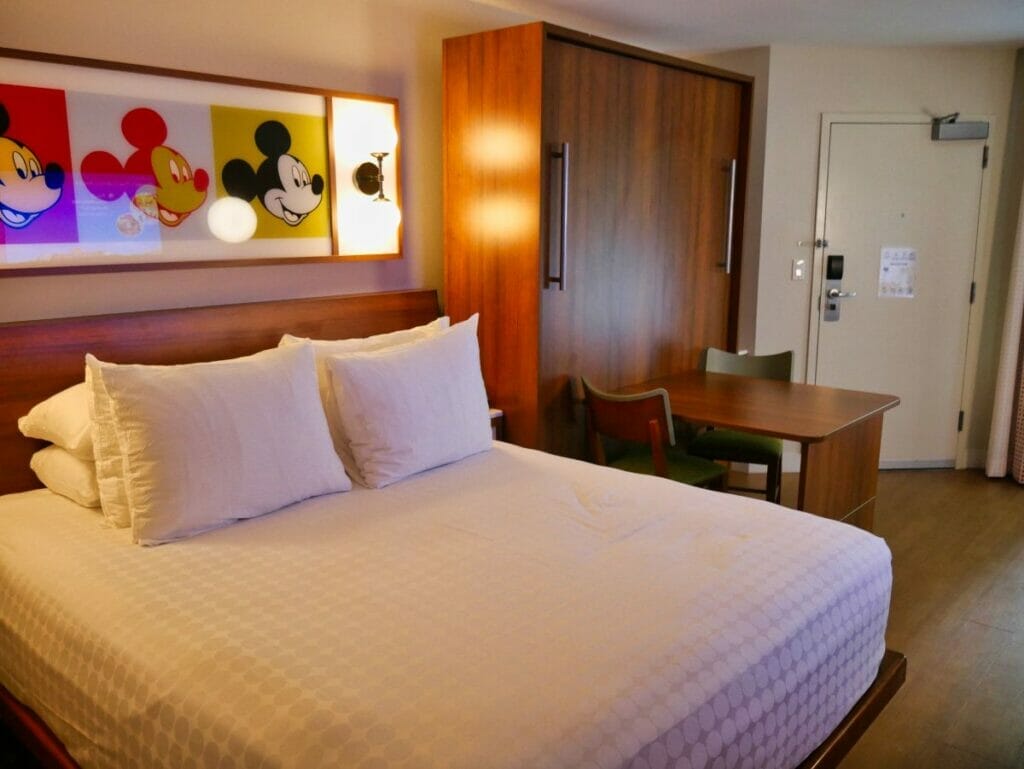 This "look," however, is not well-loved by everyone, with some people thinking it feels clinical or like a hospital.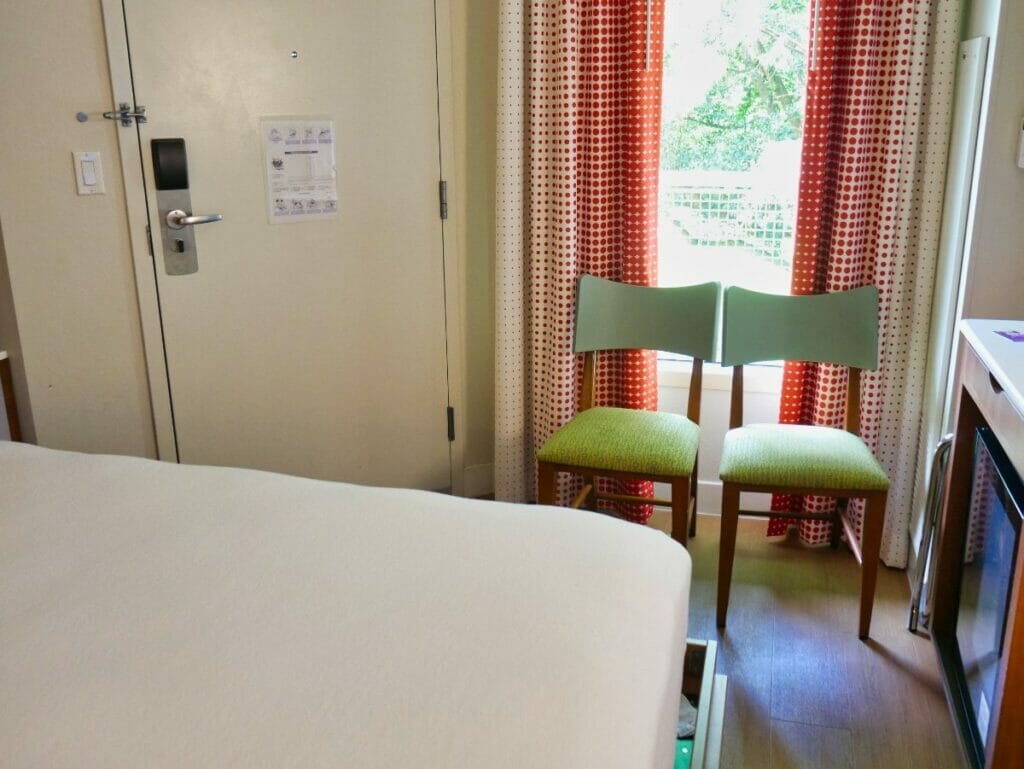 Once the Murphy bed is down and there is more color in the room, we didn't get this feeling too much, but can definitely see how people who want more immersive theming wouldn't love the Pop rooms.
Let's go step-by-step through the photo tour, so you can get a feel for what to expect.
As soon as you walk in, you'll find a table and two chairs (the chair cushions on ours were a little bit worn, but felt okay to sit on).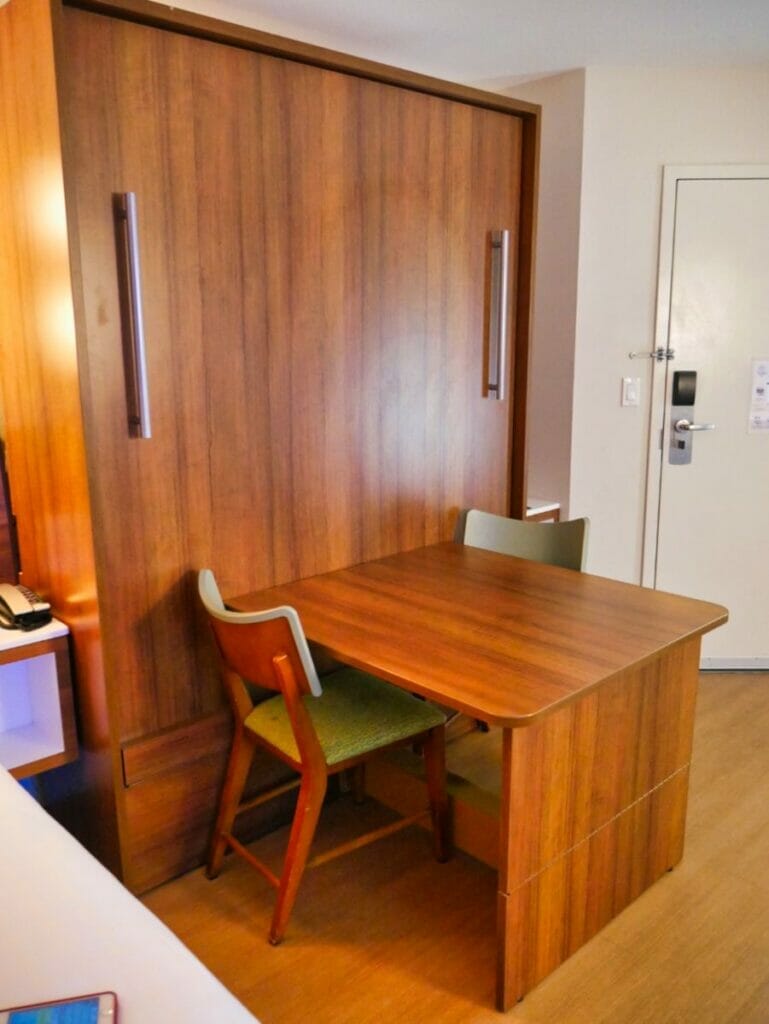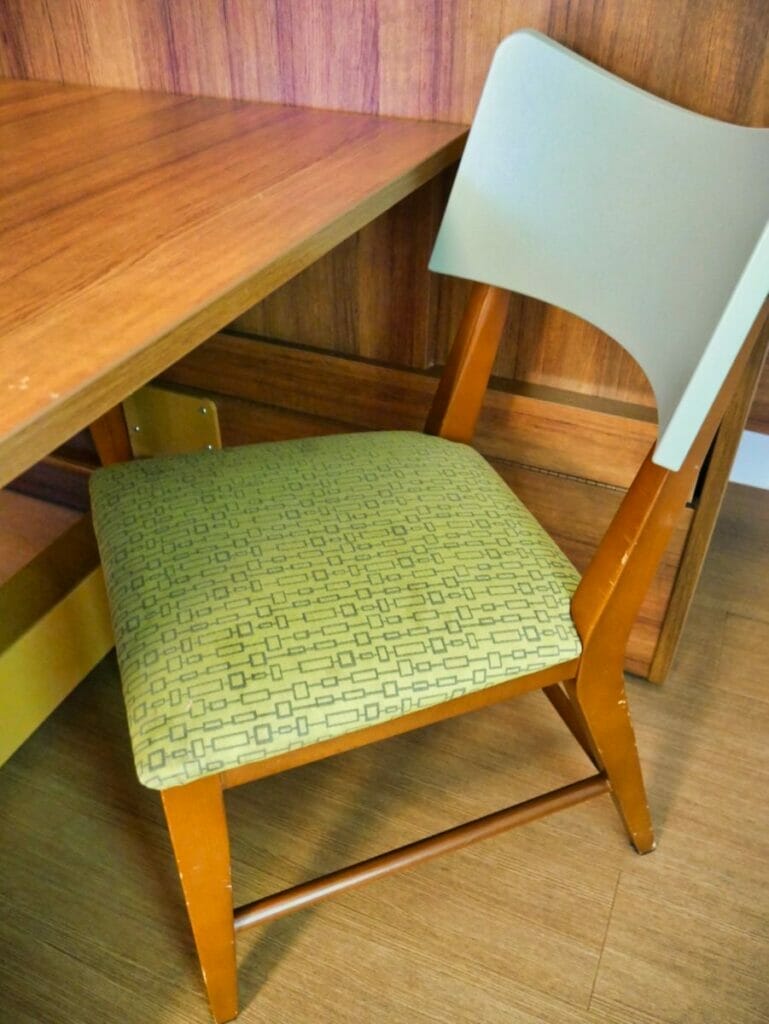 The main bed will be furthest from the door, next to the bathroom.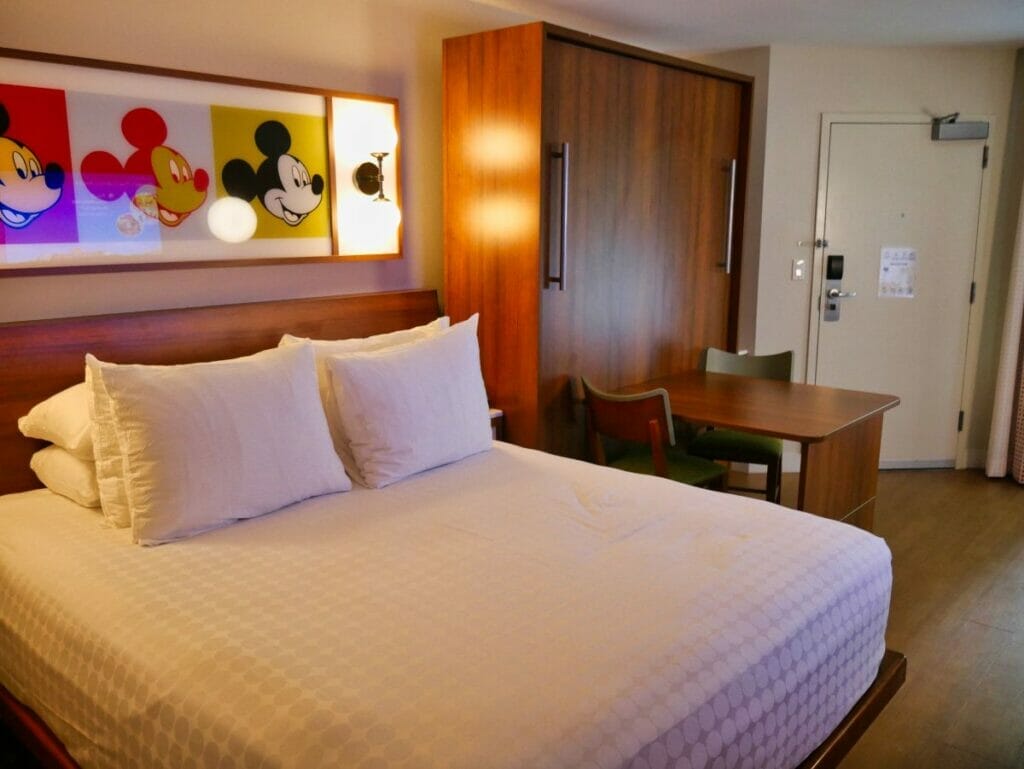 You'll also have some storage spaces, including a tiny kitchenette area with a fridge, coffee machine, and some other goodies (and place to put your key/purse down).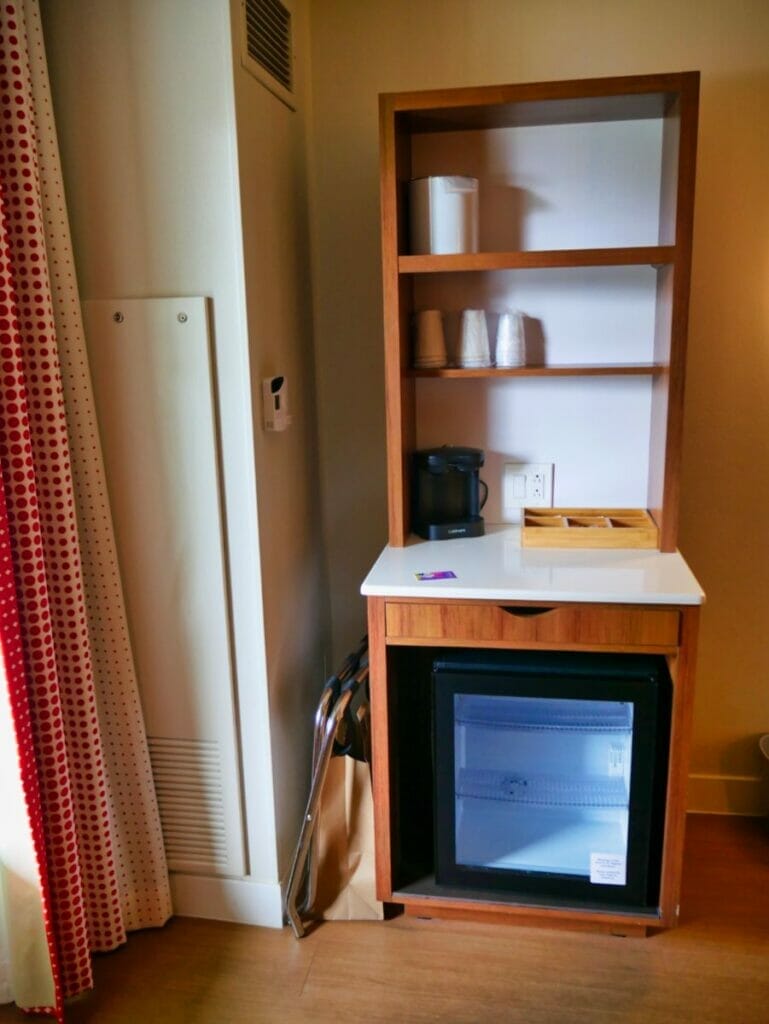 There are great storage boxes next to the table and bed areas, which we found really useful for storing our phones at night.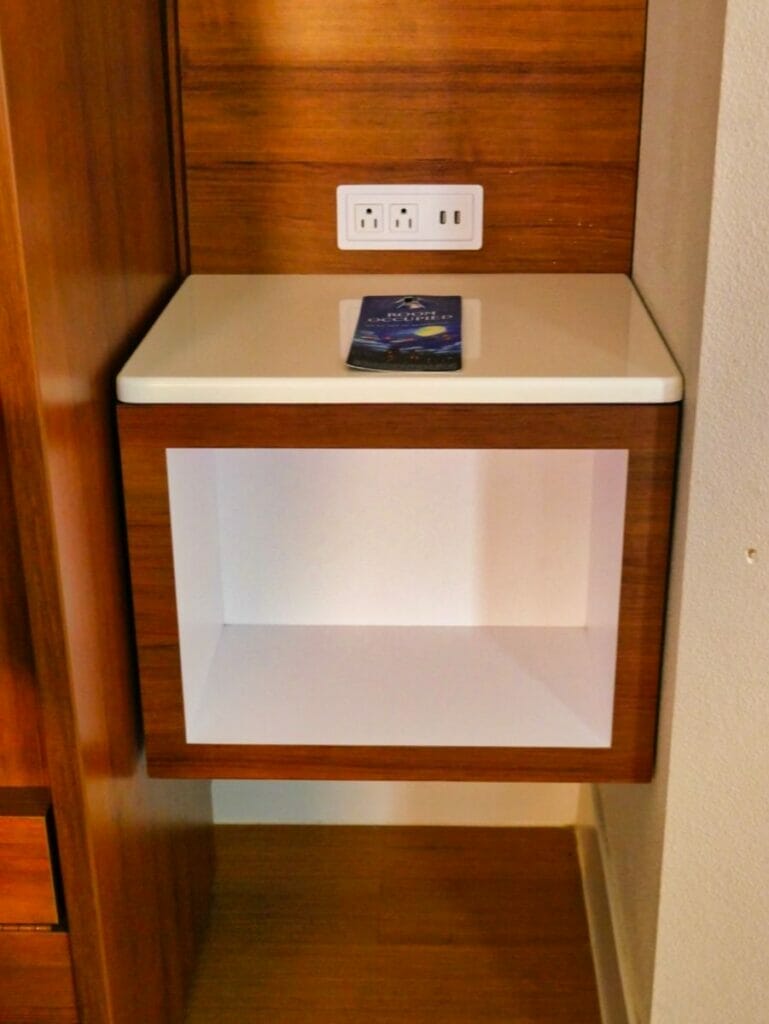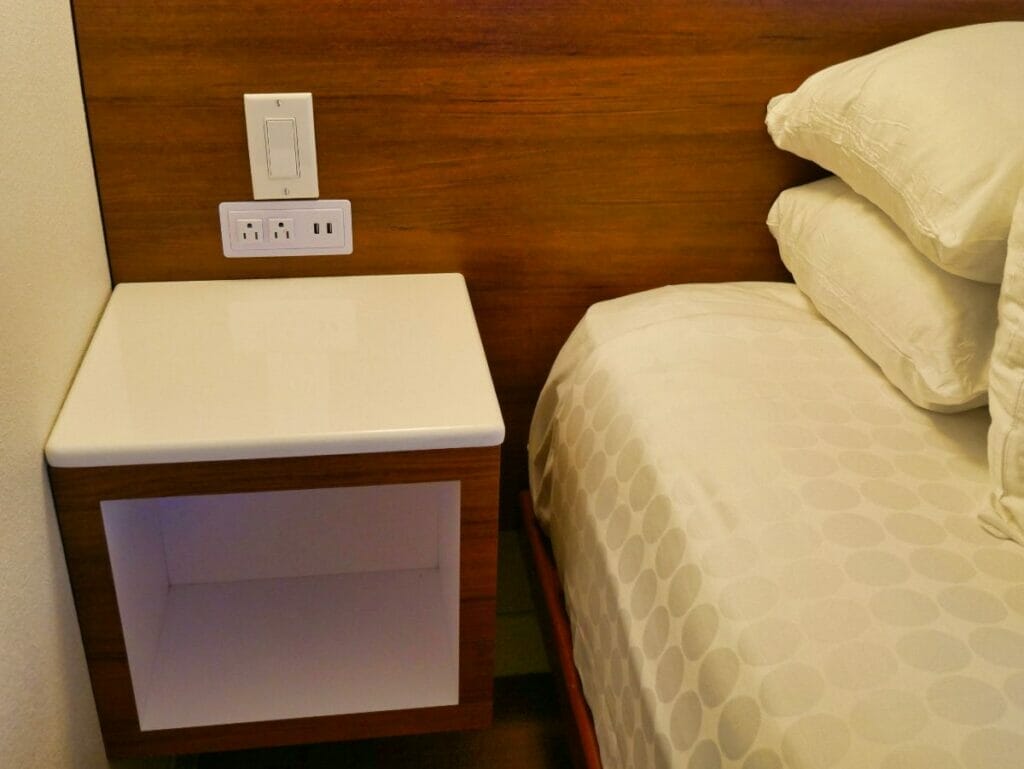 Then you've got a giant flat screen TV (seriously, huge – you're not finding that in most motels!) situated above a chest of drawers.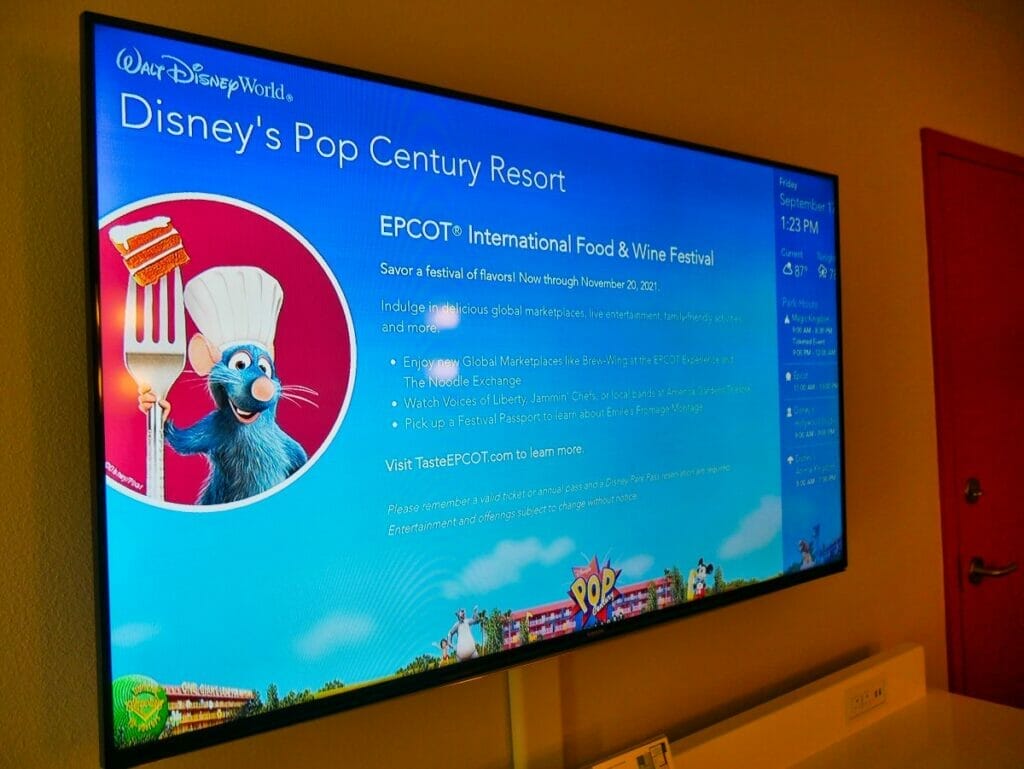 Open up the left side of this unit and you'll find a safe, along with some storage.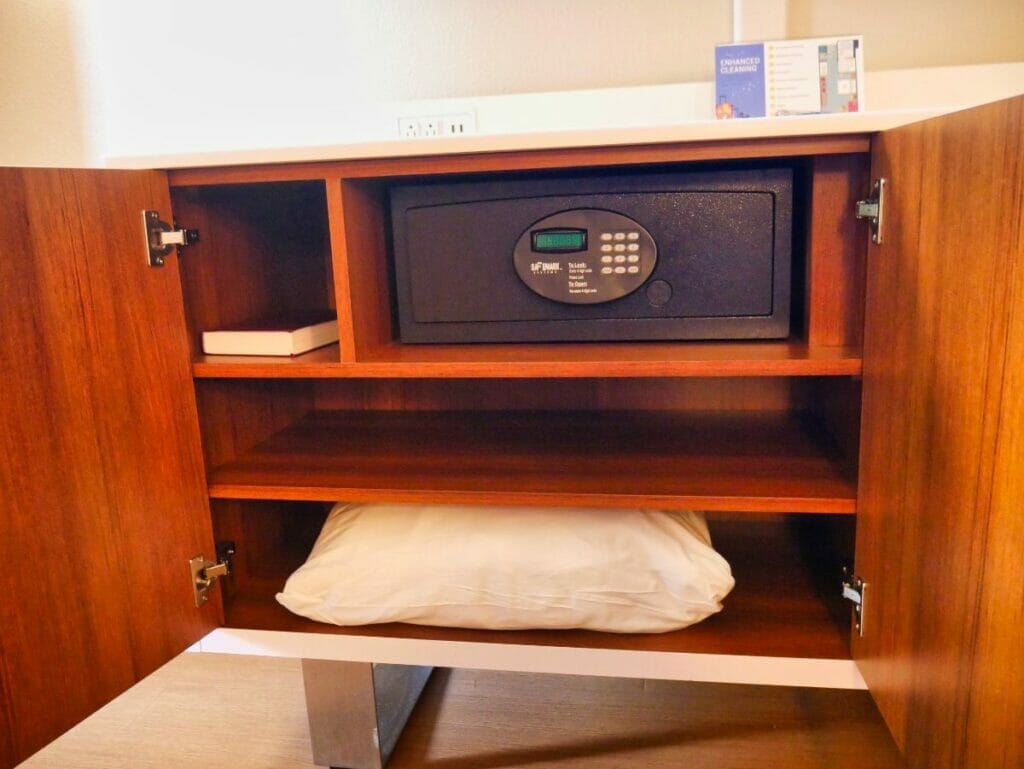 On the right hand side are three drawers, empty for your use.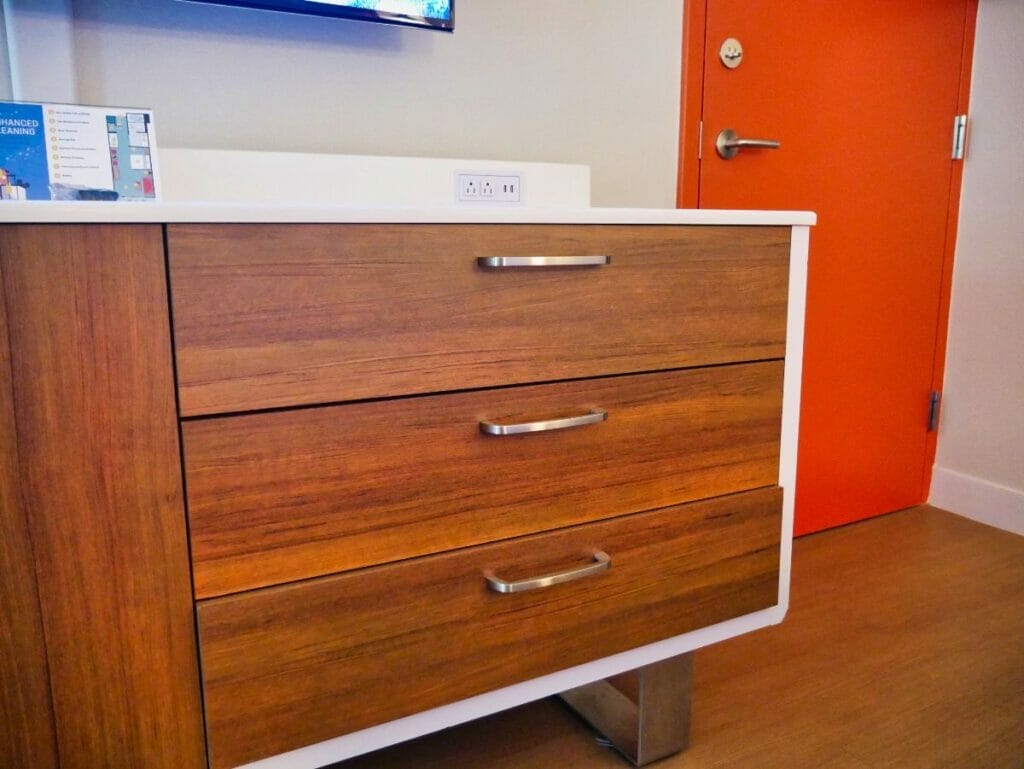 The lighting situation is like in many hotels, where there is not a main light on the ceiling but a big one on the wall, another one to light up the kitchenette area, and then lights next to the beds that each person can turn off or on.
There are also fantastic outlets, with regular outlet plugs and then USB outlets both next to the beds and under the TV.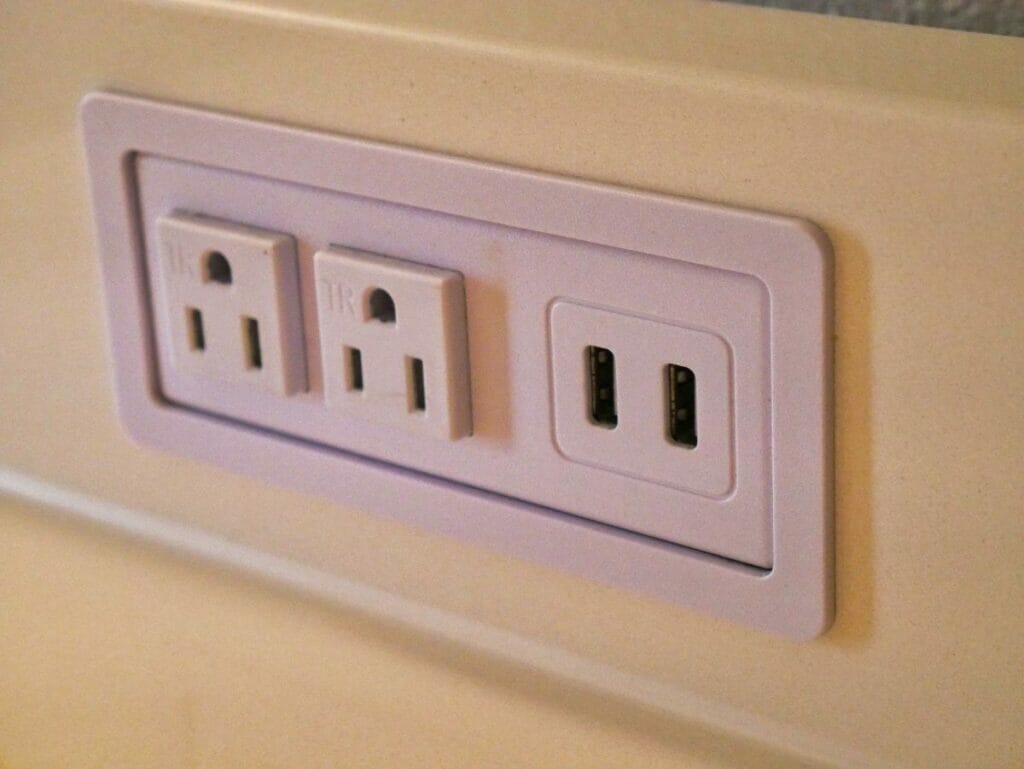 We love a hotel room with actual space to plug things in, and even better if we can just use our USB chargers for our phones and other devices.
Before we go into the bathroom, let's check out what happens when you move the two chairs and pull the Murphy bed down over the table.
Wallah!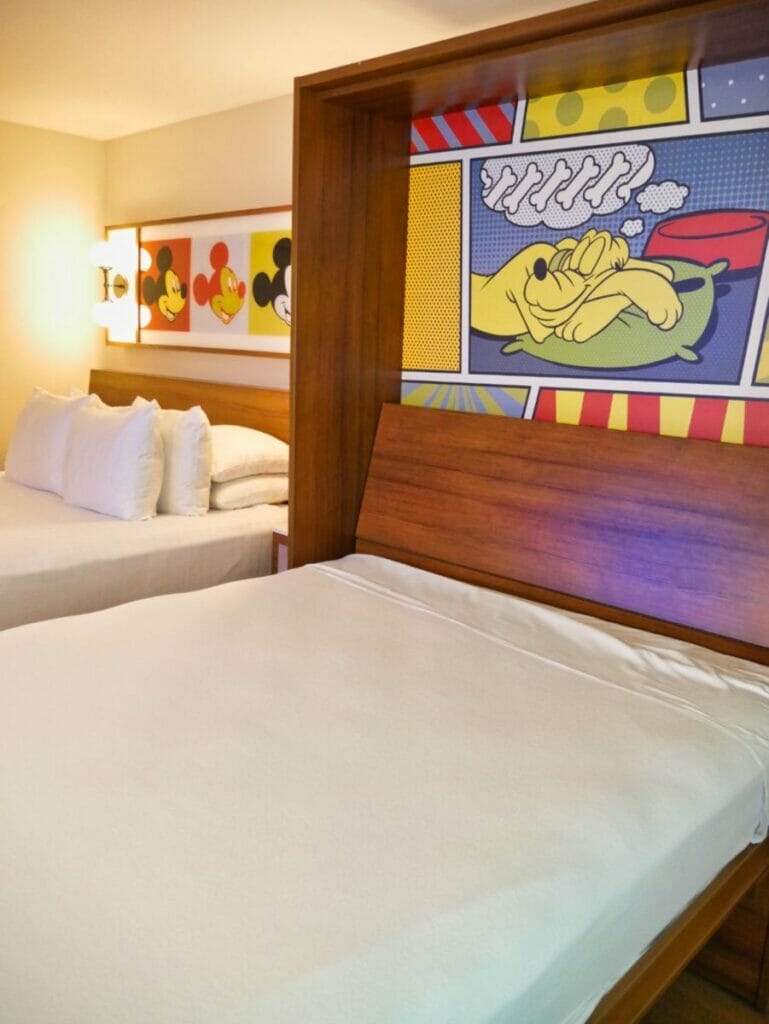 Here is your other Queen sized bed, pretty much equally as comfortable as the main bed, with a fun piece of Disney art above it.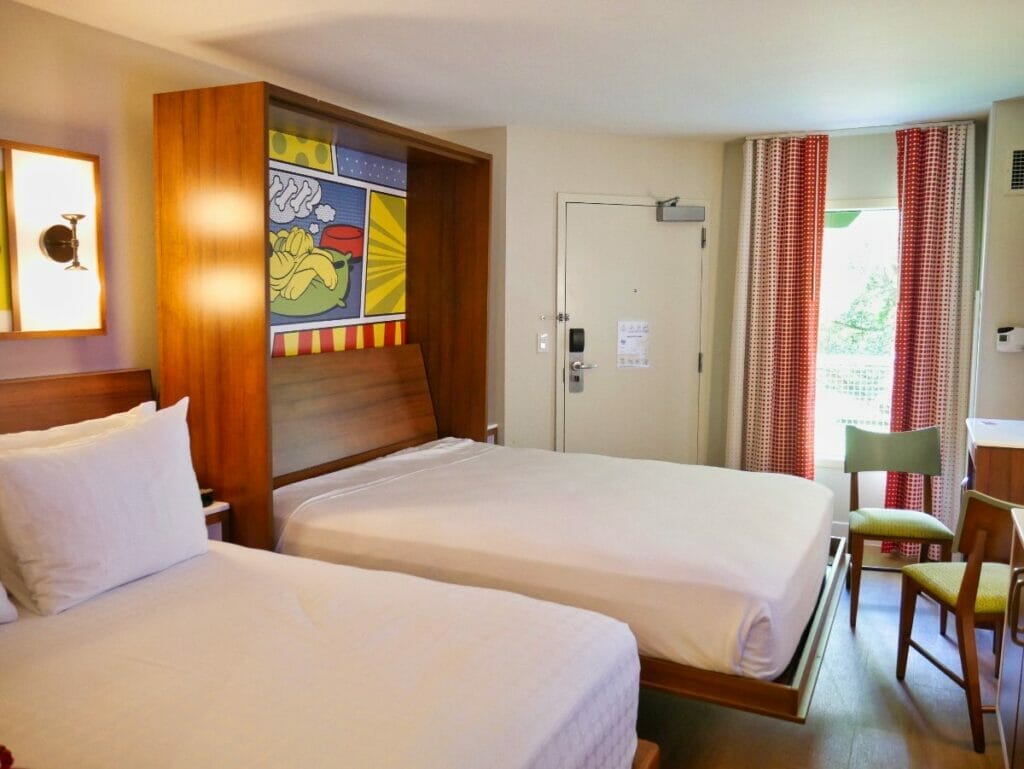 It does come down pretty quickly, so make sure it's just the adults who are changing the rooms around.
You don't need to do anything besides moving the chairs, which makes it so much easier than a traditional "pull out sofa" or pull-down bed that you might find in other areas.
We put the chairs next to the window while the bed was down.
Putting both beds down does, of course, limit your space in the room, and we always chose to put the bed up during the day while we were getting ready.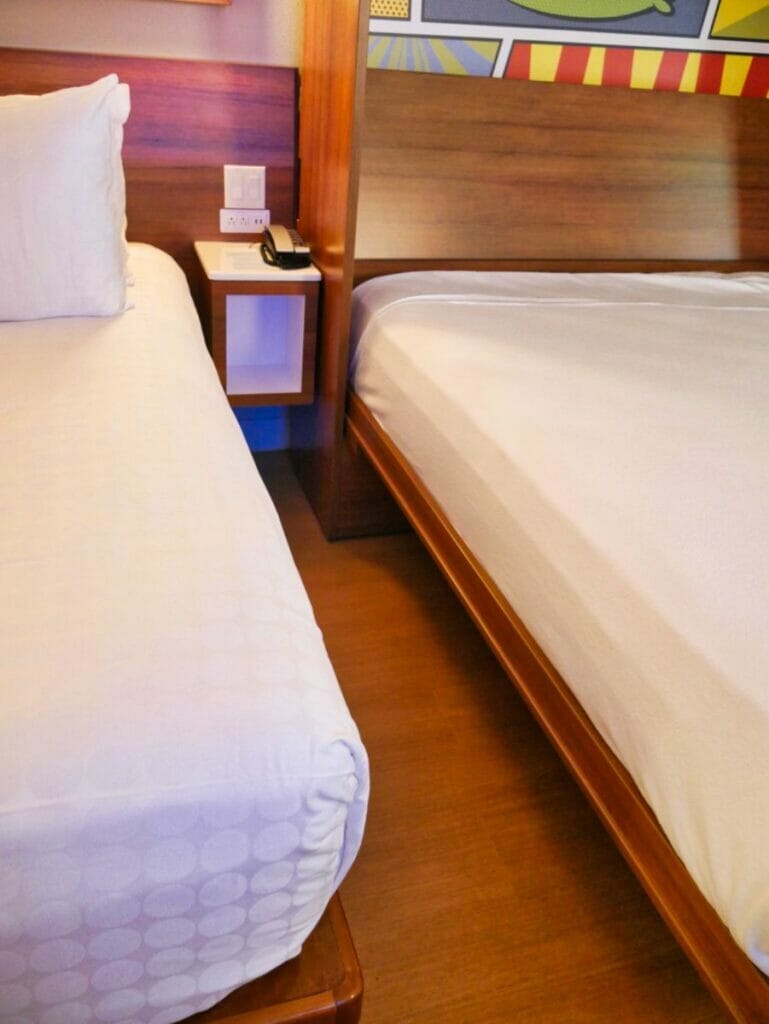 Unlike the smaller single Murphy beds in some of the resorts, this was built for adults and children alike, so two adults could happily share this bed with enough room and sturdiness.
Speaking of suitcases, there is plenty of room under the main bed for them!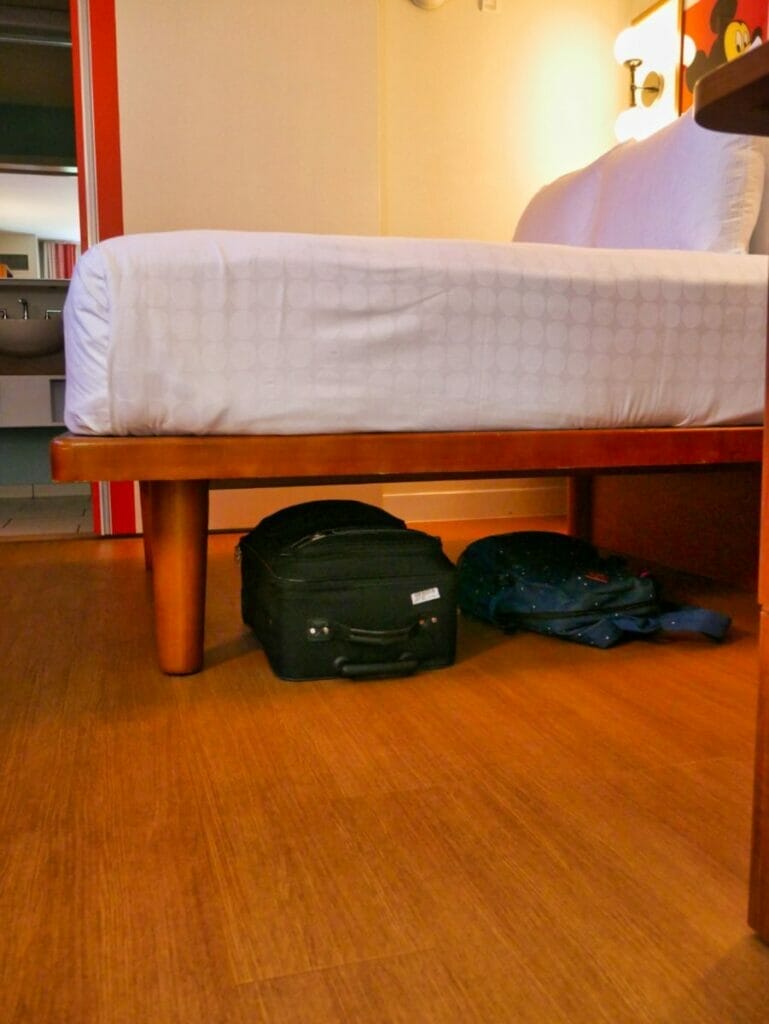 Heading towards the bathroom, you'll find a coat hook right before you enter.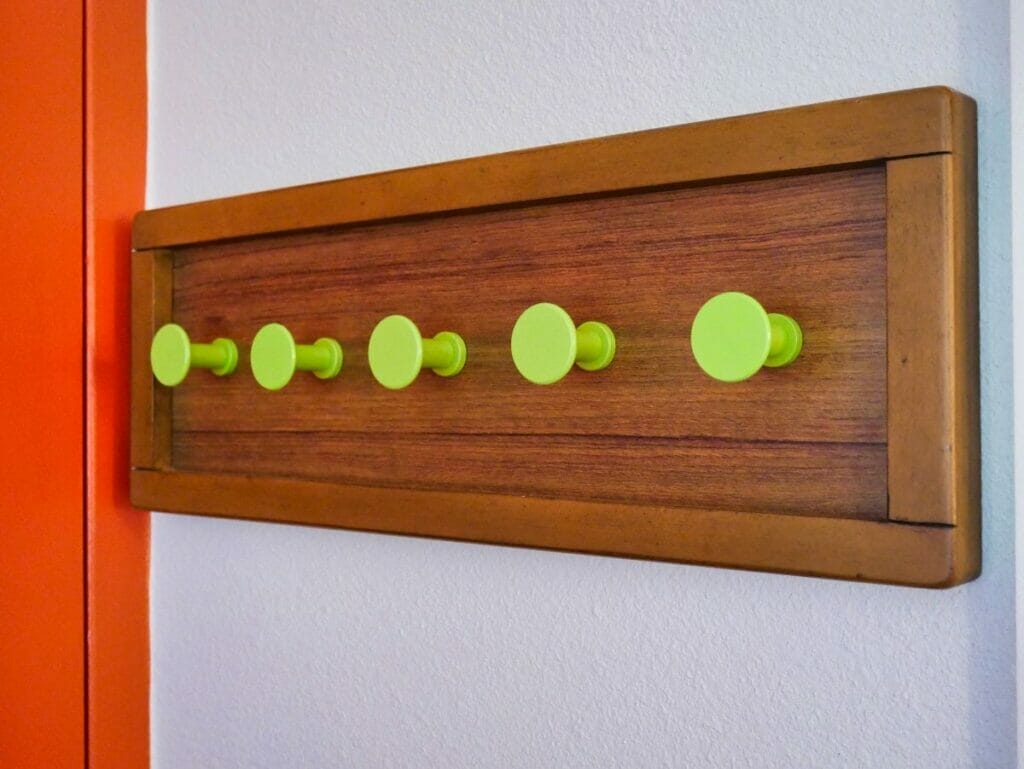 In the bathroom itself, you'll find a lot of storage on your left, as well as a pretty spacious sink area.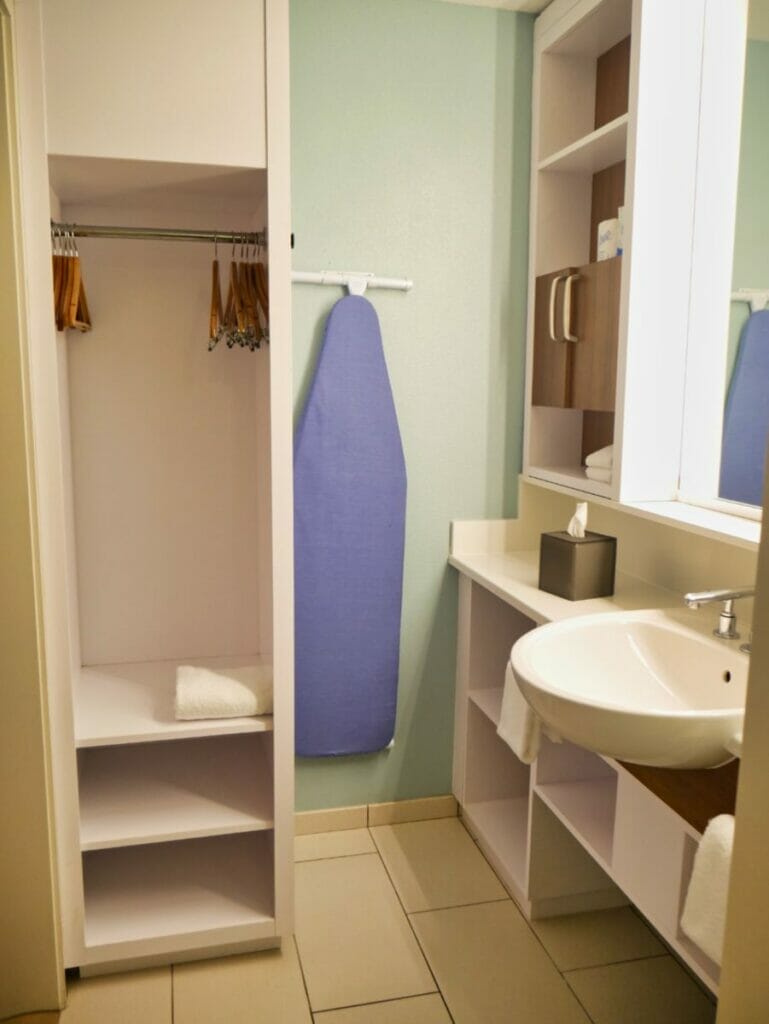 There is just one sink, though, which can limit the time it takes to get ready in the morning.
The toilet and shower are in a separate room, with a door that closes, so one person can be showering while others are getting ready in the main bathroom area.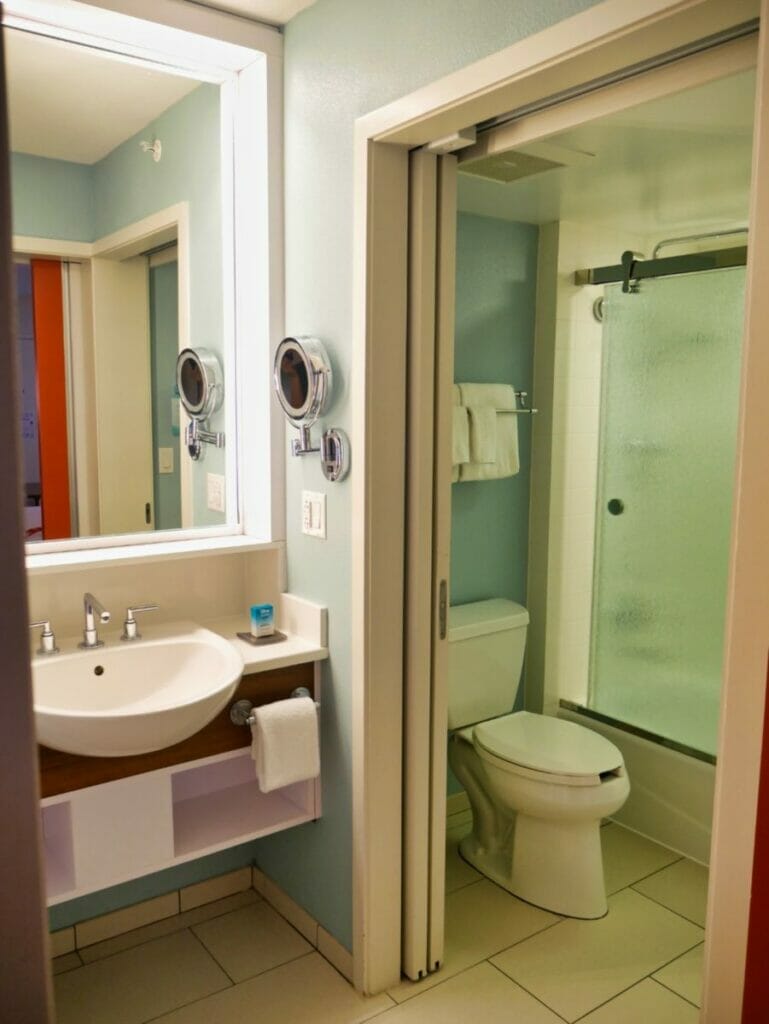 Again, there isn't much color to be found, and the theming is more subtle, but in some ways its a nice departure from the more in-your-face theming that used to be staring at you while you were trying to enjoy a peaceful shower after a long day at the parks.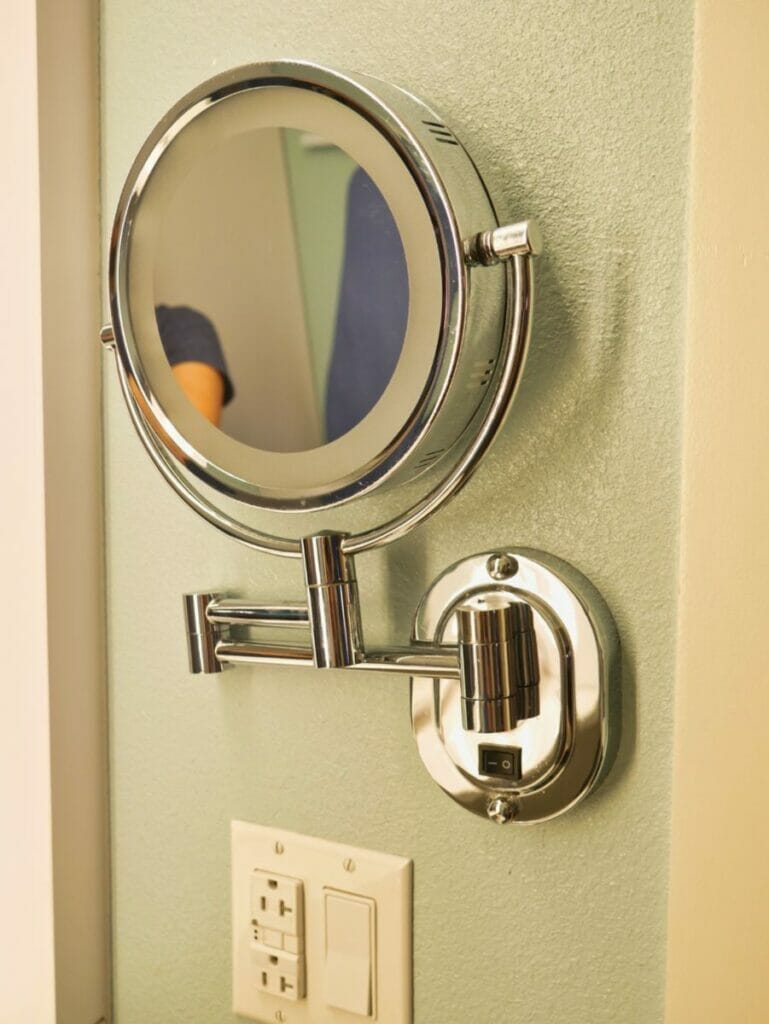 If you want to use Disney's H20 products, you'll pump them directly from the pumps on the wall.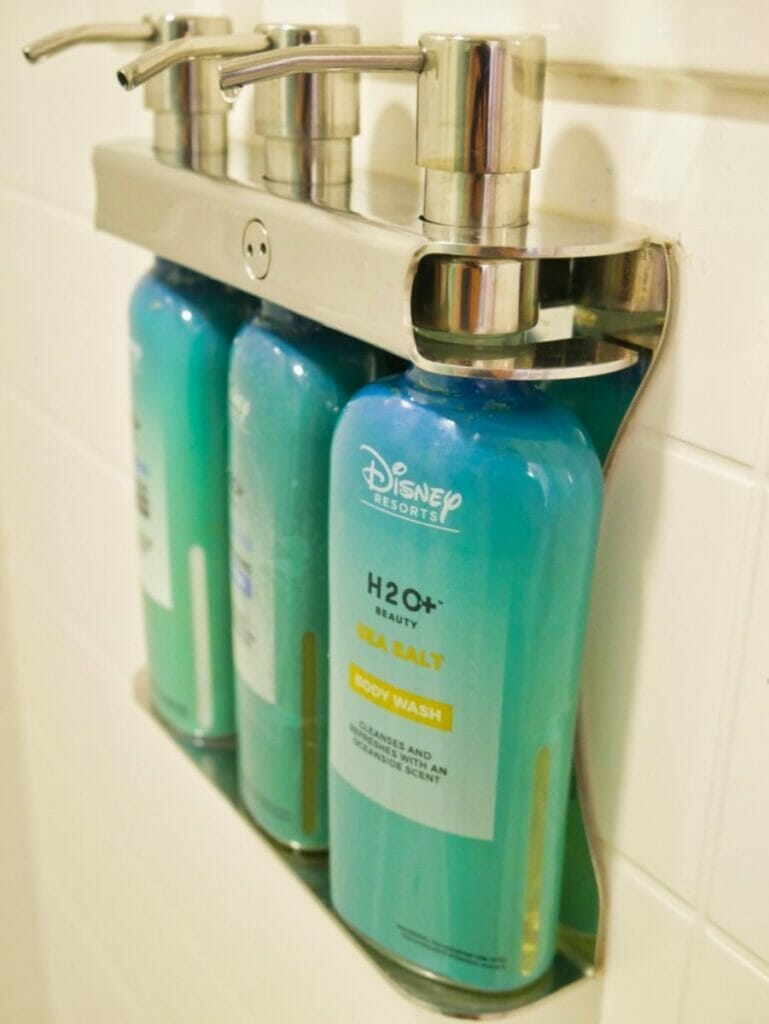 The only individual products you'll find will likely be the hand soap, provided next to the sink.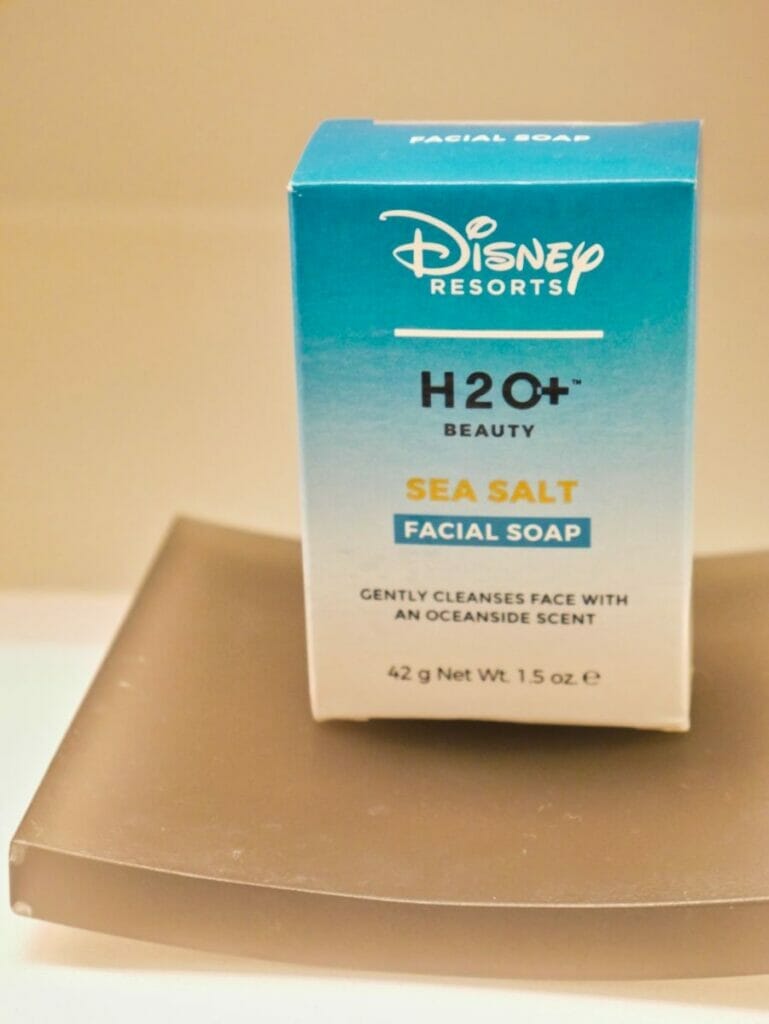 Lots of towels are provided, and you can always get more from Mousekeeping.
Pop Century Lobby
Called "Classic Hall," the Pop Century Lobby is very similar to the rest of the Value resort lobbies with a large check-in area for the many guests that the resort has every day.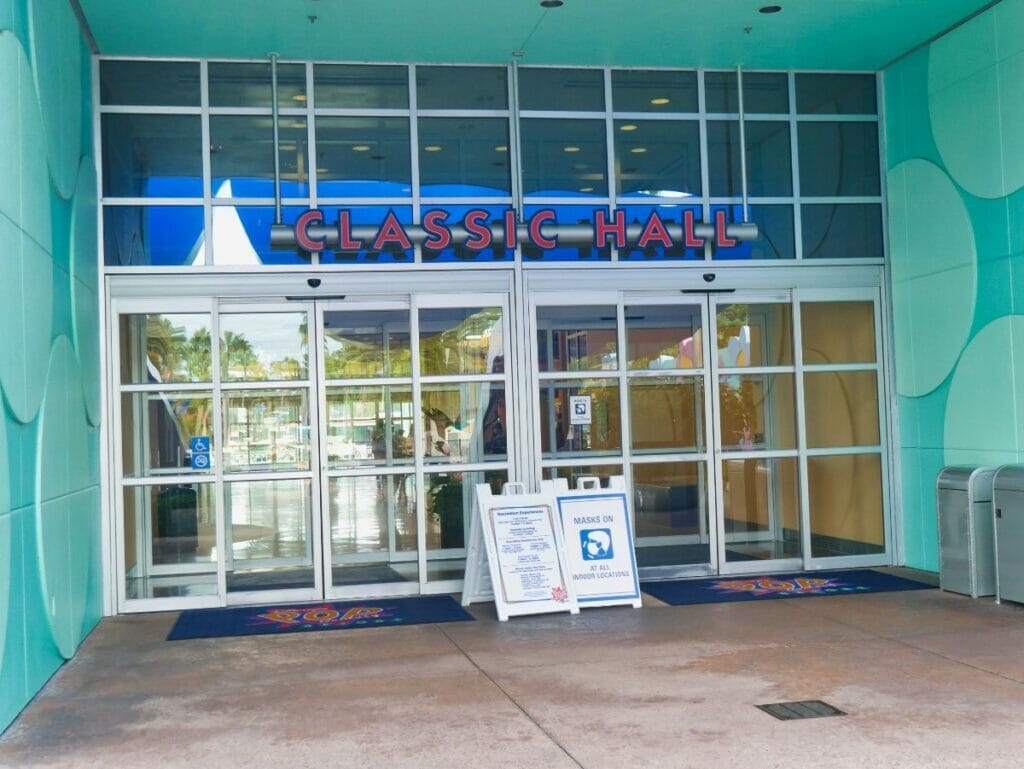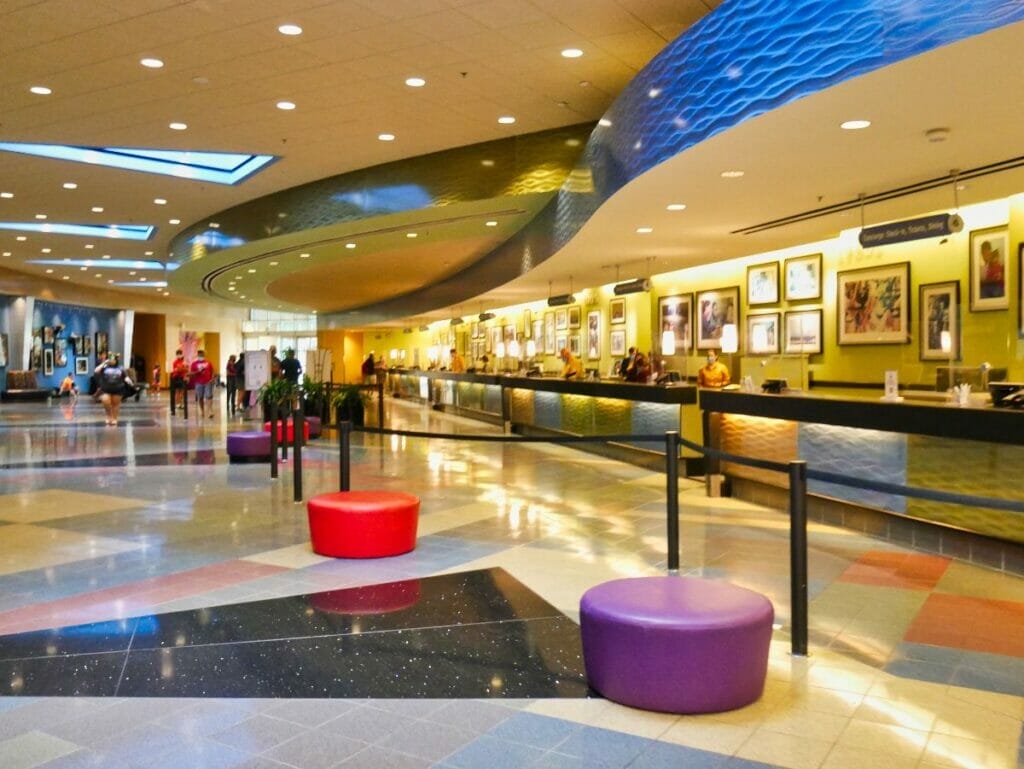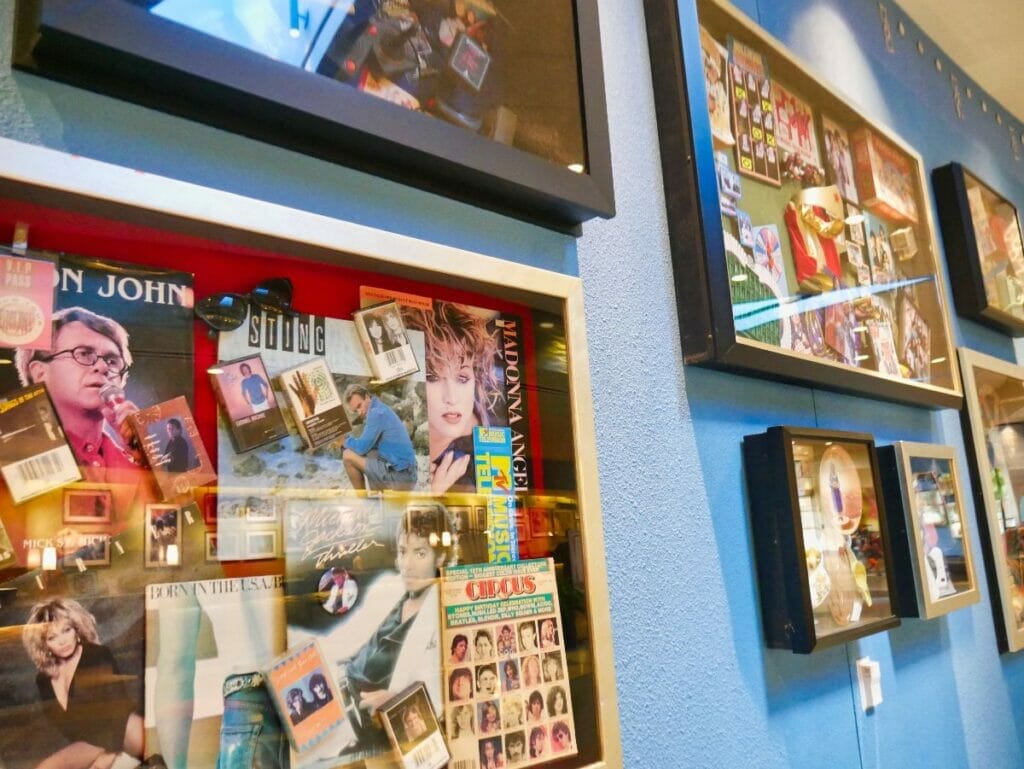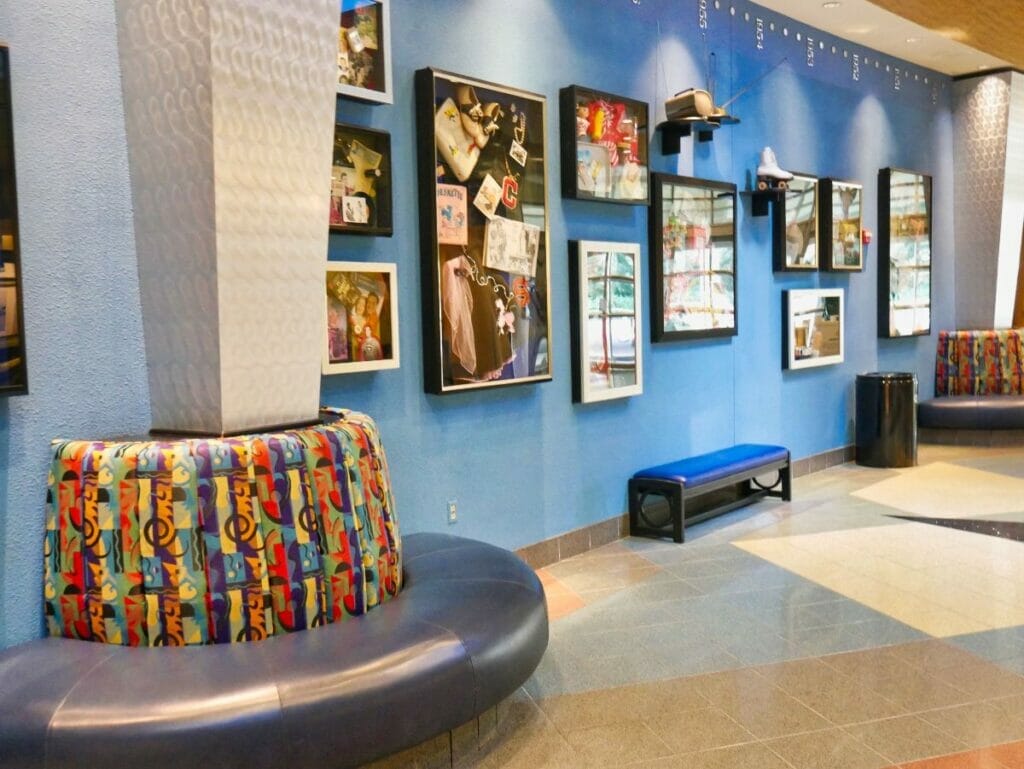 There's also a cute kiddie area where they can watch Disney movies while you check-in, though not as well-themed as some other resorts.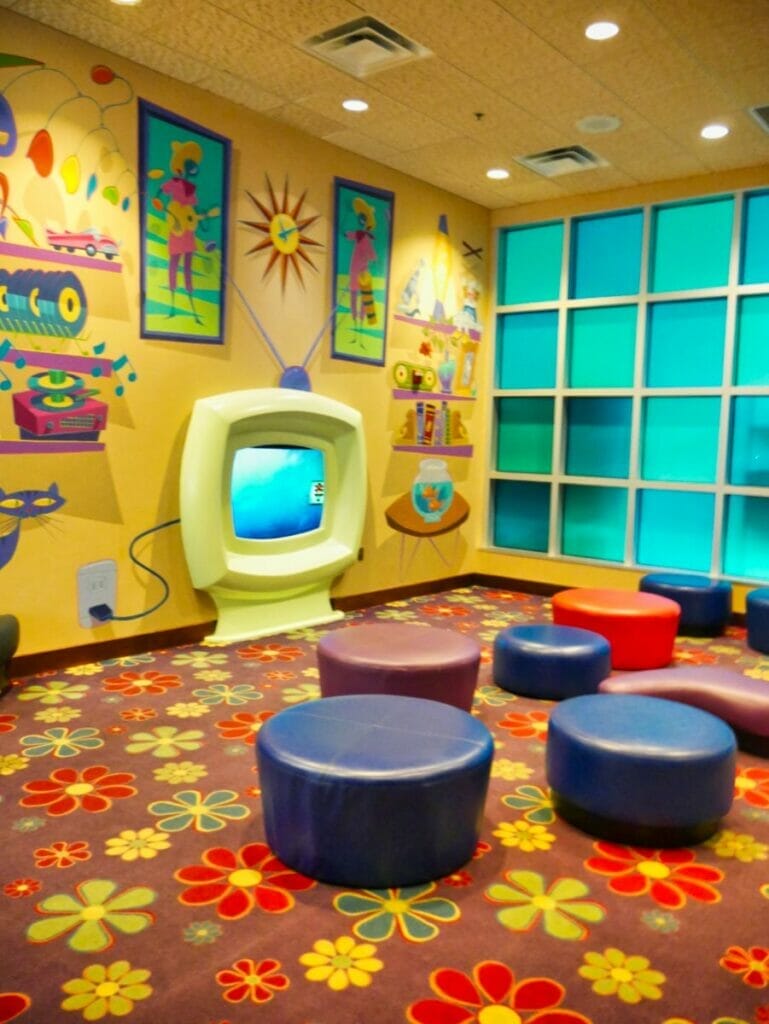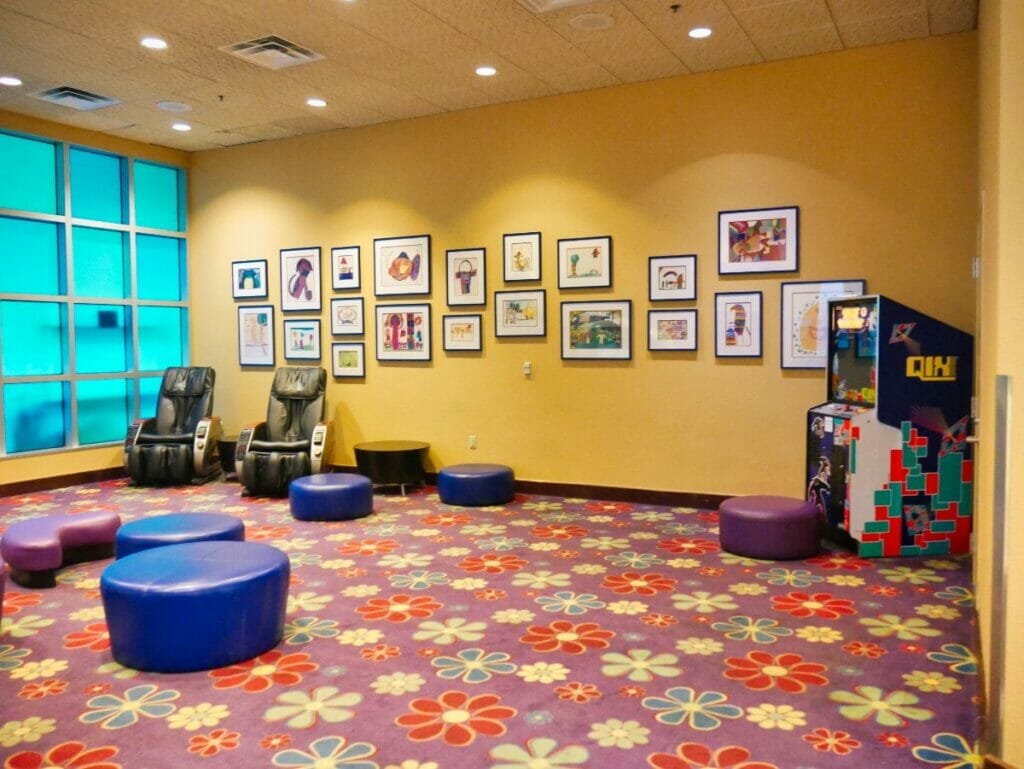 In addition, you'll find the Pop Century gift shop, which mostly has classic Disney fare and things you can also find in the parks, but also has some Pop Century-specific items as well as Skyliner items that you won't necessarily find at the other resorts.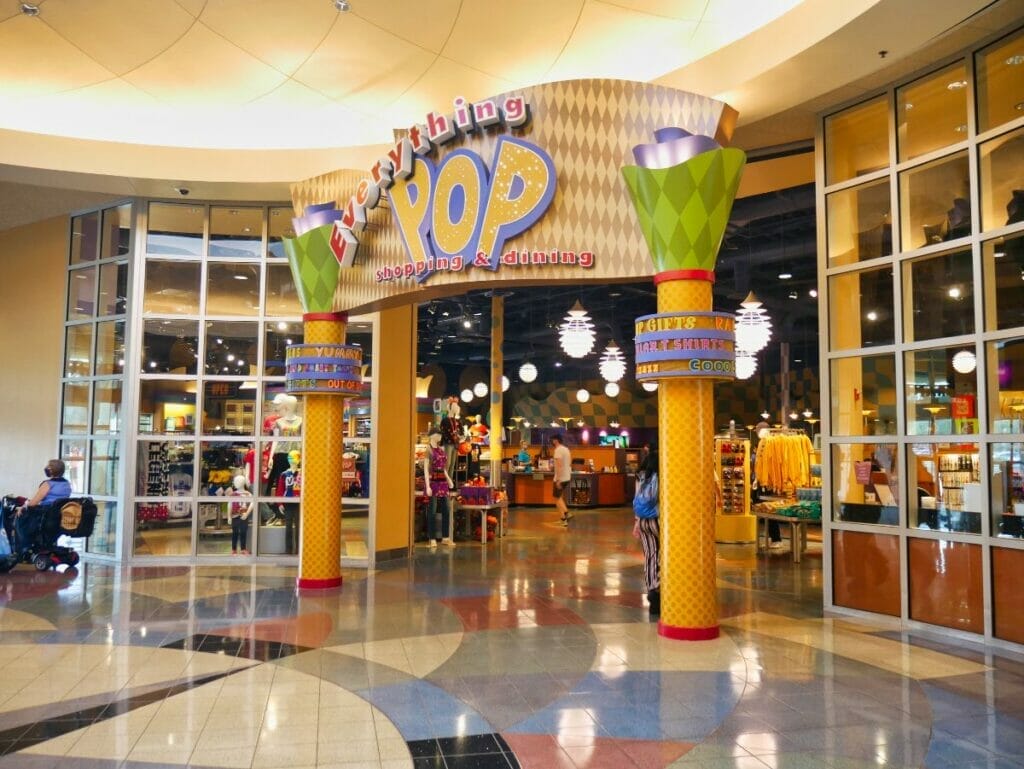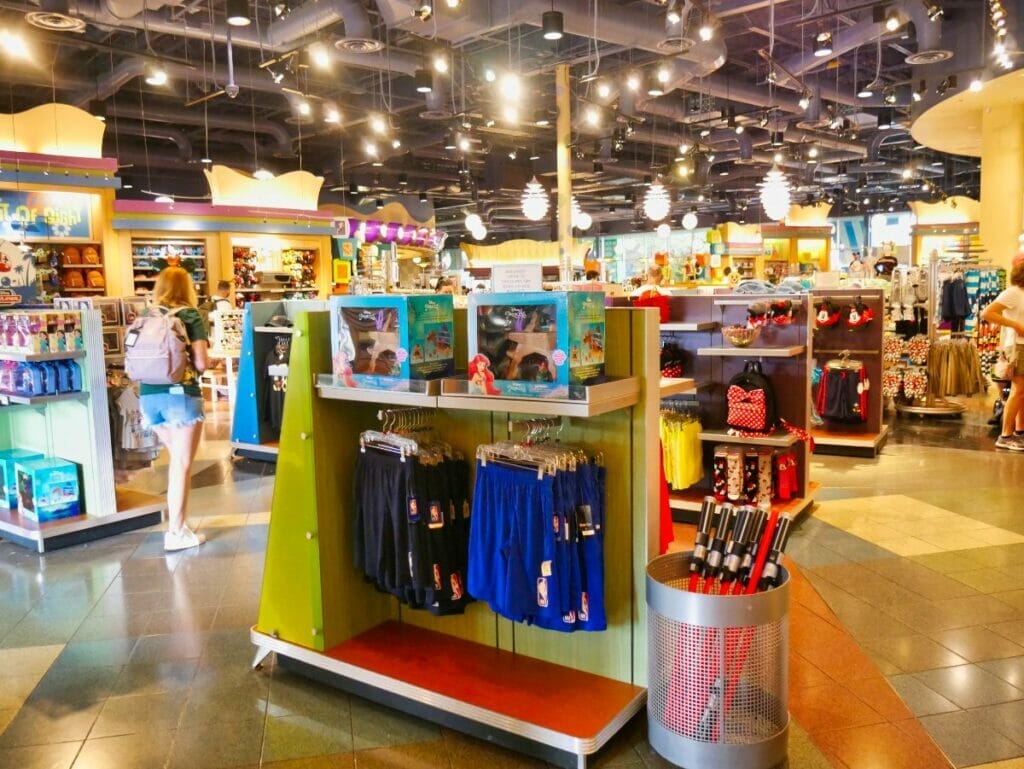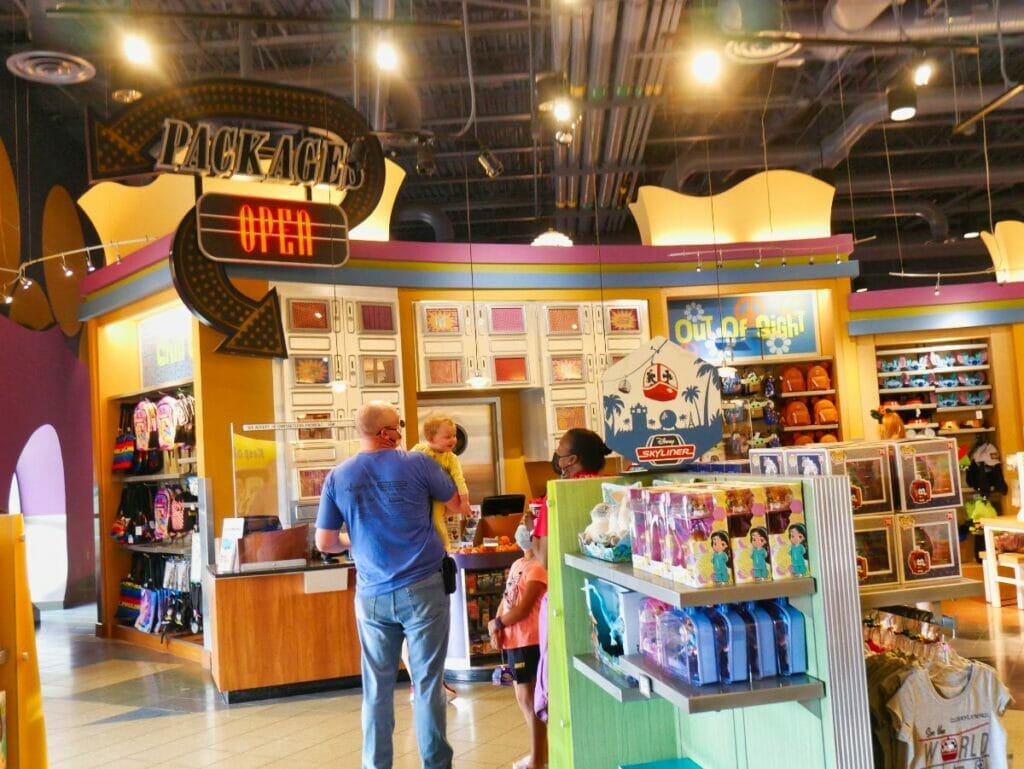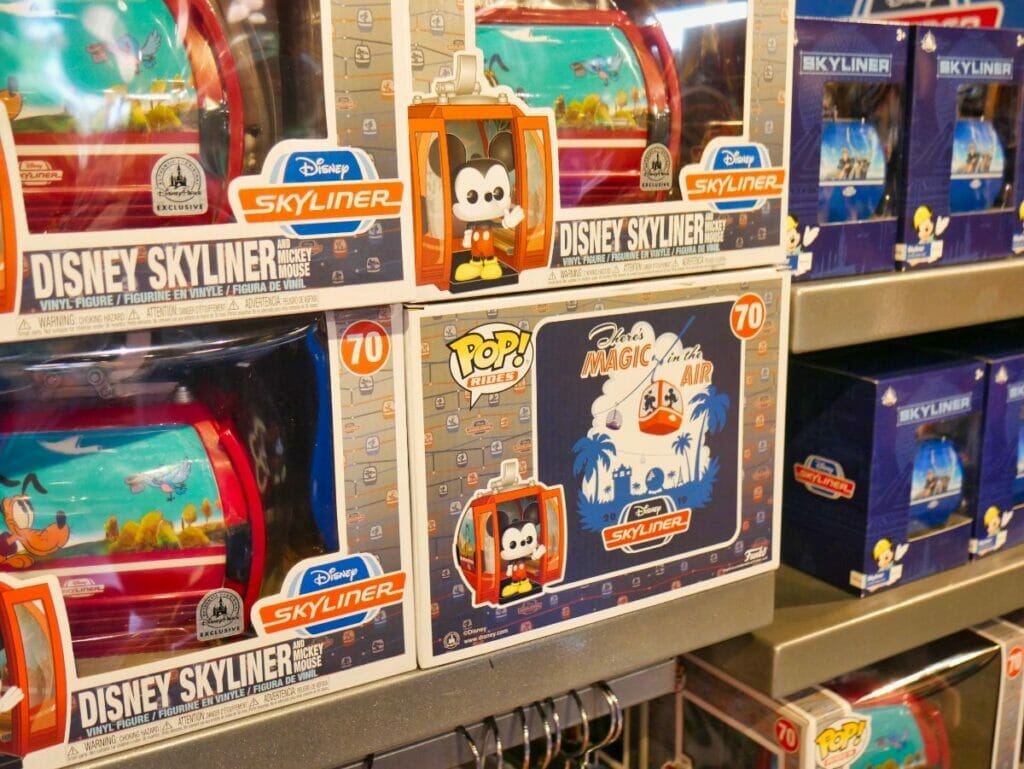 There's a large arcade (seriously huge) where you can let the older kids play for awhile (take them all the way to Disney and they just want the arcade games, it's bound to happen!)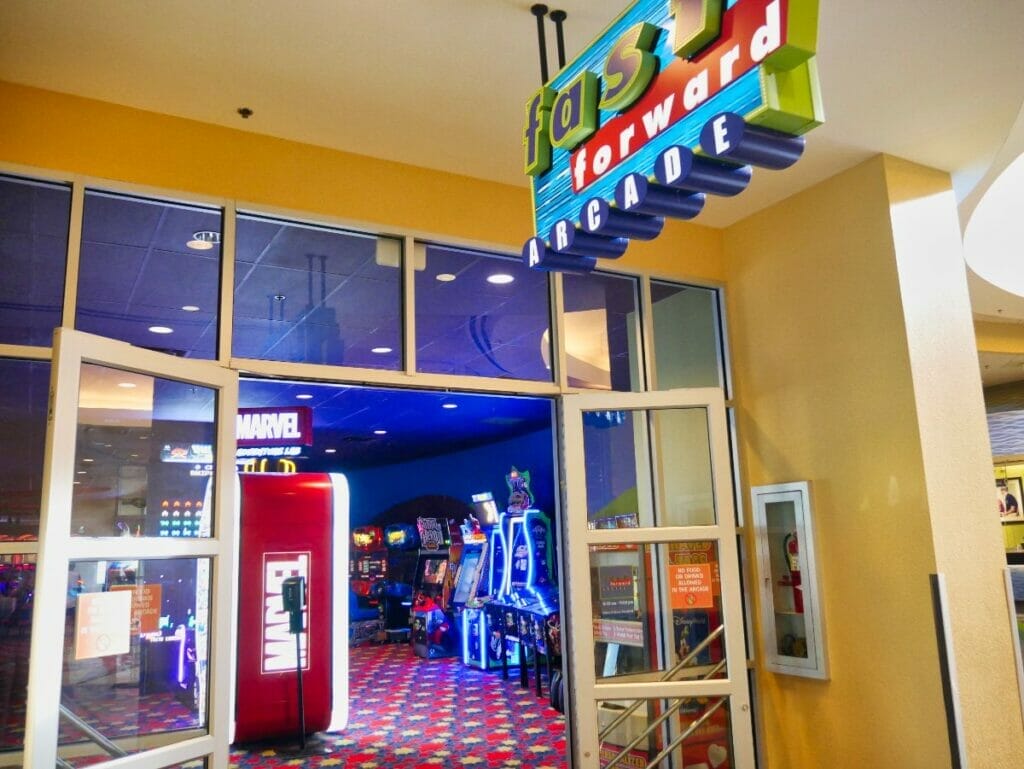 And then, as we'll discuss below, there is a large food court with lots of space to eat that has doors leading out to the pool area.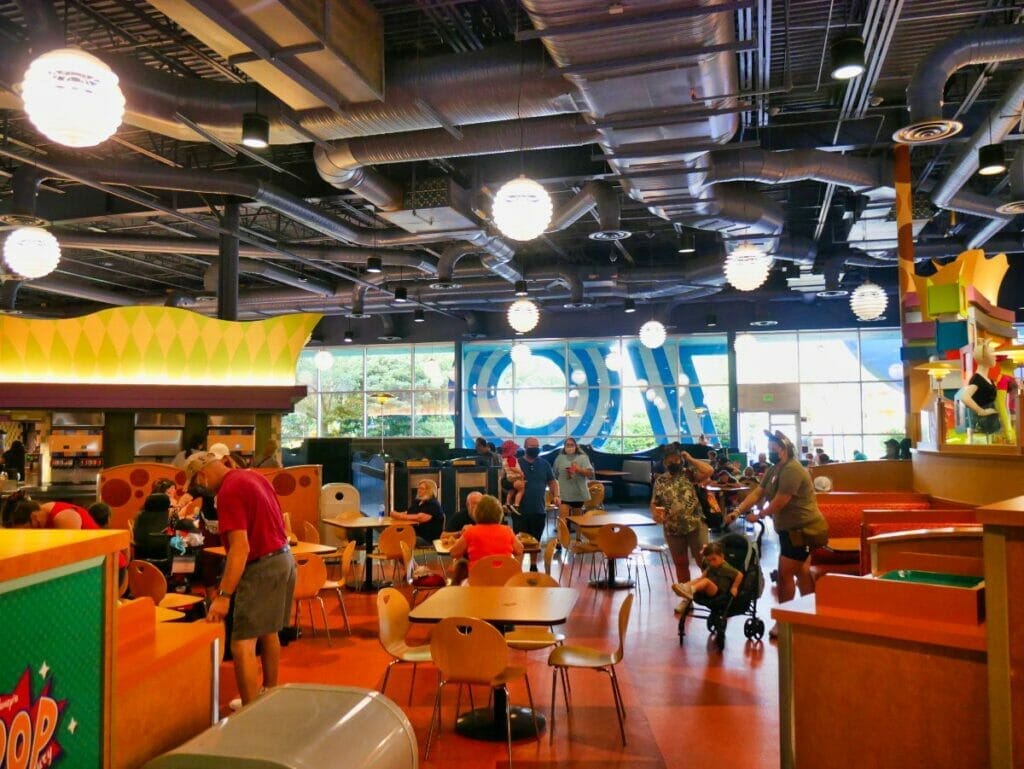 You're not going to want to relax in the lobby like you would in some of the Disney Moderate and Deluxe Resorts, but it gets the job done.
Theming at Pop Century
The overall theming at Pop Century is pretty cute for anyone who wants a blast from the past, and really impressive for the little ones who can walk under these absolutely giant statues of everything from a Mickey phone to a Foosball game.
Again, Disney is incorporated into the theme, but Disney characters are not necessarily the theme here.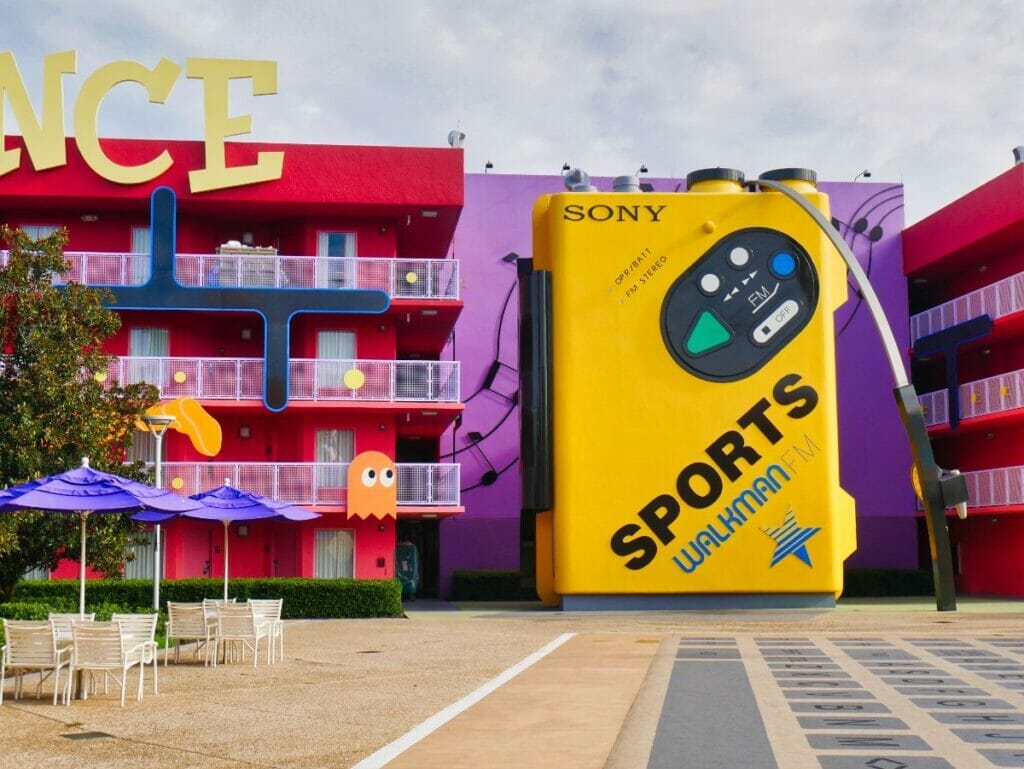 Each "section" is a different decade, and within that decade you'll find the sides of the buildings adorned with fun shout-outs to that era like Pac-Man in the 80s.
Lots of dancing silhouettes help show the dance moves of that era, and at either end of the buildings, near the staircases, you'll find some fun statues like Yo-Yos and cassette tapes.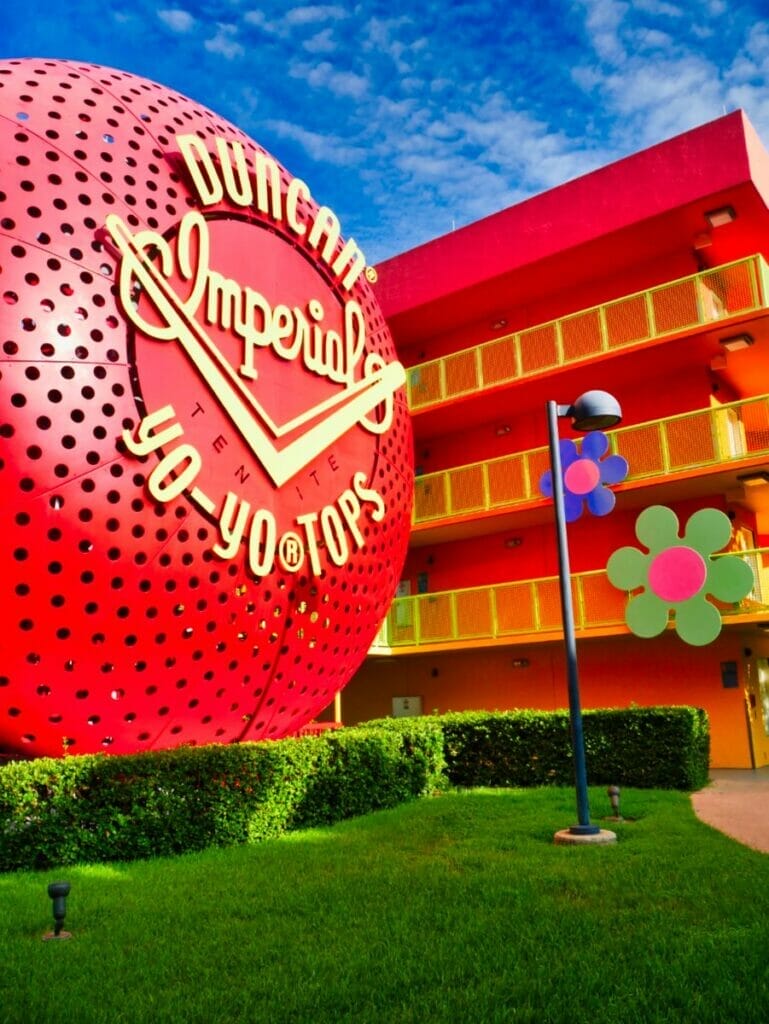 I've taken some pictures from each decade, so you can get a feel for what it looks like.
Here are the 50s.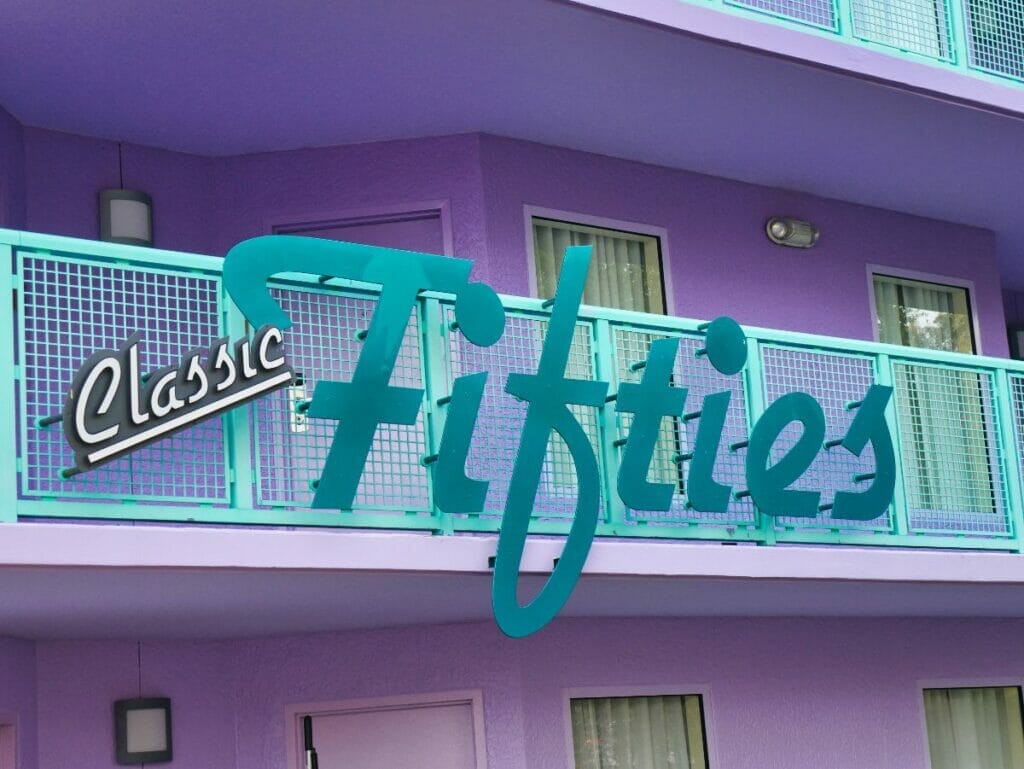 The 60s.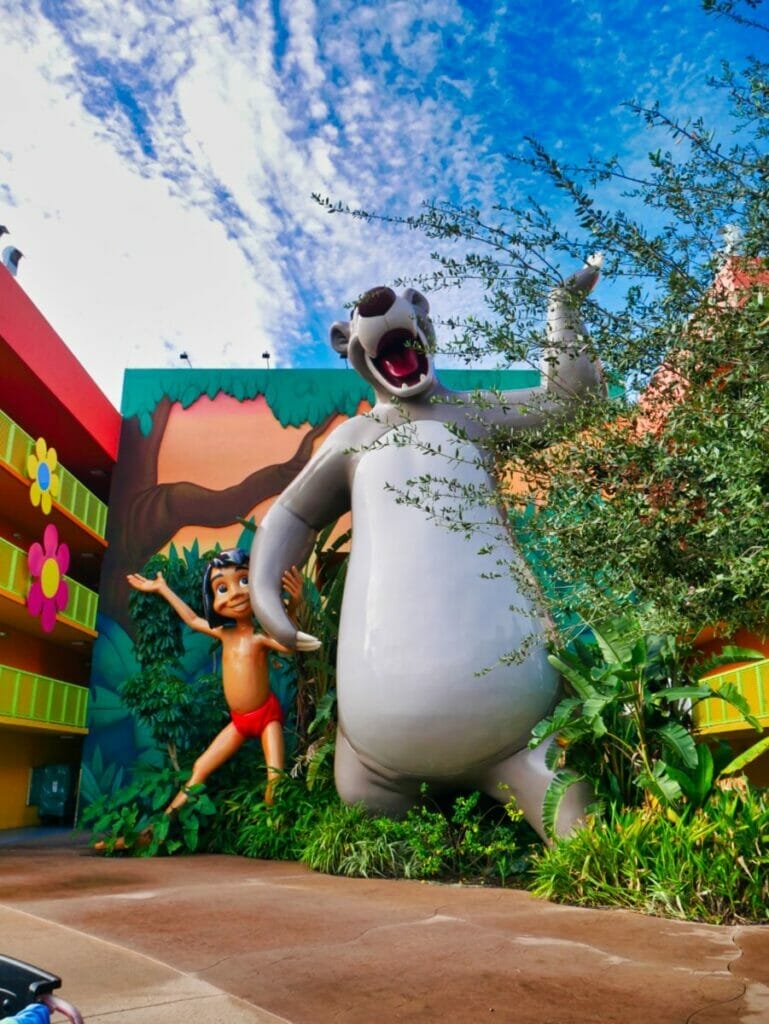 The 70s.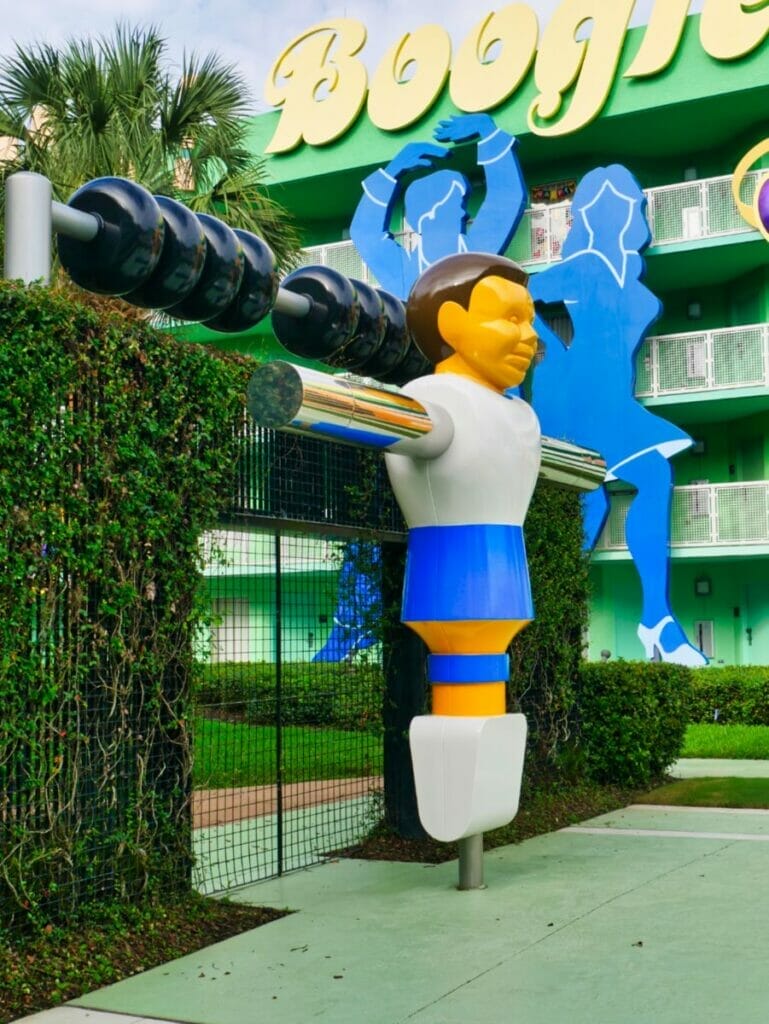 The 80s.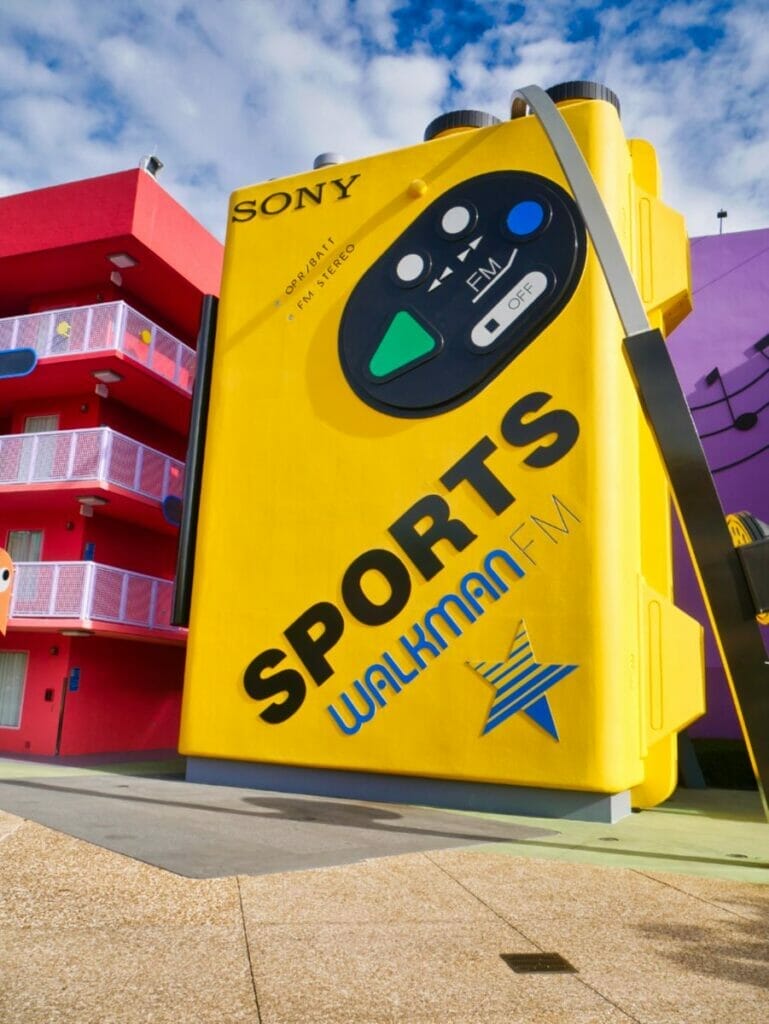 and the 90s.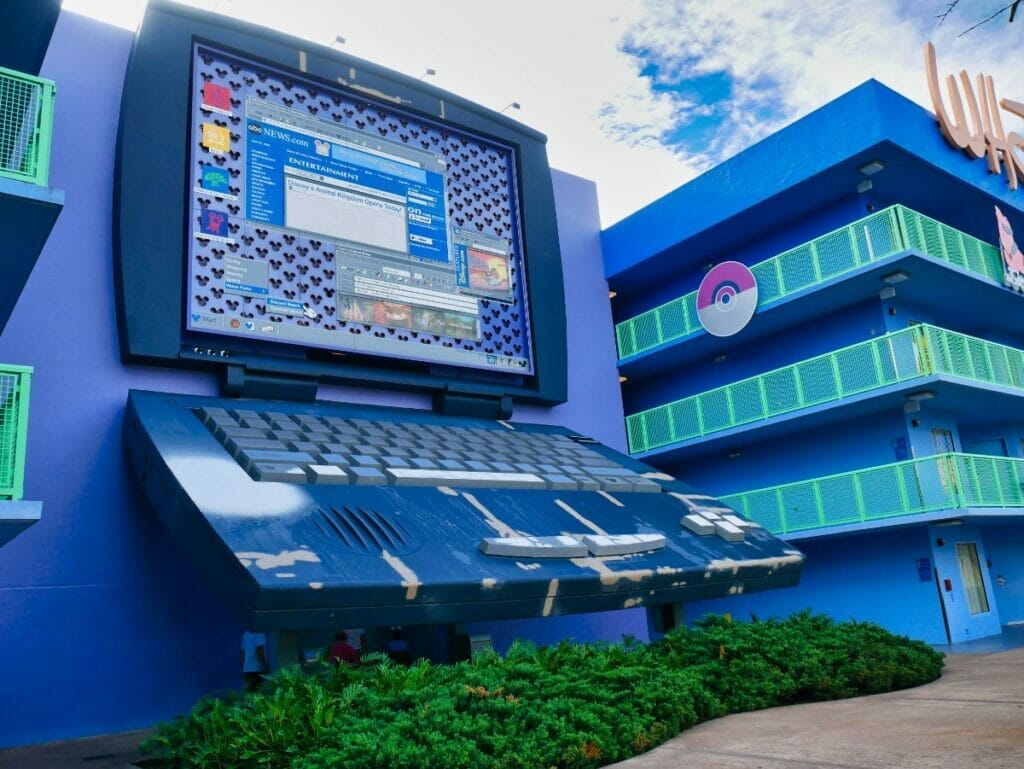 Pop Century Pool and Hours
The Pop Century main pool, the Hippy Dippy Pool, is open from 10 am to 10 pm, which doesn't necessarily give you a ton of time to use it if you're coming back from the parks later or for a morning swim, but the pool itself is pretty fun for a value pool.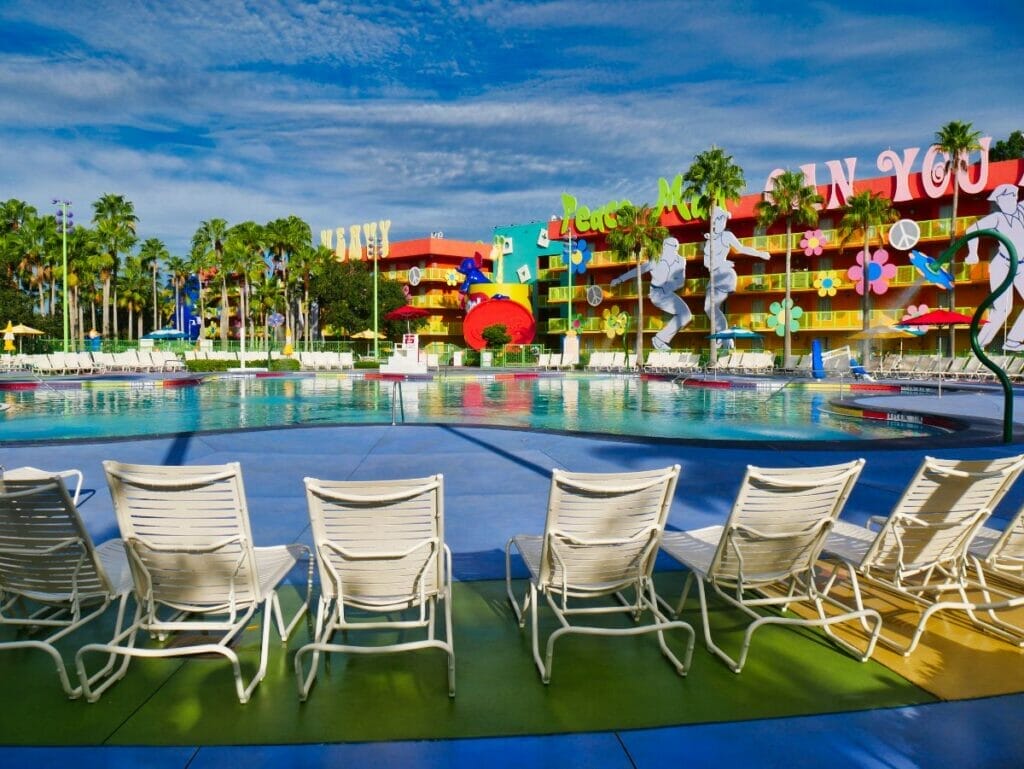 With a flower-theming, lots of colorful sprinklers, and a general surrounding of funky fun, kids will be perfectly content here and adults will find plenty of chairs to spread out on if you're not in the water.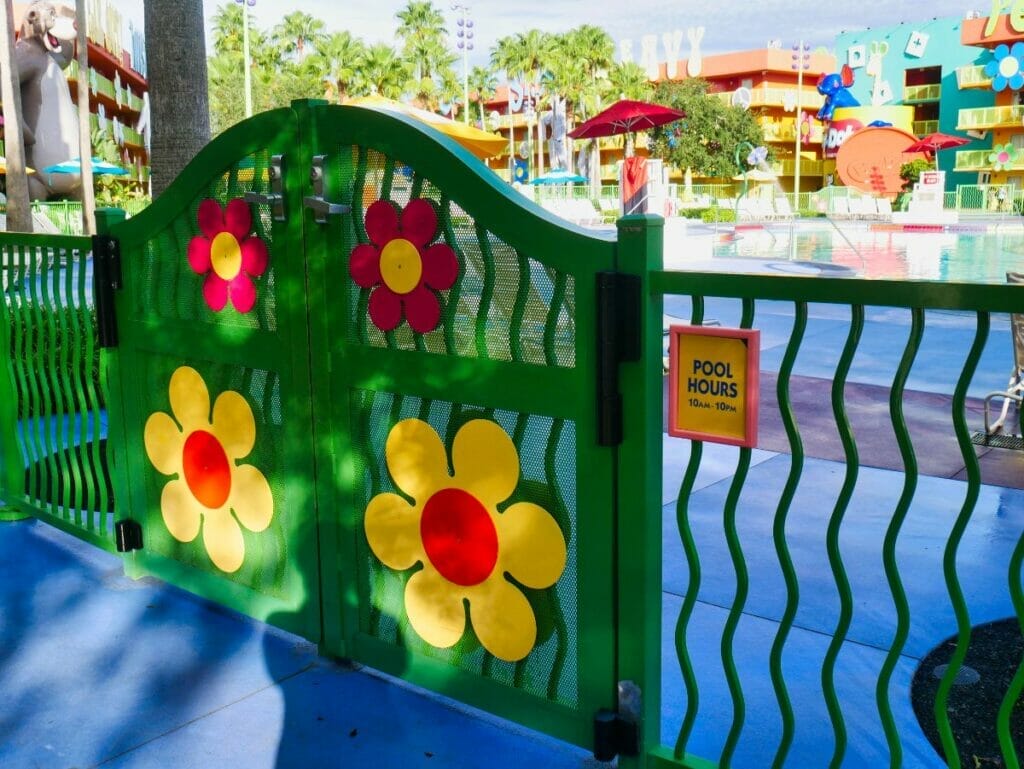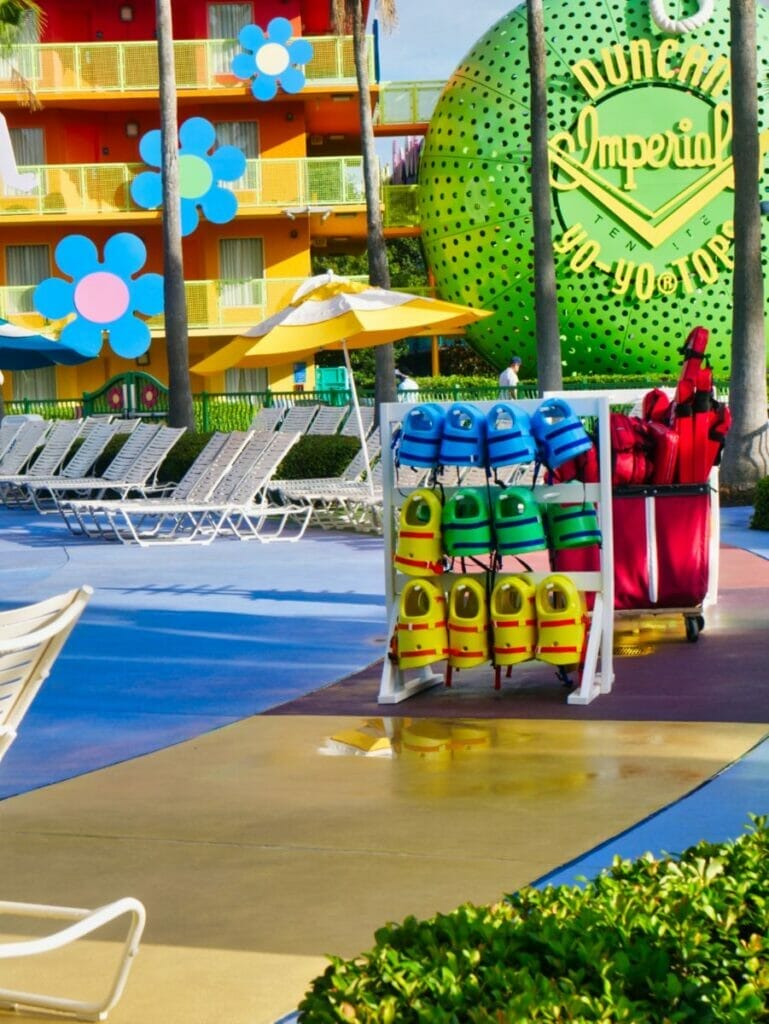 There isn't a water slide here, but there is a pool bar with some unique drinks as well as a kiddie wading area.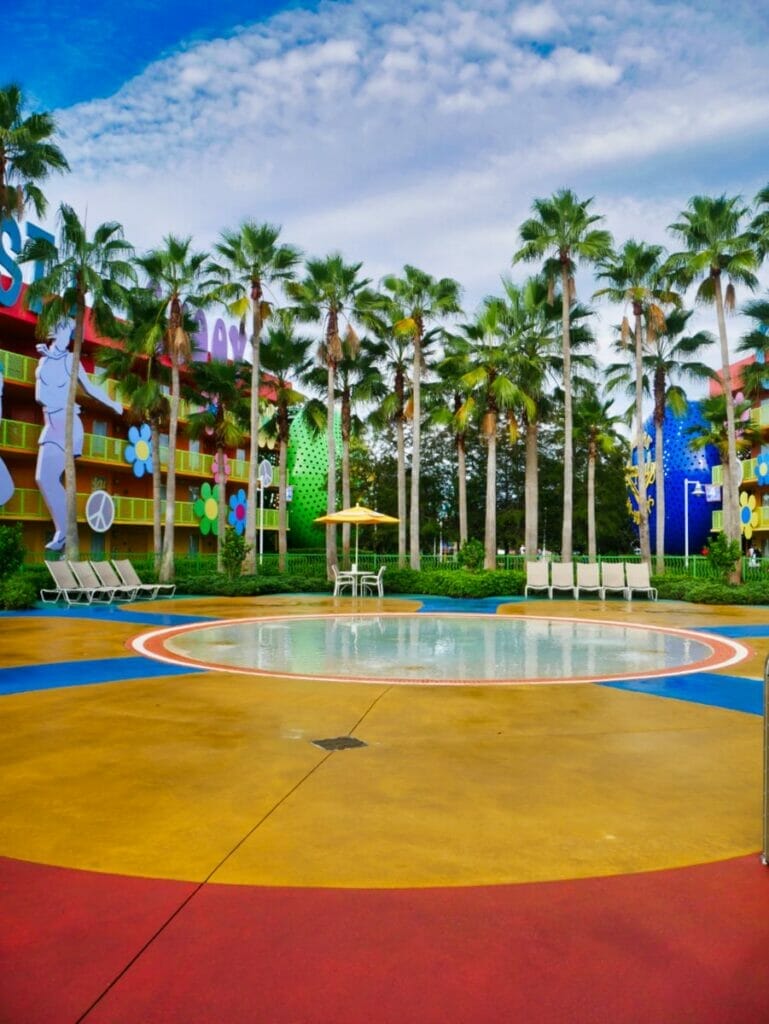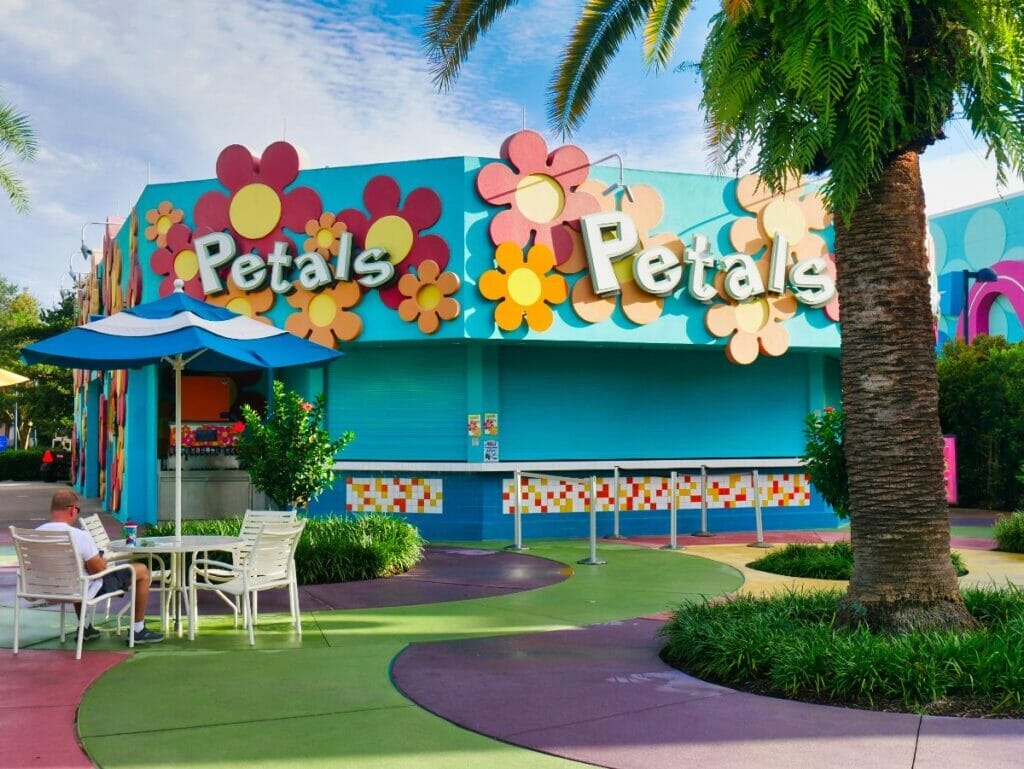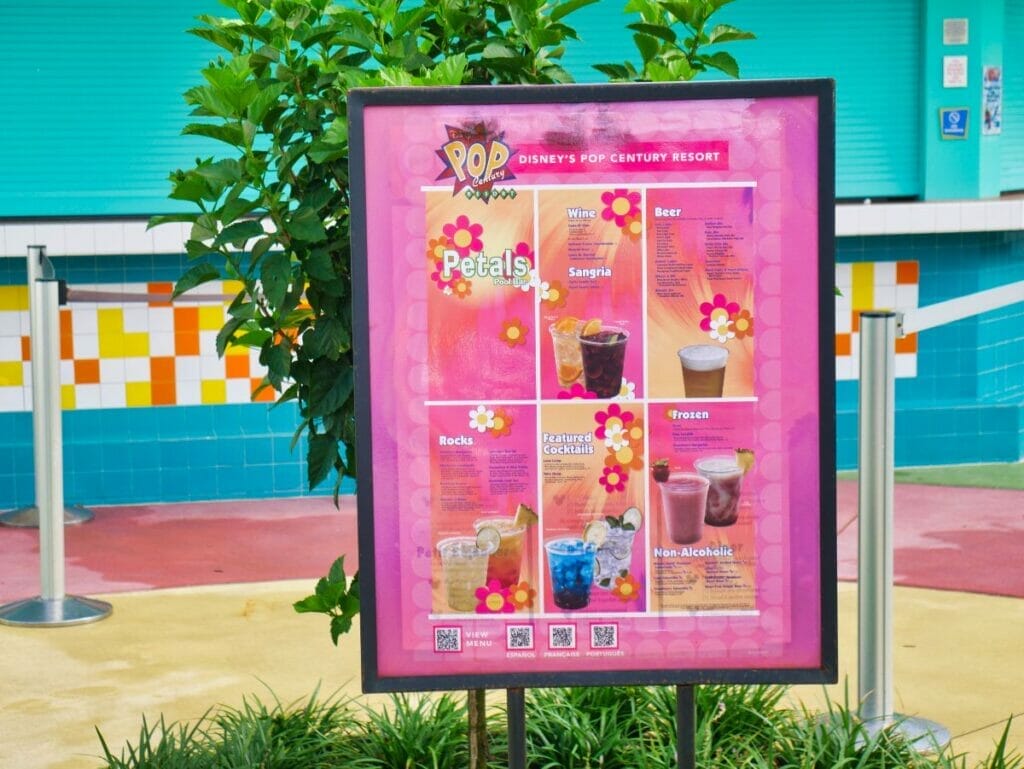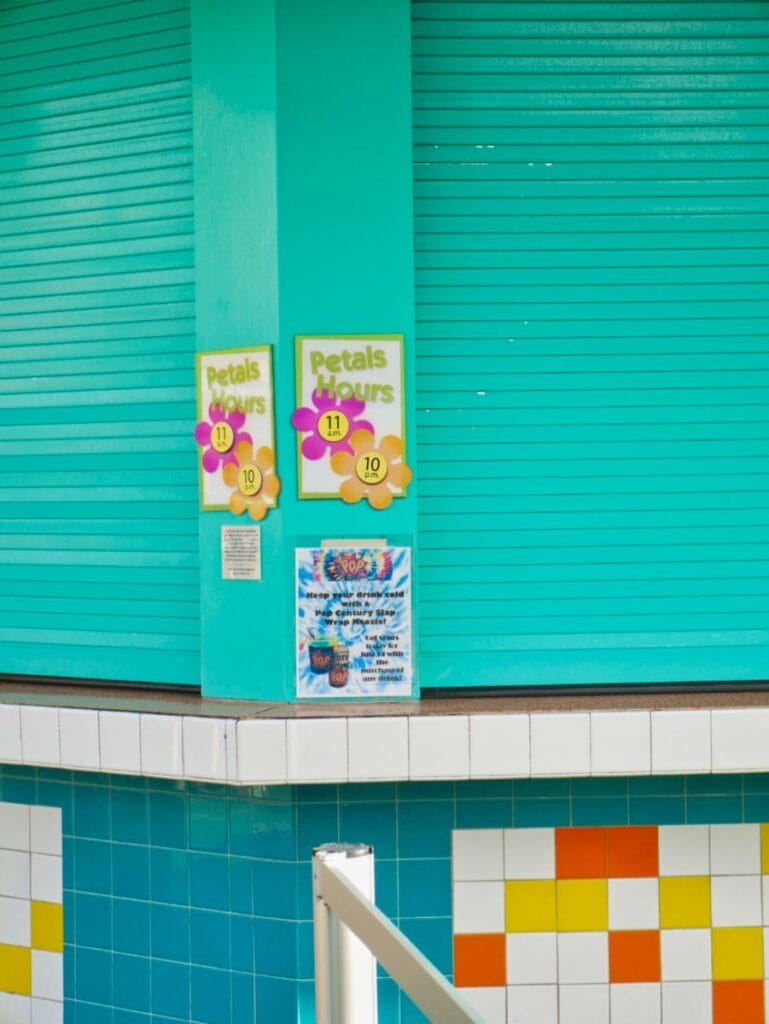 There are also two smaller pools, the Computer Pool and the Bowling Ball pool.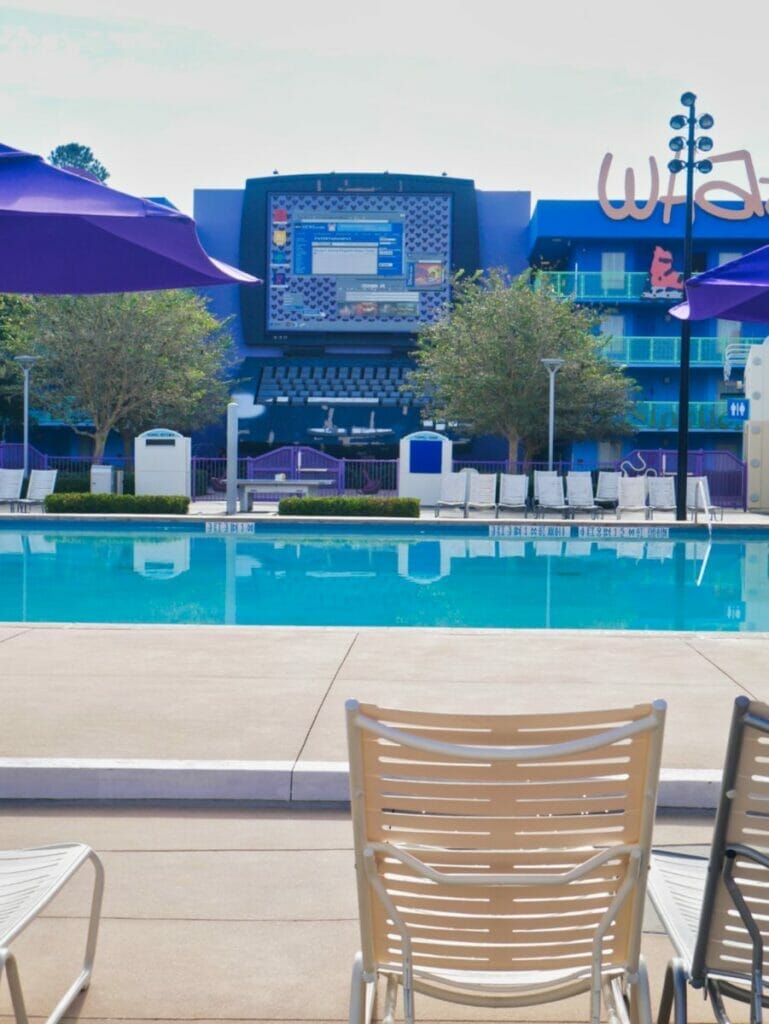 These are open from 12pm to 8pm, and can be a little bit quieter than the main pool.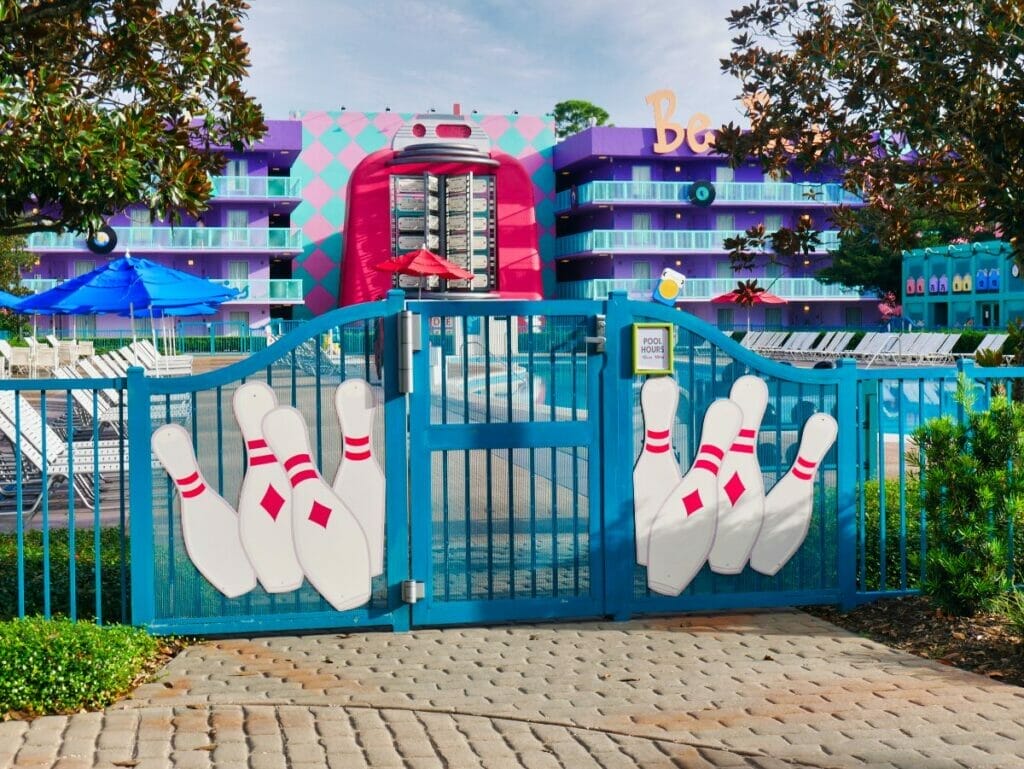 Food Court & Dining
Pop Century does not have a table service restaurant, but it does have a food court.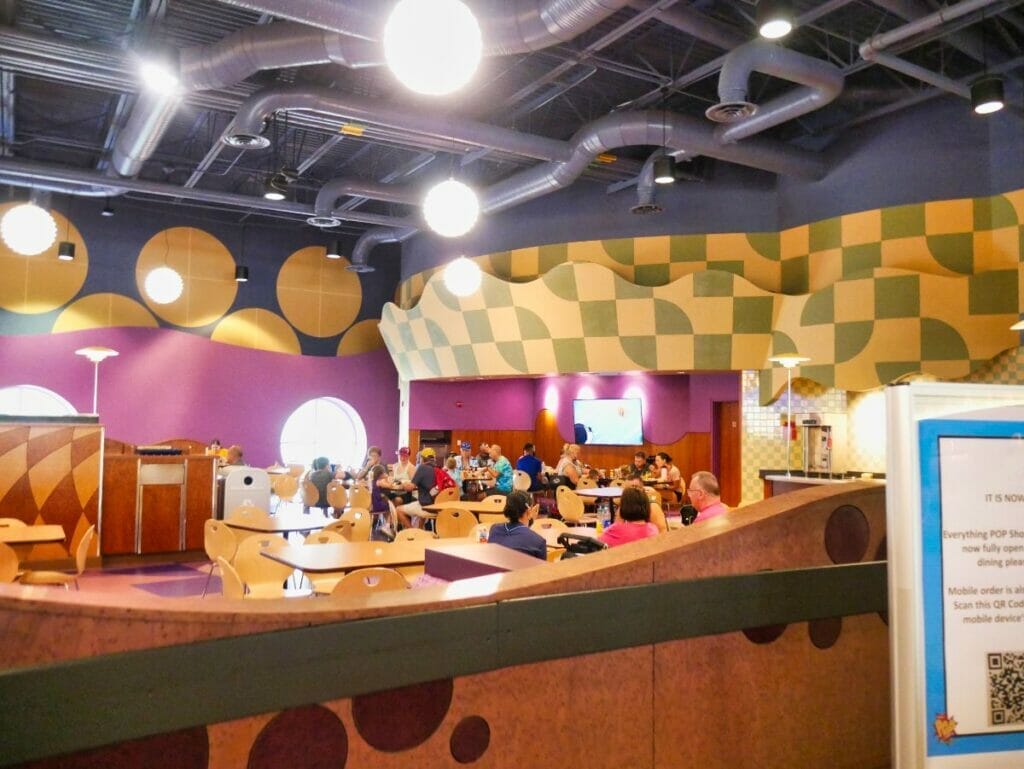 In current times, the options at the food court are slimmer than normal, with not as many varied choices and more mobile-ordering encouraged.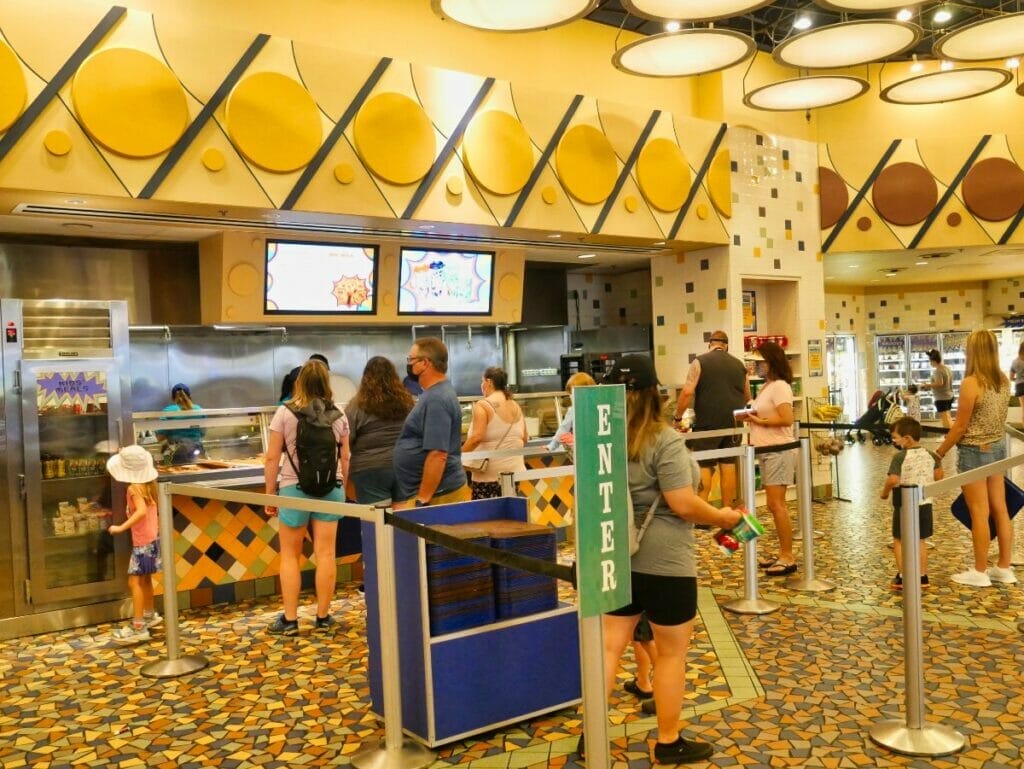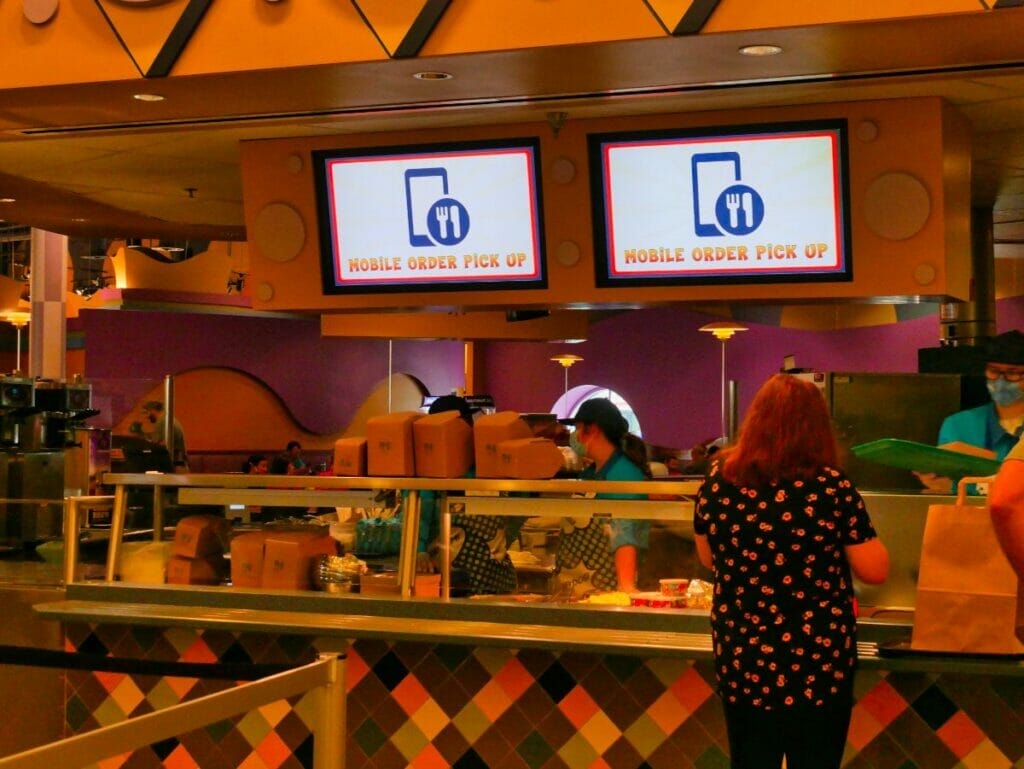 There are options, however, including eggs and bacon for breakfast, the ever-present Mickey waffles, and things like pizza and more interesting things like pot roast.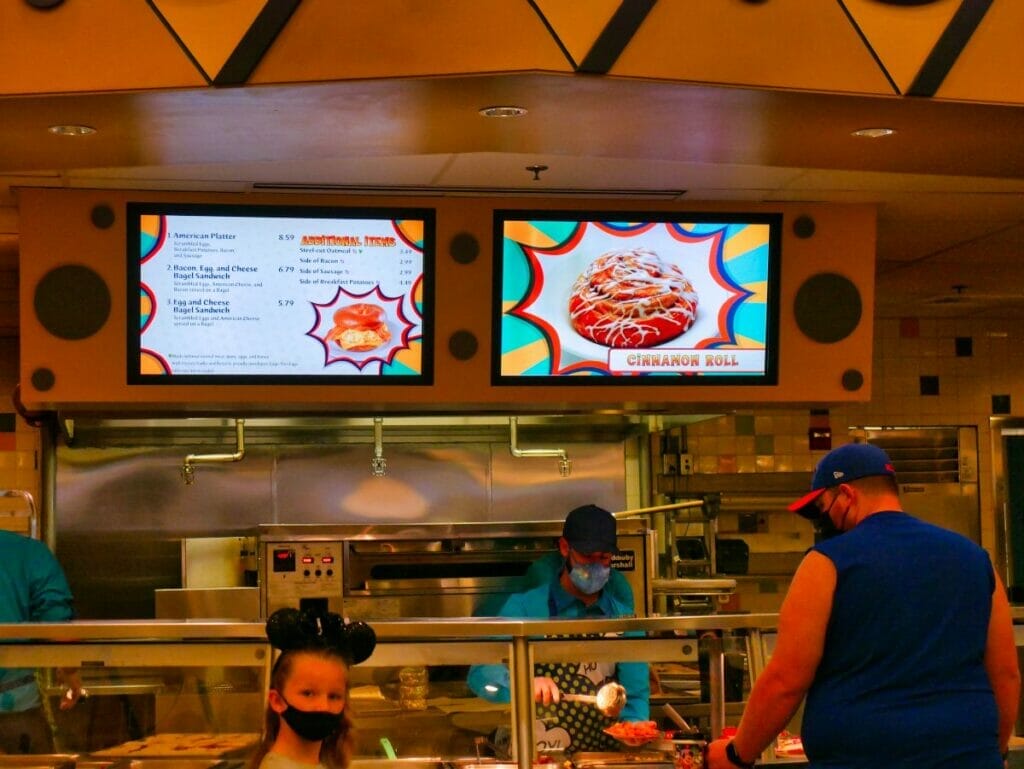 It's still food court food, though, and generally the better food options are over at the Art of Animation food court, Landscape of Flavors, which you can walk to over the bridge across the lake.
If you want something quicker, there are plenty of pastries, cold quick service options, and the fantastic desserts like Mickey cupcakes and colorful cheesecakes!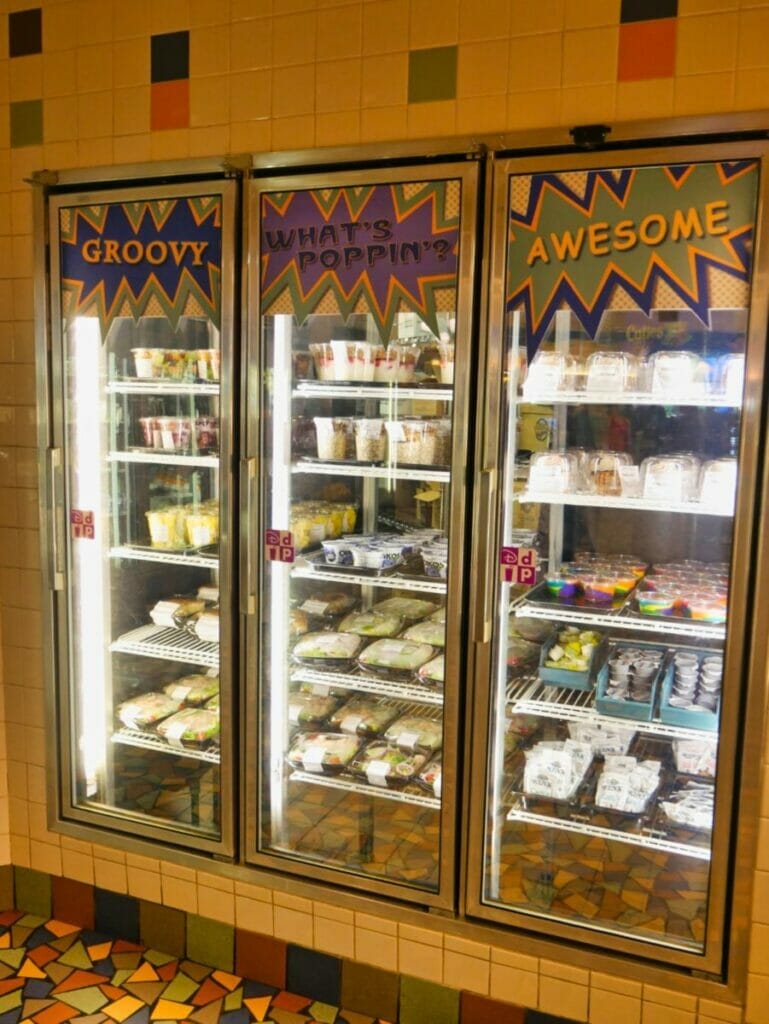 When it comes to condiments and other amenities, you will find a wide range of options.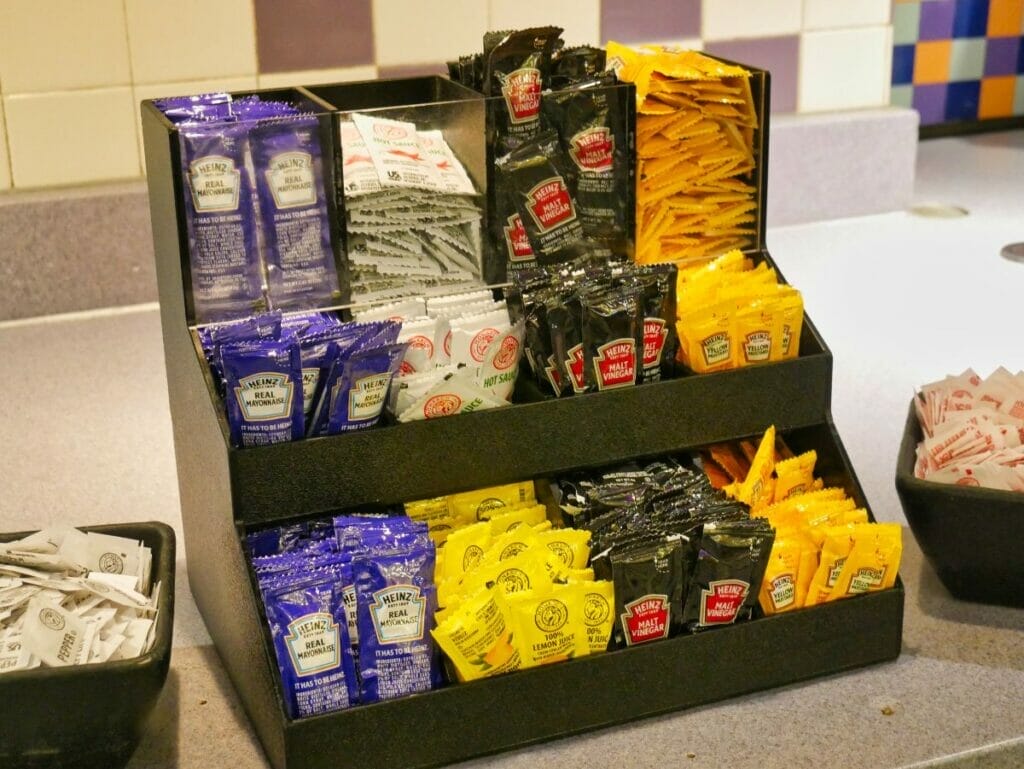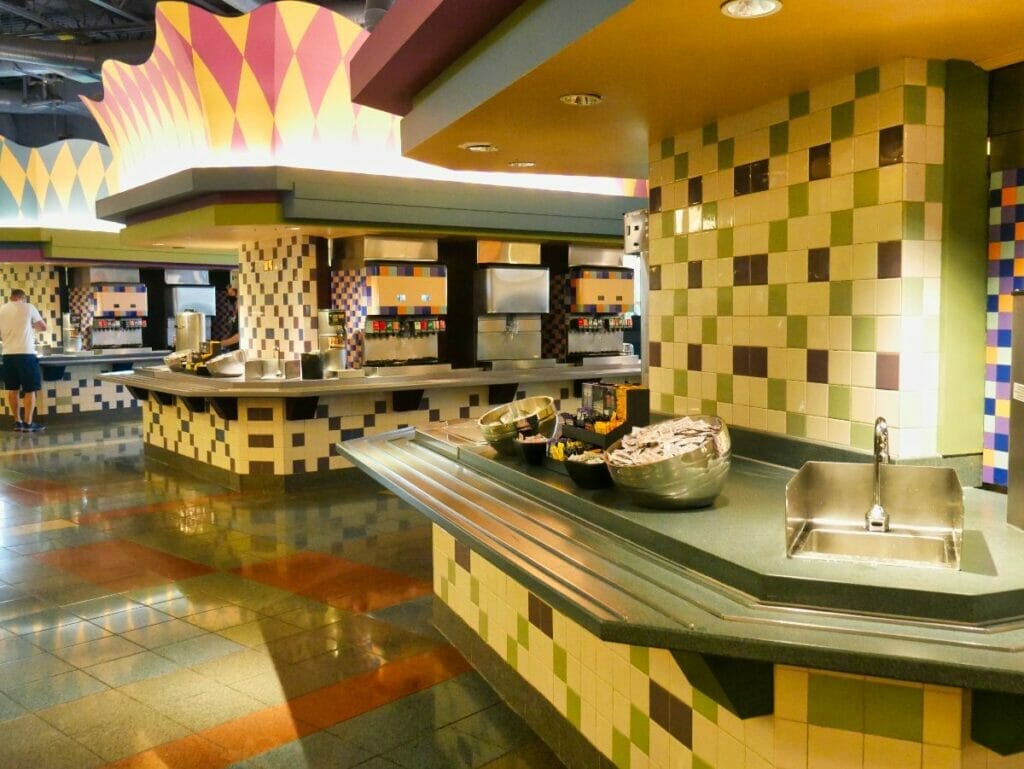 I love the fact that there is both a toaster and a microwave, if you've brought food you want to heat up.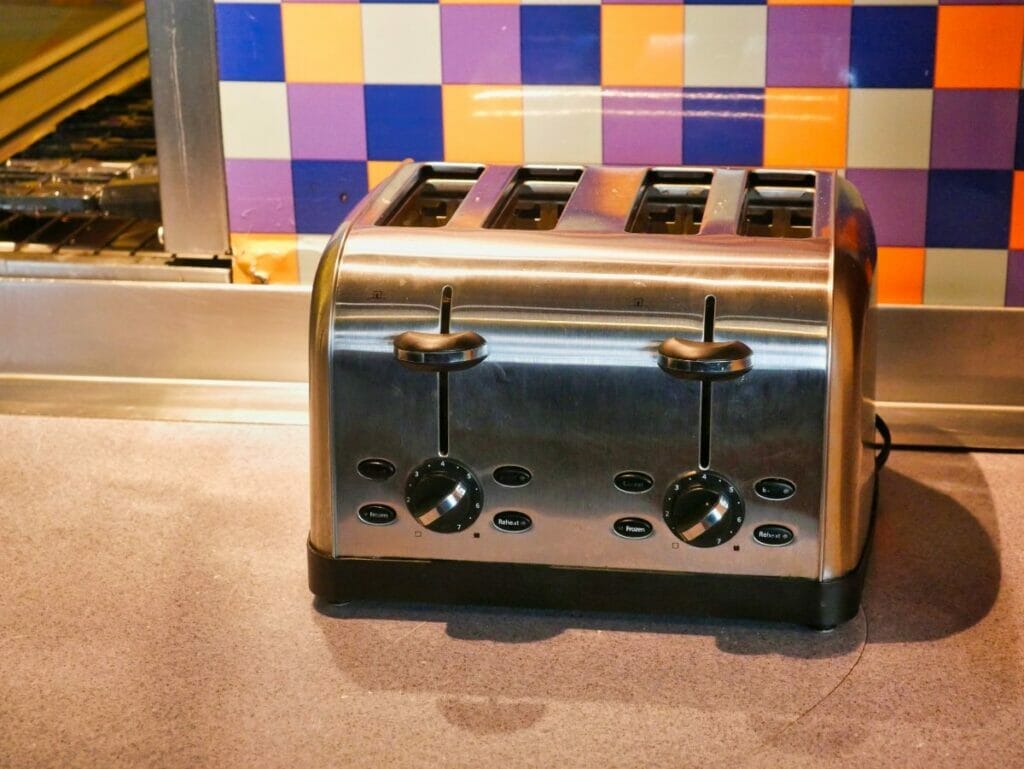 You'll find hot chocolate, creamer, and more, as well as a place to buy the refillable mugs.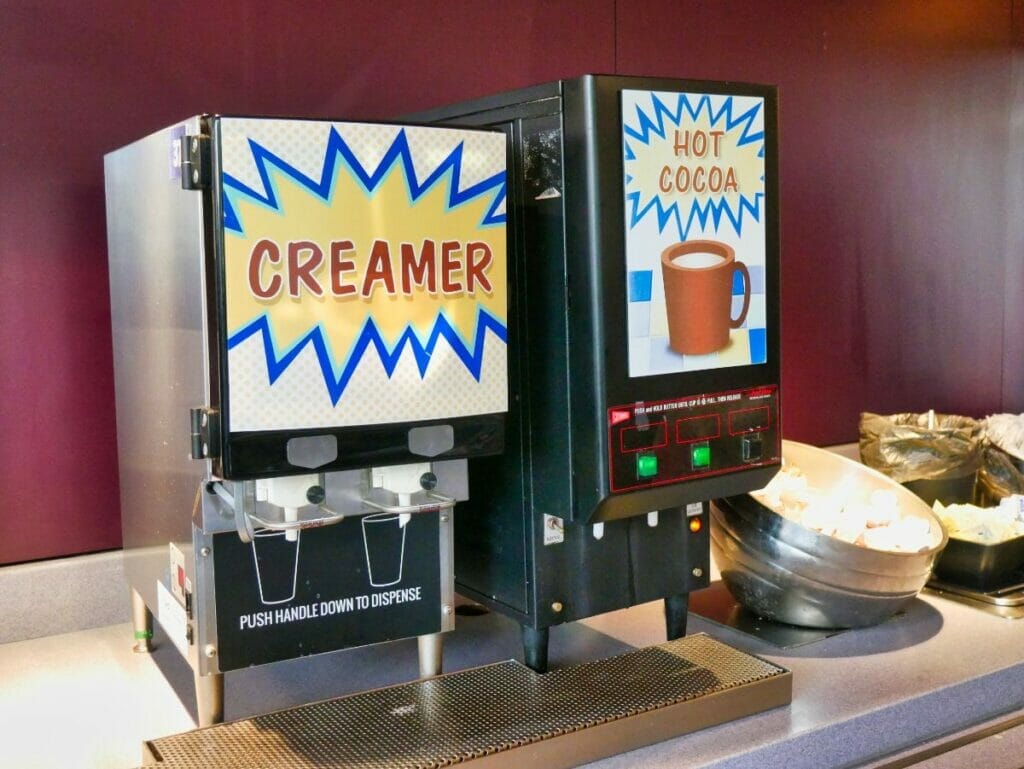 Pop Century Activities and Recreation
Disney's Pop Century, like all Disney resorts, has its share of daily activities and recreation options.
The classic is the "Movie Under the Stars," where they use an inflatable screen near the pool to show a Disney movie each night (so fun if you get back from the parks in time).
There is also a Recreation schedule posted near the lobby with other options, including some crafts, poolside activities, and nightly campfire options.
Most of the time, they are free, but others, like the crafts, will have an extra charge.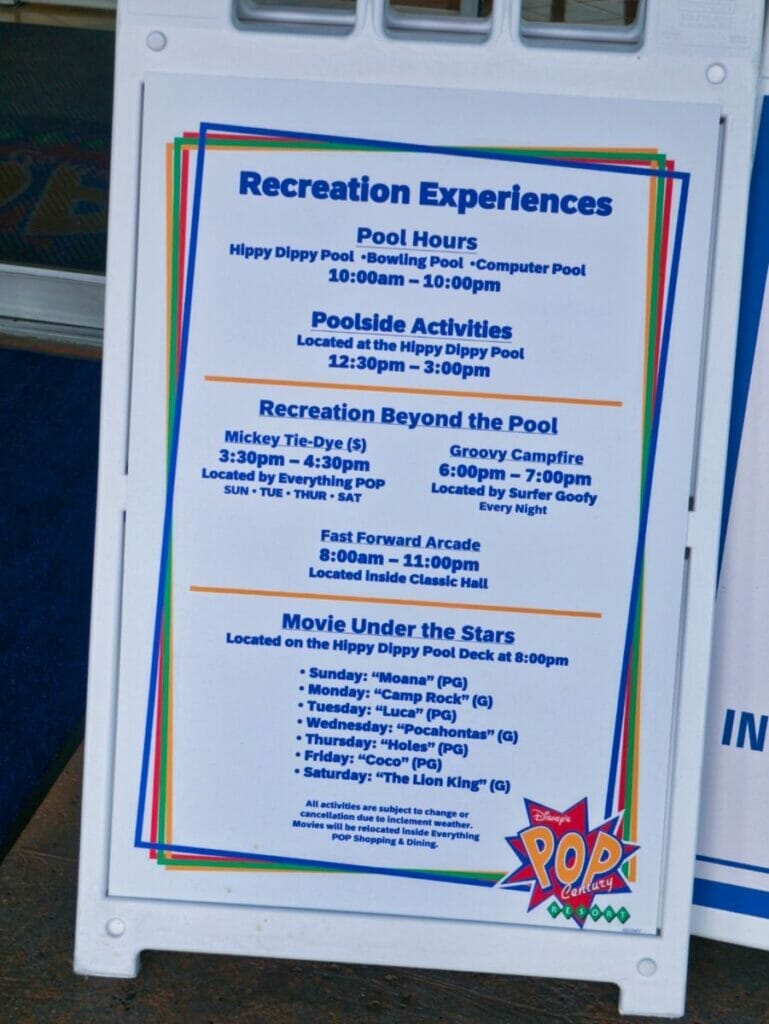 There are also some ping pong tables dotted around.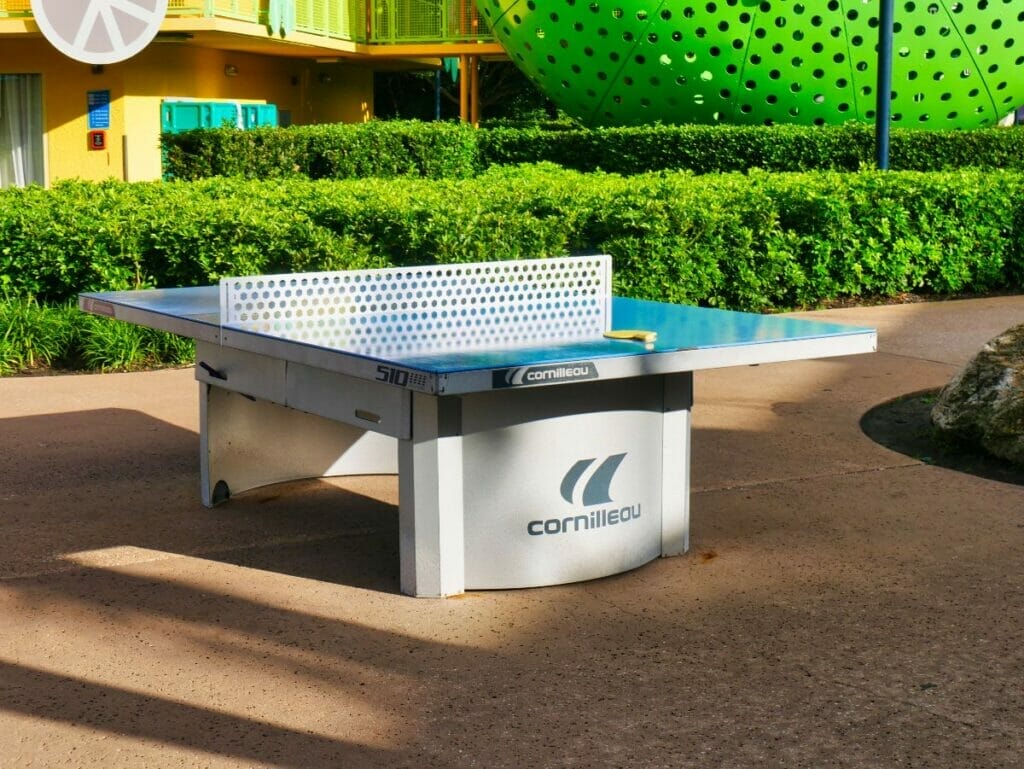 And if you just want a good old-fashioned playground to burn some energy on, you'll find that too!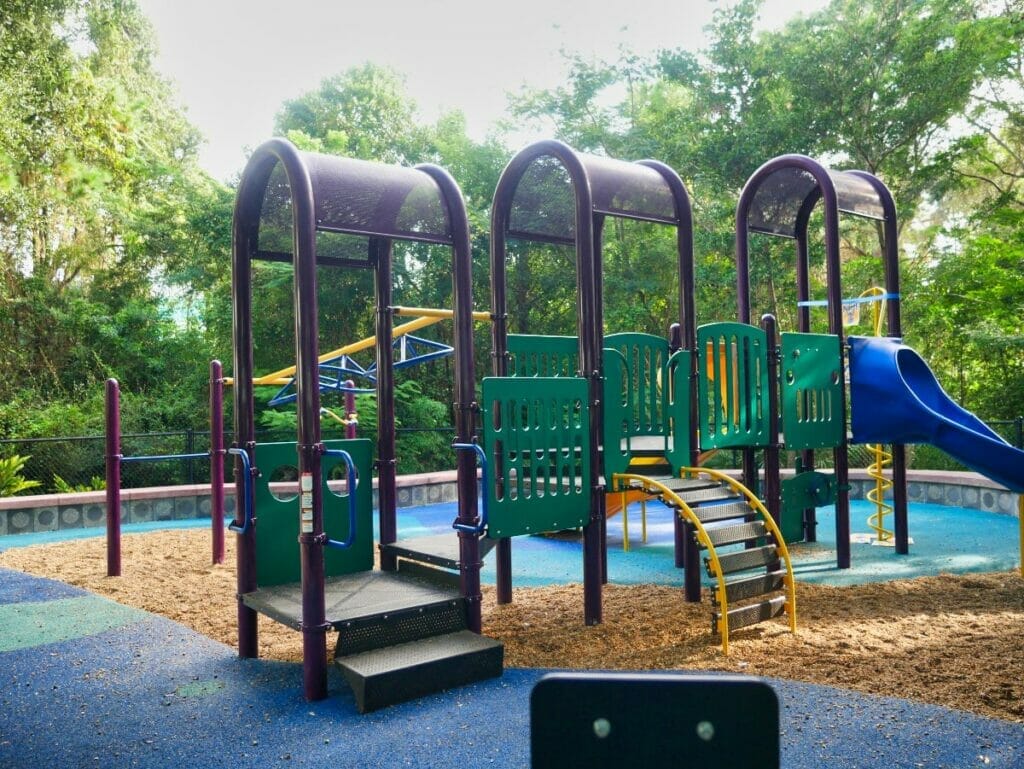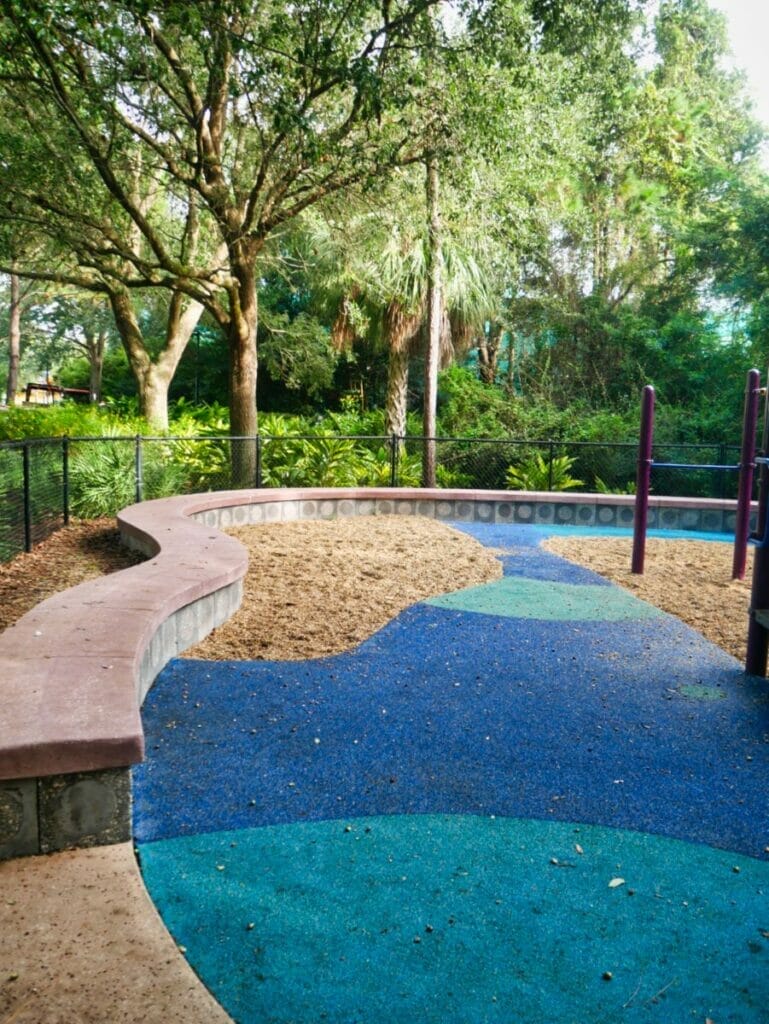 Near the food court, you'll find the souvenir coins.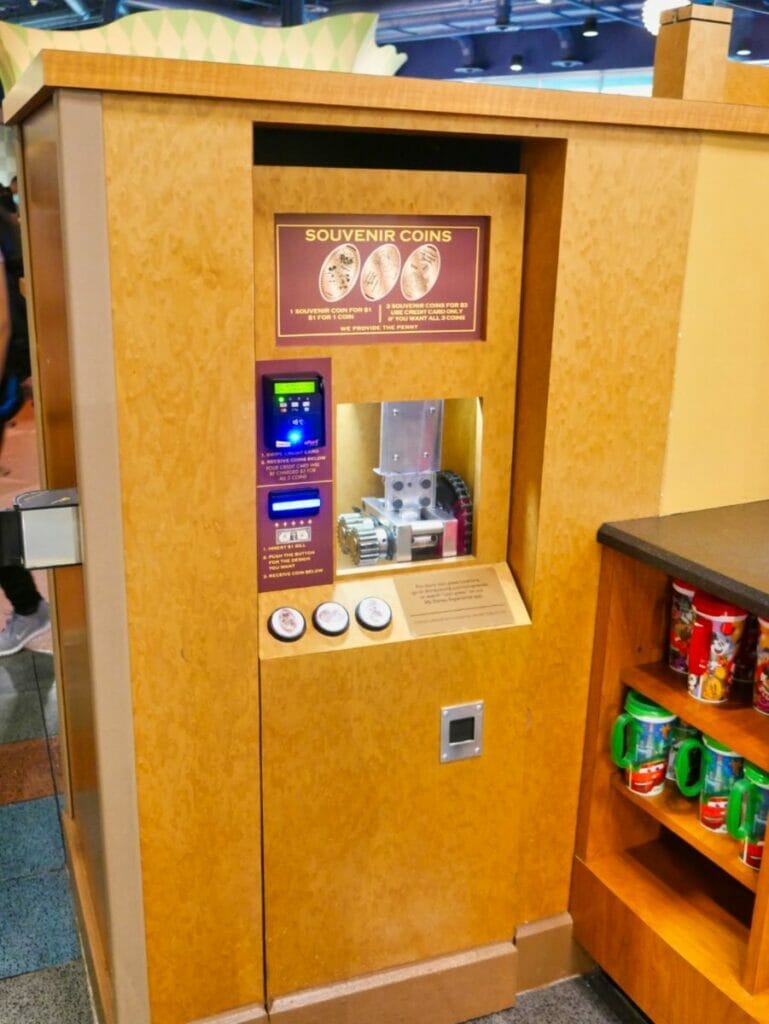 And of course, the caricatures stand in the lobby.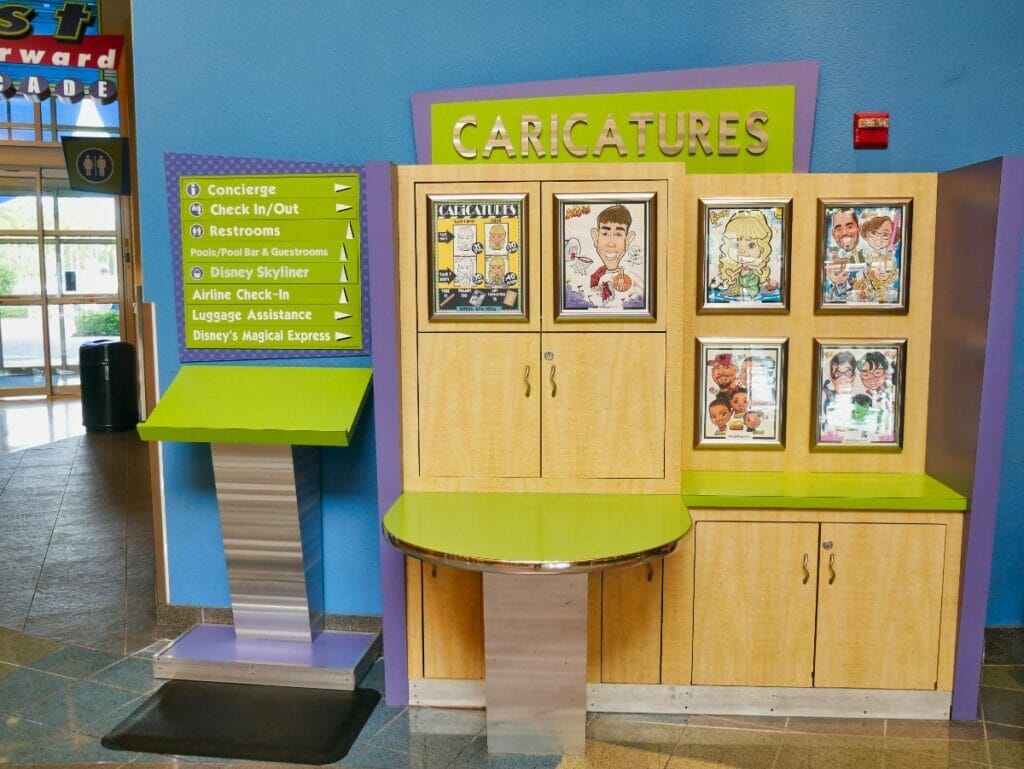 Transportation to Disney Parks from Pop Century
The transportation to the parks is one of the best things about staying at Pop Century, as opposed to some of the other Values, like the All-Stars.
Pop Century has direct access to Disney's Skyliner, which takes you to Hollywood Studios and Epcot.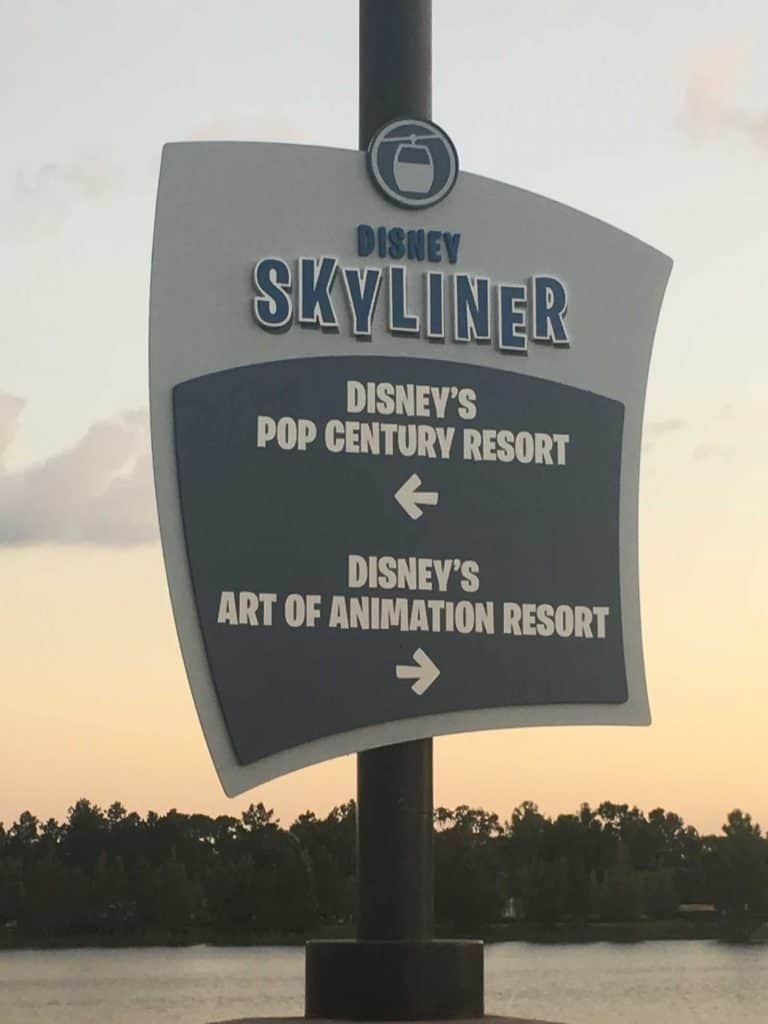 You do have to switch at the main station at Caribbean Beach Resort, but the absolute joy of being able to ride the ever-moving Skyliners to get to and from the park is so much better than a Disney bus.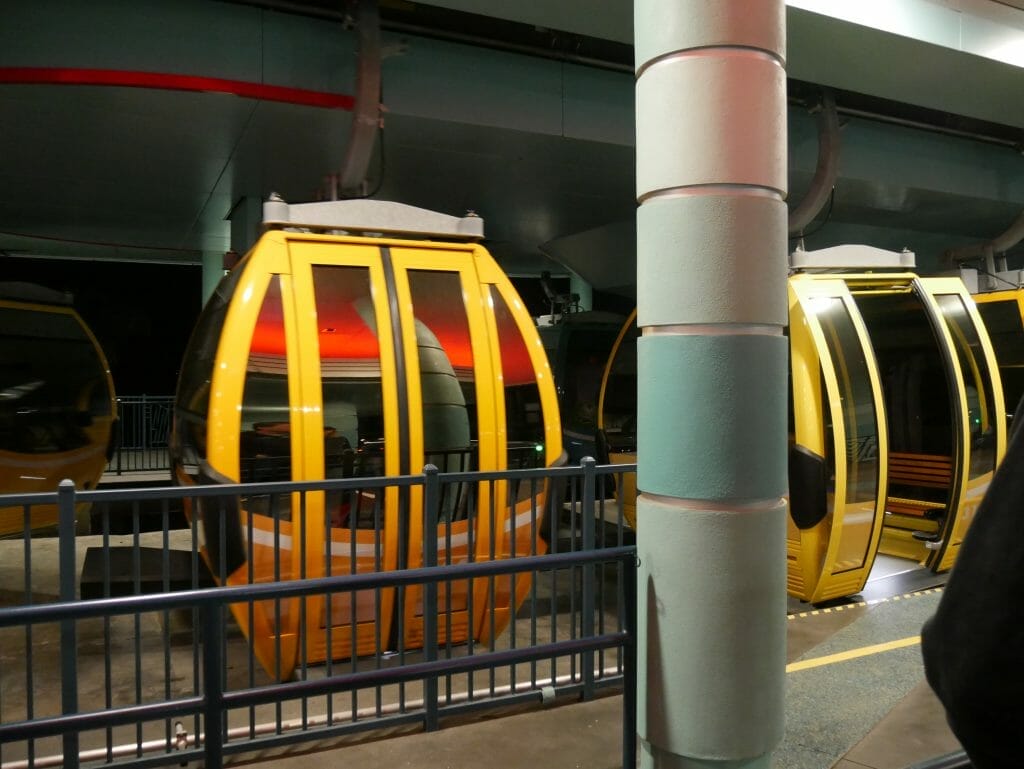 For the parks that you do need to use a bus for, like Magic Kingdom and Animal Kingdom, there is one bus station out front of Classic Hall.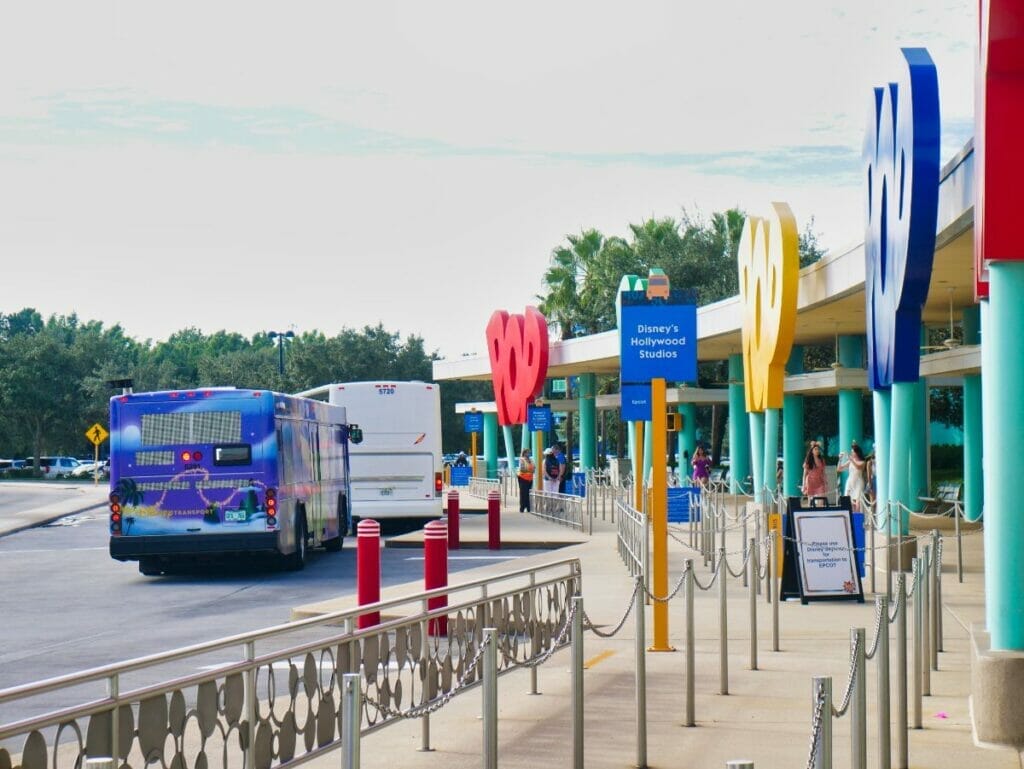 This makes it easier than some of the Moderate resorts which have multiple bus stops all spread out, though arguably you may have to walk further to your room than if there was a specific bus stop for different areas.
There is plenty of room to sit down and spread out while waiting for the buses.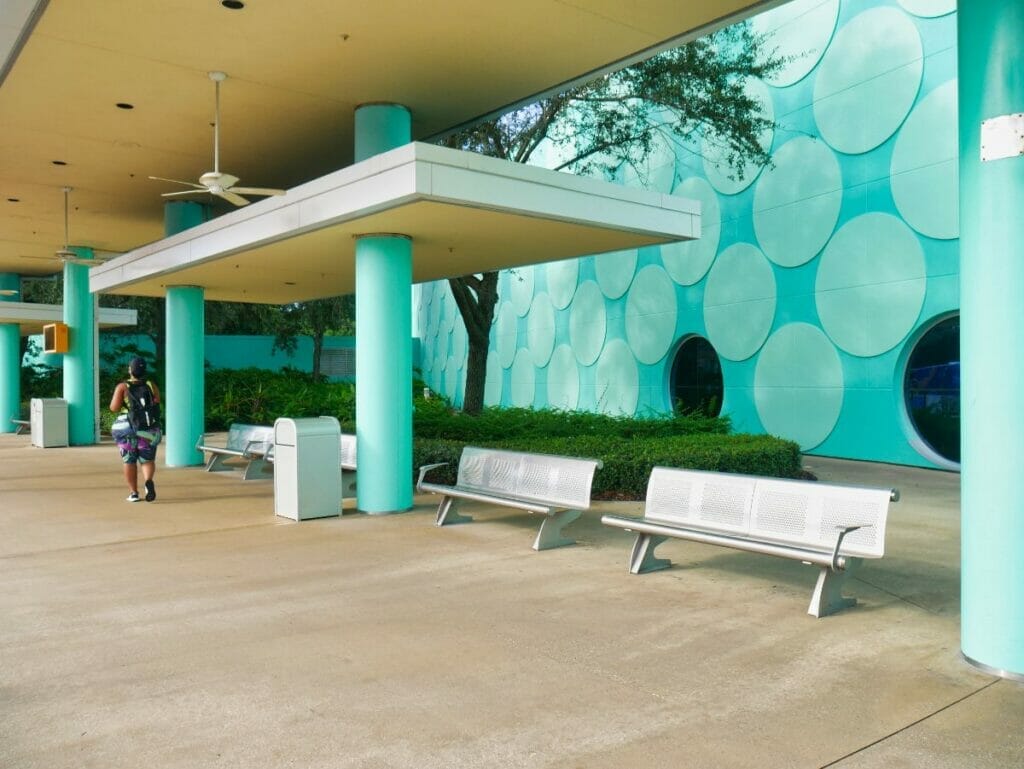 There is also a bus to Disney Springs, which we didn't use on this trip.
This time, unlike our experiences in the past, we didn't always board an actual "Disney" themed bus to get to the parks.
It seems they have hired out some of the bus transportation to a regular coach transportation company, so some of the buses we got on were giant ones where each person had their own seat, and there were two long rows, comprised of two seats next to each other (like you're going on a field trip!)
At first, this took the magic away a little bit, but it was actually really nice to definitely have your own seat and not have to stand, and there was space under the coach to store strollers and larger items that you can't fit on the bus.
We didn't have too much of a problem with bus times being infrequent.
We did have to wait for a Hollywood Studios bus for about 20 minutes one day around 3pm, but it was the middle of the afternoon and we weren't expecting a super fast service like you would at the beginning and end of the day.
It was free, it got us to the parks, and that's all we needed,.
Parking at Pop Century
Parking at Pop Century is available for those of you who drive your own cars to the resort, with each section having its own parking area where you can leave your car for the duration of your stay.
Downsides of Pop Century Resort
Overall, Pop Century is a huge fan favorite among many Disney guests, but there are a couple of things that were drawbacks for us.
Much less impactful for us was a few areas that were looking in need of a refresh.
The laptop in the 90s building has seen better days, much like most of our laptops from that era.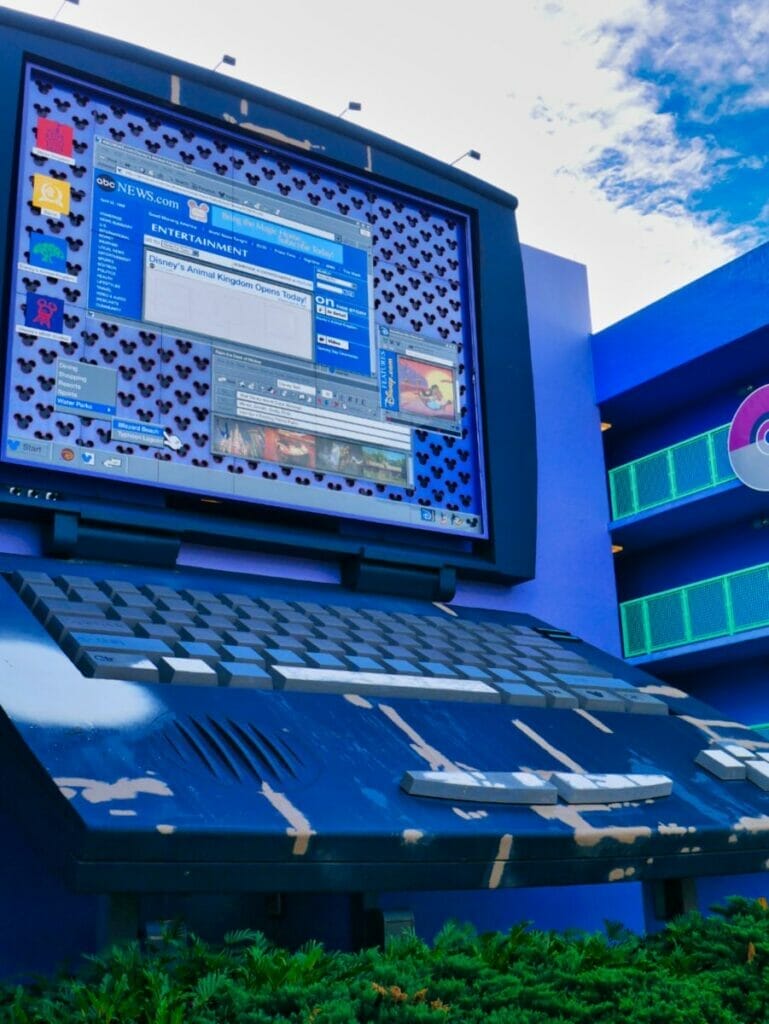 Obviously it is a value resort, so you're going to have exterior doors and it looks more like a motel than a hotel, but that is not necessarily a "downside," but just something to be aware of (you get what you pay for – if you want a full suite with interior hallways, book a more expensive resort).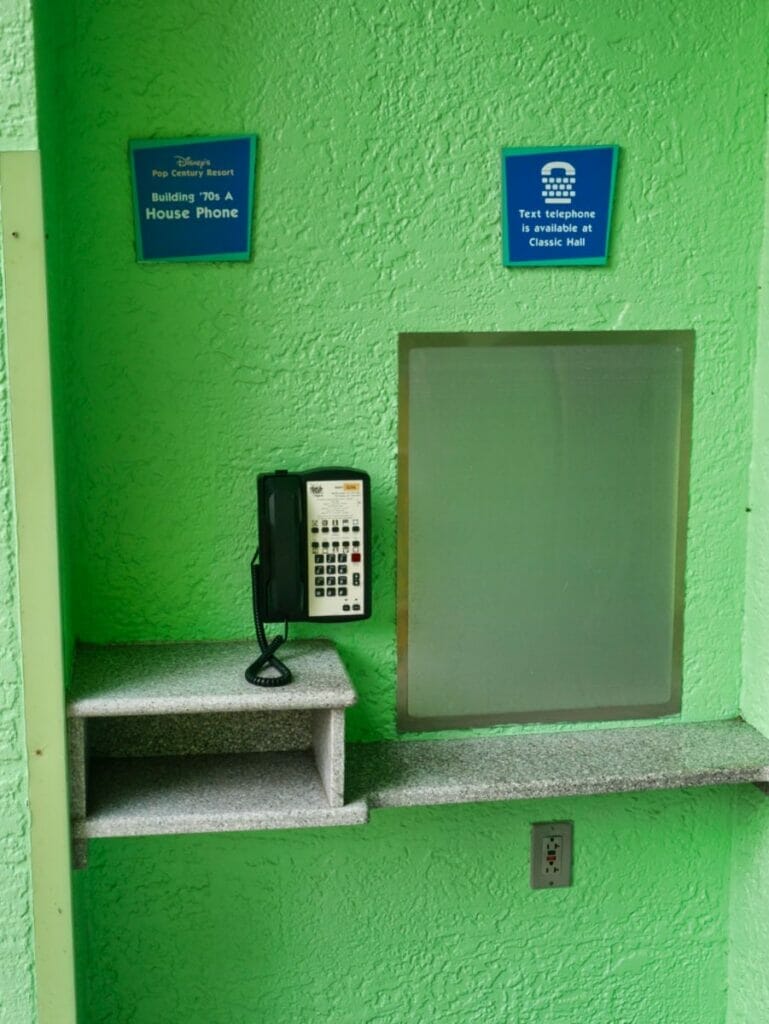 However, the biggest problem we ran into was with noise. Not noise from people outside, but noise from adjacent rooms!
The walls in Building 6 seemed to be paper thin, and we could hear full conversations of a particularly talkative group staying next door to us (in the room with an adjoining door).
It started early in the morning as they got ready to go to the parks, and there was no escape from it.
It wasn't just that room either.
Loud footsteps from above, singing from the room on the other side of us.
It's one thing to have an active resort with lots of fun happening, but another when you stayed late at Hollywood Studios the night before and don't feel like being woken up with loud voices for 30-45 minutes at 6:00am next door.
It's unclear whether it was just our particular situation (you could get quieter neighbors!) or whether all of the rooms suffer this fate, but something to be aware of as a possibility when you book.
Pin for Later!
Get the All-American Travel Secrets!
Don't miss out on America's hidden gems!