Disney has three main category of resorts, and in this guide, we're talking about the best Disney moderate resorts, as well as the cons of each one.
Judging by the title, it's not hard to figure out what kind of resorts these are: middle of the tiers!
They're not as cheap as the Disney values, but not as expensive as the Deluxes.
They're just…moderate!
Moderate resorts or moderate hotels at Disney are hugely popular with families, as well as guests on budgets who can't afford the fancy luxury of a Deluxe Disney resort, but want to splurge just a little bit.
In this guide, we'll talk about each one, as well as whether or not they're worth it in general, because they are so different and there's a lot to unpack.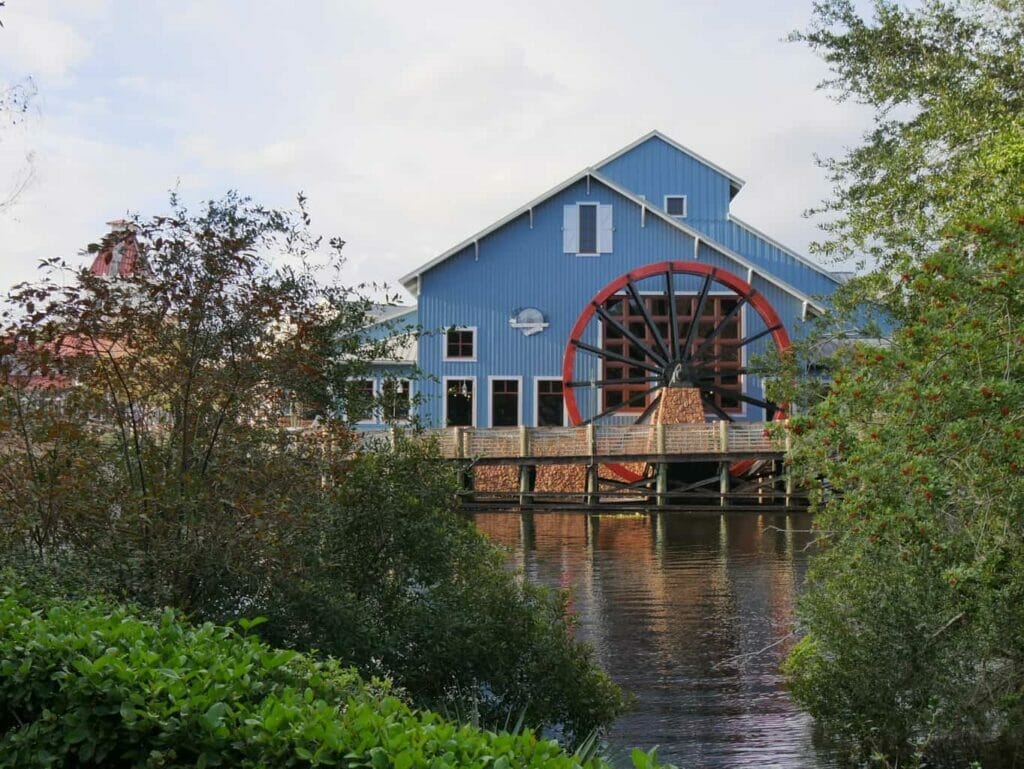 Want insider Disney tips from an expert?
Join 4,000 others in weekly guides to Disney's hidden secrets, gems, and money-saving tips!
Pssst – this printable Disney scavenger hunt is amazing
Since you're already looking up Disney guides, I just wanted to make sure you knew about this printable Disney World scavenger hunt created by a lifelong Orlando native and Disney World fan.
There are over 60 challenges with a full answer key and both Family and Grown Up versions and a bonus Disney Springs hunt for your non-park day!
What are the Moderate Disney Resorts?
The moderate Disney resorts are:
Disney's Coronado Springs Resort
The Cabins at Disney's Fort Wilderness
Disney's Port Orleans Riverside
What to Pack for the Moderate Resorts
Moderate resorts come with most of the amenities you'll need, but there are just a few things I like to pack in addition.
Are the Moderate Disney Resorts Worth It?
One of the main questions we get is if this category of resorts is worth it, in general.
Because it's "middle of the road," you're not getting the savings of a value resort, but also not getting the luxury of a Deluxe resort.
However, these resorts are worth it if you want: larger rooms than the Values, less "in your face Disney" theming than the values (but still beautiful theming), the option of a sit-down restaurant on property, and usually just a bit more elevated of an experience.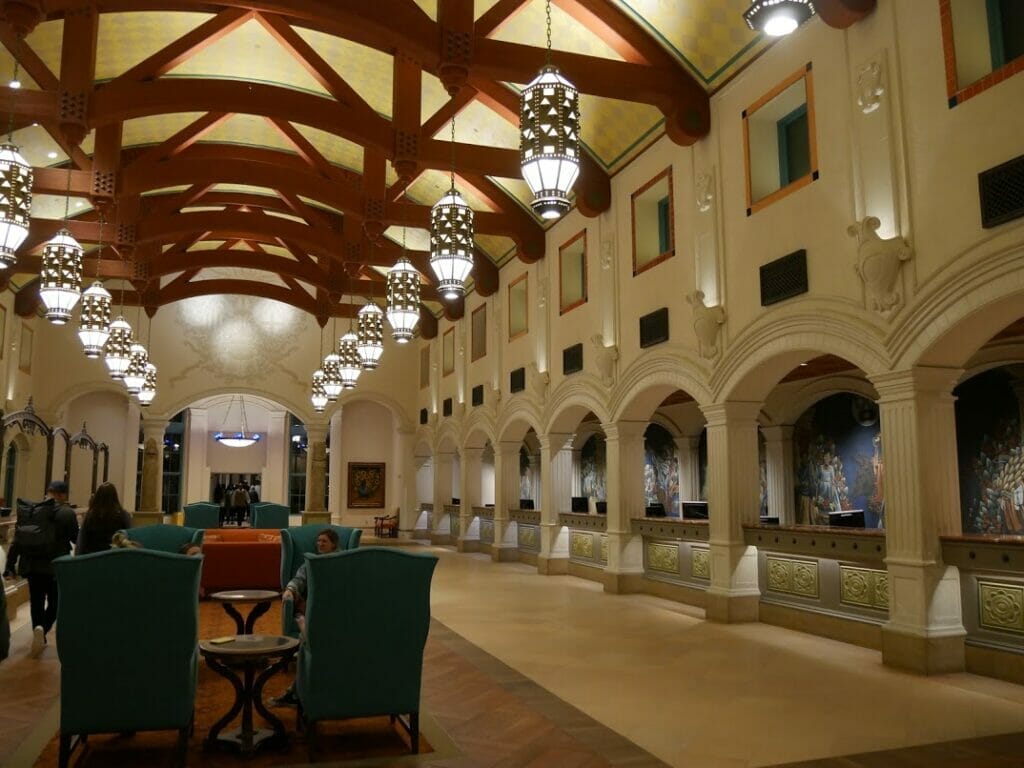 If you're hoping to just get value for your dollar and save money at Disney World, look to the values or off-site.
But if you can't afford the Deluxes, but do want to have as nice of a Disney vacation as possible, the Moderate resorts are worth it.
Best Moderate Disney Resorts for Kids
The best Disney Moderate resort for kids have been chosen for their theming, pools, recreation options, and layout of the resorts.
For each resort, I'll also go over the worst parts about that resort so you can make an informed choice!
Keep in mind that though these are split up into kids and adults, obviously all Disney resorts are good for all ages, it's just about your preferences.
1. Caribbean Beach Resort
Disney's Caribbean Beach resort is a beautiful resort, recently renovated on the outside with a new lobby and food court.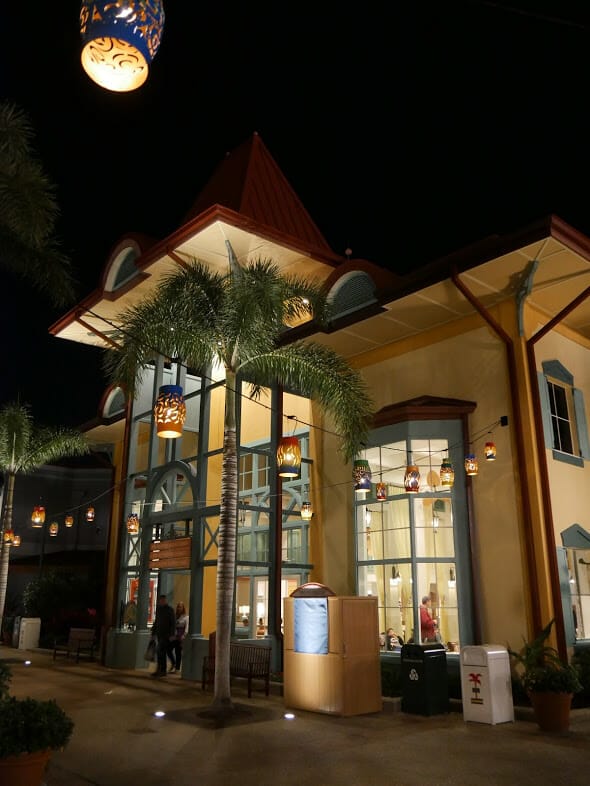 The pool is beautifully designed to be like a sandcastle, the sandy beaches around the resort provide endless time for actual sandcastles, and the overall vibe is vibrant, colorful, and filled with the sounds of Caribbean music.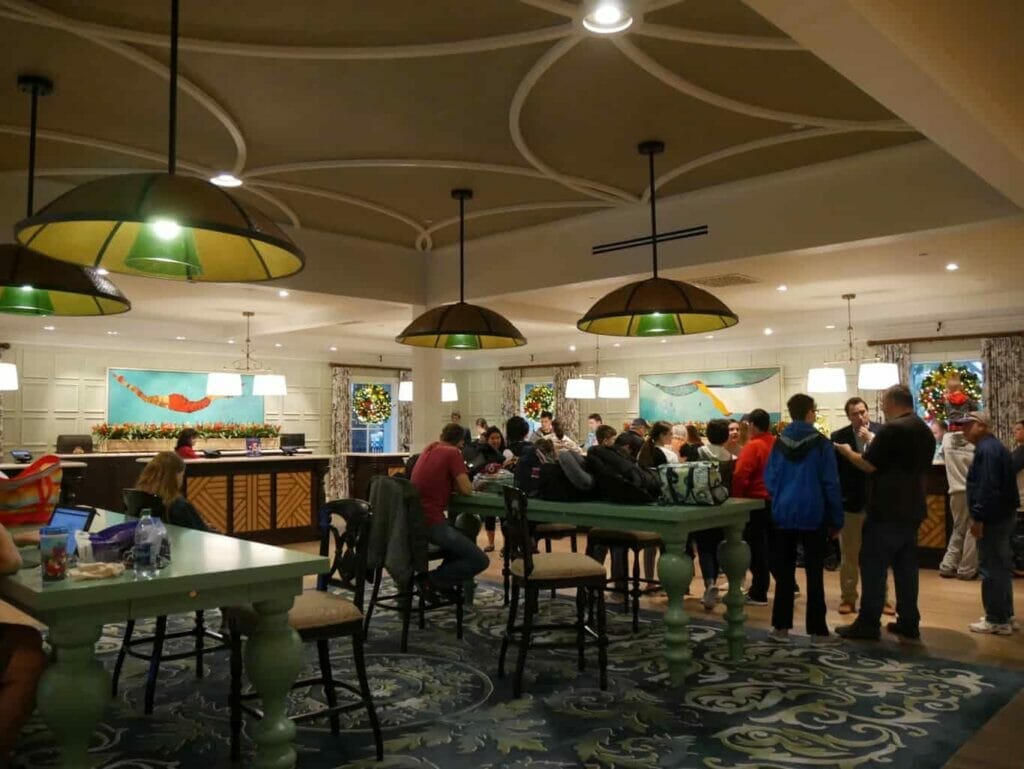 Each room can also sleep 5, including 1 on an adorable pull-down bed, which means that the younger ones can have their own bed.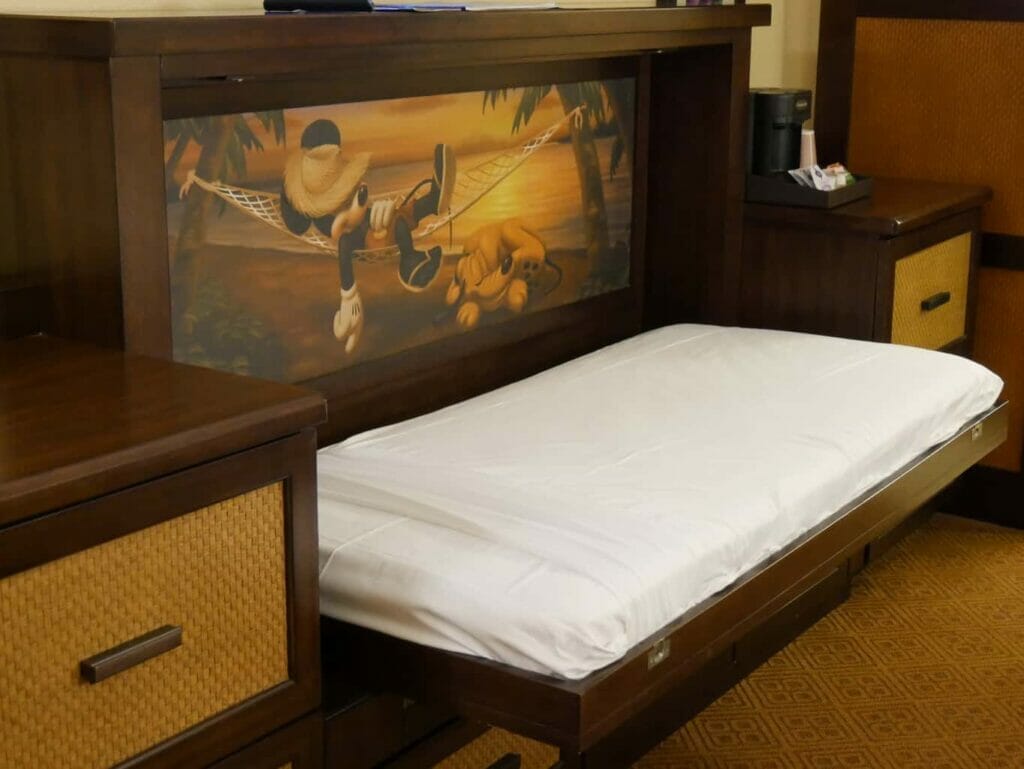 You've also got super easy access to Hollywood Studios and Epcot with the Skyliner hub, and you can walk to Disney's Riviera Resort.
The downsides are that the rooms are a bit outdated and rundown and in need of a refurbish, just down to the wear and tear on the carpet or the furniture.
The food court is also adjacent to the main lobby without much separation, which makes it a bit unlike some of the other moderate resorts where you have a more separate food court that some people like.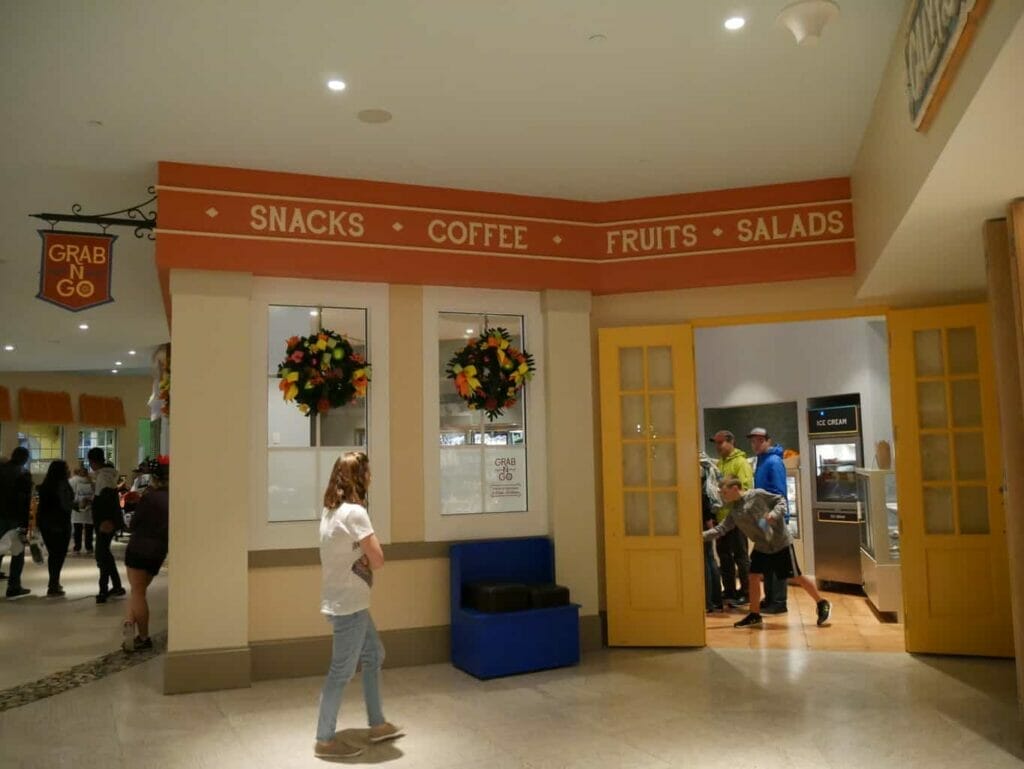 2. Port Orleans French Quarter
Port Orleans French Quarter, one of the Port Orleans resorts, is the smallest resort on Disney property, which is why it's so great for kids because you don't have to worry about them getting too lost, especially if they're just starting to find their independence.
The theming is New Orleans French Quarter with jazz influences, and the pool is a fun theme with some alligators playing instruments.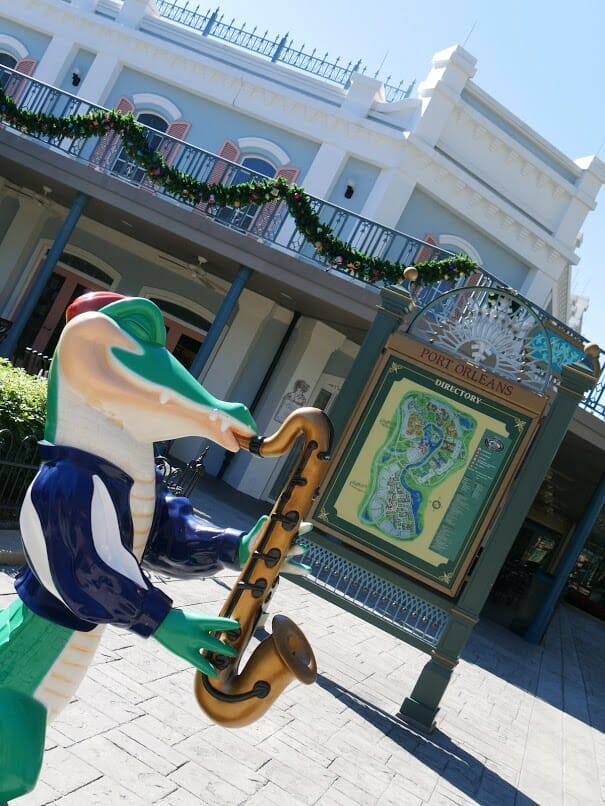 The beignets are absolutely incredible, and there's nothing more fun than starting your day with a face full of powdered sugar.
You can also hop on the boat to Disney Springs from Port Orleans French Quarter, which is a great way to not have to deal with Disney buses if you're planning on spending time at Disney Springs for Bippiti Boppiti Boutique or shopping at the World of Disney.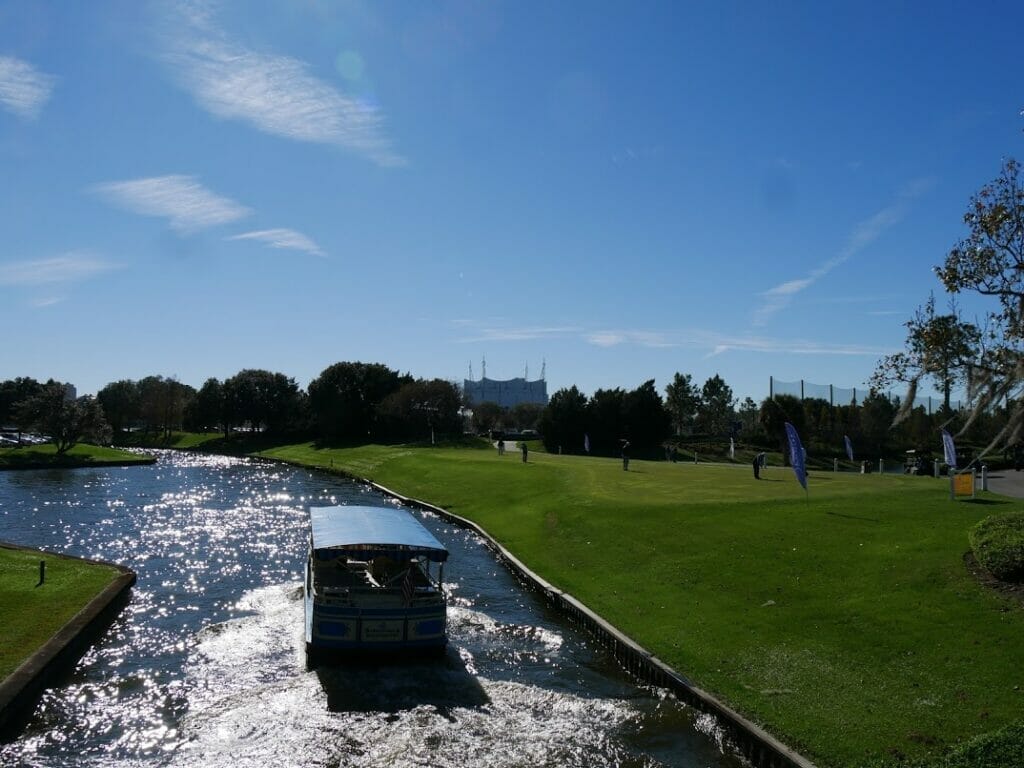 The downsides of Port Orleans French Quarter is that it doesn't have its own sit-down restaurant, which most of the other Moderate resorts do.
You also have only bus transportation to the theme parks, which can be a hassle.
Some people will find that the small nature of the resort is something they don't like, if you're more of a "sprawling walkways" kind of person.
3. The Cabins at Disney's Fort Wilderness
A lot of people don't think of the Cabins at Disney's Fort Wilderness when thinking about Disney's Moderate resorts, but I think it's one of the best Disney moderate resorts for kids because of the endless opportunity to run around and play.
Located within the campgrounds, with each cabin on a "loop," many children create fond memories at the campgrounds of riding bikes, digging in the dirt, and living the outdoor Disney life.
You also have some great use of space in the cabins with a main bedroom and then some bunkbeds, which means your kids don't have to share a bed if they end up kicking each other throughout the night.
Regular nighttime entertainment at the Fort include movie nights, roasting marshmallows, and more.
The downsides of the cabins are that the transportation to and from anywhere else on Disney property is a bit more convoluted, as you need to take the shuttles from your cabin loop to the main bus depot at the Fort, and then wait more for the bus that you want.
Best Moderate Disney Resorts for Adults
If you're taking an adult-only vacation to Disney, maybe a Disney honeymoon, you should think about staying at the following resorts.
4. Port Orleans Riverside
The sister resort to Port Orleans French Quarter and easy walking distance, Port Orleans Riverside is an oasis within Disney, filled with meandering walkways, hammocks hanging everywhere, and gorgeous theming with one side being the "bayou" and one side being the "mansions."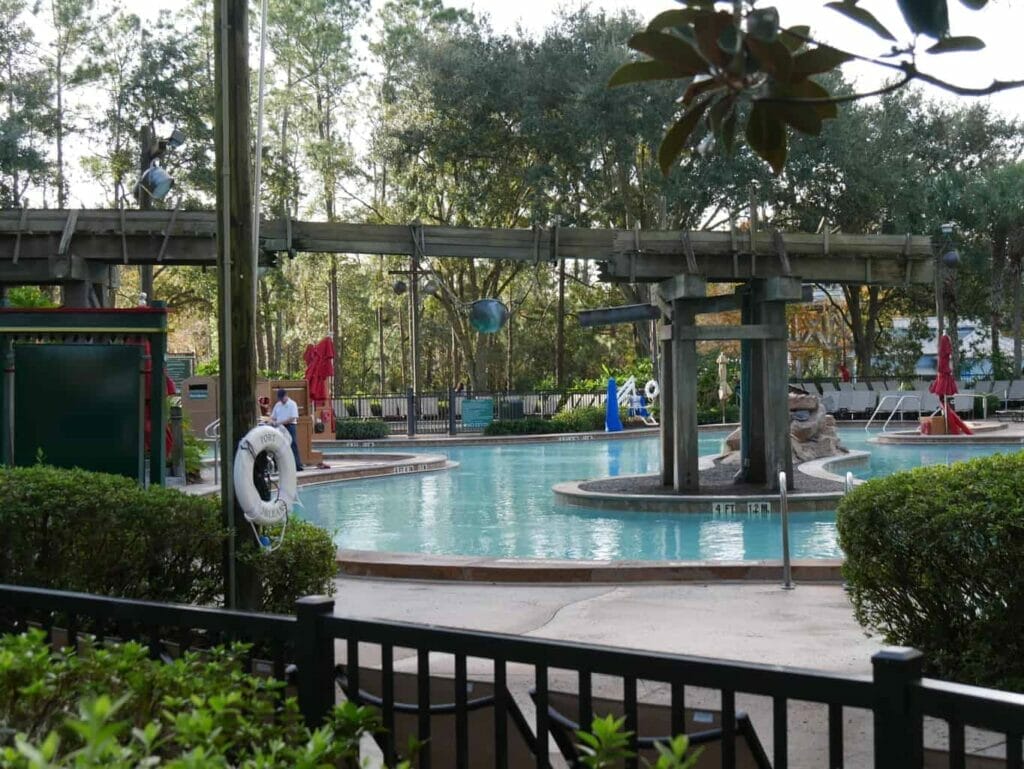 The food court is large and filled with options, the boat to Disney Springs is relaxing and peaceful, and the rooms are nicely done and still up to date compared to those at Caribbean Beach Resort.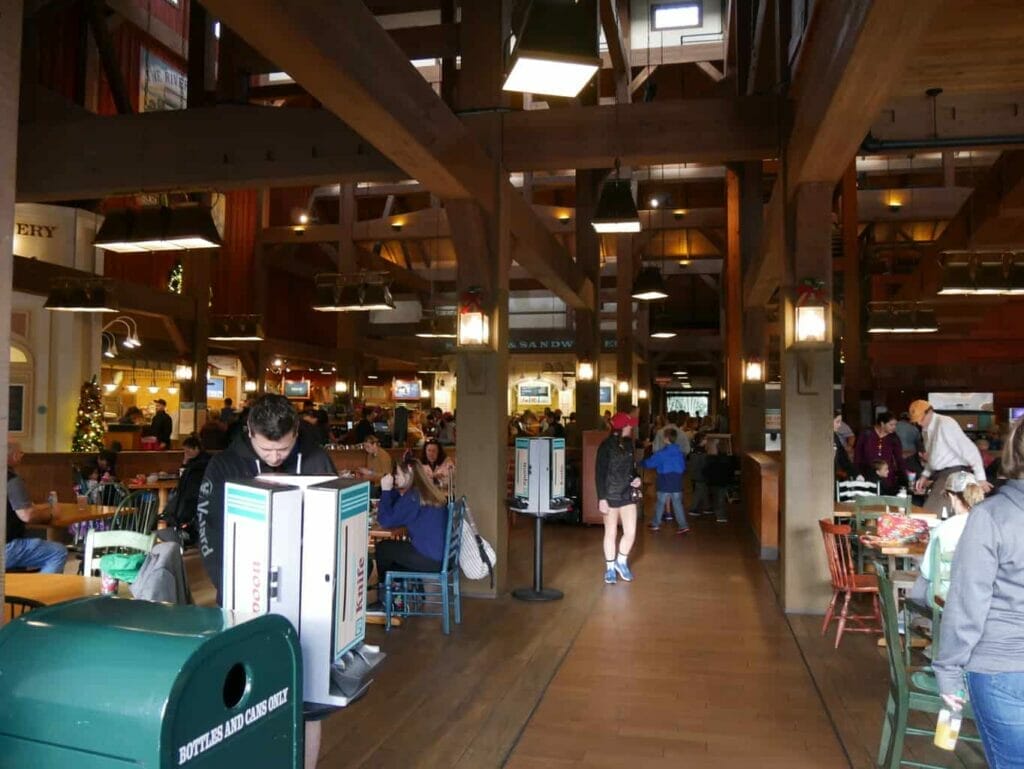 The giant water wheel outside of the food court provides relaxing sounds, and there are also other activities like fishing you can take part in if you want a staycation kind of day without going into the parks.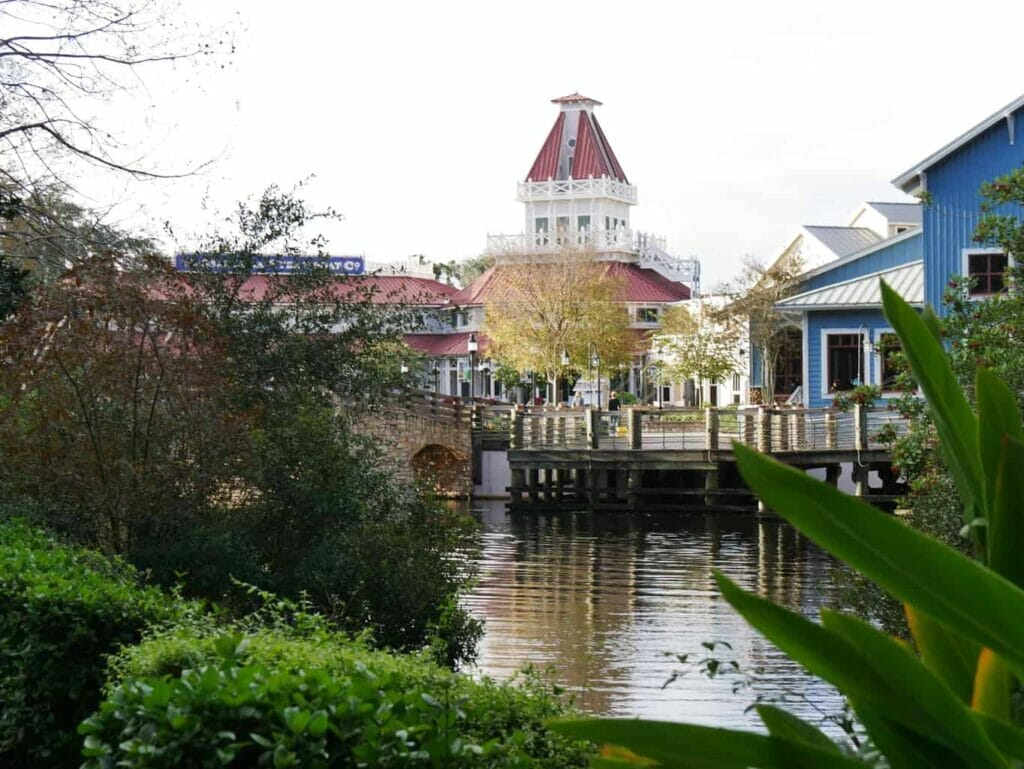 The downsides of the resort are the transportation options, as you can only take buses to the theme parks and often you are quite a long way from the main bus depot.
5. Coronado Springs
Coronado Springs is one of the hidden gems on Disney property, with not a lot of people thinking of it as their first choice.
The reason?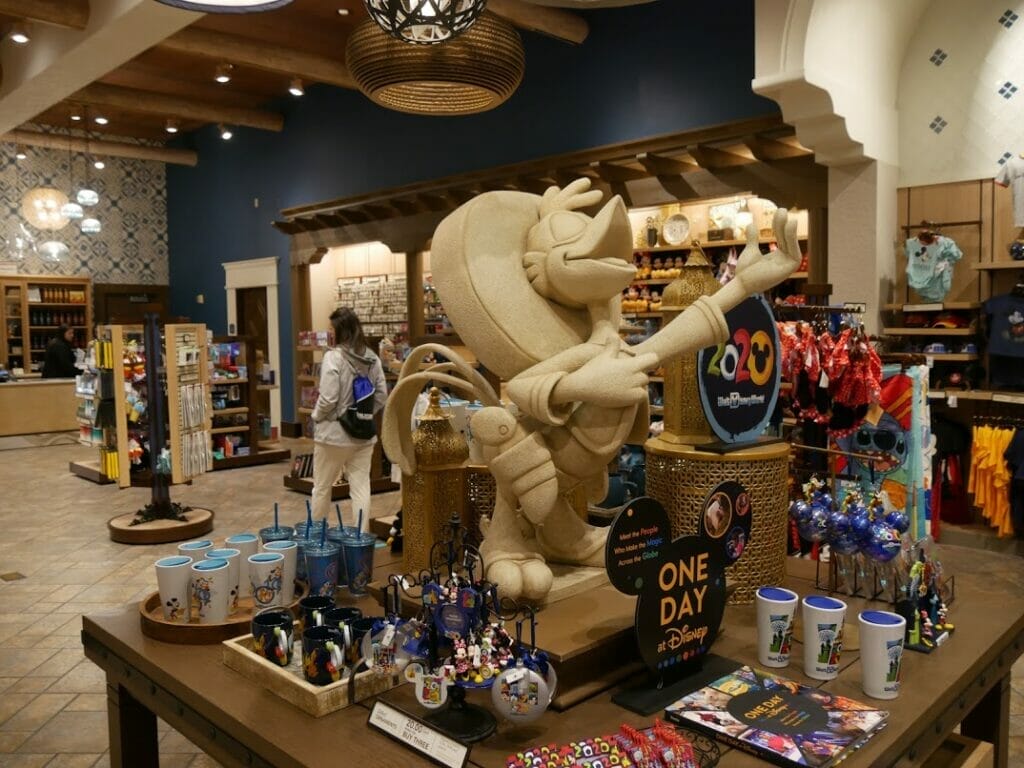 It is built as a convention resort, which means that you may see businessmen in suits during your stay because it also acts as a business center, but it's very much a full Disney resort for regular guests.
The theming is American colonial Spanish and it's truly spectacularly done, with an incredible main pool featuring a Mayan ruins theme, as well as brightly colored tiles, fountains, and that classic red tile that is so common in Spanish design.
With the recent build of the Gran Destino tower, you've got even more options on really gorgeous and luxuriously designed rooms to stay in without the Deluxe price tag.
The downsides of Coronado Springs are the transportation options, as buses are your only options to get where you want to go.
Some people may also not like the idea of potentially seeing a group of businesspeople on their Disney vacation going to and from their events,
Pin for Later!
Hey! Want more of our expert Disney guides? Check these out!
Get the All-American Travel Secrets!
Don't miss out on America's hidden gems!