There's nothing like a trip to the Happiest Place on Earth, and in this guide to the best Magic Kingdom rides and the best attractions at the Magic Kingdom, we'll help you narrow down the best ones.
It's almost impossible to do every Magic Kingdom ride in a single day, which is why in my Disney World itinerary I recommend two days at Magic Kingdom, but that's not an option for all.
If you find yourself with limited time or just want to make sure you're not wasting time on things that don't appeal to you, enjoy this guide.
I've broken it down into rides for kids and rides that are better for adults, as well as the classic Magic Kingdom rides that some might roll their eyes at, but hold a special place in many Disney hearts.
Want insider Disney tips from an expert?
Join 4,000 others in weekly guides to Disney's hidden secrets, gems, and money-saving tips!
Okay, everyone get their "Mountains are Calling" shirt on, and let's get going.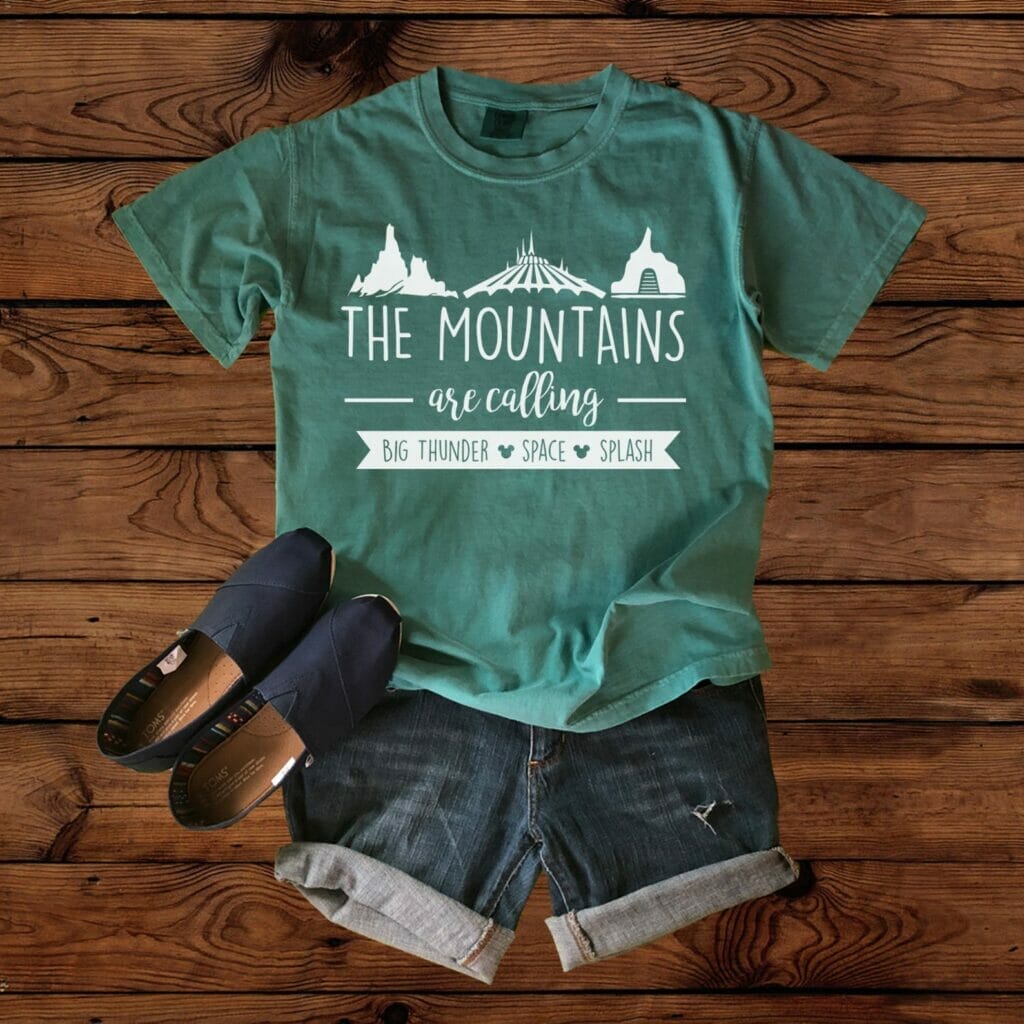 Pssst – this printable Disney scavenger hunt is amazing
Since you're already looking up Disney guides, I just wanted to make sure you knew about this printable Disney World scavenger hunt created by a lifelong Orlando native and Disney World fan.
There are over 60 challenges with a full answer key and both Family and Grown Up versions and a bonus Disney Springs hunt for your non-park day!
Classic Magic Kingdom Rides
Some Magic Kingdom rides may not be the most thrilling, or popular with new Disney fans who are only looking for the latest in technology, but these classic Magic Kingdom rides deserve your time and attention.
1. Walt Disney's Enchanted Tiki Room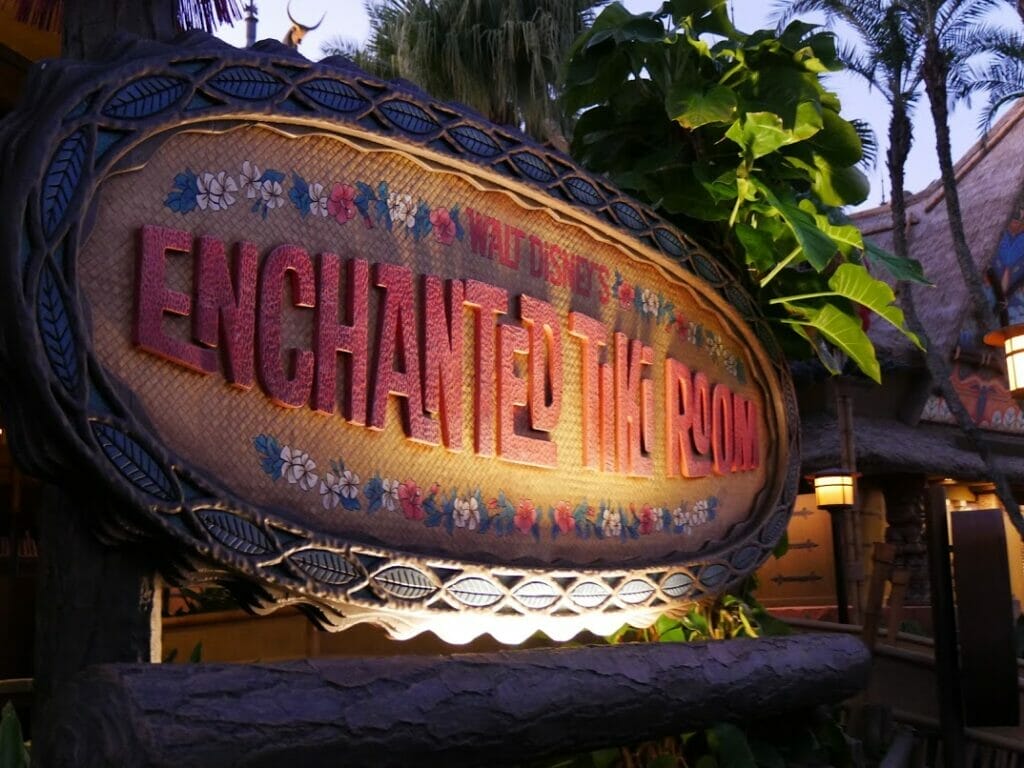 This show with singing animatronic birds has created one of the most popular Disney tunes of all time ("in the tiki, tiki, tiki, tiki, tiki room…!" and might not have the same flair as more recent rides, but is a fantastic and fun glimpse into the absolutely joy that animatronics can bring.
You'll choose your seat along the benches and then, suddenly, the birds will wake up and sing their songs while talking to the audience and dealing with the sometimes inclement weather.
The line is usually not very long, and it's a great indoor attraction to experience
2. Country Bear Jamboree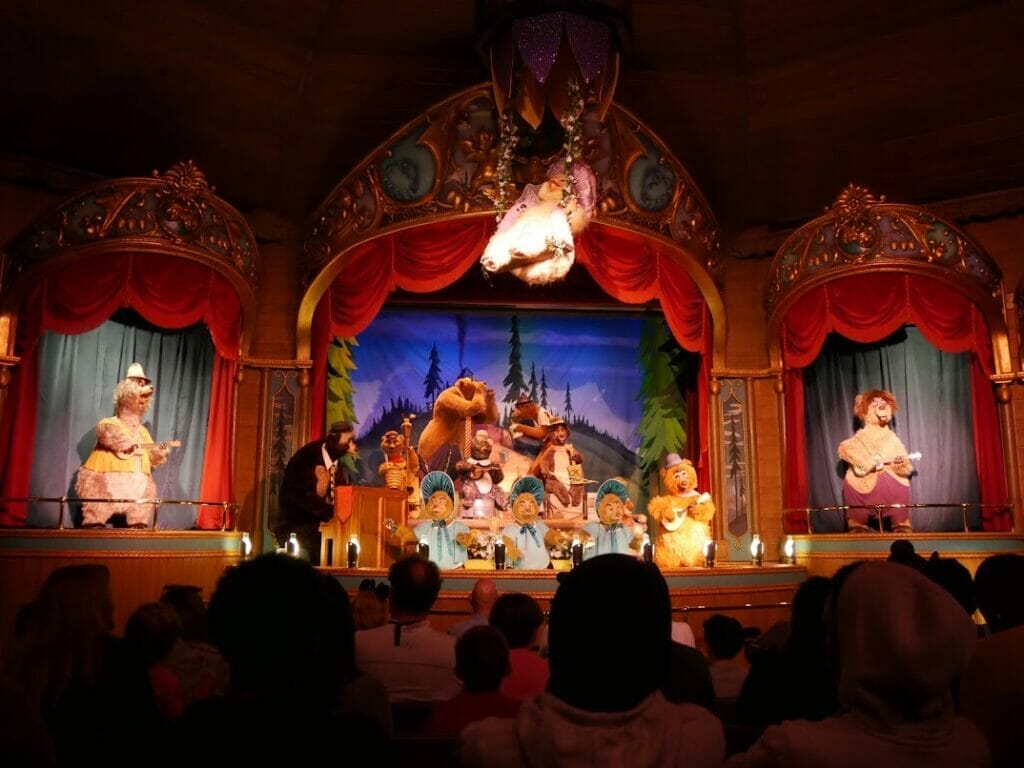 This is a true Magic Kingdom classic ride, where you join a bunch of country bears, a talking wall mounted deer (yes) and some other animatronic animals for a show filled with singing, bears wearing tutus, and more.
If the whole thing sounds absurd, it's because it is, and that's what Disney fans love about it.
Some of the tunes will definitely get stuck in your head, and again, this is a fantastic example of an animatronic-inspired ride that doesn't rely on any virtual effects or fancy technology.
Mixed in with humor and pretty bizarre premise, it might not be your go-to every time you're in the park, but if you are interested in Disney history, it's worth trying!
3. Walt Disney's Carousel of Progress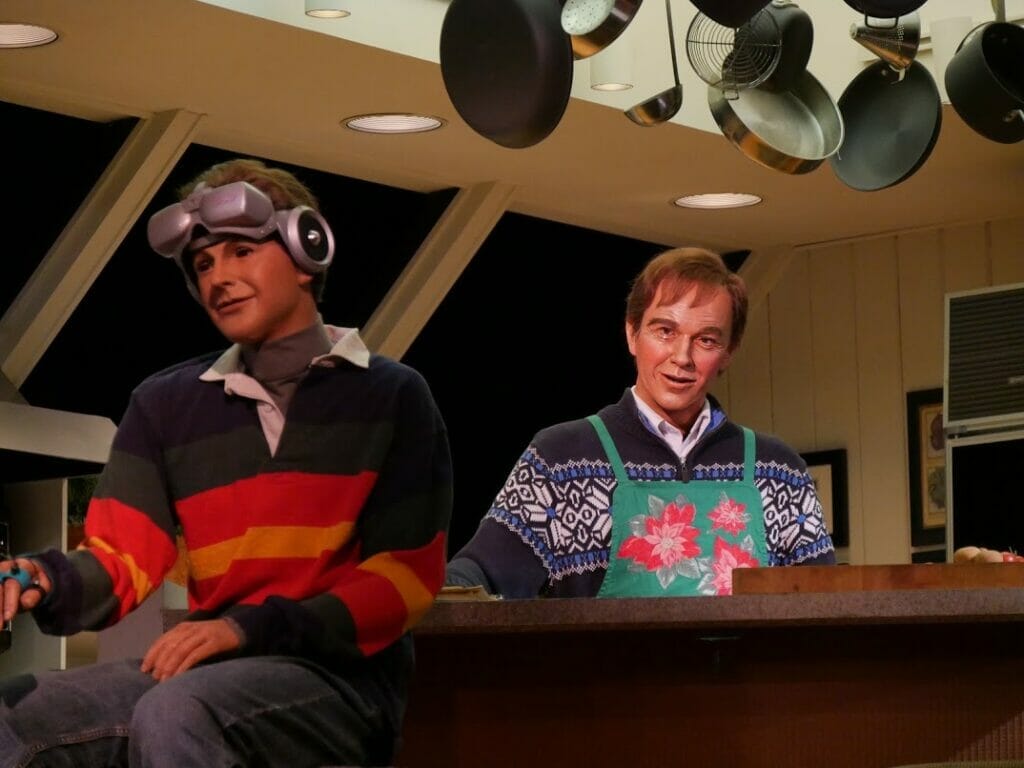 To this day, the Carousel of Progress is one of my favorite rides. It is a classic, originally designed for the World's Fair and then brought to the Magic Kingdom, but it is enchanting from beginning to end.
It's about 20 minutes long, and you'll see it from a rotating theater (you move, the stages don't).
Through it all, you'll follow an American family as they go through the decades, and in each section they'll show you new technologies and what's going on in the world.
They're animatronic, of course, which means you'll get the same exact show every single time.
And there's something special about the theme song, "There's a great big beautiful tomorrow," that leaves you with a pep in your step.
4. The Hall of Presidents
Walt Disney didn't just love the idea of providing fun to families, but also a bit of educational entertainment on the side.
The Hall of Presidents, a ride filled with animatronic presidents, tells the story of the office of the President and how important it is to the US.
As each president talks, you'll see them move in a very lifelike way and together, they'll teach you about the history of the Executive Branch.
5. "it's a small world"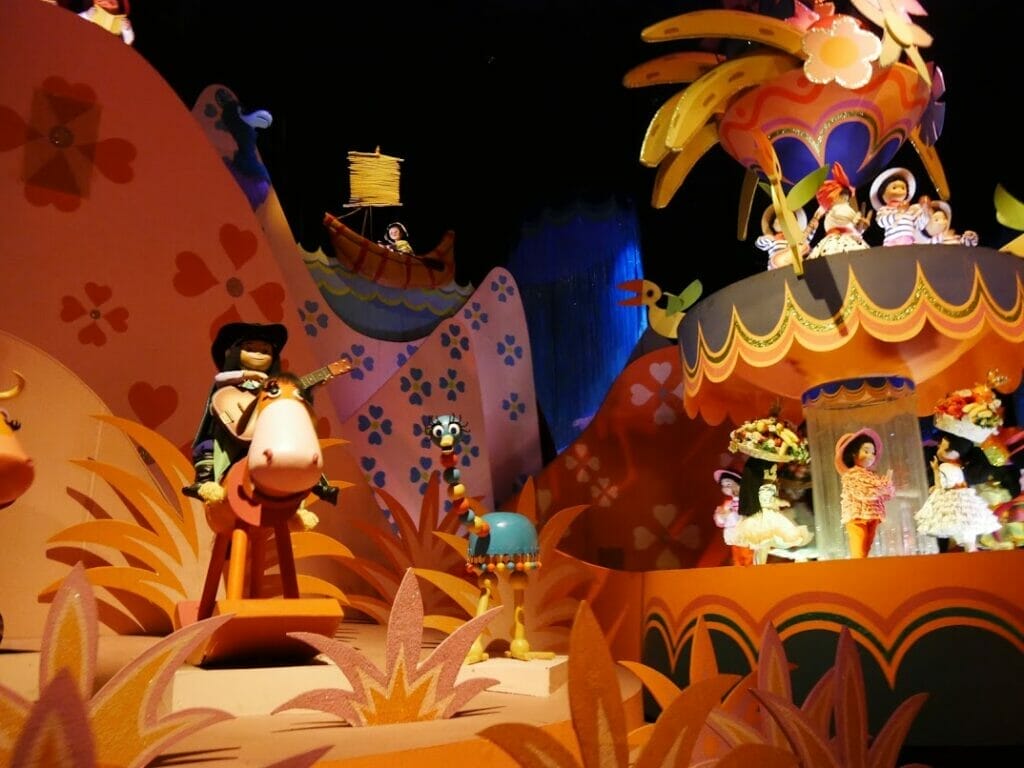 Not only is "it's a small world" a classic Disney ride, but it's great for families and kids who want a slow-moving boat ride with no scary elements.
Yes, the song will be stuck in your head for forever, but this boat ride through hoards of singing children in different countries (that sounds more strange than it is) is a must-do.
Bonus tip: when you first take off, look up to your right and you'll see people eating in Pinocchio Haus next door – they're real!
This is one of the best Magic Kingdom ride for infants because it keeps them occupied looking around!
Best Magic Kingdom Rides for Kids
It goes without being said that Magic Kingdom is a great Disney park for kids and that in fact, every single Disney park was designed for everyone to feel like a kid again.
But if you're got your own kids in tow and want to know the rides that are most likely to impress them, here are some of the best Magic Kingdom attractions for kids and best rides at Magic Kingdom for teens!
6. The Magic Carpets of Aladdin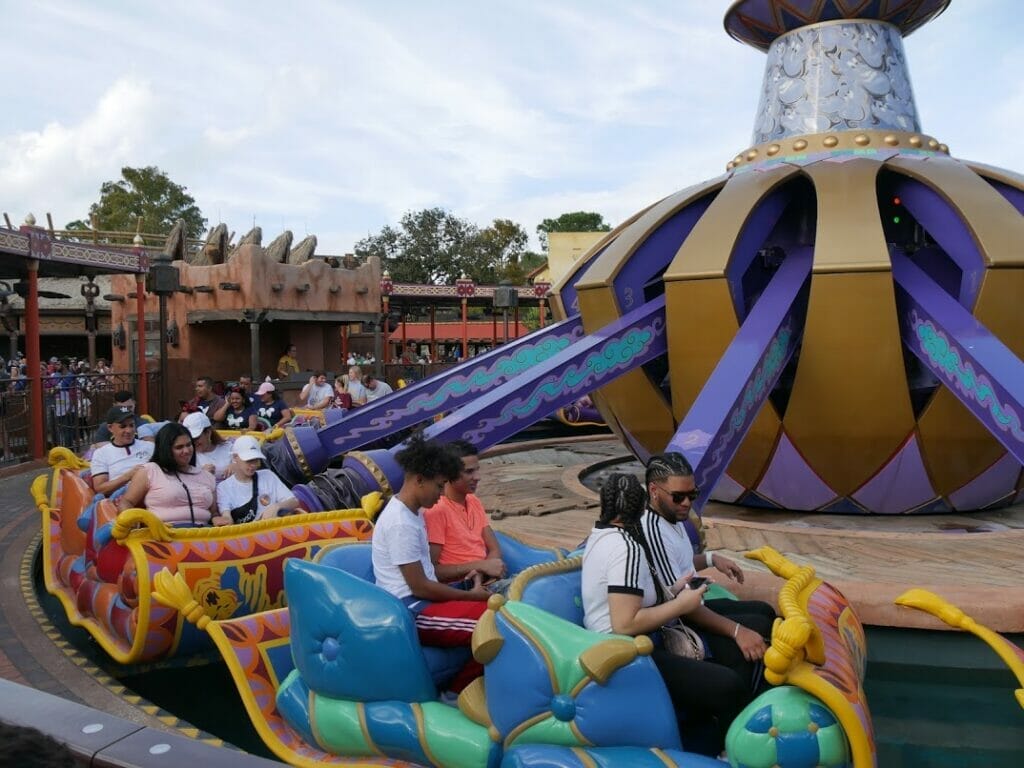 Like the Dumbo ride, but themed Aladdin, this is a fabulous ride at Disney with infants or toddlers, as it's a bit of a thrill for their age group and some fun with the spitting camel you have to watch out for!
It doesn't last long, but they can control the joystick and move the magic carpet up and down, and there's nothing more magical than that!
7. Prince Charming Regal Carousel
This isn't just a regular carousel, but a royal carousel, where you can ride on Cinderella and Prince Charming's horses!
Kids will love choosing their horse (there are also accessible ones if needed) and you'll rotate round and round, right next to Cinderella's Castle.
For particularly enchanting pictures, ride at night when everything is lit up!
8. Tomorrowland Speedway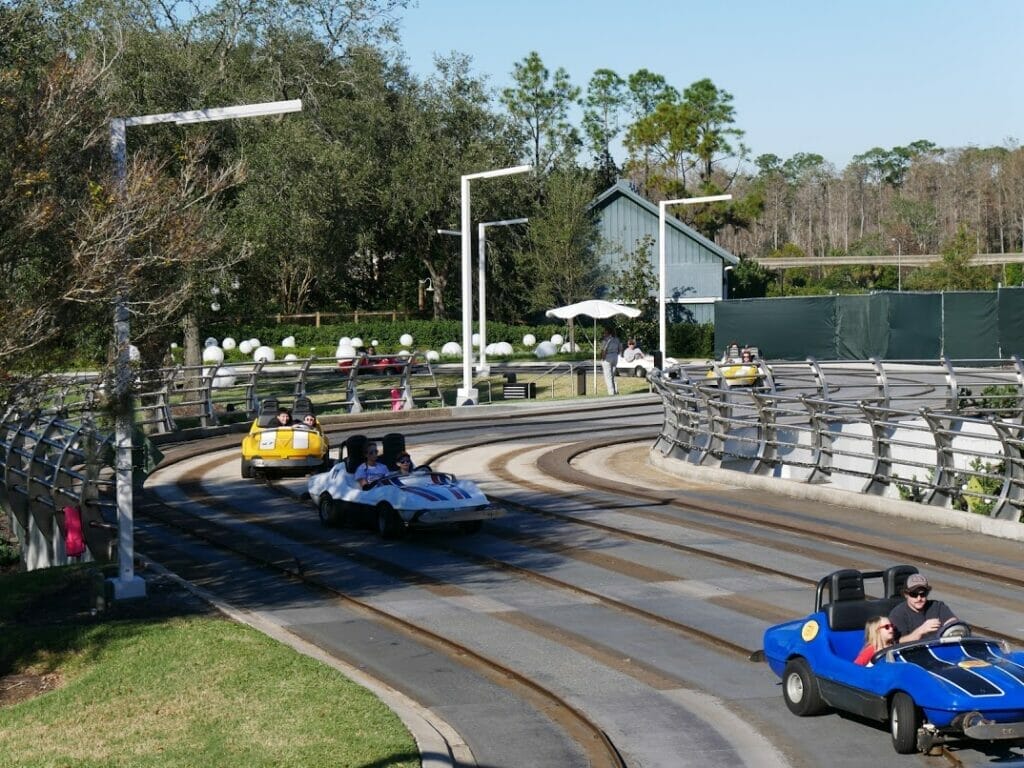 Adults may have had enough driving in their quest to get to Disney, but kids love getting behind the wheel at the Tomorrowland Speedway.
Unlike regular go-kart style rides, these cars are all on tracks so you can't veer too far off course, and putting the "pedal to the metal" will just make you go at a leisurely pace, which is perfect for a child.
Younger kids will need to ride with an adult, but older ones will be perfectly able and happy to ride by themselves and see if they can get their license a few years early.
9. The Many Adventures of Winnie the Pooh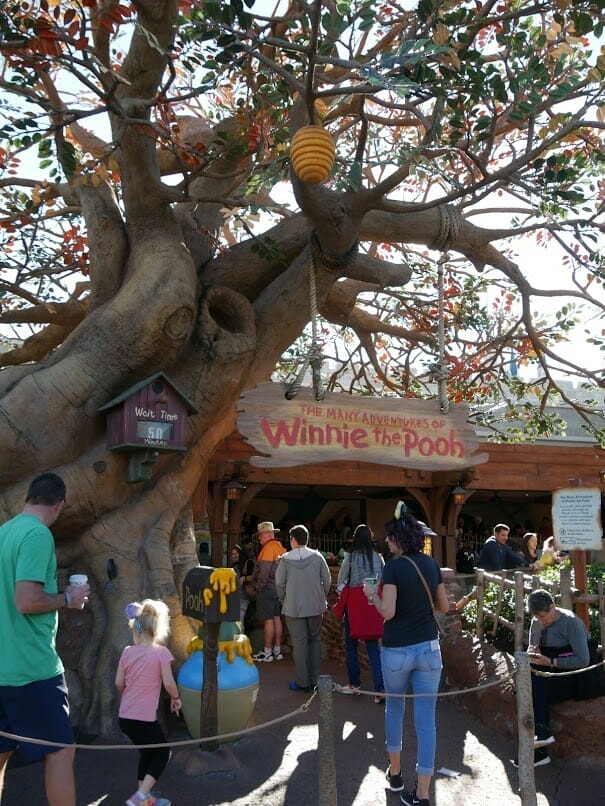 Hop in a honey pot and wind your way through the Hundred Acre Wood in this Winnie the Pooh themed ride.
From glow in the dark heffalumps to a rainy scene where it feels like you're floating, there are some great special effects in this ride to help put you in the magic.
The queue is also one of the best lines at Disney World for kids, with plenty of things to play with including beehive toys and a "honey wall" that reacts to touch.
10. Mad Tea Party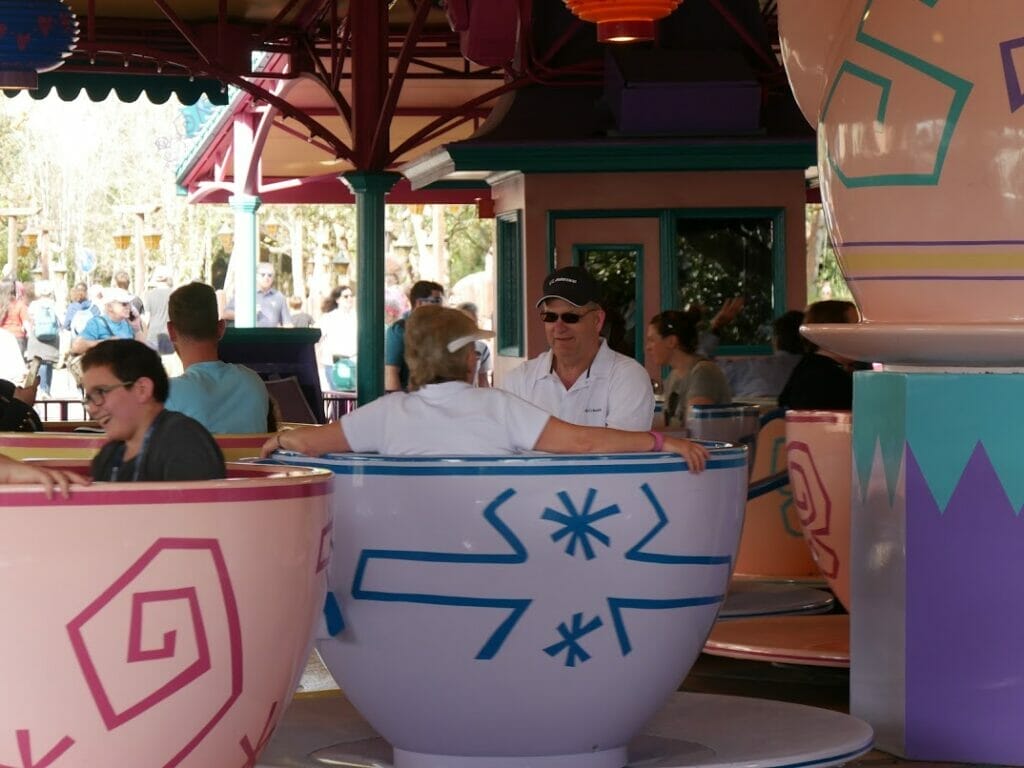 Can you really say you've been to the Magic Kingdom if you haven't taken a spin on the Alice in Wonderland themed Mad Tea Party?
This is a fantastic ride if you want to make some new family memories.
Typically kids fare better than adults, who often get off so dizzy they're about to fall into the bushes, but this is a real example of a low tech ride that can bring the kids such joy.
The theming is cute too, with the Mad Hatter being nearby and lots of gorgeous lantern lighting that makes it a great Disney World Instagram spot.
11. Seven Dwarfs Mine Train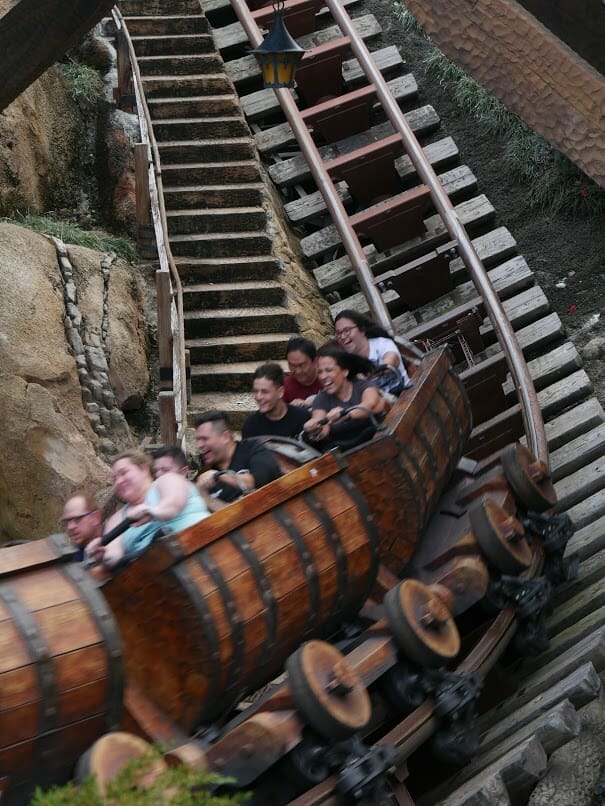 One of the newest rollercoasters in the Magic Kingdom, the Seven Dwarfs Mine Train is a Snow White themed ride in New Fantasyland where you join the dwarfs on a mine train that seems to be careening out of control (but don't worry, you're safe!)
The reason I've included it for kids is that, while not every child can ride (there is a height restriction), it is a less intense rollercoaster than Space or Thunder Mountain and a great way to get their feet wet with rollercoasters when it's time.
The queue is also spectacular with great effects and gems sparkling in the Florida sun.
The ride itself isn't very long, so if you are a thrill junkie, I would prioritize the other rollercoasters first, but it's worth doing.
12. Buzz Lightyear's Space Ranger Spin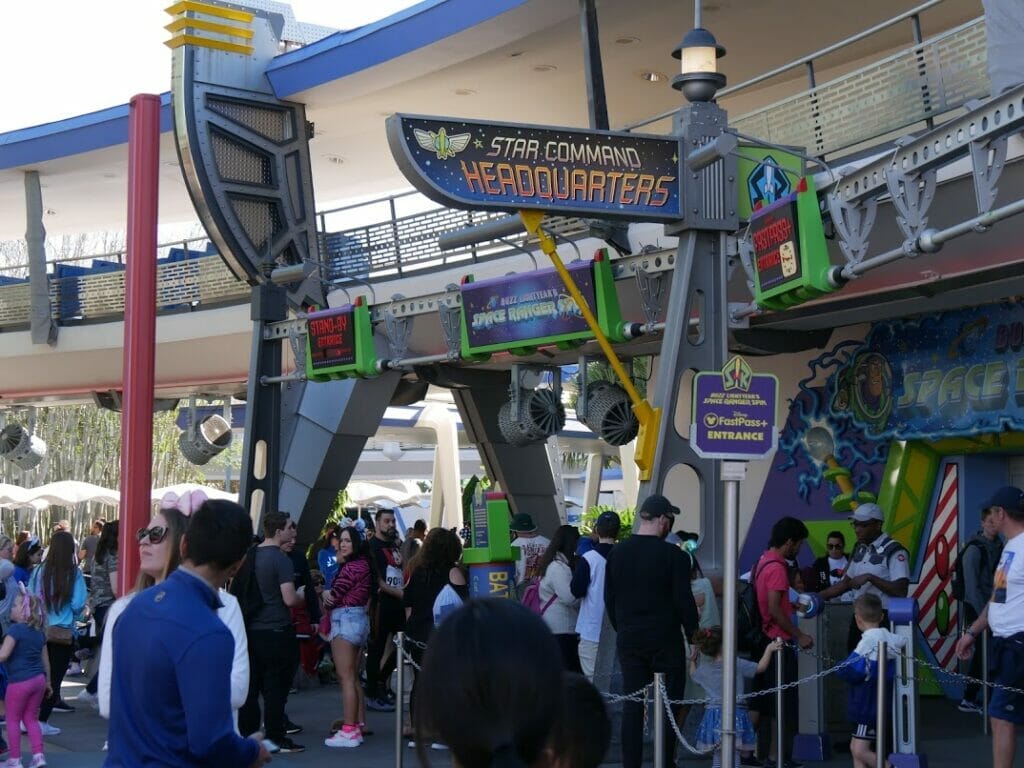 Join Buzz Lightyear in his quest to defeat Emperor Zurg on this fun laser blasting game that sees you try to rack up the most points.
You'll come across tons of aliens and obstacles along the way, and the best part for old school Disney fans is that none of it is virtual.
The targets are all real, and so are the animatronics and scene settings.
13. Mickey's Philharmagic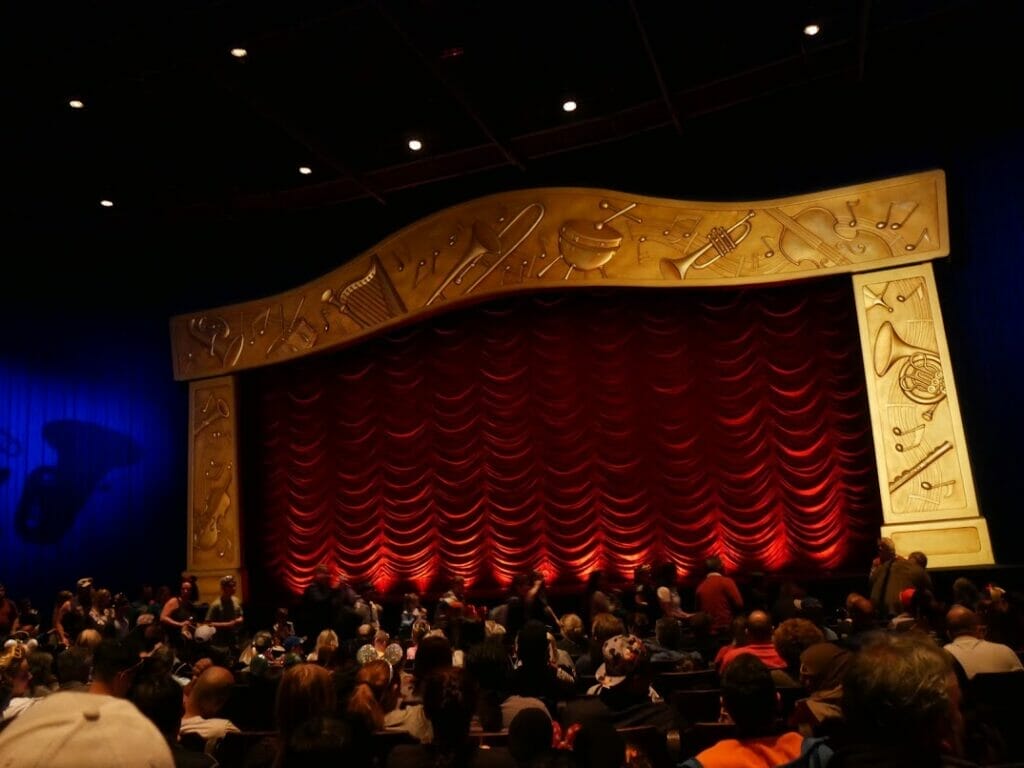 This 4D show (which includes smells and potentially a water splash!) is a magical dive (literally at points) into some of Disney's best classics, as you follow Donald Duck through a series of scenes.
While it is a little bit older and the 3D could use a bit of clarity, kids will love this and adults will enjoy singing along to their favorite Disney tunes.
14. Dumbo the Flying Elephant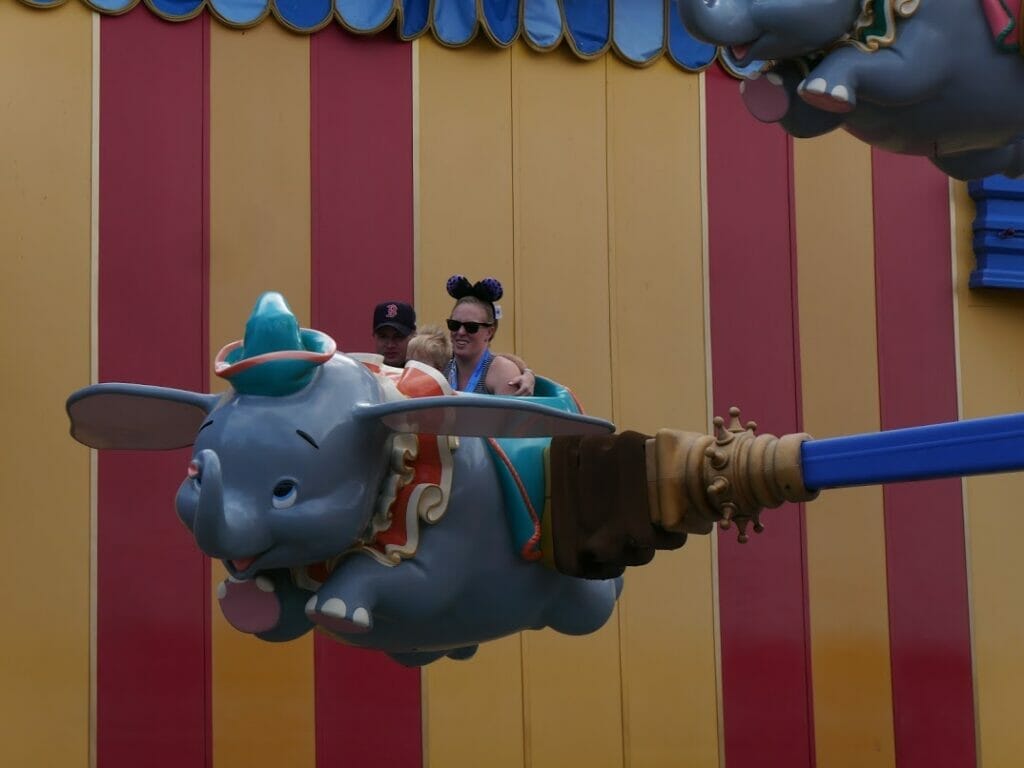 What's a more iconic Disney ride than Dumbo? You'll fly all over the park (okay, not really, but you'll feel like it) as you take to the skies in your very own Dumbo.
Kids can control the up and down motion, so they can fly closer to the ground or head all the way up for the best view.
The best part is that this ride now has a virtual waiting queue, meaning that your kids can be playing in the Dumbo themed play area while you wait for your turn instead of just standing in a boring line.
15. Pirates of the Caribbean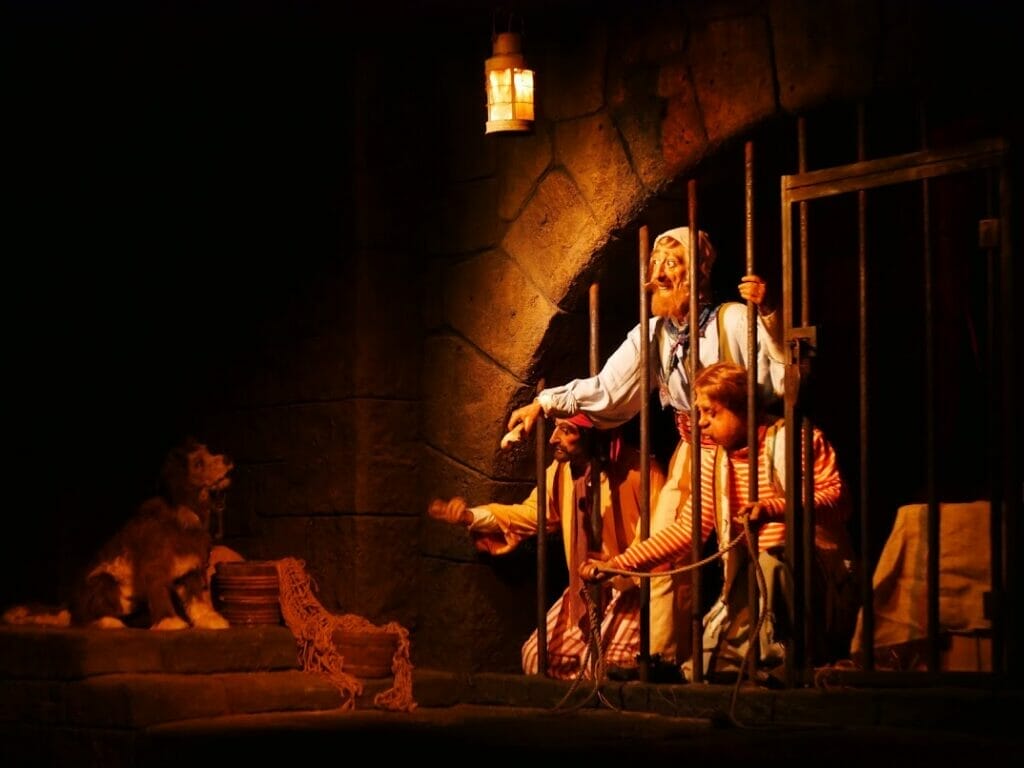 Yo ho, yo ho, a pirate's life for me! Pirates of the Caribbean is another classic Disney ride that's fun for kids who want to set sail and get right in the middle of some Pirate treasure hunting.
The scenes are filled with lifelike animatronics and wonderful effects like cannonballs blasting in the water, and there's even a fun drop that you might not expect!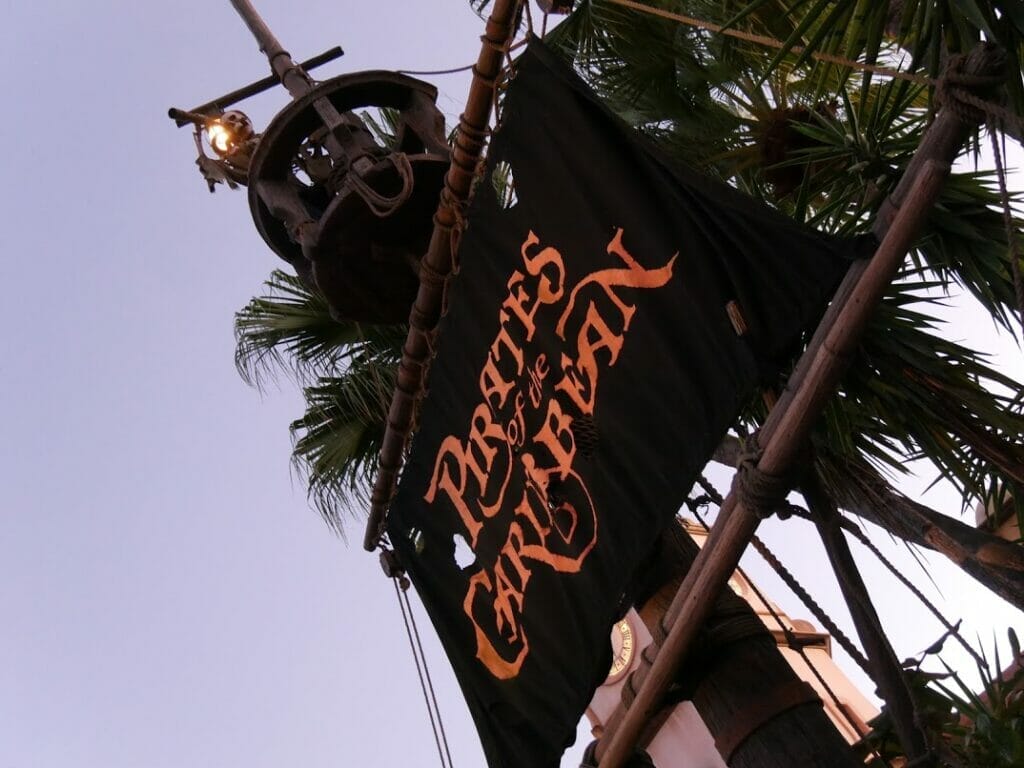 If you have a child who tends to be fearful, this might be a good ride to do a virtual ride through first online, as it is in the dark and they may be splashed.
16. Peter Pan's Flight
Peter Pan's Flight is, at the end of the day, one of the most popular rides at the Magic Kingdom but without the, well, ride experience to back it up.
I promised to be honest, and honestly this ride could use a major refurb as sometimes you do genuinely feel like they just put a black tarp over some Christmas lights for the night scene.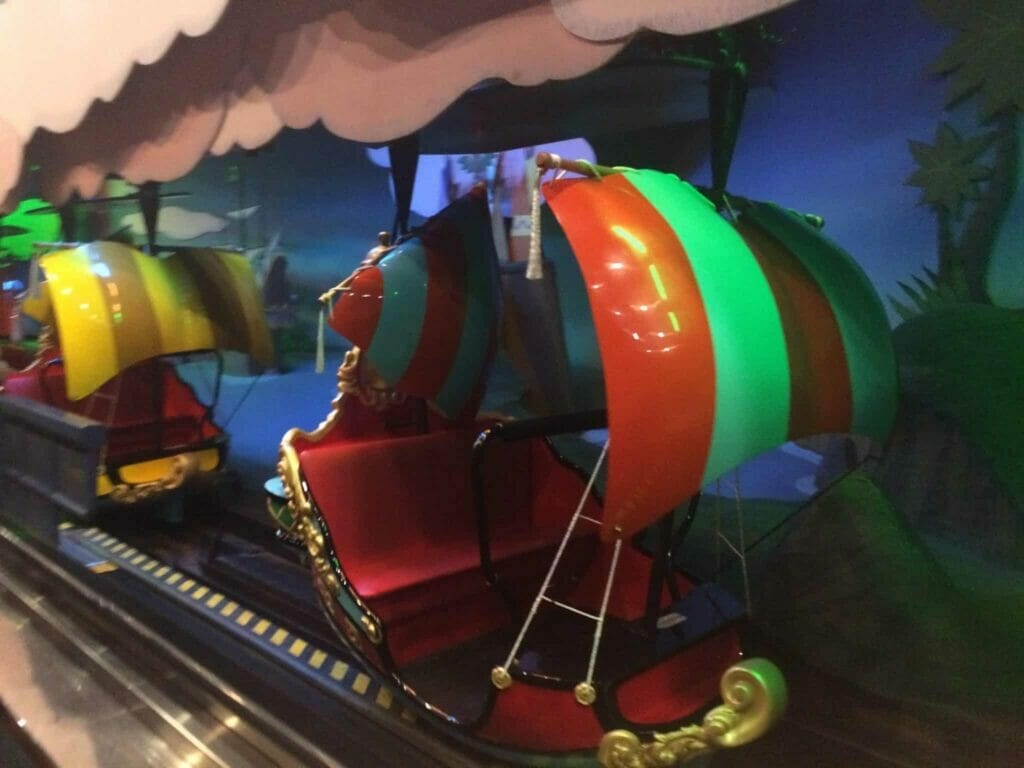 That being said, the whole point is that you are actually flying in your little ship high above the skies, and this ride is suspended from a track at the top, which is a really fun way to experience the scenes and makes kids fall in love with it over and over again.
And that's the point – kids love it. It's not flashy, but it does bring to life this idea of imagination and doing the impossible as you fly high over Captain Hook, so for that, it's a win.
17. Under the Sea – Journey of the Little Mermaid
Head under the sea in clamshells with the Little Mermaid, as you go through this bright and cheerful ride that takes you through lots of dancing fish, a really angry Ursula, and ultimately to the final scene where Ariel and Eric are living their own happily ever after.
It's cute, it's sweet, you can sing along, and the kids enjoy it.
Best Rides at Magic Kingdom for Adults
Not all Disney days have to have kids in tow, so whether you're on an adults-only trip or you just want to know which rides you should put to the top of your own must-ride list, here you go.
18. Haunted Mansion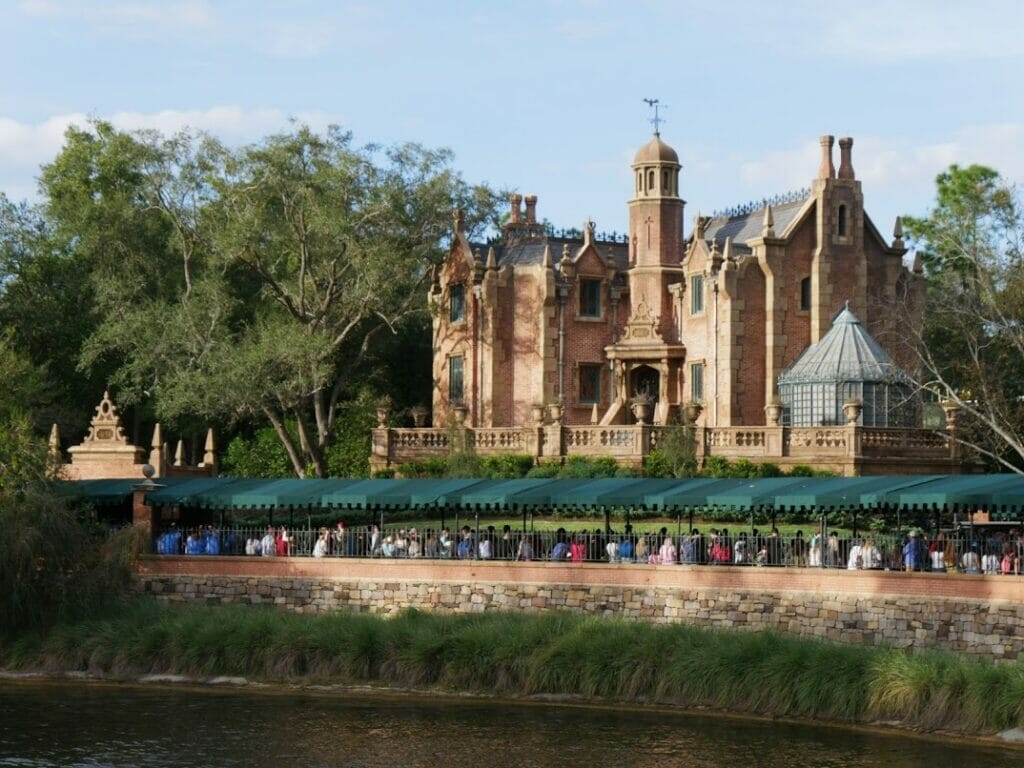 The Haunted Mansion is so popular that it even had a movie made about it, but most importantly, it's so wonderfuly creepy and well-themed.
From the dancing ghosts in the ballroom to the part at the end where a ghost might actually join you in your car (just you wait), this is classic Disney magic with lots of spooky elements.
Kids can be fearful on this ride, starting from the very beginning when you're seemingly trapped in a dark room with no way out, but for adults, this is one of the most fun rides to see if you can follow the story and find all of the special details that makes it so beloved.
19. Jungle Cruise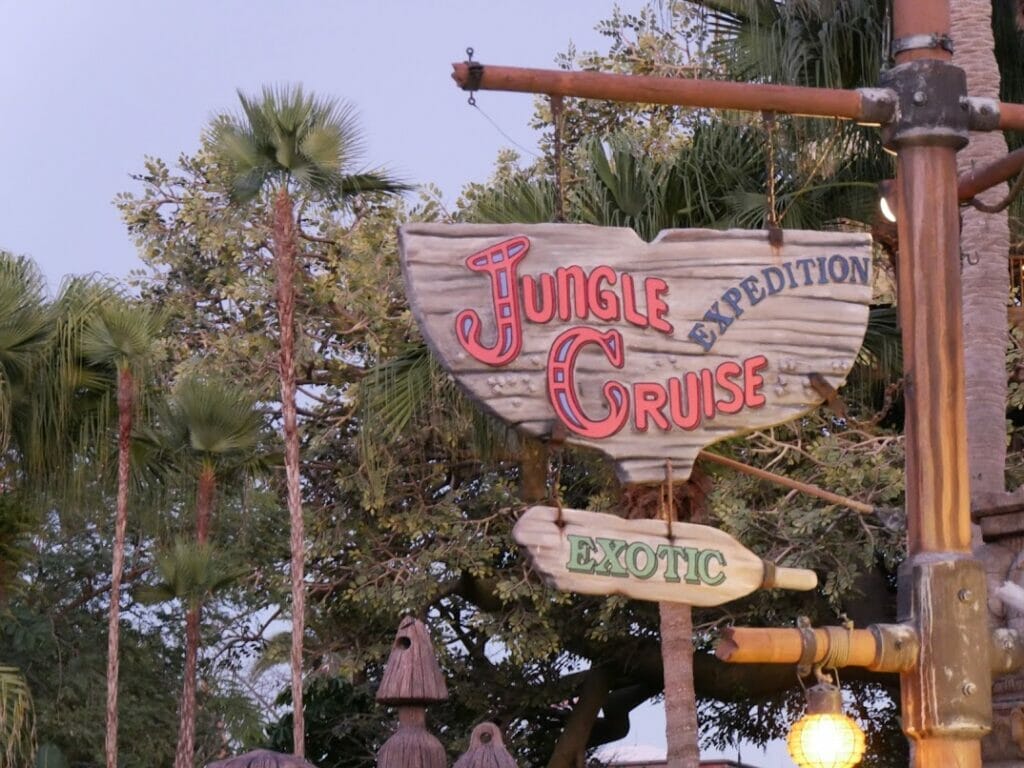 The Jungle Cruise is yet another Disney classic ride, and while kids might love the animatronic animals that you see while passing by, adults will love the cheese factor.
The whole way around, your skipper tells cheesy jokes that are so groan worthy, but that's part of the experience.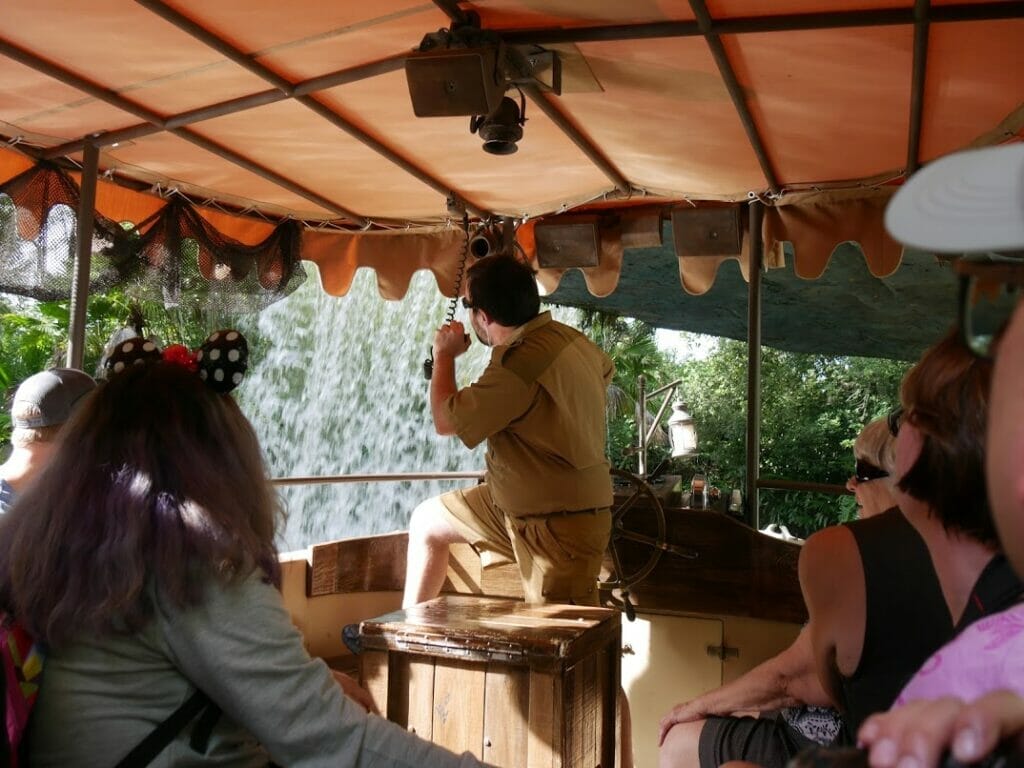 This sort of tongue-in-cheek, knows-it's-not-funny-and-that's-why-it's-funny kind of humor is definitely more appreciated by adults who get the puns.
20. Space Mountain
We've gotten to the "mountain" section now, as all three Magic Kingdom mountains are great for adults.
Starting off: Space Mountain.
Zoom your way through the intergalactic cosmos in this indoor rollercoasters that takes place in the dark!
If you saw the ride track in the light, you'd wonder why it's so scary, but turn the lights off and suddenly the thrills ar eamplified.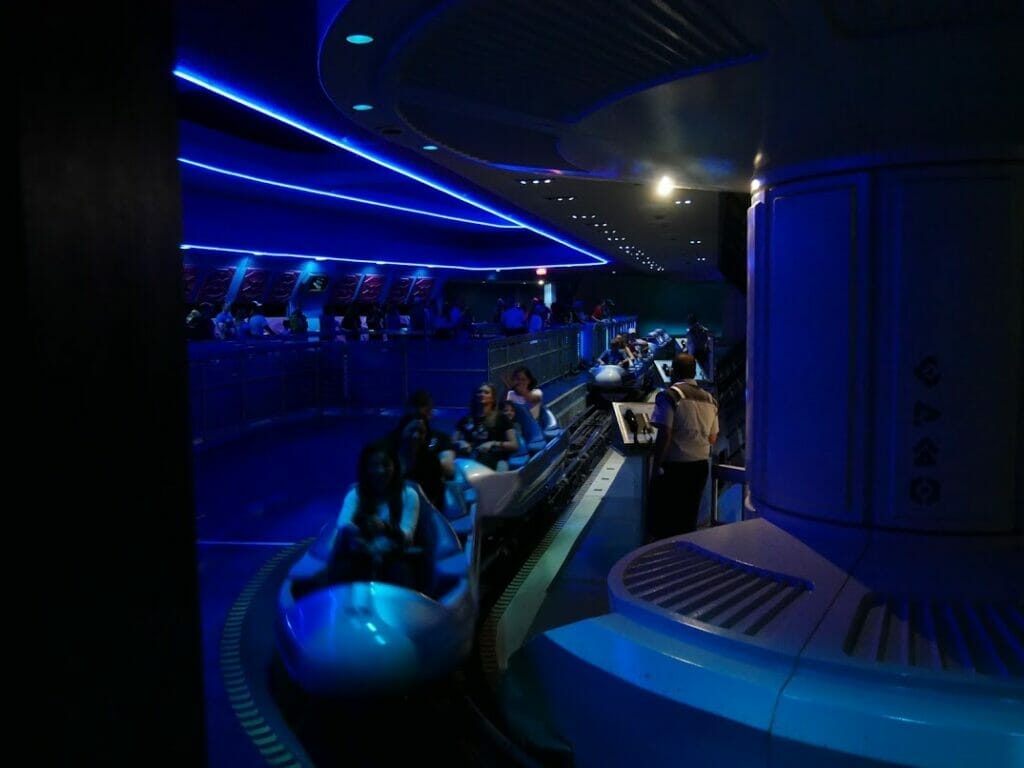 Everything from the ambient sound on this ride to the dips, turns, and hilarious screams coming from people who don't know which way they're going is all part of the fun.
Definitely count this as one of the best Fastpass rides at Magic Kingdom.
21. Big Thunder Mountain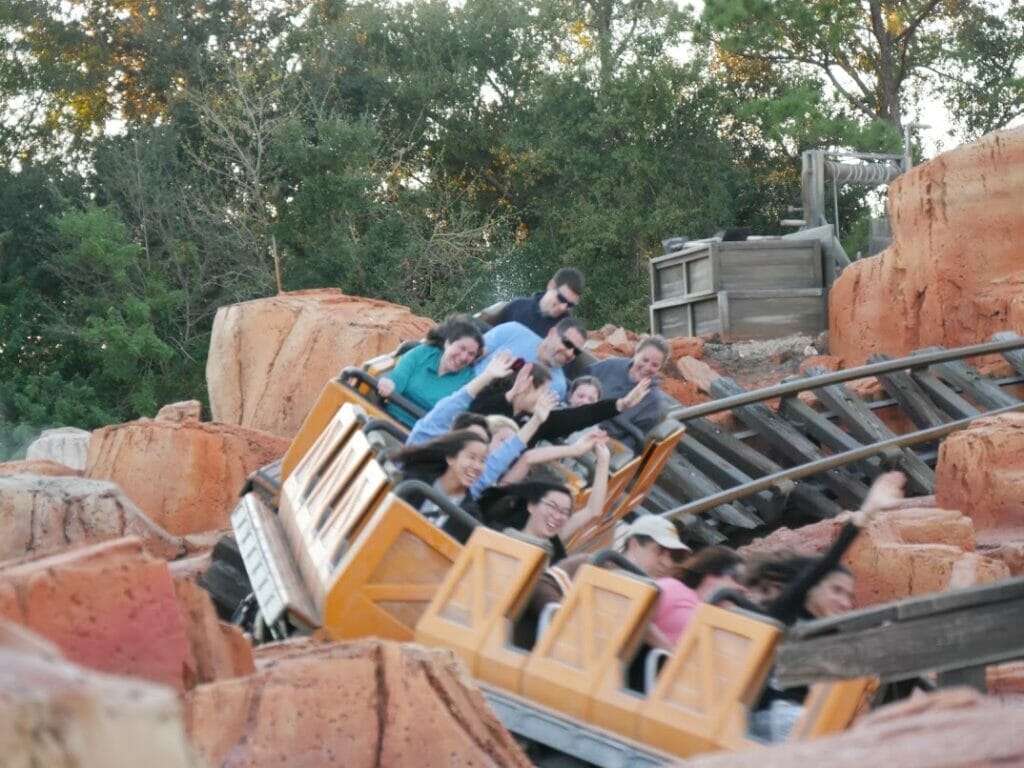 Another rollercoaster, Big Thunder Mountain, is the perfect rollercoaster for an adult who wants the thrills but not necessarily any fear factor (and you won't go upside down).
The theming of the ride is fantastic, and you can ride it over and over again and spot new things like a man in a bathtub, tusks coming out of walls, geysers, and more.
The queue is also almost entirely under cover, so it's a great one to get in line for when it's extremely hot and you need some cool shade.
22. Splash Mountain
Ah, Splash Mountain. A log flume ride that means you'll most definitely get at least a little wet, and a Disney classic.
This is a fantastic ride if you're looking to cool down on a hot day, and the dro pis big enough that you'll definitely feel the adrenaline.
As you come out of the drop, you'll float lazily along for a little bit while you can wave to people watching you by the bridge.
23. Astro Orbiter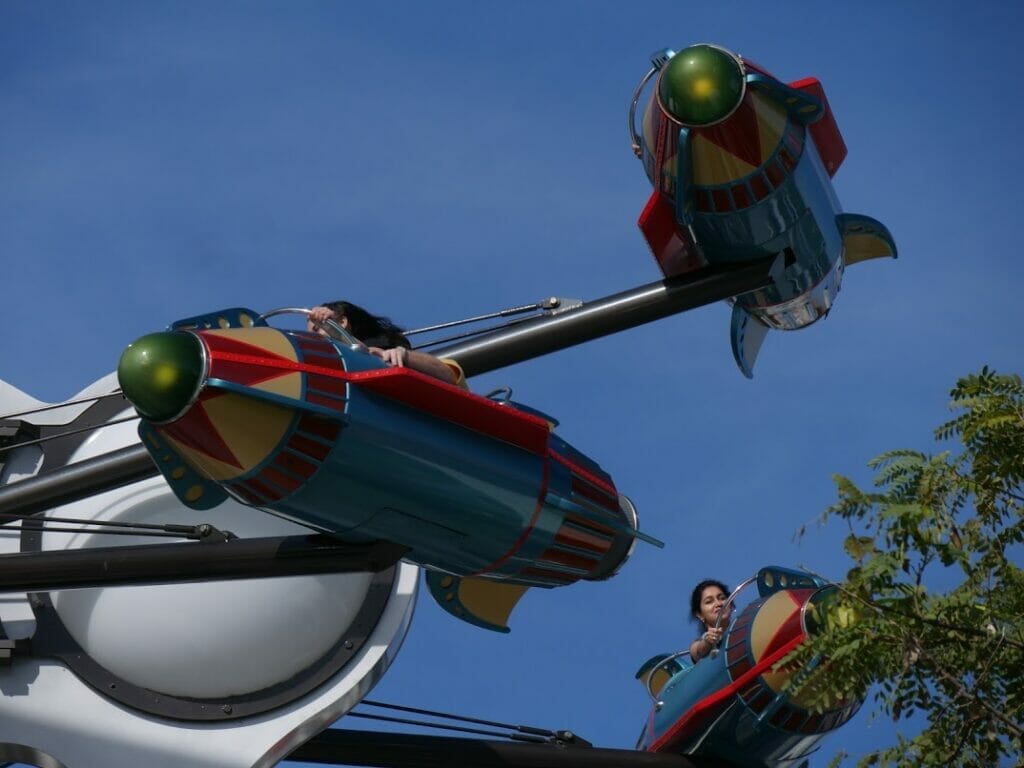 Astro Orbiter is sort of an adult version of Dumbo, with many kids being scared to go on as it's so high up!
In fact, to get there, you'll have to take an elevator before you can even board the ride, but that's why you'll get amazing views once you're up there.
The Astro Orbiter is in Tomorrowland, and it's a fun way to see parts of the park from above that you wouldn't otherwise while embracing the childlike joy of controlling the joy stick to make your spaceship go up and down.
24. Tomorrowland Transit Authority Peoplemover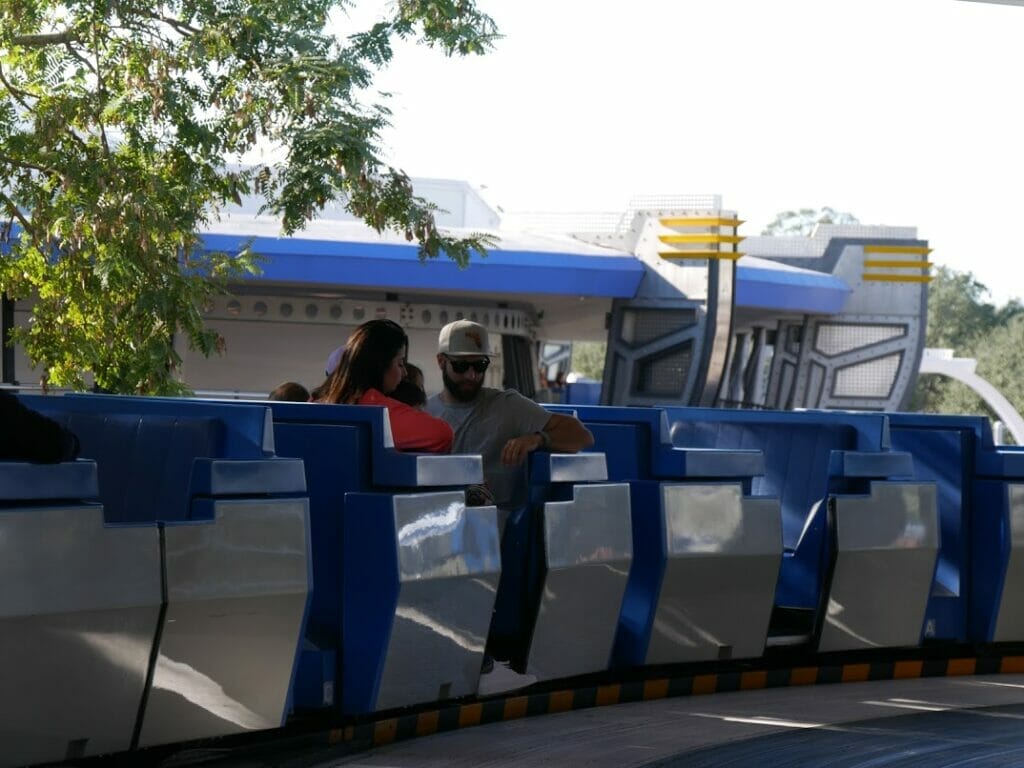 To a child, the Peoplemover, a slow moving ride that goes all the way around tomorrowland and offers a chance to sit down is boring at best, but to an adult, it's paradise!
Grab your snacks, get ready for some unique views, and enjoy getting to actually go through Space Mountain as well as see some other scenery you wouldn't see from the ground.
You might hear the classic line, "Paging Mr. Tom Morrow," which is written in Disney fandom history.
Worst Magic Kingdom Rides
Now, there are some Magic Kingdom rides that I've talked about in this guide that do have some downsides (Country Bear Jamboree and Peter Pan, I'm looking at you), but I've chosen two Disney rides that I feel are the worst Magic Kingdom rides.
That doesn't mean they don't have positives or aren't worth experiencing if you've done everything else, but I would put almost every other ride ahead of these.
25. Liberty Square Riverboat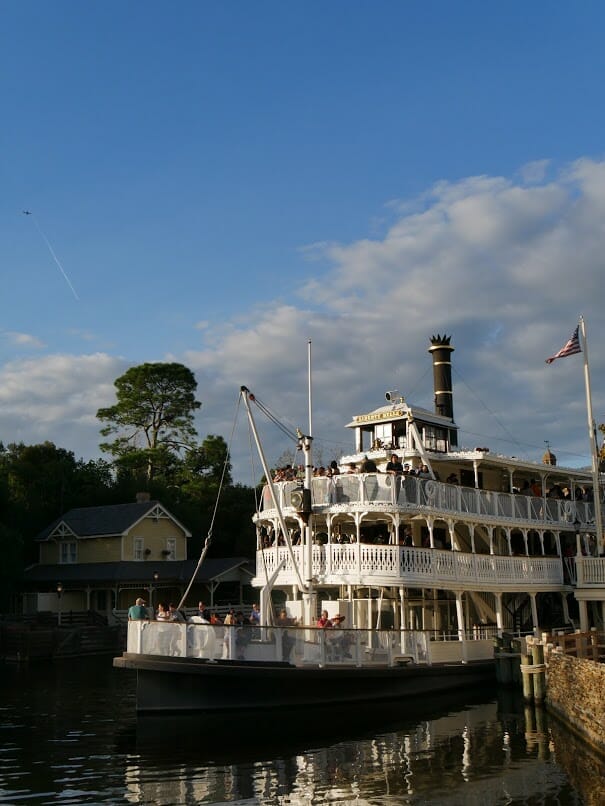 Departing from Liberty Square near the Haunted Mansion, the Liberty Square Riverboat is a boat that takes you around Tom Sawyer's Island in a loop.
There are no special effects, nowell-themed animatronics, just a lazy boat ride around in a circle.
It's not that it's a bad thing to do, it's just that with so many other things to do, it's not worth it unless you really just want some scenery and to spend some time relaxing from the boat.
26. The Barnstormer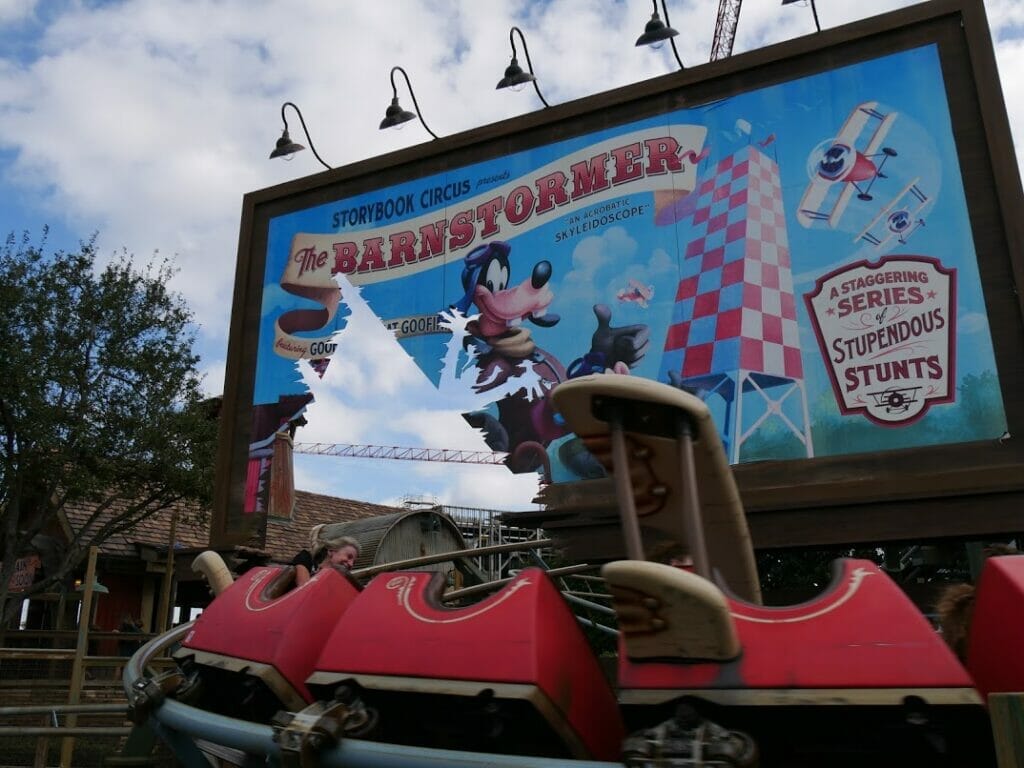 This kid-friendly coaster is often seen as a way to help kids get their feet wet when it comes to riding rollercoasters, but it is so short that it often feels like you waited for ages, only for it to be over in the blink of an eye.
If you have a child who you can convince to go on the Seven Dwarfs Mine Train, I would encourage that as a better first rollercoaster, but the Barnstorm is still there if your little one is not tall enough for Mine Train yet and is open to trying out a "thrill ride."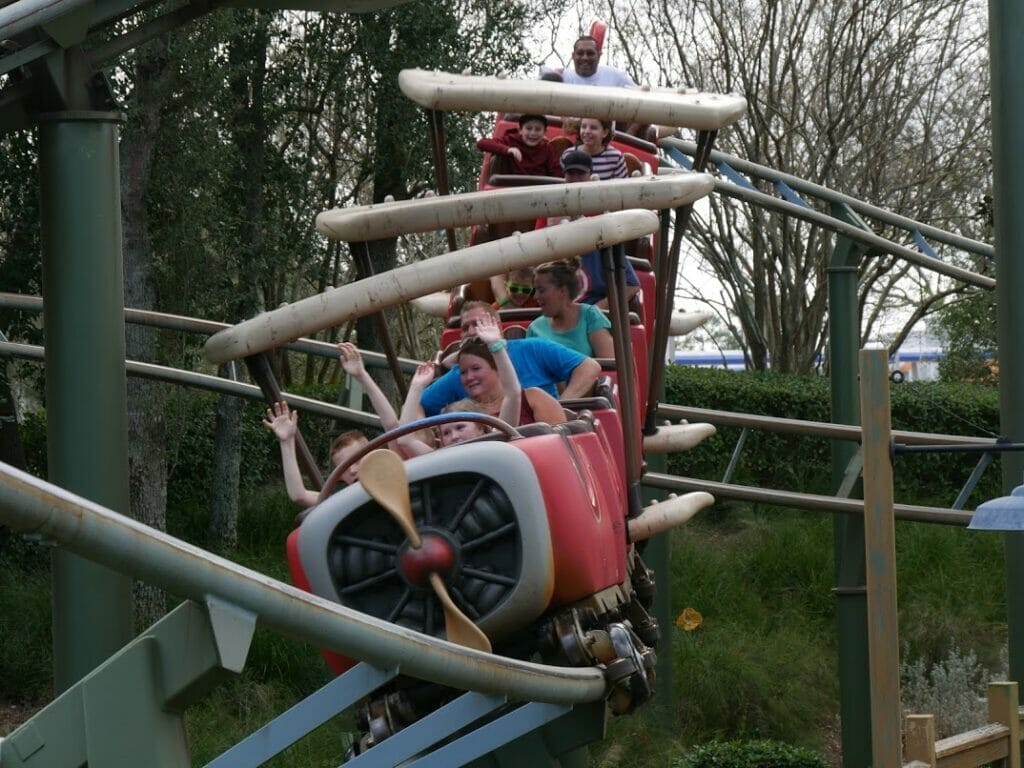 The theming is cute, with Goofy at the helm, but if you're trying to please a wider range of ages and not just a really little one, definitely see if you can get them excited for the other coasters first.
Hey! Want more of our expert Disney guides? Check these out!
Get the All-American Travel Secrets!
Don't miss out on America's hidden gems!