Disney World, Orlando is just brimming with kids having the most magical times of their lives (for the most part, unless you're me and you're like 6 years old and terrified of Minnie Mouse).
But where do these kids and their loving, totally patient, not-going-to-lose-their-cool-even-though-its-100-degrees-outside parents stay?
For many of them, it's in a Disney resort!
I've spent years staying in the Disney resorts, both as a local and as a visitor, so I put together this guide on the best Disney resort for kids so you know which Disney hotel you and the little ones should stay in.
But aren't all Disney resorts kid-friendly, you ask?
Of course.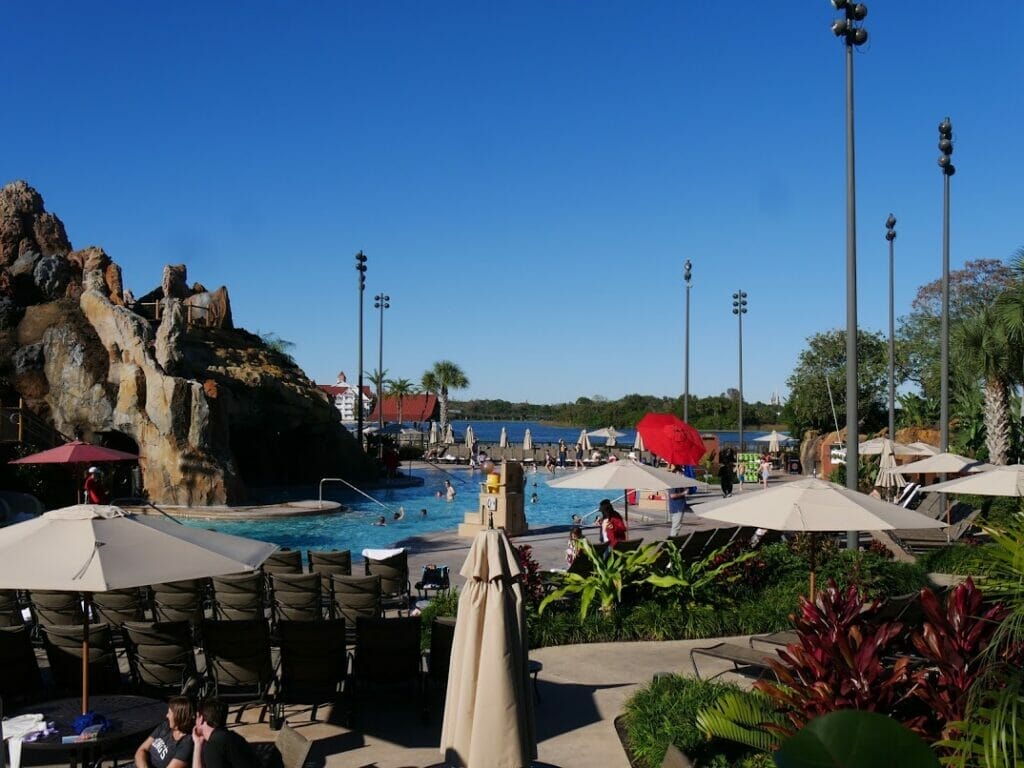 Kids are welcome in every Disney resort (check out the best age to bring a kid to Disney here) and you will have an amazing time as a family no matter where you stay.
But some resorts are just inherently more geared towards kids than others, and with 30 property types to choose from, I'm here to help you find the absolute best Disney hotels for kids of all ages, including the best Disney resorts for toddlers.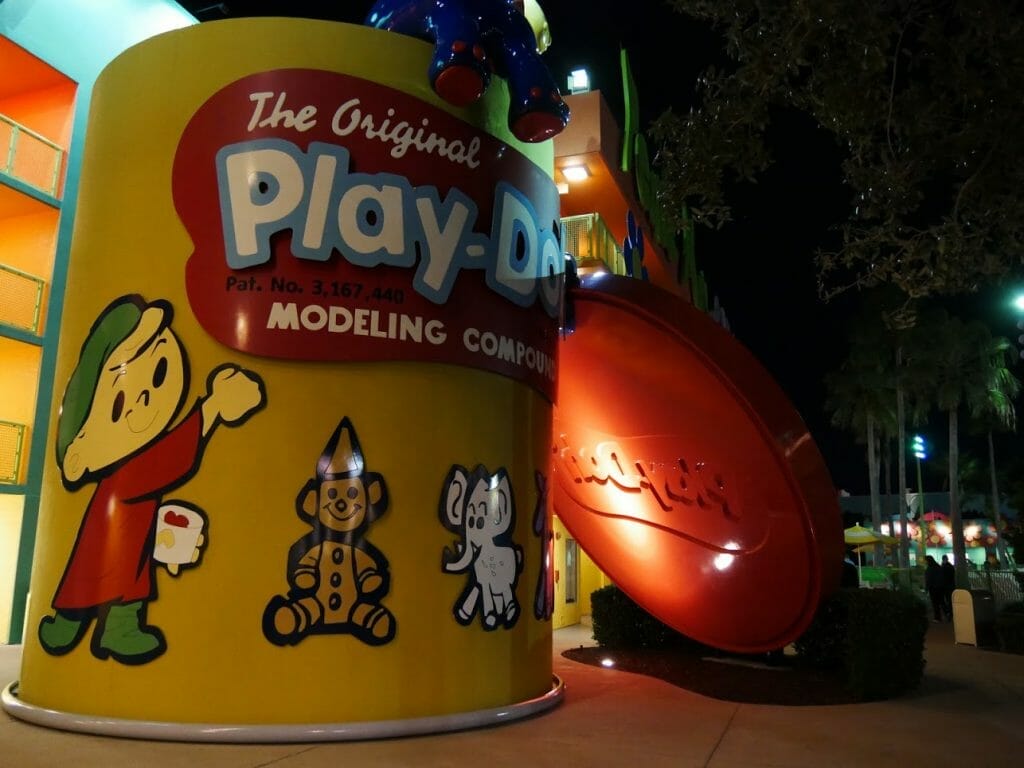 I've broken the categories up into the main three Disney resort categories: Value, Moderate, and Deluxe so you can decide on your budget and then the best resort accordingly.
What to Pack for Kids at Disney World
You know the obvious things to pack for your kids wherever you go, but here are some things you might not have thought of to bring to Disney for kids
Disney shirts are also a great idea to purchase in advance. There are so many unique options, but this Happiest Kid on Earth one is a great example!
Best Value Disney Resort for Kids
Disney's value resorts are some of the best resorts for kids, full-stop, due to their over-the-top theming and the bare bones kind of atmosphere so you're not constantly worried they're going to break something in the lobby.
But some of the value resorts are better for kids than others, so stay tuned.
If you're interested in the best Disney value resorts for anyone, I've also got a guide on that.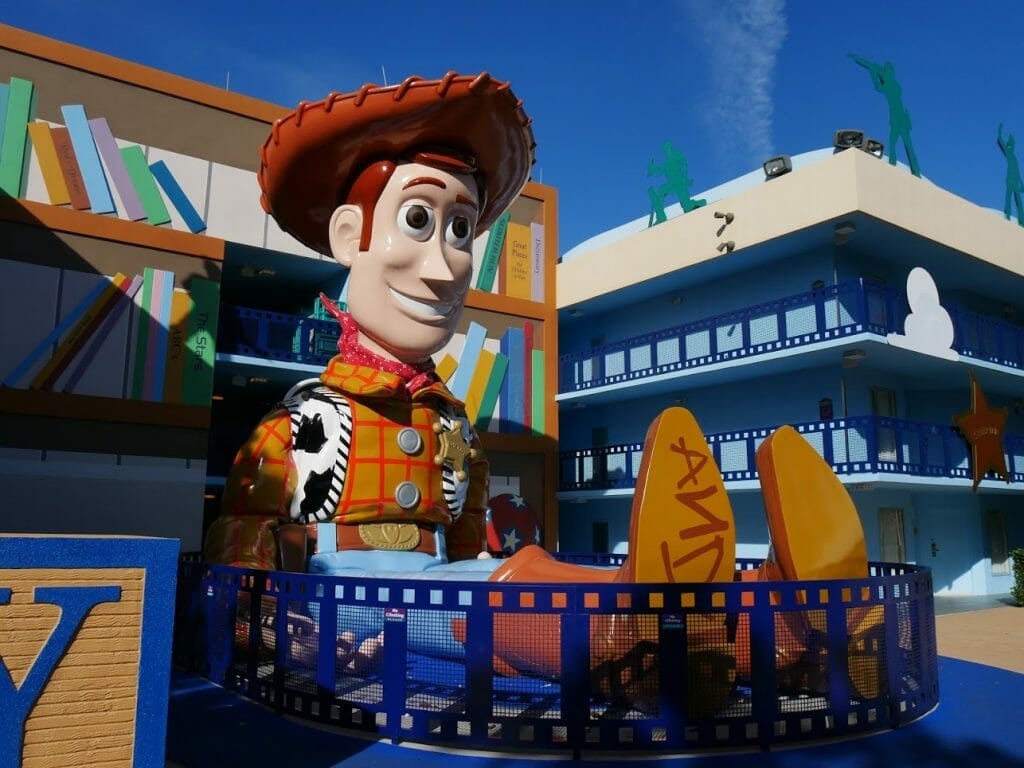 1. Art of Animation
Hands down, the best Disney value resort for kids is Art of Animation.
The most recently completed value resort, this resort is split up into four main themes: Finding Nemo, Cars, Little Mermaid and the Lion King.
The resort is styled to help you feel as if you've stepped into an animator's workroom and are seeing the stars of Disney come to life.
The larger than life statues are sure to impress any kid, and the bright colors make everything that much more cheerful.
Here, you are very much at Disney World from the moment you go to sleep to the moment you wake up.
The actual set up of the resort is ideal for kids as well, as three of the four themed areas (all but Little Mermaid) are family suites.
This means that you've got a separate bedroom, two bathrooms and the ability to turn the living room into a bedroom with a murphy bed.
This means you can put your children to bed earlier if need be in the bedroom while you stay up, or, if nothing else, gives everyone that much more space to spread out and not be on top of each other.
The swimming pool here is also the best of the values and one of the best pools at Disney World – simply designed, but with a fantastic children's play area and the ability to hear the sounds of Nemo and his friends under the water!
Enjoy this full review of Art of Animation with all of our thoughts.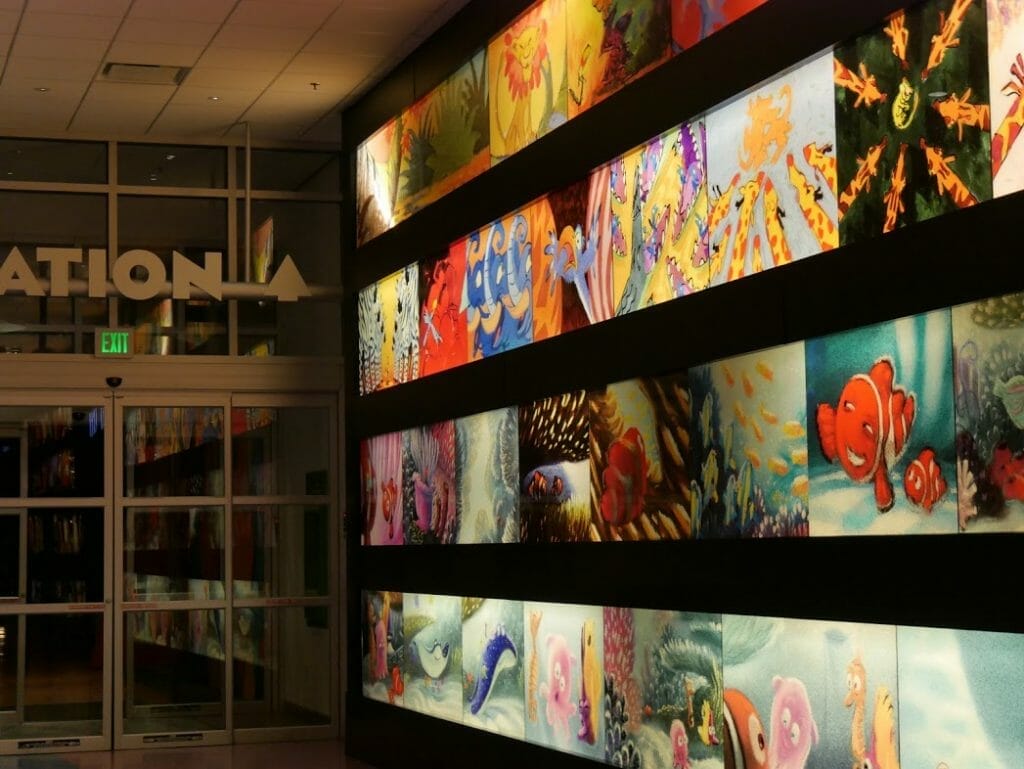 2. Disney's All-Star Sports
As one of the older Disney value resorts, All-Star Sports is never particularly at the top of any Disney fans bucketlist or considered the best Disney All-Star resort because of the perceived loudness of the resort due to it being used frequently by tour groups and also the lack of "in your face" Disney theming.
I think it's one to consider for the kids, though, and here's why.
Firstly, if you have a kid who's into sports, there's nowhere better than here.
The theming is sports mixed with Disney, so it's not completely lacking in Disney characters (think Goofy with a surfboard), but it does have some amazing larger than life decorations include a GIANT foosball set-up that you really have to see to believe.
Secondly, if you have kids who are at the age where you also can't depend on them to quiet down at a moment's notice, the busyness of the resort means you're not going to feel like you're disturbing people if they're speaking over a whisper.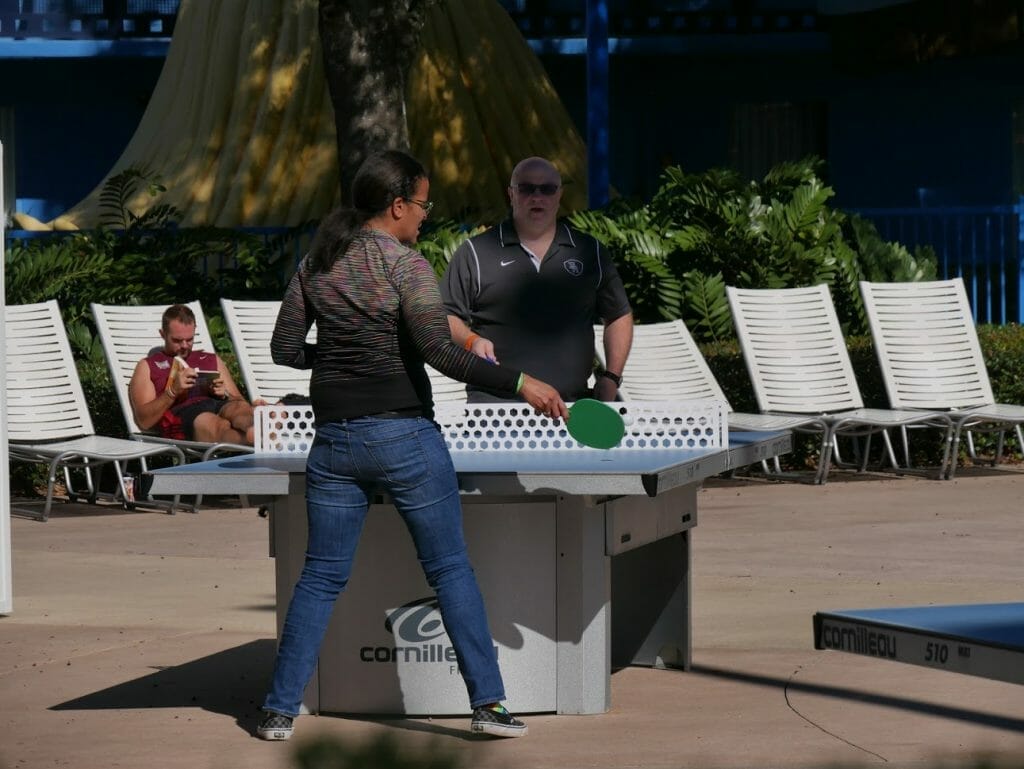 Finally, the value's all have individual pools per themed section, which means that you can go swimming just a few steps away from your room, usually, instead of going to one or two big main pools.
3. Fort Wilderness Campgrounds
While it's technically in a class all its own, Fort Wilderness Campgrounds is about as expensive or cheaper than value resorts and is an active child's paradise.
Here, you can either pitch a tent or an RV and enjoy being in a Disney-created wilderness while still being on Disney property.
I went camping here a lot as a kid, and I have fond memories of riding our bikes around the trails, digging up holes, roasting marshmellows at night and generally being outdoors.
The pioneer theming around the main campground buildings is warm and cozy, ready to welcome in your rambunctious family.
Because you can bring your own RV or pitch your own tent, you also get to decide how many you bring and the sleeping arrangements so you can make it work for your family rather than trying to make a hotel room work for you.
Oh, and the bathroom and shower blocks are completely modern and nice inside and you can get electric and water hook-ups at the site – fear not!
Best Moderate Disney Resorts for Kids
When you want to stay somewhere a bit more comprehensive than a value, but you don't want to splash the cash on a Deluxe, try staying at one of these Disney Moderate resorts that will keep both you and the kids happy.
4. Port Orleans Riverside
There are two Port Orleans resorts – Riverside, and French Quarter, and while French Quarter is a much-loved Disney property by many, I think Port Orleans Riverside is the best choice for kids.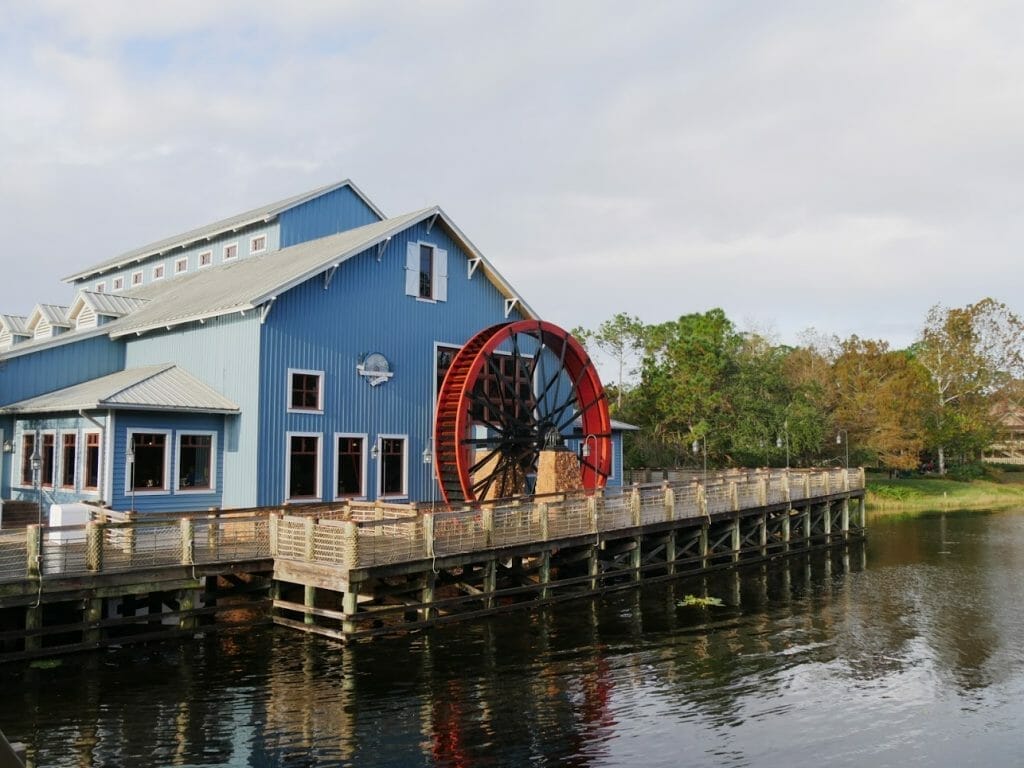 Firstly, the theming here is fun while still being relaxing – you've got the awesome water wheel right off the food court, an incredibly themed pool that replicates what you would think of as a "watering hole" in the South, and the colorful nature of the Alligator Bayou section is sure to be a hit.
This resort also has a fantastic food court – important for making sure the kids find something they want to eat, as well as a boat to Disney Springs and a lot of recreational options so you can spend a whole day at the resort just chilling out if everyone needs a rest day.
Options include fishing, biking, jogging on the trail to French Quarter and doing arts and crafts.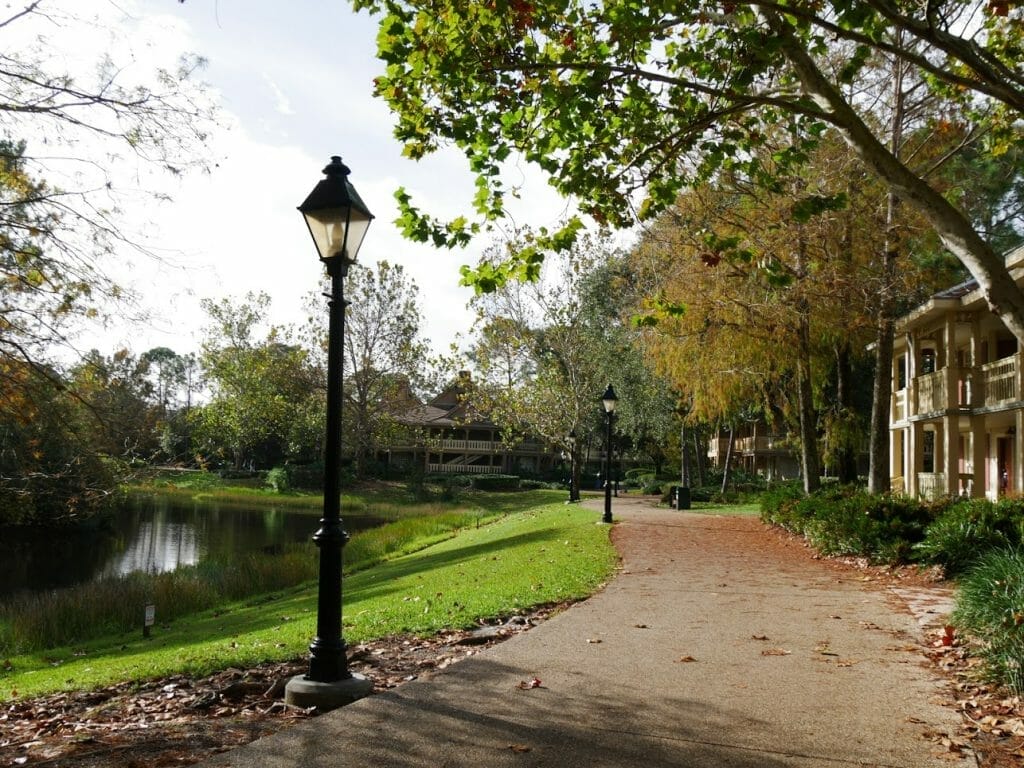 This is also an ideal resort if you have a family of 5, or two kids who don't want to sleep in the same bed.
You can book a room for 5 which includes two queen beds and 1 pull-down single sleeper bed that is way fun and way kid-friendly.
Read my full Port Orleans Riverside review for more information about what this resort has to offer you.
5. Cabins at Fort Wilderness
For some of the reason mentioned above when talking about camping at Fort Wilderness, staying in a Cabin in Fort Wilderness is a true Disney dream come true for many kids.
This is the "glamping" version for those of you who don't want to camp and prefer to sleep indoors, but you've still got the rustic theming and awesome amenities around you.
Cabins also have access to things like bike loops and the movie nights under the stars by the campfire, and it brings the added bonus of no tent to put up when you arrive.
Simply walk in and you'll be at home with your television and modern amenities!
Cabins have a pull-out sofa in the living room and a regular bed and then a bunk bed in the bedrooms, so, again, if you have multiple kids, it's easier to give them their own sleeping spaces this way.
6. Caribbean Beach Resort
Recently refurbished in the lobby, Caribbean Beach Resort is a fun option for kids because of the bright colors, sandcastle themed pool and options for dining.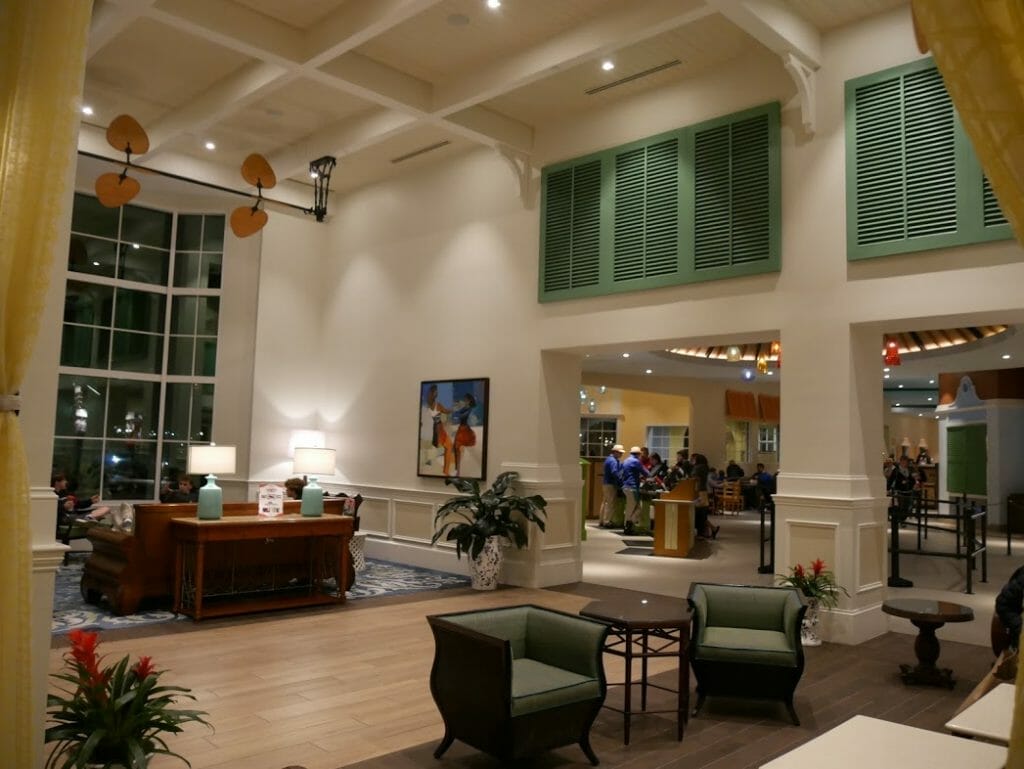 The rooms are in a bit of a need for a refurb, which you can read more about in my Caribbean Beach Resort review, but overall this is a better Moderate option for kids than Port Orleans French Quarter or Coronado Springs, in my opinion.
Best Deluxe Disney Resorts for Kids
Deluxe Disney resorts are one of the most popular resort choices for families who want the best in transportation, amenities, and theming.
But just because the price tag is bigger doesn't mean it's always better for kids, depending on where you stay and what your kids are interested in.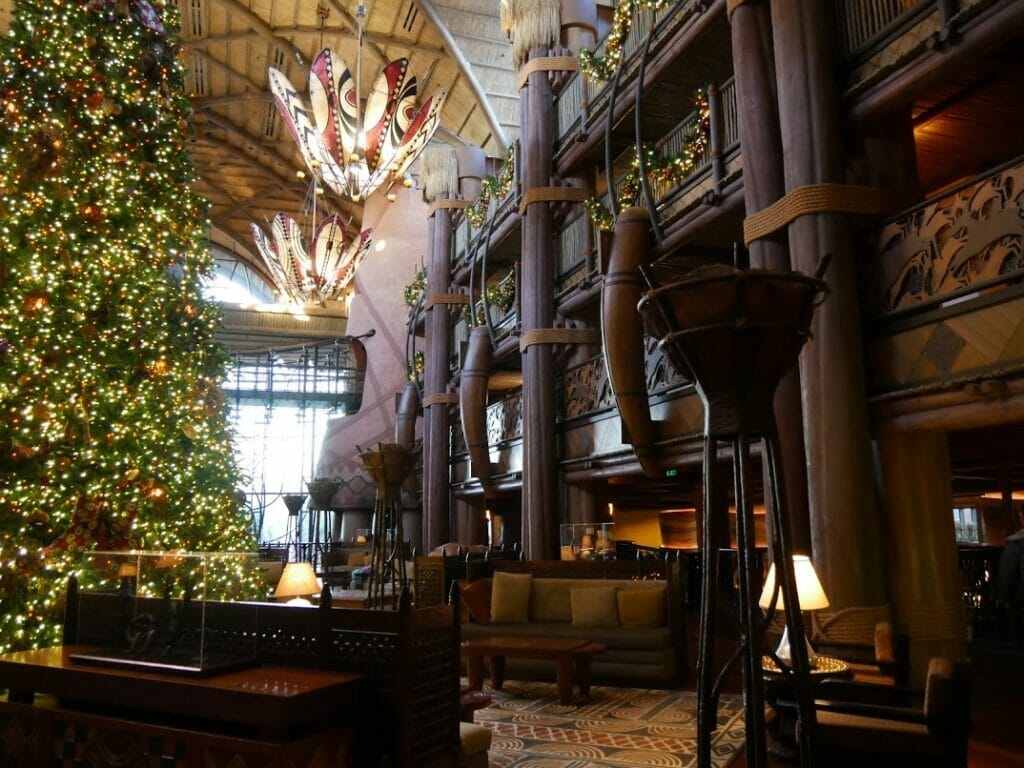 However, there's no denying that the Deluxe resorts will almost all have even more options for kid's activities, bigger rooms than a standard 4 person room at a Value or a Moderate, and the cream-of-the-crop themed pools and resort grounds.
7. Disney's Polynesian
Disney's Polynesian was one of the three original Disney resorts, and there are so many reasons that kids will love it.
Firstly, the access to the Magic Kingdom via boat or monorail is incredible when you spend the vast majority of your week at that park with young kids.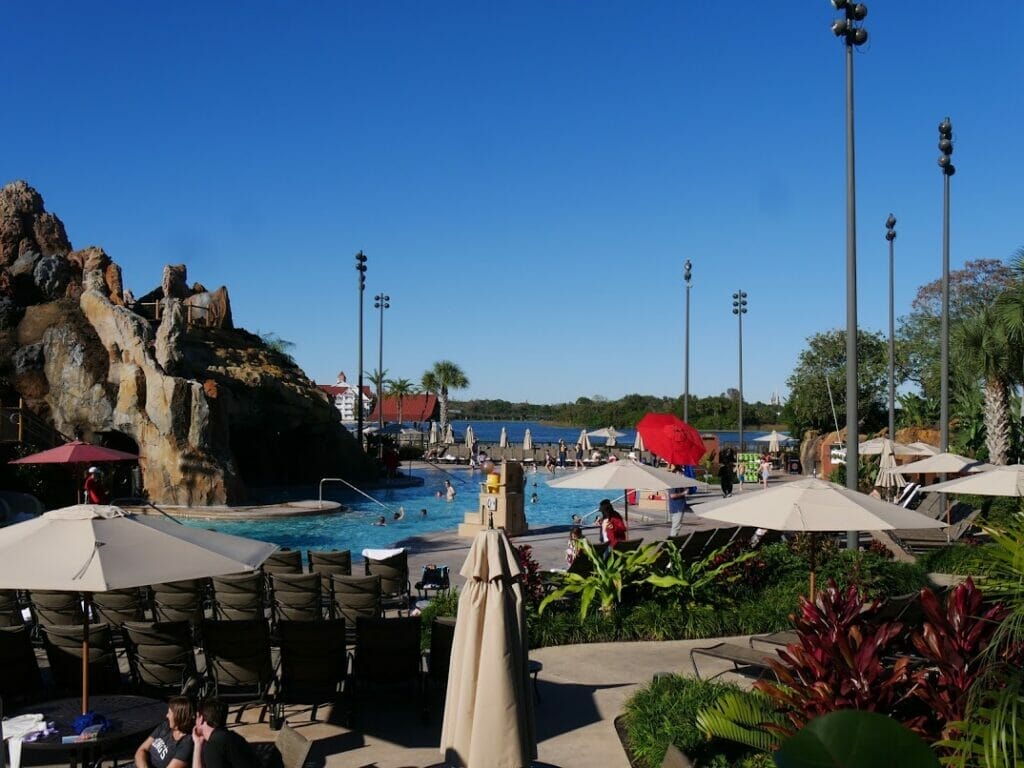 Secondly, the Polynesian theming includes a white sand beach that overlooks Seven Seas Lagoon, luscious landscaping and an overall relaxed feel that will help even the most hyper kids to feel at peace after an exciting day at the parks.
It's even home to one of Disney World's most popular character buffets – breakfast with Lilo and Stitch at Ohana.
If you have kids who are Lilo and Stitch fans, this is one not to miss.
The pool at the Polynesian is also spot on, with a volcano theme your adventurous kids will fall in love with.
8. Disney's Contemporary
Another of Disney's Deluxe resorts with monorail and boat access to the Magic Kingdom, Disney's Contemporary is truly in a league of its own in terms of its unique selling point and also additional transportation options.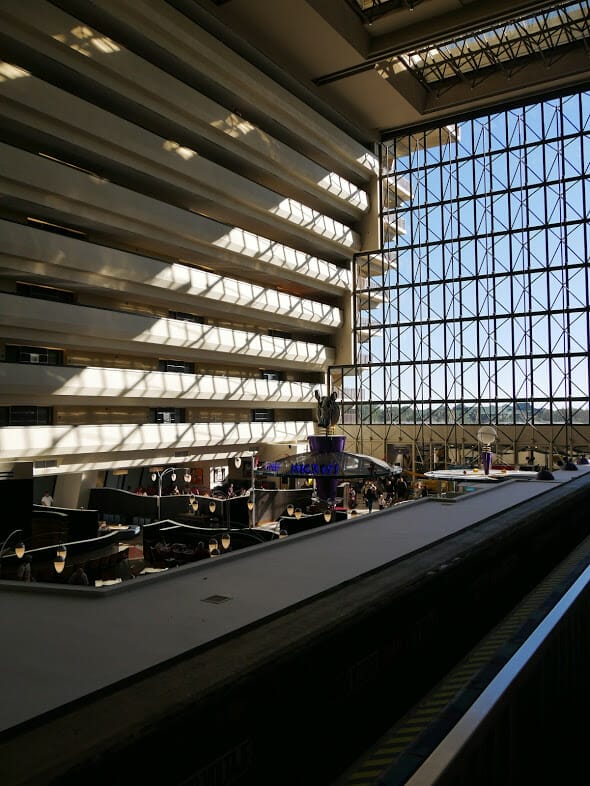 Firstly, the monorail goes directly through the Contemporary, which means if you're staying here, you can stand in the main concourse and watch it whizz past you – truly an exciting experience for a Disney kid of any age.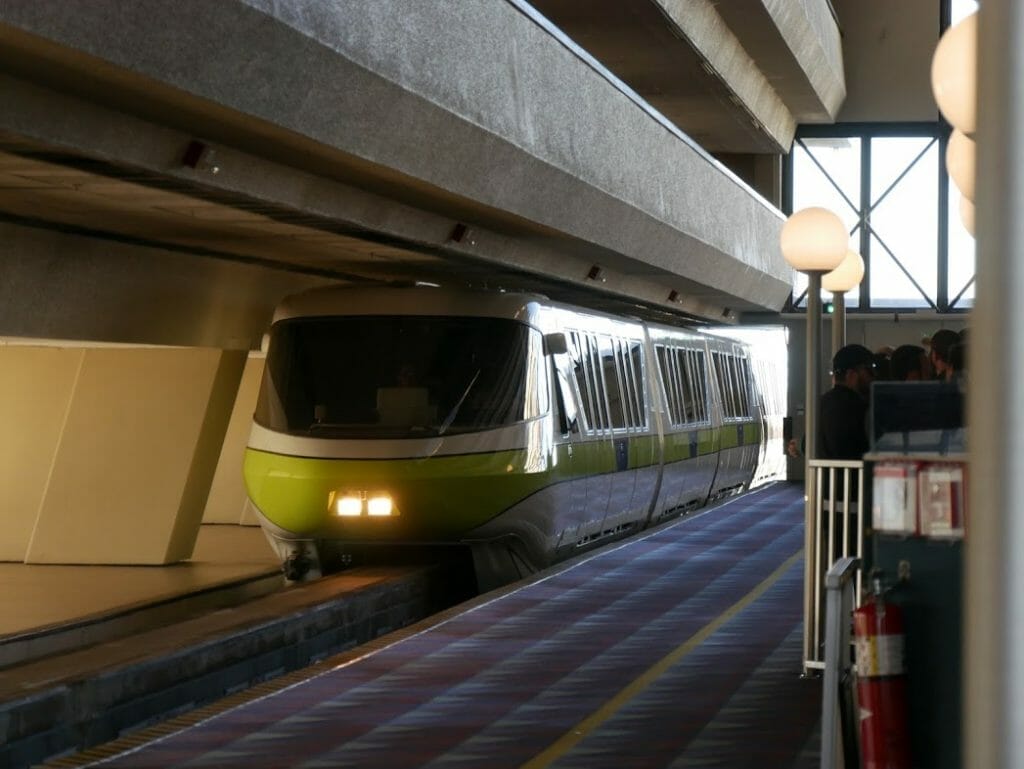 Secondly, not only can you take the monorail and boat to Magic Kingdom, but you can also just walk!
This might be more for the parents than the kids, but trust me, if you have kids who are fans of the Magic Kingdom, being able to simply walk in and walk out is going to be an absolute lifesaver for you when you've had a long day and don't want to get on additional buses.
For a Deluxe resort, they've also got a pretty good food court with some cute dessert options (Disney's Deluxe resorts don't always have the best quick service places), and the Contemporary is home to Chef Mickey's, the ultimate Disney breakfast buffet where your kids can meet all of the main characters.
9. Disney's Beach Club
For an Epcot area resort that the kids will love, try the Beach Club.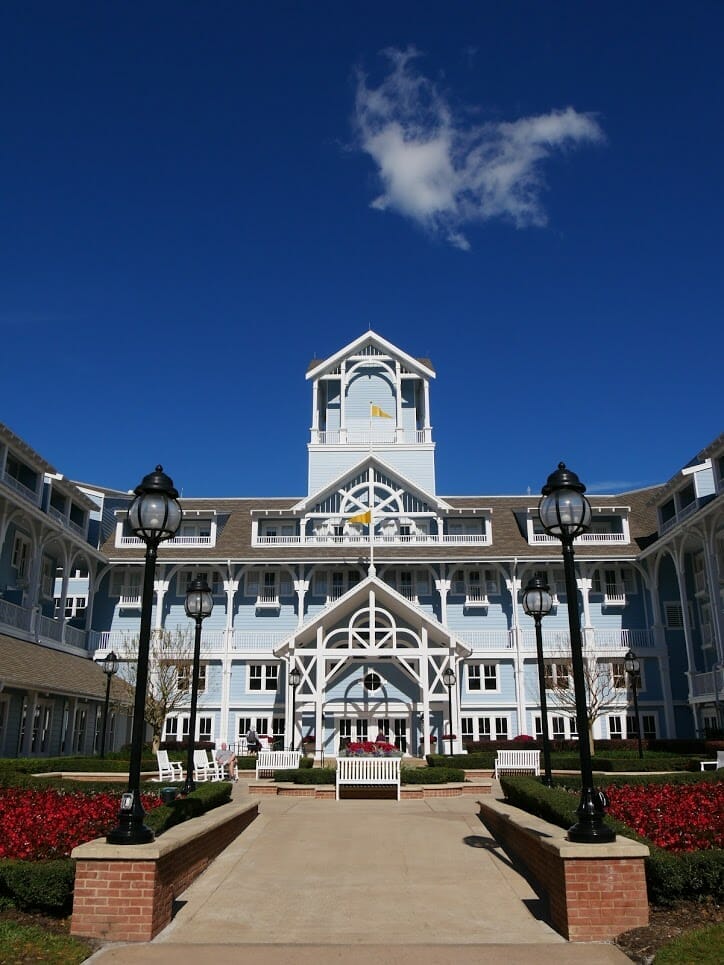 It has an air of sophistication that will make any Disney adult feel super upscale while still being a fun place for kids to stay.
One of the main draws?
The pool.
This is hands-down the best pool in all of Disney World.
It's known as Stormalong Bay, and it has a sand-bottom and amazing water slides and themed features.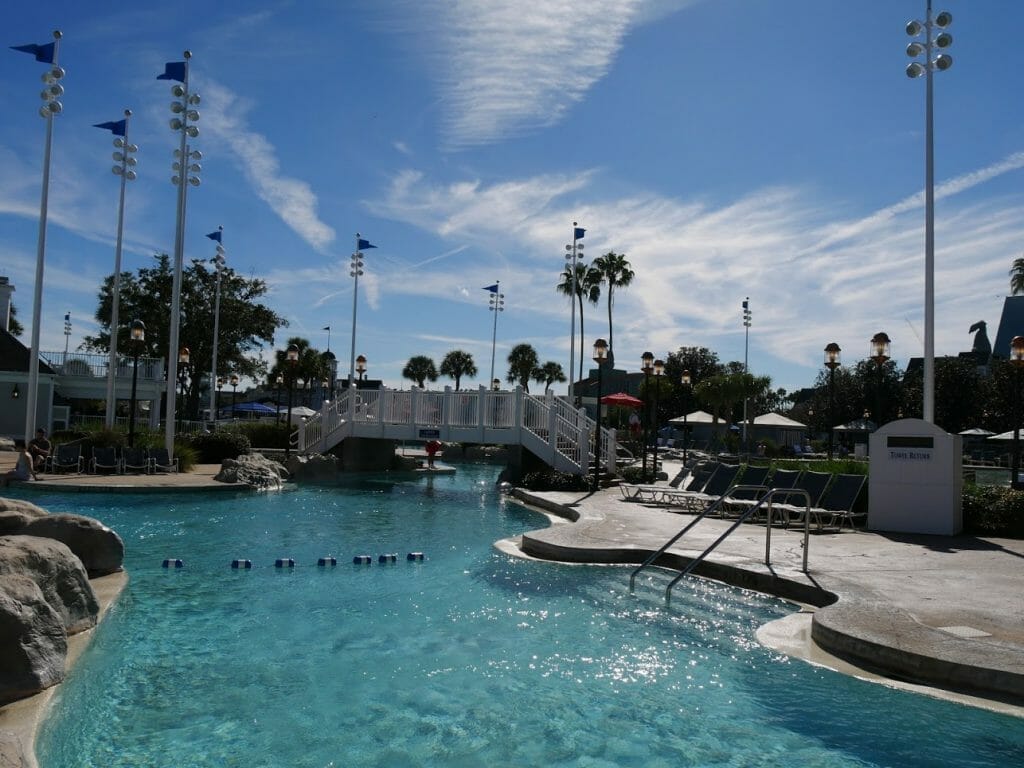 It's shared with the Yacht Club next door, but it's big enough that you'll still be able to enjoy and – oh, did I mention there's a lazy river?
Kids will also fall in love with Beaches and Cream, the on-site ice cream and dining option where you can try "the Kitchen Sink," a giant ice cream sundae meant to be conquered by 4 or more people.
Disney dreams come true?
Yes, please.
The Beach Club also has easy access to the Boardwalk, as well as white sand beaches that the kids can use to build sandcastles and sink their feet into.
10. Animal Kingdom Lodge
My final option for the best resort for kids at Disney World is the beautiful Animal Kingdom Lodge.
While it lacks the additional transportation options of the other Deluxe resorts and you must rely on buses to every park, seeing the animals from your balcony or as you're walking back to your room is an experience that will make you rethink the rest of your vacations to other hotels.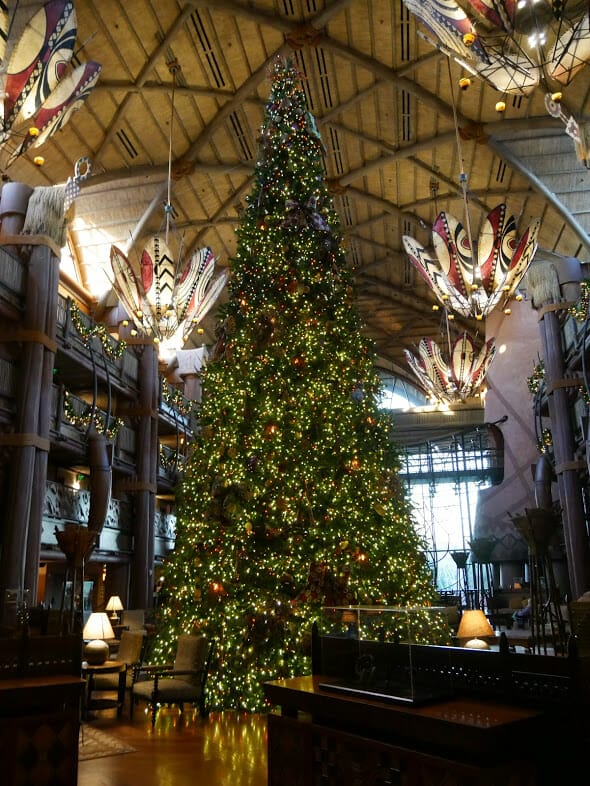 This resort also has the most number of kid-friendly activities on throughout the day.
From making enrichment toys for the animals to seeing the flamingos get fed to meeting a cultural representative from Africa, there is so much for them to see and do that it's another great resort to just chill at during a rest day.
While the restaurants on site aren't particularly kid-friendly, there is a quick service location, the Mara, that has standard Disney fare and the popular buffet, Boma, always has American options so even picky eaters will be absolutely fine here.
As they say at Animal Kingdom Lodge, Jambo! Welcome home!
Hey! Want more of our expert Disney guides? Check these out!
Get the All-American Travel Secrets!
Don't miss out on America's hidden gems!