From the iconic Disney beignets to fast boat transportation to Disney Springs to a classic New Orleans feel, Disney's Port Orleans French Quarter is one of the best resorts on Disney property and in this Port Orleans French Quarter review, we're going to uncover why!
After years of visiting the Disney parks and staying in every Disney resort, it becomes easy to find favorites.
There are some polarizing resorts – like Disney's Contemporary, where you'll find an equal number of haters and supporters, but then there are some, like Port Orleans French Quarter, that is almost universally loved.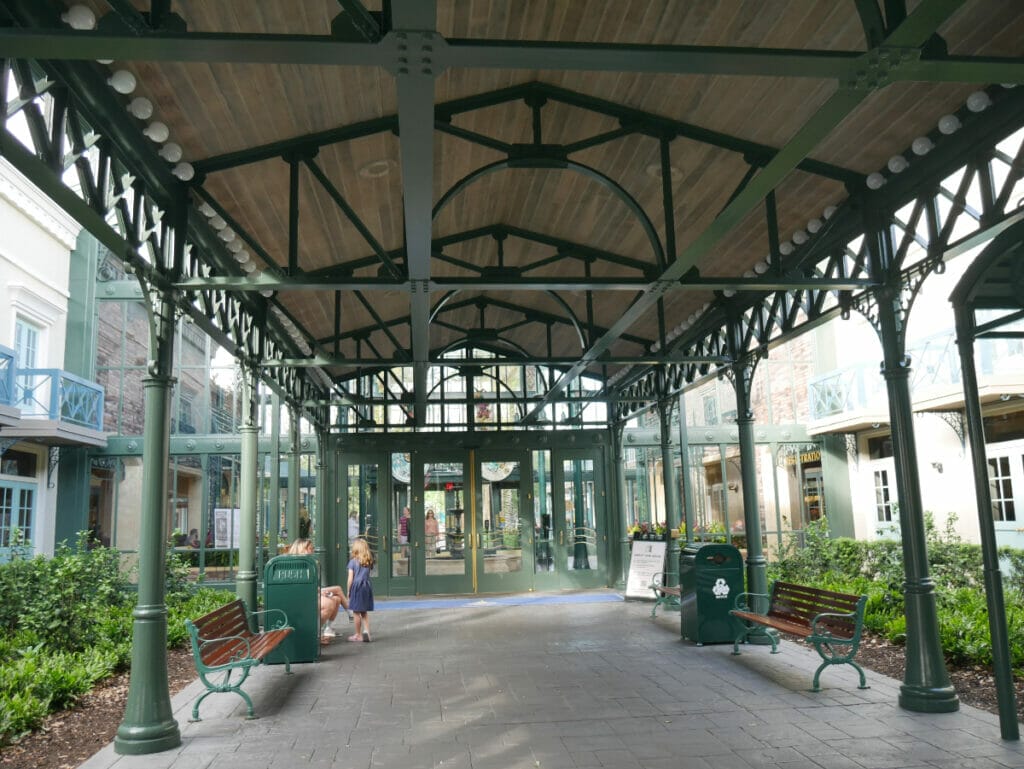 It's the smallest of the Disney resorts, but large enough that you don't feel you're stuck in a tiny motel or non-Disney experience, and the theming is bright without being garish (like many of the value resorts) and the price point is going to be cheaper than the Deluxes.
It's just a winner from all angles for most people, and here's why!
Want insider Disney tips from an expert?
Join 4,000 others in weekly guides to Disney's hidden secrets, gems, and money-saving tips!
Pssst – this printable Disney scavenger hunt is amazing
Since you're already looking up Disney guides, I just wanted to make sure you knew about this printable Disney World scavenger hunt created by a lifelong Orlando native and Disney World fan.
There are over 60 challenges with a full answer key and both Family and Grown Up versions and a bonus Disney Springs hunt for your non-park day!
What to Bring to Port Orleans French Quarter
When packing for a Disney World vacation, you should never forget the essential items listed in this post , but you should also consider what you should bring when you're actually staying on property in addition to, you know, your regular clothes.
Okay, so this one is pretty much just because I love a family in matching Disney t-shirts and think the perfectly placed t-shirt is one way to get yourself upgraded at Disney World hotels (read my tips on that here) and spread a little Disney magic, but you get bonus points if you're wearing shirts geared towards the actual resort you're staying at.
Or opt for already-made adorable Disney t-shirts like these ones for families and these ones for couples and then boom, job done.
Even if you're traveling in December, there is a chance that the pools will be warm enough to swim in or you'll want to find ways to stay cool at Disney World.
In fact, all of Disney's resort pools are heated – the difference is if the air outside is cool enough to make you try and stay underwater as much as possible or not.
But seriously, swimming at a Disney resort is really the hallmark of a relaxing Disney vacation for many families, and if nothing else you should take a dip at least once during your stay to say you did it.
So deck the kids out in these Mickey swim trunks and princess bathing suits and get your cutest Minnie Mouse suit on so that you can all frolic in the perfectly heated fake waves and shoot water cannons at each other.
Fold-down storage options
If you're traveling for more than a couple of days, being able to unpack is one of the best ways to feel like you're actually on vacation and not just passing through.
Many families swear by fold-down organizational boxes like these ones to make it easier for the kids to have their own space in the drawers.
You can also get really cool ones like this for hanging shoes and toiletries.
Being able to put the suitcases away just makes it a more memorable and fun vacation all around, so shove those carry-on luggage bags away while you're partying it up at the happiest place on Earth.
Flip flops
You might not choose to wear flip flops to the parks, and I wouldn't suggest that you do, but when you want to go swimming at said resort pool, you're going to want something on your feet to get you from the room to the pool.
These awesome Mickey ones are perfect for the whole family, or go super glam and make everyone jealous by wearing these.
Water bottles and easy snacks
If you're on one of the higher levels of the Disney dining plan, you probably don't need to worry about running out of snacks due to all of the snack credits you get, but if you're paying as you go and trying to save money at Disney World, you should stock up on bulk purchases of water bottles and grab-and-go snacks so you're not constantly eating in the food court.
Riverside Mill Food Court is great, don't get me wrong, but when you have a super early wake up call for your Fastpass or you want to rope drop, sometimes the fastest way to get out is to just shove a banana in everyone's hands and grab your favorite water bottles for Disney World and take off.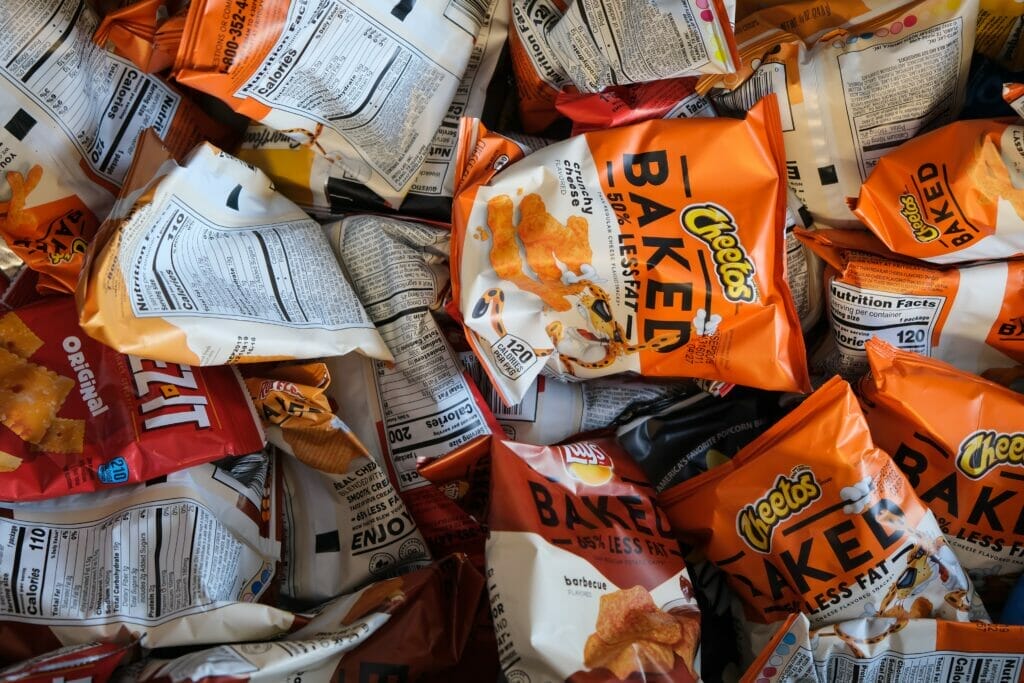 As much as you love your family, it isn't likely that you all sleep in the same room every night.
Port Orleans Riverside doesn't have any one bedroom accommodation, which means it's all standard hotel room style, sometimes sleeping as many as five.
I use these ear plugs all year long and absolutely love them, but you could also go for these which mold to your ear.
These will help if you have a snorer in the family, and the bonus is that if your next door neighbors like to jump around on the bed at night screaming about how much they love Disney, you'll have some protection.
As much as Disney resorts rock, they don't always have the thickest walls and you don't want to hear anything you don't want to be hearing IF YOU KNOW WHAT I'M SAYING IN MORE WAYS THAN ONE.
Power strip
No matter how many plugs a resort has put into their rooms, somehow you'll always run out.
We just live in a technological world where each family member has 6 things that need to be plugged in and charged overnight.
Travel with a power strip like this one and boom – your charging power just multiplied and you're not having to sneak attack your husband by unplugging his camera in the middle of the night to plug in your phone.
Booking Port Orleans Riverside
The easiest way to book Port Orleans Riverside is straight through Disney.
If you also need tickets, you an add them through Disney or check out Undercover Tourist which offers authentic Disney tickets, often at a discount.
Port Orleans French Quarter Theming
From the sounds of jazz to gas lamps to Mardi Gras themed decor, the theming at Disney's Port Orleans French Quarter is fantastic for anyone with an interest in New Orleans and the historic, romantic side of this city.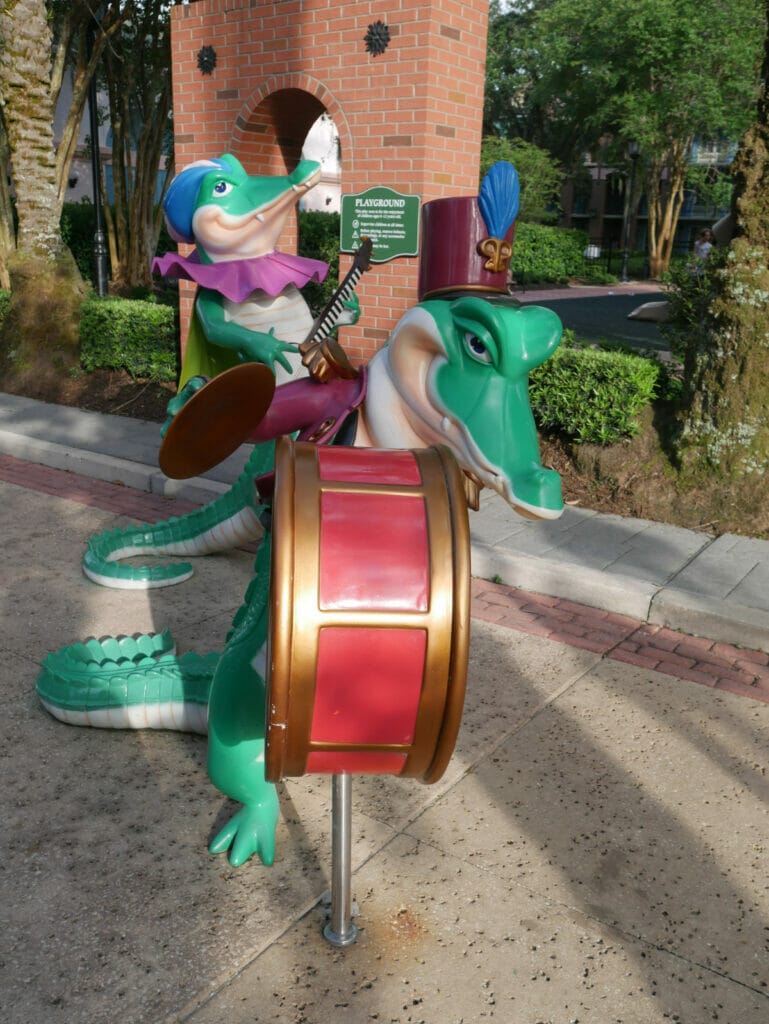 Enjoy these photos of the theming to get a feel for what you'll see during your stay.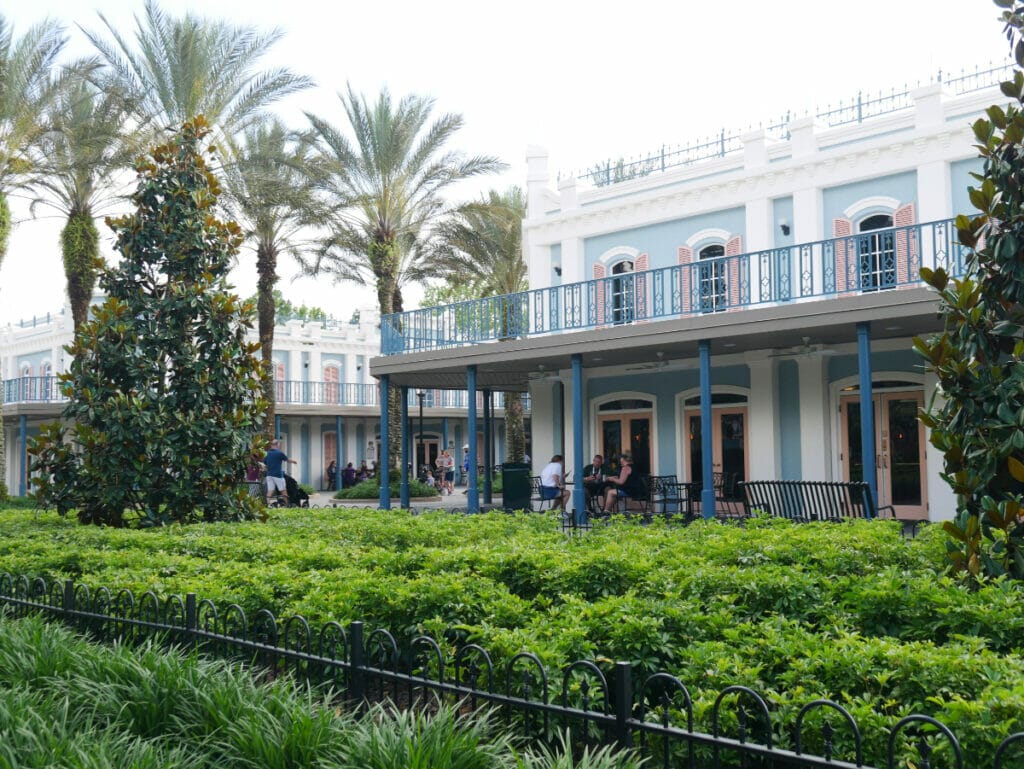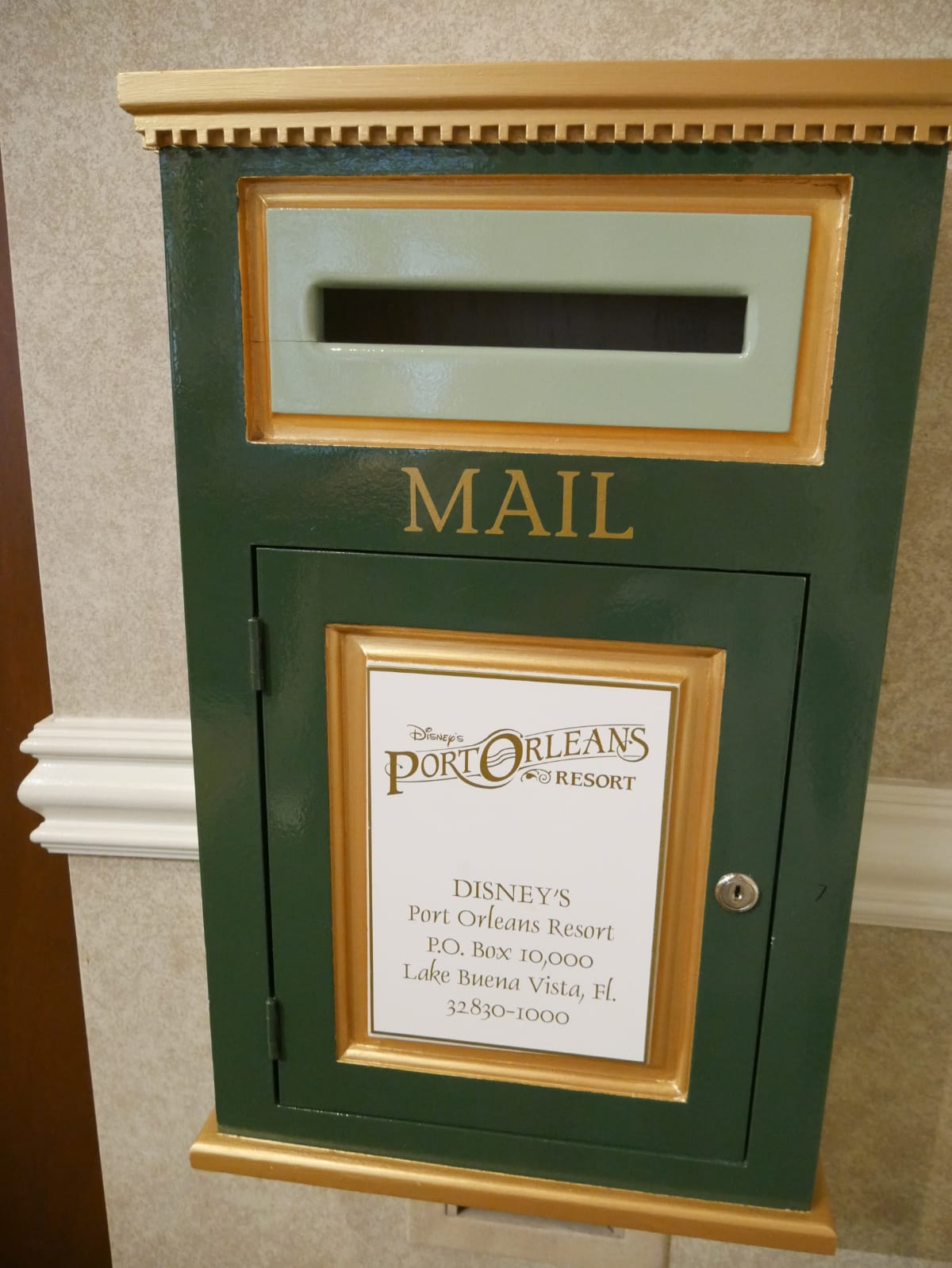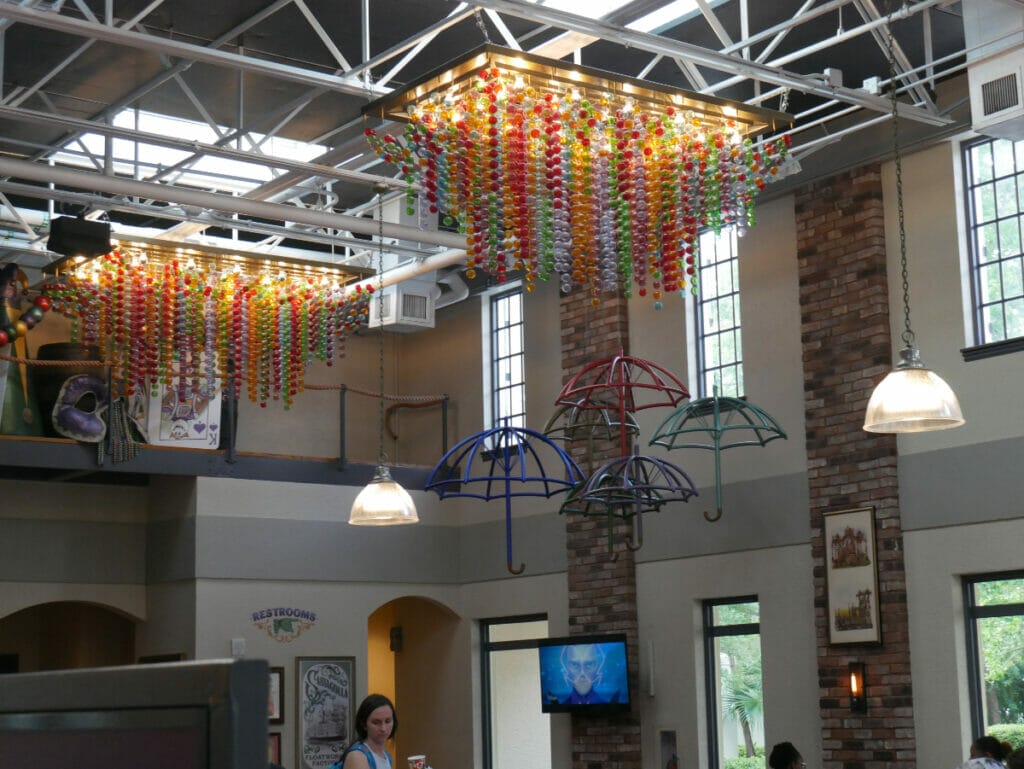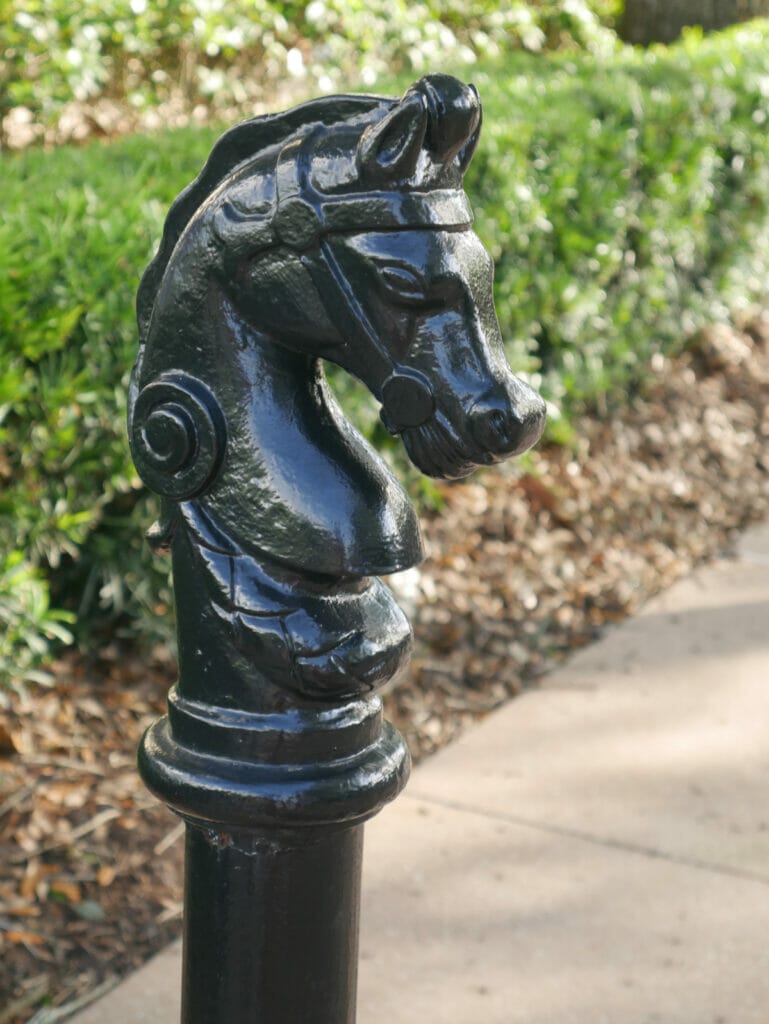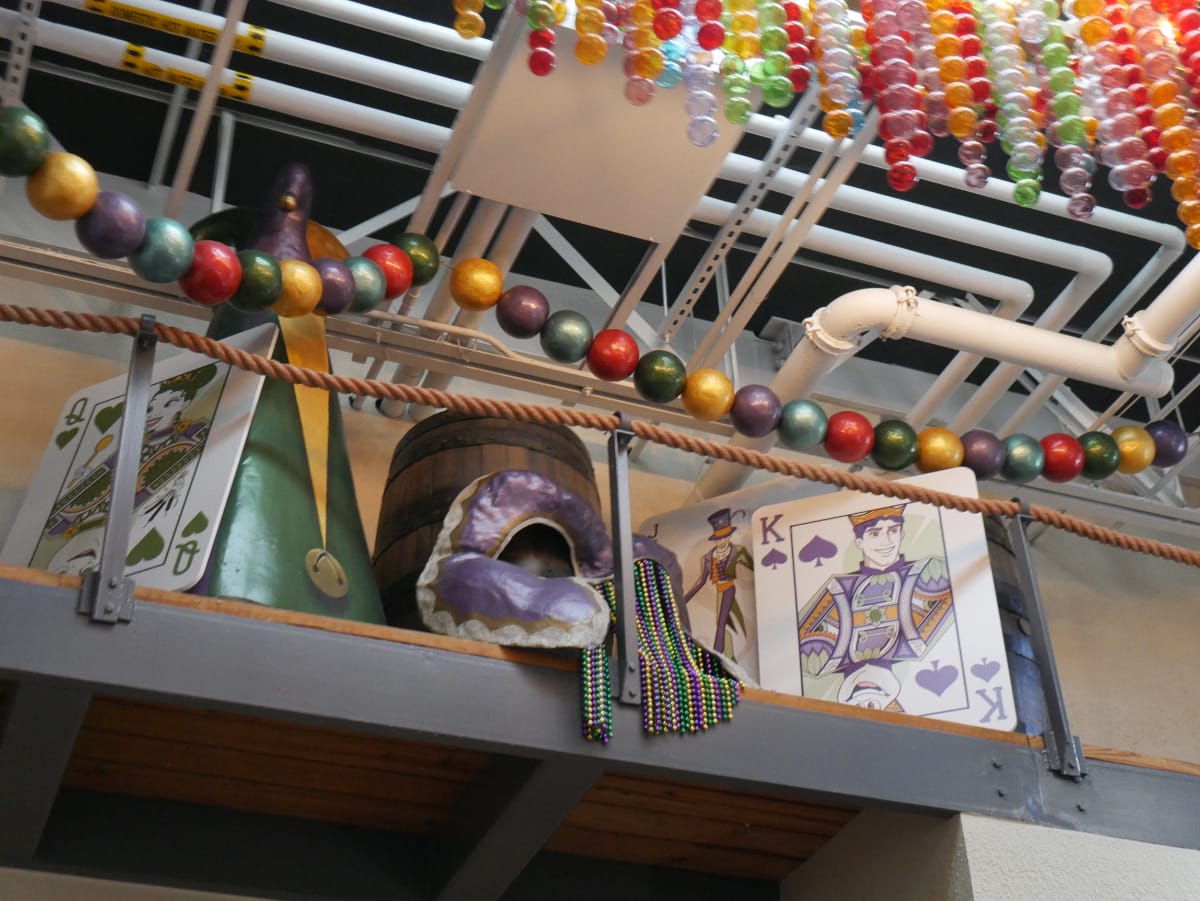 My favorite part is how the resort is designed so that it feels like you're walking through the actual streets of the French Quarter, with the room buildings being wonderfully colorful and decorated with wrought iron.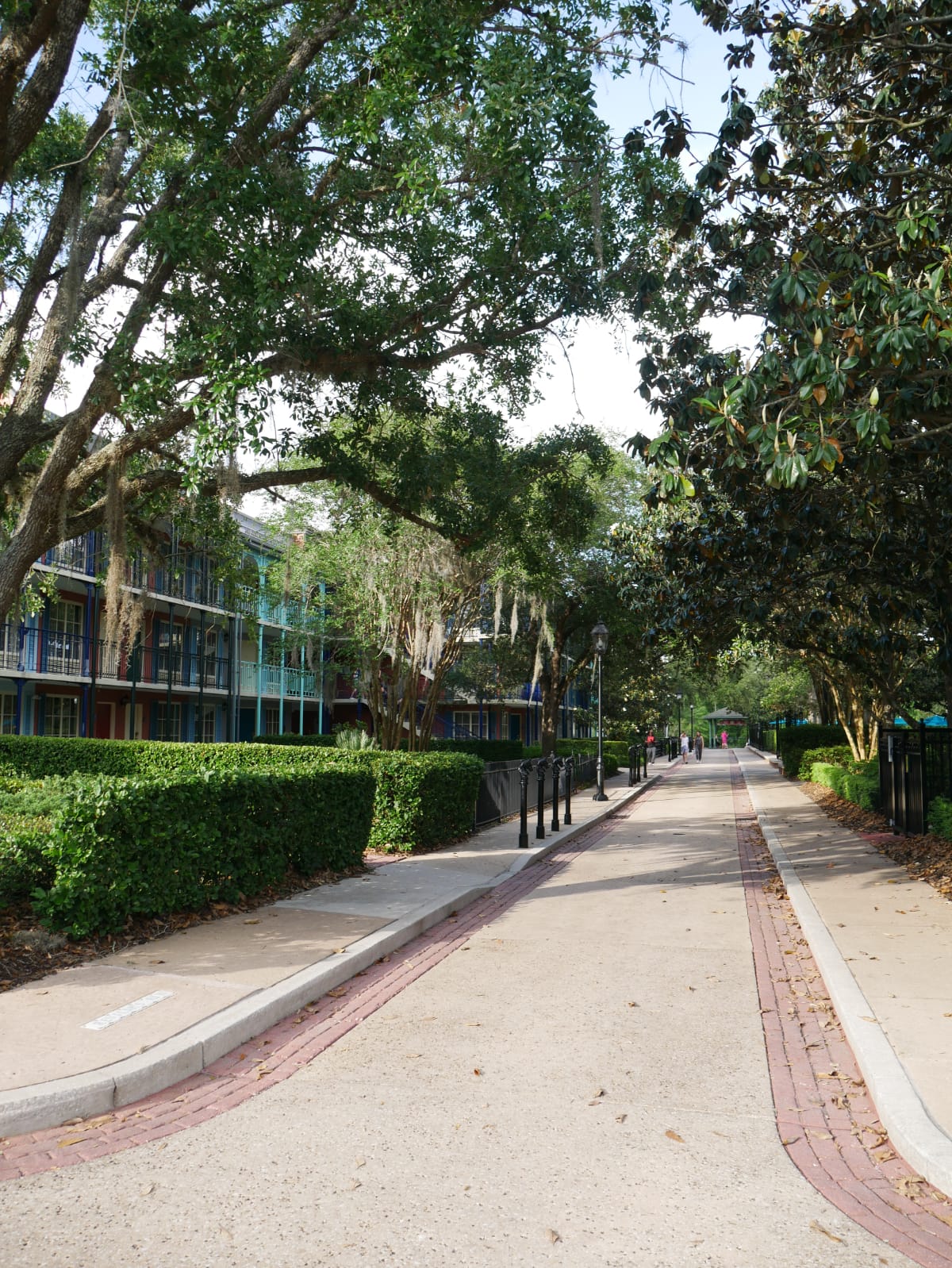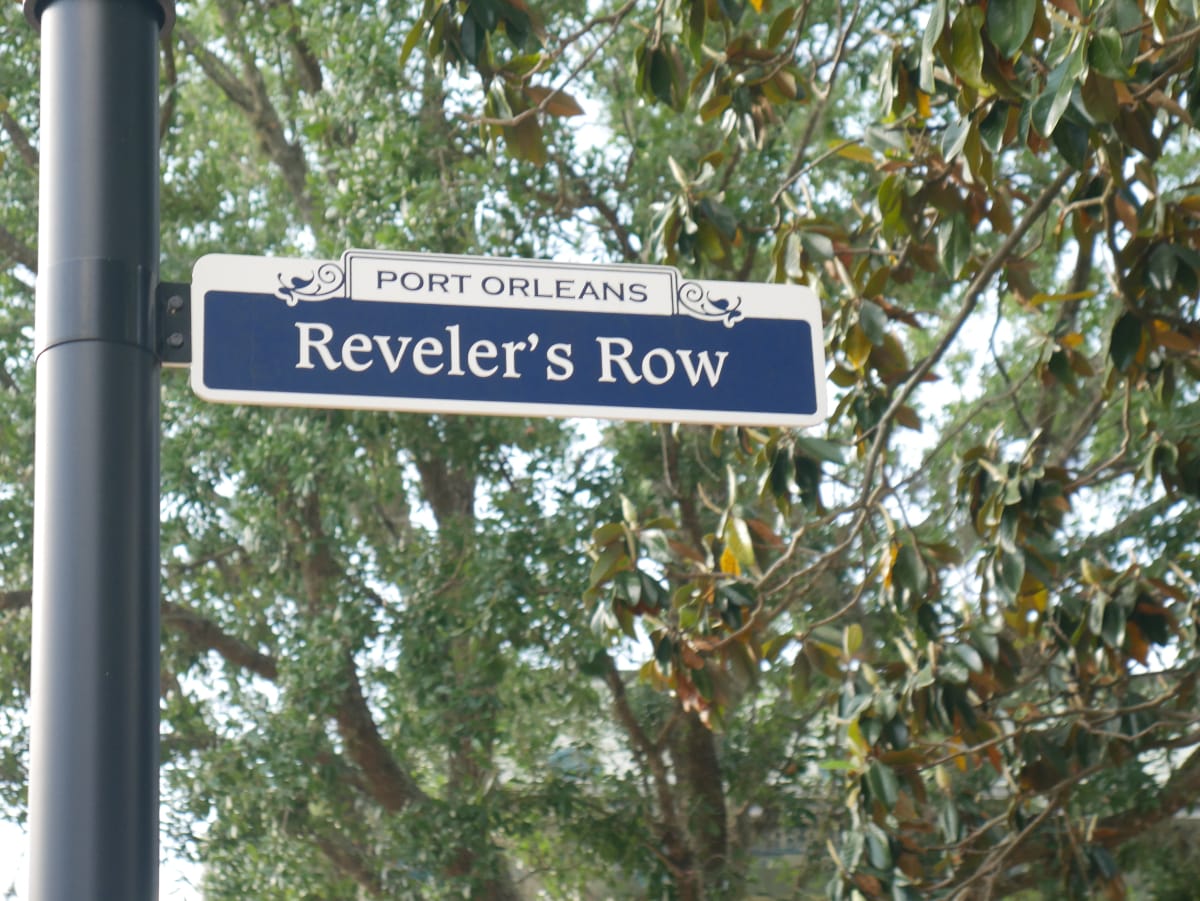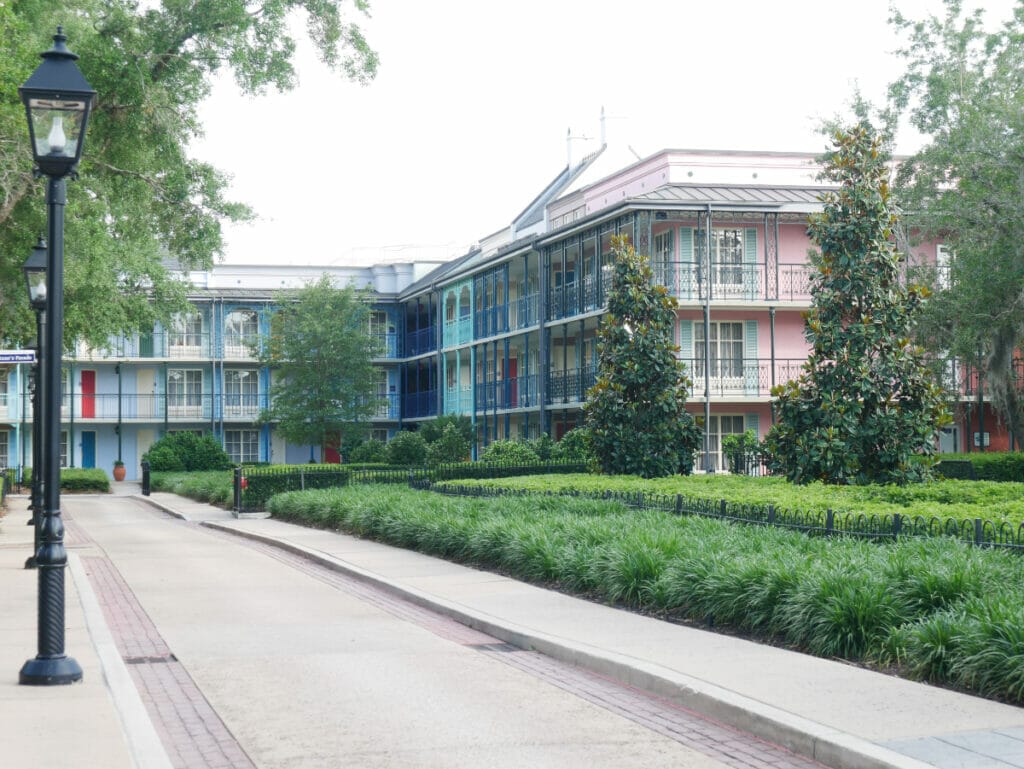 You'll be transported to the sights, sounds, and pagentry of everything from the Mardi Gras float staging area in the food court to the alligators and characters that represent the culture, history, and wildlife in this part of the world.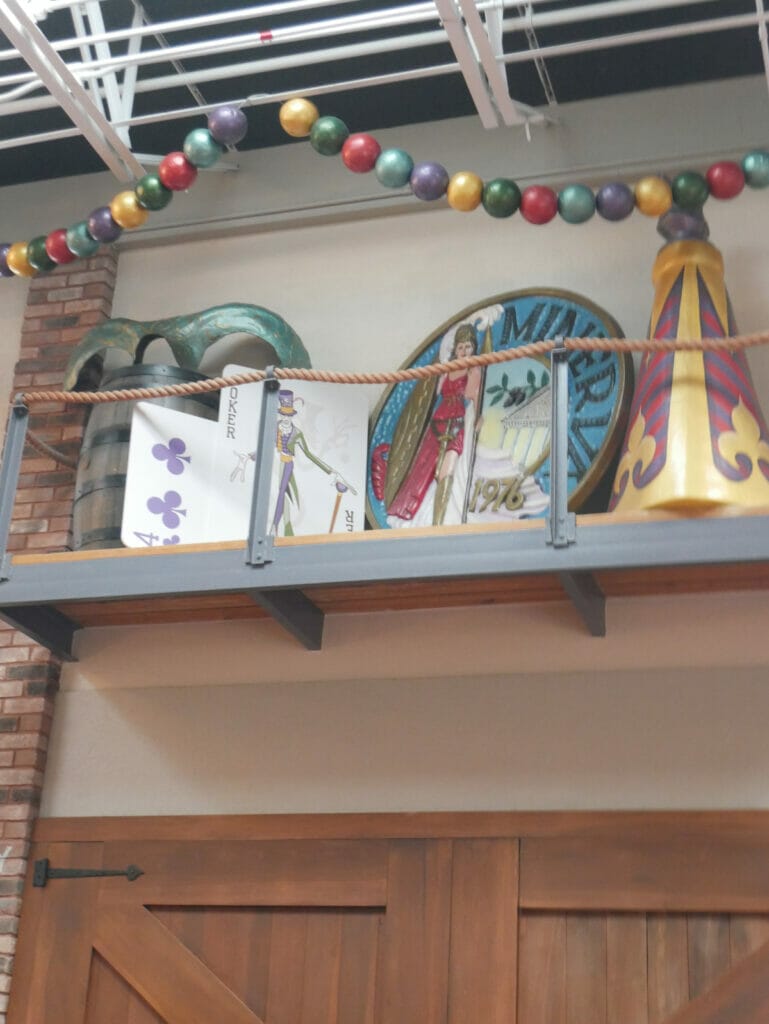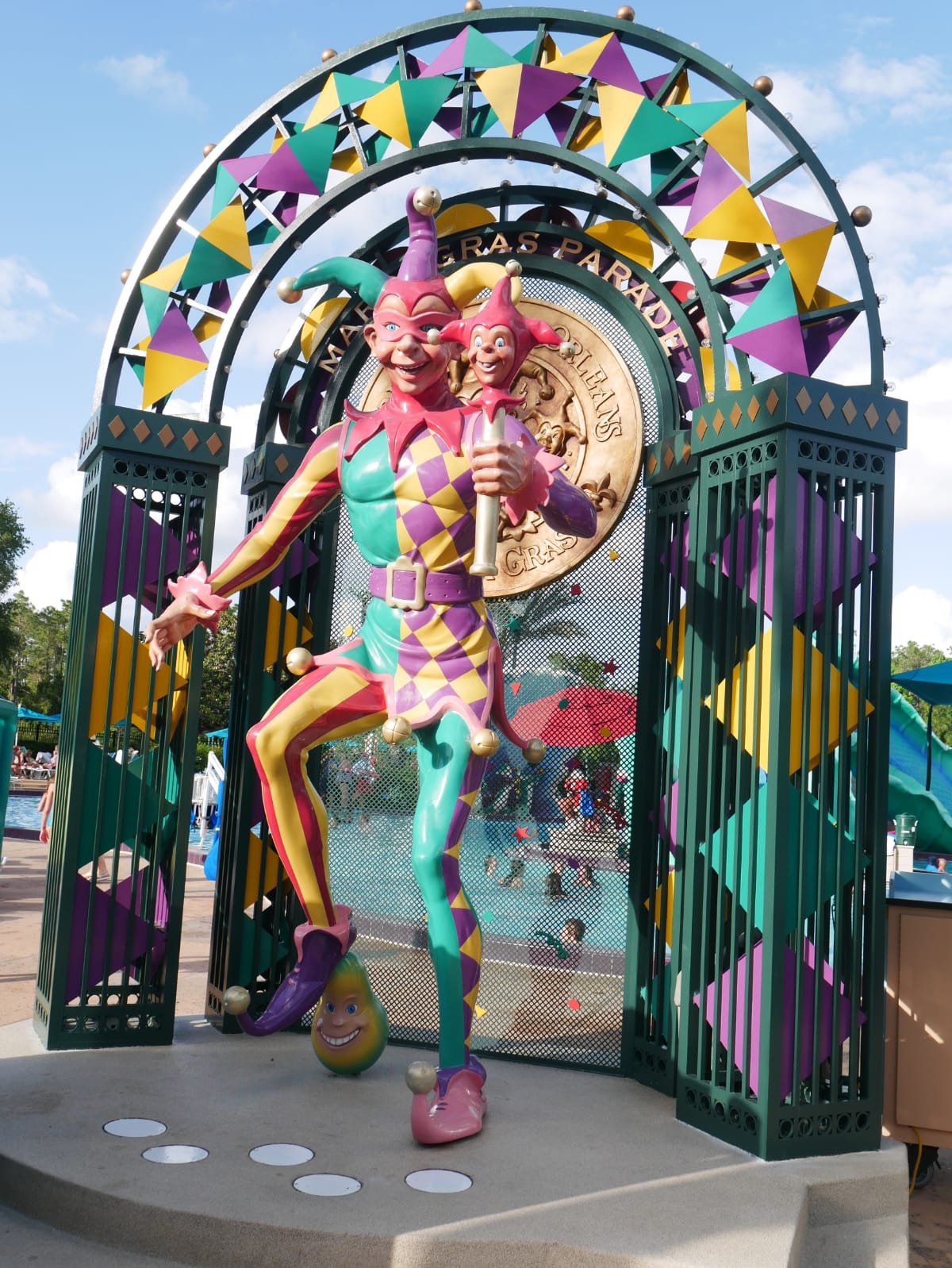 Port Orleans French Quarter Lobby
When you first check-in at French Quarter, you'll experience the spacious lobby which has everything from the Reception desks to the gift shop to the food court and Scat Cat's Club – because of the small size of the resort, almost everything is concentrated within the lobby if it's not a building with rooms.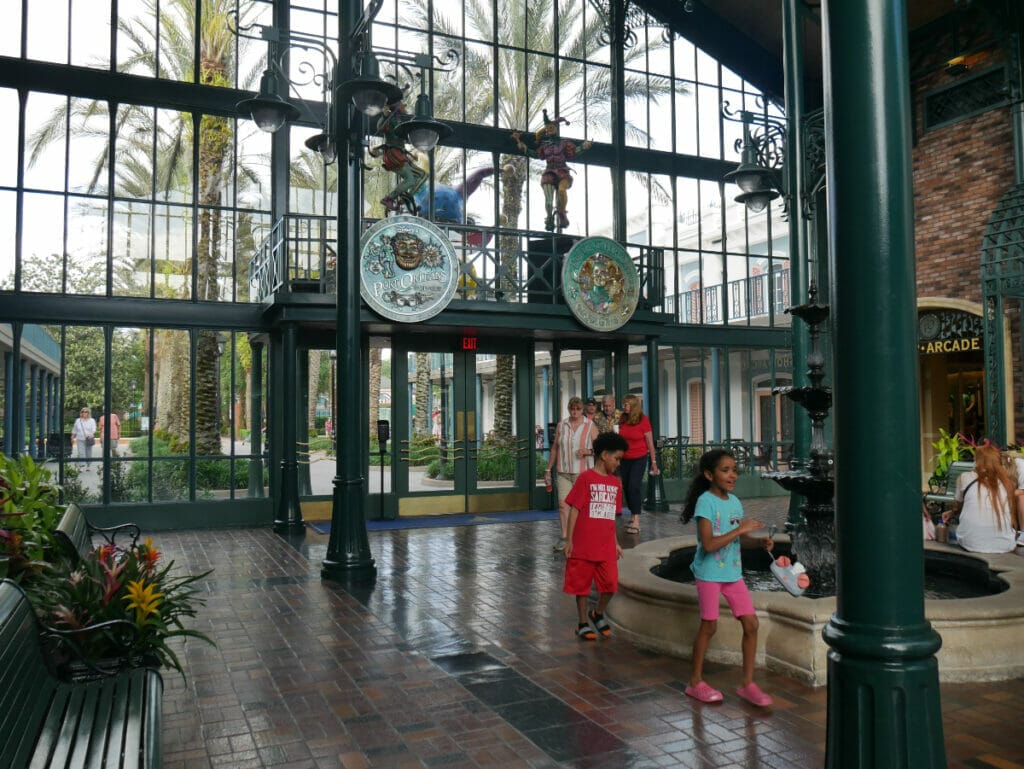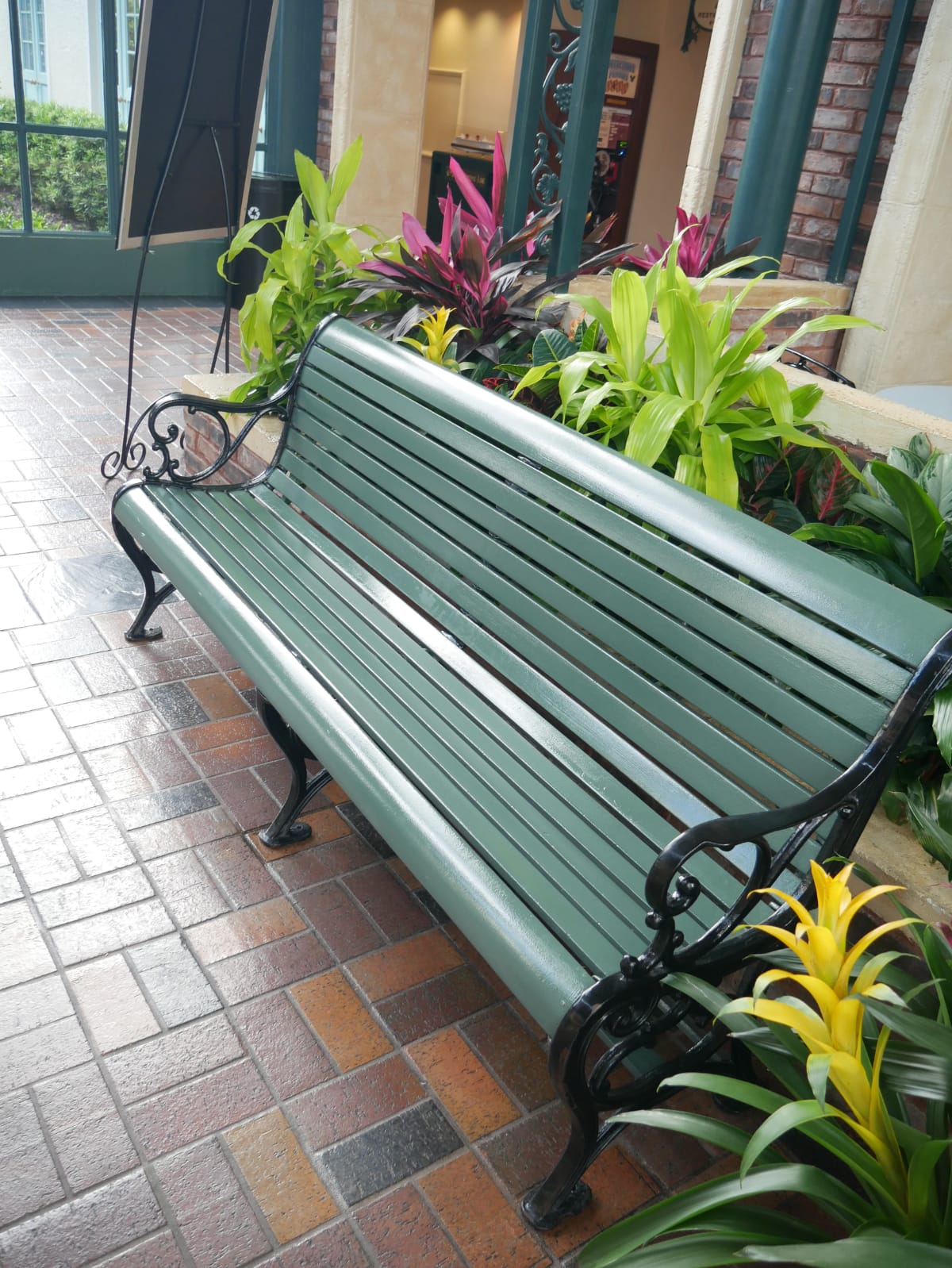 The indoor/outdoor style theming makes you feel like you're truly walking the cobblestoned streets of New Orleans and enjoying the French Quarter, and if you're lucky, you'll get some Mardi Gras beads handed to you on the way in!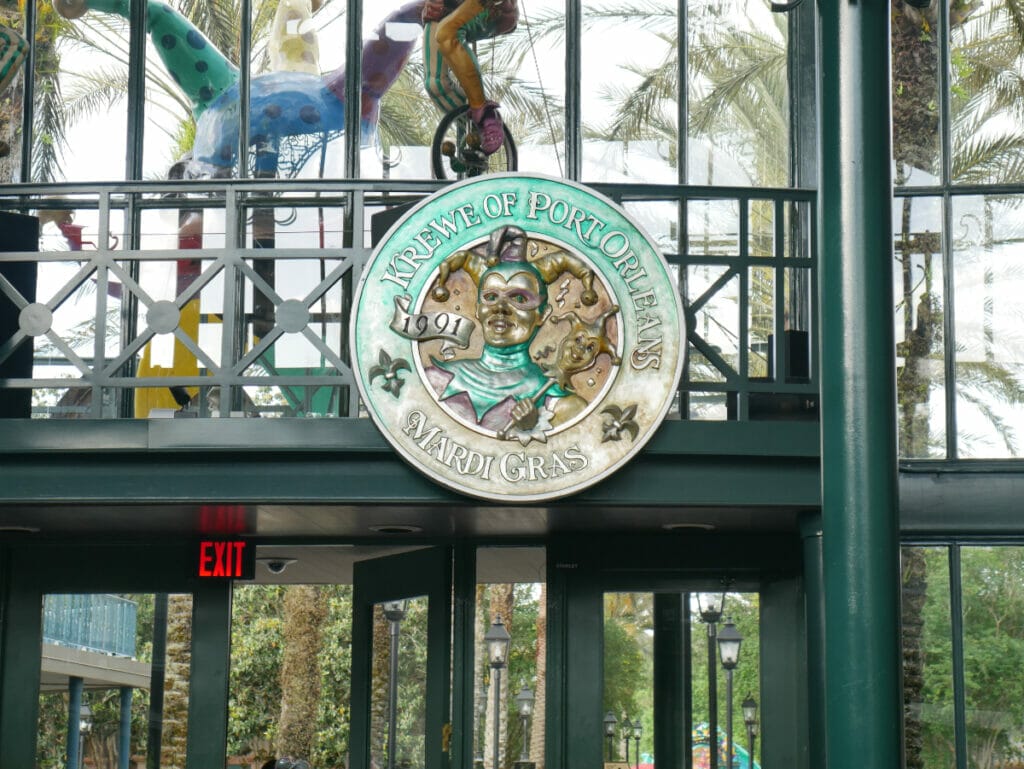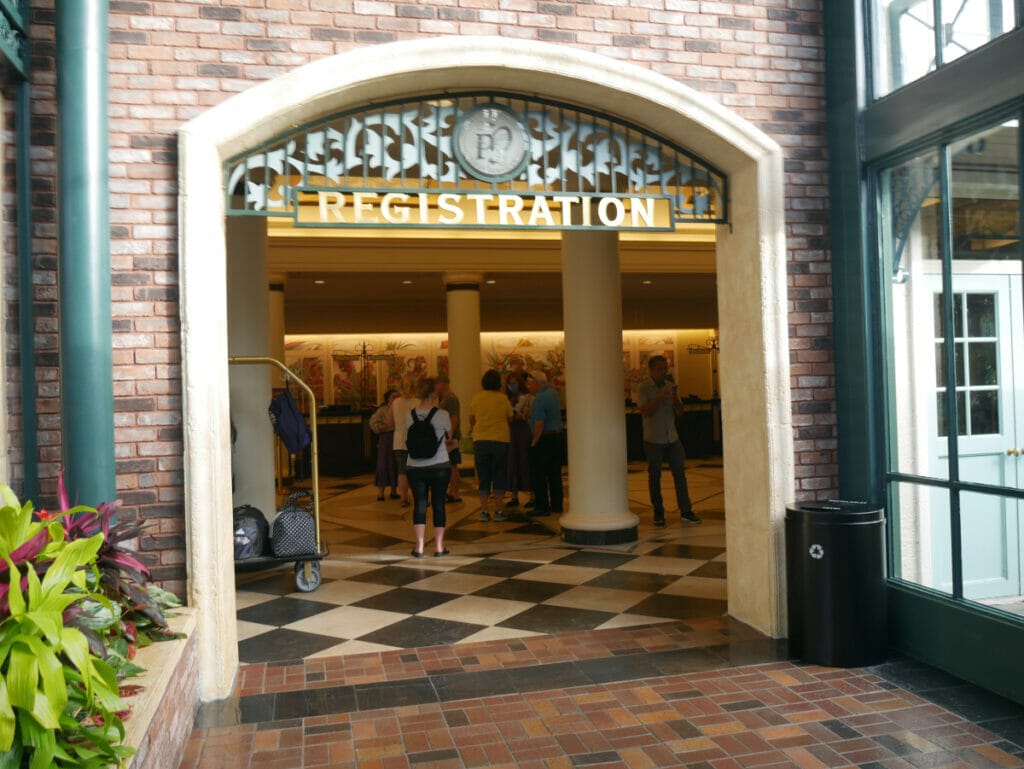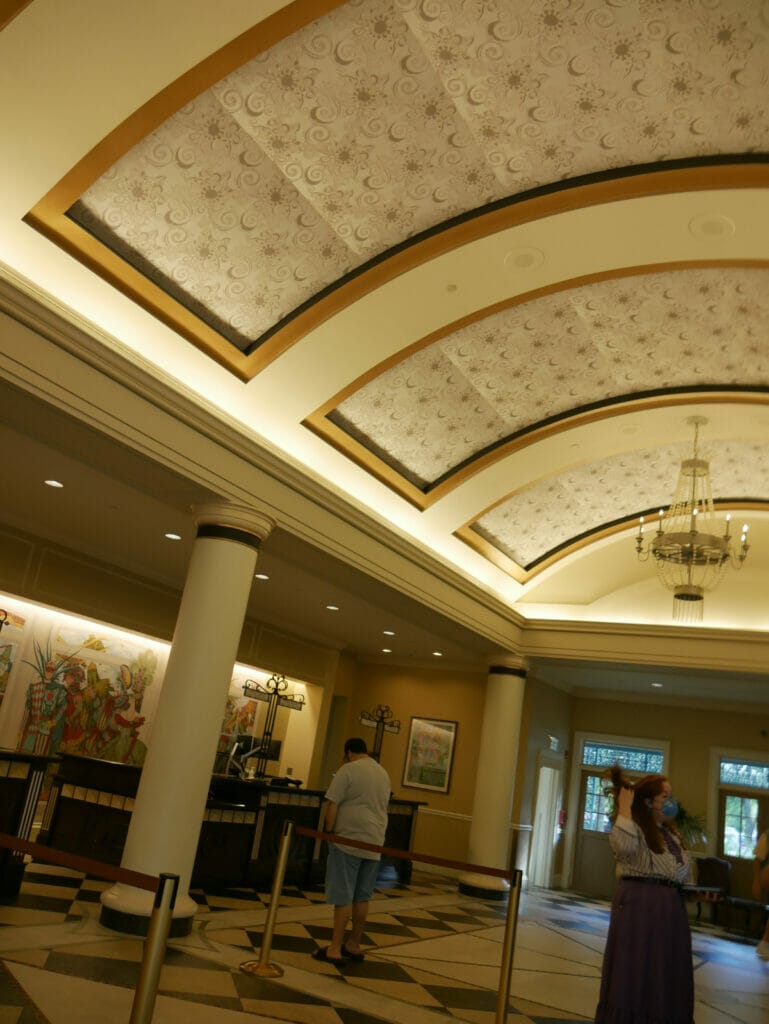 Port Orleans French Quarter Rooms
The rooms at Port Orleans French Quarter are done in a nice, sophisticated New Orleans style with lots of cute touches in the theming without being overbearing.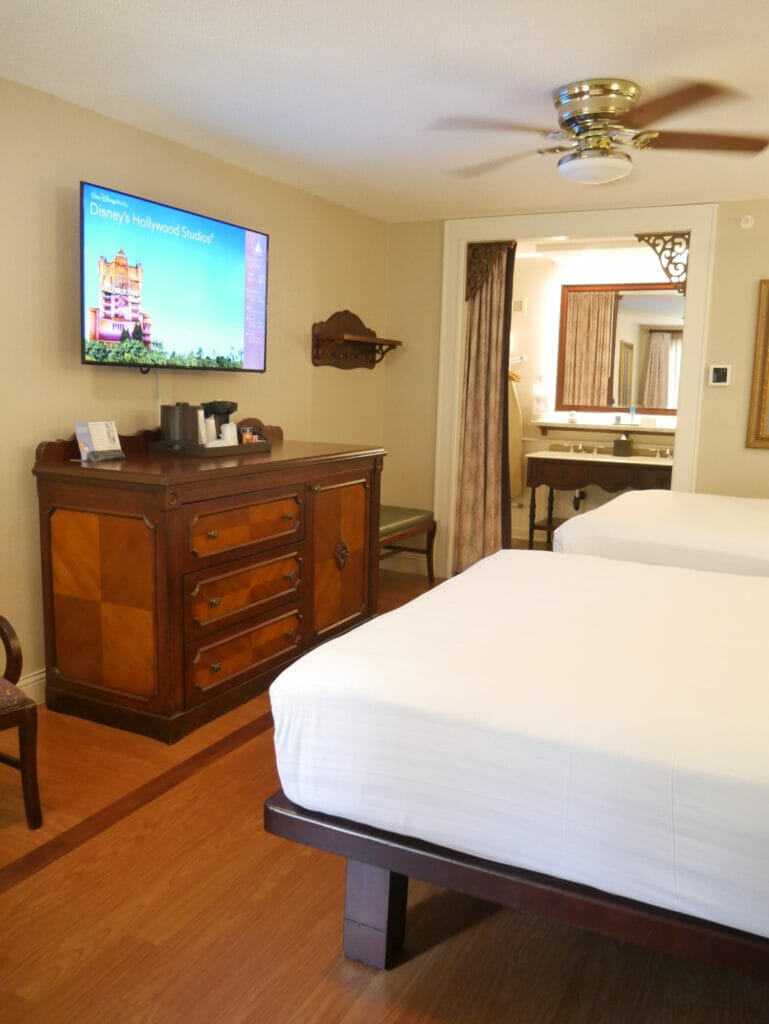 All rooms are hardwood floors, and you get two Queen beds with a bathroom with a shower/bath, toilet, vanity, and storage space.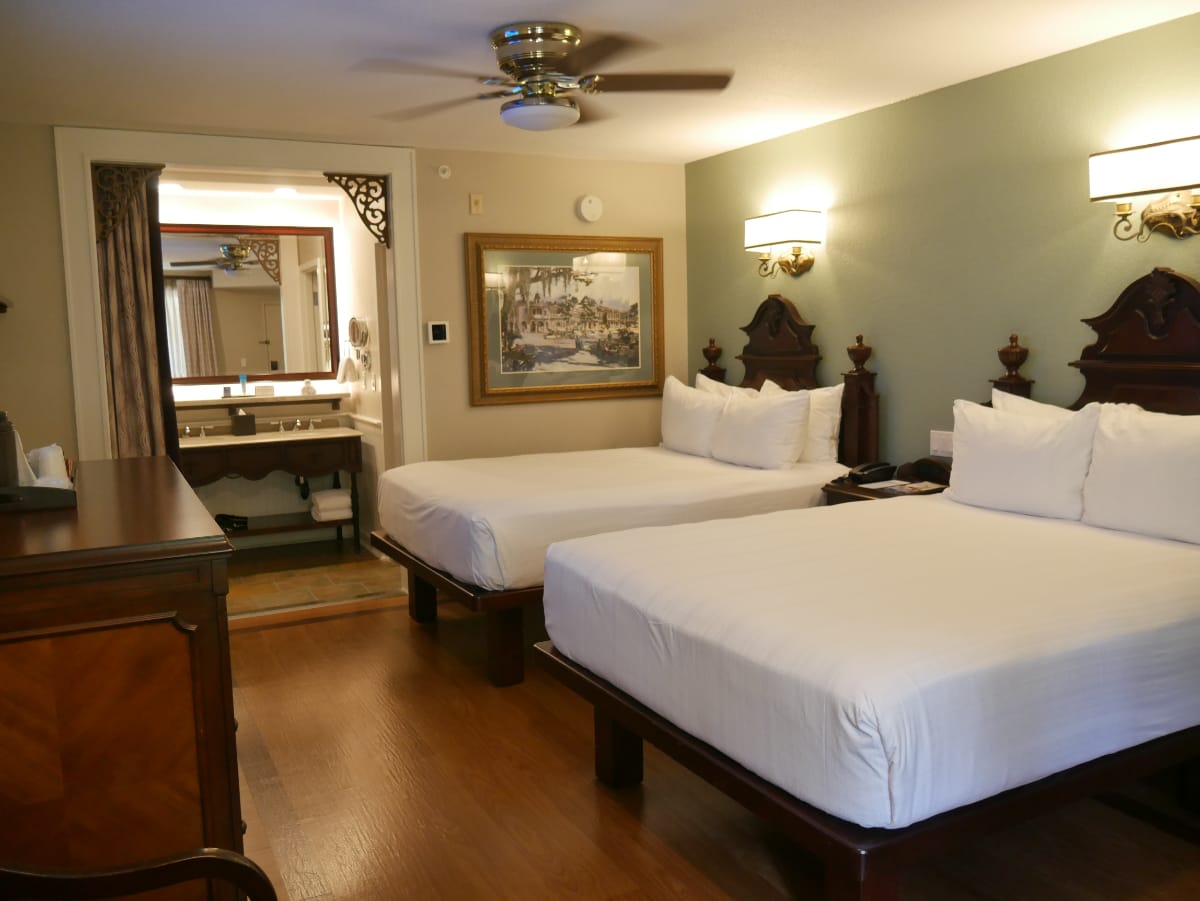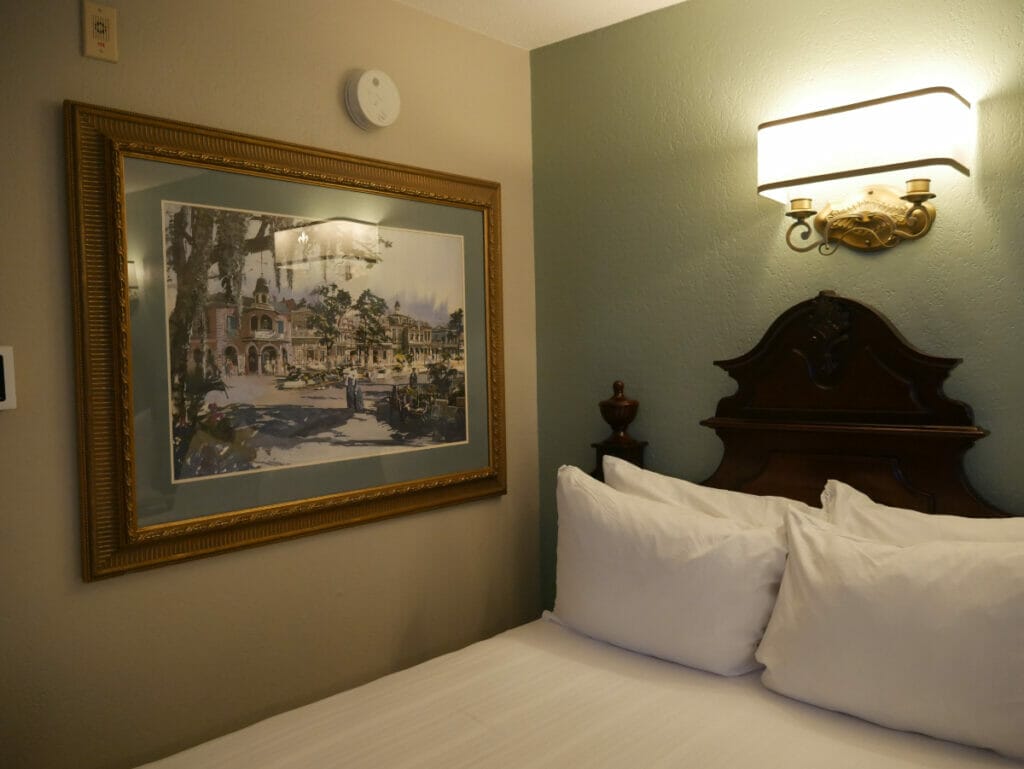 Unlike Riverside, Port Orleans French Quarter cannot sleep 5 people in a room unless that 5th person is an infant or very small child who sleeps in a foldaway crib.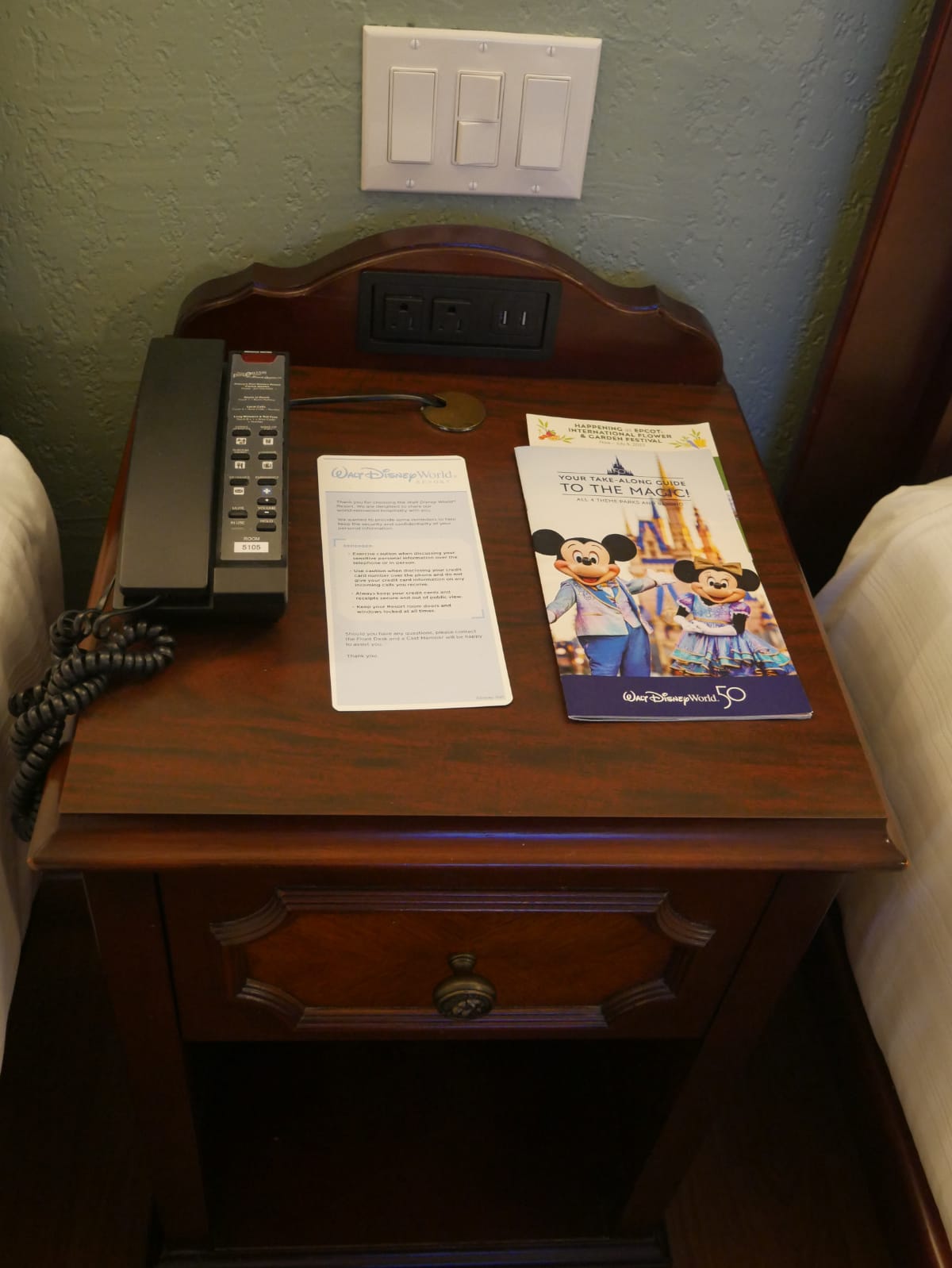 This makes it a great choice for families of 4!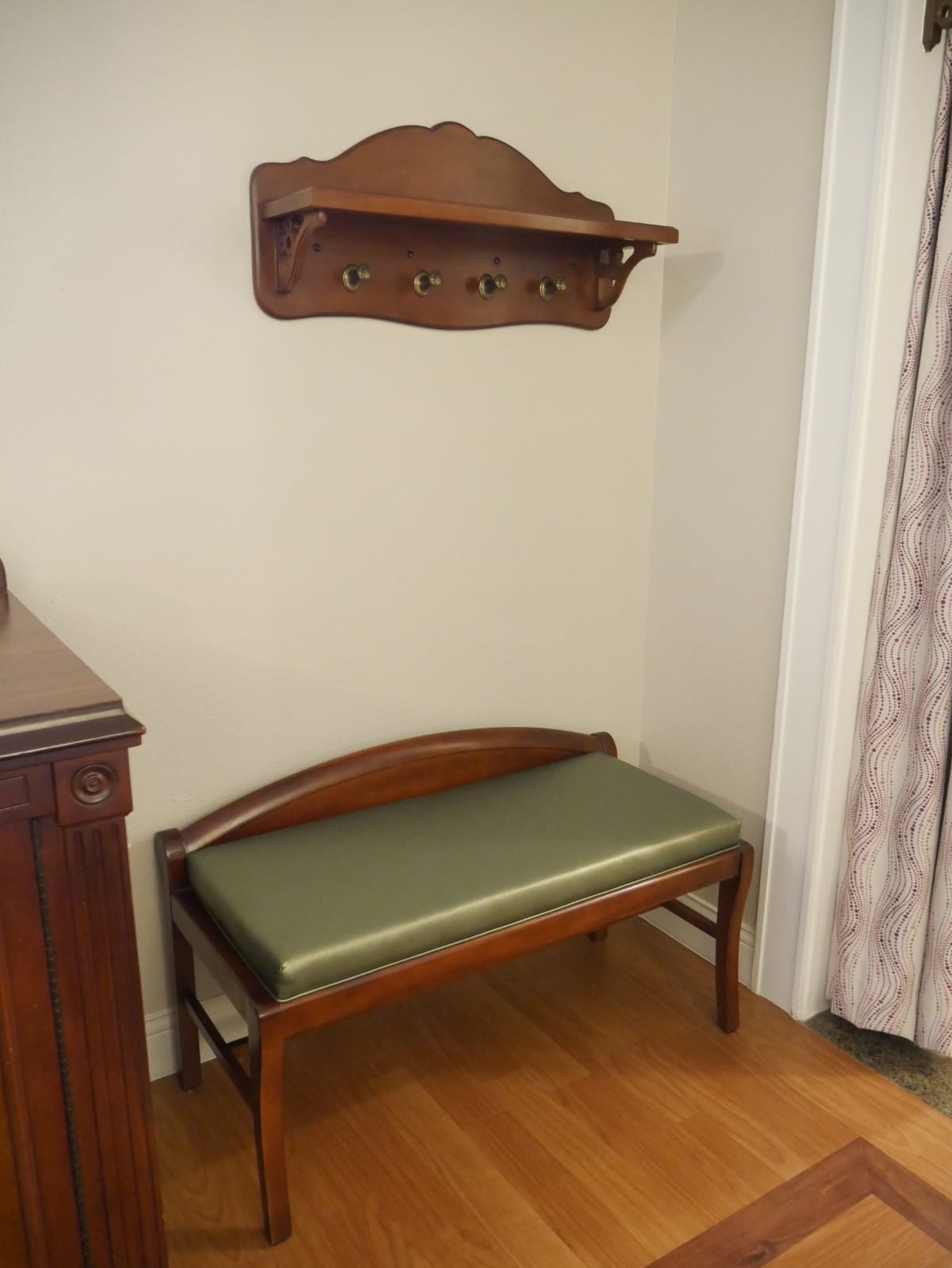 You get the standard table and chairs, as well as a large chest of drawers underneath the fantastically sized TV, a coffee maker, bedside tables and a bench with a place to hang things up.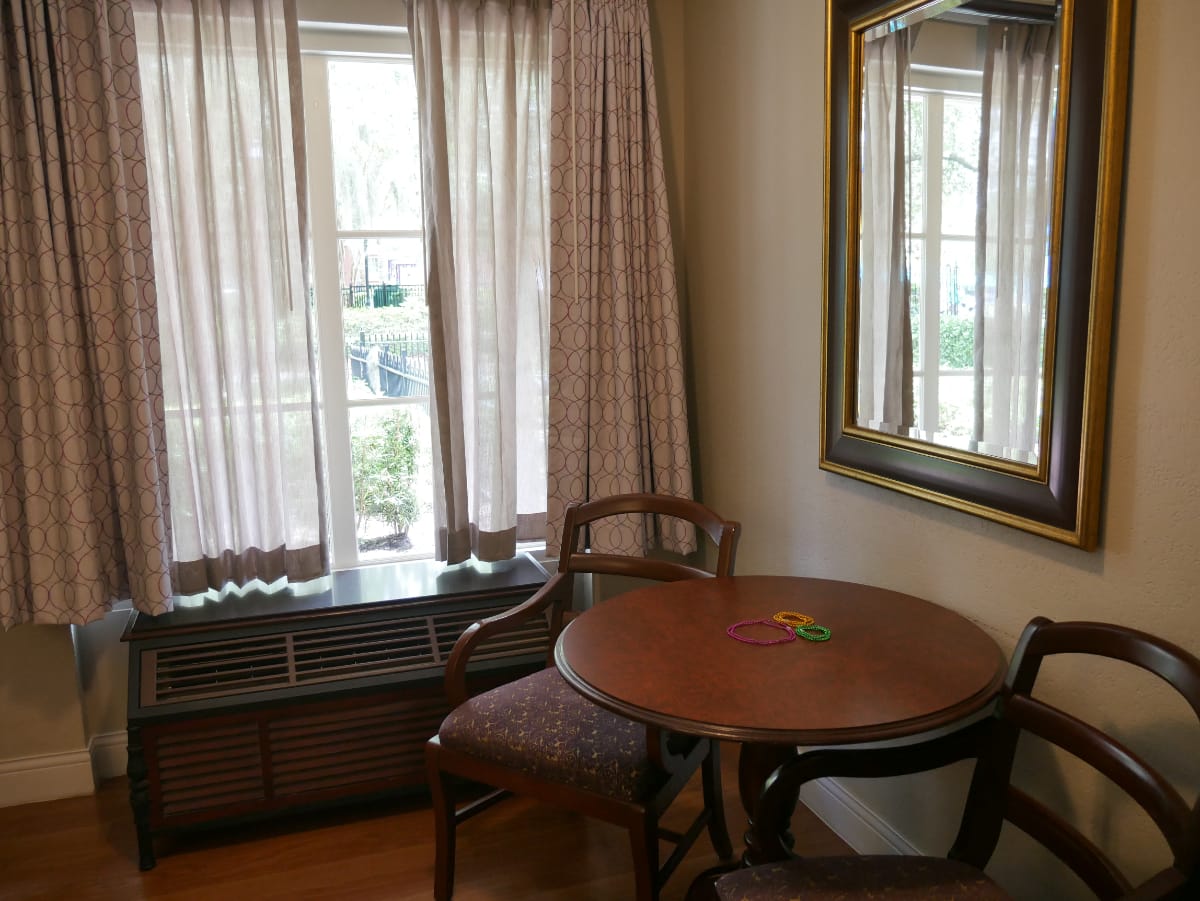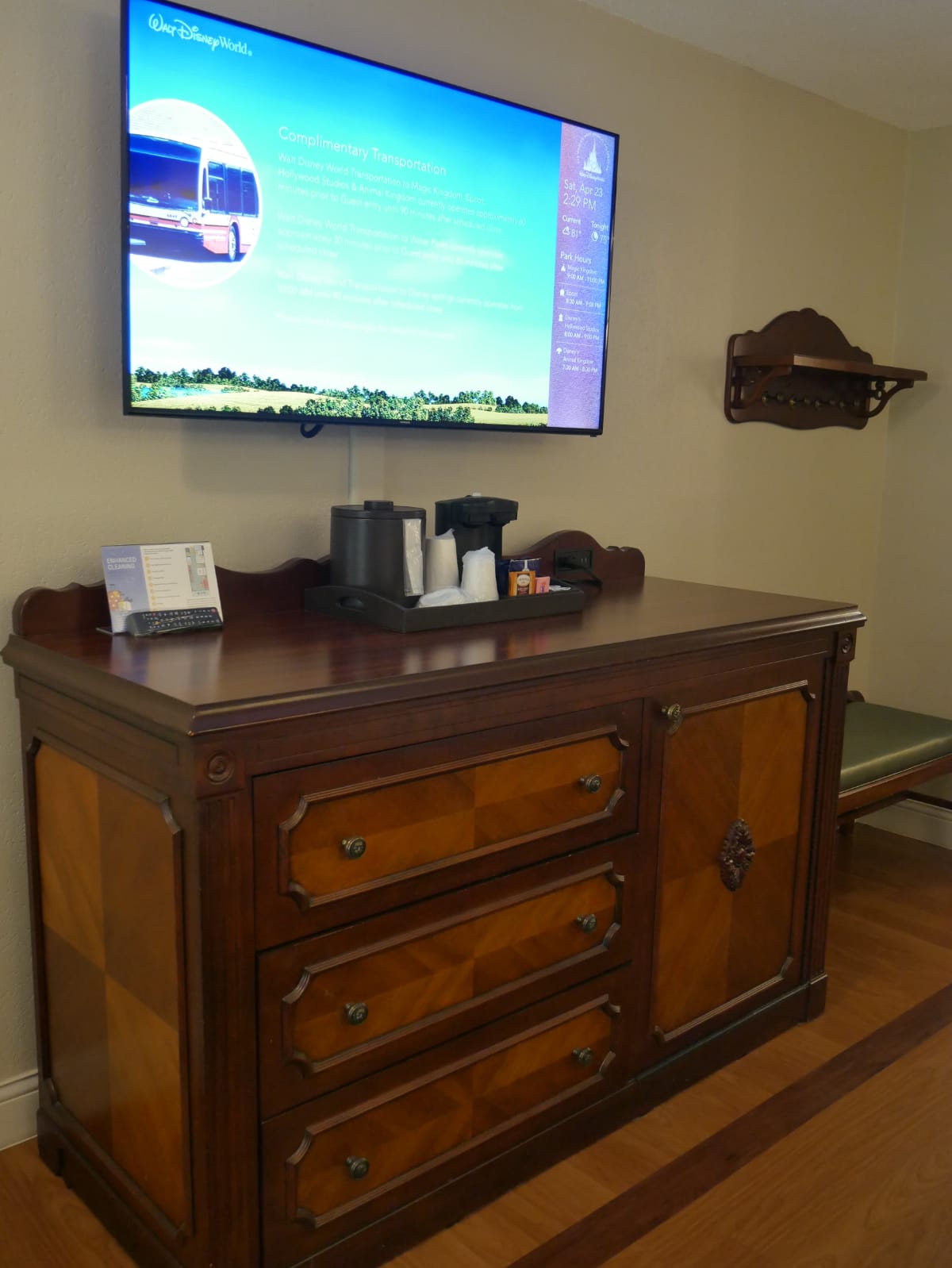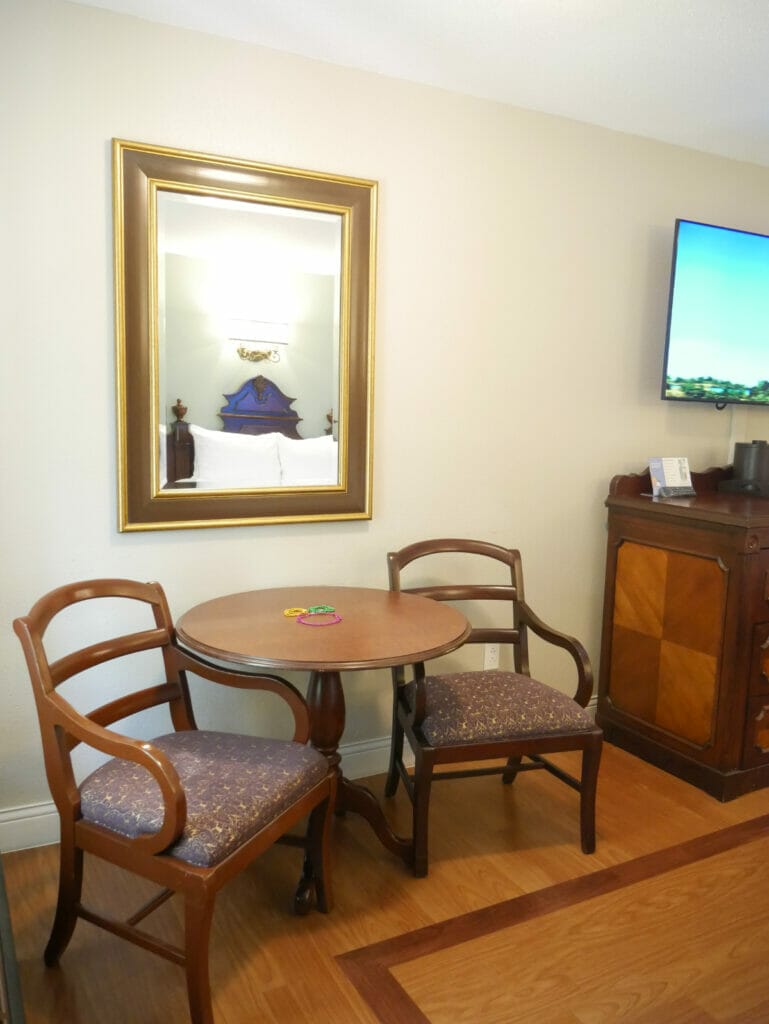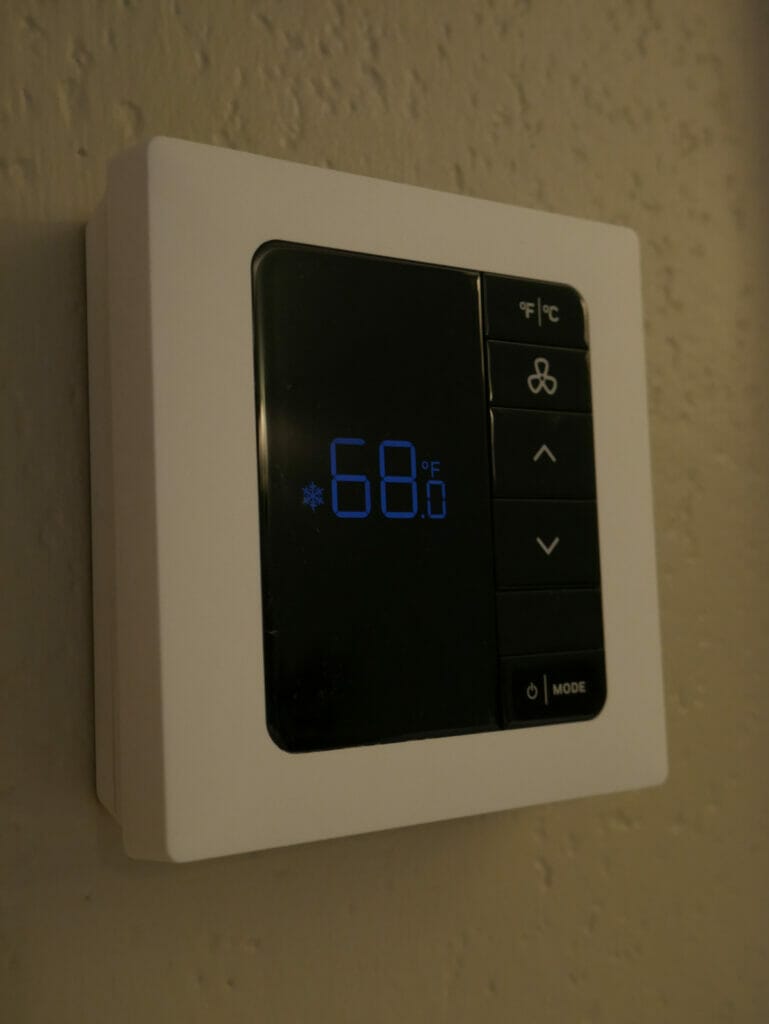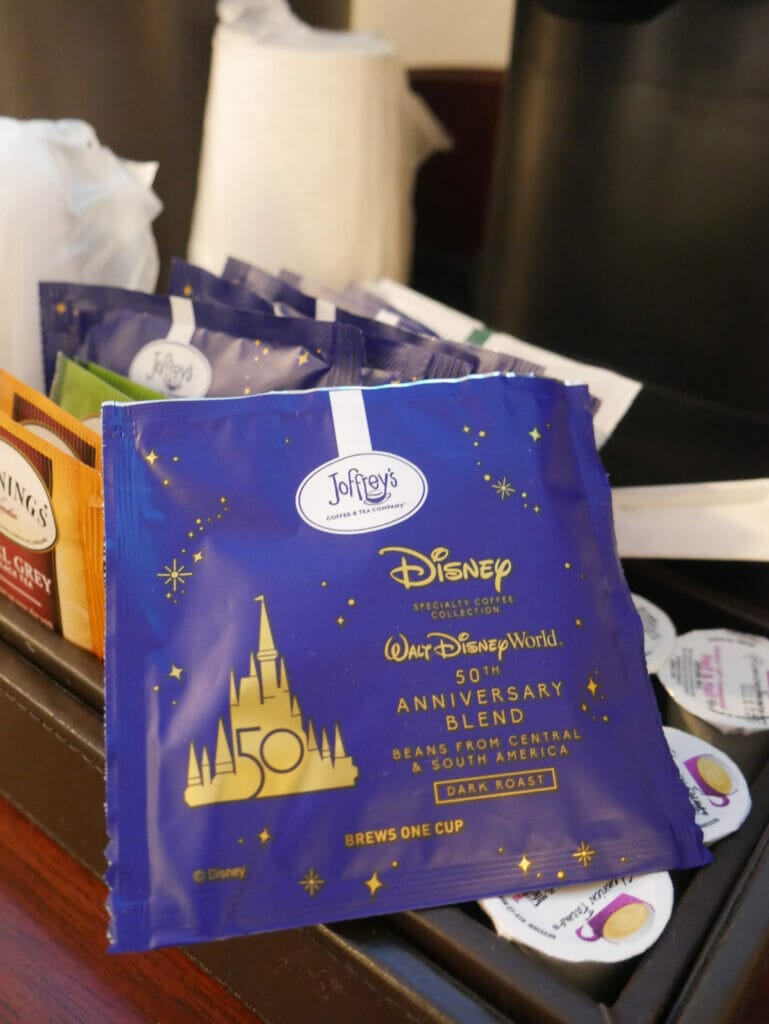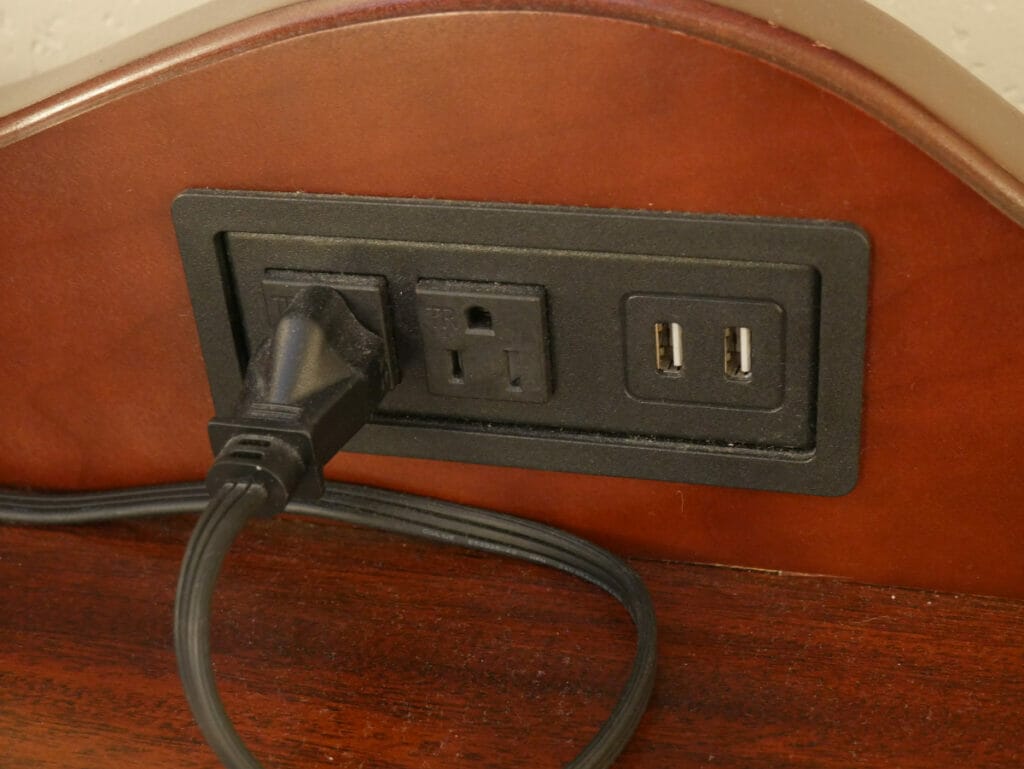 In the bathroom, your shampoo, conditioner, and body wash will be dispensed from the wall, but you'll also get a few H20 products like lotion and soap (you can ask for more from mousekeeping if you need them).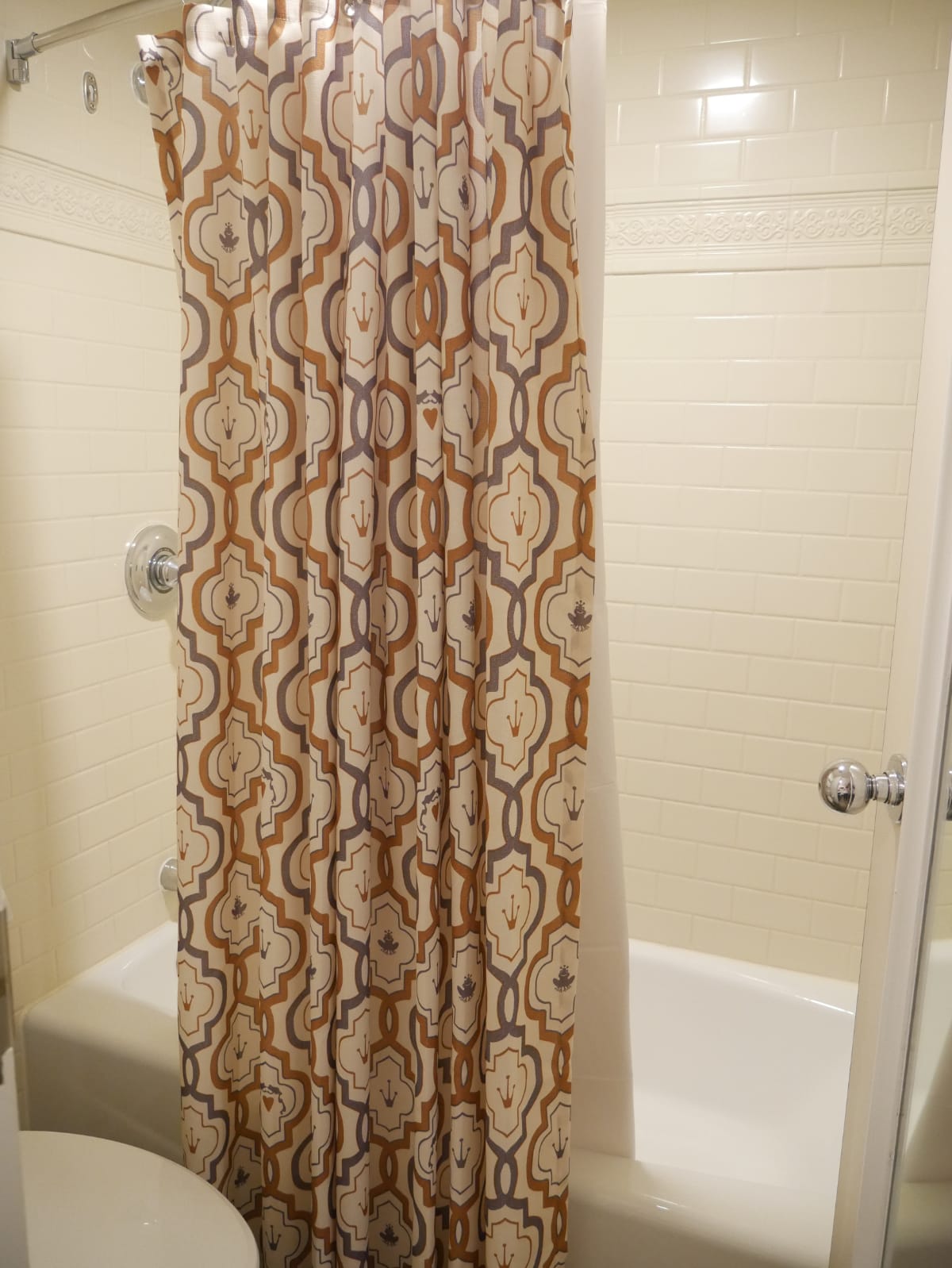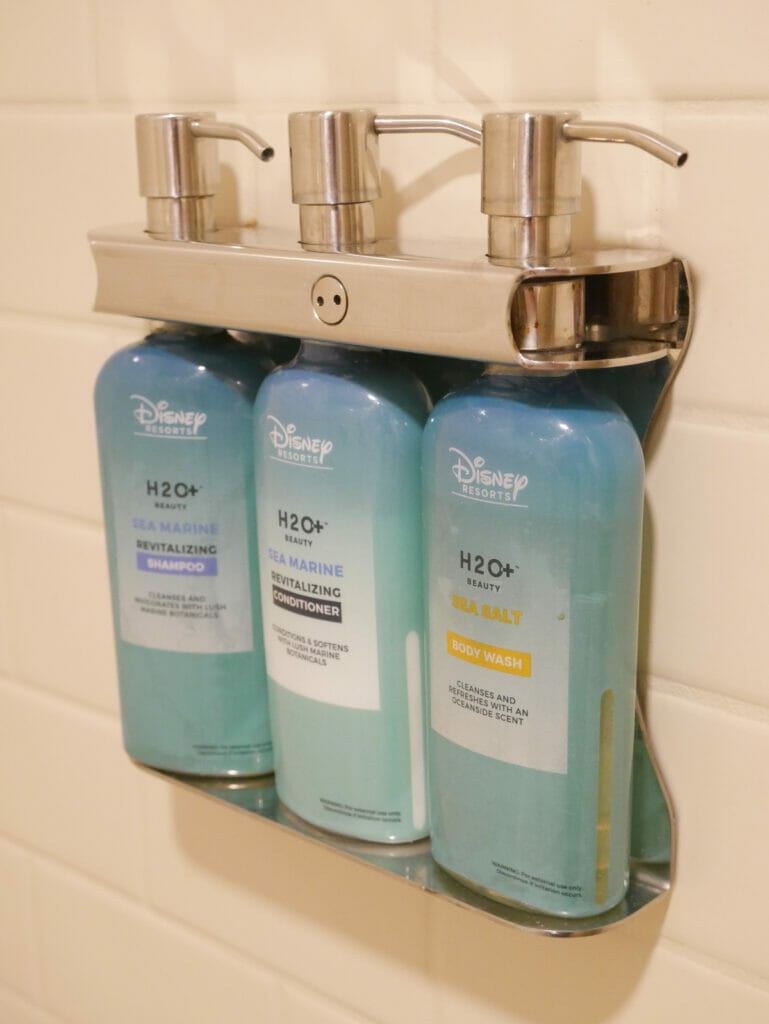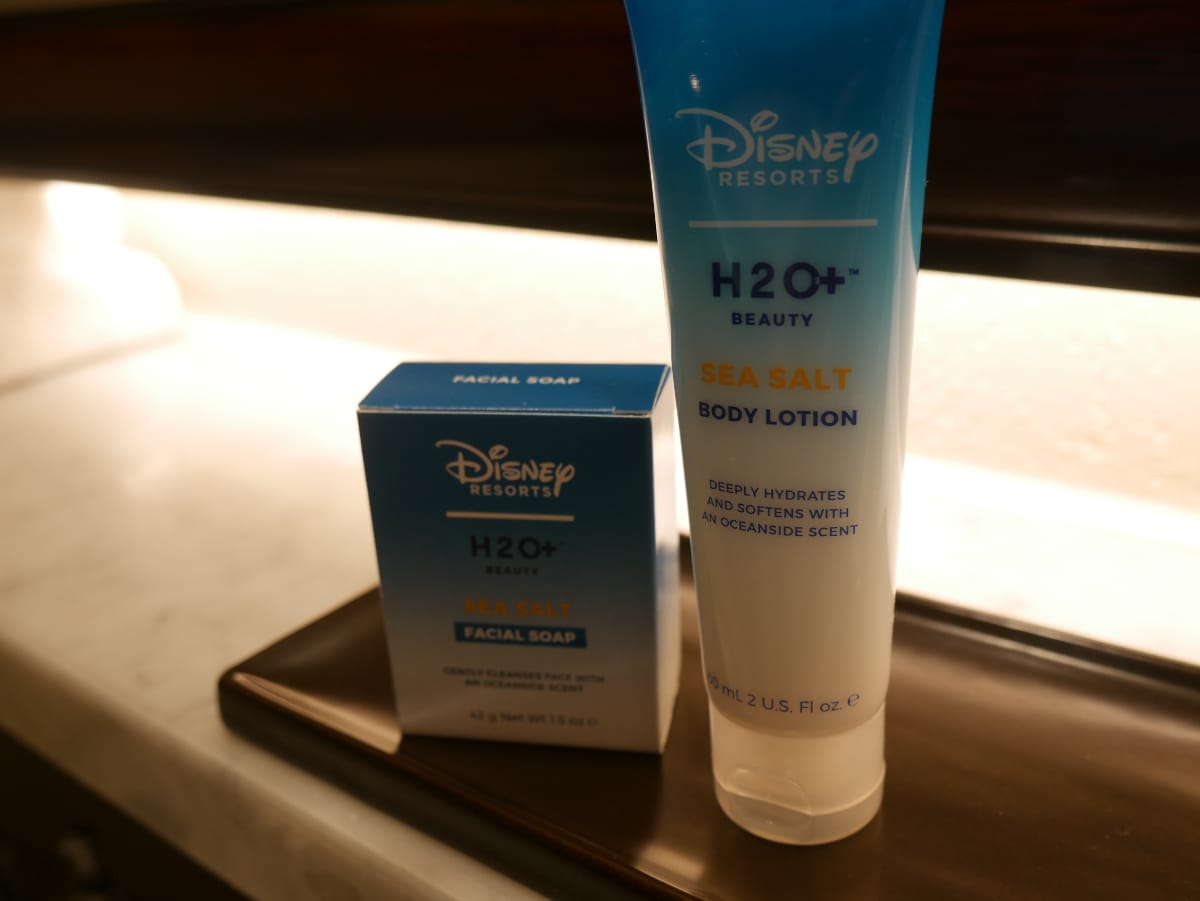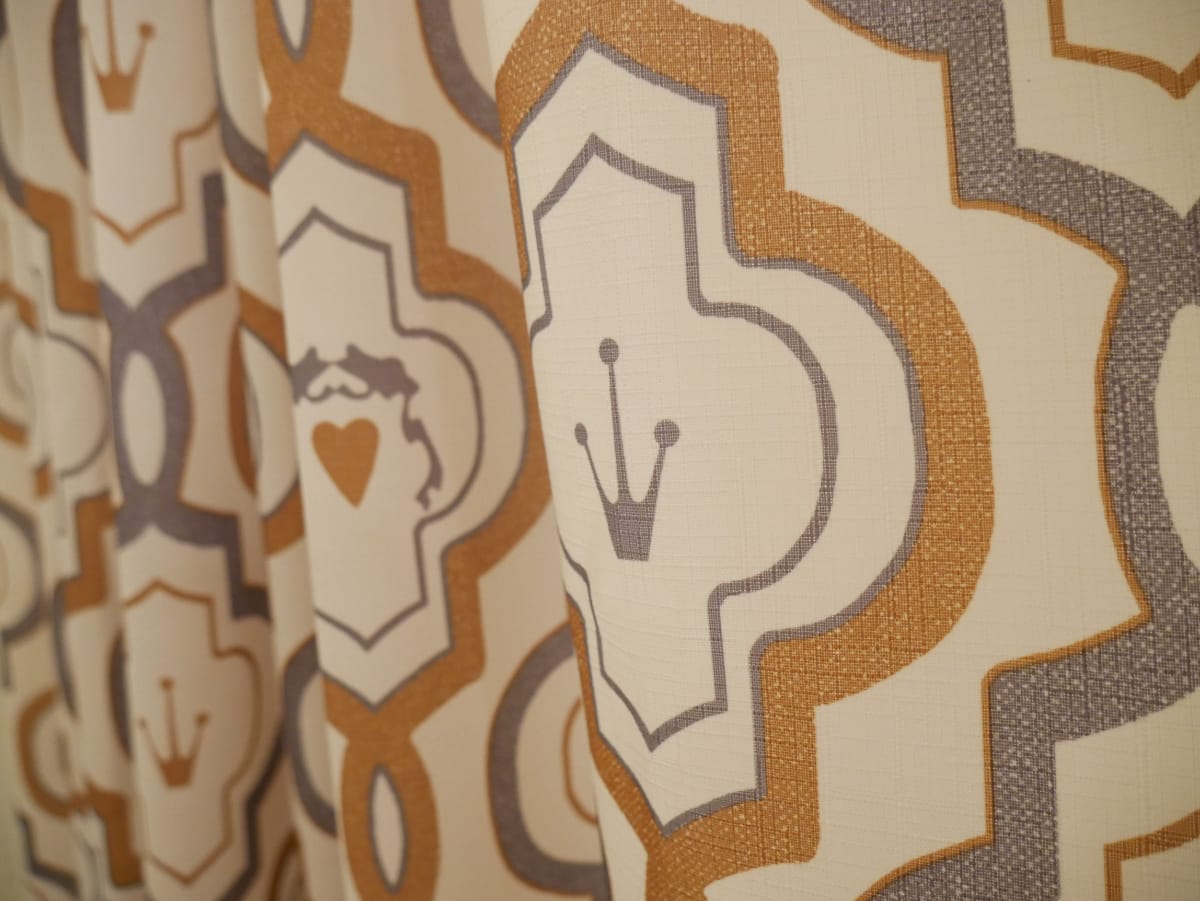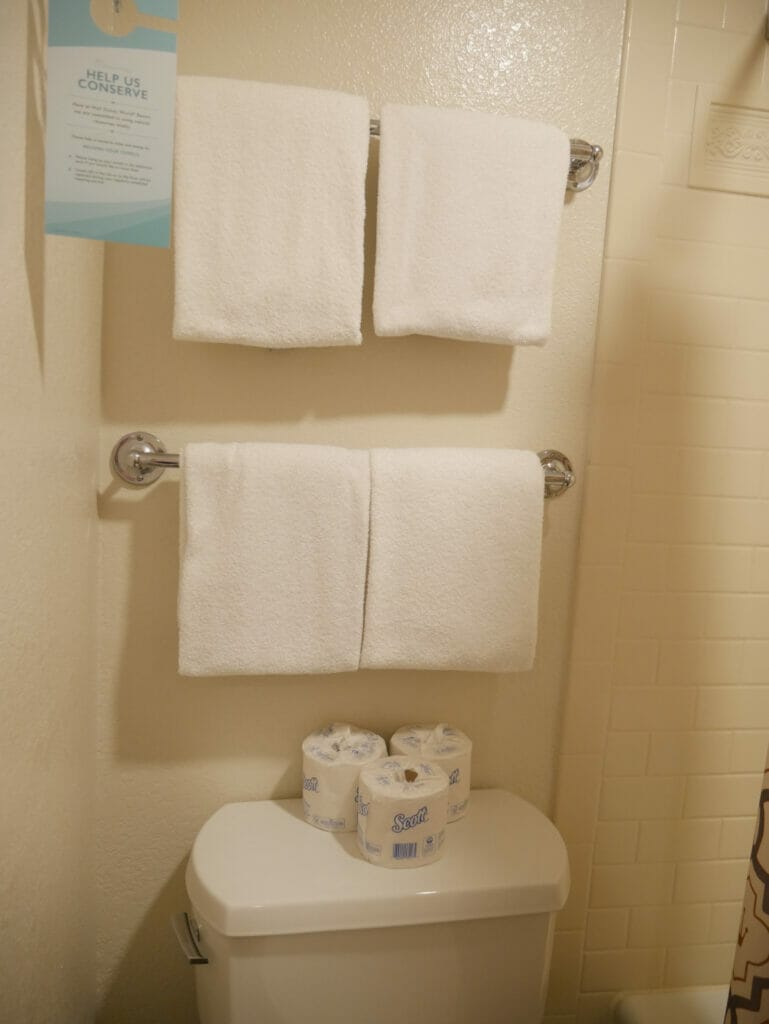 You've got a makeup mirror, two large sinks, plenty of storage space underneath the sink and another storage area off to the side of the bathroom.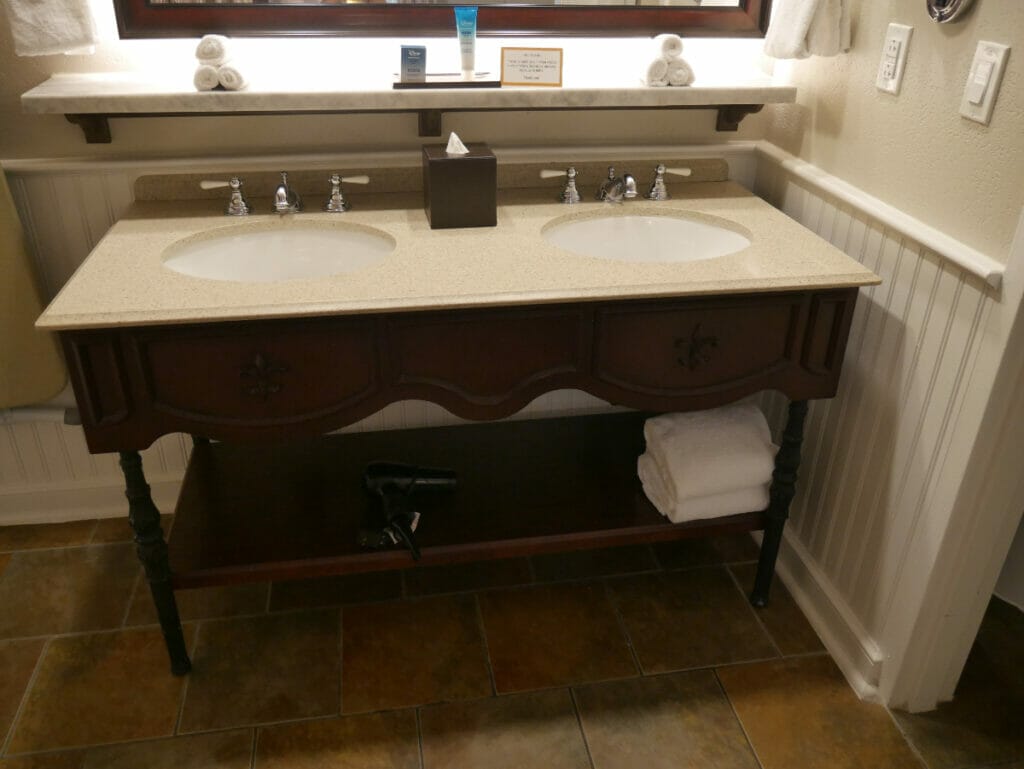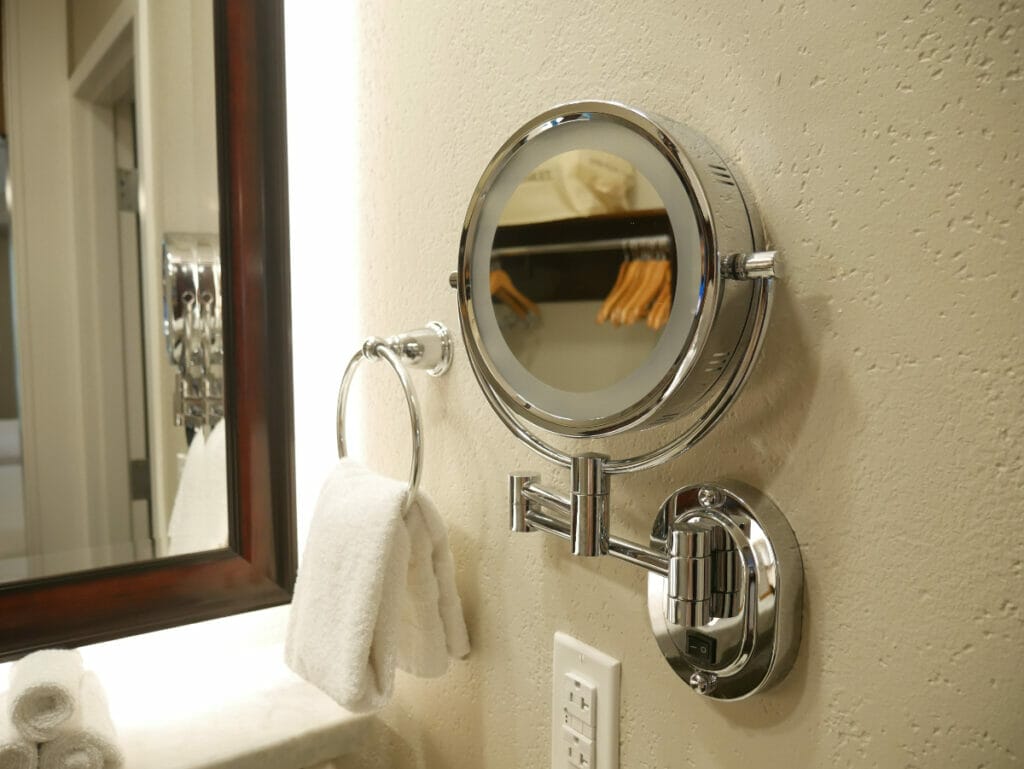 The toilet and shower is in a separate room with a door that closes so multiple people can get ready in the bathroom at once, and there's a curtain type covering that can then block the rest of the bathroom off from the main room for privacy.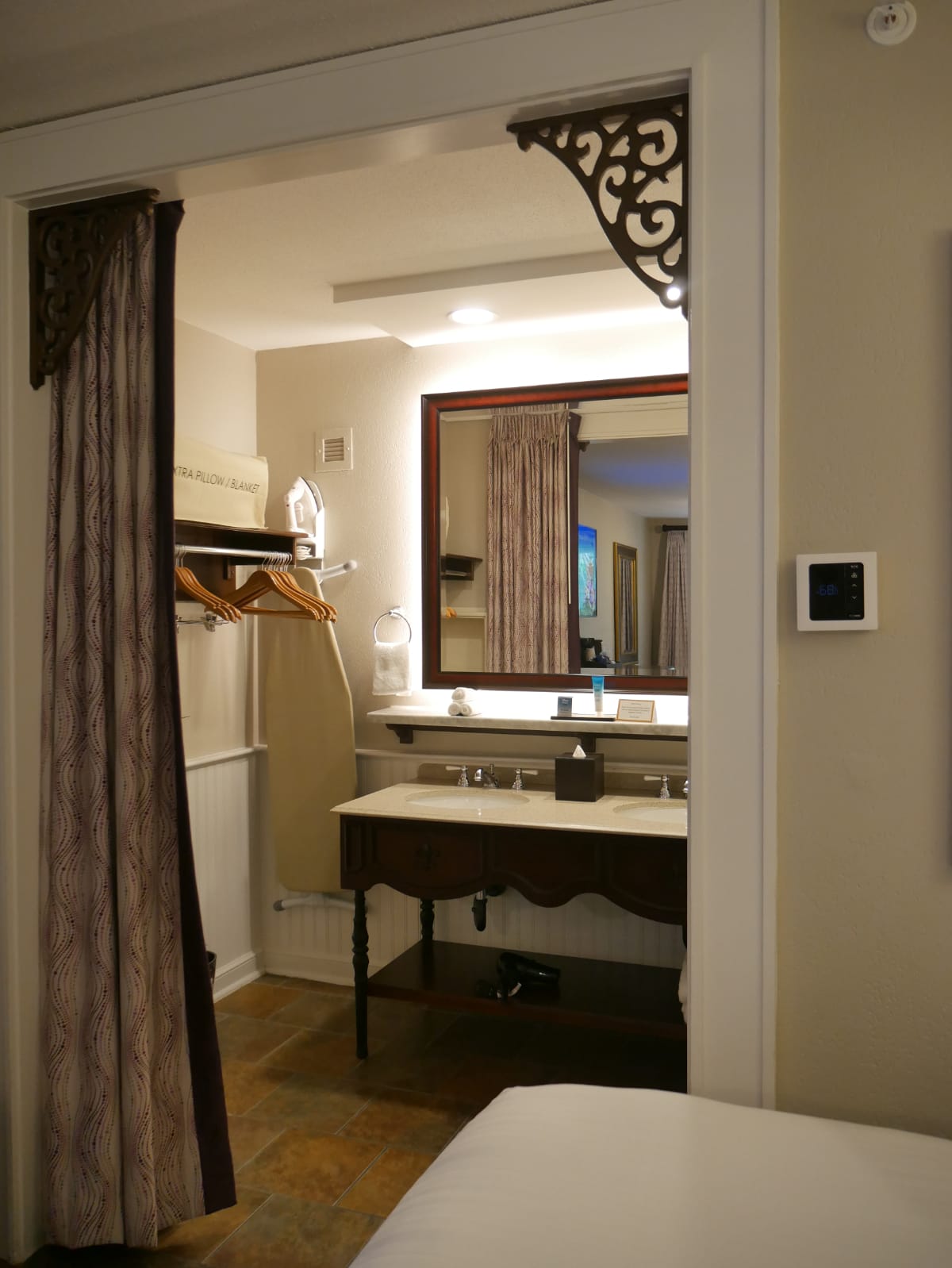 Port Orleans French Quarter Pool
French Quarter has one pool, the Doubloon Lagoon, which of course features a very colorful sea serpent with a slide and is Mardi Gras themed (don't forget to see if you can spot King Neptune!).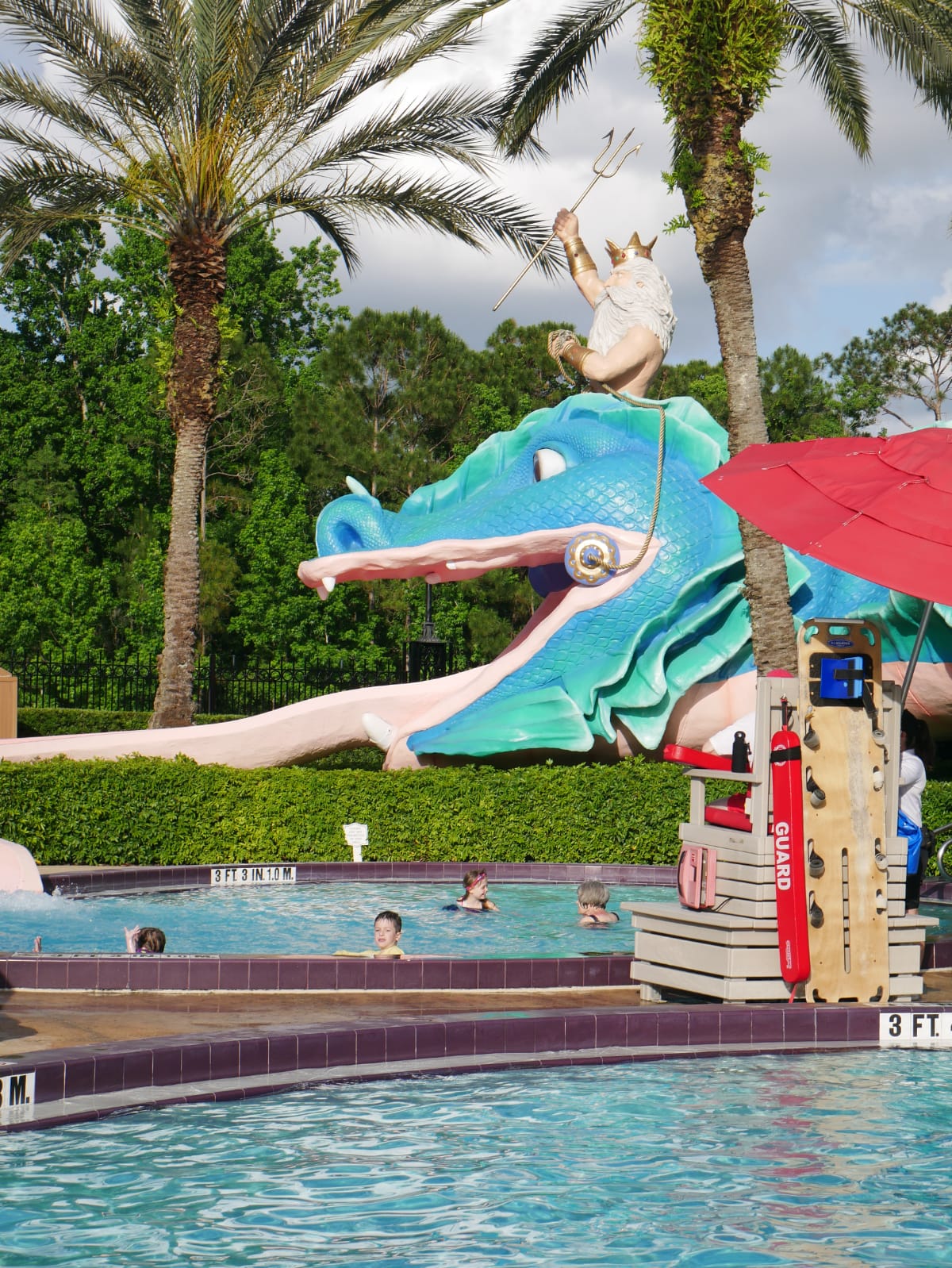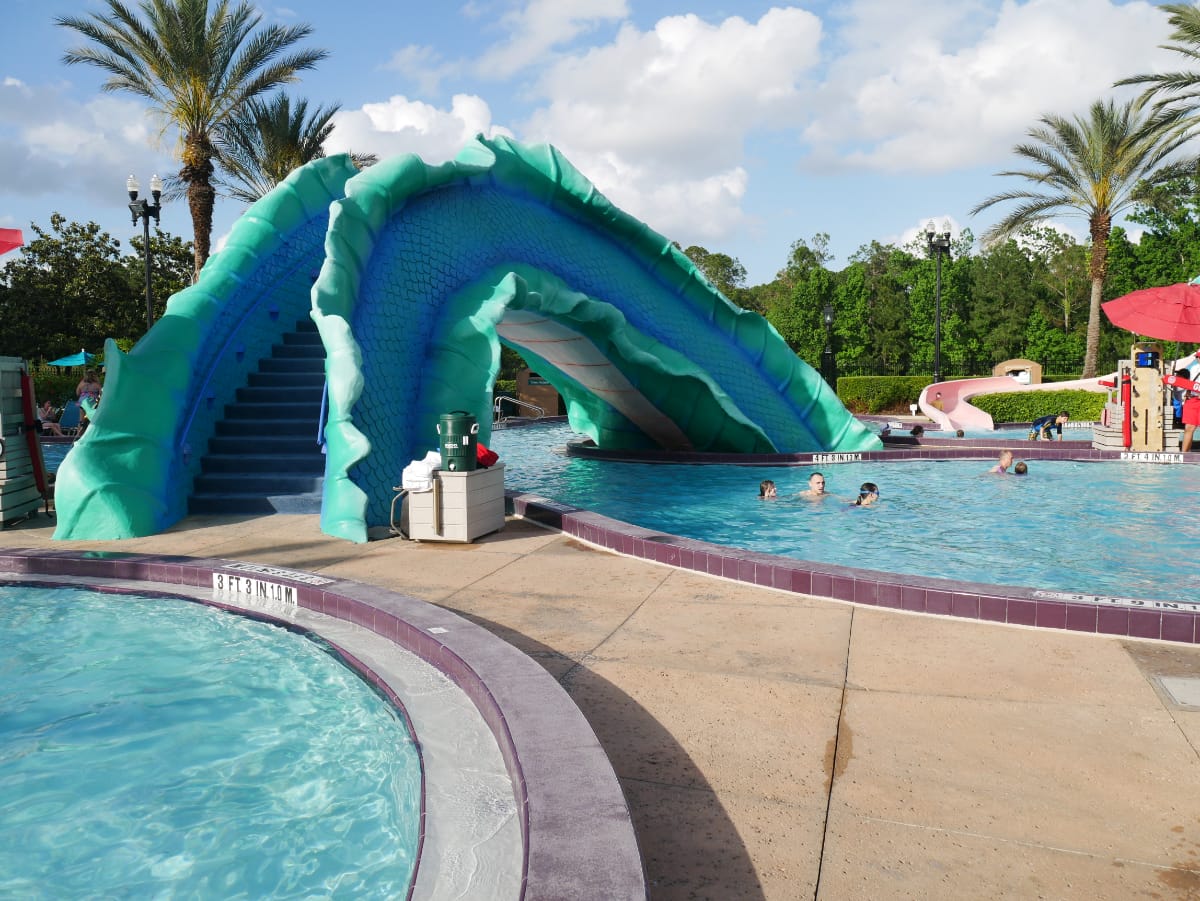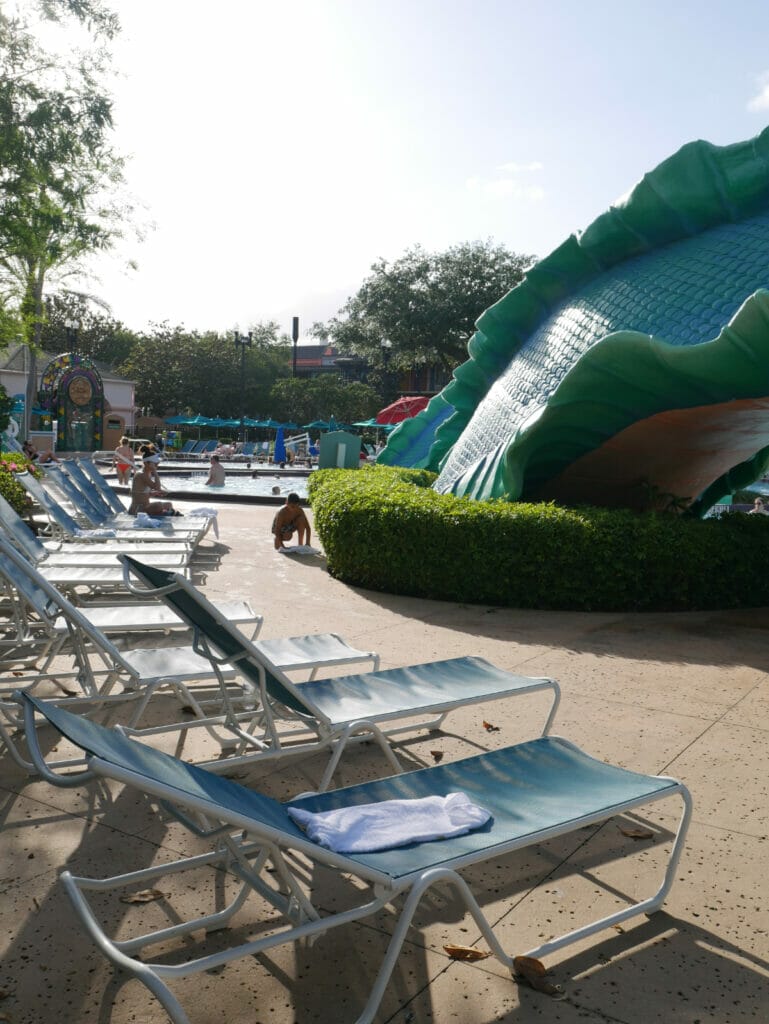 There's also a kiddie play area, as well as a hot tub, plenty of fun theming, and the Mardi Grogs pool bar.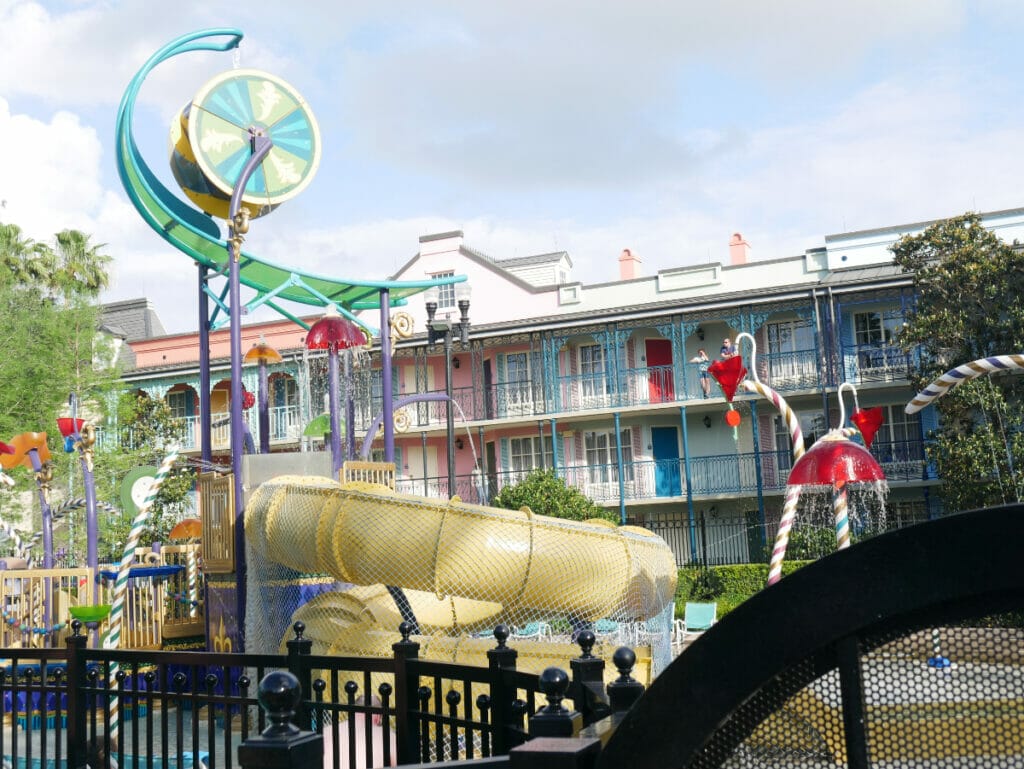 As far as Disney pools go, it's one of the best for theming, and the water slide is great for smaller children (though not quite as thrilling as the slides found at the Deluxe resorts).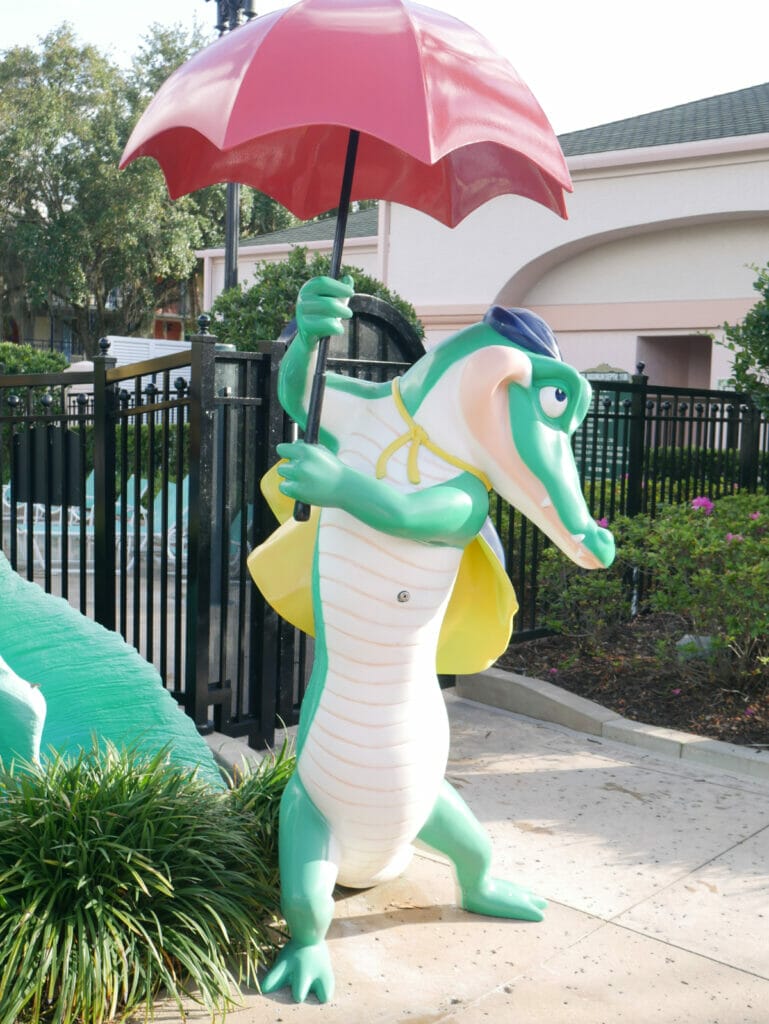 Port Orleans French Quarter Food
Port Orleans French Quarter does not have a table service restaurant, but it does have a large food court with all of your favorite options like pizza, chicken, flatbreads, hamburgers, and more. It's not one of the better or worse food courts on Disney property – it serves its purpose and you won't leave feeling elated or disappointed.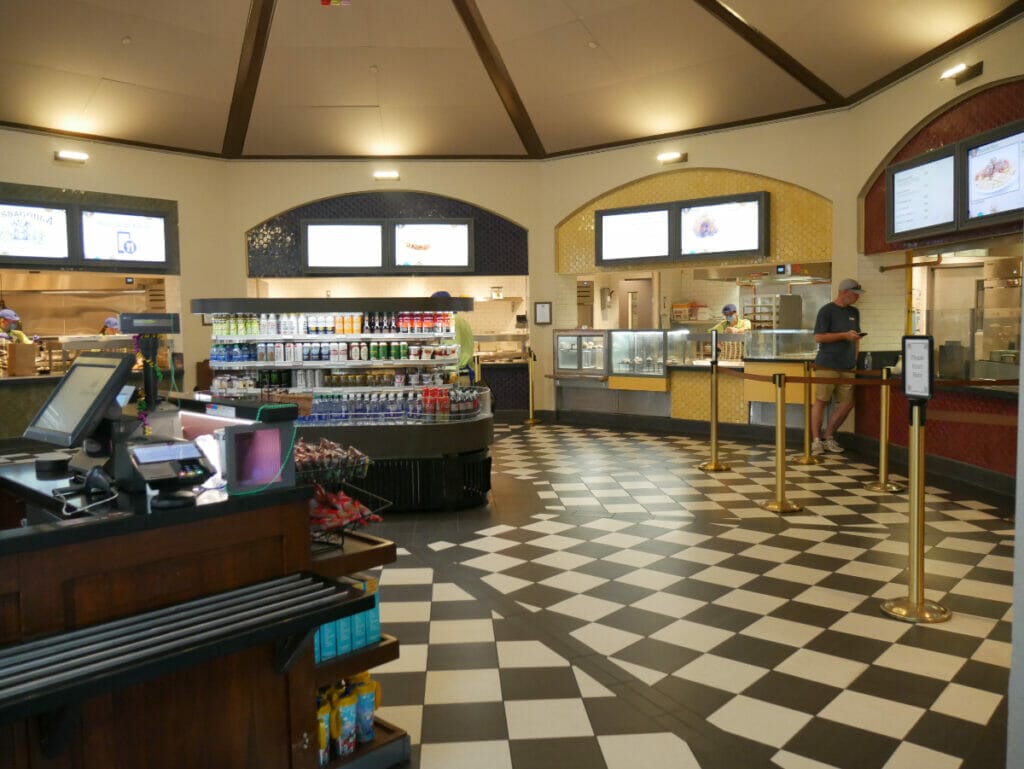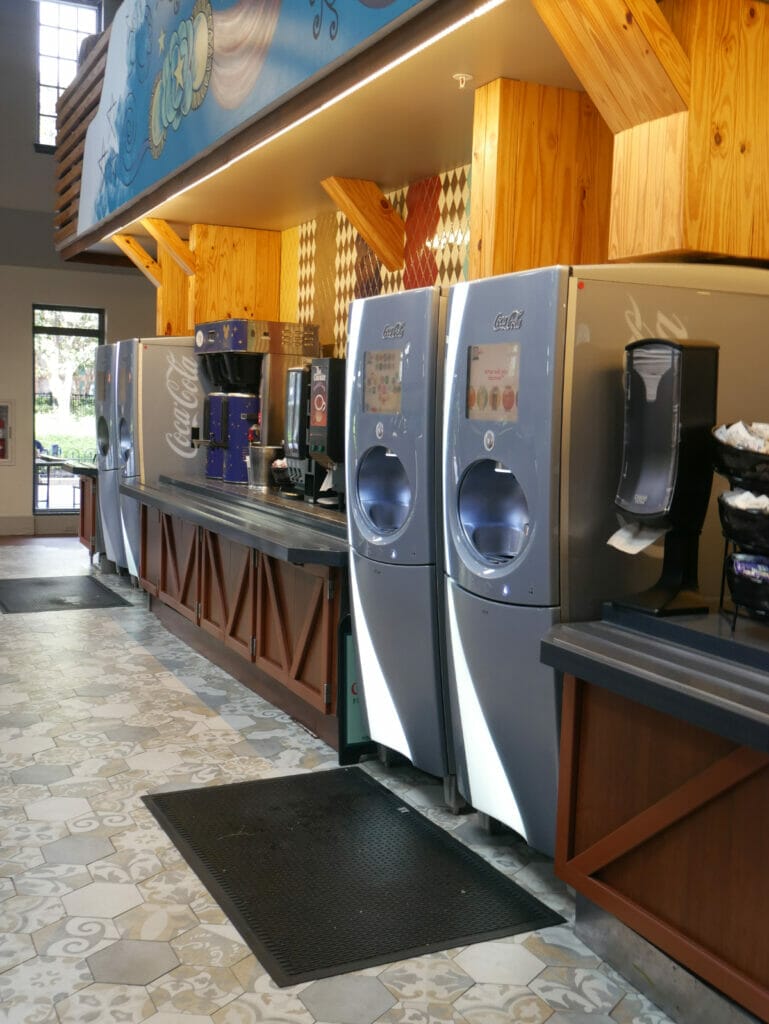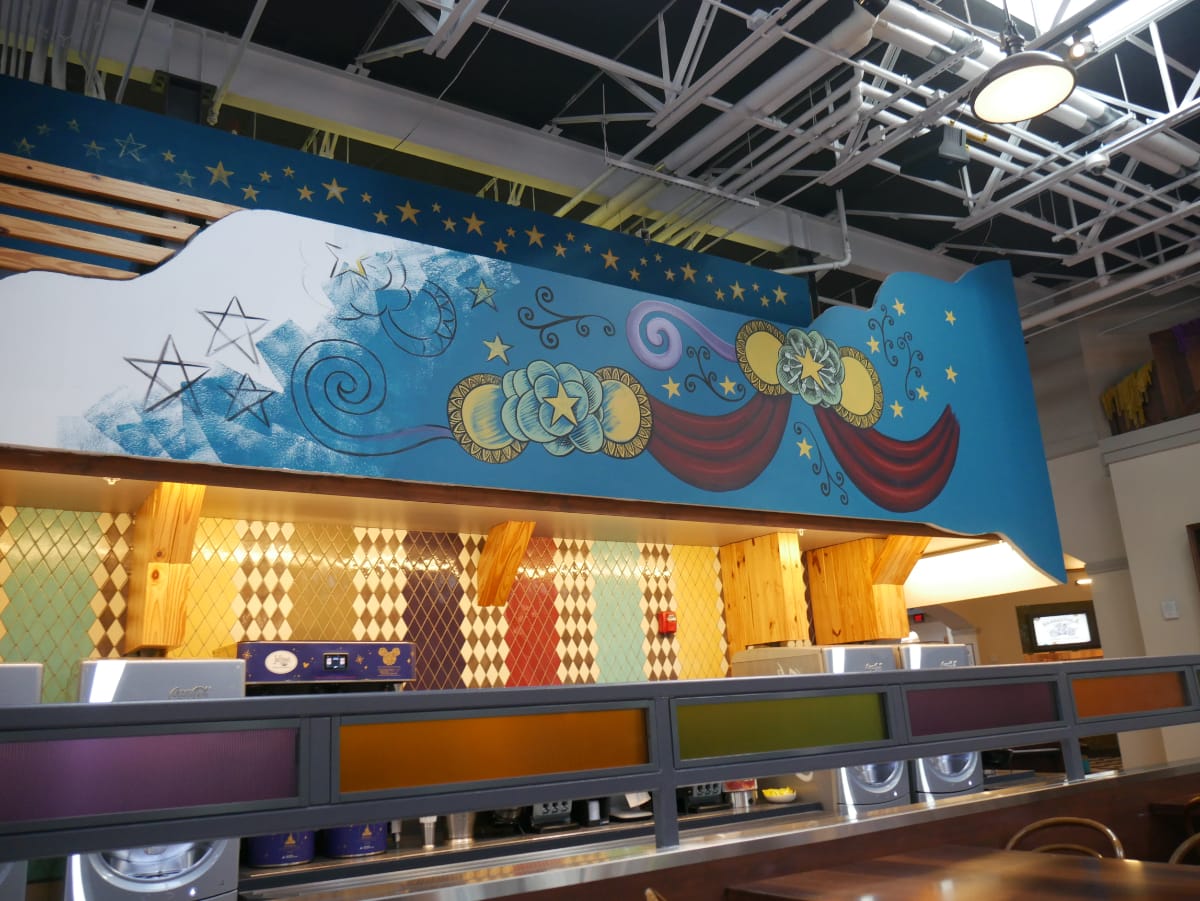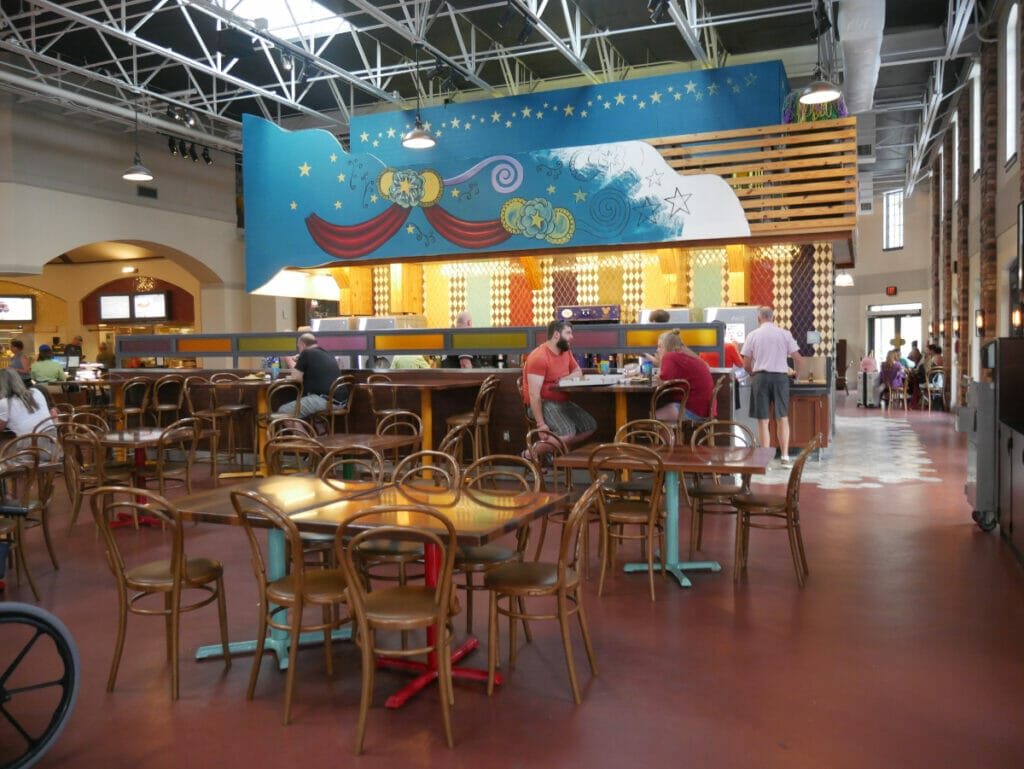 However, the real draw to Port Orleans French Quarter for many is the beignets!
You can get them from Scat Cats Club, just off to the side in the lobby, which has a seating area for you to enjoy your snack.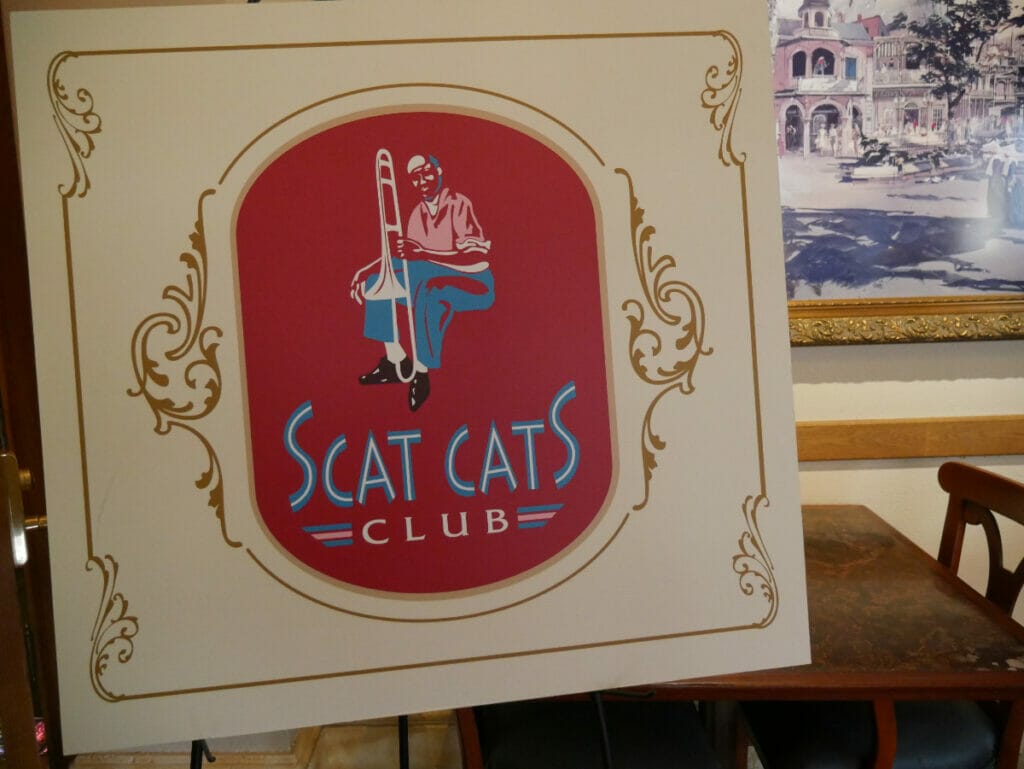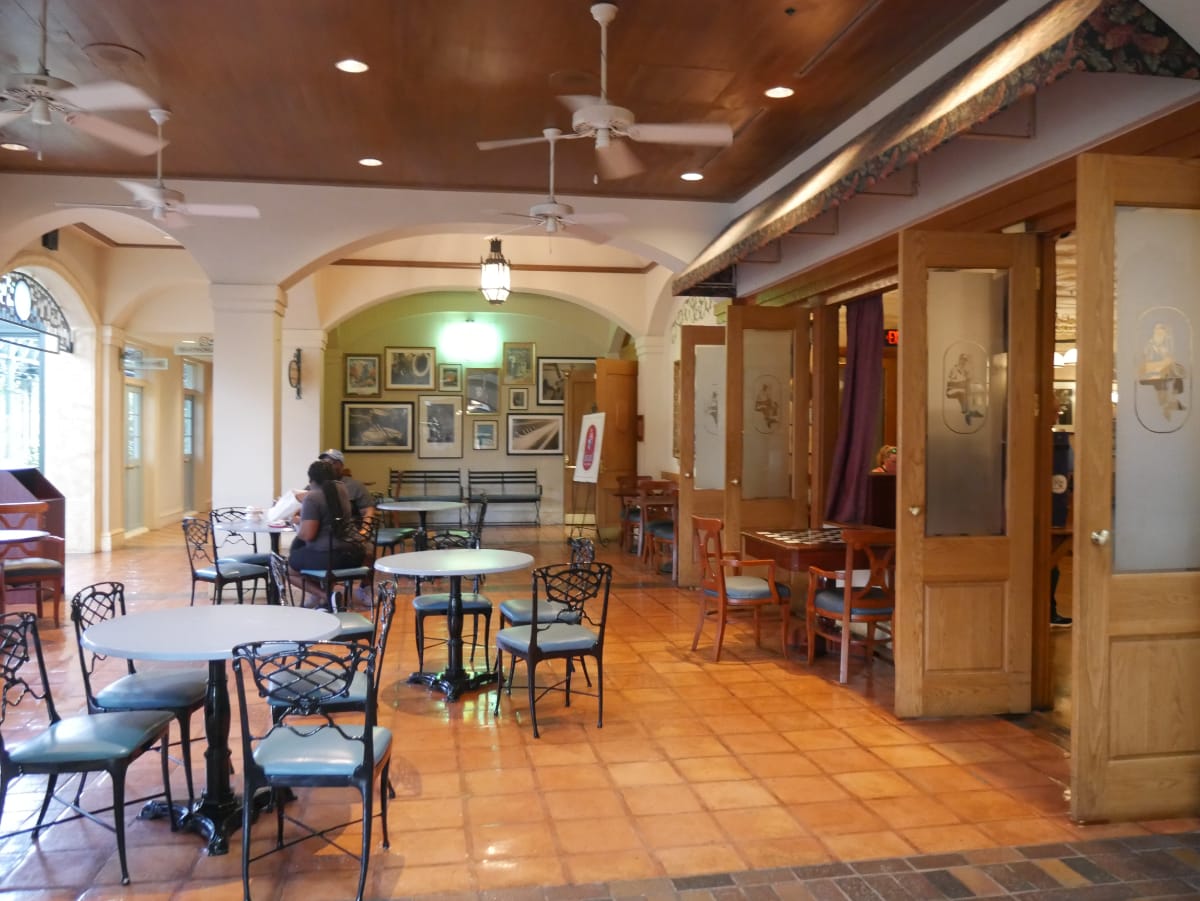 Port Orleans French Quarter Activities and Amenities
Port Orleans French Quarter offers plenty of daily activities, from poolside competitions to arts and crafts.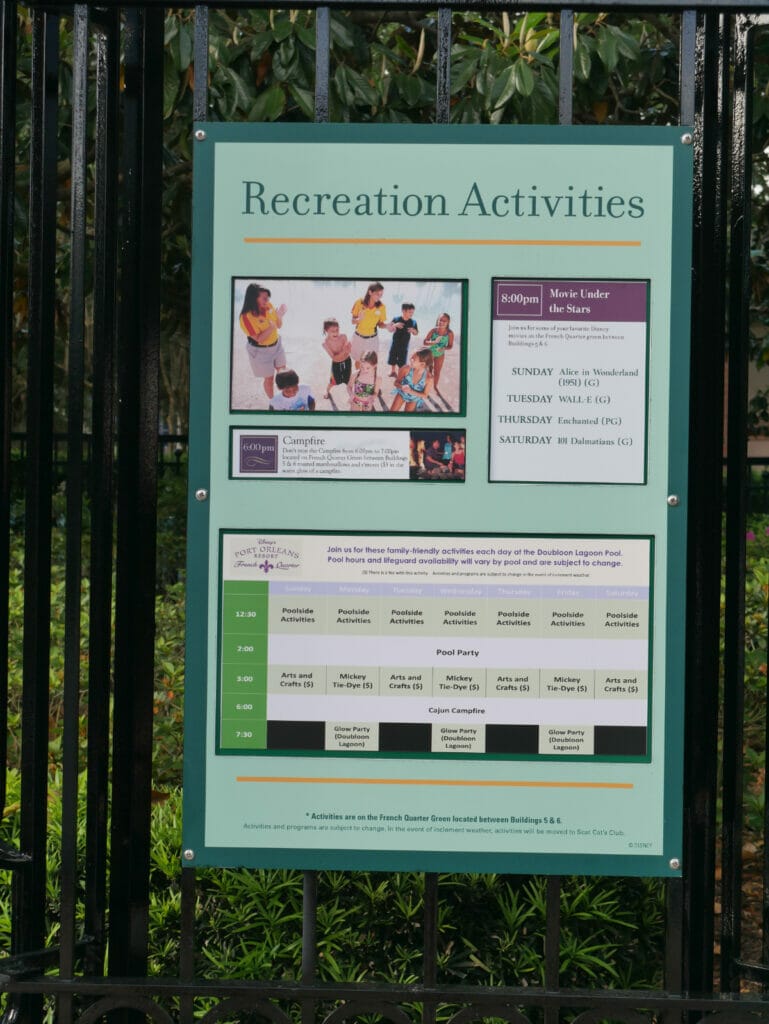 They also do regularly "movie under the stars" events, where you can sit back and watch a Disney movie after the parks close for the day.
And of course, there's the gift shop, arcade, jogging and recreational paths, and a playground.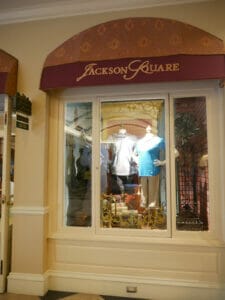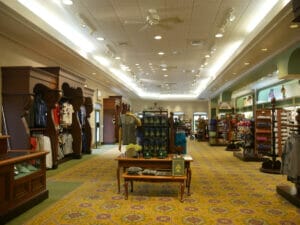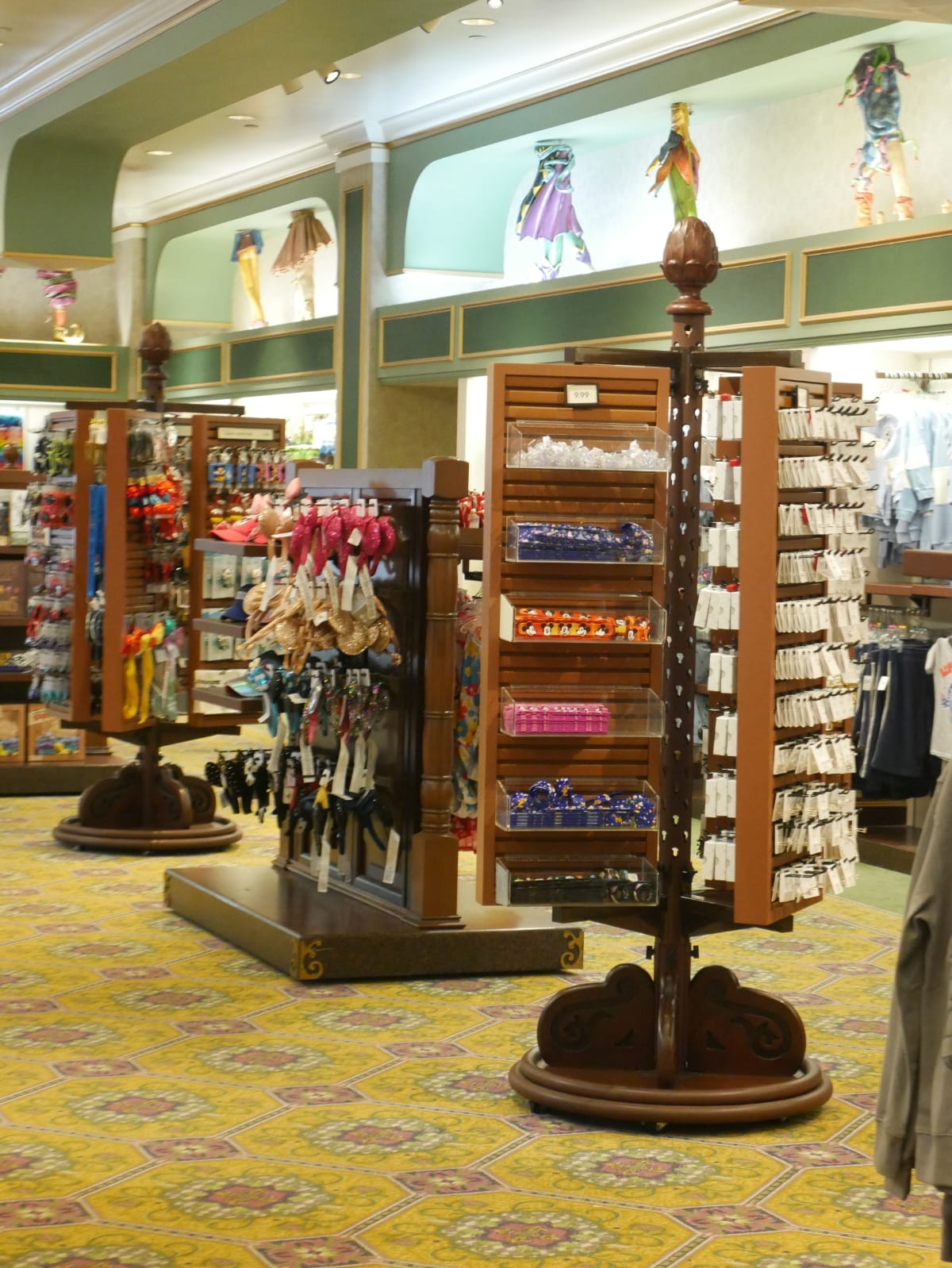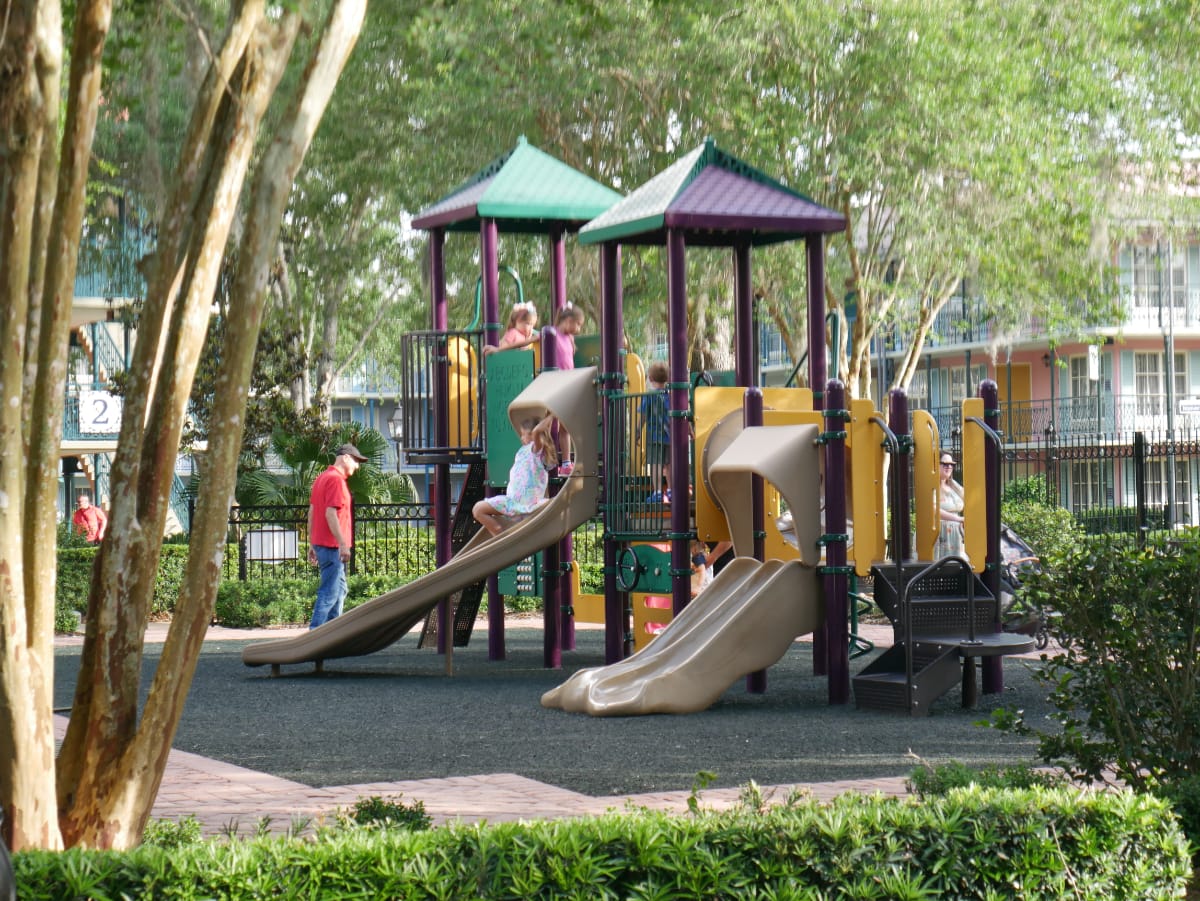 You can also go and use the amenities at Port Orleans Riverside, which is just a walk away and has a larger arcade and its own activities including surrey bike rental.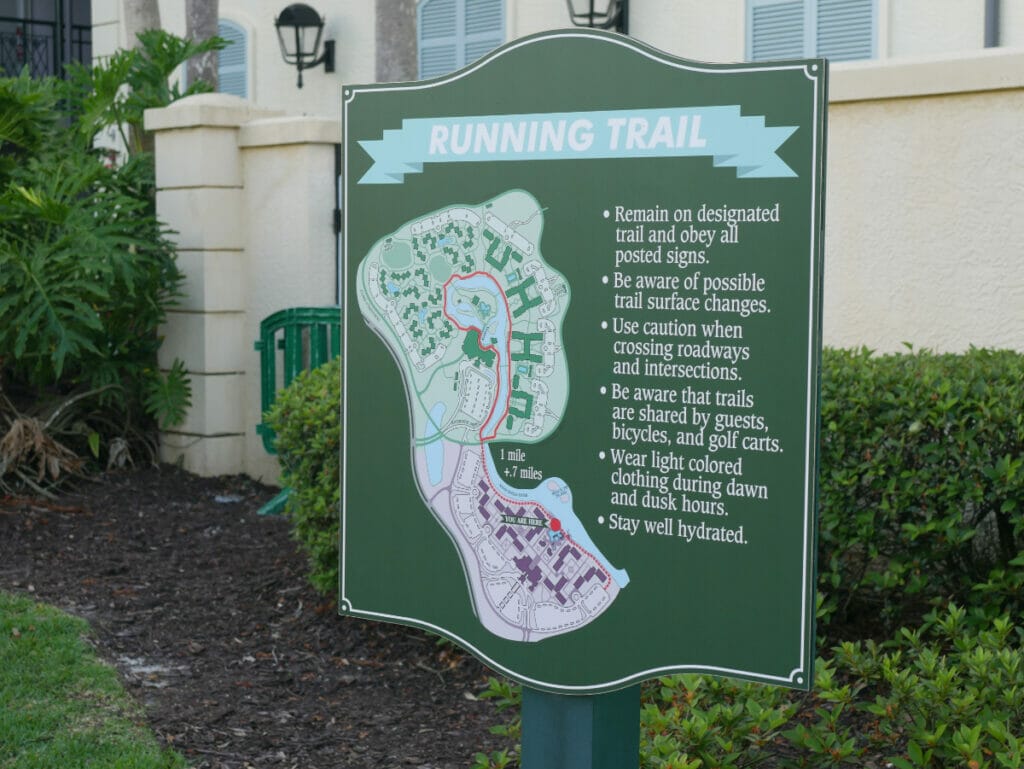 There's also jazz music at Scat Cat's Club!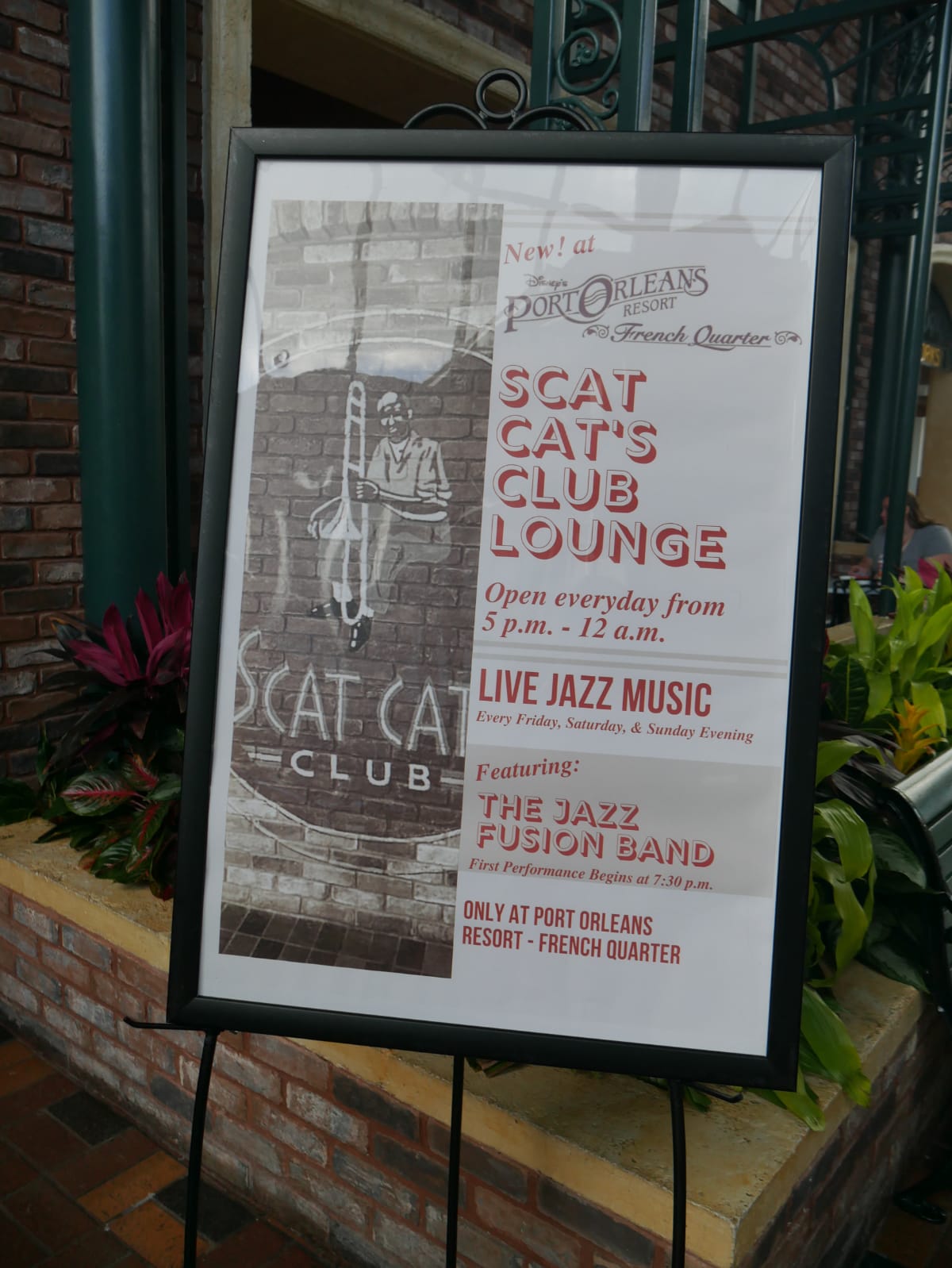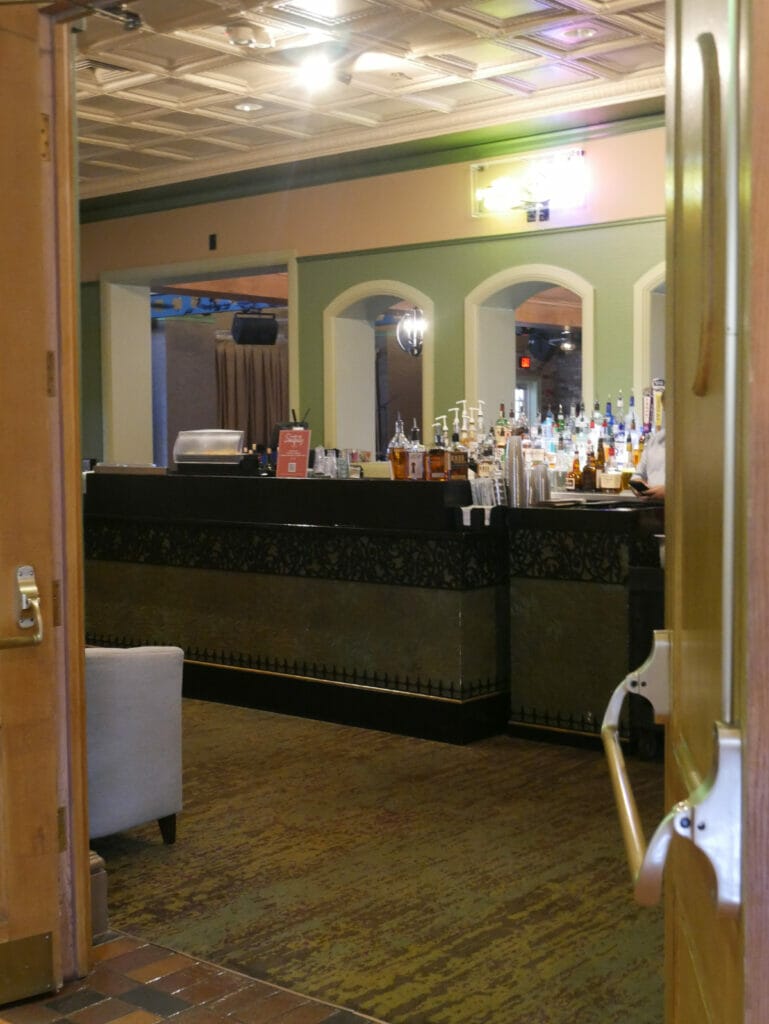 Port Orleans French Quarter Boat to Disney Springs
Like Riverside, Port Orleans French Quarter has a boat that goes to Disney Springs.
It only takes about 15 minutes from French Quarter to get to the Disney Springs boat ramp, and the boat schedule usually runs from late morning until late in the evening (the captains will have the closing hours for you so you make sure you get back to your resort okay).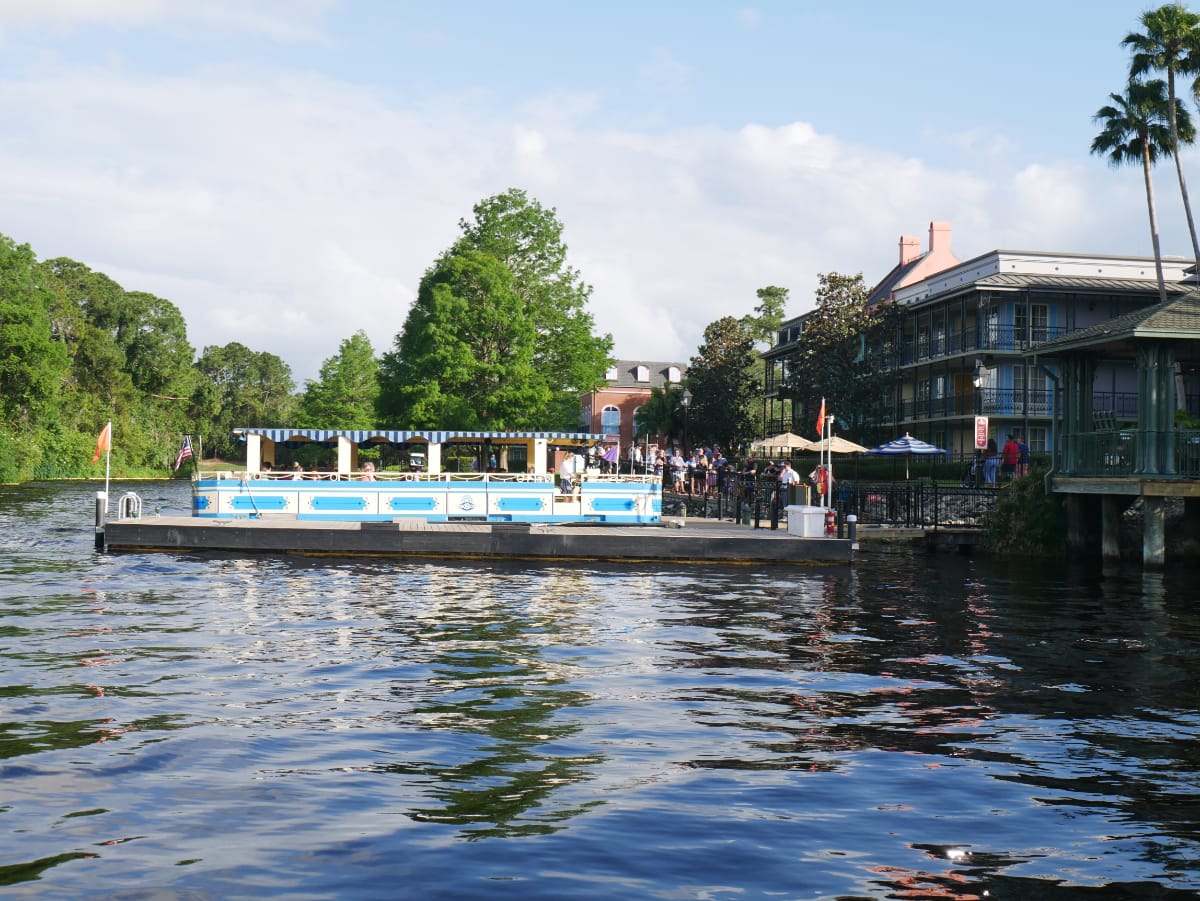 It's a nice, scenic ride through the Sassagoula River and is included in the price of your stay.
French Quarter is the second stop on the way to Disney Springs, as the boats come from Riverside, and the first stop coming "home."
Even if you're not planning on hanging out at Disney Springs, this is a nice way to spend some downtime at Disney and give everyone a breather.
Port Orleans French Quarter Transportation
Aside from the boats to Disney Springs, Port Orleans French Quarter is served by Disney buses to all theme parks and water parks.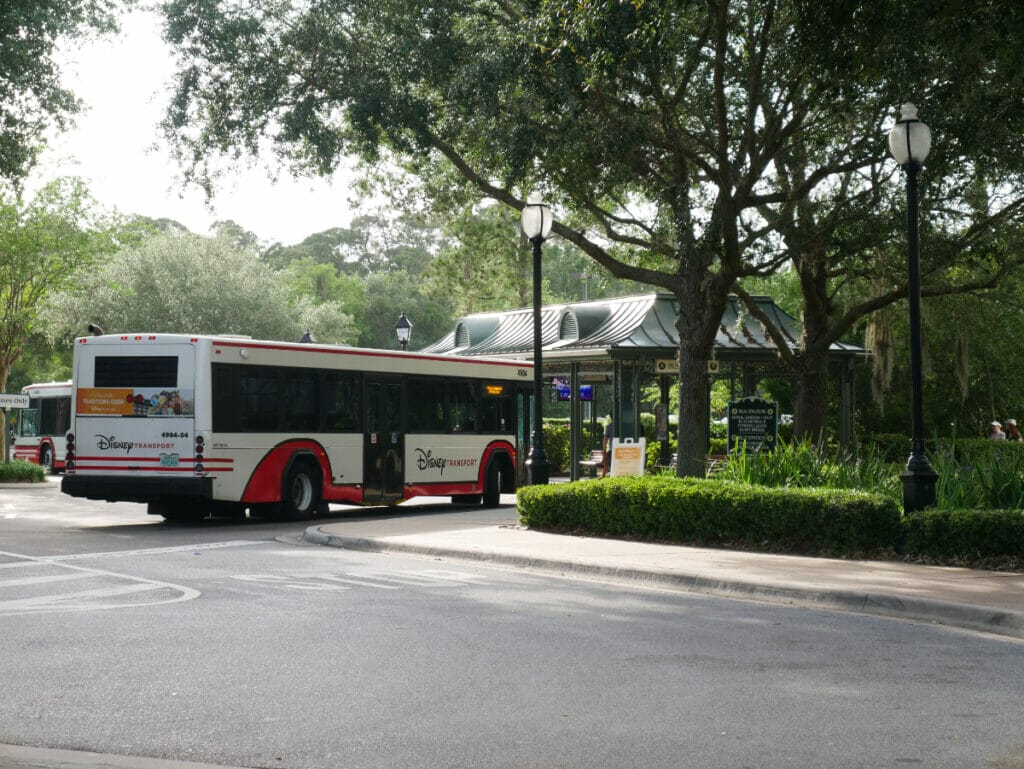 The buses come regularly and will get you to the parks in the air-conditioning, with the transfer times depending on which park you're going to.
There is no additional transportation, like monorail, Skyliner, walking, etc, to the parks.
Interested in staying at another Disney resort? Check out our other reviews here!
Get the All-American Travel Secrets!
Don't miss out on America's hidden gems!