Saving money at Disney World is one of the top priorities of many families who don't want to have to remortgage their house to be able to soar the skies with Dumbo and take a trip with some playful ghosts on the Haunted Mansion.
Despite my undying love of Disney World that will never die and only grows bigger, I do acknowledge that Disney World can be expensive, and visiting Disney World on a budget is a very real concern for many people.
I grew up just about 40 minutes from the theme parks, which meant that we also did everything we could to save money and still go often.
We weren't splurging on the "once in a lifetime" Disney vacation – we were staying at the value resorts if we even stayed over and eating peanut butter sandwiches for lunch every day that we brought from home.
Want insider Disney tips from an expert?
Join 4,000 others in weekly guides to Disney's hidden secrets, gems, and money-saving tips!
Pssst – this printable Disney scavenger hunt is amazing
Since you're already looking up Disney guides, I just wanted to make sure you knew about this printable Disney World scavenger hunt created by a lifelong Orlando native and Disney World fan.
There are over 60 challenges with a full answer key and both Family and Grown Up versions and a bonus Disney Springs hunt for your non-park day!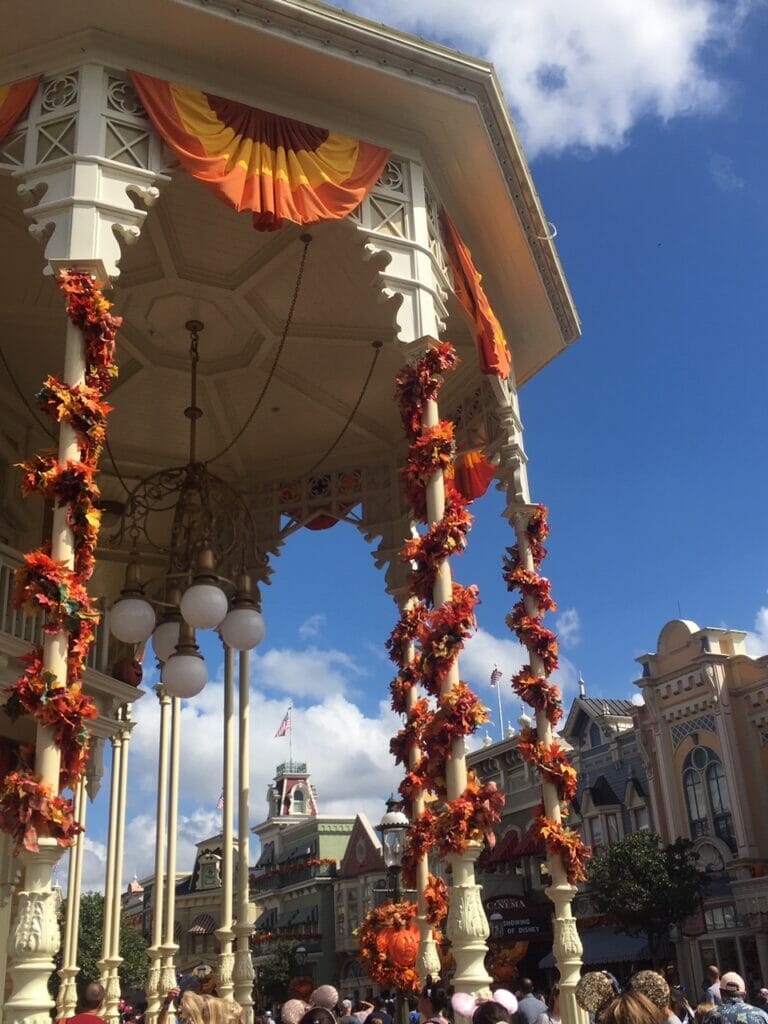 To help Disney goers save money at Disney World, I've put together the ultimate guide to how to save money on a Disney vacation, from the food to the hotels to the souvenirs to the random things you just didn't think about.
I'll teach you how to do Walt Disney World cheap, the secrets to saving money at Disney World, and more.
1. Get Free Water Anywhere You Go
One of the top ways to save money at Walt Disney World has to do with the stuff you're supposed to be drinking constantly to avoid getting heat stroke or dehydrated in the intense Florida sun.
While out-of-towners might complain about the taste of Florida tap water, if you're on a major budget, you should know that you can get free ice cold tap water from any quick service location in the parks that serve drinks.
It's 100% free, no payment required, just rock up and ask for a cup of water and boom, you're refueled without spending an exhorbinant amount of money on water bottles.
If you're really having trouble with the taste (Florida was built on a swamp, what can I say?) then bring some sort of water flavoring and reusable water bottles with you to help your taste buds out.
It'll be cheaper than buying new bottles every time you need one, trust me.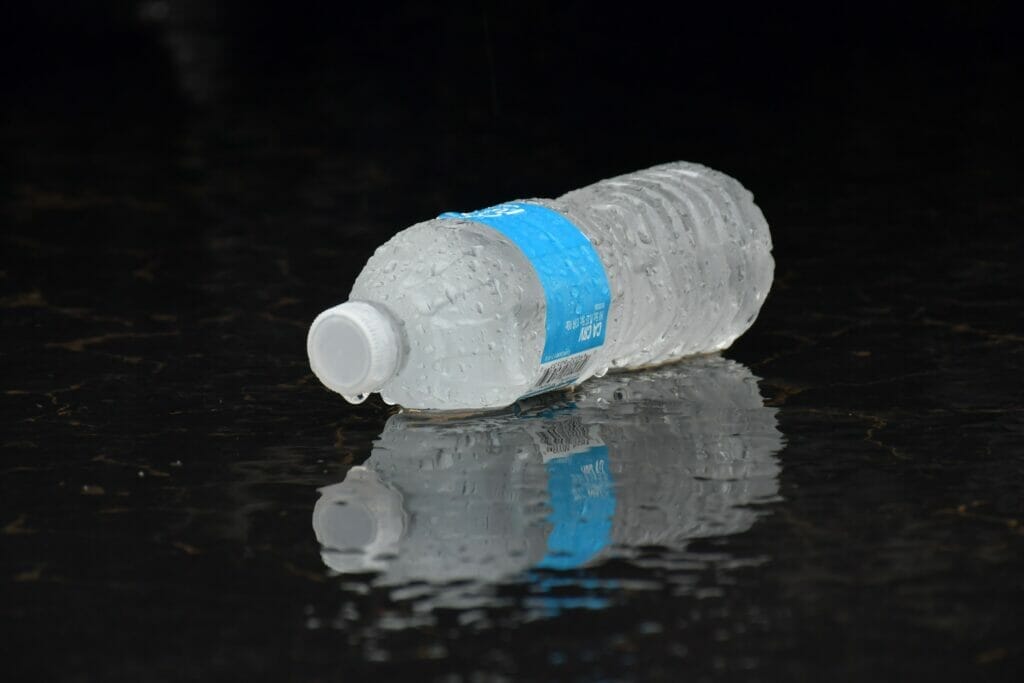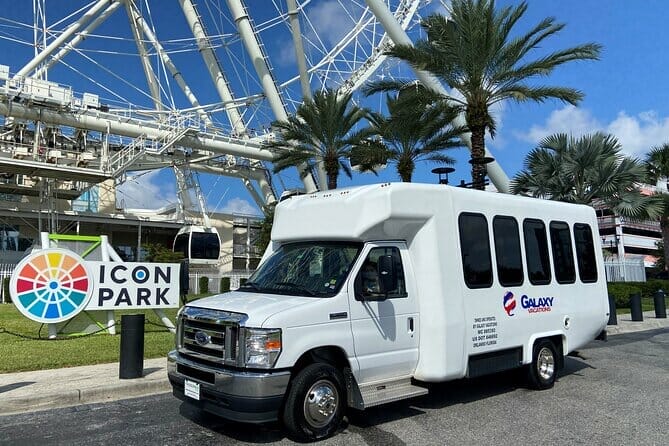 🚌Not renting a car in Orlando?
My favorite shuttle to get from the Orlando airport directly to Disney World is this one with a ⭐⭐⭐⭐⭐ rating.
2. Don't always opt for the Dining Plan
The Disney Dining Plan is a fantastic option for people who want to pay their dining costs ahead of time and not have to worry about it while they're at the parks.
They are not a fantastic option, however, for doing Disney World on the cheap.
See, people have done loads of important research (read: stuffing themselves at buffets) to get the most bang for your buck on the Dining Plan, and the overall consensus is that unless you eat basically every meal at a character meal and have lots of hungry teenagers with you, the average family will break even or lose money on the Dining Plan compared to paying out of pocket.
Many people also find themselves having to use up loads of extra snack credits before they come home buying things that they wouldn't have spent money on.
The best way to decide if the Disney Dining Plan is going to help you save money at Walt Disney World is to use a Disney Dining Plan calculator.
3. Enjoy Your Quick Service
There is such an emphasis on table service restaurants at Walt Disney World due to these being the most marketable and some having the characters at them, but I survived an entire Disney World childhood and I don't think I went to a table service restaurant more than once.
Instead, we ate at quick service restaurants, which are usually much cheaper and still have some great food options.
And just because they're quick service doesn't mean you don't get a table – you just have to collect your food yourself and then go find one.
Some amazing quick service places to try include Sautali Canteen in Pandora, Animal Kingdom and Peco's Bills in the Magic Kingdom, as well as Woody's Lunchbox in Hollywood Studios.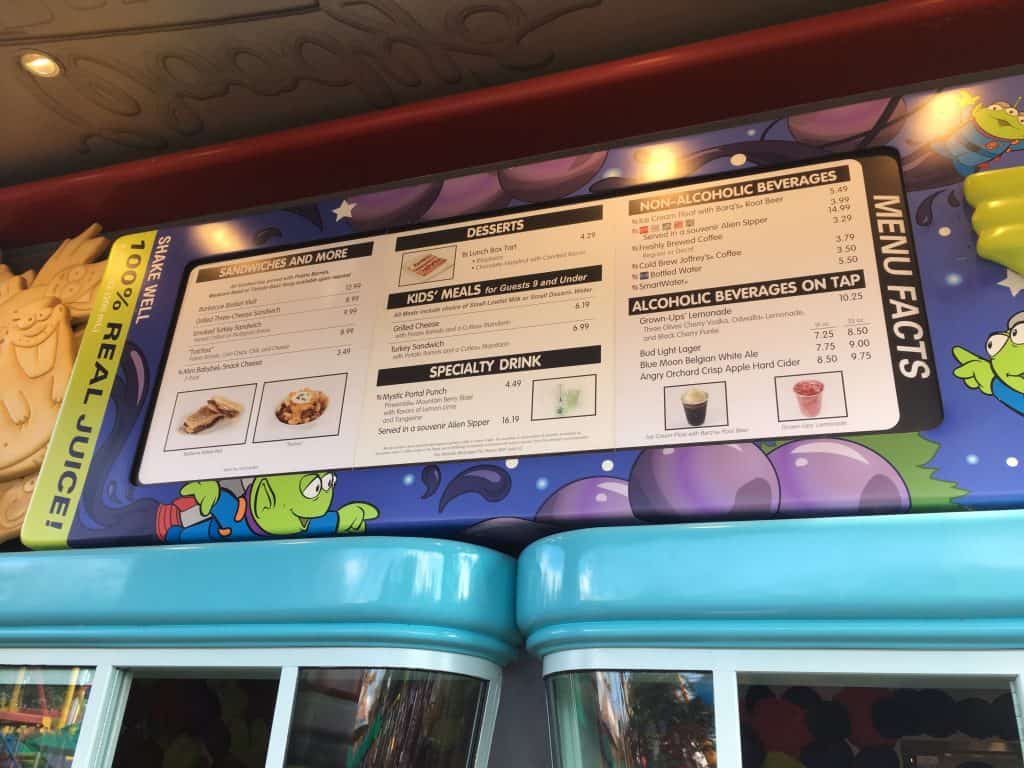 In EPCOT they're almost everywhere, and they often have separate food carts as well, and Hollywood Studios has their fair share of food pit stops.
At the end of the day, it's not going to be fine dining, but if you just want something fast, tasty, and easy, there are plenty of options.
And you can get a meal for around $9 to $14 instead of the prices double, triple, and quadruple that at other places.
4. Bring Your Own Autograph Books
Spoiler alert, parents!
You don't need to buy your kids an autograph book in the parks for them to have a magical Disney experience.
In fact, you don't have to buy one at all.
Make a project to make your own out of some paper and twine or get small notebooks from a craft store for the kids to decorate.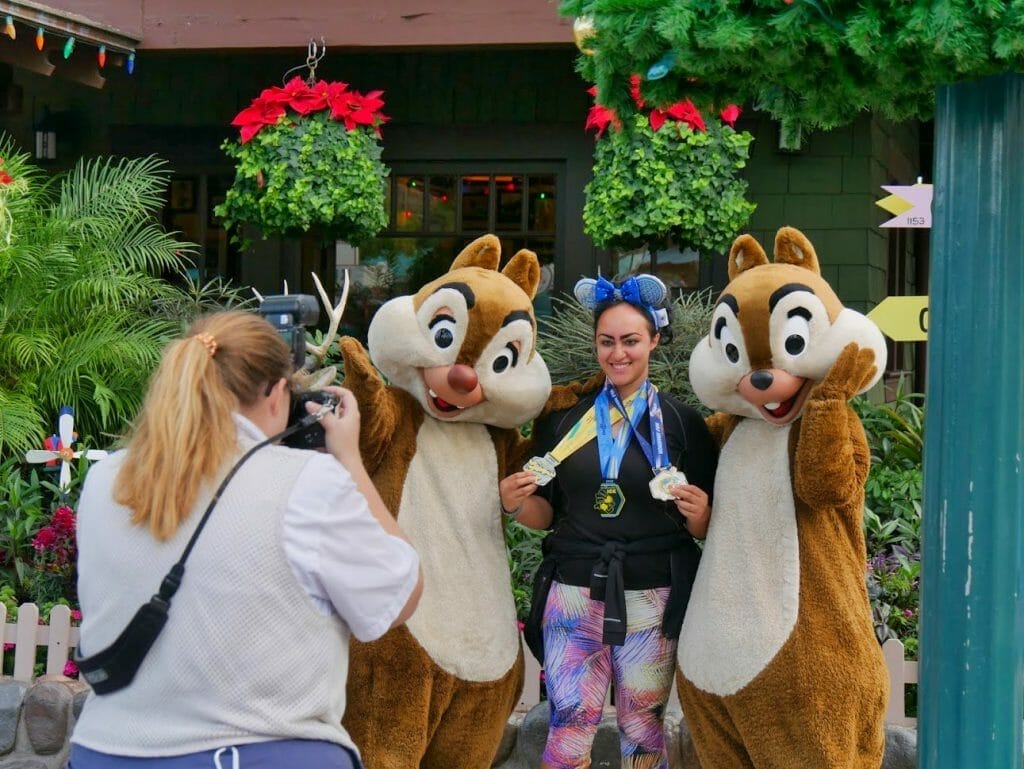 It'll save a bit of cash, and they'll have personalized ones that no one else IN THE WORLD has.
How's that for some Disney magic?
You can also buy ones ahead of time here for cheaper than in the parks.
5. Bring Your Own Souvenirs for the Kids
Another top tip, parents!
Kids are going to ask for you to buy them things while you're at Disney World.
It's part of the deal.
Literally, you signed up to go on the Magic Carpet Ride of Consumerism and tell your kids "no" every 10 seconds.
I know this is not on the brochures, but it's true.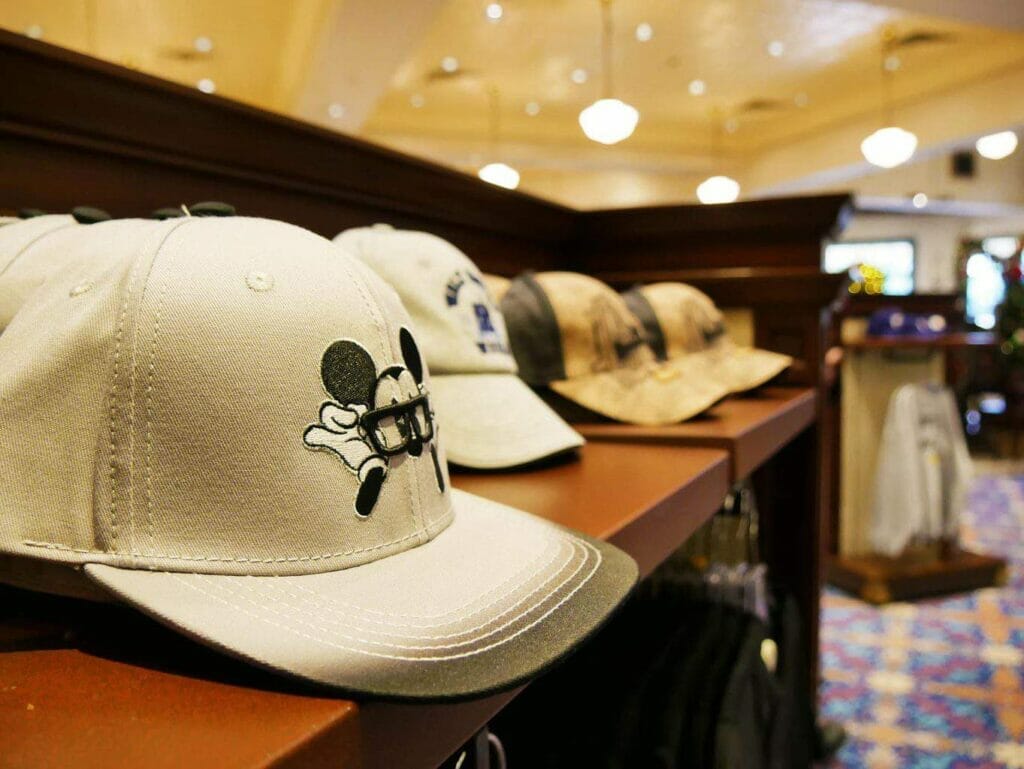 There are a couple ways to handle this, one being to give your kids a set amount of money to spend and then once they spend it, it's gone.
If they know the ground rules ahead of time, the chances they'll ask for more is less (I mean, they probably still will, but at least you tried).
The other tip is that you can gift Disney souveneirs much much much cheaper online ahead of time and bring them to Disney World with you.
Then, each day, you can surprise your child with something right after you wake up, thus giving them something new to focus on and keeping them out of the shops.
Overall, doing it this way means you'll spend a lot less money than on a like $90 princess dress.
6. Get a Tables in Wonderland Card
If you do want to eat out at table serivce restaurants and are either a Florida Resident, an annual passholder, or a DVC member, consider a Tables in Wonderland card.
This dining discount card gets you 10-20% off at most dining locations, which is a significant amount if you're eating out often.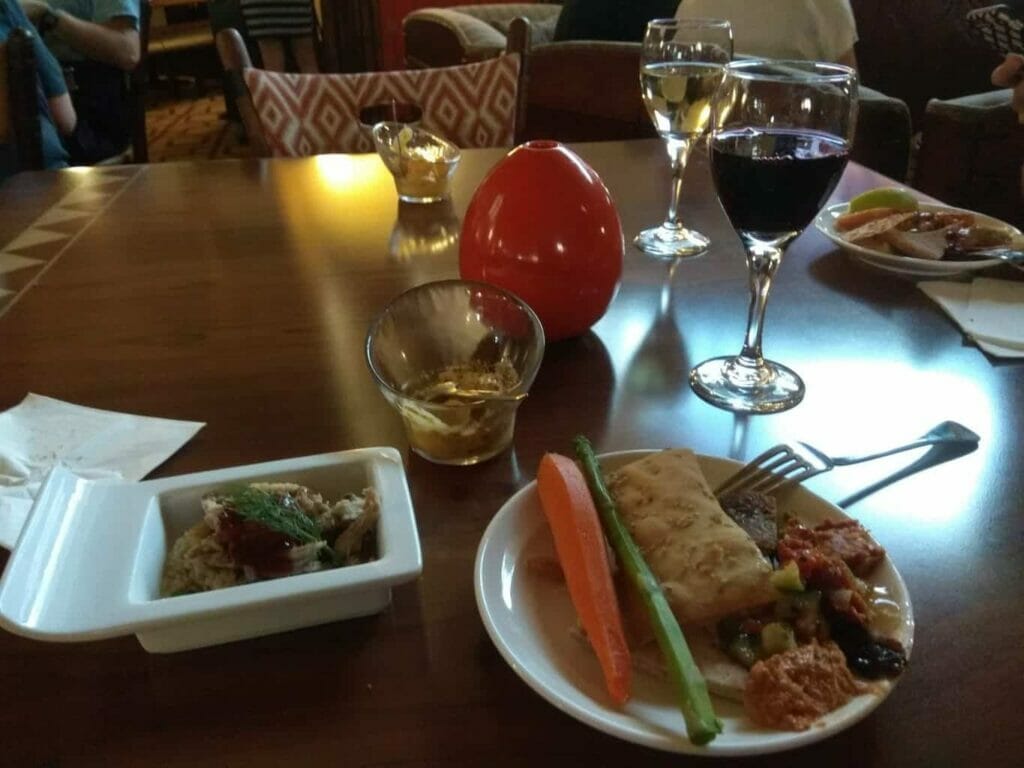 7. Seek Out Lesser Known Sit-Down Restaurants
The top Disney restaurants like Cinderella's Royal Table, Ohana, and Crystal Palace are going to be expensive because they're in such high demand.
BUT!
You can keep the costs WAY down if you seek out lesser known and visited restaurants that are just as delicious as some of the more talked about ones.
For instance, everyone can get breakfast skillets at Whispering Canyon Cafe (all you can eat) for $18.99 per person, as opposed to $40-50 breakfasts at other restaurants.
And what about Trail's End?
This buffet in the Fort Wilderness Campgrounds is a fantastic option for Southern cooking that will keep everyone satisfied for a much lower price than say, 1900 Park Fare.
There are also non-buffet restaurants within the resorts like Grand Floridian Cafe and Ale and Compass and at Disney Springs that don't command the sky high prices of some of the most popular restaurants.
Dining at Disney will never be cheap, but one of the best ways to save money at Disney is to not follow the crowd.
8. Go on a DVC Tour
If you've got a few hours to spare and would like a bit of extra Disney cash to spend on a splurge meal or other treat, sign up for a DVC tour.
You can read my post about what incentivies you get when going on the DVC tour, and if you do it at Saratoga Springs, it even includes a free continental breakfast or snacks and ice cream.
So, boom, there's one meal sorted.
9. Stay More Days
Okay, hear me out.
Sure, adding more days to your Disney tickets is going to add more money to the cost of your vacation, so not necessarily a secret to saving money at Disney World.
BUT, if you are considering going to other theme parks during your stay at Disney World, you should know that it's much cheaper to add on days to your Disney ticket than to buy separate park tickets for places like Universal Studios.
If you're really on a budget, the best option is often to spend more days at Disney and save the other theme parks for later trips.
Once you start going to 5, 6, 7 days, the cost to add days to each ticket is hardly anything compared to the $100+ per person you would need to spend to go to Universal for just one day.
10. Book a Family Suite with a Kitchenette
While family suites and villas do cost more at Walt Disney World, they can save you money in the long run depending on how many people you have in your room and your committment to not eating out and instead cooking food in the room.
Resorts like Art of Animation and All-Star Music have family suites with kitchenettes (microwave, small fridge, counter space), while the Deluxe resorts almost all have a villa option with a full kitchen.
We stayed in a Copper Creek Villa (check out my Copper Creek Villa Review) and had an incredible kitchen that we could have hosted a whole Thanksgiving dinner in.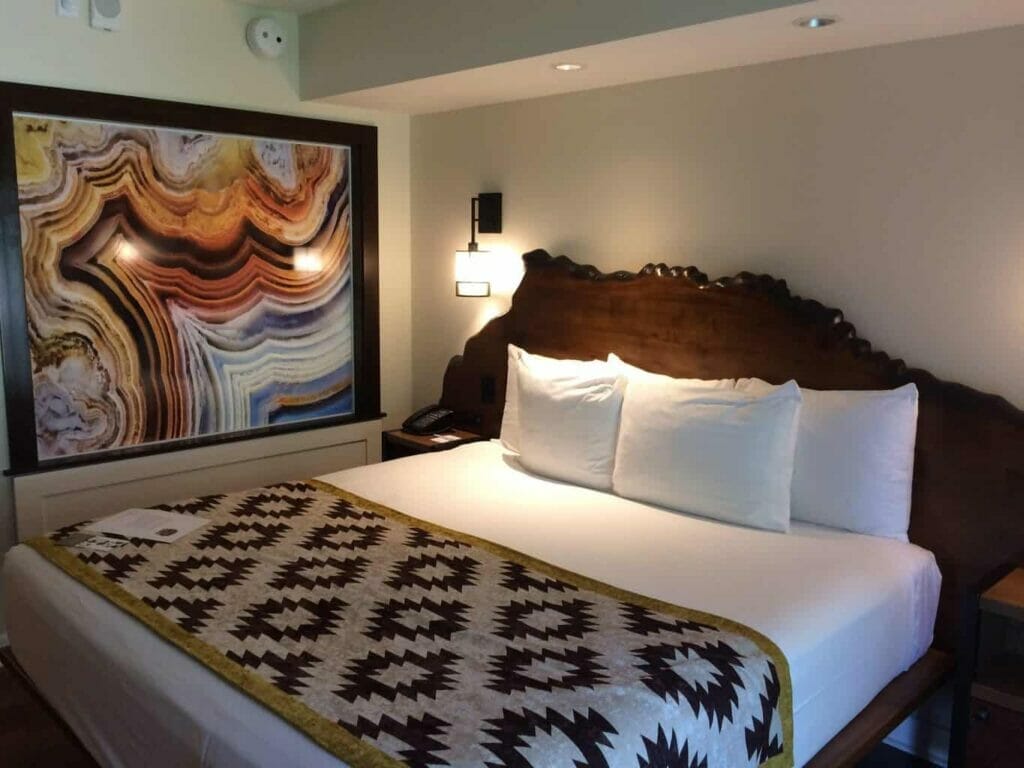 Yes, it was more expensive, but compared to dining out at every meal with 4-5 people, you may just save money or at least break even but have an incredible room to show for it.
11. Get Groceries Delivered to the Room
No matter where you're staying, you can get groceries delivered to your hotel by services like GardenGrocer.
This is way cheaper than buying grocery products on-site in the gift shops (seriously, do not do that, Bagel Bites were like $10).
It also means that you can buy fruits and some peanut butter sandwiches for breakfast and lunch and take care of a couple of meal times at a highly discounted cost compared to eating in the parks.
12. Look Out For Deals
So, here's a top tip for doing Disney World on a budget.
You can book hotel rooms up to 499 days in advance, but the discounts don't come out until about 6 months ahead of time at the earliest usually.
This means that you could have a room booked, and if you never check the website again, Disney won't automatically put you on the lower price.
This is because certain ROOMS at each hotel are given discounted status, and you have to book it or switch to the deal in time before the allocation runs out.
Always check back for deals as you progress through the Disney planning stages.
Always.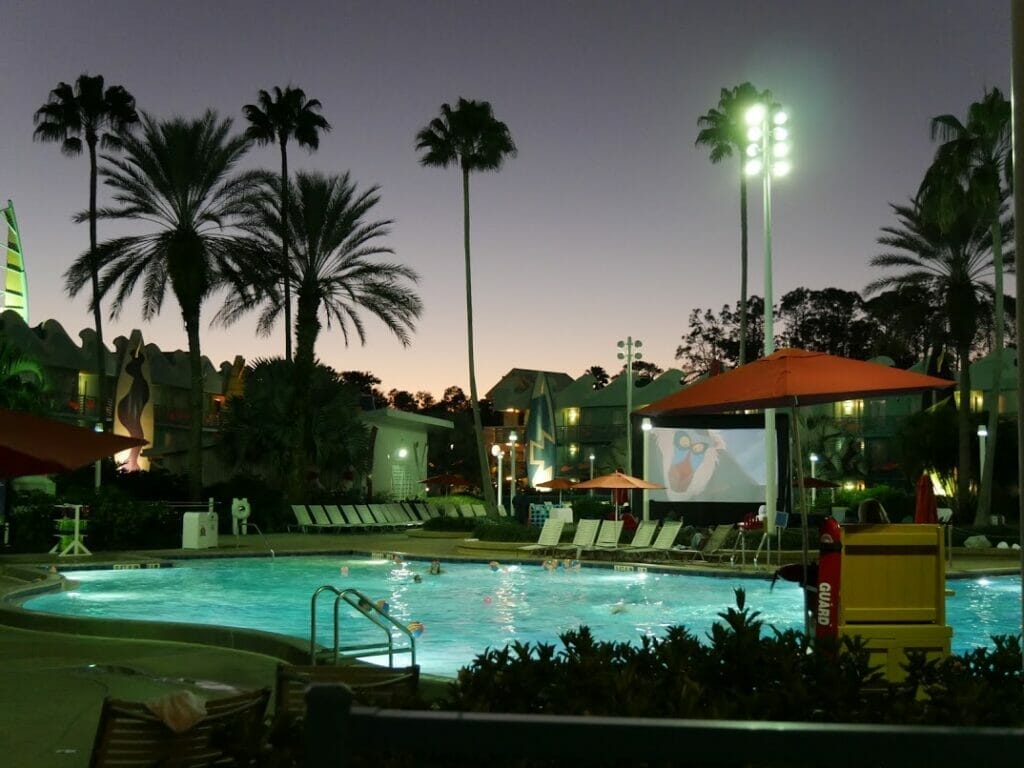 13. Travel in the Off Season
There's a consensus that there's "no slow season" at Disney World anymore, which is mostly true, but there is still a "value season" when it comes to booking on-site hotels.
14. Make a Meal Out of Toppings
There are some counter service options in Walt Disney World, such as Peco's Bill, that have great toppings bar that are completely free.
A great way of adding some more "umph" to your meal is by ordering nachos or another meal at Peco's and then loading up on toppings.
This Disney World money saving tip isn't going to make or break your trip, but if you're really penny pinching, it's a good one to remember.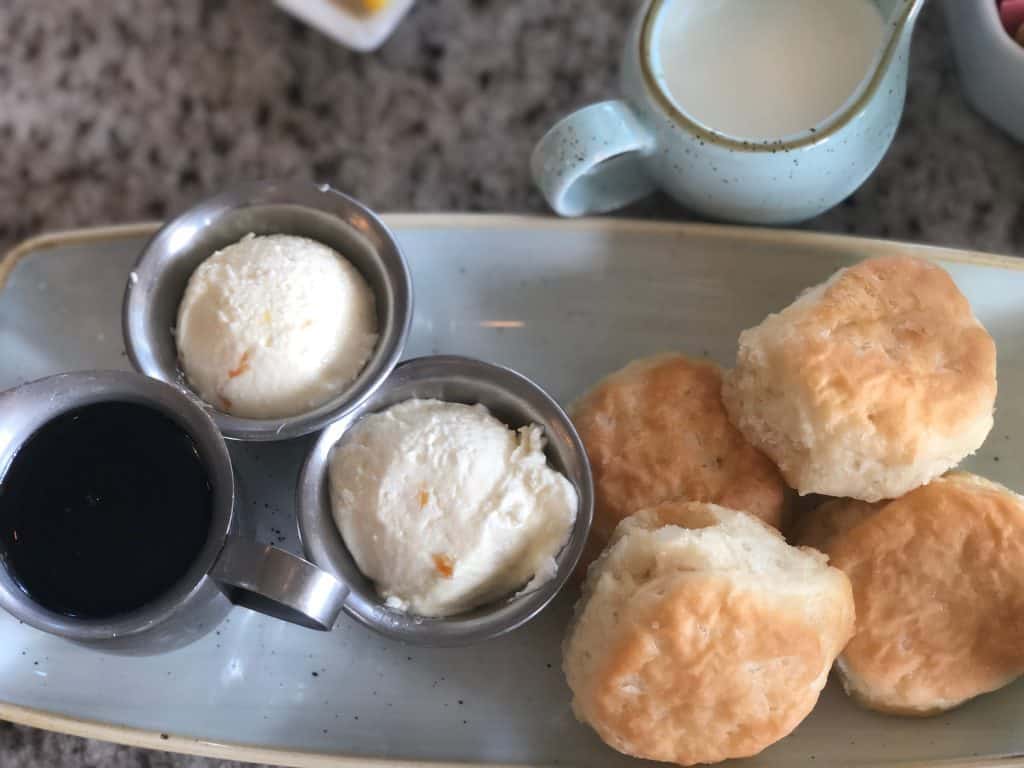 15. Buy Disney Giftcards with REDCard
Not only am I a huge Disney lover, but I'm also a huge Targer lover (and it's such a shame that there's no Target in the UK).
If you are an American based Disney fan, you can buy Disney giftcards at Target with a REDcard and get a small percentage off.
So basically you buy the giftcard for less than it's worth rather than face value.
If you repeat this over and over, you can have a nice chunk of savings on your room or dining bills if you pay in the Disney giftcards you got for cheaper.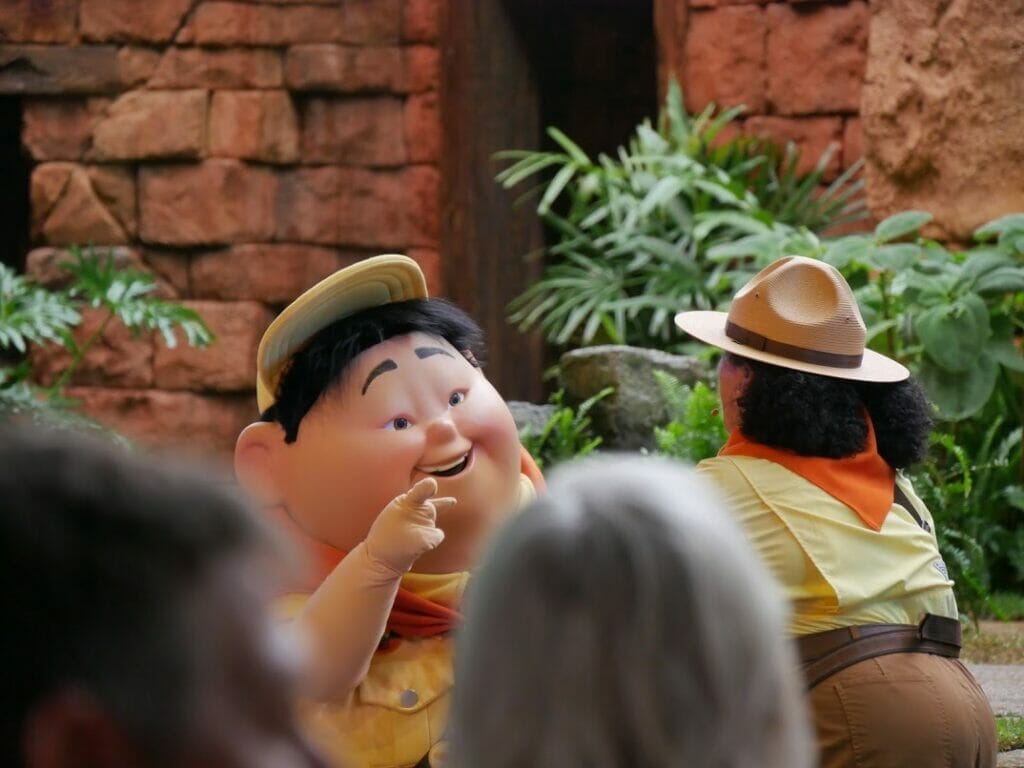 16. Consider getting a villa instead of individual rooms
It's always difficult to know what to do if you're more than the standard "family of four."
Part of the strategy of saving money at Disney World when it comes to hotel rooms also comes down to which type you pick (we'll talk more about this later).
But typically, especially if you're traveling with a lot of people, it can make sense to go for a Villa with a couple of bedrooms or something like the Treehouse Villas at Saratoga Springs instead of getting multiple different rooms.
This isn't guaranteed, but if you're willing to bunk up, make sure to check how much it would cost you to all room together as an extended family and you may be surprised.
17. Don't pay for expensive parties, just know the secrets
You know an easy way to rack up extra charges to your Disney vacation?
How about Mickey's Not So Scary Halloween Party?
Or Mickey's Very Merry Christmas Party!
Or a Disney After Hours event!
Or Disney Early Morning Magic events!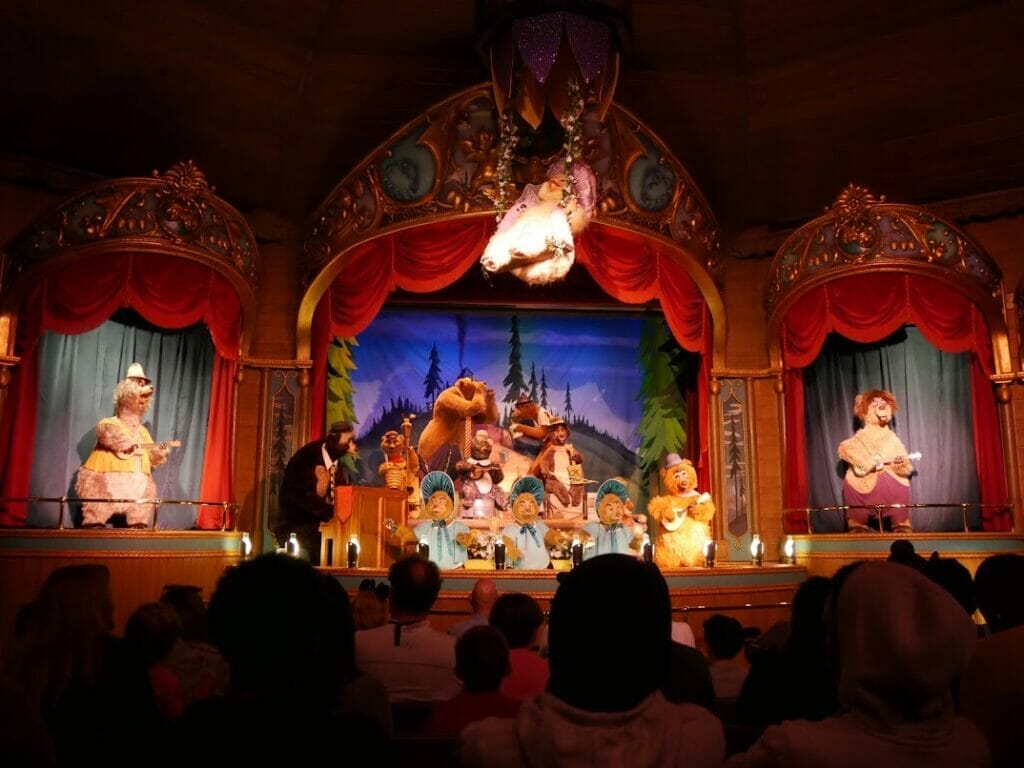 The point is, you could basically pay your vacation twice over if you take advantage of all of the extra cost events.
If you're doing Disney World on a budget, skip the add-on parties and just make sure you know the secrets of taking advantage of Disney World at the holidays or using techniques such as Rope Drop or getting in line right before close to do your favorite rides with little wait.
18. Have a resort hopping day
One way to save money on an extra ticket day is to plan some down time into your itinerary.
And one of the best ways to spend down time at Disney World, in addition to swimming in your own resort, is to go resort hopping!
Whether you jump on the monorail to check out Disney's Contemporary, Polynesian, and Grand Floridian, or you take the boat from Disney Springs to Old Key West, Saratoga Springs, Port Orleans Riverside and Port Orleans French Quarter OR you hit up the Boardwalk, Beach Club, and Yacht Club all situated around the same lake, you can make a day out of new resort experiences.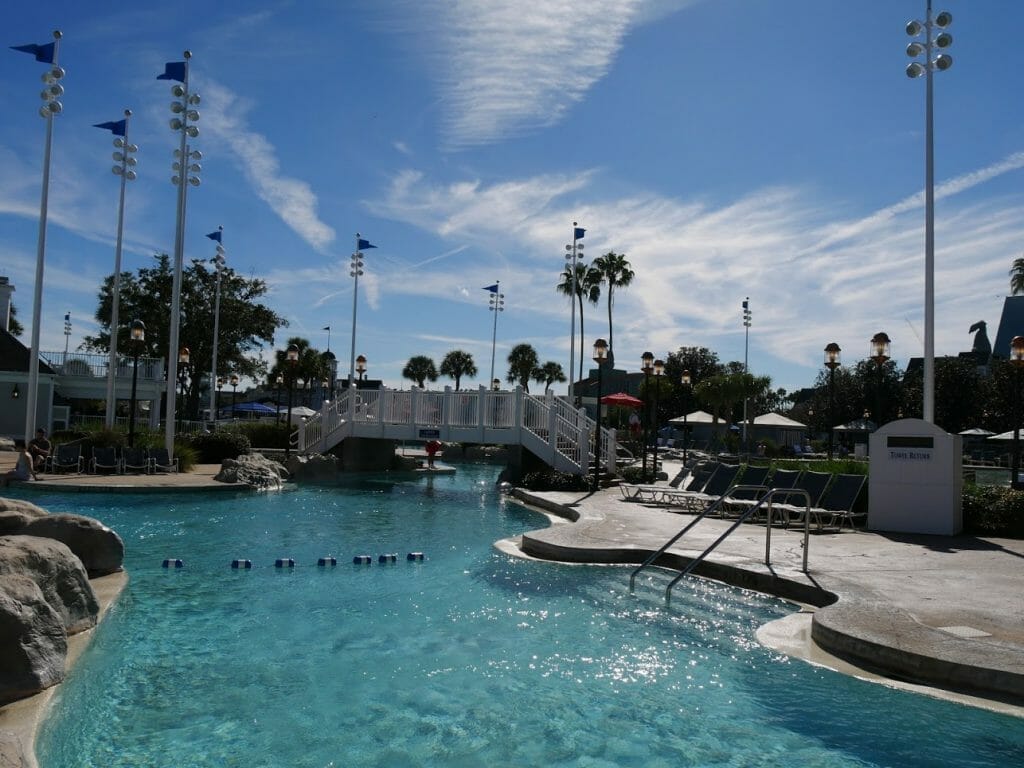 All of the resorts have activities and scavenger hunts going on, as well as tours at many of the Deluxes and beautiful landscapng and theming to appreciate even without any organized activity.
The best place to do this, for me, is Animal Kingdom Lodge.
Check out this post on the best things to do at Animal Kingdom Lodge to see how you can spend a whole day there as a non-resort guest without paying a dime.
19. Stay Off-Site
There's no rule that you have to stay on-site at a Disney property.
Many families say that the best secret to saving money at Disney World is staying off-site and either renting a car (use Discover Cars for easy price comparison) or using off-site transportation like Ubers.
I don't like to stay off-site because it takes me out of the Disney magic, but you can certainly find many resorts MUCH cheaper than staying on-site that also give you easier access to the rest of the Orlando area if you've got more in your plans than Disney.
20. Stay in a Value
Now, as someone who stayed in her first Disney Deluxe Resort last year and is now basically obsessed with it, I grew up staying in the Values and guess what?
They're perfectly good, bright and colorful Disney resorts that have friendly cast members, an on-site food court, a gift shop, an arcade, plenty of pools, and all you really need for a budget-friendly Disney vacation.
The reason they have "Values" in their name is because they are one, especially if you just can't bring yourself to stay off-site but can't afford the prices of the Moderate and Deluxe resorts.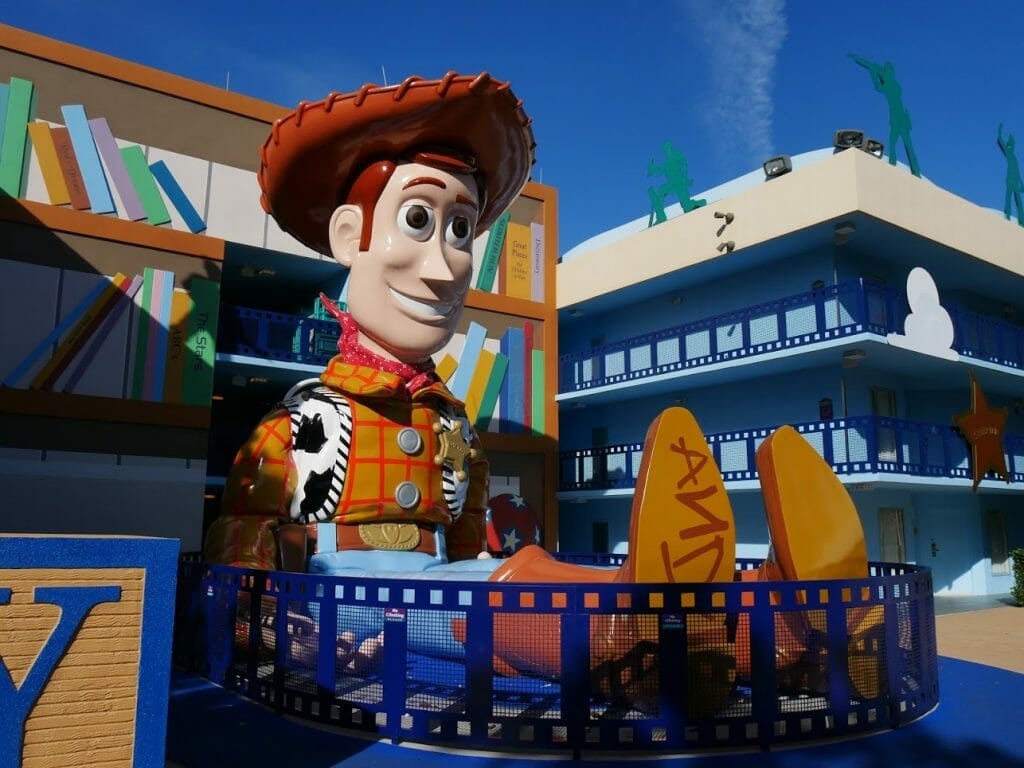 Many families before you have had incredible vacations while staying at the values, and some, like Pop Century, are well-loved even among people who are normally Deluxe fans.
21. Stay in a Disney-recognized Springs resort
There are a number of Disney partner resorts that now have access to 60 day Fastpass bookings and Early Morning Magic Hours that are going to cost less than Disney's resorts.
Sure, they're a bit more bland in the theming, but they are places to sleep, conveniently located, and Disney has given them their stamp of approval so it's not like you're going to walk into some rundown Motel 6 and sleep with one eye open.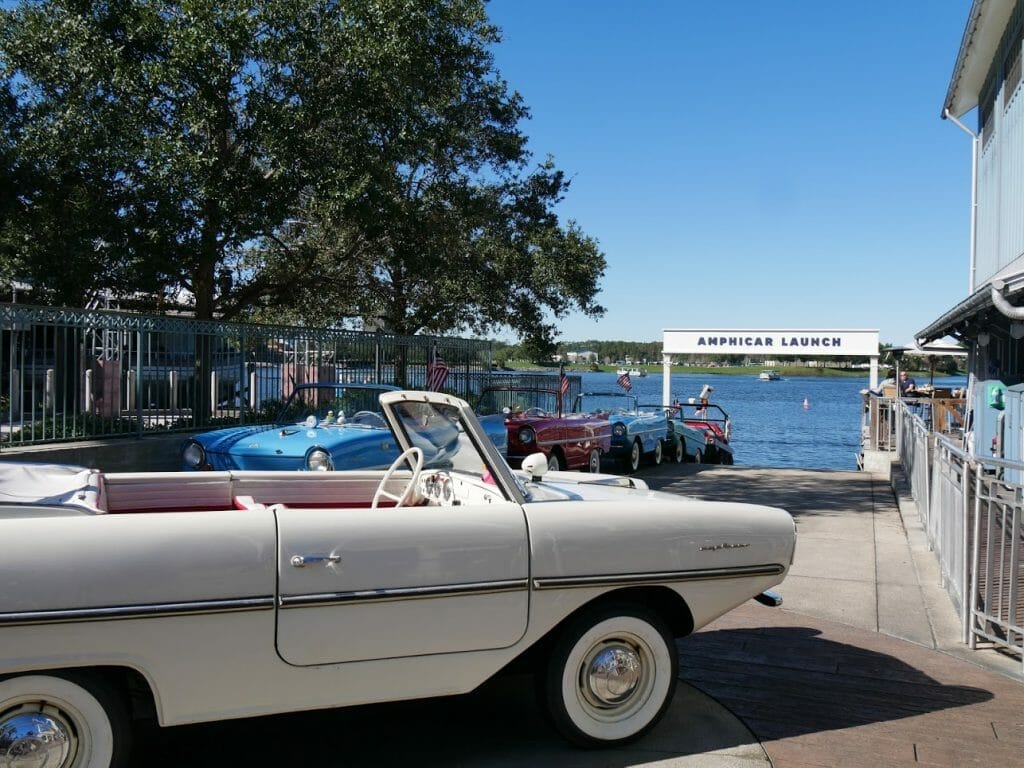 This is a good in-between if you're not sure if you want to go fully off-site but can't afford the Disney resorts.
22. Use Landry's discounts at Rainforest Café
Did you know that certain resorts at Disney properties are actually owned by Landry's?
If you get a Landry's card, you can get discounts and giftcards to use at these restaurants.
Some of them may surprise you.
23. Wear a pin based on what you're celebrating
This is one of those "Disney magic" kind of suggestions where you can't guarantee anything, much like my tips on how to get upgraded at Disney World resorts.
However, make sure you wear a pin that they can give you at your hotel or at guest services that say what you're celebrating (and did I mention you're allowed to celebrate your birthday at Disney all year long? You are welcome.)
You may get nothing, you may get some friendly warm wishes, or you might get a free cupcake here and there when you dine out.
You don't know if you don't wear it!
24. Get a refillable mug
If you're a big soda or coffee drinker and staying at a Disney resort, purchase a refillable mug when you first get there for the length of your stay.
This is going to give you unlimited refills of coffee, tea, and soda from soda machines at Disney owned resorts during your stay.
It can easily pay for itself if you're getting coffee in the morning and a couple sodas each day.
Of course, the best money saving at Disney World tip would be to just drink tap water the entire time, so this is an in-between kind of money saver if you're dedicated to your drinks but not dedicated to buying a new one each time.
25. Use Skyscanner to find flights, and don't forget to check Southwest and Spirit
Getting to Disney World can be the most expensive part for some families depending on what part of the world or country you live in.
I use Skyscanner to give me the best flight comparison tools as you can also choose "Flexible" days and they will show you the cheapest days to fly.
Also keep in mind that certain airlines like Southwest, Spirit, and Frontier might not be on these price comparison websites so check them separately if you live near one of the airports they fly out of.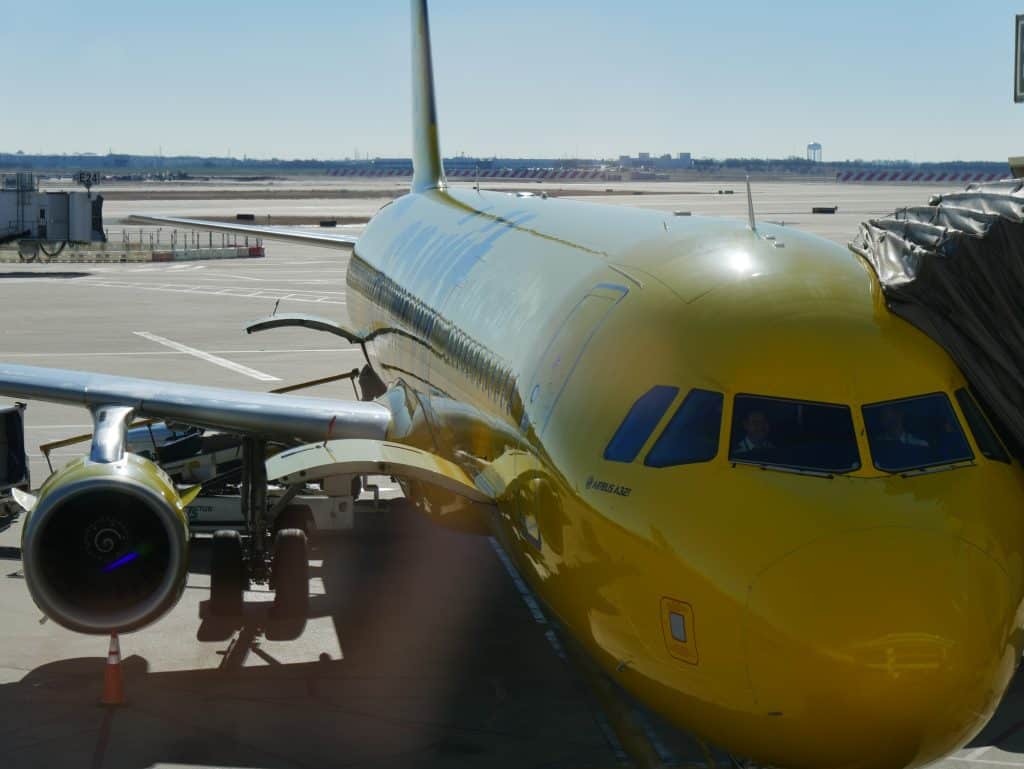 26. Don't book too many meals – you might not be as hungry as you think
When people book meals at Disney World before coming down, they book them like they would book them at home on their regular schedule.
Meaning that you think you're going to eat three meals a day and be hungry for each of them.
Now try being in the scorching eat of a Florida summer (or winter, let's be honest), being run off your feet while racing through Fastpass lines, and having an unlimited amount of delicious snacks tempting you at every turn.
Your eating habits are going to be a little different at Disney World, and the majority of people find that they don't actually want as many full meals here as they do at home.
This could also have to do with the insane amount of buffets available.
Either way, err on the side of booking a few less table service meals than you think you'll need.
This gives you an opportunity to save some cash for meals you probably can do without anyway, as well as leaving you room for those snacks and pigging out on zebra domes at Boma (or is that just me?)
27. Make sure to take advantage of any type of discount that might pertain to you – Florida resident, Military, Cast Member relative
Disney doesn't make it a point to advertise some of its discounts unless you go looking for them.
If you're a Florida resident, a military family, or you have an immediate family member who is a cast member, you may have a whole new type of discount open to you with its own offers and should absolutely investigate further.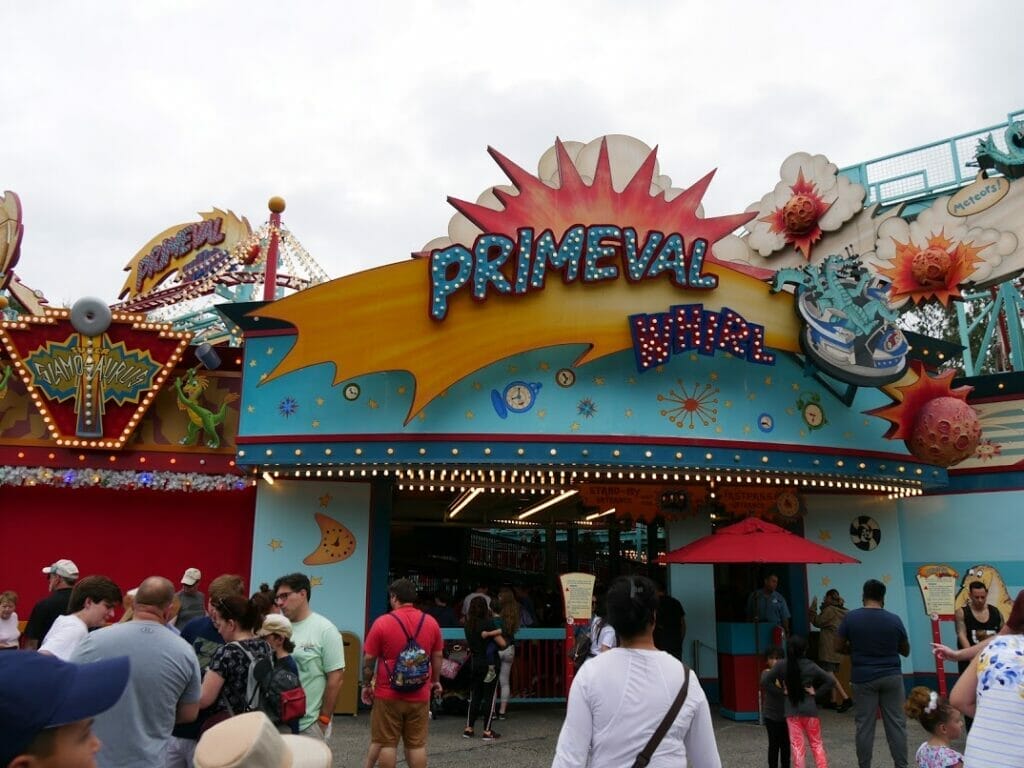 28. Bring Your Own Ponchos
When at Disney World, you're a captive audience, and nothing shows this as much as the amount of people walking around in Disney ponchos because they forgot to bring their own.
If you're visiting in the summer, it WILL pour on you.
Not MAYBE. It WILL.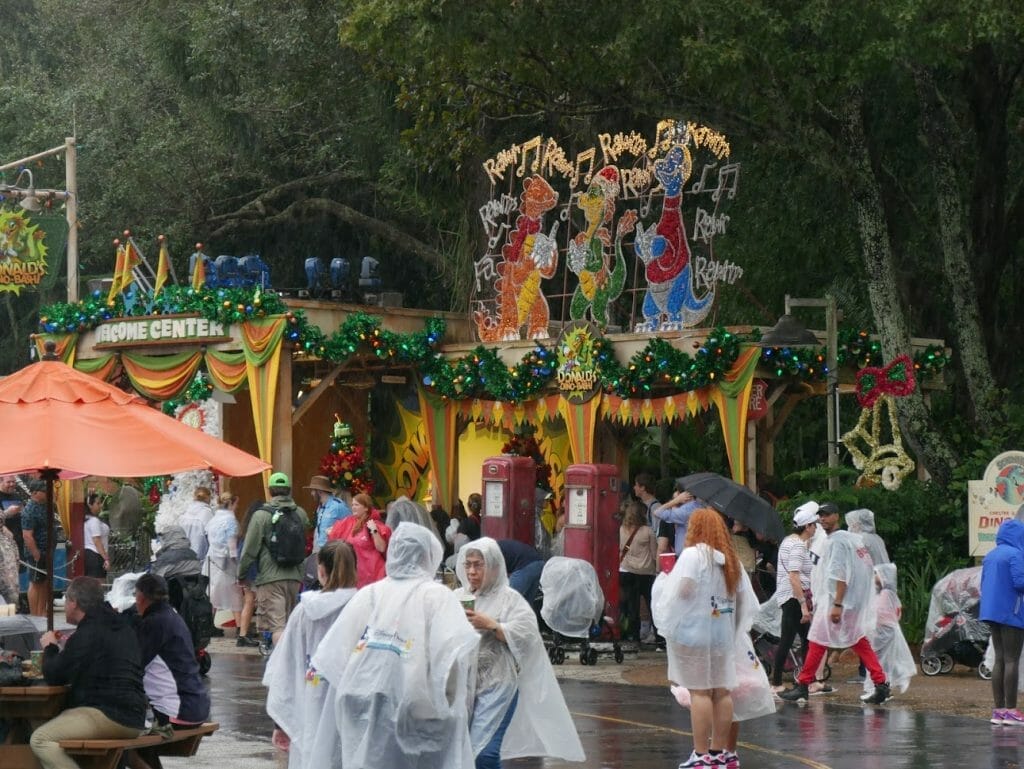 So bring your cheap ponchos from home that you can throw away at the end of your trip rather than spending multiple times the price for ones in the park that you have to purchase unless you want to sit inside Cosmic Ray's all day looking out the window.
29. Bring your own medicine and essentials
Sure, if you forget something like a toothbrush, Disney will have it in their giftshops.
But you're going to pay a pretty penny for it.
Do a double check to make sure you have all of your medicine, toiletries, and essentials before leaving for Disney World and include this in your list of what to bring to Disney World.
30. Don't book a room view at a moderate
When you book at a Moderate Resort like Port Orleans Riverside, there are often many types of room views offered, similar to the Deluxes.
These could be things like "River View," "Garden View," "Pool View," etc.
However, the Moderate Resorts don't have balconies.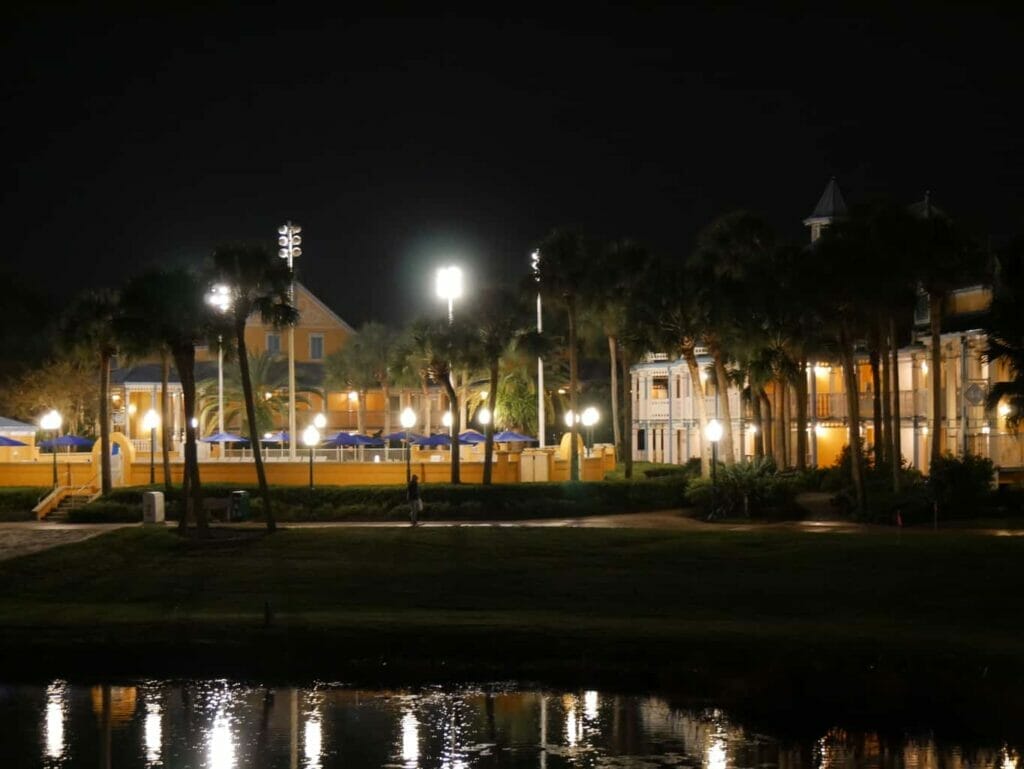 So basically the room "view" is the view if you were standing outside your door or possibly if you had your front curtains open, but then you're exposing yourself to anyone walking by and probably won't have them open too much.
Save a bit of extra money by just booking a standard view at a Moderate Resort.
31. Decide if you really need any more than a Standard room at a deluxe
If you're staying in a Deluxe Resort, then I'm not 100% sure this guide to saving money at Disney World is really for you (and no judgement – I love a Deluxe Resort).
However, if you are trying to stretch your dollars to make that Deluxe dream come true, decide whether you really need more than a Standard View at a Deluxe resort.
The answer may very well be "yes" because you do have balconies at Deluxes to look out from, but there are some great Standard views to be had as well if you know where to request a room.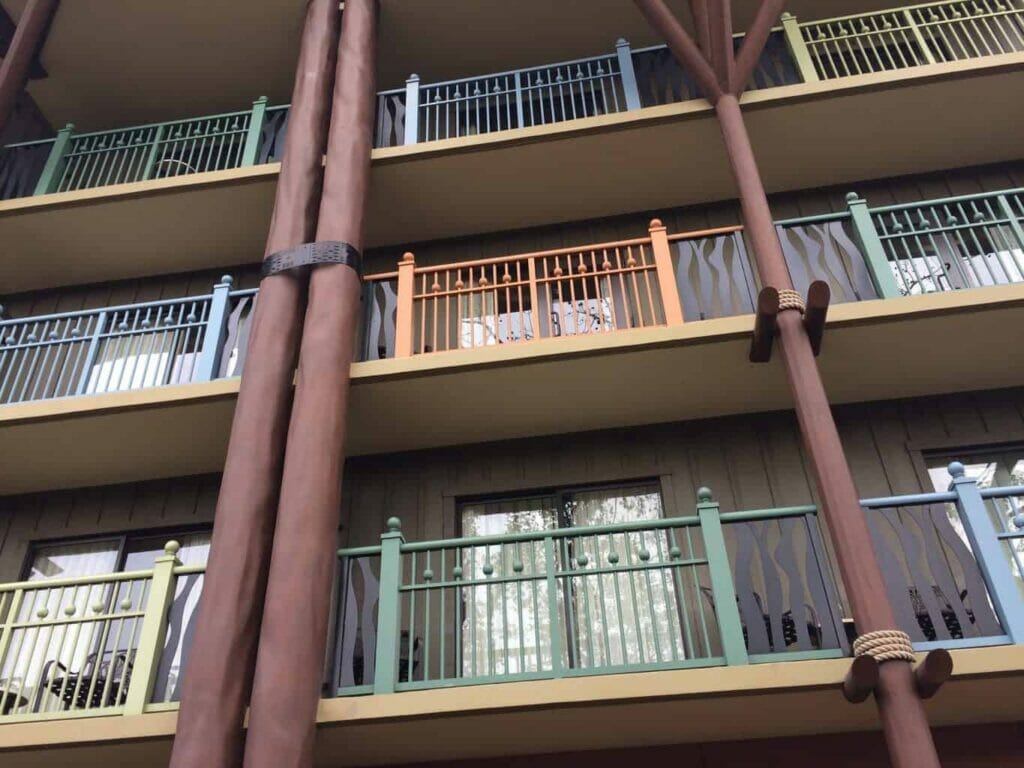 For instance, some of the Standard view rooms at Animal Kingdom Lodge do overlook the animals, and some of the Standard view rooms at the Wilderness Lodge have a view of the Magic Kingdom fireworks.
Not too shabby for saving what can sometimes be hundreds of dollars a night!
32. Take advantage of freebie activities, such as Sorcerer's of the Magic Kingdom or P at Epcot
Within the parks, there are free activities that the whole family can take part in, including the Sorcerer's of the Magic Kingdom (an awesome card collecting game where you go around the Magic Kingdom and make cool things happen), as well as Agent P's game at Epcot which involves going around to the different parts of the World Showcase.
If you haven't been to the parks before, you won't need these games to keep anyone occupied, but if it's a second or third visit, it's a great way to make new memories without paying anything extra.
33. Join the DVC
Perhaps this is one of the most absurd money saving tips at Walt Disney World – "join the expensive Disney Vacation Club."
HOWEVER.
The title of this post is "ways to save money on a Disney vacation" and I feel this fits in for families who might not be looking to do "Disney on a budget," but are just looking for ways to do their annual Disney World trip cheaper.
If you typically stay in Deluxe hotels and have a family at an age where you'll be going to Disney World a lot in the foreseeable future, joining the DVC is a big one-time purchase that lasts for decades and you should eventually "break even" and then start being able to stay on your points after having the whole thing paid off.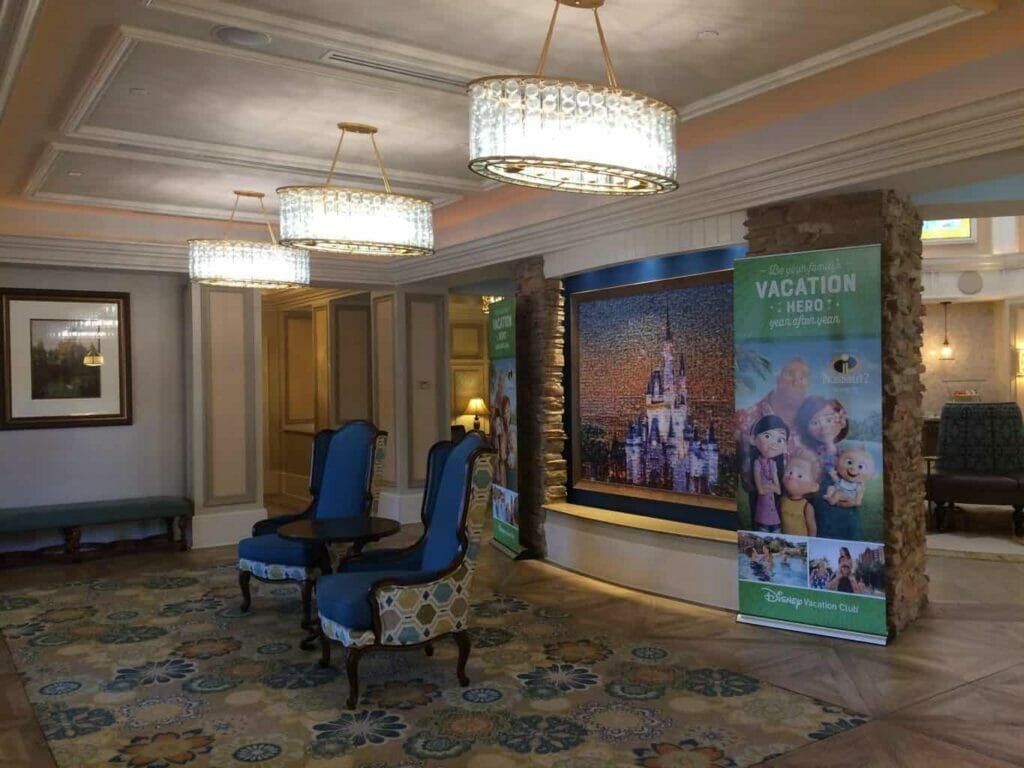 These points renew every year, and many families credit the DVC to allowing them to continue to come to Disney World 10, 15, 20 years after they bought into it without needing to pay cash for rooms anymore.
34. Order a Kid's Meal for Adults
If you're at a Disney buffet, everyone in the party is charged according to their age (so an adult can't just get a kids price even if they eat less).
However, quick service locations don't care who orders a kid's meal, so if you're not super hungry, you're more than welcome to order the kid's portion and save some dough (literally and figuratively).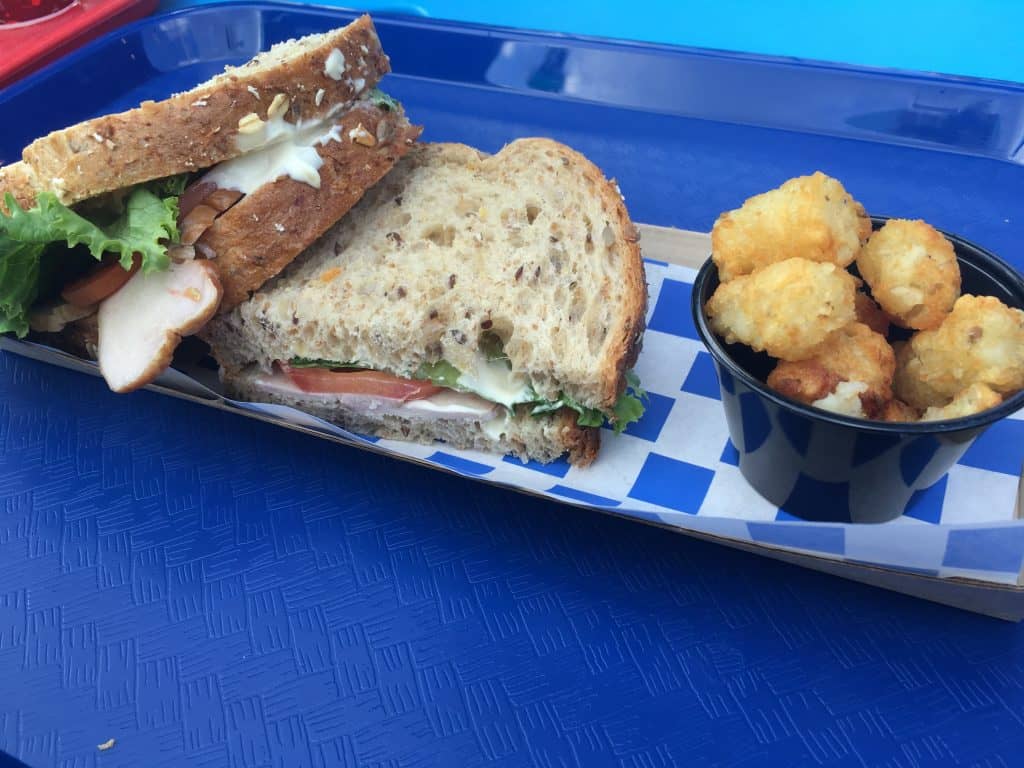 35. Use Swagbucks
This app allows you to learn points from purchases in other areas of your life that you can then redeem for Disney gift cards!
One thing to consider if you have a large family that you'll need to transport is that staying at a Disney property (even if it's a Value resort) comes with free transportation to and from the airport, as well as free transportation from the hotel to and from all of the parks, water parks, and Disney Springs.
This is a huge plus for many families, and not only is it a money saver, but it's a lifesaver when it's midnight and you don't feel like finding your car in Goofy Row F that just happens to be about 8 miles away from the Magic Kingdom Entrance.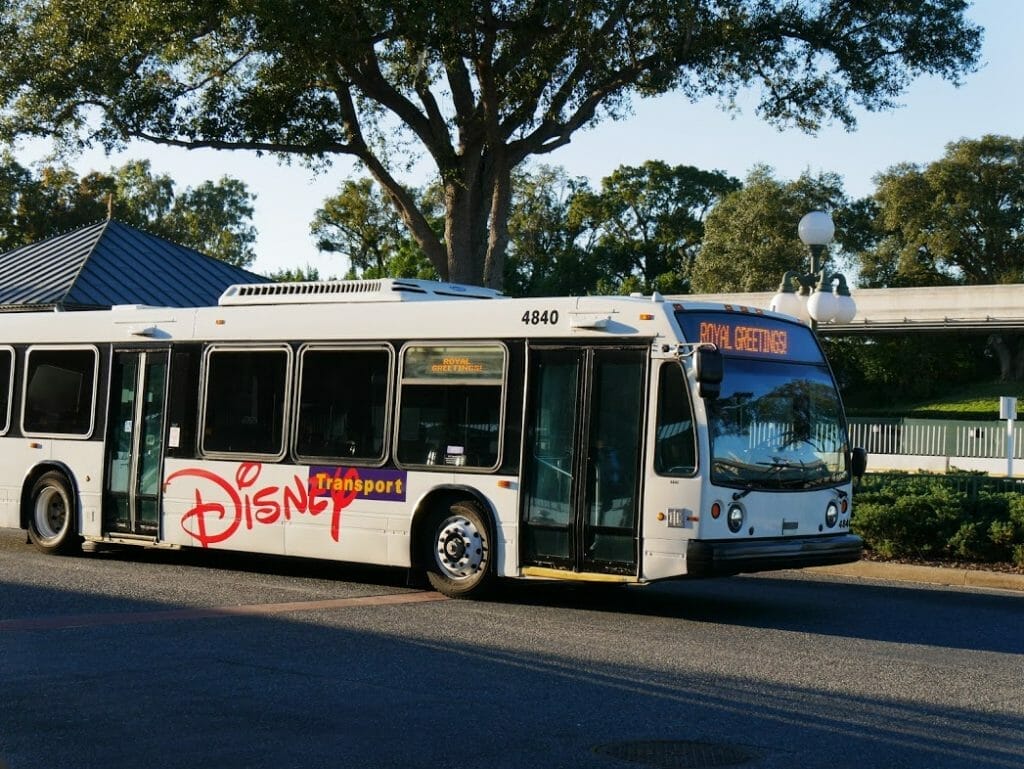 37. Bring the kids at the right age – free before 3, child before 9
Disney World isn't JUST for the kids (Disney world is for the adults too!) but it does help if you bring them at certain ages before they turn into the "adult" priced category.
This means that kids under the age of 3 are free, both in taking them to the parks and at buffet restaurants they are free as well.
From the age of 3-9, kids are considered on the "child" rate, both for park tickets and for restaurants and special event tickets as well.
Of course, you can't make your kids younger than they are, but hey, if you're considering a trip when the kids are 2 and 9 versus when they're 3 and 10…something to consider!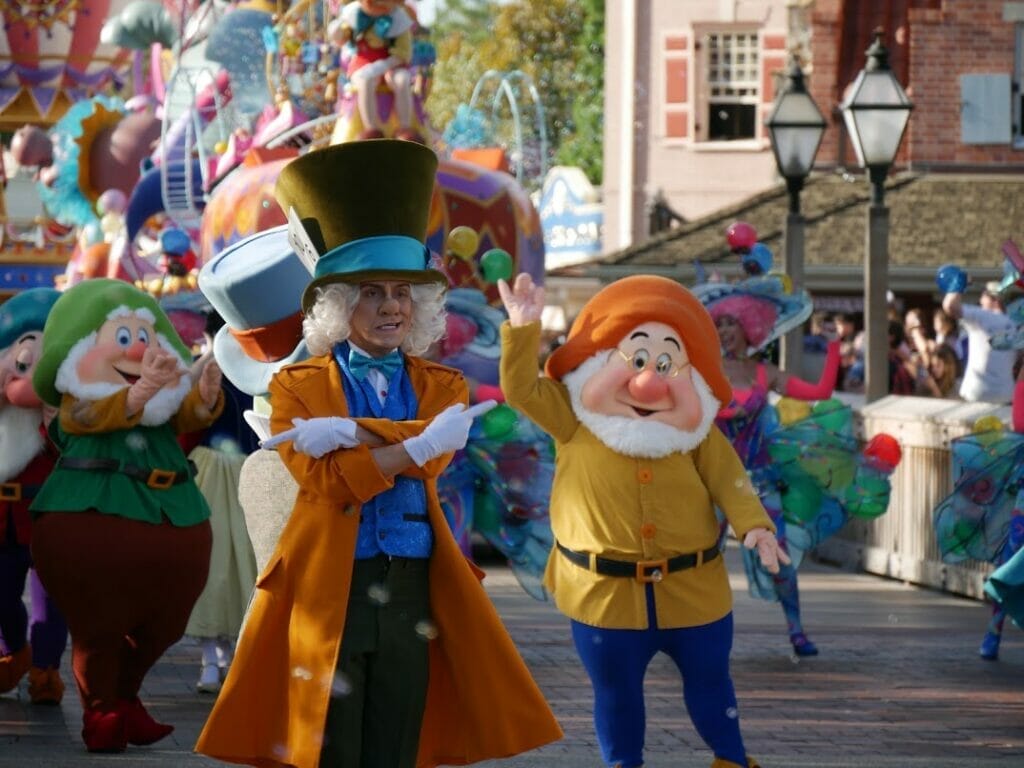 38. Go Camping at Fort Wilderness
Did you know that Fort Wilderness is one of the only original "resorts" on Disney property?
It's been there since park open, and I myself have enjoyed many weekends camping there over the years.
If you're really wanting to do Disney World on a budget, you can get a space for a tent on your own private pitch for under $100 a night usually.
This also comes with free transportation to and from all the parks.
Many people also rent golf carts at Fort Wilderness to get around, which is super fun for the whole family and lets dad fulfill his need for speed without getting too crazy.
I have fond memories of camping at Fort Wilderness and riding my bike around the loops.
And there are fantastic shower/bathroom blocks that make "roughing" it suddenly a lot more appealing.
39. Buy an Annual Pass
Again, one of those "Spend loads of money to save money!" suggestions.
If you come to the parks a lot, seriously consider comparing annual pass prices to the price you'll be spending on park tickets.
If you come for long enough periods of time or at popular times of the year, you may find that you're better off buying the pass, which also comes with regular hotel discounts as well as merchandise and dining discounts.
And you get free swag like Annual Passholder magnets, and if that isn't worth the hundreds of dollars of an annual pass, I don't know what is.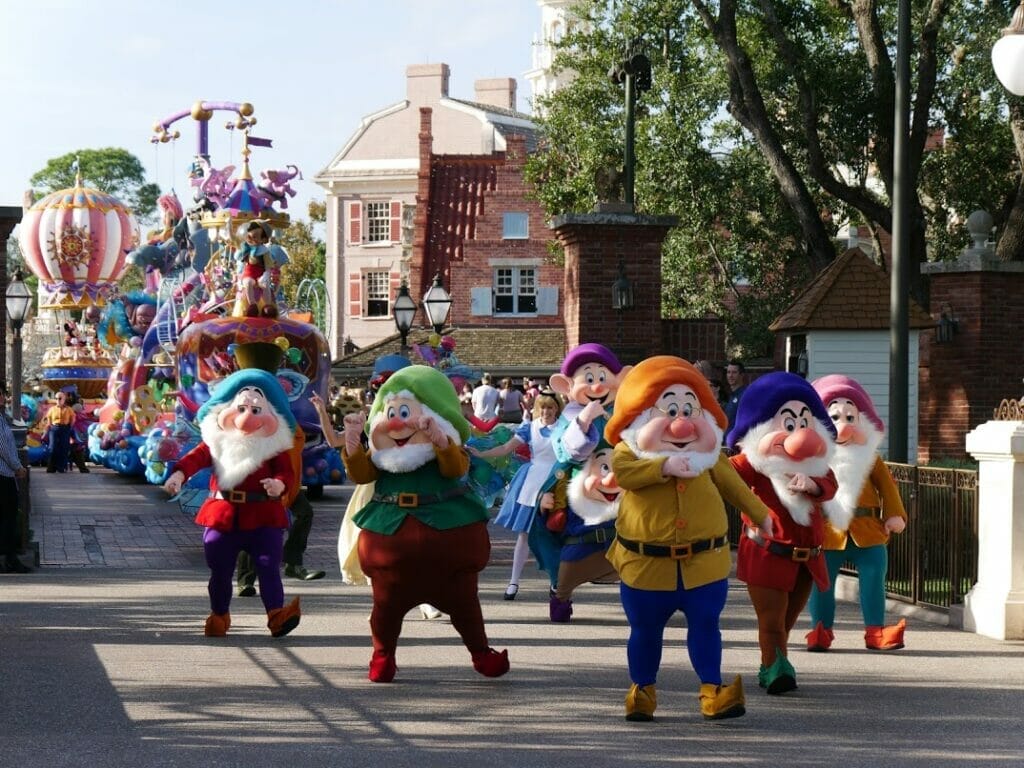 40. Spend a day at the pool instead of the water park
Disney's water parks, Typhoon Lagoon and Blizzard Beach, are add-ons to the regular ticket prices.
So if you have a 5 day ticket, you'll have to opt for the more expensive version to get water parks included, or pay the $65+ extra per water park per person for day.
It can be an expensive proposition, and while I do enjoy a water park, I think many kids would be equally as happy splashing around in the splash pad at your Disney resort pool for the day.
Teenagers, maybe not so much, but Disney has some incredibly themed pools and kid's areas that will make most of the little ones happy.
And the commute back to your room is way shorter, so win win.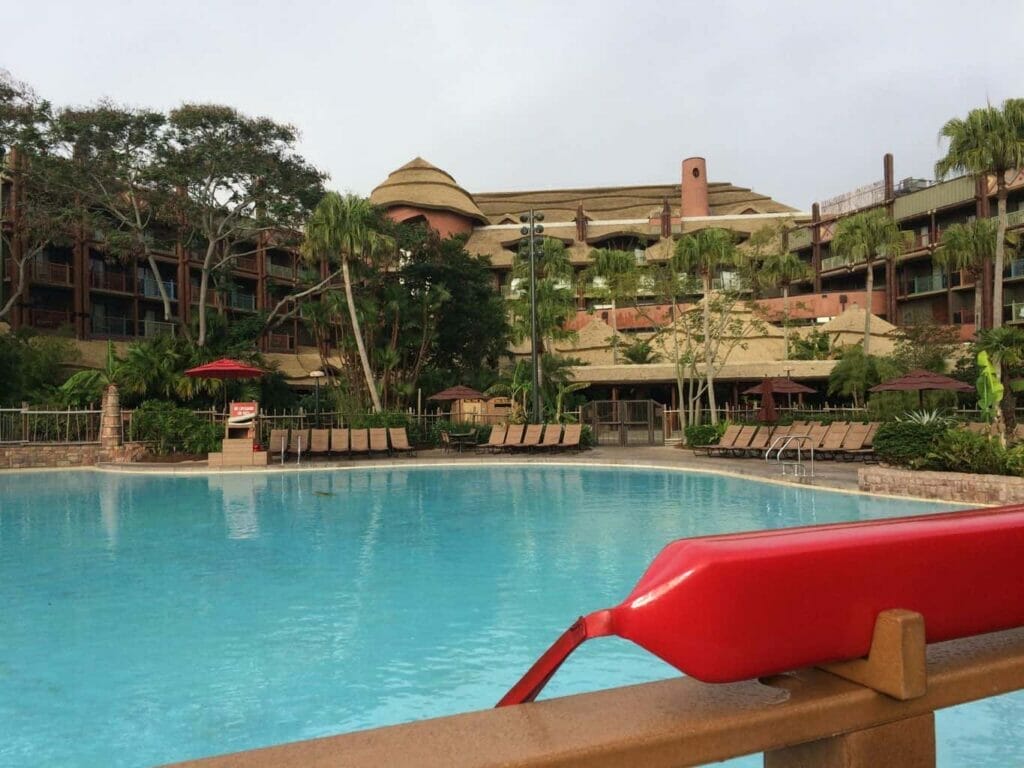 41. Take advantage of free resort activities in the evenings
Instead of feeling like you need to fill your evenings with paid activities, take advantage of the free "movie under the stars" at your resort and other free things to do at Disney World.
These run at every resort almost every night, and some resorts even have a chance to roast marshmallows ahead of time at the resort fire pit.
At resorts like Animal Kingdom Lodge, you can do nighttime viewing of the animals near the main pool, and at other resorts, you can actually see the fireworks from certain parks from the pools or public areas.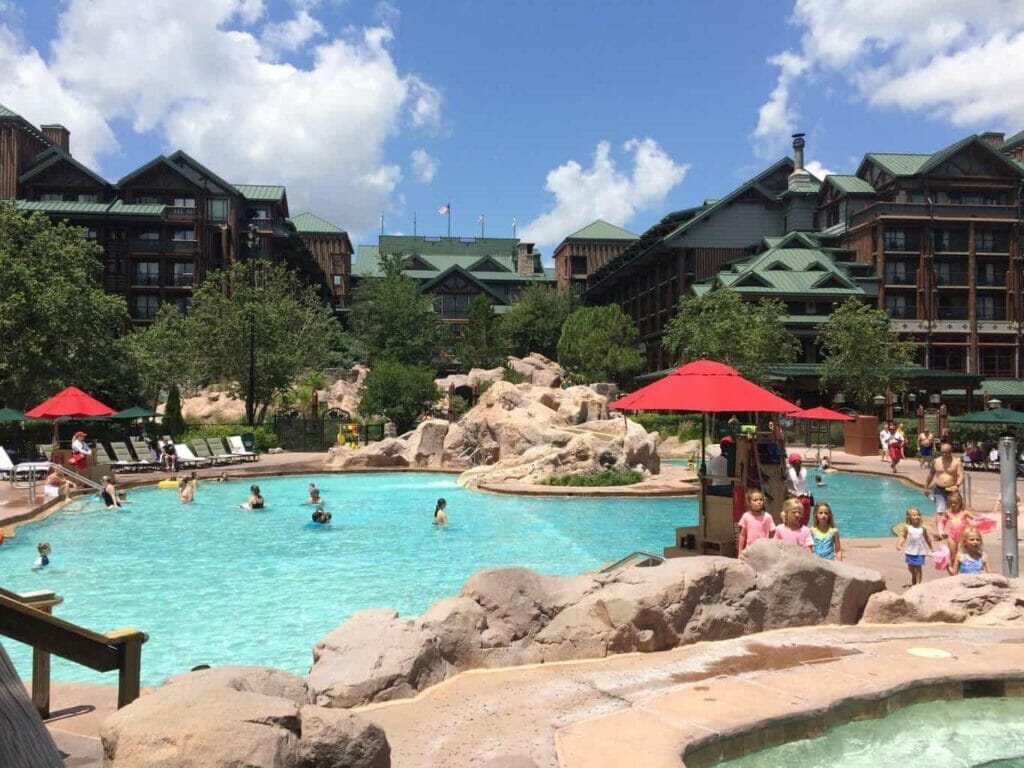 42. Skip the Memory Maker
Disney offers a photo service that basically allows you to download all of your ride photos, as well as any photos you get taken by a Disney PhotoPass photography.
It also comes at a hefty price of $169, which means for your average family on a budget, it's something that can be skipped.
You will miss out on the ride photos and "special effect" photos if you don't have Memory Maker, but every PhotoPass photographer will use your own camera/phone if you want, including when doing character meet and greets.
If you're trying to save money at Walt Disney World, cut out this expense to save yourself a major chunk of cash.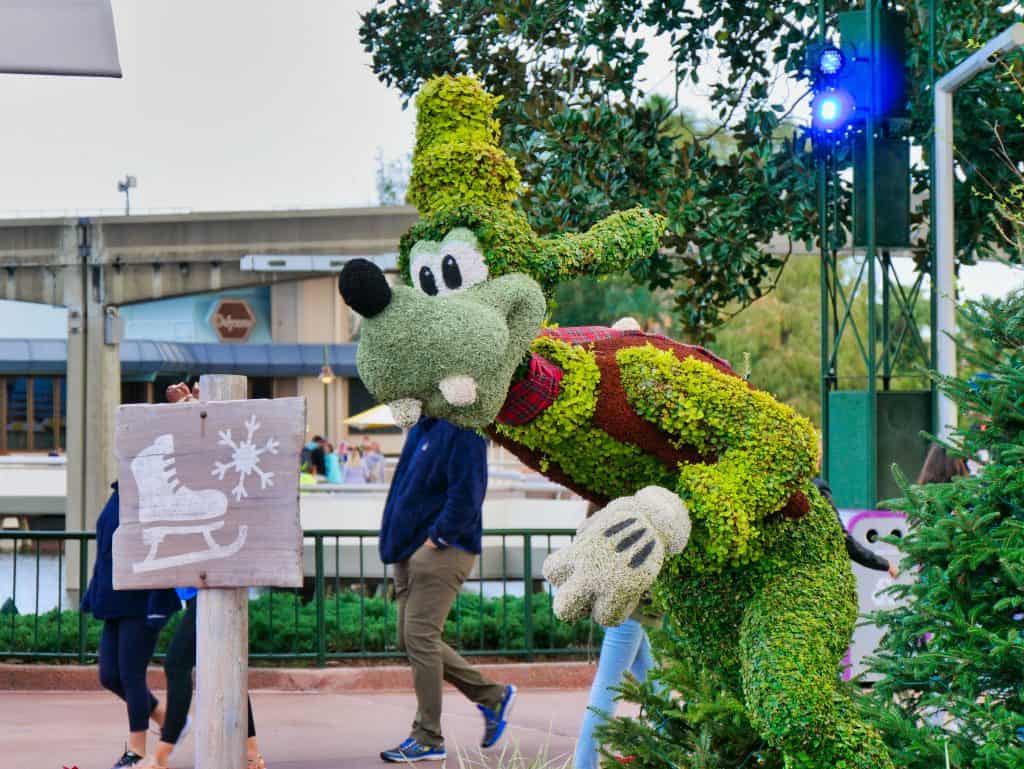 43. Collect small things.
It's tempting to want to bring home ALL the souvenirs (mugs, tshirts, giant stuffed animals, you name it), but a more budget-friendly approach to each trip is to bring home one small thing each time, whether that's a keyring, a magnet, or something else that will fit in your luggage and only cost a couple of dollars.
If you collect them each trip, it gives significance to your collection and makes it fun to spend your trip hunting for the perfect one rather than handing over your entire year's paycheck every time you stop in the World of Disney.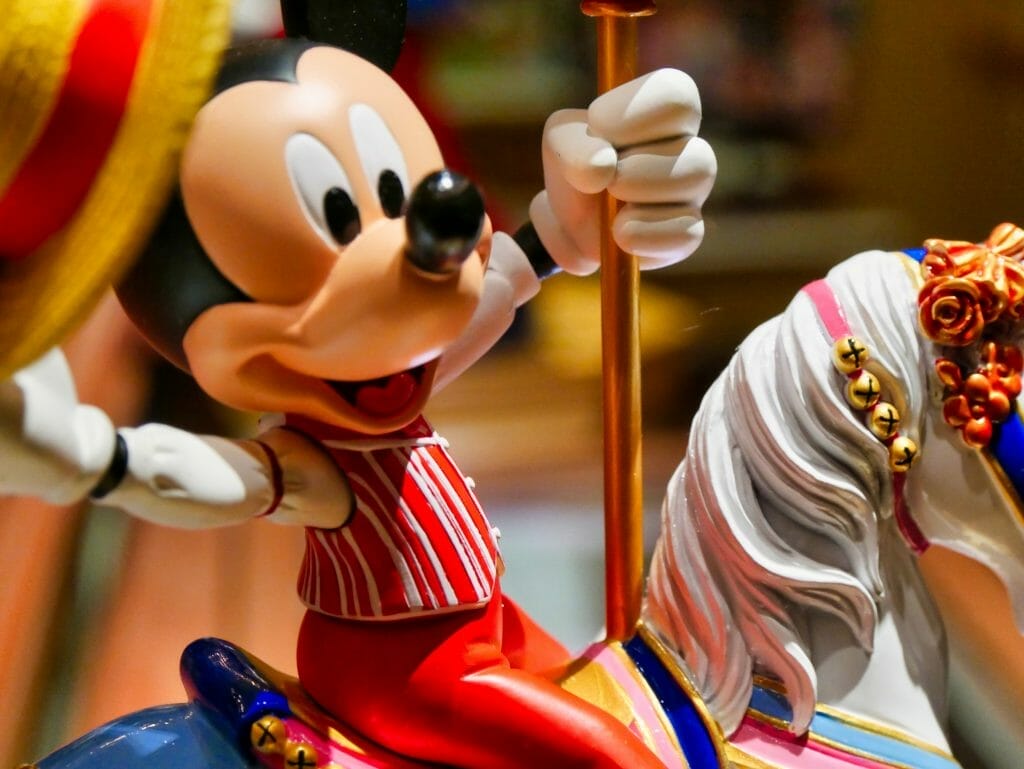 44. Bring Your own portable charger
You can rent portable phone chargers in the parks, but why do that when you can buy your owner for cheaper and then actually keep it…forever?
You can get ones from Amazon that I love that are super cute like this one.
If you've bought your hotel separately, maybe you got a room-only offer, one of the best secrets to saving money at Disney World is to buy your tickets through Undercover Tourist.
They're an authorized ticket seller, and you can often get tickets a couple dollars cheaper (or more in some cases) than going direct through Disney.
Every little bit adds up, and you'll be able to link them up to your MagicBands and MyDisneyExperience with no problem.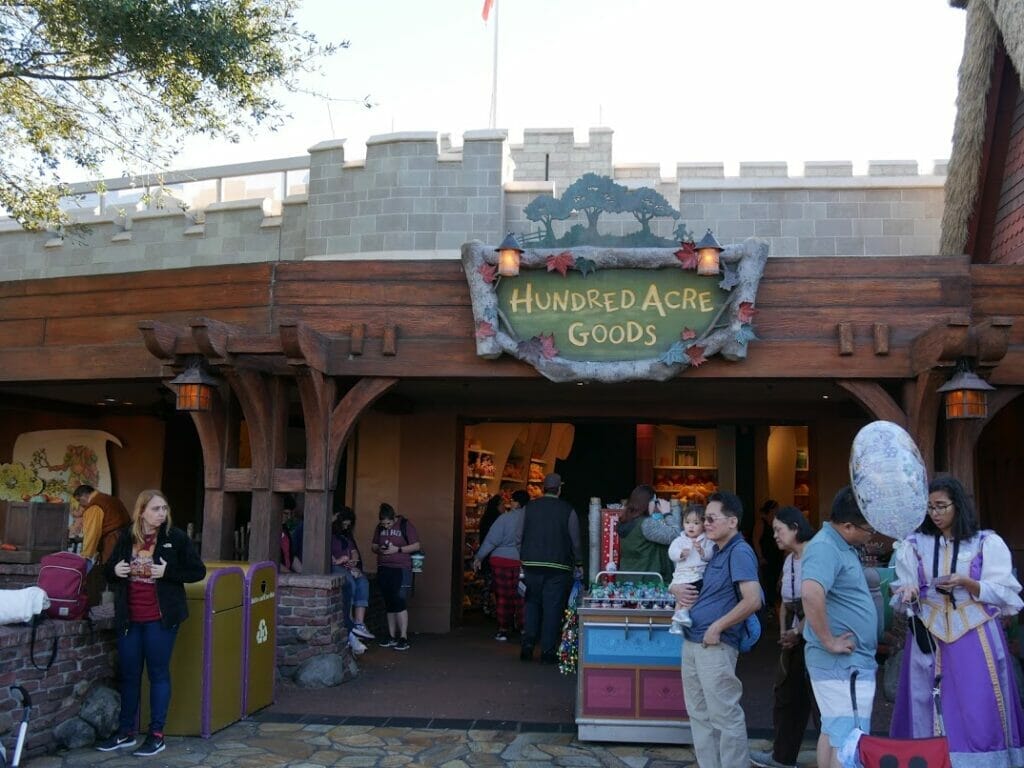 46. If you're not big eaters, don't eat at the buffets
Now, I love a Disney buffet like Boma because I ascribe to the "why wouldn't you want to stuff yourself with chicken nuggets until you can't walk?" style of eating, but I understand that most people know better and like to eat sensibly.
If that's you, I would think twice about some of the more expensive Disney buffets.
You won't get the value for money, and if you're not a big eater, some of the appetizers at the other table service restaurants will be plenty for you to have as a main course (and that is perfectly allowed and acceptable!)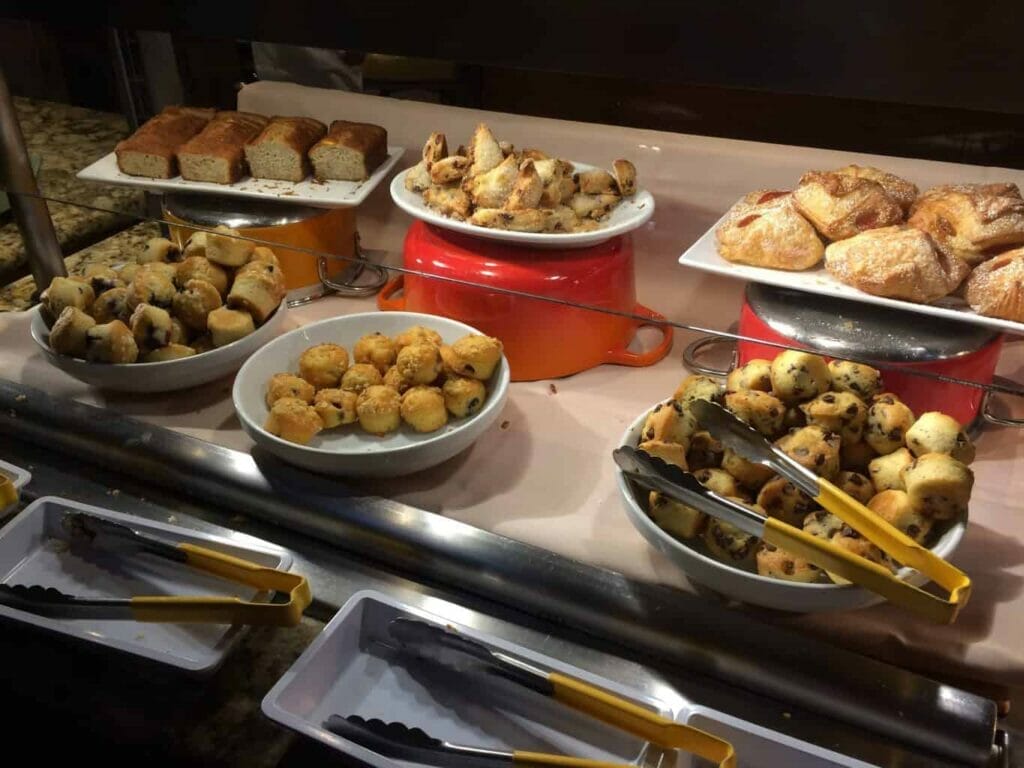 If you want to go for the character dining or just to experience a restaurant, then so be it, but if you're looking for tips for doing Disney on a budget and you don't eat that much, think twice.
On the other hand, if you are big eaters, the buffets might be perfect as you can basically cover two meals with them (possibly even all day if you really go crazy!)
47. Avoid shopping-only trips to Disney Springs
Since becoming Disney Springs from Downtown Disney, this area is even more focused on shopping and dining.
If you like to spend, but are watching your wallet, go to Disney Springs with some sort of purpose that you've come up with ahead of time.
Maybe you're going to buy one Christmas ornament in the 365 Days of Christmas Store, maybe you're going to get a Ghiradelli milkshake and sit out by the water, maybe you're going to get a pizza at Blaze.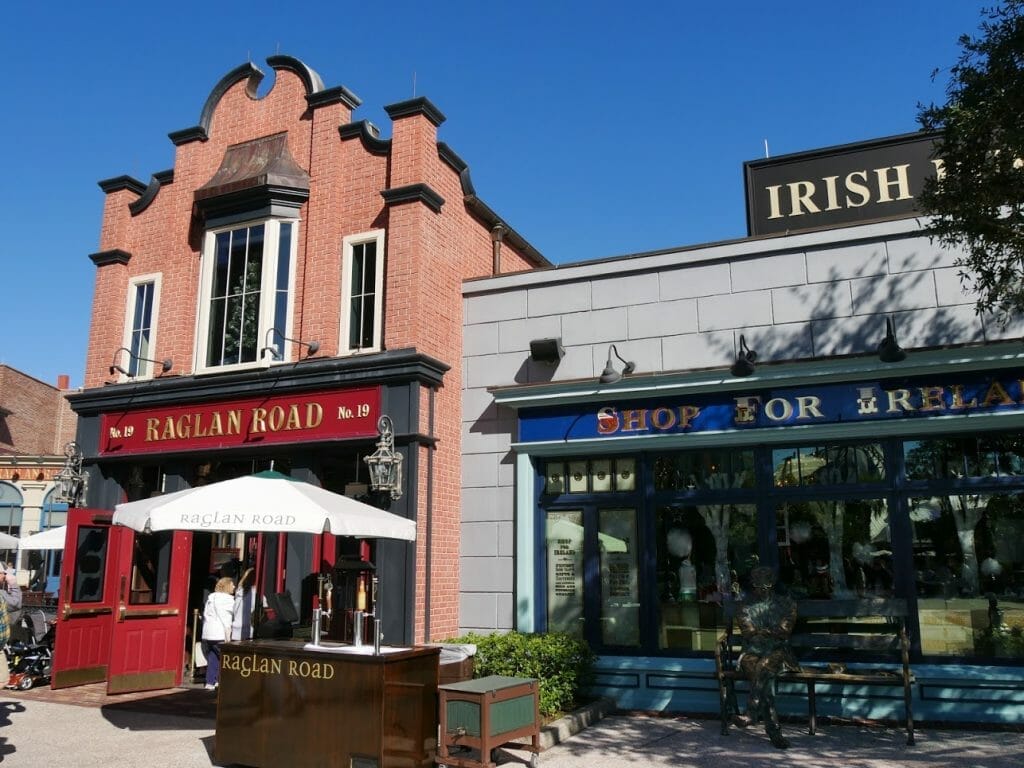 Whatever it is, if you go in with a plan, you're less likely to then spend your entire evening impulse buying things in the shops because, trust me, it's really really easy to do especially with all of the new adorable merchandise out.
Save yourself and come up with a goal for your visit besides draining your bank account.
48. Visit the Disney outlets
The Disney outlets are a short drive away from Disney property and contain loads of discounted merchandise.
This is literally where the budget Disney goer's dreams come true.
Need to do some Christmas shopping?
Disney outlets.
Want a souvenir for the kids that won't break the bank?
Disney outlets.
Want to lose yourself in a sea of red discount stickers? Disney outlets.
49. Set yourself a budget
It sounds obvious. I know.
But my final tip for how to save money on a Disney vacation is to set a budget BEFORE YOU GO.
Make it a game to stay within a certain amount of money on each section of your visit and you'll feel good when you come home rather than broke.
Really, it's all about being realistic.
Prioritize where you want to spend your money and STICK TO IT. Disney debt is still debt, after all.
Despite it coming with a hefty dose of pixie dust.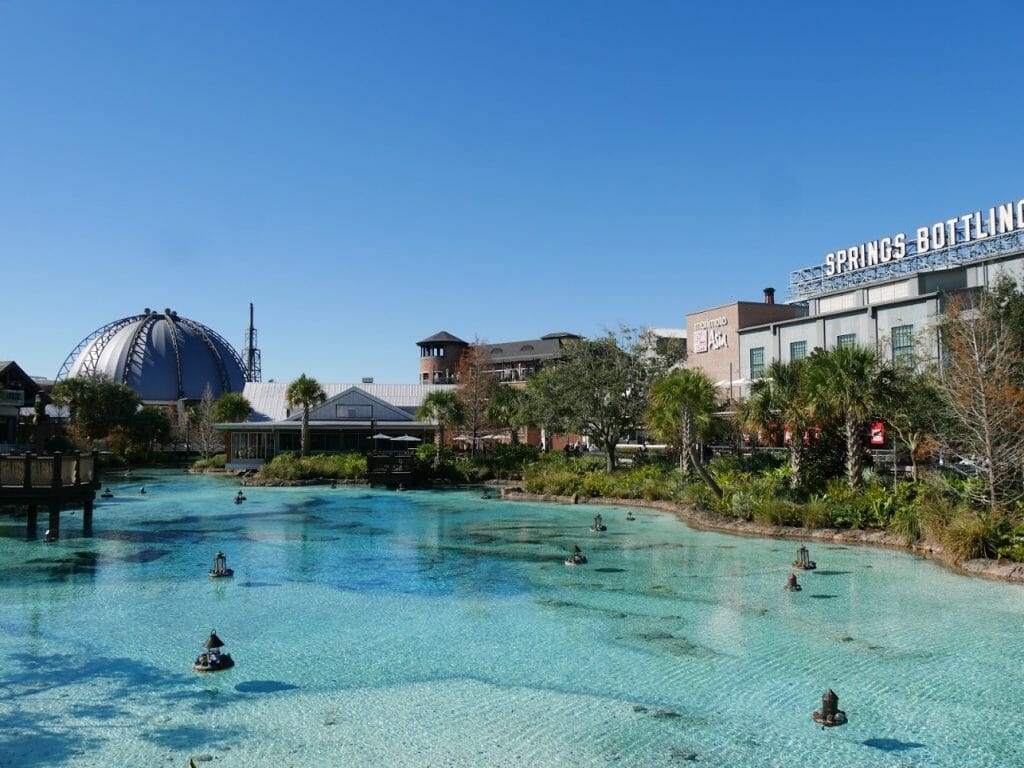 Got any tips for saving money at Walt Disney World? Let me know below!
Hey! Want more of our expert Disney guides? Check these out!
Get the All-American Travel Secrets!
Don't miss out on America's hidden gems!