One of Disney's Yacht Club table service restaurants, Ale and Compass is a fantastic location for both breakfast and dinner.
In this Ale and Compass dinner review, we'll talk about some of our favorite aspects of this sophisticated restaurant in the evening, as well as what we ordered for dinner at Ale and Compass.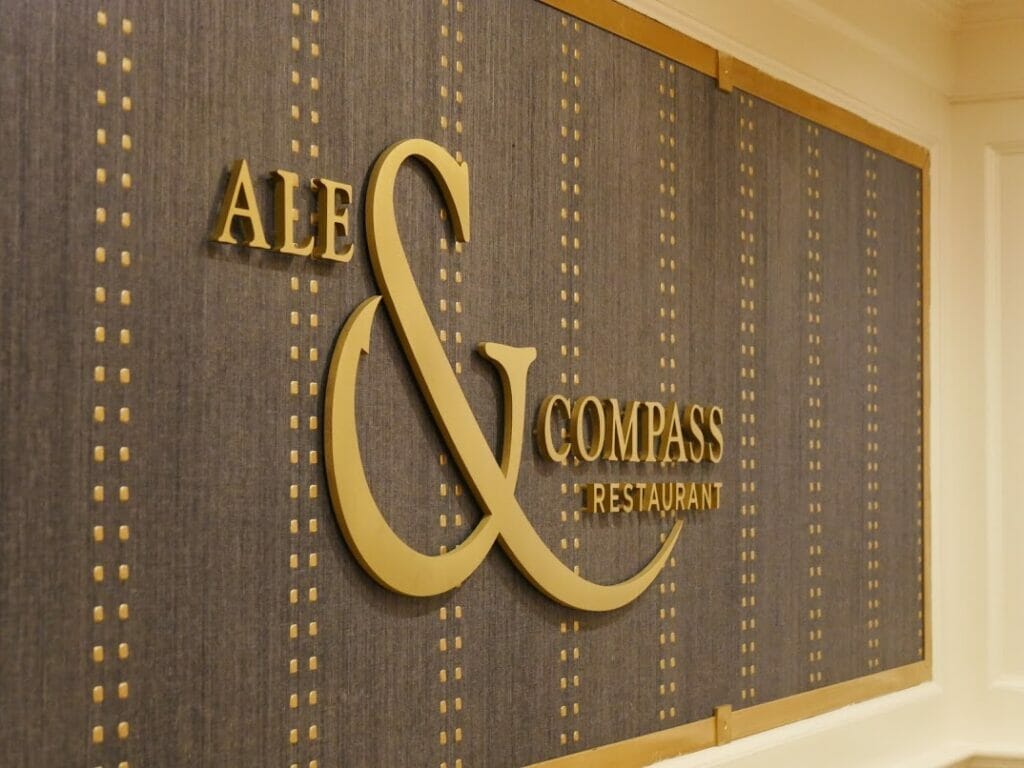 Want insider Disney tips from an expert?
Join 4,000 others in weekly guides to Disney's hidden secrets, gems, and money-saving tips!
Pssst – this printable Disney scavenger hunt is amazing
Since you're already looking up Disney guides, I just wanted to make sure you knew about this printable Disney World scavenger hunt created by a lifelong Orlando native and Disney World fan.
There are over 60 challenges with a full answer key and both Family and Grown Up versions and a bonus Disney Springs hunt for your non-park day!
Where is Ale and Compass?
You'll find Ale and Compass off to the left side of the Yacht Club lobby, if you're looking into it from its front facade.
This is right next to Disney's Beach Club resort, one of our top picks for the best Disney resort for honeymooners and best Disney Deluxe resort.
Can I Use the Disney Dining Plan at Ale and Compass?
Yes, you can use one table service credit off the dining plan at Ale and Compass.
Ale and Compass Dinner Theming
One of the first things to keep in mind is that Ale and Compass has very dark, nautical theming, so if you're looking for the bright lights of Beaches and Cream, you won't find them here.
This dark lighting and dark blue color scheme makes Ale and Compass feel very sophisticated, and in fact I think it works better at the dinner hour than it does for Ale and Compass breakfast.
There is nothing "in your face" Disney at all about Ale and Compass, which some people will love and some people will hate.
No character dining or Mickey-shaped plates, just a nice dinner in a nice and relaxing atmosphere after a long day in the parks.
Put on these Minnie earrings and make the most of it.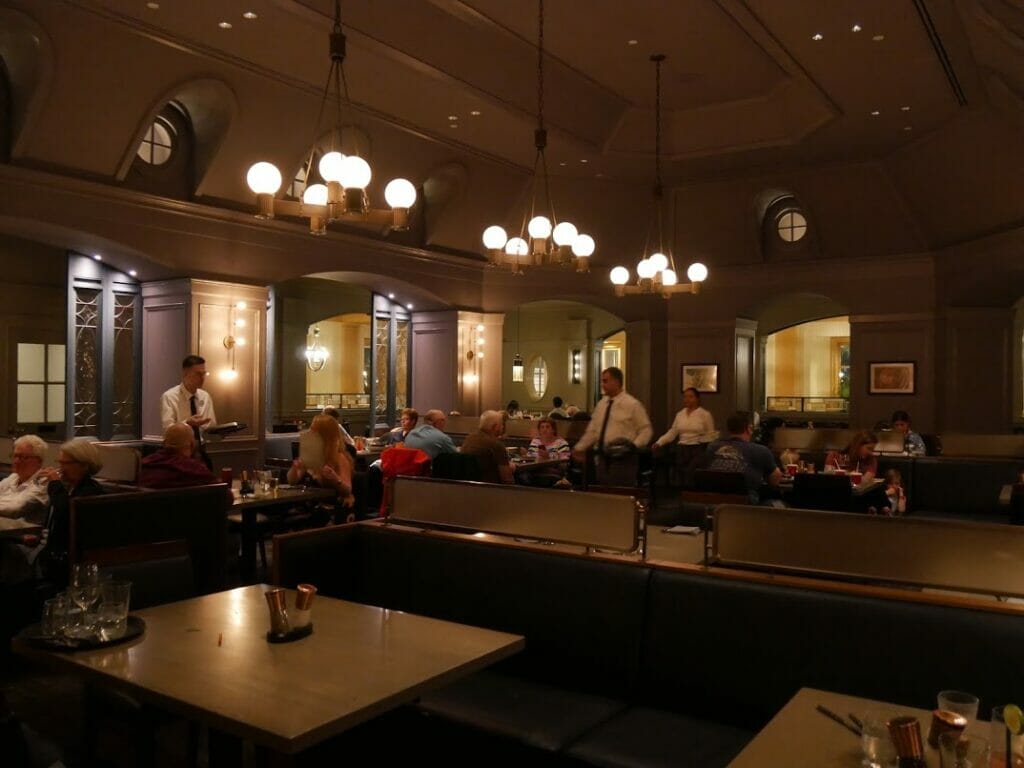 This makes it one of my top picks for where to go on a Disney World date, as well as a key destination in my guide to Disney World for adults.
Keep in mind, too, that the Yacht Club is one of the resorts used for business conferences, so suddenly the sophisticated theming makes even more sense.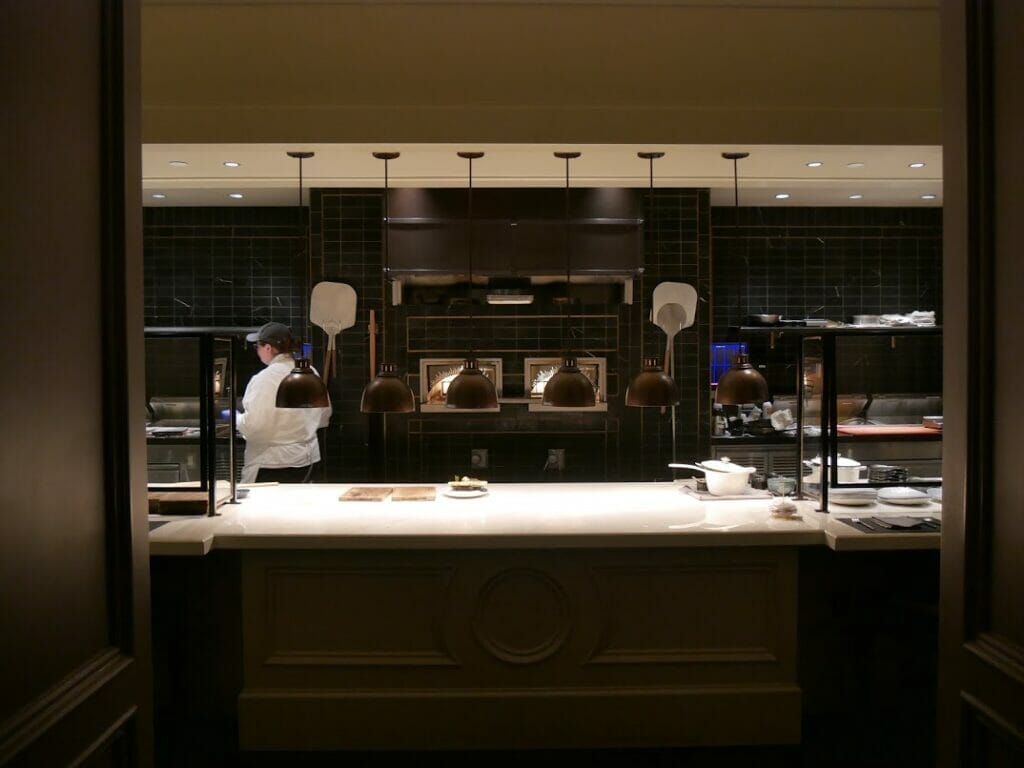 Note, however, that Ale and Compass is considered "casual" dining and not signature dining, so you can come as you are without a dress code.
Ale and Compass Dinner Menu
What's on the menu for dinner at Ale and Compass is probably the most important question to ask, because there's no point in experiencing great theming if you can't find anything on the menu to eat.
As with many of the restaurants at the Yacht and Beach Club, seafood is a favorite on the menu at Ale and Compass for dinner.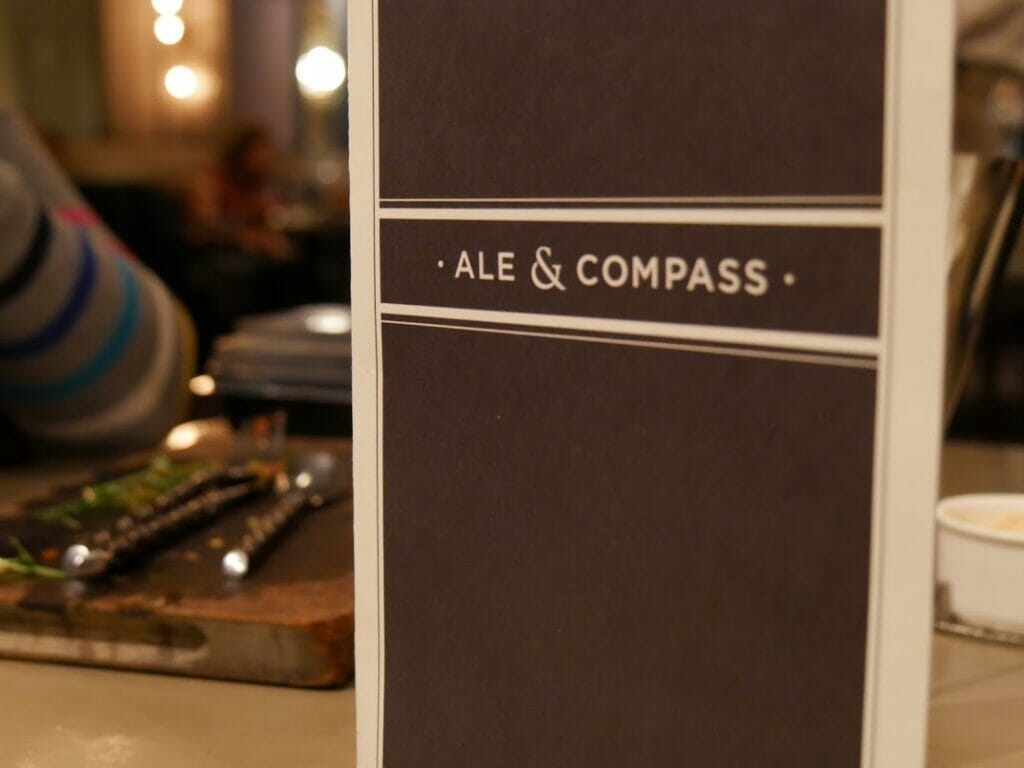 Even just on the starters menu, you can find lobster chowder, garlic shrimp, and crab cake.
There are also vegetarian options like rolls with some fancy butters and spreads or seasoned cauliflower.
For the entrees, you can choose from the salad and flatbread section with has both veggie and non veggie flatbreads and some delicious salads like the Ale & Compass salad.
Or you can choose from the main entree section which has everything from a plant-based protein bowl to a hamburger to seafood pot pie or the catch of the day.
And on top of that, Ale and Compass do a section called "enhancements" which range from 1/2 a lobster to truffle fries and can really take your meal to the next level.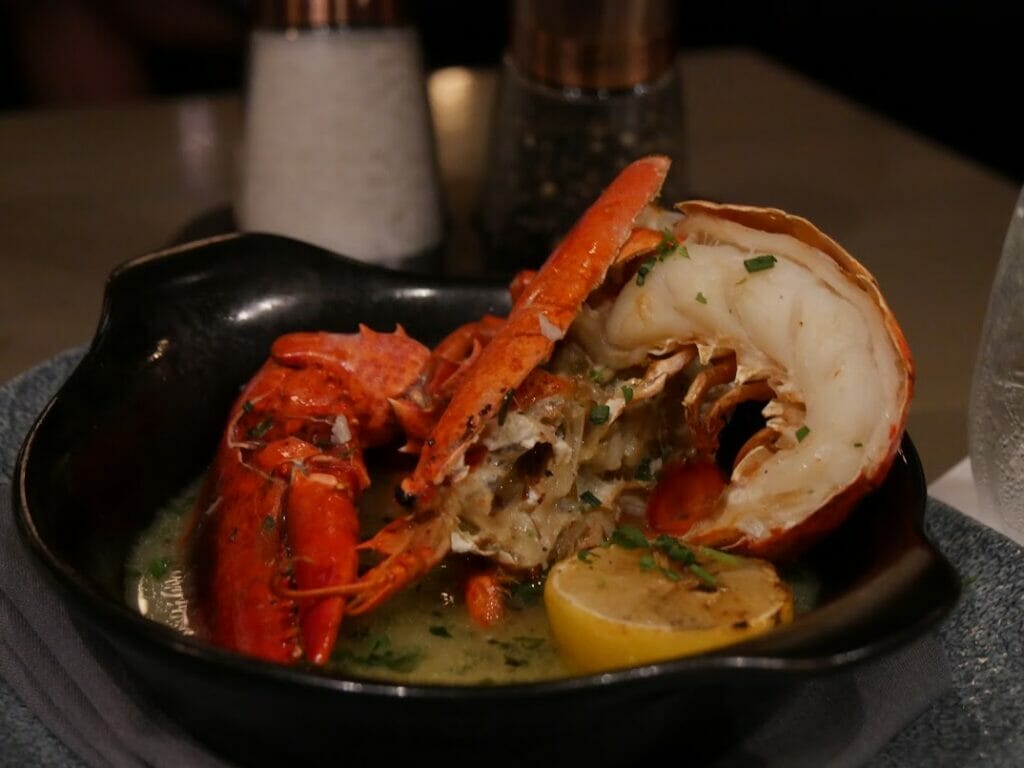 Our personal menu choices were the Parker House rolls, which I enjoyed the taste of but is definitely for more adventurous eaters when it comes to the spread.
My husband had the lobster macaroni and cheese which was excellent, as well as 1/2 a lobster and truffle fries.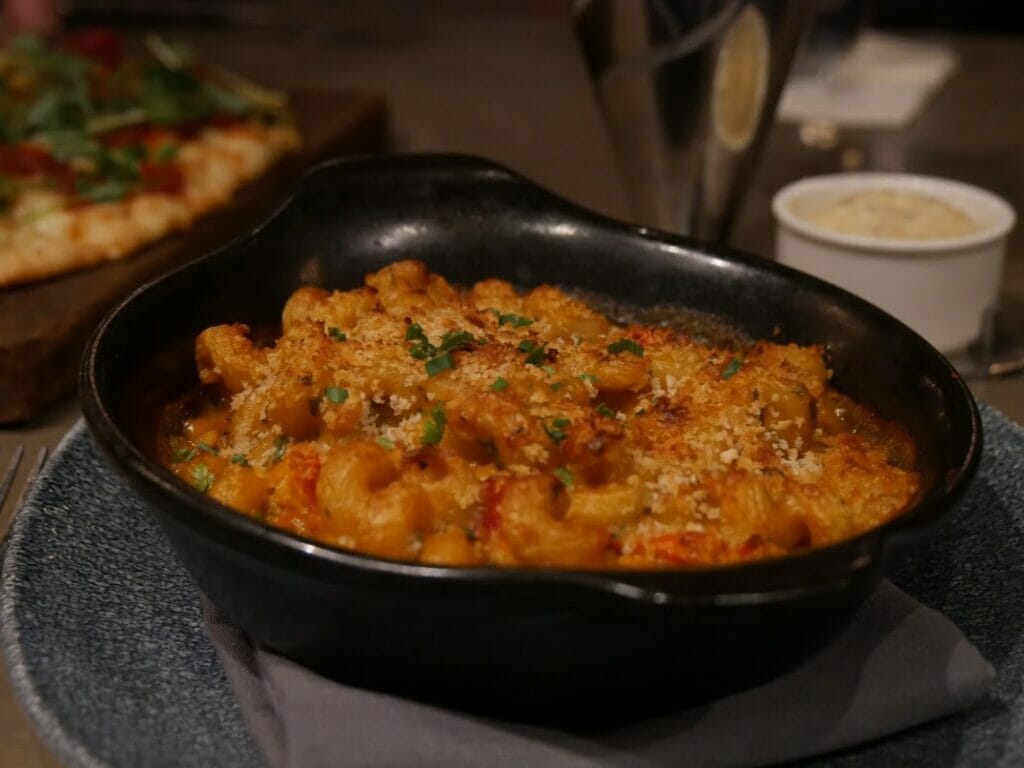 The truffle fries were fantastic, and he wished that his 1/2 a lobster had come with more lobster meat, but sometimes that's the luck of the draw.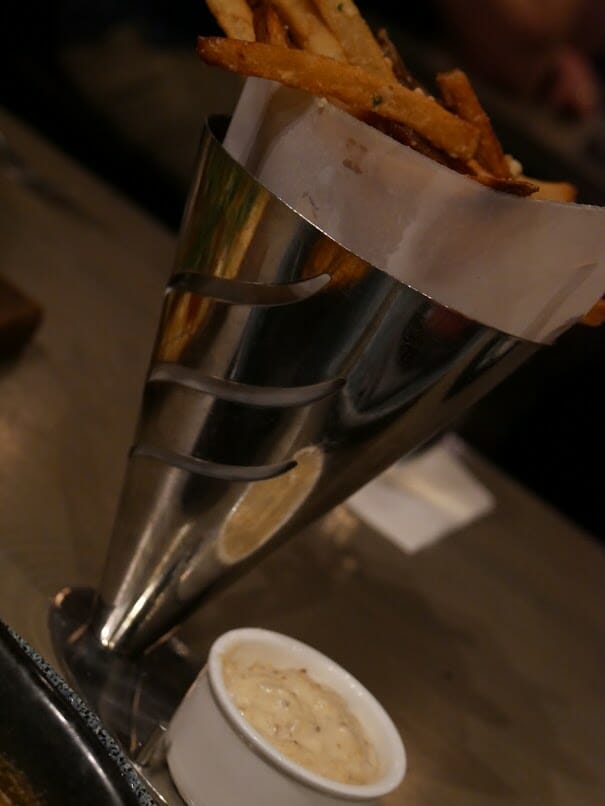 I enjoyed the vegetarian flatbread which was a pesto based dished at the time.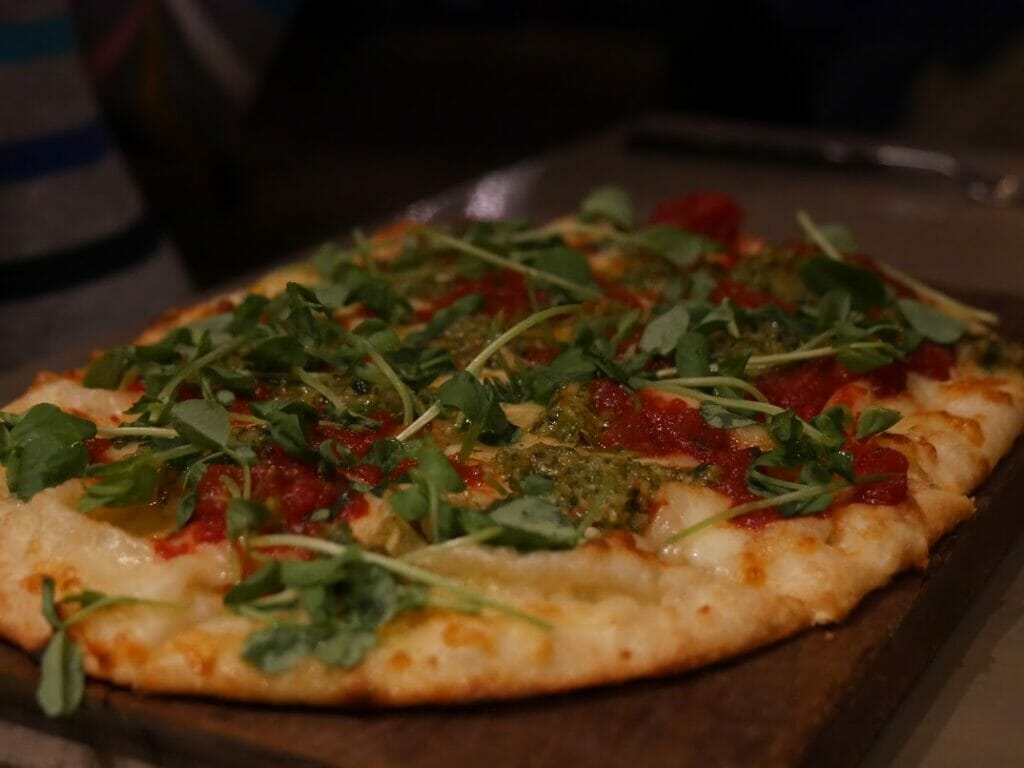 It wasn't a meal that I'll remember forever, but I was glad I tried something new and appreciated the more interesting vegetarian options than just mushroom risotto or something that all restaurants seem to do.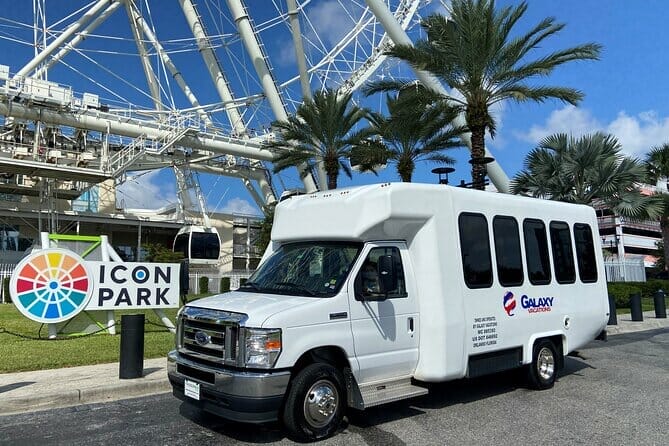 🚌Not renting a car in Orlando?
My favorite shuttle to get from the Orlando airport directly to Disney World is this one with a ⭐⭐⭐⭐⭐ rating.
Service at Ale and Compass Dinner
Service is the one area where I give 5 stars to Ale and Compass for dinner, and not for breakfast, which only goes to show that sometimes, a restuarant's service rating can be heavily influenced by bad or good luck in who you get as your server.
Ale and Compass redeemed itself at dinner with our server, however, who was very attentive, listened to all of our questions, and was also very amenable to us mix and matching the menu.
He even went to the kitchen to ask a question my husband had that he didn't know the answer to.
The staff at the host desk were also nice, getting us in even though we arrived 15 minutes late due to a hot water issue with our room at the Beach Club.
Is Ale and Compass good for kids?
Overall, this is not a Signature dining restaurant and so perfectly acceptable for kids of all ages to dine here, but because of the more muted theming and lack of "Disney" theming, don't expect them to be entertained by their surroundings and make sure to pack plenty of things to do if they are the type who need some stimulation.
The kid's menu is also quite substantial and includes things like turkey breast, grilled chicken, and baked fish.
If you have picky eaters, they can stick to the pasta, though the overall kid's menu isn't as kid-friendly if you have ones who prefer nuggets and fries.
Do I Need Reservations for Ale and Compass Dinner?
I would highly recommend reservations, as despite this being a resort dining option, it can still get pretty busy as a lot of people staying at the Yacht and Beach Club will end up wanting to eat here.
You could walk up and see what's available or when they could get you in, but for a chance of eating anytime soon or if you have a large group, reservations are a must.
How do I Get a Dinner Reservation to Ale and Compass?
You can make reservations through the My Disney Experience app, or stop by the desk during the day.
You can also use a Disney travel agent for free like the Vacationeer to help you make all reservations on your behalf.
Get the All-American Travel Secrets!
Don't miss out on America's hidden gems!