Right across from the entrance to Stormalong Bay at Disney's Beach Club is one of the best hidden dining gems on Disney property.
Beaches and Cream is a fantastic Disney World soda shop and restaurant and in this Beaches and Cream review, we're uncovering all of the fantastic parts of this dining option.
The new and improved Beaches and Cream was opened in January 2020 after the old restaurant was closed for refurbishment for a while.
The result is a much larger space, additional menu options, and even more opportunity to get a dining reservation to eat here due to the additional number of seatings.
Want insider Disney tips from an expert?
Join 4,000 others in weekly guides to Disney's hidden secrets, gems, and money-saving tips!
Pssst – this printable Disney scavenger hunt is amazing
Since you're already looking up Disney guides, I just wanted to make sure you knew about this printable Disney World scavenger hunt created by a lifelong Orlando native and Disney World fan.
There are over 60 challenges with a full answer key and both Family and Grown Up versions and a bonus Disney Springs hunt for your non-park day!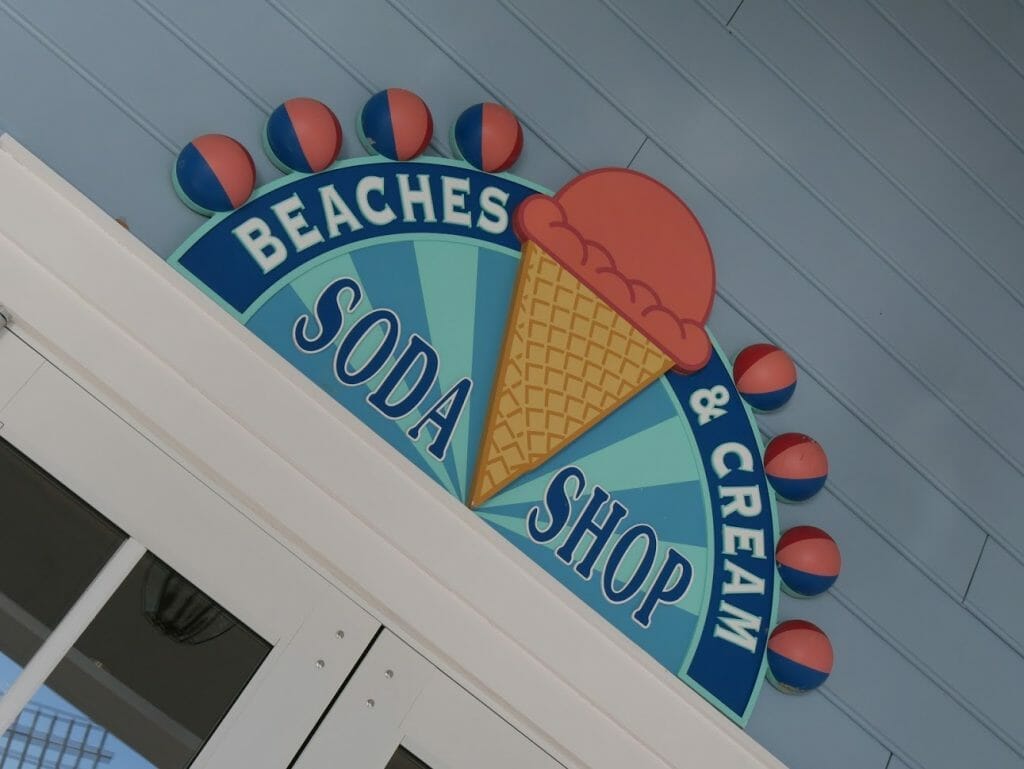 Beaches and Cream Theming
The theming at Beaches and Cream is classic soda shop, with primary colors and lots of white to keep the place bright and happy.
This is in contrast to the nearby eateries at the Yacht Club, like Ale and Compass, which have a bit more subdued and sophisticated theme.
There are regular tables to sit at, as well as the bar option, and you'll feel as if you've just come in from the actual beach to grab a bite to eat.
If you want your house to smell like the Beach Club and Beaches and Cream, check out this Beach Club smelling candle!
The silverware and bowls and plates, too, are kept to the theme as they are either plain white or a solid color and look like they've come from mom and pop's soda shop rather than any sort of fancy establishment.
It all works together to create the Boardwalk-inspired feel that they're going for.
Because the theming is distinctly American, American visitors may not feel it is "themed" as much as if you eat at, say, Boma at Animal Kingdom Lodge, but it's still a friendly and bright place to eat that fits in well with its Beach Club surroundings.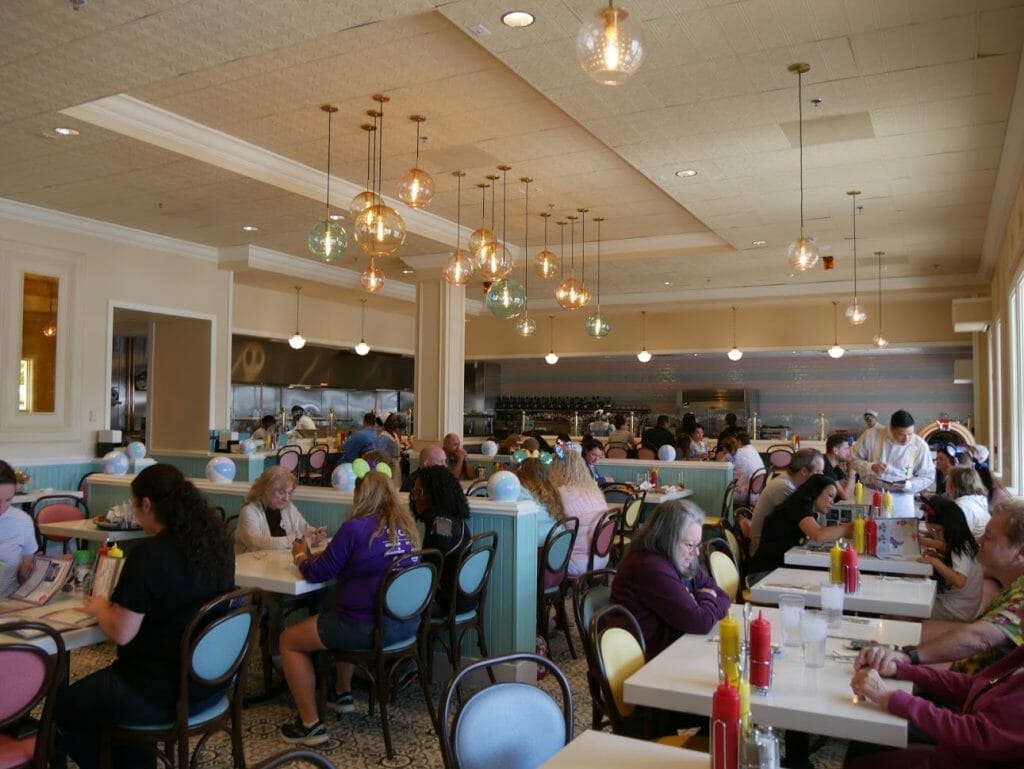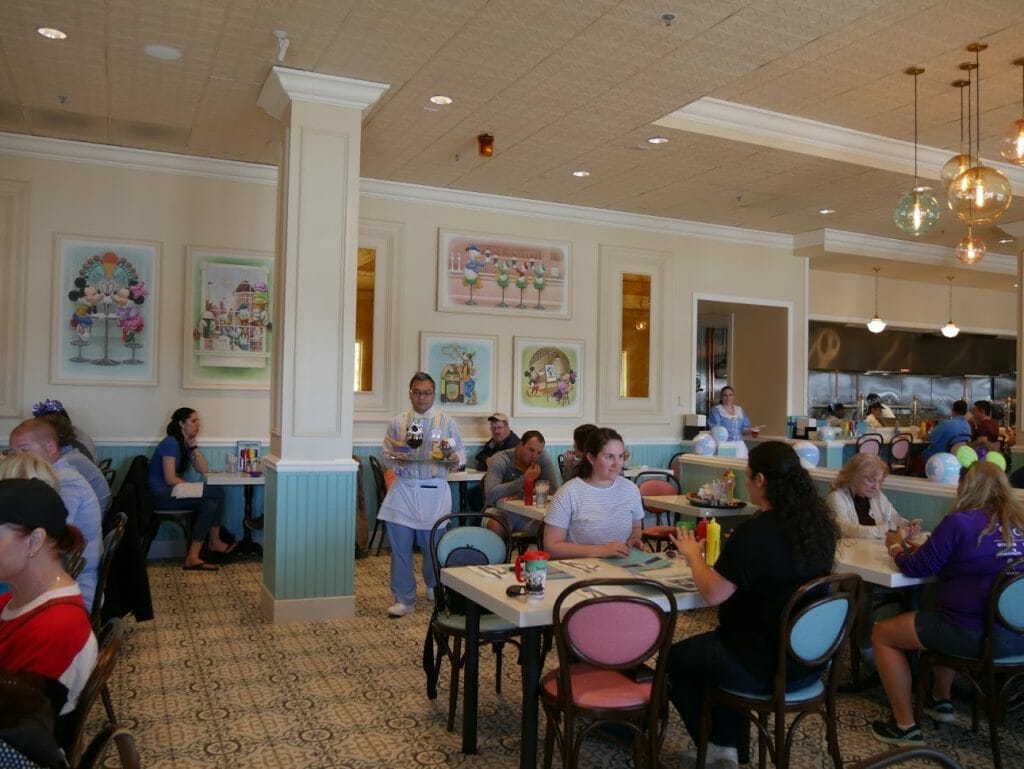 Beaches and Cream Lunch and Dinner Menu
Beaches and Cream serves both lunch and dinner with the same menu for both.
There are a range of options including burgers, sandwiches, salads, a patty melt, and more.
The sides focus on American classics like onion rings, tater tots, and chili, and the kid's menu has favorites like hot dogs, cheeseburgers, and macaroni and cheese.
If you've got picky eaters, Beaches and Cream is the place for you as there is nothing "exotic" on the menu – just American style food that many visitors will love and know from home, but with a soda shop twist.
We had the grilled cheese sandwich, fries, and plant based chili cheese tots.
The grilled cheese was very good with an excellent buttery and cheesy taste, while the side dishes were also just what you would expect of a restaurant like this – thumbs up all around!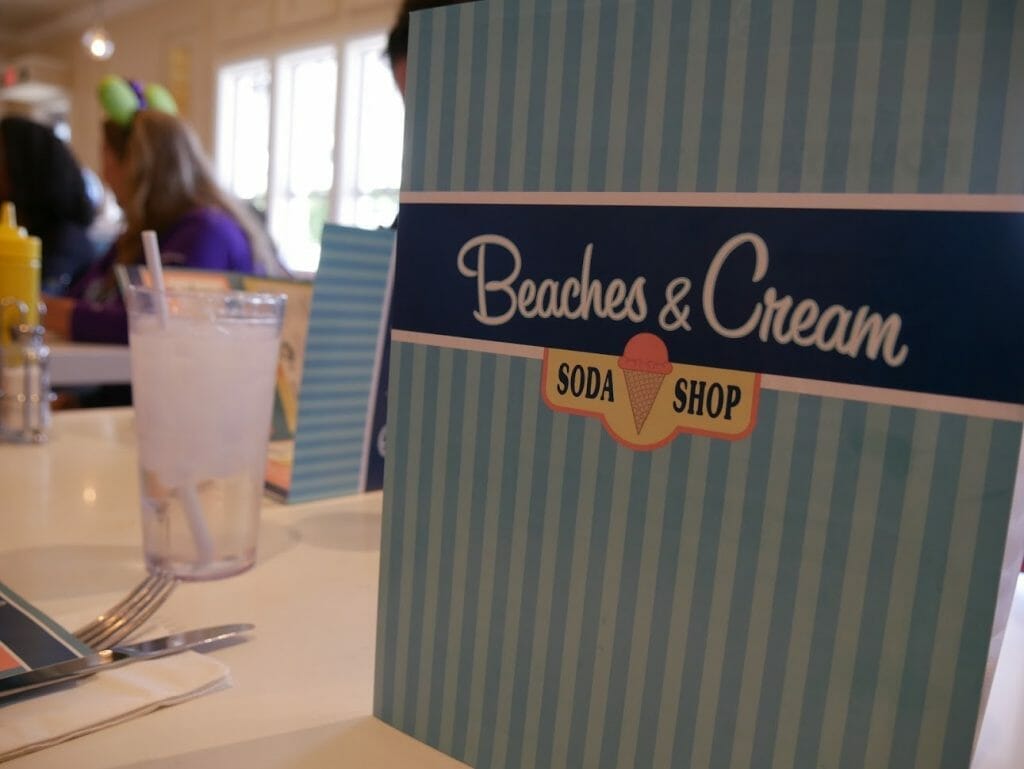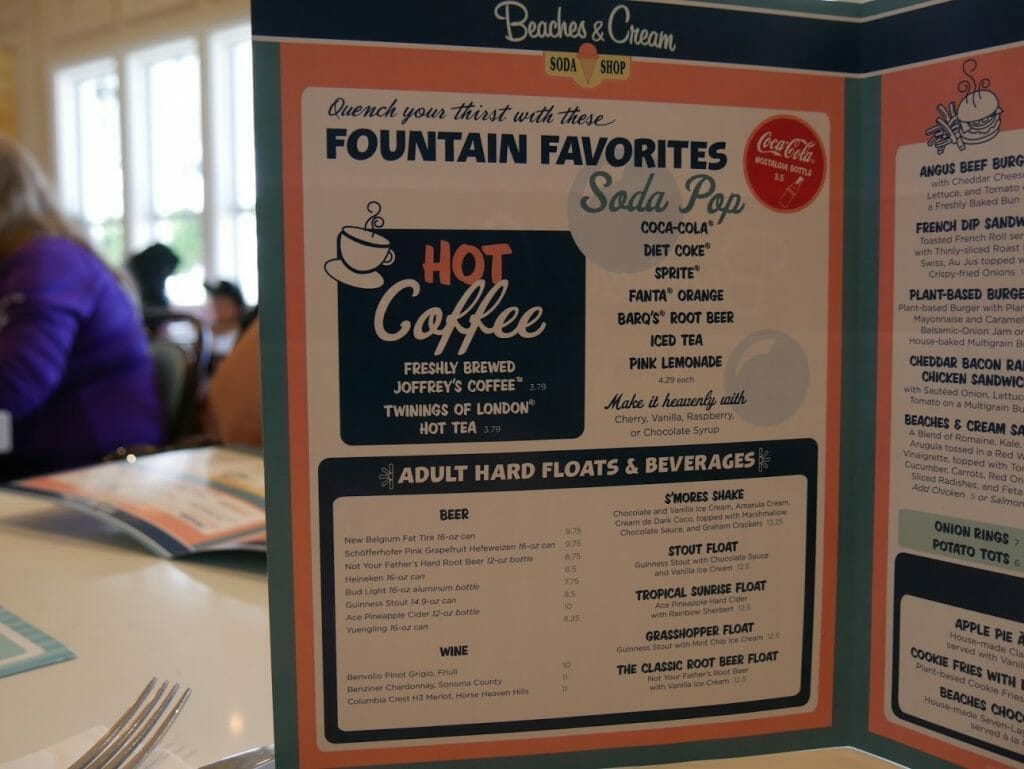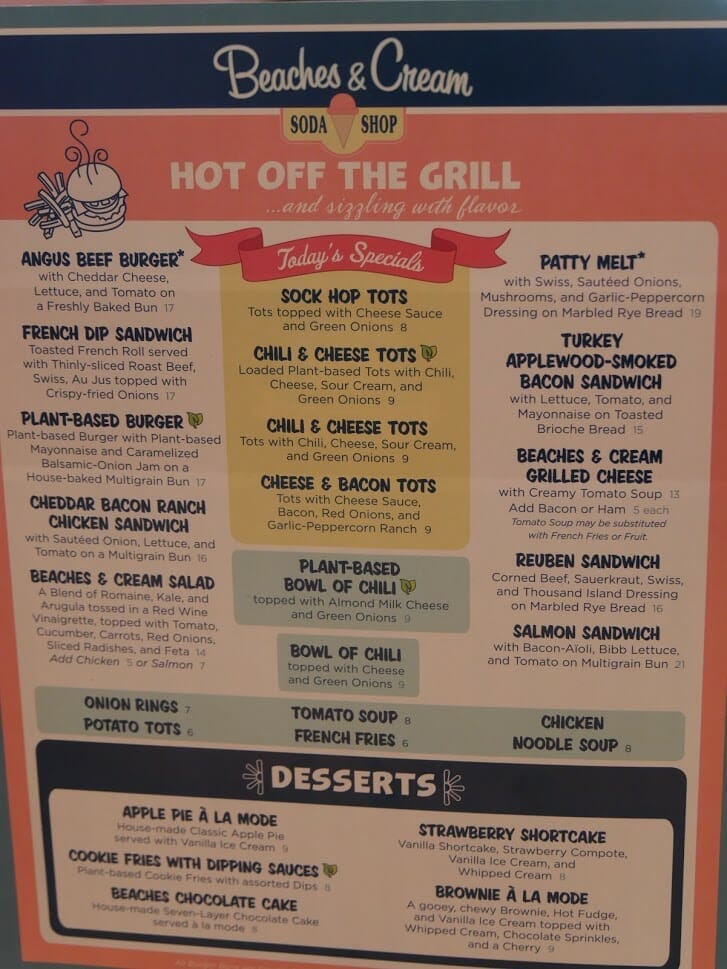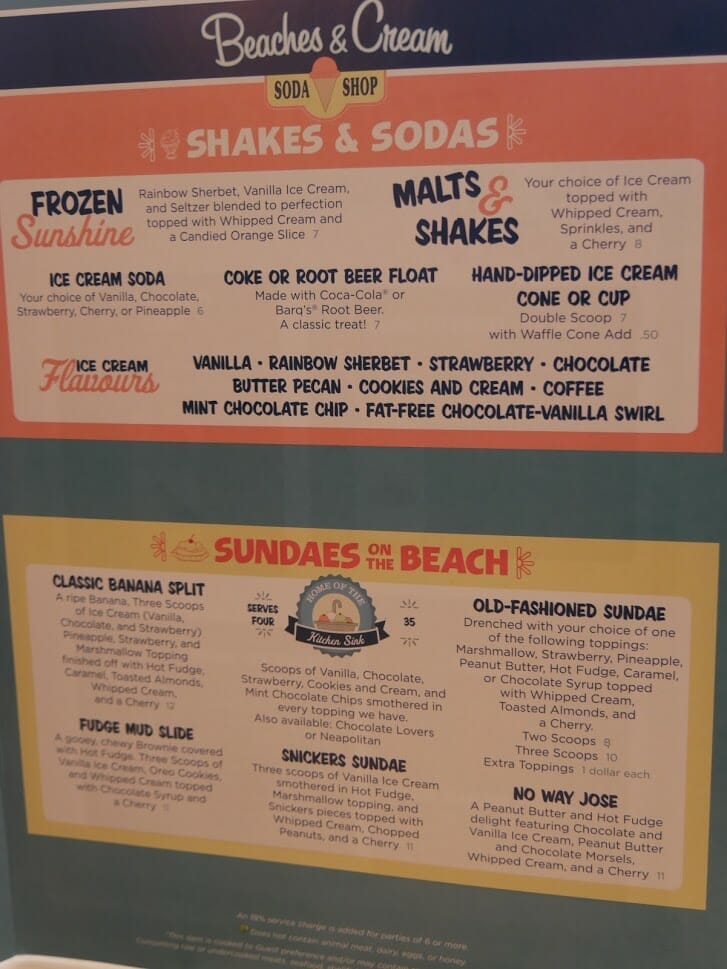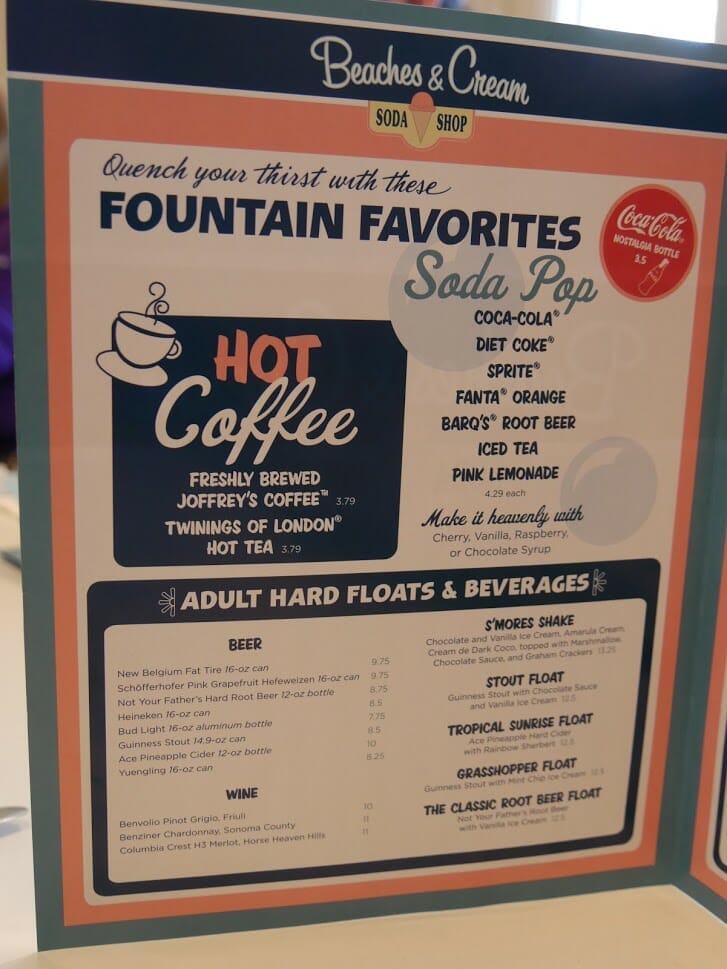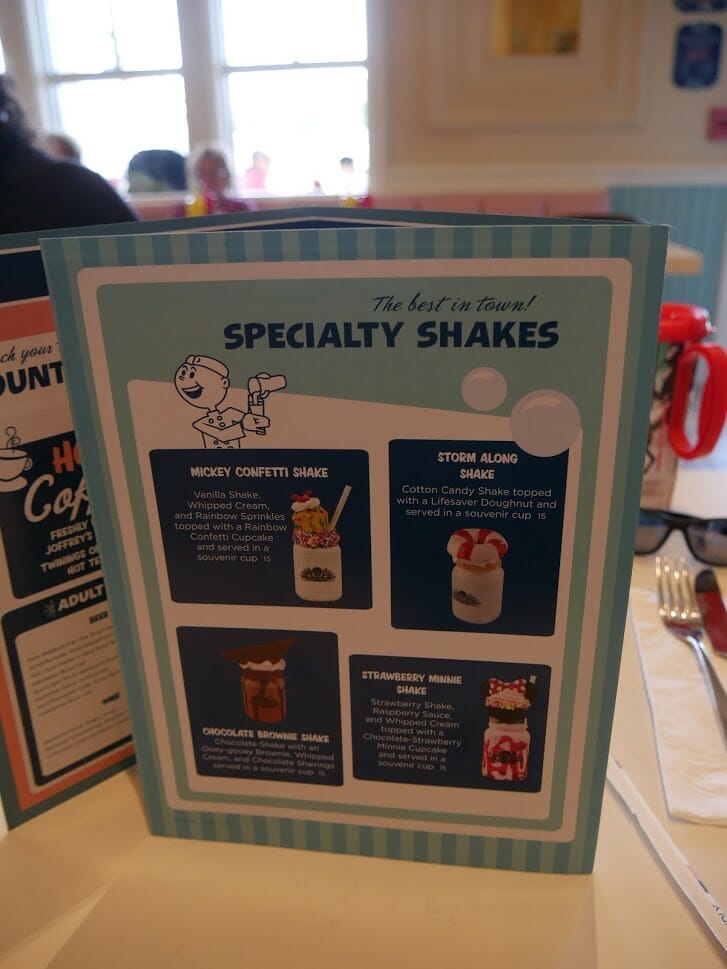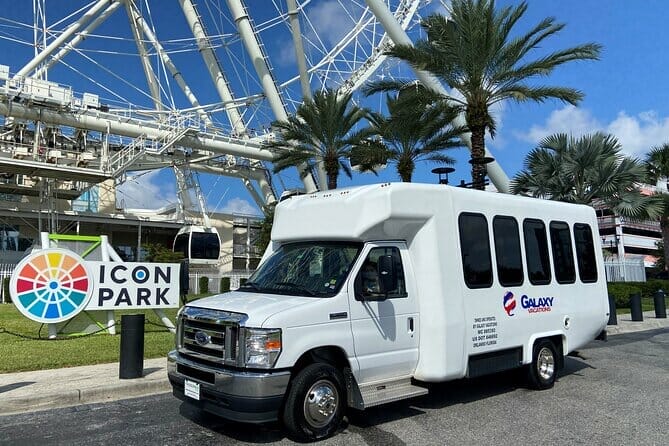 🚌Not renting a car in Orlando?
My favorite shuttle to get from the Orlando airport directly to Disney World is this one with a ⭐⭐⭐⭐⭐ rating.
Beaches and Cream Ice Cream
Of course, nobody comes to Beaches and Cream for just the food.
In fact, the "cream" in its name suggests something else – the ice cream!
From amazing shakes to giant sundaes to more tame two or three scoop options, the dessert and ice cream options really shine here.
The milkshakes in particular are almost overflowing with goodness, with many of them topped with cupcakes and other desserts.
We had the Fudge Mud Slide and still talk about it to this day.
Most of the desserts can easily be split between two people, but particularly the next option.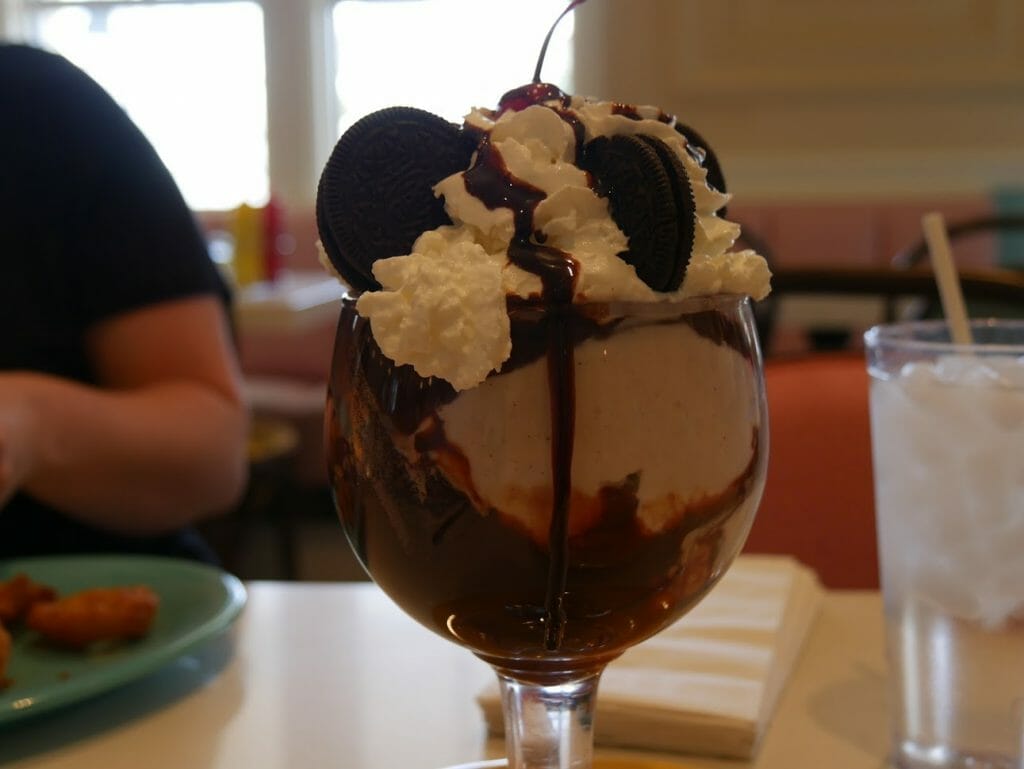 The Kitchen Sink at Beaches and Cream
One of the Beaches and Cream classics is the "Kitchen Sink."
This absolutely massive ice cream sundae is served in a literal kitchen sink sundae bowl and has many, many scoops of ice creams and all of the toppings that they have.
It is absolutely dripping with sweetness, and it is listed on the menu as serving four people. Even more than that could absolutely share.
The kitchen sink comes with a special event as well.
When its delivered to you, the lights go out for a moment while they make an announcement and then it's up to you to dig in with all eyes on you.
Beaches and Cream Prices
Prices at Beaches and Cream are definitely Disneyfied, though in general it is classified as casual dining and not a particular expensive option compared to others on Disney property.
One of the cheapest entrees is the grilled cheese which comes in at $15.00, and it goes up to the burger which is $20.00.
Then you've got the sides, which are $6.00 for regular fries and $9 for the specialty tater tots.
Milkshakes come in at $15, and the sundaes range from $8 to $12.50 for the single serve options.
Beaches and Cream is on the Disney Dining Plan at one table service credit, but often isn't a good deal given the comparatively low prices.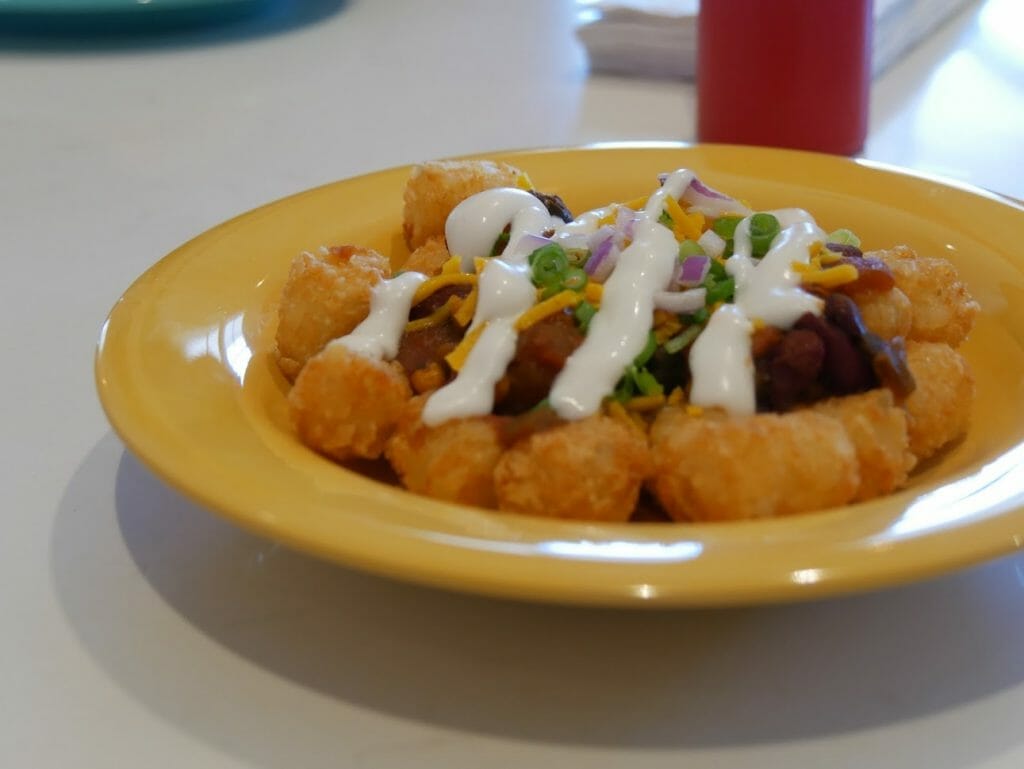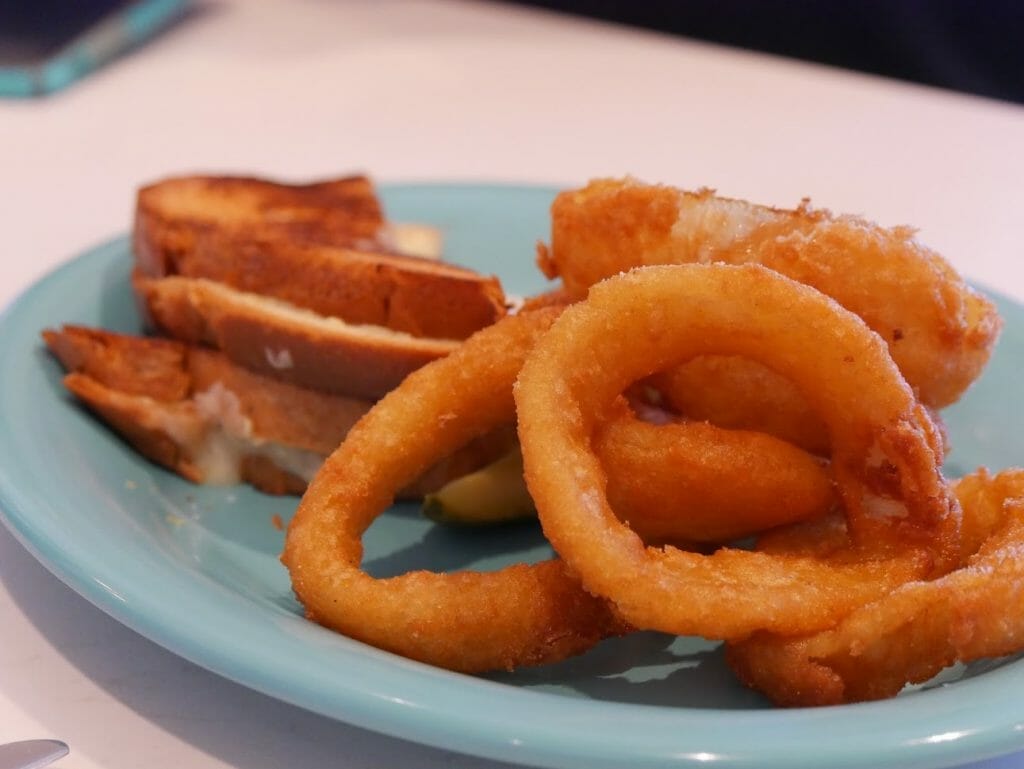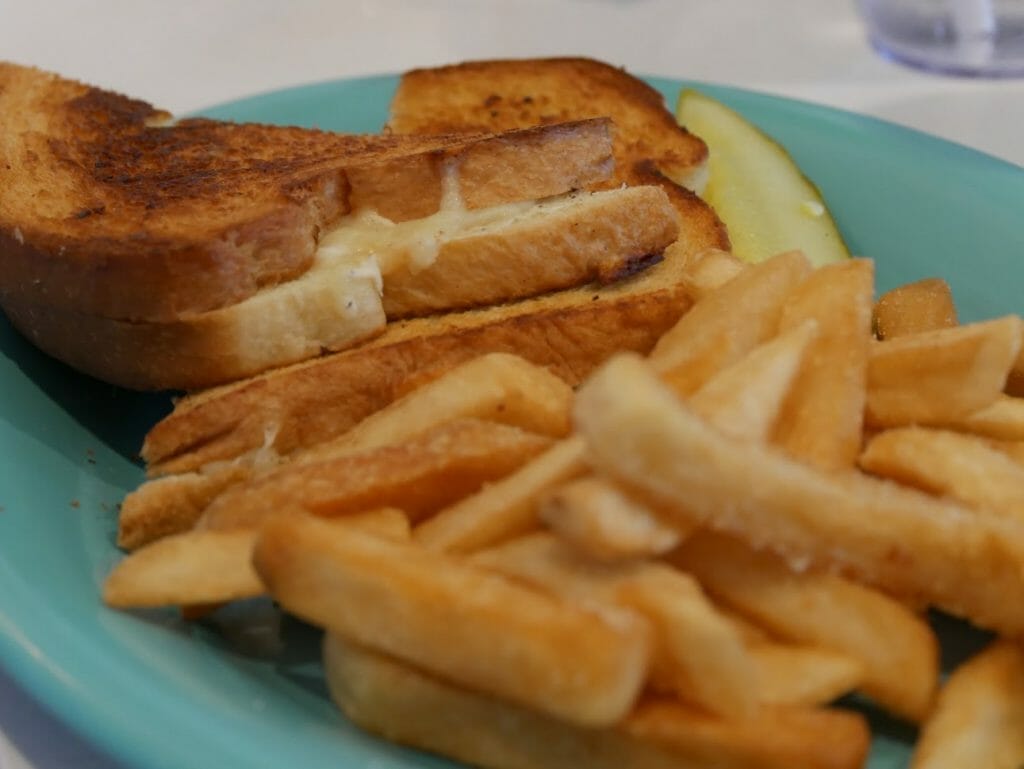 How to Get Reservations to Beaches and Cream
You can snag a reservation to Beaches and Cream online through the My Disney Experience app, or call Disney Dining at 407-WDW-DINE.
After the renovation, I have seen more Beaches and Cream reservations available as it can finally seat enough people to cope with the demand – hooray!
You can also enjoy this restaurant as a walk-up, but may have to wait for quite a bit longer depending on the time of day.
It's super easy to get to Beaches and Cream via the Epcot Skyliner station, as it's just a short walk away.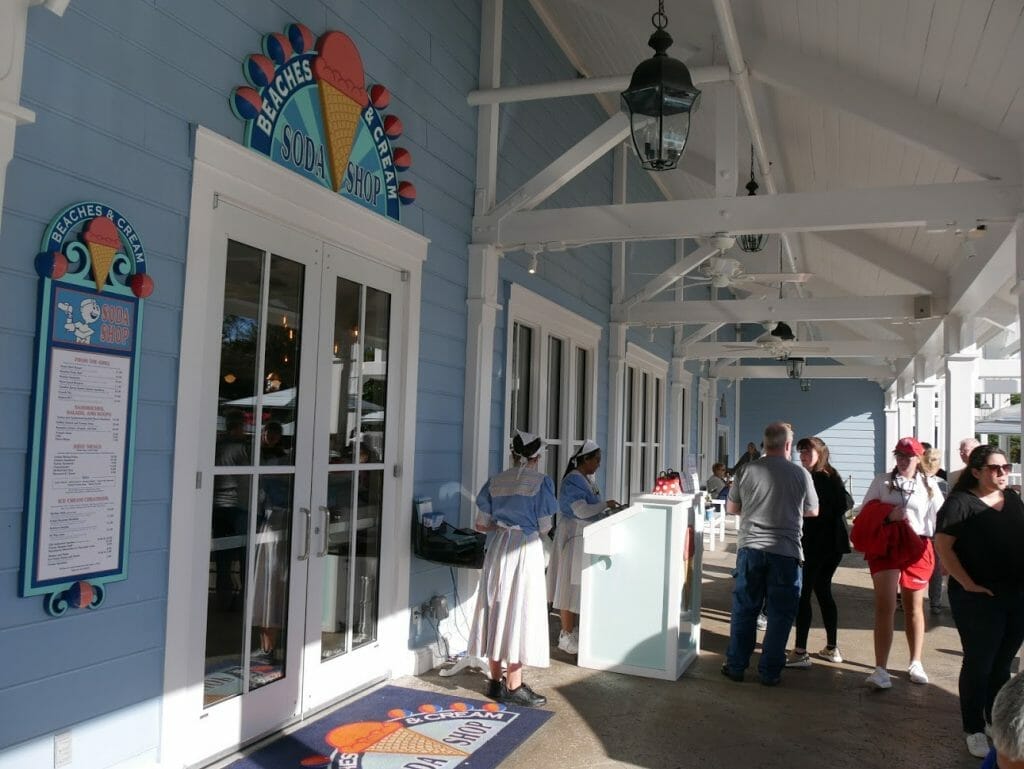 Beaches and Cream Ice Cream Window
You don't have to make a reservation or sit down to enjoy a "to go" ice cream from the Beaches and Cream ice cream window.
This service is a great option for people who just want ice cream that they can sit with on the patio or enjoy as they walk around the Beach Club.
Not all options are available here, but many fantastic dessert options are to satisfy your sweet tooth if you aren't in the mood for a full sit-down meal.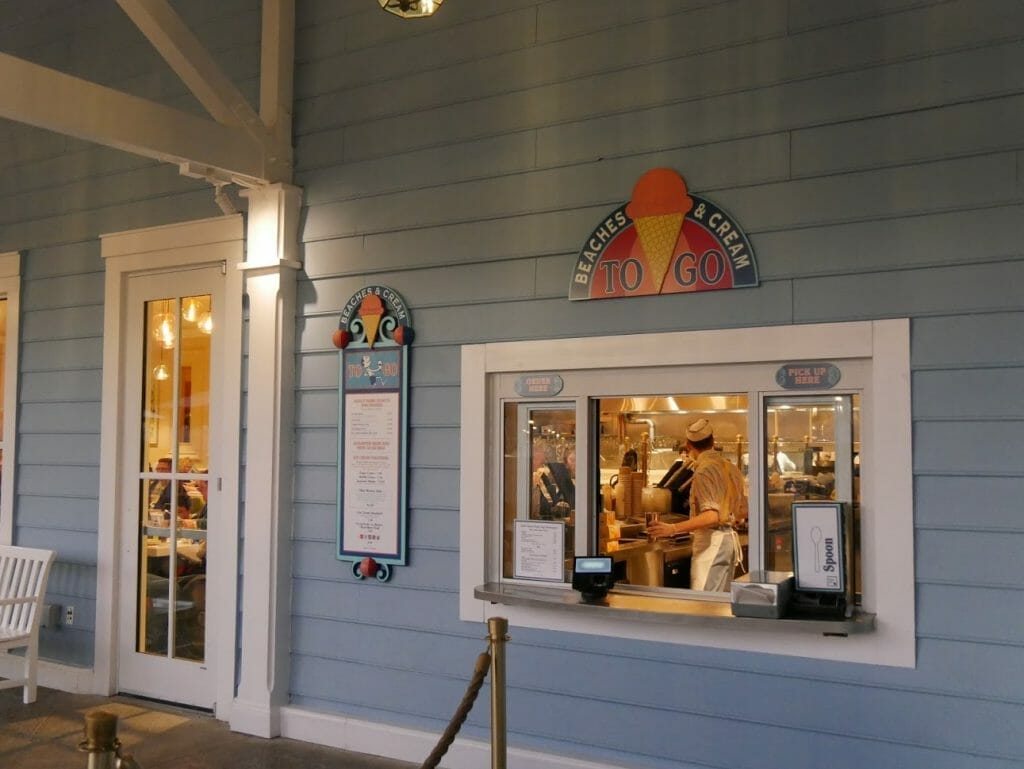 Get the All-American Travel Secrets!
Don't miss out on America's hidden gems!