Summer days with Mickey ice cream. Zooming through space as you conquer the galaxy's. Dining with your favorite princess.
The best things to do in Disney World aren't just a must-do list, they're must-do magic.
With four parks, two water parks, multiple shopping and dining areas, 20+ resorts, golf courses, spas, and more, narrowing down what to do in Disney World is understandably difficult.
But as a Disney local, I know that this is the ultimate list, the best Disney World checklist, and a fantastic resource for anyone wanting to make sure they haven't forgotten any of the best things to do at Disney World.
Want insider Disney tips from an expert?
Join 4,000 others in weekly guides to Disney's hidden secrets, gems, and money-saving tips!
Everyone get their favorite Disney shirt ready (I love this "done adulting, going to Disney one) and let's get started.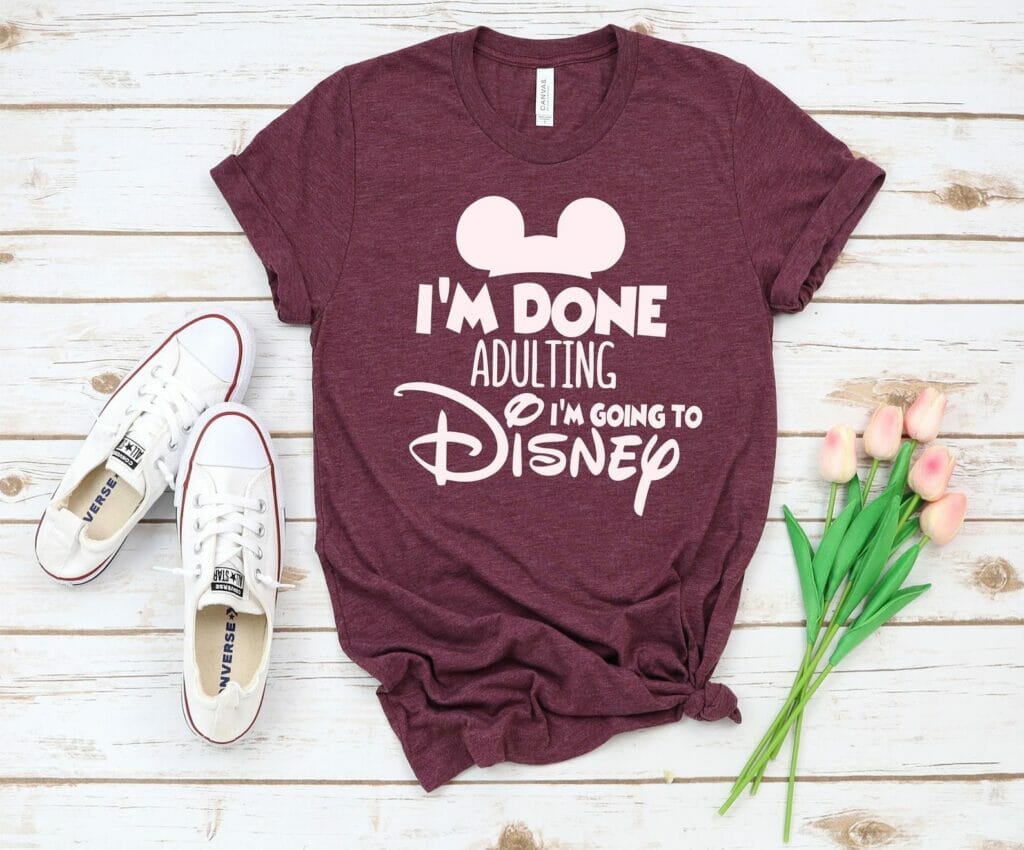 Pssst – this printable Disney scavenger hunt is amazing
Since you're already looking up Disney guides, I just wanted to make sure you knew about this printable Disney World scavenger hunt created by a lifelong Orlando native and Disney World fan.
There are over 60 challenges with a full answer key and both Family and Grown Up versions and a bonus Disney Springs hunt for your non-park day!
1. Get a Mickey Bar and eat it in Front of Cinderella's Castle
One of the most quintessential and iconic things to do in Disney World is going to be the first up, because have you really gone to Disney if you haven't eaten a Mickey bar in front of Cinderella's Castle?
For this, you'll head to the Magic Kingdom (check out the best things to do in Magic Kingdom), the most popular Disney park and a fantastic Disney Instagram op.
Grab a Mickey bar from any of the surrounding snack carts that sell them (most do), and enjoy it while people-watching in front of the castle or just staring up at it in awe.
2. Conquer the Yeti and Expedition on Everest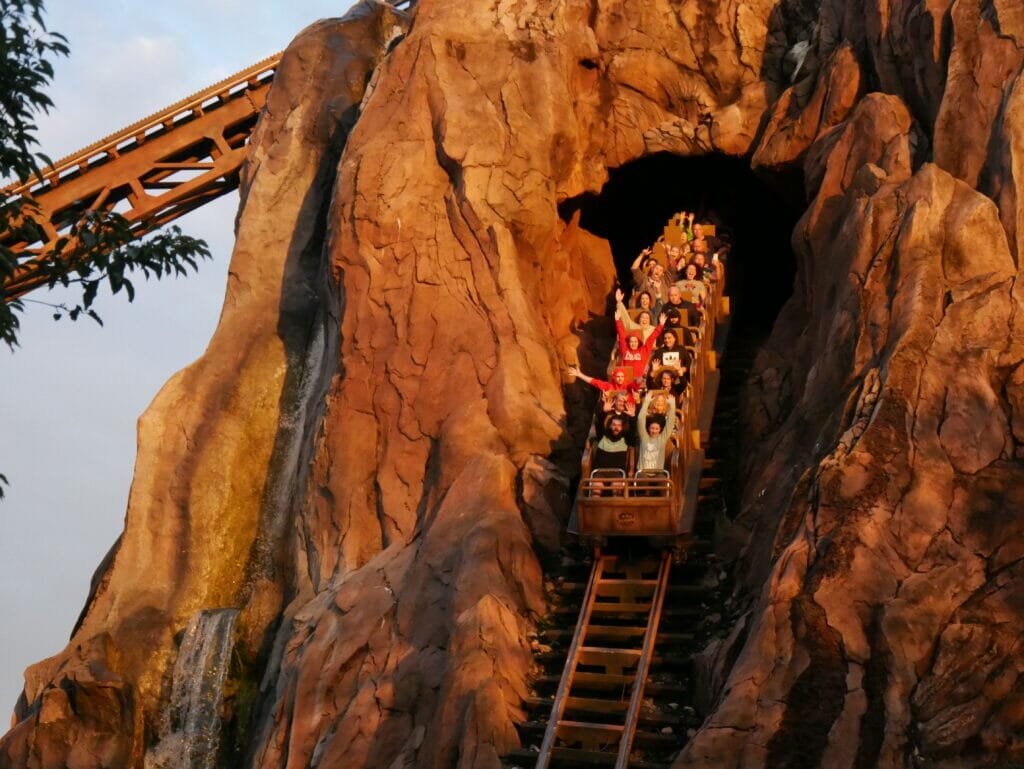 One of the best themed rollercoasters in Disney World is Expedition Everest at Animal Kingdom, and it makes our list because of how gorgeous it is – truly!
The pictures you can get during golden hour are spectacular, and if you're actually riding the ride, you'll experience the really well done queue filled with Everest gear, legends, and tales, as well as get to experience this high speed chase around Everest that leaves you face to face with the Yeti (oh, and if you like to go backwards at high speeds, this is the ride for you).
For more Animal Kingdom tips, check out the best things to do at Animal Kingdom.
3. Drink and Dine around the World at Epcot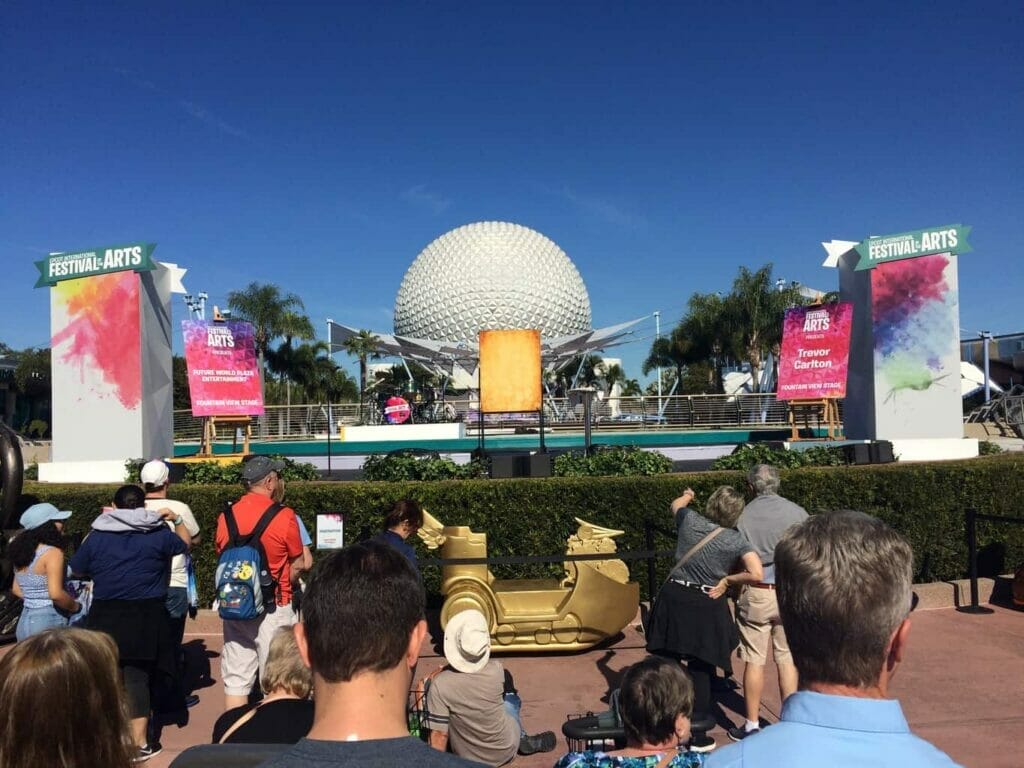 Things are a bit more low key in Epcot's World Showcase, but that doesn't mean that it's not a great place for Disney memories.
One of the most popular ways to celebrate a birthday at Disney World is to eat and drink around the world.
Many people make matching shirts, and in each of the country pavilions, you try a drink (and snack!) until you make it all the way around.
It's a fun, leisurely way to see Epcot and makes for some great memories.
4. Join the Resistance at Rise of the Resistance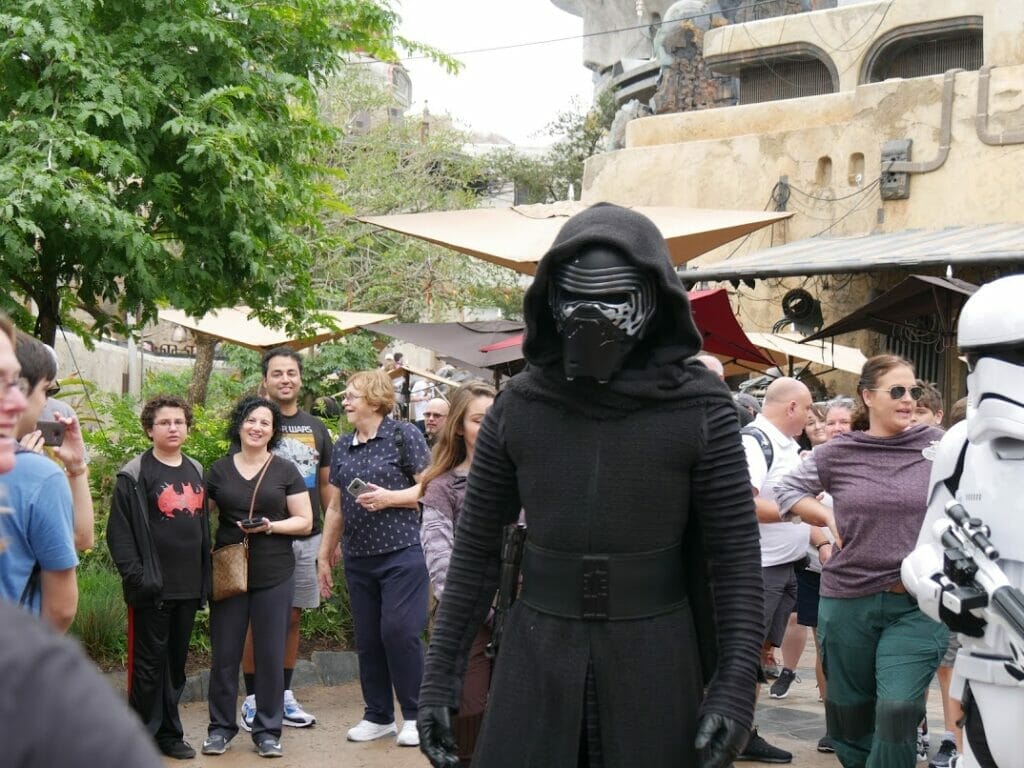 Arguably the best and most forward-thinking ride at Disney can be found in Hollywood Studios in the Star Wars themed Galaxy's Edge.
Here, you can join up with the Rise of the Resistance as you fight off the evils of the galaxy and come face to face with some very, very authentic looking bad guys.
The way the ride vehicles moves without a track is absolutely mind-blowing, and the whole experience is extremely immersive and a Disney must-do.
For more things to do at Hollywood Studios, check out the Hollywood Studios must-do.
5. Watch the Magic Kingdom Fireworks from the Contemporary Resort
Whether you want a romantic date night at Disney or are celebrating a Disney honeymoon, there's no better place to do it than with dinner at the Contemporary Grill.
This restaurant, on top of the Contemporary Resort, offers incredible views of the Magic Kingdom fireworks, and if you time your dinner right, you can enjoy them while you're eating!
If the fireworks are outside of your dining time, you can still go up and see them after the cast member checks you have a reservation for that evening, which is a pro tip that many people don't know about!
6. Play Putt-Putt Golf on Disney Themed Courses
Especially if you need a half-day activity before or after you leave (so if you're spending a week at Disney World, this would be for the last morning before your flight out), head to the two Disney mini golf courses to try out your swing in a fun and whimsical atmosphere.
One, "Winter Summerland" is exactly what it sounds like, themed around the weather with lots of snowmen who appear to be melting in the Florida heat, while the other, Fantasia Gardens, is based on the iconic movie Fantasia and the magic of sorcerer Mickey.
Many people don't even know these exist, as they spend most of their time in the parks, but Florida is known for their mini golf, and what better place to experience a truly immersive one than Disney World?
7. Have a Day at the Spa at Saratoga Springs
If you want a relaxing day at Disney, just steer clear of the parks and head straight to the spa at Saratoga Springs.
Here, you can enjoy couple's massages, facials, zen rooms, and other ways to let your mind unwind and feel the stress of the real world melt away.
There's also a spa at Disney's Grand Floridian, though we prefer Saratoga Springs as the grounds of Saratoga are fantastic for walking through and overall more peaceful than the Grand, so you can stay in that spa feeling for longer.
8. Blast Off into Space Mountain
You can't come to Disney World without going on Space Mountain, which is why this is on the list of the best things to do at Disney.
Even Disney fans from the 70s and 80s will remember Space Mountain from all of the commercials, and it's still flying high today!
Hop on board the single file cars, strap yourself in, and get ready to blast off to the cosmos.
The ride itself isn't actually that thrilling of a rollercoaster if you rode it in the light, but with the lights off, well, let's just say we won't judge you if you scream.
9. Eat at a Drive-In at Sci-Fi Dine In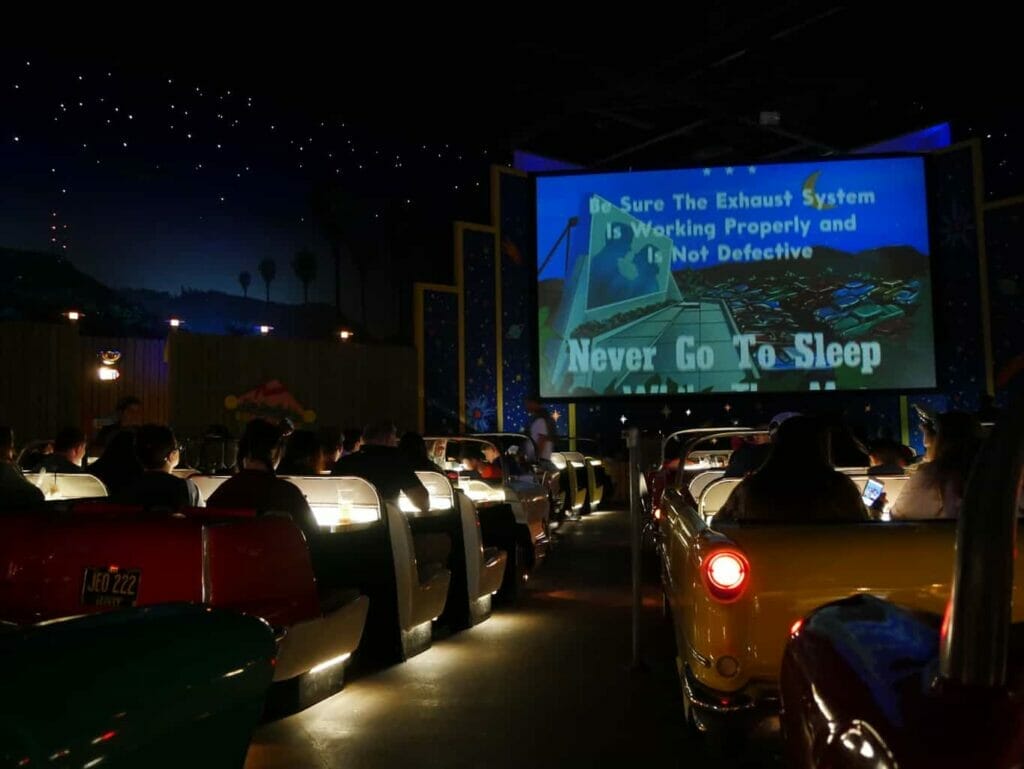 Disney dining is such an iconic part of a Disney trip, but there are so many options, it can be hard to narow it down.
Sci-Fi Dine In at Hollywood Studios has burgers, milkshakes, fries, and other diner type foods, but where it really shines is the theming.
As you step in, you'll notice that while you thought you were inside, you're suddenly outside again – and you're eating at the drive-in that's playing sci fi clips!
The lights are dim, and you literally sit in a car to eat, which is so fun for the kids and a great way to try a restaurant that's very Disney.
Use my guide on how to make hard-to-find Disney dining reservations here as this is a small restaurant and can fill up quickly.
10. Splash around at Typhoon Lagoon
Disney has two water parks, Typhoon Lagoon and Blizzard Beach.
Both are incredible, but Typhoon Lagoon has made the list for its unique water rollercoaster, known as the Crush N' Gusher.
You'll also find relaxing lazy rivers, an incredible wave pool, beautiful theming that essentially feels like you've been dropped off on the middle of a luscious island, and other family and single rider slides that provide an endless day of fun.
11. Try the Kitchen Sink at Beaches and Cream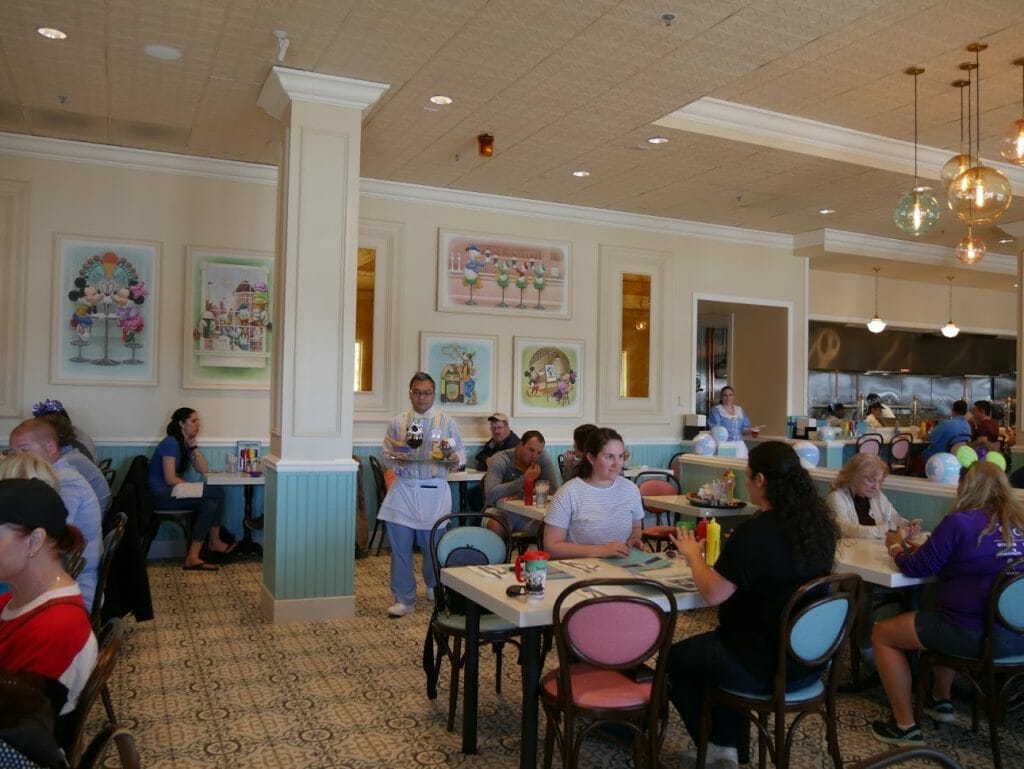 You're not a true Disney fan unless you've tried the Kitchen Sink at Beaches and Cream, the most popular ice cream at Disney outside of the Mickey Bar!
Beaches and Cream, a restaurant at Disney's Beach Club Resort, offers up the chance to eat your ice cream sundae out of a Disney themed kitchen sink (don't worry, it's much smaller than you're thinking!).
Still, it serves 4 people and you can keep the sink as a souvenir after digging your way through ice cream, bananas, chocolate sauces, nuts, and more.
12. Take the Boat from Port Orleans Resorts to Disney Springs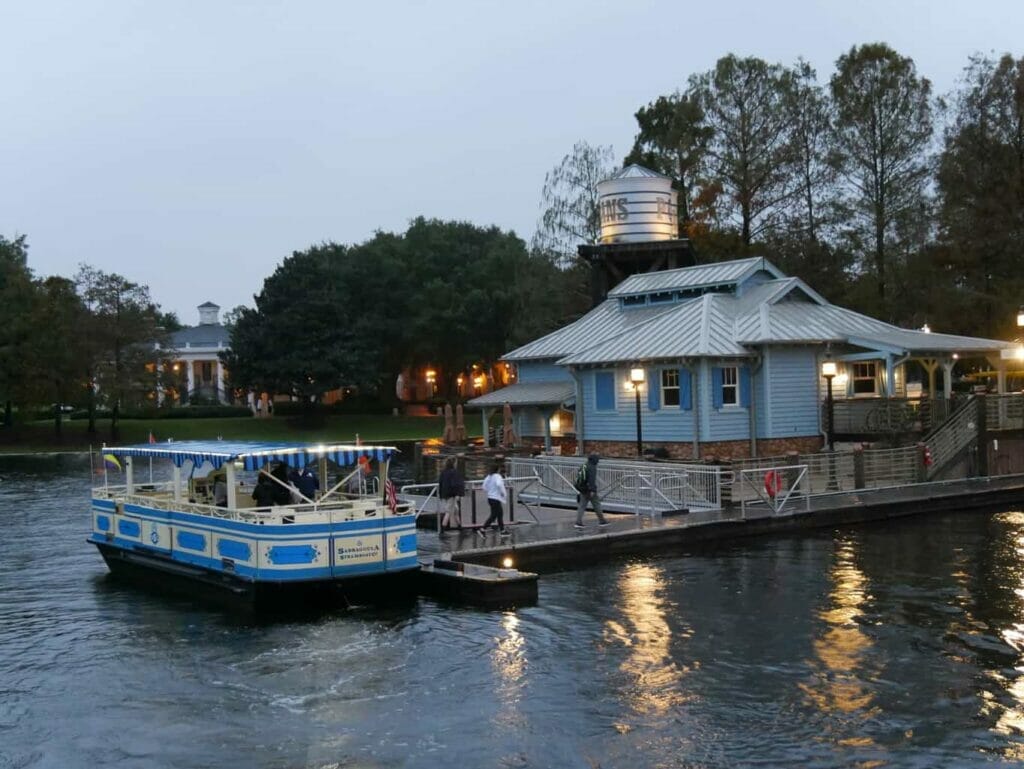 Want a way to kick your feet up for about 20 minutes while enjoying amazing views?
Disney's Port Orleans Riverside and Port Orleans French Quarter have a boat service that runs to and from Disney Springs, and this is one of my favorite ways to spend some down time at Disney.
You can head over to Port Orleans to have dinner at the sit-down restaurant, Boatwright's, and then hop on the boat over to Disney Springs for some evening entertainment.
The skippers are full of Disney facts, and you won't feel like you're at Disney at all but on your own secluded version of the jungle cruise.
13. Shop Until You Drop at the World of Disney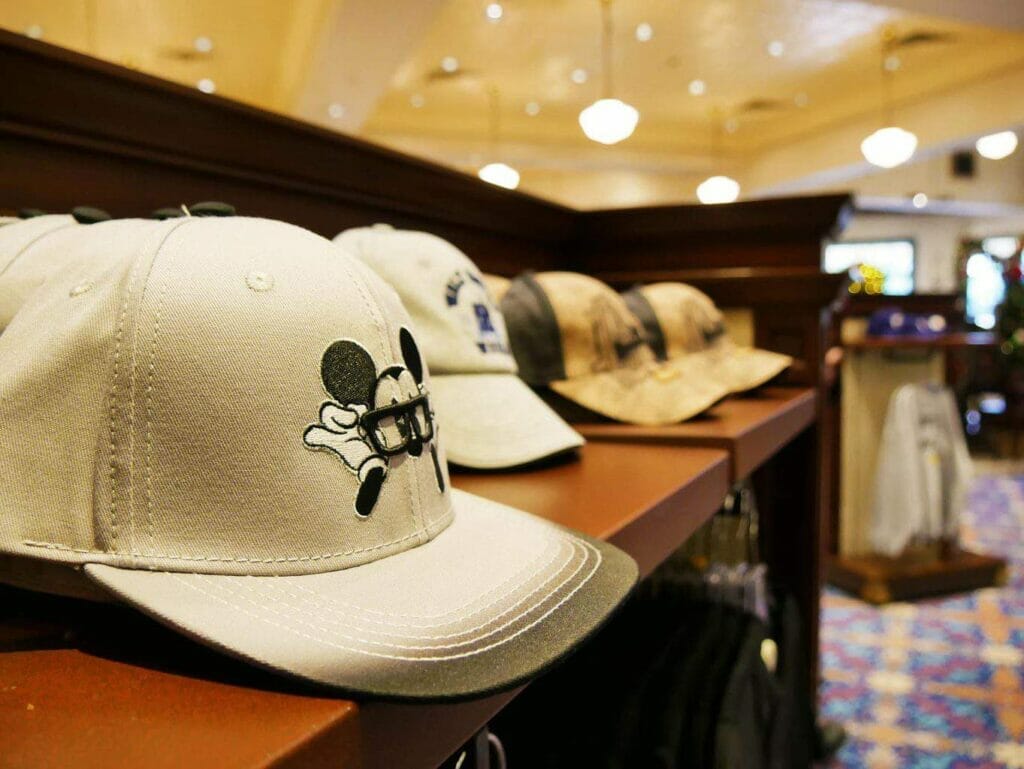 The World of Disney is the largest Disney store anywhere in the world, and it's one of the flagship stores of Disney Springs.
From dog toys to luggage to mugs to kid's clothes to kitchenware to electronics, they literally have it all.
There are so many different areas that it's really easy to lose your family if you're not paying attention, so make sure everyone knows the meeting spot and go wild with your allowances to buy your favorite Disney souvenirs.
14. Learn More about Disney's Innovative Agriculture on a Behind the Seeds Tour
So many people are curious about taking Disney tours, but the day-long ones are usually relatively expensive (in the hundreds of dollars) and aren't suitable for the little ones.
If you want a shorter Disney tour that isn't too expensive, try the Behind the Seeds tour that takes you on a guided personal tour of Disney's greenhouses at Epcot – the same ones you float through during the Living with the Land ride.
This is a fun and informative way to learn about innovative agricultural techniques, as well as see where some of the food in Disney restaurants is grown.
For more amazing things to do at Epcot, check out the Epcot must-do list.
15. Journey through History at Spaceship Earth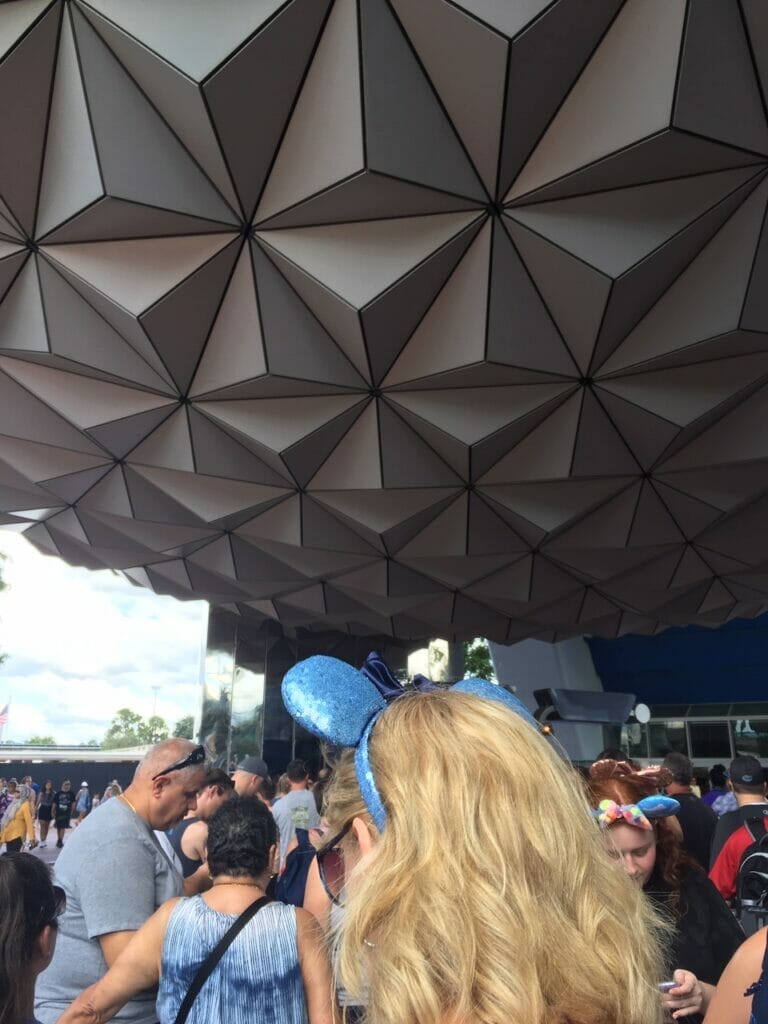 You know that big golf ball looking thing that towers above Epcot?
That's Spaceship Earth, and if you're wondering what to do at Disney World, this is it.
It's an iconic and historic ride which has gathered many fervent fans over the years, and for good reason.
This slow-moving ride takes you up into that giant ball (on a track, don't worry) and through the history of human communication, all the way from the invention of the alphabet to the World Wide Web and beyond.
It's very classically Disney, with animatronics and theming that is actually there, before the virtual craze took over.
When you finish, you enter a big room with plenty of interactive exhibits that allow you to explore what the future might be like, thus completing your journey!
16. Relax on the Beach at the Yacht & Beach Club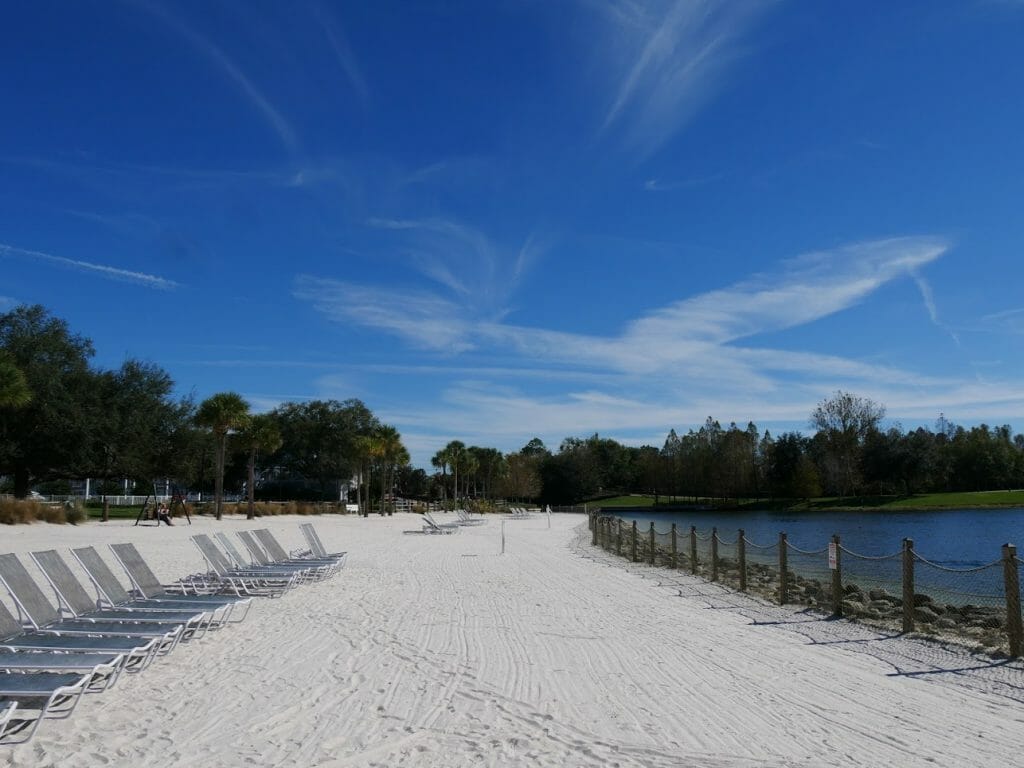 So many people who haven't stayed at the Yacht and Beach Club don't know about the beautiful white and sandy beaches that you can sit or lay out on.
It's super easy to walk there from the back entrance of Epcot, and with swinging chairs as well as more standard beach chairs, you can soak up the sun, watch the world go by (and the Friendship boats in the water) and take a breather.
17. Spend the Evening on Disney's Boardwalk
Disney's Boardwalk is one of the coolest shopping and dining areas in Orlando, and you can find it adjacent to the resort of the same name (across the lake from the Yacht and Beach Club, and walking distance from the back entrance of Epcot).
Here, you'll find shops, bakeries, and dinner options like Flying Fish, as well as nighttime entertainment and bars like the famous dueling piano bar, Jelly Rolls.
You can also see Epcot fireworks if you head to the bridge in between the Boardwalk and the back entrance of Epcot, which is completely free and a fun way to see Disney fireworks without park entrance.
18. Spot the Animals on Kilimanjaro Safari
Head to Disney's Animal Kingdom where you'll find a safari through the savanna that includes real animals, not animatronics!
This is one of the most popular rides at Animal Kingdom, as you hop into a safari truck with your guide who tells you all about the animals that you're seeing along the way.
The best part?
It's all live, so each time you take the safari you'll notice something different.
19. Touch the Enchanted Rose in the Beast's Castle at Be Our Guest Restaurant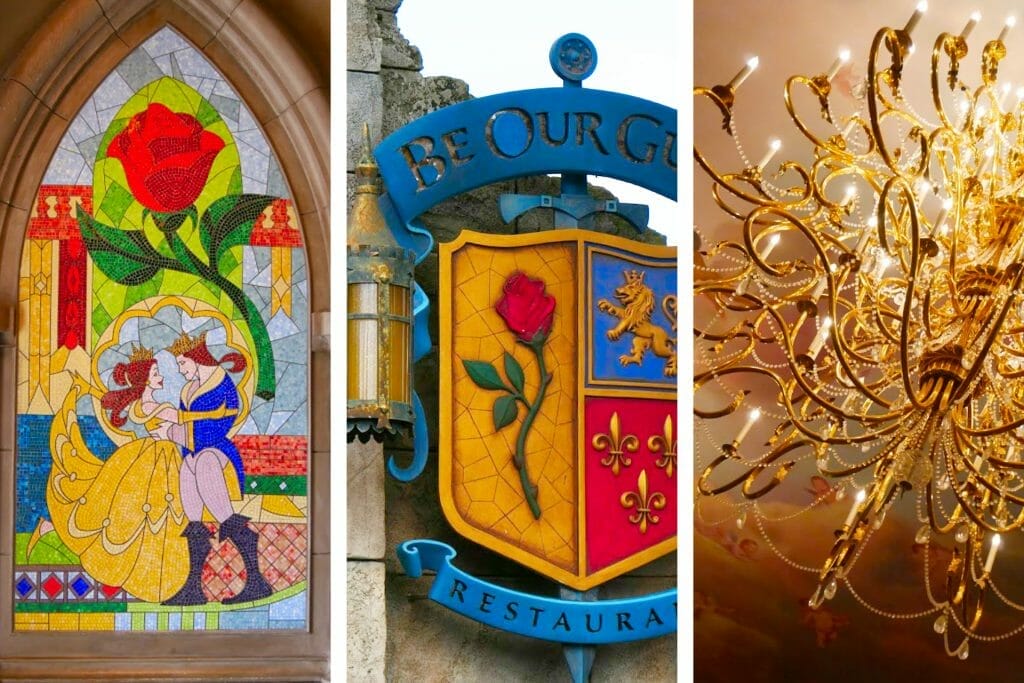 For Beauty and the Beast fans, there's no better place to eat than the Be Our Guest Restaurant.
Serving up a quick service breakfast and a table service lunch and dinner, this beautifully themed restaurant really feels like you're in the Beast's Castle.
Not only can you eat in the ballroom and look at the snow falling outside (Disney magic), but you can also peek into the library as well as the room housing the enchanted rose!
20. Zip Around Disney Property on the Monorail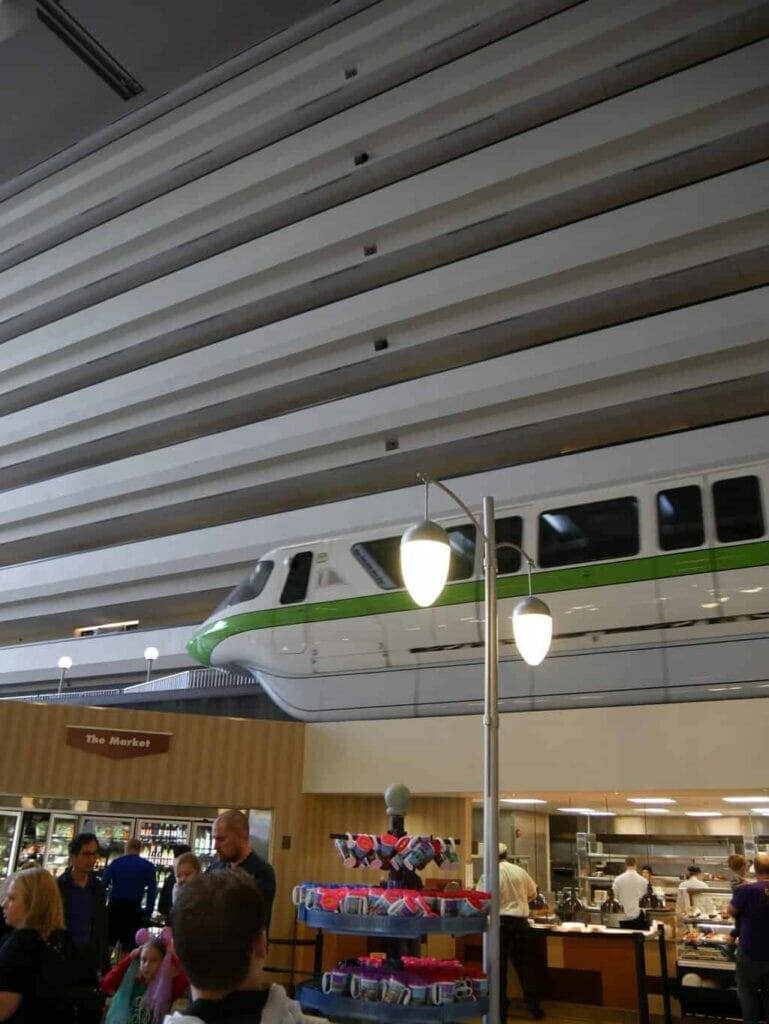 You haven't really been to Disney unless you've taken a ride on the monorail.
It might be a bit old-fashioned futuristic at this point, but the monorail from the Transportation and Ticket Center through to Disney's Grand Floridian, Contemporary and Polynesian Resorts and then onto the Magic Kingdom is seriously magical.
You'll soar above the crowds as you get a different vantage point of the parks, and there's just something about it that makes you feel like you've officially arrived.
21. Enjoy the View from the Skyliner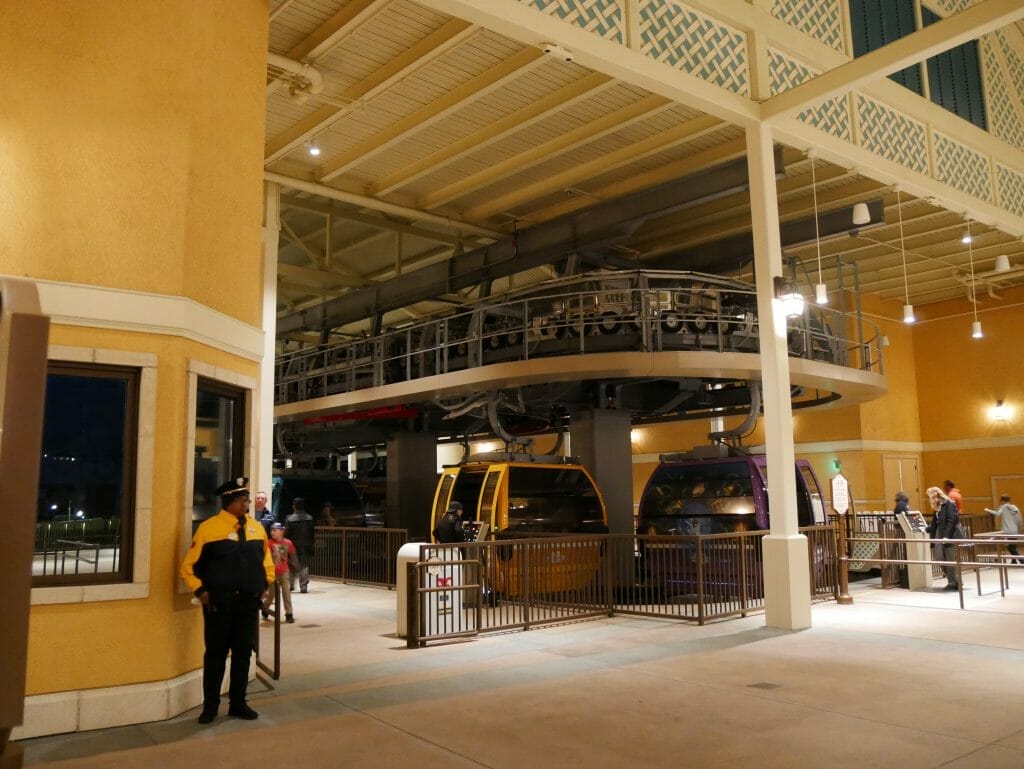 In recent years, Disney have added another transportation must-do to the mix, and that's the Disney Skyliner.
This free Disney transportation connects Disney's Caribbean Beach Resort to Epcot and Hollywood Studios, as well as to the Riviera Resort and Art of Animation/Pop Century.
Each line gives you a different view, and it's pretty fun to soar your way over the back of Epcot.
22. Try the Blue Milk in Galaxy's Edge
Another popular thing to do at Disney World is to try the funky blue milk at Galaxy's Edge.
The blue and green milk are an essential part of helping the theming come alive to this Star Wars land (where else can you drink blue milk?) and it's a fun Instagram photo to get.
23. Get Patriotic at the American Adventure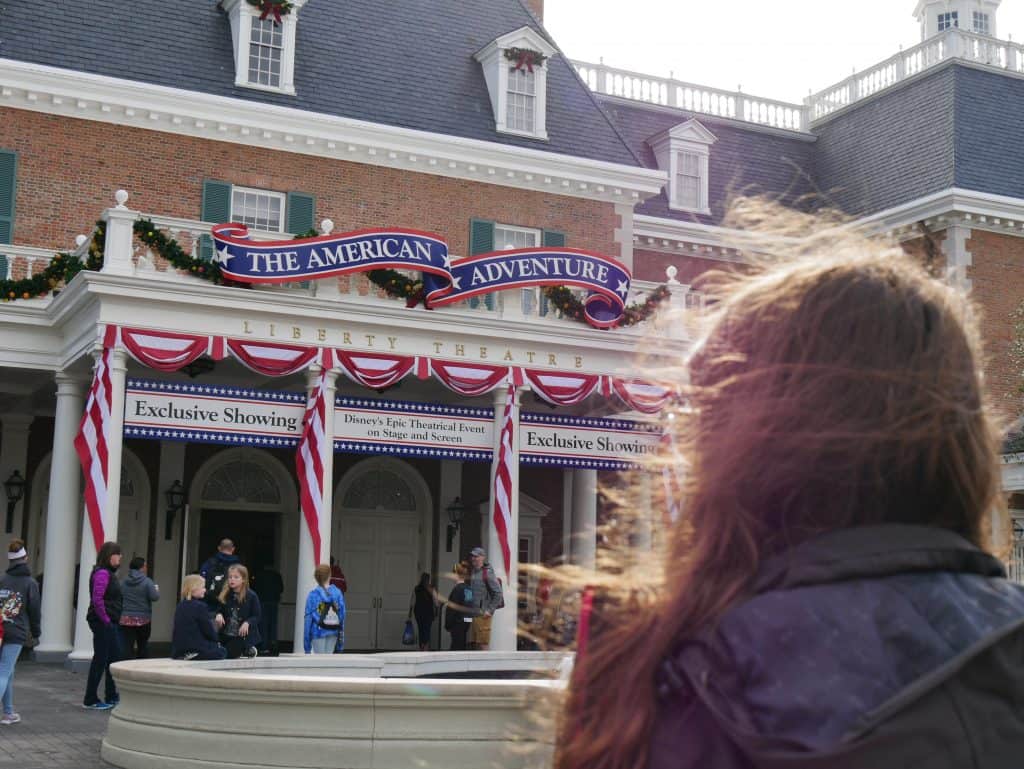 One of the best things to do in Epcot's World Showcase is actually not a ride, but a 40ish minute show called American Adventure.
This is the story of America, including its struggles, and while foreigners may find the self-congratulatory patriotism strange, it's beloved by many Americans for the inspirational soundtrack and cast of animatronic characters.
24. Eat at the Food Trucks at Disney Springs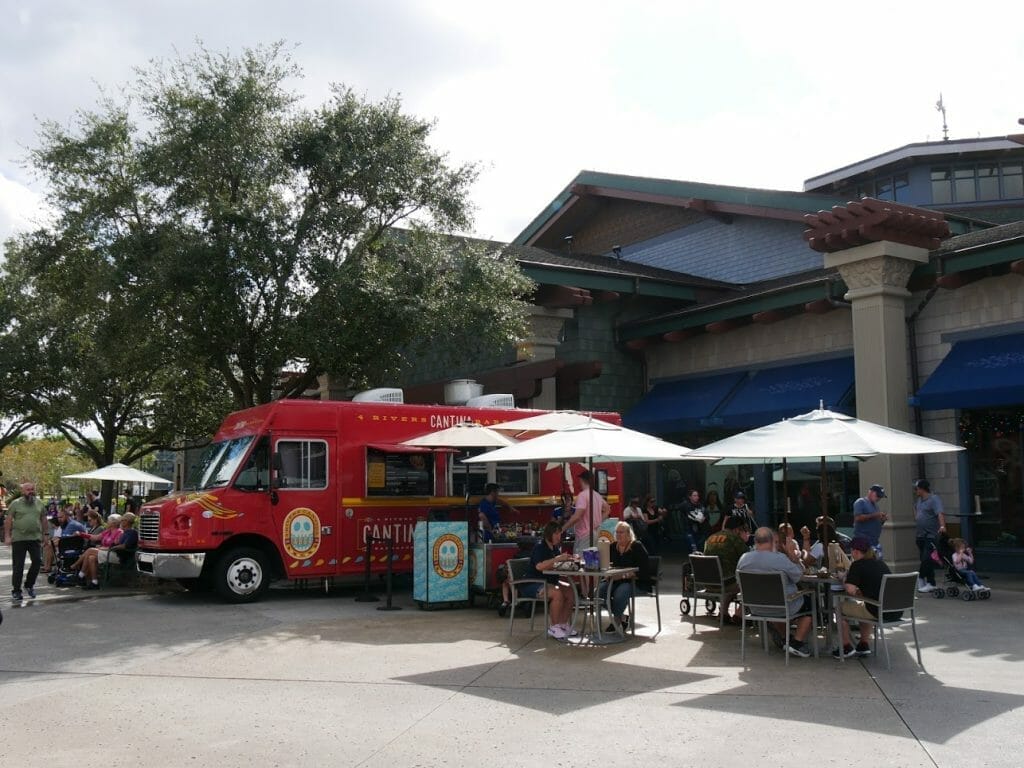 Want a casual dinner at Disney Springs?
You don't need to eat at a sit-down restaurant, but instead can enjoy a beautiful Florida night eating at the food trucks.
The options are ever-changing, though usually there is a Mexican option, an American style truck, and some type of dessert, but the atmosphere is chill and relaxed and it's a cheaper way to eat than feeding an entire family at a fancy restaurant (and double the fun, to be honest).
25. Have a Swashbuckling Adventure at the Pirates of the Caribbean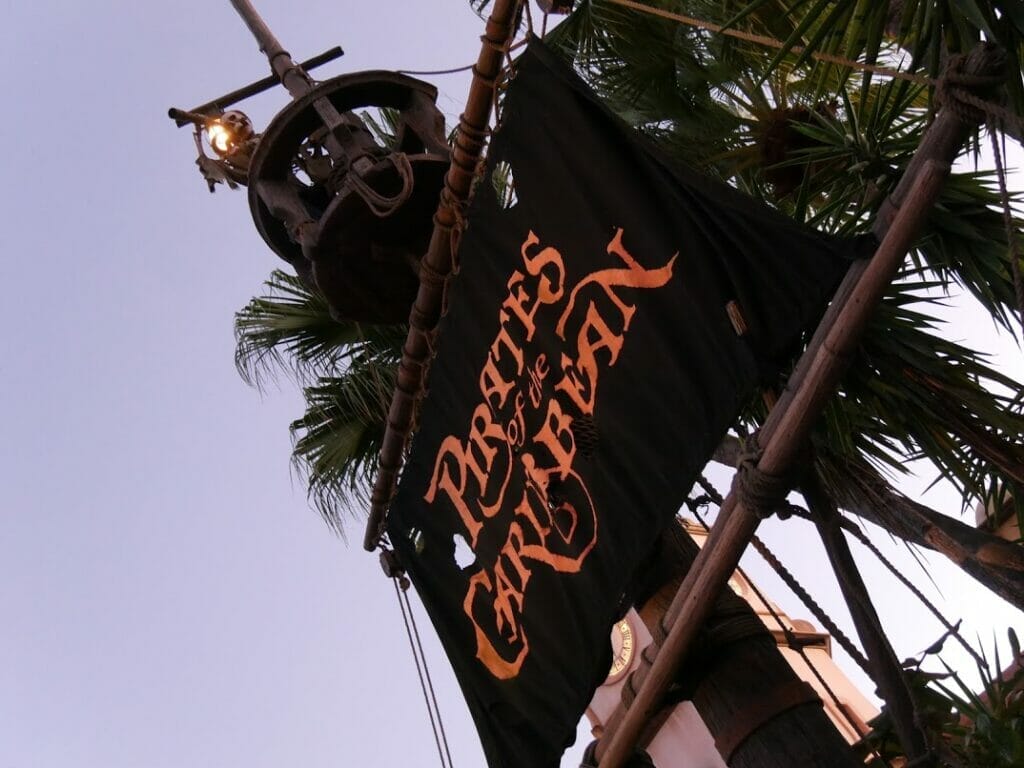 If you've ever sung the iconic "Yo ho, yo ho" song, you'll fit right in as you float around the Pirates of the Caribbean at Disney's Magic Kingdom.
This is the ride that inspired the movies, which then inspired the ride as they decided to put Jack Sparrow where he rightly belongs.
It's fun, it's slow-moving, and there is a slight surprise drop at one point to keep you guessing, all the way dodging splashes from pirate shenanigans happening all around you!
Hey! Want more of our expert Disney guides? Check these out!
Get the All-American Travel Secrets!
Don't miss out on America's hidden gems!