Getting upgraded at Disney World is one of the kinds of "pixie dust" that all Disney goers dream of.
But figuring out how to get upgraded at Disney World resorts can be a real mystery, as no one is entirely sure why it happens besides the cast members who do it.
I'm not here to tell you exactly how to get upgraded at Disney World because it won't work every time, but I have learned some types of patterns over the years that have resulted in upgrades for us.
From being upgraded from Standard to a Club Level Savannah View room at Animal Kingdom Lodge to being upgraded from a Standard View Room to a Crescent Lake View room at the Beach Club, we've gotten pretty lucky and had some amazing vacations where we spent most of it going, "how did that happen?!"
So if you're looking at how to get free upgrades at Disney World, remember that this is something that happens as a bit of magic, and if you truly want a certain room or certain view, you need to book it.
Want insider Disney tips from an expert?
Join 4,000 others in weekly guides to Disney's hidden secrets, gems, and money-saving tips!
Pssst – this printable Disney scavenger hunt is amazing
Since you're already looking up Disney guides, I just wanted to make sure you knew about this printable Disney World scavenger hunt created by a lifelong Orlando native and Disney World fan.
There are over 60 challenges with a full answer key and both Family and Grown Up versions and a bonus Disney Springs hunt for your non-park day!
We have also had one experience at Wilderness Lodge where we were upgraded from a Standard Room to a One Bedroom Copper Creek suite, but this was because there was a problem with a smell in our Standard Room and Disney were trying to offer good customer service in this switch to make up for the inconvenience of the smoke smell in the original room.
That being said, here are 11 tips for how to get upgraded at Disney World resorts, which include anecdotes about when it has happened to us so you'll see that it really is possible!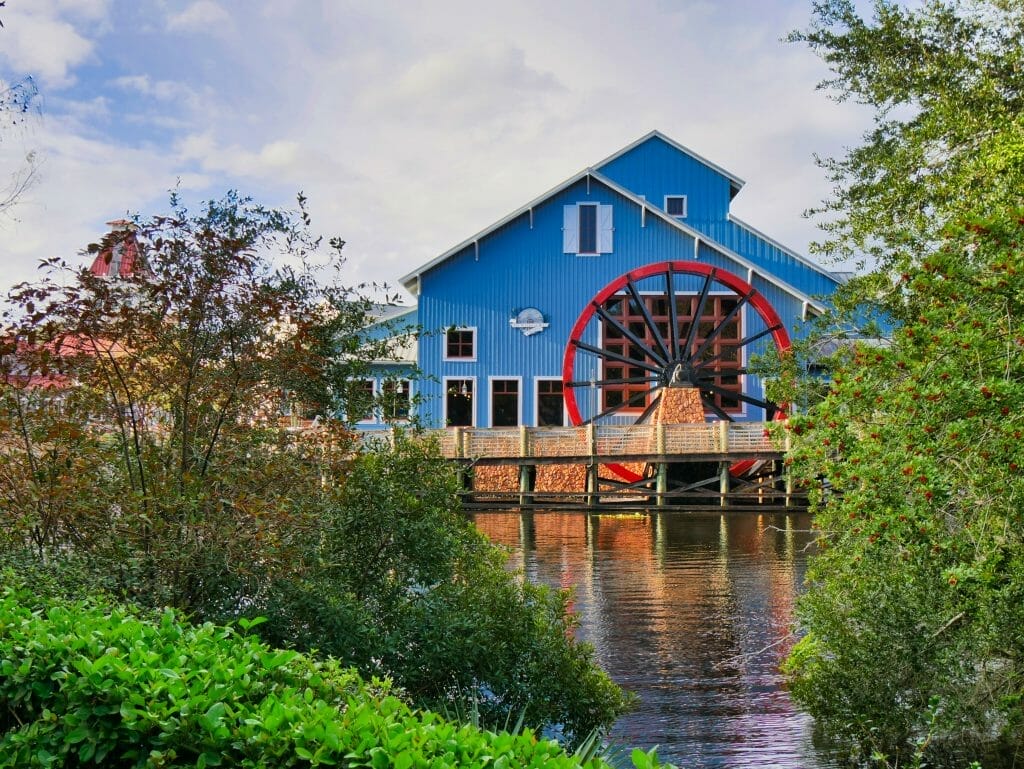 By the way, it never hurts to have on some Disney shirts that either fit the theme of the resort or show you're celebrating like these Disney birthday shirts.
Even just a more generic, but funny shirt like this Lion King song one can help spark conversation and improve your chances of upgrade at check-in.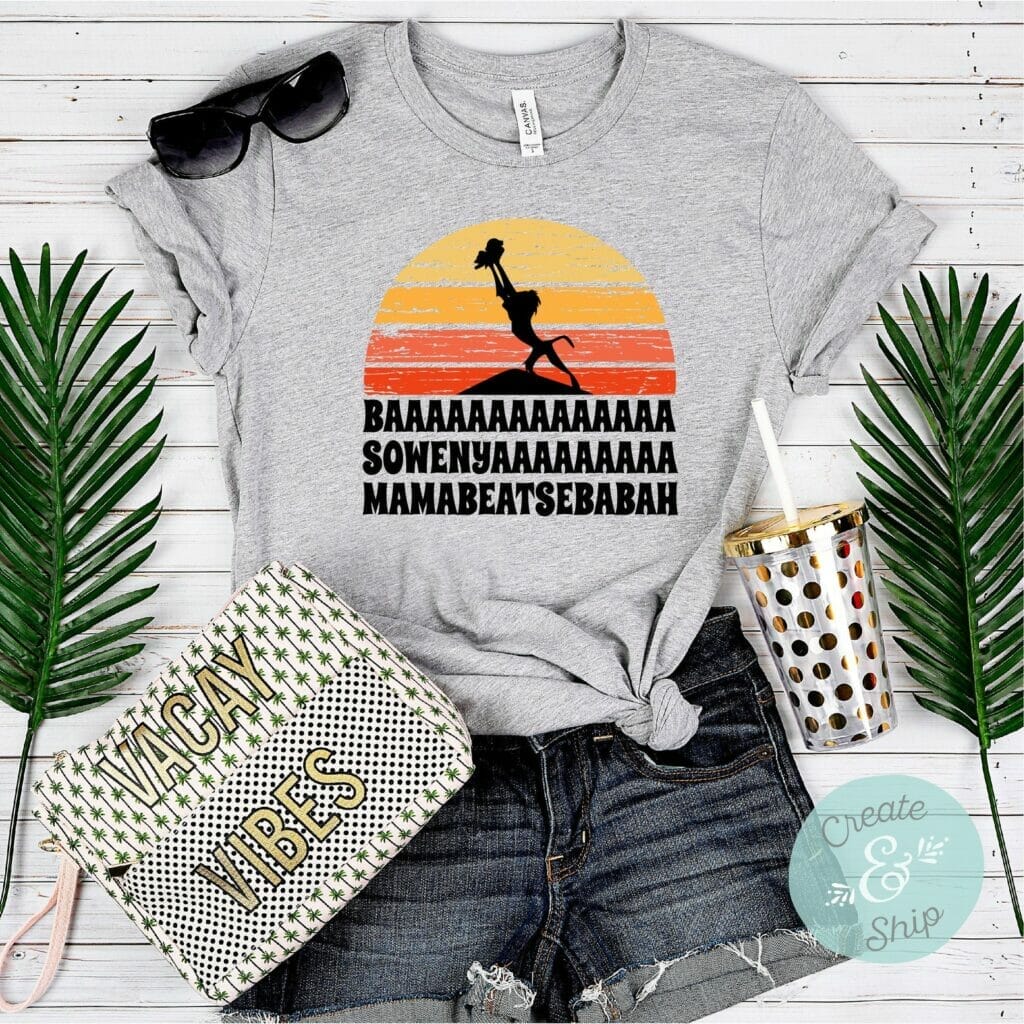 Book a Short Stay
When you're staying for just one or two nights, it's much more likely that you could get a free room upgrade at Disney World.
Firstly, Disney is losing out on less money by upgrading you for one night versus seven, and also, it may be that the upgraded room isn't available for a whole week, but is for just two days.
Both times we've been upgraded at a Disney Deluxe resort, we were only staying for one night.
And we made sure to take advantage of that one night upgrade, but it wasn't like we suddenly had Club Level access for our 14 day vacation – it was quick, but it was much appreciated!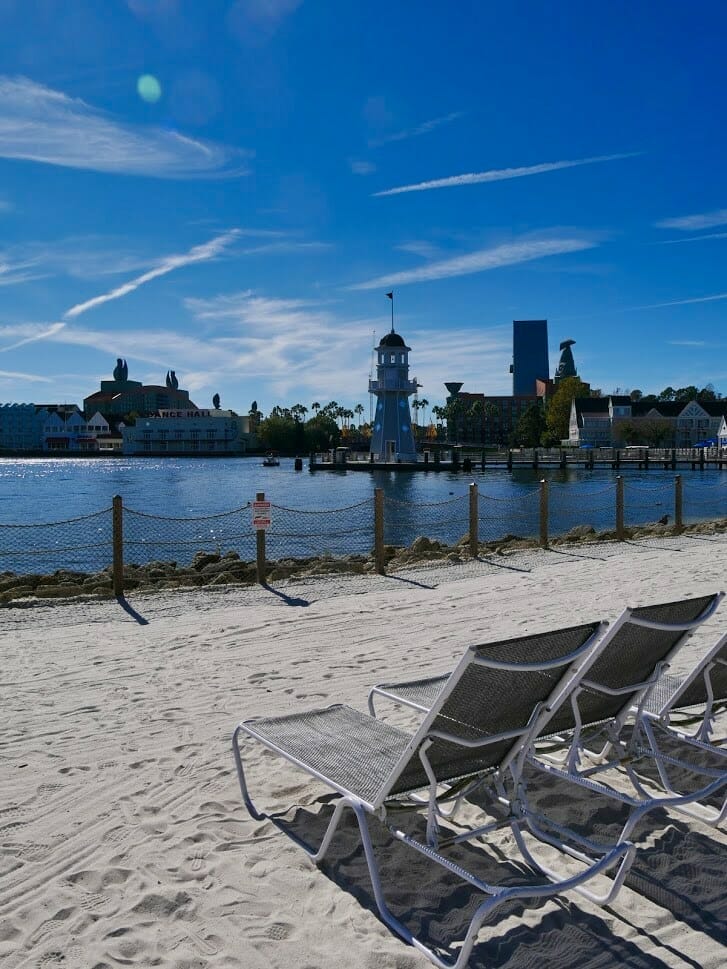 Tell Them You're Celebrating
Make sure that there is a note made on your file that you're celebrating whatever it is you're celebrating.
Whether it's a birthday, the family reunion, a medical milestone or a honeymoon or maybe your first solo Disney trip, both informing the resort in advance that you're celebrating and doing the same when you're at the front desk can be a factor in getting you upgraded.
We were upgraded at Animal Kingdom Lodge because it was our dream Disney honeymoon resort to stay there – we had only booked one night as that's all we could afford, but we were booked into a Standard room before we told the cast member that it was our honeymoon.
From there, he worked a little Disney magic and spoke to his supervisors to get us upgraded at Animal Kingdom Lodge and it is one of the best Disney moments I've ever experienced.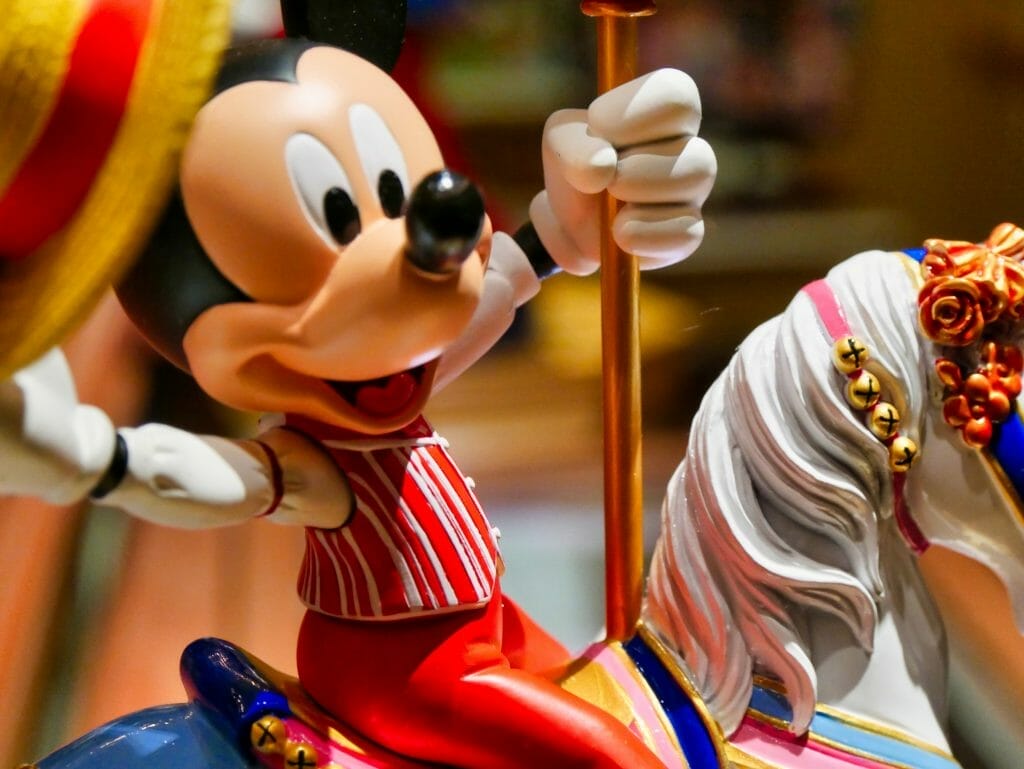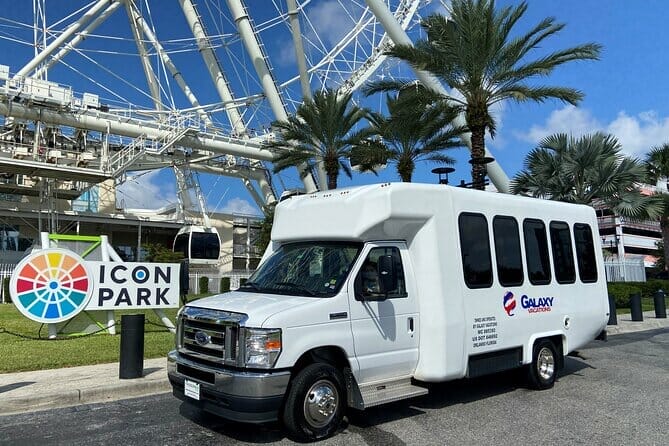 🚌Not renting a car in Orlando?
My favorite shuttle to get from the Orlando airport directly to Disney World is this one with a ⭐⭐⭐⭐⭐ rating.
Book a Deluxe Resort
There are cases of people being upgraded from Value or Moderate resorts like Art of Animation because the resorts were overbooked and so they were moved to a more expensive resort, but within the actual resorts, there is not much to "upgrade" to.
Likely, if you're wondering how to get upgraded at Disney World, you mean something like how to get a Water View room at the Polynesian rather than how to get upgraded from a parking lot view to a grass view at All-Star Movies.
Again, this is just a generalization, but we have never been upgraded at a Value or Moderate to anything special, and we have always gotten the room type we booked or perhaps just one "view" above what we booked at a Moderate – though it's not saying that much because the Moderate resorts don't really have "views" as they don't have balconies.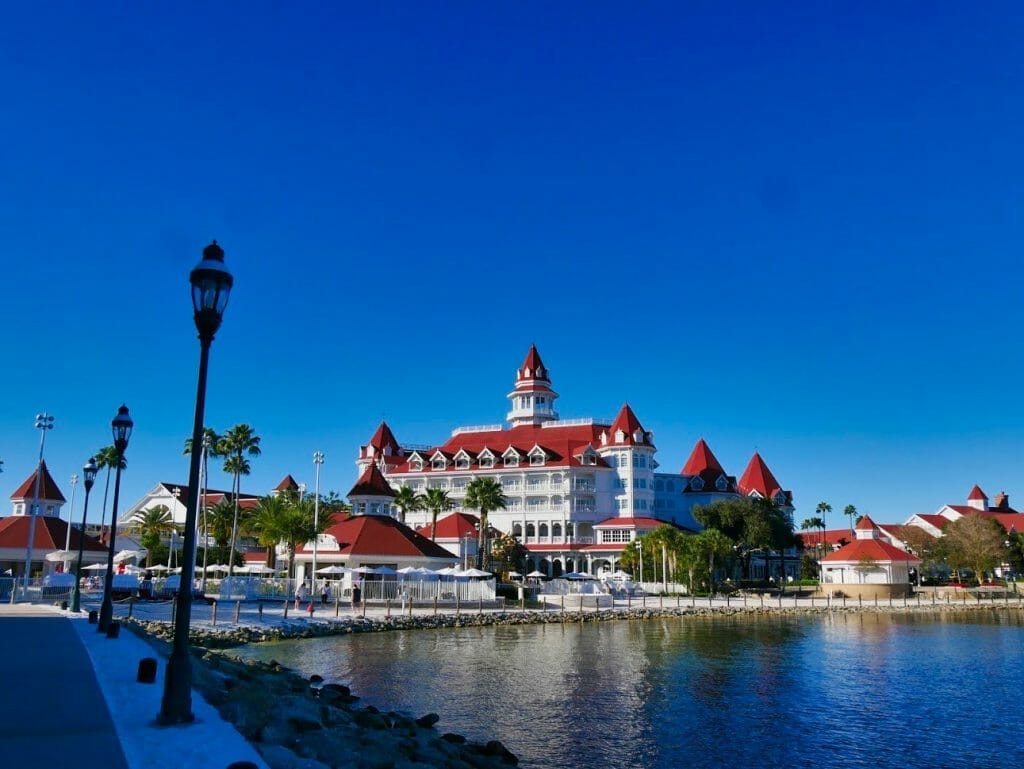 Disney is also on its best behavior wanting to impress you at the Deluxe resorts – if they can create a Deluxe customer out of you for life, they'll have done their job!
At the Values and Moderates, there's not as much money at stake to try and woo you into always wanting to book the more expensive view.
We were upgraded at the Beach Club from a Standard View to a Water View with one of the most stunning views of Crescent Lake.
You can bet we spent extra at Beaches and Cream to celebrate!
Fortunately for Disney, now everytime we stay at the Beach Club, we're not going to want to book the Standard View as we've seen what's possible with the Water View and we're not going to want to risk watching tourists fix their car batteries in the parking lot when we could be looking at the boats go by on the lake.
Disney isn't stupid. They're not always upgrading you just to make you feel good!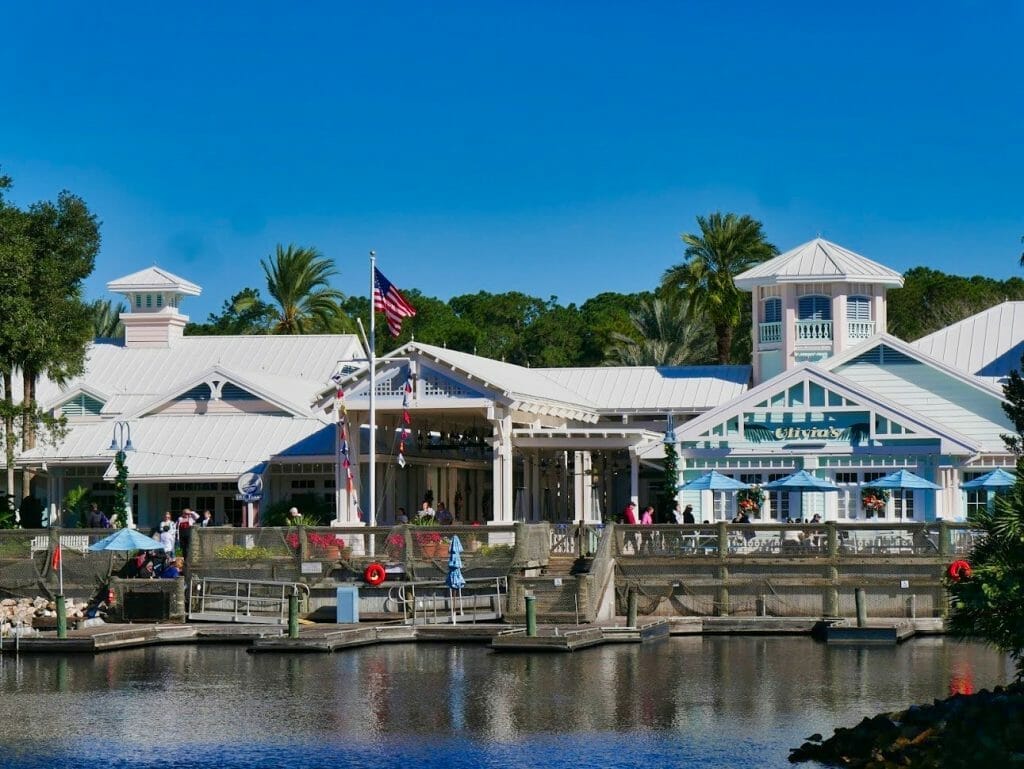 Book during Slow Season
If you book a Disney resort during the most popular time of year like Christmas, the chances there will be an upgrade in store for you is less.
For instance, Christmas at the Grand Floridian stay? It's going to be pretty booked!
Disney's rooms will already be filled, and they may just be trying to make sure that there are even rooms for as many people want to stay.
We've been upgraded at Disney resorts twice when we've stayed in mid-January, which is Value Season at Disney World resorts.
I've attributed this to one of the reasons we've been upgraded, as there was more room inventory and thus more flexibility on the cast members to make some magic.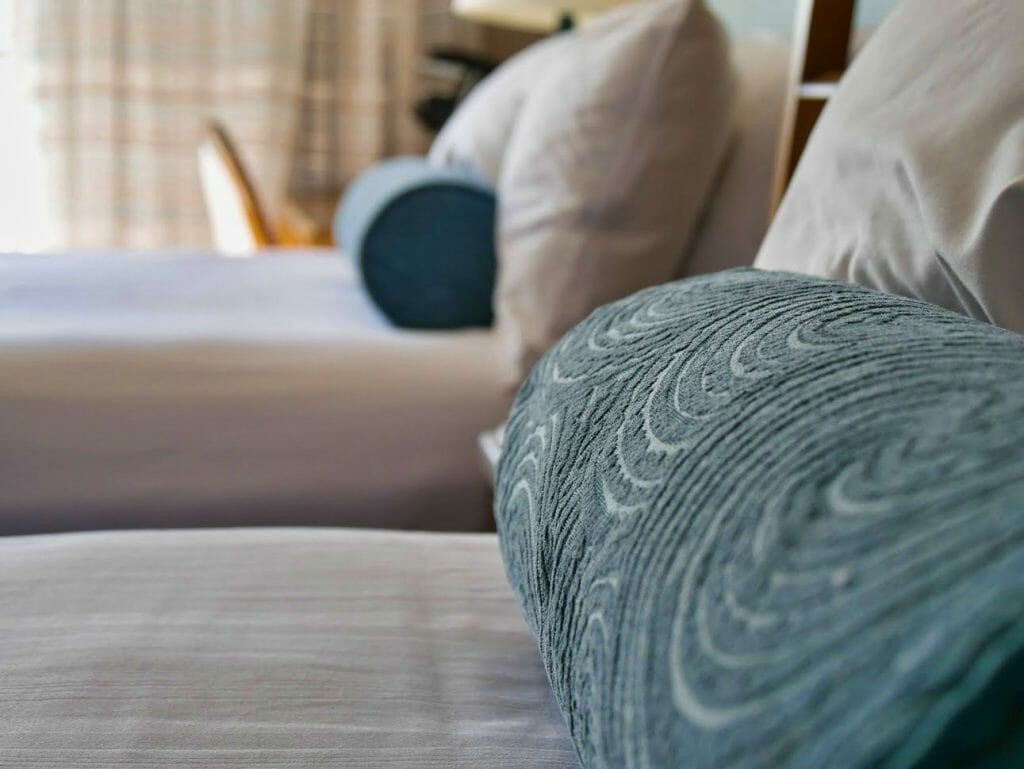 Be Positive and Excited at Check-In
Some upgrades will happen before you check-in and the check-in cast member will simply go to see which room you're assigned and it will be an upgrade.
Other times, like our adventure being upgraded at Animal Kingdom Lodge, resulted from our conversation at check-in in which we were friendly and upbeat and talking about the Disney World date nights we were going to have.
Again, I'm not saying to just to be friendly to try and get an upgrade – you should be friendly anyway.
But in terms of having a personality and showing some energy and enthusiasm?
I think that goes a long way in those last minute upgrades that the cast member does have control over.
No one's going to choose to upgrade a weary family who slouch over the desk at check-in with dead eyes, now are they?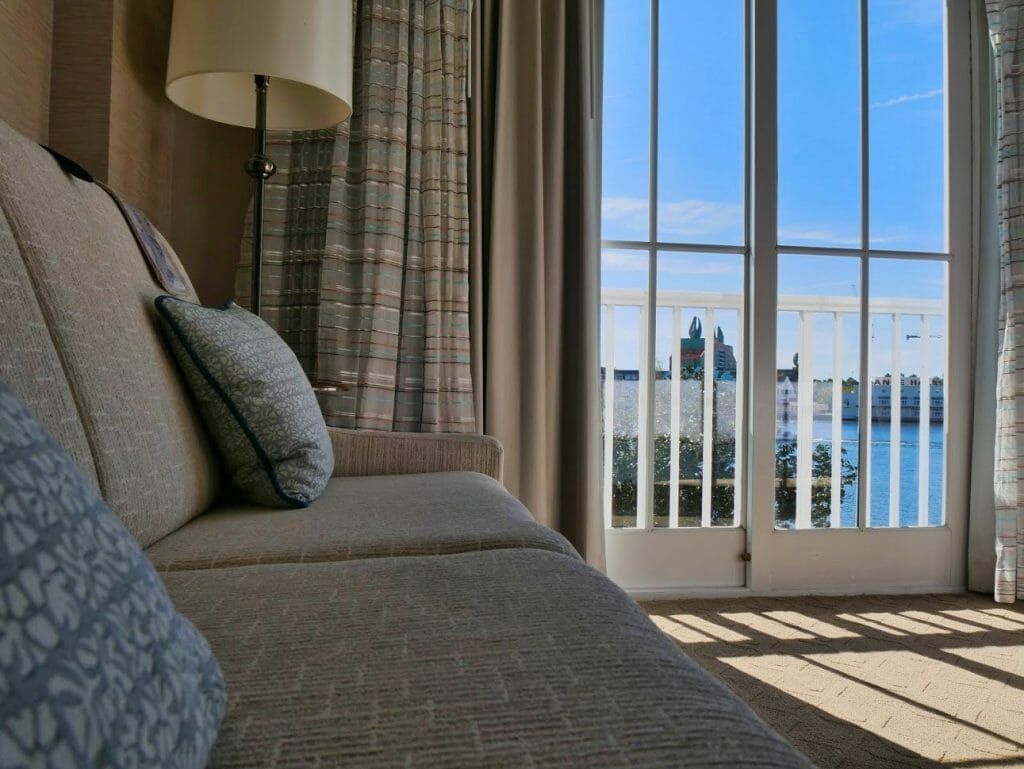 Have a Clean Disney Record
Again, not being a cast member, I can't say for sure if this is an upgrade factor, but I do know from working in customer service that customers have records on them, and you can tell if someone has been a particular complainer over the years.
Particularly now with Magic Bands, you seem to be tracked at Disney World at all times. They'll certainly have files of your past stays with them.
If you make it your duty to complain everywhere you stay and have a list of problems a mile long, I wouldn't think that Disney World would be as quick to upgrade you as someone who has a sparkling clean Disney rap sheet.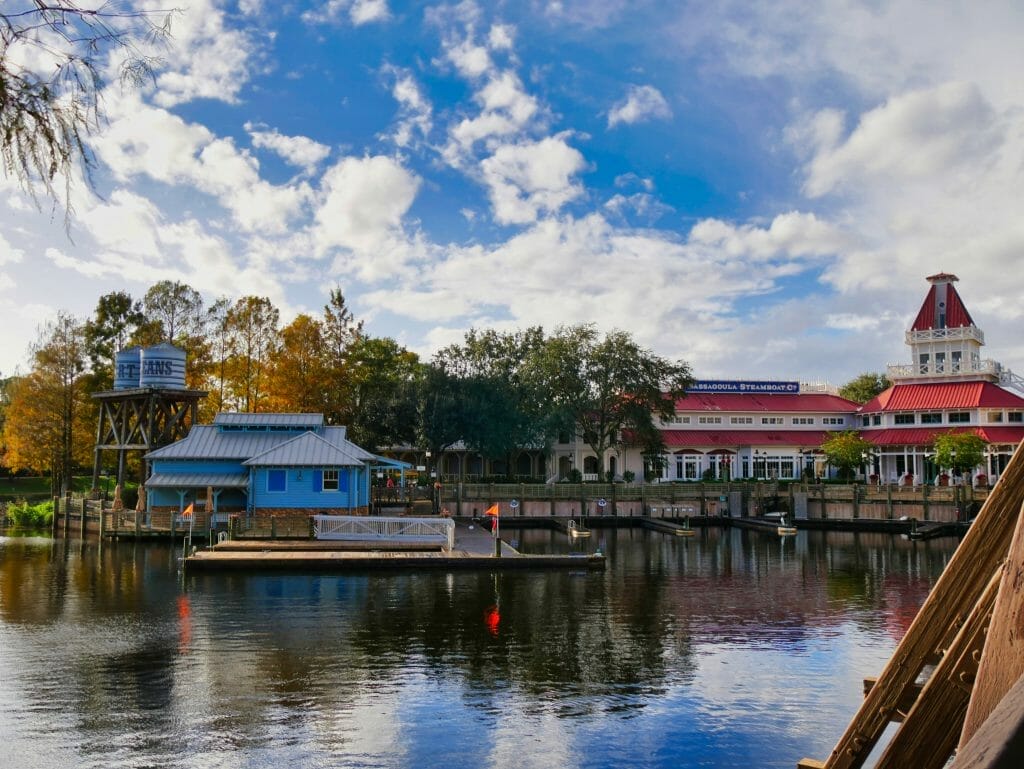 Book a Resort-only Stay
When we were upgraded at Animal Kingdom Lodge, we made it clear to the cast member that this was a resort-only stay for us, and this seemed to factor in his decision to upgrade us.
If you're going to the parks every day or spending all day discovering the things to do at Disney Springs, there is less incentive at check-in for any last minute magic as you may not be able to appreciate the room as much as you would if you're on a short resort-only stay.
This isn't something you should fake or make up.
You're either on a resort-only stay or your not.
But if you are, do tell the cast member and tell them everything you're looking forward to doing when you stay at the hotel!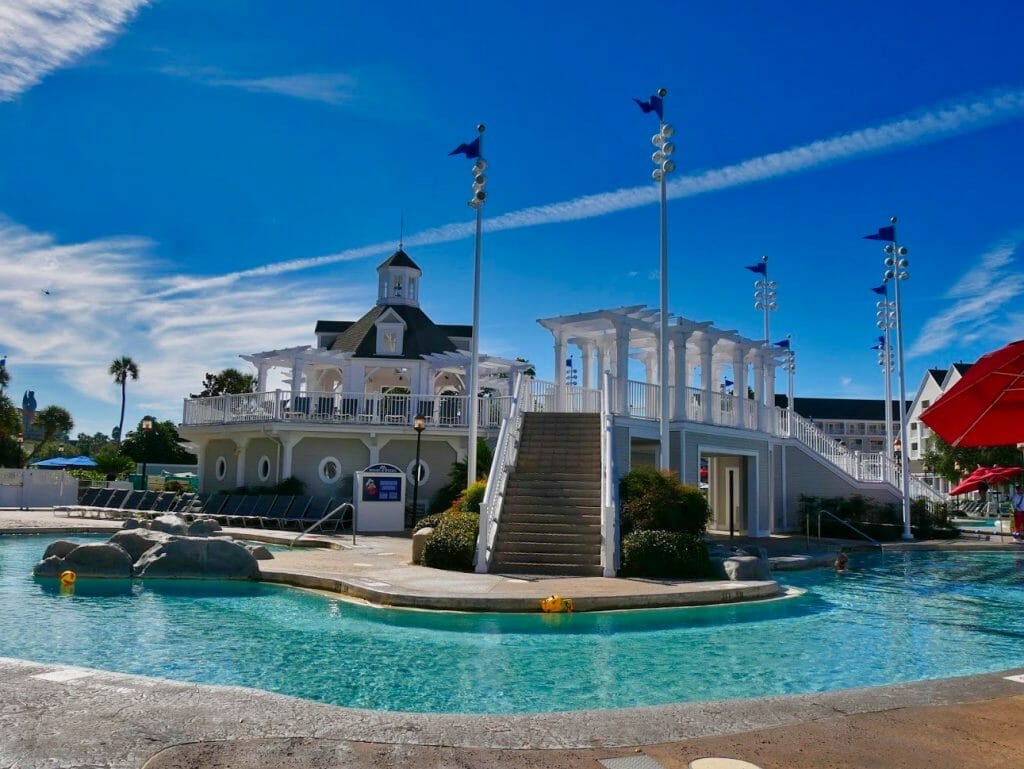 Don't Make Special Requests
The more special requests you have in your booking, the least likely your chance of an upgrade.
If you fax in a request that says you want to be on the fourth floor, near the elevators, and with a 36 degree angle view of the pool, Disney is going to be more interested in trying to fulfill your request than being able to upgrade you.
I don't make any requests when it comes to my bookings so that we have the "cleanest" slate possible and most ability to be moved elsewhere with a better view without Disney worrying they're going to actually make us angry as that's "not what we wanted."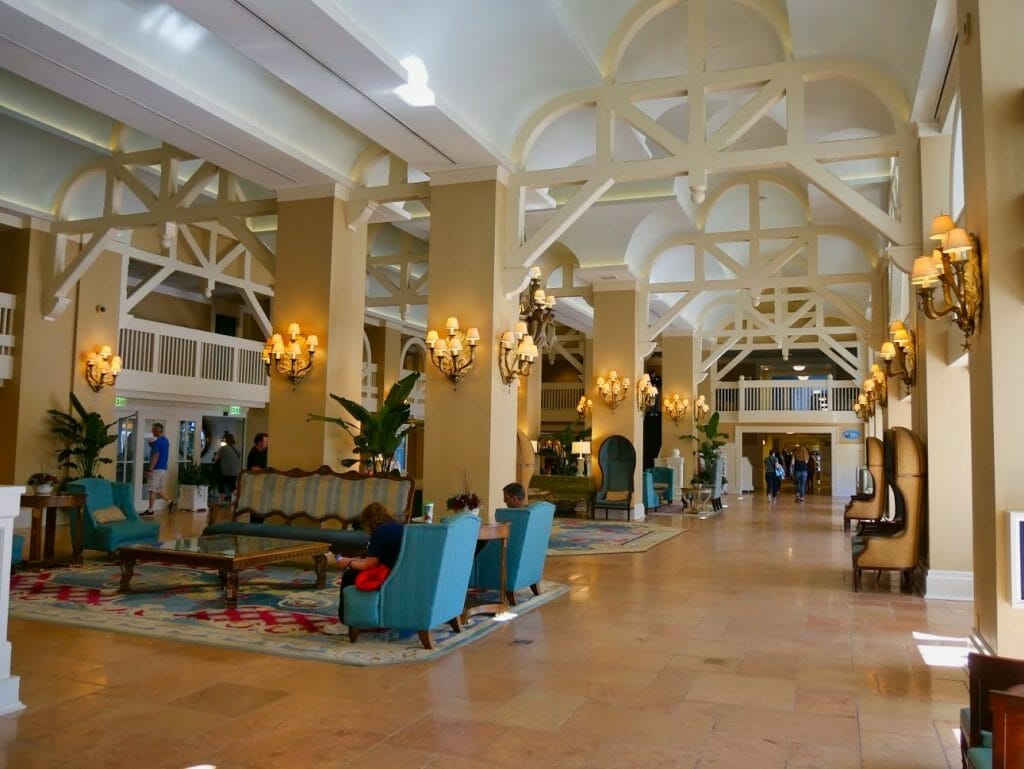 Ditch the Extended Family
Again, all times we have been upgraded, we have just booked one room.
If you're in a larger group with multiple connecting rooms or say, 8 people staying in 4 different rooms, they're less likely to upgrade you as they wouldn't want to just upgrade one room and deal with the fallout of having others wonder why they didn't get upgraded.
I have heard of this happen once when a couple in a family were celebrating their engagement and just happened to be on a Disney vacation with everyone, but that was a special case and the family made sure to put it on the couple's reservation and also deliver gifts for them ahead of time to the resort.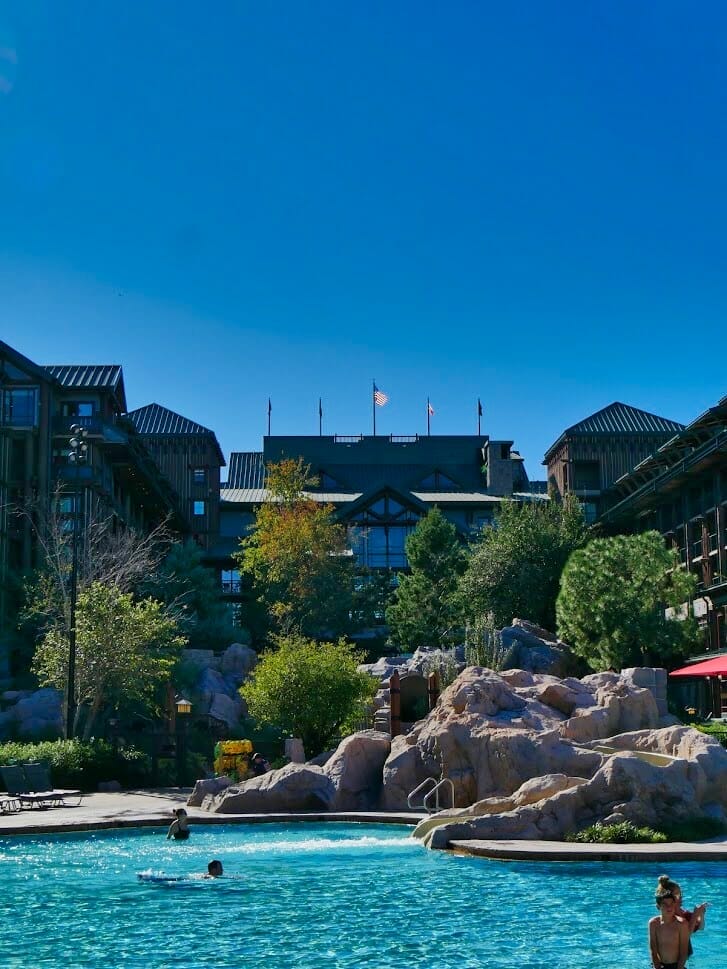 Don't do Online Check-In
For last minute pixie dust, face to face check-in is essential.
If we had just let Animal Kingdom Lodge text us when our room was ready, we wouldn't have been able to tell the cast member that we were on a honeymoon night and there would have been no upgrade.
I always prefer to check in face to face anyway, as sometimes even if they assign you a room that's not an upgrade, you can still double check if that is a good view within the category you booked, and sometimes you can get it changed right at the desk if you're not happy with it.
If you have been upgraded ahead of time, then it doesn't matter, but you won't know that ahead of time, so I prefer to check in face to face.
Check-in Earlier in the Day
Again, Disney keeps their upgrading criteria and methods secret, but I like to think that the earlier you check-in, the more chance you have of being moved to an upgraded room than when the resort is more full later on.
If possible, check-in earlier rather than later for more room inventory.
If you can't check in until late at night, most of the other people who were also checking in that day may have already been settled in their rooms and any chances of you being moved are much more slim.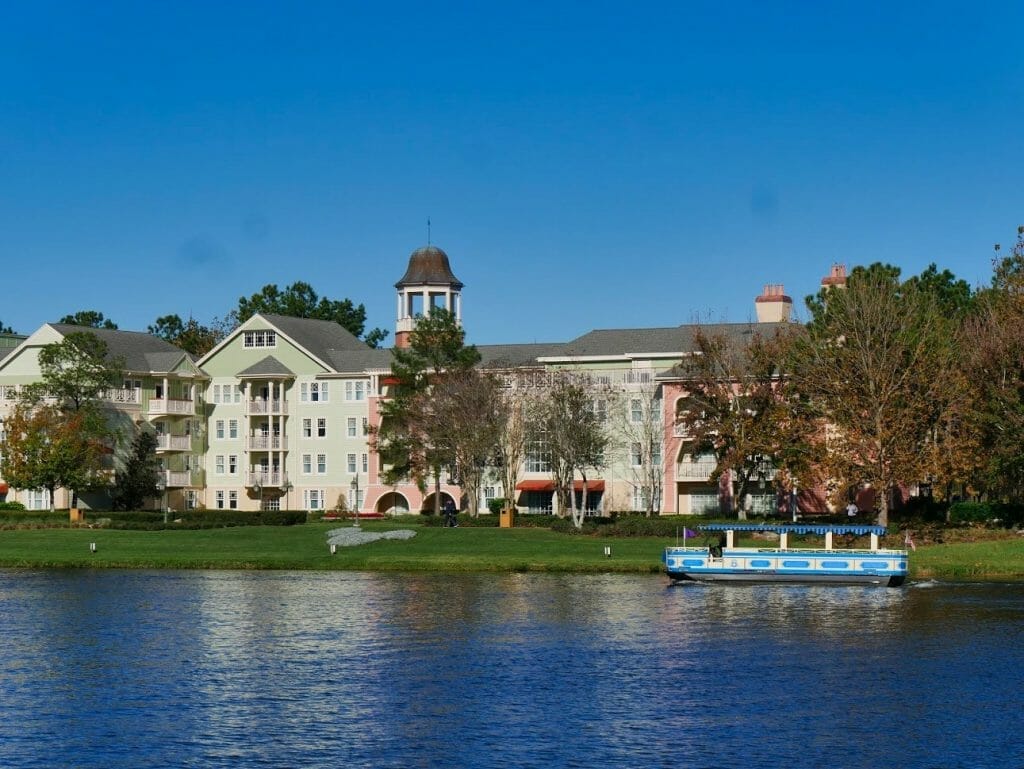 Bonus: Don't Ask for It
The bonus tip that you should remember above everything else is to not ask for an upgrade.
This is not a "if you don't ask, you don't get" kind of situation.
In fact, we've found that "if you don't ask, you might get" when it comes to being upgraded at Disney World resorts.
Again, this has more to do with the last minute upgrades at check-in rather than your room already being assigned to an upgraded room, but think about it.
You're not likely to give something extra to someone begging for a handout or expecting more than what they paid for for no reason at all.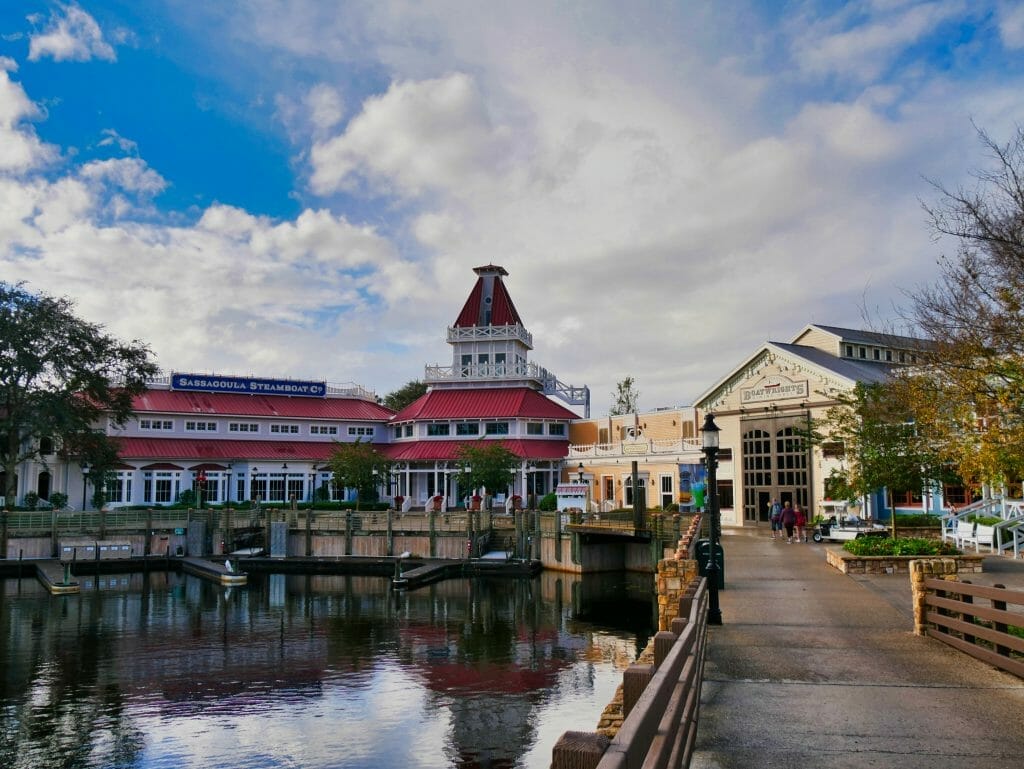 The magic happens when you don't expect it, and even if you act excited about the resort and emphasize what you're celebrating, saying something like "Wink wink, we're celebrating my 50th birthday, any chance of an upgrade?" isn't going to endear the cast member to you or be in any way helpful.
In that way, all of the tips above are just guidelines on what we've experienced when we've been upgraded.
At the end of the day, the reason Disney upgrades are so dang magical is because they happen when you least expect it, when you're making genuine conversation with a cast member, or when all of the stars align just right and you find yourself overlooking the Animal Kingdom Lodge savanna with free drinks from the Club Level lounge in hand when you expected to be seeing toddlers running across the parking lot.
I would love to hear any and all stories of your Disney World upgrades in the comments below!
Hey! Want more of our expert Disney guides? Check these out!
Get the All-American Travel Secrets!
Don't miss out on America's hidden gems!