If you're on an adults-only vacation to Disney World, or if you've just left the kids with a babysitter so you can go explore the parks on your own wearing your "done adulting, gone to Disney" shirt (we won't judge), you're going to want to know the best rides at Magic Kingdom for adults.
Now, of course Disney World is for everyone, but let's be honest – there's a big difference between Dumbo and the Carousel of Progress and a big divide between Space Mountain and Peter Pan.
Some people have the misconception that Magic Kingdom is the "baby" park and should be avoided by anyone over the age of 10, but that's absolutely not true (though if you do want the best rides at Magic Kingdom for babies, I've got that too).
Going to Magic Kingdom is still one of my favorite things to do, even as a grown-up who grew up in Florida, so here's a list of the rides you should prioritize on an adults-only romp through this magical place.
If you want to really maximize the fun, consider visiting during a nighttime event like Mickey's Not-So-Scary Halloween Party to take advantage of shorter lines and stay out past the children's bedtime!
PS – if you're interested in rides for adults at Disney World, this guide to the best Epcot rides for adults will be right up your alley.
Want insider Disney tips from an expert?
Join 4,000 others in weekly guides to Disney's hidden secrets, gems, and money-saving tips!
Okay, everyone put on your "Done Adulting, Going to Disney" shirts and let's get going.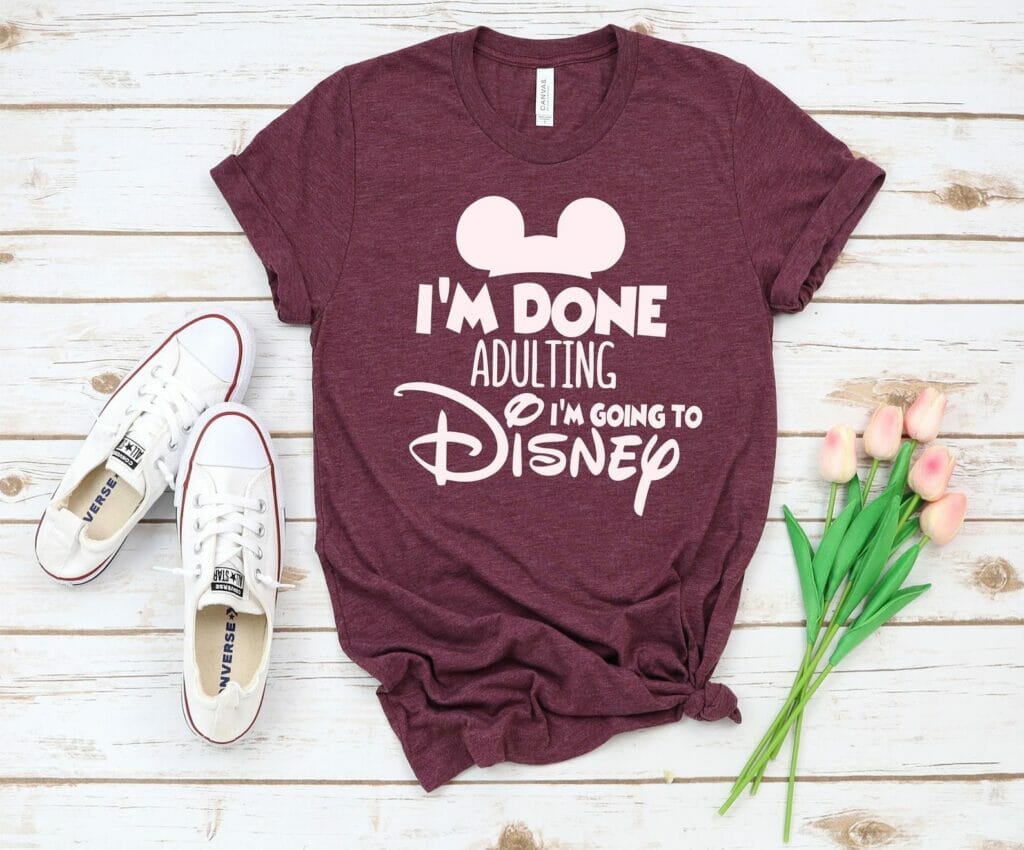 Pssst – this printable Disney scavenger hunt is amazing
Since you're already looking up Disney guides, I just wanted to make sure you knew about this printable Disney World scavenger hunt created by a lifelong Orlando native and Disney World fan.
There are over 60 challenges with a full answer key and both Family and Grown Up versions and a bonus Disney Springs hunt for your non-park day!
1. Hall of Presidents
Situated in Liberty Square, the Hall of Presidents is famous for its slightly awkward looking animatronics featuring the current and past presidents.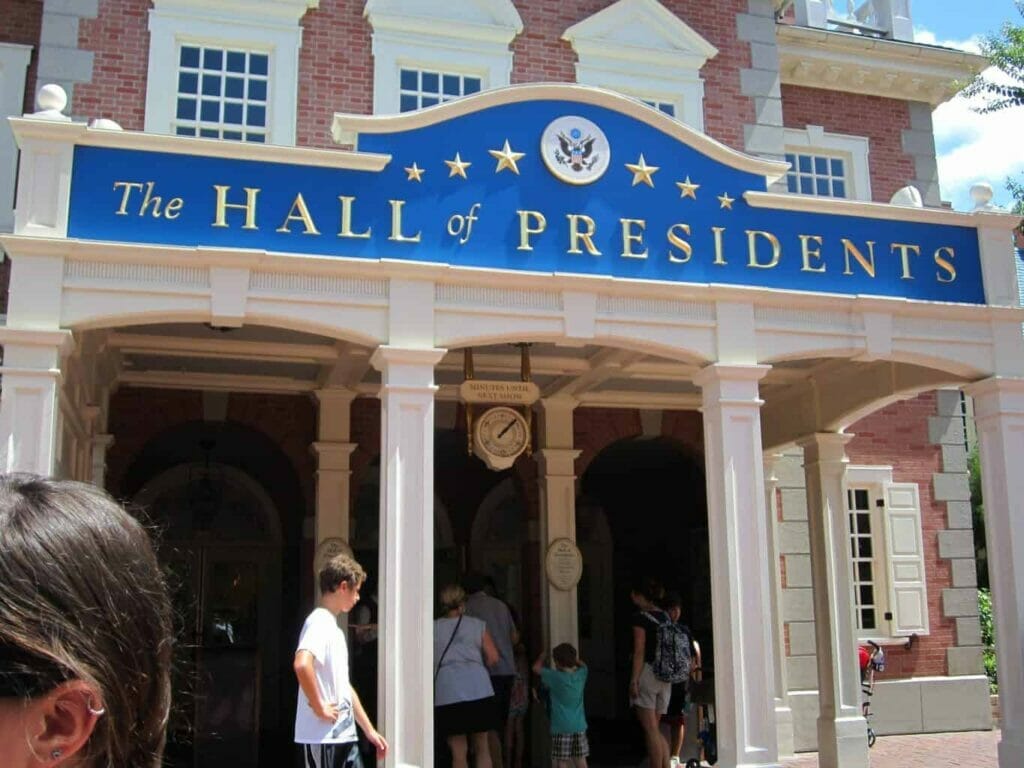 Whether or not you support the current political party, you need to stop by to see Abe Lincoln delivering an inspirational address, watch George Washington creak slightly in his chair, and appreciate the fantastic air conditioning and comfortable seats in the theater.
In fact, Hall of Presidents is one of my top pick for places to nap in the Magic Kingdom, so go for one go round with your eyes open and then another to catch a few zzz's before continuing on.
Children may enjoy seeing the animatronics, but the history and the references made in the attraction will go over better with adults and you may leave feeling pretty patriotic.
If you're not from the US, I would highly recommend the Hall of Presidents for a slice of American history and a chance to shake your head at our over-the-top-ness.
2. Haunted Mansion
The Haunted Mansion, with its ghoulish soundtrack, incredible dancing ghosts, and well-known hidden Mickey (hint: check the dining room scene), is a great Magic Kingdom ride for both children and adults.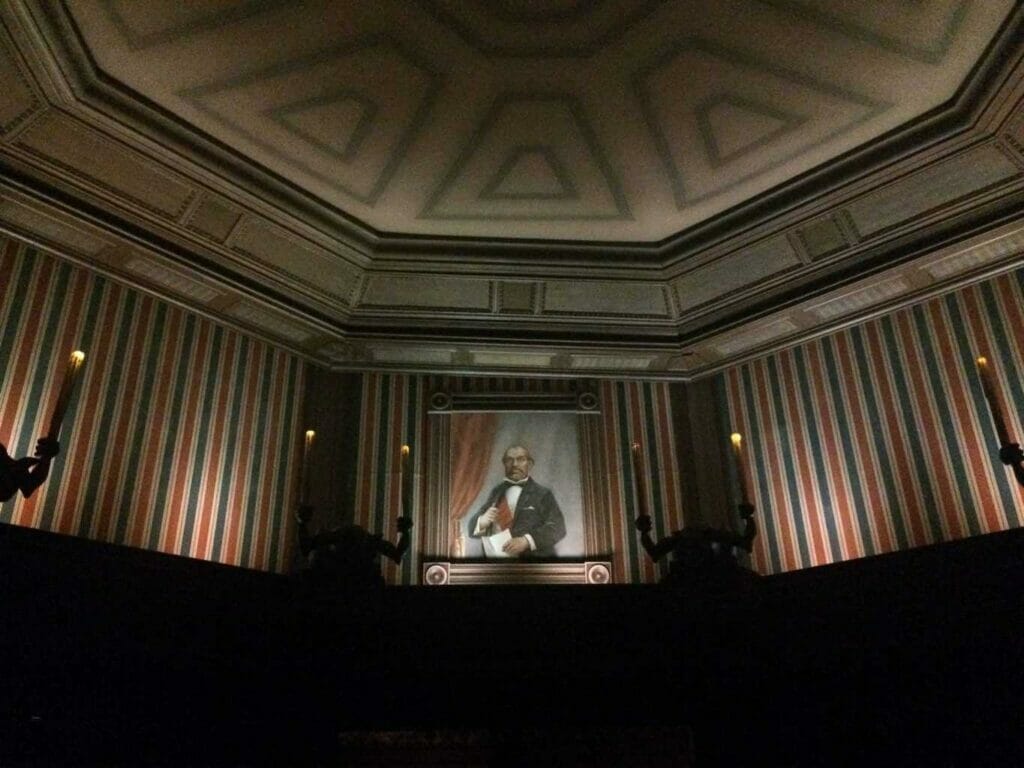 But it's made it to my list of best rides for adults particularly because you won't need to spend time comforting a scared child and you can spend more time appreciating the theming.
Don't get me wrong – I was that scared child many times myself, but there's something about going through the Haunted Mansion without that fear that really lets you delight in the Imagineering and appreciate the storyline.
The ride also stops often unexpectedly due to wheelchair users loading or other loading issues, so if you're prepared for it and paying attention, you may get to see some scenes in incredible detail that you wouldn't get to on a normal ride through.
If you're really interested in the behind-the-scenes of this rides, there are even entire books about it that you can dig into before you go.
3. Carousel of Progress
"There's a great big beautiful tomorrow, shining at the end of every day."
Or at least that's what you'll be singing when you leave the Carousel of Progress.
This is my favorite Magic Kingdom ride of all time, and in fact my favorite ride in all of Disney World.
Is it thrilling? No.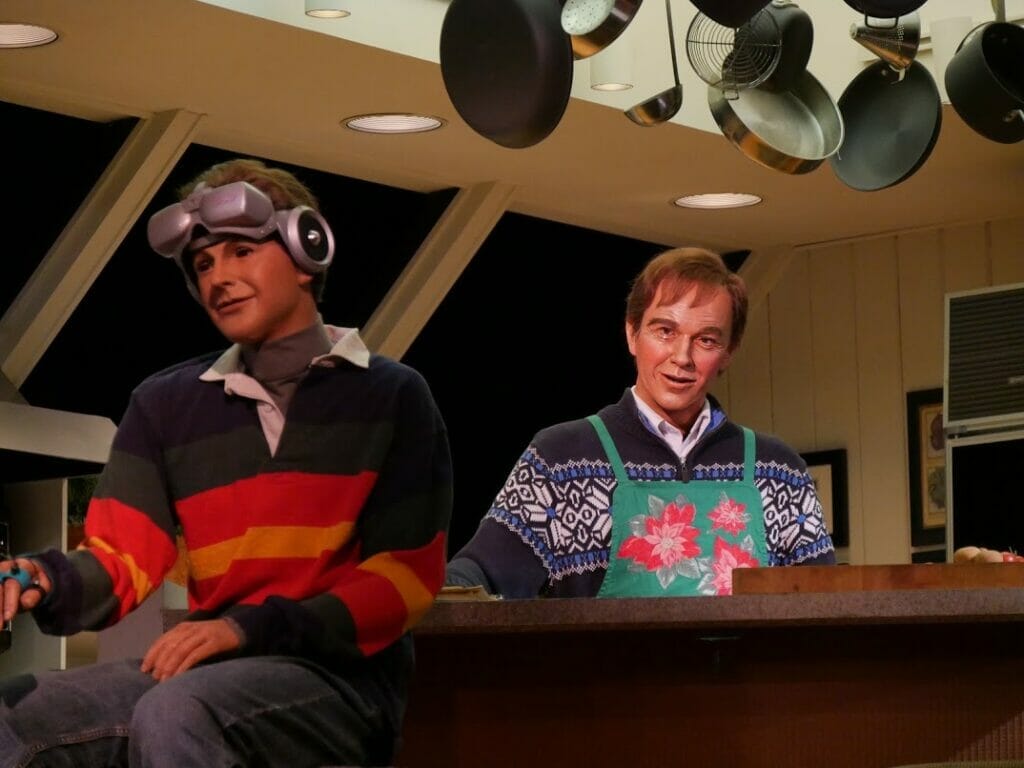 But is it engaging and catchy and an interesting glimpse into one of the original rides and what Walt imagined for his kingdom?
Absolutely, yes.
As you sit in the rotating theater (which is cool in and of itself), you're taken into the world of an animatronic family as they experience life through the decades, ending in a questionably modern scene where Grandma is obsessed with Virtual Reality while the laptop looks like it's from about 2005.
There is something so nostalgic and wholesome about the Carousel of Progress that any adults at the Magic Kingdom should put it at the top of their lists.
While it can be enjoyed by children, you owe it to yourself to go on it at least once without worrying about your little ones kicking the backs of the seats or constantly asking you "Who is that?"
I can also guarantee that there is a 99% chance you won't have to wait in a line, as not everyone has discovered the absolute fantastic experience that this ride provides.
4. Splash Mountain
Okay, you didn't think I could talk about Magic Kingdom's best adult rides without talking about the mountains, did you?
Splash Mountain is the park's iconic log flume ride, themed to represent a journey through Brer Rabbit's world and the mischief that awaits him.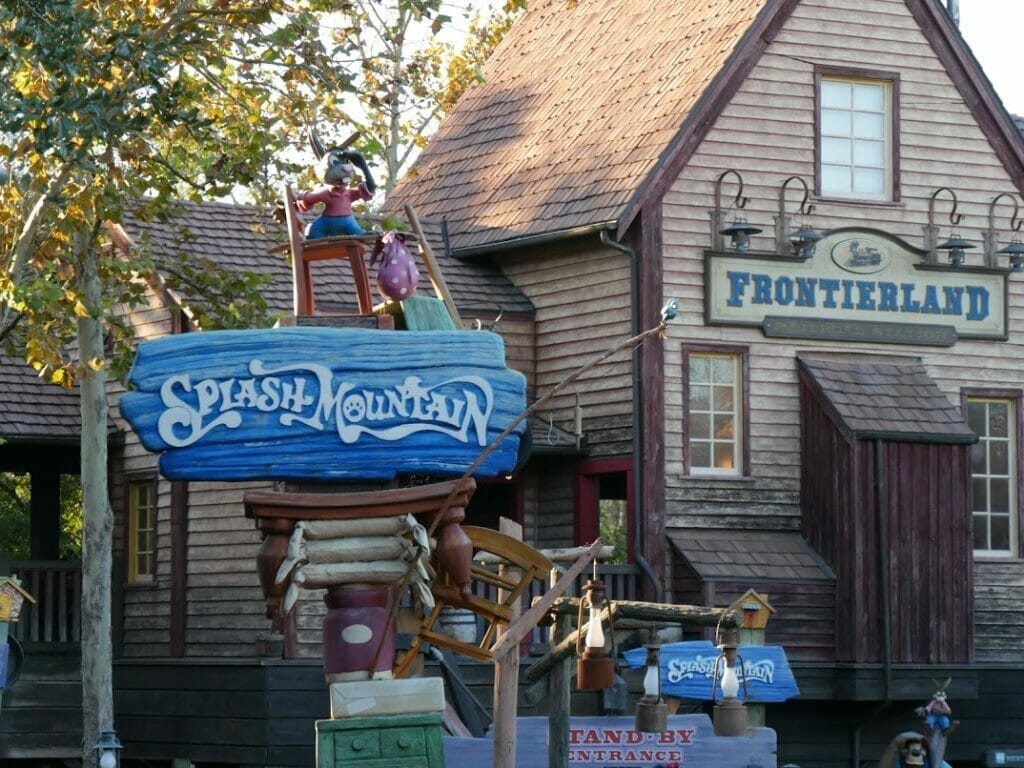 Listen to the catchy music that plays as you float around, and really get into the anticipation of knowing that you'll soon be plummeting down a stream of water to the ground below.
On a hot day, Splash Mountain is the best place in the Magic Kingdom to cool off, which is great as the days in Florida range from warm to scalding.
On the off chance that it is cold, you'll also find that Splash Mountain has virtually no line, so if you're up for a bit of a freezing walk to the car, live a little and jump on this ride.
5. Space Mountain
What do you get when you combine one of the Magic Kingdom's iconic rides with a pitch black room and an adults-only vacation?
The best time ever, that's what you get.
While Space Mountain doesn't go upside down and you're barely strapped in except by a dinky lap bar, the feeling of soaring through the stars is still there on this classic ride.
Many adults may remember it from their Disney World childhoods, and I would advise to make it a point to ride it before it gets changed to the version of Space Mountain that they have at Disneyland Paris, which is a completely different track and a lot more intense.
Each car takes 3 people sitting in a line, and my friends will tell you that the best way to ride Space Mountain is to be quiet while I scream so they get the maximum enjoyment from it.
I would highly recommend putting the scaredy cats in the front so they can't see where they're going and provide the most possible entertainment.
The line to Space Mountain can be quite long, but it is air conditioned, so especially if you don't have impatient children with you, get in line and enjoy some conversation and games on the monitors before you ride.
6. Big Thunder Mountain
While this is truly a family favorite, I also find that it tends to be loved even more by adults who appreciate the theming and the fact that it's a "real" rollercoaster without being absolutely crazy.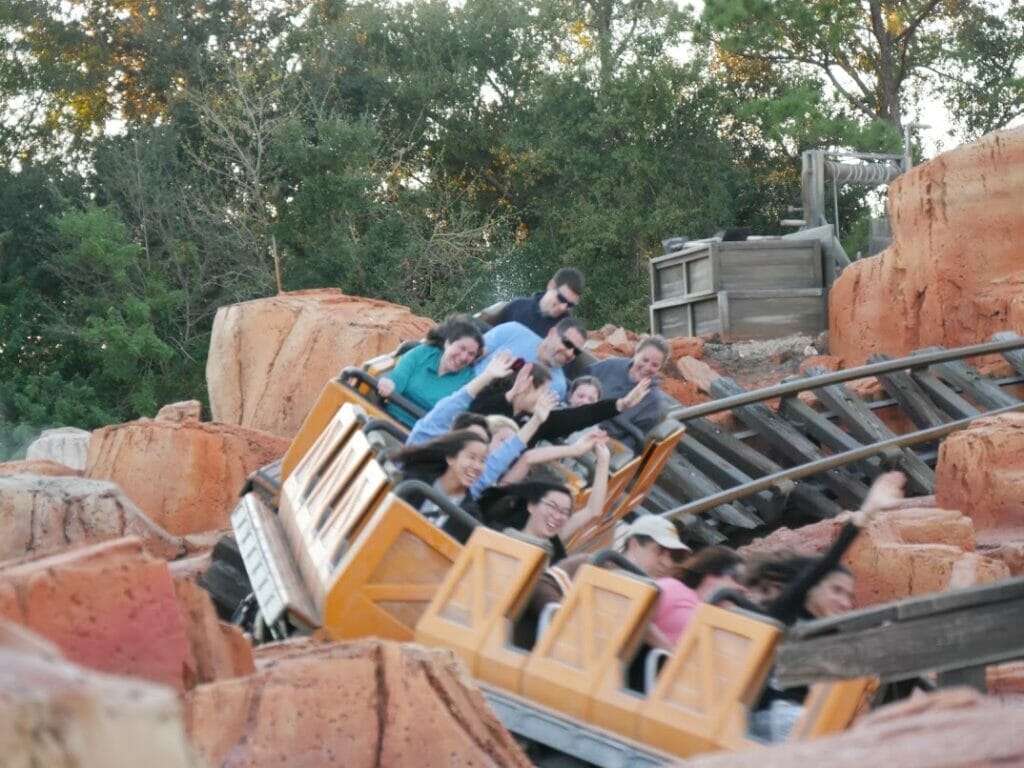 This is a rollercoaster that you can take grandma on if she's up for rollercoasters and not worry.
By the time you get off, you'll be telling each other that it was the "wildest ride in the Wilderness" and wanting desperately to ride again.
If you're in an adults-only party, you might find that you have more time to try both sides of the tracks and to experience Big Thunder Mountain from both the front and the back.
7. The People Mover
Located in and above Tomorrowland, the People Mover is another classic Disney ride that a lot of kids can't really get into.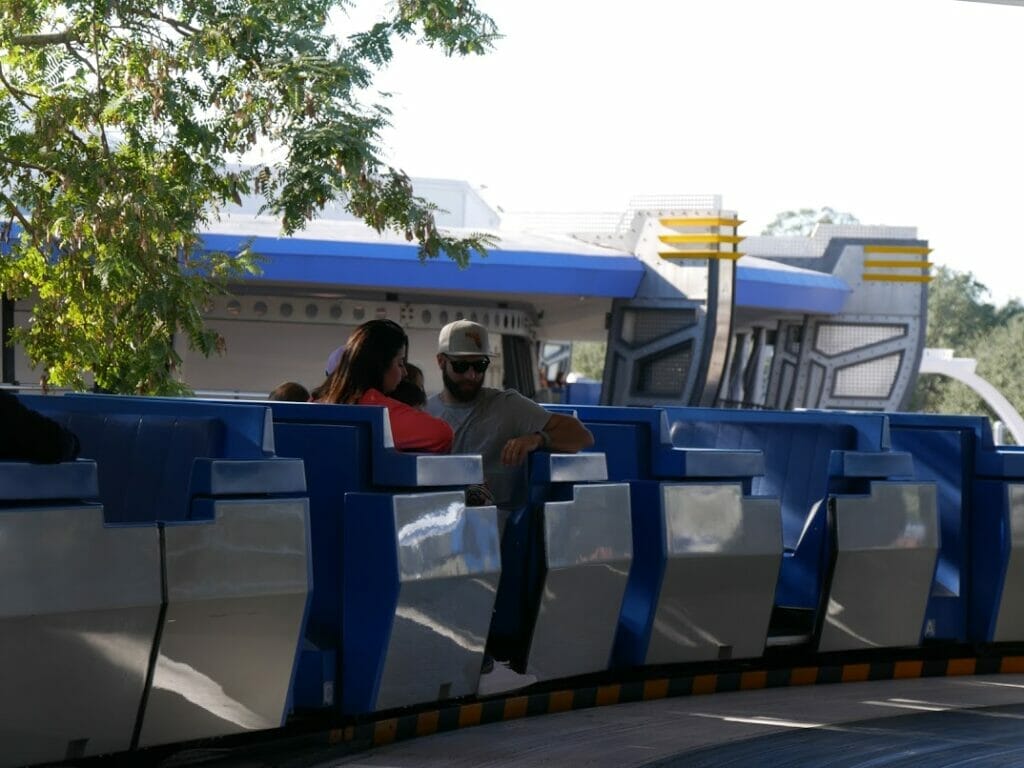 I remember riding it around when I was a teenager and being like, "what in the world is this? I came to Disney World to ride on rides, not sit on this weird thing."
Now, as an adult, as soon as I get in the park I am like, "HECK YES, THIS IS THE BEST THING THAT EVER HAPPENED TO ME. PLEASE CAN WE GO AROUND 86 TIMES WHILE I SIT AND SOAK IN THE ATMOSPHERE."
It's not a thrill ride, but it is one of the most relaxing rides in the park.
Ride it a few times throughout the day, timing it to various parts of Magic Kingdom's hour like sunset and the fireworks.
From certain points, you can get stunning photos and it's just such a peaceful place to people watch.
It's even better in Magic Kingdom at Christmas when you can see all of the decorations below.
The People Mover also takes you through various scenes from other rides, including Buzz Lightyear's Spaceranger Spin and Space Mountain.
And, pro tip: if you ask at the end to stay on and the ride isn't completely full, they'll almost always let you go around again.
8. Jungle Cruise
In my opinion, the Jungle Cruise is best appreciated by adults who understand the history of the ride and understand the absolutely ridiculously bad jokes that make up a part of the script.
This is such a classic piece of Disney history, and it's even better once you know a bit about the behind-the-scenes choices (did you know that the water isn't really that murky color – it's just dyed that way for the themeing!)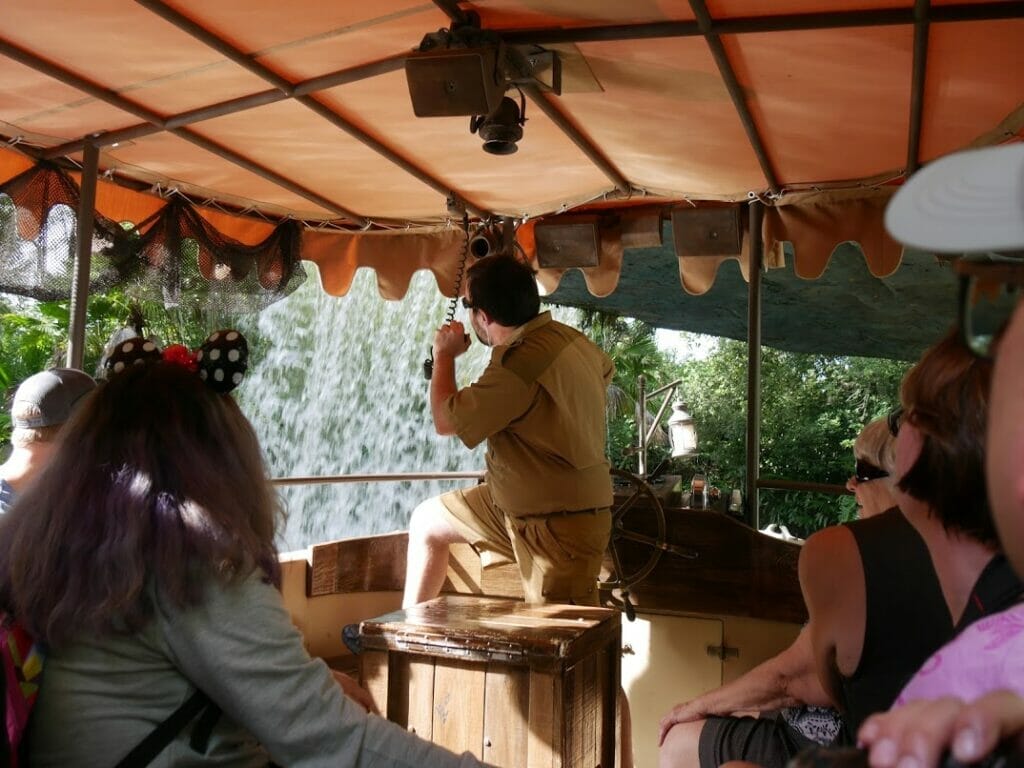 Get into it by playing along with the skipper and embracing the absolute cheese of it all.
And don't forget to try it both during daylight and at nighttime.
It's a completely different experience depending on the time of day, and if you've got time, it's a great way to expand your Disney ride knowledge by hopping in multiple times.
9. Mickey's Philharmagic
Mickey's Philharmagic isn't so much a ride, but an attraction at the Magic Kingdom.
So firstly it already deserves a spot on the best rides for adults at Magic Kingdom list because you can sit down in the air conditioning and rest your weary feet for awhile.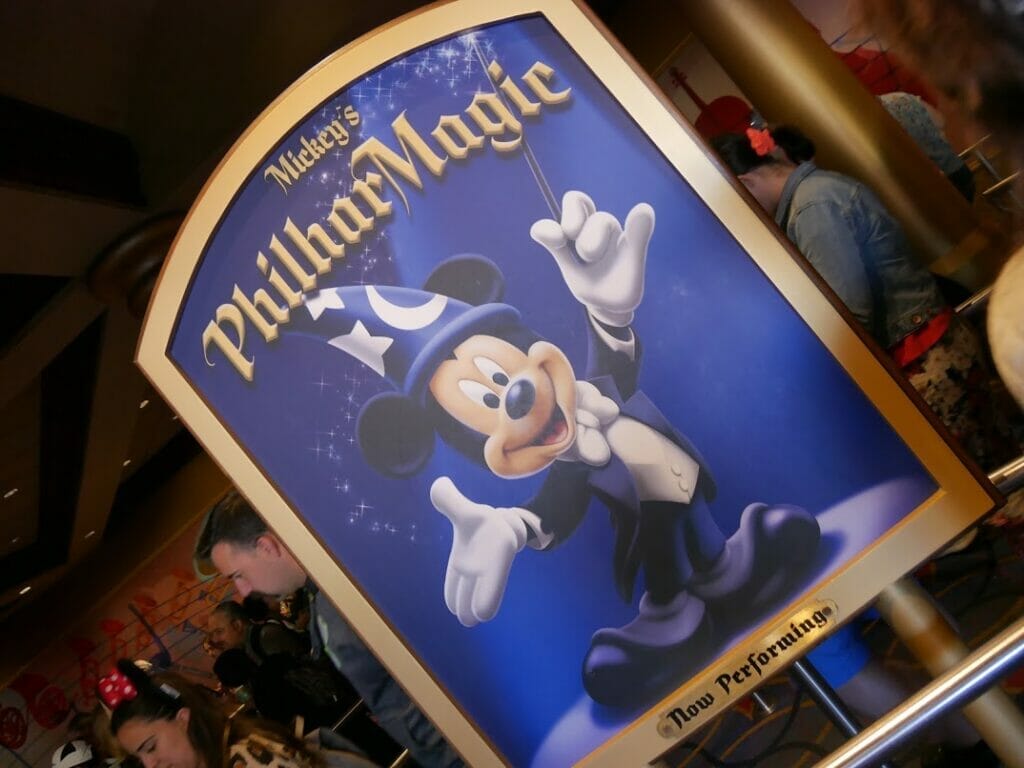 The other reason I've included it on this list is because it features some classic Disney movies that are at the heart of many adult's Disney childhoods.
In it, you'll swim with the Little Mermaid, go flying on the magic carpet with Aladdin, and dance with Lumiere to "Be Our Guest."
Sure, this 3D show is great for the whole family, but I think the children of today have associations with Disney movies like Frozen and Moana, not necessarily the ones that today's adults grew up with it.
Mickey's Philharmagic is a true blast from Disney's classic past and well worth a watch.
Don't bother with a Fastpass for it, as you can almost always get in the next showing.
It's a great way to start or end the day.
Pin for Later!
Hey! Want more of our expert Disney guides? Check these out!
Get the All-American Travel Secrets!
Don't miss out on America's hidden gems!