Discussing Disney's best Deluxe resorts can be incredibly difficult because they're all the top of the line and also different features appeal to different groups of people.
The modern design at the Contemporary with the monorail chugging through the lobby may be right up your alley, while also being someone else's worst nightmare.
Likewise, many people's favorite Deluxe resort is Animal Kingdom Lodge for its feeling of seclusion, and you can read my Animal Kingdom Lodge review here.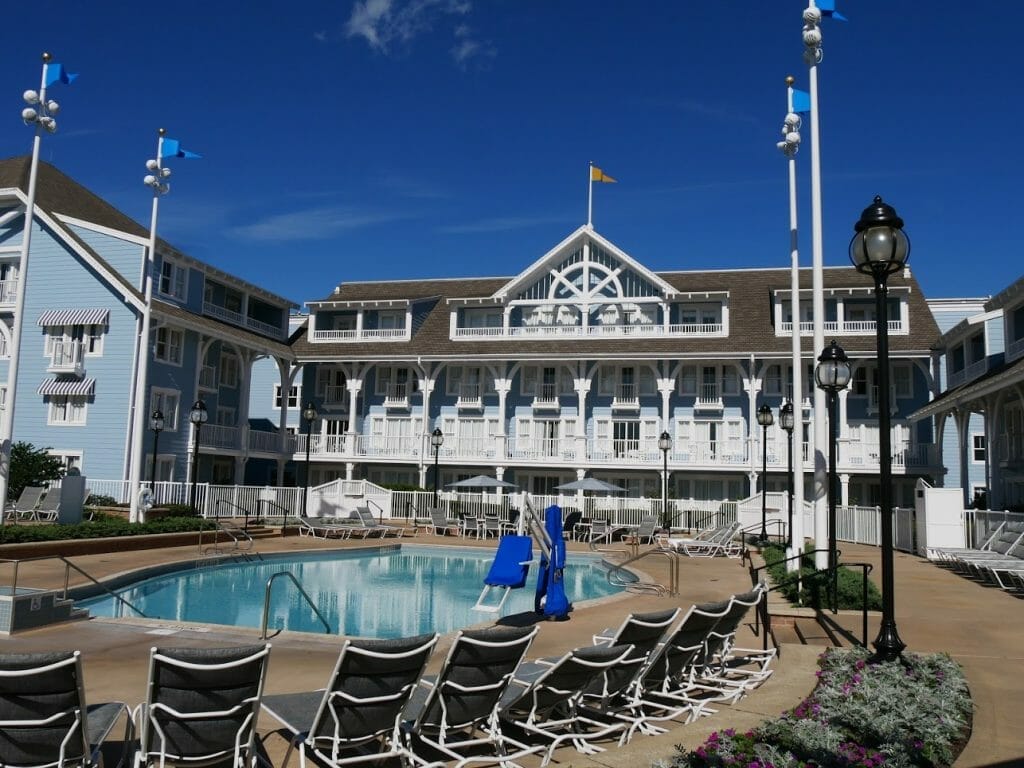 Equally, that isolated location sends many others screaming and proclaiming they'll never return.
There are more Disney Deluxe resorts than any other category, as well, which makes it harder to untangle.
Below, I'll attempt to explain who might benefit from certain resorts based on their location, amenities, and themes.
If you're already booked into one of these, know that you can't go wrong!
You're going to have an amazing time, and better yet, you're going to do it in Deluxe Disney style.
What to Pack for Disney Deluxe Resorts
Deluxe resorts come with most of the amenities you'll need, but there are just a few things I like to pack in addition.
Mesh bag like this one for laundry, which lets it air out and is larger than the ones offered in the room
Portable door lock – this is a great one. Safety is incredibly important to Disney, but it always makes me feel better to have our own portable hotel door lock
Fold-down luggage organizers – these are the best. I love luggage organizers to help you keep everything in your luggage or in the drawers more organized so there's more space to enjoy the room
Best Disney Deluxe Resorts Explained
Disney's Deluxe resorts are some of the most beautiful properties in the Disney World resort complex, combined with the Deluxe Villas.
While the Deluxe Villas are usually apartment-style accommodation with kitchenettes, the Deluxe resorts have mostly standard hotel rooms (and when I stay standard, I mean, awesome and beautiful and detailed).
All Disney Deluxe resorts have table-service dining experiences, balconies attached to the rooms, pools with the most intricate and powerful water slides, and they are often the first to get to try new roll outs coming to Disney.
They got the Minnie Vans first, are trying a cashless system first (at Animal Kingdom Lodge), and generally just go that extra mile.
They're also the most fun to visit on the Disney World resort hopping challenge!
The Deluxe resorts are…
Disney's Animal Kingdom Lodge
Disney's Polynesian Village Resort
Disney's Grand Floridian Resort and Spa
Disney's Wilderness Lodge
Disney's Beach Club Resort
Disney's Contemporary Resort
Disney's Yacht Club Resort
Disney's Boardwalk Inn
Disney's Riviera Resort
If you want to experience a Disney vacation at the lowest possible price, you're not going to want to stay Deluxe and should instead check out my post on the best Disney value resorts.
However, if you're looking for a bit of luxury and top-of-the-line experience, keep reading.
Some of these resorts are better for kids and families, while other really excel in the "adult" Disney vacation with the detailed theming and general atmosphere.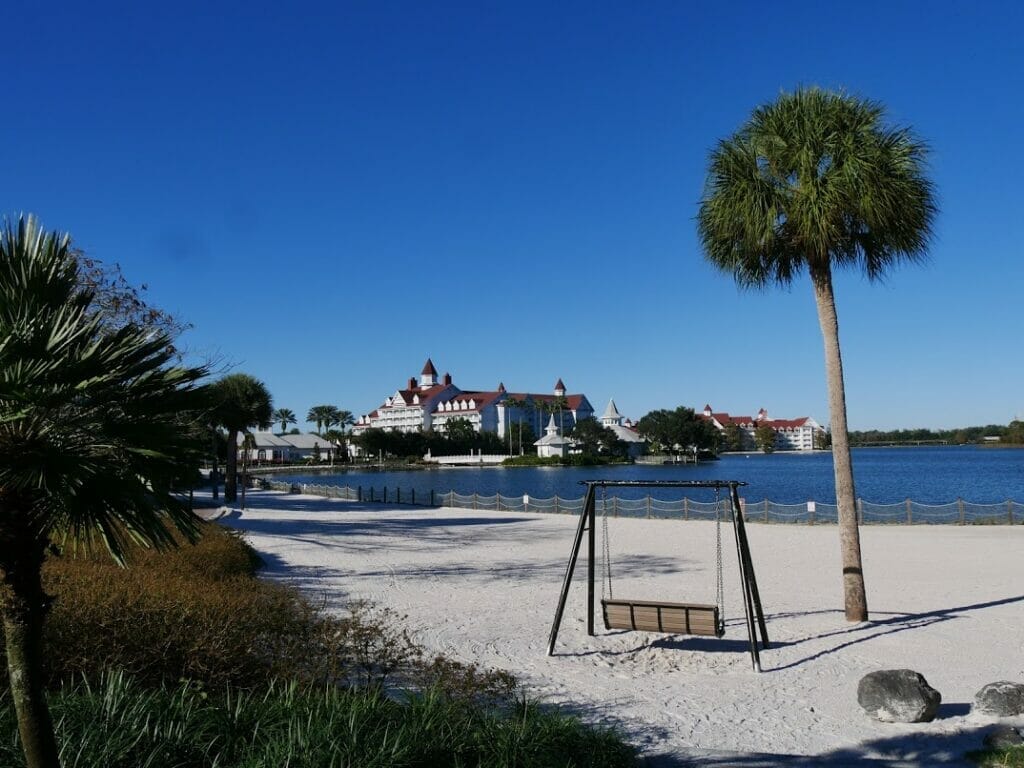 Of course, this is Disney, so children are more than welcome in all of the resorts and will have their own activities, pool areas, and children's menu dining options usually.
If you're still with me, let's start digging into the best Disney deluxe resorts!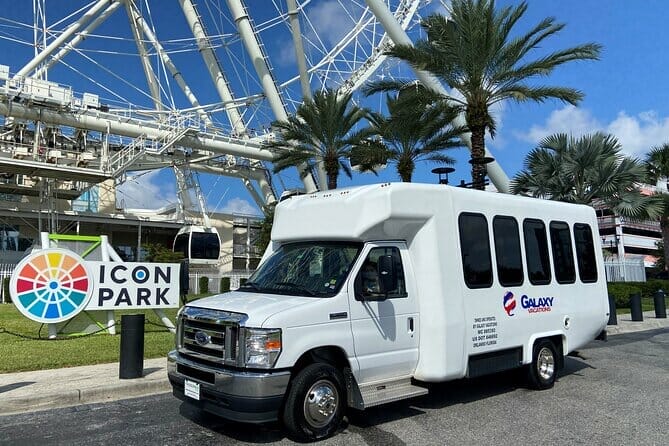 🚌Not renting a car in Orlando?
My favorite shuttle to get from the Orlando airport directly to Disney World is this one with a ⭐⭐⭐⭐⭐ rating.
Best Disney Deluxe Resorts for Families
When I'm talking about the best Disney Deluxe resorts for families, I'm talking about bringing your whole family that spans the generations.
So let's say you have your children, their cousins, and the grandparents in tow.
Choosing a Deluxe resort in this instance may have more to do with which resort has the most available to interest every member of the family, rather than exceling in a particular area.
My initial choice for this category is Disney's Animal Kingdom Lodge.
The things to do at Animal Kingdom Lodge are just incredible.
Everyone can enjoy the animals roaming the savanna, there are plenty of cultural activities to take part in that range from children's storytime to adult wine tasting tours, and the lobby provides a great space to meet up and soak in the atmosphere.
Another great option would be Disney's Boardwalk Inn, and that's largely due to its location on the Boardwalk.
From shopping experiences to ice cream parlors to late night entertainment, there's a bit of everything on Disney's Boardwalk, which means that there's not a chance anyone's getting bored.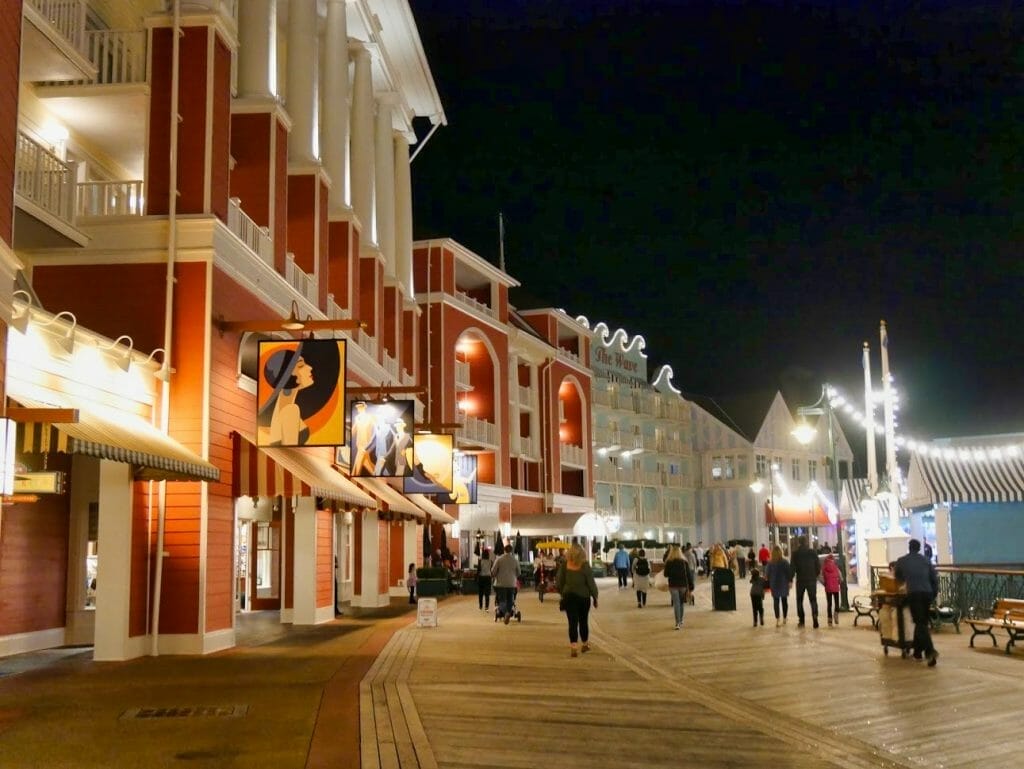 You can also walk over to Beach Club for a lunch or dinner at Beaches and Cream, an awesome soda parlor.
The whimsical decor is also family-oriented, which makes complete sense as the resort is meant to replicate a Coney-island style funfair.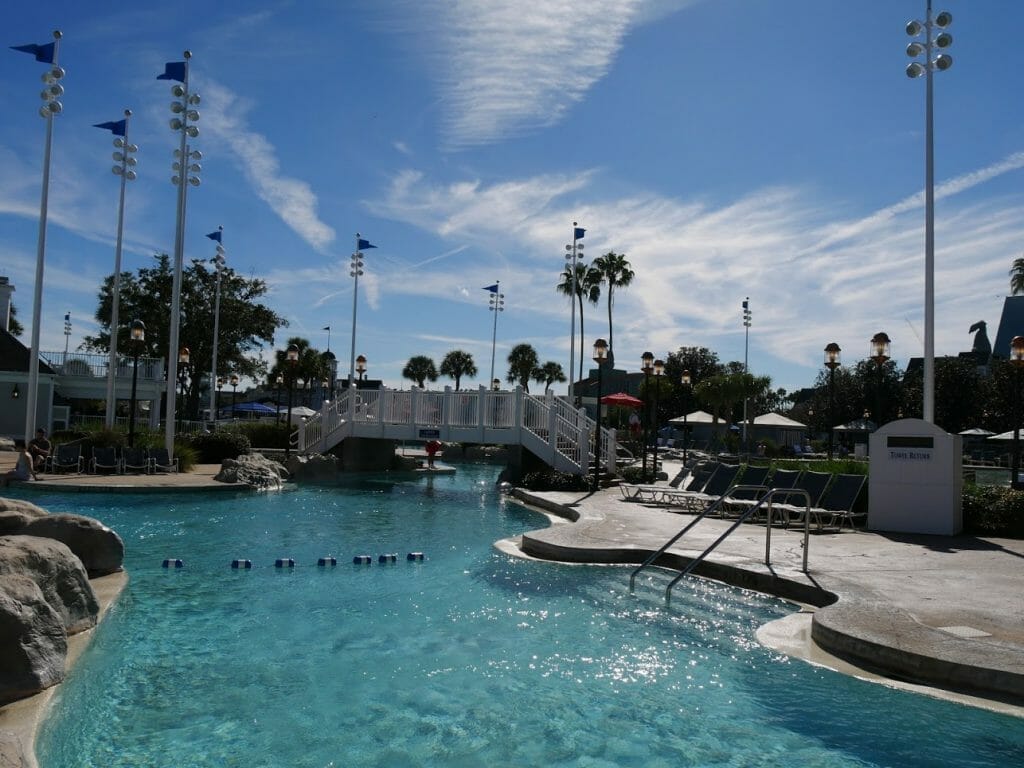 Best Disney Deluxe Resorts for Families of 5
Once you become a family of 6 or more, it often makes more sense to look into larger suites or stay in 2 hotel rooms, but families of 5 are in a situation where they often have 2 parents and 3 children and want one hotel room to stay in together without upgrading to a more spacious and expensive room.
Not all Disney resort rooms hold 5 people – especially at the Values and Moderates, many of the standard rooms only hold 4.
Go over this and you're breaking the fire code and Disney rules.
However, some of the Disney Deluxe resorts do feature standard rooms for families of 5.
For instance, you can stay at the Beach Club or Yacht Club which have two queen beds and one twin daybed.
Rooms at the Contemporary, Boardwalk, or Polynesian have the same set-up.
Finally, the Grand Floridian standard rooms will sleep 5.
You can stay at the Wilderness Lodge if you upgrade to the Deluxe rooms, which each hold 6.
And of course there is the option to stay in the Villas section of many of these resorts.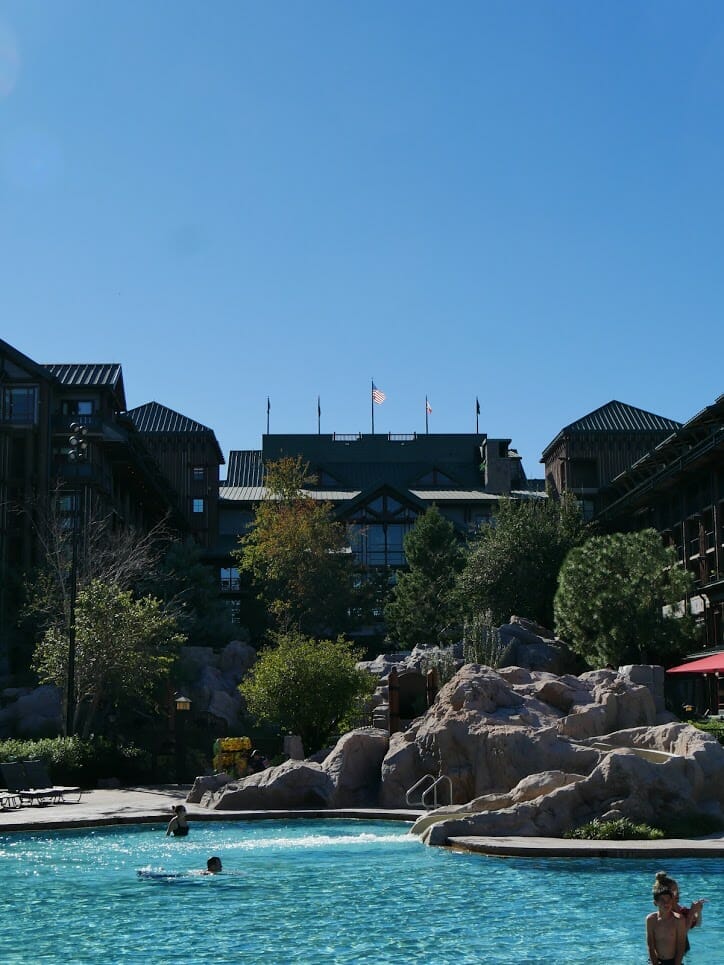 If you've been following along, this means that you can't stay in an Animal Kingdom Lodge or Wilderness Lodge standard room with 5 people, as the maximum occupancy is 4.
Best Disney Deluxe Resort Table-Service
The beauty of Disney Deluxe resorts is the table service restaurants offered at each location, sometimes quite a few.
The best table service restaurants will depend on your individual tastes, but perhaps the best dining options in all of Disney World are located at Animal Kingdom Lodge.
Here, you can choose from one buffet, Boma, or two table-services, Jiko or Sanaa.
All of them feature African-inspired options, along with some Western choices for picky eaters.
Chefs are brought in from Africa to make sure the meals are authentic, and the service is usually outstanding.
Another Deluxe resort with well-loved dining is the Polynesian, famous for Ohana and its family-style breakfasts and dinner.
Inspired by island favorites, there are meat skewers for dinner, lots of delicious breads for breakfast, and even character dining options.
In recent years, Wilderness Lodge has also become a dining favorite with its amazingly fun Whispering Canyon, where you can expect lots of laughs with your meal (think your servers galloping around you on horse sticks).
Alternately, Artist's Point at Wilderness Lodge is an upscale restaurant that serves beautiful rustic food and is a great option for when you just want an evening in the resort.
Best Disney Deluxe Resort Theming
When it comes to theming, it's almost not fair to pick the best Disney deluxe resort as the reason they all exist is to give us Disney fans different options when staying.
How do you compare the beautiful beaches of the Polynesian to the far-stretching savannas of Animal Kingdom Lodge?
Or the elegant Beach and Yacht Club to the homey and rustic Wilderness Lodge?
However, we can break up the resorts into a few different subsections to help guide you in your choice.
If you're looking for elegance and more subtle theming, stick with the Grand Floridian at Christmas, the Beach Club, or the Yacht Club.
Here, you'll find a sense of timelessness and beauty that comes from the resorts being themed around a particular time period and not too much in-your-face theming.
For an immersive experience, it doesn't get better than Wilderness Lodge and Animal Kingdom Lodge.
Wilderness Lodge, themed like the American Northwest, is just so beautiful with its geysers, streams running through the hotel, and general feeling that you've stepped into a national park rather than a Disney resort.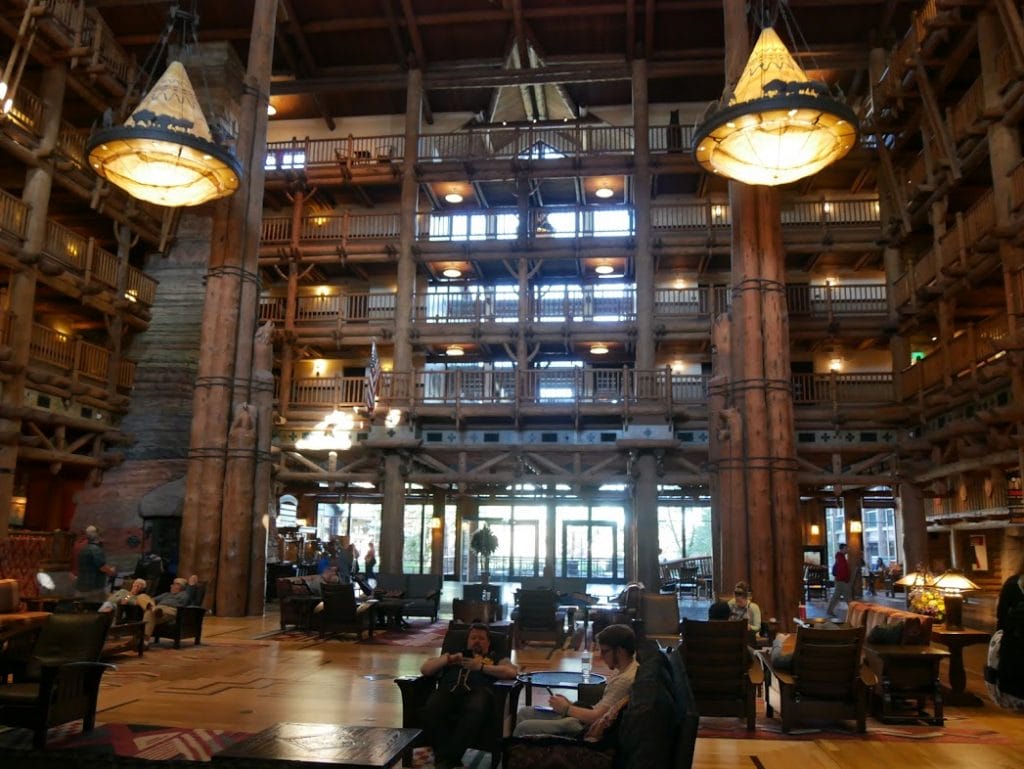 Animal Kingdom, themed like an African outpost and savanna, is one of my favorite Deluxe resorts of all time and is so wonderfully secluded that you really do feel like you're miles away from Central Florida.
From the authentic African art in the lobby to the giraffes grazing outside your window, this resort is stunning.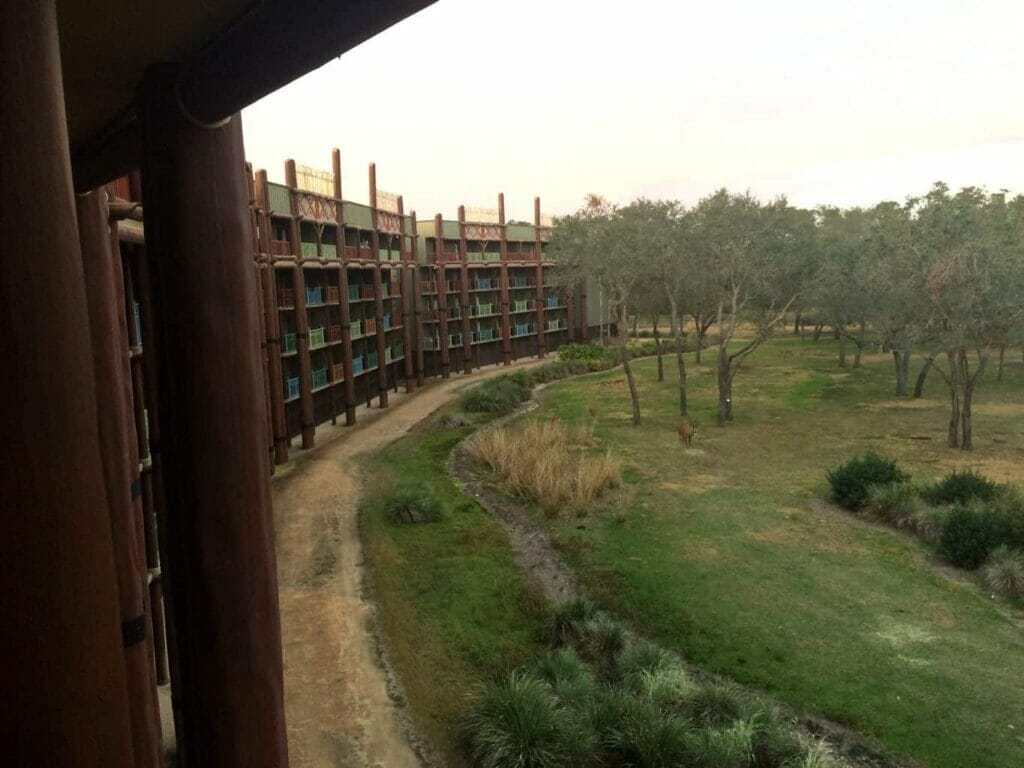 A strong contender for best theming as well is Disney's Polynesian Village.
The lobby has been redone in the past few years and really evokes a Polynesian atmosphere, while the grounds itself are also perfectly landscaped.
This is a bit less immersive of a resort because you are so close to the Grand Floridian and can see the Magic Kingdom looking over Bay Lake, but of course, this is the reason why so many people choose it.
The only Deluxe resort I would advise against if you're only after the best theming is the Contemporary.
The biggest draw of the Contemporary would be for those really interested in clean, sleek lines and a modern modern look.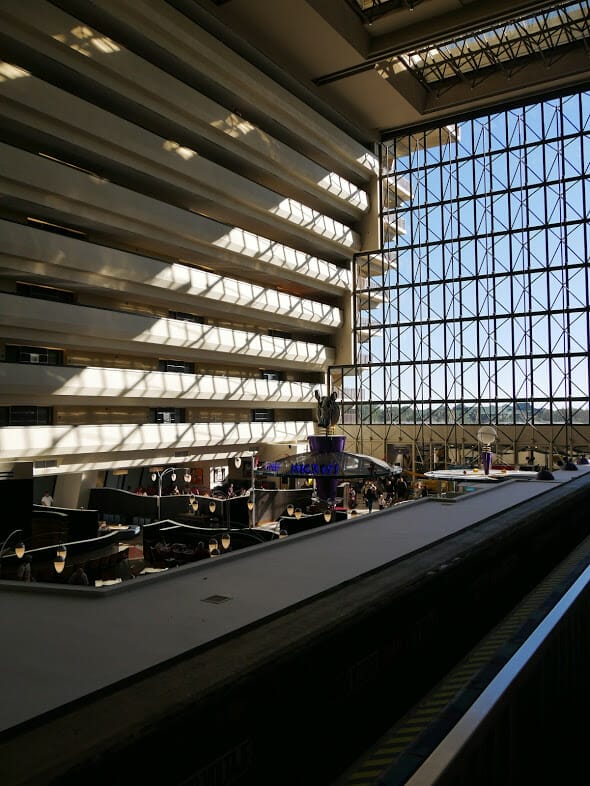 But this doesn't exactly equate to theming for me, and I think those that do love it are mostly interested in other aspects of the resort, which we'll talk about later.
Best Disney Deluxe Resort Prices
The cheapest Disney Deluxe resort is almost always Animal Kingdom Lodge.
While its rooms are a bit smaller than the average deluxe rooms, I think the main reason for this is its location which is only conveniently located to Animal Kingdom.
I've stayed here for $235 a night in off-season with a Florida resident discount, which isn't cheap, but certainly isn't expensive for a Disney Deluxe resort.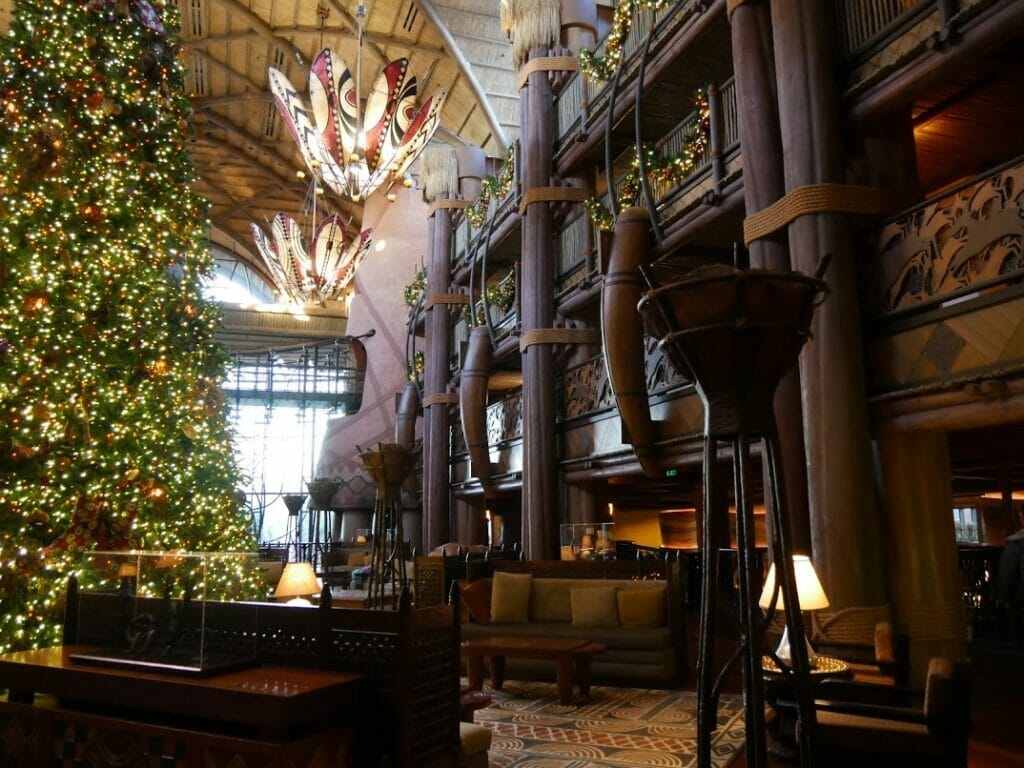 In general, you will find that the most expensive resorts tend to be the Grand Floridian, the Polynesian, and the Contemporary. If you know your Disney trivia, you'll understand why this is.
If not, head down to the Disney Location section to find out!
Best Disney Deluxe Resort Location
To help give you an idea of where the resorts are located, here's a bit of a breakdown.
The Grand Floridian, Polynesian, Wilderness Lodge, and Contemporary are in the Magic Kingdom resort area.
You can easily walk to the Magic Kingdom from the Contemporary.
Beach Club, Yacht Club, and the Boardwalk are in the Epcot resort area.
They are all walking distance to Epcot, and very close to Hollywood Studios.
Animal Kingdom Lodge is in the Animal Kingdom resort area, but not walking distance.
This presents an interesting decision when trying to choose the best Disney Deluxe resort for location, as it mainly depends on where you spend your time.
If you're at Epcot for Food & Wine or Flower & Garden, staying at one of the Epcot resorts is going to become the best option for you, while if you are a family with young kids who want to spend all of their time in the Magic Kingdom, one of those resorts are going to put you where you want to be.
Because of Magic Kingdom being such a central part to many people's Disney experiences, I would choose any of the Magic Kingdom resort area resorts as the best for location, and the ultimate one being the Grand Floridian.
Best Disney Deluxe Resort Transportation
There are three monorails with monorail access to the Magic Kingdom Transportation and Ticket Center, which are the Grand Floridian, Polynesian, and Contemporary.
In fact, at the Contemporary, the monorail goes straight through the resort – a draw for those looking for this novelty!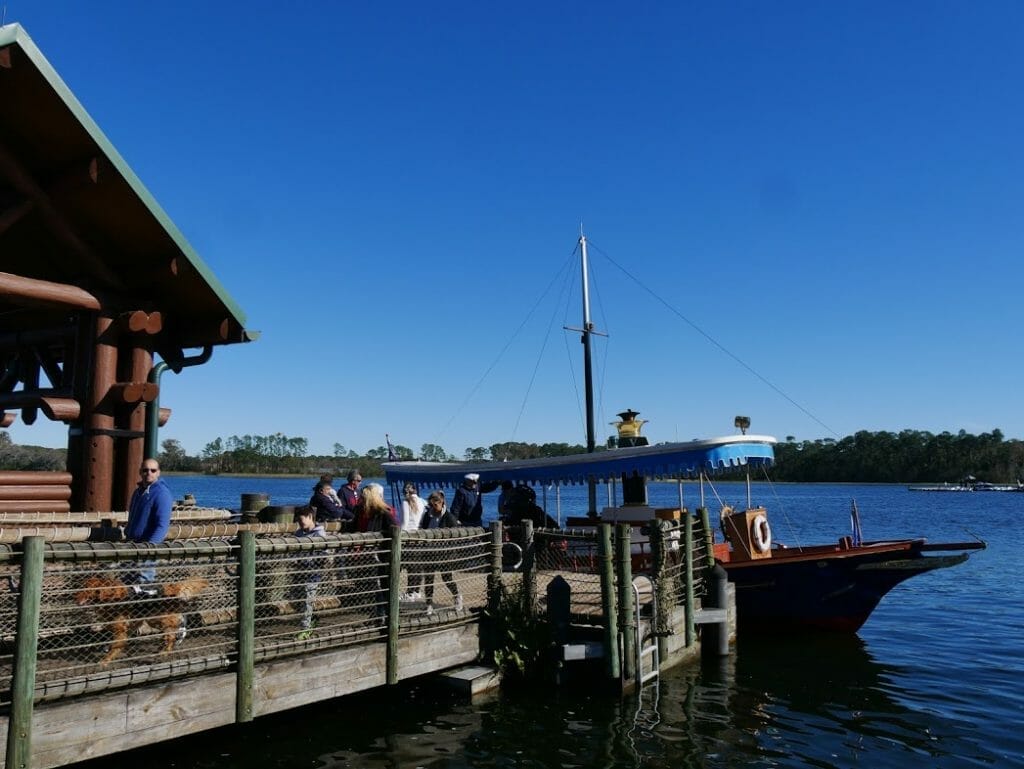 You can also get a water taxi to the Magic Kingdom from the Grand Floridian, Contemporary, Polynesian, and Wilderness Lodge.
For the Epcot resort area resorts, you can get a water taxi to Epcot and Disney's Hollywood Studios from the Boardwalk, Beach Club, and Yacht Club.
You can also use the Skyliner to get to Hollywood Studios, as well as walking to Epcot.
All resorts also have bus transportation to each of the parks and Disney Springs to give you options, though Animal Kingdom Lodge is the only Deluxe resort without any additional transportation options.
This puts it at the bottom of my list for the resort transportation for me.
Best Disney Deluxe Resort for Couples
As opposed to the Disney value resorts that make it a bit harder to find space for a romantic getaway, I think the Deluxe resorts are perfect for a Disney getaway and are Disney's best honeymoon resorts.
If you want a serene and calming getaway, I would choose a savanna view room at Animal Kingdom Lodge.
Not only does this resort have tons of things you can do together, but the fact that you can wake up to the animals grazing the savanna and really take time to talk to each other and reflect away from the busyness of life makes it a great choice.
On the other hand, if I wanted a more active vacation, I would choose the Boardwalk Inn, Yacht Club, or Beach Club for the access to Epcot, Hollywood Studios, and the Boardwalk.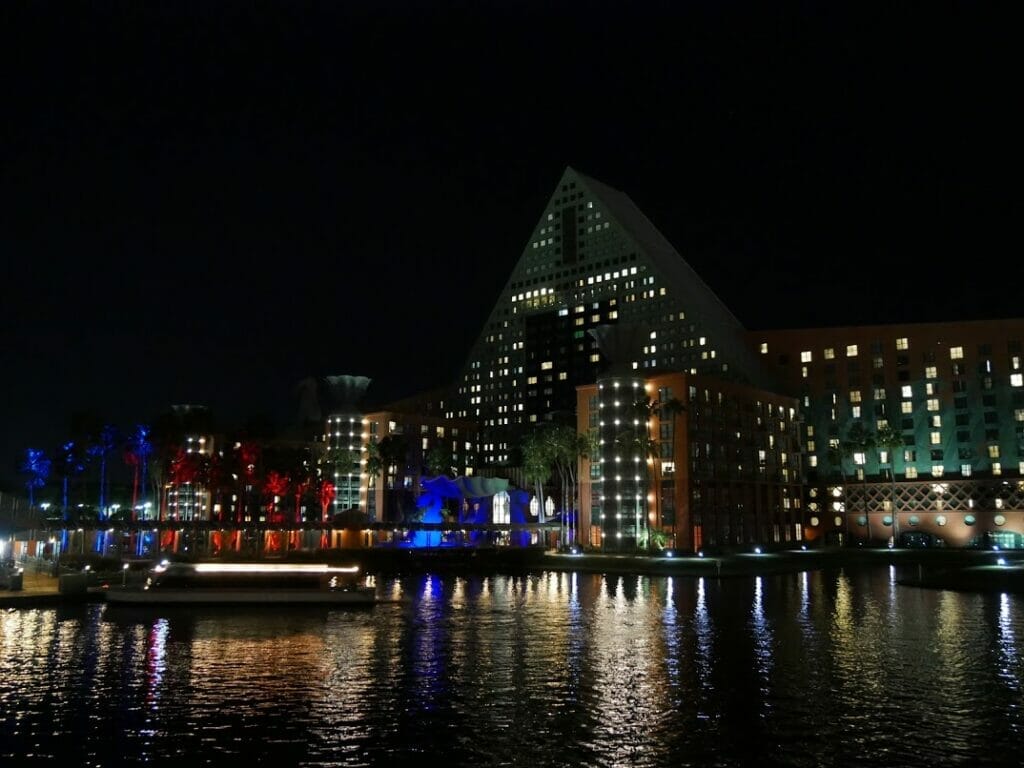 Disney has some great late night entertainment that takes places on the Boardwalk, and you'll tend to find that these resorts have slightly fewer children than the Magic Kingdom area resorts.
Perfect for a Disney World date idea!
Best Disney Deluxe Resort Pools
There's a clear consensus among Disney lovers about the best Disney deluxe resort pool, and that is Stormalong Bay at the Yacht Club and Beach Club.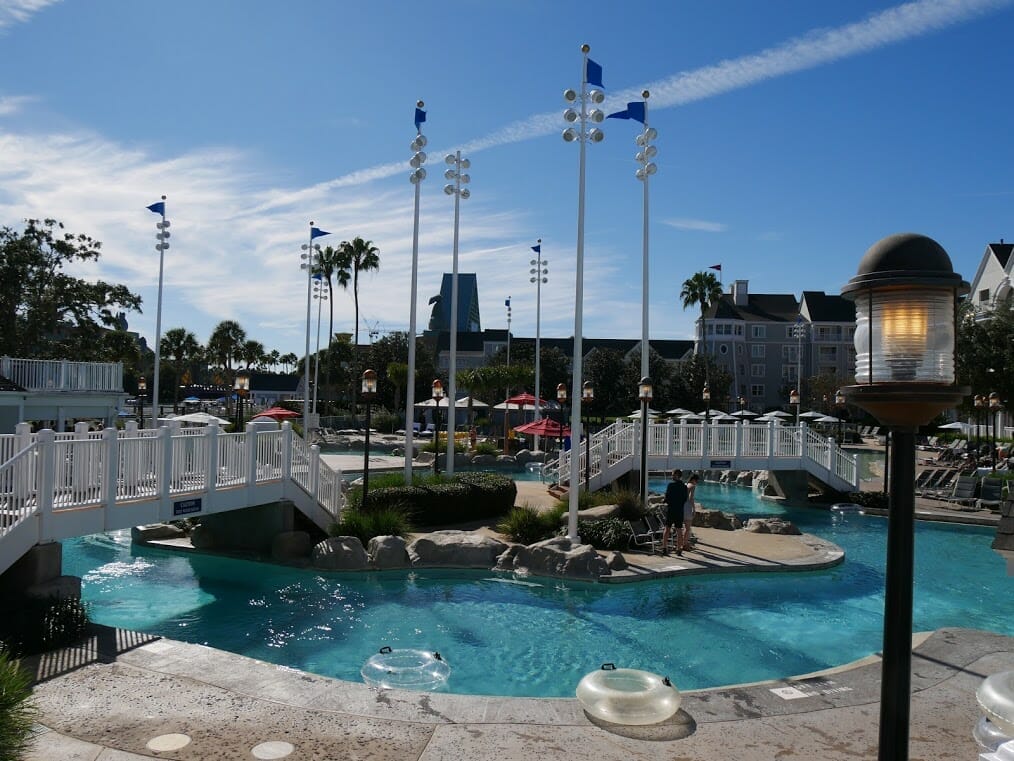 This sandy bottomed pool is just beautiful in its design and has tons of fun water features and places to relax.
It truly can't be beat, in my opinion, by any of the other pools on Disney property.
Other Disney deluxe pools that I would recommend are the Wilderness Lodge, Polynesian, and Animal Kingdom Lodge pool.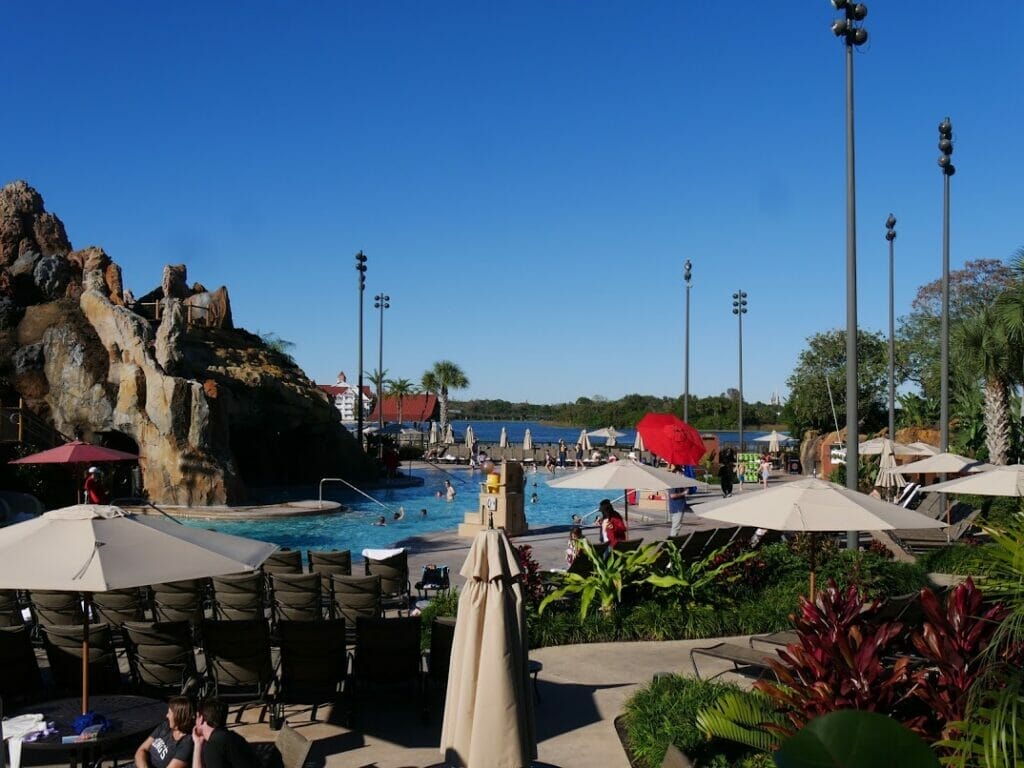 The Grand Floridian pool isn't too special, in my opinion, but of course it is still beautiful.
The one pool that earns a very clear, "WHAT!?" from a lot of Disney visitors is the clown pool at the Boardwalk Inn. Especially if you have a fear of clowns, this isn't the place to stay!
Which is the best Disney Deluxe resort overall?
It's so hard to choose a definitive best Disney Deluxe resort, but if I absolutely had to (and you've come this far, so I need to come through for you!), I would choose…
Animal Kingdom Lodge if you're planning a vacation where you want to feel at peace, spend more time than normal at the hotel, and are an Animal Kingdom fan.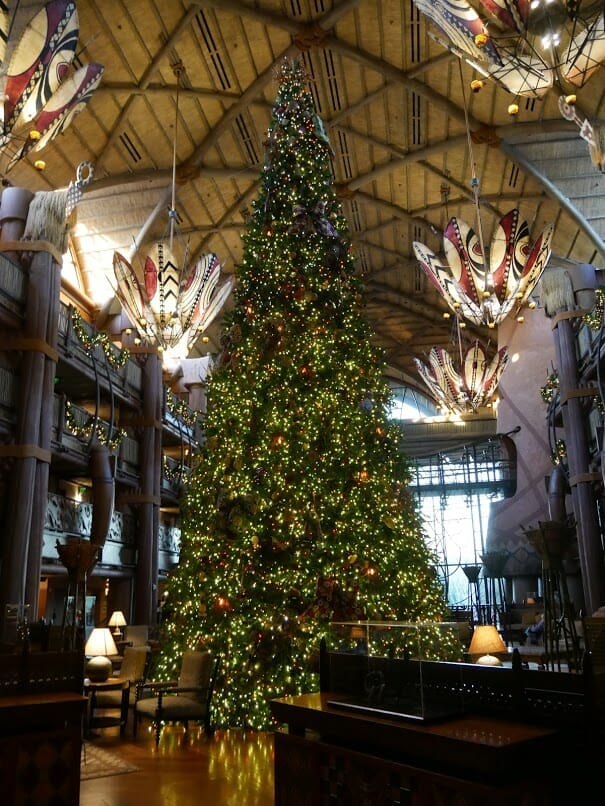 Polynesian will be the best if your top priorities are: Magic Kingdom transportation, great theming, and a quintessential Disney experience.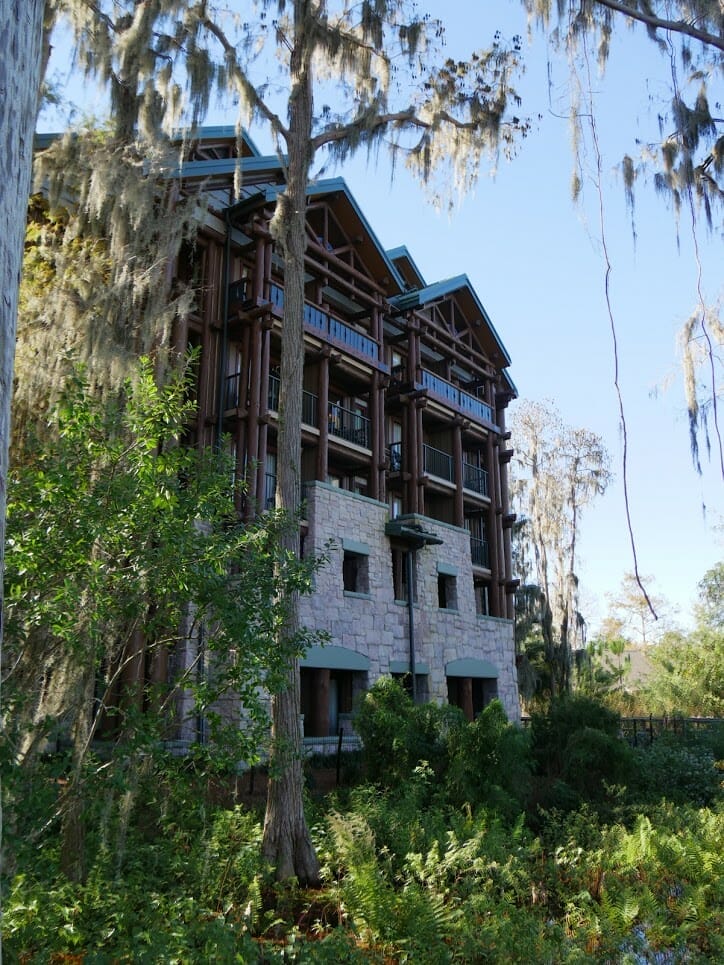 Beach Club is a favorite of the Epcot resort area Deluxes.
From Stormalong Bay to the beautiful view of the fireworks from certain rooms to the easy access to two parks and the Boardwalk, it's got everything going for it, especially if you want a bit more of an upscale feeling Deluxe.
Hey! Want more of our expert Disney guides? Check these out!
Get the All-American Travel Secrets!
Don't miss out on America's hidden gems!