Whether you're interested in staying at Kilimanjaro Club Level at Animal Kingdom Lodge or you've already planned a trip to Animal Kingdom Lodge Club Level and want a glimpse of what you're in for, here is my Kilimanjaro Club Level review.
Staying at Kilimanjaro Club Level – Animal Kingdom Lodge
Firstly, to give you an idea of my past Disney experiences – staying at a Disney Deluxe Resort is something I only ever dreamed of.
I grew up 40 minutes away from Disney World, which makes me extremely fortunate to have such an amazing place in my backyard, but also means that the "staying on Disney property" experience was not a super frequent one for us.
When we did stay at Disney, we opted for the value resorts.
The over-the-top theming was perfect for us growing up, and it is hard to justify spending Disney Deluxe resort prices when your own bed is driving distance away for free.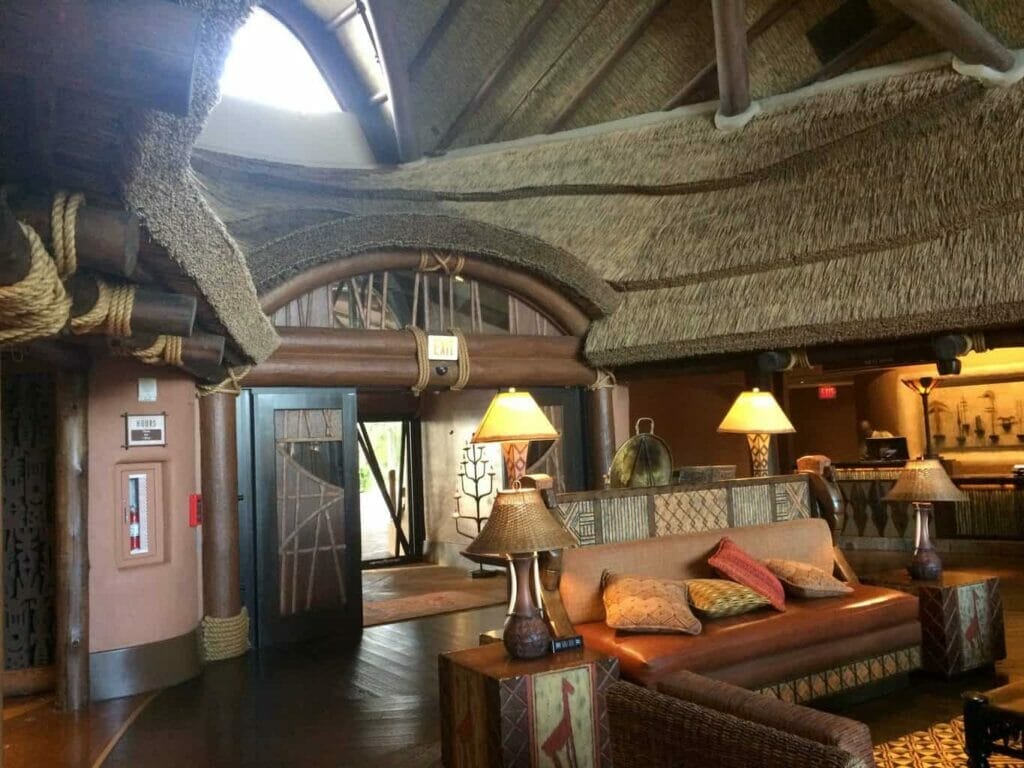 But this past winter, I fulfilled a childhood dream by staying at the Animal Kingdom Lodge, and was very generously upgraded to stay Animal Kingdom Lodge Club Level.
You can read more about how this magical experience happened in my Animal Kingdom Lodge review.
Want insider Disney tips from an expert?
Join 4,000 others in weekly guides to Disney's hidden secrets, gems, and money-saving tips!
Pssst – this printable Disney scavenger hunt is amazing
Since you're already looking up Disney guides, I just wanted to make sure you knew about this printable Disney World scavenger hunt created by a lifelong Orlando native and Disney World fan.
There are over 60 challenges with a full answer key and both Family and Grown Up versions and a bonus Disney Springs hunt for your non-park day!
Most of Disney's Deluxe resorts have a club level, but at Animal Kingdom Lodge, it's known as the "Kilimanjaro Club" or Kilimanjaro Concierge.
The rooms are the most expensive, but include access to the club lounge and a personal concierge service there to help you every step of the way.
The Kilimanjaro Lounge is located on the sixth floor (the very top floor of Jambo House), and you can only access it by using your Magic Band in the elevator (which will be enabled for club level access).
Once you swipe your band, it will automatically choose the sixth floor for you.
If you're going to any other floor, you can just choose it as normal without using your band.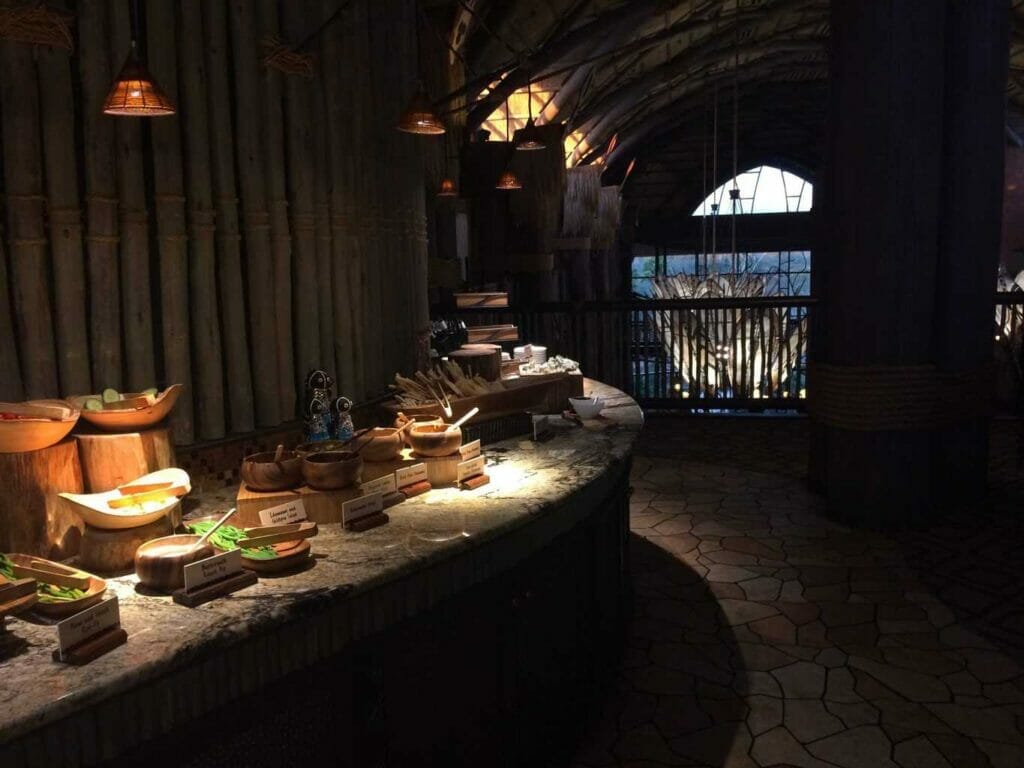 Cute Animal Kingdom Shirts
I always like to recommend some cute Disney shirts if you're planning a trip, and these giraffe Animal Kingdom themed shirts are really cute and a great way to celebrate your Kilimanjaro Club Level stay.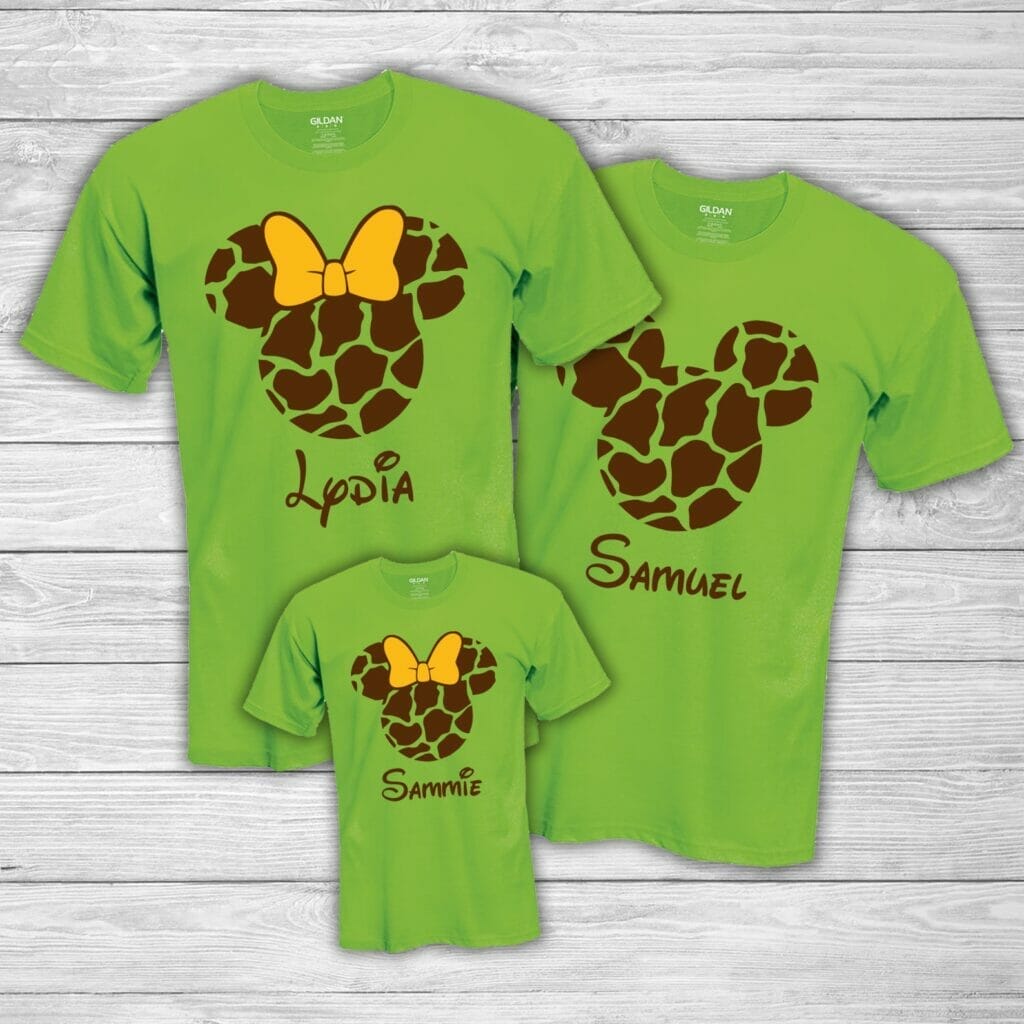 Kilimanjaro Club Level Room
The club level room we stayed in was on the fourth floor, 4237.
It overlooked Arusha Savanna, the biggest savanna at Jambo House with plenty of giraffes, zebras, birds and other beautiful creatures.
We were fully immersed in the magic, as we could only see more savanna (and other rooms to the left) and one of the outlooks to the right.
The room itself was a standard room (more on the Animal Kingdom Lodge rooms in my review of Animal Kingdom Lodge).
The real benefit to being upgraded to club level at Disney World was the quality of the savanna view that we had and the lounge.
Most of the Kilimanjaro Club Level rooms are concentrated on the fourth floor, though there are also some on the sixth floor (none of the sixth floor rooms are NOT Kilimanjaro Club Level, since the lounge is on that floor).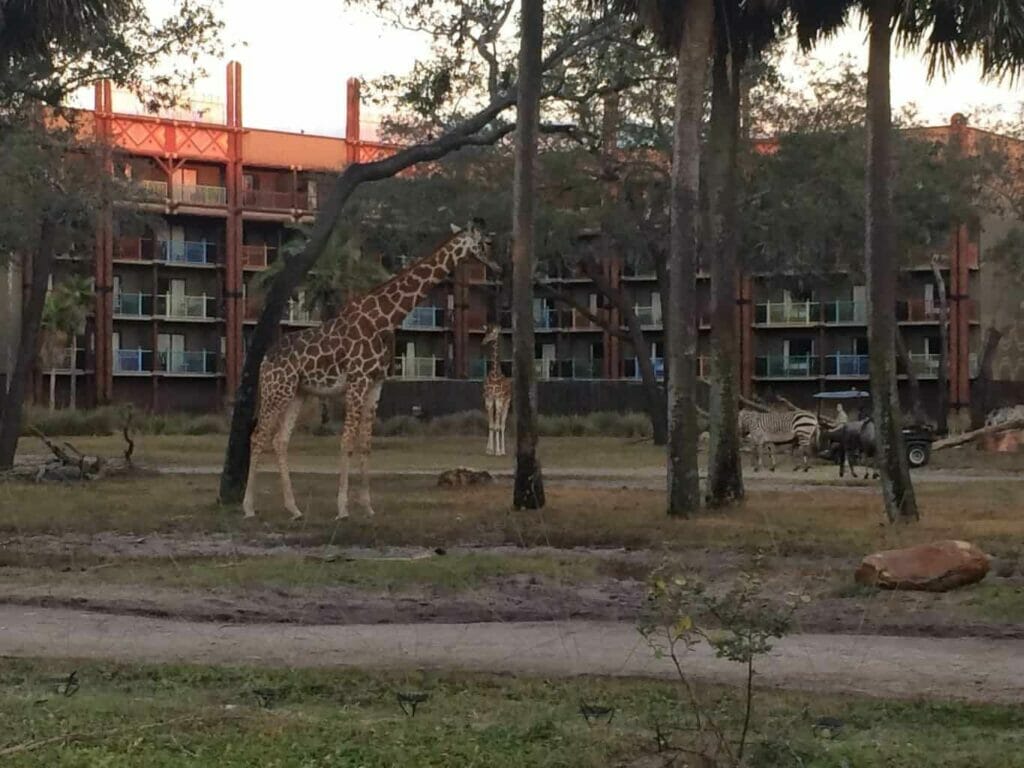 Kilimanjaro Club Level Staff
The staff up in the Kilimanjaro Club were across the board WONDERFUL.
We didn't need to use the concierge as we were only staying one night, but we did interact with them frequently with questions about the food offerings or to ask to pick the next movie (which they were very happy to let us do as long as it wasn't on their list for being shown in the past 4 days).
They came to clear up our plates with a smile and were very quick to get us anything we asked for drinks wise.
It was usually about 2 people at the concierge desk and a few other people helping to serve, so the staff to guest ratio was very high with the limited amount of people using the lounge.
I've never encountered a rude Disney cast member, so when I say that the club level staff stood out, you know they were over the top amazing!
I would love to go back just to see them.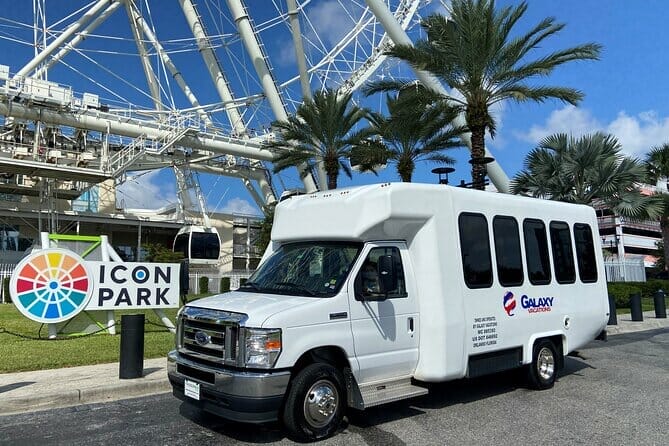 🚌Not renting a car in Orlando?
My favorite shuttle to get from the Orlando airport directly to Disney World is this one with a ⭐⭐⭐⭐⭐ rating.
Kilimanjaro Club Level Lounge
As mentioned, the lounge is on the sixth floor and is a place to go for club level guests to unwind, plan their days, and dig into the food offerings.
It's one of the best things to do at Animal Kingdom Lodge if you do have club level access!
Accessing the lounge is easy, as your Magic Band is activated with access and you just swipe your band in the elevator to magically make it zoom you up to the sixth floor.
There is also access from stairs on the 5th floor, but again you would need to swipe your band at the gate entrance to get in.
On getting out, you don't need to swipe your band.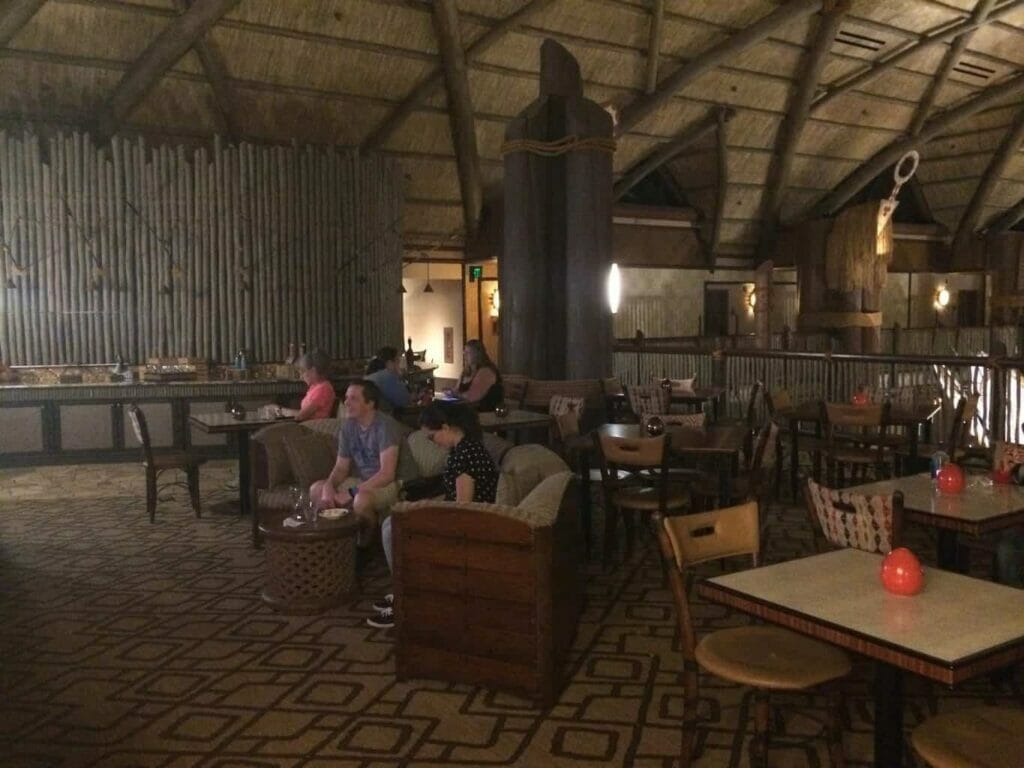 Since we had been upgraded and didn't have any other plans for the evening after our stay (and we still had club level access), we decided to stick around in the lounge and watch Disney movies.
The sofa was comfortable enough, and the lounge was quiet enough that you could hear the television with no problem.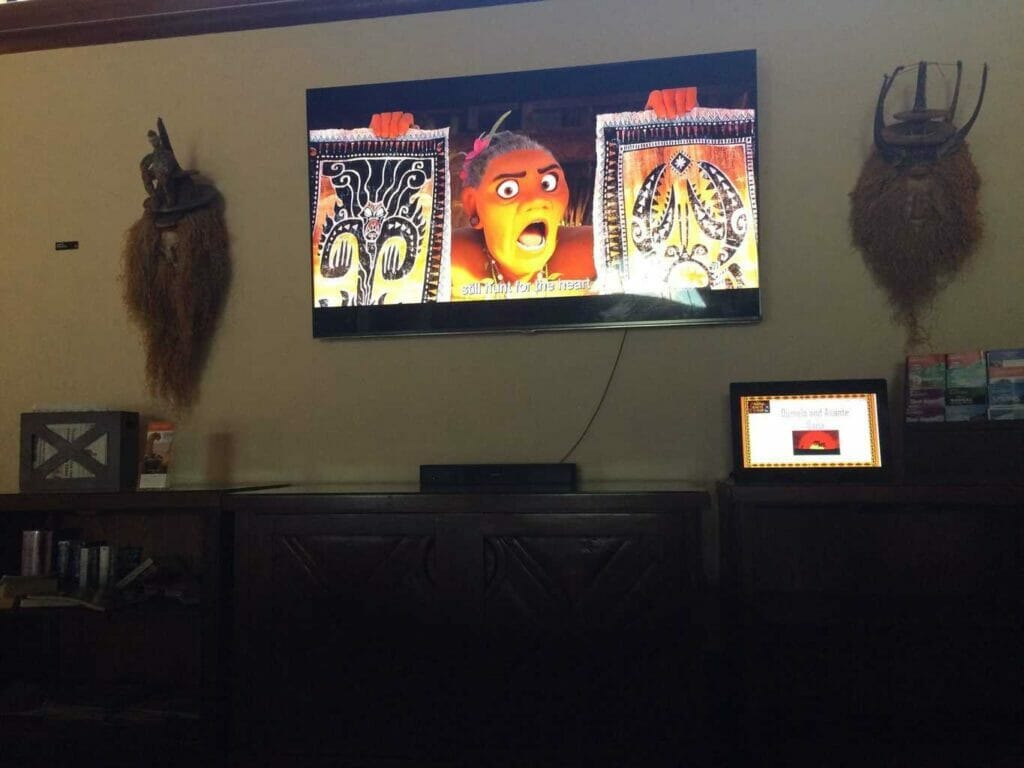 The atmosphere in the lounge is also perfect for this, as it stays relatively dark the whole day (you might find this a drawback, but to me it fit in with the theming of the resort) and it was never too busy during our time there.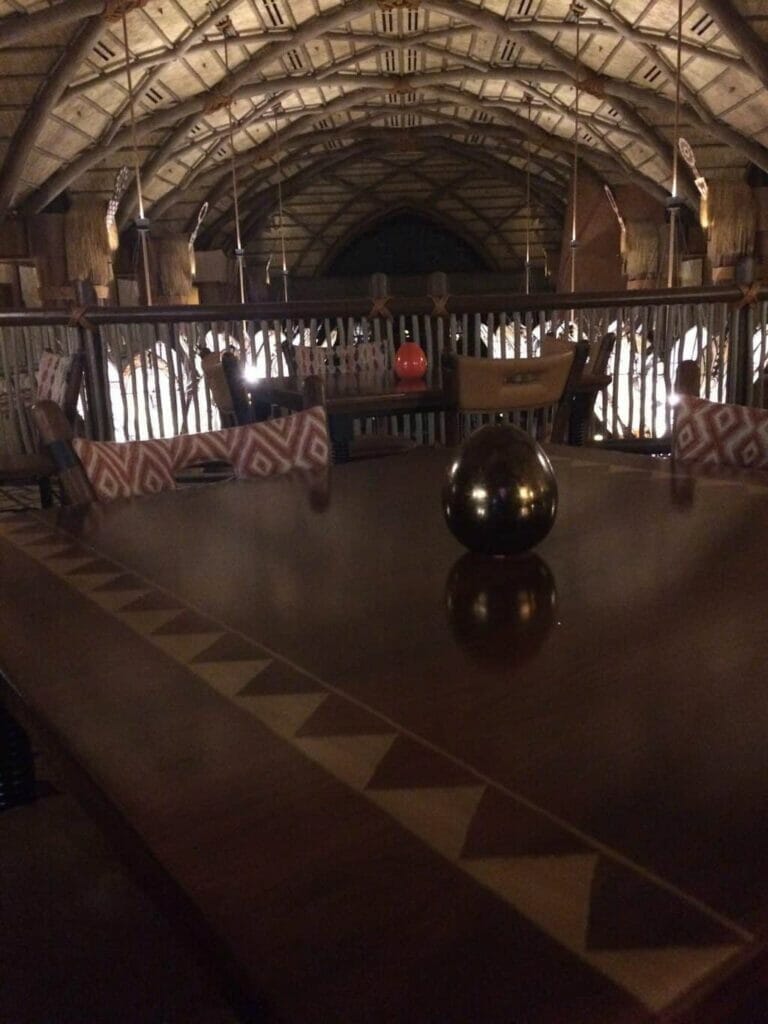 For the kids, there is a smaller television off to the side that they can gather around showing younger Disney Channel shows (and they are also slightly corralled so you can keep an eye on them!)
We didn't encounter many children during our stay, which also reinforces the fact that Club Level is often used by adults wanting a place to unwind and isn't necessarily the most exciting place for a child.
There are newspapers, books you can borrow, and drinks out all day that you can enjoy in the hotel or take to-go.
I dream of this lounge now that we're gone!
Kilimanjaro Club Level Food
Okay, everybody knows that the reason you would book a club level room is most often for the food.
It's all-inclusive, so you can eat to your heart's content all day long.
This was INCREDIBLE for us since we had the time to enjoy it.
Unfortunately I didn't get a picture of each and every food offering as I felt a bit weird going around taking photos, but I got quite a few!
The options throughout the day were:
Breakfast: continental with fruit, bagels, cereals, oatmeal and a couple hot options (not eggs or bacon or traditional hot options though).
We ended up not going to Boma for breakfast like we planned because we had this breakfast option.
In hindsight, I wish we had gone to Boma as it is such an experience and has so many options, but this breakfast was included so it won in the end.
Mid-Day snacks: tons of breads with dips, goldfish, pretzels, nuts, etc.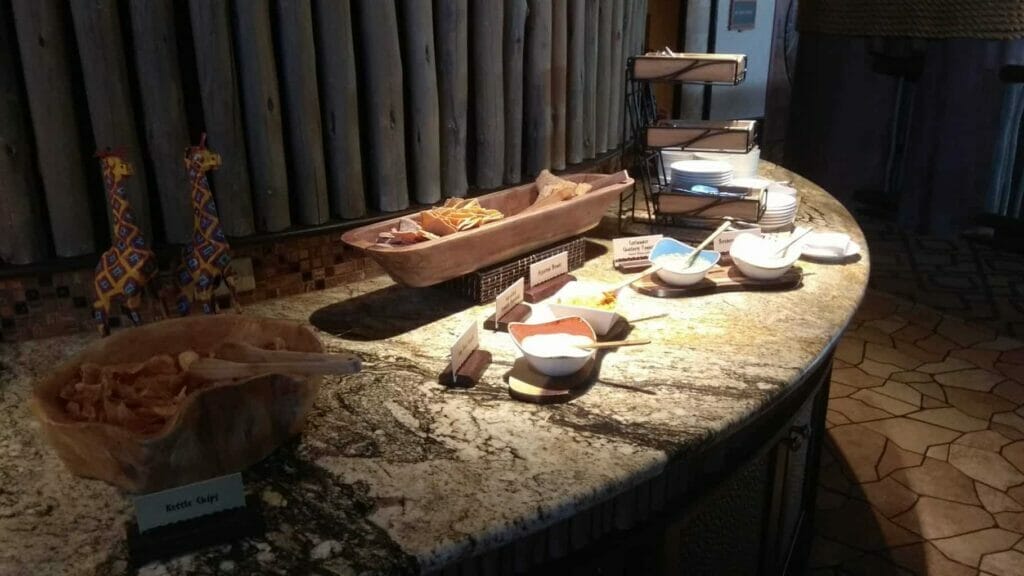 I LOVED this time of day as it was exactly what I look for in a snack (I'm all about the savory), but my husband wasn't entirely sold on it and felt that you wouldn't take advantage of it if you were at the parks since you would never come back for some kettle chips.
Afternoon Tea: a couple of different dessert options including brownies and rice krispie treats
Appetizers: hot appetizers that feature in some of the resort's on-site restaurants, as well as loads of bread and dips, salads, options for kids (Disney chicken nuggets are actually really good!), and more!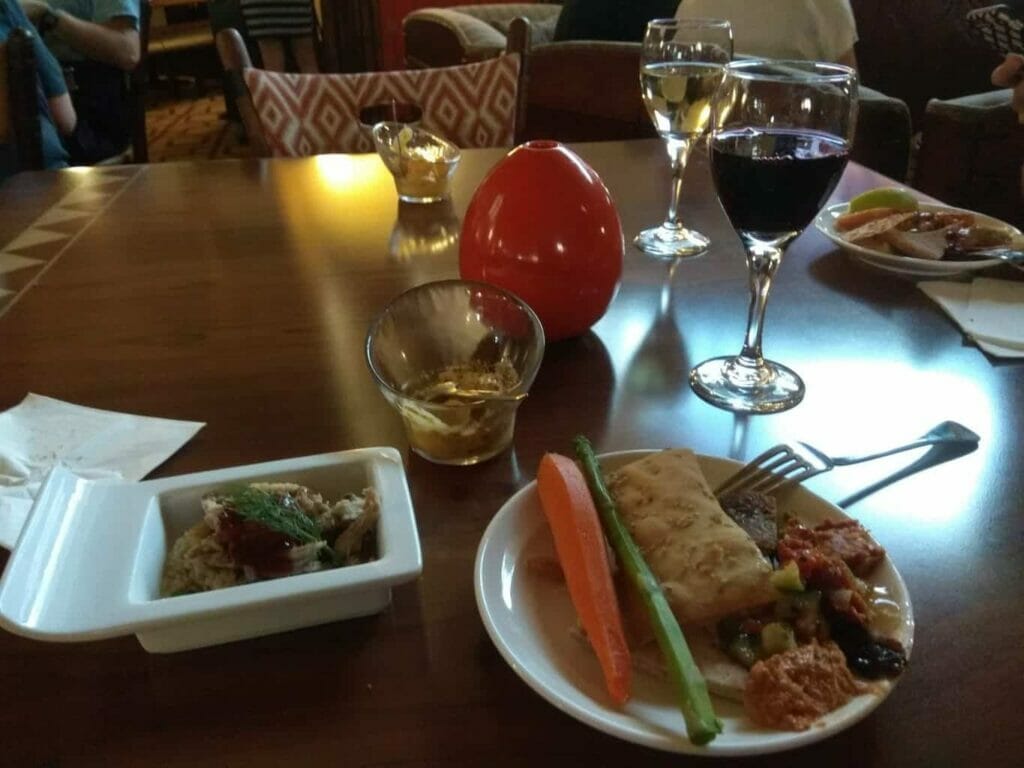 Dessert: plenty of different cookie flavors and dessert options such as rice krispie domes, chocolate mousse, shortcakes, mini cheesecakes, etc.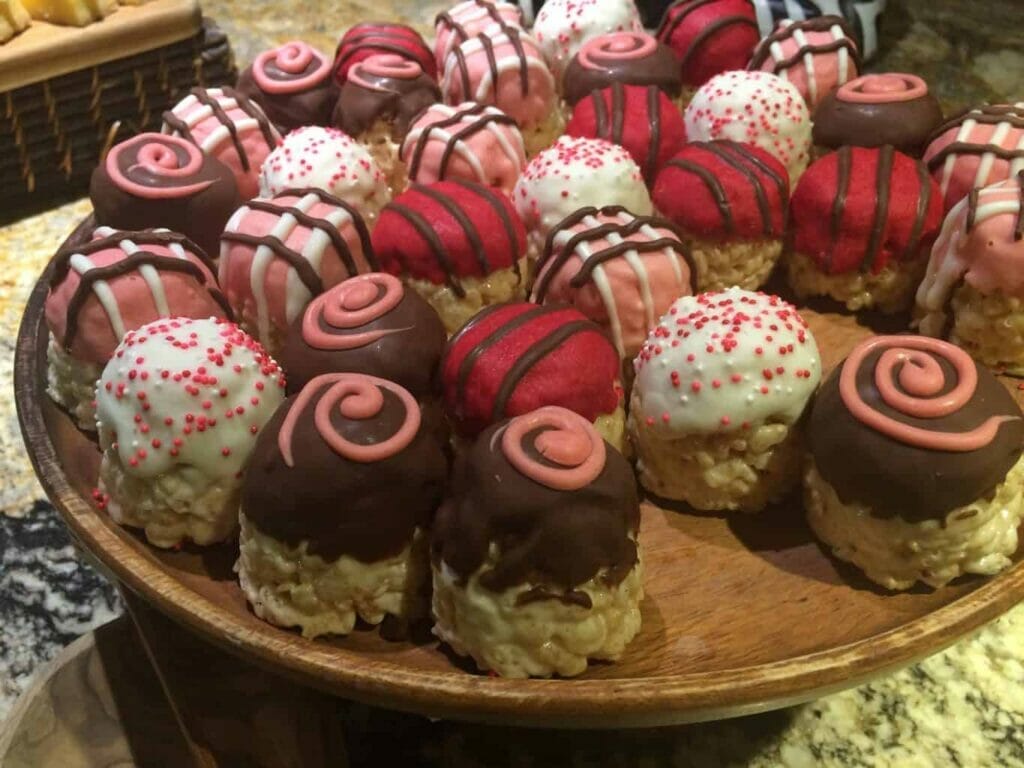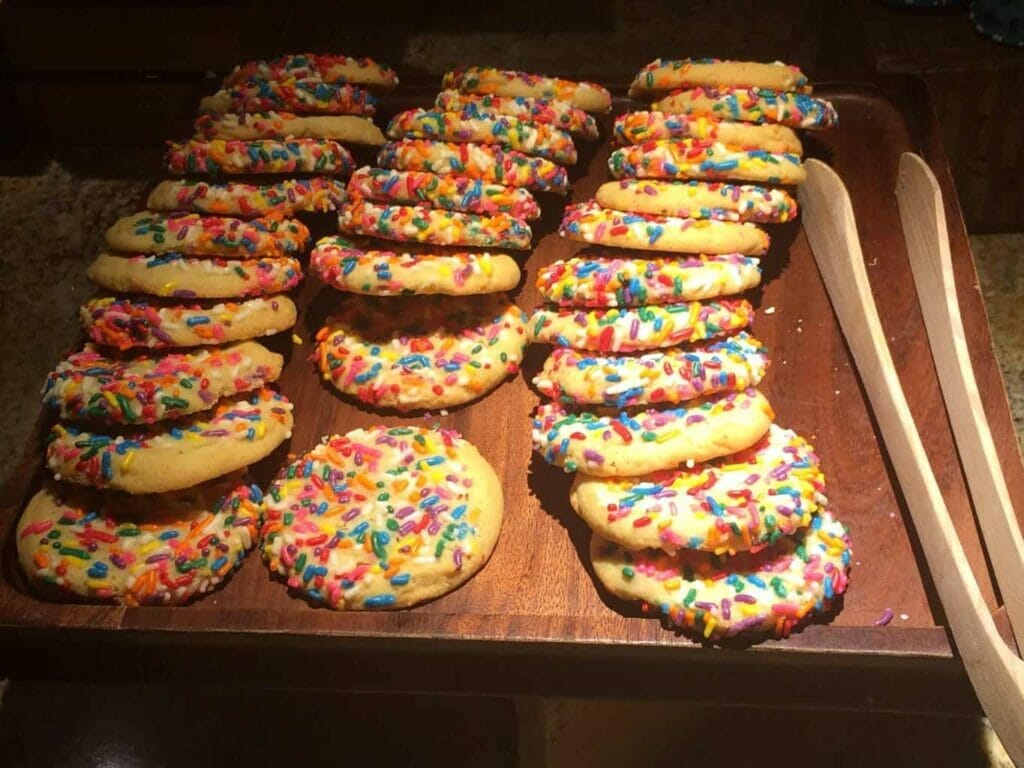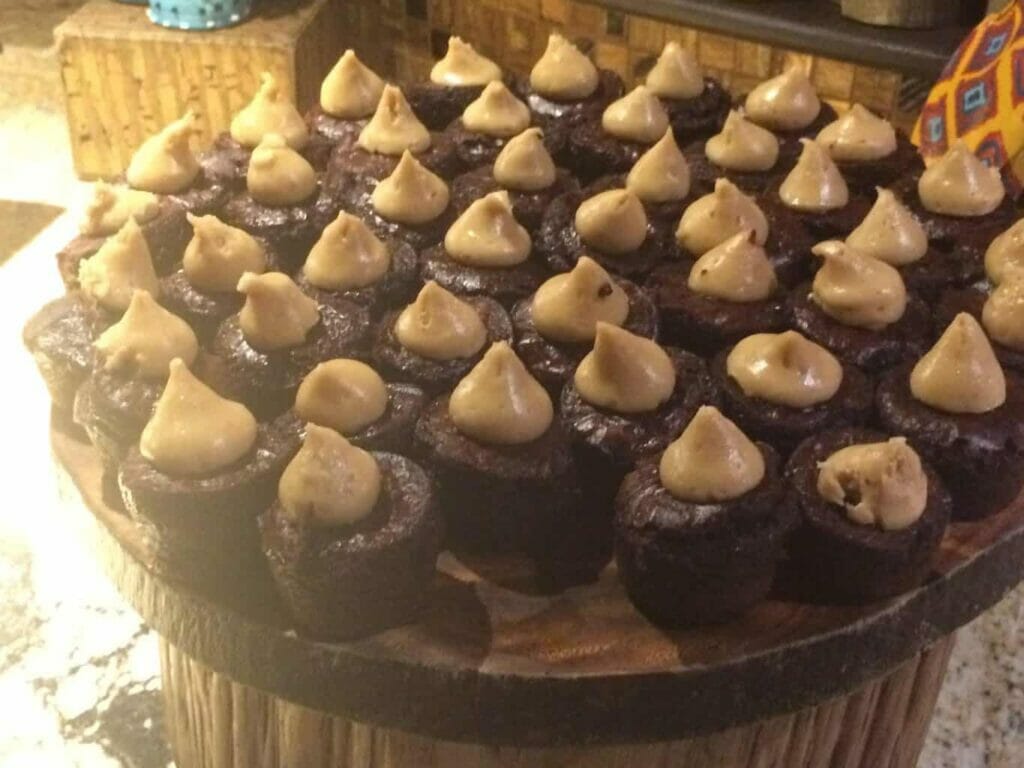 I wouldn't say that the Kilimanjaro Club is right for everyone, but it is a great idea for…
couples who want one of the best Disney resorts for couples and a bit of a luxury getaway
families who are filling the entire room (ie 4 to a room rather than just 2), as you only pay the club level upgrade once and then can all enjoy the amenities
visitors wanting to stay and enjoy the resort at times rather than being at the parks every second
luxury travelers who like the extras for the sake of having the extras
It's not such a great idea for those wanting to spend most of their time in the parks, as Animal Kingdom Lodge is only connected by bus to the parks so you wouldn't want to come back in the middle of the day to enjoy the snacks and other offerings for the most part.
It's also probably a better idea in off-season (if Disney even has one of those anymore, which as we all know is debatable).
Going when the parks aren't open until midnight means you won't feel as much pressure to get back to the hotel to take advantage of the lounge.
You can naturally go when the park closes rather than having to choose between another round on Space Mountain and indulging in 86 mini cheesecakes.
Get the All-American Travel Secrets!
Don't miss out on America's hidden gems!