Out-of-this-world rock formations on islands in Lake Superior. Miles of hiking and backpacking trails. Kayaking through scenic protected waterways.
How many national parks are in Wisconsin?
Wisconsin has 4 national sites that are affiliated with the National Park Service, though only 2 are technically Wisconsin national parks (we cover them all below).
If it's the water you're after, hop on a cruise of the Apostle Islands, where you can see historic lighthouses, gorgeous rock formations, and even go diving to see shipwrecks.
You can also take to the Saint Croix Riverway in a kayak, or just for some swimming, which is a family-friendly and easy way to explore Wisconsin's greatest rivers.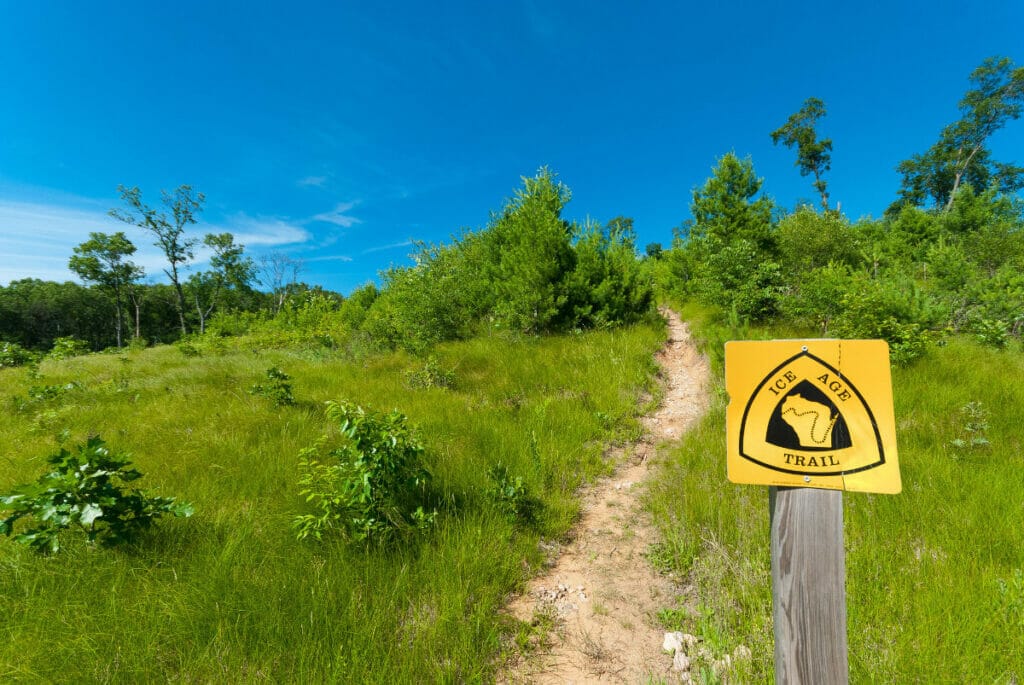 If you'd prefer to stay on lake, hike the Ice Age Trail which follows the line of a glacier that pushed through the area 12,000 years ago, or stick to the North Country Scenic Trail which takes you past forests, prairies, farmland and more.
For each Wisconsin national park area, we'll cover the most popular things to do there, specific tips about visiting, and more about the best national parks in Wisconsin.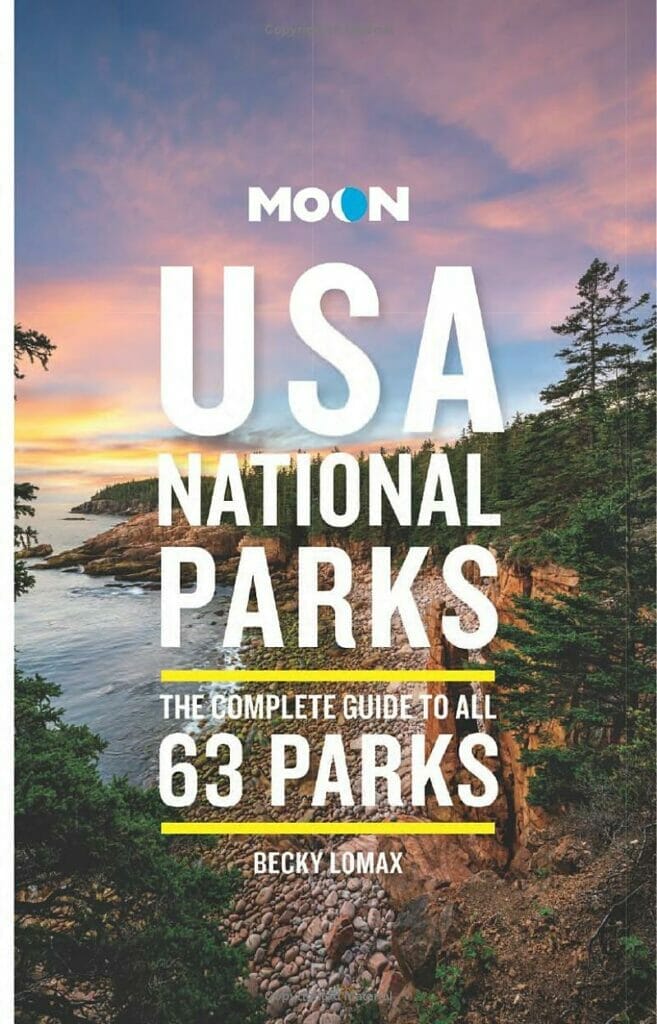 📚Our favorite national parks guide: this one from Amazon!
It's got a complete guide to all national parks and small enough to carry along with you.
What to Bring to National Parks in Wisconsin
Not every property associated with the NPS is the same, but the vast majority of them include outdoor components, if not the entire thing!
You want to be prepared, but not weighed down, so check out some of the most essential items I recommend to bring with you.
National Trails in Wisconsin: Wisconsin National Parks List
Wisconsin has two national trails, the North Country Scenic Trail and the Ice Age Historic Trail.
1. North Country Scenic Trail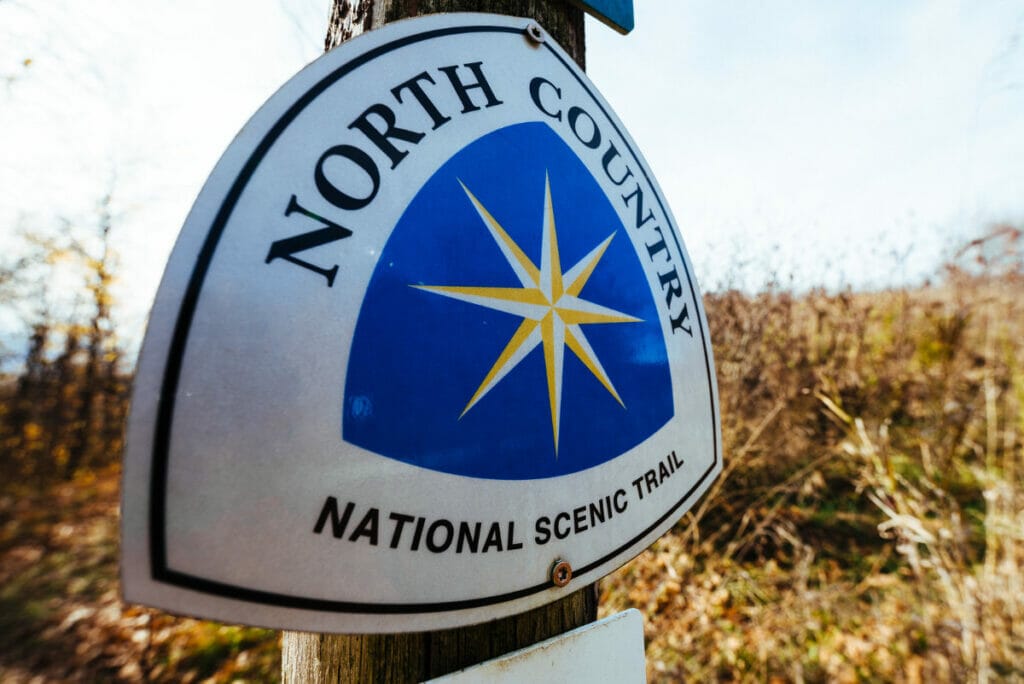 Sometimes, scenic trails in the US are not so much walking trails, but more historic trails that you use to drive from place to place.
However, North Country Scenic Trail is one of the actual walking trails, so it's time you strapped on your favorite walking shoes and got ready to see the beautiful Wisconsin scenery!
The Wisconsin part (there are parts of the trail in other states, such as Minnesota) goes through the northern part of the state and offers the chance to see everything from waterfalls to valleys to mountain range.
Explore the trails through Copper Falls State Park, Rainbow Lake Wilderness, the Bad River, and plenty of other streams and wildlife zones.
Don't miss the 5+ miles of the trail that passes through the Douglas County Wildlife Area, as this area has some gorgeous prairie grasses, flowers, and lakes.
Backpacking is encouraged, but just make sure to never leave anything on the trail and clean up after yourself and others.
If you would prefer a cooler way of traveling (literally), use cross country skis or snowshoes to explore in the colder months.
The trails are open almost year-round, so having fun in winter in Wisconsin just got more scenic.
Insider Tips:
In the Fall, you'll want to wear blaze Orange to make you stand out as it is hunting season
An admission sticker is required for entrance into some Wisconsin State Parks
2. Ice Age National Scenic Trail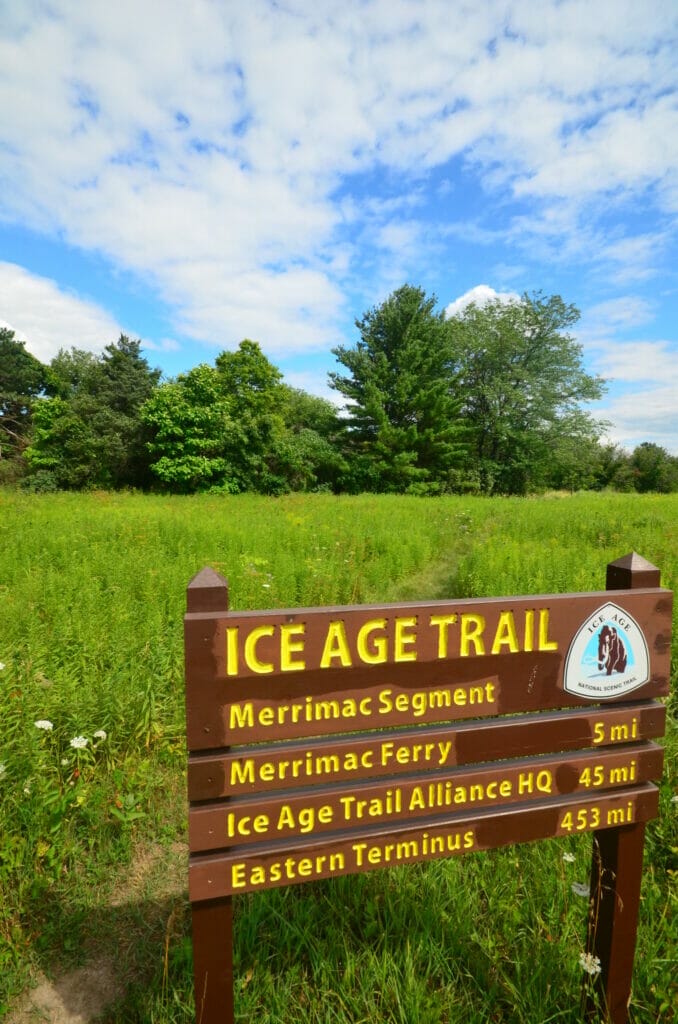 Imagine, 12,000 years ago, when a glacier was shaping today's Wisconsin, pushing forward and creating new landscapes that would last for centuries.
Today, the line of that glacier is followed by the Ice Age National Scenic Trail, over 1,000 miles of trail in Wisconsin that takes you through some of the state's most beautiful areas.
The entire trail was developed and maintained by volunteers, and it is not yet finished!
There is about 600 miles of trail that are Ice Age Trail segments, and then they are connected by another 500 miles of trails that include things like state parks and roads through communities.
Backpacking, snowshoeing, hiking, and cross country skiing are all encouraged on the trail, and there are segments where cycling is allowed due to it crossing state trail lines.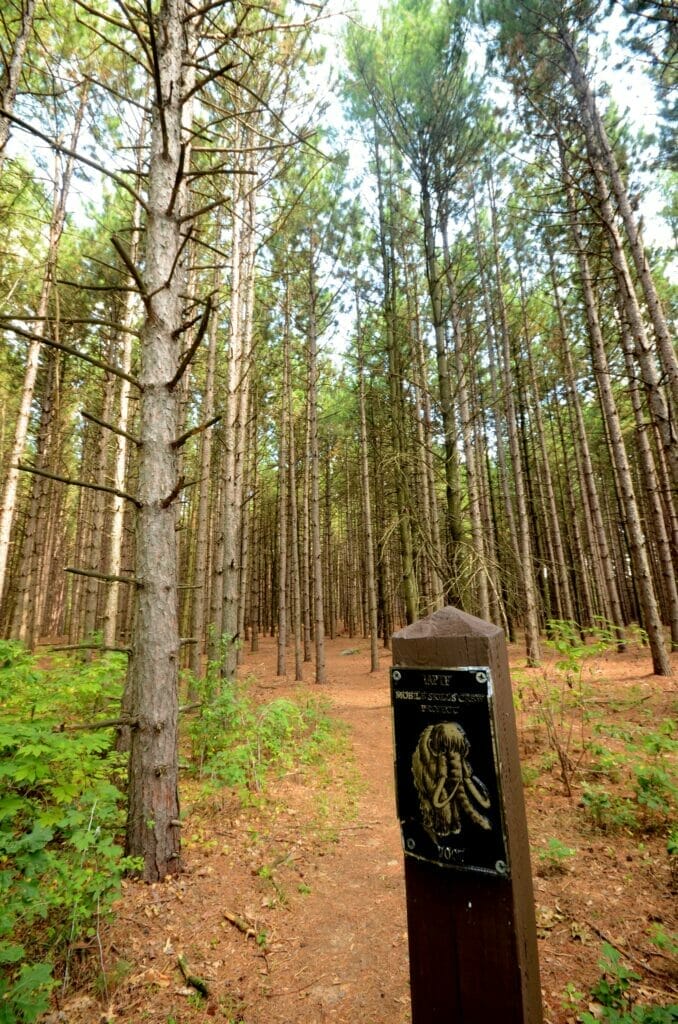 Start at the Ice Age Trailhead in Eagle, Wisconsin, for a great day's hike and flat, fairly wide walking.
You'll pass farmland, trees, and prairie as you explore until you feel like turning around and going back to where you started.
Insider Tips:
There is plenty of parking and well-marked signage at the Eagle Trailhead
If you don't have a Wisconsin State Parks sticker, it's best to make a donation in the donation box as this allows the trails to be maintained
National Lakeshore
Wisconsin has a "National Lakeshore," known as the Apostle Islands.
3. Apostle Islands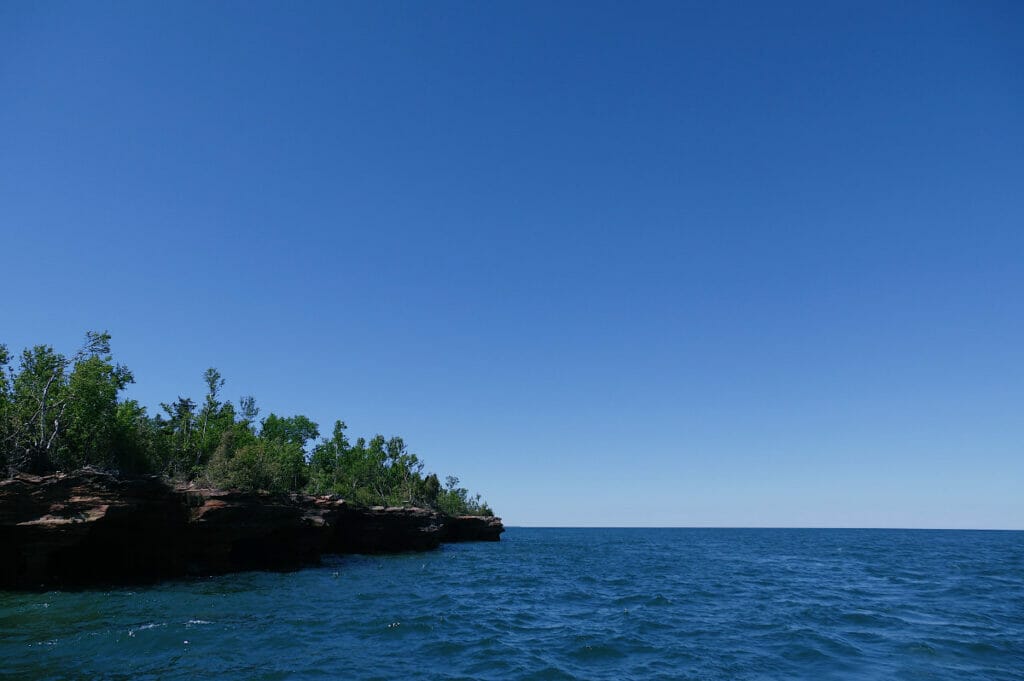 You may have guessed by the name, but Apostle Islands are made up of more than just 1 island: 22, in fact!
These scenic islands are really the crown jewels in Wisconsin's cap, and within them you'll find historic lighthouses, plenty of wildlife like bears and birds, enchanting sea caves, and more.
The islands are located in Lake Superior, off the Bayfield Peninsula in northern Wisconsin, and taking a tour around them is a must-do.
Go on a kayaking adventure so you can get up close to the rock formations and really feel like you're one with nature, or get on a larger charter boat that can take you on the extensive 55+ mile tours around the water.
If you're more of a land lover, take advantage of lighthouse tours as well as plenty of hiking to be found within the islands.
You'll pass abandoned quarries, farm sites, old fishing camps, and more!
Want to experience the shore from underneath the water? Scuba divers fall in love with the diving options here, which takes you into the crystal clear water to see shipwrecks, the aquatic wildlife, and fascinating underwater rock formations.
Enjoy this untouched wilderness and explore Wisconsin in a way you've definitely never seen it before.
Insider Tips:
Make sure to pack and dress warm, as being out on the water and changing weather can make it get pretty cold in an instant.
Want the best views at the best time? Try out a sunset cruise which will give you that gorgeous colorful backdrop to the already stunning island scenes.
National Riverway in Wisconsin
There is one fully water-based national park in Wisconsin, the Saint Croix Riverway!
4. Saint Croix National Scenic Riverway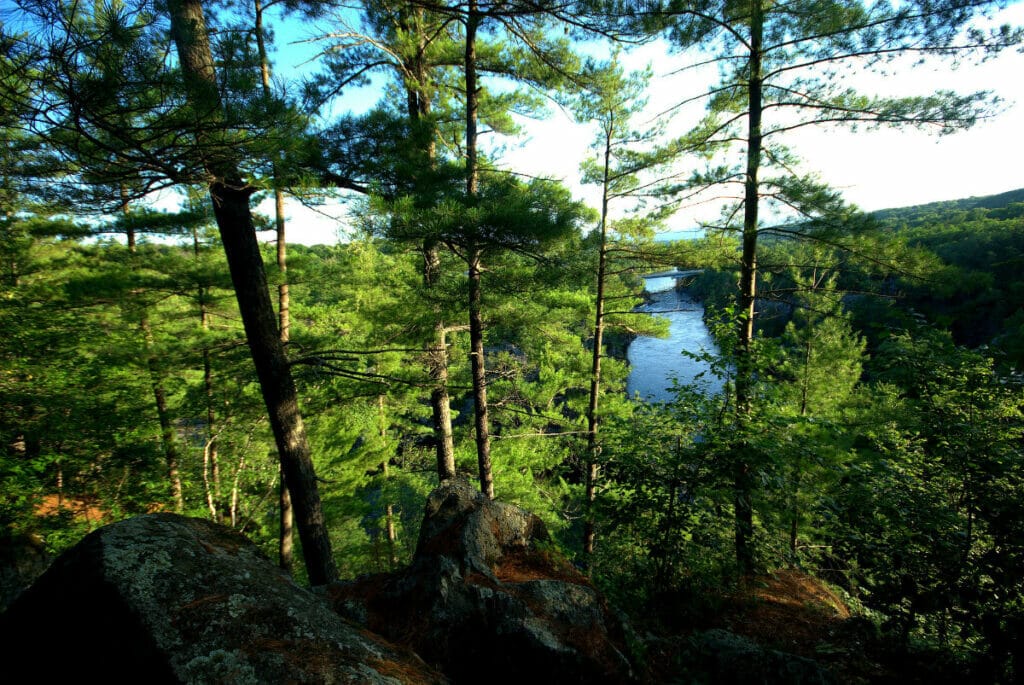 From the north of Wisconsin near Cable down to the Wisconsin and Minnesota border, the Saint Croix National Scenic Riverway is a combination of the Saint Croix and Namekagon Rivers and allows for everything from boating to fishing to canoeing.
The upper half is accessible in Wisconsin at Lion's Park, off of Highway 87, and this section is truly loved by locals for how pristine and gorgeous it is.
More visitors, however, are drawn to the shallower waters in the lower half, where you can rent a canoe, spend summer days swimming, and enjoy great fishing options.
Due to the currents, you always want to make sure you wear a life jacket and are up to date on your water safety knowledge.
This is Mother Nature, not a swimming pool!
Keep an eye out for deer and bald eagles as you explore the waterways, and enjoy feeling like you've escaped into the wilderness when you're not actually that far away from civilization!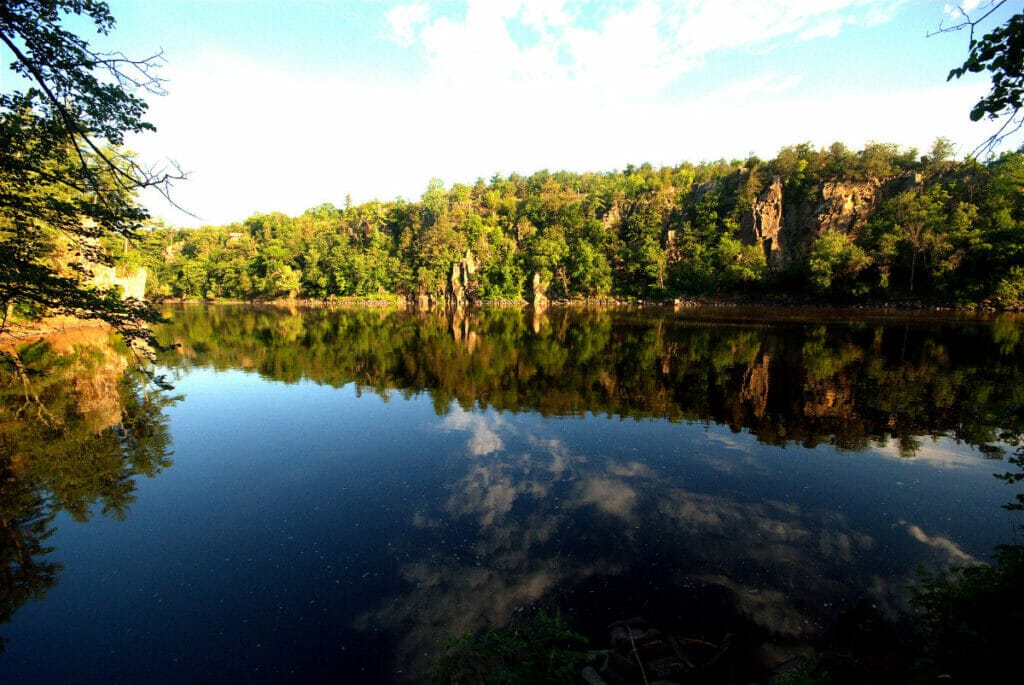 Hey! Want to learn more about national parks in other states? Check out our other guides!
Get the All-American Travel Secrets!
Don't miss out on America's hidden gems!