Galloping around the restaurant. Servers bringing 15 bottles of ketchup to your table. Antics all around.
If any of the above sound good to you, this review of lunch at Whispering Canyon Cafe is going to help you see why you need to eat at this restaurant at Disney's Wilderness Lodge.
If they don't, fear not.
You don't have to be a part of the craziness, you can just enjoy the food. Read on and I'll tell you how.
Want insider Disney tips from an expert?
Join 4,000 others in weekly guides to Disney's hidden secrets, gems, and money-saving tips!
Pssst – this printable Disney scavenger hunt is amazing
Since you're already looking up Disney guides, I just wanted to make sure you knew about this printable Disney World scavenger hunt created by a lifelong Orlando native and Disney World fan.
There are over 60 challenges with a full answer key and both Family and Grown Up versions and a bonus Disney Springs hunt for your non-park day!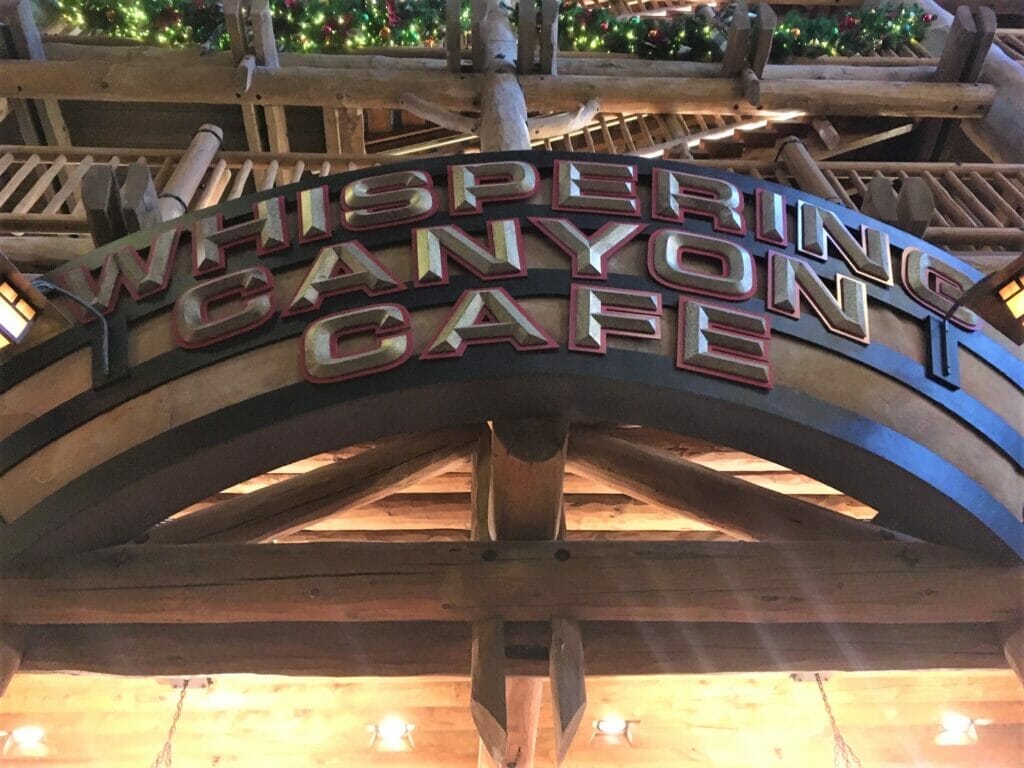 Where is Whispering Canyon Cafe?
Whispering Canyon Cafe is the main family restaurant at Disney's Wilderness Lodge.
When you walk in the Wilderness Lodge entrance, you'll find the steps to Whispering Canyon to your immediate left, occupying most of the left side of the lobby.
You are allowed to park at the Wilderness Lodge for free as a "day guest" if you have a reservation at Whispering Canyon, or you can take a free Disney bus to it from any of the theme parks or Disney Springs, or take the boat from the Magic Kingdom.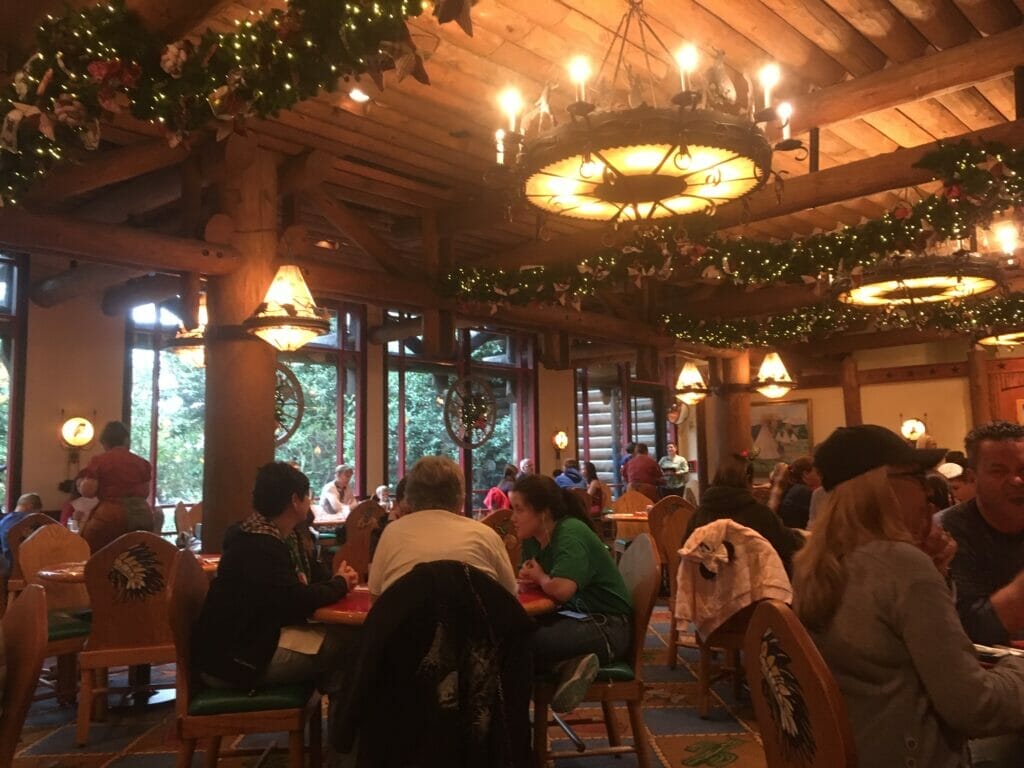 What to Wear to Whispering Canyon Cafe
You can wear casual clothes to Whispering Canyon, but if you want to get in the spirit of the rusticness of Wilderness Lodge, I've got some fun options for you!
Firstly, there's the Mickey Buffalo Check shirt if you're visiting around Christmastime, or this green Mountains are Calling shirt (other colors available).
I'm also obsessed with these rustic, Gaston-inspired Mickey ears to add a bit of wilderness to your outfit!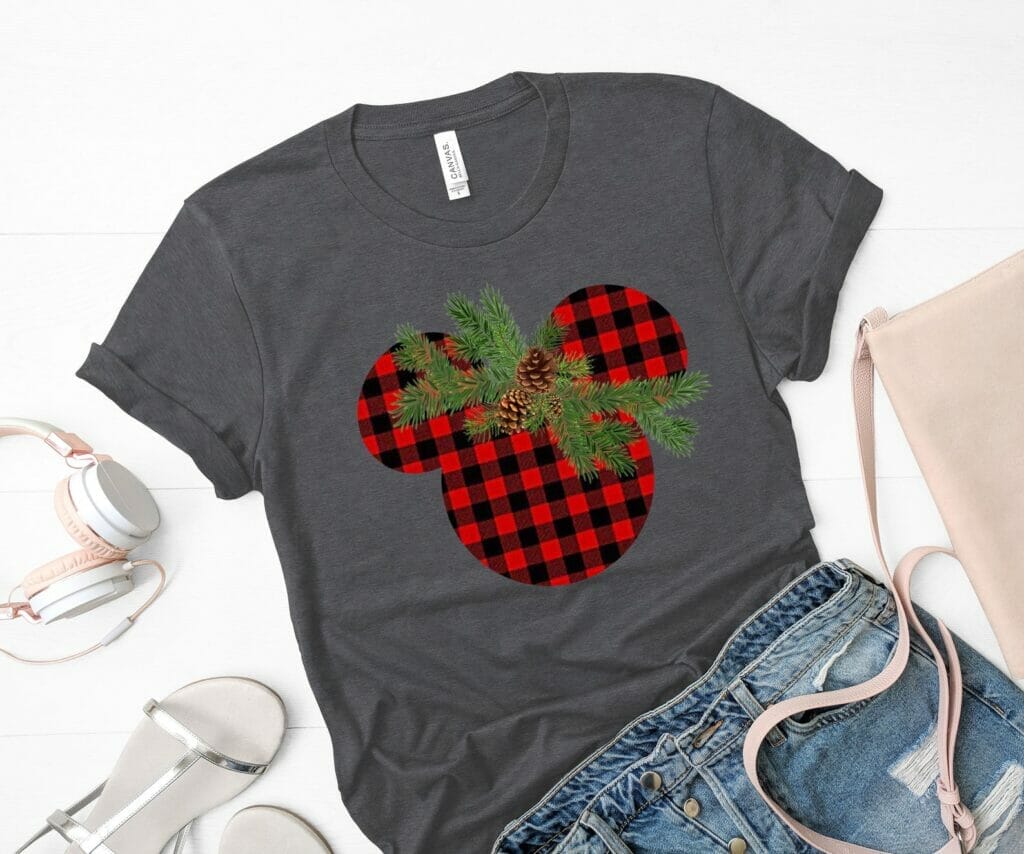 Whispering Canyon Cafe Lunch Menu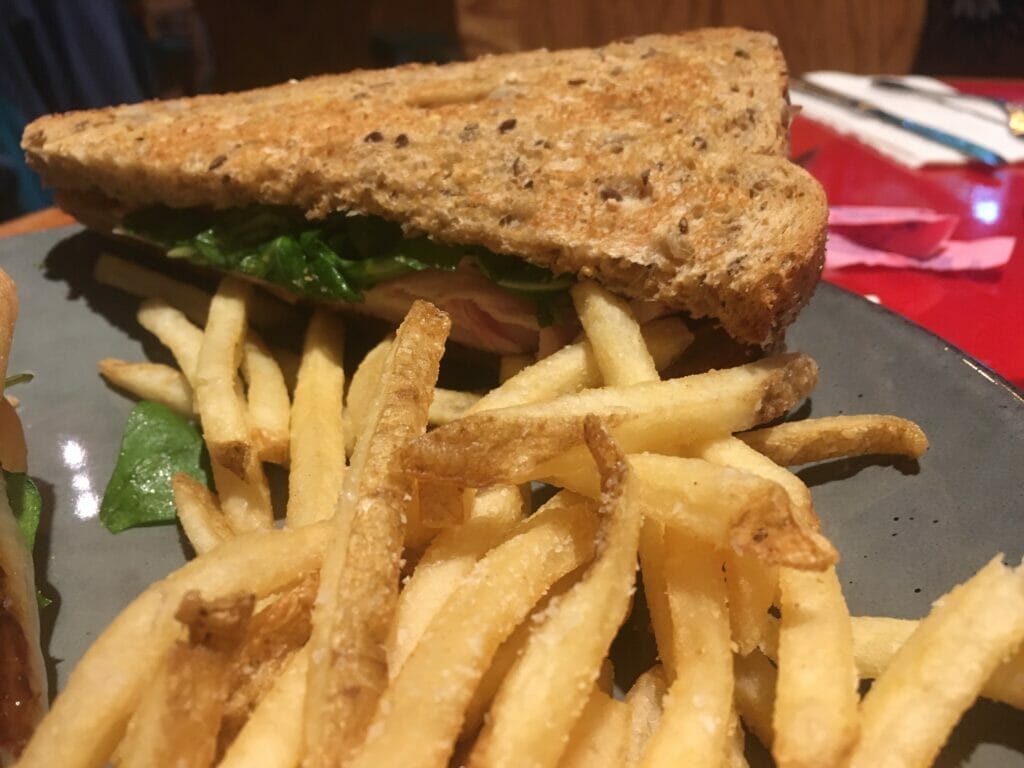 Whispering Canyon has amazing food, and because it's not a character dining experience and is a resort rather than a theme park, the prices aren't bad for Disney either.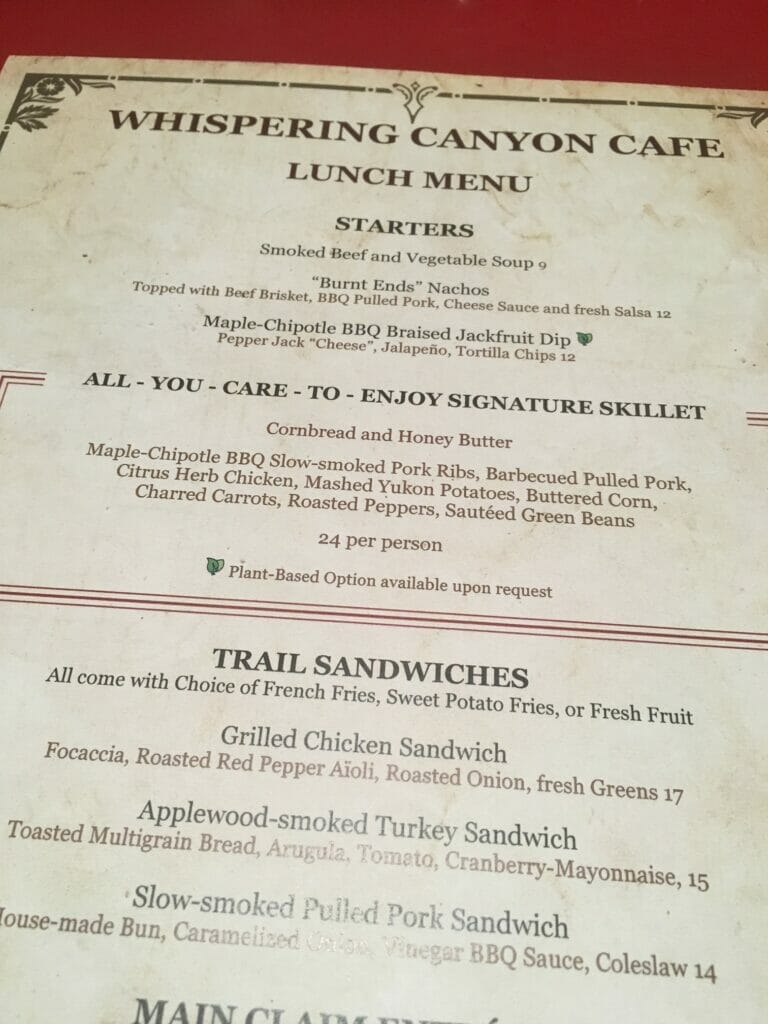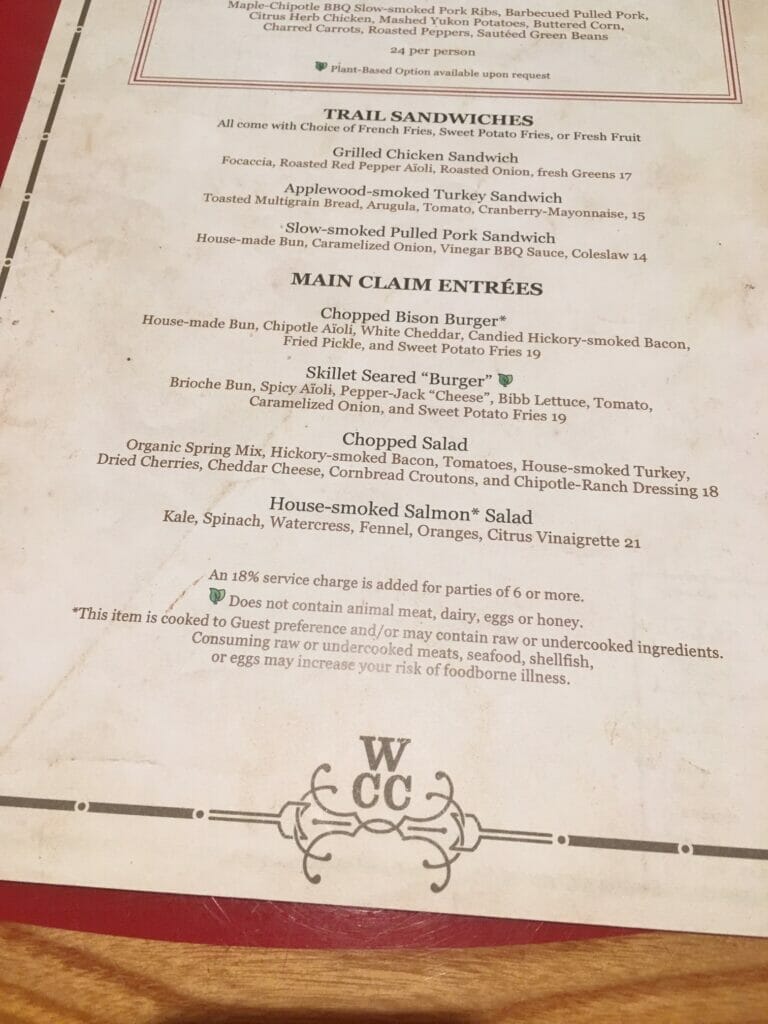 The most famous option is the "signature skillet," which is an All-You-Care-to-Enjoy option featuring cornbread, honey butter, BBQ pork ribs, pulled pork, chicken, potatoes, corn, carrots, and green beans.
There's also a vegetarian option if that floats your boat.
This is basically a family-style dining option, which means that each person who purchases this option can keep asking for refills of whatever part of the skillet they would like.
However, it is brought to your table – it is not a buffet.
You don't have to indulge in that, however, you can get another main menu item like one of the trail sandwiches, which is what we got on the day we went.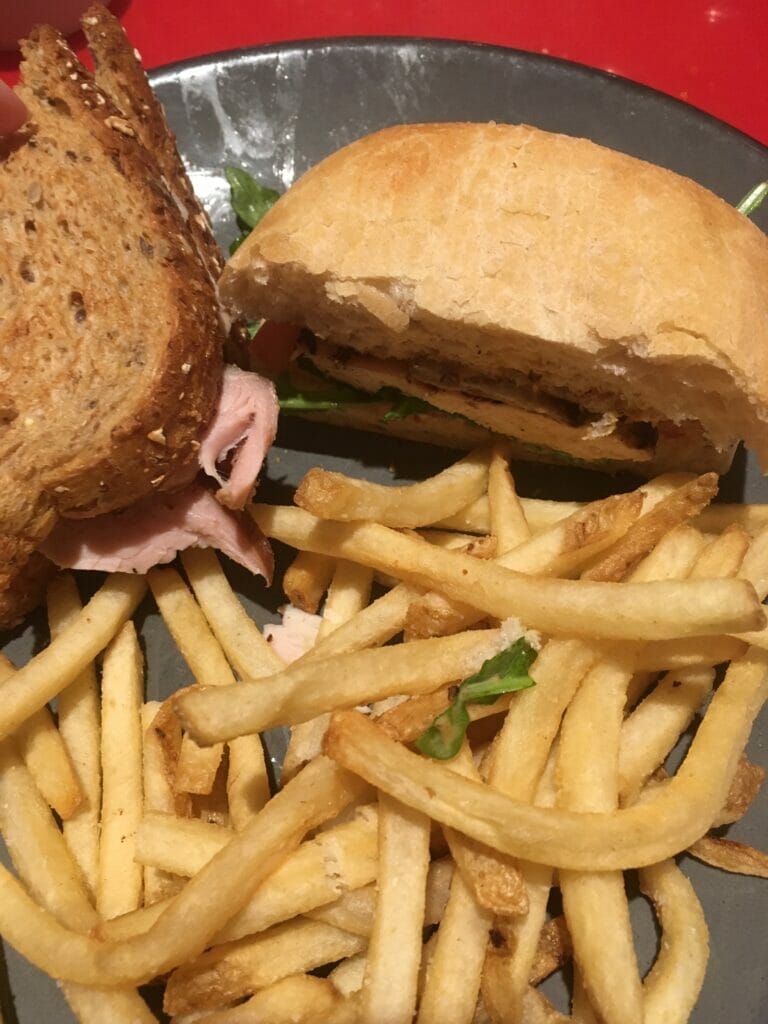 From grilled chicken to pulled pork sandwiches, they are absolutely delicious and serviced with your choice of french fries, sweet potato fries, or fruit.
You can also opt for one of their burgers or a chopped salad as your entree.
And, in addition, the refillable milkshakes are one of the most popular drink and dessert options, and every drink comes served in a mason jar which fits right in with the theming.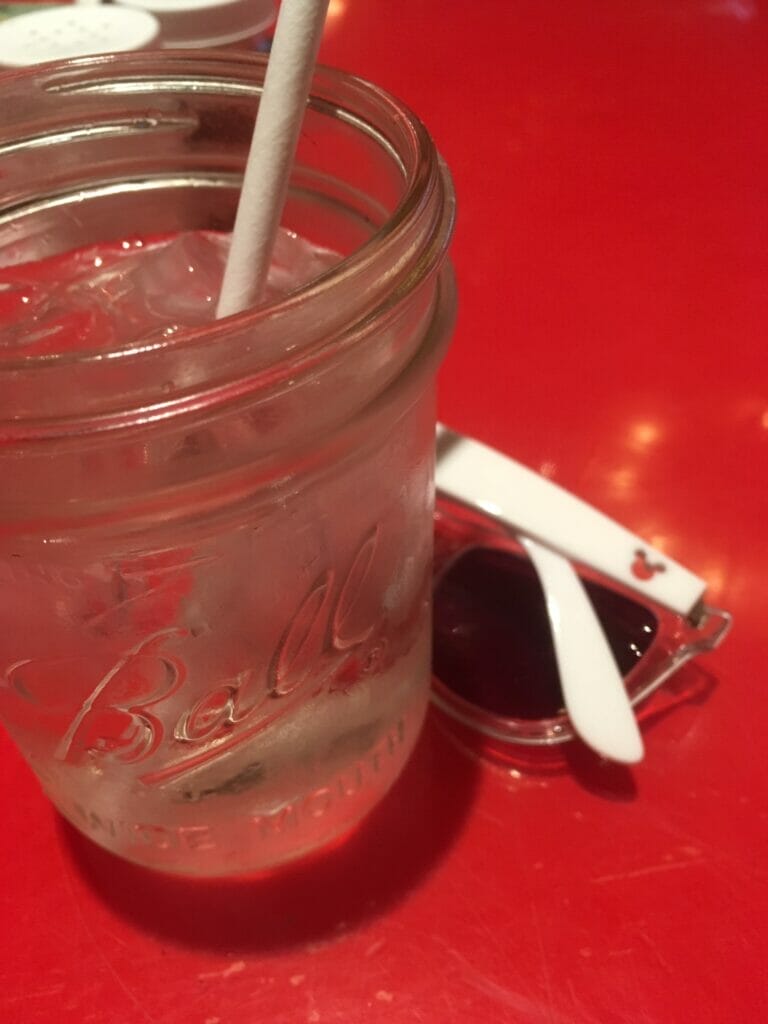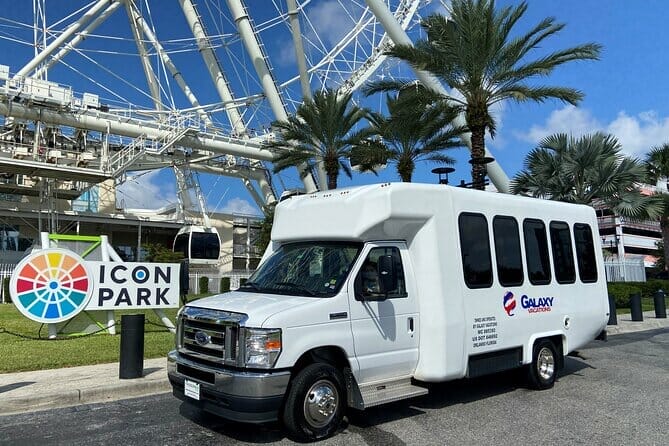 🚌Not renting a car in Orlando?
My favorite shuttle to get from the Orlando airport directly to Disney World is this one with a ⭐⭐⭐⭐⭐ rating.
Whispering Canyon Cafe Theming
The theming starts from the outside when you've got the rustic wooden features in the small waiting area, and it continues on into the restaurant.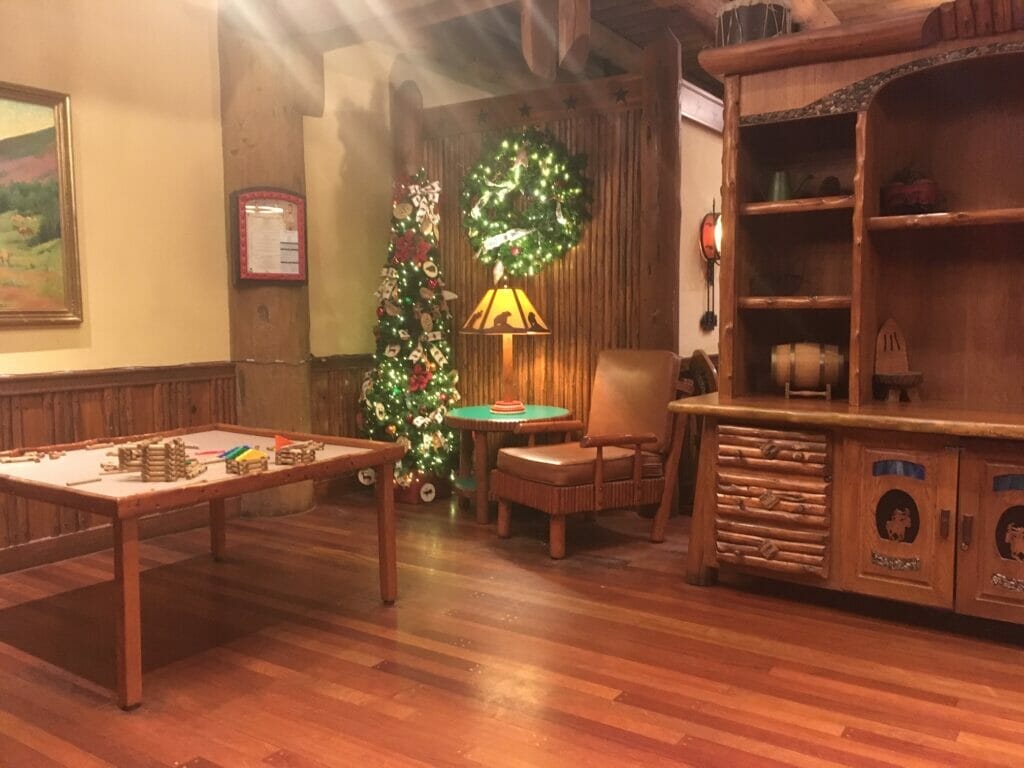 From the wooden ceilings to the wagon wheels dotted around to the gorgeous chandeliers illuminating a scene of buffalo and the Wild West, you'll feel like you're in the Wild West the whole way through.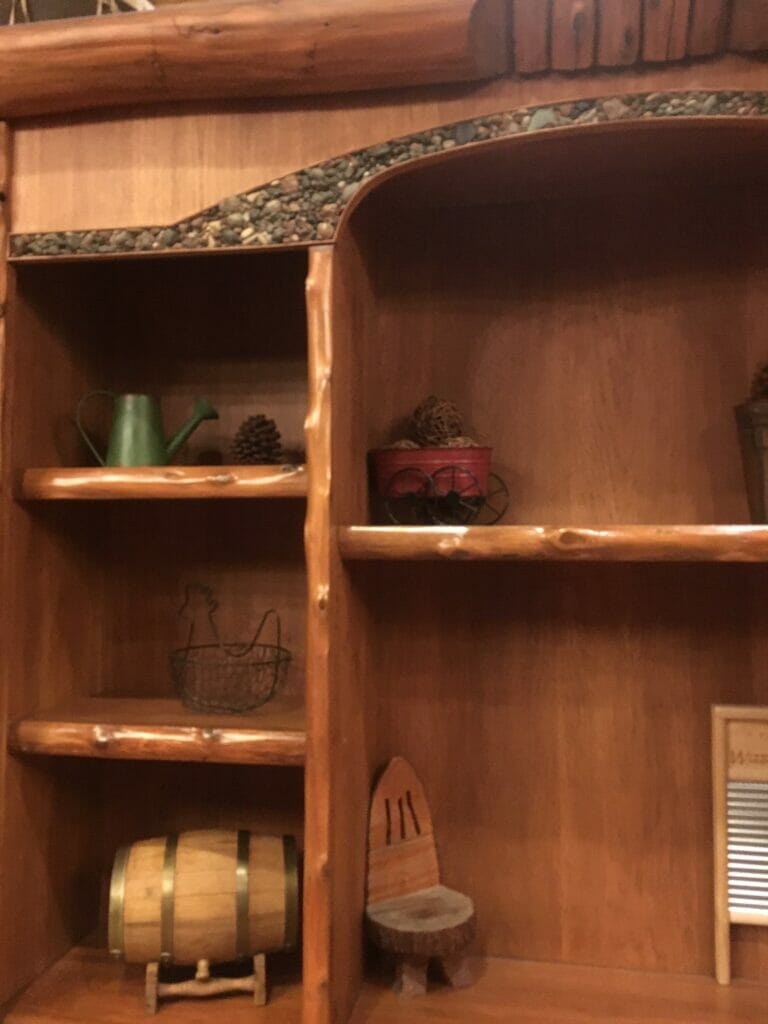 During Christmas at Disney World, it gets a total festive makeover with lots of garland and decorations, and the bright red tables and really make a statement.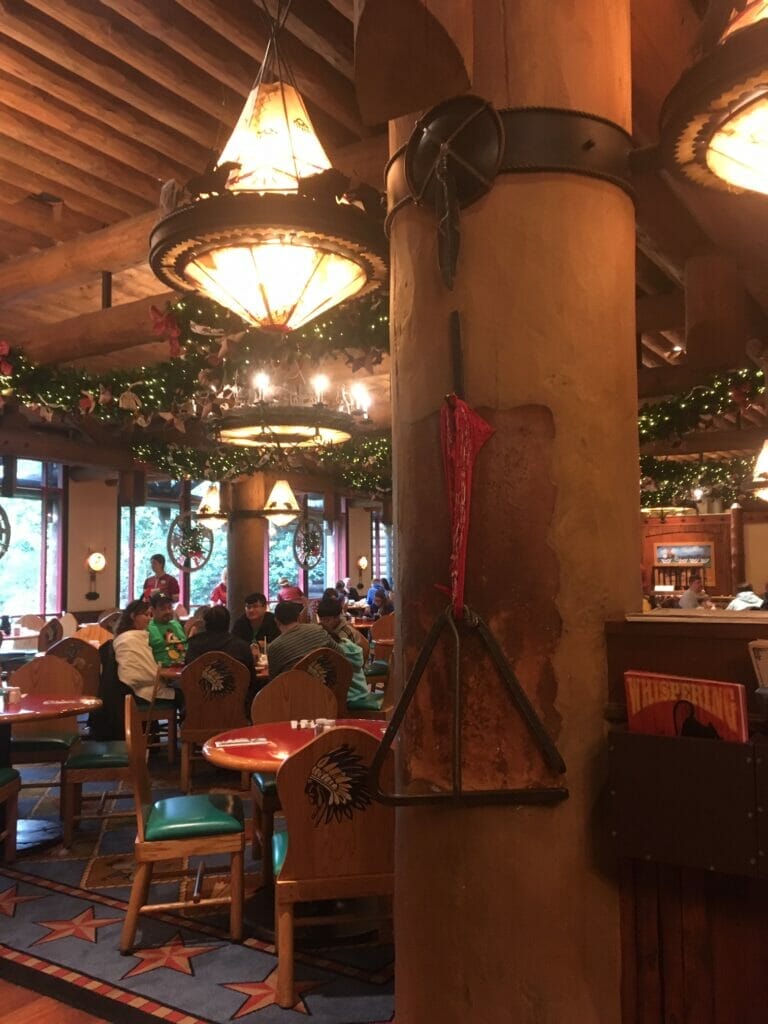 The restaurant is in keeping with the rest of the theming of the Wilderness Lodge Lobby, which makes sense as you can see the lobby from inside the restaurant – there are no walls, but rather just some barriers that you can see over.
Whispering Canyon Cafe Antics
Whispering Canyon is most known for its "antics."
It's hard to give a review without spoiling the surprises, but really it's just a case of your server having fun with your table and engaging in silly banter and other games.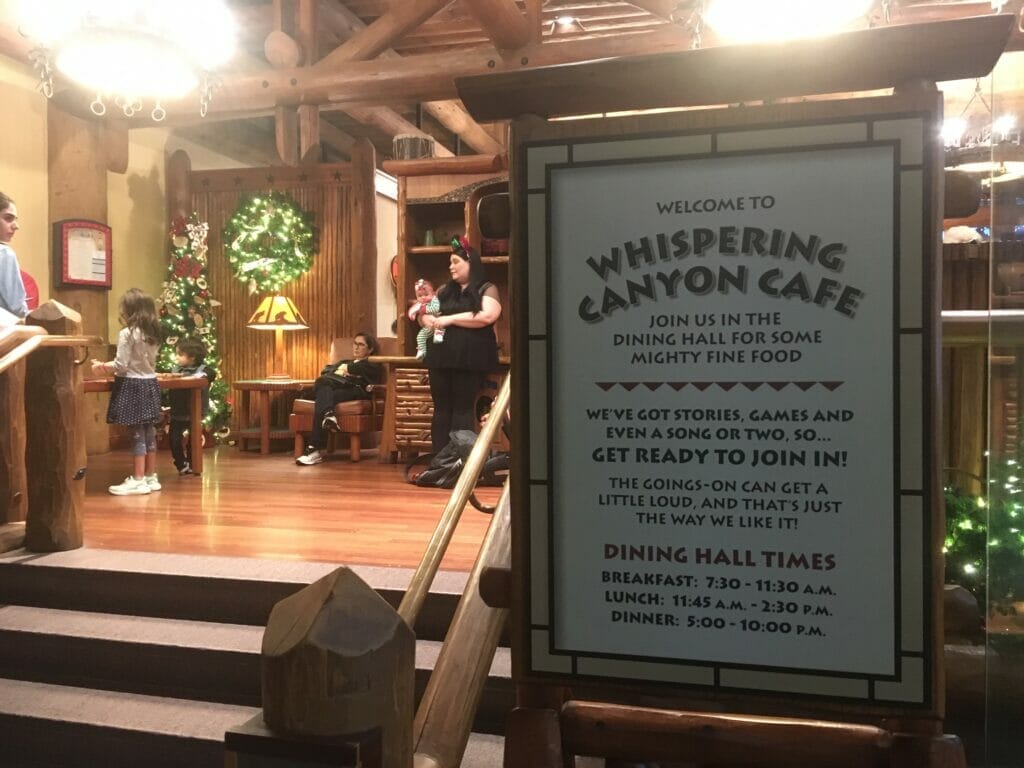 Over the years, different "gags" have included physical comedy with straws and ketchup, as well as certain times when the whole restaurant and other diners join in on games and having fun.
Sometimes, this is toned down and you should not expect that this is how it will be for you and your family and to what degree.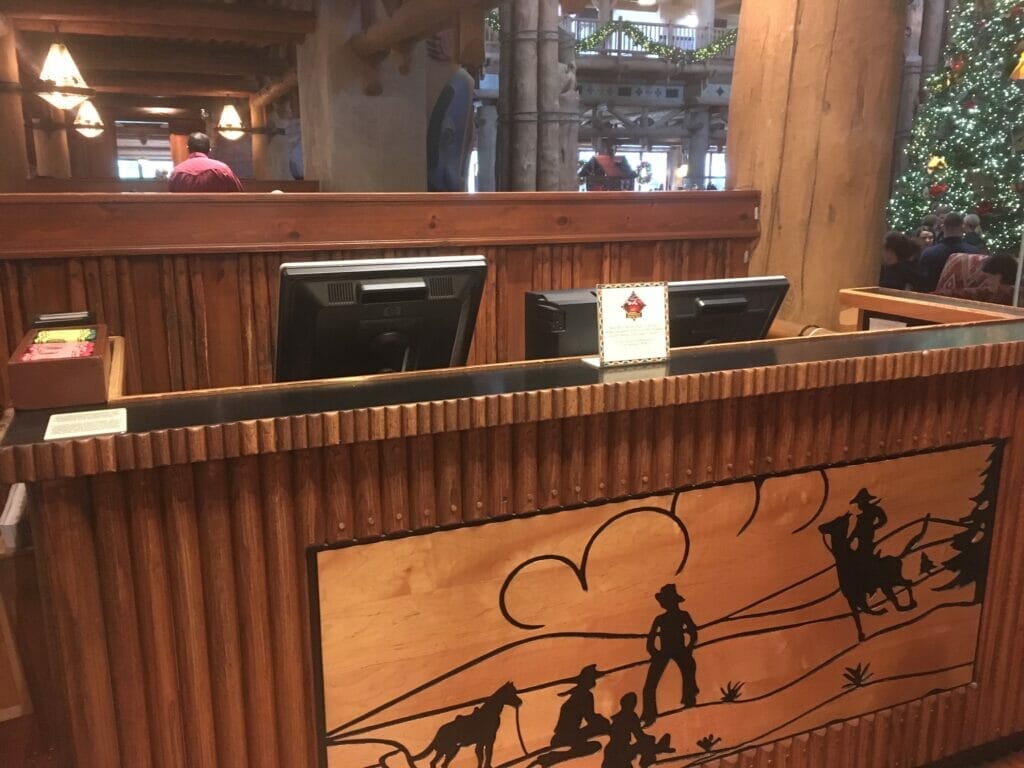 Depending on how busy it is or the general makeup of your family (for instance, if you're a larger party, if you have kids, if you're engaging back with the server), you can expect a different experience each time.
What if I Don't Want to Take Part and Just Eat in Peace?
Disney aren't going to force you to take part in the fun if you don't want to, and some diners really would rather have a more "normal" dining experience.
If that's you, just politely tell the hostess that you are looking for a quiet meal and enjoying the antics from afar, or speak directly to your server and say that you have heard that there may be some antics, but you're not hoping to participate.
They want to make you happy and get your tip at the end of the day, and there are plenty of tables who don't want to get in on the antics – just make it known.
Get the All-American Travel Secrets!
Don't miss out on America's hidden gems!