Spending Christmas at Disney World is such a dream for so many people, and in this guide to a Disney World Christmas, we're going to cover what to do in Disney at Christmas, special events you can think about booking, and how to navigate the crowd levels at Disney during Christmas.
First things first, you need to know, as somebody who has spent a lot of time smushed up next to a stranger in front of Cinderella's Castle, that Christmas is the most popular season to be at Disney.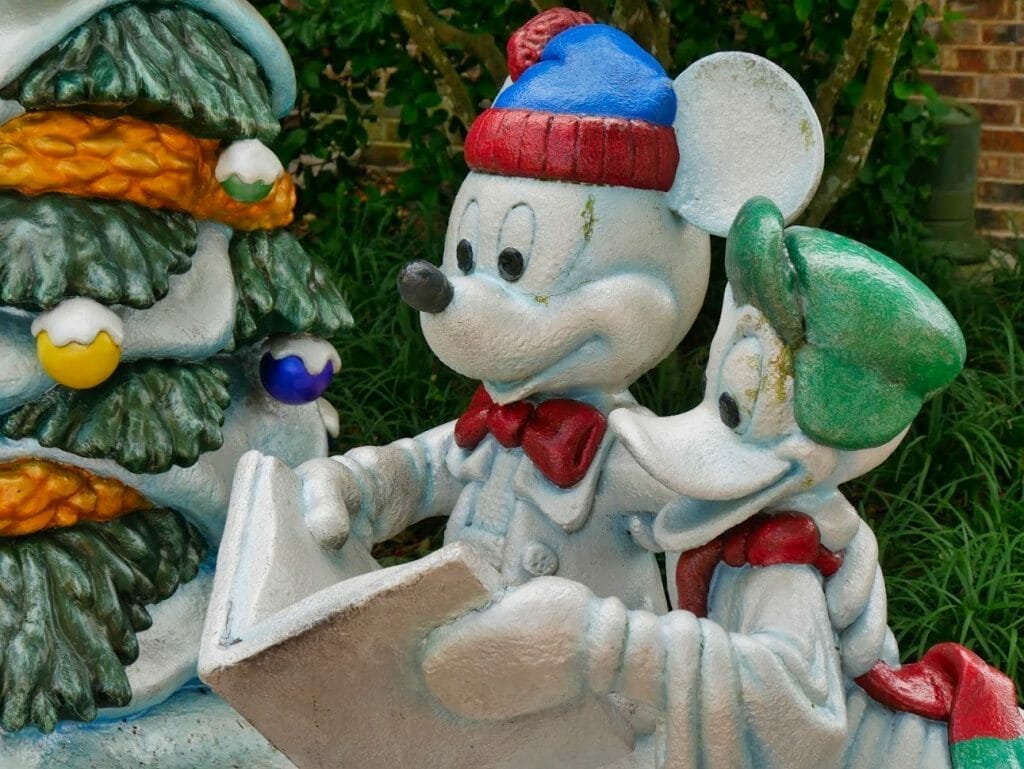 A lot of people think they'll have the whole park to themselves, as if no one else had the bright idea to spend their holidays at Disney World, but think again!
The weather is usually beautiful, the sun is shining, the parks and resorts are decked out in their fanciest costumes and decorations, and it seems like the entire rest of the world has, at times, joined you in your holiday cheer.
But not to fear, here's exactly what you need to know to keep that festive spirit going.
First things first, this adorable Disney Christmas shirt is a must-wear!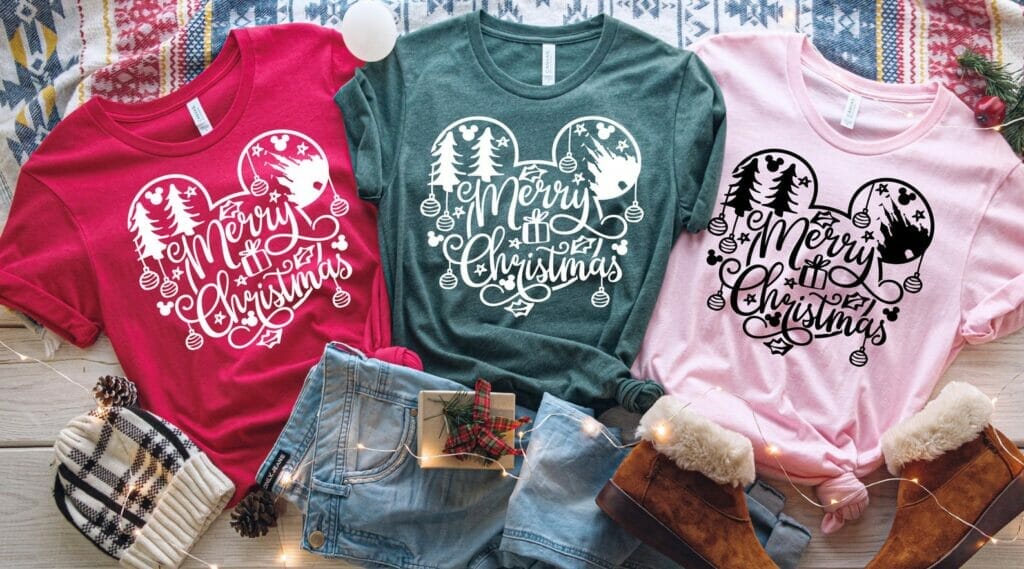 Tips for Visiting Disney World at Christmas
Whether it's your first time in Florida in the winter or you're a natural at a holiday trip to Disney, here are some local tips for Disney at Christmas to keep in mind.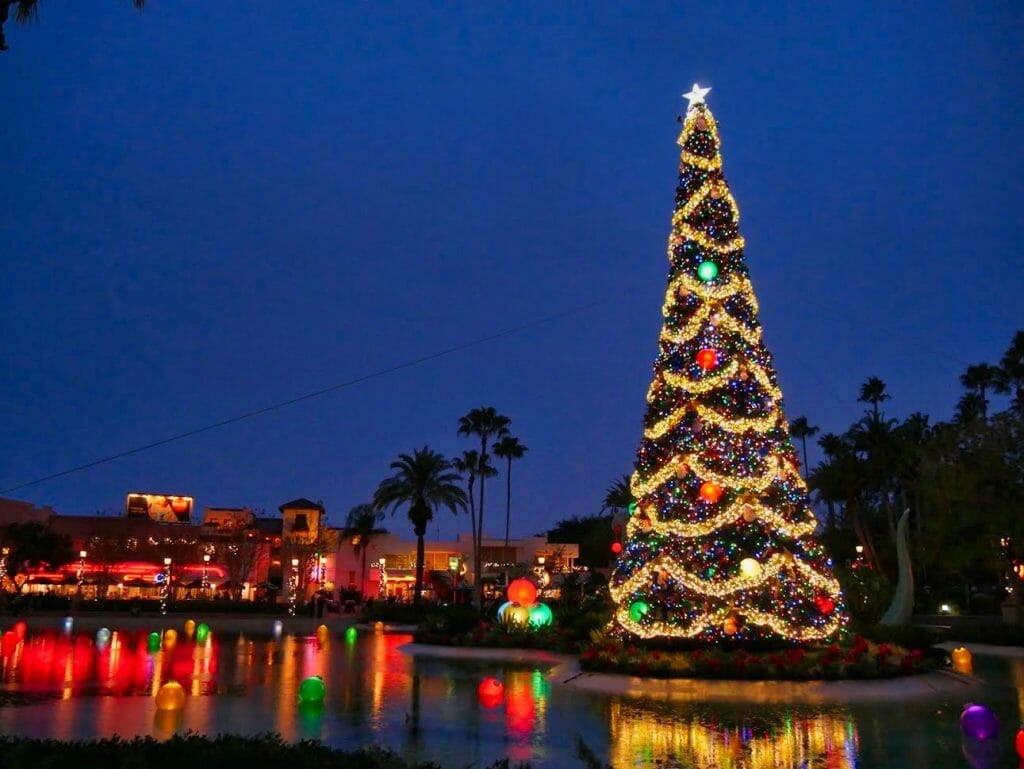 Florida weather in the winter is extremely variable. It likely won't be freezing, but there are a couple of days of frost the area gets per year. Equally it could easily be shorts and T-shirt weather. In my Orlando packing guide, I talk about really checking the weather right before you travel, literally right before you leave the house, as they are usually good at being able to accurately forecast the frosts rolling in and when.
Make a must-do list and anything else is gravy. Christmas at Disney World is pretty busy, which means that lines will also be busier than the rest of the year and reservations book up more quickly – you probably want to check out my guide on how to snag hard-to-get Disney dining reservations. Have each member of the family put together your must-do list, and tackle those first: then, anything else you get to is absolutely the cherry on top.
Don't miss the free in-park entertainment. Disney does Christmas extremely well, and that means a ton of extra entertainment in the parks usually that you wouldn't get at any other time of year, all for the same price of entry (mostly). Take the time to engage in the Christmas events and decorations, even if it's your first time to Disney and it all seems brand new.
Magic Kingdom at Christmas
Perhaps the most magical park at Christmas, Magic Kingdom at Christmas is a real sight to behold with the lighting of Cinderella's Castle and the festive cheer and decorations on Main Street, USA.
I love Magic Kingdom during the holidays because it's so quintessentially Disney and that magic is just upped during the Christmas season.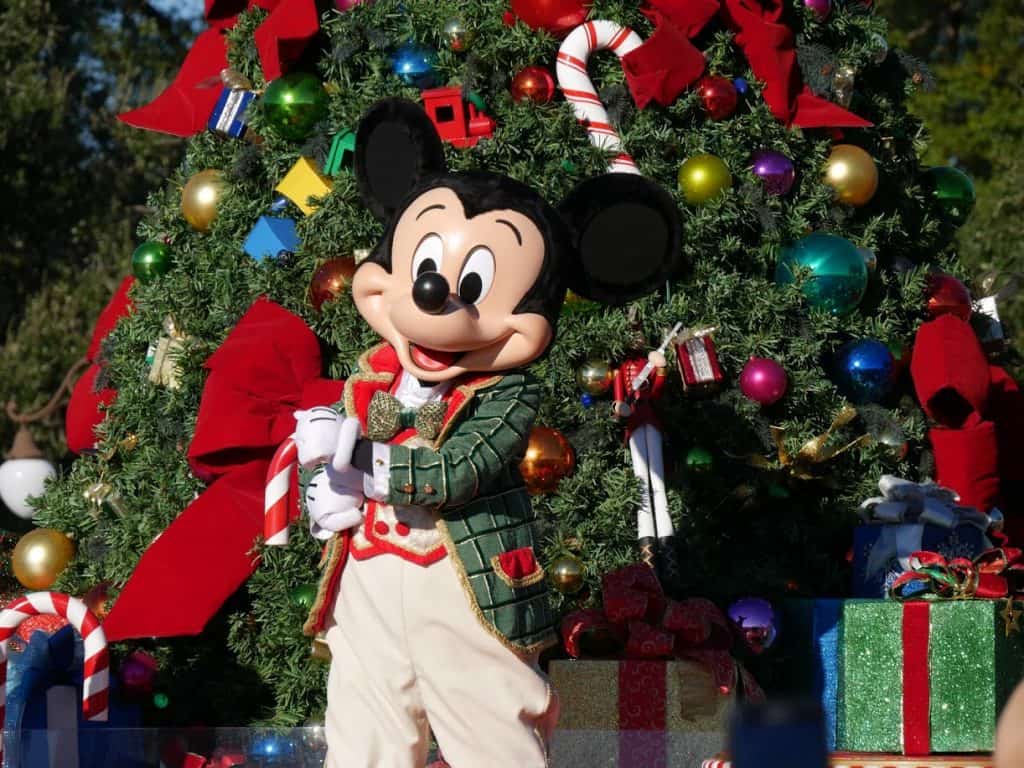 The Magic Kingdom Christmas parade and fireworks are reserved initially for those who attend a special ticketed event, Mickey's Very Merry Christmas Party.
This after-hours event is filled with hot cocoa, cookies, Christmas overlays on some of the rides, extra character meet and greets, and the special Christmas parade and fireworks.
This is the best shirt for Magic Kingdom at Christmas.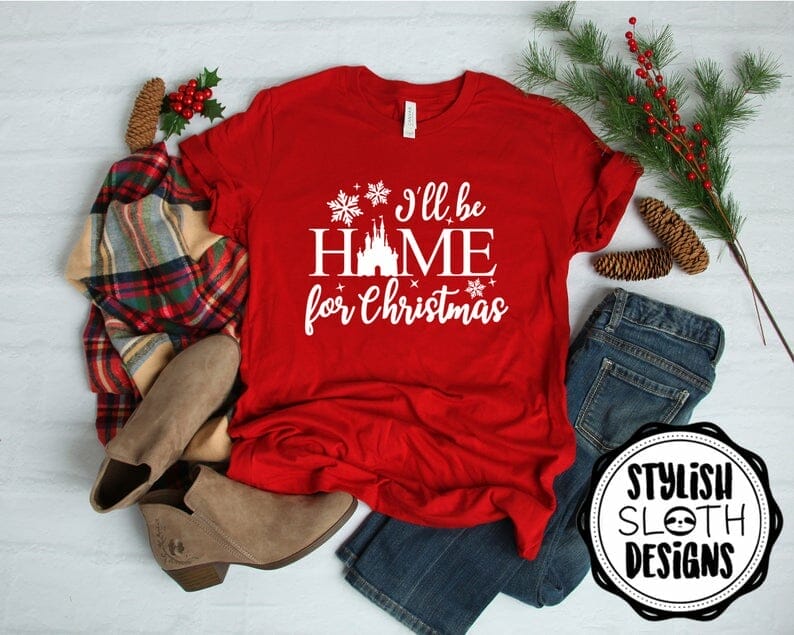 However, right before Christmas, after the last Christmas Party event has ended, the next few weeks are spent with "regular" guests in the parks being treated to the Christmas parade and the Christmas fireworks as well.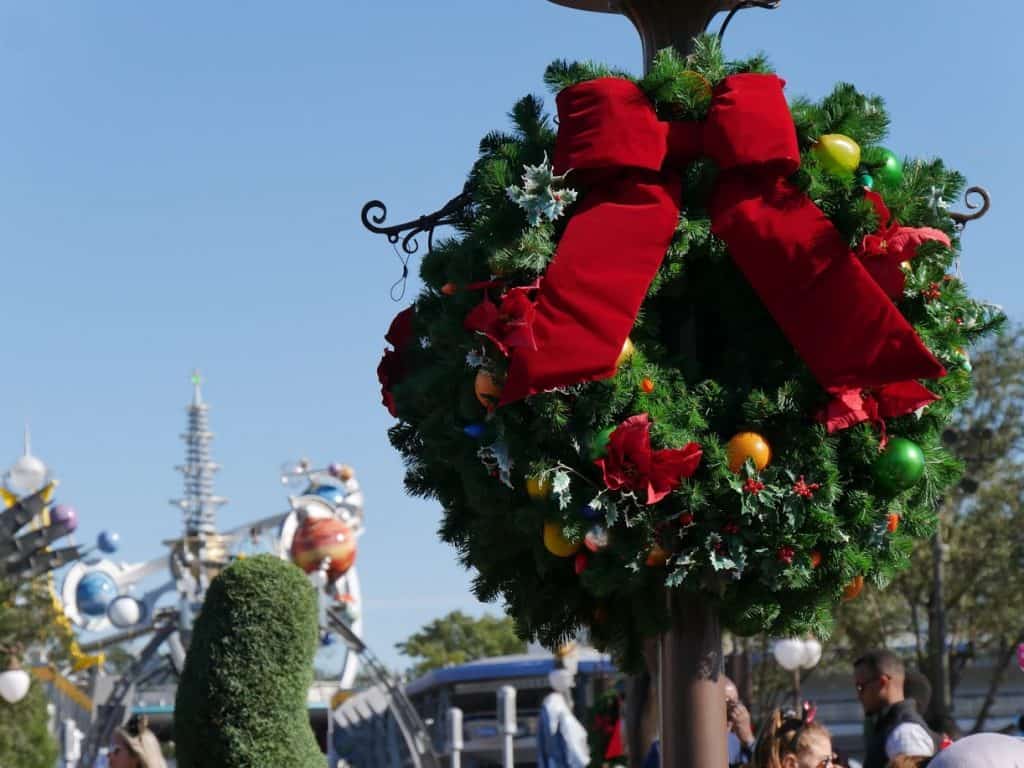 The downside is that those days are usually packed to the brim with people, but if it's important to you, it's a great way to not have to pay extra to see those special Christmas events.
There are also regularly scheduled Christmas shows all around the Magic Kingdom, including in front of the castle and in Tomorrowland.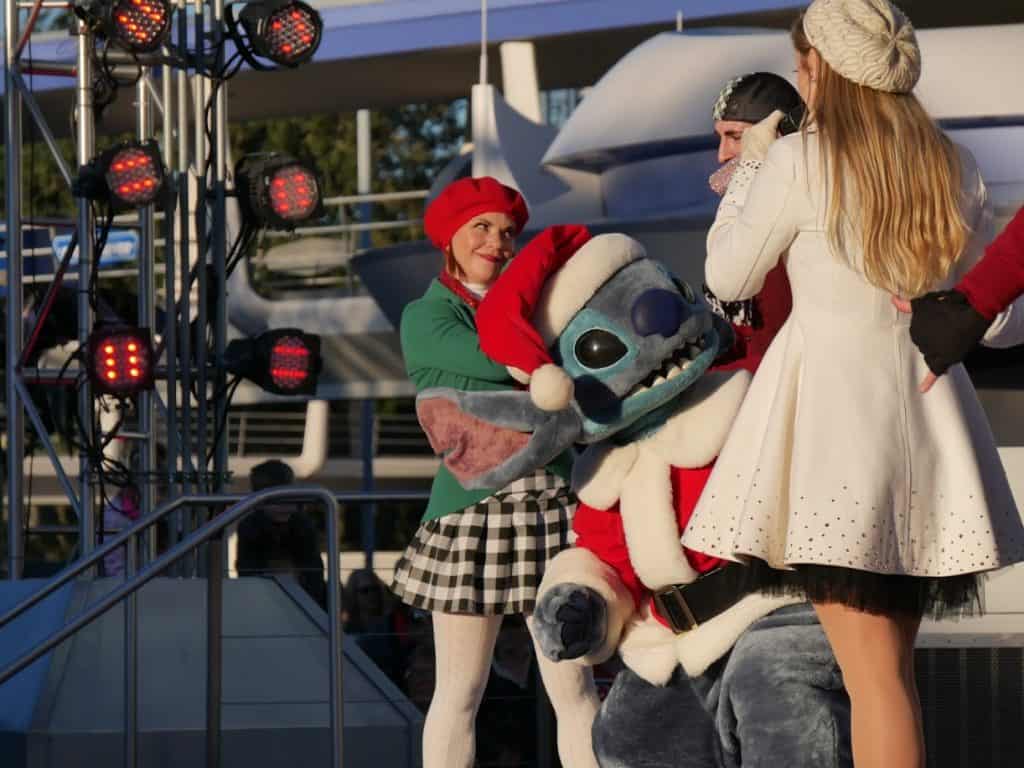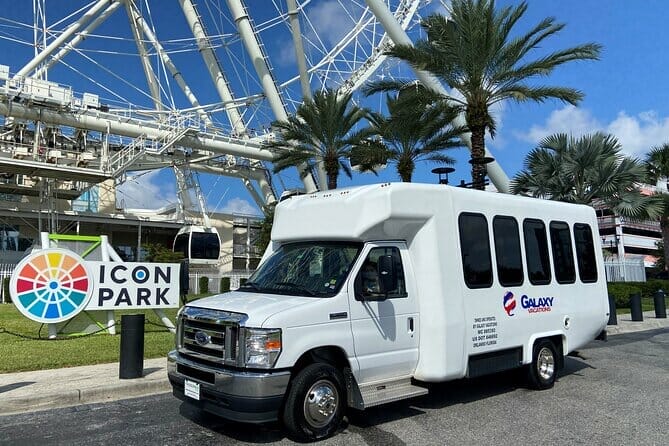 🚌Not renting a car in Orlando?
My favorite shuttle to get from the Orlando airport directly to Disney World is this one with a ⭐⭐⭐⭐⭐ rating.
Epcot at Christmas
Epcot takes a more sophisticated approach to Christmas with its Festival of the Holidays that takes place around the World Showcase.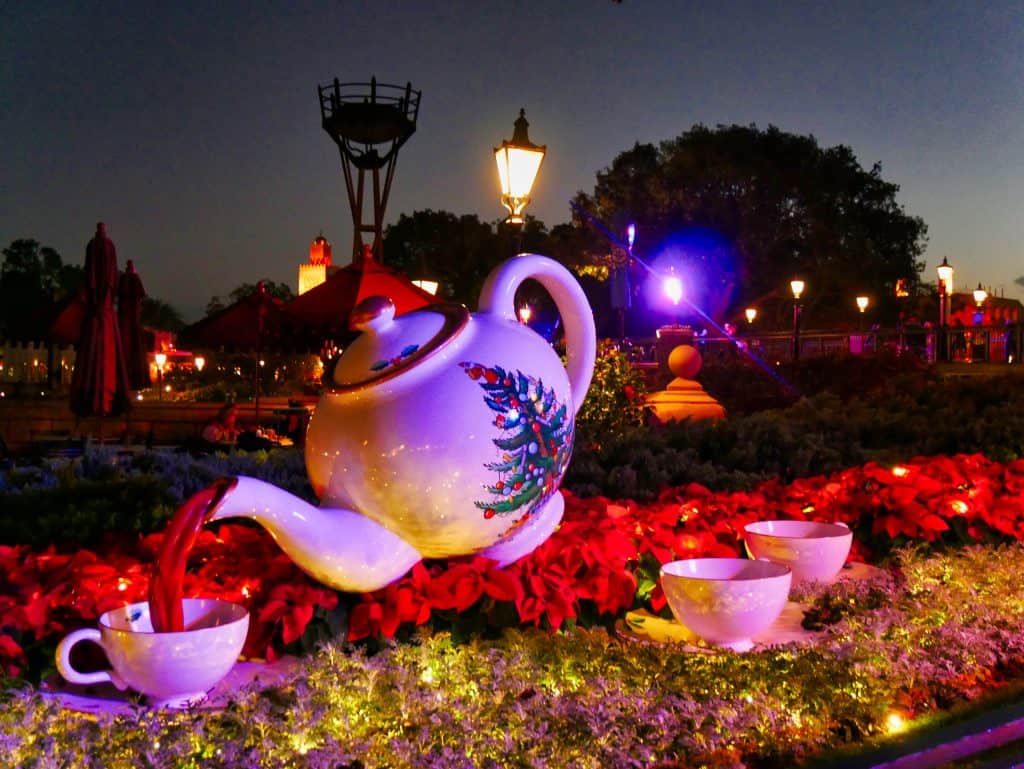 For this, each country has its own activity to participate in, whether that's listening to the Norwegian storytelling, doing crafts in China, watching holiday dancers in Mexico, etc.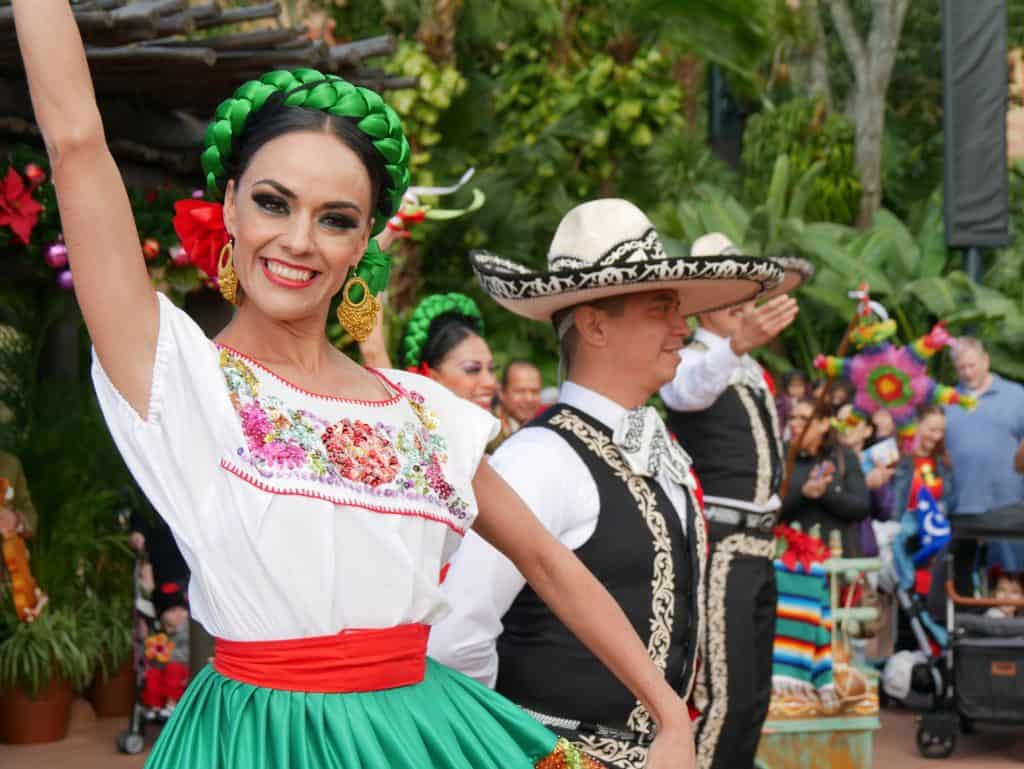 You can get your own Festival of the Holidays "passport" which helps you mark off what you've done so far, and there are plenty of special Christmas treats all around the World Showcase as well, with a Christmas cookie trail becoming popular in recent years.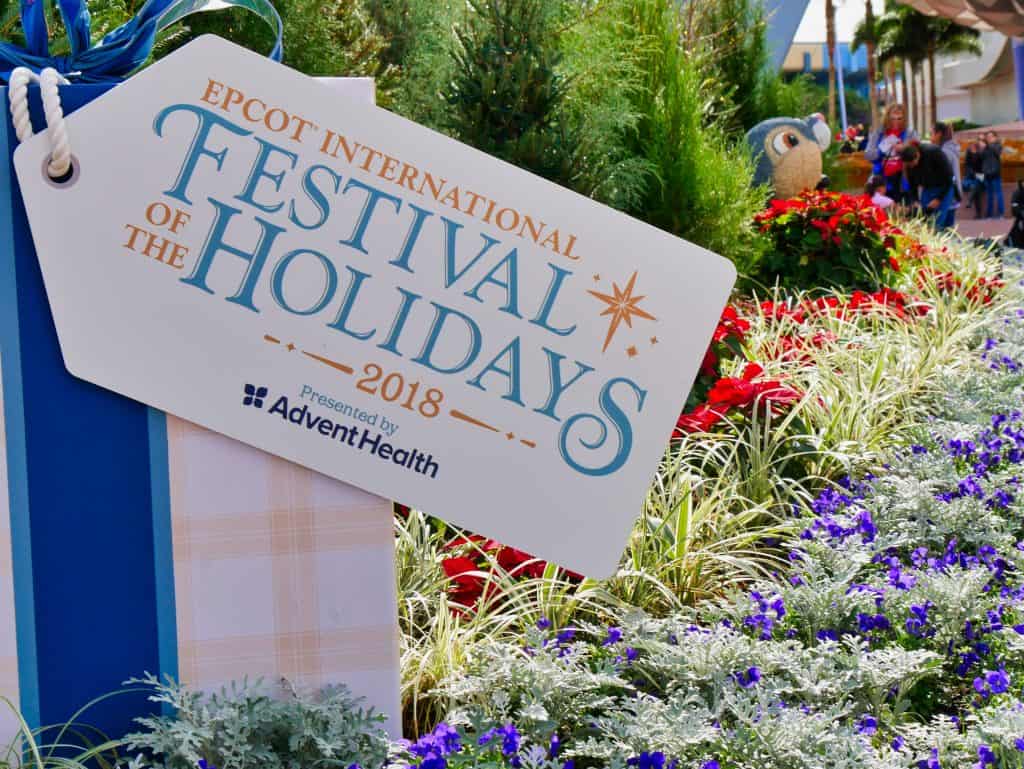 Future World tends to look mostly the same during Epcot at Christmas, with most of the festivities in the World Showcase, but you'll still find some decorations.
These Epcot Christmas Mickey ears are an adorable way to celebrate the holidays at this park.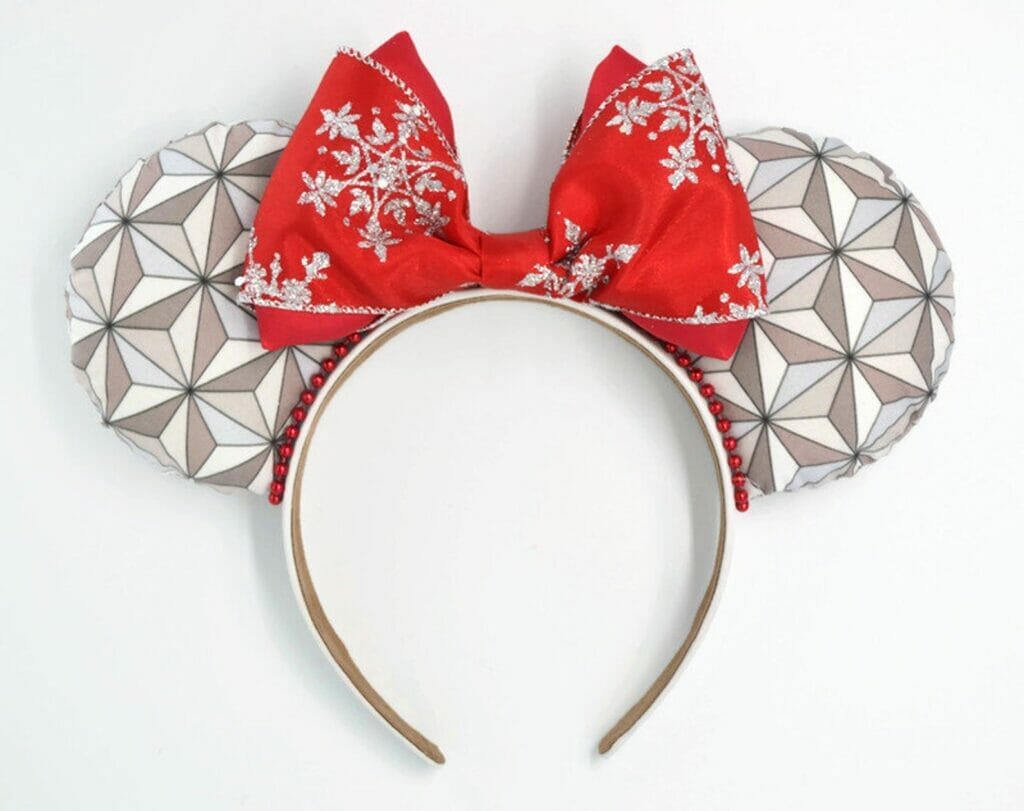 Hollywood Studios at Christmas
From the adorable Santa hat on top of the classic dinosaur's head to Christmas projections on the Tower of Terror, Hollywood Studios at Christmas is a fun and festive atmosphere filled with lots of ornaments, presents, and characters dressing up.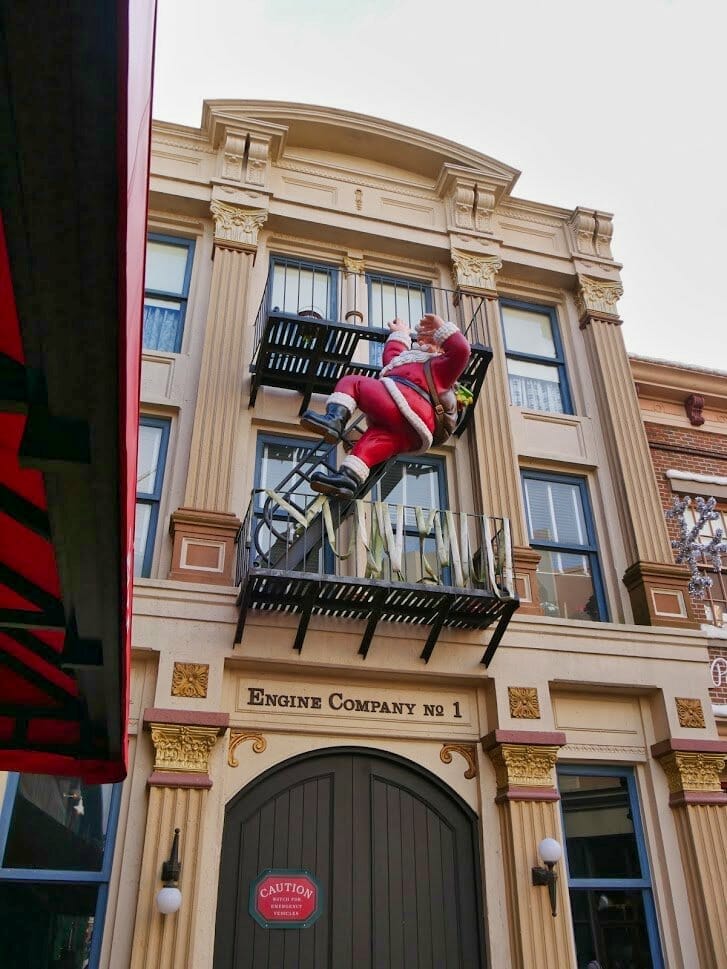 Toy Story Land gets a Christmas makeover with some giant cookies, reindeer antlers for Rex, and other fun Christmas decorations you can spot.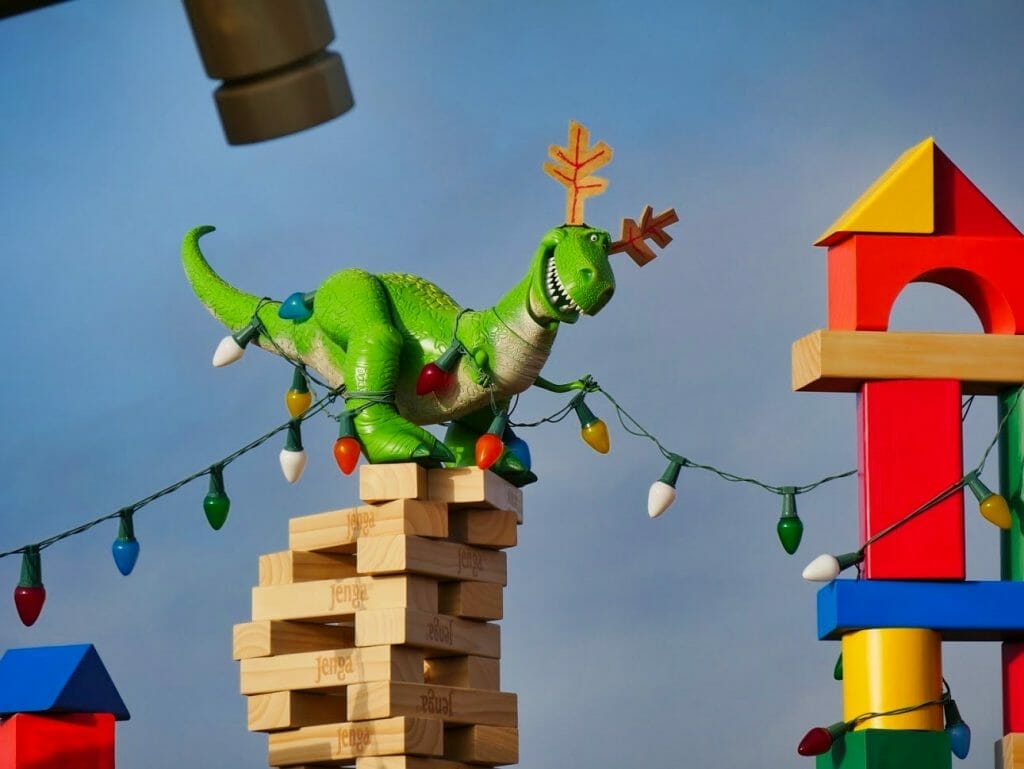 Galaxy's Edge doesn't do Christmas much, as it would ruin the theming, but if you head over to the Tower of Terror and the main Boulevard, you'll find plenty of Christmas wreaths, lights, and decorations strung up.
This is an adorable Christmas tee to wear to Hollywood Studios.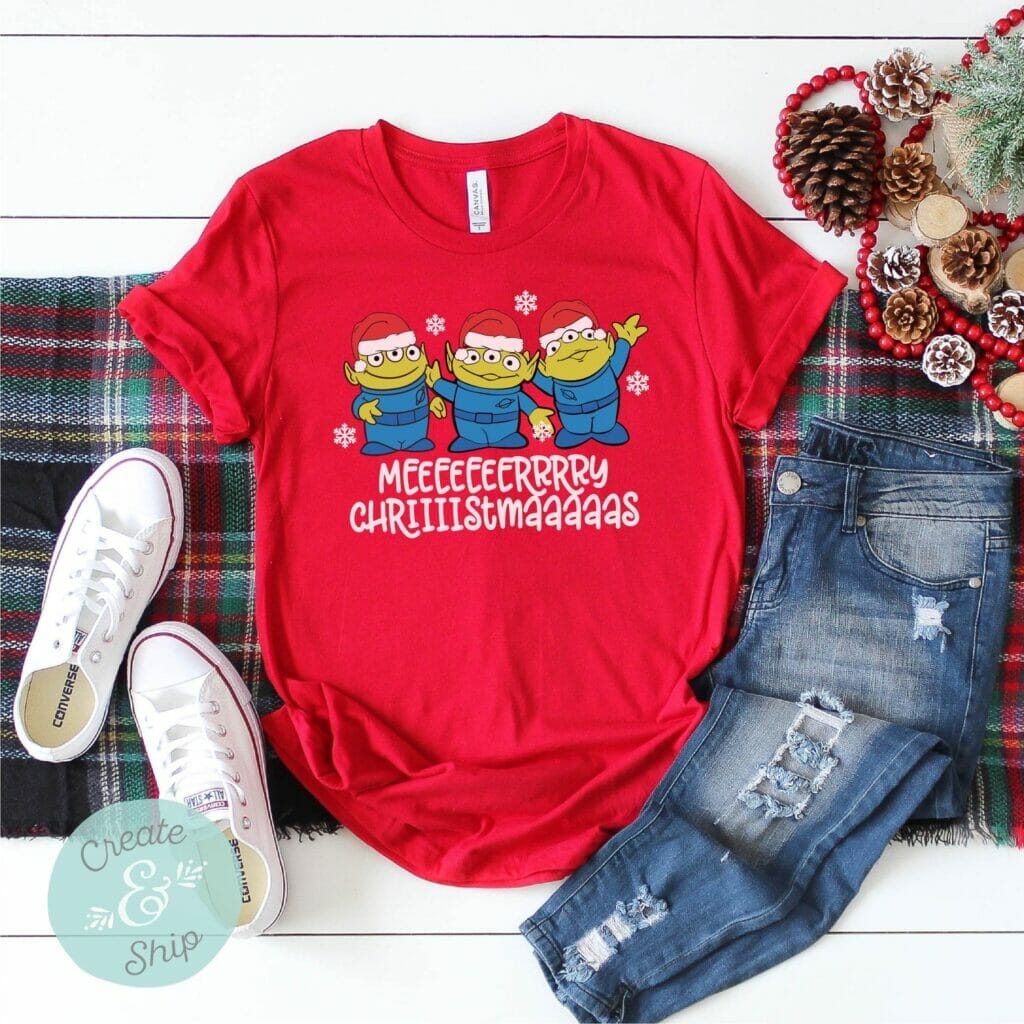 In the evening, there are regularly scheduled projection shows on the Tower of Terror (it becomes filled with toys, spoiler alert!) as well as a Christmas show in the main section of the park in front of the Chinese Theater.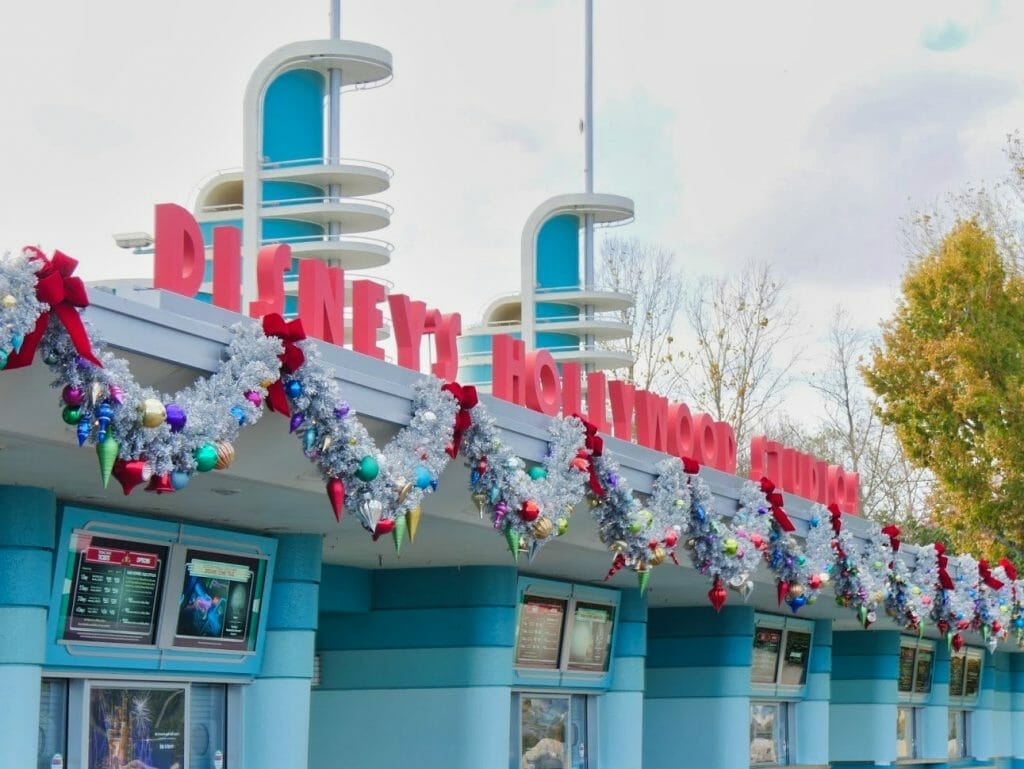 Often, Hollywood Studios will offer a specially ticketed package that takes place during regular park opening hours that gets you a great view of the Christmas fireworks and final Christmas show, as well as a meet and greet with a Disney character and some festive food and drink options.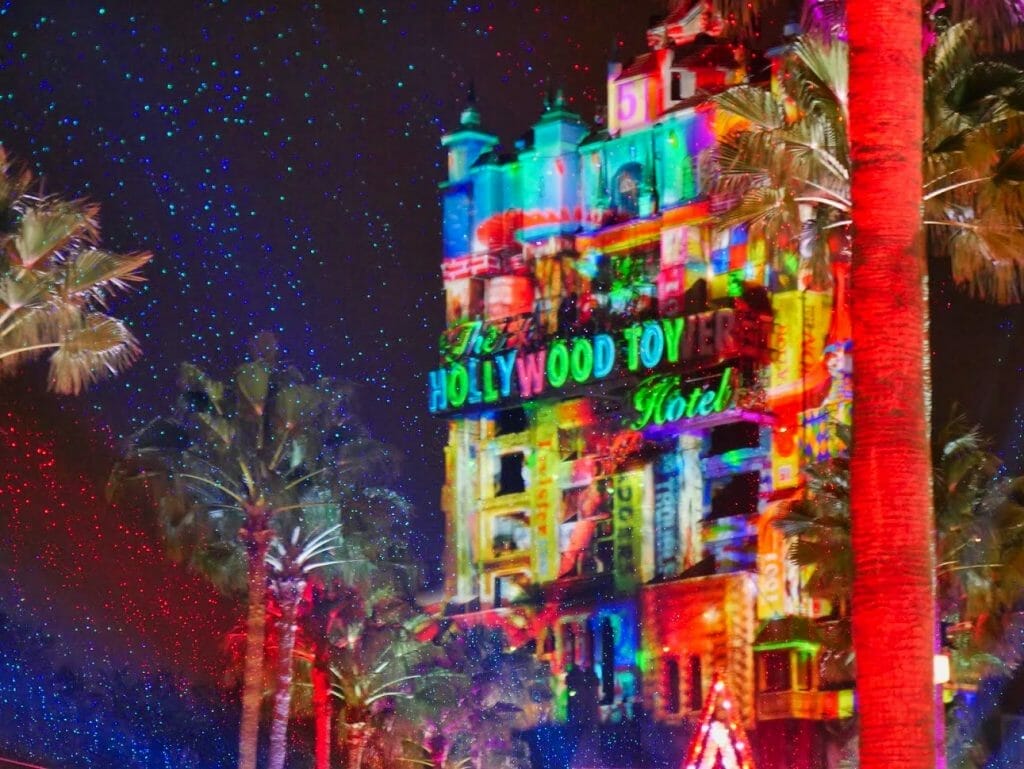 Animal Kingdom at Christmas
Animal Kingdom embraces Christmas in its own way, which respects the traditions and winter festivals of the people and countries it represents.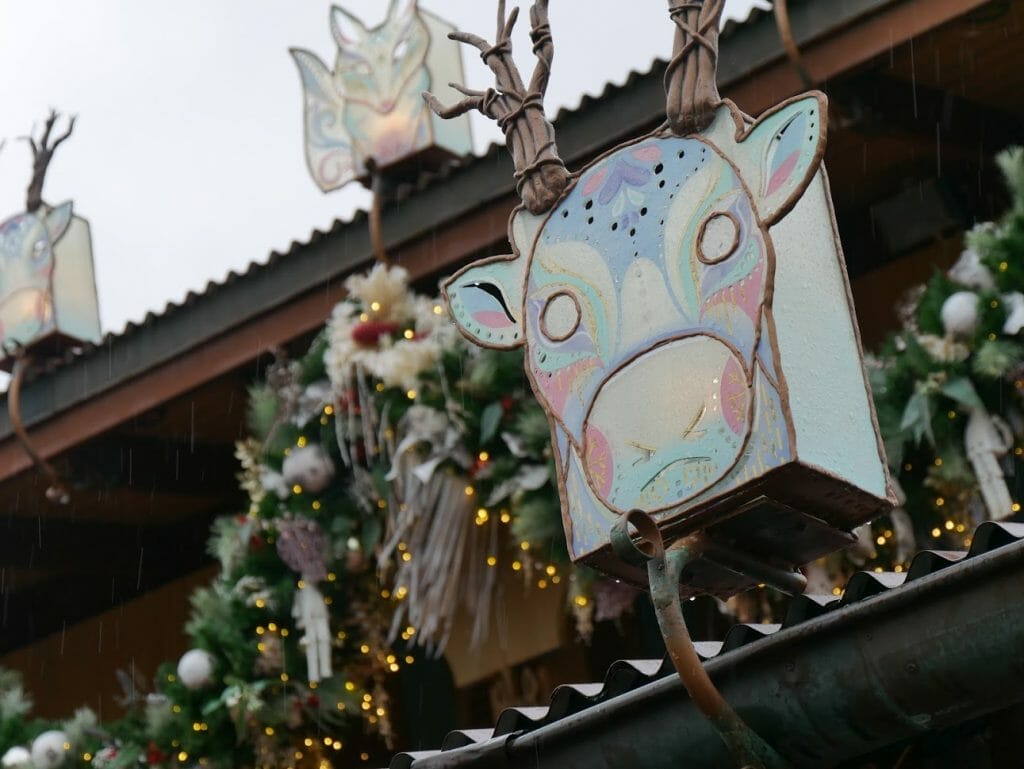 You'll find nods to lantern festivals and general holiday cheer as you wander around Asia and Africa, while Dinoland is definitely decked out in traditional Christmas decorations with skeletons wearing Santa hats (of course) and lots of Disney characters playing Christmas dress up.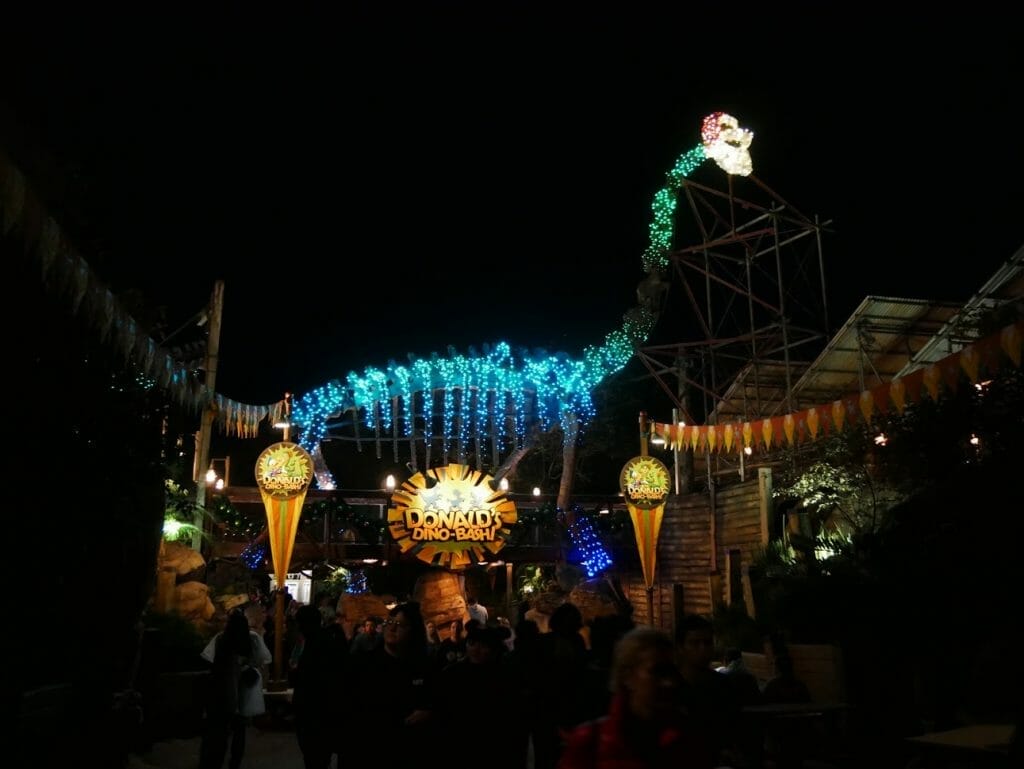 Don't forget your Animal Kingdom Christmas tee!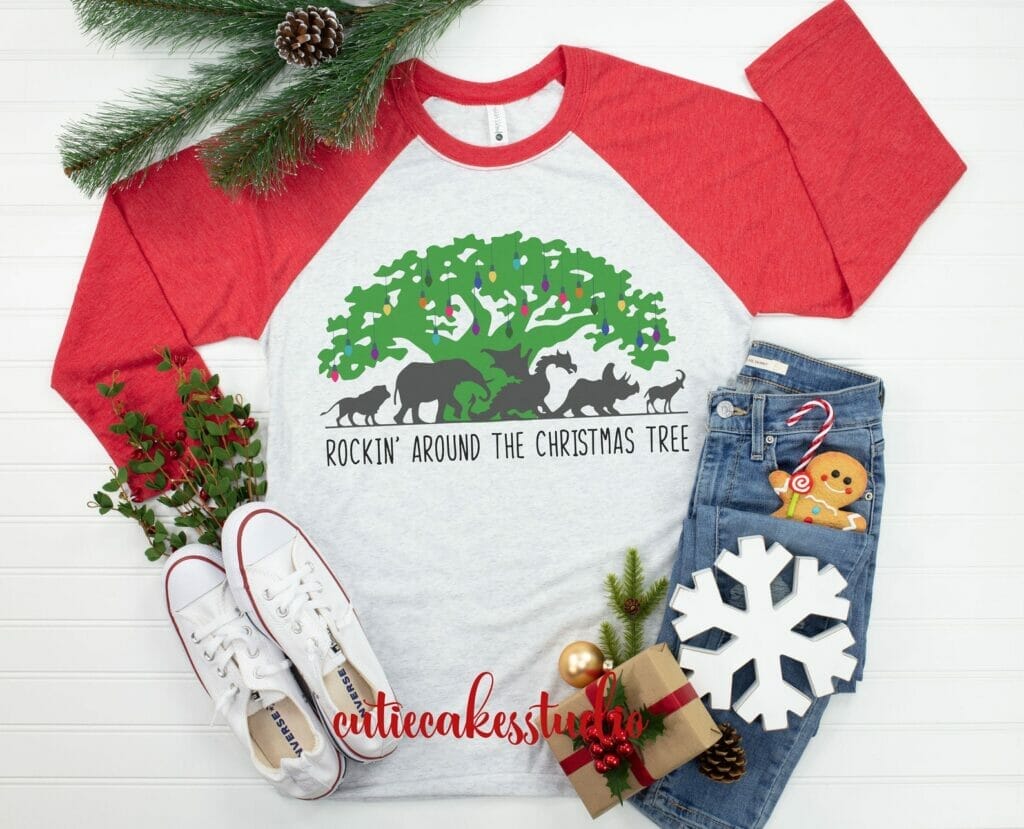 Back in Pandora, World of Avatar, you won't find as many Christmas decorations because, like Galaxy's Edge, this is meant to be an immersive land that doesn't necessarily lend itself to full on Christmas overlays.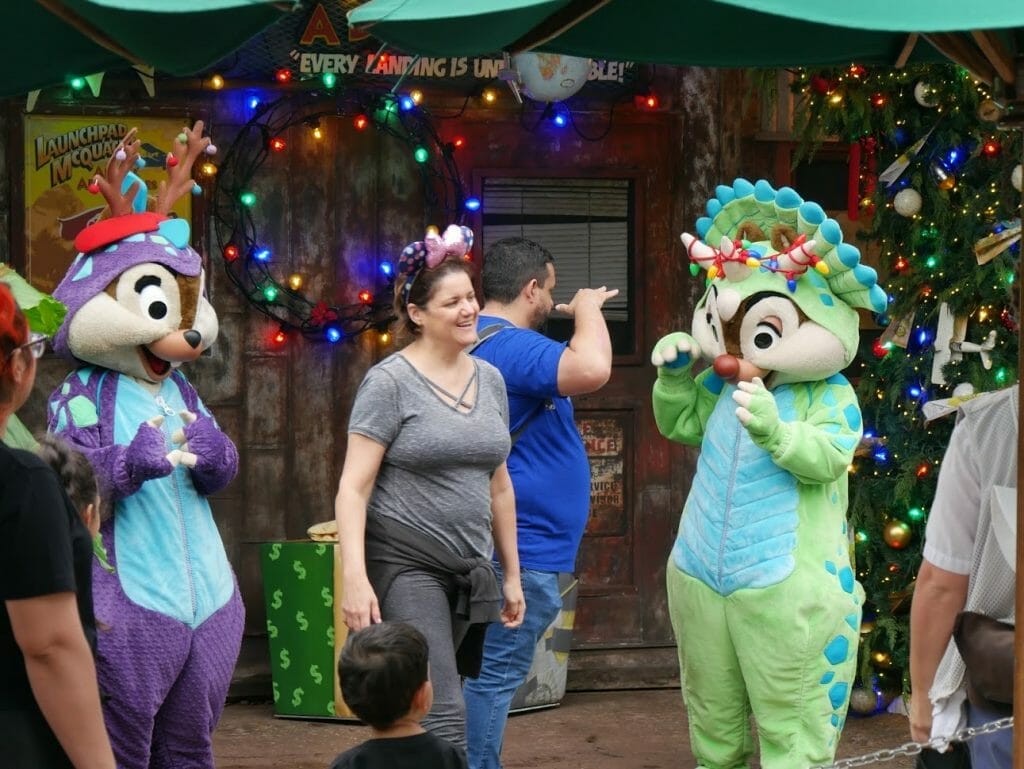 I love the subtleness of Christmas at Animal Kingdom and the attention to the beauty of nature and light that it brings out.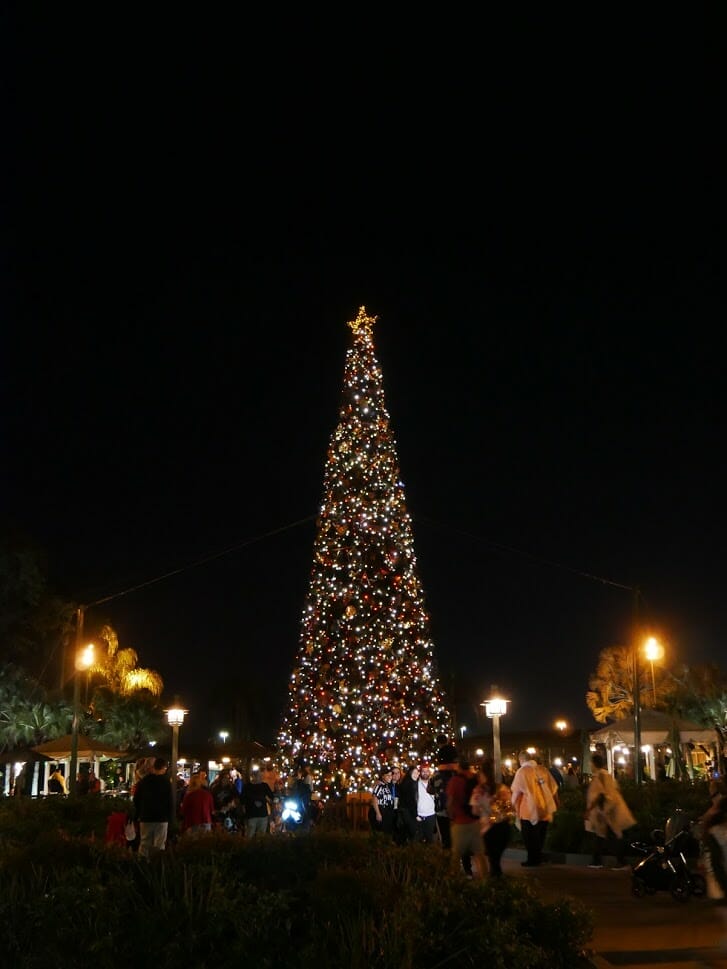 Christmas at the Disney Resorts
One of my favorite things we've ever done is a Disney resort hopping day, during the holidays, to see all of the Christmas decorations.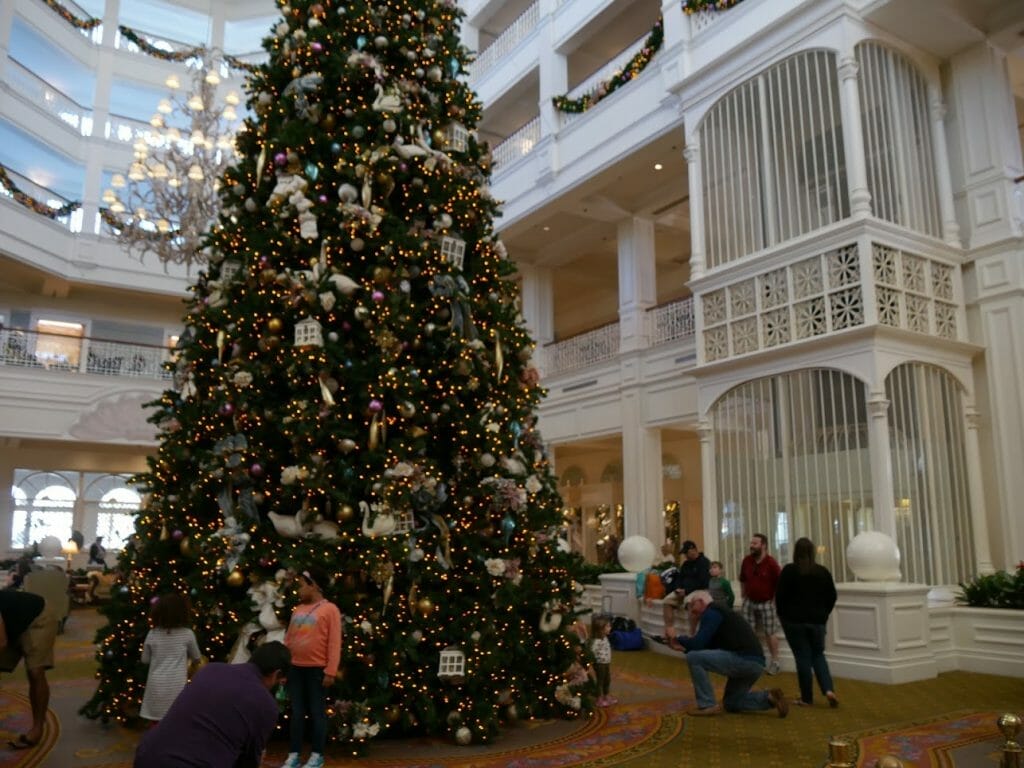 From the Grand Floridian at Christmas with its gorgeous gingerbread house to the rustic Christmas theme at the Wilderness Lodge and the Hollywood Christmas decorations at All-Star Movies, the resorts all do something special for the holidays and look a bit brighter and more festive than usual.
That being said, some, mostly the Deluxe resorts, are the ones where Christmas really shines, whereas the others may just have some decorations up but not the full scale overhaul that some resorts get around the holidays (and this also depends on the theming).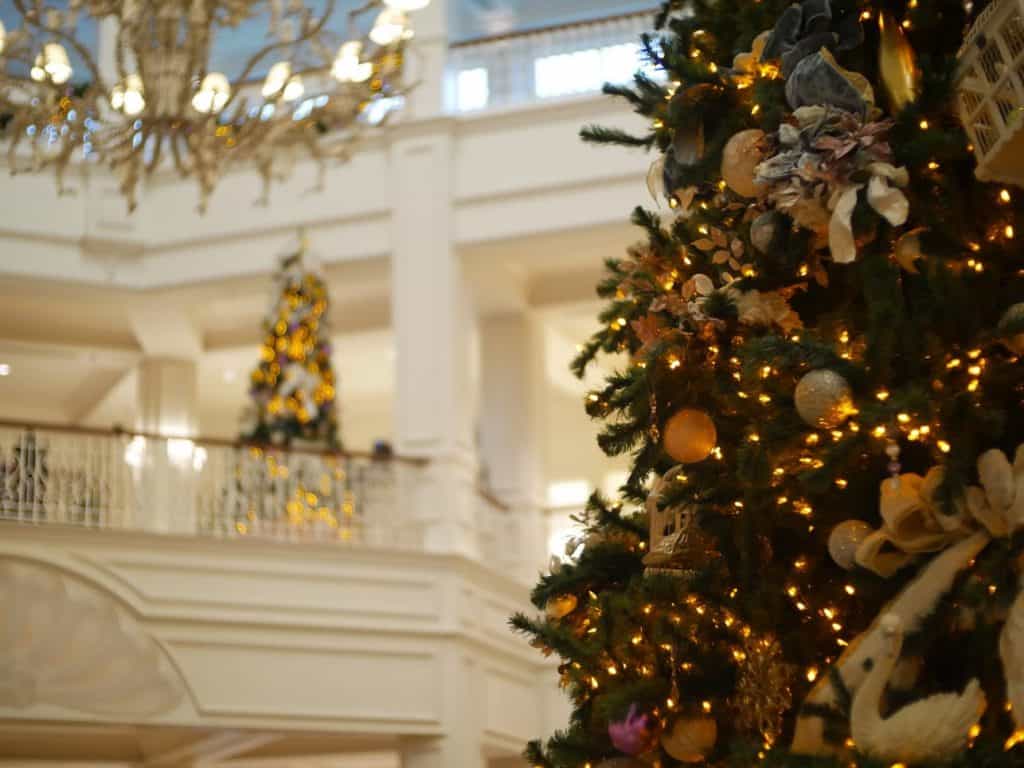 For the most beautiful Christmas trees in Disney World, don't forget to stop by Animal Kingdom Lodge and Wilderness Lodge, as their lobbies lend themselves to absolutely fantastic, towering trees in the middle that are absolutely not to be missed.
Christmas at the Disney Restaurants
Dining at a Disney restaurant?
You'll definitely feel the holiday cheer, as many offer special holiday options, whether for mains or dessert, as well as decorations.
Book at the California Grill for a fantastic view of the Christmas fireworks if you book at the right time in the evening, or enjoy a holiday-themed meal with all of the trimmings at Whispering Canyon in the Wilderness Lodge.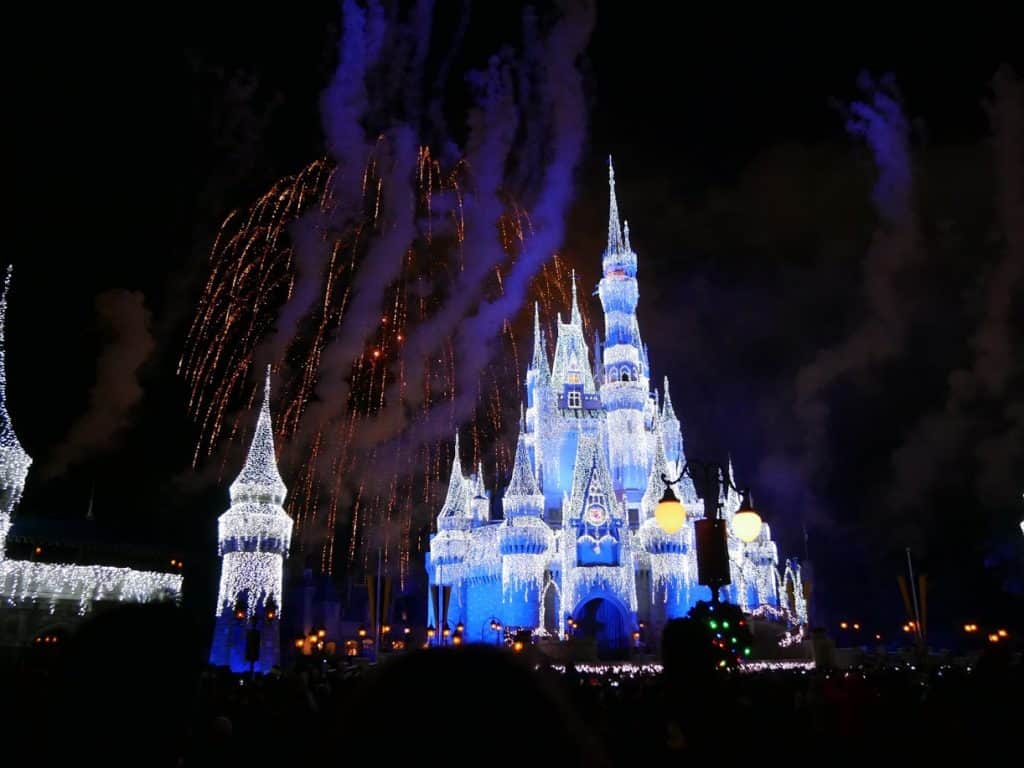 In the parks, you'll find decorations up at places like 50s Prime Time Cafe in Hollywood Studios, and Minnie often holds a special buffet dining option at Hollywood & Vine where she and her friends get dressed up in their best Christmas outfits.
Because of the sheer amount of people at Disney over Christmas, you'll want to make sure you make your reservations as far in advance as possible so you don't miss out on any must-dos.
Another great option is to just get quick service when in the parks to save time – use this guide on using Disney Mobile Order to make sure you spend as much time as possible enjoying the parks and the least amount of time in line for food!
Christmas at Disney Springs
From school groups caroling in the bandstand to Christmas decorations everywhere and Disney Spring's 365 Days of Christmas shop coming into its own, there is so much to do at Disney Springs for Christmas that you could spend a full day here just enjoying it all.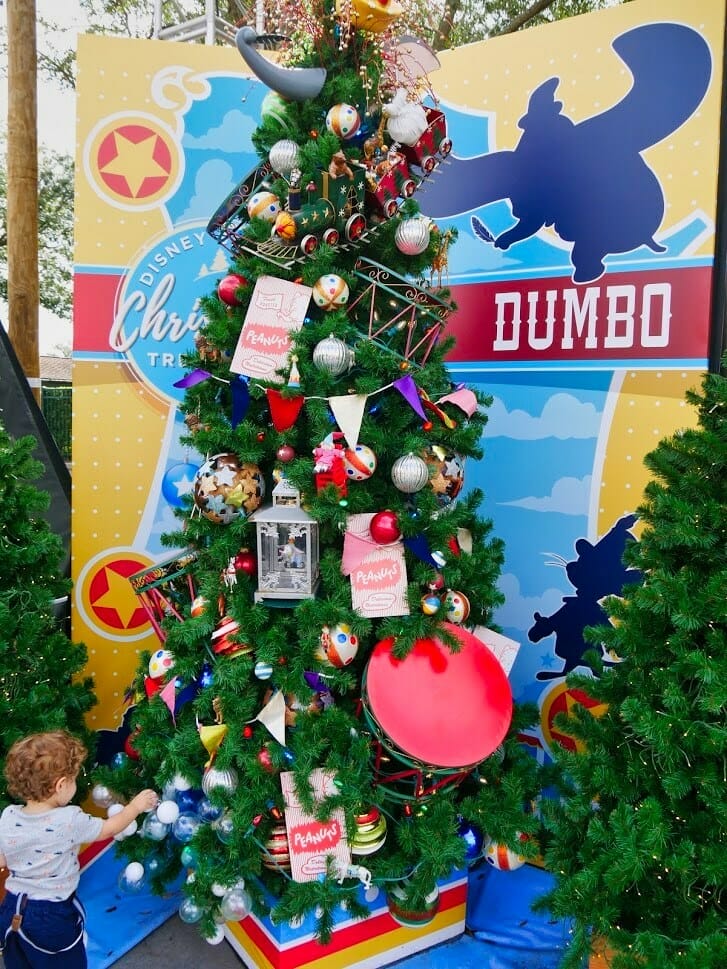 Try the Disney Christmas Tree Trail, where you go around finding all 25 of the decorated Christmas trees, with ornaments ranging from Buzz Lightyear to Peter Pan, or get a holiday-themed milkshake from Ghiradelli and sit out by the water and watch the world go by.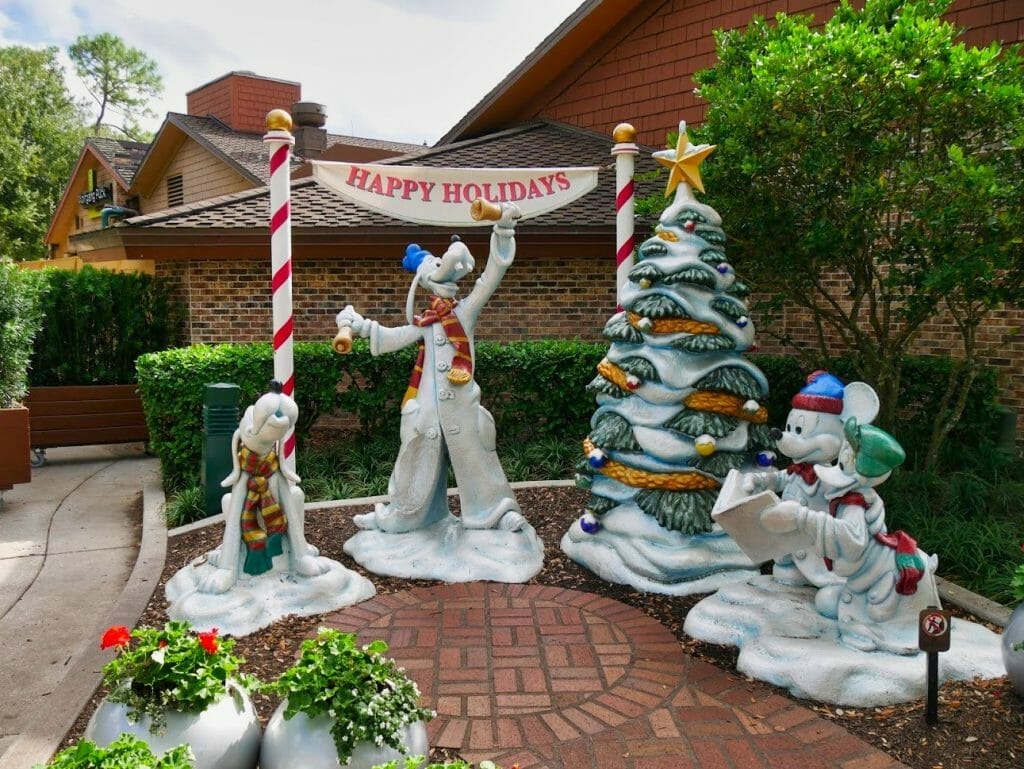 Hey! Want more of our expert Disney guides? Check these out!
Get the All-American Travel Secrets!
Don't miss out on America's hidden gems!