Christmas at the Magic Kingdom is undoubtedly one of the most atmospheric and festive times to be in Disney World's most popular park.
From Christmas shows at the Magic Kingdom to Christmas fireworks at the Magic Kingdom to Christmas themed version of rides you know and love, there's something incredibly special about being here for the Christmas season.
In this post, I'll take you through a typical Christmas season at the Magic Kingdom with plenty of pictures so you can see the general vibe for yourself.
You can also check out our guides for Disney at Christmas on Hollywood Studios at Christmas, Animal Kingdom at Christmas or Epcot at Christmas.
We've also got a great guide on the Disney Springs Christmas Tree Trail and what to do at the Grand Floridian at Christmas!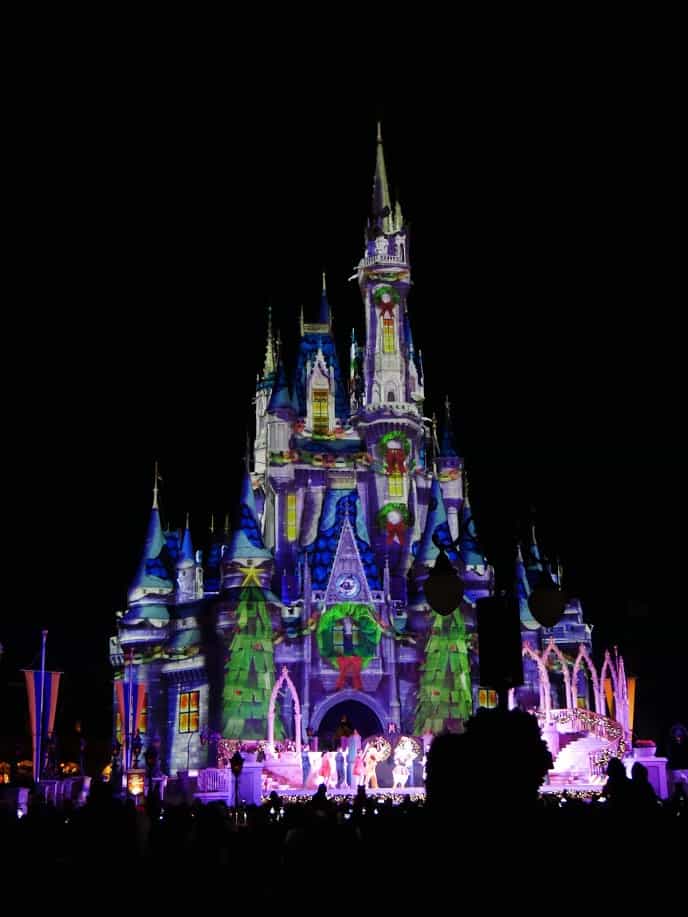 Want insider Disney tips from an expert?
Join 4,000 others in weekly guides to Disney's hidden secrets, gems, and money-saving tips!
Pssst – this printable Disney scavenger hunt is amazing
Since you're already looking up Disney guides, I just wanted to make sure you knew about this printable Disney World scavenger hunt created by a lifelong Orlando native and Disney World fan.
There are over 60 challenges with a full answer key and both Family and Grown Up versions and a bonus Disney Springs hunt for your non-park day!
What to Wear to Magic Kingdom during Christmas
Part of the fun of Disney World is figuring out what to wear! You can go full festive, or just put on a pair of festive Mickey Ears.
I've scoured the internet for Disney Christmas favorites and here are my favorites:
If you just want some Mickey ears or a hat, try this awesome Santa hat with ears, these classic Christmas ears in red or green, or these light up ones (completely with strung lights!)
I also love these shirts that can be worn to any park.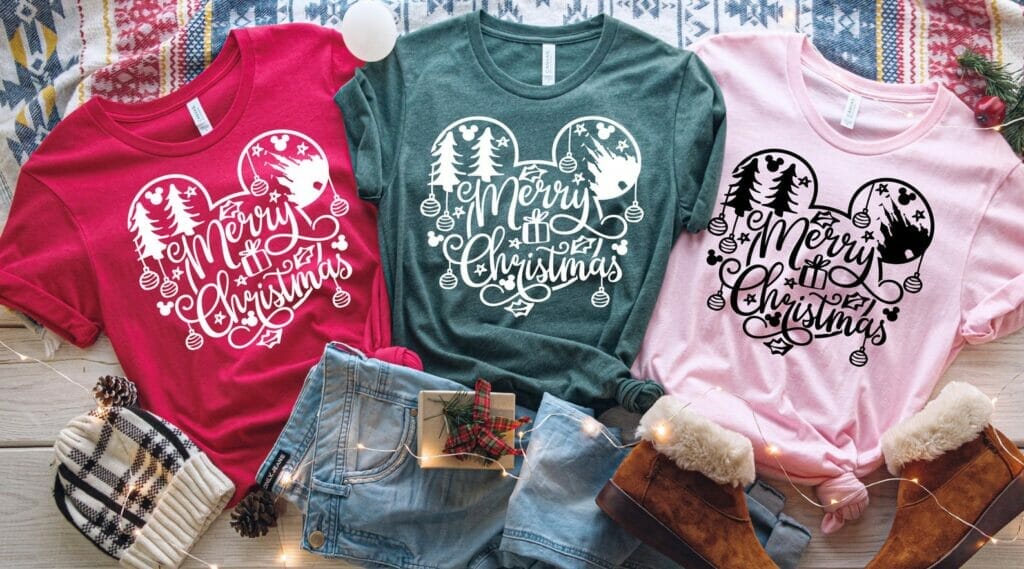 Christmas Decorations at the Magic Kingdom
One of my favorite parts of walking into the Magic Kingdom in the Christmas season is seeing all of the decorations.
Wreaths hang from the Main Street lamp posts, beckoning you further in to the Winter Wonderland.
The Magic Kingdom Christmas tree sits in the square on Main Street, complete with presents underneath waiting to be opened by Mickey and the gang on the big day.
Tinsel seems to be everywhere, adorning tons of surfaces and shop windows.
The shop windows are decorated with Christmas displays and countdowns to the most magical time at Disney World.
Everywhere you turn, there seems to be another detail, another decoration, another reminder that Christmas at the Magic Kingdom is in full swing.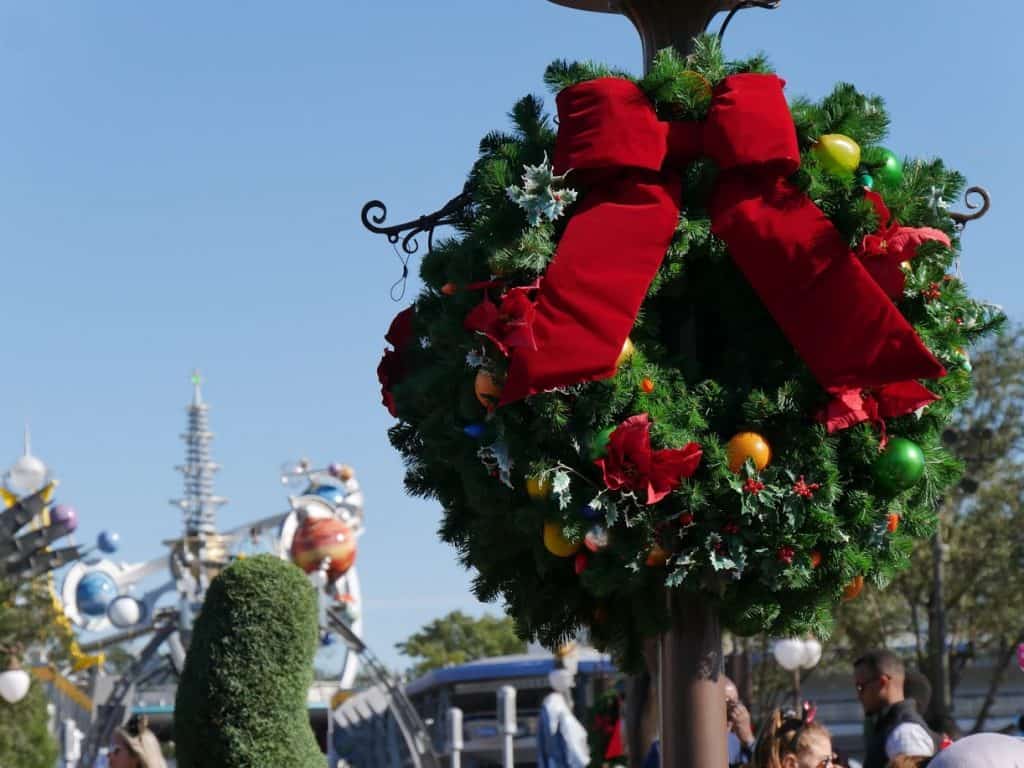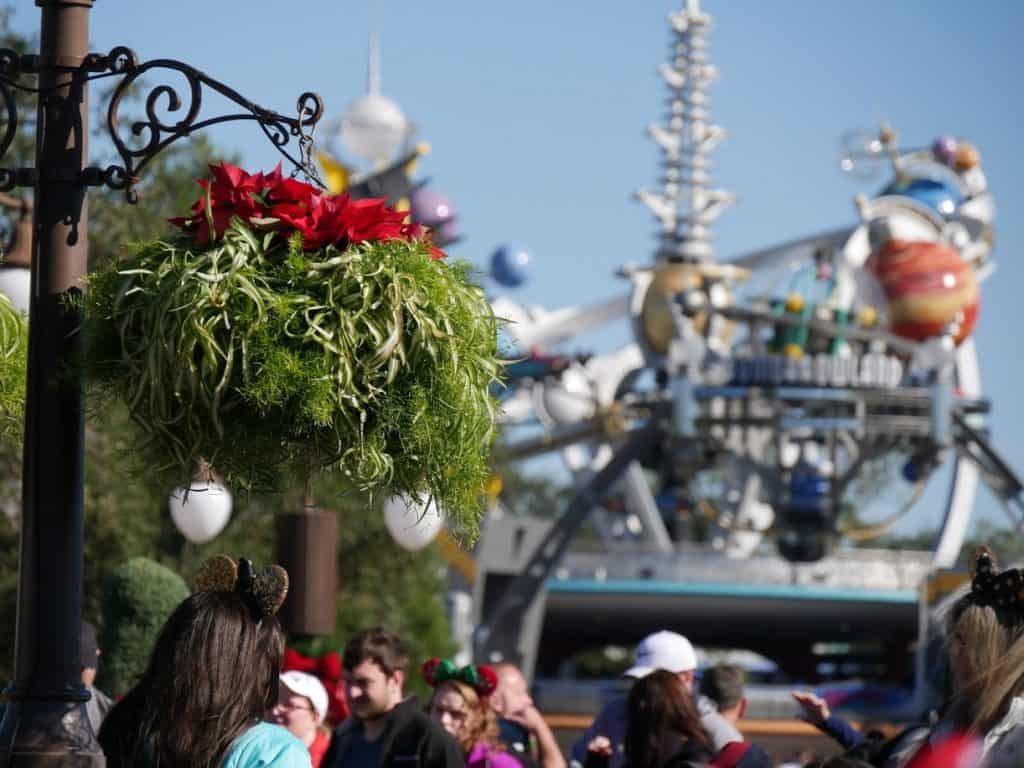 You can also take a quick boat ride over to see the Grand Floridian Christmas decorations, including the massive gingerbread house!
Christmas Rides at the Magic Kingdom
While many of Magic Kingdom's rides remain the well-loved classics throughout the holiday season (such as the best Magic Kingdom rides for adults and the best Magic Kingdom rides for babies), there are some, like the Jungle Cruise, that turn the holiday spirit up a notch.
For instance, the Jungle Cruise becomes the "Jingle Cruise" and you can expect lots of holiday puns as you work your way around the jungle!
The queue is all decked out in Christmas decorations, and the boats receive holiday-inspired renamings.
You also have a couple nods here and there with Santa hats on various animatronics across the parks, and of course the final scene in the Carousel of Progress is right on point with its Christmas turkey action!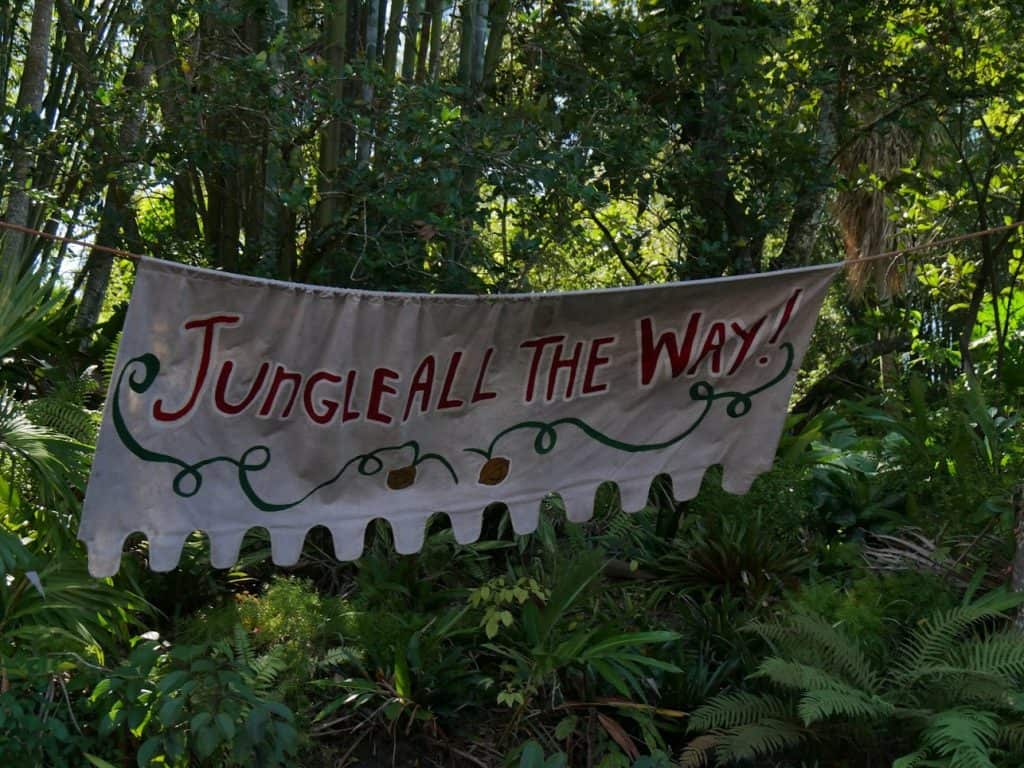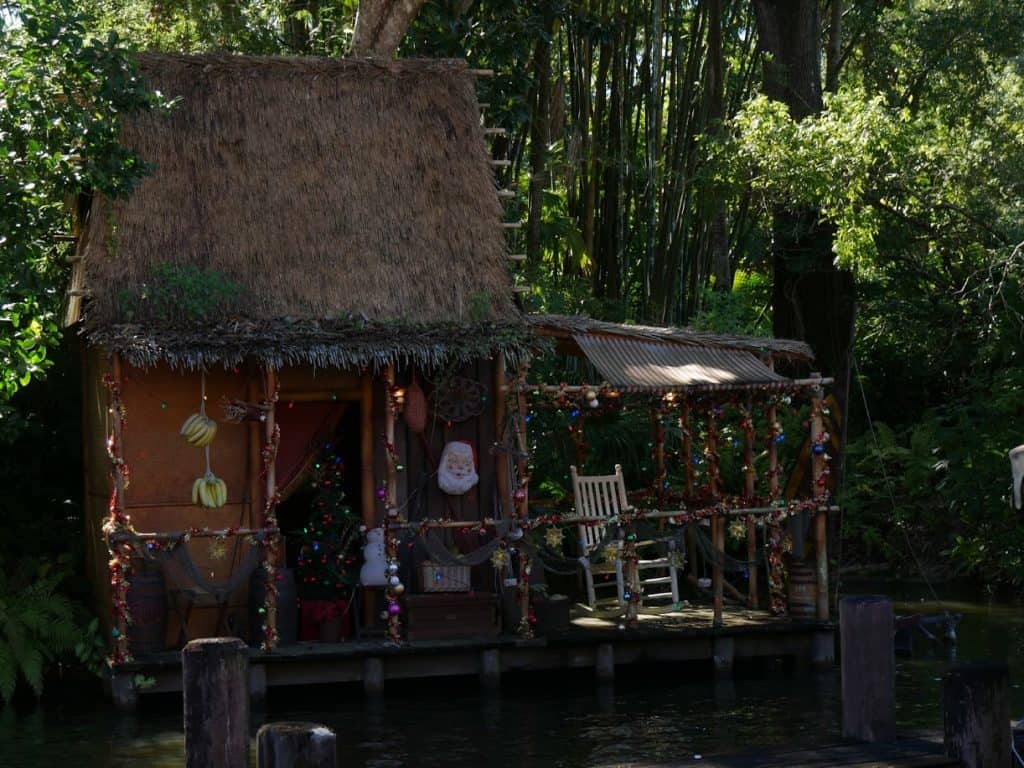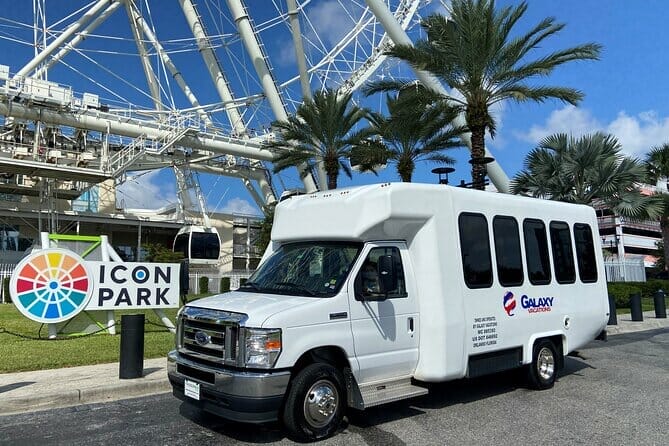 🚌Not renting a car in Orlando?
My favorite shuttle to get from the Orlando airport directly to Disney World is this one with a ⭐⭐⭐⭐⭐ rating.
Christmas Stage Shows at the Magic Kingdom
While the Magic Kingdom always has stage shows throughout the year, they get a facelift for Christmas and become a celebration of the holidays.
There will always be shows on the main castle stage, which is where you'll see characters like Mickey, Minnie, and the princesses.
This is a wholesome, uplifting, festive 20 or so minutes of fun, and I would highly recommend making sure you make one of the showings.
Other Christmas stage shows include a Tomorrowland Christmas Party, which is visited by characters like Buzz Lightyear and futuristic dancers dancing and singing along to some Christmas tunes.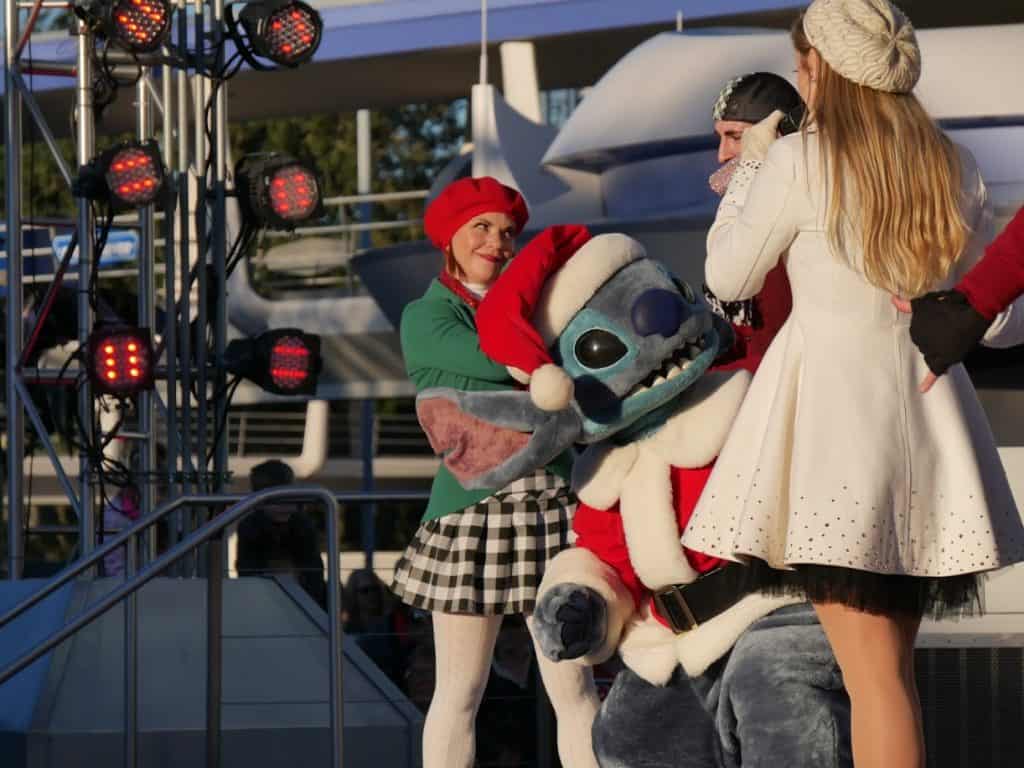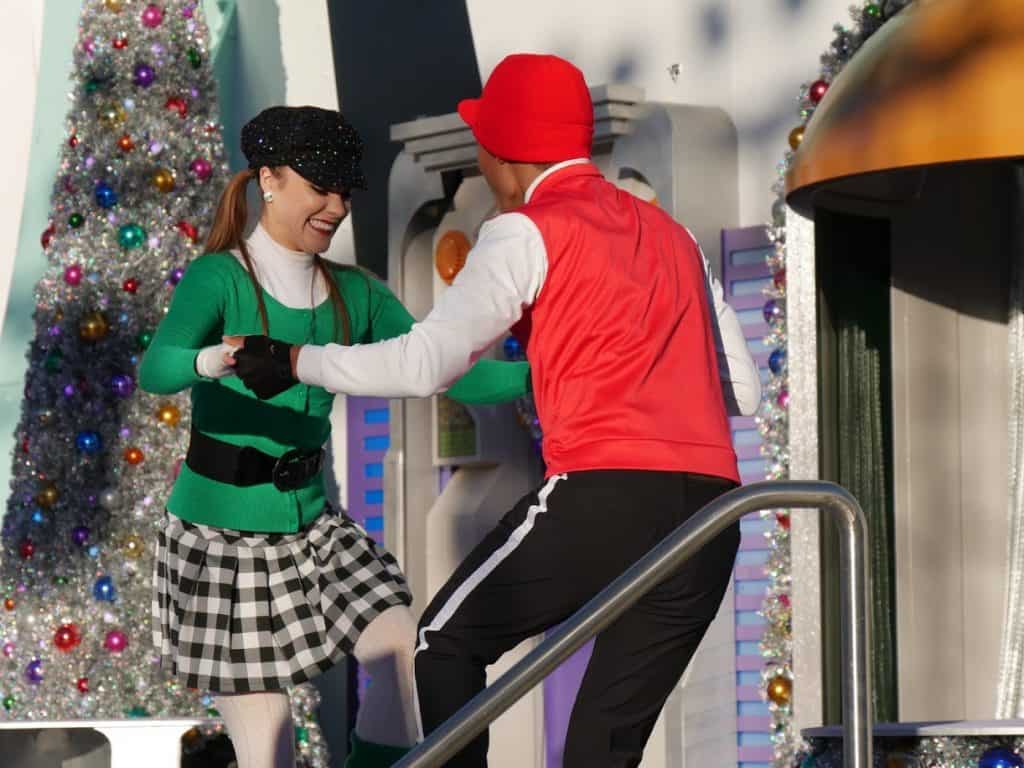 Cinderella's Castle at Christmas
One of the most stunning parts of Christmas at the Magic Kingdom is the lit up Cinderella's Castle that has been decorated with thousands of strung Christmas lights.
You won't see it lit up in the daytime and can get your normal pictures of the castle, but in the evening, a special "light up" event is put on where you can see Elsa light up her castle and suddenly the entire thing becomes a beacon of Christmas.
The lights remain on while the park is open in the dark, and of course provide an amazing component for parts of the Christmas fireworks.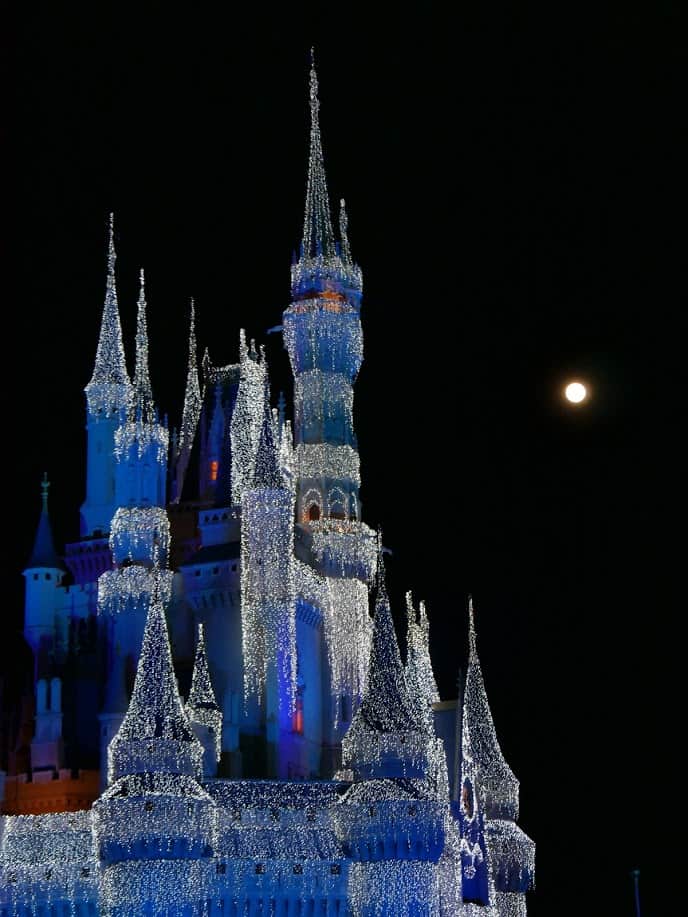 Christmas Parade at the Magic Kingdom
I absolutely love the Christmas parades at the Magic Kingdom.
It's a Disney parade on steroids, completely with characters dressed up in their Christmas best and lots of choreographed dances by festive characters like gingerbread men.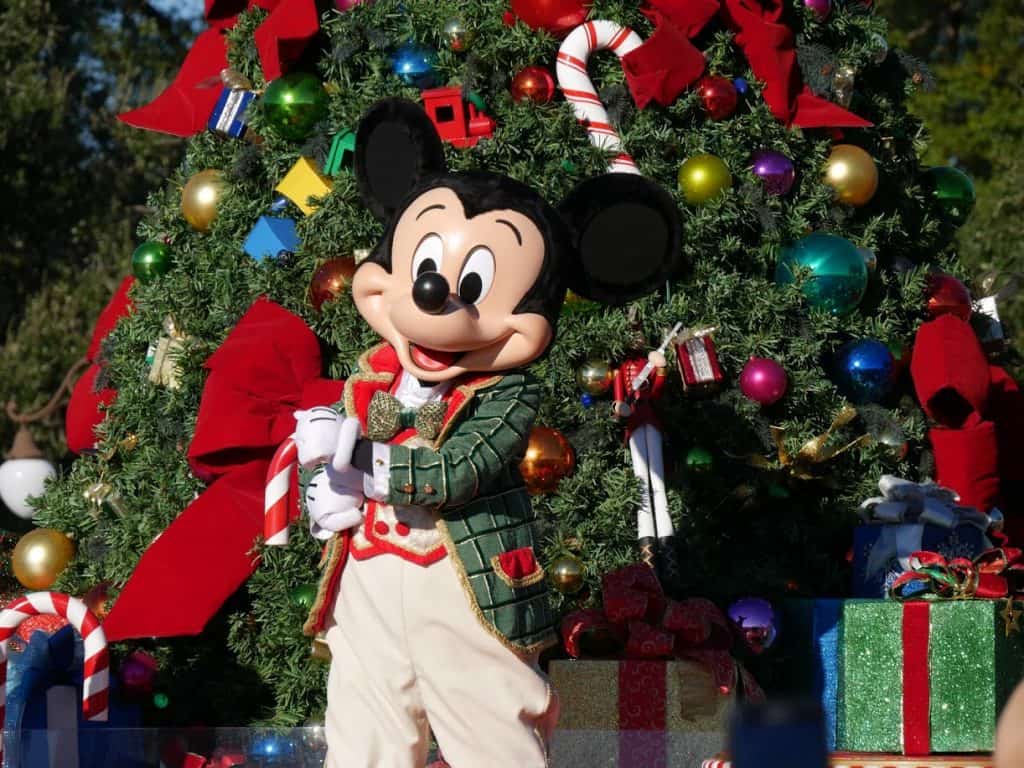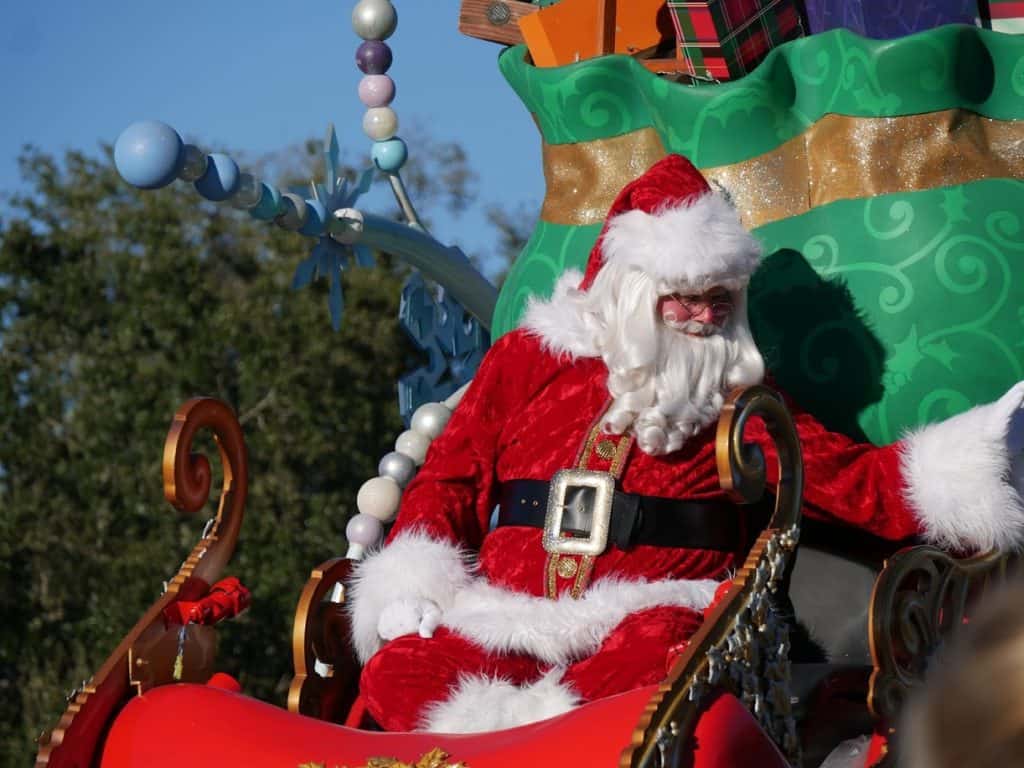 Holiday Wishes! at the Magic Kingdom
The final farewell of the night for many visitors to the Magic Kingdom at Christmas is the Holiday Wishes! fireworks display.
This uses both festive fireworks and incredibly projections to bring a holiday story to life.
I love the soundtrack to these fireworks and how they bring in general feelings of goodwill among men and peace at the holidays as Mickey and the gang romp on the castle projections through different types of Christmas fun.
If you've ever seen a castle projection show, you'll know what I mean when I say that you must see how they use images of Christmas presents to completely transform the castle!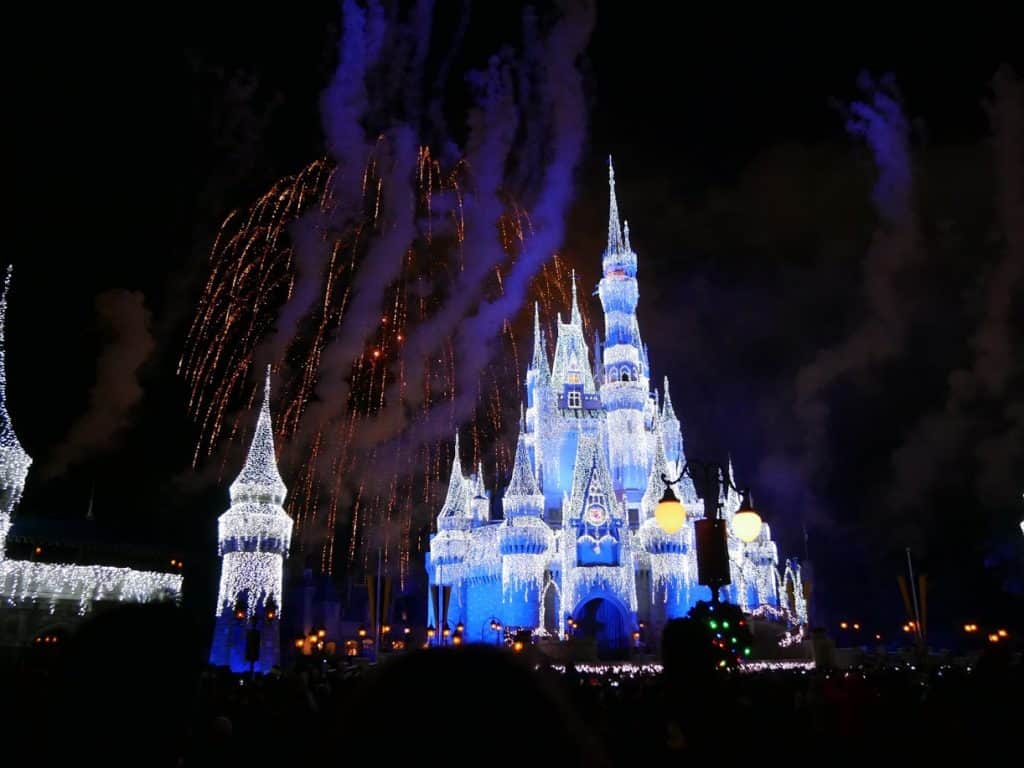 Christmas Food at the Magic Kingdom
Eating is a big part of a Disney vacation, and you'll be happy to know that there are holiday-specific treats during the Christmas season, including special offers at Magic Kingdom's best restaurants.
Look out for Christmas themed cupcakes, cookies, festive options at quick service restaurants, and even Christmas themed popcorn buckets.
When is Christmas at the Magic Kingdom?
Christmas at the Magic Kingdom is much longer than just Christmas Day.
Decorations go up in early to mid November and stay up until about mid January, so even if you can't come right around the holiday, you can experience a whole Christmas season at the Magic Kingdom.
For crowds, the week in between Christmas and New Year (including those dates) are absolutely packed in the park due to all of the people who are wanting to spend their Christmases at Disney World. In fact, Christmas Day at Magic Kingdom is one of the busiest days of the year.
If you go before or after that, you'll have a better chance of having lower crowds – though certainly it will never be low crowds around this time because the decorations are just too good to stay home!
You should also be aware that many of the Christmas-specific fireworks and parade options don't start until a few days before Christmas to the general public.
If you want to see them earlier, you'll want to go to Mickey's Very Merry Christmas Party.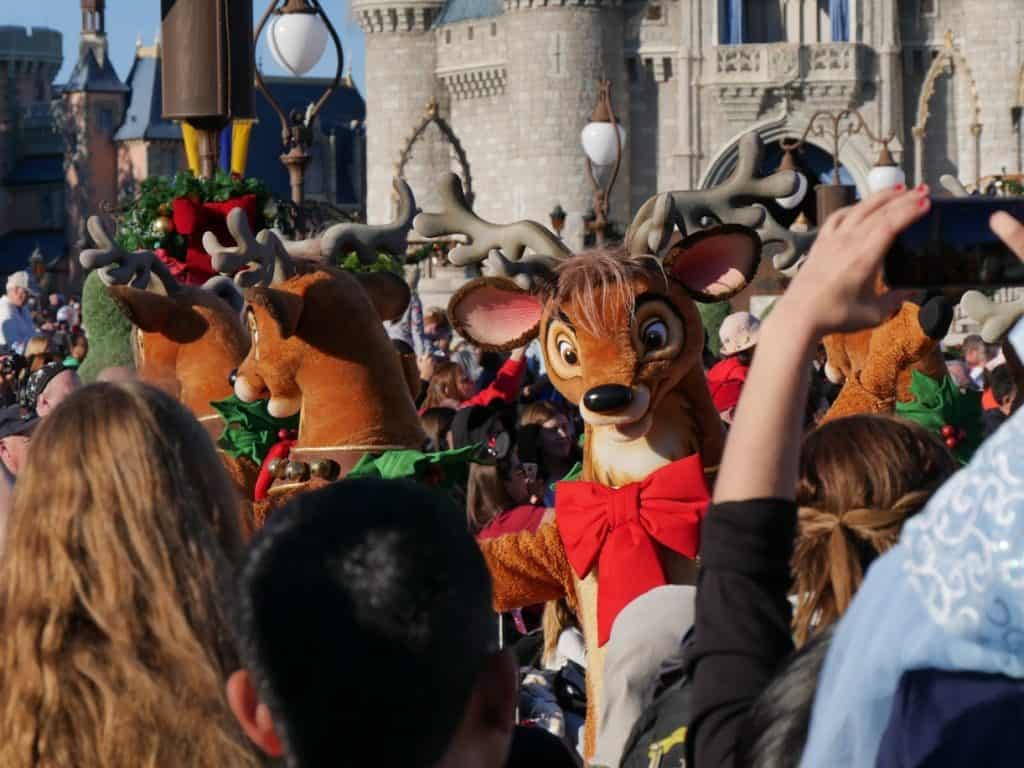 Mickey's Very Merry Christmas Party
This special ticketed event held throughout November and December is an extra cost per person and allows you entrance into the Magic Kingdom during the party on "party nights" (held multiple times per week!)
You'll want to book your tickets for your date ahead of time as they can sell out.
There are also free cookies and hot cocoa handed out as you wander your way around the Magic Kingdom transformed into a Christmas paradise.
This can quickly add up when you take into account large families and the extra cost involved, but if you are a Disney diehard Christmas fan and want to experience specialty Christmas snacks and get to see the fireworks and Christmas parade before the general public (and avoid the crowds of going in between Christmas and New Year), then this is a great option.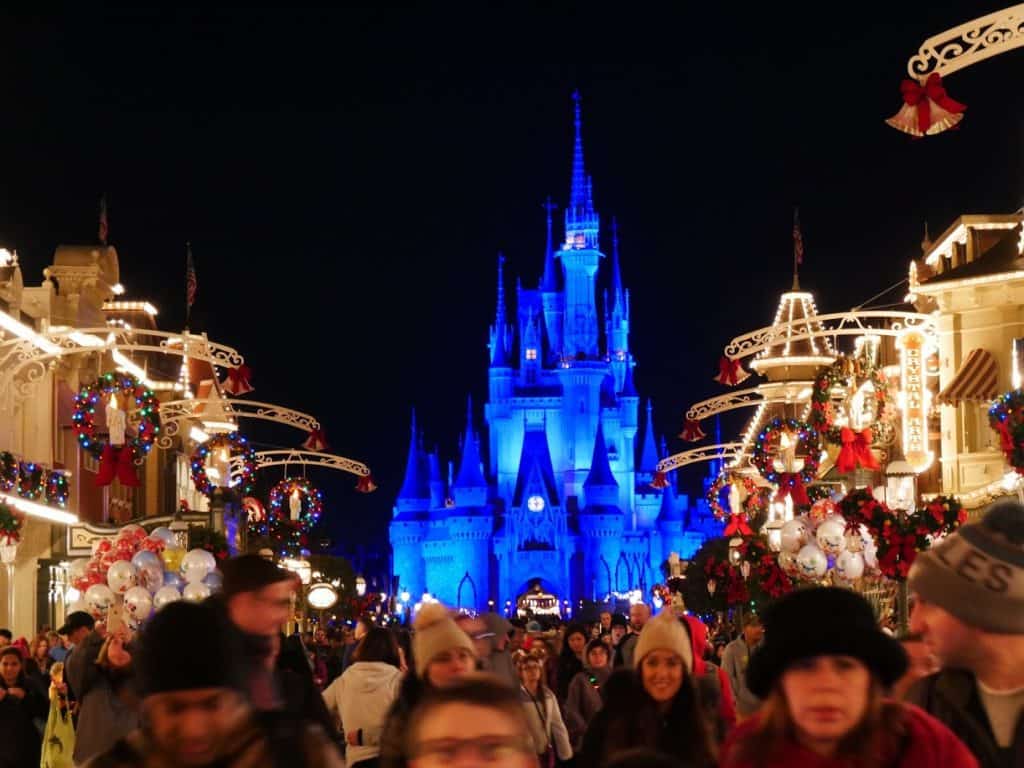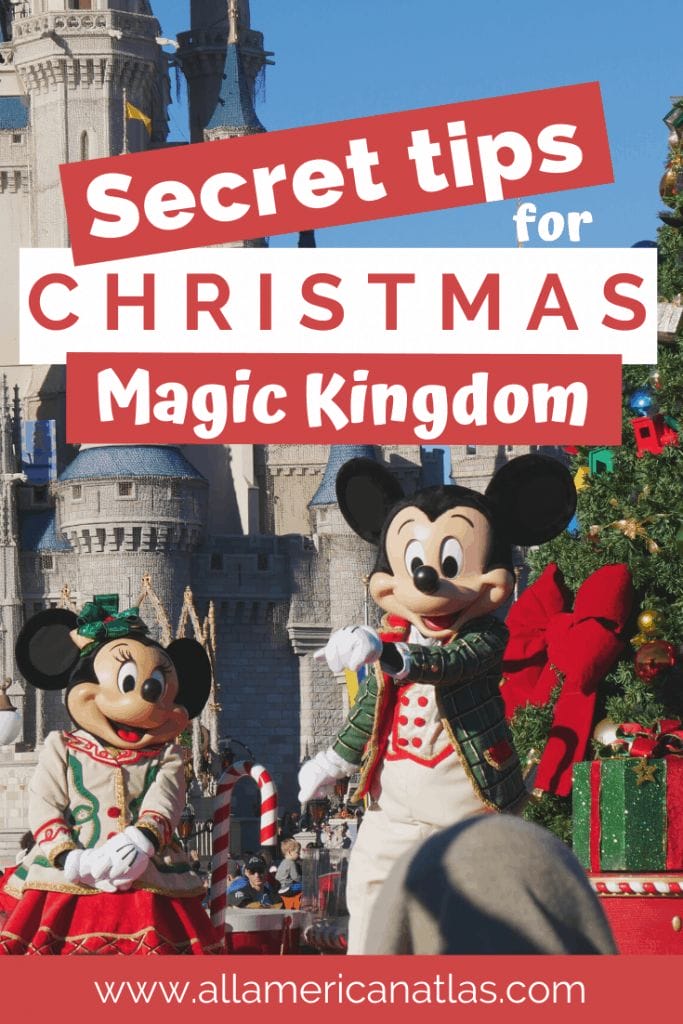 Get the All-American Travel Secrets!
Don't miss out on America's hidden gems!