From dining with the Beast to enjoying lunch with Winnie the Pooh and his friends from the Hundred Acre Woods, the best Magic Kingdom restaurants really bring that extra bit of magic to the park.
There are 7 sit-down restaurants in the Magic Kingdom that qualify for what most people would think of a typical restaurant (which means you get served at your table by a waiter or waitress and order from a menu that is brought to you).
If you're looking for the best places for more grab-and-go style food, check out the best quick service at the Magic Kingdom.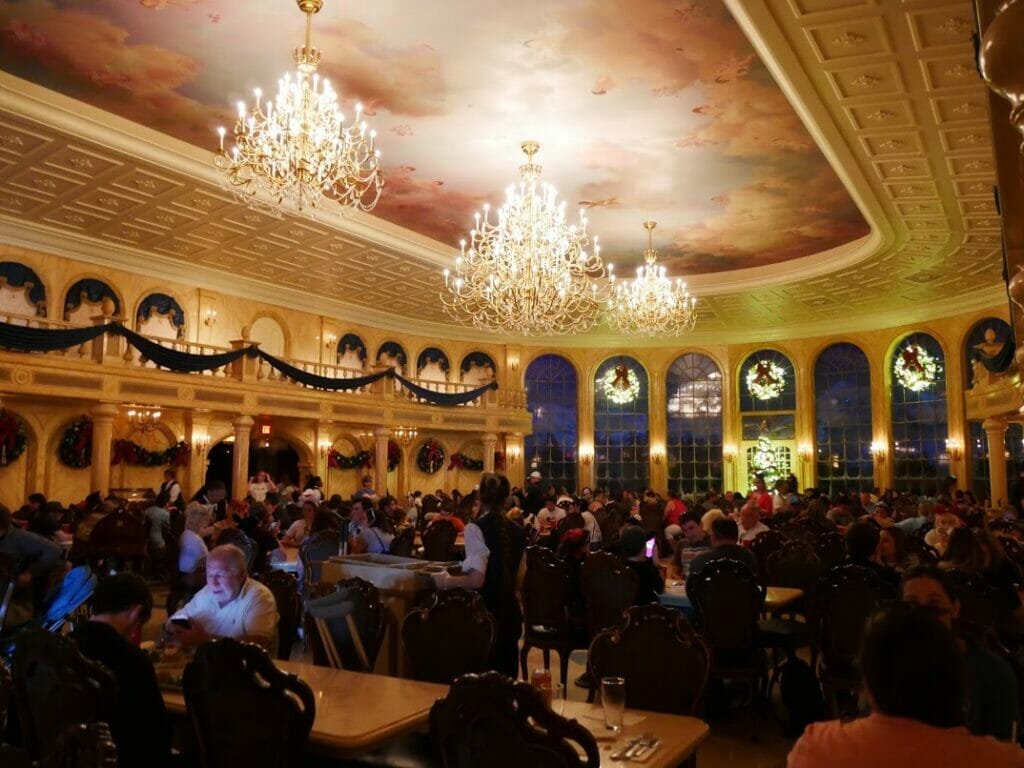 We've ranked these restaurants from the worst to the best, but make sure to read each description as it might be that you find one that is more suitable for you no matter where we've ranked it (for instance, character dining vs buffet and adventurous food vs more plain food for picky eaters).
Enjoy this guide to the best restaurants at the Magic Kingdom (and if you're going to the other parks, check out the best restaurants at Epcot, best restaurants at Animal Kingdom, and best restaurants at Hollywood Studios).
Now everyone grab your adorable "I'm here for the snacks" shirt and let's get started!
Pssst – this printable Disney scavenger hunt is amazing
Since you're already looking up Disney guides, I just wanted to make sure you knew about this printable Disney World scavenger hunt created by a lifelong Orlando native and Disney World fan.
There are over 60 challenges with a full answer key and both Family and Grown Up versions and a bonus Disney Springs hunt for your non-park day!
7. Tony's Town Square Restaurant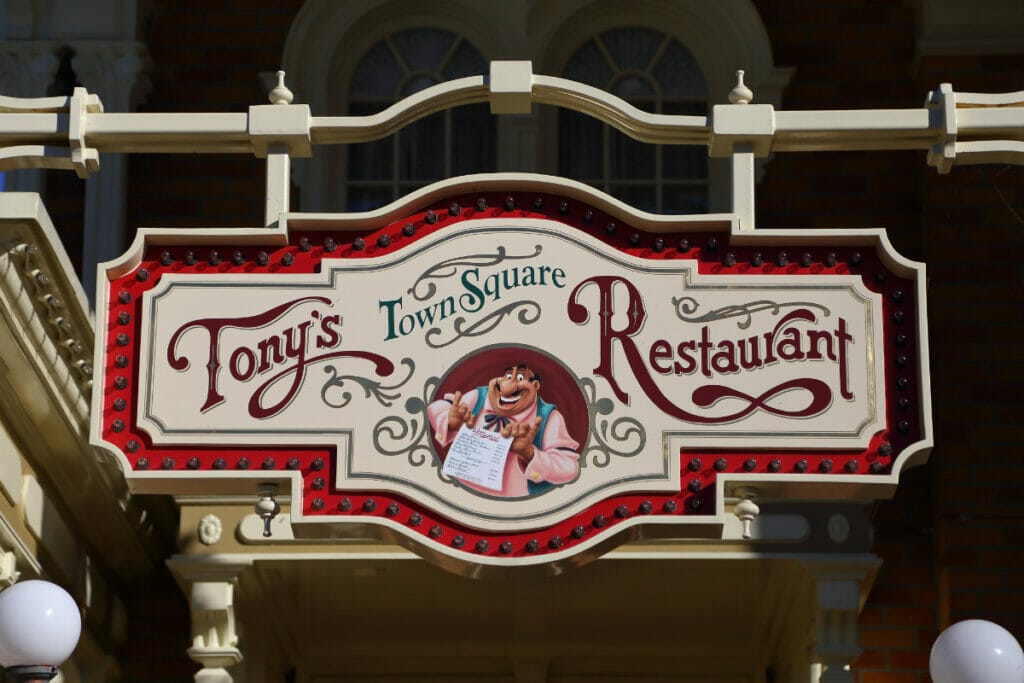 Type of restaurant: Table service (no buffet)
Character dining: No
Meals served: Lunch and dinner
Price point: Mid-range
If you're a fan of Lady and the Tramp, you'll feel right at home slurping spaghetti in this Lady and the Tramp themed restaurant.
You'll find it right on Main Street, which makes it a convenient location, and everything from the French doors to an adorable fountain depicting the characters will make you feel as if you're right in the story.
The food is Italian fare, with everything from fried mozzarella to spaghetti to chicken parmigiana.
The reason it unfortunately gets the lowest marks on our list of the best restaurants at Magic Kingdom is because of its reputation for having "meh" dishes that could easily be found at an Olive Garden and aren't worth the Disney World prices.
However, it's helpful for families with picky eaters because who doesn't love pizza or pasta, and the reports of lackluster food quality are also mixed in with people who claim it's some of the best Italian food they've ever eaten, so don't be afraid to try and see for yourself!
6. The Plaza Restaurant
Type of restaurant: Table service
Character dining: No
Meals served: Breakfast, Lunch, and Dinner
Price point: Inexpensive to Mid-Range
The Plaza Restaurant is a real gem of a restaurant at the Magic Kingdom, and the only reason it doesn't rank higher is because it's a bit more simple and less themed than the other restaurants.
If you want a no-fuss, delicious meal in a beautiful setting, the Plaza Restaurant is your place.
It's right at the end of Main Street, and they offer so many classic American options like salads, deli sandwiches, homemade meatloaf, and the Plaza burger.
For breakfast, dig into everything from scrambled eggs to Mickey Waffles, and more adventurous eaters can check out the bangers & mash for lunch or dinner.
If all you want is a sweet treat, they've got plenty of desserts too like a brownie sundae or a classic American milkshake to cool you down in the Florida heat!
5. Skipper Canteen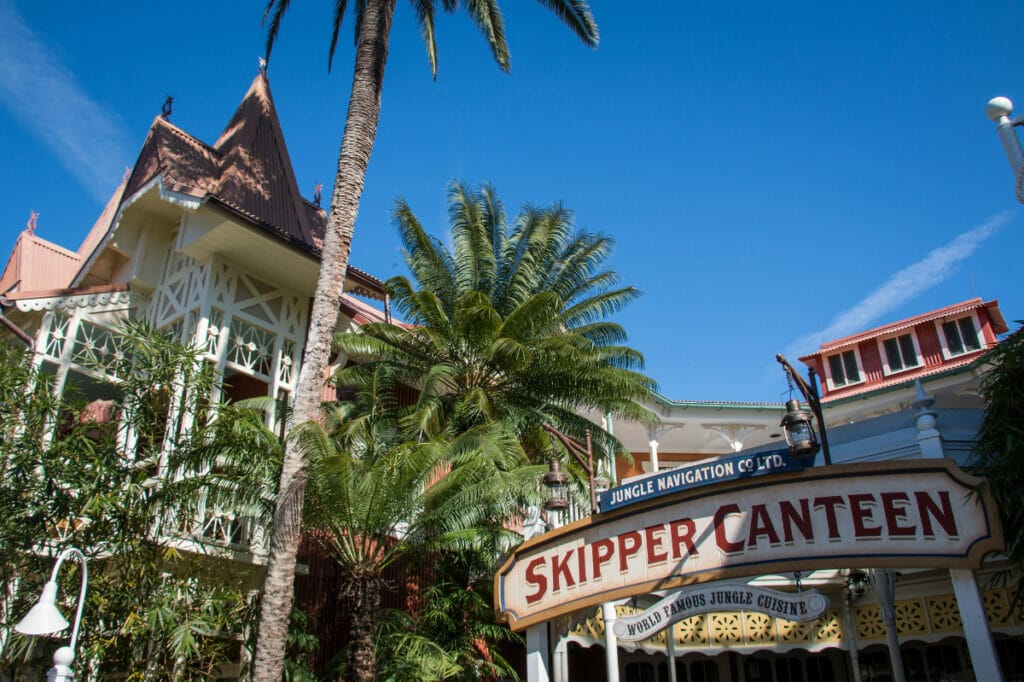 Type of restaurant: Table service (no buffet)
Character dining: No
Meals served: Lunch and Dinner
Price point: Mid-Range
If you've got a sense of adventure when it comes to dining, Skipper Canteen should be towards the top of your Magic Kingdom restaurant list.
If you've got picky eaters who won't seem to eat anything but fries and plain foods, however, steer clear.
Skipper Canteen is a must-try for anyone bored of "regular" theme park food, as the offerings include interesting options like beer-braised pork and sustainable fish on a cassava cake.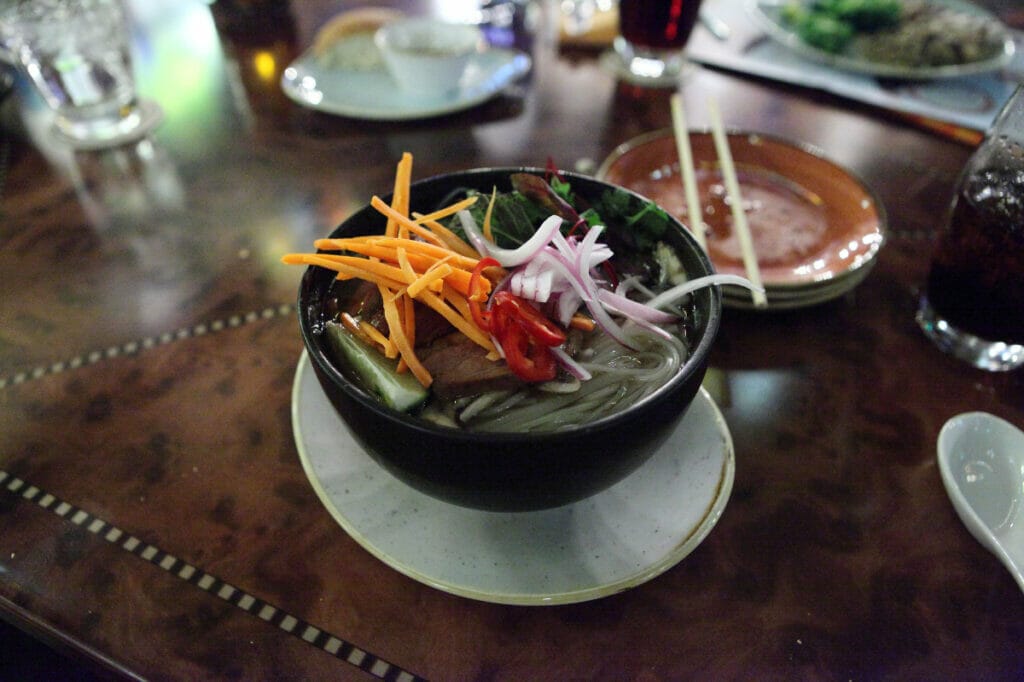 This is also a great Magic Kingdom restaurant for fans of the Jungle Cruise, as the theming revolves around the skippers of the Jungle Cruise letting you into their headquarters to eat in the parlor room, Mess Hall, or a secret meeting place.
The most "plain" menu item for kids is the macaroni and cheese, with other options for them being grilled steak, coconut curry, and crispy chicken.
Adults can try exotic cocktails like the Jungle Navigation Co Shandy.
4. Liberty Tree Tavern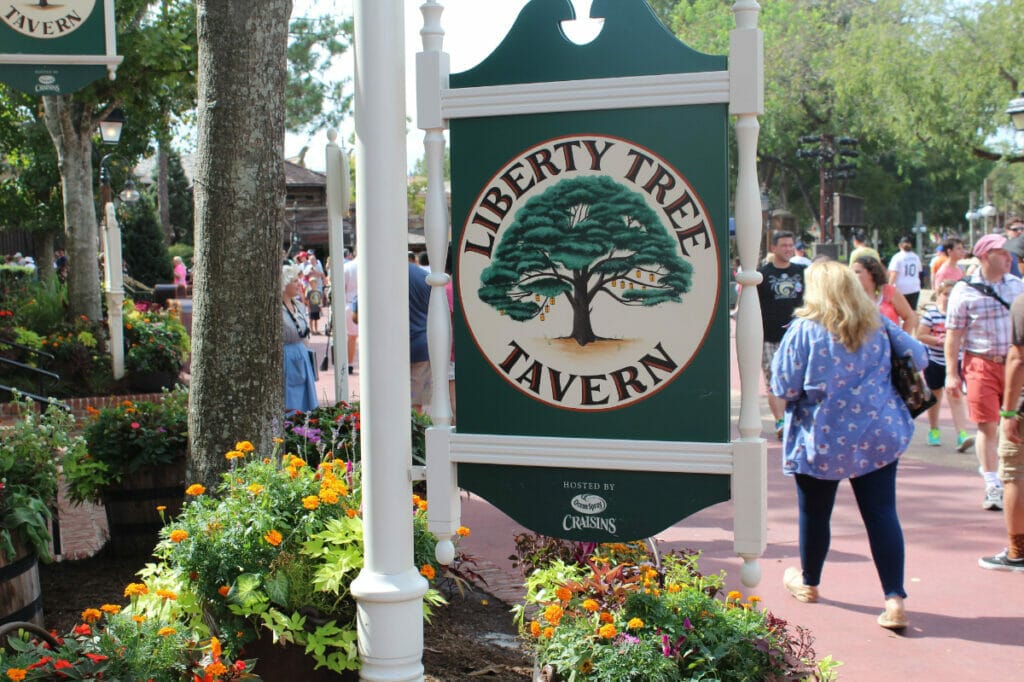 Type of restaurant: All-you-care-to-enjoy (family-style)
Character dining: No
Meals served: Lunch and Dinner
Price point: Splurge
Served family-style with unlimited food brought to your table, the Liberty Tree Tavern is a fantastic choice if you want some good old-fashioned American cooking in a colonial era tavern style restaurant.
The dark wood makes everything feel incredibly homey, as if you're taking a day off from traveling across the frontier, and you'll delight in a variety of meats including pot roast, oven-roasted pork, and turkey.
For sides, macaroni and cheese and mashed potatoes are just what the pioneers ordered, and dessert is the best toffee cake you've ever had.
If you're not a meat eater, there's also a plant-based option so you can join in on the fun.
Many Disney guests love this option in Frontierland when you're looking for somewhere to satisfy as many people as possible (so many options included means no one's going hungry), and it's fantastic on a cold weather day as well.
3. Be Our Guest Restaurant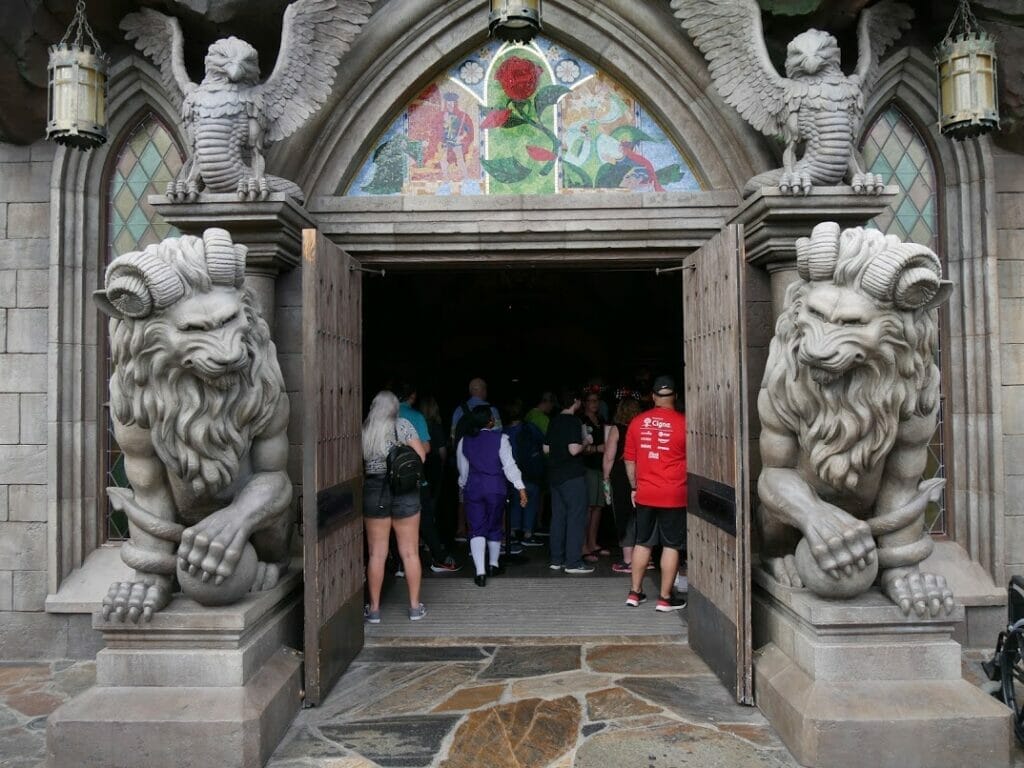 Type of restaurant: Table-service
Character dining: Not currently, but pre-2020 closures, guests got to meet the Beast at dinner
Meals served: Lunch and Dinner
Price point: Splurge
Since opening, Be Our Guest Restaurant has gone through many changes over the years, but in 2023 it is a full table-service restaurant for both lunch and dinner.
This is what they call a prix frie menu, meaning that it's a fixed price for everyone, and within that price you get to choose an appetizer, an entree, and a dessert.
But before we get into the food, let's talk about the atmosphere, which is why most people choose this as one of the best Magic Kingdom restaurants.
There are three different dining areas, including the main ballroom with magical snow falling outside, the library where Belle spends much of her time, and the dark and mysterious Enchanted Rose room where you can see the petals of the rose falling.
For people who want unique food options like lobster bisque or artisanal cheeses, Be Our Guest Restaurant offers the chance to get away from typical theme park food.
Of course, this also means that some families will find they have too many picky eaters to get their money's worth here, in which case you should check the menu in advance to make sure you see enough that satisfies your taste buds.
This can be a hard Disney dining reservation to get, so make sure to use my guide on how to book hard-to-get Disney dining reservations here.
2. Cinderella's Royal Table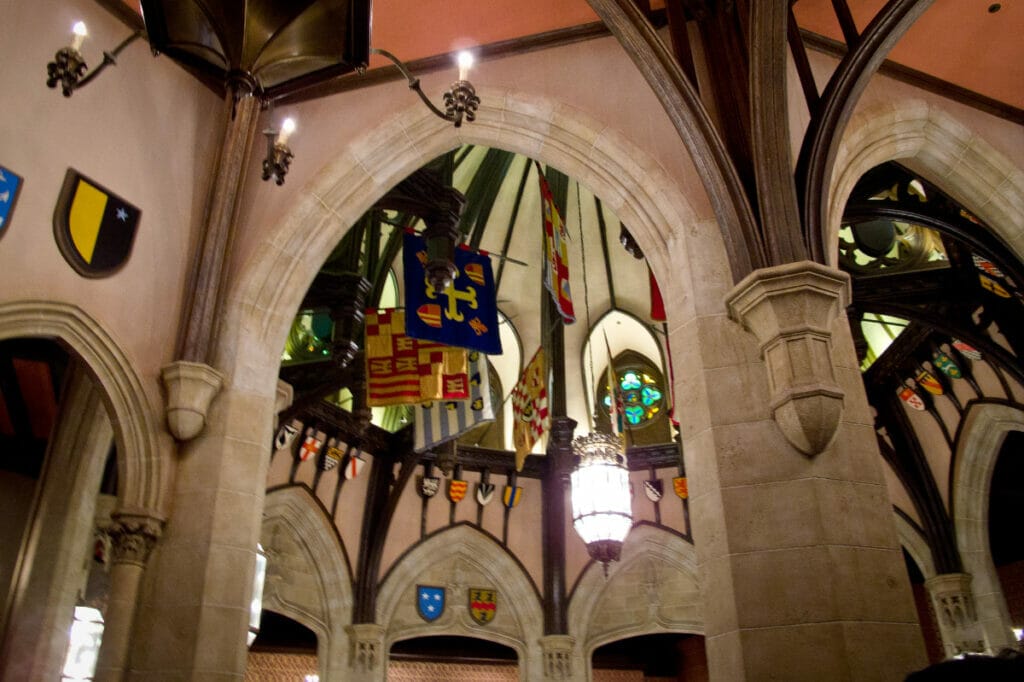 Type of restaurant: Table service
Character dining: Yes
Meals served: Lunch and Dinner
Price point: Splurge
If you've ever wanted to dine in Cinderella's Castle, you can make that happen while eating at Cinderella's Royal Table.
In fact, this is the only thing park guests can do inside the castle, and the views from the windows of the rest of the park are absolutely worth it.
This is a Princess-dining opportunity, so you'll get to meet and greet some of your favorite princesses like Belle, Ariel, and Cinderella herself while you're enjoying your food.
Lunch and dinner are served as table service meals, and there is everything from roasted chicken breast and the catch of the day for adults to chicken nuggets and macaroni and cheese for your little princes and princesses.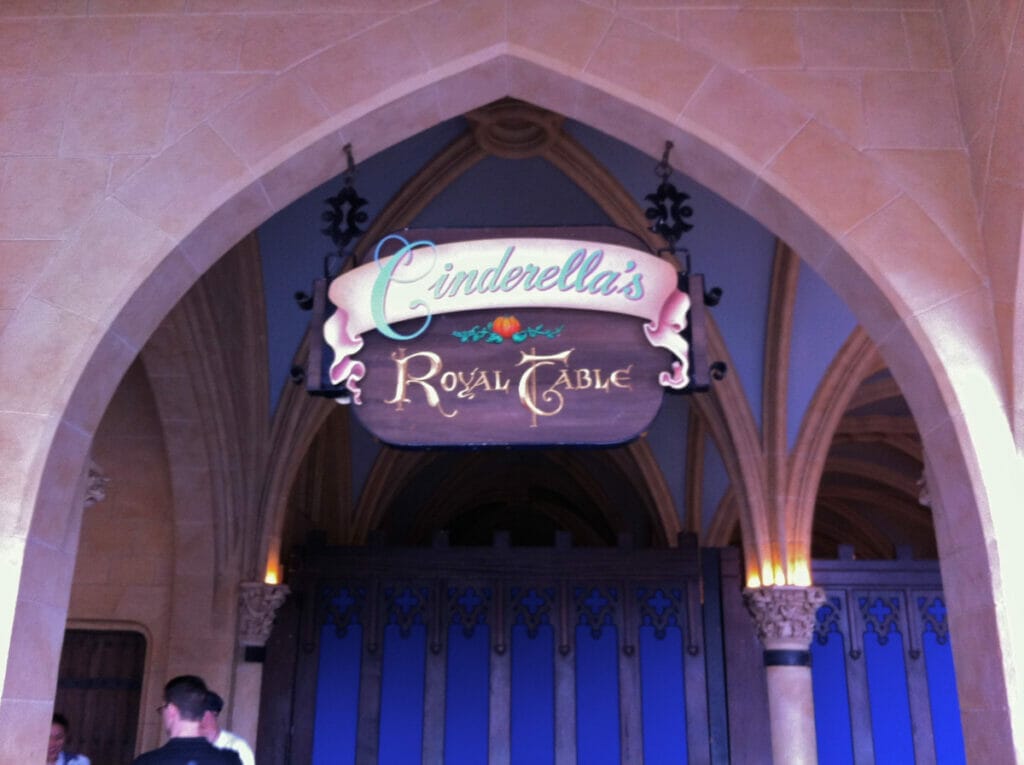 The interior of the dining room is absolutely stunning, with royal colors like dark blues and golds as well as the details in theming you'd expect from the world's best theme park.
For the guests this appeals to, this is probably the number 1 Magic Kingdom restaurant, however the heavy Princess theme and high prices means it doesn't quite take our #1 spot for all Disney guests.
1. The Crystal Palace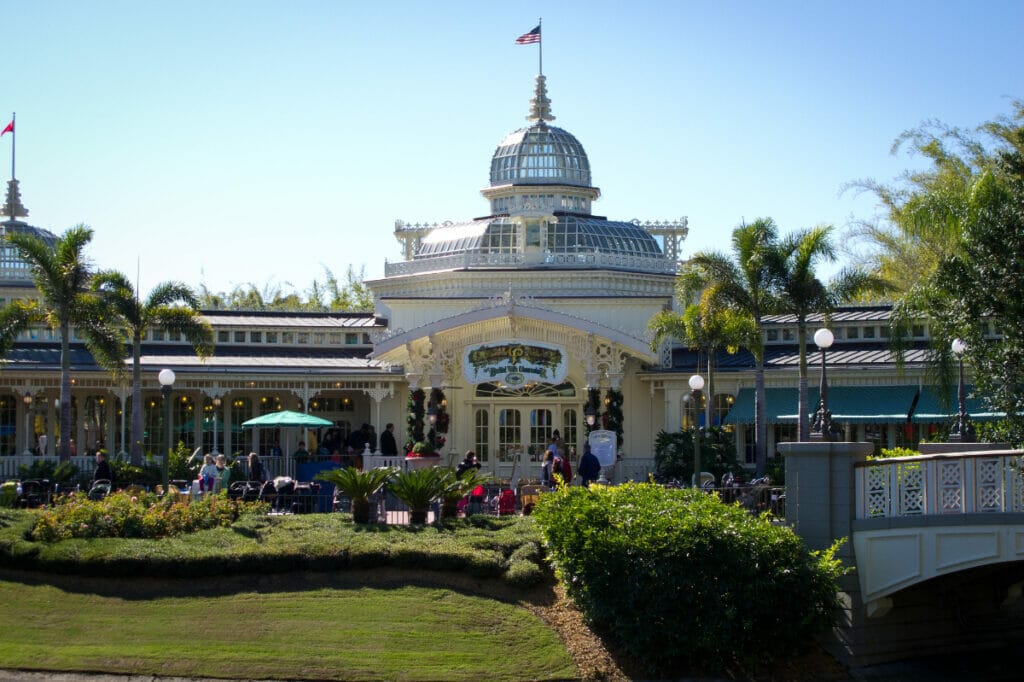 Type of restaurant: All-you-care-to-enjoy (buffet style)
Character dining: Yes
Meals served: Lunch and dinner
Price point: Splurge
If you're familiar with the United Kingdom, the phrase "Crystal Palace" might ring a bell to you, as this stunning glass structure is what this restaurant is themed after.
And why are we in the UK?
Well, to meet Winnie the Pooh and his friends, of course!
In this buffet restaurant, you're invited to have a meal with Winnie and friends as they celebrate birthdays.
The price is a bit lower than the premium cost of Cinderella's Royal Table, and the food is generally well-regarded with plenty of fun options like crispy fried chicken to fried cauliflower to seasonal fritters.
Everything from the theming to the food to the location right off Main Street make this our choice for the absolute best Magic Kingdom restaurant.
Get the All-American Travel Secrets!
Don't miss out on America's hidden gems!