People are often surprised at how many miles they end up walking at Disney World, which is why figuring out the best shoes to wear to Disney World isn't just a luxury – it's a necessity.
You'll spend almost all day on your feet, and this is no time to wear any type of shoe that isn't insanely comfortable.
In this guide, we'll talk about everything from the best sneakers for Disney World to the best kid's shoe for Disney and even the best sandals for Disney (because I know there are some of you out there who refuse to ditch the flip flops).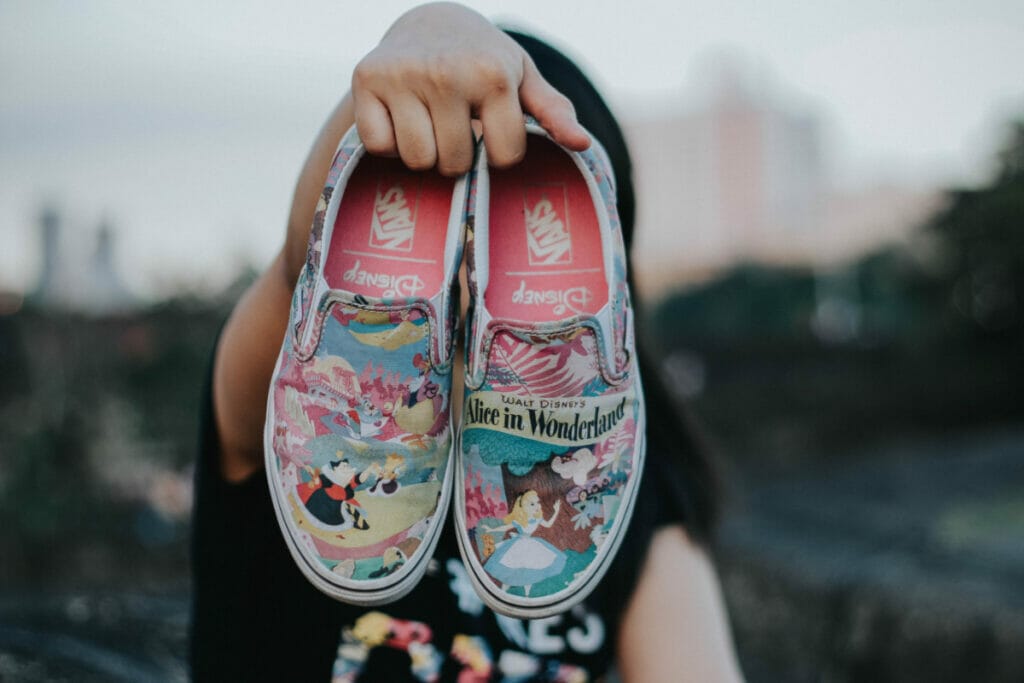 Want insider Disney tips from an expert?
Join 4,000 others in weekly guides to Disney's hidden secrets, gems, and money-saving tips!
Pssst – this printable Disney scavenger hunt is amazing
Since you're already looking up Disney guides, I just wanted to make sure you knew about this printable Disney World scavenger hunt created by a lifelong Orlando native and Disney World fan.
There are over 60 challenges with a full answer key and both Family and Grown Up versions and a bonus Disney Springs hunt for your non-park day!
Don't forget to check out our other gear guides for Disney as well!
Best Walking Shoes for Disney World
For most people, walking shoes are the most comfortable shoes for Disney World, but they're not all created equally!
These are the best tennis shoes for Disney World for men, women, and children!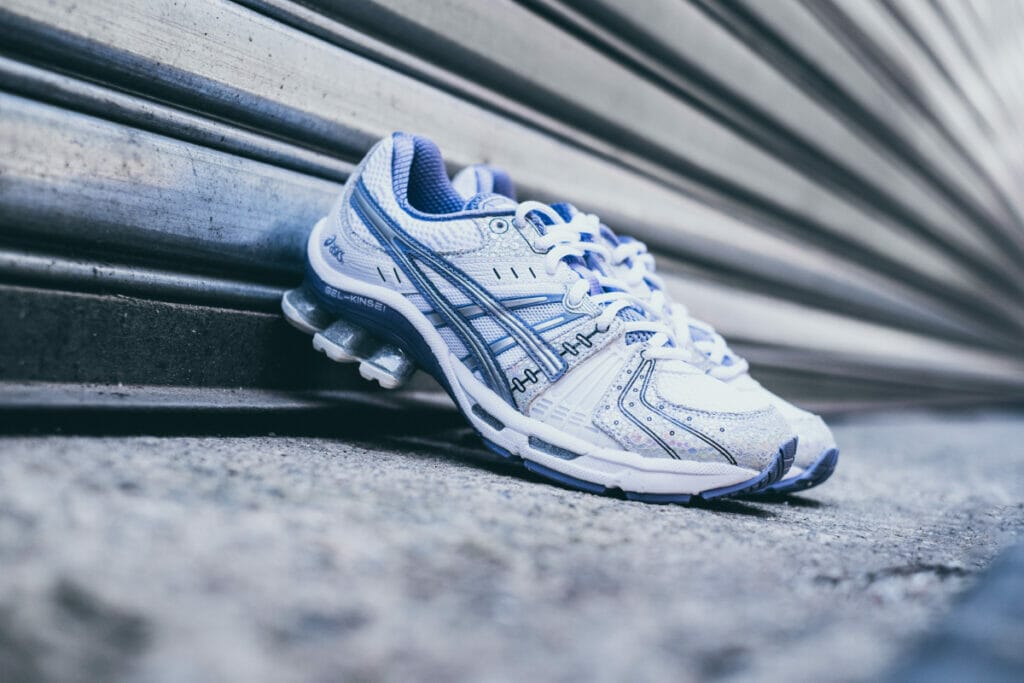 Best Women's Walking Shoes for Disney World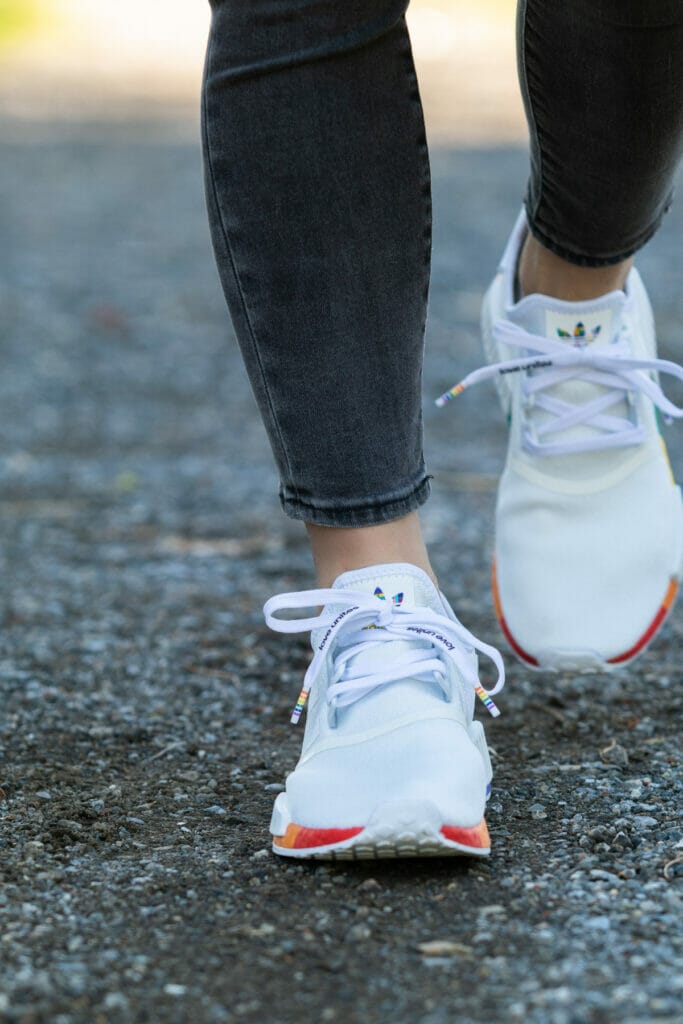 If you want a more traditional looking tennis shoe (that you might expect to see on someone running or doing aerobic walking, which you will be around the parks!), check out the ASICS Women Gel-Venture.
It has more color combinations than you can really imagine so the look is all yours to choose, but the real benefit is how lightweight this shoe is.
Especially in a thunderstorm or when you're at the end of a long theme park day and your sweet are swelling, you want something that's comfortable without tons and tons of heavy padding all around your feet.
These give you tons of support with a gel cushioning system and plush tongue, but it's breathable and lightweight.
They're durable, great to use in all situations, not just at Disney, and will give you the support you need when you're sprinting to get to your dining reservation on time.
Want a more fashionable sports shoe look?
This Adidas women's cloud shoe is a great walking shoe because of it's incredibly sleek design and comfort.
You won't look like you're about to hit the hiking trails, but rather the shopping mall or restaurants in these shoes.
They lack the "rugged" look of other walking shoes, and they also come in colors ranging from grey to maroon to navy blue.
They're a great all-purpose shoe that would be completely comfy for the theme parks, but then pair nicely with a nice pair of jeans and shirt for a sit-down evening meal.
The cloud foam technology helps cushion your foot and, as the name of the shoe suggests, makes it feel like you're walking on clouds.
These shoes were designed with women's feet in mind, and you'll both look and feel your best in them.
Best Men's Walking Shoes for Disney World
Like the women's version, the ASICS gel-venture running shoe for men is a fantastic option for walking around the theme parks.
There are plenty of color combinations so you can stick to all black or you can get creative with bright blues or greens, and the gel-cushioning technology is such a relief to weary feet at the end of the day.
The rubber sole is grippy enough to not have you slipping and sliding all over the place after a thunderstorm or on a slippery surface.
The sockliner is also removable so if you use orthotics in regular day-to-day use, you can put them in this shoe for the ultimate Disney shoe comfort.
If you're looking for a male walking shoe for Disney that doesn't look quite so "rugged" or like a regular running shoe, the Under Armor Men's running shoes are actually great options as they function as both running shoes and a more fashionable fit.
You can definitely pair them with a nice pair of jeans and wear them to restaurants or Disney's nicer events, especially if you stick with the all-black option.
There's a durable leather overlay which is great for keeping the shoe in good condition and not worrying about being rolled over by a stroller (it happens at Magic Kingdom, trust me).
The lightweight mesh also offers breathability for those swampy Florida summer days.
Best Kid's Walking Shoes for Disney World
If you're looking for your elementary aged kids, so not quite toddler feet but not ready for the adult sizes yet, the Adidas Child Duramo shoe is the perfect option.
It's a unisex style so will work for everyone, and they can choose from brighter or more neutral colors.
They're not too expensive, which is perfect for growing feet as you may need a whole new pair of shoes by the time the next Disney trip rolls around, and they offer the same great comfort and fit that other Adidas shoes do for adults.
Most of the options are lace shoes, but there are some velcro ones in there in case your child isn't great at tying yet and you don't feel like adding that to your to-do list at Disney World (and we won't blame you).
If you're looking for shoes for the little ones, these glitter shoes are so fun and a great walking option for going around the parks.
First of all, there are two velcro straps which make them easy to put on, and the full rubber outsole enables great grip for Disney playgrounds and play areas so you don't have to worry about any faceplants.
There's an anti-collision toe cap to make for more protection, as well as a breathable lining (great for the Florida heat).
And of course, there's the glitter!
Choose from rainbow, pink, or pastel colors and help your toddler feel like the Disney princess or prince that they are!
Best Sandals for Disney World
Sometimes, people are insistent on wearing sandals to Disney World.
Maybe you are someone who always lives in flip-flops.
Maybe you don't quite believe us when we say how much walking there is at Disney.
Maybe you just really, really like your toes to breathe.
If that sounds like you, check out this list of the best sandals for Disney so you can make sure that you're making smart choices for 10 hour park days while still enjoying the type of shoe you prefer.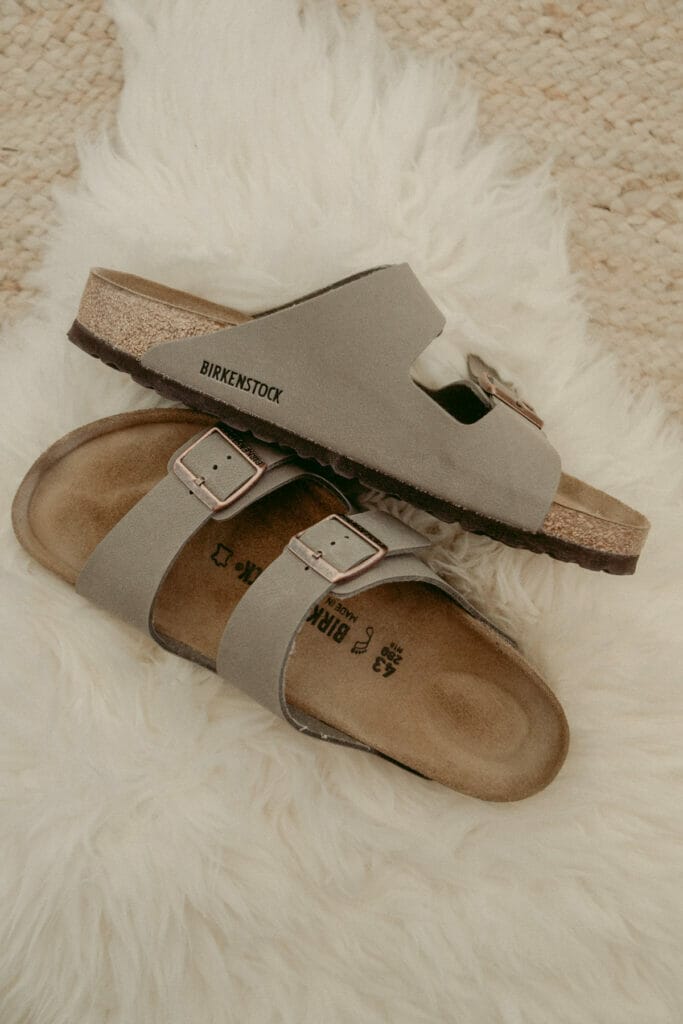 Best Women's Sandals for Disney
For each adult sandal option, we'll give one with straps and one without.
For women, this is our preferred Disney sandal with straps, which can come in handy more than you think.
For instance, when you're dangling your feet on rides, or when someone steps on your foot when everyone is crowded around for fireworks, there's no chance it's going to fall off!
These Merrell walking sandals have fantastic arch support, a comfy microfiber footbed, a rubber sole for good grip, and breathable mesh lining if your foot needs even more breathing space.
Happy customers use these shoes hiking, walking long distances, and especially at Disney World when you want to let the sun and fresh air hit your feet, but don't want to wear flip flops you got from Walmart for $5 (seriously, don't do that).
There are also color options like entirely black, pink, or combos like blue and turquoise.
If you prefer a strapless sandal for walking, these Skecher's sandal is a must-wear.
These shoes have one thong strap with extra cushioning (no digging into your feet, which is the worst), and the cushioning for your feet is lightyears ahead of many flip-flops.
They've got great arch support for the style of shoe they are, and women comment that the cushioning is still breathable and their feet don't sweat in them (which is a miracle for Disney World!).
I love them because they're specifically designed for all-day use, and they've put extra thought into the "rebound" of the cushion that helps support you as you walk while also feeling soft underfoot.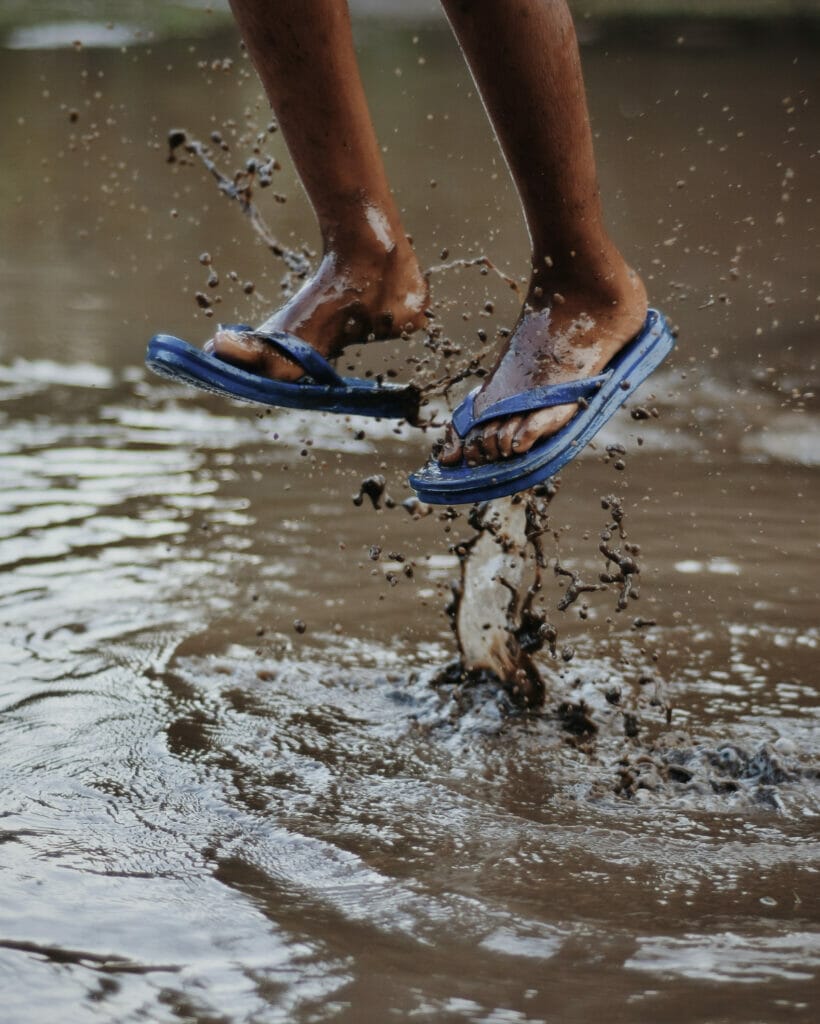 Best Men's Sandals for Disney
For men who are looking for sandals with straps to walk around Disney World, there are plenty of awesome hiking sandals, including the Camel Crown Men's walking sandals.
The design allows for natural foot posture, which is going to help with a long-term Disney trip, and the arch support is definitely worth writing home about!
Multiple adjustable straps help you make them fit the best to your foot, and the underfoot sole is made of a bouncy material to give your foot some support and cushion at the same time.
They're all waterproof, so when the rain comes down in a Florida summer, you won't have to worry.
The straps also mean that you don't have to worry about them falling off at any point.
These flip-flops without straps provide endless comfort for a man's foot, but there's also something secret lurking underneath that many will go crazy for.
A built-in bottle opener!
Yep!
They've got fantastic arch support and are totally water-friendly so you can even wear them to the Disney water parks.
They're also much more fashionable than most men's flip flops and from a quality brand, which make them our number one recommendation for men's sandals without straps for Disney World.
Best Kid's Sandals for Disney World
For kids, there is no way you should ever put them in sandals that don't have straps, which both Keen sandals do, and the version for 4 to 8 year olds is a fantastic option with a bungee system for the straps so they stay snug while adjusting to your child's foot as well as arch support so they can wear them all day.
They're water repellent and have anti-odor technology (your hotel room will thank you), and there are so many different colors to choose from so they can help pick out their Disney sandals.
Parents report that these shoes cause a distinctive lack of sore feet or blisters that their kids experience in other shoes, and the price is right if you don't want to spend a fortune on new shoes that they'll grow out of next month.
These are the same (almost) as the Keen sandals for the younger kids, but you get a more rugged design, obviously larger shoe size options, and different color combinations.
These are waterproof, with sturdy straps to keep them on your child's foot without causing blisters, and the arch support is built-in so they can wear them all day and not complain of aching feet (well they still might complain, but it will probably just be because they're a kid and not because the shoe is a problem.)
These shoes have great grip on the bottom so they'll help stop slips in the parks and in your hotel hallways (especially at the moderate and value resort with the concrete floors that can get slippery in the rain), and the toe cap is extra rugged to help avoid any stubbed toes or pain if a child accidentally steps on their shoes in the Disney play areas or while waiting in line.
Disney Themed Shoes for Disney World
If you're someone who likes to plan what to wear to Disney World so you're getting in the Disney spirit rather than just dressing like you're going to any old theme park, these Disney themed shoes are for you!
There are so many adorable options and ways of showing your Disney love through your choice of footwear!
Disney Themed Shoes for Adults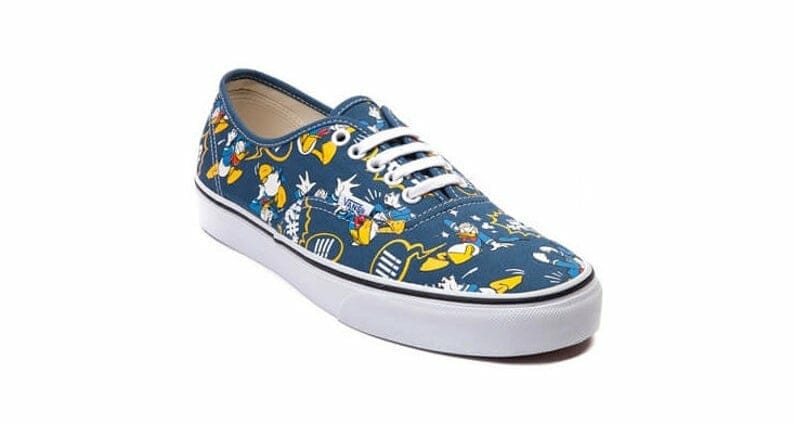 These Donald Duck van shoes are a great way to express your love for this classic character. We're obsessed with the cute design and the unisex look.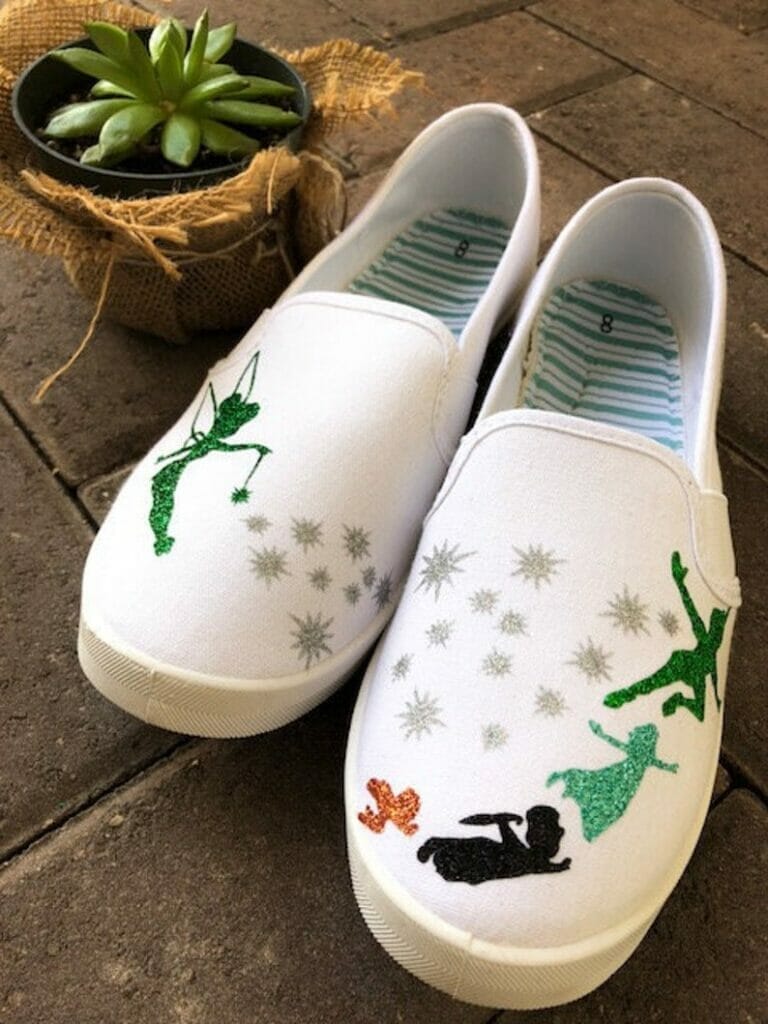 These hand-designed shoes are some of the cutest shoes for Peter Pan lovers in the parks.
The subtleness is excellent for those who want to show their love for Disney, but not be full out Mickey and Minnie.
They look great no matter what you're wearing, whether it's shorts or jeans, and you'll be humming Peter Pan songs to yourself every time you look down.
These Mickey and Minnie vans are super cute and fun adult Disney shoes. What could be a better pair than Disney's mouse royalty?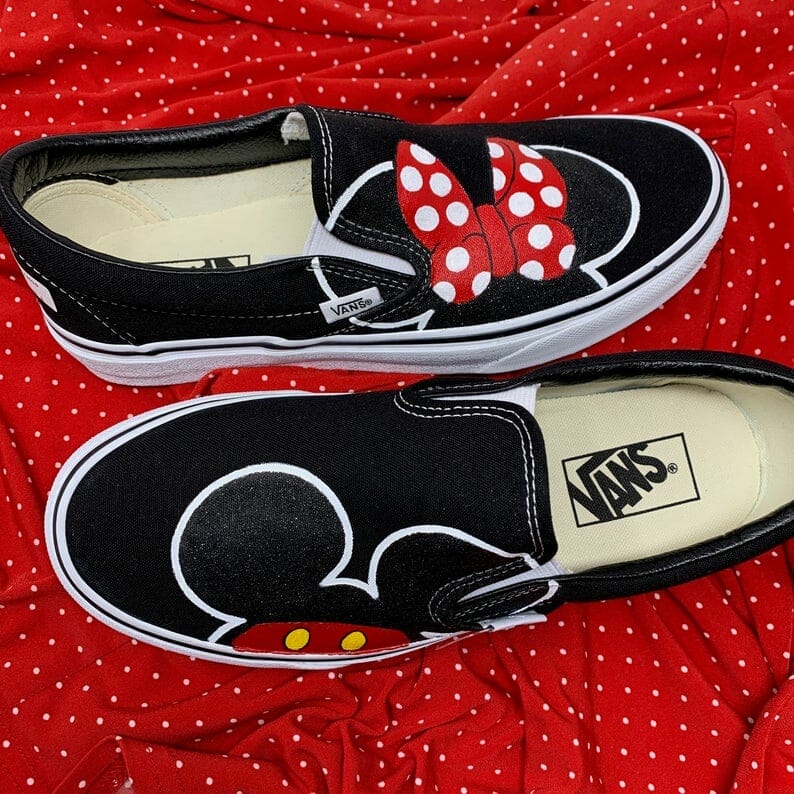 Disney Themed Shoes for Kids
Did you know Goofy has his own shoe now?
That's right.
This adorable Adidas shoe is white with a Goofy print on the sides and top, adding a splash of color.
They're not in-your-face Disney shoes like the Disney crocs (check those out below), but they are stylish Disney kid's shoes that will bring them into the magic while also being perfectly acceptable to wear anywhere else they want to.
Parents find them true to size, and they are laced slip-on shoes, so no tying required.
These Mickey shoes are the best way to celebrate the leading mouse at Disney World.
With velcro (no tying required) and a classic Mickey face on the front of the shoe, everyone will know your child's favorite character and they'll feel like they're getting in the Disney spirit.
The shoe itself is Mickey colors, with red, white, and black being the main color combo, and the shoes themselves have a soft and support feel.
The grip is excellent (this is Adidas, after all, they know their shoes) and it's always best to put your child in a comfy walking shoe like these for the parks anyway so why not let them have fun with cartoon Mickeys while you're at it?
Best Crocs for Disney World
While Crocs may not be the most fashionable shoe on the planet, let's face it: they're comfy.
And sometimes, comfy is the only requirement you have at Disney. Plus, everyone is walking around wearing Mickey ears and ponchos, so fashion isn't really our concern: fun is!
The other great thing about crocs is that unlike running shoes or other types of shoes, they will dry out quickly after you get wet, which makes them great for water rides and for walking around the parks on wet days.
These are the best crocs for Disney for both adults and kids.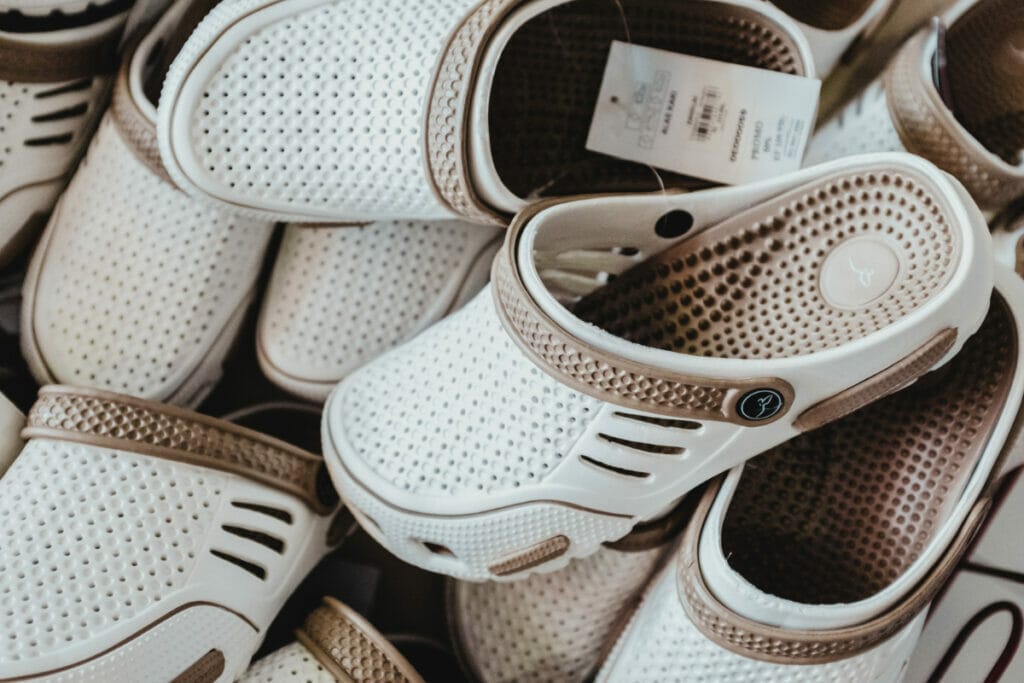 Have you really gone to Disney World if you haven't put your kids in Mickey crocs?
These adorable Crocs with a flexible strap at the back (to keep them on tight) have Mickey or Minnie faces around the bottom (find the Mickey Mouse crocs here and the Minnie Mouse crocs here), which lets your child feel like they're getting in on the Disney fun and not just wearing their regular Crocs.
They are so, so comfortable and lightweight, and you can add special charms to them as well to personalize them more!
For adults, check out the Crocband clogs, which are (believe it or not) more fashionable than regular Crocs that look like they're best left to wearing while gardening.
These crocs are still super comfortable, but they're a bit slimmer and not as tall so it looks more like a regular sandal.
But, of course, you've got all of the Croc benefits, like breathability, complete waterproof material, and extreme comfort that you just can't find in many other shoes.
They come in quite a few different colors, but the most sleek are the navy ones with the red band around the side.
Pin for Later!
Get the All-American Travel Secrets!
Don't miss out on America's hidden gems!