In this guide to the best restaurants in Animal Kingdom, we're going over Disney's best table service restaurants at Animal Kingdom park.
Dining is a huge part of many park-goers day, and you can choose from creative dishes inspired by foreign cultures or fun buffet options with Donald and friends.
These are the bookable restaurants at Animal Kingdom where you'll be served by a waiter or waitress.
If you're interested in the "quick service" Animal Kingdom locations where you order at the counter and then bring it to your own table, we have a whole guide on the best quick service locations at Animal Kingdom.
Either way, finding great food at Animal Kingdom is easy so let's jump into the best Animal Kingdom table service restaurants (and check out our guide to the best Magic Kingdom restaurants, the best Epcot restaurants, and the best Hollywood Studios restaurants if you're heading to those parks).
Okay, everyone grab your favorite "Hakuna Matata" shirt and let's get going.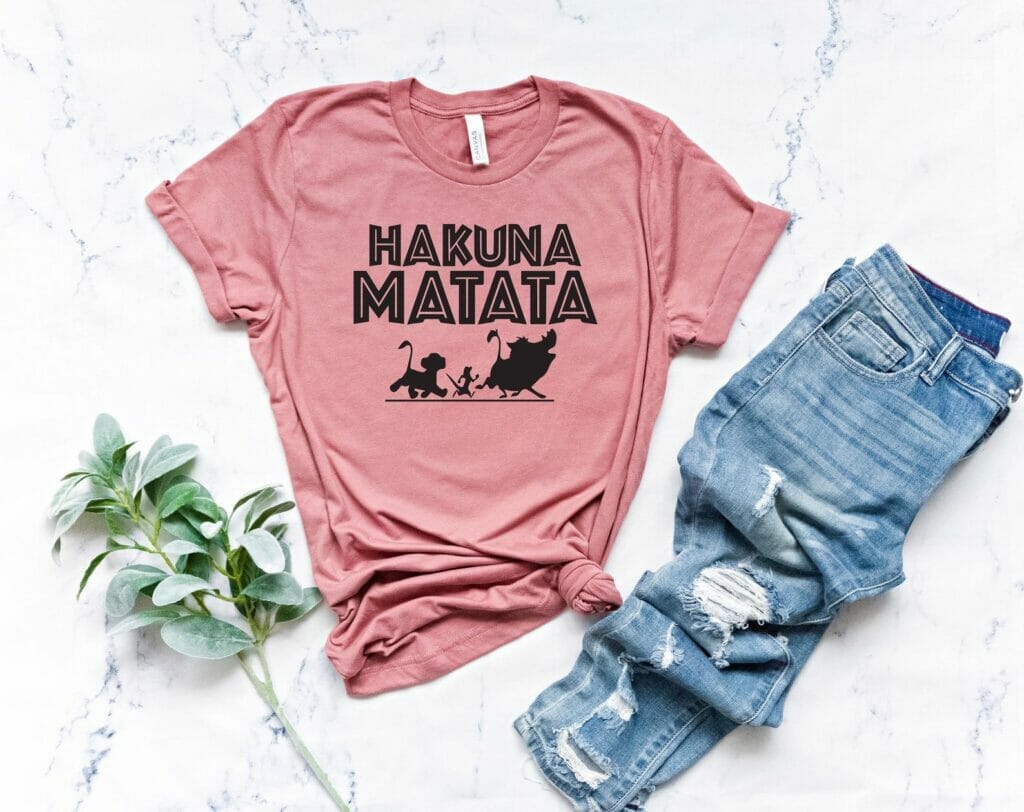 4. Rainforest Cafe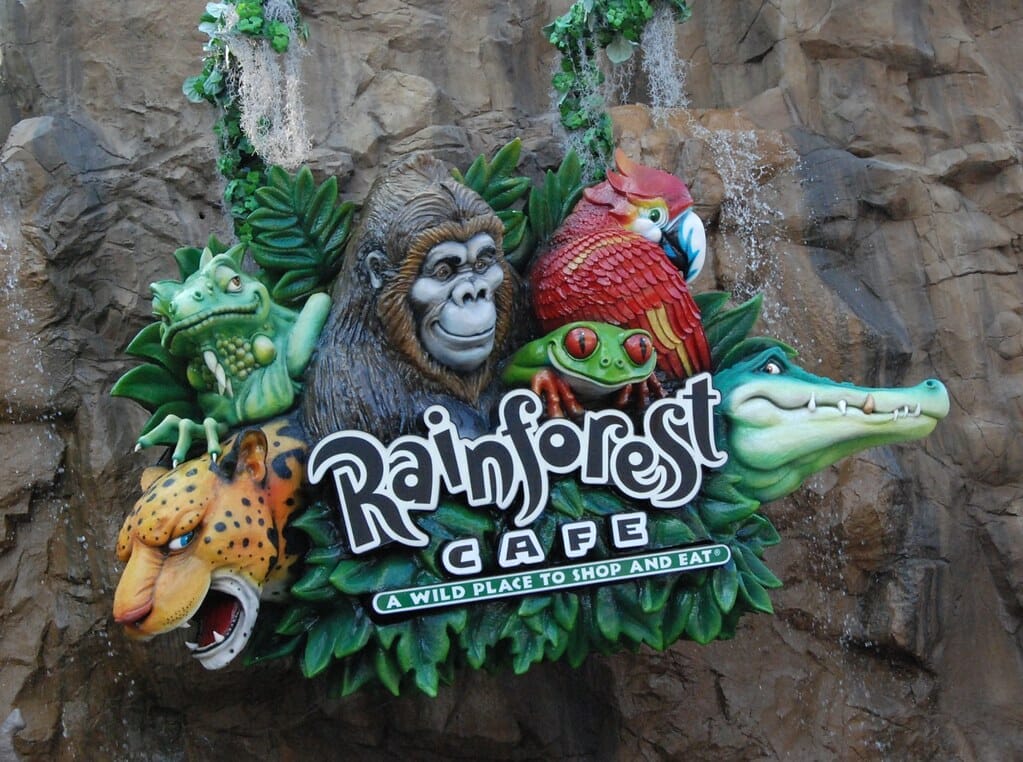 Type of restaurant: Table service
Character dining: No
Meals served: Breakfast, lunch and dinner
Price point: Inexpensive to mid-range
If you've been to a Rainforest cafe elsewhere in the world, then you'll know exactly what to expect at Animal Kingdom.
This is a normal Rainforest Cafe, which fits in nicely with the animal theming at Animal Kingdom, but you won't find much Disney theming inside.
From classics like the Python Pasta or Volcanic Cobb Salad (the best salad ever!), you'll find plenty of American fare with fun twists to enjoy.
Having a celebration?
Try the sparkling volcano for dessert, which quite literally will set your meal on fire!
The Rainforest Cafe surroundings, putting you right in the heart of the jungle with noisy gorillas, giraffes eating from the branches and the occasional thunderstorm is a quintessential part of this well-themed restaurant.
It comes in at the bottom of our list of the best restaurants at Animal Kingdom simply because it's not original to Disney.
3. Yak and Yeti
Type of restaurant: Table service
Character dining: No
Meals served: Lunch and dinner
Price point: Mid-range
If pan-Asian cuisine options like sweet-and-sour chicken and Kobe beef burgers sound up your alley, Yak and Yeti is a fantastic Animal Kingdom dining option.
The theming is top notch, taking you into a village house turned into a restaurant for the locals.
You'll find stunning murals and golden hues everywhere you turn.
You'll find it at the base of Expedition Everest (one of the best rides at Animal Kingdom) which makes it great to plan before or after your Expedition Everest (well, preferably after unless you want to throw up your lunch!)
Try the ahi tuna nachos for an out-of-this-world appetizer, or let the kids dine on cheeseburgers and tempura chicken.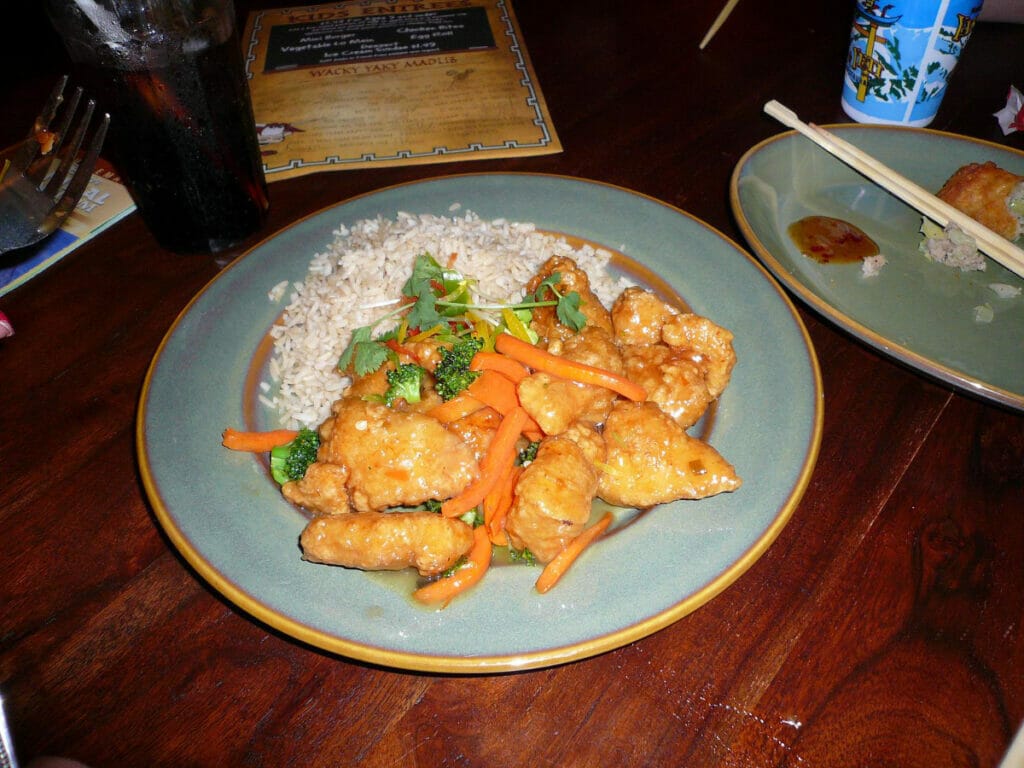 A full service bar offers cocktails, and desserts range from mango pie to fried wontons.
This is a more upscale restaurant than Rainforest Cafe or Tusker House, and it makes for a nice meal on a Disney honeymoon to feel like you're treating yourself.
2. Tusker House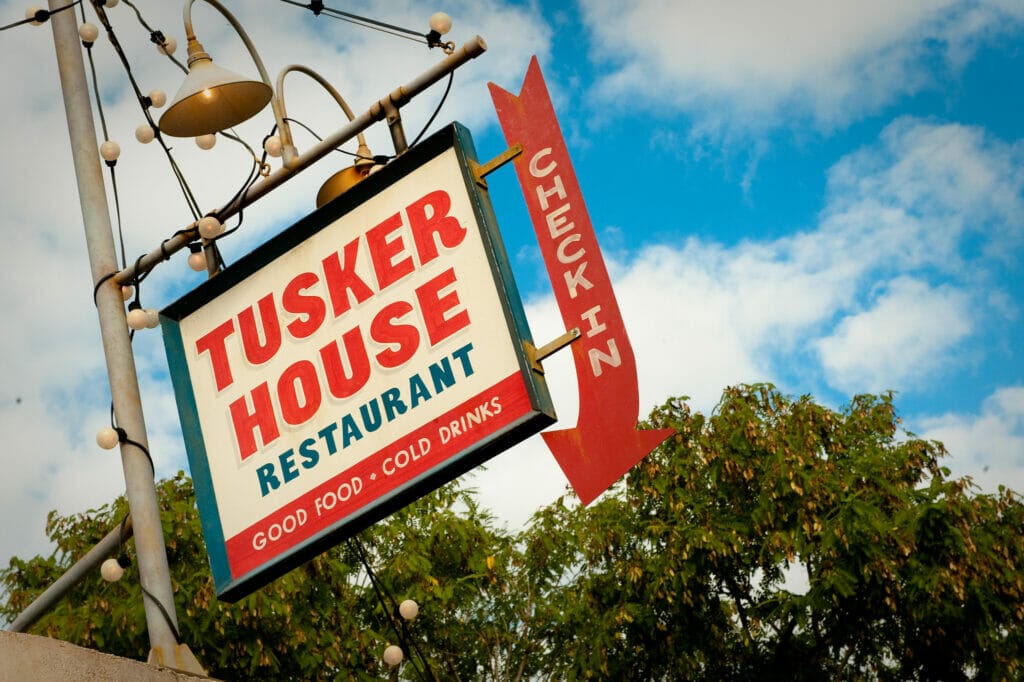 Type of restaurant: Buffet
Character dining: Yes
Meals served: Breakfast, lunch and dinner
Price point: Splurge
Tusker House is the most family-friendly restaurant in Animal Kingdom, as you'll be joined by Donald Duck and his friends who are dressed up in safari clothes.
This is a great way to have some great character interaction while dining on a mix of Asian and American dishes.
Breakfast is more typically American fare, with a few add-ons, while lunch and dinner are great for more adventurous eaters who prefer more than just burgers and fries.
The cost is a splurge because character dining is almost universally a splurge at Disney (worth it, but it doesn't come cheap), but the buffet style means that everyone in the family can pick and choose and try different options, which is a plus and why we rank it above Yak & Yeti.
The theming is also top notch and one of the most colorful places to eat in Animal Kingdom.
Right next to the Festival of the Lion King, plan to see the show before sitting down to enjoy your grub or catch the next one after you finish.
Because this is character dining, it does book up quickly, so try following my guide on how to book hard-to-find Disney dining reservations to make sure that you don't miss out.
1. Tiffin's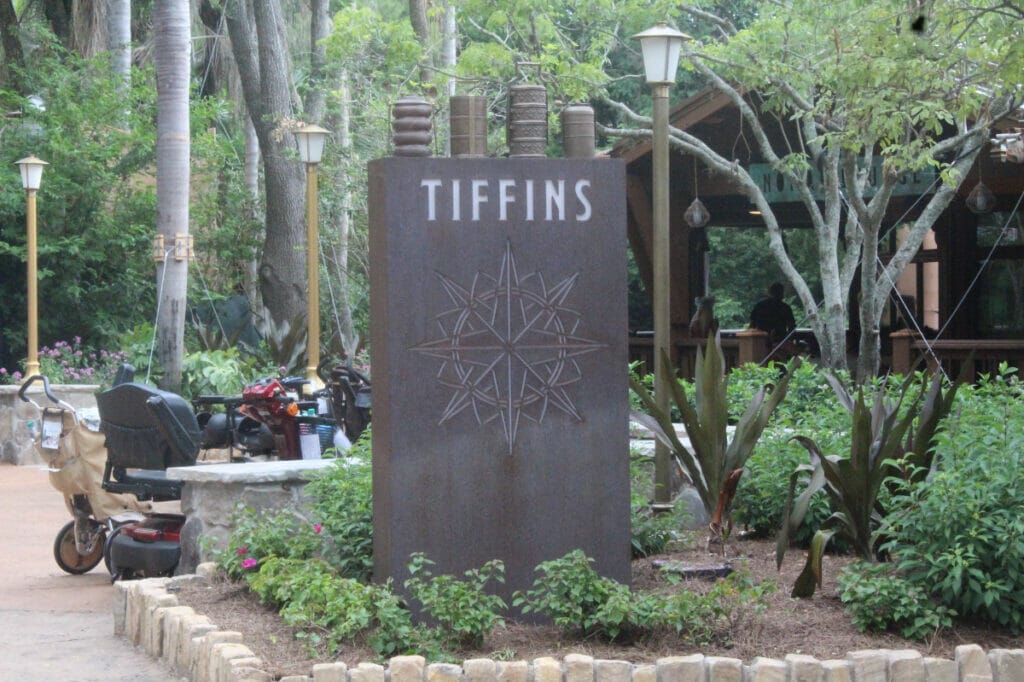 Type of restaurant: Table service
Character dining: No
Meals served: Lunch and dinner
Price point: Splurge
One of the best restaurants in all of Disney World, Tiffin's is an experience to remember.
This signature dining restaurant has international cuisine to inspire your taste buds, explorer theming to encourage you to set off for new adventures, and excellent Disney service.
When you first walk in the rustic doors, you'll fall in love with all of the adventure-themed artifacts, including notes from Imagineers who designed the restaurant and Animal Kingdom.
The atmosphere is inviting and friendly, while still feeling elegant enough to qualify as a fine dining restaurant.
From shrimp and grits to charred octopus, meat and fish lovers will find something fit for them, while vegetarians will enjoy some amazing cauliflower bites and other plant-based options like spiced chickpea falafel.
The wine list is extensive and your waiter or waitress will be happy to point out the best pairings for the over-21 crowd.
Finish off with magnificent tapioca pudding or some mango-inspired desserts, among other options, and relish in the fact that you won't see a single chicken nugget or Mickey bar here.
It makes the top of our list because in addition to being an amazing restaurant, there's also a more informal option to grab some Tiffin's favorites when you visit the Nomad Lounge next door.
Here, you can order off the Tiffin's appetizer menu while letting the kids be a bit more free and not worrying about the fine dining experience, which is a great option for families and one of the only Disney restaurants to have this option (it's also one of the best secret things to do at Disney World because they don't advertise it!)
Get the All-American Travel Secrets!
Don't miss out on America's hidden gems!