Fish and chips. Gourmet Asian cuisine. French-inspired desserts.
When it comes to dining at the parks, Epcot is a foodie's dream.
These are the best Epcot restaurants to visit, ranked from the worst to the best, to ensure that you're taking advantage of the excellent table-service restaurants at Disney World.
Disney divides their dining into "table service" and "quick service."
Quick service locations are "grab and go" type options, and these are covered in our guide to the best quick service at Epcot.
In this guide, though, we're talking the best table service restaurants at Epcot.
This means that there is a waiter or waitress, and you will receive a menu at your table and order like you normally would in a restaurant in the "outside world."
Whether you're celebrating a birthday at Disney or trying to get some food in you after drinking around the world, here are our picks for the the best restaurants in Epcot.
We also have guides to the best Magic Kingdom restaurants, the best Hollywood Studios restaurants, and the best Animal Kingdom restaurants if you're heading to those parks.
Want insider Disney tips from an expert?
Join 4,000 others in weekly guides to Disney's hidden secrets, gems, and money-saving tips!
Okay, everyone grab your adorable "Snacking around the world" shirt and let's get going.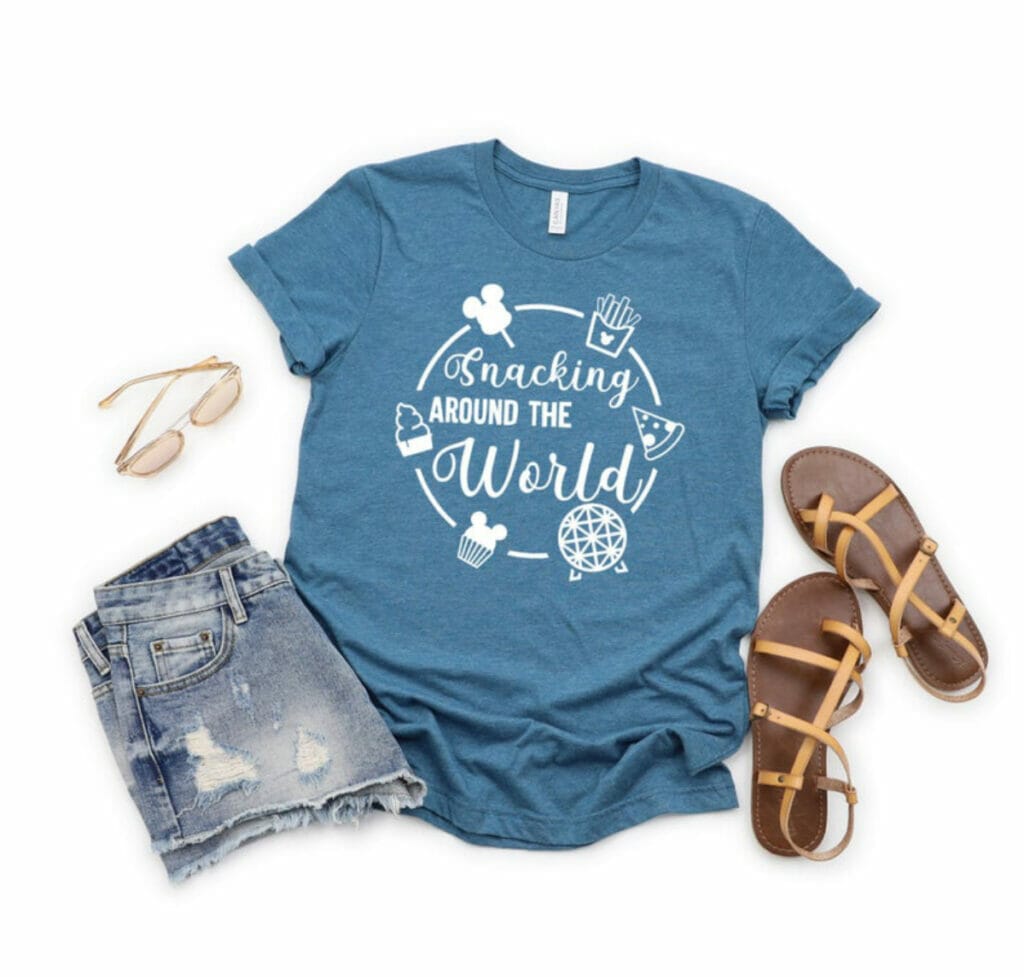 Pssst – this printable Disney scavenger hunt is amazing
Since you're already looking up Disney guides, I just wanted to make sure you knew about this printable Disney World scavenger hunt created by a lifelong Orlando native and Disney World fan.
There are over 60 challenges with a full answer key and both Family and Grown Up versions and a bonus Disney Springs hunt for your non-park day!
11. Coral Reef Restaurant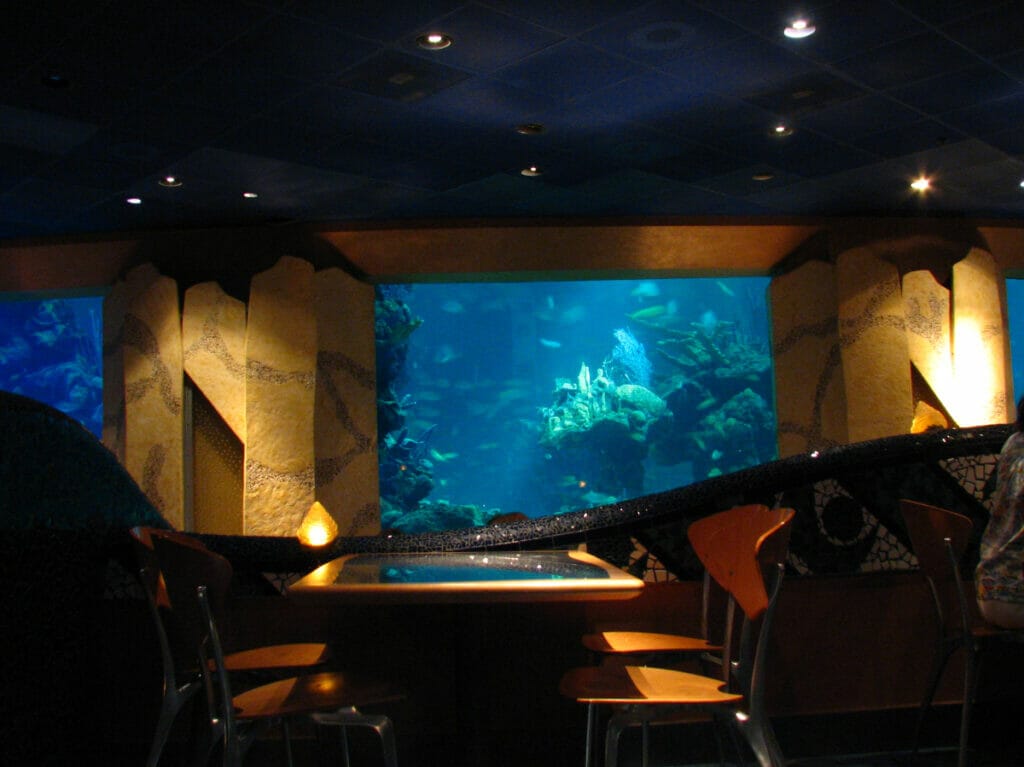 Type of restaurant: Table service
Character dining: No
Meals served: Lunch and Dinner
Price point: Mid-range
There's nothing like eating seafood while staring into the eyes of fish swimming by.
Okay, jokes aside, the Coral Reef Restaurant is a beautiful "under the sea" themed restaurant with giant aquariums next to the dining tables and a seafood-heavy menu (with other options, don't worry).
So why is it at the end of our list when you can get everything from lobster bisque to sauteed shrimp?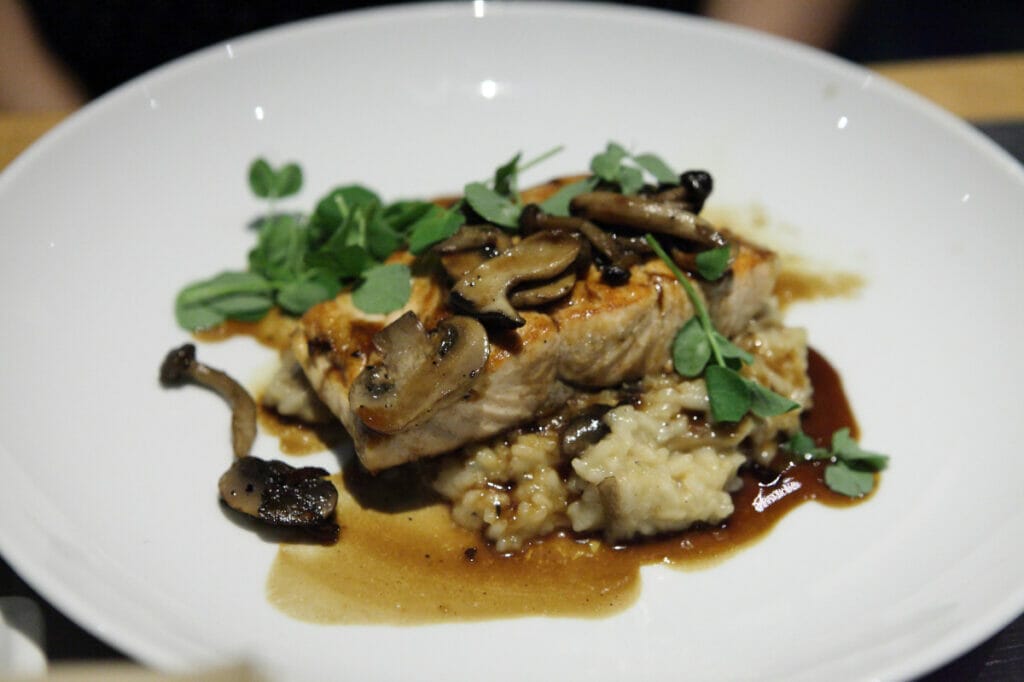 It's not a bad restaurant and many families have a great time here, but the food isn't known for its quality and the surroundings are lacking a little when you think of the amazing theming of restaurants like San Angel Inn.
It can be fun for kids who can go put their noses up to the glass and see if they can spot any sharks or scuba divers swimming up alongside you as you eat your meal, but there are better places to eat in Epcot.
10. Tutto Italia Ristorante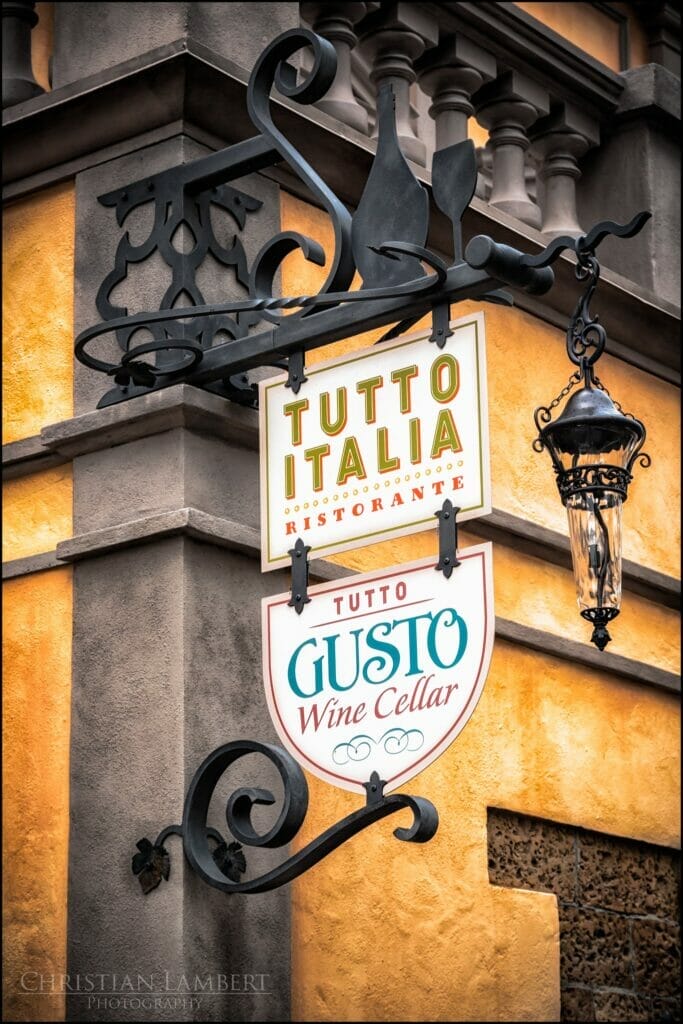 Type of restaurant: Table service
Character dining: No
Meals served: Lunch and Dinner
Price point: Mid-range
There are two restaurants in the Italian pavilion, one of which is Tutto Italia Ristorante.
The dining room is dark and oaky, with colorful Roman murals on the wall (or you can sit on the outside patio).
It's all about traditional Italian favorites here, and guests can choose from a selection of meats like chicken and fish or try some homemade lasagna.
What stands out is the wine list, which is extensive and enticing for those trying to do a "drink around the world" challenge while also getting something to eat.
However, the restaurant is lower down on our list because the portion sizes feel very small, which might be authentic European, but hard to swallow when you're paying Disney prices.
Then again, you can finish off your meal with crispy cannoli, so if you want Italian food and our favorite Italian restaurant at Epcot isn't available (read further on to see which one it is), then this can be a good option.
9. Biergarten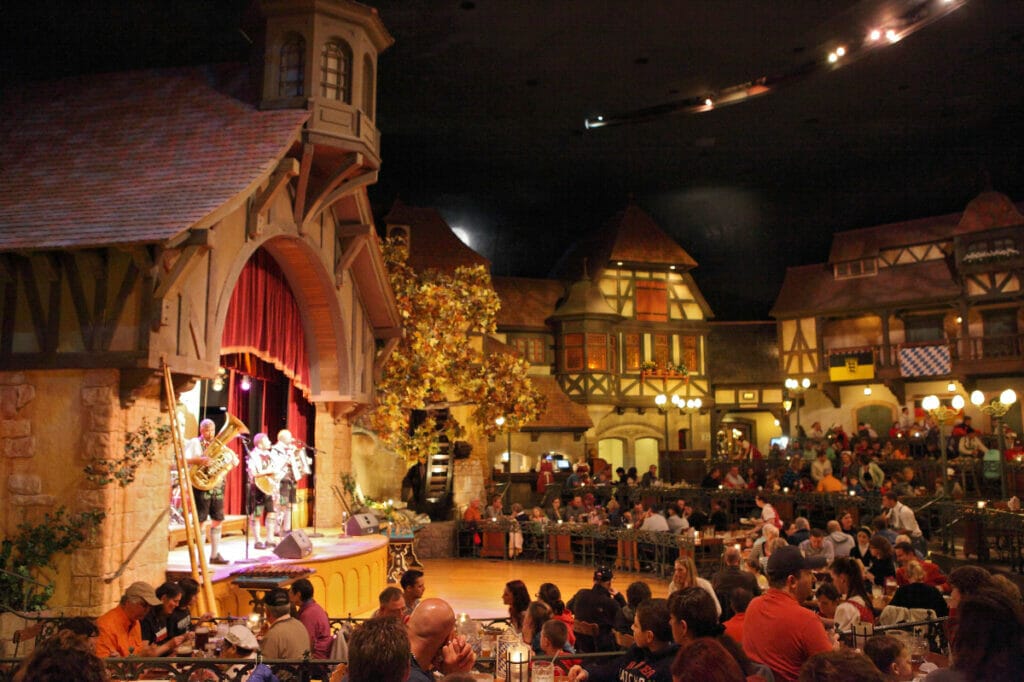 Type of restaurant: Family-style/buffet
Character dining: No
Meals served: Lunch and Dinner
Price point: Splurge
Picture this. You've just stepped into a Bavarian village during Oktoberfest.
What do you expect?
Bratwurst? A band playing Polka music? Beer and overall good cheer?
That's exactly what you'll find at Biergarten!
This family-style restaurant features everything from bratwursts to apple strudel, and the fun atmosphere continues as the Polka band plays and you are seated family-style next to other Disney guests, creating a fun community atmosphere.
This can be a polarizing restaurant because of the seating set-up and the intense amount of meat on offer, so people who are more introverted or prefer more plant-based offerings tend to steer clear.
However, for most, it's a win.
8. San Angel Inn Restaurante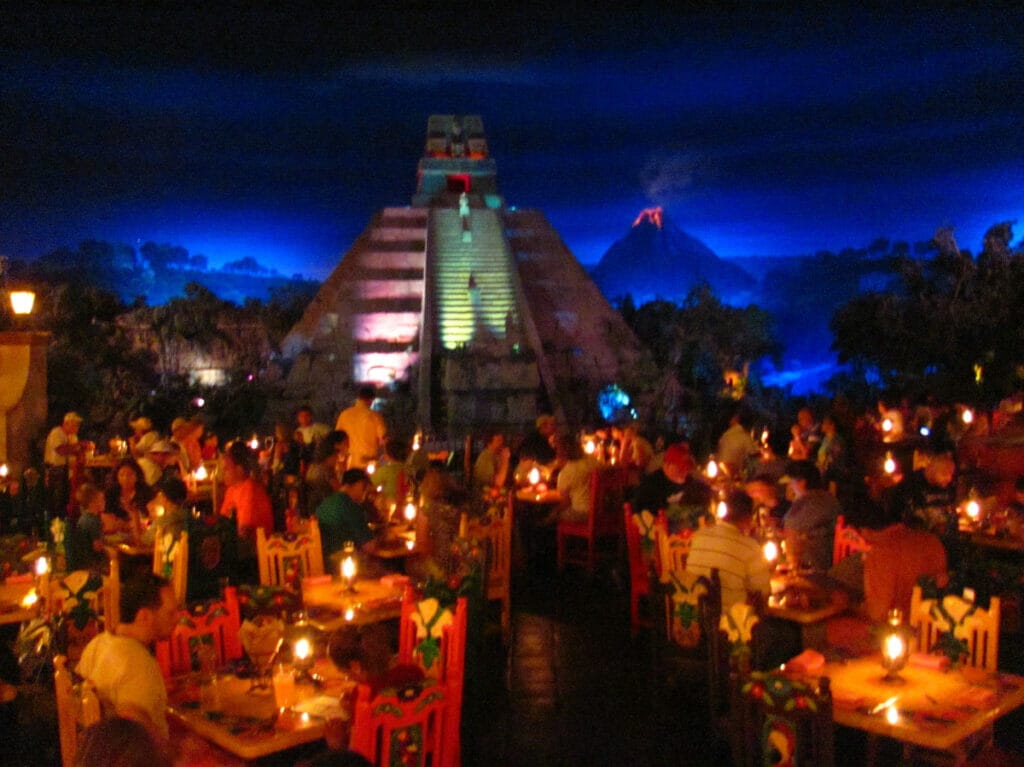 Type of restaurant: Table service
Character dining: No
Meals served: Lunch and Dinner
Price point: Mid-range
There are two Mexican restaurants in Epcot, and one has the best theming while the other has the best food.
San Angel Inn Restaurante is the one with the best theming, located inside the Mexican pavilion next to the Gran Fiesta Tour boat ride.
You'll feel like you're dining under the stars, despite being indoors, and watching the boats peacefully float by is seriously relaxing.
The setting is intimidate and twilight-filled, making for a great Disney World date idea, and you can dine on everything from tortilla soup to entrees with tomatillo sauce.
The food here is generally regarded as decent, but not as good as the other Mexican restaurant (more on that in a bit), and past guests have complained about how close the seating can be as they try to squeeze in as many people as possible, which is why it's not at the top of our list (but nowhere near the bottom, this is still a great Disney World restaurant is you like good theming).
7. Garden Grill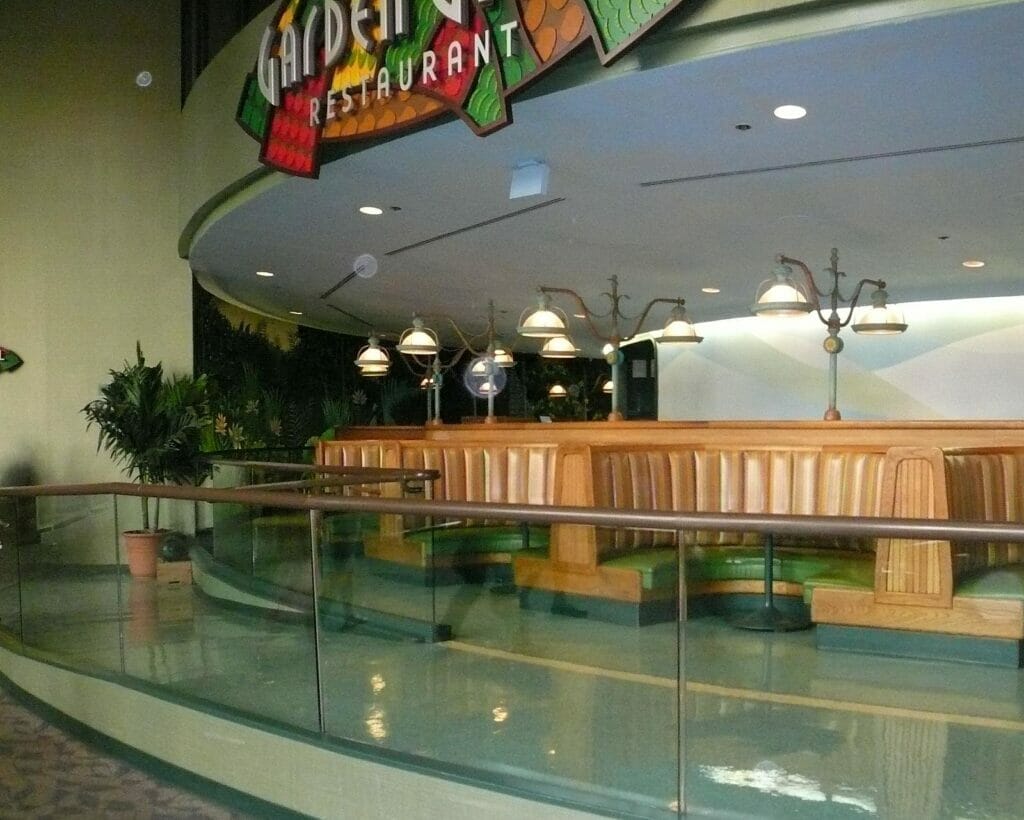 Type of restaurant: Family Style
Character dining: Yes
Meals served: Breakfast, Lunch and Dinner
Price point: Splurge
Far away from the World Showcase in theming and style, Garden Grill is one of the best Epcot restaurants for families who want character dining and options for everyone.
Located in The Land pavilion, you'll eat your meal as you're rotating (much slower than you think, this isn't the teacups!) around varios scenes from the Living with the Land ride.
For breakfast, you'll find some awesome French toast, eggs, and other American fare, while lunch and dinner are filled with salad, beef, turkey, corn bread, and more!
You can order as much of any one item as you like, as it's served family-style, and Chip and Dale and other Disney characters will come around to your table to meet and greet and take some pictures.
It might not be the most elegant Epcot restaurant, but if you want somewhere where you don't have to worry about the kids being quiet and just to enjoy some good old-fashioned Disney fun with a unique twist (literally), this is it.
6. La Hacienda de San Angel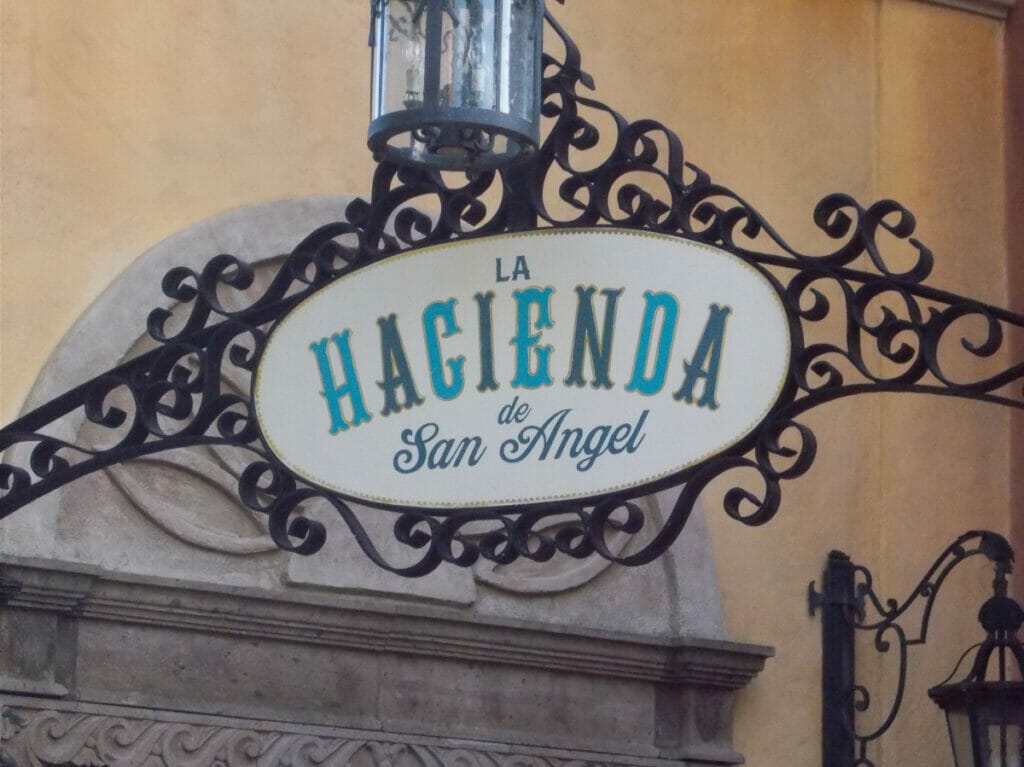 Type of restaurant: Table service
Character dining: No
Meals served: Lunch and Dinner
Price point: Mid-range
There's nothing like dining under colorful lanterns and in an airy, Old Word Mexico atmosphere.
At La Hacienda de San Angel, the emphasis is on authentic Mexican cuisine including some of the best margaritas you've ever had (21 and up!) and corn tortillas that are made on the house every single day.
Spend your evening dipping those chips into freshly prepared salsa and out of this world guacamole, or enjoy meaty mixed dishes and some awesome Queso Fundido.
The surroundings are bright and elegant, though not as intensely themed as you'll find at San Angel Inn.
There are also beautiful views of the Epcot fireworks if you book your meal at the right time.
That, plus the excellent food, bumps this Epcot restaurant up the list.
5. Chefs de France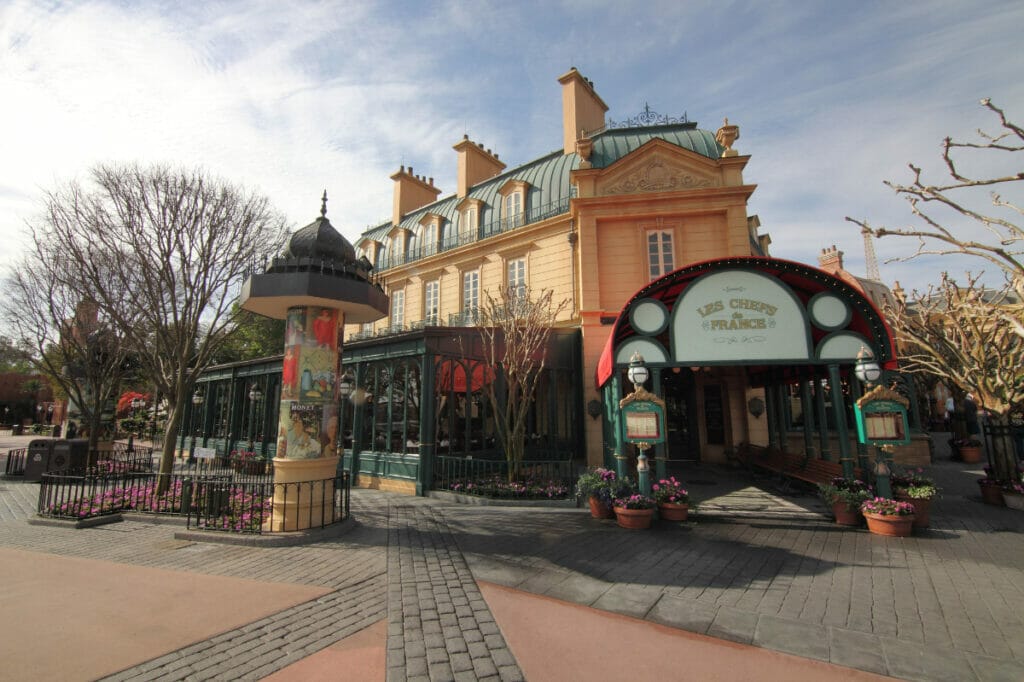 Type of restaurant: Table service
Character dining: No
Meals served: Lunch and Dinner
Price point: Mid-range
If you're embracing your inner Belle and wanting to get in on all of the French classics, dig into French-inspired cuisine at Chefs de France in Epcot's French pavilion.
Consistently rated for its amazing food, the menu includes everything from beef tenderloin to roasted duck, and other options like grilled chicken and salmon for the kids.
The atmosphere is elegant, but laid back, a collection of red and gold hues with tall ceilings and great spots to see the fountains outside.
Finish your dinner with a creme brulee (a must in French dining) or enjoy the French wine list if you're 21 and up.
There are also plant-based options, but if you're fully vegetarian or a pickier eater, you might rethink this restaurant in favor of some other Epcot restaurants as the French love their meat dishes and so does this restaurant!
4. Teppan Edo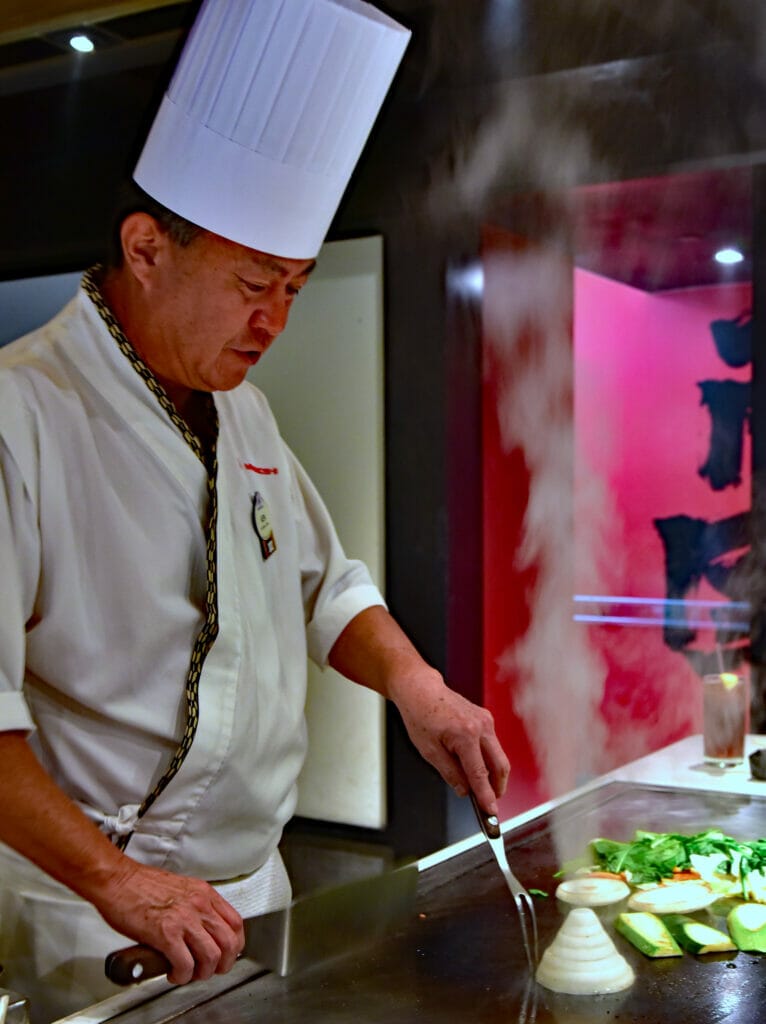 Type of restaurant: Table service, but served communally
Character dining: No
Meals served: Lunch and Dinner
Price point: Mid-range
Ready to watch your meal be made in front of you? At Teppan Edo, your food will be cooked and served in the ritual of Teppan-yaki-style, which means your chef will be right in front of you chopping and frying your dishes (and probably will throw in some amazing tricks too).
You'll get to choose your meat (or you can choose a vegetable stir fry) and then it will be paired with other ingredients like noodles and steamed rice to make sure you have an authentic Japanese dining experience that you won't soon forget.
This restaurant reaches the top of our list for the entertainment value and chance to learn a little bit while eating (what Epcot is all about!) instead of just passively having your food brought to you.
It's also fun for all ages, and easily accommodates vegetarians.
If you don't come with a large enough party, you may be seated with other guests (which is part of the fun).
3. Rose & Crown Dining Room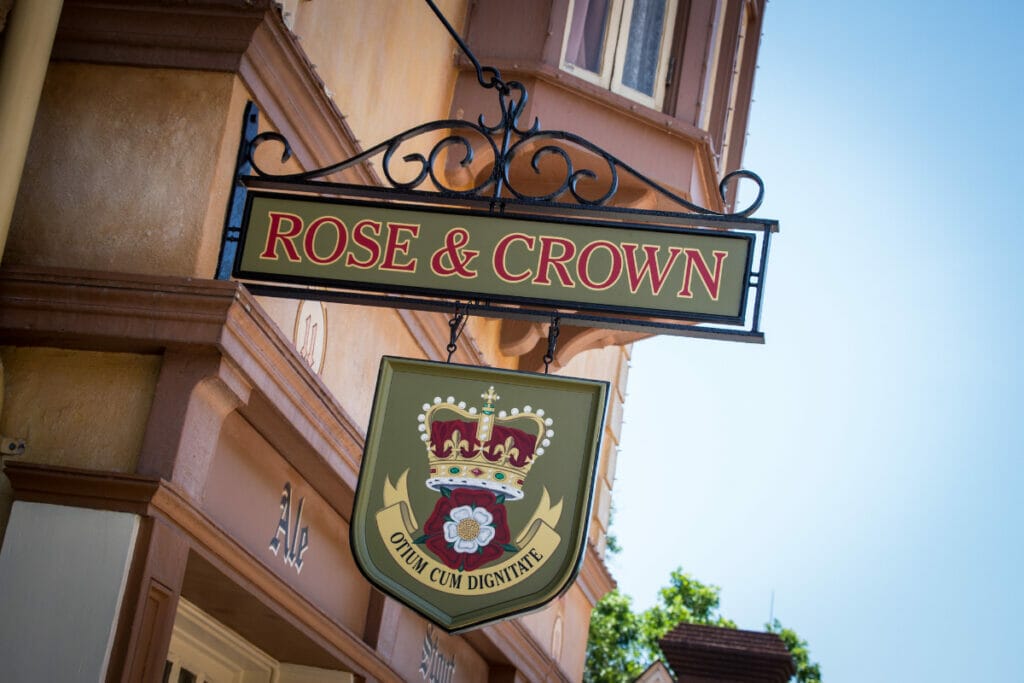 Type of restaurant: Table service
Character dining: No
Meals served: Lunch and Dinner
Price point: Mid-range
Located in the UK pavilion, Epcot has its very own pub!
Called the Rose & Crown, this dining room and British pub offers a cozy pub atmosphere inside and wonderful waterfront seating outside.
The most popular item here is, of course, the fish and chips, but you can also try other British classics like sticky toffee pudding, bangers and mash, and cheesy pasta for the little ones.
Enjoy British beers and ales, practice your best British accent, and delight in the awesome pub theming inspired by real pubs across the pond.
If you book around fireworks time, you can also try and get an outdoor table and one of the best views of the fireworks on all of Epcot.
2. Le Cellier Steakhouse
Type of restaurant: Table service
Character dining: No
Meals served: Lunch and Dinner
Price point: Splurge
Classed as a signature restaurant, Le Cellier Steakhouse is one of the best restaurants on Disney property and definitely one of the best restaurants in Epcot.
It's a Canadian steakhouse to another level, with amazing Disney service, perfectly cooked and tender steaks and cheesy poutine fries that you will dream about.
The atmosphere is warm and inviting, making you feel like you're nestled away in the Canadian mountains with dinner by candlelight (well, not quite, but the flickering scones do create a great vibe).
The best of Canada is celebrated here, and Disney guests often choose this as a splurge for special occasions as the price does reflect the fine dining aspect.
Also, there's maple creme brulee for dessert, which is about as Canadian as you can get.
1. Via Napoli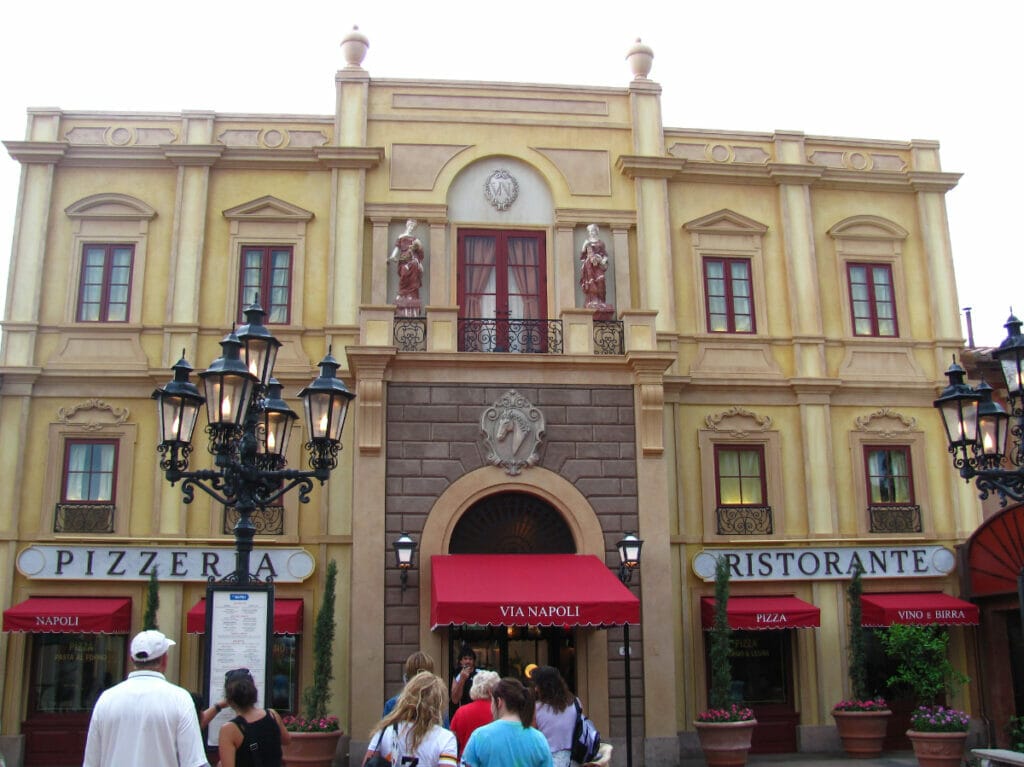 Type of restaurant: Table service
Character dining: No
Meals served: Lunch and Dinner
Price point: Mid-range
Finally, the best restaurant in Epcot: Via Napoli. Officially known as Via Napoli Ristorante e Pizzeria, this is the better of the two Italian restaurants in the Epcot pavilion and a great option for all tastebuds and ages.
The most popular thing to do here is to split an authentic Italian pizza. This ain't your frozen pizza anymore, people, this is wood-fired Neapolitan pizza with its thin crusts and fresh mozzarella.
You can also try their chicken parmigiana, lasagna and other options before digging into gelato for dessert (they've got other desserts, but always go with gelato just as a general rule in life).
Kids will love it, parents will love it, couples will love it, grandparents will love it.
The theming isn't in-your-face, but instead makes you feel as if you really could be in Italy enjoying some fresh, delicious food while catching up with friends and family, and that's why it makes the top of the list.
Get the All-American Travel Secrets!
Don't miss out on America's hidden gems!