Dining at Hollywood Studios is easy with these with quite a few Hollywood Studios restaurants to choose from.
In this guide, we'll round up the best Hollywood Studios restaurants by ranking all of the table service restaurants from worst to best.
From eating a classic burger and milkshake while watching a Drive-in movie to dining with your favorite Disney characters dressed up for the glitz and glam of Hollywood, there are enough options to satisfy every taste bud and dining experience preference (including more upscale dining).
Dining at Disney is separated into "table service restaurants," which is what you would think of as a normal restaurant, and "quick service" or counter service which is a grab-and-go or grab-and-seat-yourself style of dining.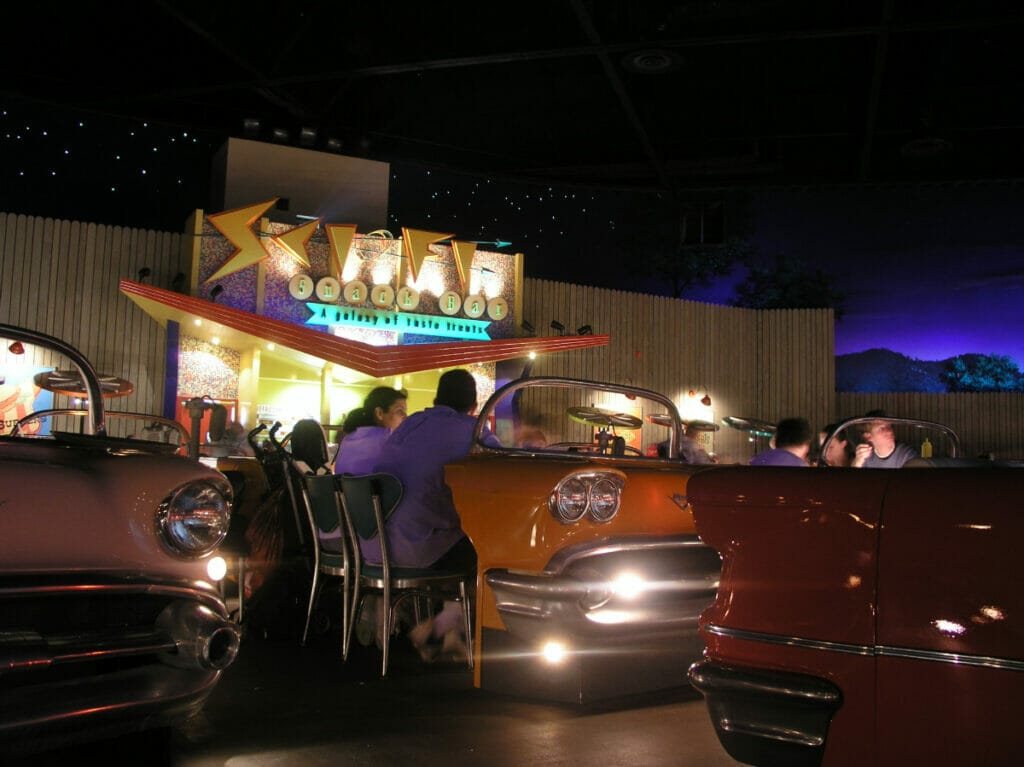 If you're interested in the best quick service at Hollywood Studios because you don't have time for a full meal, we've got a guide on that as well.
Don't forget to making dining reservations ahead of time to guarantee space, as some restaurants do fill up quickly due to popularity or limited seating.
Enjoy this guide to the best restaurants in Hollywood Studios (and if you're interested in the other parks, check out the best Epcot restaurants, best Magic Kingdom restaurants, and best Hollywood Studios restaurants).
Want insider Disney tips from an expert?
Join 4,000 others in weekly guides to Disney's hidden secrets, gems, and money-saving tips!
Pssst – this printable Disney scavenger hunt is amazing
Since you're already looking up Disney guides, I just wanted to make sure you knew about this printable Disney World scavenger hunt created by a lifelong Orlando native and Disney World fan.
There are over 60 challenges with a full answer key and both Family and Grown Up versions and a bonus Disney Springs hunt for your non-park day!
5. Mama Melrose's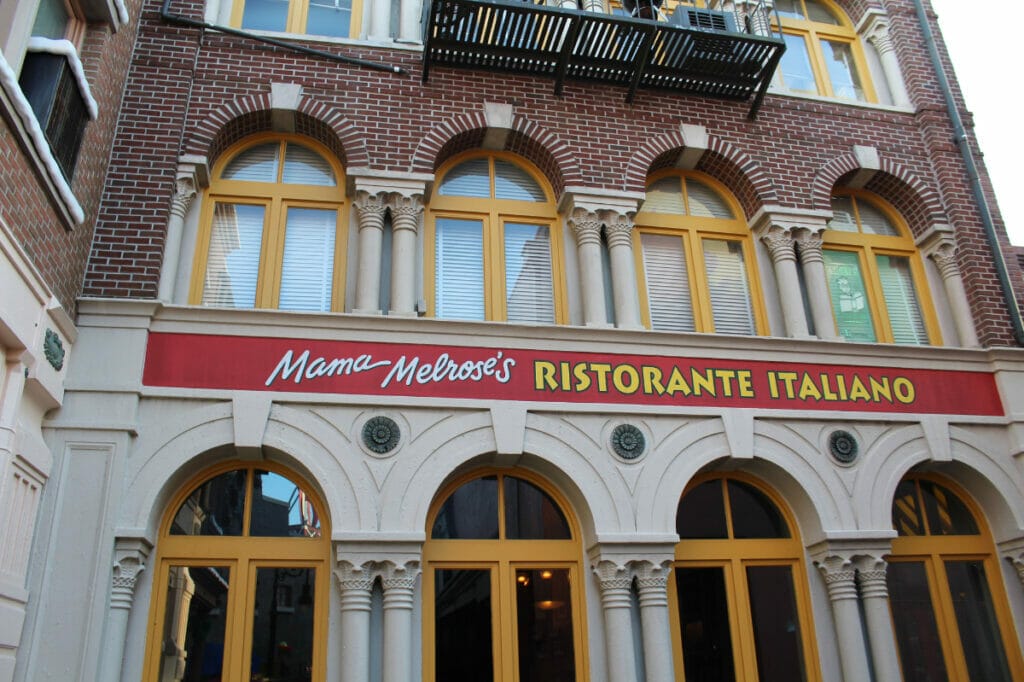 Type of restaurant: Table service
Character dining: No
Meals served: Lunch and Dinner
Price point: Mid-range
Themed like an Italian eatery started by Mama Melrose, a young Sicilian girl who moved to Hollywood to become a star, Mama Melrose's offers dishes like pastas and flatbreads.
You'll dine in red booths next to brick walls, the quintessential Italian-American restaurant feel, and there are some fun pieces of theming to look at like movie posters and colorful curtains.
That being said, it ranks as the worst Hollywood Studios restaurant on our list because the theming isn't as special as some of the other fantastic restaurants Hollywood Studios has, and the food isn't known for being great either.
Much like Tony's Town Square Restaurant, Italian food at Disney restaurants in this capacity just falls a bit short when you compare it to the other options.
However, the pastas and the ceasar salad do get good marks from past guests, and for some people it's better this than regular theme park fare like burgers and fries so, eat on!
4. Hollywood & Vine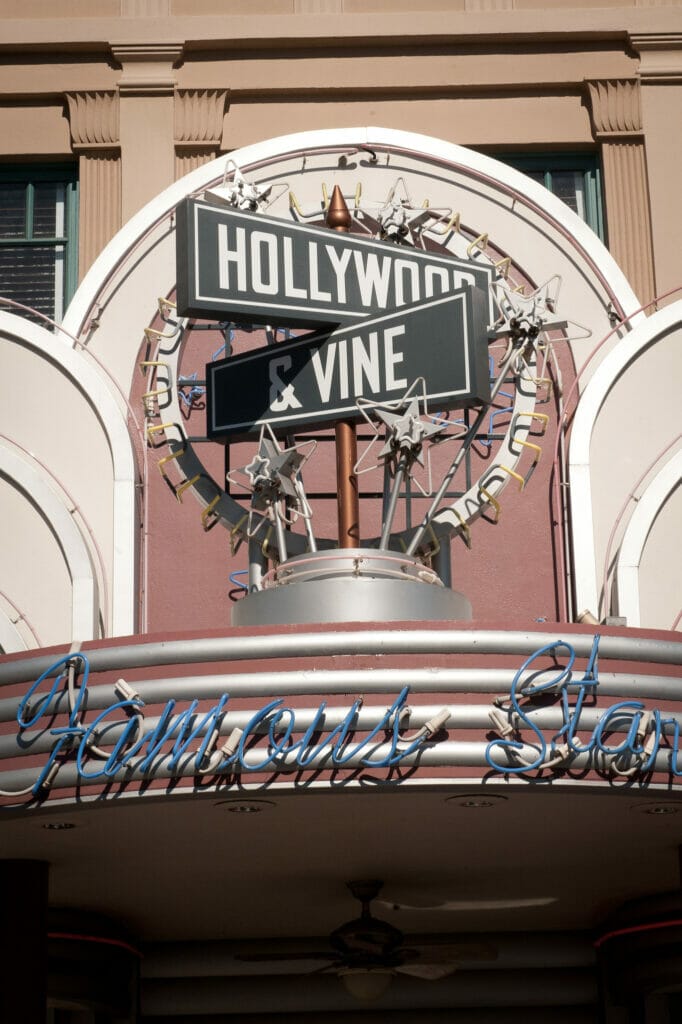 Type of restaurant: Buffet
Character dining: Yes
Meals served: Breakfast, lunch and dinner
Price point: Splurge
Hollywood & Vine is the only character dining at Hollywood Studios, but it doesn't rank well on our list for a few reasons.
First, let's talk about the good: the characters, including Minnie, Mickey, Goofy, Donald, and more are dressed up to celebrate the occasion, so you'll find them in the Christmas best during the holidays and in other unique outfits during other parts of the year.
It's also a buffet, so if you have differing taste buds in your family, this is a good way to make sure there are options for everyone.
The downsides?
The actual theming of the restaurant itself isn't spectacular.
It feels a little bit like retro Hollywood, but mostly it just feels like a cafeteria.
The other downside is the food isn't great here.
There are some buffets on Disney property that are incredible (Boma, I'm looking at you), but this isn't one of them.
It's not tragic, but it's not inspiring.
You go here for the character dining experience, and you put up with the food.
Because it's character dining, however, it does book up quickly, so make sure to follow my tips on booking hard-to-get Disney dining reservations.
3. Sci-Fi Dine-In Theater Restaurant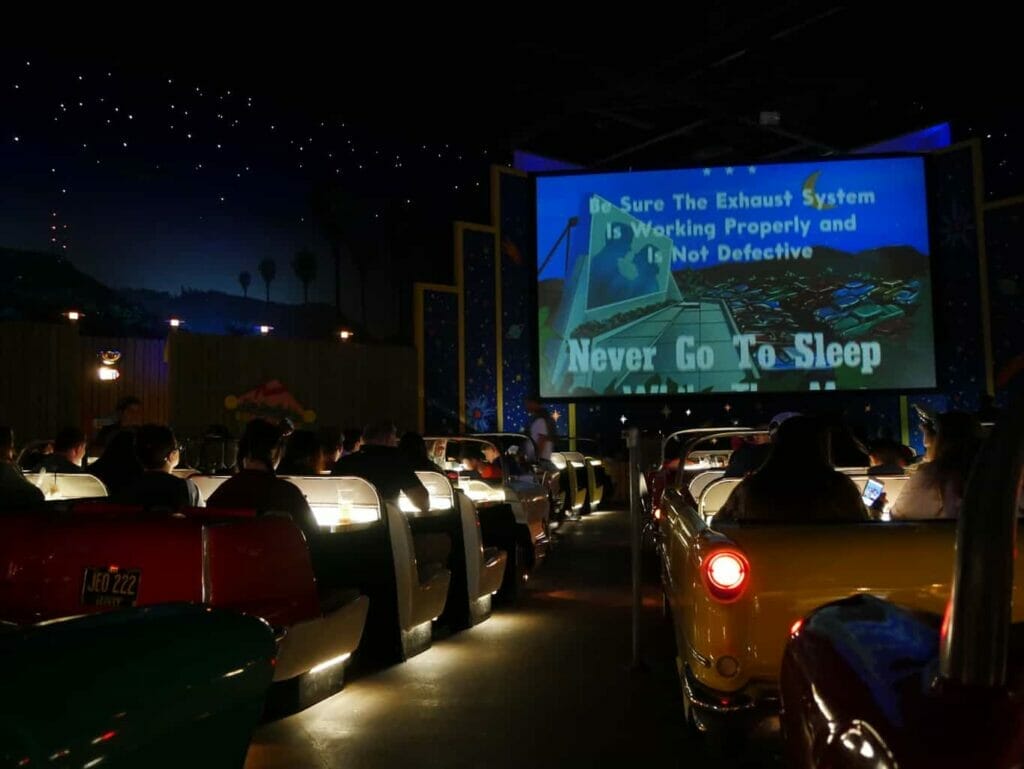 Type of restaurant: Table service
Character dining: No
Meals served: Lunch and Dinner
Price point: Mid-range
If you're into themed dining, but prefer to have a more relaxed meal that isn't heavy on the interaction with your waiter or waitress, the Sci-Fi Dine-In Theatre restaurant is your go-to!
When you walk in this indoor restaurant, you'll immediately feel transported back outdoors, but instead of being in the park, you'll be at an old-fashioned Drive-In!
You'll be taken to your very own car to get to watch the funny Drive-In short films on screen, which seat 2 per row with 3 rows per car.
It's an innovative and unique way to enjoy a meal, and the American classic fare here like hamburgers and milkshakes are just what you want when you're experiencing this Americana tradition.
If you want to talk as a group, you can also be seated at some tables with car theming, where you face each other instead of the screen, but the real fun is sitting in the actual cars.
Kids will adore this restaurant, though be aware that it is dimly lit in order to see the Drive-In short films.
Great food, great theming, and one of the best Hollywood Studios restaurants for family-friendly dining.
2. 50's Prime Time Cafe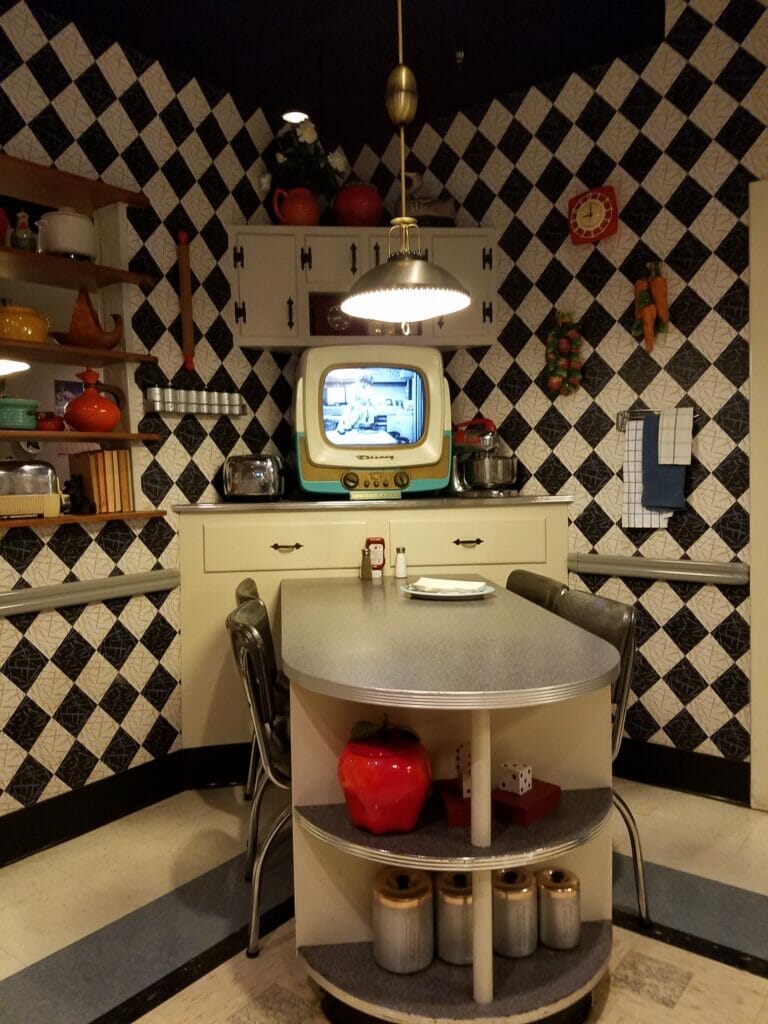 Type of restaurant: Table service
Character dining: No, but interactive with waiters
Meals served: Lunch and Dinner
Price point: Mid-range
If you're really in the mood for some well-themed and interactive dining, head to 50's Prime Time Cafe.
You'll step inside grandma's living room right out of the 50's and then be seated at a retro themed table, complete with vinyl chairs and a TV!
The entire experience, your "cousin" (waiter/waitress) will make sure that you mind your manners, continually reminding you to keep your elbows off the table and giving you a hard time if they find you using your phone at dinner.
There are definitely antics involved, if you want to play along, but in addition to being a fun and unique dining experience, the food is also top-notch.
Try the meatloaf, just the way mama used to make it, or go for the golden fried chicken.
For dessert, as long as you've finished your main meal (okay, you can still have dessert if you don't finish, but you'll definitely hear about it from your "cousin"!), you should try the milkshakes for thick and perfectly made old-fashioned milkshakes.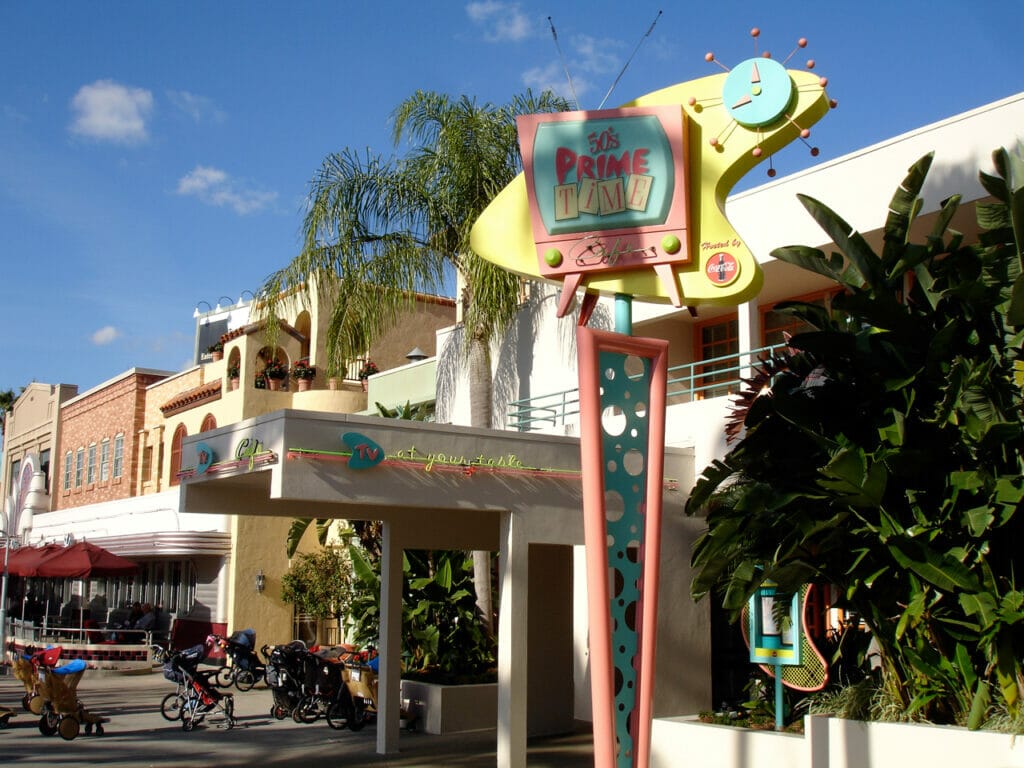 The only people who don't love 50s Prime Time are those who would prefer to have their meal in a little more peace and aren't the interactive dining type, but if you're up for some lighthearted Disney fun and new memories, this is the place for you.
1. The Hollywood Brown Derby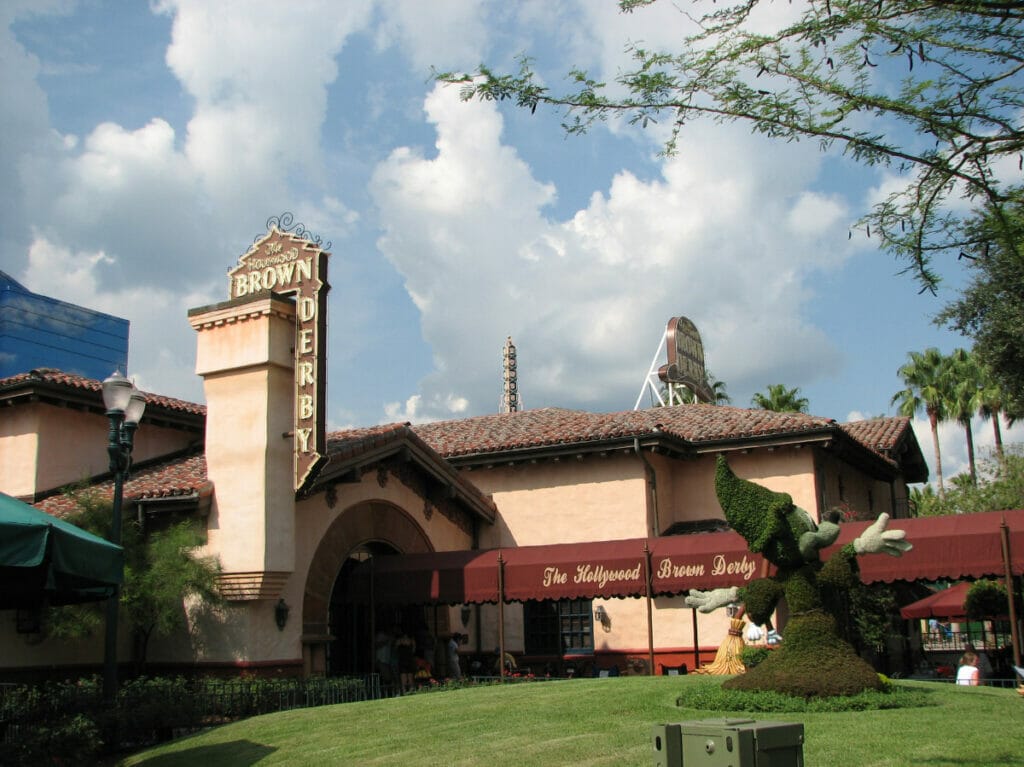 Type of restaurant: Table service
Character dining: No
Meals served: Lunch and Dinner
Price point: Splurge
If you're looking for the fanciest restaurant at Hollywood Studios with the best food, look no further than the Hollywood Brown Derby.
A replica of the actual Brown Derby in Hollywood, this is a fantastic fine dining option with a light, airy atmosphere with high ceilings and fun caricatures on the walls.
The most popular item?
A Cobb salad that will rock your world.
Other delicious choices include Faroe Island salmon and filet of beef, as well as desserts like the chocolate mousse cake with candied cherries.
The lighting is warm, the service is fantastic, and it's the best way to embrace the glitz and glam of Hollywood while at Hollywood Studios without resorting to the cheaper cafeteria-style feel at Hollywood & Vine.
For the over 21s, there are also incredible cocktails poured tableside as well as wines from around the world.
Get the All-American Travel Secrets!
Don't miss out on America's hidden gems!