Disney's Hollywood Studios is, in my opinion, one of the most wonderfully decorated parks at Walt Disney World for Christmas.
In fact, Christmas at Hollywood Studios just seems natural.
Among the glitz and the glamor of Hollywood and the movies, Christmas tinsel and decorations fit in really well!
They enhance the natural beauty of this park, and Christmas at Hollywood Studios is one of my must-dos.
From seeing the Hollywood Studios Christmas tree to just wandering around and soaking in the atmosphere at Hollywood Studios during Christmas, there's something for everyone.
Get to Hollywood Studios using Disney's Skyliner for an even cooler experience.
If you're interested in checking out my guides to Christmas at Disney at the other parks, you can find this full guide to Christmas at the Magic Kingdom, as well as a post about Epcot at Christmas and Animal Kingdom at Christmas.
We've also got a great guide on the Disney Springs Christmas Tree Trail and what to do at the Grand Floridian at Christmas!
Want insider Disney tips from an expert?
Join 4,000 others in weekly guides to Disney's hidden secrets, gems, and money-saving tips!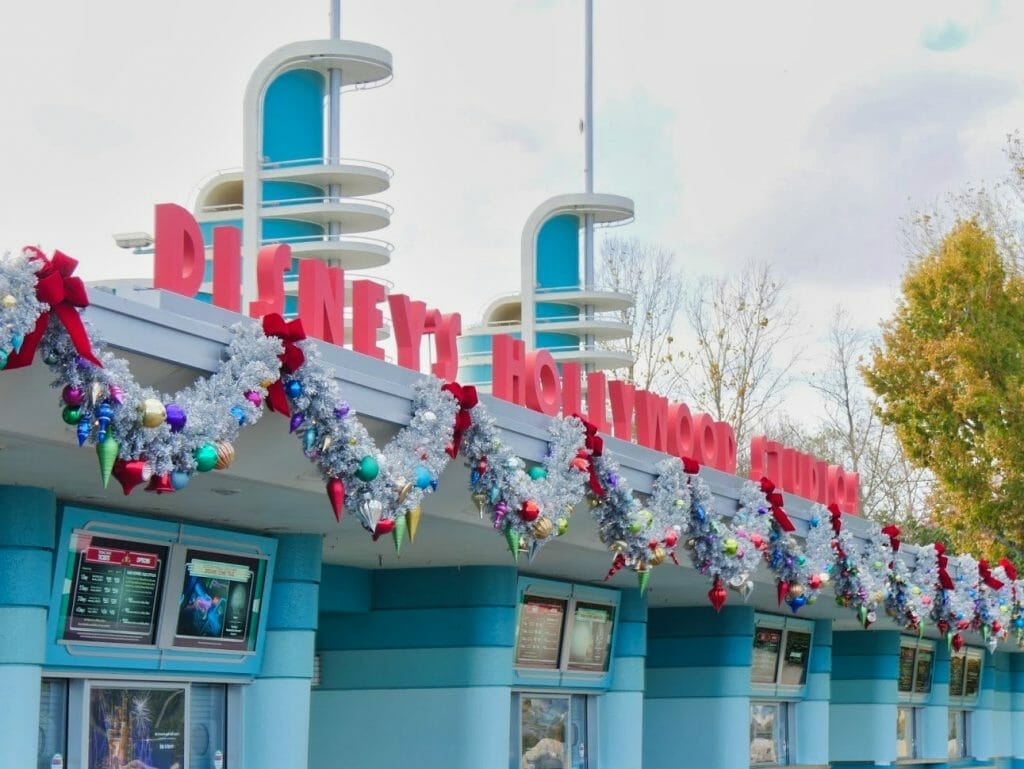 What to Wear to Hollywood Studios at Christmas
Many families enjoy making a display of their holiday cheer while at Disney World.
Where else encourages you to be cheesy and embrace joy more than Disney?
For some particularly Hollywood Studios-inspired Christmas wear, try out this adorable Star Wars Christmas Sweater.
If the Muppets are more your style, get festive in this Muppets themed "HO HO HO" shirt.
Or if you're planning to spend the day in Toy Story Land, this Woody and Bullesye Christmas shirt is perfect for a matching set or to gift your favorite Toy Story fan.
Some other shirt options include this Darth Vader Santa shirt…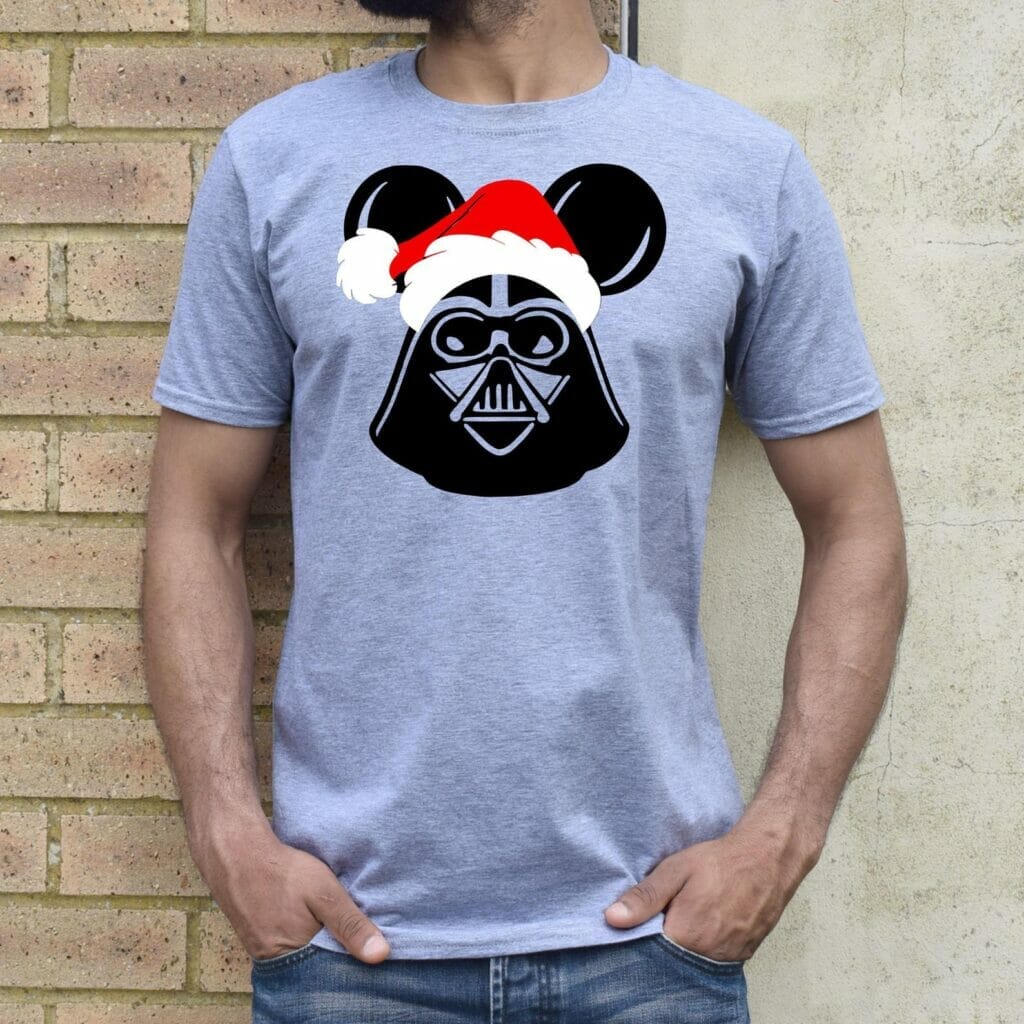 and this adorable Toy Story Christmas shirt!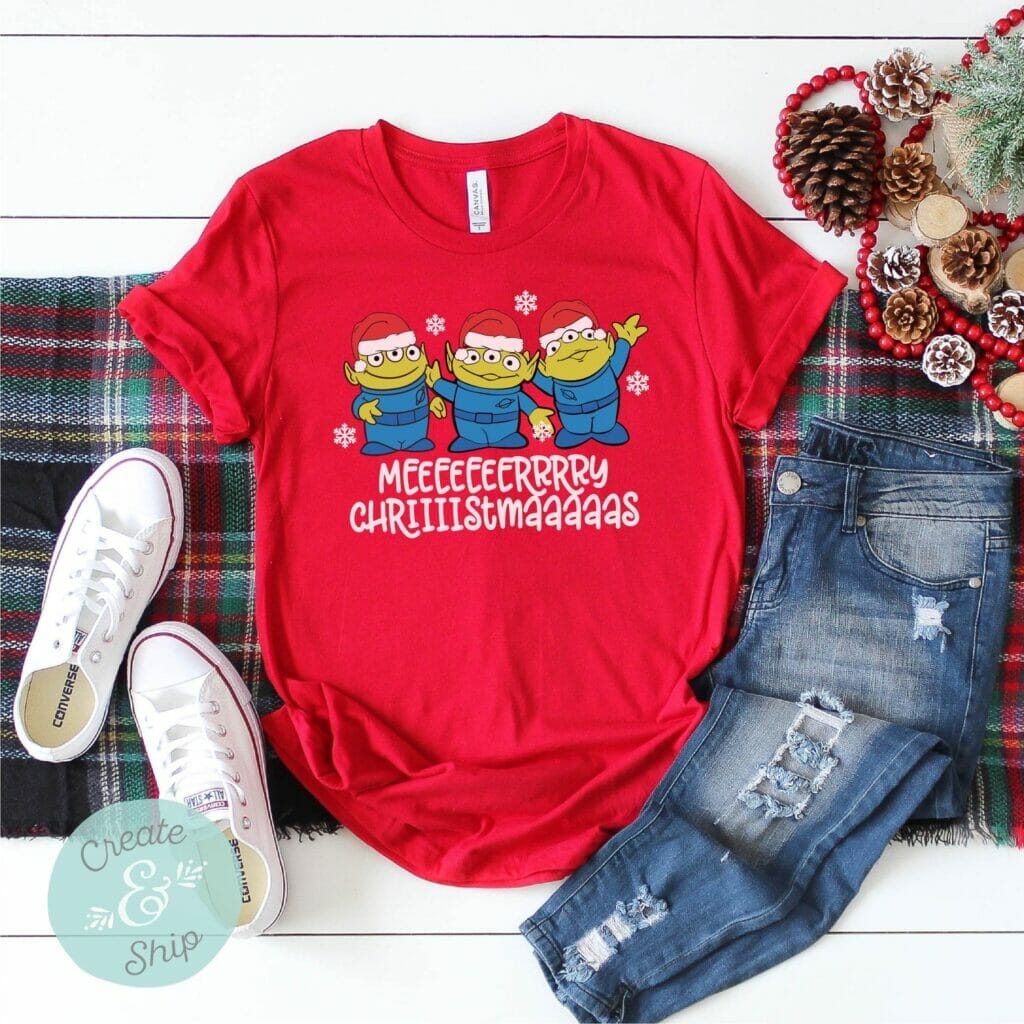 Pssst – this printable Disney scavenger hunt is amazing
Since you're already looking up Disney guides, I just wanted to make sure you knew about this printable Disney World scavenger hunt created by a lifelong Orlando native and Disney World fan.
There are over 60 challenges with a full answer key and both Family and Grown Up versions and a bonus Disney Springs hunt for your non-park day!
Christmas Decorations at Hollywood Studios
There are two main areas for Christmas decorations at Hollywood Studios: the main entrance and Echo Lake, and Toy Story Land.
You won't find too many areas of Christmas cheer in Galaxy's Edge as it would take away from the theming – can you imagine riding Rise of the Resistance and Kylo Ren has a Santa hat on?
As you walk up towards the main entrance, you'll find lots of Christmas colors including ornaments, garland and lights strung up.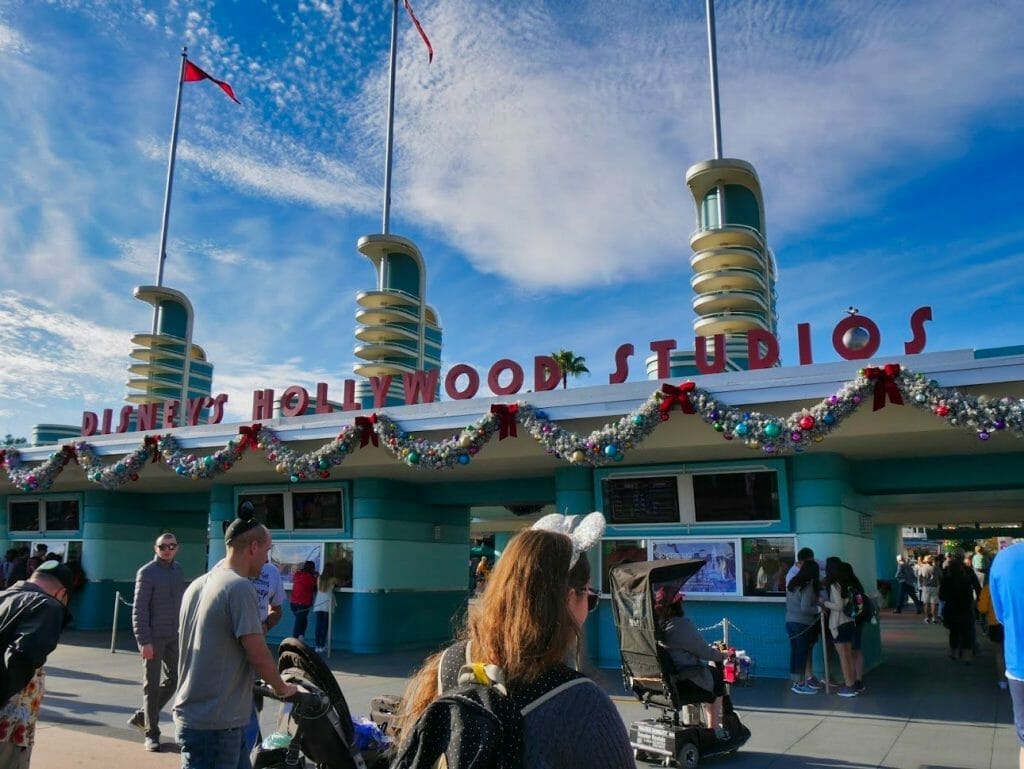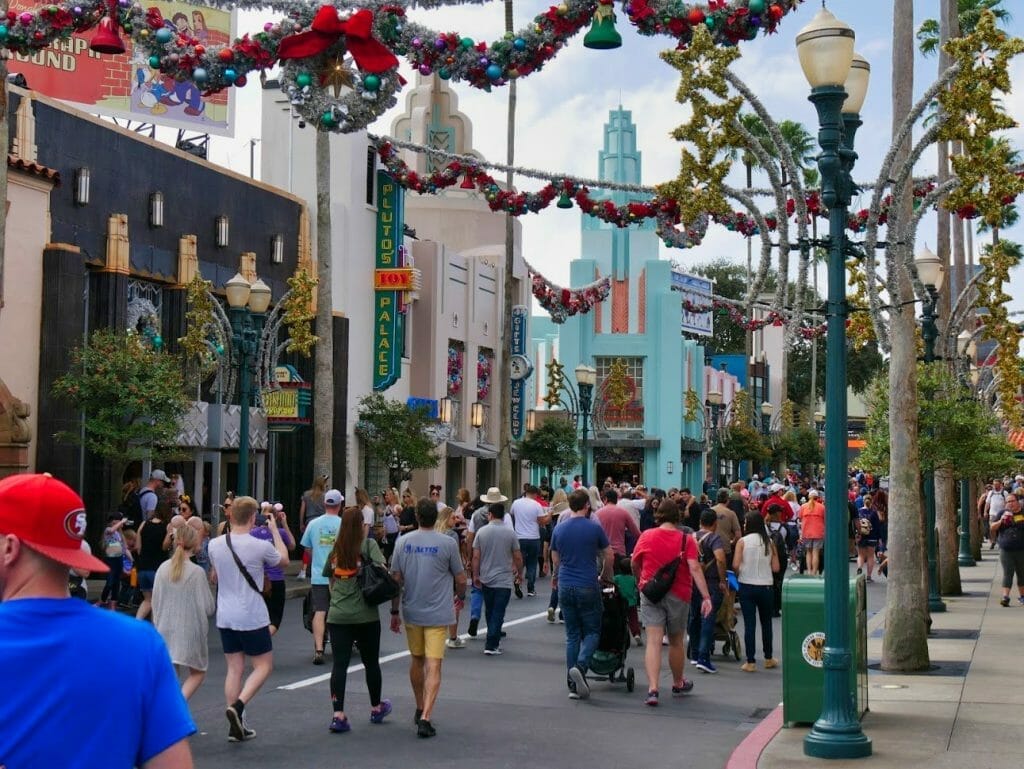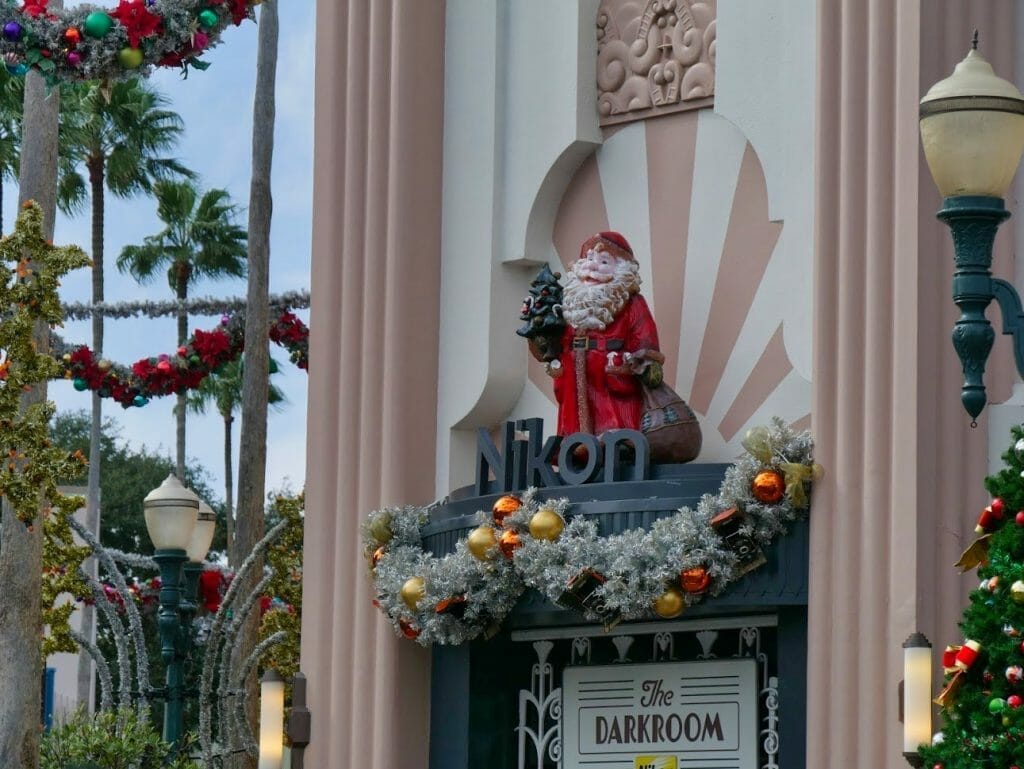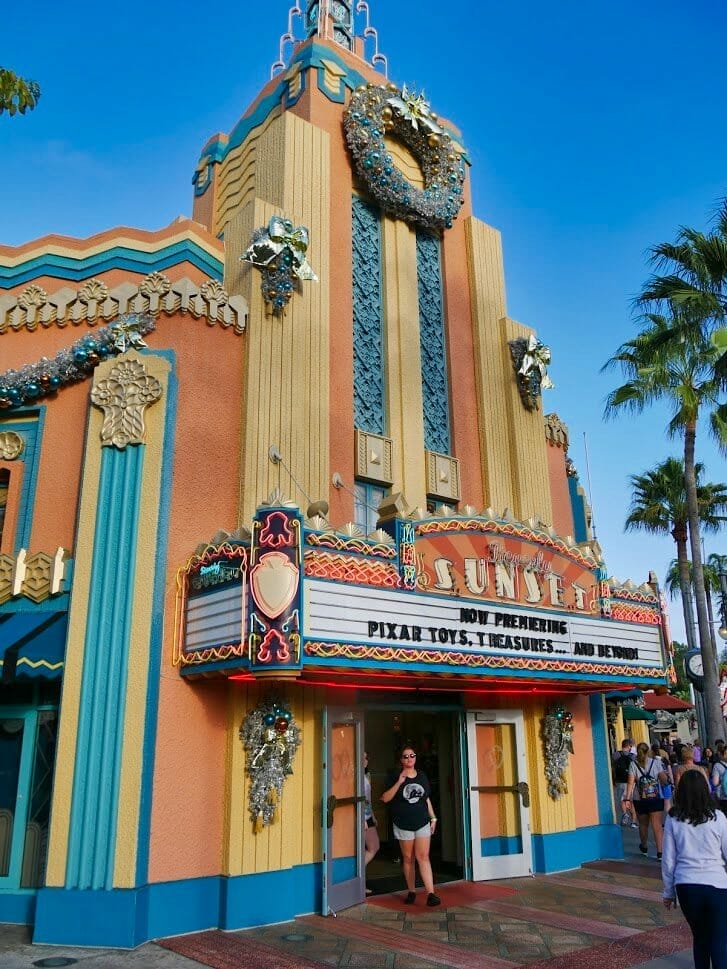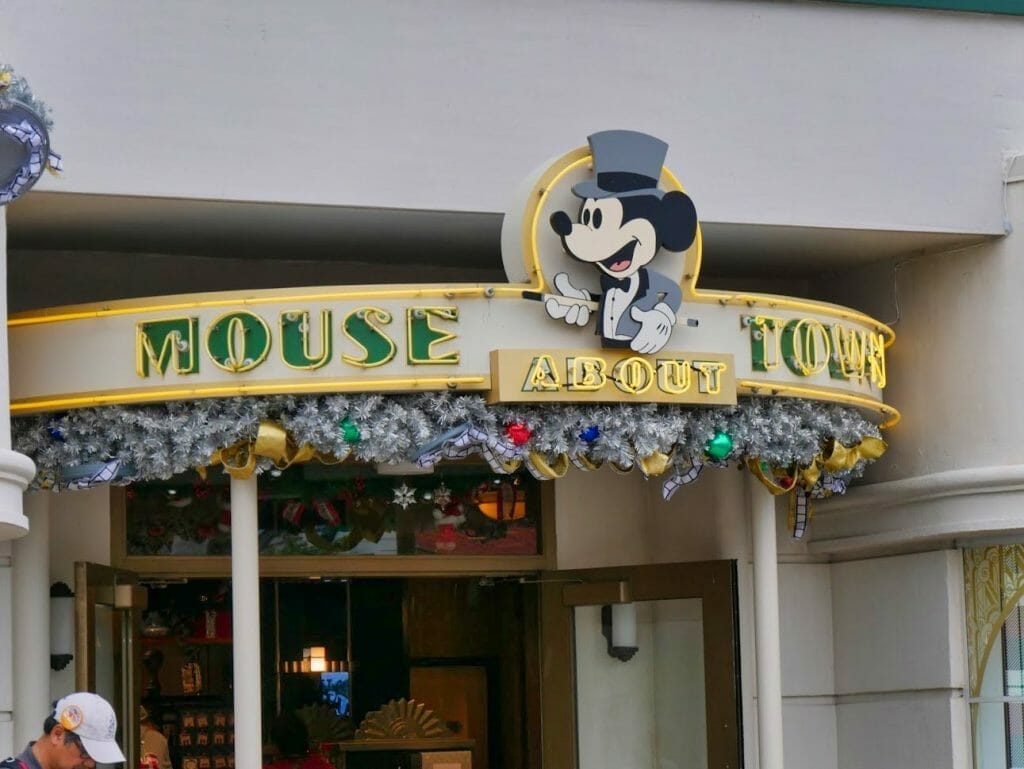 Again, this is the section where it just feels so natural that Christmas decorations are up, and you're feeling like you're a celebrity strolling down your Hollywood walk of fame during the holiday season.
As you head over closer to Echo Lake, you'll notice the adorable ornaments in the water, as well as snow on the head of the friendly dino, Gertie.
You can get some awesome Christmas pictures at the front of the park, as well.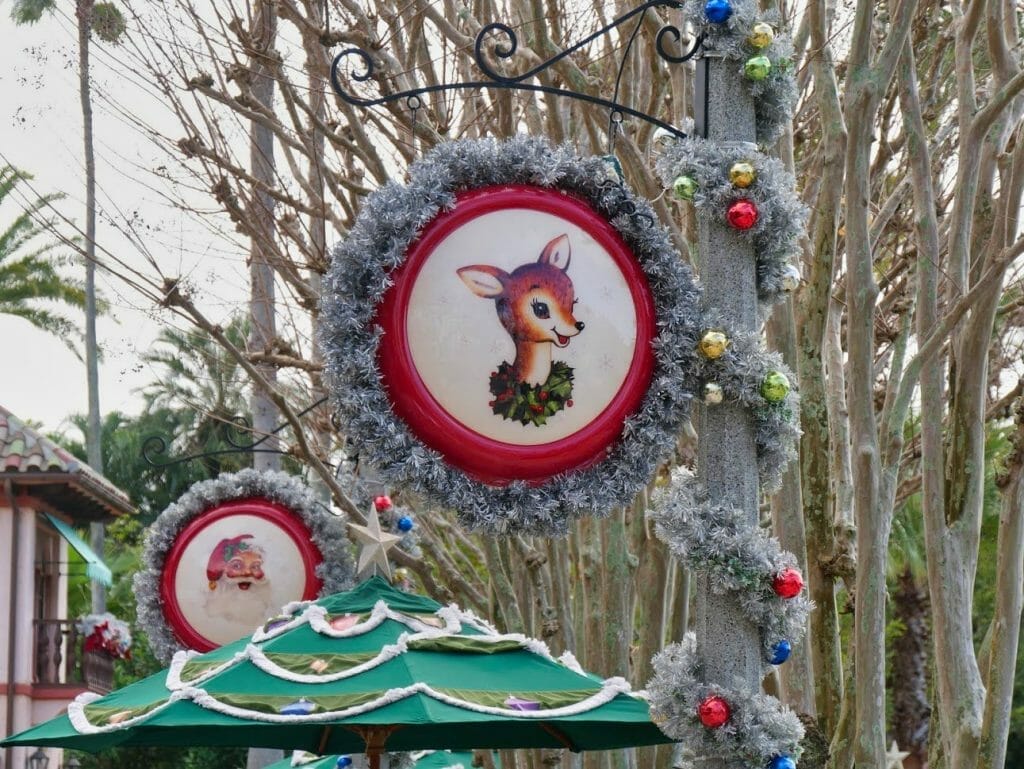 The other area of Hollywood Studios that gets all decked out for Christmas is Toy Story Land.
Funnily enough, the first time we went to Toy Story Land, it was during the Christmas season and we assumed that the Christmas lights being strung up by Rex were just holiday decorations.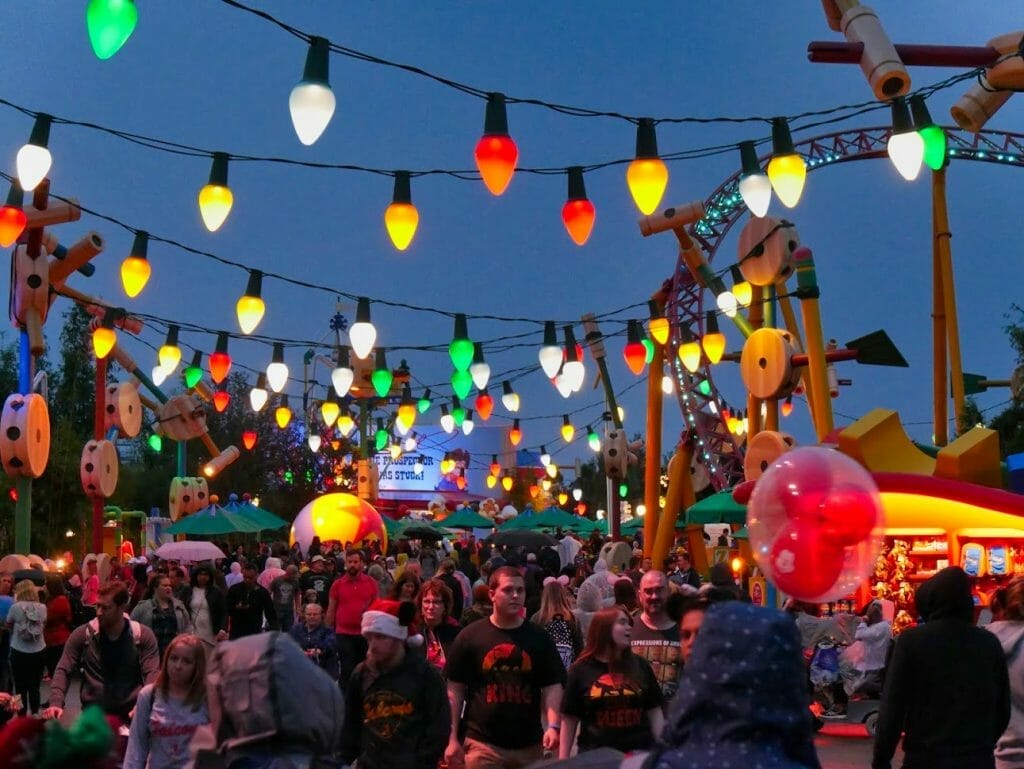 Think again!
A main portion of the land, the larger than life Christmas lights above your head, are actually there all year round and an essential part of the Toy Story Land theming.
That means that Toy Story Land has to up their Christmas game even further for Christmas at Hollywood Studios, so you can expect to find other adorable touches like some reindeer ears on Rex.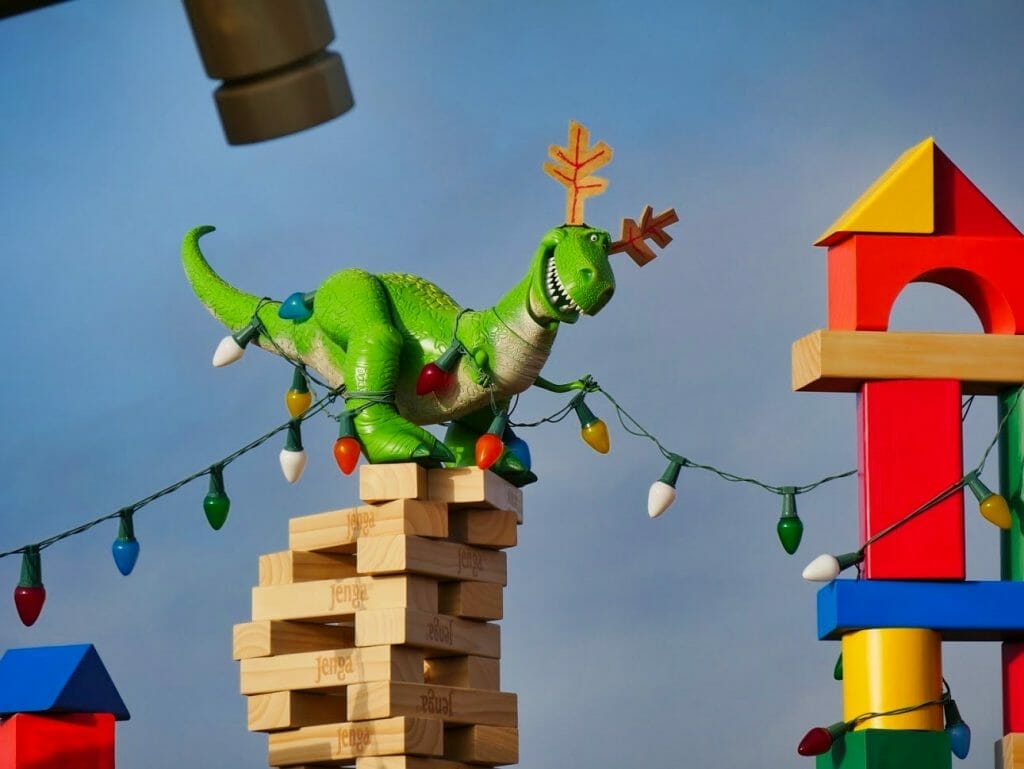 You can also find some cut-out sugar cookies, colorful ornaments in the bushes, and, this year, some garland and popcorn strands hanging over Woody's Lunchbox.
I love the theming at Toy Story Land at any time of year, but especially around the holiday season.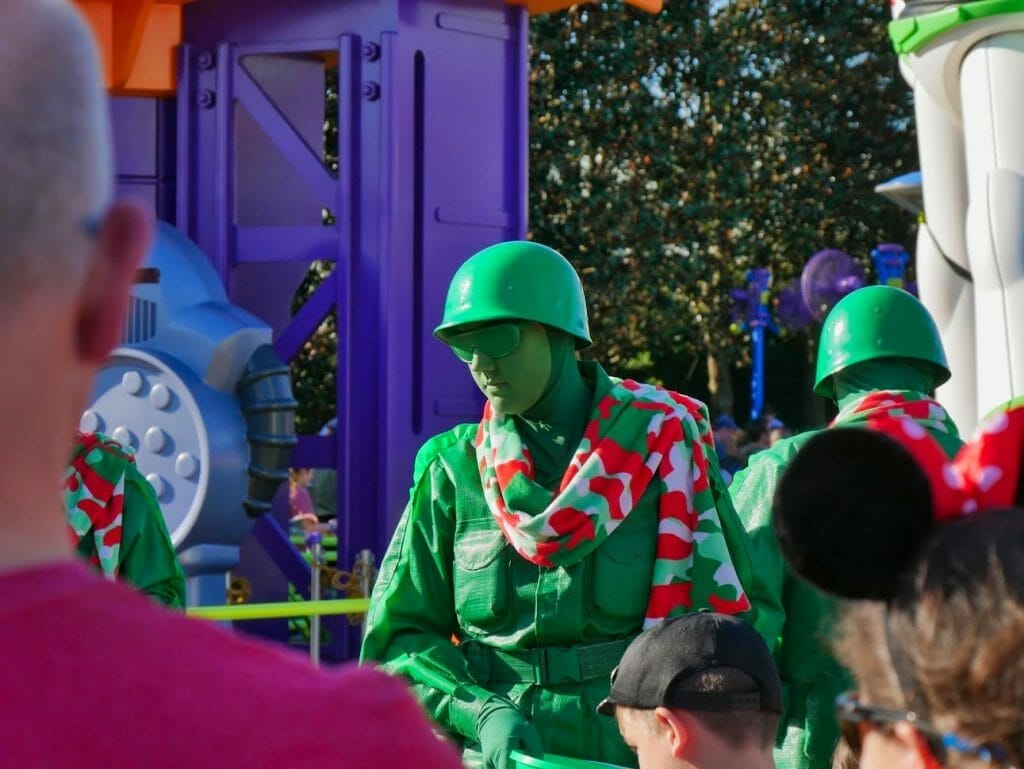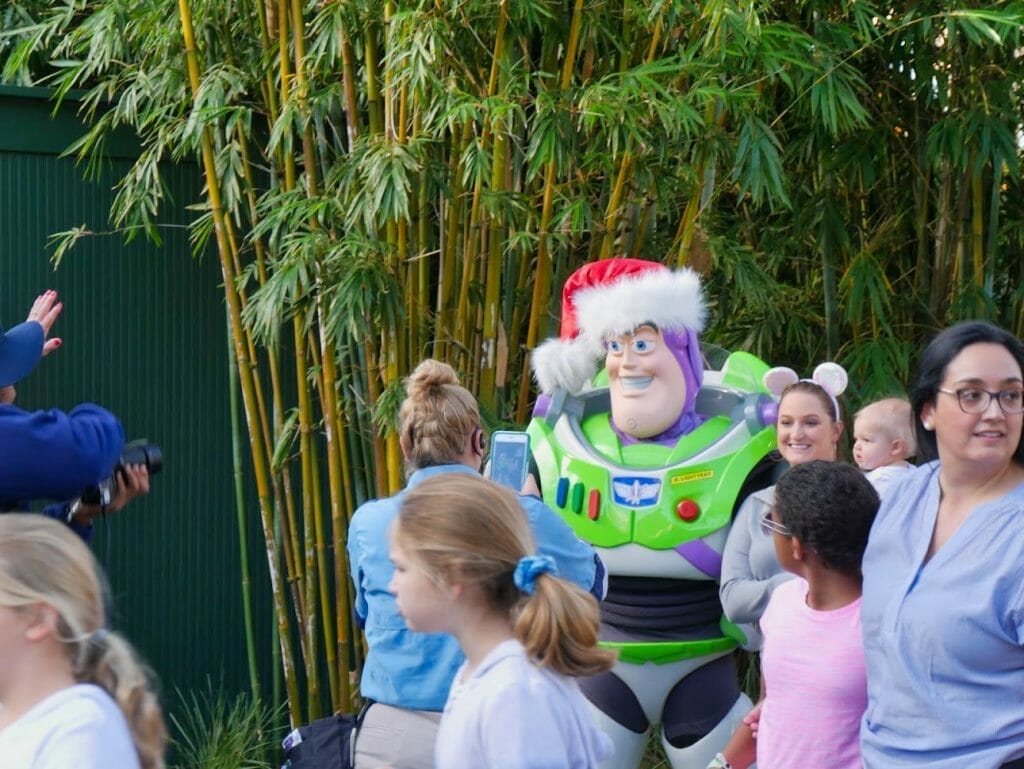 Remember that the decorations should stay up until at least early January, so you don't have to spend Christmas Day at Hollywood Studios to see them.
Christmas Rides at Hollywood Studios
Some of the rides at Hollywood Studios remain their usual versions, but others have the capability to become much more Christmas themed.
For example, the Tower of Terror becomes the Hollywood Toy Hotel (more on that in a bit), and if you ride Slinky Dog Dash, in addition to being able to see the Toy Story Land Christmas decorations, you'll hear some jingle bells adding holiday cheer!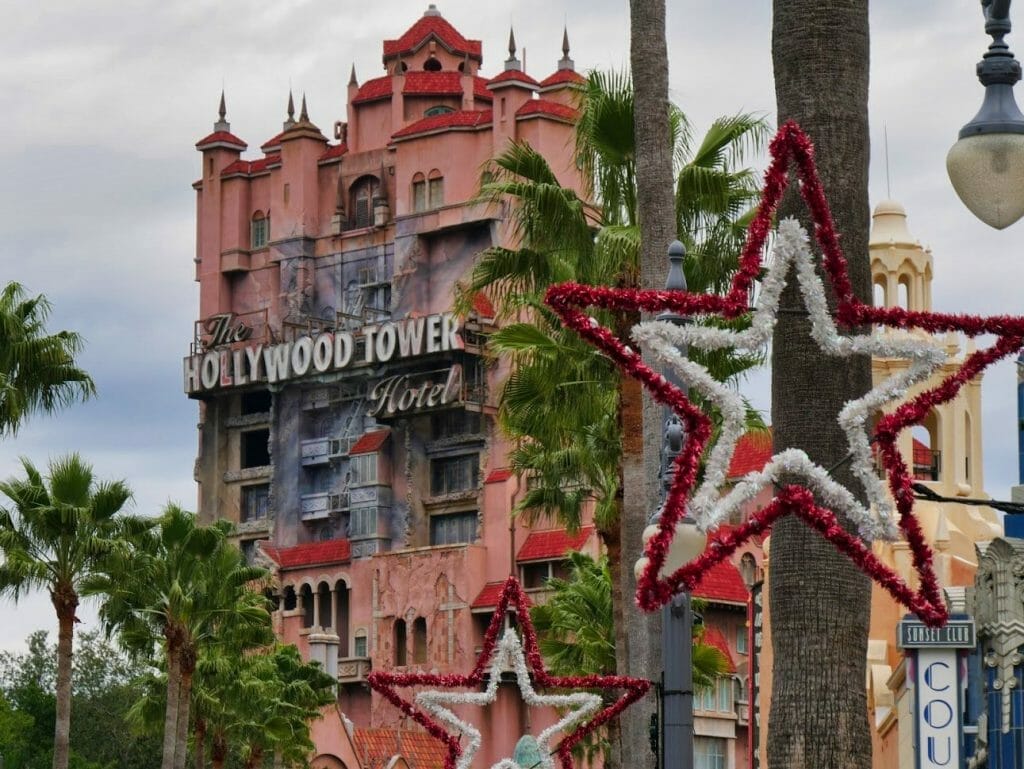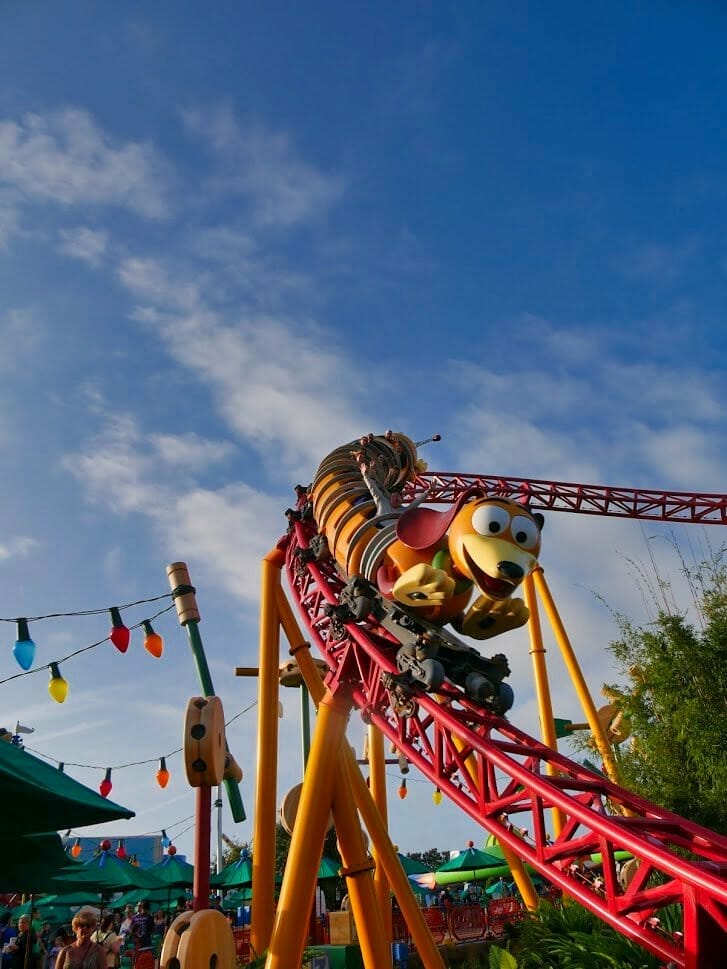 Rides like Rock'n Rollercoaster and many of the shows remain the same.
You won't see Indiana Jones singing Christmas carols anytime soon, and that's probably for the best!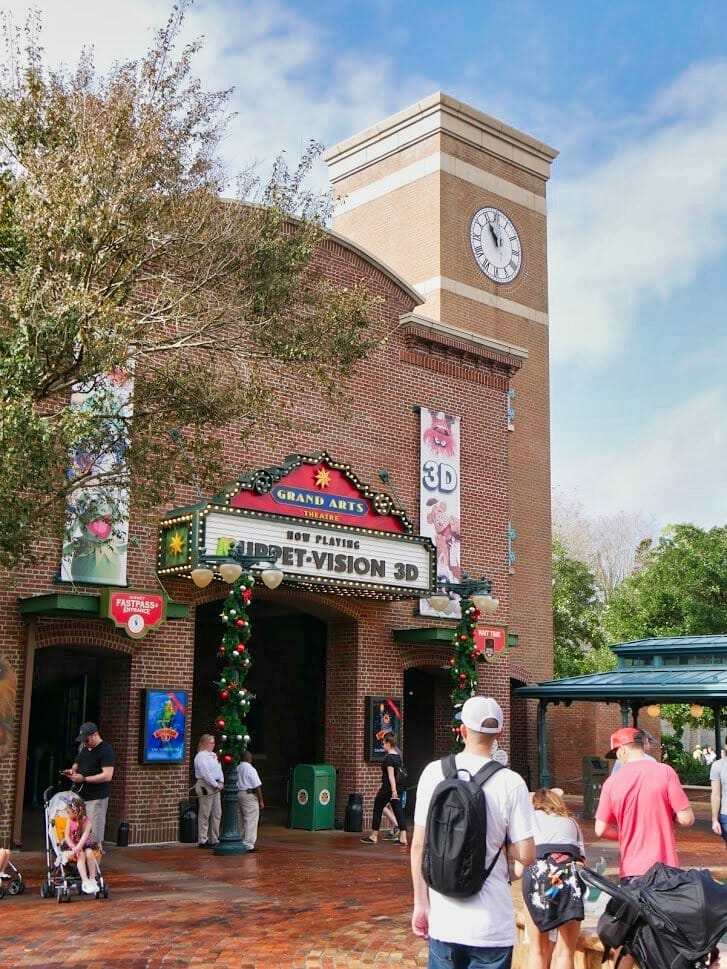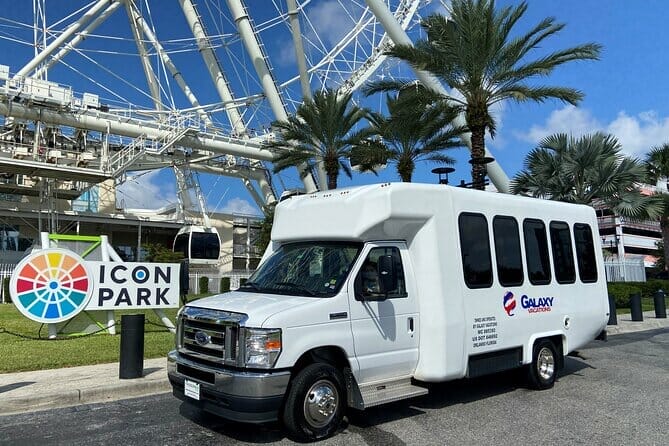 🚌Not renting a car in Orlando?
My favorite shuttle to get from the Orlando airport directly to Disney World is this one with a ⭐⭐⭐⭐⭐ rating.
Christmas Shows at Hollywood Studios
There are two main Christmas shows at Hollywood Studios.
The first, which happens earlier in the night, is a projection show called Sunset Seasons Greetings that happens on the Hollywood Toy Hotel (Tower of Terror), which is similar to how a projection show on Cinderella's Castle works.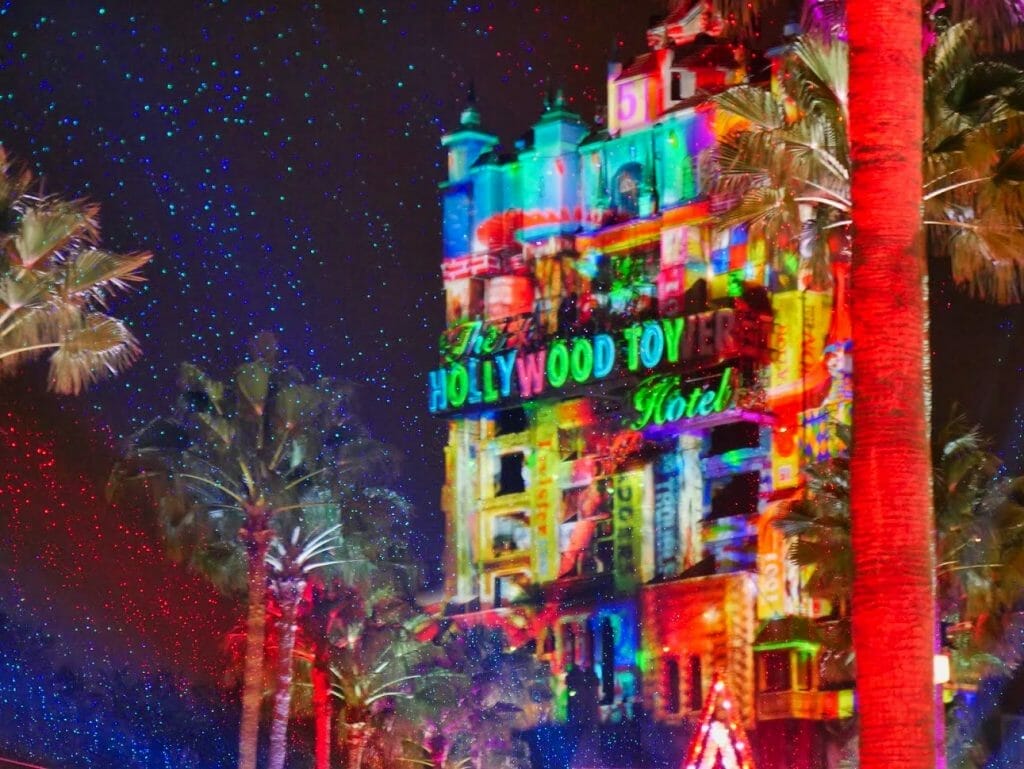 There is a soundtrack, and the projection change set to the music in a spectacular way, including some laser light show action going on above your head as well.
At the end, you'll also have some "snow" on Sunset Boulevard falling over your heads, and I find this show to be both festive and fun.
It's not going to win any awards for Disney's best Christmas show, but it's worth standing around for the 15ish minute the show takes to enjoy yourself and take time out of your busy Disney day.
The second show that occurs on the main stage during Hollywood Studio's Christmas is called Jingle Bell, Jingle Bam.
This is the nighttime main show hosted by elves Wayne and Lanny.
They're from a show called Prep & Landing, so it helps if you have heard of the show, but it's not necessarily.
Throughout the show, you'll see special effects and projections on the main stage as they get up to Christmas mischief, as well as some lovely fireworks and moments from your favorite Disney movies (there are more recognizable Disney characters who join in the fun including those from Bambi and Cinderella).
As this is the finale nighttime show at Hollywood Studios at Christmas, it also has a special dessert party to go along with it, which I'll address next.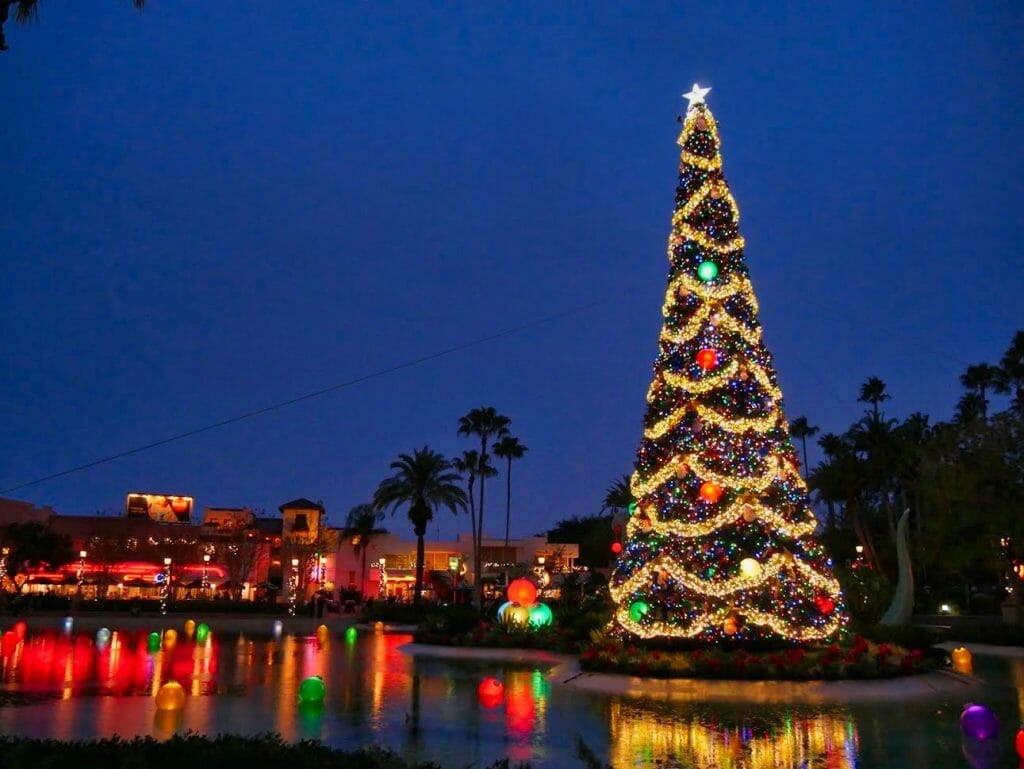 Christmas Dining at Hollywood Studios
In addition to quick service Christmas dining options like Christmas themed cupcakes (who can resist?) and Hollywood Studio's best restaurants, Hollywood Studios also has some Christmas dining options in the form of a dessert party and a regular buffet.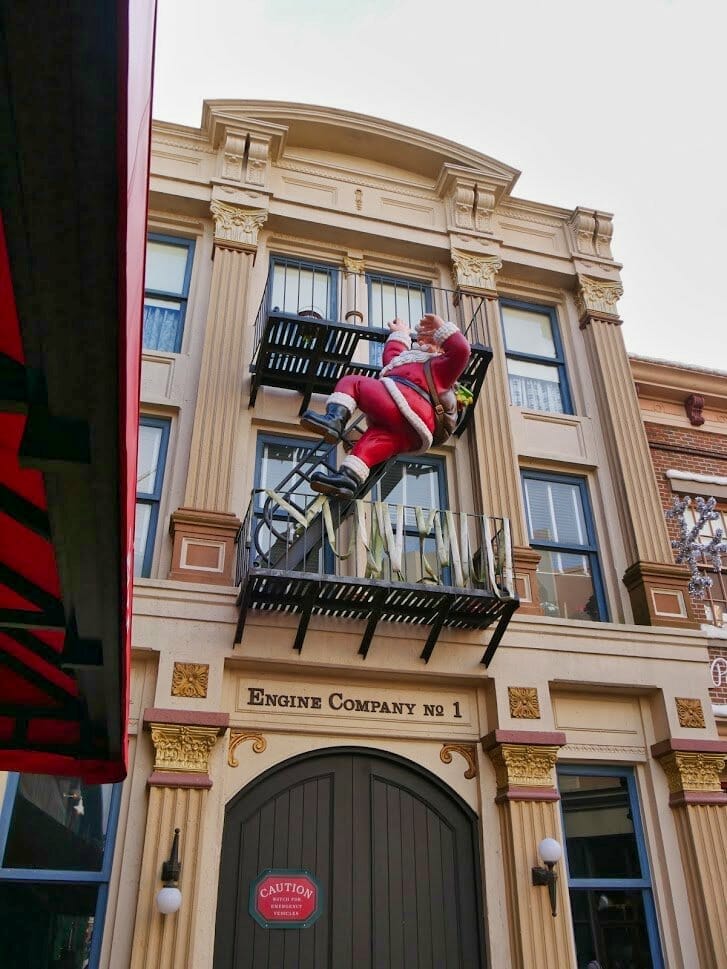 Jingle Bell, Jingle Bam! Holiday Dessert Party
If you want to truly celebrate Christmas at Hollywood Studios in style, you can pay extra for the Jingle Bell, Jingle BAM! dessert party.
This dessert party starts with a reserved area for you to enjoy festive treats like Yule log, cheese fondue, and Gingerbread flavored everything (as well as some sweet treats).
As you dine on these nibbles, you get to relax with a nice view of the Christmas Tree on Echo Lake.
You also get the chance to meet a Christmas-themed Disney character, which in the past, has been Goofy Santa Claus!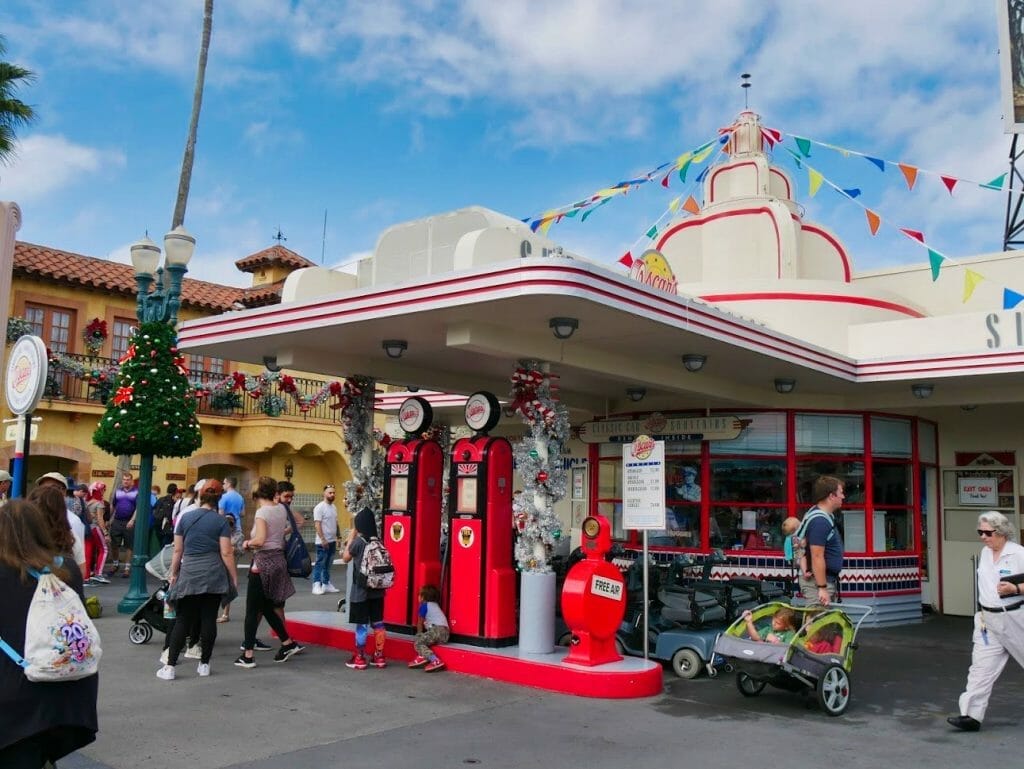 The bonus of this dessert party for many people is the character greeting opportunity, combined with the food that can stand in for a light dinner.
And, of course, as with every dessert party, you get your own reserved viewing area for Jingle Bell, Jingle BAM! that happens later in the night.
If you don't want to spend time fighting crowds, then enjoying this Hollywood Studios dining and character greeting experience is for you.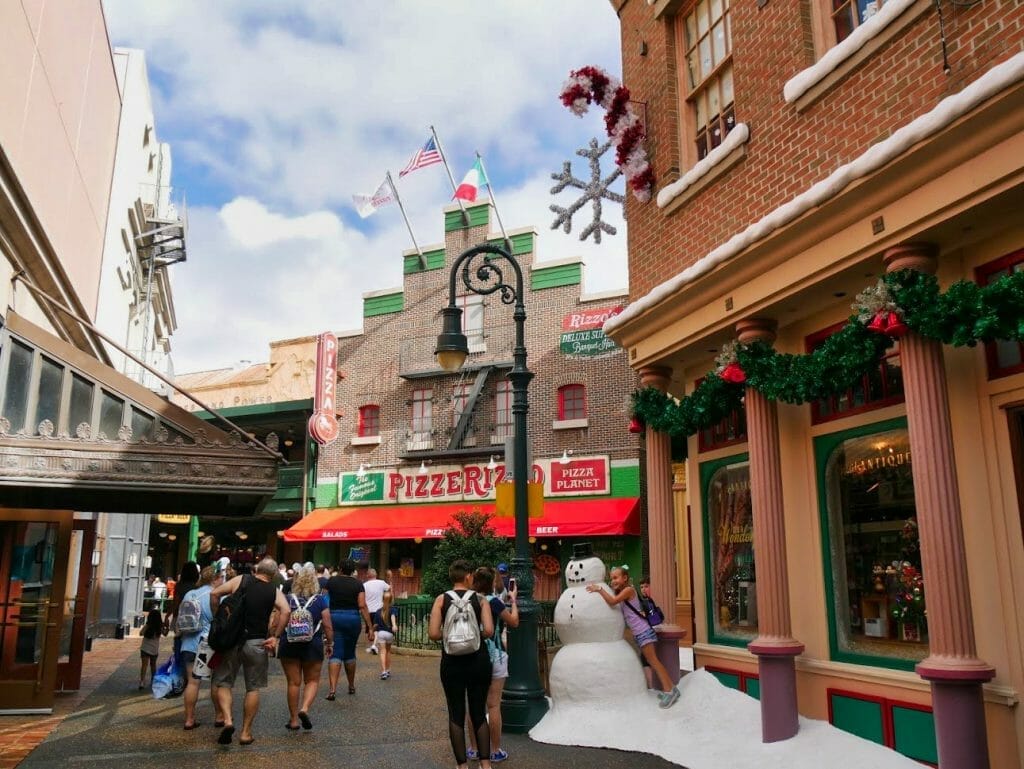 Minnie's Seasonal Dine at Hollywood & Vine
The other blatant holiday dining at Hollywood Studios happens at Hollywood & Vine.
Every holiday season, this sit-down buffet is transformed into Minnie's Christmas party, and in addition to some Christmas decorations dotted around, you'll also find that the characters are dressed up in their wintery-best!
As you walk in, you'll get a picture with Mickey and Minnie looking very festive, and then you'll be shown to your table.
As you eat, other characters like Daisy and Goofy will come around to greet you and spread some holiday cheer.
Make sure to use this guide on how to make hard-to-get Disney dining reservations to get a reservation, though, as Christmas is a popular time for table service dining at Hollywood Studios.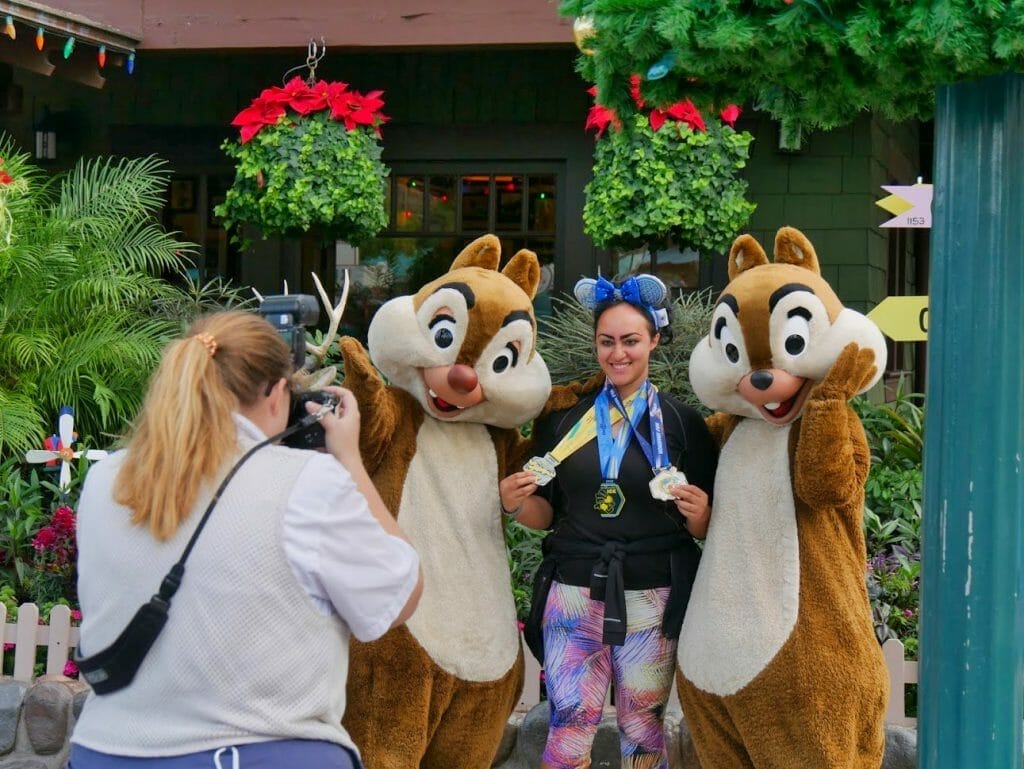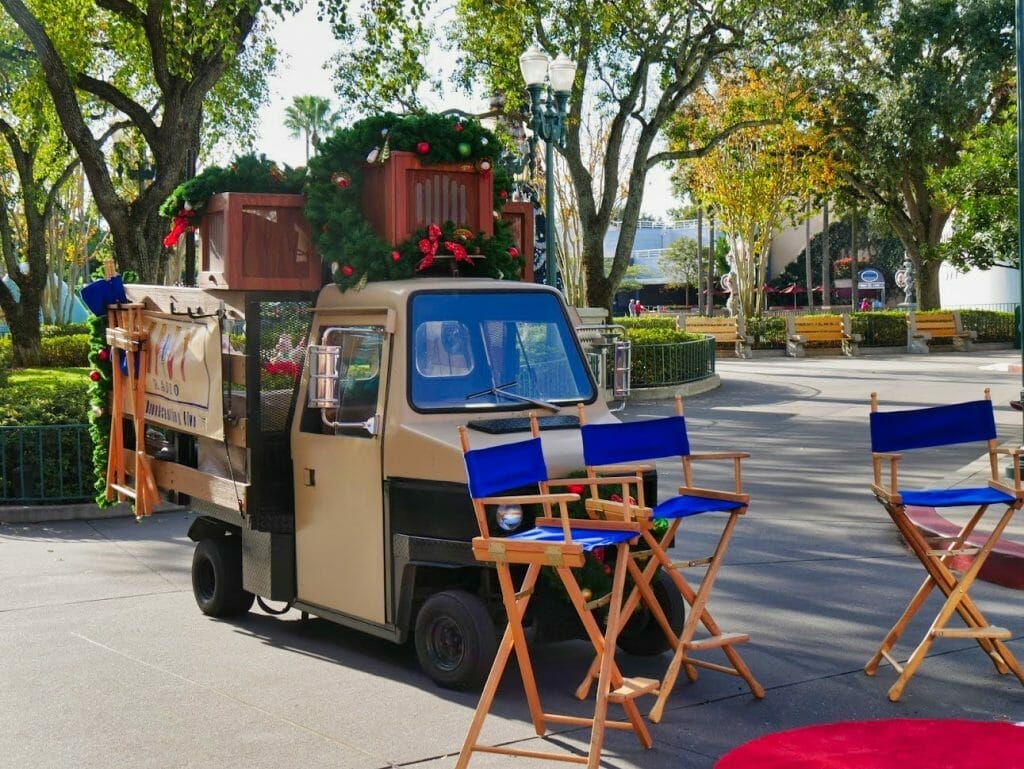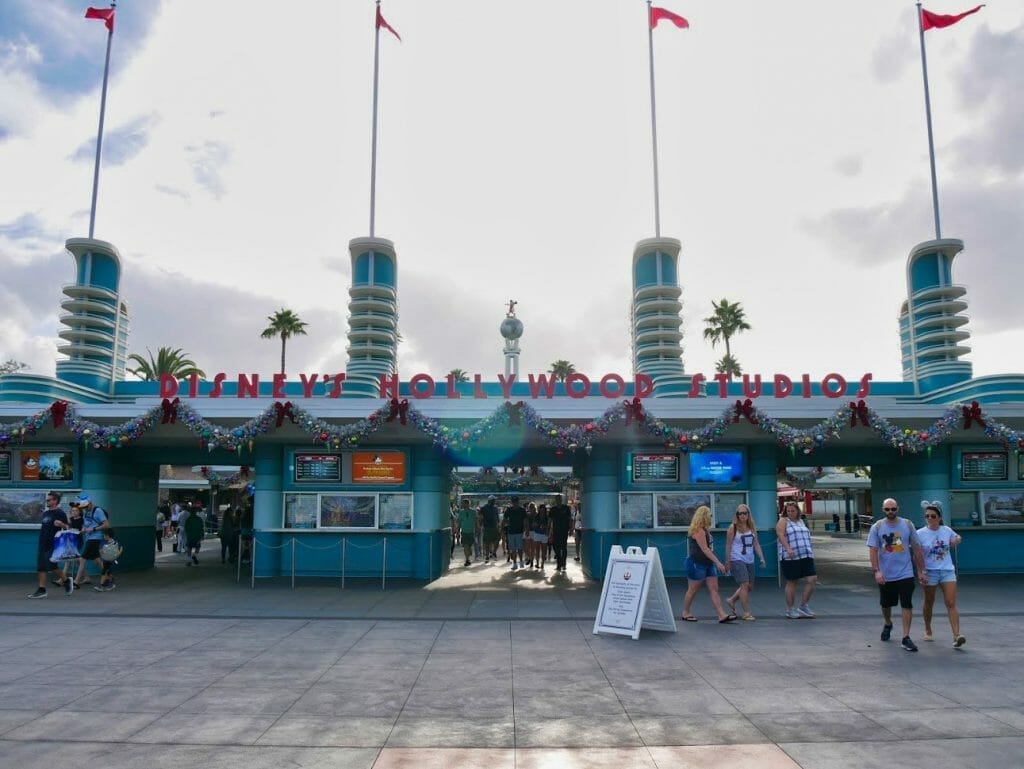 Get the All-American Travel Secrets!
Don't miss out on America's hidden gems!