One of Disney's newest forms of transportation, the Disney Skyliner, is the talk among Disney fans for many reasons – some good, some bad.
We had the chance to ride the Skyliner on the first day of public operation on September 29th 2019 and many times after, and I want to take you through the journey of loading, riding, and unloading the Skyliner as well as talk about the different lines and the downsides of this method of transportation.
If you're already a Skyliner fan or want to be ready to celebrate on your next Skyliner journey, you must check out this adorable Skyliner ornament, amazing chic Skyliner MagicBands and even Skyliner luggage tags!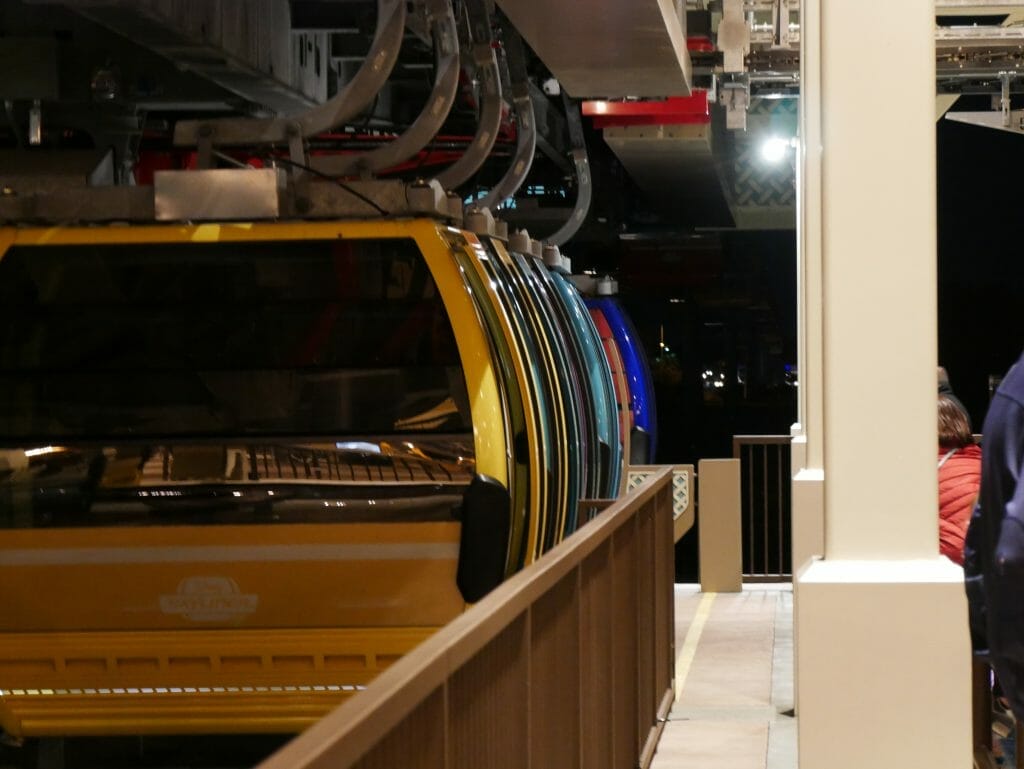 Want insider Disney tips from an expert?
Join 4,000 others in weekly guides to Disney's hidden secrets, gems, and money-saving tips!
Pssst – this printable Disney scavenger hunt is amazing
Since you're already looking up Disney guides, I just wanted to make sure you knew about this printable Disney World scavenger hunt created by a lifelong Orlando native and Disney World fan.
There are over 60 challenges with a full answer key and both Family and Grown Up versions and a bonus Disney Springs hunt for your non-park day!
If you really want to get in the spirit and pack something that will mark your ride on the Skyliner, check out this adorable tee!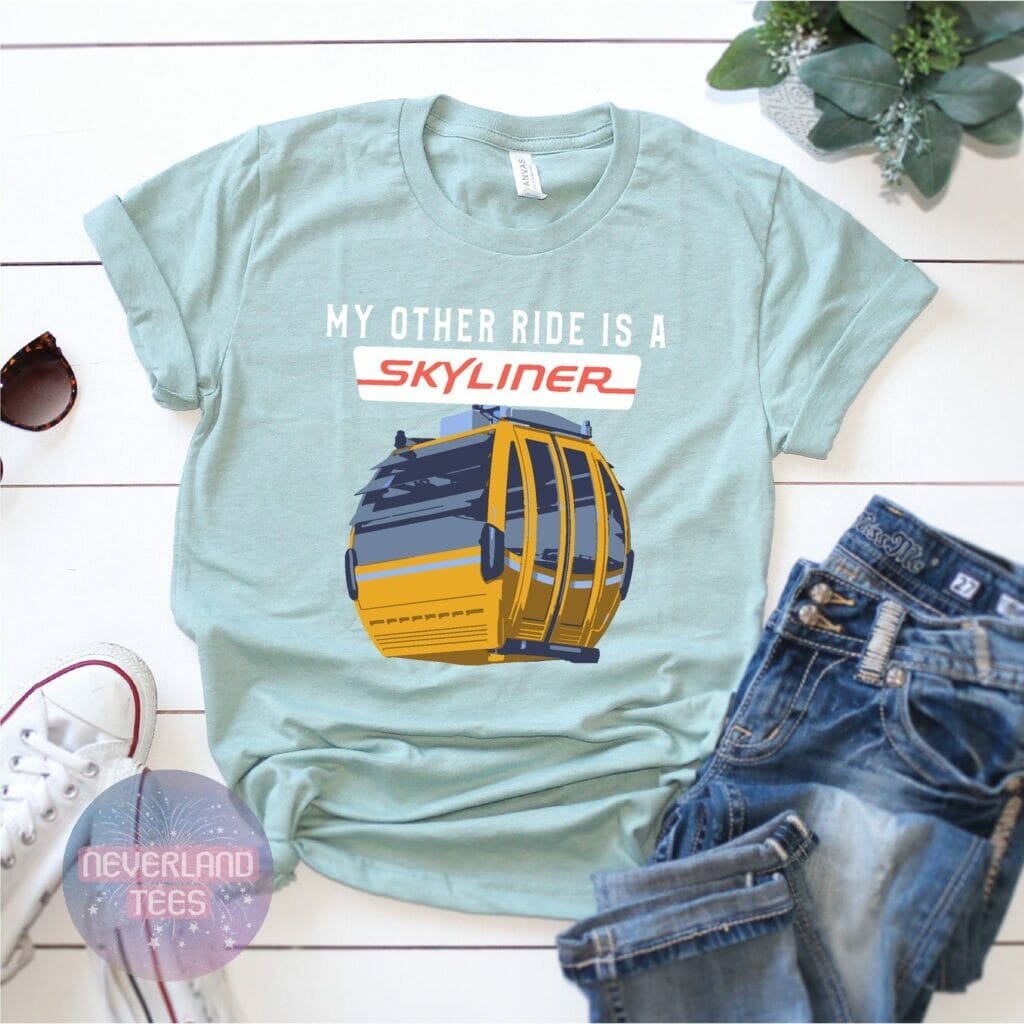 Disney World Skyliner Map
If you imagine the Skyliner Routes in a bit of a T shape, it helps to understand that there are three separate lines with one transfer station, where the T comes together.
The "middle" line goes straight from the Caribbean Beach station to Hollywood Studios.
Then, there's another line that goes from Caribbean Beach station through the Riviera resort station (you do not need to unload here) to Epcot.
Due to its incredible proximity to the Skyliner, Riviera is now one of our picks for the best Disney Deluxe resorts, particularly for those on a Disney honeymoon!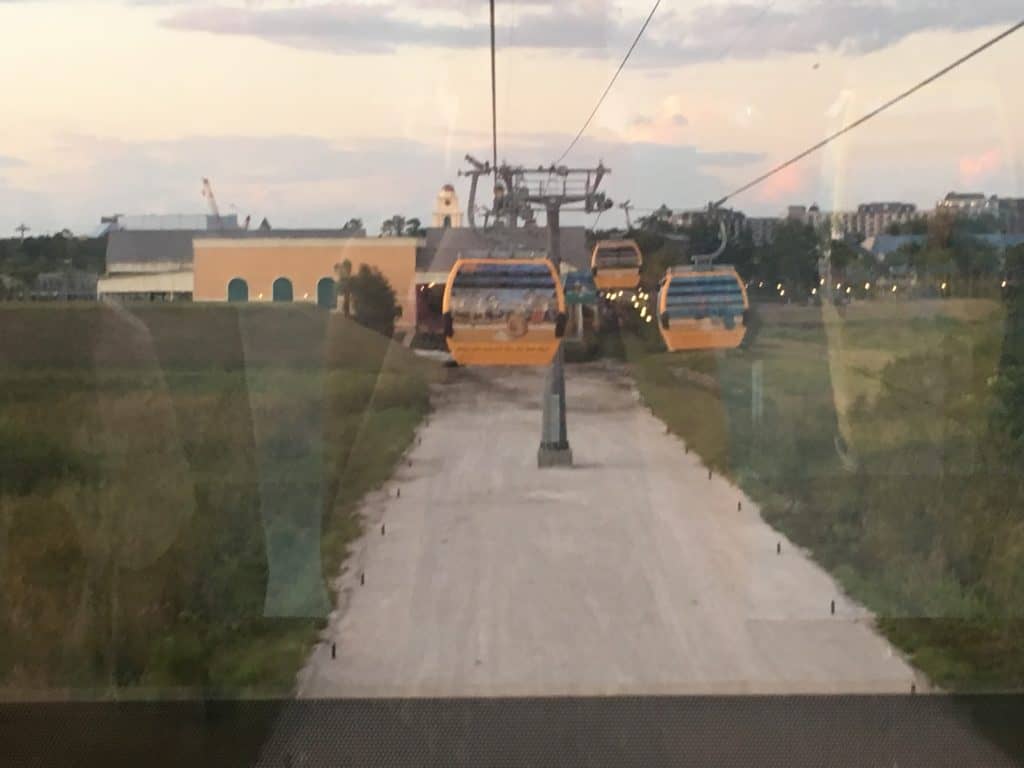 Finally, the resort line goes from the Caribbean Beach station to a station in between Pop Century Resort and Art of Animation Resort (sidenote: you can check out our Art of Animation review here, which is now one of the best value resorts at Disney World).
The main center of all of these routes is the Caribbean Beach Station, and you can't get from Hollywood Studios to Epcot directly via Skyliner or from Pop Century/Art of Animation to the parks directly.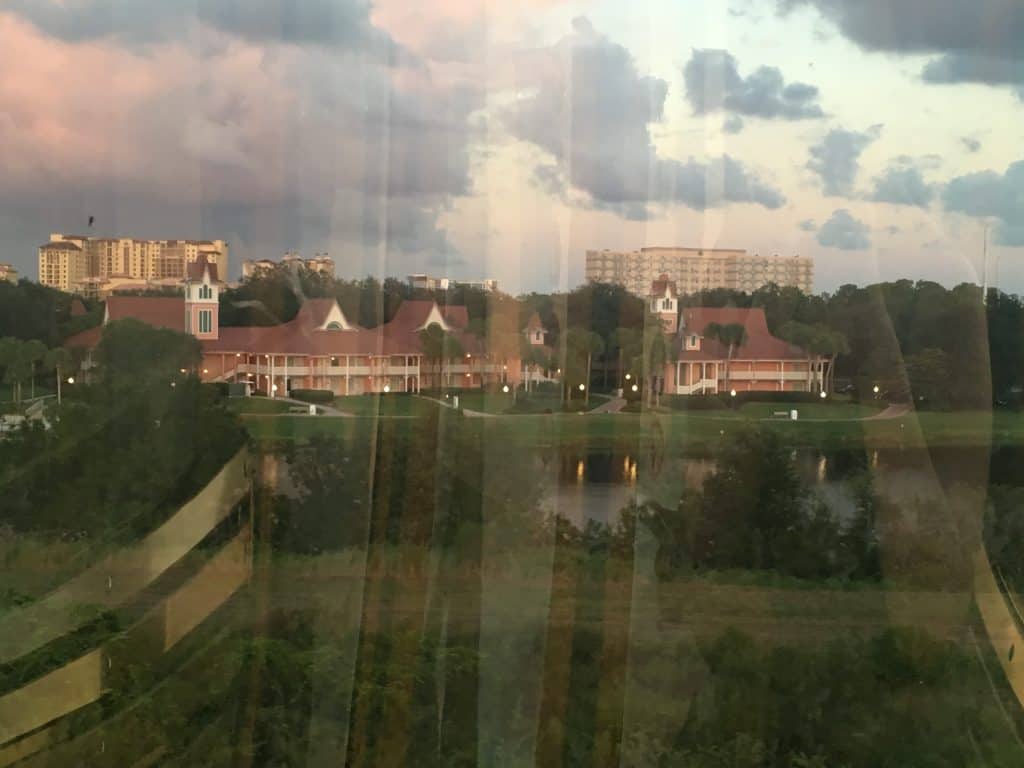 Discovering Disney's Skyliner Stations
As mentioned, there are five Disney Skyliner stations – Caribbean Beach Station, Hollywood Studios Station, Epcot Station, Pop Century/Art of Animation Station and the Riviera Station.
Each of these are themed to fit in with their surroundings, which I think is fabulous – the Hollywood Studios station, in particular, is awesome!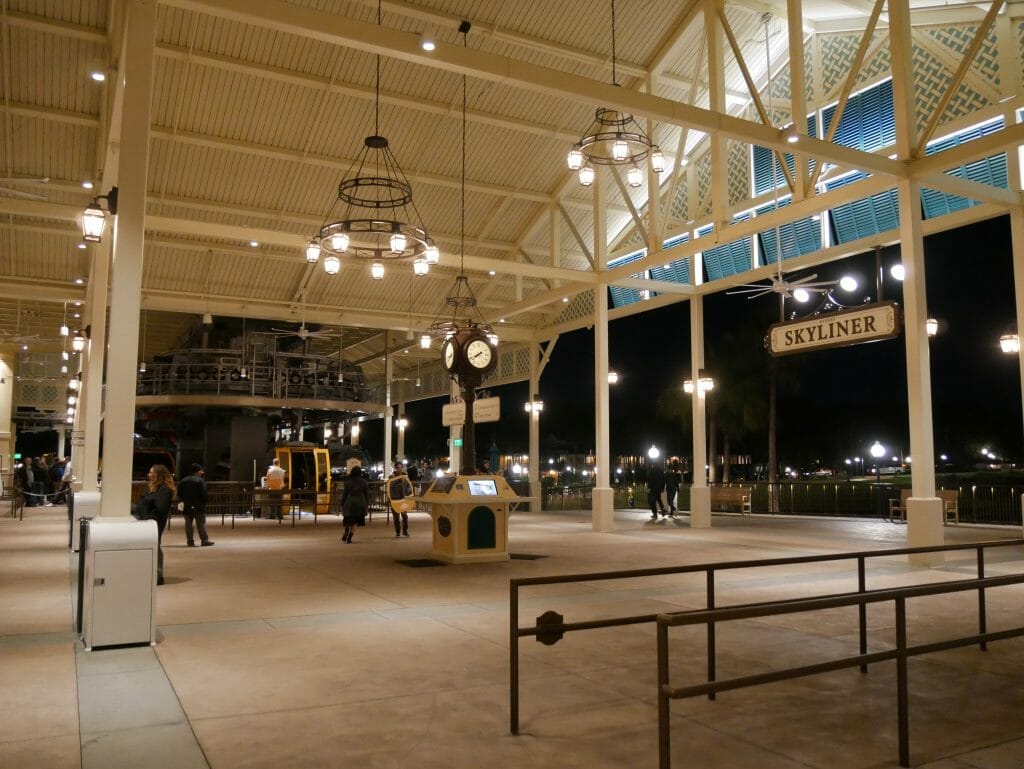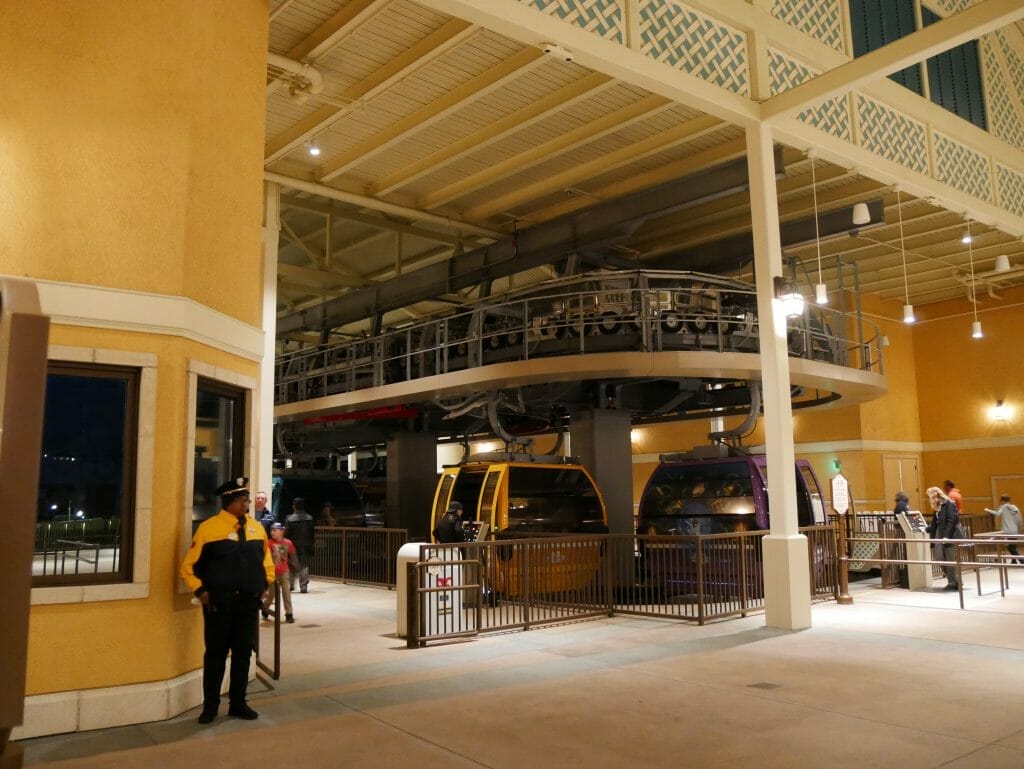 Each station has the incoming and outgoing gondolas lines (you must enter and exit in a different place), as well as lines for those who need a fully stationary Disney World gondola to board, and there are usually bathrooms very nearby so you can use them before or after you ride.
The Hollywood Studios Station is located at the front of the park, but outside so you do not need a ticket to use the Disney gondola.
If you do want to go to the parks, make sure to get your Disney tickets (Undercover Tourist does authentic discounted Disney tickets).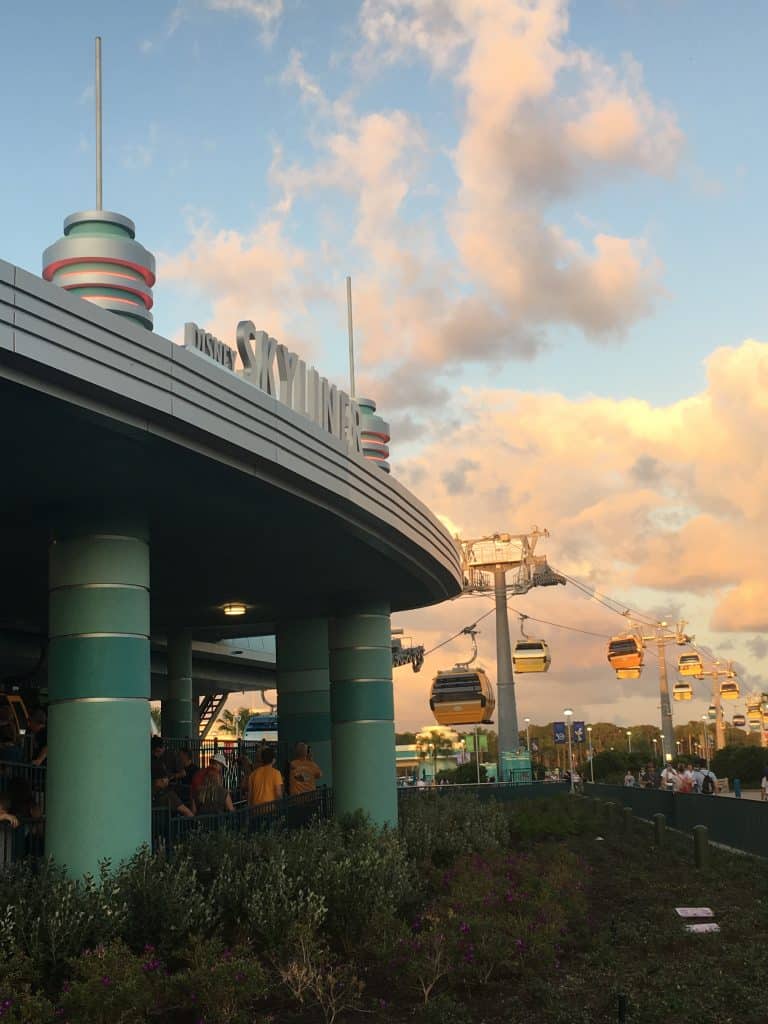 The Epcot Station is located at the park's International Gateway entrance in the back, so you'll enter in between the UK and France if this is something to keep in mind when planning your day.
Also from the Epcot station, you can walk to the Boardwalk to have a nice Disney date night, or go explore Disney's Beach Club resort or have dinner at Ale and Compass.
The Art of Animation/Pop Century Skyliner is in the middle of the lake in between these resorts and this line does go over the water, while the Caribbean Beach Station is accessible by walkway to Caribbean Beach guests (it starts in between the Trinidad and Barbados area).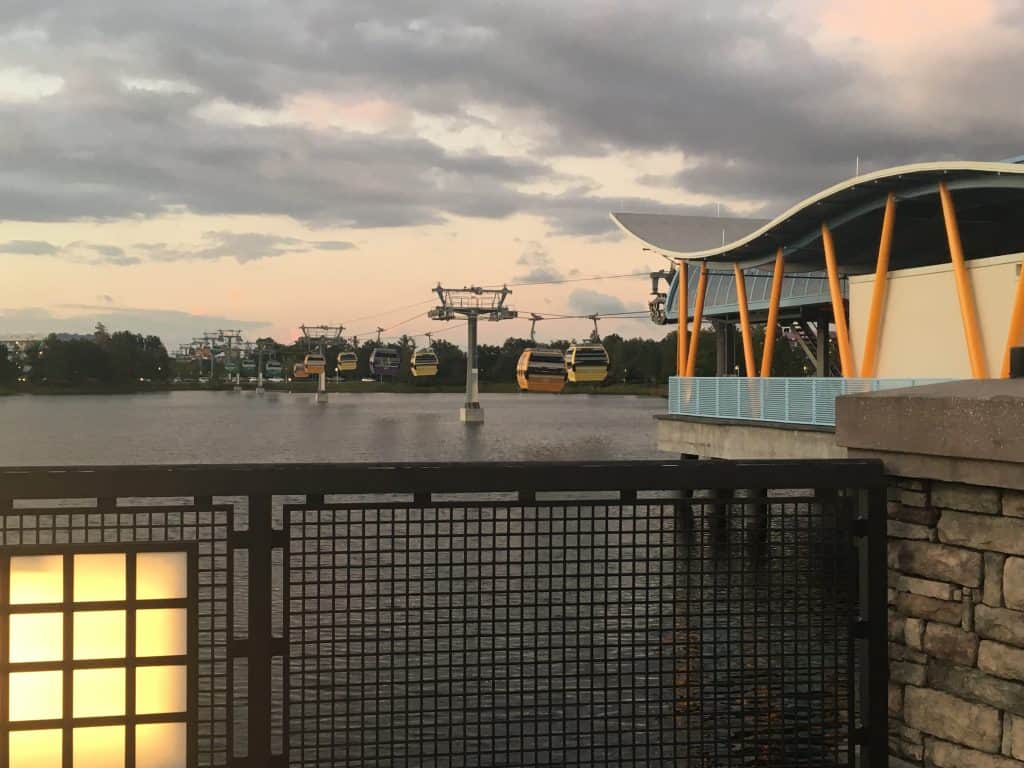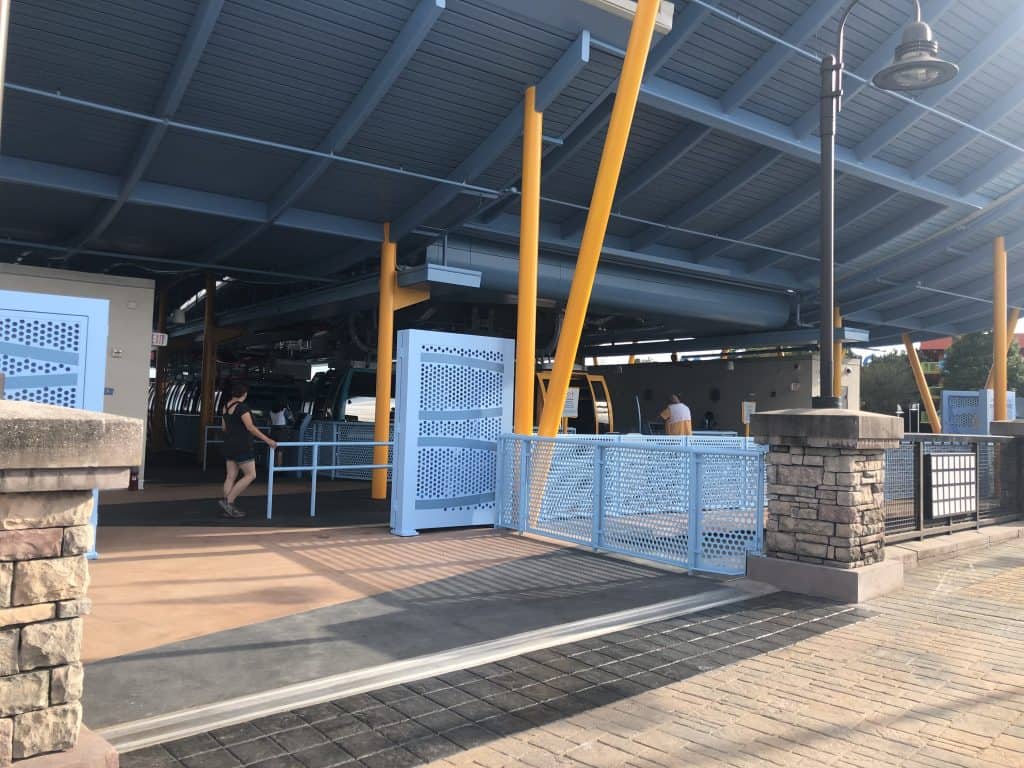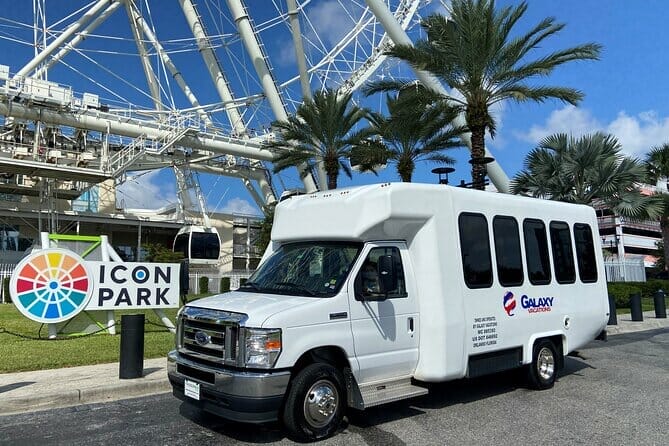 🚌Not renting a car in Orlando?
My favorite shuttle to get from the Orlando airport directly to Disney World is this one with a ⭐⭐⭐⭐⭐ rating.
Inside a Disney Skyliner Gondola
The gondolas themselves are built with two benches across from each other and can hold up to about 10 people.
There is no air conditioning, but there are vents in the upper parts of the gondola to promote air flow and a sort of "air conditioning" in the sky as the gondola is moving.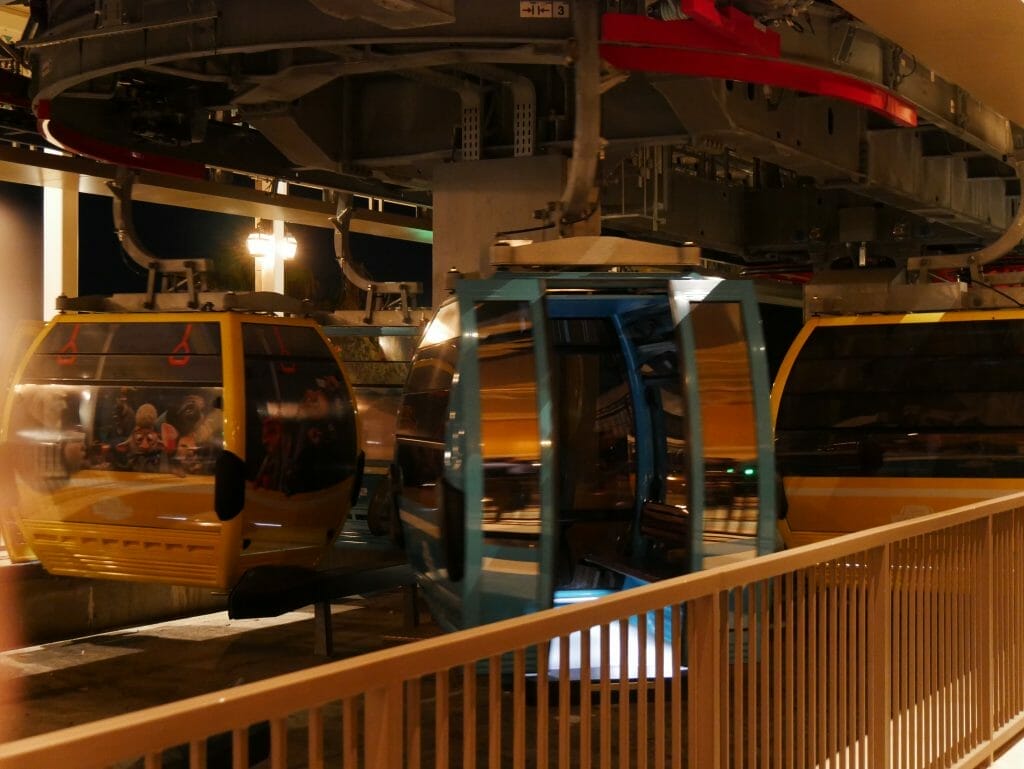 Some of the gondolas have clear windows the entire way around, but most have character "wraps" on them, which means that you can't see clearly out the main gondola sides.
You can see somewhat, but it is a bit blurred.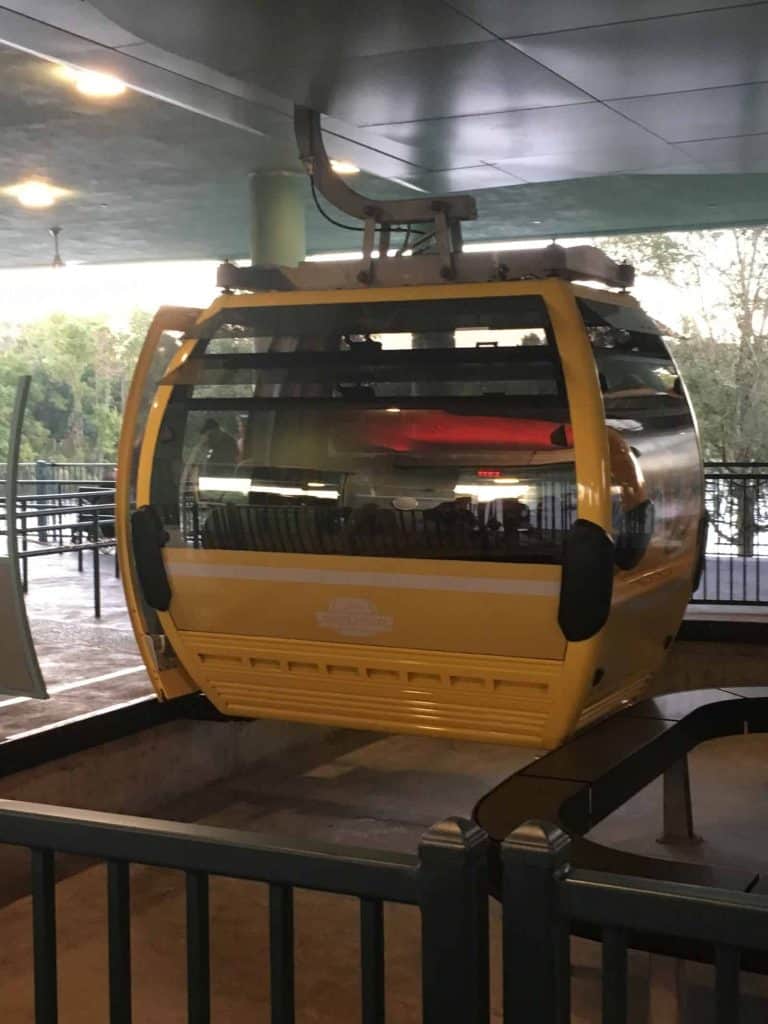 All gondolas have clear glass on the doors, which open and shut automatically.
From the outside, the gondolas are pretty adorable with their characters and colors.
From the inside, you can't tell which character you have.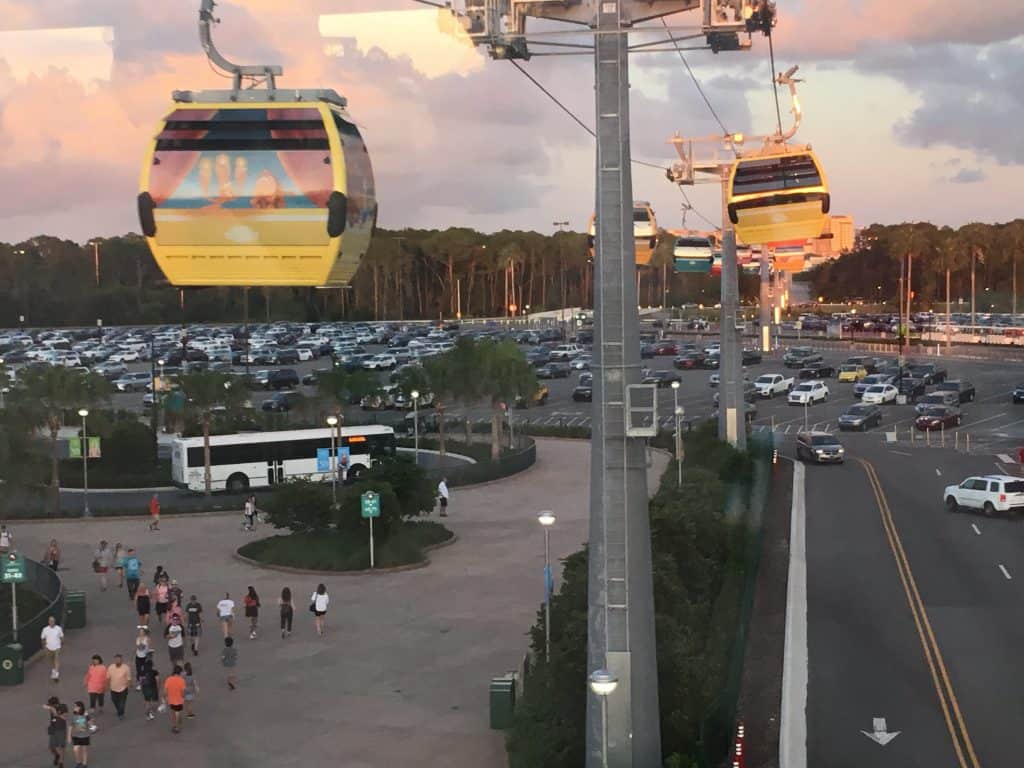 Riding Disney's Skyliner: The Full Experience
The most important question I had was the actual ride experience of taking flight on the Skyliner at Disney, and I'm very happy to say it was a pleasant one!
In fact, we used it a lot in our Disney World resort hopping challenge.
Because the Skyliner moves continuously, the lines do as well – we didn't wait more than about 5 minutes to get on one, even on opening day, and when you are waiting in line, it just feels better that it's continuously moving even if you're still waiting for a few minutes.
When it's your turn to get on, you'll walk onto the platform and the cast member will ask you how many are in your party.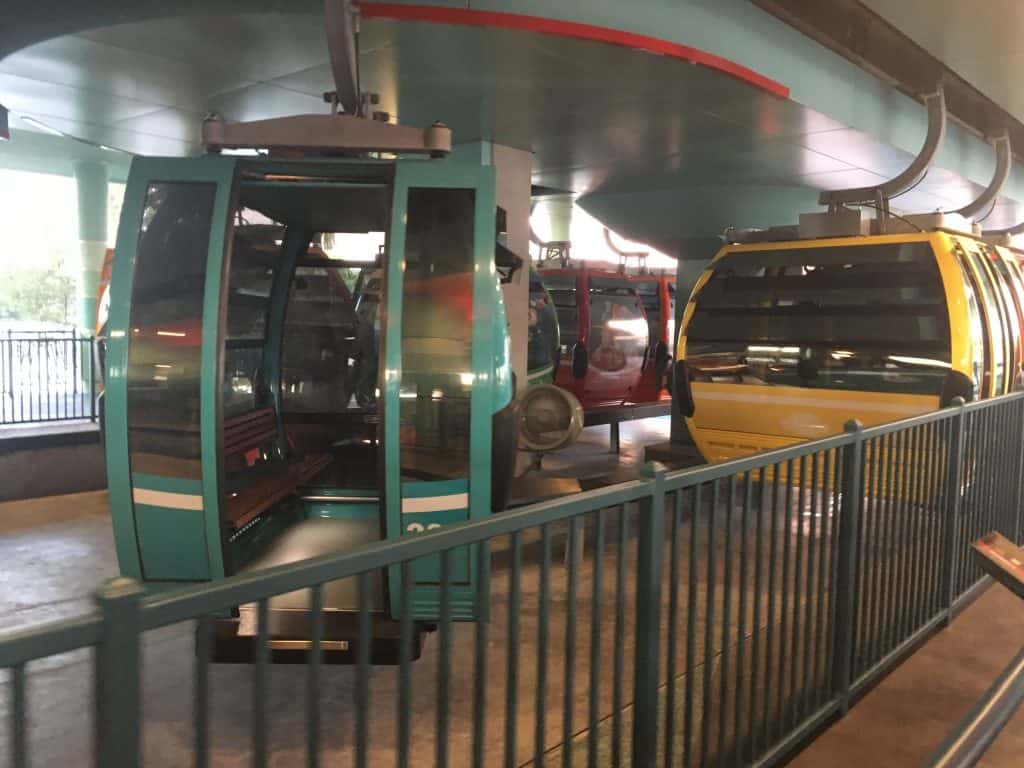 Then, they'll point you to the gondola you'll be getting on and they'll give you the number (which is written on the outside of the door).
If you have a smaller party of 1, 2, or 3, it's likely that you'll be paired with other riders in the gondola. Larger parties oftentimes avoid this and get their own.
Even as a pair, we got to ride by ourselves twice as we were using the line to Art of Animation that didn't have many people waiting at all, and the cast members know that people would prefer their own gondolas.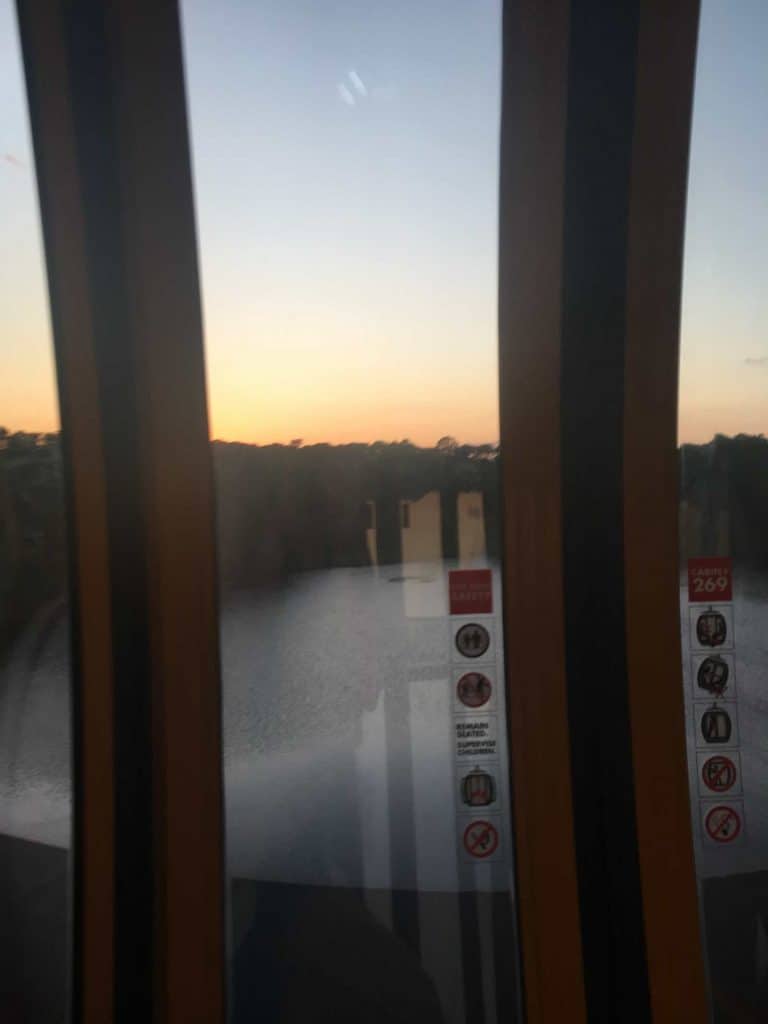 This is no different to somewhere like the monorail or buses where you are sharing space with others, so if that is an issue, consider taking an Uber or taxi to the parks.
I did not see any groups of 10 who weren't already together being packed in – this would be a snug fit.
Instead, we were usually a total group of about 5-7 and it gave everyone room to spread out a bit.
The gondolas go slowly at the loading stations to give you time to get on, and then, as they approach the "take-off" point, the doors will automatically close and you'll be sent on your way.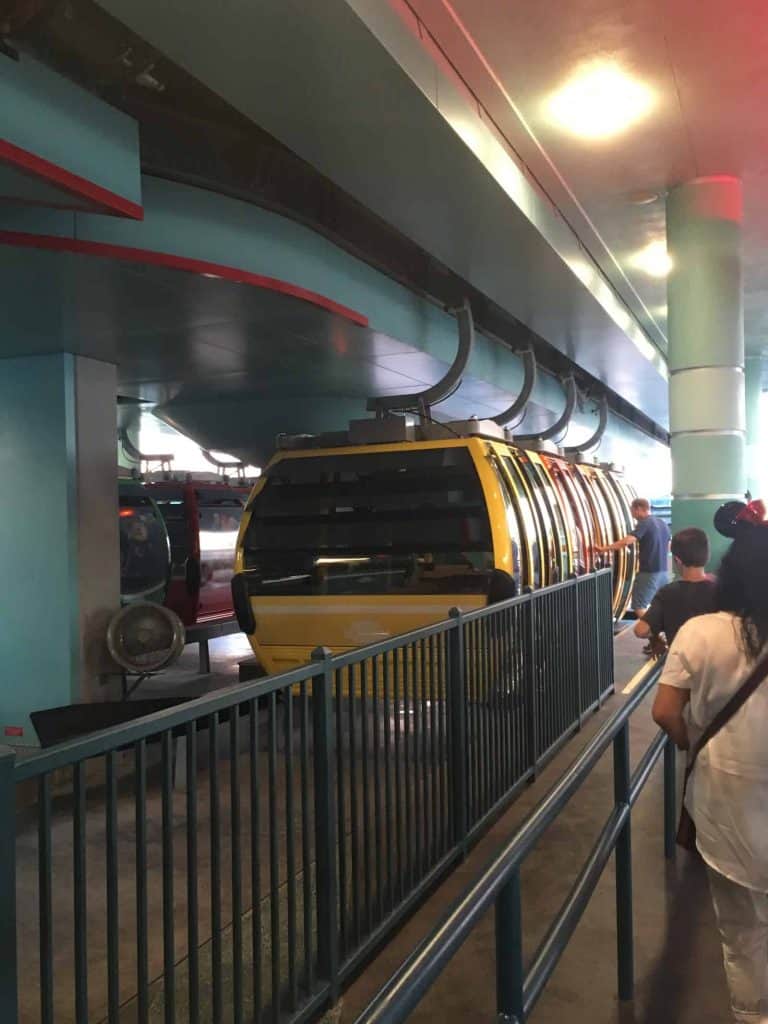 The gondola will speed up and start gaining height as it follows its track, but not so fast that it's a thrill ride or anything!
From there, the gondola continues on its journey and there are fun facts that come over the gondola soundsystem occasionally about the views below.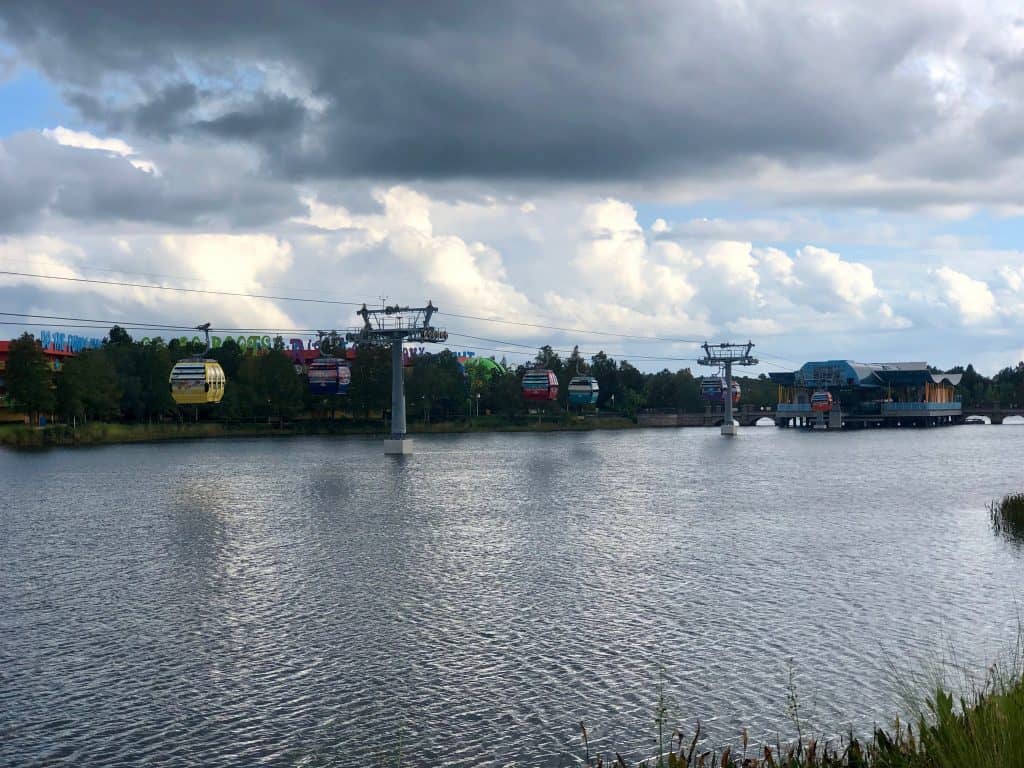 As far as the temperature in the gondola, it did feel like you got a breeze going certain ways depending on where you were sitting.
They are not air conditioned, so you don't walk into them and experience a cold rush of air, but it does give you some shade, a place to sit, and, when in motion, air flow, which makes a huge difference in the Florida heat.
Certainly I never felt uncomfortable on them or overheating during our experience on them.
In fact, I'm a proud owner of this adorable Skyliner pin because of how much we love it.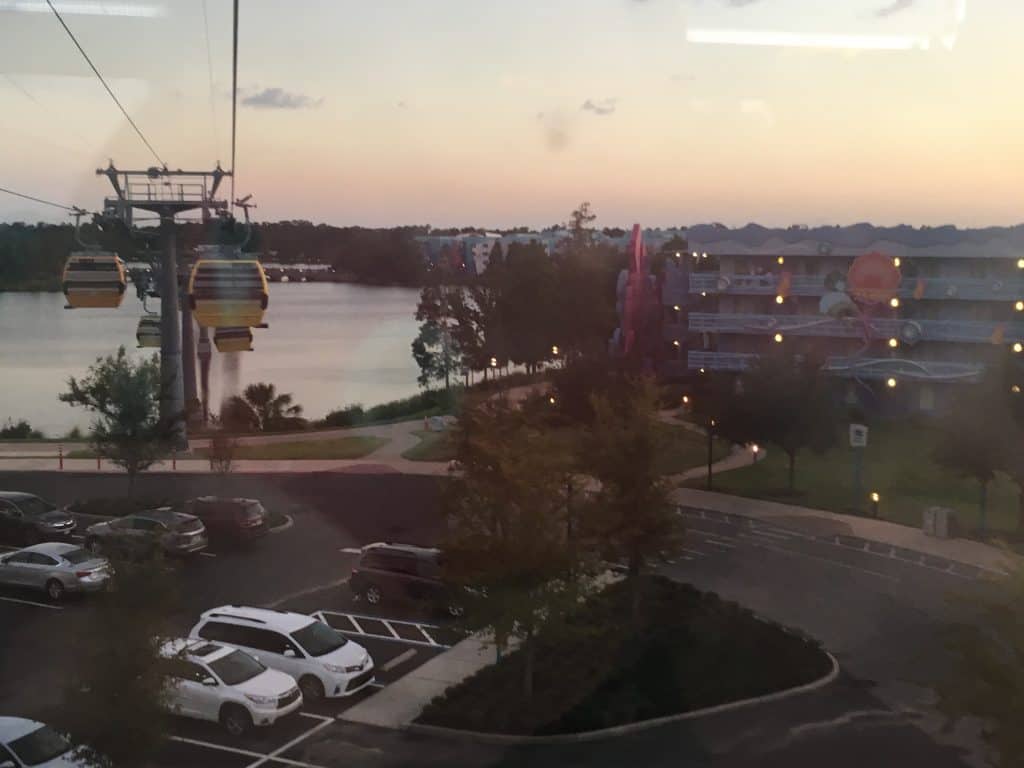 For most of the lines, there is only one stop and that is your final destination.
When you get there, the gondola swings into the station, slows down, and then the doors open so you can get off.
Again, the gondolas are going slowly at this point so you can comfortably step off, though those who have mobility issues will want to have someone else in the party get off first to help steady.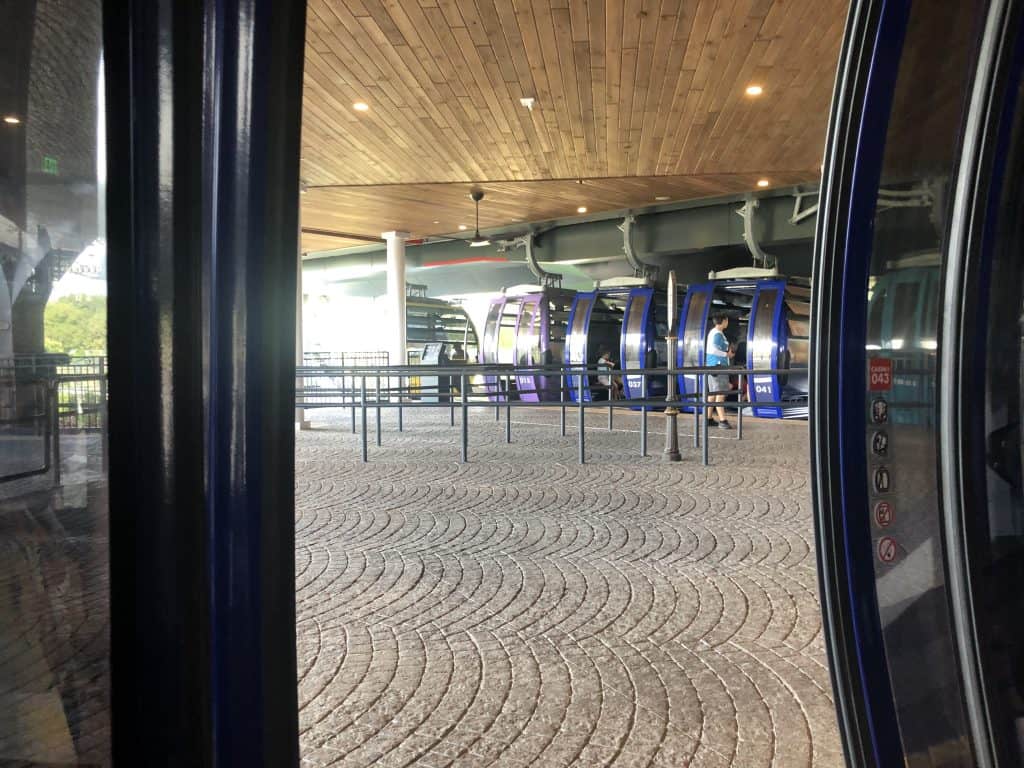 If you ride the line to Epcot, you will go through the Riviera Station both ways, where people can board and get off, but you can stay in your gondola if you are planning on carrying on either way.
On the Epcot line, there is also a turning station which helps your gondola make a right turn.
This is not a station where anyone gets off or on and your door stays closed.
It's just a difference than going in a completely straight line the whole way like the Hollywood Studios and Art of Animation/Pop Century line.
Overall, we really enjoyed the Skyliner and would happily take it again.
Frequently Asked Questions about Disney's Skyliner
Disney World Skyliner Cost – How much is it to ride?
Before you get to Disney property, you may wonder what the cost is to ride the Disney Skyliner transportation.
Well, I can tell you right now, the Disney Skyliner Cost is… zero!
Yes, like all other Disney transportation (well… other than Minnie Vans), the Disney Skyliner is free to use and one of the best free things to do at Disney World.
So put away those dollar bills!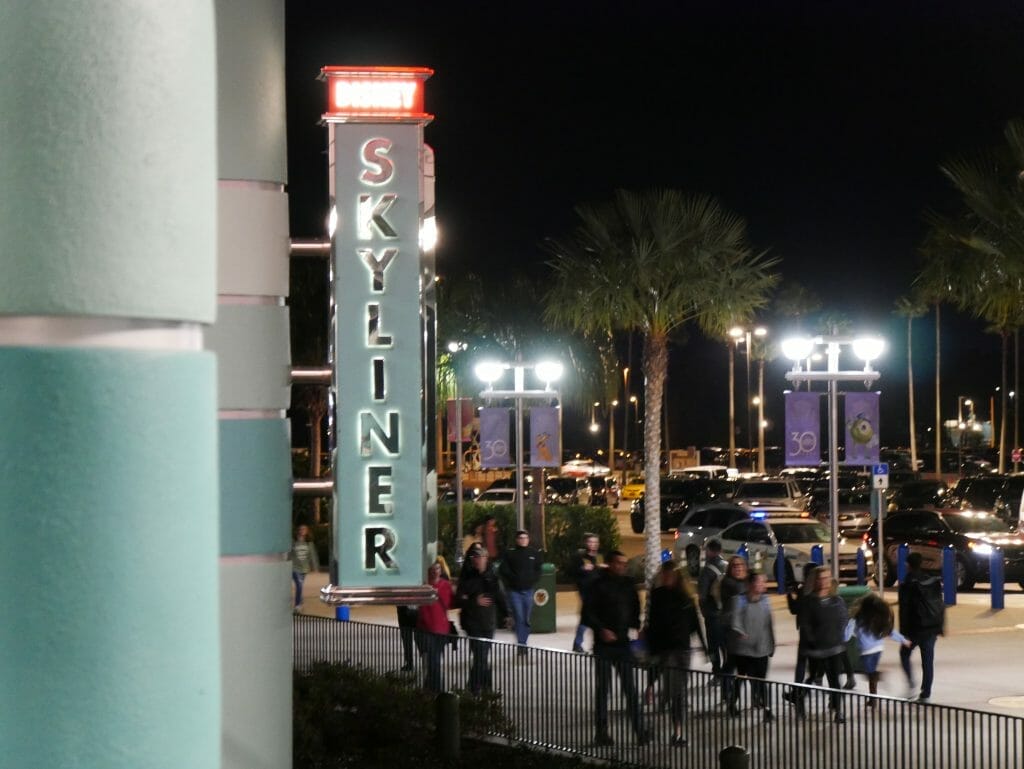 Can You Stay On and Ride it Again?
You can't stay on the gondola ride at Disney World and ride it again without getting off at the exit loop and walking to the entrance loop (which is a very short distance, but the point is that you can't just stay on riding).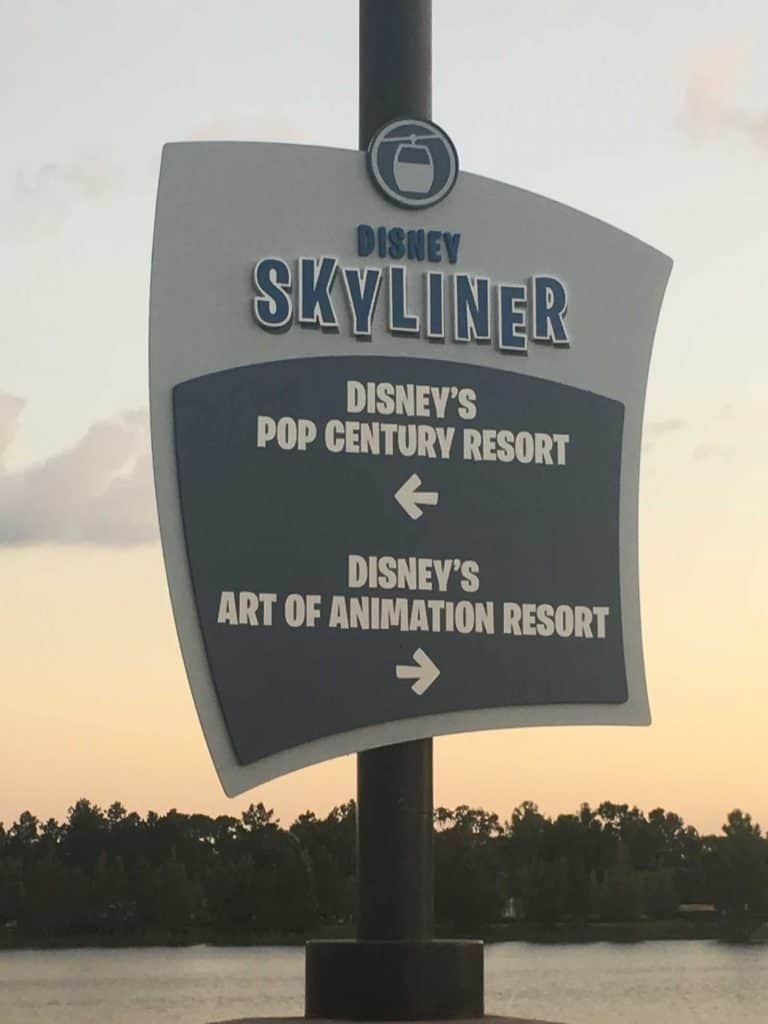 Can I take it with my wheelchair/mobility device on the Disney World Skyliner?
Yes, the Skyliner can take mobility devices in separate cars.
You will get into a different line to get onto one of these cars, and they have a separate small track that they use to keep them stationary while loading.
This may make your wait times longer than the regular line because they do not continuously move, which is something we observed, but you are welcome to and encouraged to ride the Skyliner by Disney.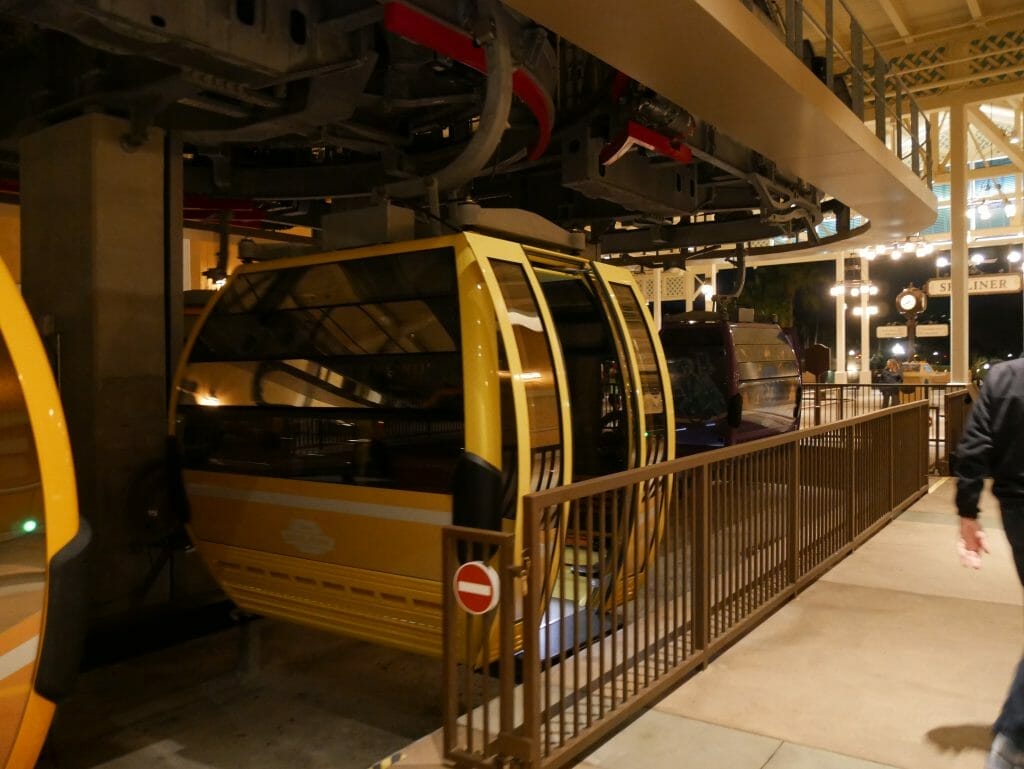 Can I Take Strollers on the Disney Skyliner?
Yes, you can take strollers no problem.
If it is too large to fit into a designated space, the cast member will ask you to fold it up, but most normal strollers will fit just fine unfolded, and because the surface is even when you exit and enter the gondola, you can push it off and on.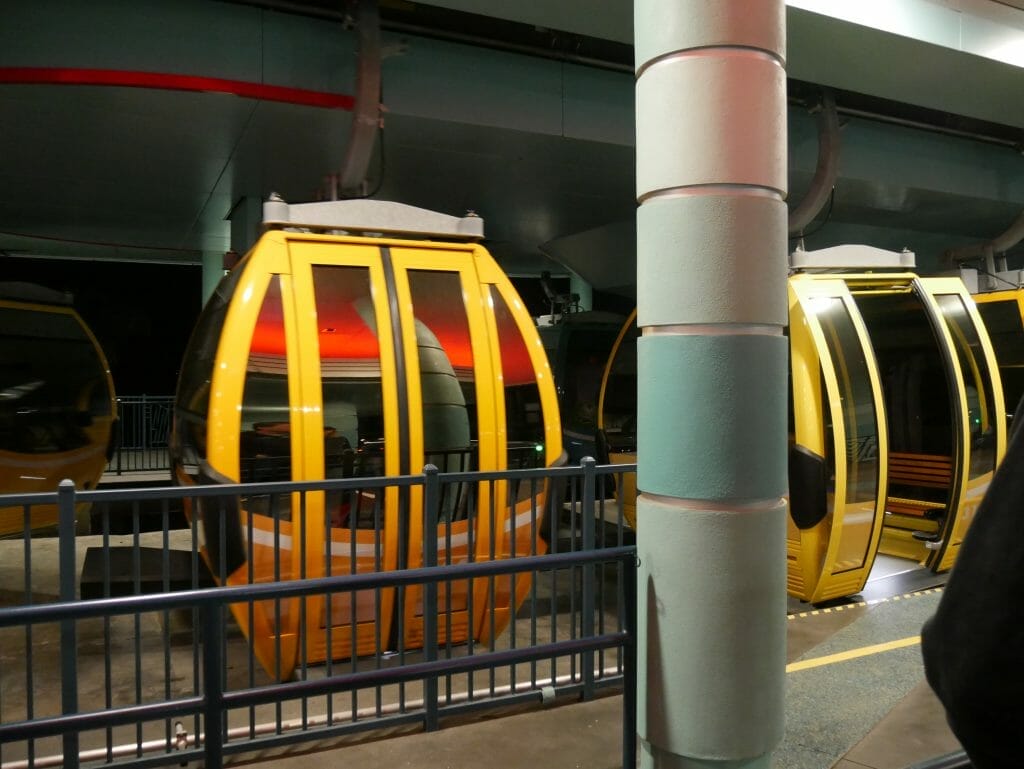 How long does the journey take?
It's about five minutes from Caribbean Beach Station to Hollywood Studios and Caribbean Beach Station to Art of Animation/Pop Century.
The journey to Epcot, in total, is longer at 13 minutes approximately.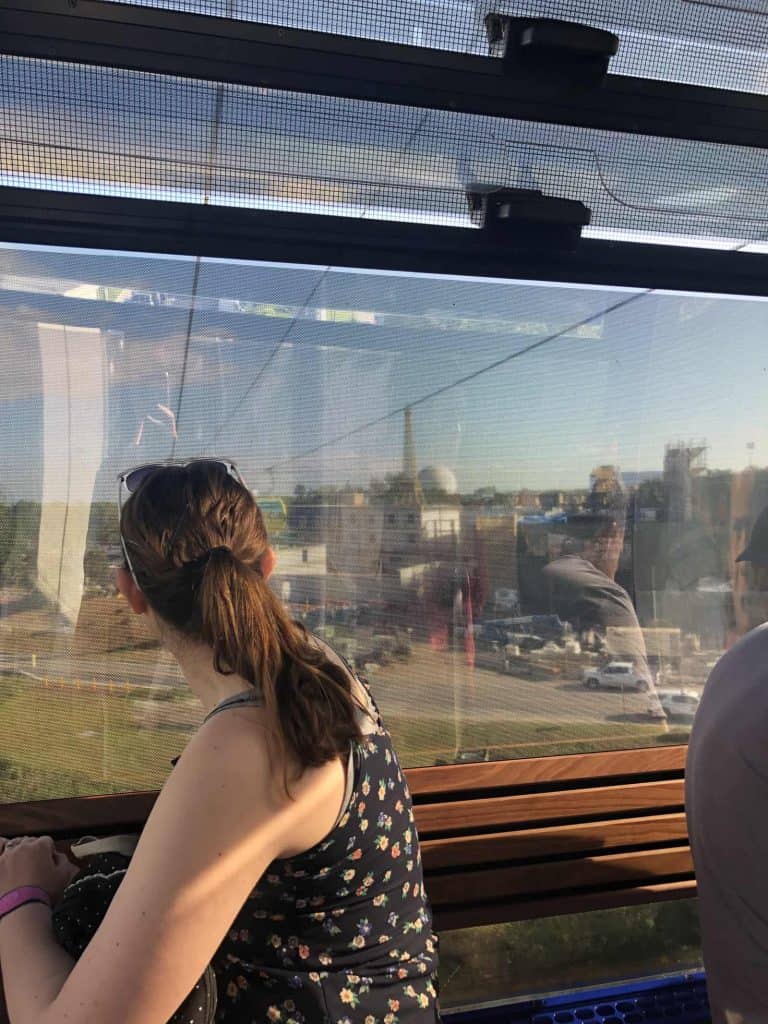 How high up is the Disney Skyliner?
The tallest point the Skyliner reaches is 60 feet off the ground.
If you are very afraid of heights, I would definitely recommend avoiding the Skyiner as it does take you high over Disney property and highways.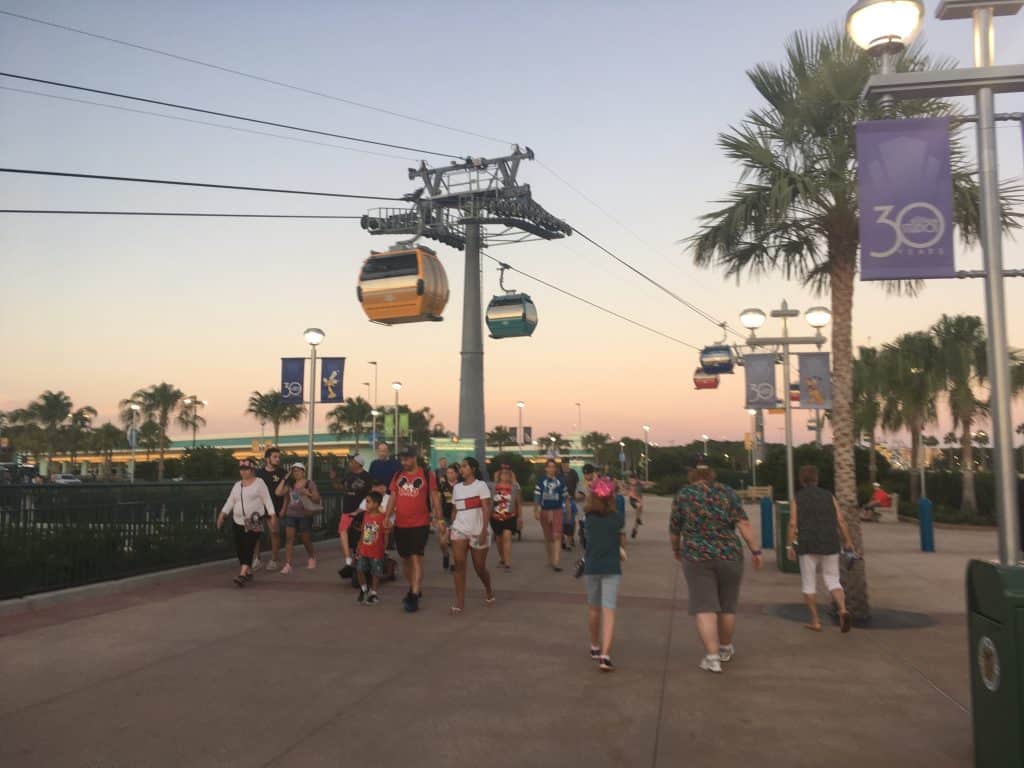 What are the Disney Skyliner Opening Hours?
The Skyliner intends to be open before park open and after park close, similar to the buses and monorail, to give you time to get to your intended park.
It's not something you could just joyride in the middle of the night, but you shouldn't have any problems if you're sticking to normal park hours or extra magic hours.
For the exact Skyliner times during your trip, check signs posted and ask at reception for the schedule.
Typically, the Skyliner does run in time to get you to Galaxy's Edge and Toy Story Land for opening so you can grab a boarding pass for Rise of the Resistance.
What about bad weather?
The Skyliner is weather dependent, like some of Disney's outdoor rides, but the gondolas are used all over the world at ski resorts facing much stronger winds and intense weather than Central Florida, so it's no reason to be afraid.
If the weather isn't suitable to run the gondolas, there are still the buses to get from one place to another as usual, and there will be signs out in the park before you get to the Skyliner usually telling you that it is not in operation at that point so you don't walk all the way there before realizing (this is particularly important at Epcot as the Skyliner station is at the back entrance).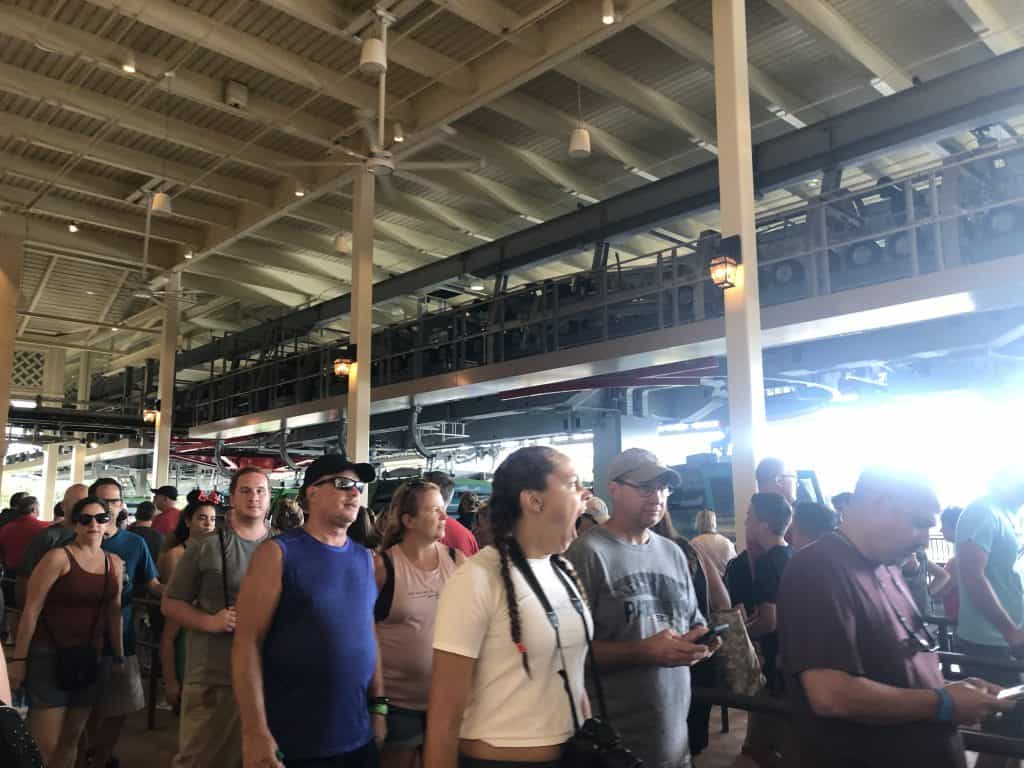 Downsides to the Disney Skyliner and Controversy
Since opening, there have been many questions, criticisms and controversy surrounding the Skyliner.
It does, on occasion on a normal day, stop at various points.
The system is all connected, so if one gondola needs assistance on loading or unloading that they didn't anticipate, they will need to stop the entire line.
We were never stopped for too long, maybe a minute or two, but the real problems occurred about a week after opening when there was an incident on the Skyliner that left some guests stranded in the gondolas for about 3 hours.
Disney hasn't released a statement to say exactly what the problem was, though pictures show that it occurred at the Riviera Station when gondolas started "piling up" into each other and not keeping the space between them.
This meant that the entire line had to be stopped for quite a while, and there was no way of getting people off the gondolas until it got moving again except for a few people who were taken off by firetruck evacuations that used a ladder with a standing bucket attached to reach them!
Now, there is reason to hope and believe that because this incident happened just a week into the Skyliner's opening, Disney has paid special attention and they affirm that they are doing a thorough investigation into why it happened to ensure systems are in place to make sure it doesn't happen again.
For many who were already skeptical of the Skyliner, this is just further confirmation not to ride, but my perspective is that I am willing to continue riding.
I didn't stop riding the Monorail after there was a monorail crash, and I haven't stopped riding Disney buses even though there have been multiple Disney bus accidents on property.
It is extremely unfortunate for those who were stuck on the gondolas, but no one was injured in the event and I will be giving Disney a second chance on this one.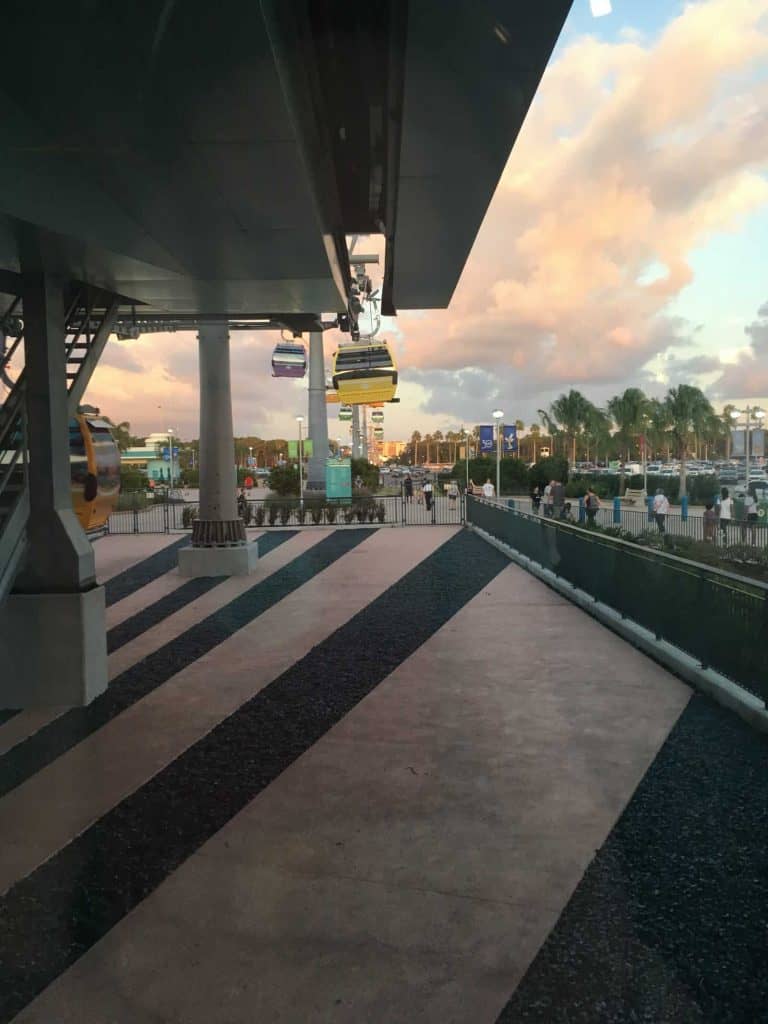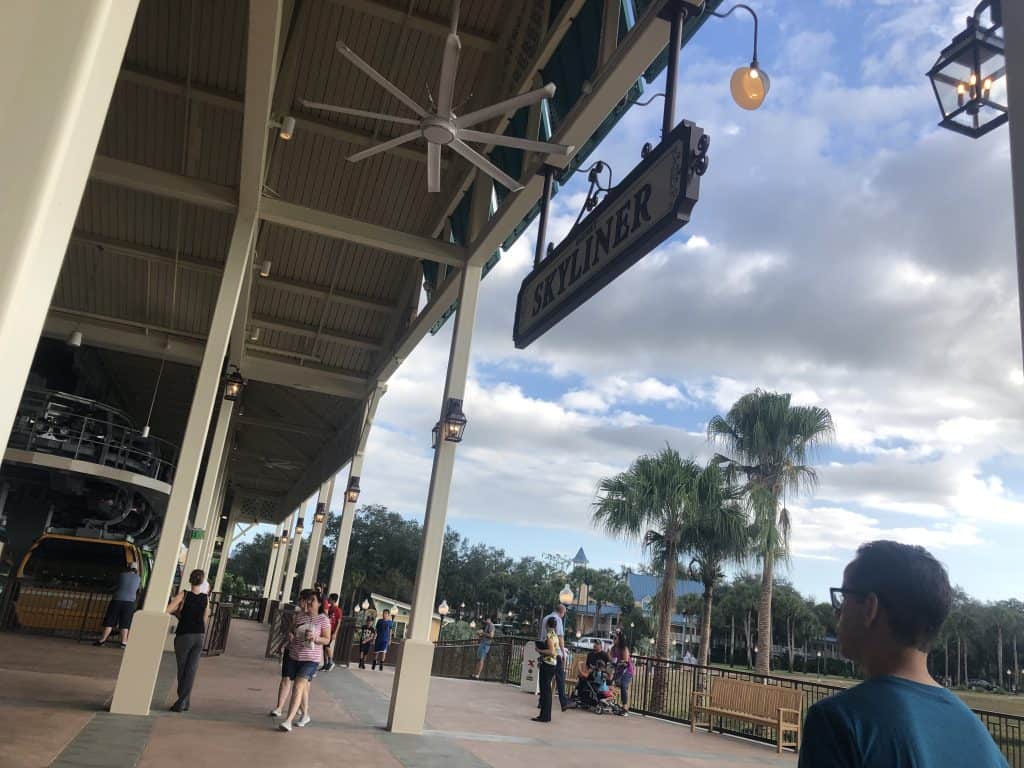 Featured Image: Includes 1. Disney Skyliner. elisfkc [CC BY-SA 2.0], via Flickr and 2. Disney Skyliner. elisfkc [CC BY-SA 2.0], via Flickr
Hey! Want more of our expert Disney guides? Check these out!
Get the All-American Travel Secrets!
Don't miss out on America's hidden gems!