When you're on a Disney honeymoon, or Disneymoon, as they call it, you want to make sure that you find the best Disney resort for a honeymoon.
You don't want to end up at a resort with thousands of screaming cheerleaders practicing their routines (that's All-Star Sports out!), for instance.
As someone who has been to Disney countless times and actually took my honeymoon there (we chose Animal Kingdom Lodge!), I've got the full run-down for you on the best Disney honeymoon resorts.
In this guide, I'm going to share the best Disney resorts for a honeymoon, including Disney hotels for a honeymoon from each category as not everyone will have a Deluxe budget even if you are on your honeymoon.
Want insider Disney tips from an expert?
Join 4,000 others in weekly guides to Disney's hidden secrets, gems, and money-saving tips!
Pssst – this printable Disney scavenger hunt is amazing
Since you're already looking up Disney guides, I just wanted to make sure you knew about this printable Disney World scavenger hunt created by a lifelong Orlando native and Disney World fan.
There are over 60 challenges with a full answer key and both Family and Grown Up versions and a bonus Disney Springs hunt for your non-park day!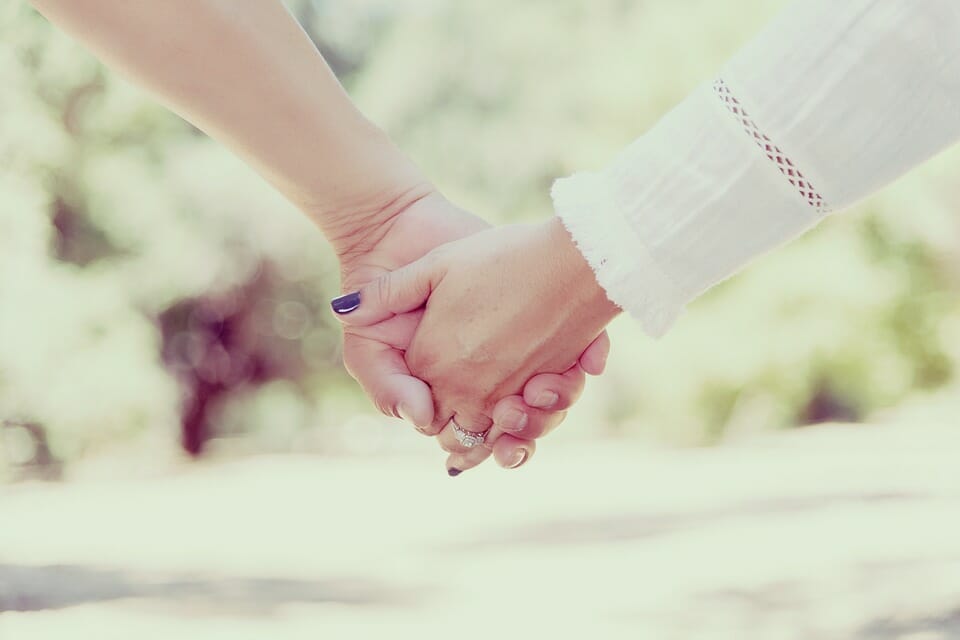 Quick, everyone pack their funny Disney honeymoon shirts…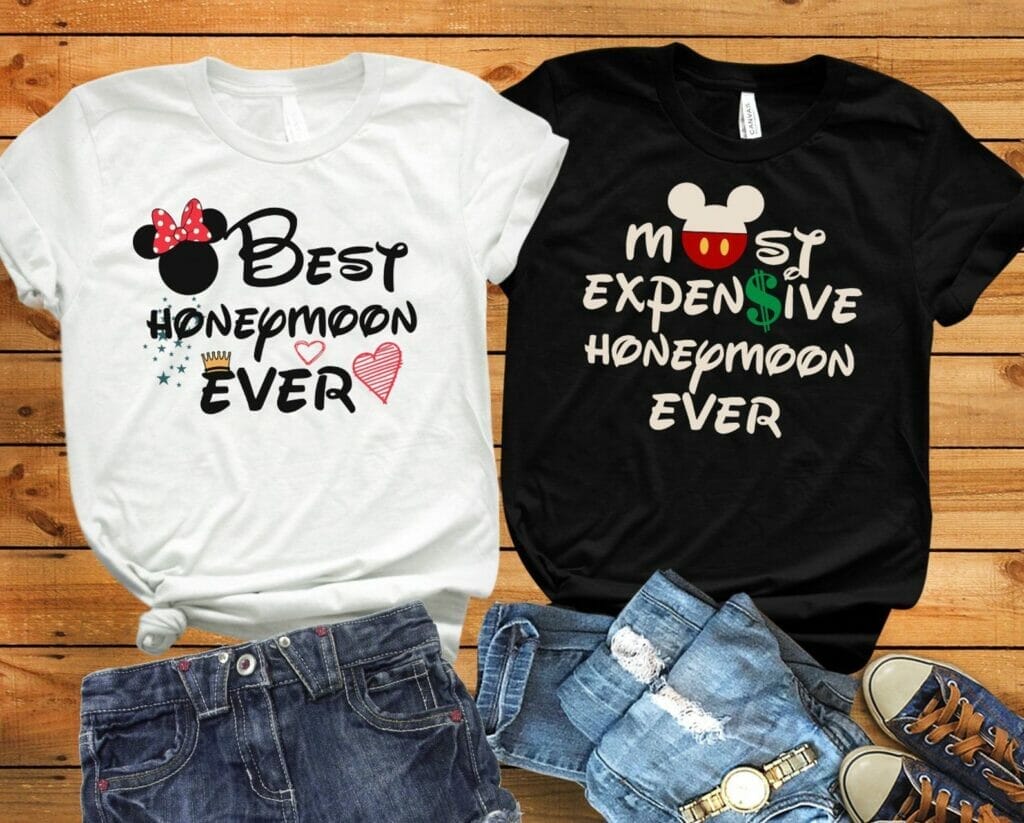 …or your more traditional Disneymoon shirts like these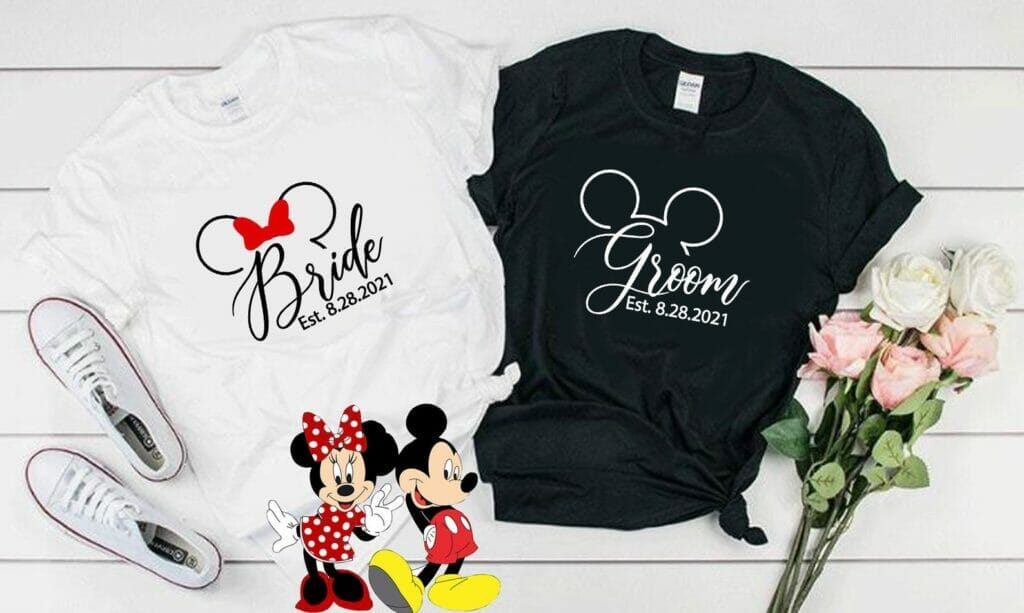 and let's get started!
Best Disney Deluxe Resorts for a Honeymoon
That being said, if you can afford to go Deluxe for your honeymoon, my top tip would be to do so!
Disney Deluxe resorts take care of honeymooning couples wonderfully, including the potential for upgrades, awesome on-site dining, and overall plusher rooms that make for a romantic experience.
1. Wilderness Lodge
Wilderness Lodge is one of the most perfect Disney resorts for honeymooning couples because of its wonderfully relaxing atmosphere and location on Bay Lake.
You can't see a Disney theme park from Wilderness Lodge, but can easily take the boat over to Magic Kingdom in no time at all.
The dining options, too, are perfect for a honeymoon as you've got the enchanting Geyser Point bar out by the lake for lazy days, as well as the Snow White dining experience (Storybook Dining at Artist Point).
The quick service, Roaring Fork, is cozy and has plenty of space outdoors to soak up the sun, and there are two pools to choose from.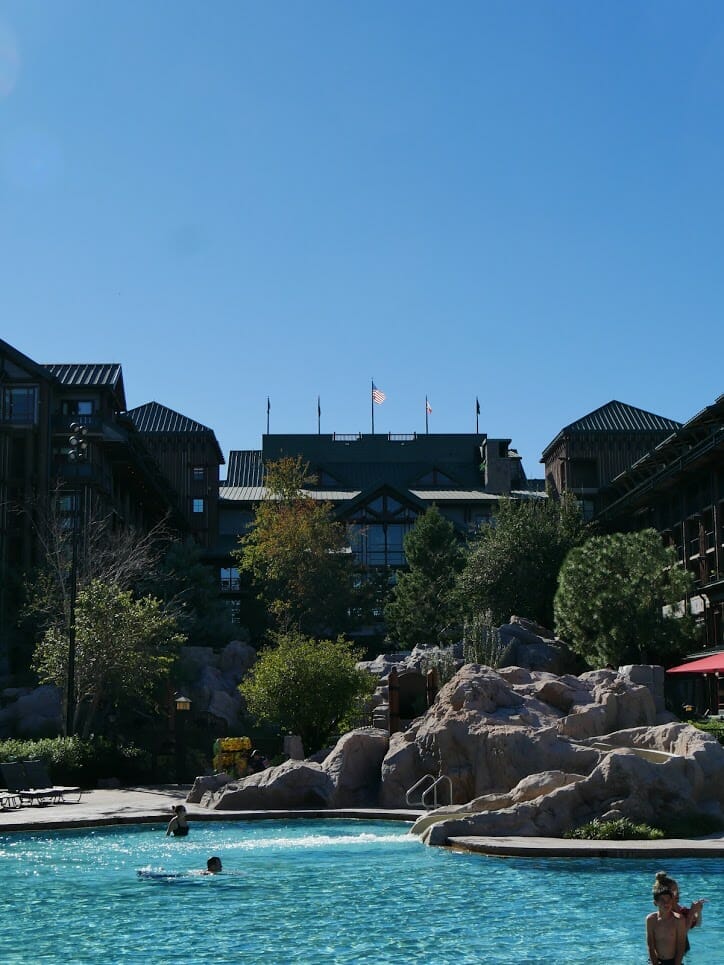 The rooms themselves are fabulous, some with views of the Magic Kingdom fireworks, and you can book yourself a stay in some really swish room options like a one bedroom apartment at Copper Creek or even a stay in a Copper Creek cabin which has a plunge pool out back and your own little oasis.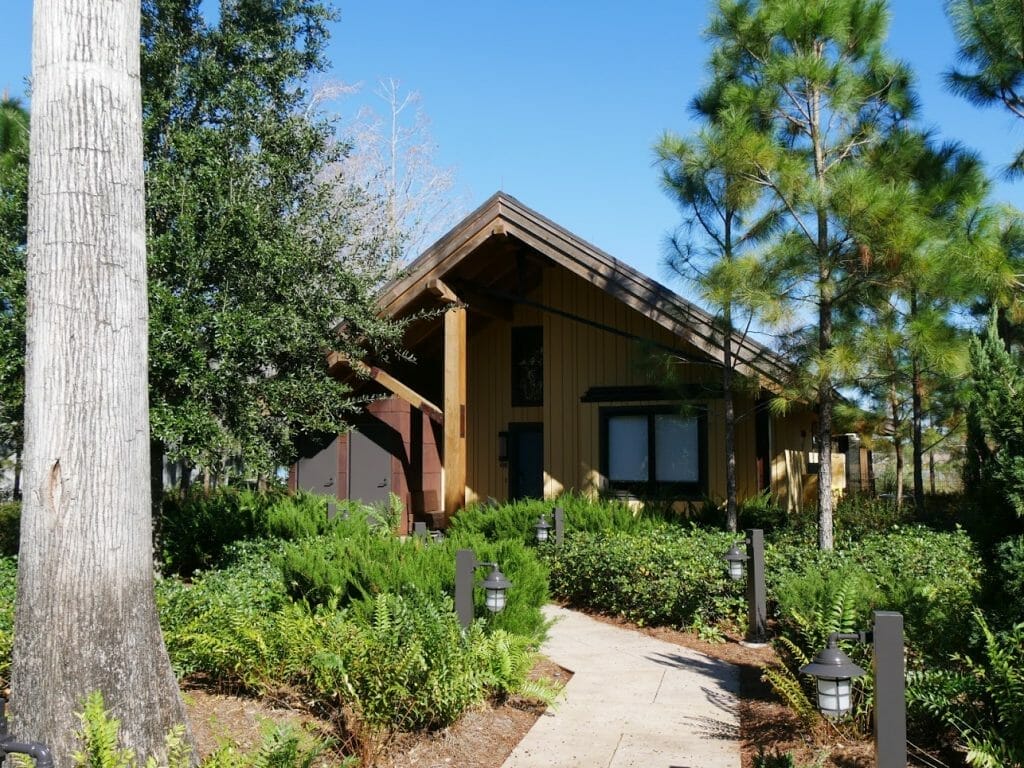 Your Disney honeymoon at Wilderness Lodge can be made even better if you book a Club Level stay, which means you'll be on the top floor of the lodge and have full access to the food and drinks of the Club level offerings.
If you're outdoorsy types who want some rest and relaxation while also being close to the Magic Kingdom, Wilderness Lodge is your honeymoon resort!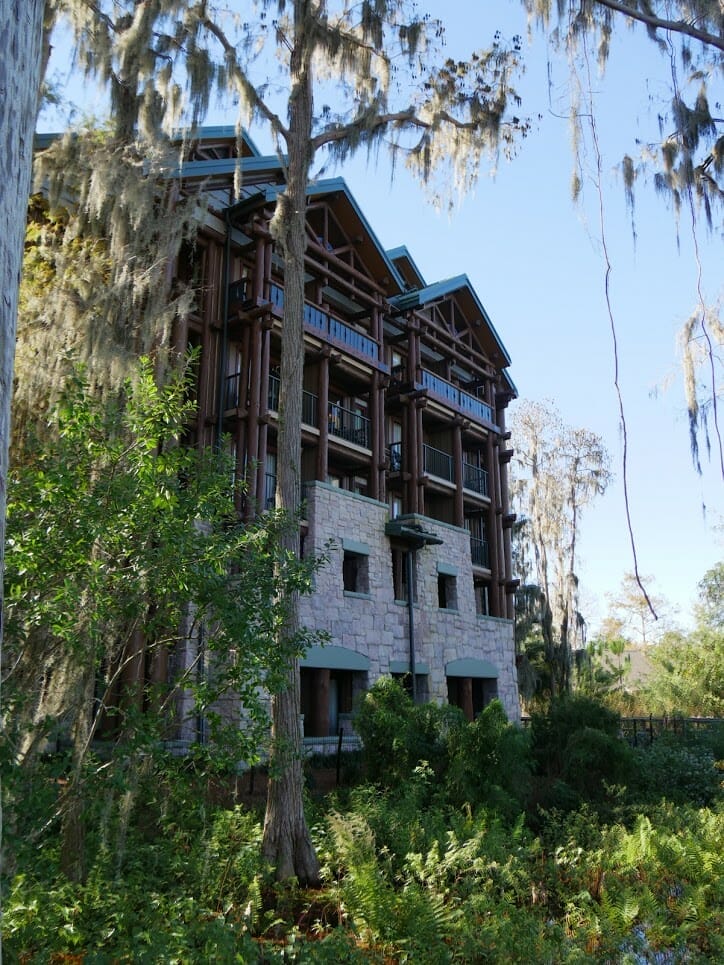 2. Riviera
Disney's Riviera Resort is brand new and only opened in late 2019.
This is a fantastic Disney resort for honeymoons, as it exudes a style and sophistication that none of its other resorts quite match.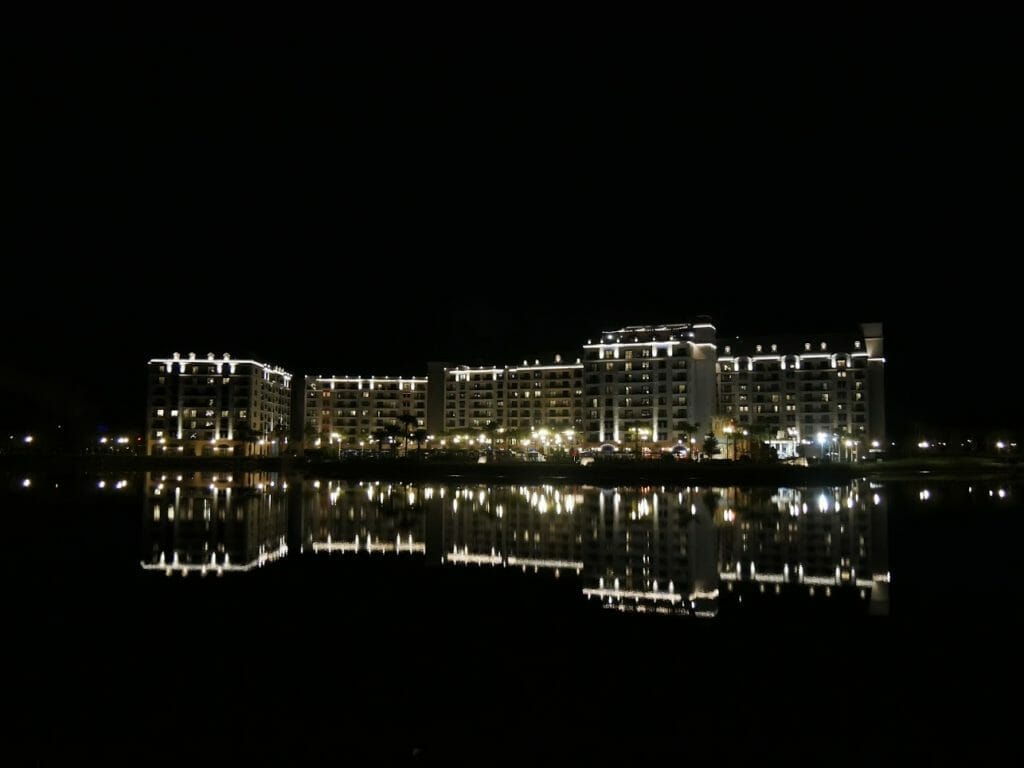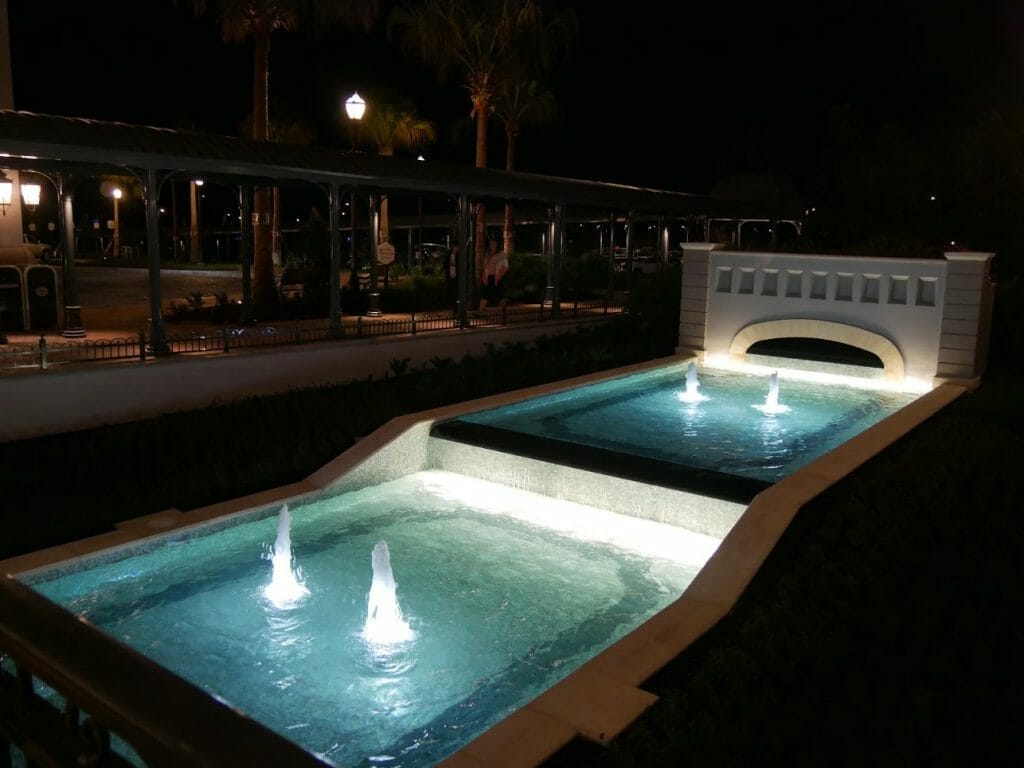 The idea behind Riviera is that it emulates the feelings of the French Riviera and that of Europe, so you'll find some beautifully manicured gardens, a bocce court, and incredible artwork throughout the resort of your favorite Disney stories.
Another reason Riviera is a hot option for couples is that it has direct access to Disney's Skyliner.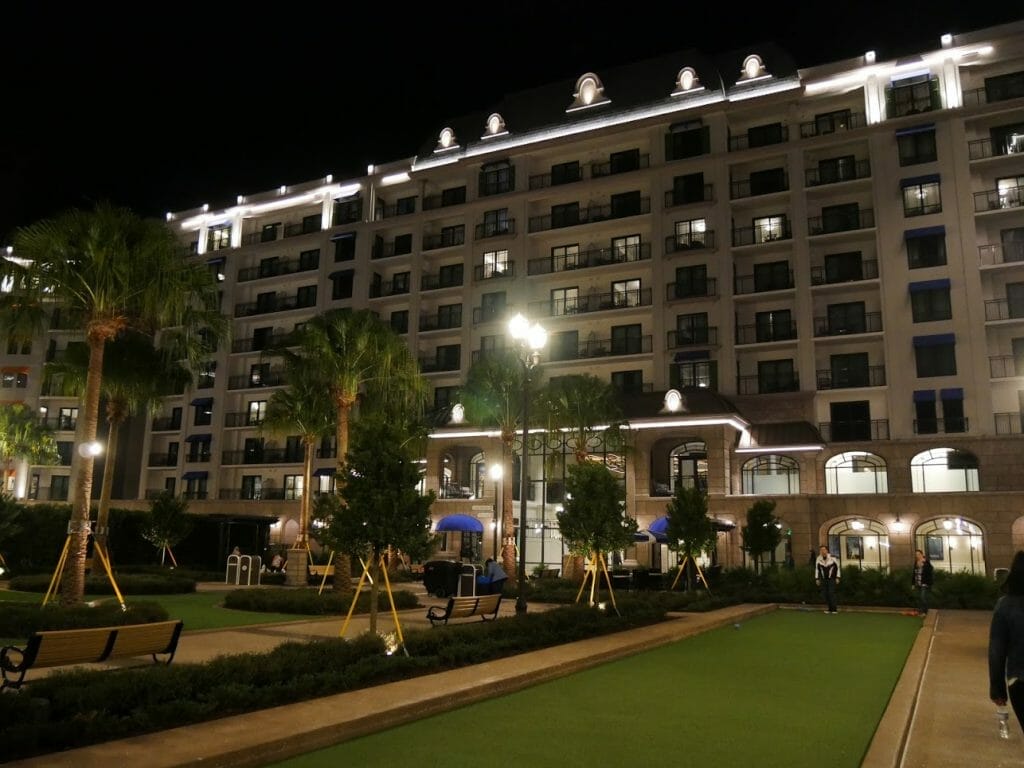 Just hop on, right outside your hotel, and you can be flying your way to Epcot on the same line, or change lines to get to Hollywood Studios.
The Skyliner is one of the newest methods of Disney transportation and a great option to get to the parks without dealing with the wait for buses or needing to get a Minnie Van or Uber.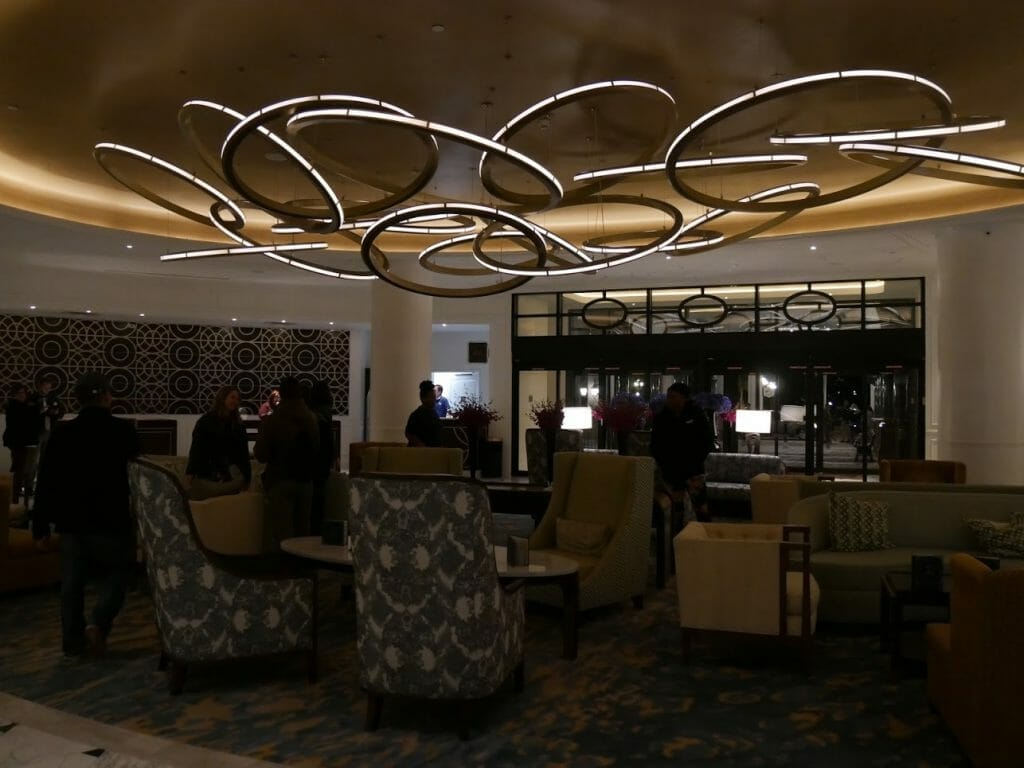 3. Beach Club
Another perfect Disney honeymoon resort that's close to my heart is the Beach Club.
If you're looking for the best place to stay at Disney World on your honeymoon, this is it.
Settled around Crescent Lake, this fantastic hotel has the charm and sophistication of an upscale beachside resort, while also still having the fun and carefree nature of a Disney vacation.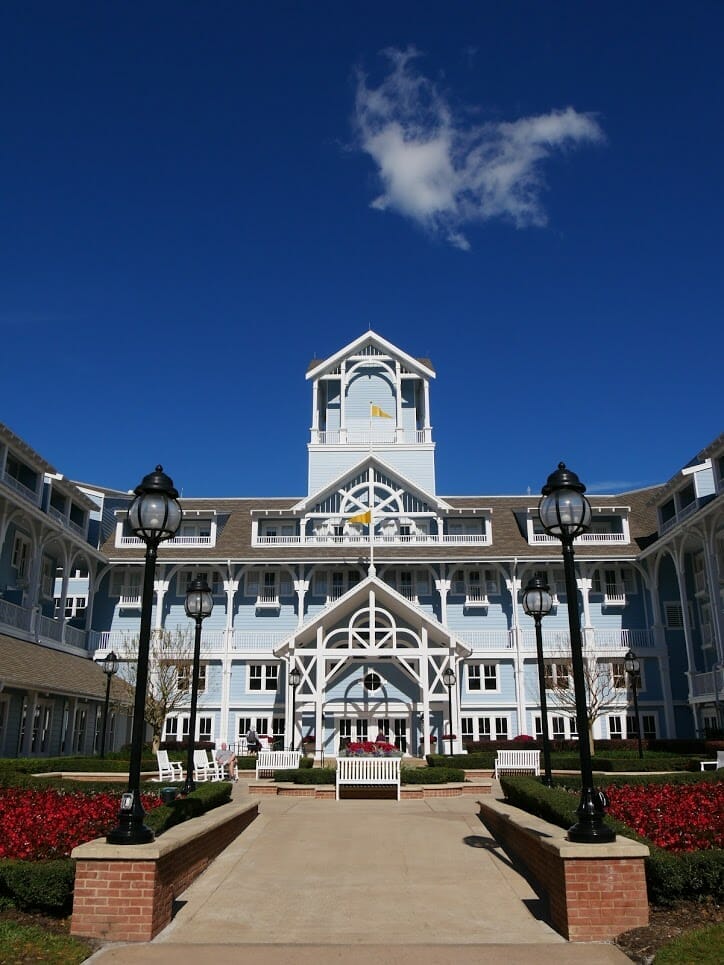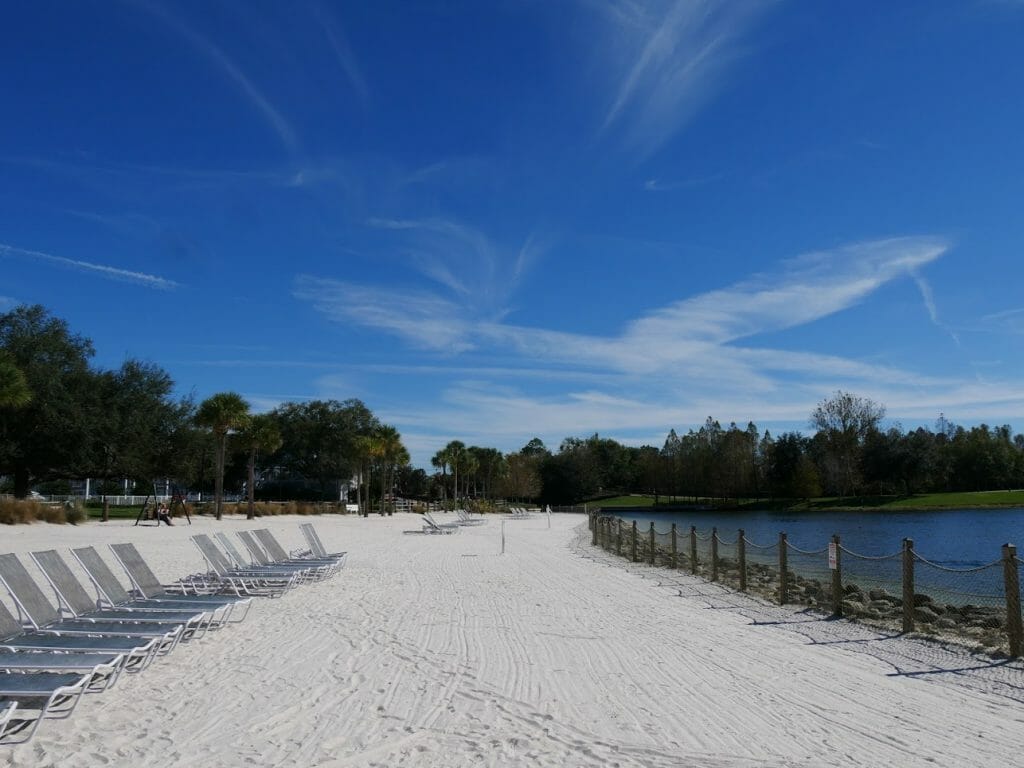 If crisp blues and whites are your thing, you'll love the aesthetic here.
Playful couples will adore the incredible pool with its sandy bottom, as well as the Beaches and Cream soda shop, perfect for sipping milkshakes together or sharing a sundae.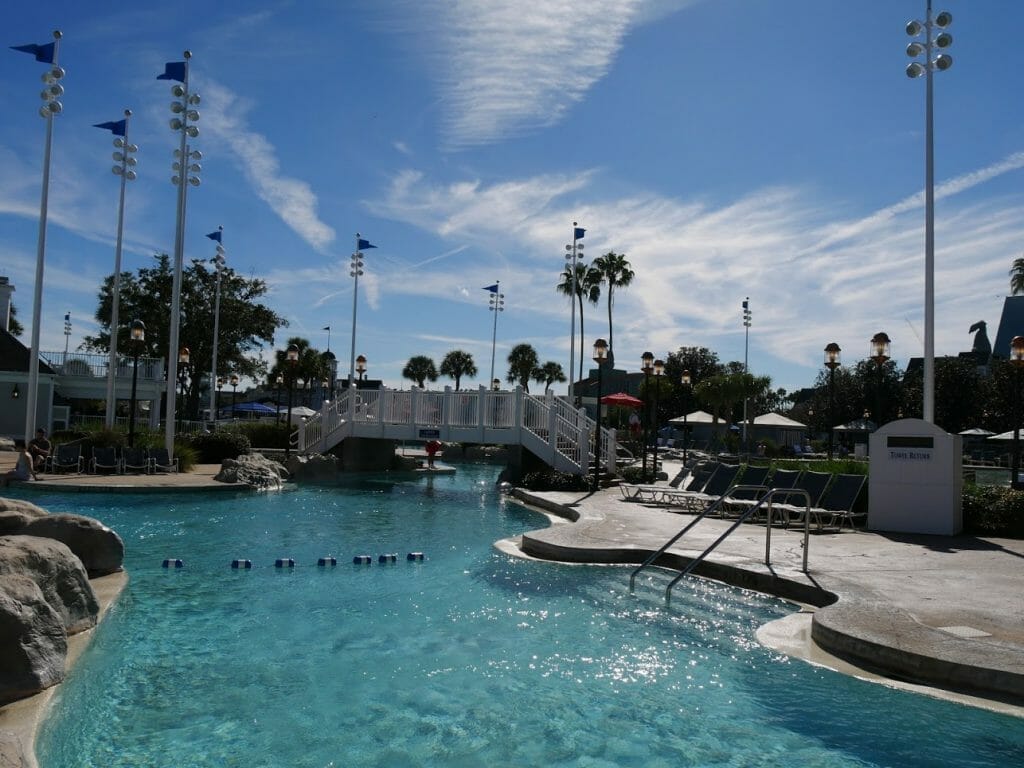 Of course, the highlight of the Beach Club is also the wonderful sandy beach right outside the resort that you can relax on, including swinging in the swinging benches and watching the world go by.
If you're looking for nightlife on your honeymoon at Disney, maybe for a Disney World date night, you've also got the festivities of the Boardwalk nearby!
Check out our full run-down review of Disney's Beach Club Resort here.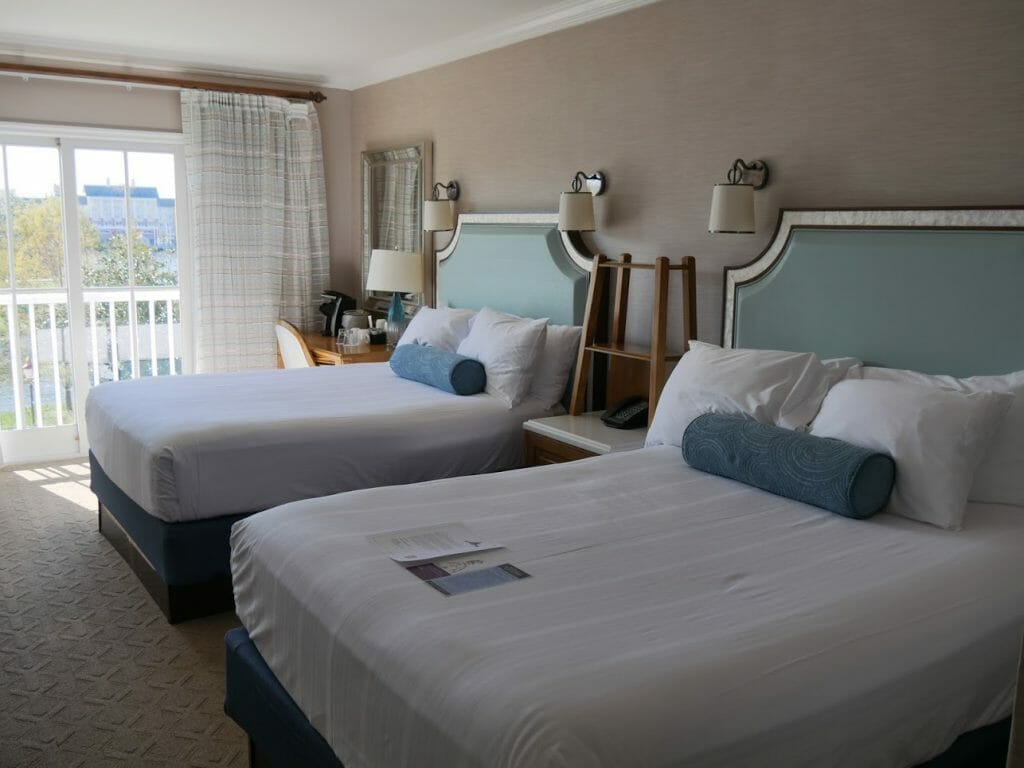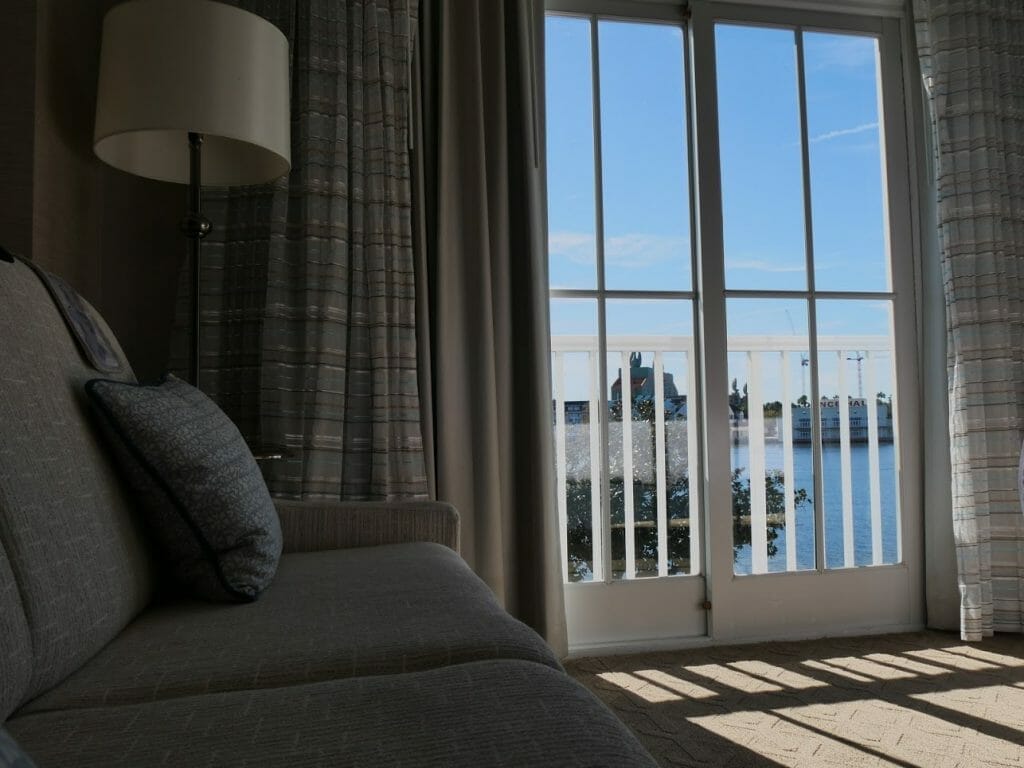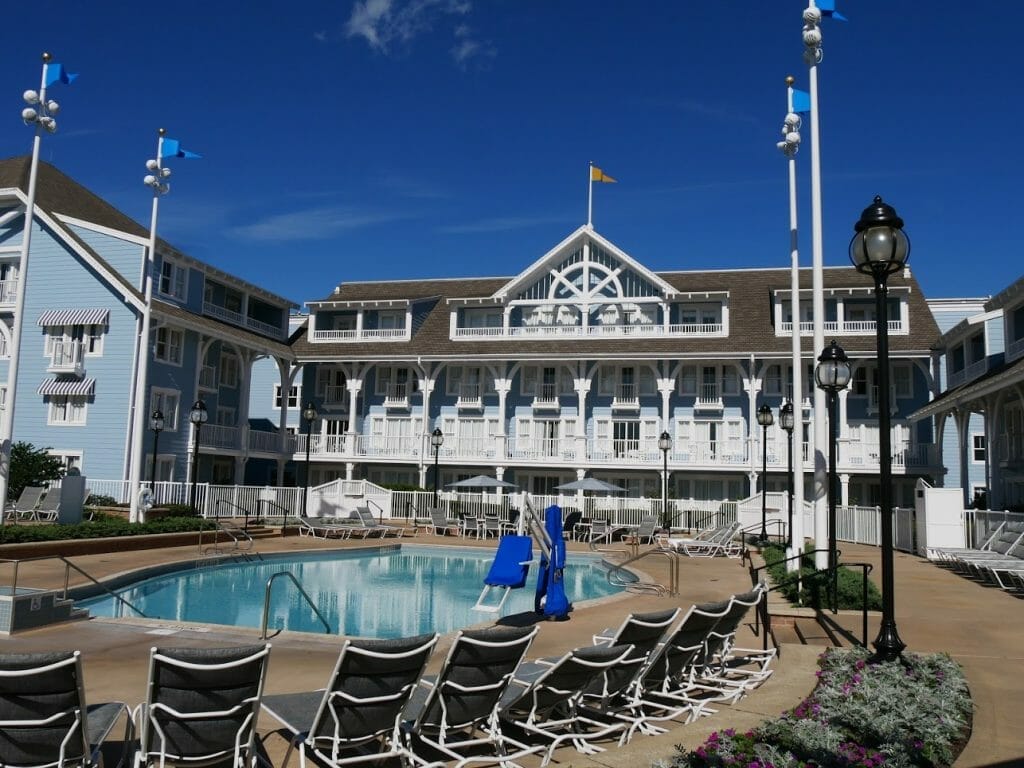 4. Yacht Club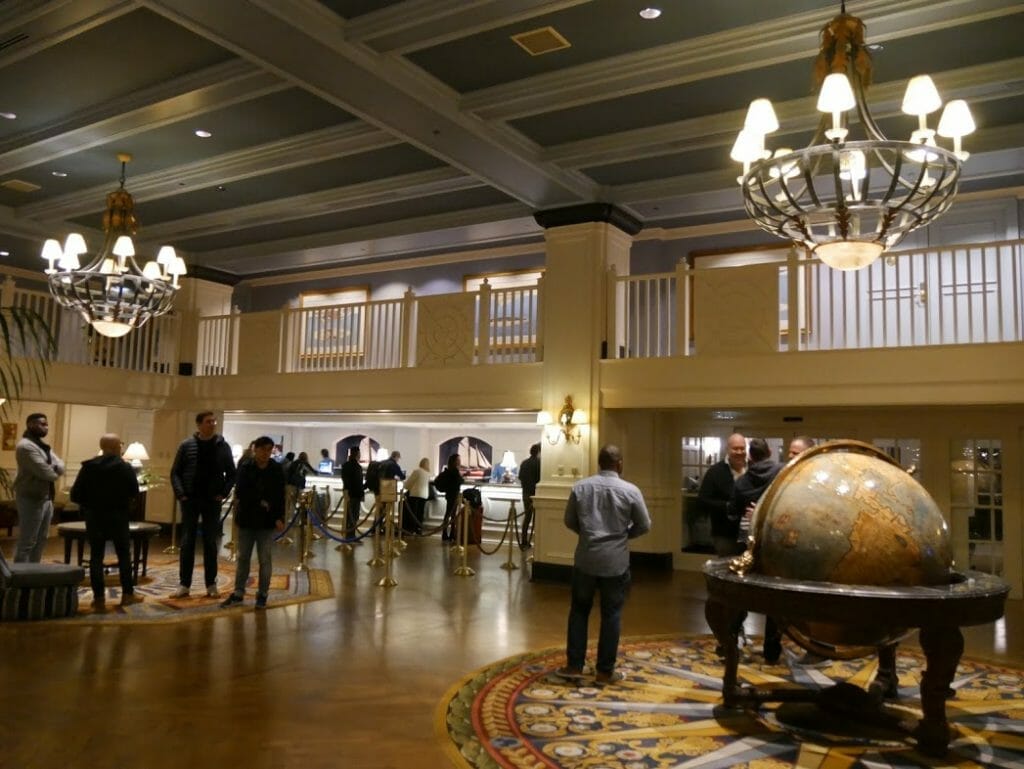 Attached to the Beach Club is the Yacht Club, which is essentially the even more "sophisticated" version of the Beach Club with cleaner lines and well, a more yacht-like atmosphere.
If you're into the finer things in life, the Yacht Club is a great resort for a Disney honeymoon because you'll typically encounter fewer kids than at the beach club (if that's important to you), plus you've got some incredible dining options like Ale and Compass, which is a great restaurant with no Disney theming (again, a perk for some who don't want to necessarily dine with Mickey).
The Yacht Club shares use of the pool with the Beach Club so you get the same incredible pool lounging options at Stormalong Bay, as well as that easy walk to Hollywood Studios and Epcot.
5. Animal Kingdom Lodge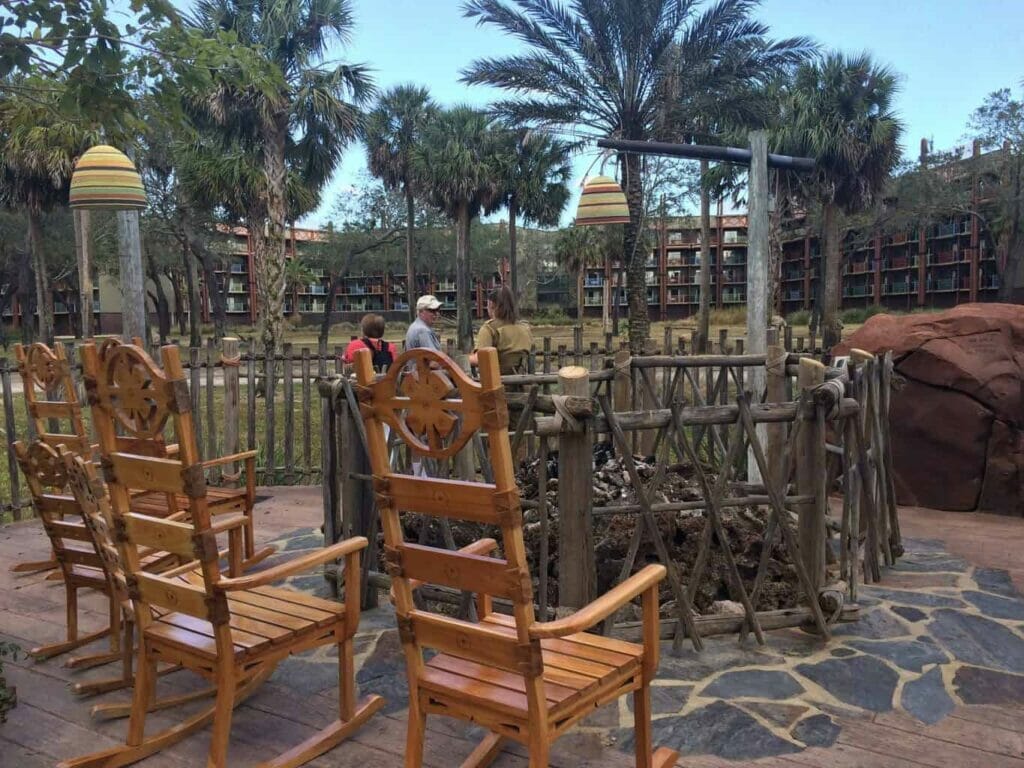 Animal Kingdom Lodge is the perfect Disneymoon resort option for those who want to really escape and feel like you're tucked away.
This is where we stayed on our Disneymoon, and you can read about my experience in my Disney's Animal Kingdom Lodge review as well as my Disney's Kilimanjaro Club Level review (yes, we got upgraded at Disney to Club Level for our honeymoon for no extra charge!)
While the transportation to the parks is the worst of all the Deluxes with only bus options, that means that you don't get much "day guest" traffic to the resort and it feels so peaceful and secluded in its own little part of the savanna!
There's so much to do and see here with three awesome restaurants and plenty of animals roaming around outside your window that you don't even need to incorporate park tickets into a Disney honeymoon if you stay at Animal Kingdom Lodge.
6. Disney's Polynesian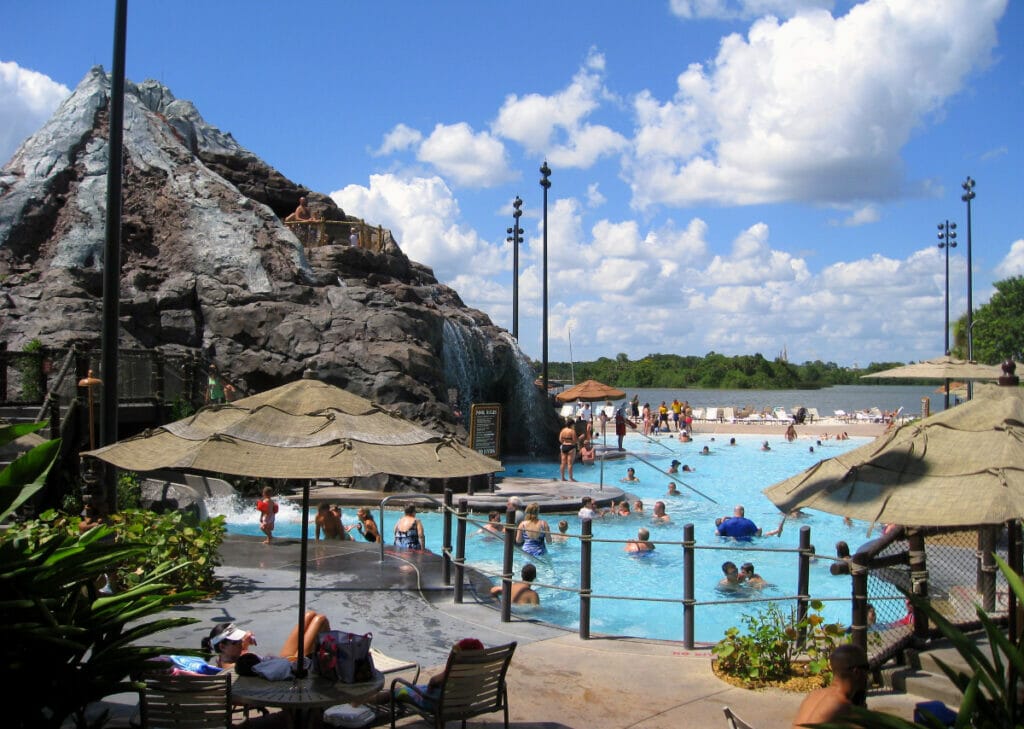 If you want a tropical feeling Disneymoon, Disney's Polynesian is a fantastic option for one of the best Disney resorts for a honeymoon.
Not only can you watch the Magic Kingdom fireworks nightly from the beach, but the laid back vibe and tiki torches everywhere make you feel like you've really gone somewhere exotic!
Dining options are on-point, with Ohana being a fan favorite and Trader Sam's being a great place for a late night drink with your new bride or groom, and you can take a nice boat trip over to the Magic Kingdom or hop on the monorail.
7. Grand Floridian
There's almost nothing more "grand" for a Disneymoon than the Grand Floridian.
It's the flagship resort, the one in so many of the ads, and a truly fantastic option if you want to feel like you're experiencing the luxury of "Old Florida" while roaming the gorgeous halls of this resort.
You're the closest to the Magic Kingdom of all the resorts – you can genuinely walk there from the Grand Floridian, which is a huge time saver if you're planning on spending a lot of time in that park.
On top of that, there are some fantastic dining options including the Grand Floridian Café and 1900 Park Fare if you want to have some character interactions with the Cinderella cast while wearing your Bride and Groom regalia!
The "theming" at the Grand isn't necessarily over-the-top or transporting you to a whole new world, like at Animal Kingdom Lodge or the Polynesian, but it is clean, sophisticated, and absolutely beautiful so if you want a Disney resort for your honeymoon that has Disney quality and flair without being too themed, this is the one for you.
Best Moderate Disney Resorts for a Honeymoon
One thing I want to make clear is that you don't have to splash the cash for your Disney honeymoon if you don't have it.
You can have a wonderful Disney honeymoon in a Moderate resort, and I've put together some of my favorite Disney moderate resorts for honeymooners below.
Sometimes, the wide open spaces and places to roam at the Moderate resorts make you feel even more secluded and relaxed than the Deluxes and one of my top tips in Disney World for adults is to embrace the atmosphere outside of the parks.
8. Port Orleans Riverside
Port Orleans Riverside is my favorite Moderate resort due to its relaxing feel and awesome water views.
When you step into Port Orleans, you step into another world where you can take long boat rides down the river, enjoy evening entertainment in a cozy bar, and enjoy late night strolls around the well-themed Mansions or Alligator Bayou sections.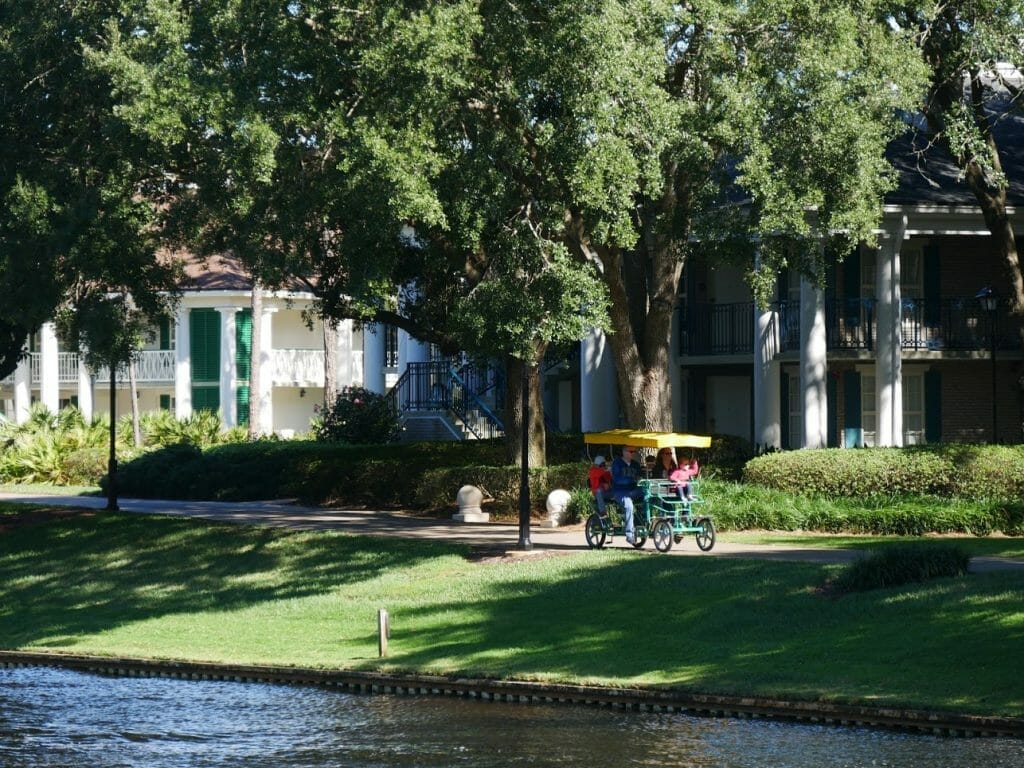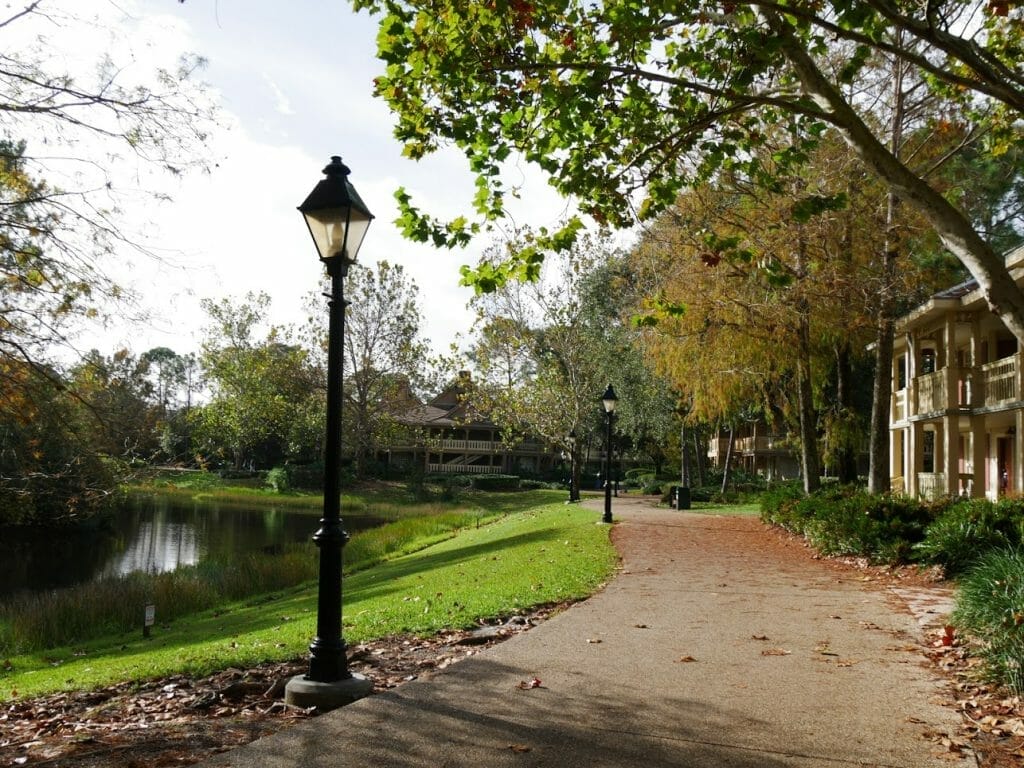 There's something charming and eternally historic to Port Orleans Riverside, and honeymooners will find it's a great place to feel like you're a world away from all of the hustle and bustle of the parks.
Port Orleans Riverside also has a fantastic food court, as well as a table service restaurant called Boatwright's Dining Hall which services up cajun food with a twist.
You can also take the boat from here to Disney Springs to check out all of the Disney Springs activities and nightlife.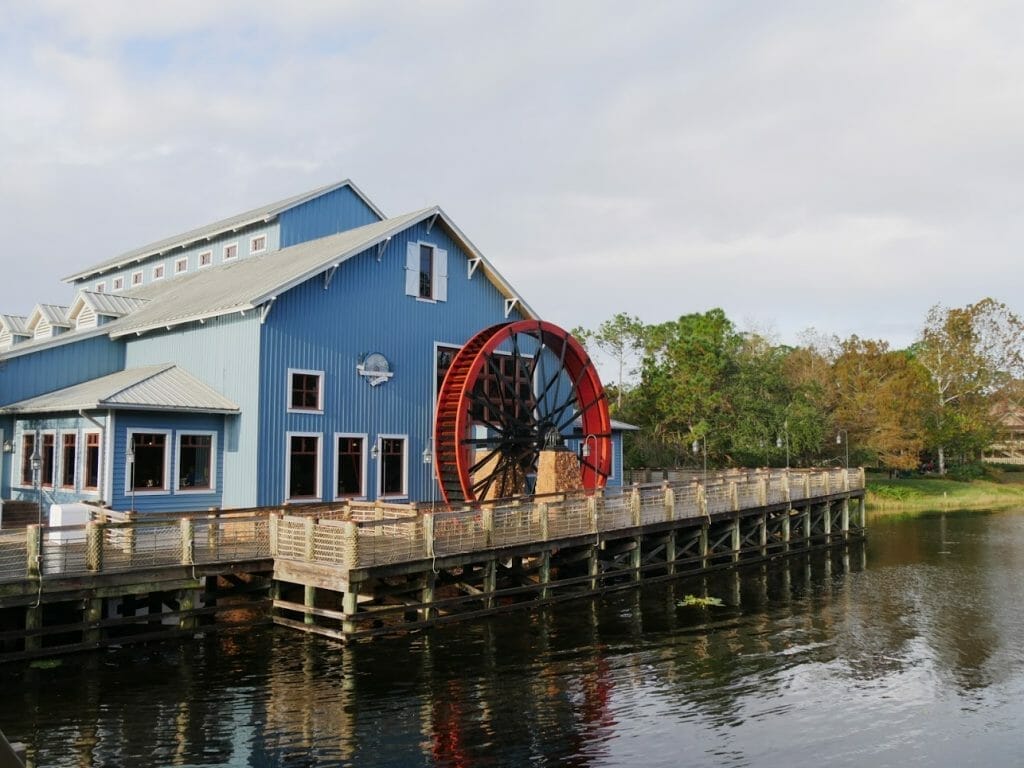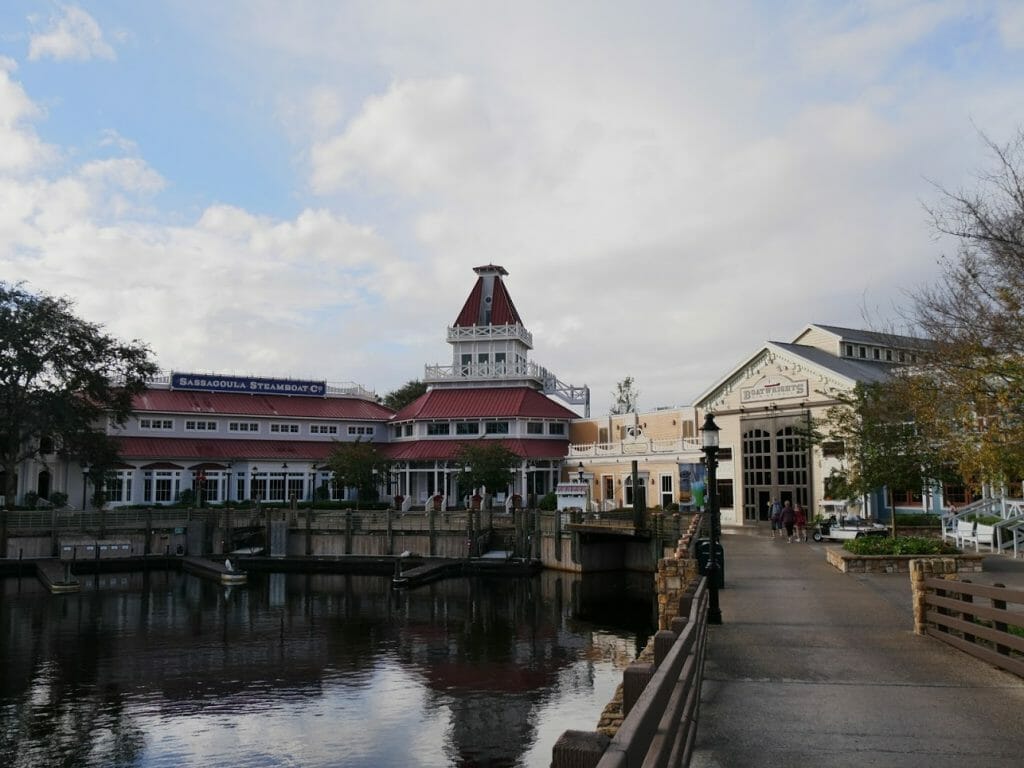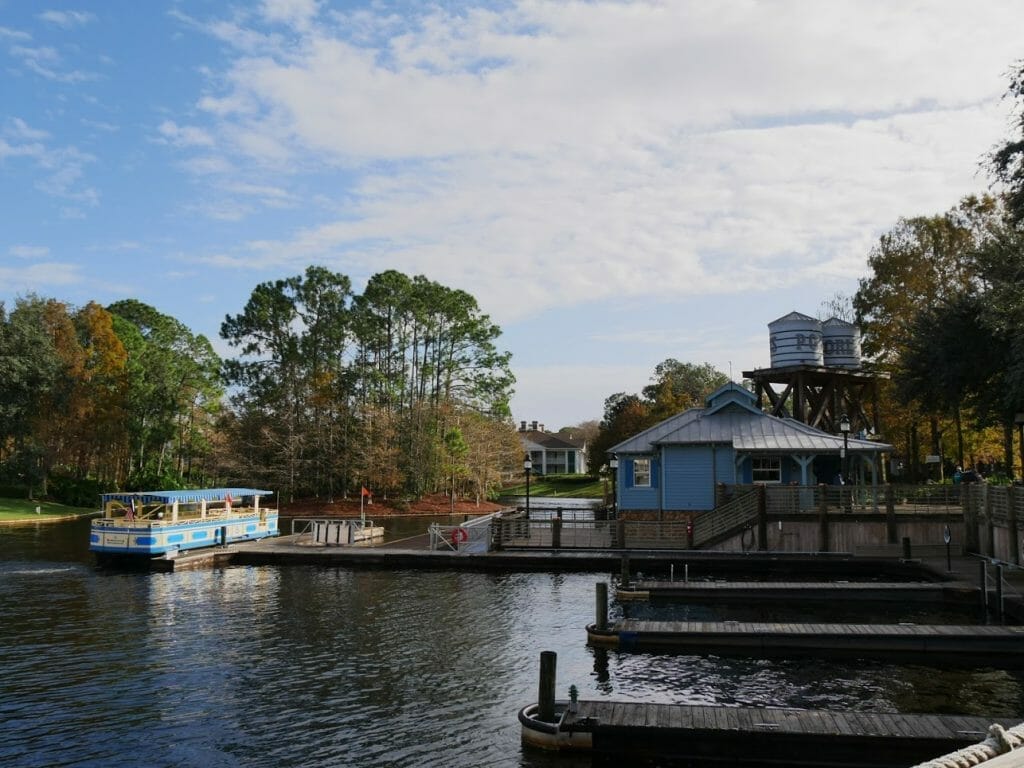 9. Caribbean Beach
One of the best Disney honeymoon resorts for couples wanting a taste of island life without the price tag is Caribbean Beach resort.
This moderate resort has a lot going for it, including newly refurbished lobby and bar area, lots of space for relaxing walks past the mini beaches, views of the Epcot fireworks from various places around the resort, and more.
Caribbean Beach also has walking access to Disney's Riviera Resort where you could go for a meal or some sightseeing, as well as being the hub of Disney's Skyliner.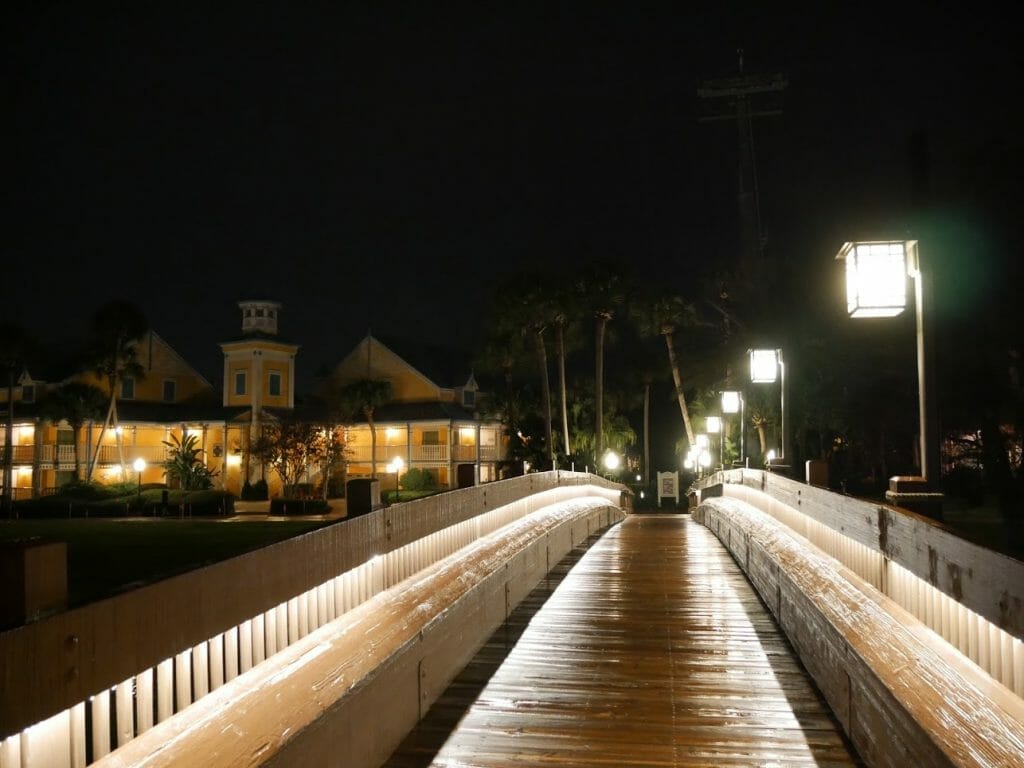 This means that you could hop on the Skyliner and head to Hollywood Studios or Epcot in no time, taking away the need for a honeymoon spent on buses.
I also love Sebastian's Bistro, Caribbean Beach's table service restaurant, and the overall tropical feeling of the place.
This isn't Florida tropical, it's island tropical, and the difference in colors and theming is stunning.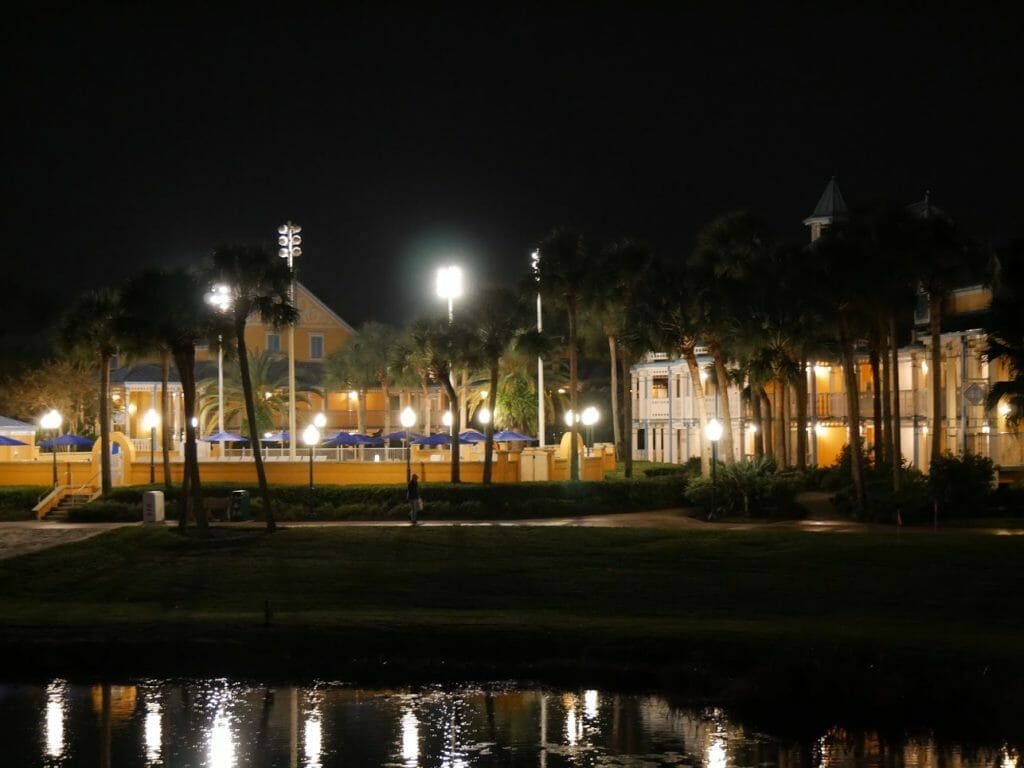 Best Value Disney Resorts for a Honeymoon
Sometimes, you may be on your honeymoon but not want to spend your money on the fanciest hotel room possible.
Perhaps the dining plan is more significant to you, or the only way you can have a Disneymoon is to stay at a cheaper resort and do lots of free things at Disney World.
And that is all fine and dandy!
Anywhere you stay on Disney property is going to be a magical honeymoon for you, including the best Disney value resorts if that's all your budget has in store.
I've chosen some of my favorite Disney resorts for honeymooners if you're staying Value, so you can spend more of your time celebrating your new marriage than worrying about anything going wrong.
10. Pop Century
Disney's Pop Century is the first thing that spring to mind for a Disney value resort honeymoon.
Each building is themed like a different decade, ranging all the way to the 90s, and walking around is a fun way to reminisce on decades gone by and compare childhood stories.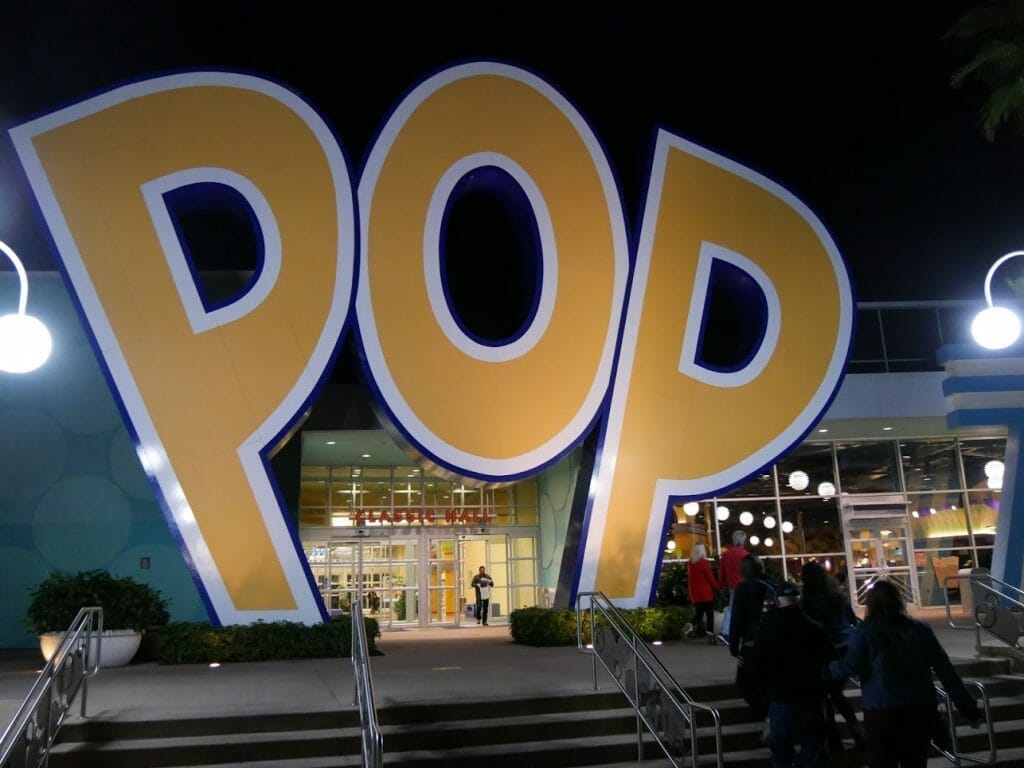 I also love the pool options here, as there are quite a few to choose from and some "quiet" ones that, at different times of the year, may just be you and your beau using it late at night once the kids of the resort are in bed!
Pop Century also has a new benefit for honeymooners, in that it is also on the Disney Skyliner, so not only can you have a romantic ride over the lake to get to the main hub, but Hollywood Studios and Epcot are right at your fingertips.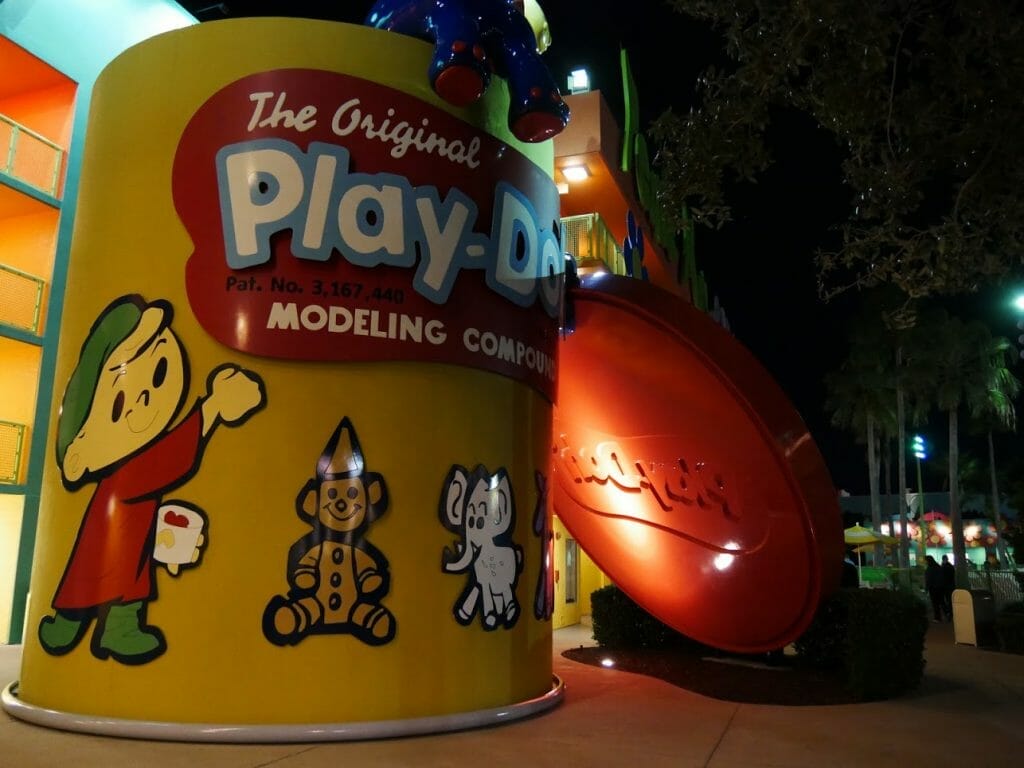 11. All-Star Movies
There's something so quintessentially Disney about All-Star Movies, and not just because of the giant Disney figurines everywhere.
This is a fantastic resort for honeymooning couples on a budget, as you can spend quite a while exploring this resort and all of the larger than life theming to be found.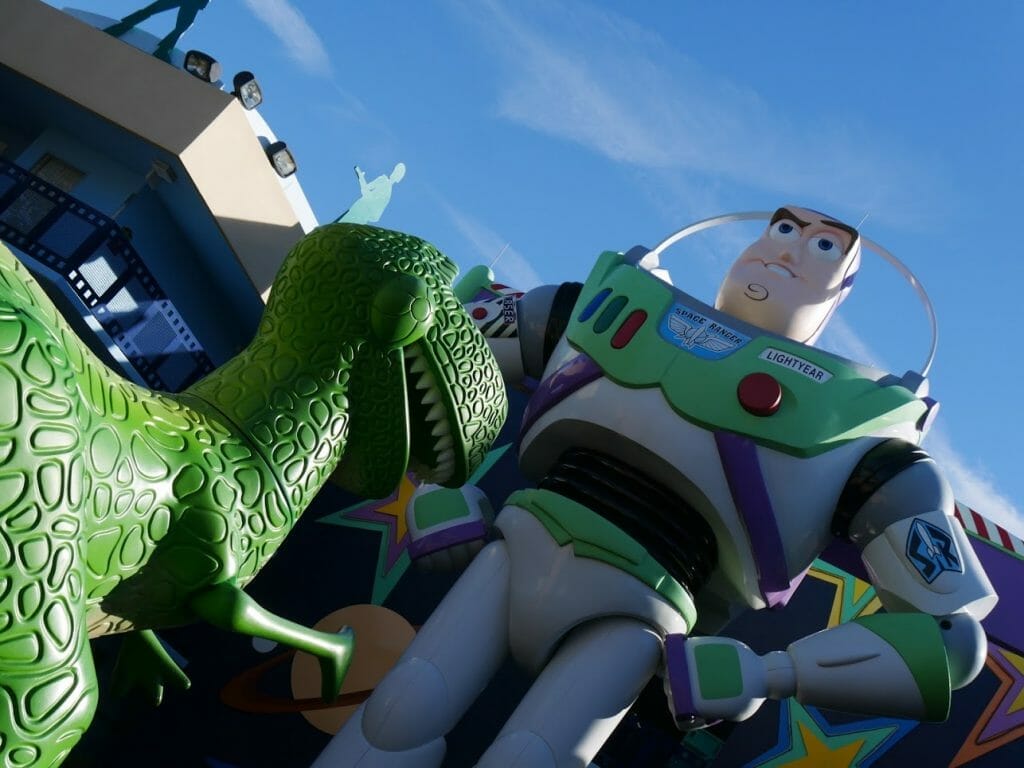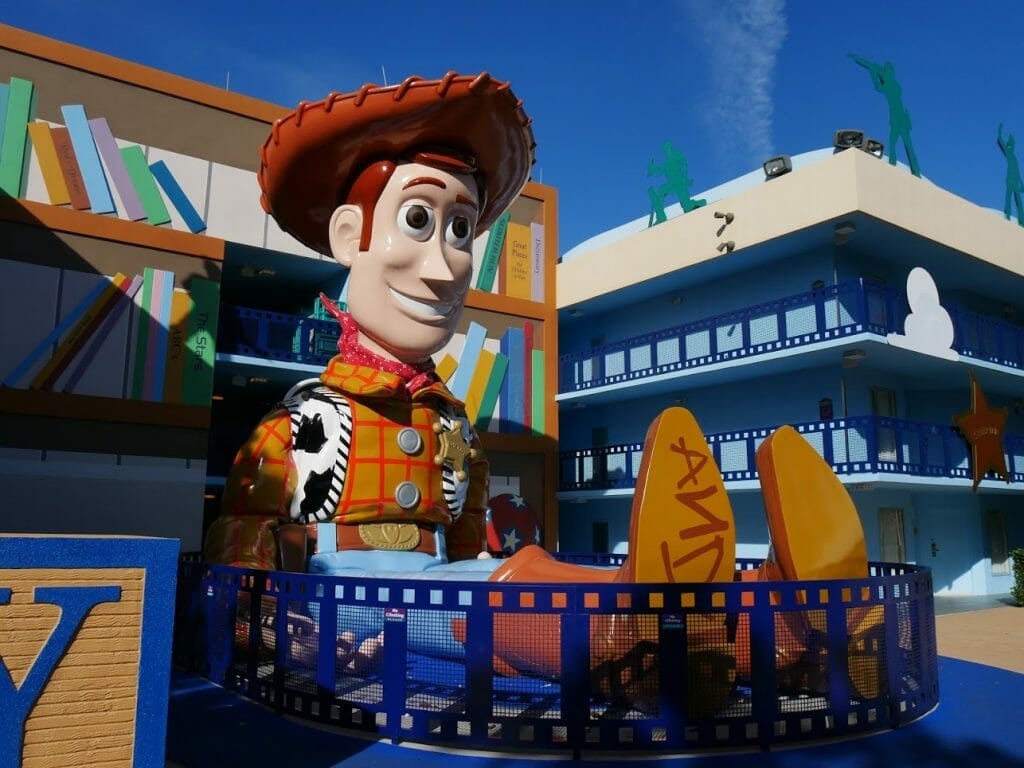 Mighty Ducks fans will delight in the giant Mighty Ducks themed pool, complete with a giant hockey net, and Toy Story fans can weave in and out of Andy's toys and even step foot into Andy's room through a giant door.
You've also got the lovely Fantastia themed pool, which is a real throwback to a different Disney era, and 101 Dalmatians makes its mark with lots of dog-themed decor.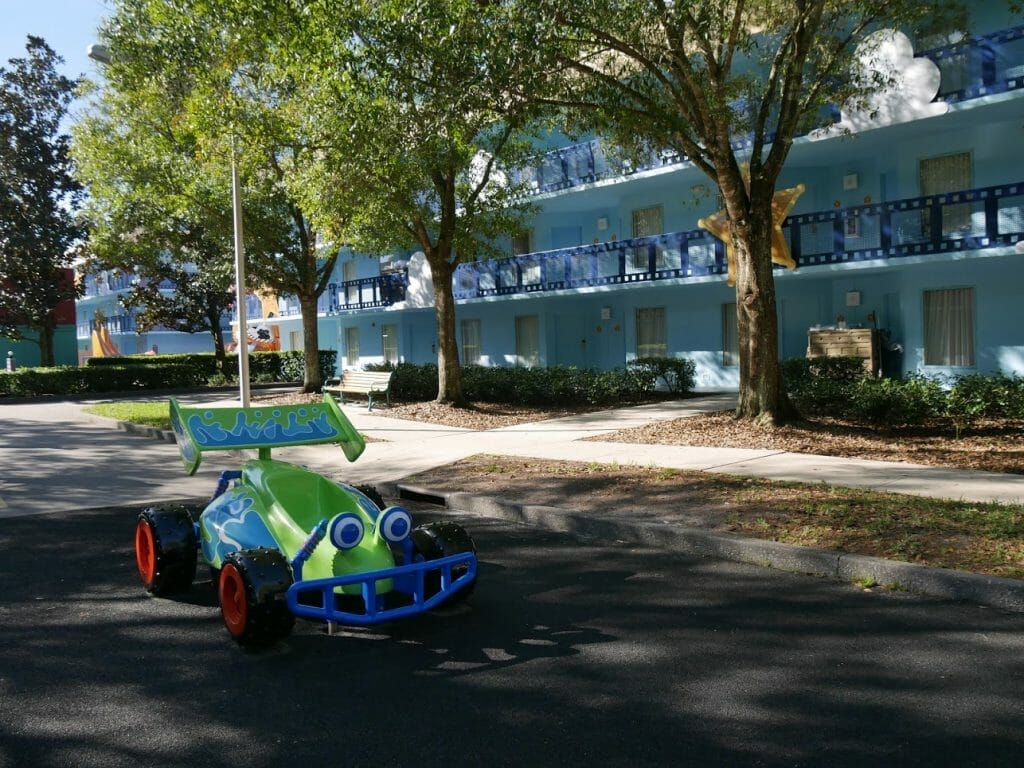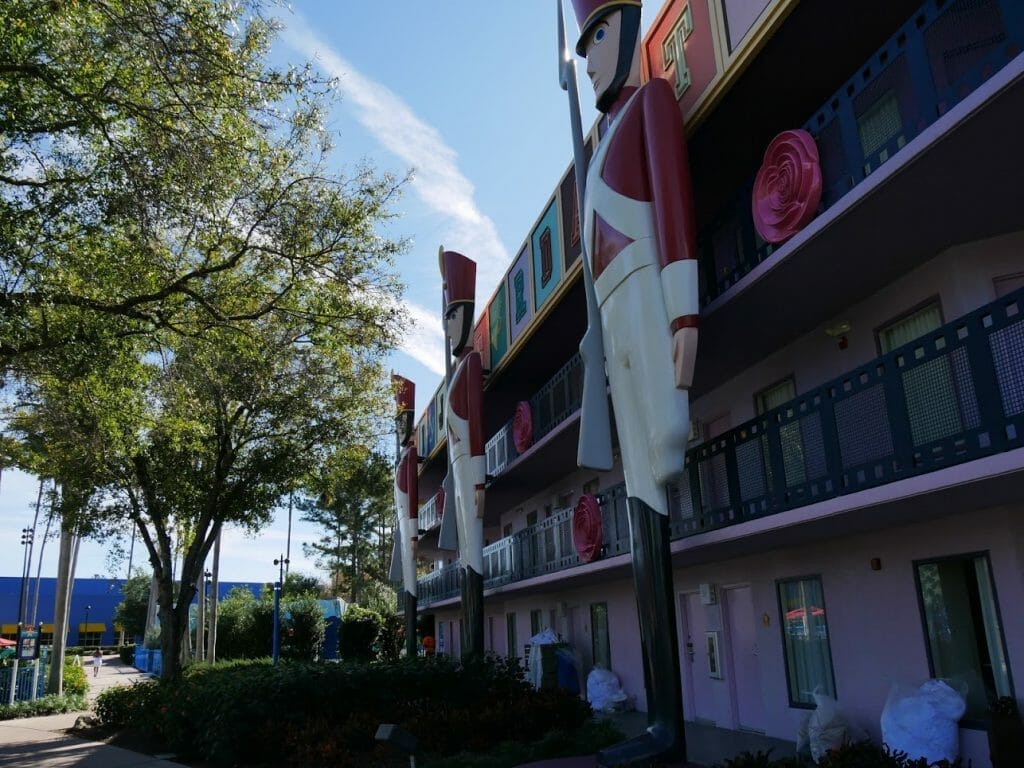 There isn't a table service restaurant here, but the food court is plenty big and has loads of options, including some secret menu options that you can only get if you ask for them!
We also found the beds in the All-Star Movies rooms to be fantastic, and they have been newly refurbished so you won't even feel like you're staying "value" at all!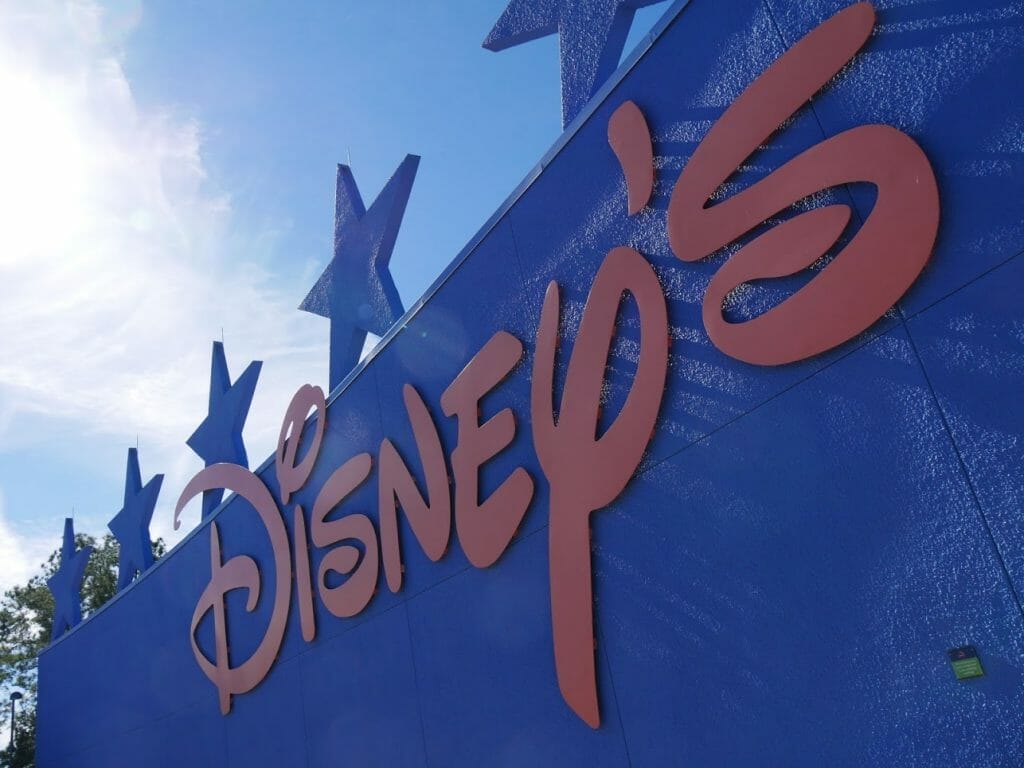 Tips for Picking a Disney Resort for Your Honeymoon
When considering which Disney resort to choose for your honeymoon, a lot will come down to you as a couple.
What kind of atmospheres do you like?
Are you planning a full-on park visit trip or a resort-only one?
Are you foodies?
Do you have any mobility issues that would make different forms of transportation harder or easier?
Even the most "romantic" Disney resorts may not be right for you if it doesn't suit you.
The Grand Floridian at Christmas could feel like the most sophisticated getaway for one couple and far too stuffy for another.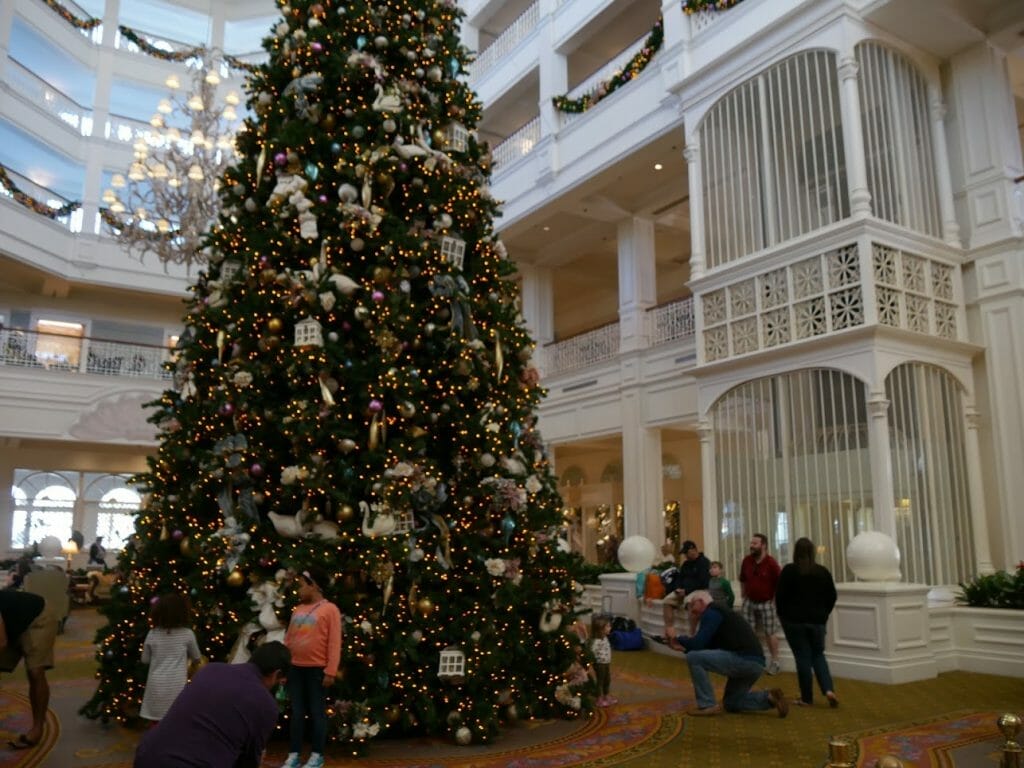 Make sure to look at your options and consider what you want out of your honeymoon.
You could stay at the campgrounds at Fort Wilderness and have the perfect Disneymoon for you if that's your style.
Wherever you stay, though, don't forget to tell them in advance that you're celebrating this super special occasion!
Disney tries to go out of their way to help honeymooning couples have a wonderful experience, and the sooner they know, the better (and the more chance of a Disney World upgrade!)
Hey! Want more of our expert Disney guides? Check these out!
Get the All-American Travel Secrets!
Don't miss out on America's hidden gems!