I have a lot of opinions about Disney breakfast at the Grand Floridian Café.
First of all, starting your day off right at the most Magical Place on Earth is a must-do, and secondly, there are so many options of where to eat your bacon and eggs that it can be overwhelming.
In this Grand Floridian Café breakfast review, I'll talk about why it's one of the best breakfasts out of the parks, what you should be most excited about when visiting, and the Grand Floridian Café service.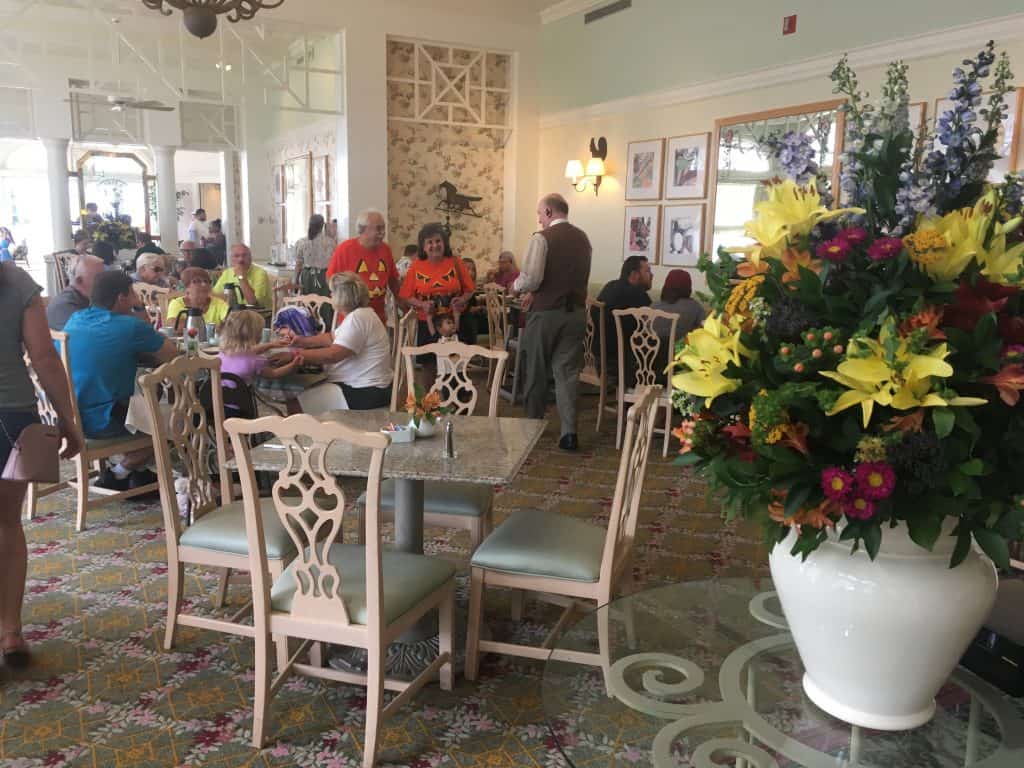 Want insider Disney tips from an expert?
Join 4,000 others in weekly guides to Disney's hidden secrets, gems, and money-saving tips!
Pssst – this printable Disney scavenger hunt is amazing
Since you're already looking up Disney guides, I just wanted to make sure you knew about this printable Disney World scavenger hunt created by a lifelong Orlando native and Disney World fan.
There are over 60 challenges with a full answer key and both Family and Grown Up versions and a bonus Disney Springs hunt for your non-park day!
Grand Floridian Cafe Breakfast Reservations
Grand Floridian Cafe has become known as a restaurant that you can easily get a walk-up reservation for, but judging from our last visit, I would still encourage making reservations so you don't have to wait long, especially if you're visiting the Grand Floridian at Christmas.
You can make breakfast reservation at Grand Floridian Cafe by logging into My Disney Experience.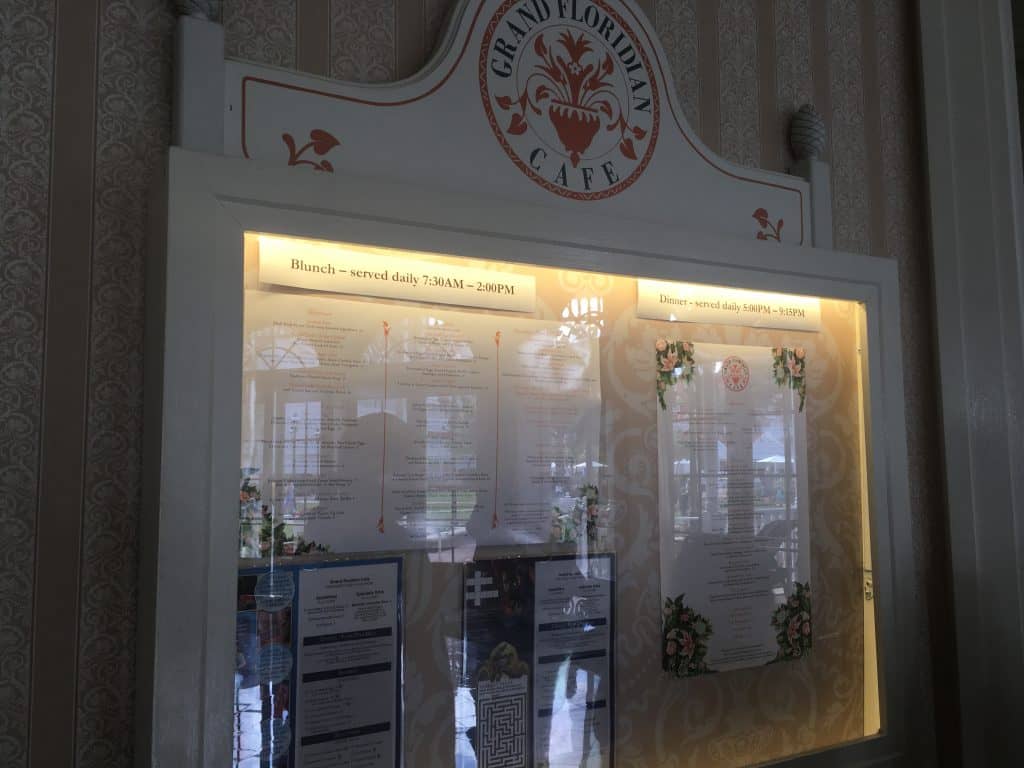 Grand Floridian Cafe Hours for Breakfast
The Grand Floridian Cafe serves breakfast from 7:30am to 11:00am each day.
Grand Floridian Cafe Breakfast Menu
You can find the Grand Floridian breakfast menu here.
I'll talk more about the food that was available on the Grand Floridian Cafe breakfast menu, what we had, and what kind of options there are later in the post.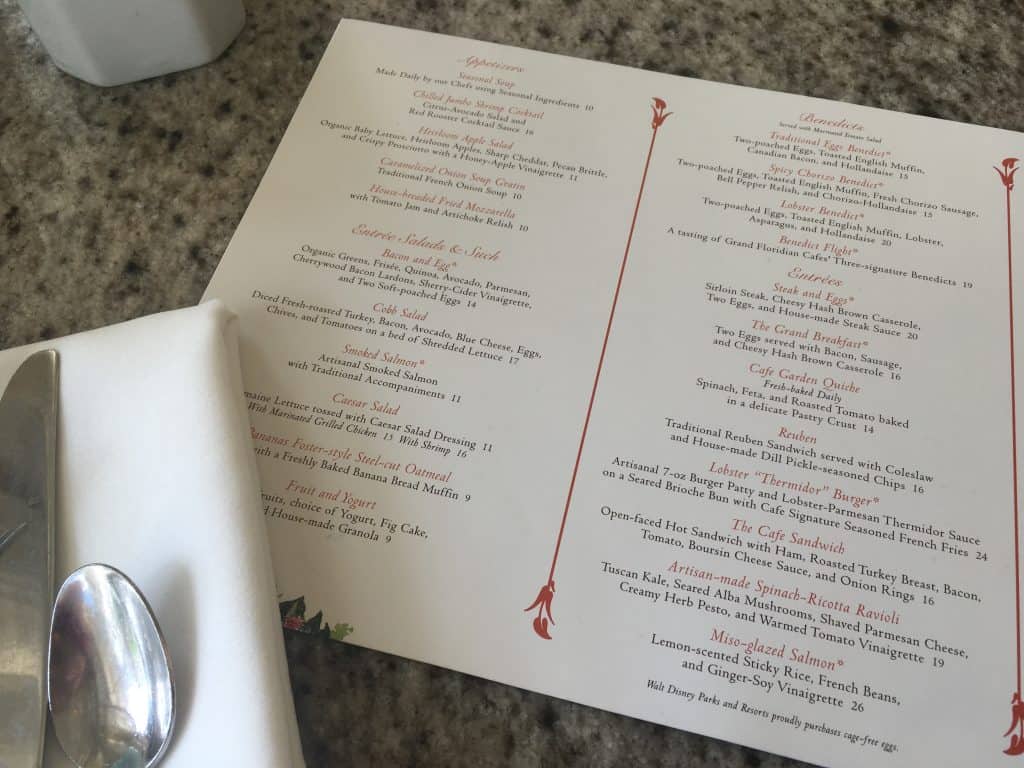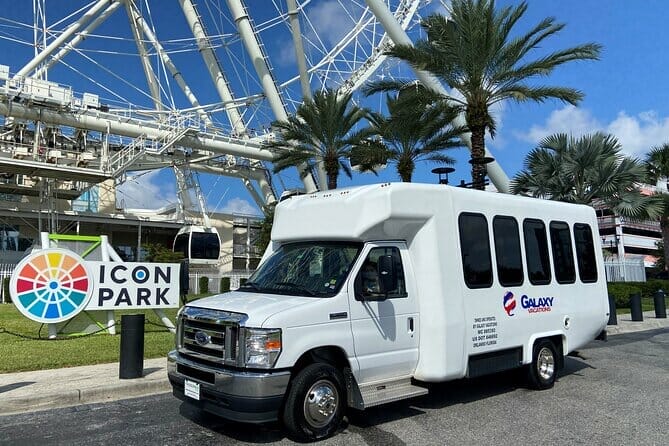 🚌Not renting a car in Orlando?
My favorite shuttle to get from the Orlando airport directly to Disney World is this one with a ⭐⭐⭐⭐⭐ rating.
Grand Floridian Cafe Breakfast Prices
Compared to other Disney breakfasts like the breakfast at Ale and Compass at the Yacht Club, I think that the breakfast prices at Grand Floridian cafe are reasonable (not cheap, mind you).
You'll get an adult breakfast for about $16 to $20 and a plate of waffles or pancakes for about $15.00.
Kid's meals run about $9.00 to $13.00.
While this is way more expensive than you'd find at IHOP, you're dining at Disney's most expensive and flagship resort across from the Magic Kingdom, complete with Disney service.
We didn't find the Grand Floridian Café breakfast prices extortionate for the quality of the food and atmosphere.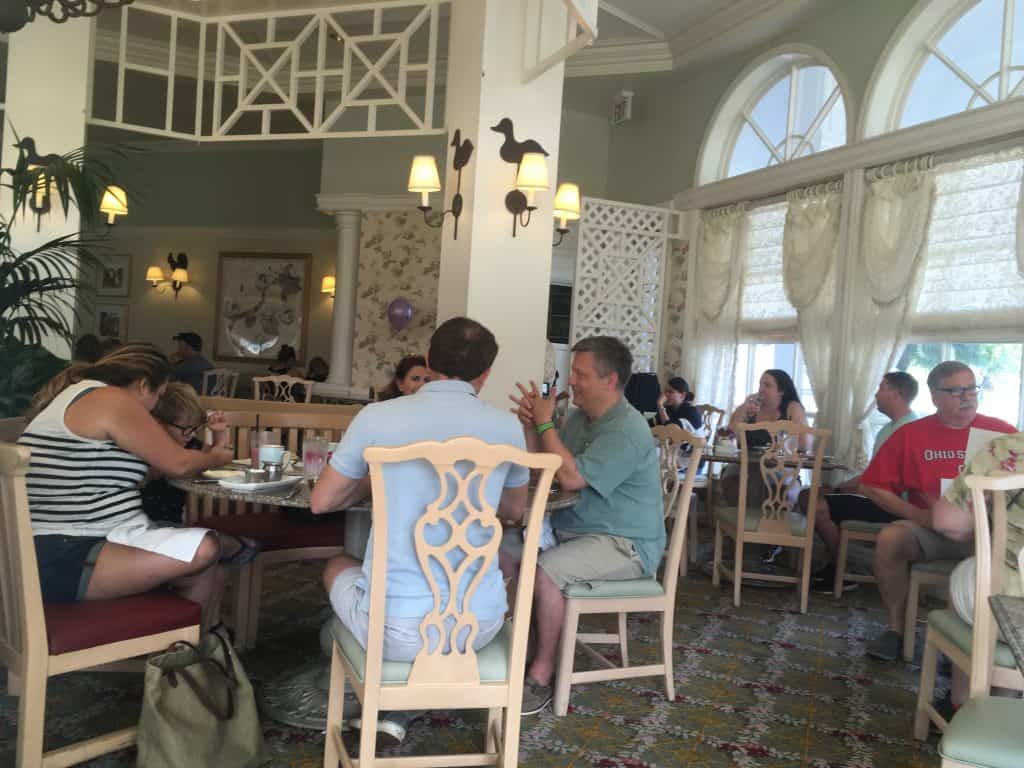 Grand Floridian Cafe Breakfast Theming
The entire Grand Floridian resort is themed to show off its Victorian elegance and a charming "old world" Florida, and the Grand Floridian Cafe is the same.
PS, if you want your whole house to smell like the Grand Floridian, check out this amazing Grand Floridian candle to change your life.
You'll find lovely floral wallpaper and lighting fixtures, as well as chairs with elegant backs and floral arrangements dotted around.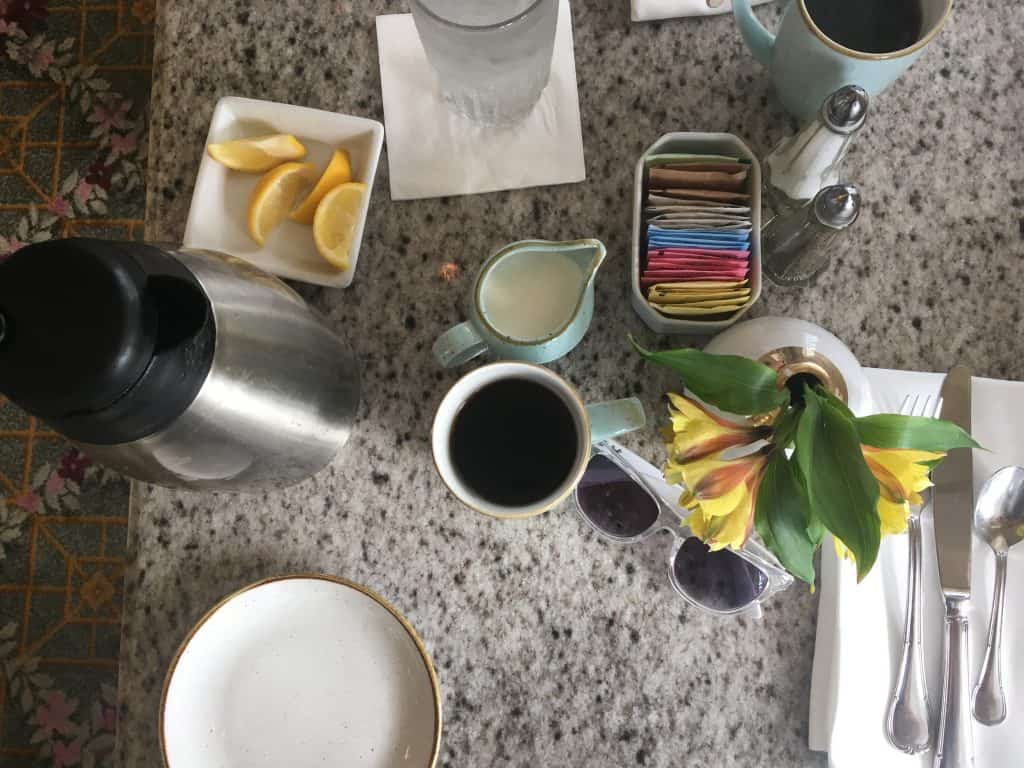 It's not overwhelmingly "themed" like somewhere like Boma, but done up enough to feel like you are having a nice breakfast out.
Like many Disney Deluxe resorts, the theming is not "Disney-themed," so you should know that the Grand Floridian Cafe breakfast has few traces of the Disney characters, nor is this a character dining experience.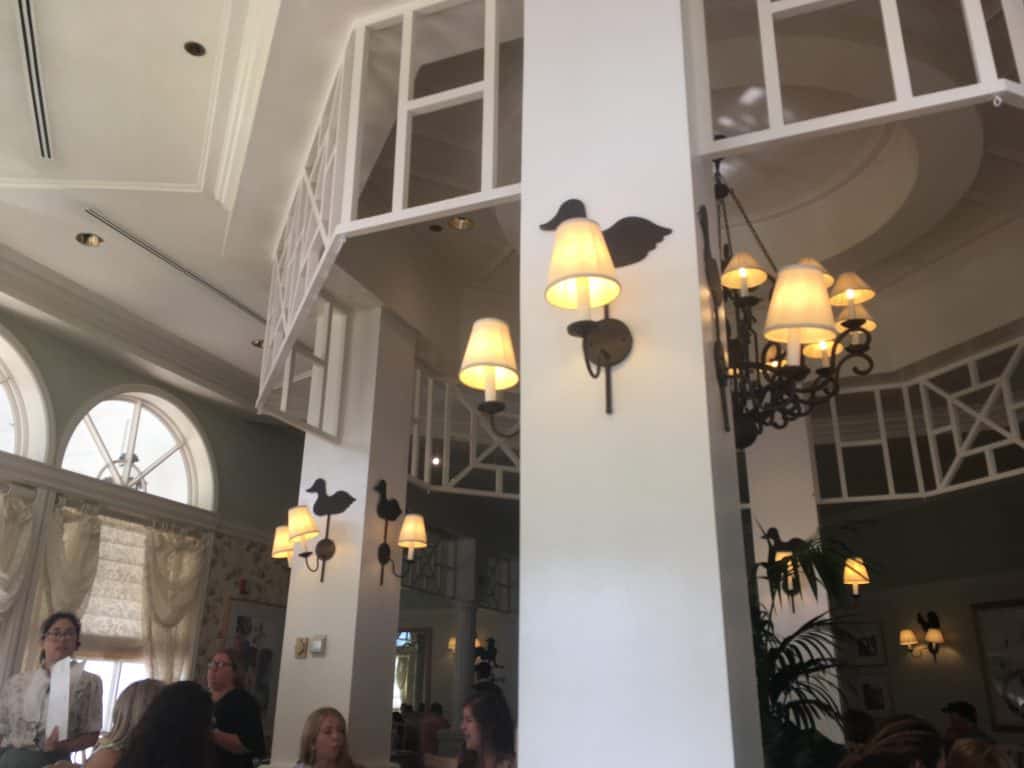 My absolute favorite part of the atmosphere at the Grand Floridian are the gorgeous windows looking out onto Grand Floridian property.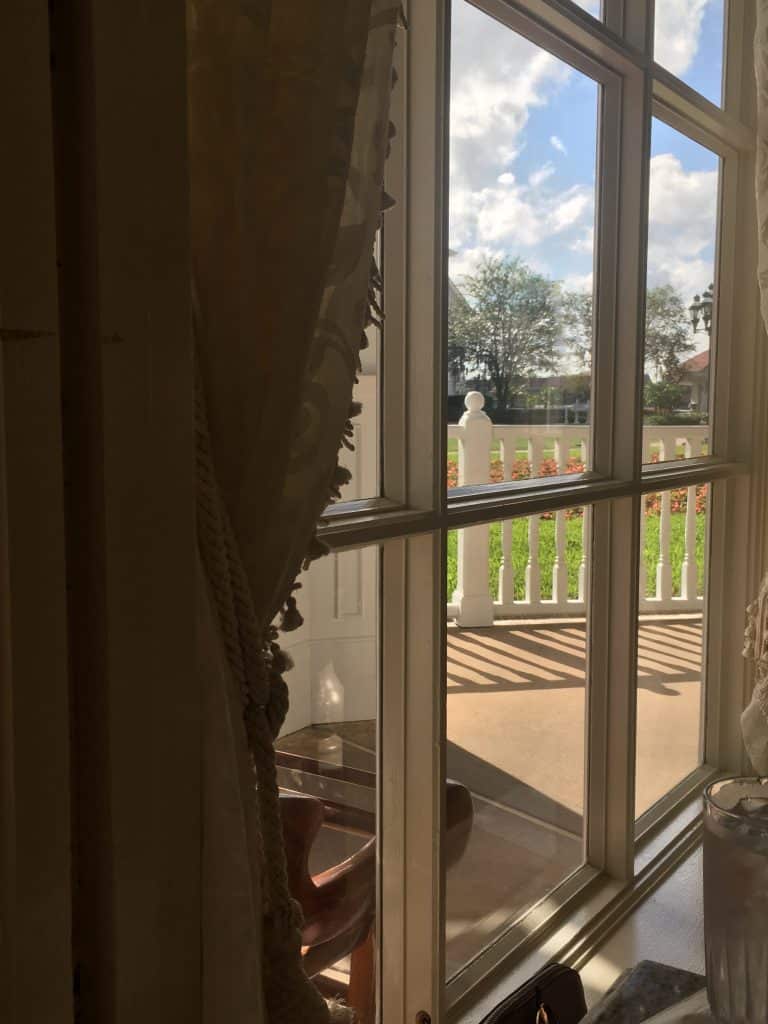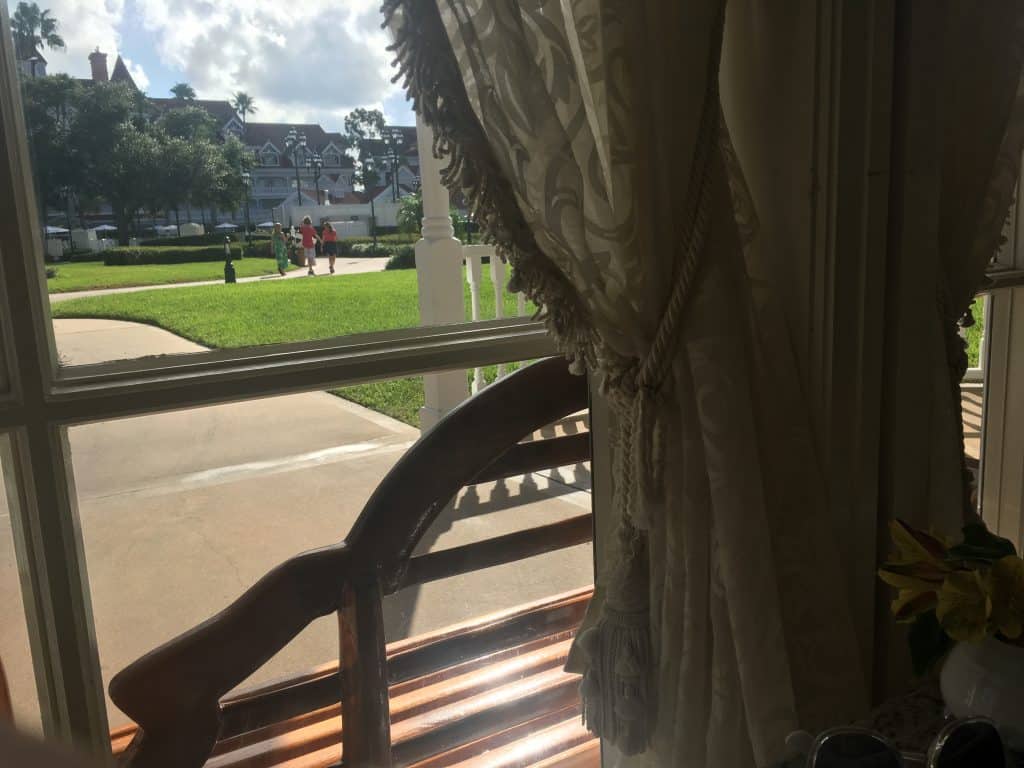 I could have sat and looked out those windows forever.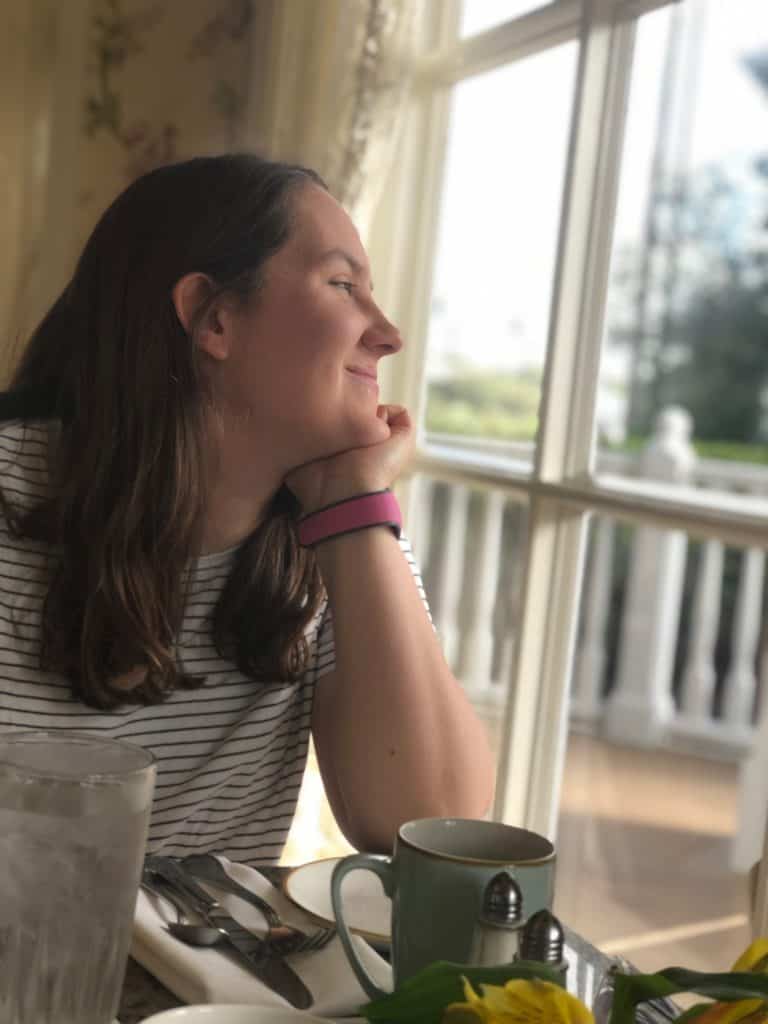 Grand Floridian Cafe Breakfast Service
We experienced great service at the Grand Floridian Cafe, from the man who greeted us at the front desk who was super friendly to the woman who took us back to our table to our server.
The cast members were friendly, smiling, and happy to help and provide suggestions about our meals.
I wouldn't say that service was over-the-top amazing like nothing I've experienced before at Disney, but it was quality Disney service.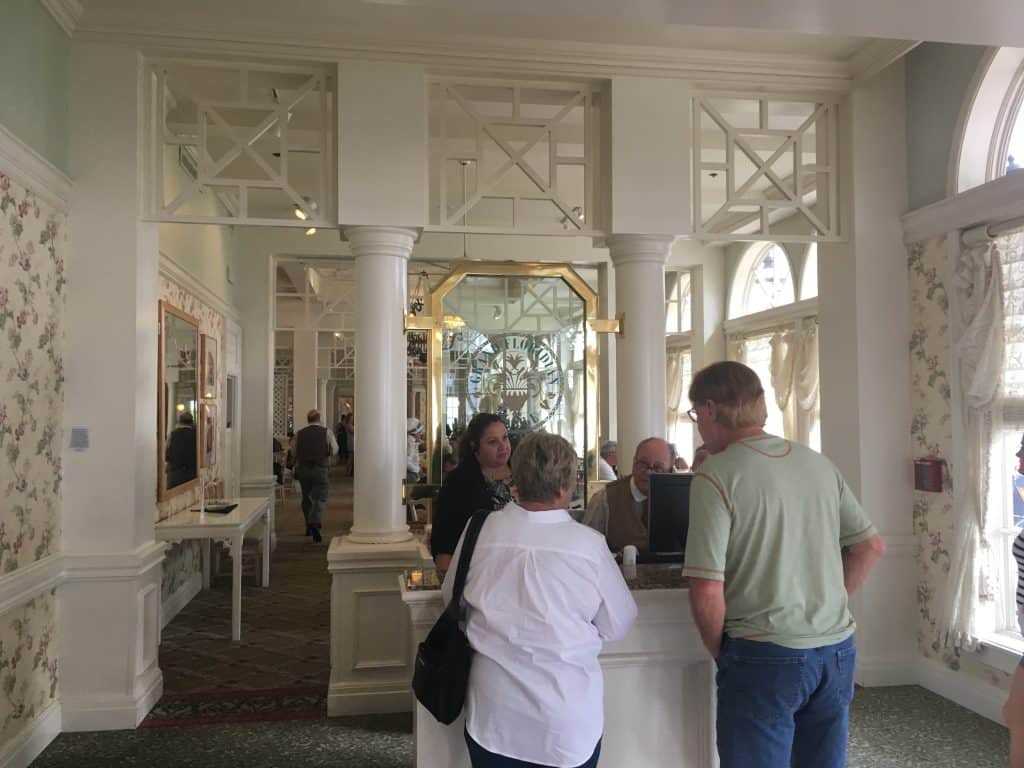 Grand Floridian Cafe Breakfast Food
Let's talk about the most important part of this Grand Floridian Cafe breakfast review – the food!
The unique thing about this menu is that you can enjoy both breakfast and brunch type options.
They know that most people are there for the eggs, french toast, and bacon type of breakfast, but you can also order salads, sandwiches and pasta if you're eating closer to lunch and people in your party don't want breakfast food.
The first thing we noticed when we walked in were that everyone seemed to have biscuits.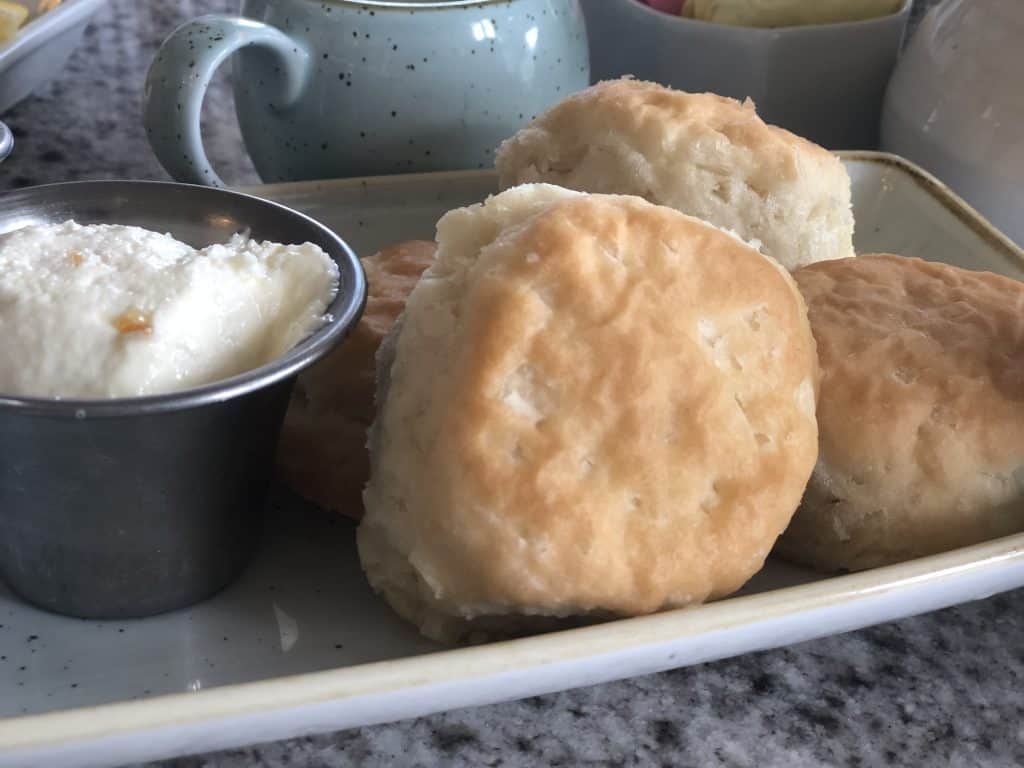 We knew that we needed to get our hands on some, fast, so we asked how we could order them as they weren't on the menu, and it turns out that they are complimentary biscuits with Florida orange butter that every table gets.
These biscuits were incredible – so soft, moist and worked perfectly with the butter, which had a hint of orange but wasn't so overwhelming that kids or picky eaters wouldn't like it.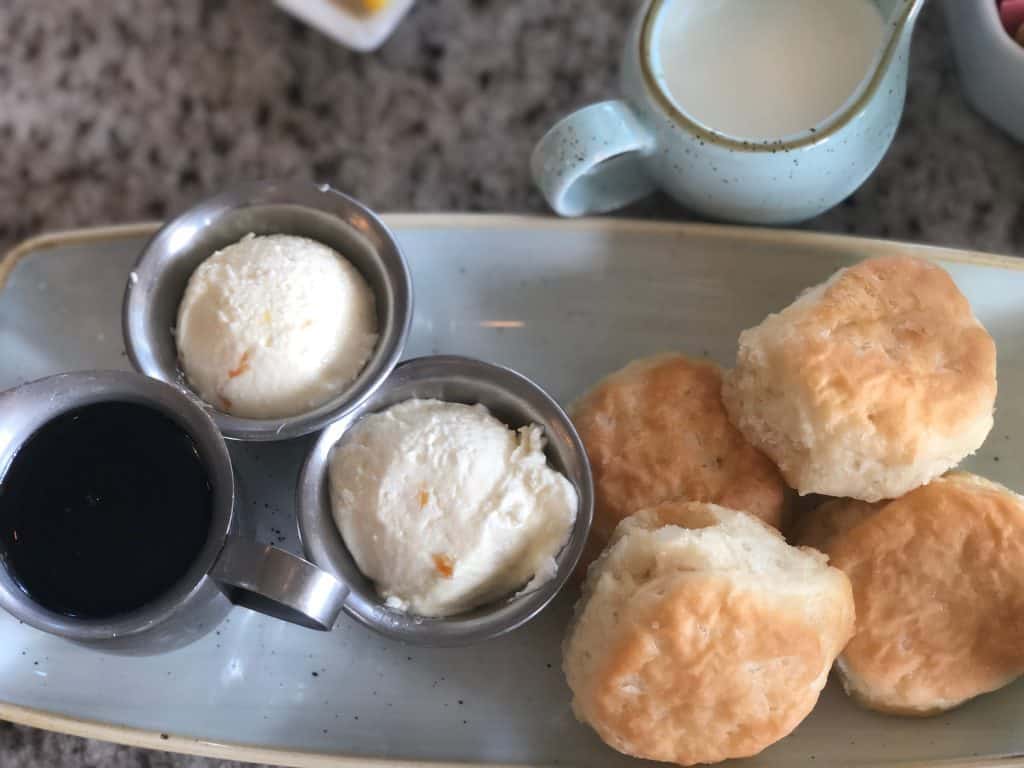 For our mains, we had the "Grand Breakfast" which comes with two eggs, bacon, sausage, and hash brown casserole, and the french toast.
Both were really delicious, and the plating and taste definitely felt like you were at a nicer restaurant.
This wasn't your quick service bacon and eggs, but nicely cooked sit-down breakfast with a hash brown casserole that was really awesome.
This seemed to be the case for most of the food that was on the menu – from the eggs benedict to the buttermilk pancakes to the open-faced sandwiches, the food looked well thought out and appetizing.
Grand Floridian Cafe Breakfast for Vegetarians and Vegans
If you're a vegetarian or vegan hoping to dine for breakfast at the Grand Floridian Cafe, you're in luck.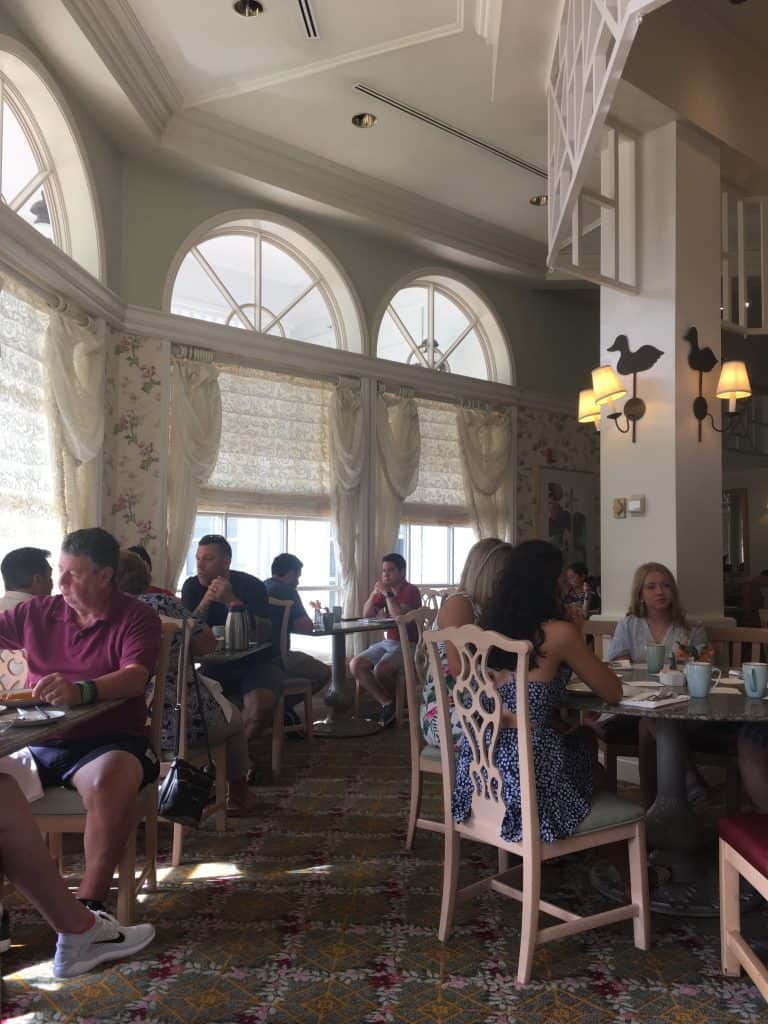 The vegetarian options are plentiful, ranging from pancakes to waffles to eggs and potatoes with vegetarian substitutes to avocado toast to fruit and yogurt and salad options.
You could also ask for a standard meal that has meat in it, but ask to substitute the meat out or leave it off if you wanted to adjust something else.
If you're vegan, tell the server who will be able to provide you with options and also ensure that you can still enjoy the menu – this is one of the most vegetarian and vegan-friendly options at Walt Disney World, so don't be afraid to speak up and see what they can do for you.
And of course, if you don't want to make any special requests, you have options like a vegetable and garlic pasta and avocado toast with tomatoes waiting for you to enjoy.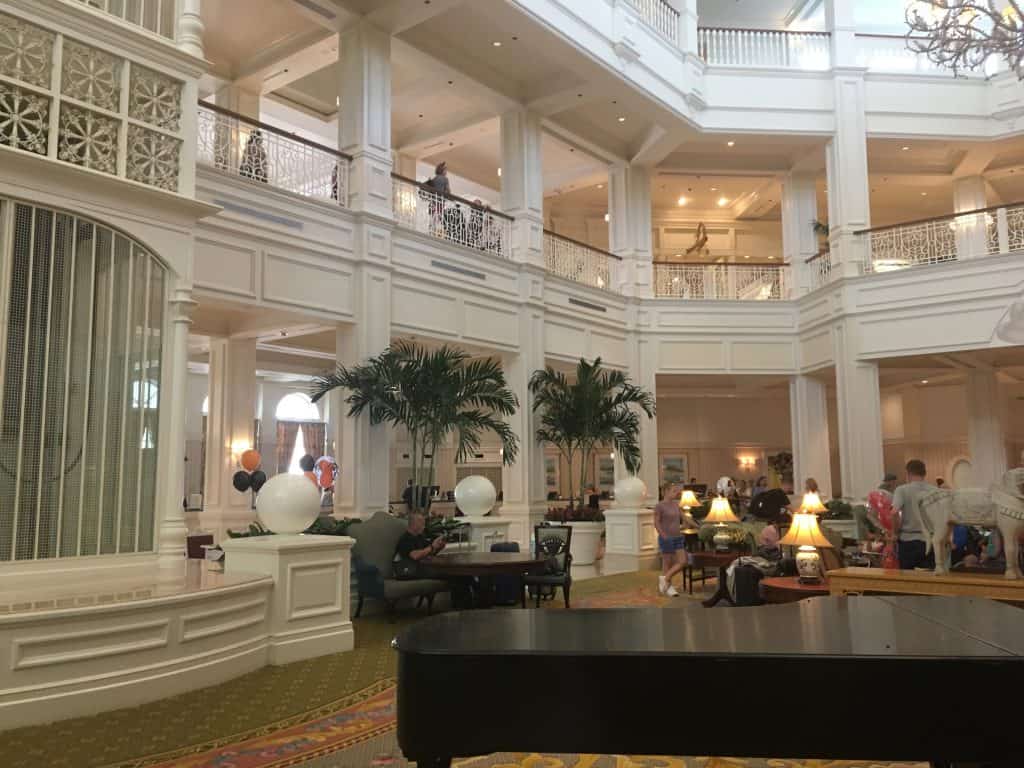 Grand Floridian Cafe Breakfast for Kids
To finish off this review of the Grand Floridian Cafe breakfast, I want to address dining here with kids, because many people will have the little ones in tow, perhaps before a day riding the best rides at the Magic Kingdom for babies.
Firstly, kids are more than welcome and while this is a nice restaurant, you can still come in "theme park clothes" as they know many people will be – it's not a "you must dress up" kind of breakfast, and the kids should feel comfortable coming and enjoying this eating location.
They've got coloring pages and crayons for the children, as well, to keep them occupied while you do some hardcore staring at the beautiful Grand Floridian grounds out the windows.
Kid's menu options range from eggs to Mickey waffles for the picky eaters and also offer children's portions of things like miso-salmon and beef skewers for the more adventurous ones.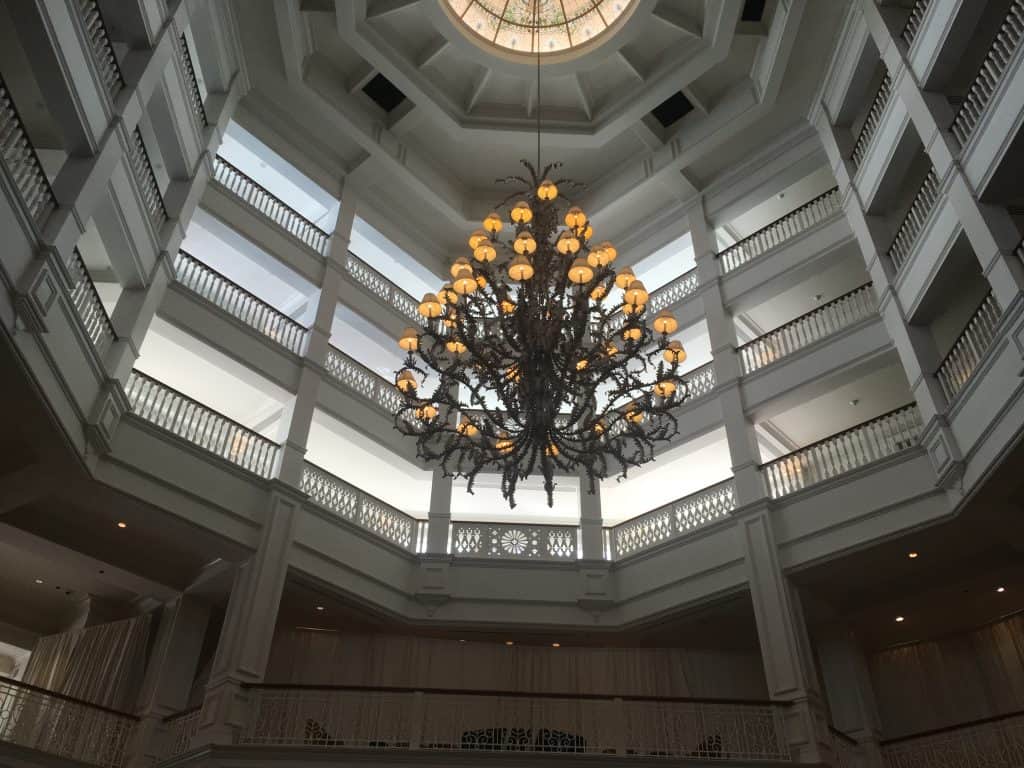 Featured Image: Includes image Brown to Bronze IV: Grand Floridian in Deep Color. Christian Lambert [CC BY-ND 2.0], via Flickr
Get the All-American Travel Secrets!
Don't miss out on America's hidden gems!