Unless you've been living under a Mickey shaped rock, you've probably heard about Toy Story Land at Disney's Hollywood Studios.
This immersive land features three rides, a quick service restaurant, and plenty of theming and characters that help you feel like you've been reduced down to "toy" size and are experiencing Andy's backyard and bedroom from a new perspective.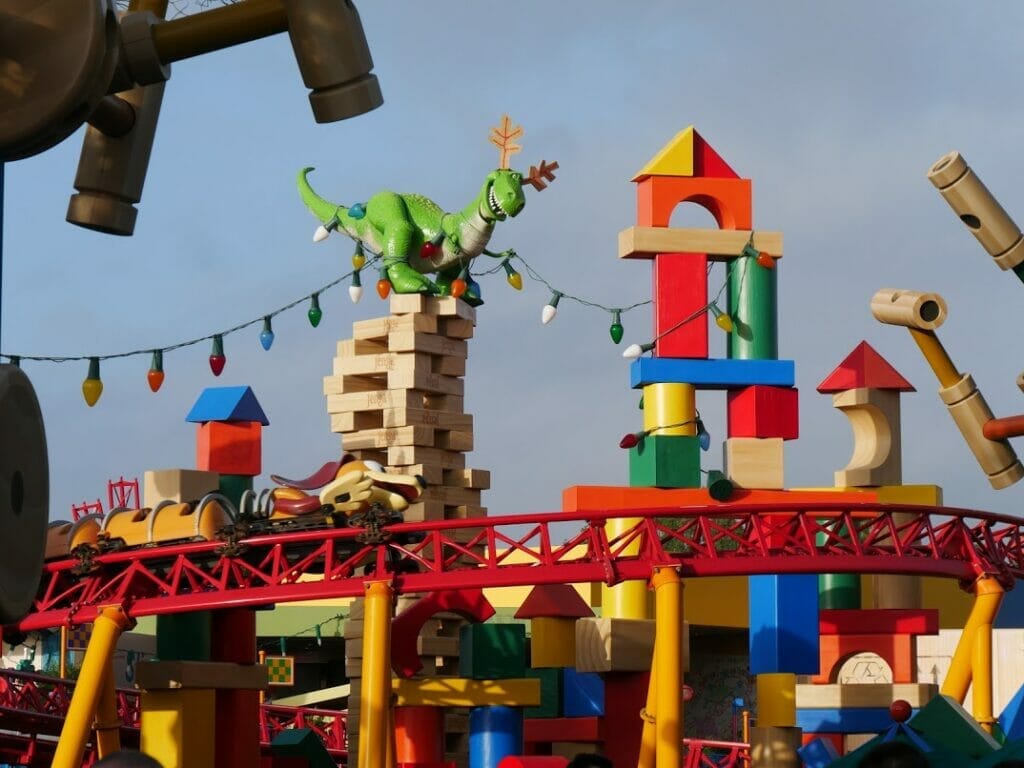 In this Toy Story Land review, I'll talk about the pros and cons of this land so you can strategize on how to spend your time exploring and which rides to focus on.
Bonus points if you visit while decking the kid's out in this Woody costume, this adorable Jessie costume and this cute Buzz costume.
Parents can put on these cute Pizza Planet shirts for a full toy Story day out.
Want insider Disney tips from an expert?
Join 4,000 others in weekly guides to Disney's hidden secrets, gems, and money-saving tips!
Pssst – this printable Disney scavenger hunt is amazing
Since you're already looking up Disney guides, I just wanted to make sure you knew about this printable Disney World scavenger hunt created by a lifelong Orlando native and Disney World fan.
There are over 60 challenges with a full answer key and both Family and Grown Up versions and a bonus Disney Springs hunt for your non-park day!
History of Toy Story Land at Hollywood Studios
Toy Story Land at Hollywood Studios was announced in 2015 and finally opened in June of 2018 during a period of Hollywood Studios renovation and construction.
The land is unique to Hollywood Studios in its exact rides and food options, but there were previously Toy Story Lands in Disney's Paris, Hong Kong and Shanghai properties.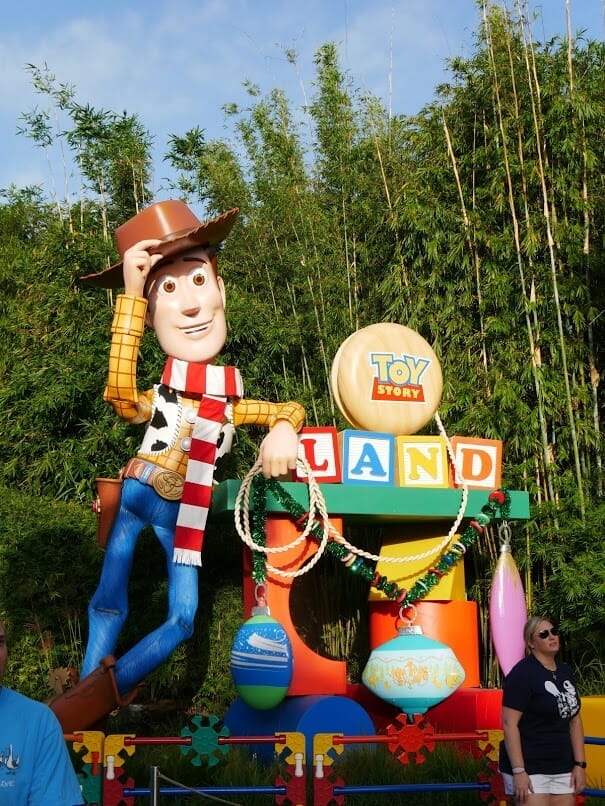 By the time Toy Story Land at Disney World was completed, construction was well under way for Galaxy's Edge, meaning that this was simply the "prequel" to the future lands that were to come to the theme park.
Of course, that doesn't mean it wasn't greeted with enthusiasm by fans and visitors.
Toy Story is a well-loved story that both parents and kids could share, and for a park that had seemed to fall by the wayside, a new land brought new life and new crowds to Hollywood Studios.
Toy Story Land Rides at Hollywood Studios
The opening of Toy Story Land saw two new rides being added to Disney's Hollywood Studios, in addition to a new entrance and queue for the existing Toy Story Mania.
Slinky Dog Dash
This Slinky Dog family rollercoaster has one of the best queues in all of Disney with a fun backstory and lots of imaginative theming that really makes you feel as if you're experiencing Andy's rollercoaster project from a toy's perspective (though it does make you wonder if you should worry that he put it together with a lot of glue and popsicle sticks, it seems).
The rollercoaster itself is more intense than it looks from the outside, though not so terrifying that it should scare you away.
The ride doesn't go upside down at any point if that's an important factor for figuring out whether your kids will ride.
If you visit Hollywood Studios at Christmas, you'll hear lots of jingling sounds which add festive fun as you ride.
From the top of Slinky Dog Dash, you can even get a glimpse of Galaxy's Edge, the Star Wars themed land.
Slinky Dog Dash is probably the most popular ride at Hollywood Studios in Toy Story Land thanks to a few factors: its newness, its family-friendliness, and the fact that there are fewer rides at Hollywood Studios than somewhere like Magic Kingdom so popular ones become even more popular.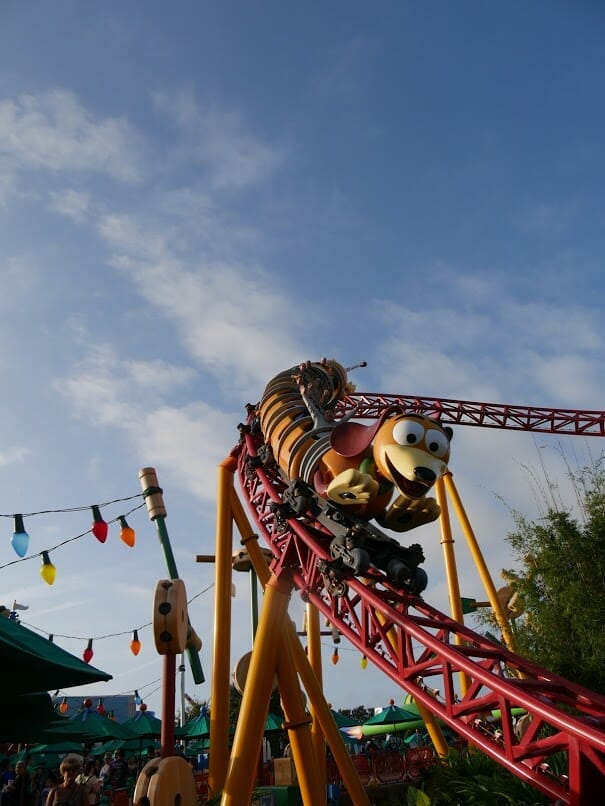 If you don't get a Fastpass for this one, either ride it at Rope Drop (first thing when the park opens), or wait until nearer to park close to get in line and enjoy the lack of a competing Fastpass line after the park closes.
Alien Swirling Saucers
The other new ride in Toy Story Land is Alien Swirling Saucers, which has far less theming and overall ride intricacy than Slinky Dog Dash.
Essentially, it is similar to the teacups ride where you spin around lots of times and then get off wanting to throw up (or is that just me?)
The queue is pretty boring compared to Slinky Dog Dash, though there are a couple of alien themed decorations along the way.
You can see the ride in full while standing in line – there are no hidden spaces or "track" to speak of.
I would only recommend this ride to people who haven't done it before so you can check it off your list – it's not something I would do again any time soon for anything over about a 15-20 minute wait.
Toy Story Mania
Toy Story Mania is an existing ride in Disney's Hollywood Studios that has gotten a revamp with its entrance and exit to incorporate it more into the land.
I have always loved Toy Story Mania and I think it's only gotten better now that it's a part of Toy Story Land and not essentially on its own.
The basics of Toy Story Mania are that you're constantly moving around the track participating in arcade games thanks to some 3D glasses and built-in shooting capability to the ride vehicles.
It feels decently long and while you will probably get off wanting to play some more, you do feel as if you've had time to practice and then participate in the world around you.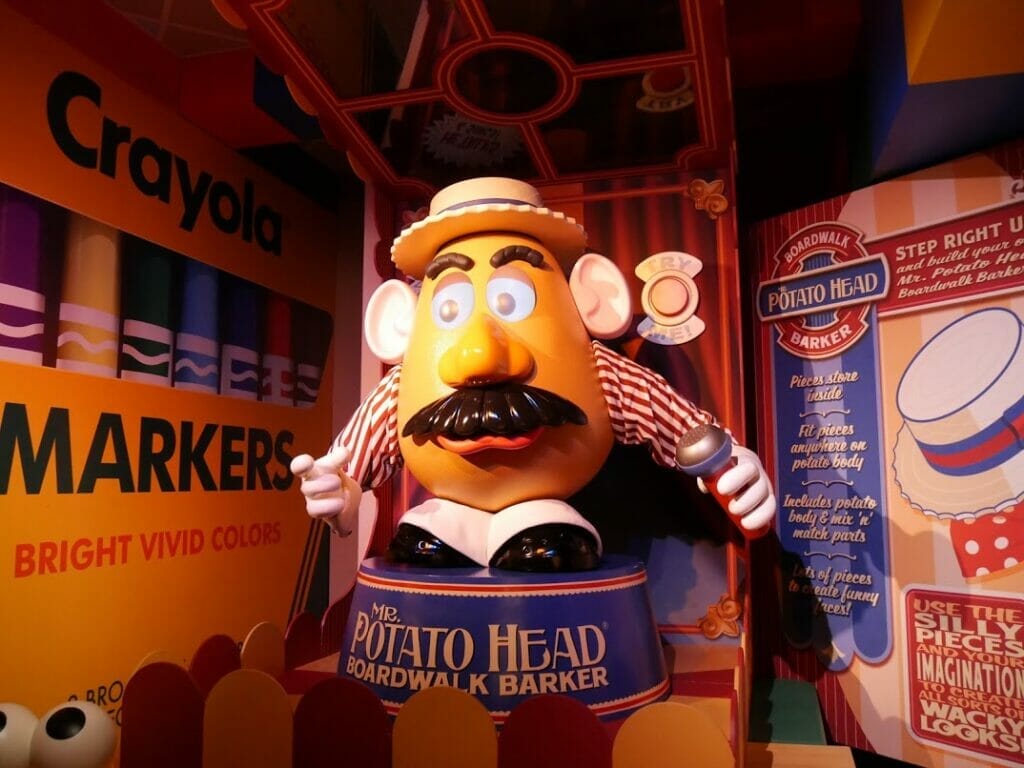 If you have to prioritize a single ride in Toy Story Land and haven't done any of them before, I would actually choose Toy Story Mania over Slinky Dog Dash.
The theming in the queue is also very cute and well done (have you ever interacted with Mr. Potato Head? Because you're about to).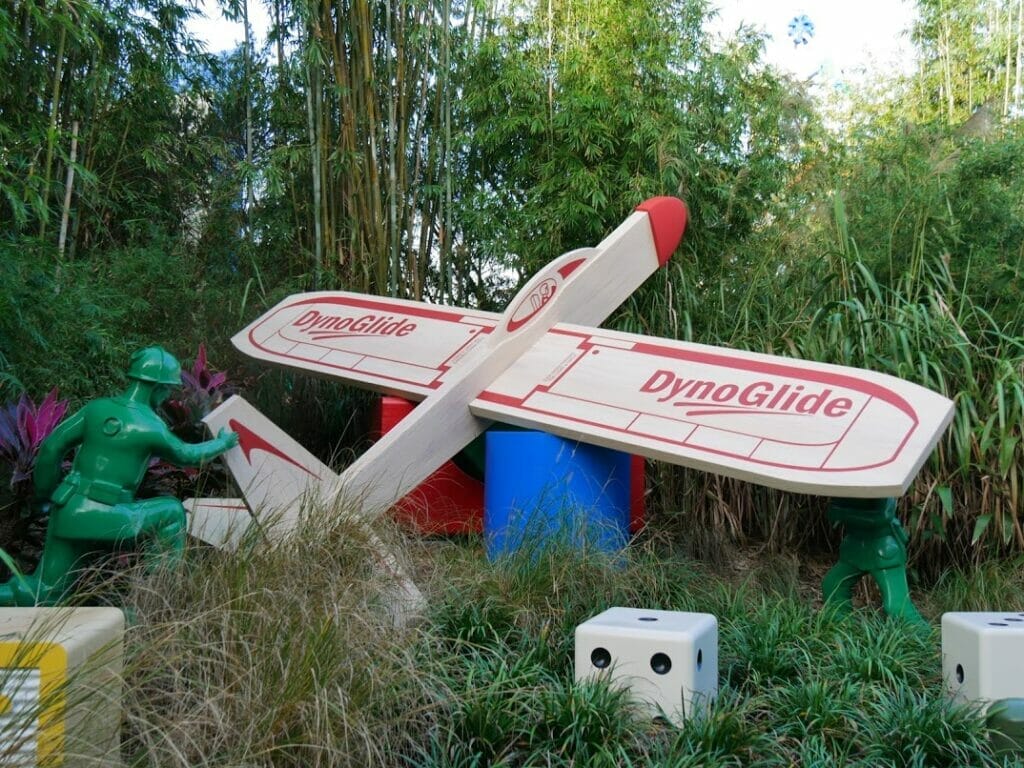 Toy Story Land Theming
Ultimately, one of the most important aspects of any new land at Disney World is its theming.
Disney is, after all, a theme park rather than an amusement park.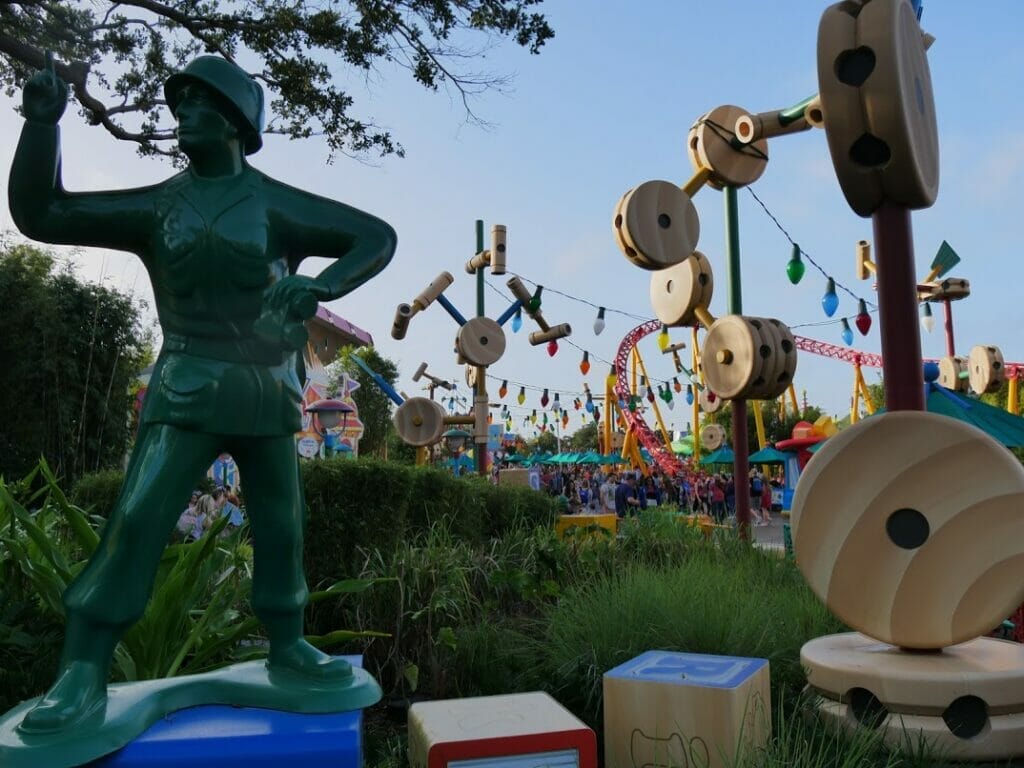 While you expect quality rides, Disney does not survive on the basis of its rollercoasters.
Particularly adults at Disney World want to see a lot more than just some rides.
Instead, people return again and again due to the theming and how well they can make you feel as if you've stepped into an entirely different world.
This is where Toy Story Land wins for me, and why I think it's a hit rather than a miss.
The rides themselves are cute, but they're not necessarily incredibly innovative or breath-taking.
They're just fun.
The real win here is the adorable theming found across the land.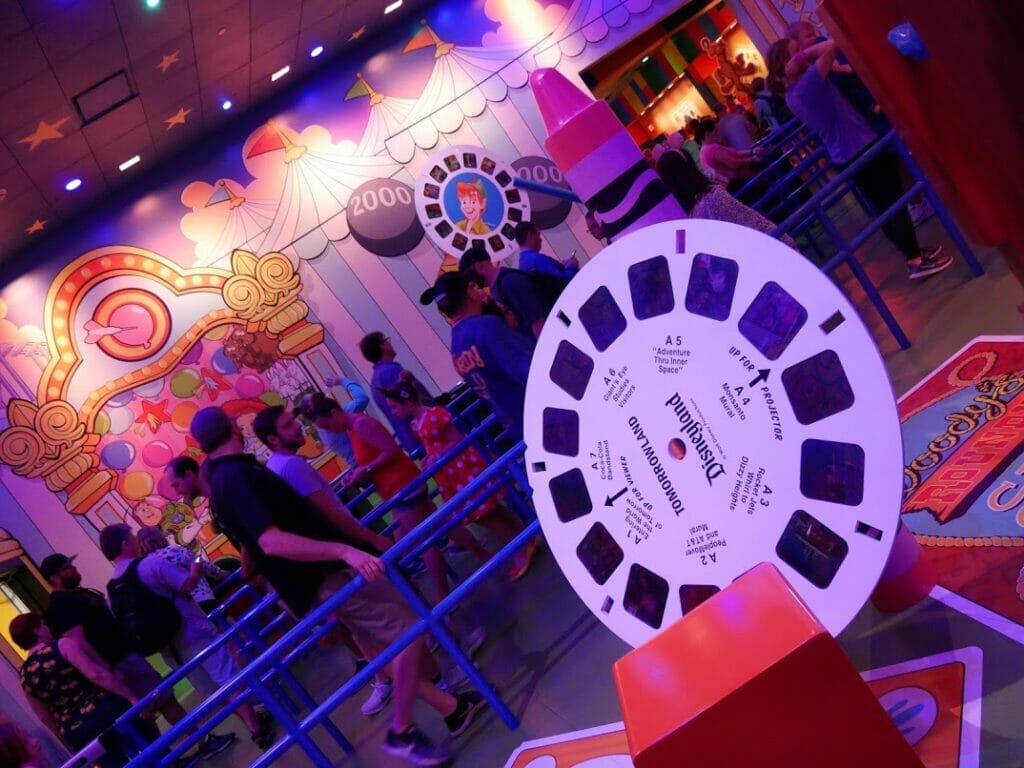 From the minute you walk in, you feel as if you are a toy in Andy's backyard.
No detail is spared – you'll find benches made of giant dominoes, umbrellas made from children's building toys, and ride signs that appear to have been written in crayon.
The ride queues for Slinky Dog Dash and Toy Story Mania also have the same effect.
Scrabble on the ceiling, Mr. Potato Head chatting to you from the corner, and giant bottles of Elmer's Glue make Toy Story Land an immersive experience for any Toy Story fan.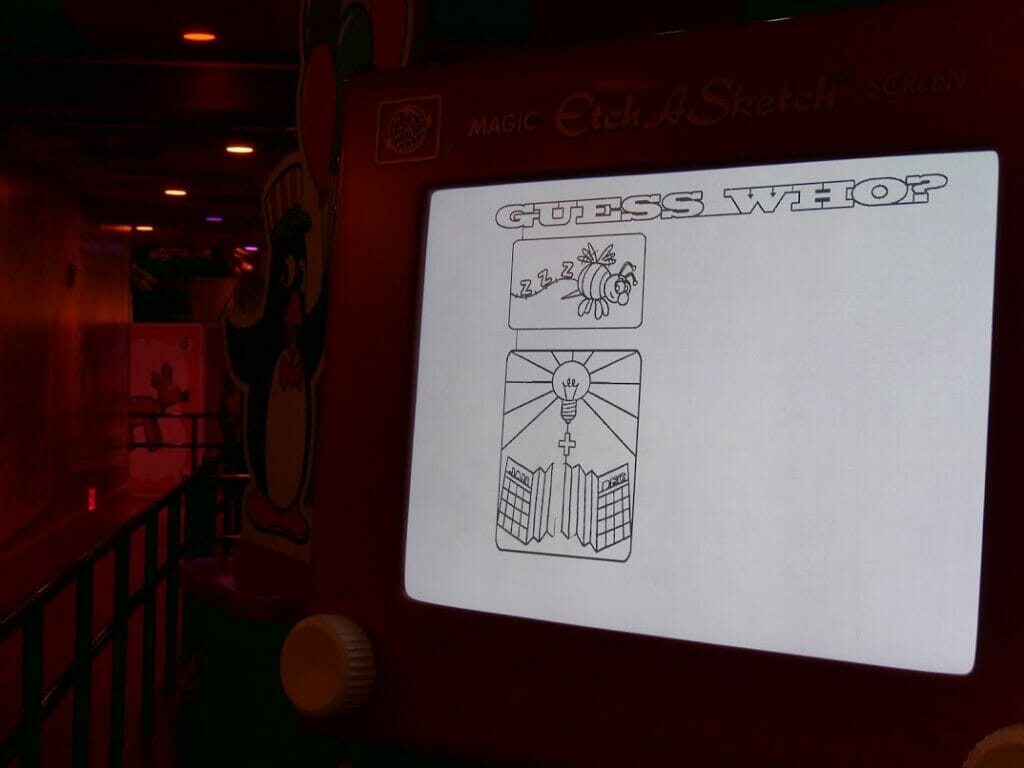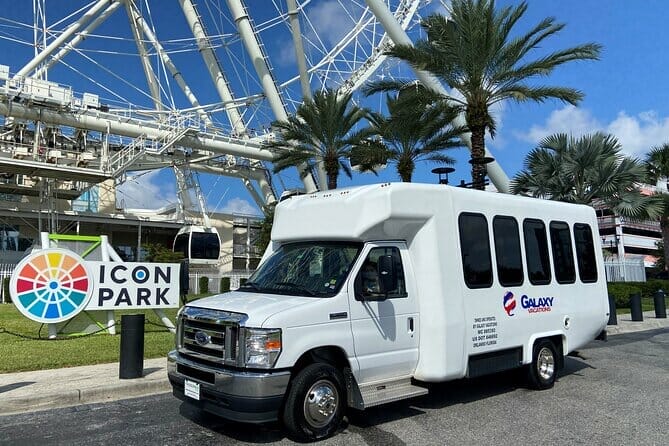 🚌Not renting a car in Orlando?
My favorite shuttle to get from the Orlando airport directly to Disney World is this one with a ⭐⭐⭐⭐⭐ rating.
Toy Story Land Characters
One of the things I was most impressed with when it comes to Toy Story Land are the character opportunities.
It seemed like every time we walked through, we'd encounter Woody, Jesse, Buzz, toy soldiers or some combination of these.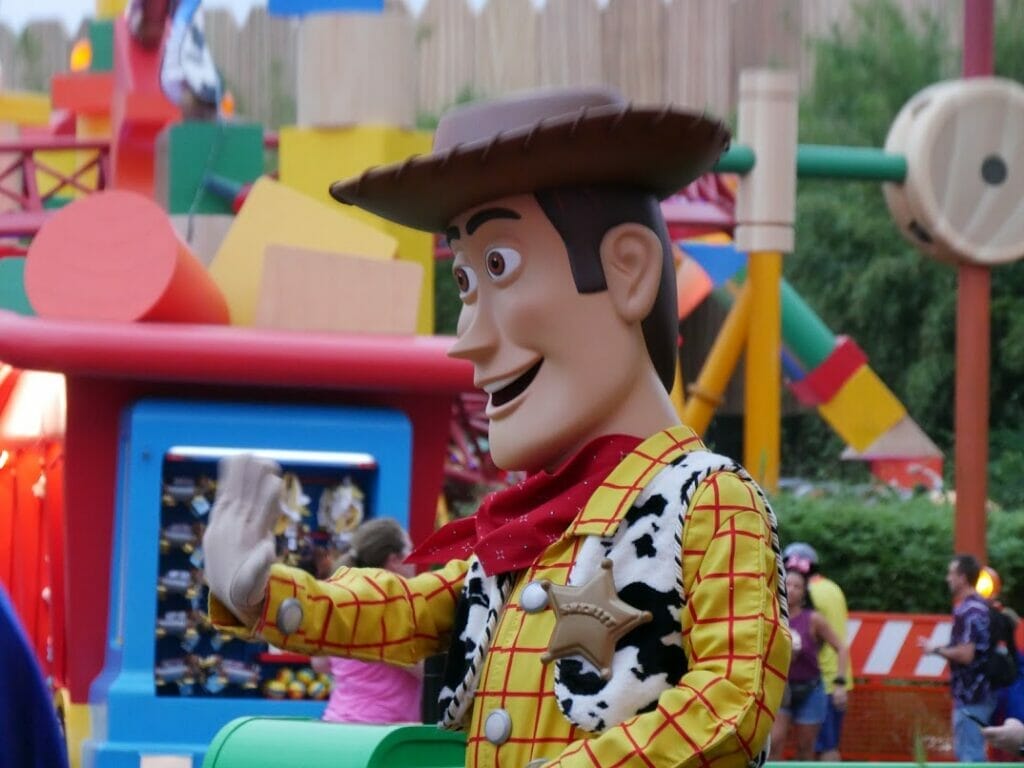 The main characters do meet and greets at various points throughout the day, though if you miss them you can also get a picture at the entrance of Toy Story Land to remember your trip.
The toy soldiers often walk through the land in formation, putting on a mini-show of sorts.
If you see them pass by, definitely take a minute to stop and watch as the detail on their costumes and their movements will make you appreciate the lengths Disney goes to create the magic.
Toy Story Land Seasonal Decorations
Disney World at Christmas is basically Disney World on magical steroids.
With such an incredibly themed land, Disney made sure to create seasonal decorations that would add to the magic rather than going too far overboard.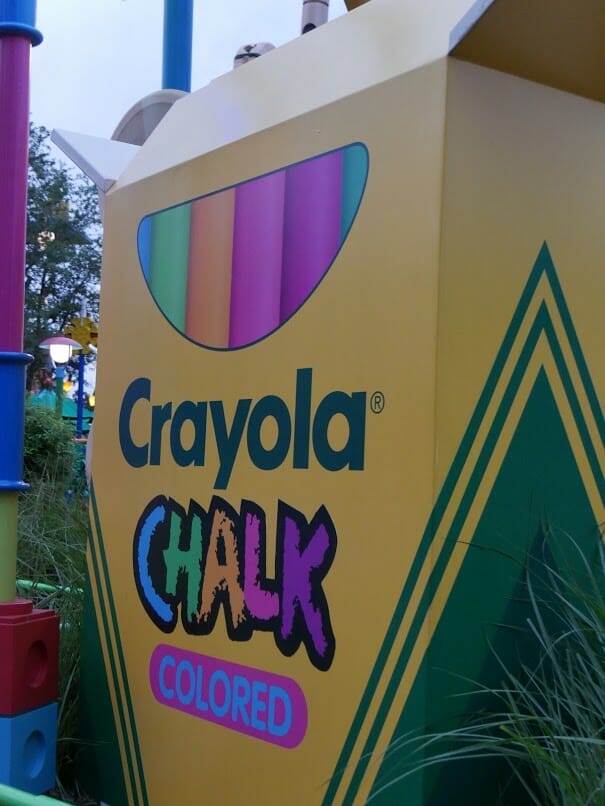 You'll see Rex with his Christmas hat on, Toy Soldiers walking around with festive scarfs on (despite the 80 degree heat) and a Christmas soundtrack to Slinky Dog Dash.
Where to Eat at Toy Story Land
Toy Story Land's main eatery is Woody's Lunchbox, a quick service restaurant serving unique menu options like homemade poptarts, "totchos" (tater tot nachos) and some sandwiches.
As with any quick service, you have to find your own seat and order your food at the counter.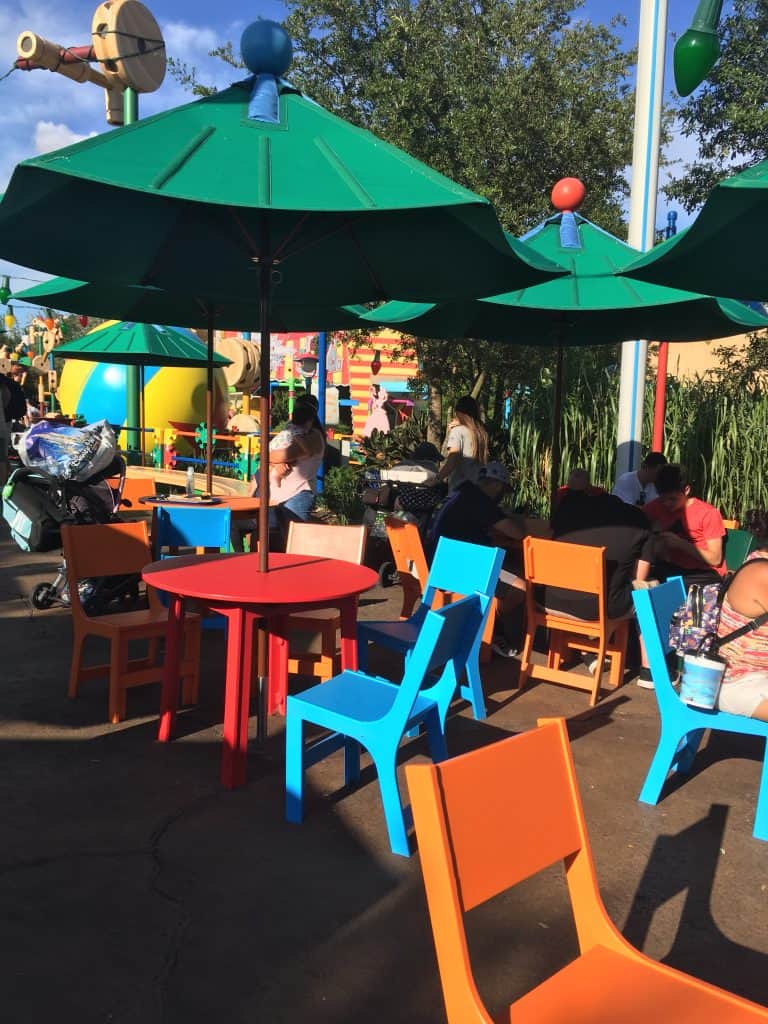 It can get incredibly crowded here as the eating area isn't huge, but this should die down some in future years when construction at Hollywood Studios is completed.
There are also the occasional drinks, Mickey Bar and popcorn carts in Toy Story Land.
There is no table service restaurant here.
Who is Toy Story Land for?
With a lack of major thrill rides (Slinky Dog Dash is more thrilling than it looks, but let's not get crazy), ultimately Toy Story Land is for families and Toy Story fans.
If you're just coming to Disney for the thrill rides, you're probably in the wrong place anyway, but Toy Story Land definitely won't be your favorite place of the day.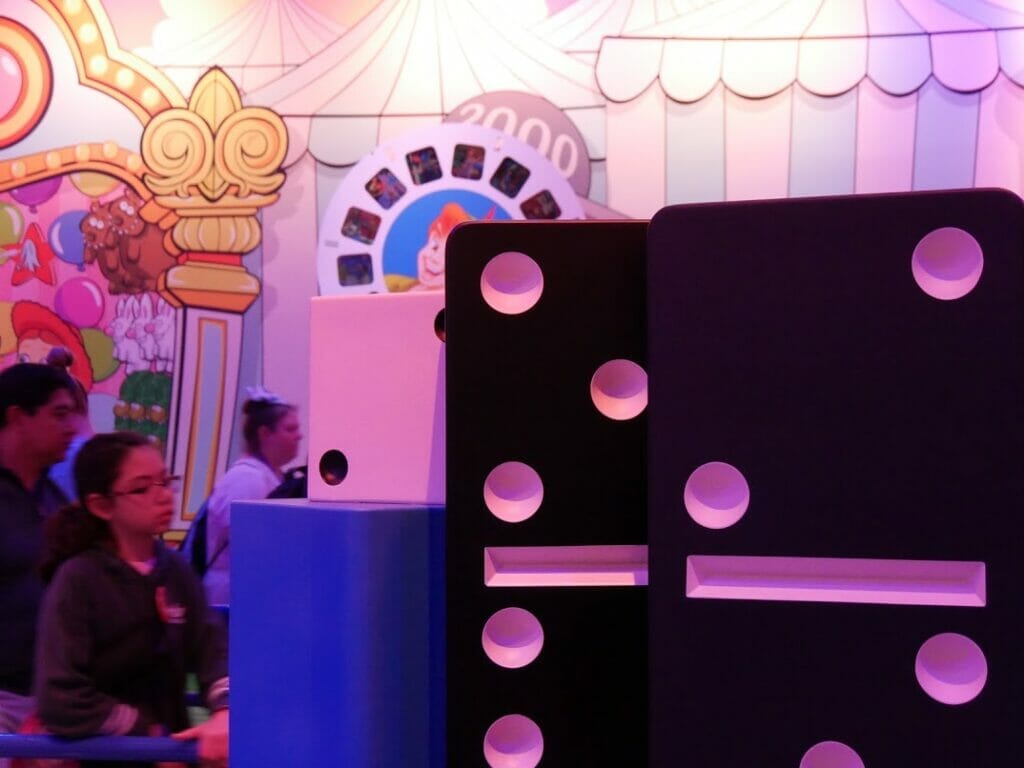 If, on the other hand, you are familiar with Toy Story and can appreciate the detailed theming, you don't even need to ride a ride to feel like Toy Story Land is a shining star of the park.
Families will fall in love with the ride option that can be ridden by everyone and kids will enjoy being surrounded by giant toys at every turn.
Hey! Want more of our expert Disney guides? Check these out!
Get the All-American Travel Secrets!
Don't miss out on America's hidden gems!