From the underwater music at Art of Animation to the sand bottom pool at the Yacht & Beach Clubs, this the ultimate roundup of the best pools at Disney World.
Choosing the best pool at Disney for your family is a huge deal if you're planning on spending any amount of time at your resort, particularly if you're trying to stay cool at Disney World in the summer months.
There are different pools at Disney for different people, including more relaxing pools that make for a great pool for couples on a honeymoon, as well as more active and interactive pools that kids will love.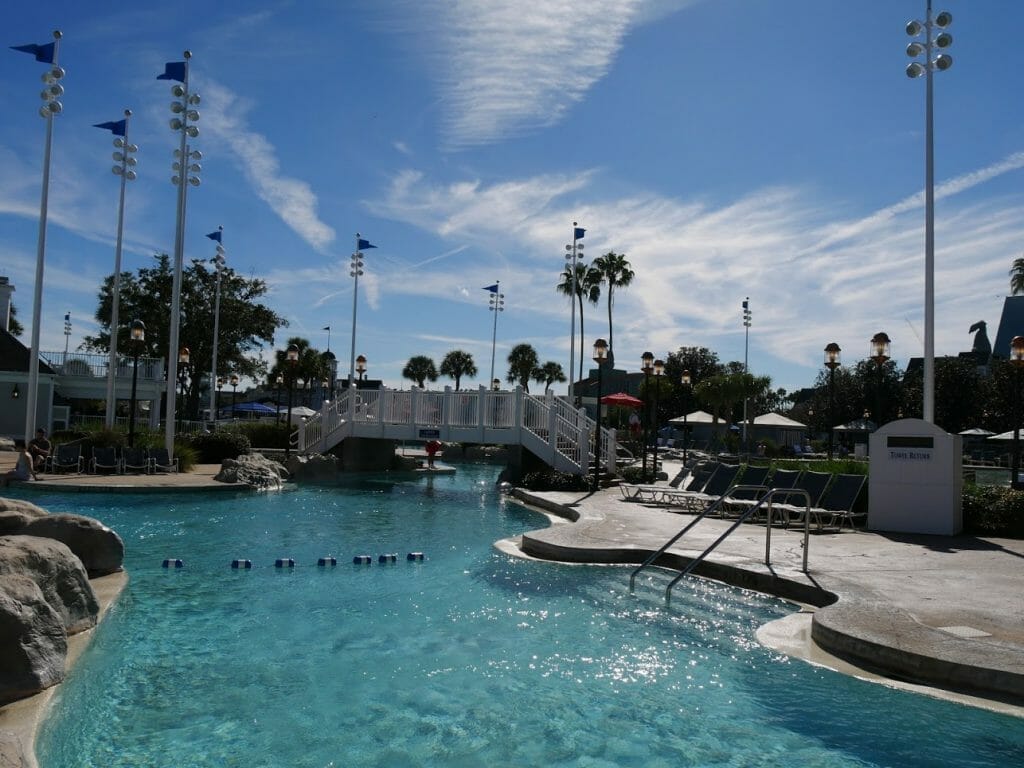 For each one of these best pools at Disney World, we'll go through why it made the list and what kind of Disney guests will fall in love with it.
We'll also talk about the worst Disney pools, because there are some that just aren't worth the same amount of hype as other Disney World pools.
What to Pack to Use Disney Pools
Disney World Pools Fast Facts
Disney pools are heated year round to 82 degrees Fahrenheit, which means you can swim and they are open no matter the temperature.
The pools may close during adverse weather like thunderstorms. Lightning is frequent in Florida, and they will close the pools during lightning events.
It is against the rules for guests to "pool hop" at Disney World. The only shared pool is Stormalong Bay, which is used by Yacht Club and Beach Club guests. Other guests must use the pools at their resort, unless they are DVC in which case there are a few pools you may be able to pool hop at (check your DVC guidelines).
Disney provides plenty of towels at the pools do you don't need to bring your ones from your room!
Best Disney World Pools
From kid-friendly splash pads to stunningly beautifully designed swimming pools to lazy rivers (yes, at a Disney resort), these are the best pools at Disney World to help factor into your Disney resort decision.
1. Stormalong Bay at the Yacht and Beach Club
There is nothing at Disney World like the pool that is used by the Yacht and Beach Club.
This is hands-down the #1 pool at Disney World, and there's just no comparison.
Why?
Let's start with the sheer size of it.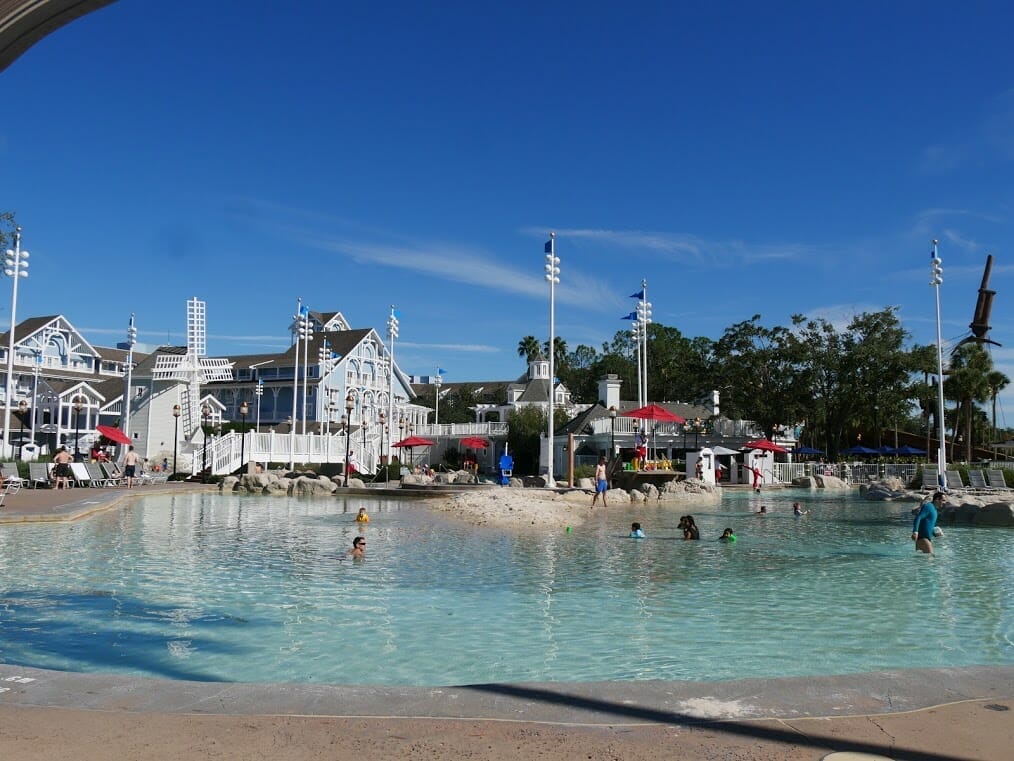 At almost 800,000 gallons of water, it spans two resorts and has multiple sections: a "regular" pool where the main slide leads to, a lazy river (yes, a LAZY RIVER, typically reserved for water parks in Orlando but instead found here at a Disney resort), and a really beautiful children's shallow play area.
The slide is giant and actually crosses over a walkway which is a fun element, and the lazy river has floats waiting for you to soak in the sun as you work your way around it as many times as you want.
Oh, and did I mention that it's a sand-bottom pool?
When you touch your feet to the ground, you'll feel like you're in the ocean with a comfy sand bottom (no skinned knees here) that's unique to this pool – none of the other Disney pools have this feature.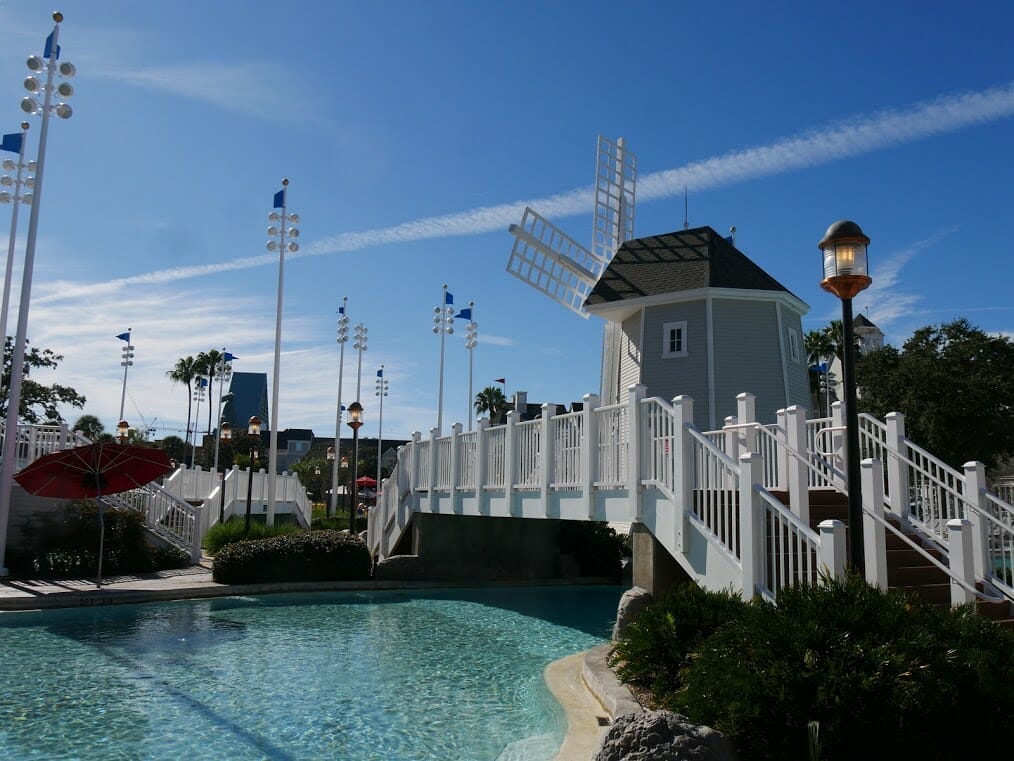 There are also 3 whirlpool spas to choose from, including some that are more secluded and others that will help you keep an eye on the kids, and there's an elevated deck where you'll find it easier to get a tan away from the hustle and bustle right around the pool edges.
It's truly a must-see and one of the main reasons some families choose to stay at the Beach Club or Yacht Club.
The only downside for those with little ones is that it can be harder to keep an eye on them because of the sheer size of the pool and the different features.
If you're looking for a pool where you can pretty much see them from sitting in one place, one of the "quiet" pools at the Beach Club or Yacht Club would be a better fit.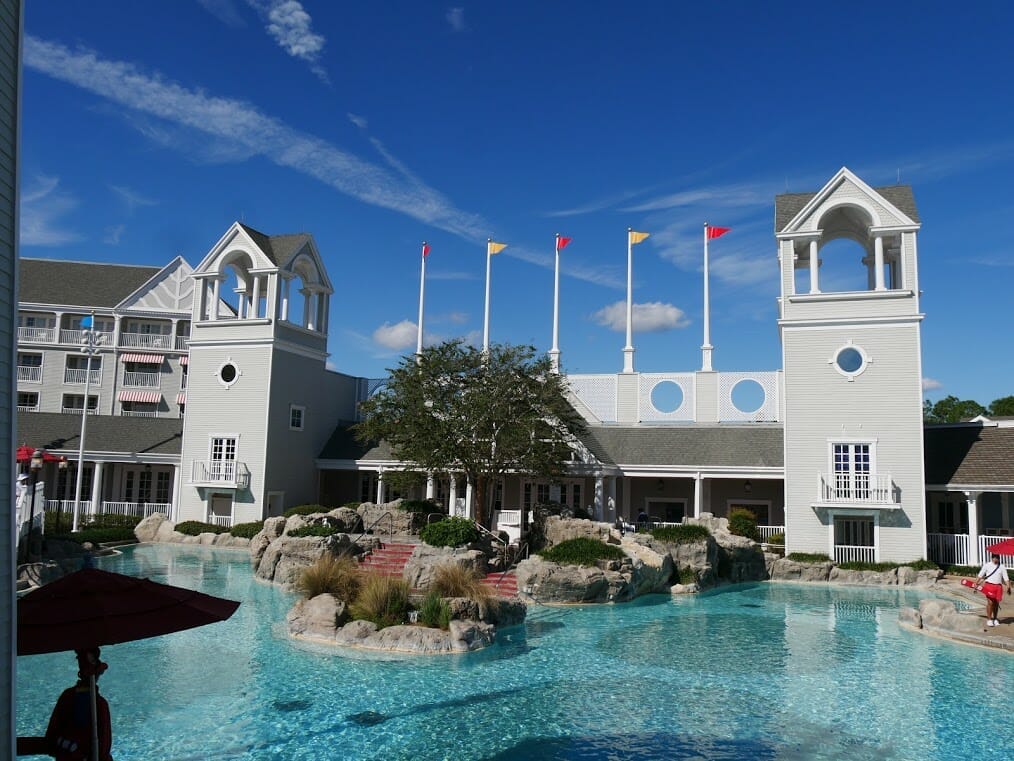 2. Sandcastle Pool at Old Key West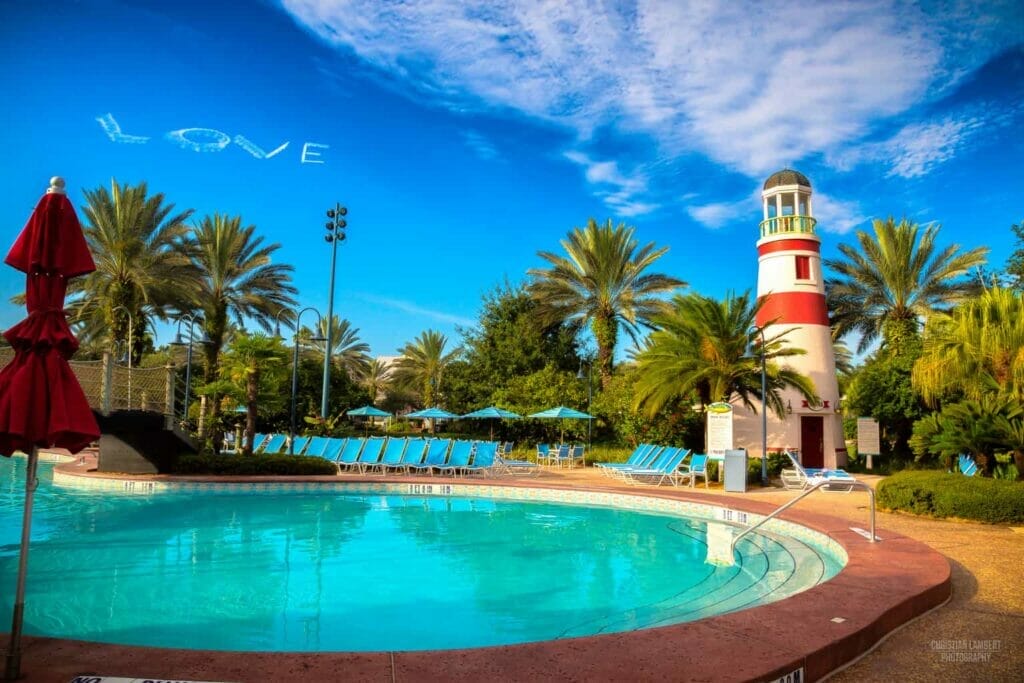 The Sandcastle pool at Old Key West is a great way to spend your day if you're looking for Key West vibes.
Kids will adore the water slide that goes through a giant sandcastle (look for the hidden Mickey!), and adults will love the tropical feel and ability to relax in the whirlpool spa.
Play dolphins spray water and the surrounding palm tree and lighthouse really give you the sights and sounds of the Keys.
This pool is plenty big to find room to play, but small enough that you'll find it easier to keep an eye on the kiddos than some other options.
3. Copper Creek Springs Pool at Wilderness Lodge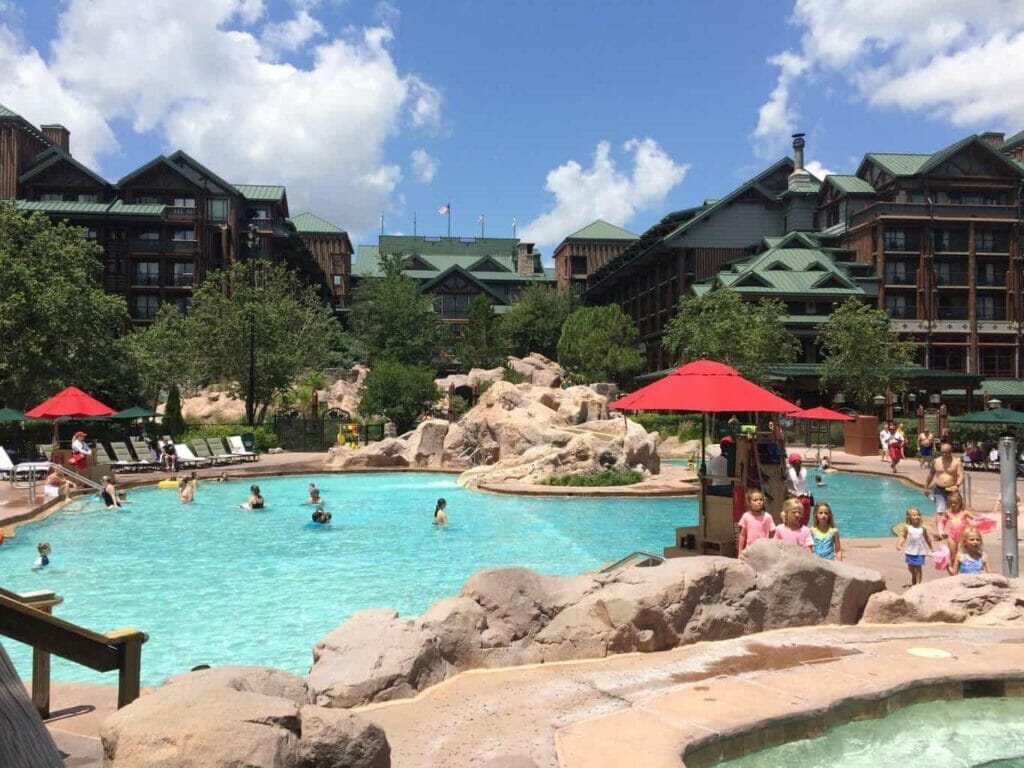 The main pool at the Wilderness Lodge is one of the best Disney pools for younger kids at the Deluxe resorts, as the water slide isn't too intense and there's a fantastic kid's splash pad right off the main pool with buckets of water dumping everywhere and things to climb and play on.
What makes this pool unique is the geyser going off nearby at regular intervals, really putting you into that Northwest wilderness magic that Wilderness Lodge tries to create.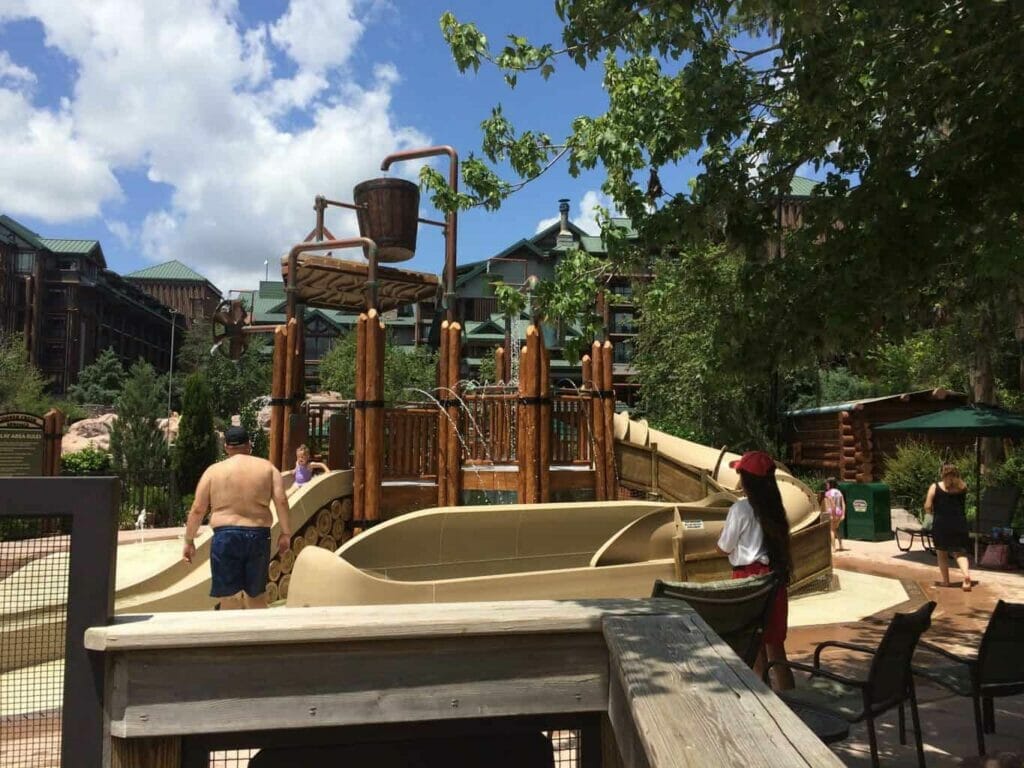 It's also incredibly relaxing to be able to look out and see Bay Lake while you're swimming (but you won't be able to see the Magic Kingdom, which actually makes it all the more relaxing and secluded).
4. Lava Pool at the Polynesian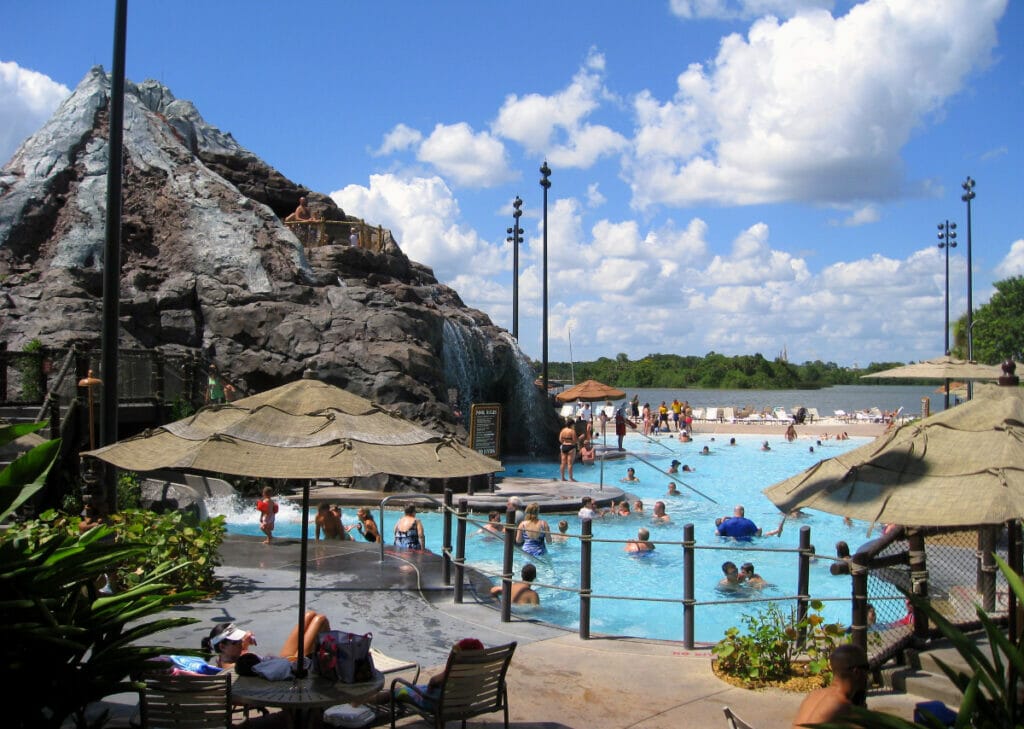 When it comes to great theming at Disney pools, the Polynesian Lava pool is up there with the best.
Here, you'll find a towering volcano that makes you feel as if you're swimming in the actual Polynesian with its rugged landscape and beautiful natural scenery.
The foliage around the pool has had plenty of time to grow and become lucious, adding to the tropical feel.
You'll also find one of the best Disney water slides at over 142 feet long, and a zero entry option to both give it a more beach-y feel and to help those who prefer a gradual pool entry to get in the water at their own pace.
There's a waterfall to dip your head under for a refreshing splash, as well as views of Bay Lake and the Grand Floridian from the pool deck.
The Polynesian pool was recently refurbished in 2021, making this a great Disney pool option for those planning on spending time at the resort.
5. Samawati Springs at Animal Kingdom Lodge – Kidani Village
There are two main pools at Animal Kingdom Lodge, one near Jambo House (the main building) and the other near Kidani Village (the DVC area).
The winner for the best Disney pool, though is Samawati Springs, the Kidani Village pool.
If you're staying at Animal Kingdom Lodge, you can use either, so be sure to check out this pool surrounded by African inspired architecture and seemingly tucked away in its own relaxing oasis with leafy greens everywhere.
Not only is there a 168 foot waterslide (longer than the Jambo House pool!), but there's also one of the best kid's water play areas in all of Disney featuring everything from bubbling geysers to interactive toys to water cannons.
There are three separate zones in the kid's splash area to accommodate different age groups and make sure they feel safe and comfortable with other kids their age.
6. Fuentes del Morro Pool at Caribbean Beach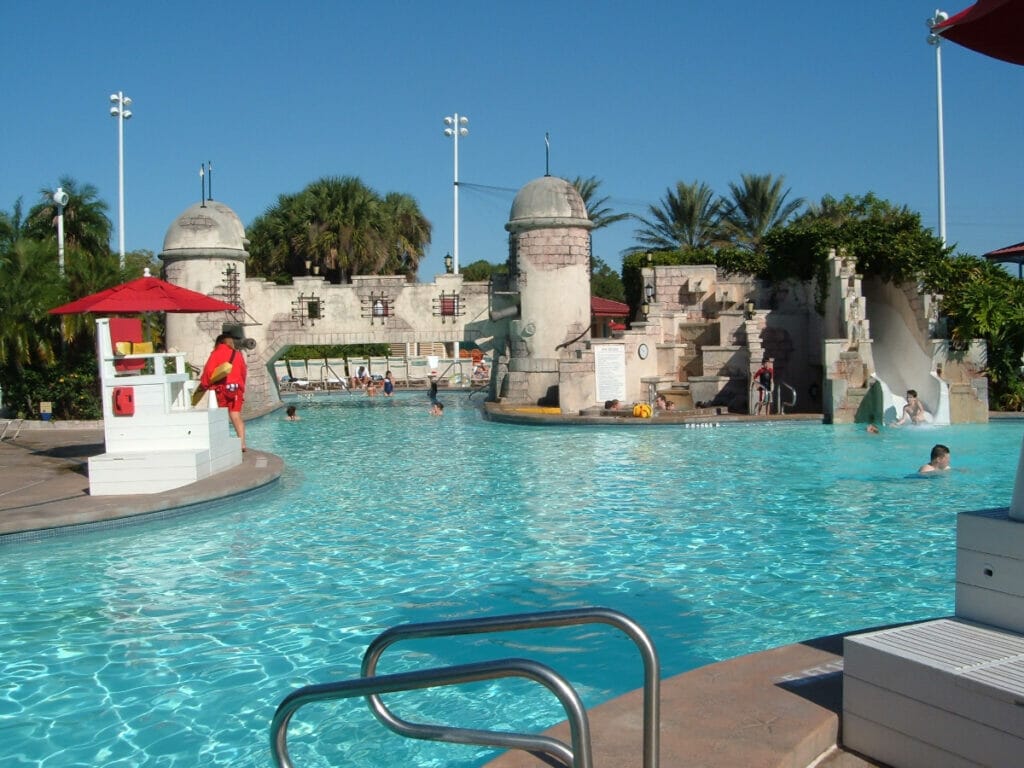 Caribbean Beach has one of the best pools of all Disney's Moderate Resorts.
While the Moderate resorts and Value resorts don't have as good of pools as the Deluxe resorts (this is by design, which helps to keep the differentiation between the Deluxes and the other resorts), there are still some great pools to be found.
The Fuentes del Morro Pool is a great Disney pool for anyone who likes a little adventure during their pool time.
Themed like Spanish fortresses, there are two water slides at this pool as well as water cannons, a shipwreck themed kid's play area, and a spa pool.
Adults will love the Banana Cabana pool bar, and overall this is just a gorgeous pool that almost feels like a Deluxe one without the price tag.
7. Lost City of Cibola Pool at Coronado Springs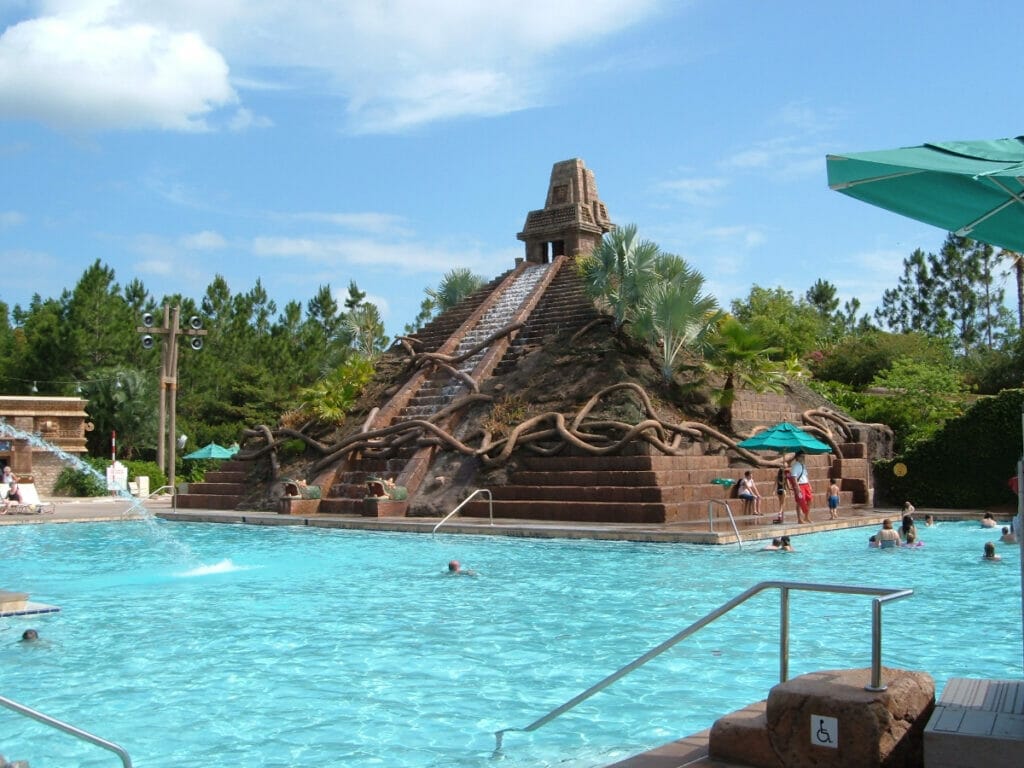 Lovers of intense theming will adore the Lost City of Cibola Pool (what a name!) at Coronado Springs resort.
The shape of the pool is relatively square, but the intrigue comes in the giant pyramid (50 foot high) with water cascading down, as well as a great waterslide that features spirit jaguars.
There are also water spouts dotted around coming out of totem poles, as well as the largest hot tub on Disney property which can fit 22 people!
There's also a pool bar, as well as a kiddie pool for the little ones that means the whole family from infants to grandma should be pretty happy here.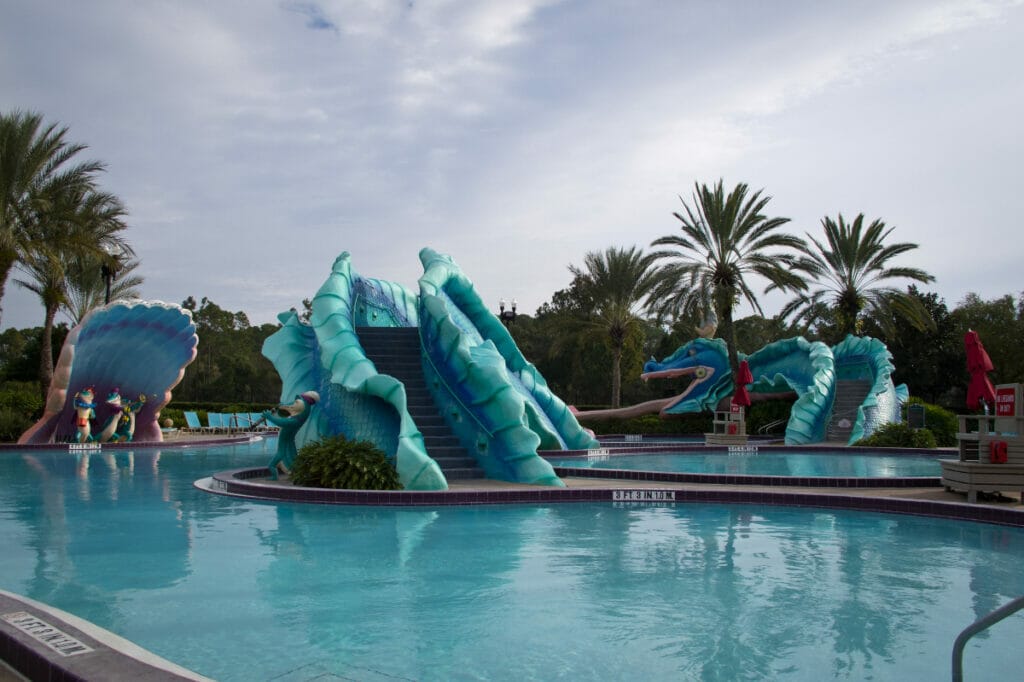 Between the pools at Port Orleans Riverside and Port Orleans French Quarter, our suggestion is to go with the best of them: Doubloon Lagoon (again, great name!)
The most interesting part of this pool, which is Mardi Gras themed, is the serpent-themed slide!
Instead of just putting a waterslide through an existing piece of theming, the waterslide becomes the theming with a brilliantly blue serpent that spits you out into the water.
You'll also find some adorable dancing alligators (not real, promise) and a pool bar.
King Neptune watches all of the action from above, and the pool isn't so big that you'll have a problem keeping track of the kids like some of the larger Disney pools.
9. Big Blue Pool at Art of Animation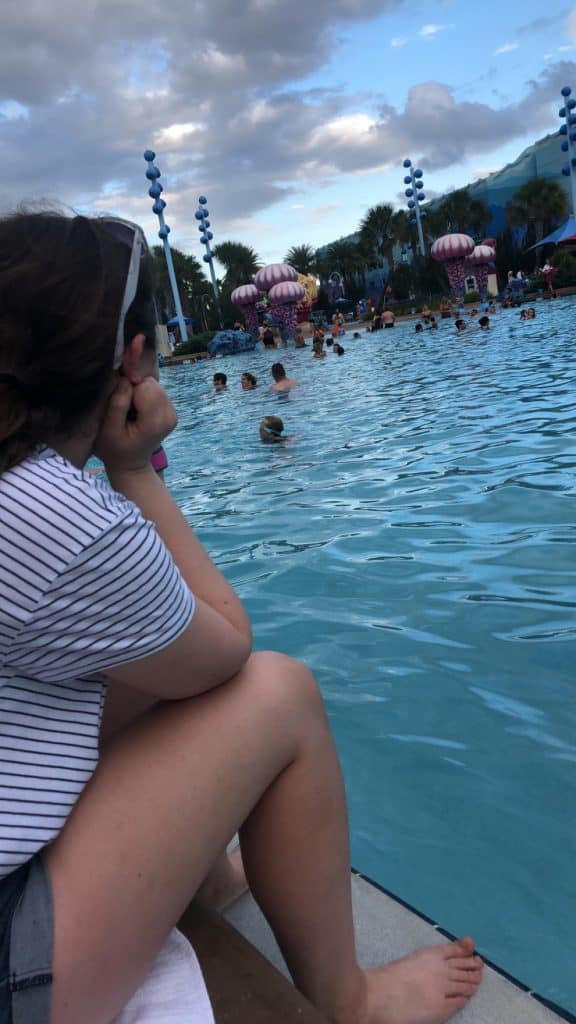 Art of Animation, like all Disney resorts, has multiple pools, and an honorable mention for the best Disney pool goes to the Cozy Cone pool in the Cars section that is perfectly themed for any Cars fans with cabanas shaped like cones!
But the real reason it's on the list is the Big Blue Pool, the main pool right off the main lobby.
Not only is this is the biggest pool on Disney property (perfect for not feeling like it's too crowded or that you're always swimming on top of someone else), but you can hear Nemo and friends playing underwater!
Seriously, duck down below and you'll hear Disney music and sound effects, which is exactly the kind of immersive theming we're all here for.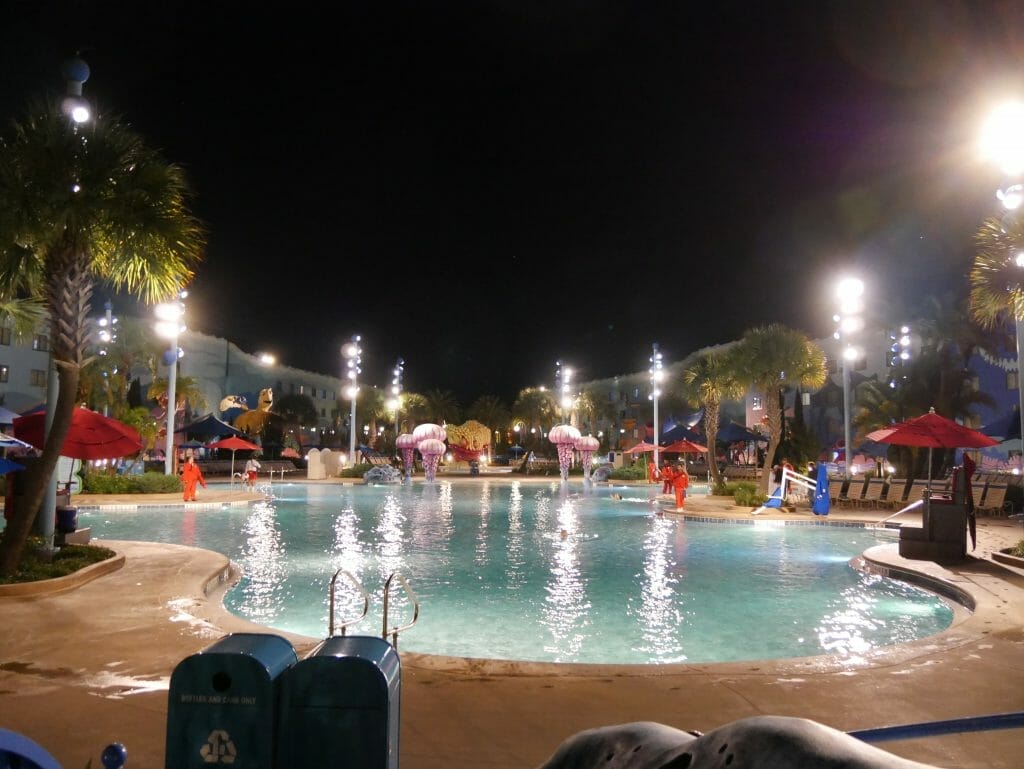 The pool itself has a kid's splash area and some cute jellyfish theming, but what it lacks in surrounding theming or interesting shape (it's pretty much a circle), it makes up for in size and underwater fun.
10. Fantasia Pool at All-Star Movies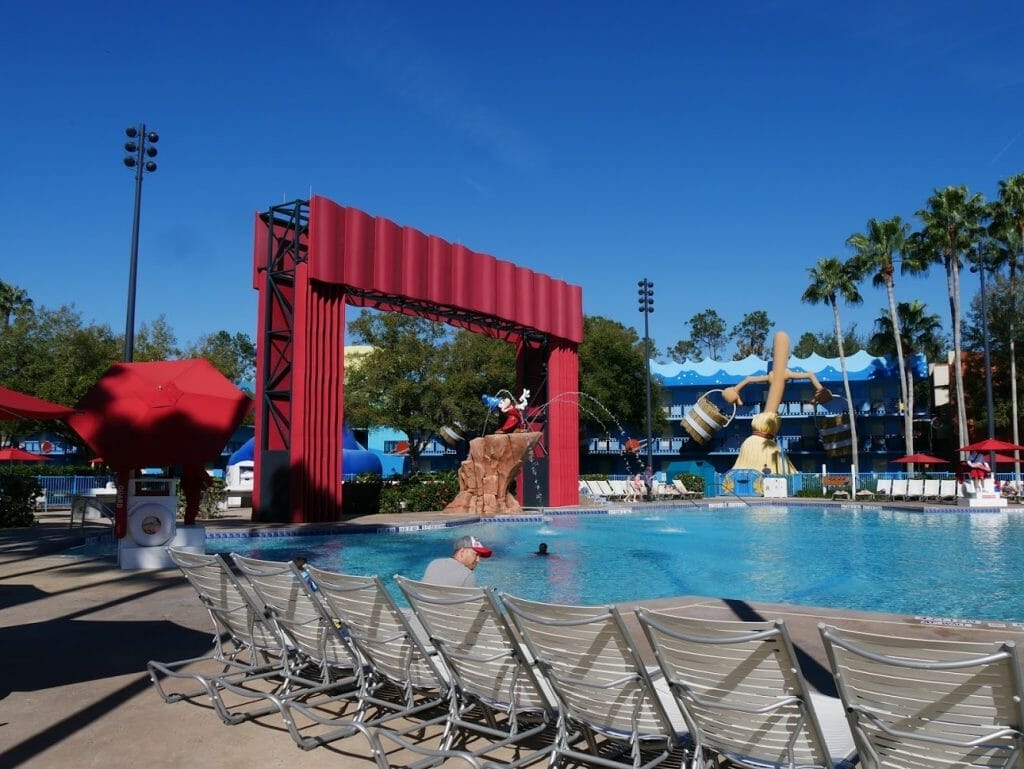 The main pool at All-Star Movies, the Fantasia Pool, is one of the best pools at the value resorts for making you feel like you're right in the action.
With a giant curtain and composer Mickey behind you, you feel like you're on center stage and part of the magic while you swim.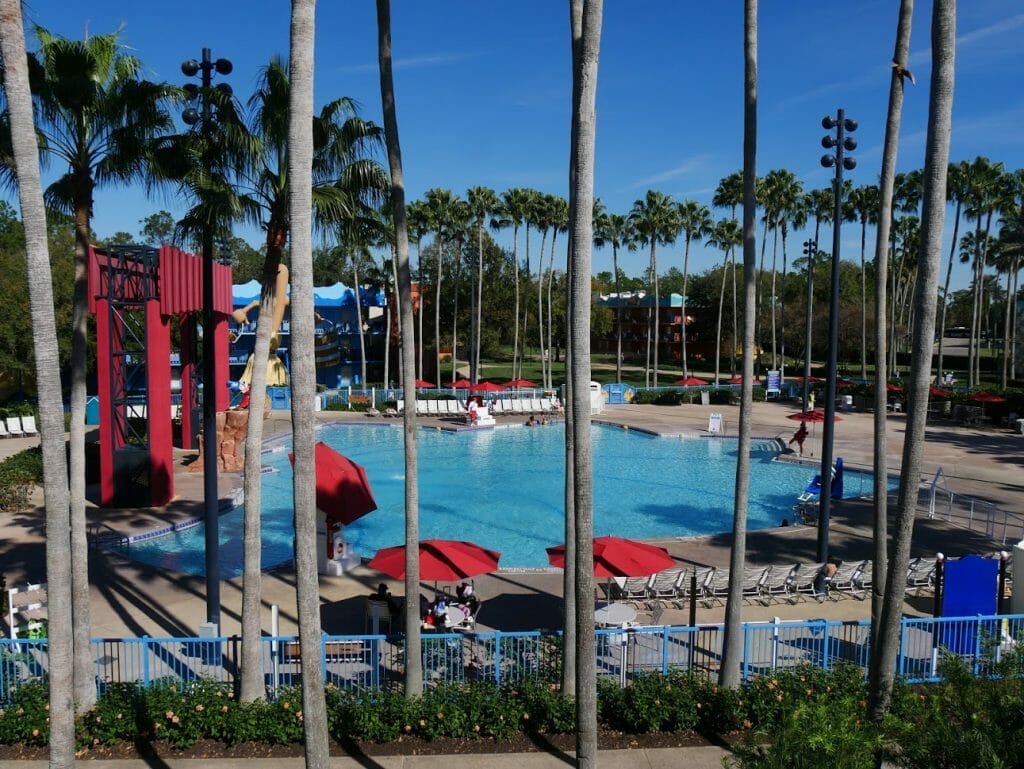 There are some water features, as well as plenty of palm trees around and places to sit, which makes the All-Star Movies pool one of our favorites when you're on a budget.
11. Hippie Dippie Pool at Pop Century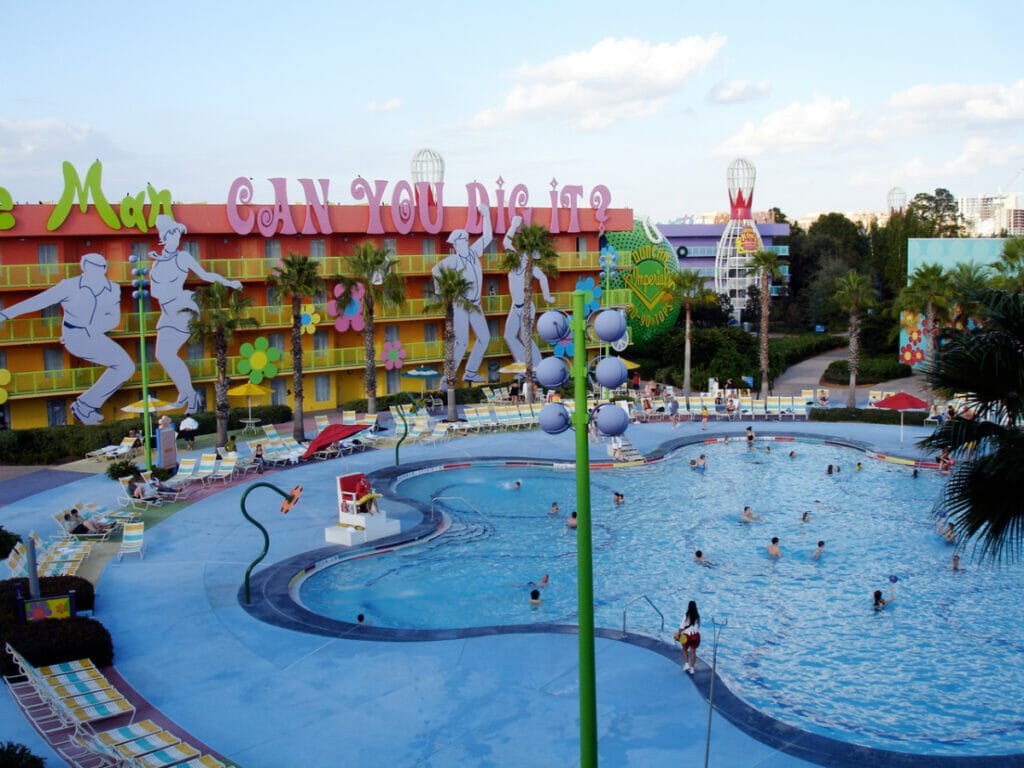 Another great Disney pool at the value resorts is the Hippie Dippie pool at Pop Century.
It gets top marks for its unique shape (like a flower), which automatically makes it more fun to swim in than a basic circle or square, and the bright colors all around can cheer anyone up instantly.
There are also some fun water spout features surrounding the pool spraying you with water from flowers, and there's a pool bar which seems essential for any Disney pool for the adult contingent.
12. Beach Pool at Grand Floridian
We love the Beach pool at the Grand Floridian, as this massive pool overlooks the Seven Seas Lagoon!
This is the main pool at the hotel, the one with the waterslide, and there's really something special about its zero-depth entry so you'll feel like you're entering the ocean rather than a pool.
It's not particularly themed, but it feels luxurious and the Mad Hatter themed children's splash area is one of the best on all Disney properties.
Watch the gorgeous sunsets from this pool, or, on the select nights where the fireworks are before pool closing hours, you can hear and see glimpses of the Magic Kingdom fireworks from this pool.
How's that for a magical Disney pool?
13. Ol' Man Island at Port Orleans Riverside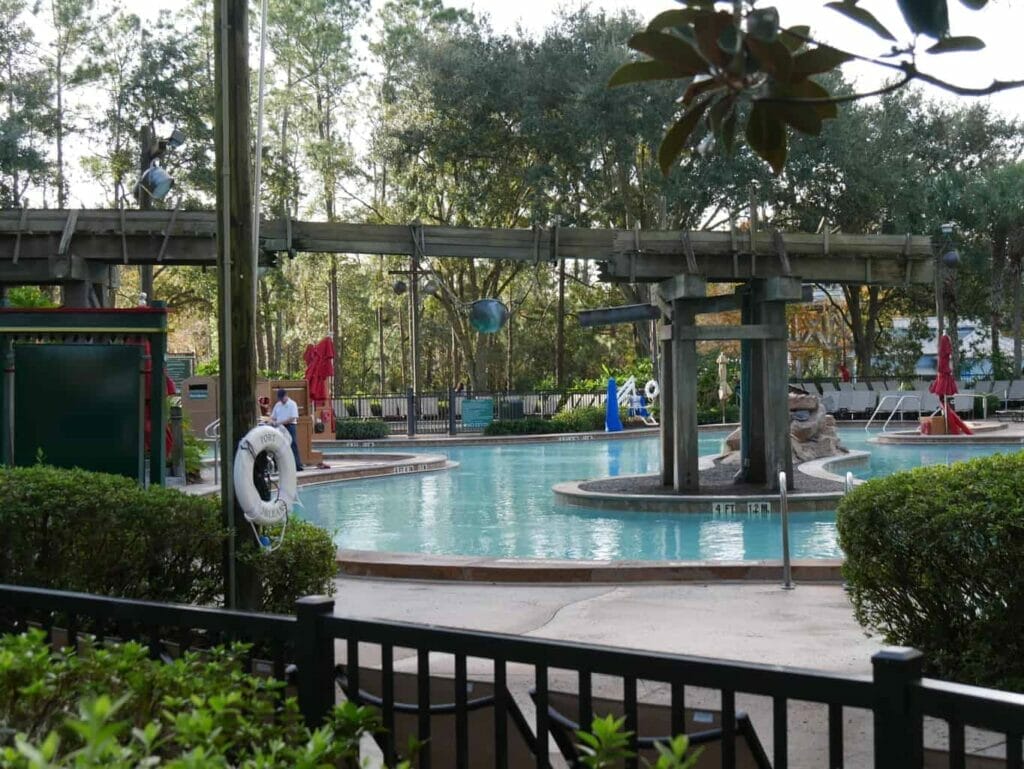 If you truly want to get away from it all, the pool at Port Orleans Riverside, Ol' Man Island, is a nice oasis of calm within an already calm resort.
They've got some excellent water features around the pool, and there's a waterslide (rustic themed), a whirlpool hot tub, and a kiddie pool in the area.
The pool is truly on its own little island, accessible by wooden walkways, which makes it feel like you're really escaping it all.
14. Uzima Springs Pool at Animal Kingdom Lodge – Jambo House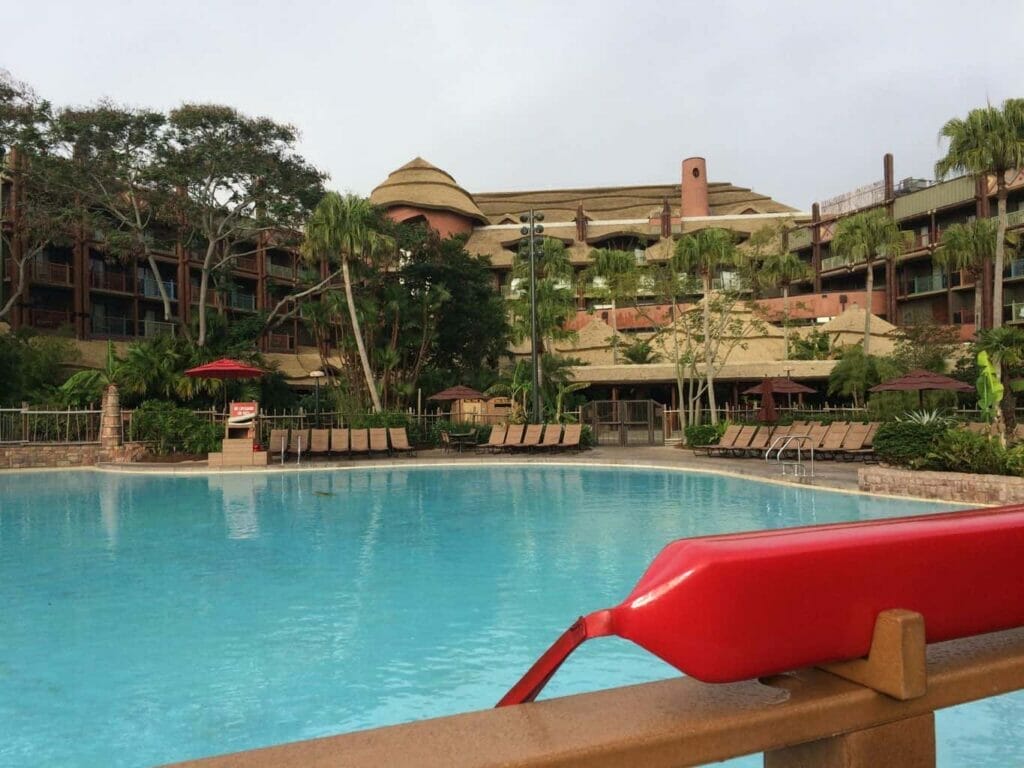 We've talked about the Kidani Village pool at Animal Kingdom Lodge, but the Jambo House pool also makes our list and is in a different part of the resort (the hotel section versus the Disney Vacation Club Section).
It's peaceful, it has spaces for animal viewing around the sides, and it's one of the more relaxing Disney pools.
15. Grand Slam Pool at All-Star Sports Pool
Got kids who love sports?
While All-Star Sports isn't on our top list of recommended hotels, the pool is a fun one with larger than life theming including giant sized baseball bats and baseballs.
There's also the surfboard pool which has bright surfboard theming, perfect for keeping the kid's attention and bringing some cheer to your athletic family's Disney vacation.
Worst Disney Pools
While a bad pool at Disney World is better than a good pool anywhere else, because, hello, it's Disney, there are some that aren't as great as the others.
These are the worst Disney pools, including why we're not a huge fan.
The Contemporary
The Contemporary is one of the most well-loved resort at Disney World, but its main pool is not winning any awards anytime soon.
It's mostly concrete surrounding, and while it does have a water slide, it doesn't shine or sparkle like the other Deluxe resorts and is just a bit bland.
The pool was designed and originally built as one of the first Disney pools, so it was probably the height of fun back in the 70s, but today it could use some extra magic.
Riviera Resort
While Disney's Riviera resort is one of the newest resorts and the resort itself is absolutely stunning, the main pool falls flat for us.
It's not terrible, as it has a water slide with a fun tower and a zero entry section, but mostly it's just pretty boxy and lacks any impressive theming.
The kid's splash area, however, is top notch and absolutely stunning with what look like marble columns and European statues, so it's just a shame the main pool doesn't have that as well.
Quiet Pools at Port Orleans Riverside, Beach Club & More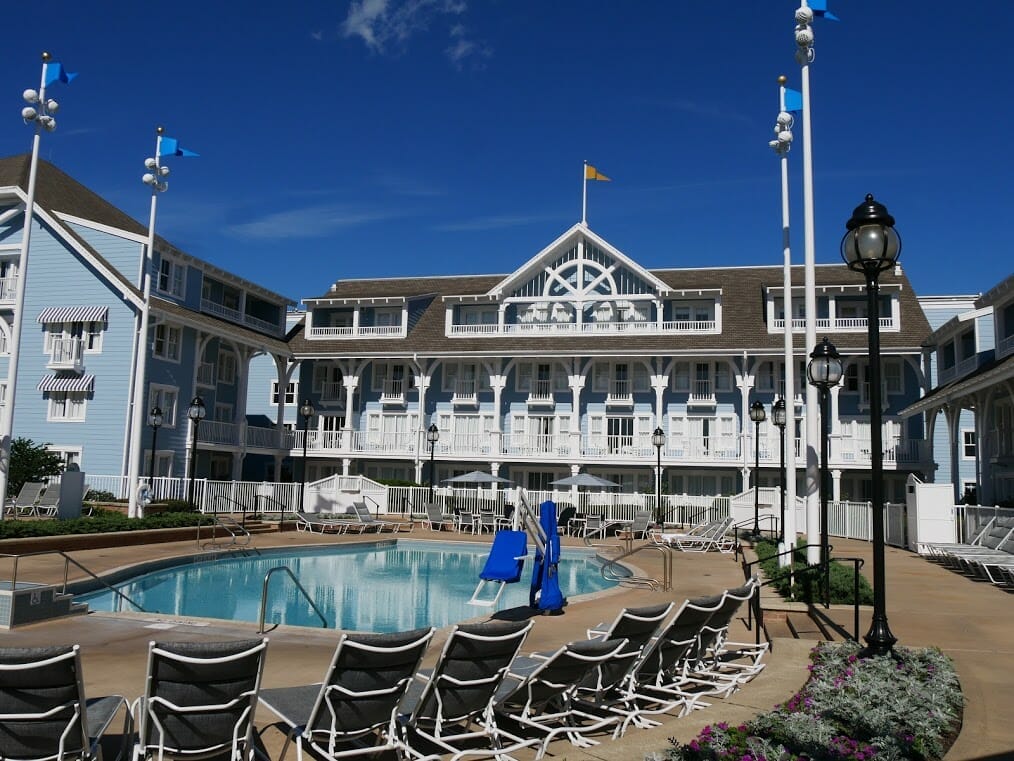 Disney resorts usually have one "main pool" and then multiple "quiet pools" spread around the property.
These are open to everyone, but tend to attract a little bit more of an older or adult crowd who don't want the hustle and bustle of the main pools.
There are some fantastic quiet pools on property with cute theming, but some, like the ones in the Mansion section of Port Orleans Riverside and the quiet pools at the beach club, look like basic square pools that you could find at any motel.
They're a good place to take a dip, but Disney has better!
Hey! Want more of our expert Disney guides? Check these out!
Get the All-American Travel Secrets!
Don't miss out on America's hidden gems!