Orlando is the world's theme park capital, but did you know that it's also in the running for the water park capital?
This guide to the best water parks in Orlando covers the must-dos when it comes to splashing around near Orlando.
From Disney's incredibly well-themed water parks to inflatable water parks to more relaxing water-based experiences, every item on this list is worth going out of your way for.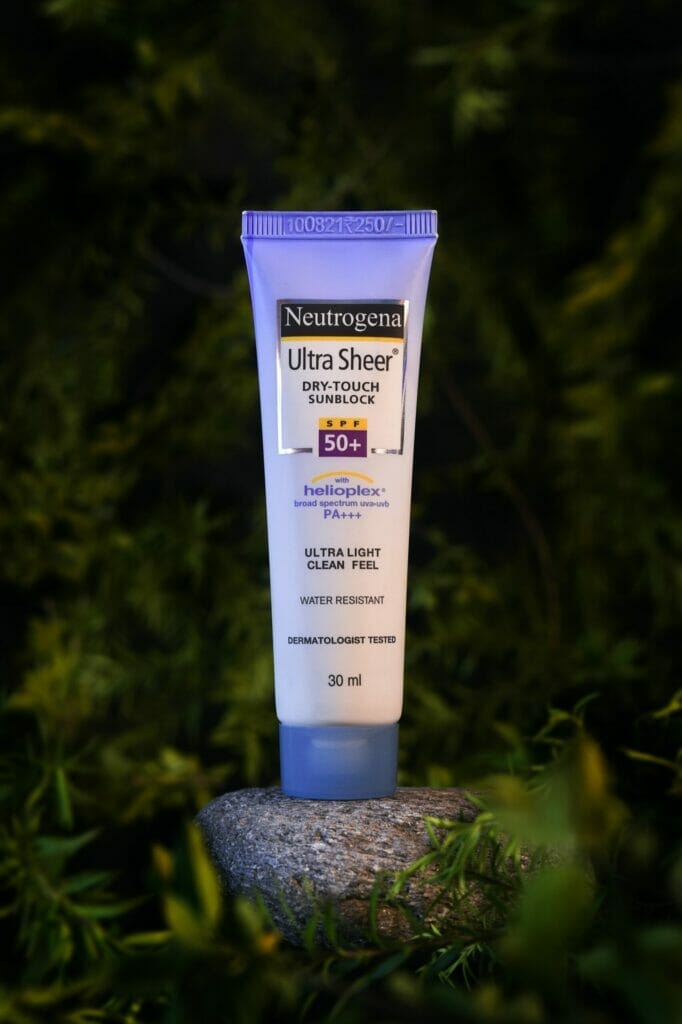 Orlando does have some splash pads and smaller "water parks" in residential neighborhoods for the kids to enjoy, but it would be disingenuous to think those are worth planning into your itinerary specifically.
Enjoy this guide to Orlando's best water parks and who they're great for!
What to Bring to Orlando
If you're not used to the Orlando heat, here are just a few suggestions on what to make sure you have with you, almost year-round.
1. Blizzard Beach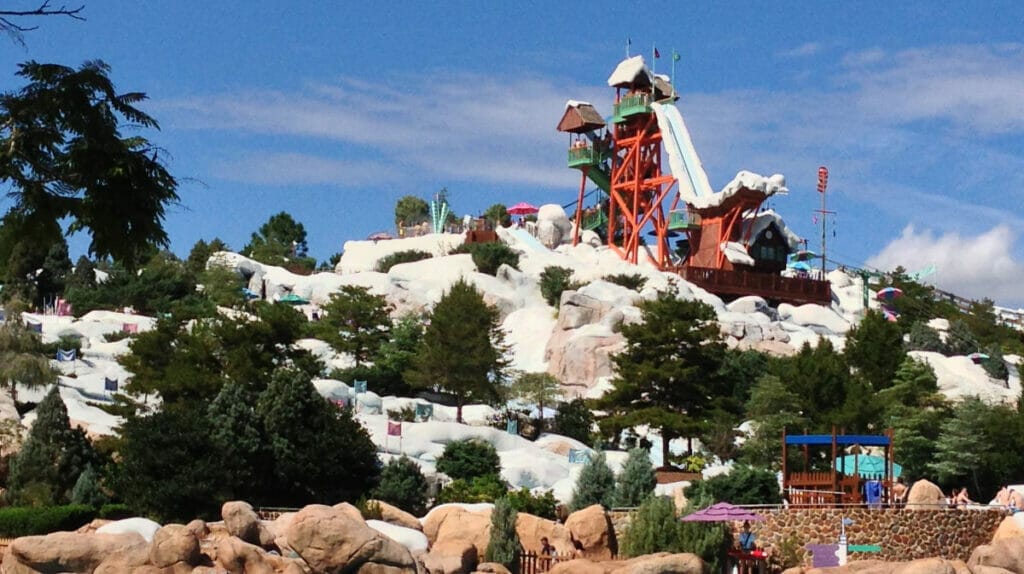 Themed like a ski resort (that just happens to be melting in the heat of Florida), this is Disney's adorably themed water park that features everything from a chairlift to bars and kiosks with cute names like "Frostbite Freddy's" and "Arctic Expeditions."
If you want a more relaxing experience, float in the lazy river, Meltaway Bay, or enjoy more traditional water park rides like Runoff Rapids (an inner tube ride) or the downhill Toboggan Racers (laying face down on a mat).
Got the need for speed?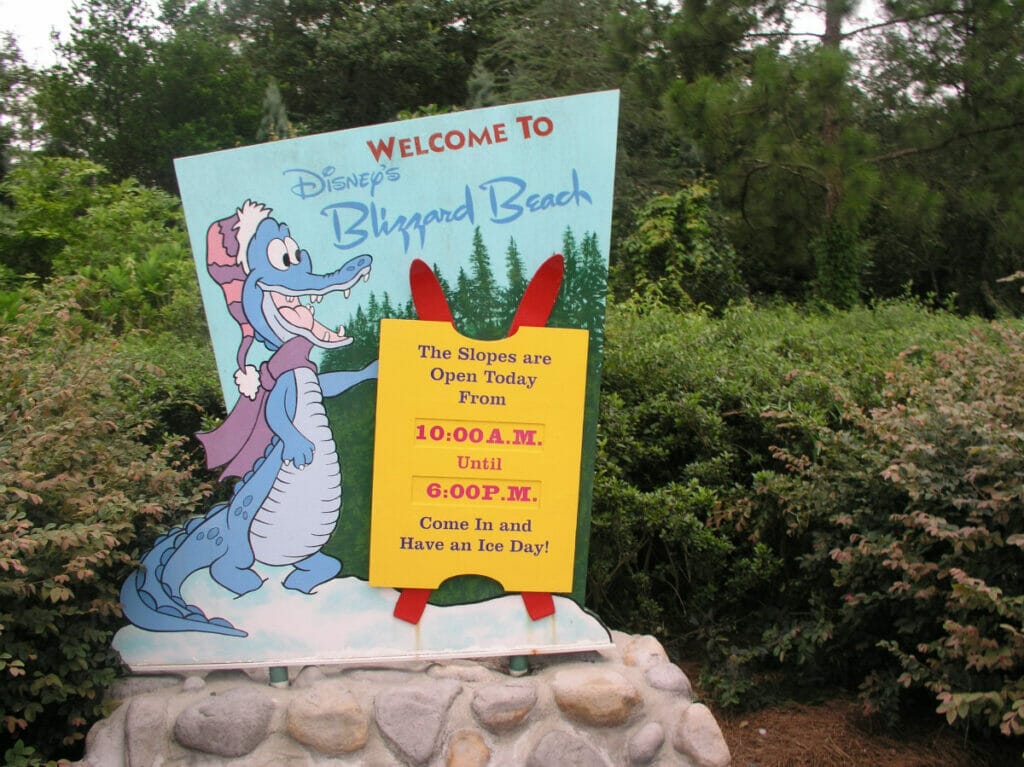 Summit Plummet is one of the tallest waterslides in the world, which leaves you in freefall as you, well, plummet, your way to the ground.
The kid's area of Blizzard Beach is another win, with the beautifully designed "Ski Patrol" area which includes the chance to walk on icebergs or use a water zipline for the kids.
Blizzard Beach doesn't have as much shade as some other water parks due to the theming, but it's the most cleverly themed water park in Orlando and it benefits from the Disney quality.
2. Aquatica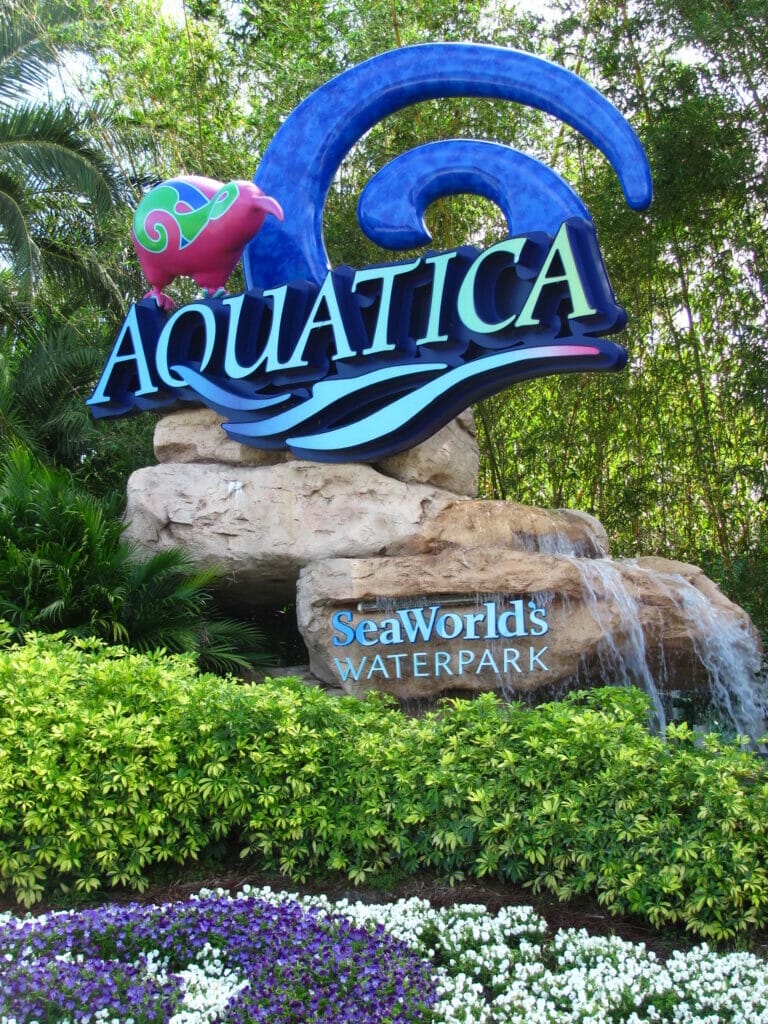 Combining the aquatic animals of SeaWorld Orlando with a water park, Aquatica is a great option if you want a water park unlike anywhere else.
Sure, there are dazzling rides and awesome rapids, but the animals take center stage here while still giving you a day of water park fun.
For instance, the lazy river is called "Loggerhead Lane," and as you float by, you'll get to look into giant aquariums with fish that seem to be floating right along with you.
Or how about Dolphin Plunge, where the water slide is tunneled through a glass viewing area so you can see the gorgeous black-and-white Commerson's dolphins zooming right along with you?
Kids will love the colorful splash pads like Kata's Kookaburra Cove and Walkabout Waters, which are safer ways for the little ones to get wet in shallow waters and with age-appropriate water playgrounds.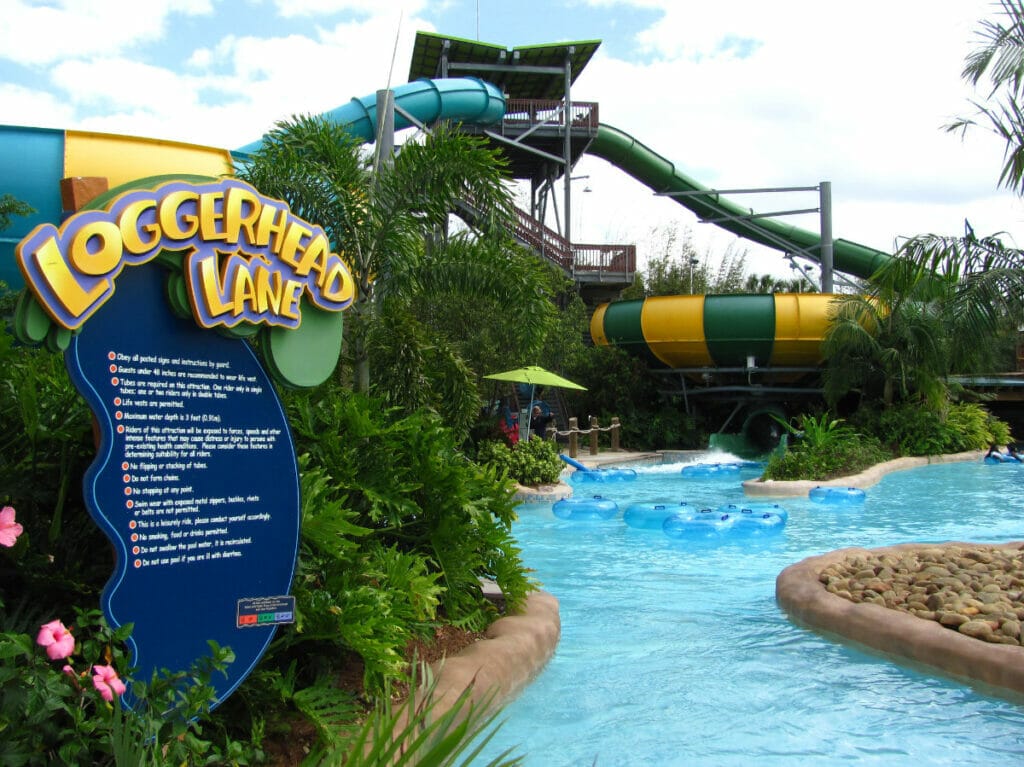 Rent a private cabana if you want to make the most of your time, or sign up for one of the private animal experiences where you can get up close with and interact with the dolphins.
Note: while animals do play a part at Aquatica, if the sole purpose of your visit is to learn more about them and interact with them, you'll want Discover Cove, talked about further down.
3. Typhoon Lagoon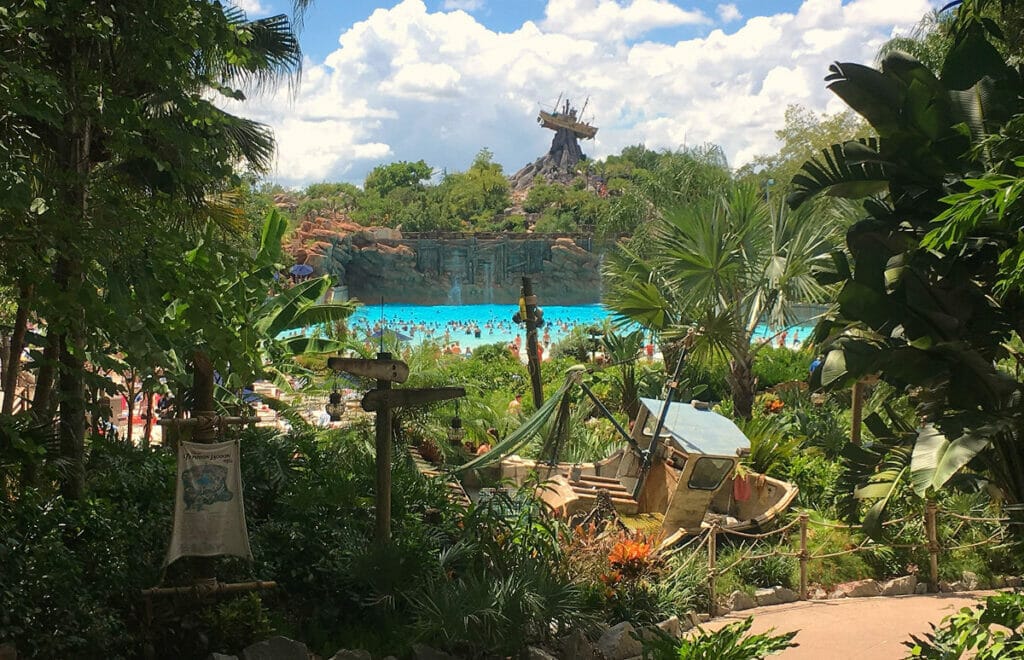 Disney's other water park, Typhoon Lagoon, is a fantastic chance to kick back and relax amidst a tropical environment.
The theming relates to a shipwreck due to a typhoon, and you'll see the ship high above the park, stranded on the rocks!
The shade is ideal here, with plenty of trees and other foliage, and the lazy river is one of the most peaceful places to be. There's also some really fun multiperson rides, including Gangplank Falls which sweeps you over the falls in a multiperson tube, as well as the Crush N Gusher.
The Crush N Gusher isn't just a water slide, but a water rollercoaster, and it's as fun as it sounds.
There are plenty of dining options, including Happy Landings where you can buy ice cream in a sand pail, as well as Typhoon Tilly's which serves sandwiches and other lunch items.
As a major water park in Orlando, Typhoon Lagoon is a must-do, and you can always expect a clean, well-maintained, and family-friendly experience.
The theming isn't as "intense" as Volcano Bay or Blizzard Beach, as it's mostly just tropical, but it's still beautiful.
4. Volcano Bay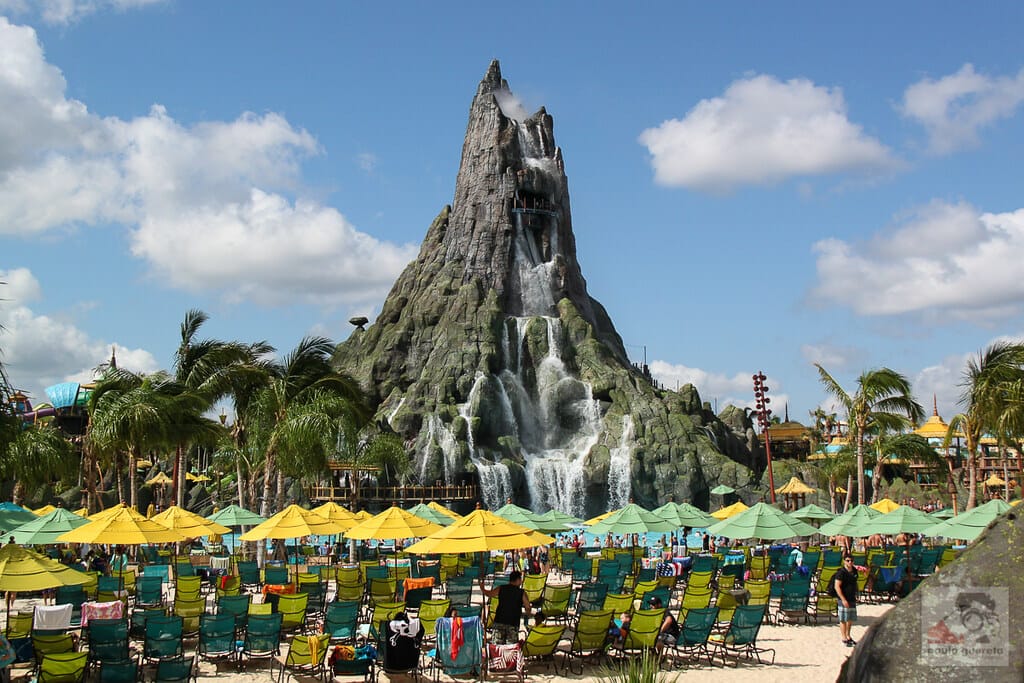 Ready to have the time of your life splashing around on thrilling slides without waiting in line all day?
One of the worst parts of other water parks is that there's no real way to speed up the lines, but Universal's Volcano Bay has revolutionized water parks with their "tapu tapu" bands.
These bands allow you to wait in line virtually, so you can experience other parts of the park until it's your turn.
Here, you'll find body slides, raft rides, aqua coasters and the centerpiece of the park, the volcano itself!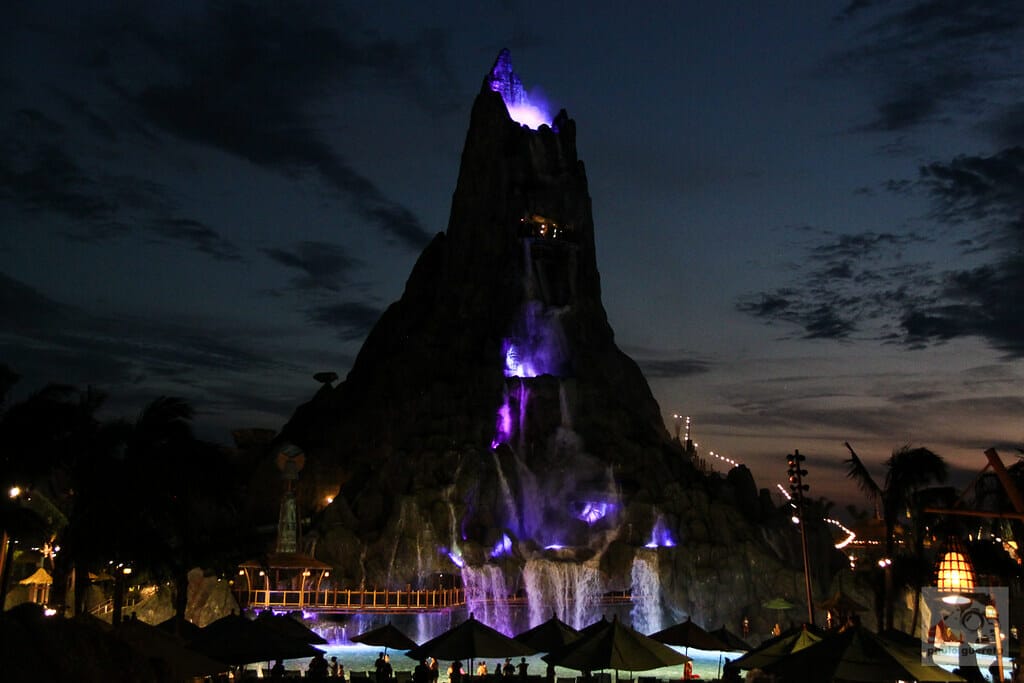 Watch as it explodes from your lounge chair in front of the wave pool, or grab some specialty pizzas or sandwiches from park quick service places.
If you're near Universal or already going to Universal Studios or Islands of Adventure, adding Volcano Bay onto your park tickets is a great idea.
5. Nona Adventure Park
This is the only floating water park in Orlando, and you'll find it on Adventure Lake in Lake Nona.
Unlike a traditional water park, this is basically a giant blow-up obstacle course, with plenty of opportunities for jumping in the water and cooling off from that hot Florida sun.
There's also a fantastic wakeboarding experience, as well as a dry-land climbing tower.
While it's not a full service water park like some of the others, there are dry areas to sit and a concessions area if you want something to eat.
This park operates with sessions, with safety briefings before each one, and every participant gets a life jacket and must have a basic swimming ability.
6. LEGOLand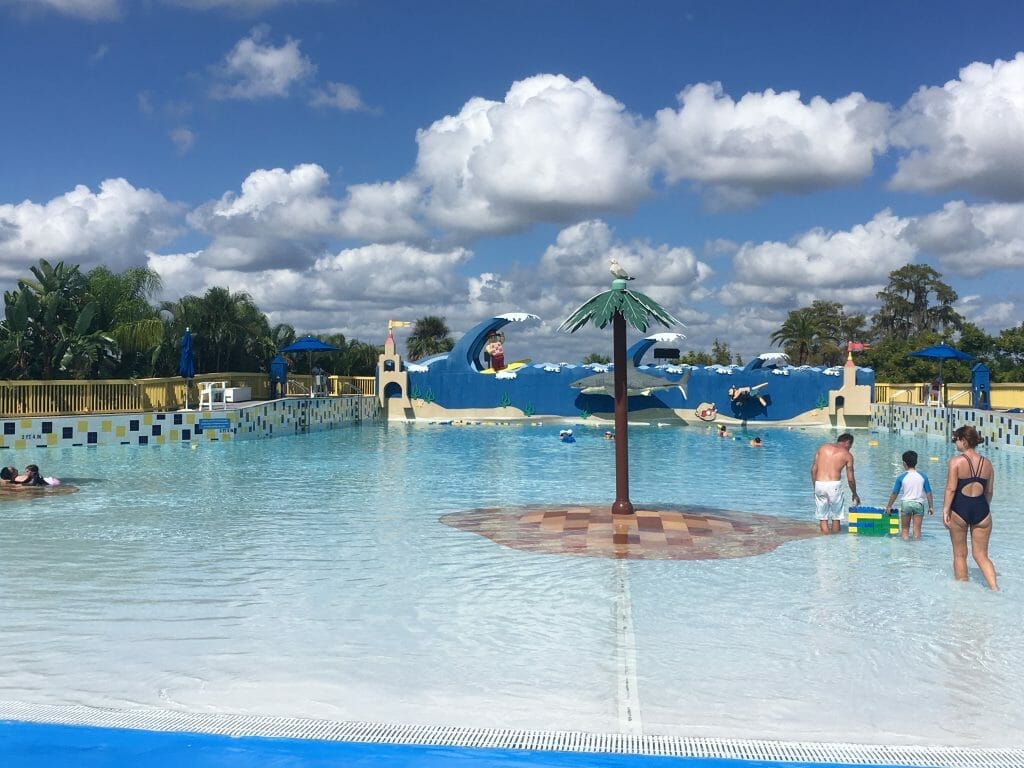 A lot of people don't know that LEGOLand Florida (technically in Winter Haven, but close enough to Orlando) has a water park!
It's attached to the main park, and you do have to pay extra for entry, but on a hot day, it's very welcome!
They've got some fantastic kid activities including floating Legos as well as some great slides and a fun LEGO-themed wave pool.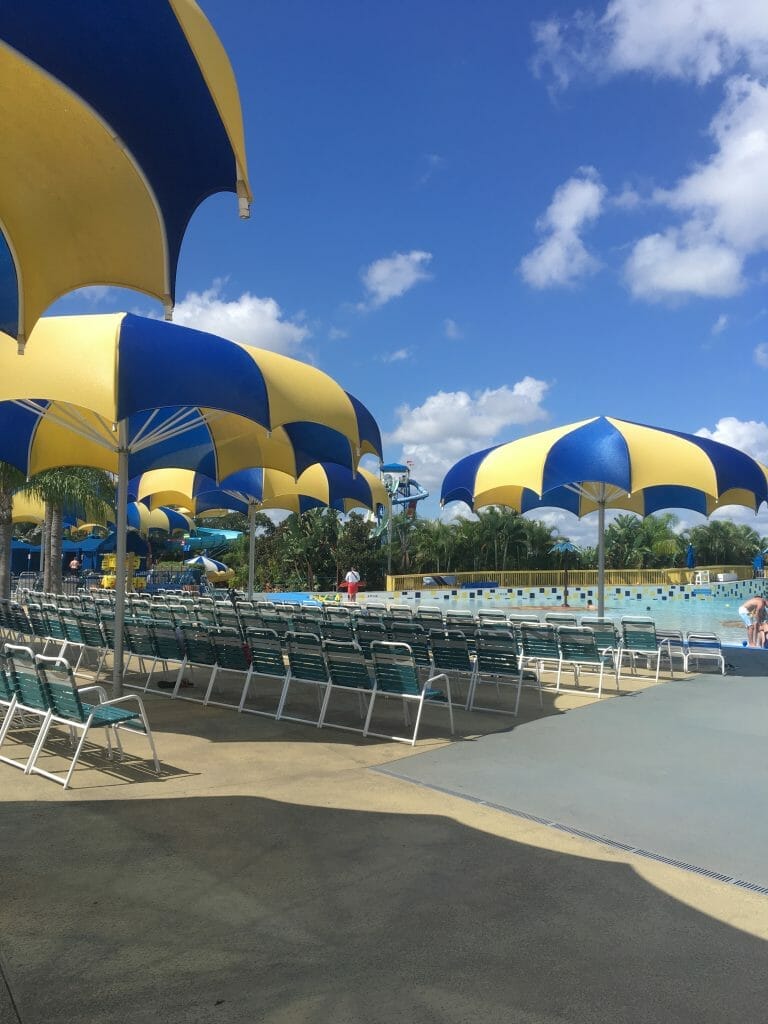 Don't go out of your way to visit the LEGOLand water park if you're not interested in visiting LEGOLand itself, but if you are LEGO fans or are already going to be at LEGOLand, the water park is a great thing to add onto your ticket during the hot Florida summers.
7. Orlando Watersports Complex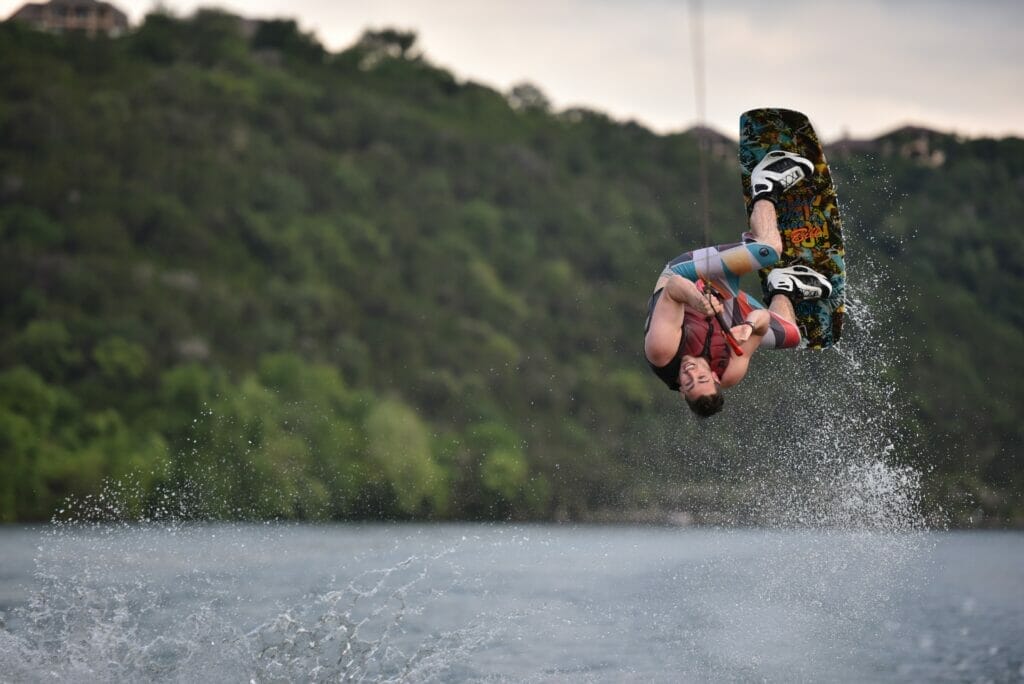 If you've got little ones, there's a kid-friendly aqua park at the Orlando Watersports Complex they'll enjoying playing on, but the main attraction is the wakeboarding lessons and area.
This is an awesome thing to do with teenagers in Orlando, as it's something a bit different than your themed amusement-park style water parks, and the emphasis here is on experiencing wakeboarding in a fun and safe environment with experienced instructors.
They offer both boat and cable waterboarding, as well as fun obstacles and stunt options depending on your level and experience.
Try water skiing, wakeboarding, kneeboarding, or even wake skating!
8. Discovery Cove
Discovery Cove isn't a traditional water park with slides like you might be thinking, but it's included in this list as it's a water-based theme park in Orlando that is absolutely a must-do.
Instead of the crazy slides, you'll find a peaceful tropical paradise where you'll spend the day sinking your toes into the sand, swimming with dolphins, and snorkeling with vibrant fish in dedicated snorkeling areas.
You can get regular entrance which includes things like snorkeling and making use of the relaxing landscapes, but if you want to swim with the dolphins in the dolphin lagoon you'll want to purchase that particular experience.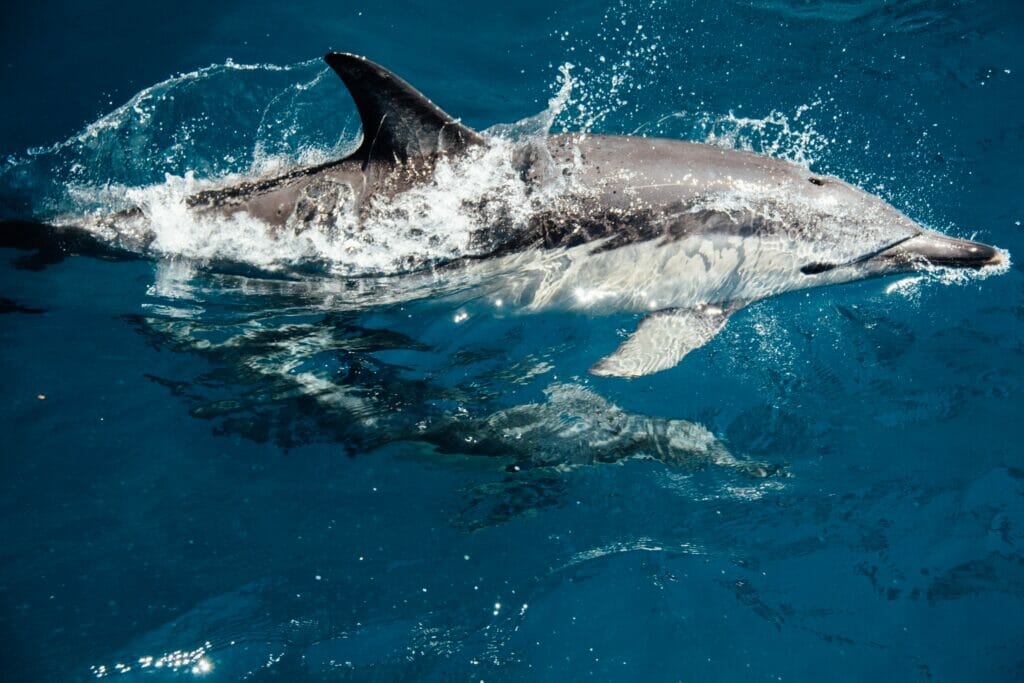 Another great thing about Discovery Cove is that food is mostly included, so you'll get lunch on them and get to graze your way around their offerings, meaning you don't have to think about packing a lunch or worrying about where you're going to eat in the park.
A truly tropical getaway, all without leaving the vicinity of Orlando.
9. Gatorland Water Park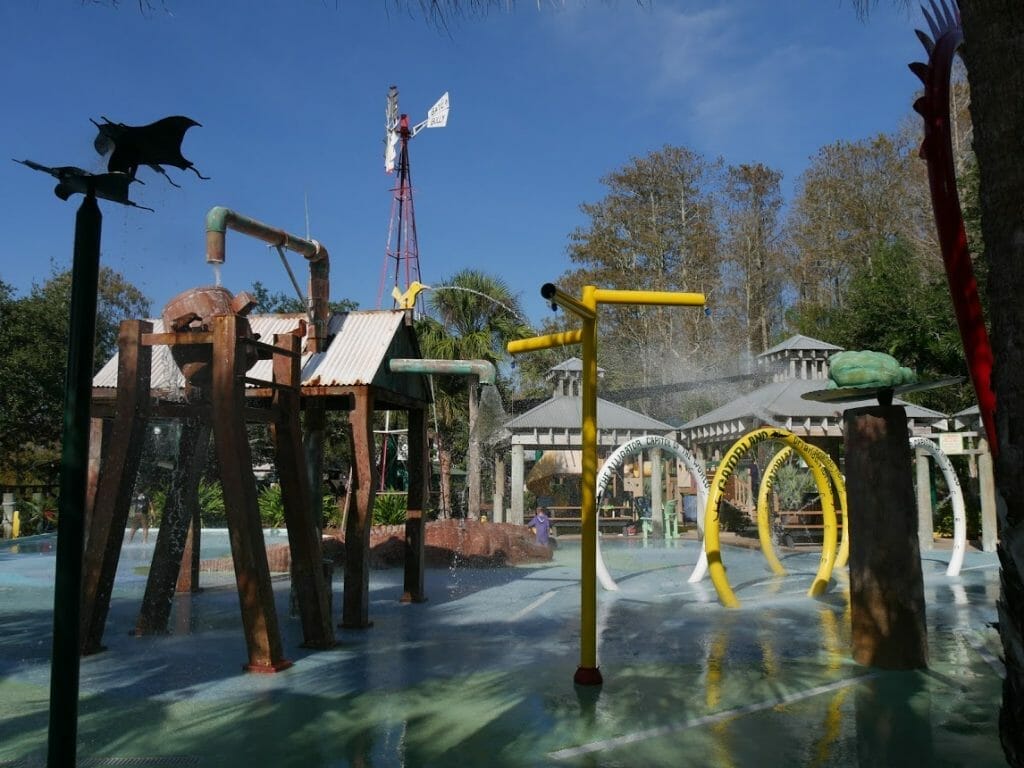 Another water park that is attached to another park is Gatorland's kid's themed water park and splash area.
It's called the Gator Gully Splash Park, and there are no slides, but instead an area filled with water features like buckets of water dumping over, squirting giant gators, and water rings to run through.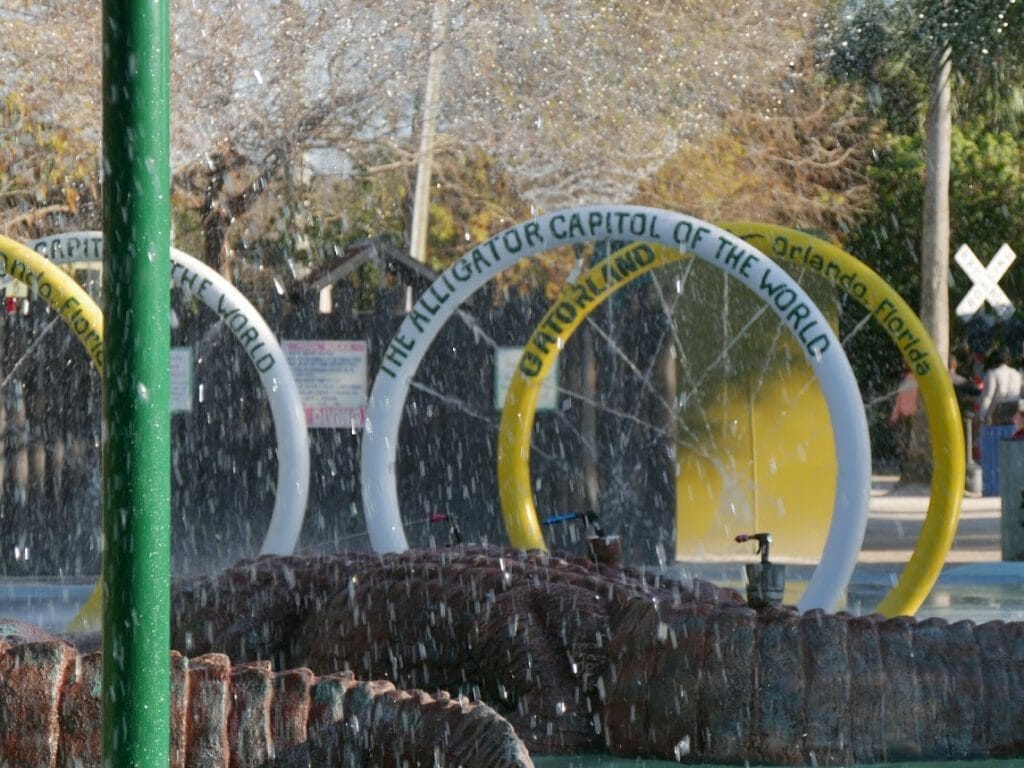 Like the LEGOLand water park, this isn't one to go out of your way for if you're not already interested in Gatorland, but it is definitely something to plan for if you're going to Gatorland, as so many people don't know it's there and then don't bring the kid's bathing suits.
There are plenty of places to watch the kids while sitting down and enjoying a drink or a snack, and it's a good hour or so of fun for the young ones to help prevent overheating in the warm temps.
What else should I not miss in Orlando?
If you're visiting Orlando soon, here's a very brief rundown of a few of my other favorites to make sure you don't miss anything!
Hey! Want more Orlando content? Check out these guides!
Get the All-American Travel Secrets!
Don't miss out on America's hidden gems!