Want to find things to do near Orlando Airport (officially the Orlando International Airport or OIA)?
Maybe you have a flight coming up later today or you only have a little while in Orlando and you don't want to venture far.
In this guide on what to do near Orlando's airport, we'll cover options that are a less than 15 minute drive away.
There are a few theme parks, like SeaWorld Orlando, that's just over that distance away, but by the time you've ventured that far, you're pretty much just exploring the theme park areas and aren't trying to stay that local to the airport.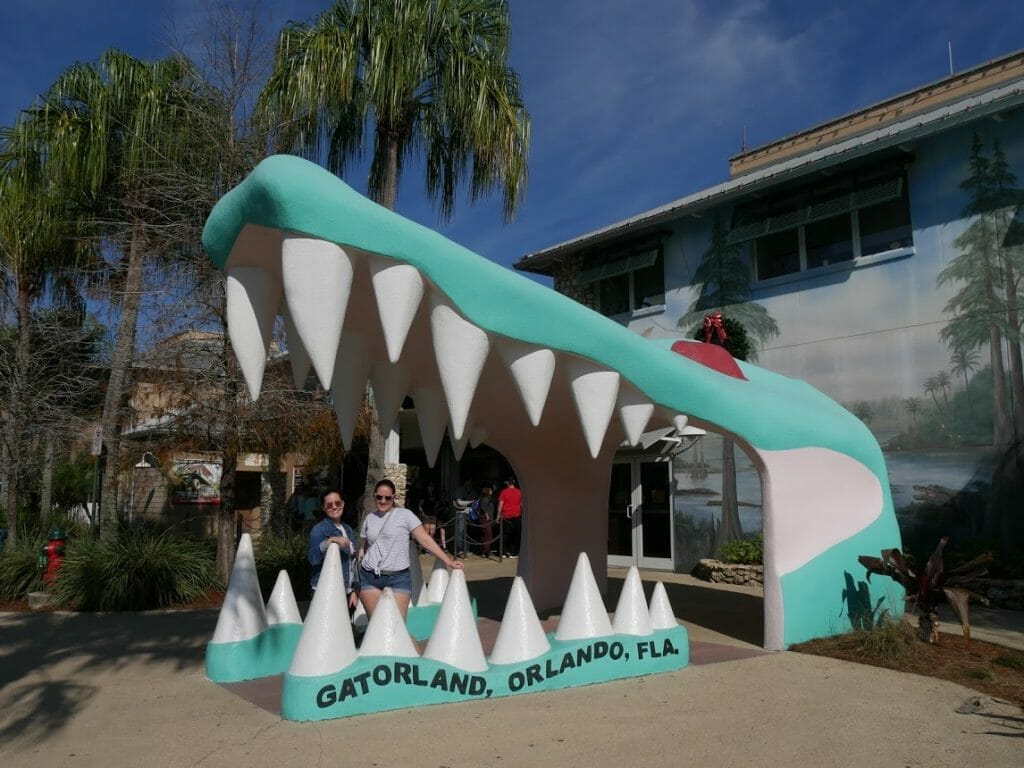 😍 Don't have time to read the whole article? Gatorland is our top pick in Orlando near the airport!
These are more low key options, which can be done in a couple of hours or much less, to give you that flexibility to get to your flight while still enjoying activities in Orlando.
What to Bring to Orlando
If you're not used to the Orlando heat, here are just a few suggestions on what to make sure you have with you, almost year-round.
Getting around Orlando
Don't forget that it's much easier to see Orlando by car so you can get around on your own.
Rental cars are perfect if you're flying into the area.
We recommend using Discover Cars price comparison to find the cheapest deals.
1. Gatorland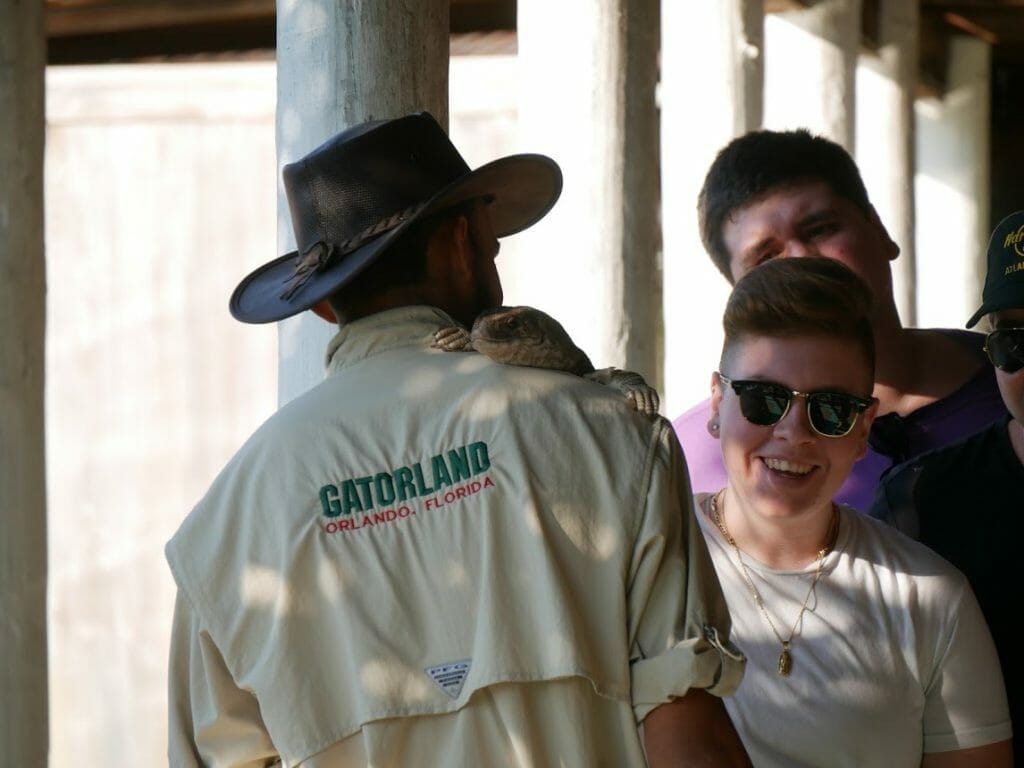 If you have at least a couple of hours, Gatorland is actually close to the Orlando International Airport, which surprises some people as it's not one of the more talked about theme parks in Orlando.
But Gatorland (buy tickets here) is a real hidden gem, and in recent years they've really revitalized and revamped the park so you'll find plenty of spacious exhibits, lots of gator-themed things to do, and even a kid's water park and play area that will give your young kids plenty to keep them occupied.
There are places to eat within the park, and you can also just check out the walking trails through the swampland, or check the schedule for the shows so you can watch gator wranglers talk about their love for these animals.
Gatorland is a refuge for gators in Florida that would otherwise find worse fates, and there are other animal species here like tarantulas, birds, and other species native to Florida.
You can also try out the Screamin Gator Zipline, which sees you zipping over a lake filled with gators.
Hey, when in Florida, right?
2. Nona Adventure Park
A floating water park on Lake Adventure, this is a one-of-a-kind water park in Florida.
Unlike land based water parks, which are mostly what you'll find in Florida, this is a blow-up obstacle course, climbing tower, and place to cool off from that hot Florida sun.
You'll also find a wakeboarding experience, as well as a dry-land climbing tower.
There are dry areas to sit, as well as a concessions are, so pack everyone's swimsuits and spend some time here at one of the best things to do for kids near Orlando Airport.
3. Village Walk at Lake Nona
If you know someone who lives in Lake Nona, you can explore the walks around the Lake Nona area, which offers more than 40 miles of paved and unpaved trails.
The Lake Nona area in general is a great place to explore, as this purpose-built residential area features a lot of wildlife spotting opportunities and some gorgeous architecture.
4. Eat on South Semoran Blvd
Hungry?
Look no further than South Semoran Blvd, where you'll find Florida favorites such as Cracker Barrel, IHOP, Chili's, and more.
Enjoy the rocking chairs at Cracker Barrel, along with some homemade mac & cheese or biscuits and gravy, or head to Rock & Brew which is a rock n'roll themed burger restaurant (yes, please).
There's also a Texas Roadhouse and Miller's Ale House if you're in the mood for some heavier food, or a Panera Bread if you just want a soup and salad or a bright and light space to get some work done or relax.
5. Castle Church Brewing Community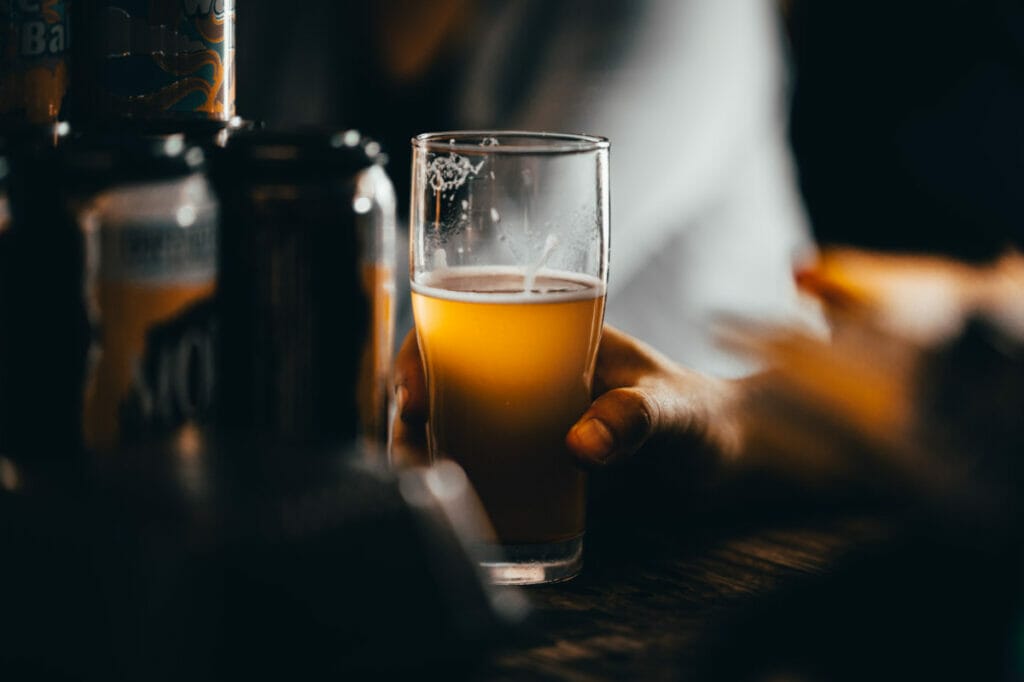 Want to get some craft beers in before your flight?
Castle Church Brewing Community is conveniently close to Orlando Airport, and their indoor beer garden is the perfect spot to kick back and relax.
Wondering about the name?
This brewery is in a functioning church, with worship services held regularly, making it one of the most unique breweries around.
During brewery hours, there are food trucks so you can get some grub with your drinks, as well as lots of games to play.
Try the IPAs or the seasonal beers on tap, or just spend some time in this industrial chic atmosphere catching up with friends or family.
6. Three Point Bowling
Want to knock some pins down?
Three Point Bowling has 16 lanes of family fun, including automatic scoring and bumpers if you need them.
There's also a full bar, as well as pool tables, dartboards, and indoor and outdoor televisions.
There are plenty of rental shoes available, and they put on fun events like cosmic bowling or bowling leagues if you're in the area more often.
You'll want to call ahead (407-273-1350) to reserve your lane and make sure there's one available before you make your way over, especially if you're playing it close with time for your flight.
7. Barber Park
A lot of people are looking for some open air and parks near Orlando Airport, especially if you'll soon be cramped, unmoving in a plane, for hours on end.
For that, look no further than Barber Park, a real Orlando gem that offers plenty of picnic tables in covered shade, volleyball areas, and a fantastic dog park.
Enjoy the ducks floating in the lake, let the kids play on the playground, or just burn off some energy in the open green area.
There's also a nice walking trail, as well as a hockey rink and skate area and soccer fields.
The park is clean and well-kept, and is a great family-friendly, free thing to do in Orlando, when you are close to the airport.
8. Airport Lake Park
Another park near the airport is appropriately called Airport Lake Park.
Not only is there free entry and bathrooms (an essential!), but also a gorgeous walking area and a frisbee golf course!
That's right!
You can be enjoying the Florida sun and playing frisbee golf to relax those nerves before you're 30,000 feet up in the air!
There are also kid's playgrounds and some fantastic wildlife spotting (bald eagles and ospreys!) as well as fishing opportunities in the lake.
It's clean, peaceful, and the perfect place to bring a picnic and just enjoy the outdoors for awhile while waiting on your flight or waiting to pick someone up.
9. Crayola Experience Orlando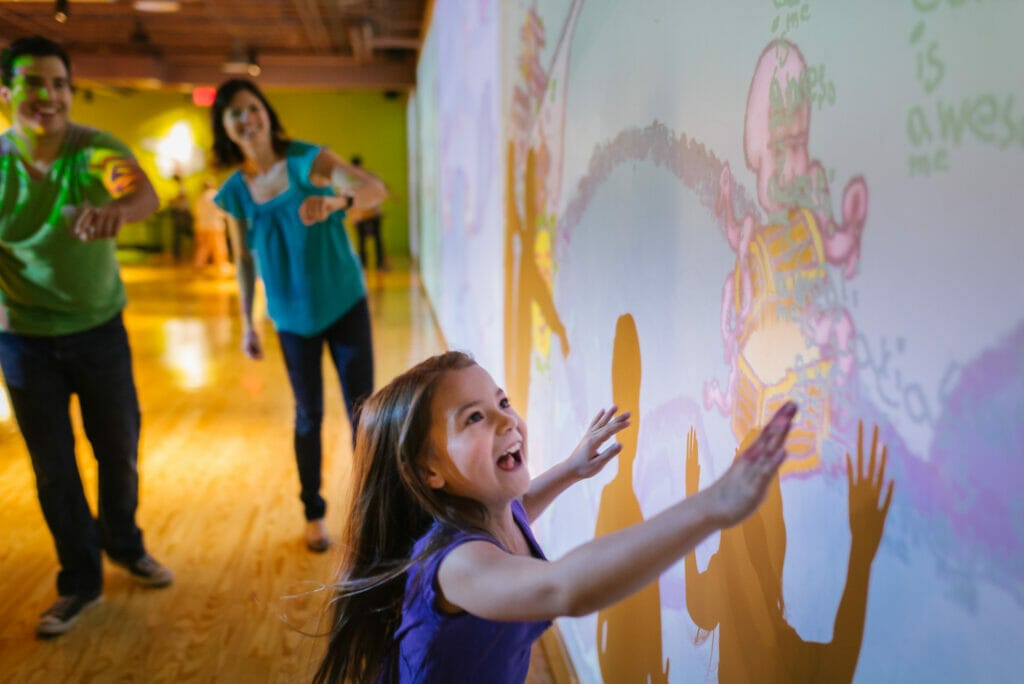 If you've got little ones and about 2-3 hours to spare, the Crayola Experience Orlando at the Florida Mall is close to the airport and one of the most hands-on and magical attractions.
Who doesn't love being surrounded by bright and colorful crayons, interactive art projects, virtual exhibits, and even a Crayola-themed show?
There are climbing structures to let some of that energy out, awesome crafts, "behind the scenes" information on how crayons are made, and even a cafe to keep everyone going strong.
The Crayola Experience has made our list of the best things to do in Orlando with toddlers, so why not check it out?
What else should I not miss in Orlando?
If you're visiting Orlando soon, here's a very brief rundown of a few of my other favorites to make sure you don't miss anything!
Hey! Want more Orlando content? Check out these guides!
Get the All-American Travel Secrets!
Don't miss out on America's hidden gems!