With the advent of social media, Orlando became one of the world's most popular places for Instagram photos, and in this list of the most Instagrammable places in Orlando, we're taking you through some of the cutest, most gorgeous, and funky places for Instagram in Orlando.
Did you know that one of them, the Cinderella Castle, is actually the most popular Instagram photo on the platform?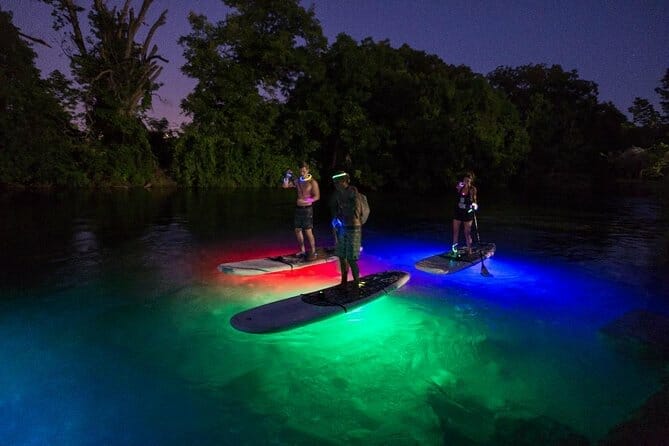 It's no wonder that a place with such beautiful color, such perfect sunshine, and such easygoing vibes plays home to millions of Instagram photo dreams a year.
Some of these Instagram spots in Orlando are free to go to, while others require theme park admission, but there's a good mix of each no matter what you're planning to do in Orlando.
What to Bring to Orlando
If you're not used to the Orlando heat, here are just a few suggestions on what to make sure you have with you, almost year-round.
Getting around Orlando
Don't forget that it's much easier to see Orlando by car so you can get around on your own.
Rental cars are perfect if you're flying into the area.
We recommend using Discover Cars price comparison to find the cheapest deals.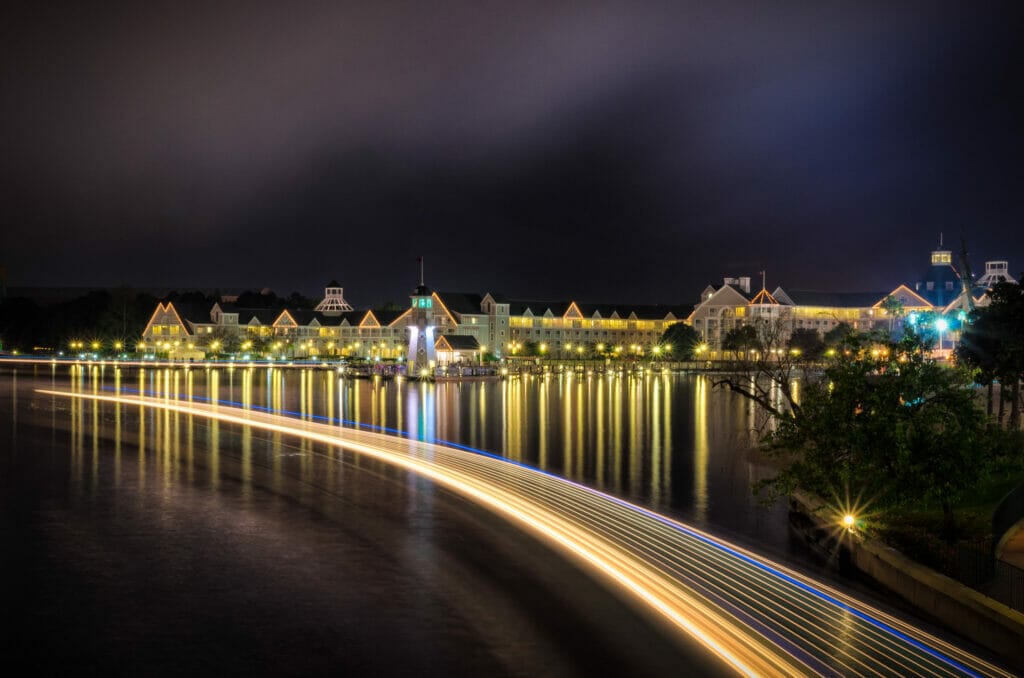 1. Lake Eola
Ah, Lake Eola.
The central lake in downtown Orlando, helping to give Orlando its local name as "the City Beautiful."
Lake Eola is a peaceful lake with a fountain in the center, and from it you can see some of Orlando's skyline.
What's better for your Instagram shot is that you can rent a swan boat and take it out on the lake, which means you can try for a ton of different angles and get some of the swan boat experience itself.
For more atmospheric pictures on Lake Eola, wait until nighttime when the city lights up behind you and the lake is filled with a certain kind of magic that isn't there in the daytime.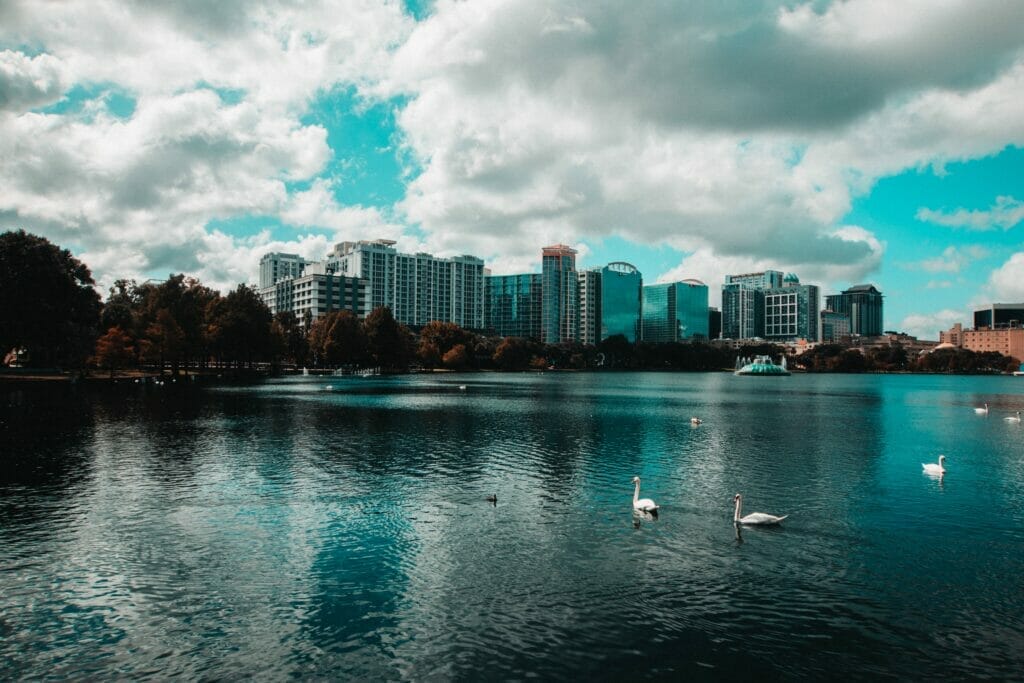 2. Cinderella's Castle
It's obvious, but it's got to be on the list.
Getting an Instagram snap in front of Cinderella's Castle at Disney's Magic Kingdom is on any Orlando Instagrammer's list.
There are so many options of angles, getting it by itself, taking a picture with you in and and the castle behind you, etc.
You can also get the castle at night when it's lit up or during the holiday season when it's decorated with lights.
Add in some of Main Street in your photo or zoom in for a close up on the castle itself.
Whatever you do, know you're joining a worldwide legion of fans who are making this the most Instagrammable spot in the whole world.
3. Wizarding World of Harry Potter
Harry Potter fans on Instagram had the best news of their life when the Wizarding World of Harry Potter was built at Islands of Adventure and Universal Studios.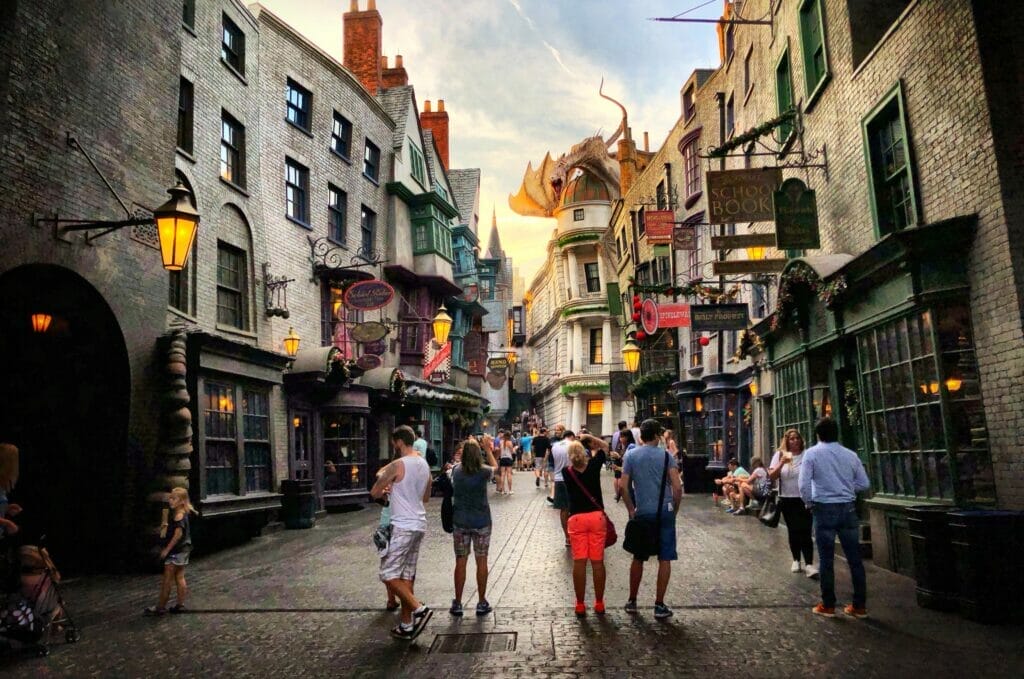 Both parks have Harry Potter themed areas to take pictures in front of, but at Islands of Adventure you'll find Hogwarts itself, where the Instagram magic really happens.
Wear your Harry Potter robes, grab your wand, grab your Hufflepuff scarf and stand on the bridge with the castle in the background or get a snap during the holiday show when the castle is lit up beautifully.
4. Disney Walls
Disney World caught on to the fact that so many people were taking Instagram photos in front of its purple wall in Tomorrowland, that they actually enhanced the wall and painted others around the parks.
Check out the full list of Disney walls, and make sure to cross them off your list as you're traipsing around the parks.
The most famous is still the Tomorrowland one, but there are also gorgeous walls in Epcot and Animal Kingdom including the "Bubblegum Wall" in Epcot and the "You are Most Beautiful" wall in Animal Kingdom.
We love a theme park icon that gets on board with our Instagram pics and helps us out a bit!
5. ICON Park
ICON Park is on Orlando's International Drive, and I've chosen this as a perfect Orlando Instagram spot because of the main attract: the Wheel.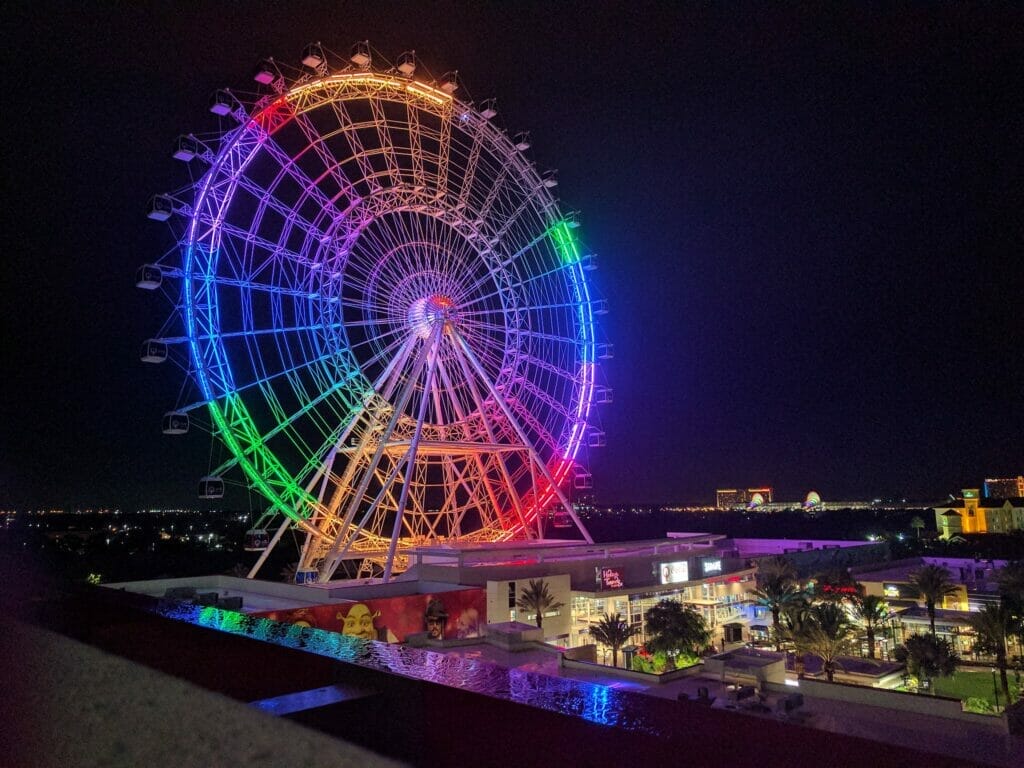 Not only does this rotating ferris wheel light up at night for some beautiful photos, but you can also get Instagram shots of the Orlando skyline while actually riding the Wheel.
So many people don't think of this area for their Instagram photos, but it's a must-do.
Want something a bit more back to nature for your Orlando Instagram habit?
Check out Leu Gardens, one of the biggest botanic gardens in the area.
Here, you'll be able to get beautiful shots of winding pathways, blooming flowers, and gorgeous landscaping that sparkles in the Florida sun.
Head here during a week day during the day and you'll be able to have plenty of room to yourself if you're doing a fashion Instagram shoot or just want to take your time to set up the perfect angles without too many people walking by.
There are also some really pretty areas with hanging Spanish moss, a Florida classic, that will give you those authentic Florida vibes.
7. Winter Park
No one part of Orlando was built for Instagram pictures more than the Winter Park area.
From the cobblestone streets of Park Avenue to the gorgeous Rollins College to the iconic SunRail train that goes straight through it, there are so many Instagram backdrops waiting to be discovered.
This area is best photographed in the daylight, and you can also plan to stop by for the weekend Winter Park Farmer's Market for some awesome pictures of produce and local seller's products.
There are also plenty of great Orlando tours that feature Winter Park, including an Orlando food tour that takes place on Park Avenue.
8. Enzian
The Enzian Theater looks great in an Instagram photo.
Found in Maitland, this theater is chock full of color on the outside with gorgeous green and blue hues, and you can't miss the classic movie sign with lightbulbs all around, telling you what's coming up.
The branches of a large tree also dip down into the photo, helping set the scene for a casual and authentic Florida photo, and there are a ton of plants out front to give you even more leafy goodness if that's what you're going for.
9. Celebration
Want picture perfect houses, a real life Main Street, a gorgeous lake and plenty of Instagram opportunities in Orlando?
Head to Celebration, Florida, a city literally built by Disney World (but it's a real, functioning city, so no tickets required!)
The Instagram photos here usually either focus on the palm-tree lined Main Street with the colorful rows of shops, or of the large Celebration sign with white lettering in big red blocks.
People are often a fan of the front porches and white picket fences you'll find around the houses, but be aware that these may be people's actual homes, so be respectful when deciding what you should put on Instagram.
10. Typhoon Lagoon
Typhoon Lagoon isn't any old water park – it's a Disney water park, and that means that the Instagram opportunities are endless.
Because it's going to be rather…wet, in this water park, you won't want to carry your phone around with you all day, but rather do a whistlestop tour of some of the best photos before storing it in your locker and enjoying your day.
Some Instagram ideas at Typhoon Lagoon include: the surfing Goofy statue out front, the wave pool, inner tubes floating in the lazy river, and one of the most popular ones, the sand pail ice cream.
Order this delicious treat, which is a giant ice cream sundae arriving in a green sand pail with a shovel as a spoon, and you'll win the foodie Instagram award of the day.
11. Mill's Avenue
Mill's Avenue is "real" Orlando, where the locals go and live and work and play.
Here, you'll find lots of Orlando street art as you round the corners, and I highly recommend any budding Instagram influencer to spend some time here as you'll get a bit more grunge and a bit more real and unique than some of the tried and true Instagram favorites taken by tourists.
12. Orlando Postcard Mural
The "Greetings From Orlando Florida" postcard mural is a great Instagram snap, and you can find it on the side of "Uncle Tony's Donut Shoppe," which is actually a record store.
The orange and green bright colors will make the mural pop in your Instagram photo, and it's not one that most tourists get to as it isn't in a touristy-part of town (well, a lot of Orlando by nature is filled with tourists wherever you go, but this is a lot more local feeling than most).
13. Disney's Beach Club
Did you know you can get some Instagram photos of the sand between your toes in Orlando?
"But there are no beaches around", you say!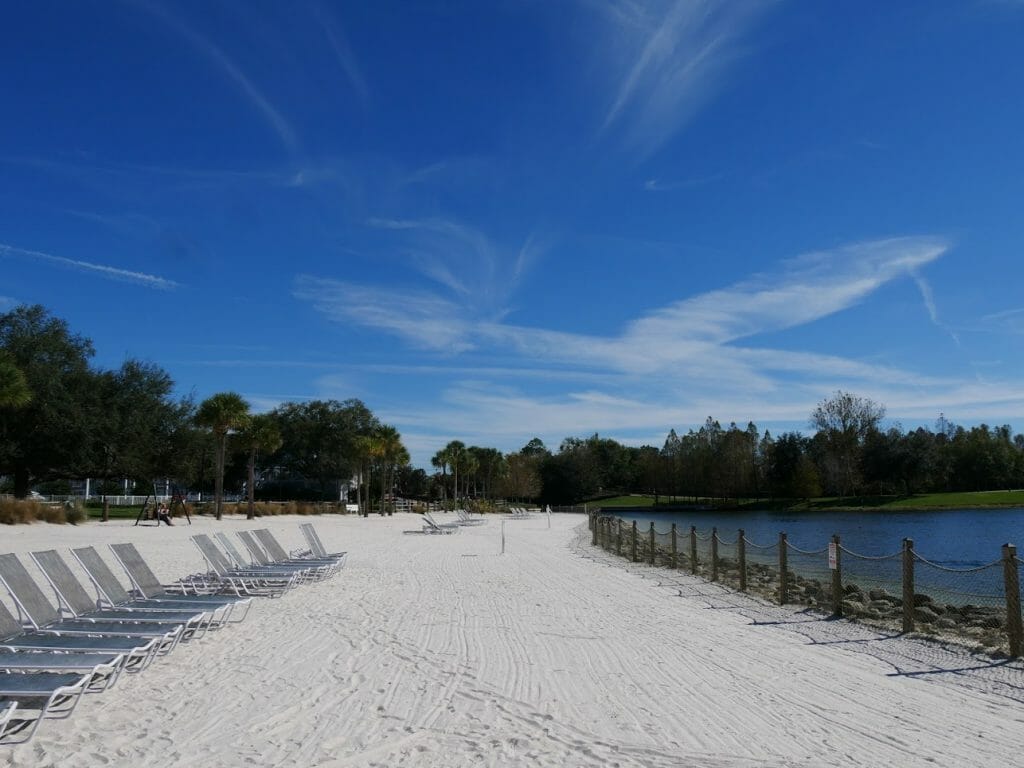 That might be true, but there is Disney's Beach Club Resort, and you don't have to be staying here to visit the white sandy beach or sit on the white wooden swings.
This isn't a swimming beach, of course – you should never go in fresh water in Florida for fear of gators and snakes and all of the other Florida creatures who call it home, but you can definitely get some fantastic photos of the sand and the sun and the Friendship Boats going by on their way to Hollywood Studios and Epcot.
What else should I not miss in Orlando?
If you're visiting Orlando soon, here's a very brief rundown of a few of my other favorites to make sure you don't miss anything!
Hey! Want more Orlando content? Check out these guides!
Get the All-American Travel Secrets!
Don't miss out on America's hidden gems!