You can easily drop tons of money in Orlando, but there are also plenty of things to do in Orlando for free to make sure that you still have a little left in your wallet when you return home.
In fact, there are so many free things to do in Orlando that the locals know about that tourists often don't, so if you're just a visitor to the area, make sure to check out all of the options that might not have already come up on your radar.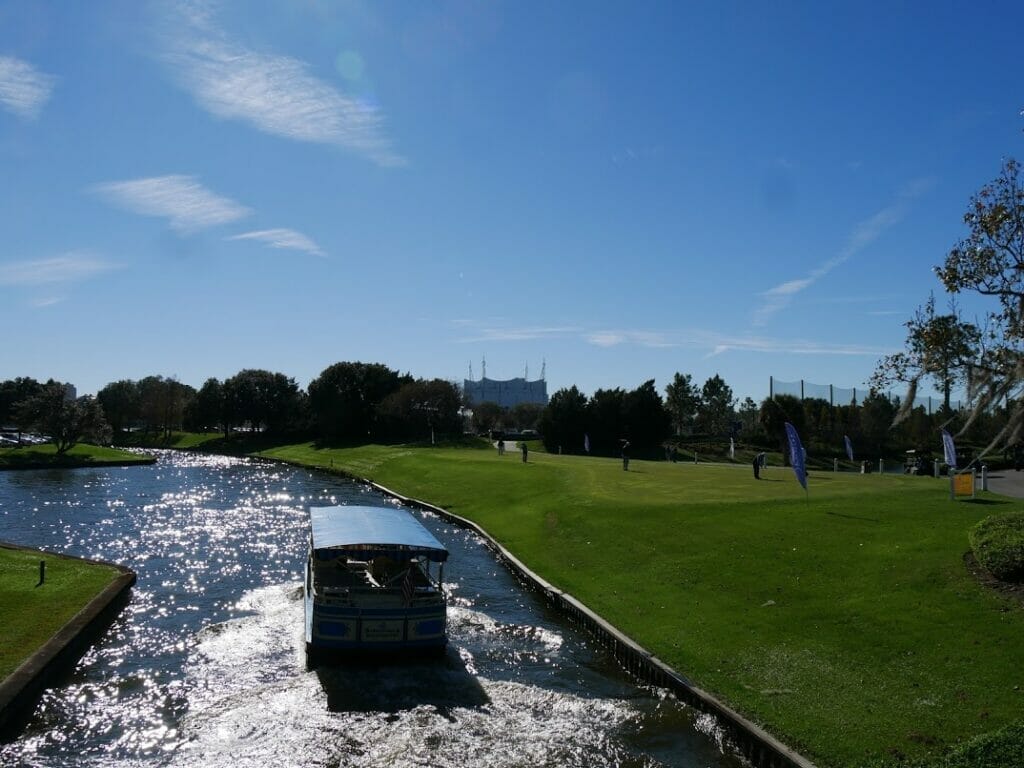 Even if you're at the Disney parks, there are actually free things to do at Disney, including secret or mostly unused ways to see free fireworks (without breaking any rules!).
No matter what your Orlando budget, give it a break with these fantastic things to do in Orlando for free.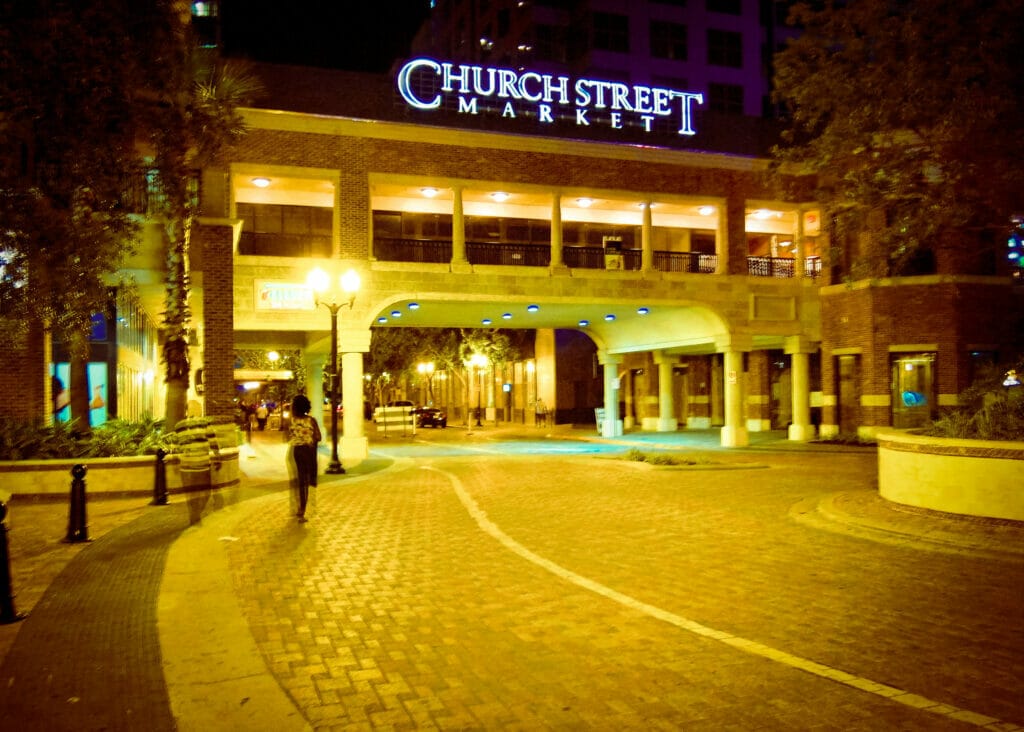 What to Bring to Orlando
If you're not used to the Orlando heat, here are just a few suggestions on what to make sure you have with you, almost year-round.
Getting around Orlando
Don't forget that it's much easier to see Orlando by car so you can get around on your own.
Rental cars are perfect if you're flying into the area.
We recommend using Discover Cars price comparison to find the cheapest deals.
Free Things to Do in Orlando for Kids
Many people have the kids in tow when they visit Orlando, and for good reason – it's a mecca for all things fun for the little ones!
But you don't have to buy expensive theme park tickets to have fun with the kids in O-town.
Check out the best free things to do in Orlando for kids, ranging from gator spotting to outdoor movies to an optical illusion hill (oh yes, it's a thing).
1. Disney Springs
Disney's free shopping and entertainment district has plenty of things to do that don't involve spending a penny (shocking, I know).
From watching the Amphibicars float by on the lake to building LEGO creations at the LEGO store, you can really keep the kids busy wandering around looking at everything.
Regular entertainment in the outdoor amphitheater, especially during the holidays, is also free and a great way to add some more Disney Springs magic to your trip.
And if you want to go old school, bring their bathing suits and let them run through the water spouts for hours.
Simple, free, and incredibly entertaining for the little ones and the older ones alike.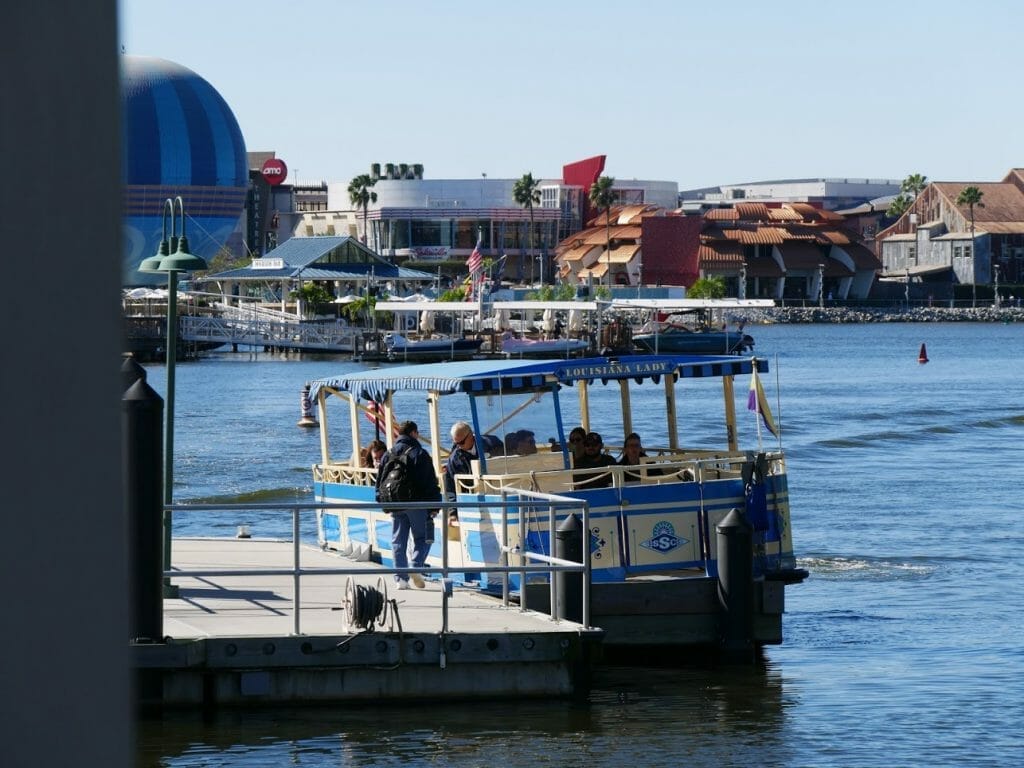 2. Old Town Kissimmee
If you want to get away from the lines of the theme parks and find your way to old-fashioned Florida, Old Town Kissimmee is absolutely the place.
Just south of Orlando, Old Town Kissimmee has shops, restaurants, family entertainment, and rides that the kids will love like bumper cars and other carnival rides.
It's free to walk around this recreation area, and on the weekends there are car shows to keep them interested.
This is a particularly good idea if you're staying in Kissimmee and are looking for a break from the parks and other Orlando attractions.
3. ICON Park
While some of the ICON Park attractions are paid for, like the Orlando Wheel, they are still cheap things to do in Orlando and you can easily walk through ICON Park and people watch for a while with the kids.
Pack a lunch or dinner and watch the wheel rotate around around as it lights up, and listen to the music as you walk through this classic Orlando attraction.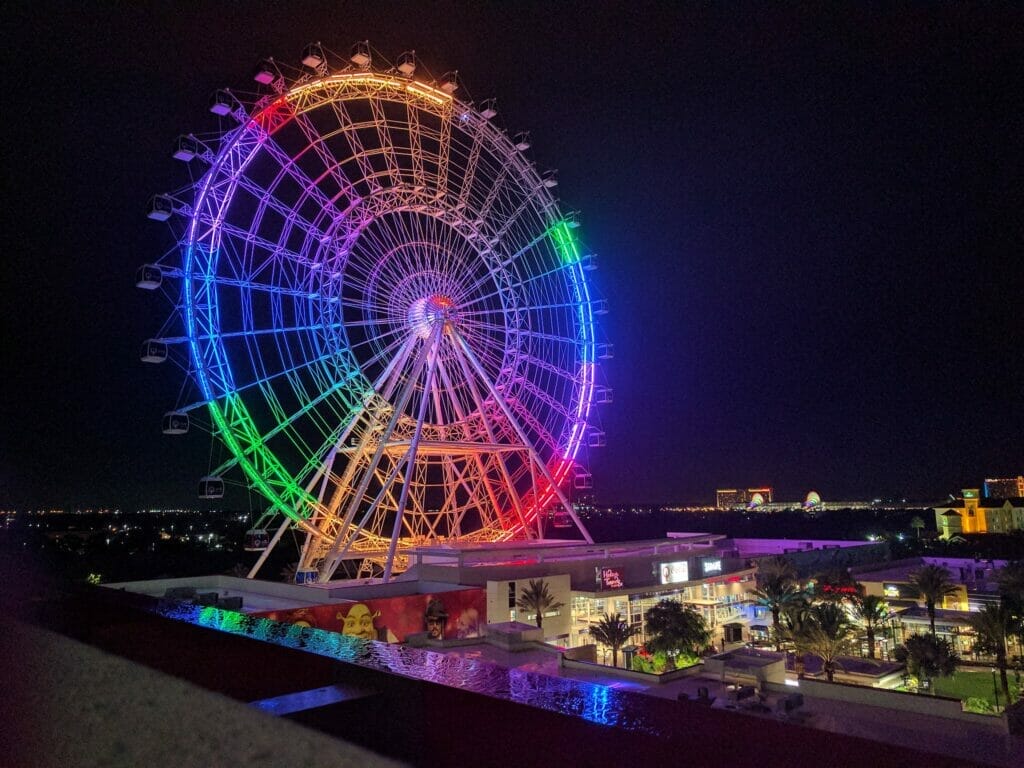 4. Spook Hill
We're going old-fashioned free things to do in Orlando for this one – one of the most unique and local things to do in Orlando.
I remember my parents taking me here as a kid, and it was mind-blowing to my little brain!
Spook Hill is an optical illusion hill, where if you put your car in neutral, it will actually appear to roll uphill!
It made the front page of the Wall Street Journal in 1980, so if it's good enough for the 80s, it's good enough for your modern day kids!
Local legend has it that the land is cursed, but really it's an optical illusion where a downhill stretch of road appears to be uphill due to the surrounding terrain (don't tell them that though!)
5. Gator Spotting at Black Hammock
Black Hammock Adventures offers paid-for airboat rides and a great lakeside restaurant, but you can also pop by to see the baby gators that are out front, as well as see if you can spot any gator heads popping up in the adjacent Lake Jesup.
In fact, gator spotting all along the banks of Lake Jesup is a very Floridian thing to do, as this is one of the most alligator-infested stretches of water in the country.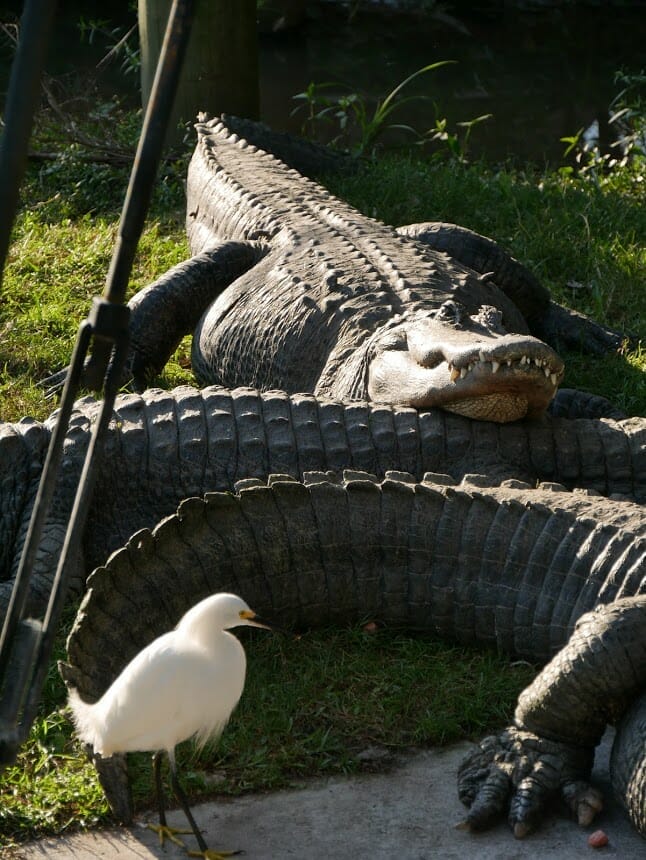 6. Orlando Public Library
From kid's reading activities to a kid-friendly learning station (loaded with kid-friendly software with no access to the internet), the Orlando Public Library is a great free thing to do in Orlando in the rain or when you just need a quieter day or want to get involved in local activities.
If nothing else, bring the kids to browse the books and do some reading without needing to be connected to the rest of the world or overstimulated in theme park ride.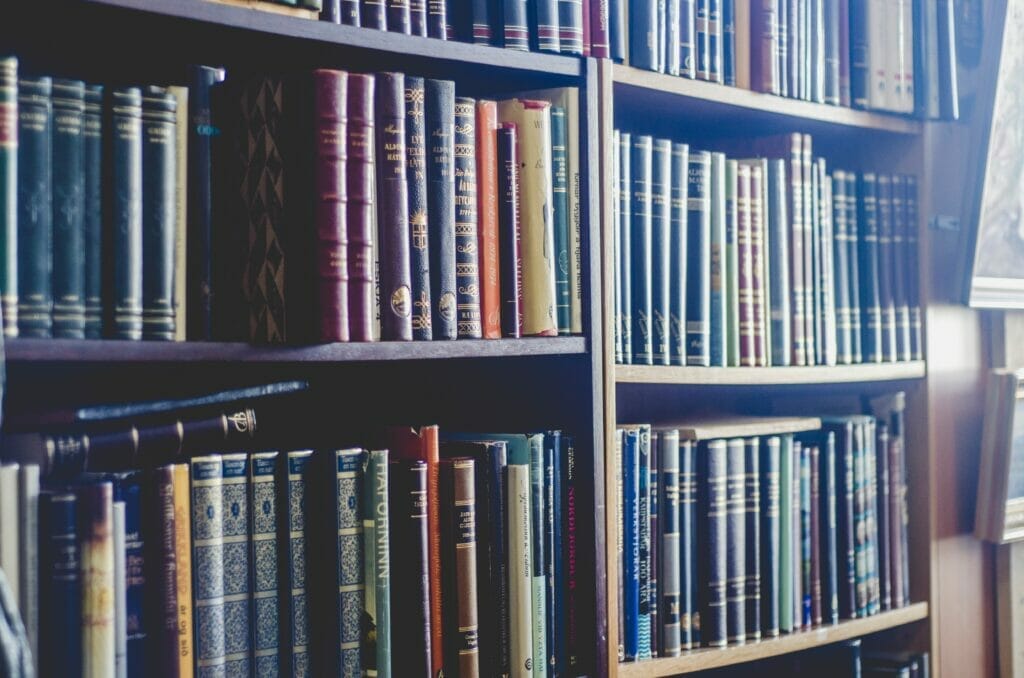 7. Outdoor Movies
When the weather is nice (which is often in Florida), outdoor movies are where it's at for the kids!
There are frequent outdoor movies in Winter Park in the summer months and when the kids are on vacation from school, so keep an eye out for outdoor movie showings that will often be billed as "movies in the park."
Bring a blanket, the kids, and some popcorn and enjoy.
Free Things to Do in Orlando for Couples
If you're on a romantic getaway to Orlando or a honeymoon to Orlando, here are some cheap things to do in Orlando so you're not breaking the bank while still making memories.
8. Universal Citywalk
The more adult version of Disney Springs, Universal Citywalk is free to enter and is Universal's shopping and entertainment district.
Again, a great night at Citywalk involves eating in the restaurants or shopping, but the atmosphere is electric and you are totally allowed to just walk around and window shop while chowing down on some food to go, or keep an ear out for live music.
When the sun goes down, Citywalk really comes to life, and it's one of the best things to do in Orlando for adults if you're just wanting to soak in some atmosphere while you chat.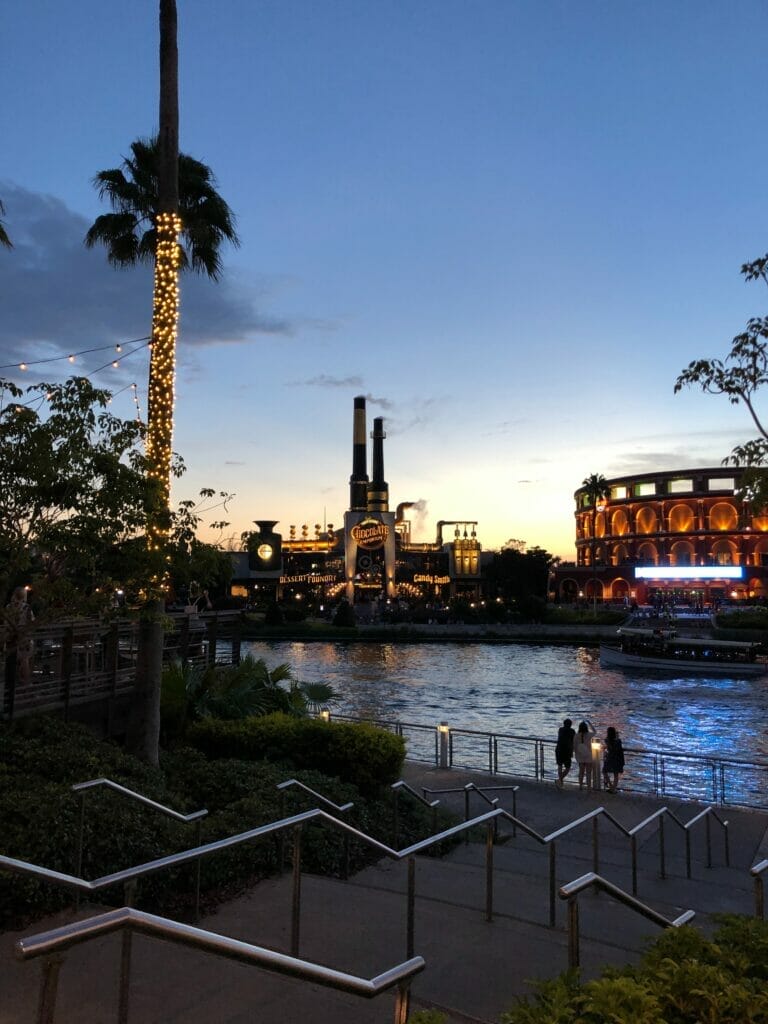 9. Watch Disney Fireworks from a Boat
Okay, so I've got the best way to watch Disney fireworks for free for you that not many people know about, and you're going to thank me later after you're watching fireworks from the water without paying a cent.
It goes like this: park and visit Disney's Wilderness Lodge as a day guest, meaning that you're just there to look around.
This makes Disney parking free.
Then, around Magic Kingdom fireworks time (check the park schedule), you're going to go to the back of Wilderness Lodge to the boat ramp and hop on the boat TO the Magic Kingdom.
You don't need a ticket, and this is an absolutely free ride.
If you time it right, you'll be watching the fireworks from the boat as they shoot off in the sky over the castle, including piped in music so you get the full experience.
The skippers know that this is a magical experience for people, and will help you get on the right boat if this is something you want to do.
Typically, no one is actually getting on the boat to Magic Kingdom during the fireworks – they're either already there, or they're in for the night, but the boats still run back and forth, so take advantage of this super cool Disney trick.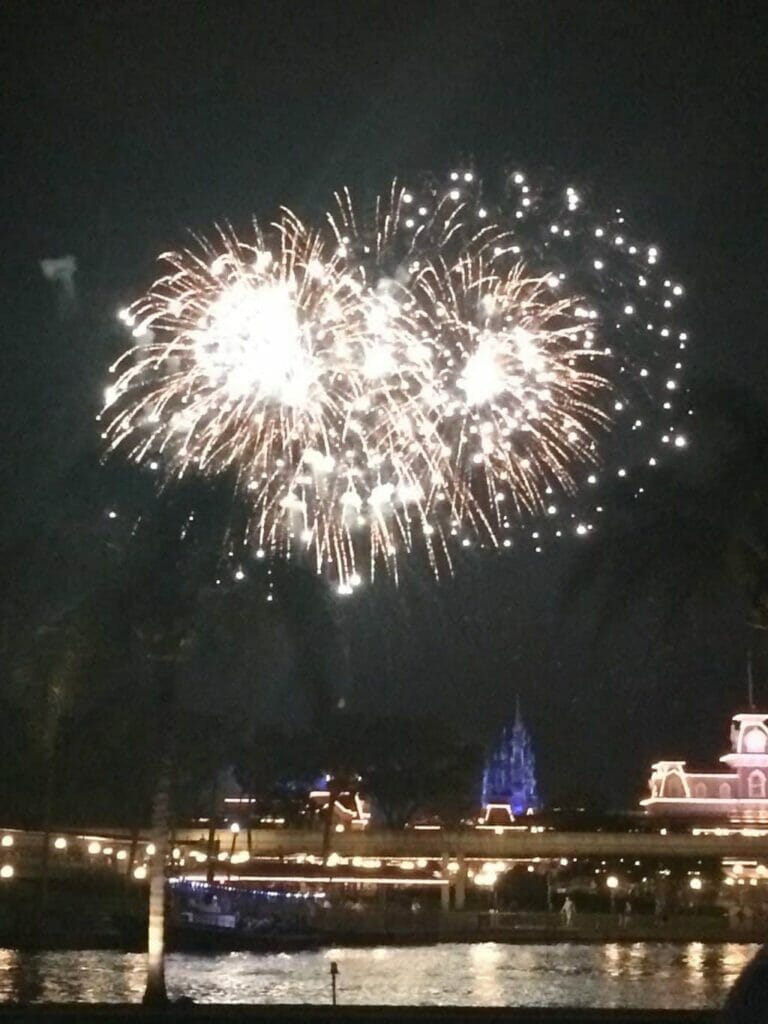 10. Orlando Farmer's Market
There are tons of farmer's markets in Orlando, but perhaps the most famous is the one of the same name.
It's free to wander around the Orlando Farmer's Market, every Sunday at Lake Eola Park.
No need to buy anything, just enjoy all of the vendors and the indoor and outdoor components to the market.
There are sometimes free samples, and the atmosphere, especially in the Fall and Spring when the weather isn't scorching hot, is absolutely inviting.
Dogs are allowed, too, so you and your pup can have a romantic Sunday strolling around!
11. Window Shopping at Mall of Millenia
The Mall of Millenia is Orlando's upscale mall that makes you feel like you've stepped foot into pure luxury.
From the gorgeous common areas and sitting areas to the beautiful storefronts, you can spend a whole day here window shopping and chatting if you've got the discipline to not buy anything!
Soak up the richness at Burberry, Chanel, and others, and enjoy!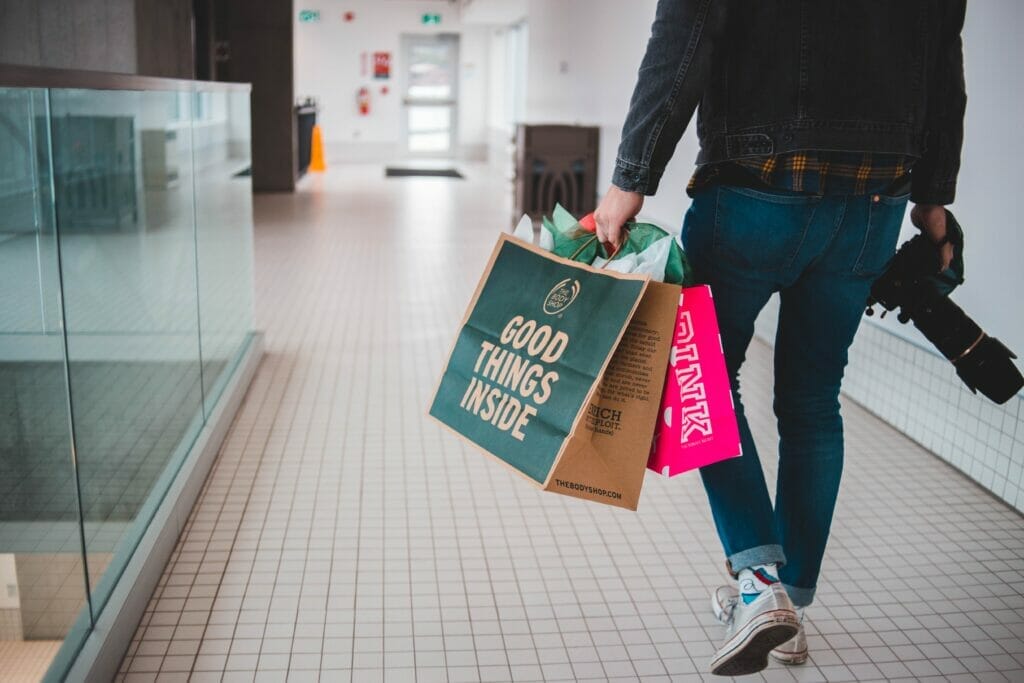 12. Walking through Celebration
Known as Disney's town because, well, it is, Celebration, Florida, is a picturesque place you have to see to believe.
Designed and operated by Disney, this is a place that has a classic Main Street, picture perfect streets and houses, and a feeling of community and old-fashioned fun.
Unlike most of Disney, though, Celebration isn't fake!
This is a real free thing to do in Orlando, and is especially fun if you take bikes and bike around the tree lined streets.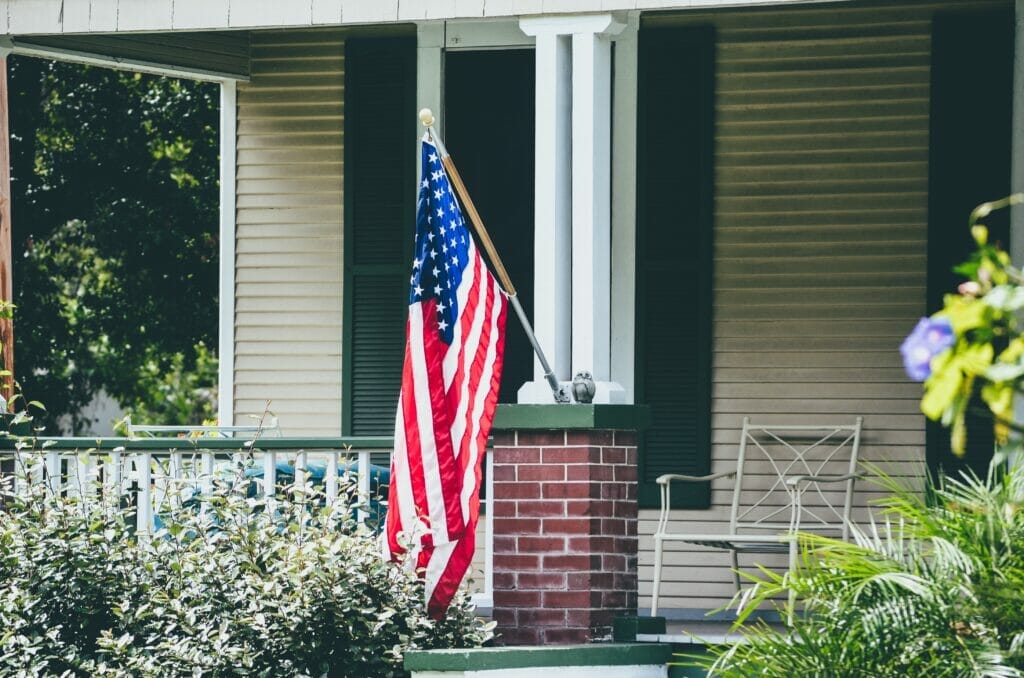 Located on the Rollins College campus in Winter Park, this is a donor-driven art museum that is free for everyone, and features over 5,000 permanent art pieces as well as rotating pieces.
You'll see everything from ancient art to contemporary pieces, and there are regular free lectures, tours, and family events to get the kids creative and interested in fine art.
It's a great idea for an Orlando birthday for the artsy type.
Outdoorsy Free Things to Do in Orlando
Florida has great weather year-round, especially if you like the sunshine!
If you prefer chillier temperatures, while still being relatively warm, make sure to visit Florida in winter.
And despite being known for being a lot of built up attractions and concrete and malls, there are actually outdoorsy things to do in Orlando when you just need to escape and get some fresh air.
It may not be immediately obvious, but follow this guide and you'll find them!
Whatever the season, here are free things to do in Orlando outdoors.
14. Tibet Butler Nature Preserve
A lot of people are surprised to find such expansive wilderness as the Tibet Butler Nature Preserve in Orlando, but it's real!
A beautiful trail system takes you through dense pine forest and scrub, and it's super family-friendly.
This isn't an extreme hiking trip, but instead a more meandering experience, as the easy mostly flat trails mean joggers, bikers, and those with strollers can all take part.
You'll come across Florida swamp, listen for the sound of ospreys, and generally feel like you're getting the "real Florida" experience without spending any money.
This easy biking and walking trail takes you through various residential areas in Orlando, including Apopka and the very beautiful Winter Garden (why are so many places in Florida named "winter"?)
You'll pass orange groves, meander through shady lanes, and pass other locals or visitors who are jogging, biking, or generally exploring the trail and the option it gives you to see Florida for free.
16. Lake Eola Park
Perhaps Orlando's most iconic park, Lake Eola park surrounds the famed Lake Eola, where you'll see swan boats on most days of the week.
Pack a picnic and sit on a bench and watch the fountain, or you can walk the trail around Lake Eola.
I love this free outdoors thing to do in Orlando because it also happens to be so close to plenty of restaurants, so you can spend an afternoon at Lake Eola Park (sometimes with live entertainment) and then grab dinner nearby without moving your car.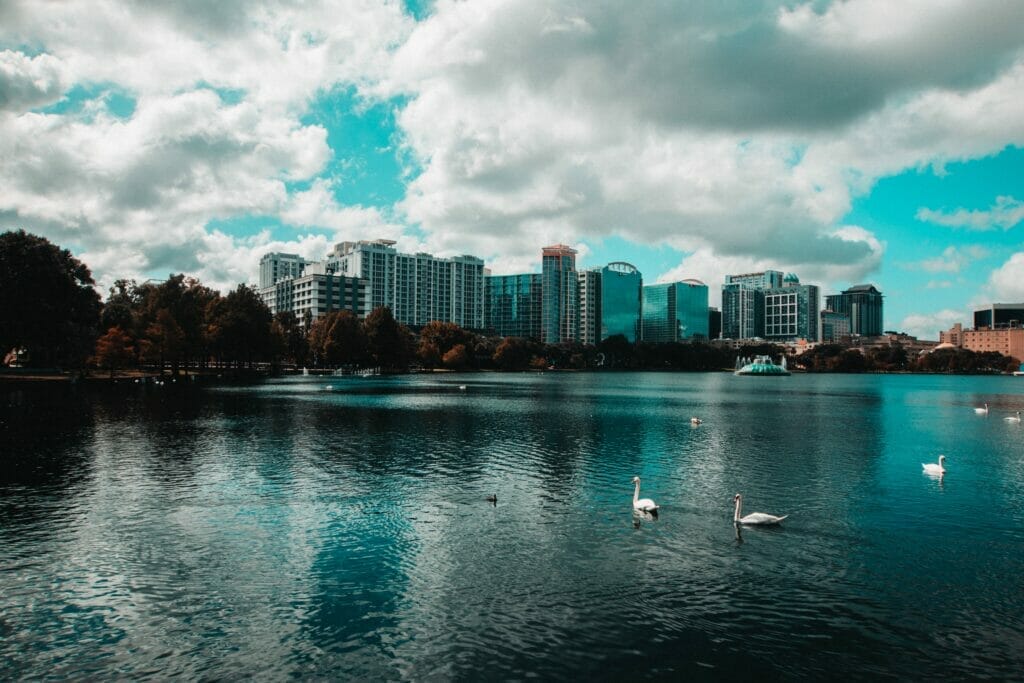 17. Mead Botanical Garden
47 acres of Florida gardens wait for you in Winter Park at Mead Botanical Garden.
This tranquil and gloriously peaceful setting is absolutely free to enter and is a real hidden gem in Orlando.
You'll find everything from butterfly gardens to pine trees to walking trails to a pond with turtles and fish, and special features like a lending library really give that sense of community that we're all looking for.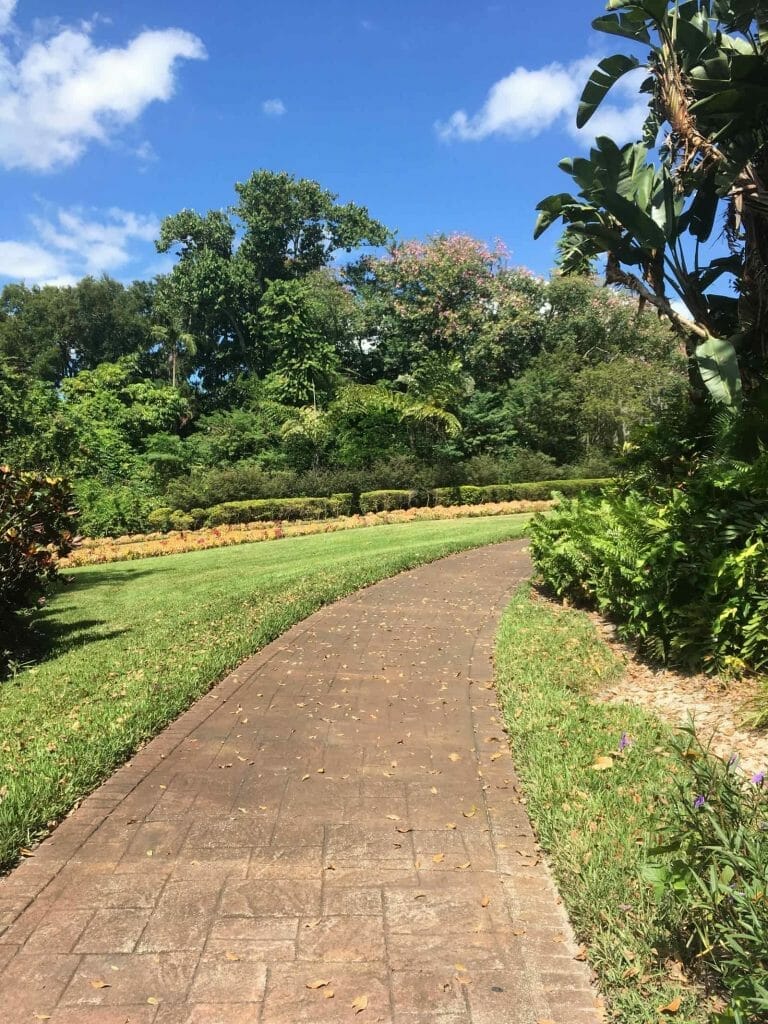 18. Kraft Azalea Garden
If you're around Maitland, perhaps at the RDV Sportsplex Ice Den, don't forget to stop by Kraft Azalea Garden.
Here, you'll find a large banyan tree, relaxing trails, and lots of old Florida charm.
Enjoy the cypress trees, sit on a bench and watch the world go by, or check out the Exedra Monument which is the focal point of the garden.
With 50 acres of botanic gardens, Leu Gardens is understandably one of the most popular things to do in Orlando, but did you know that it is free select days of the year?
Check the website ahead of time to see if any free days are coming up for your trip, and enjoy the gorgeous manicured gardens, blooming plants, and fresh air in the Florida sunshine.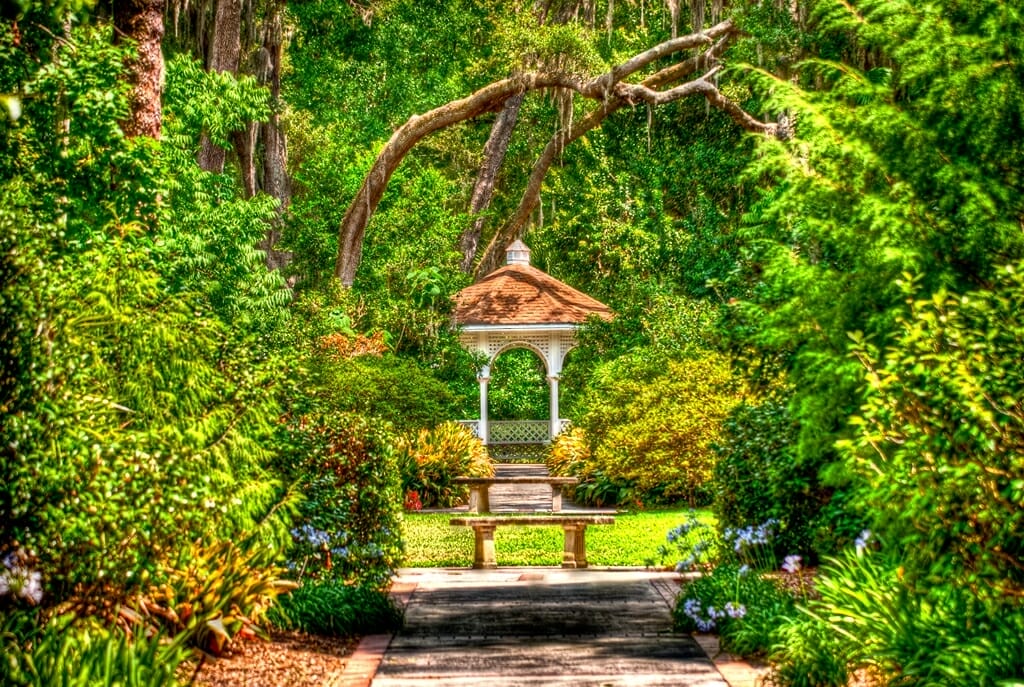 Free Things to Do in Orlando for Adults
You don't have to be a kid to find the fun in Orlando.
Here are some more adult-friendly things to do in Orlando, including brewing tours, cemetery experiences, and sophisticated art museums.
20. Disney Resort Hopping
Whether you're looking for Orlando birthday ideas or just have a Disney-loving friend in tow, you can do endless amounts of Disney resort hopping for free using Disney transportation.
Take the Disney Skyliner from Epcot or Hollywood Studios to Caribbean Beach or over to Disney's Beach and Yacht club, or take the monorail between the Magic Kingdom resorts like Disney's Polynesian Resort and Disney's Grand Floridian.
And if you're really looking for a challenge, try the Disney resort hopping challenge where you visit every Disney resort in one day!
It is also free to park at a Disney resort for a couple of hours if you want to visit as a day guest, so you can take your own transportation if you want.
21. Winter Park Farmer's Market
Held at the old Winter Park train depot, the Winter Park Farmer's Market every Saturday, the Winter Park Farmer's Market is another weekend option for an adult-friendly free thing to do near Orlando.
Wander around the picturesque venue and talk to the local vendors, or just pick a spot for people watching and to soak in the community atmosphere.
Smaller than the Orlando Farmer's Market, this farmer's market truly values the local vendors and the quality that makes Winter Park special.
22. Greenwood Cemetery
Okay, this is definitely one of the most unique things to do in Orlando for free!
Greenwood Cemetery is a vast cemetery in Orlando that acts as the final resting place for many iconic residents, and you can go on a free tour of it if you book in advance.
Take a chance to see a hidden side of Orlando that most people don't see, as well as marvel in the beauty that can be found in a cemetery.
23. Charles Hosmer Morse Museum of American Art (Select Nights)
Located in Winter Park, this gorgeous museum has an expansive collection of Tiffany artifacts, plenty of American art from around the country, and a unique story in how it got started.
Typically, it is a paid experience, but they often do free nights or days depending on the month, so keep an eye on the schedule.
This brewing company brews organic beer in accordance with the German Purity Law, which means they are only brewed with four ingredients and no additives.
Interested visitors can take a free brewery tour on select days to see how the process works and get a behind-the-scenes glimpse at these "Fresh from Florida" beers.
This is one of the best things to do in Florida for beer lovers and adults!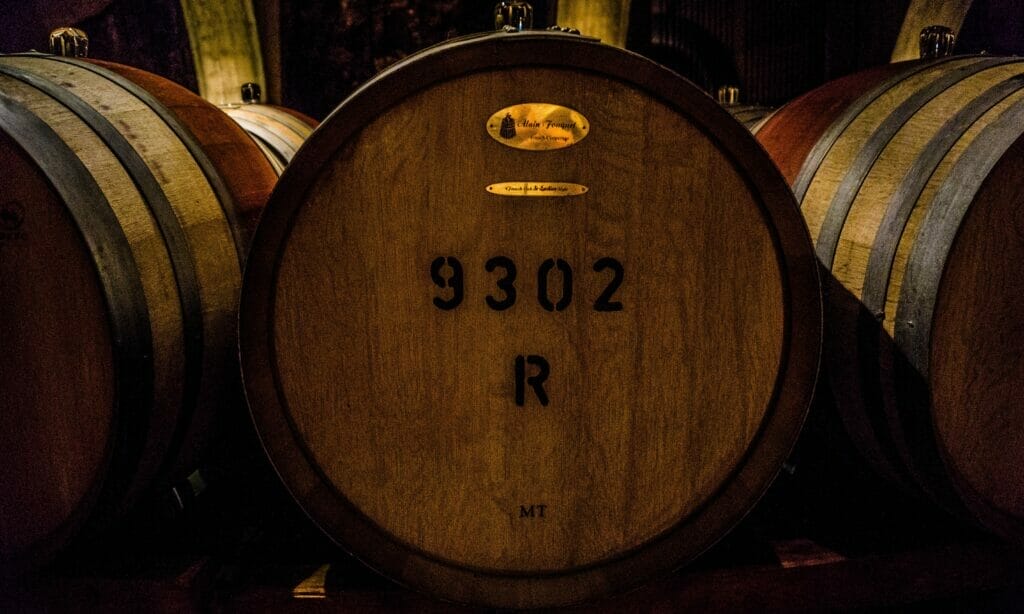 25. Free Day Trips from Orlando
While I've only covered the free things to do in or near Orlando, don't forget the options for free Orlando day trips!
Taking a drive to somewhere like Cocoa Beach or Daytona Beach costs absolutely nothing except the cost of gas, or you could have a free historic day out wandering the streets of St. Augustine.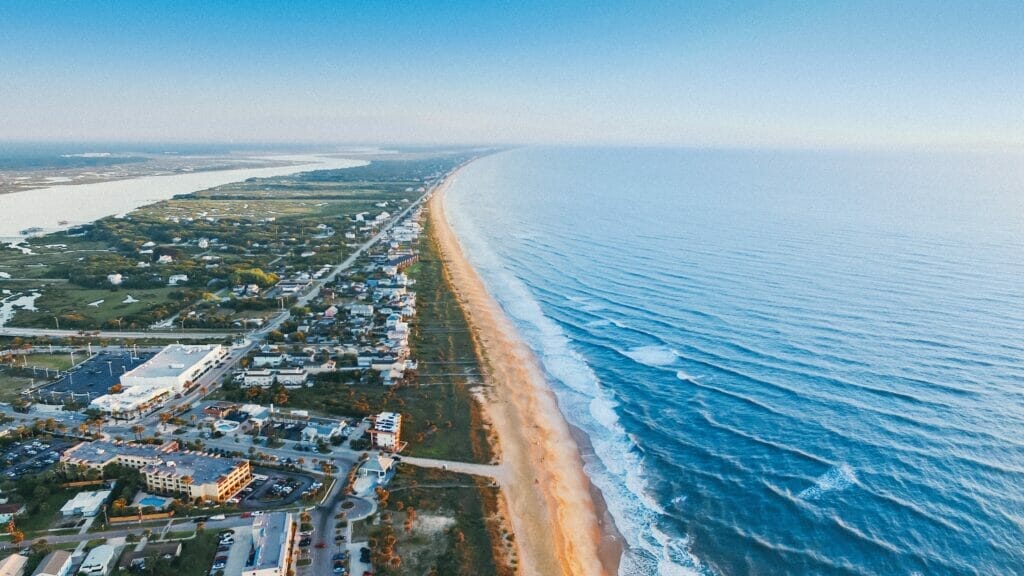 What else should I not miss in Orlando?
If you're visiting Orlando soon, here's a very brief rundown of a few of my other favorites to make sure you don't miss anything!
Hey! Want more Orlando content? Check out these guides!
Get the All-American Travel Secrets!
Don't miss out on America's hidden gems!