There are a lot of Disney World challenges going around.
From the four parks in a day challenge to the SIX parks in a day challenge where you start at Disney World and do all four parks and then take a flight to Disneyland and do both parks there.
But we've come up with the ultimate Disney resort lover challenge, the Disney Resort Hopping Itinerary of 2023 (all resorts in one day!) which sounds a little crazy, but is a ton of fun and a full day's worth of activity and memories.
Grab your cutest Disney backpack like this Minnie Mouse one, put on your Hakuna Matata shirt , fill up your Disney reusable water bottle and let's get going!
I also love making it a "thing" by wearing resort-hopping shirts like these ones that come in different colors.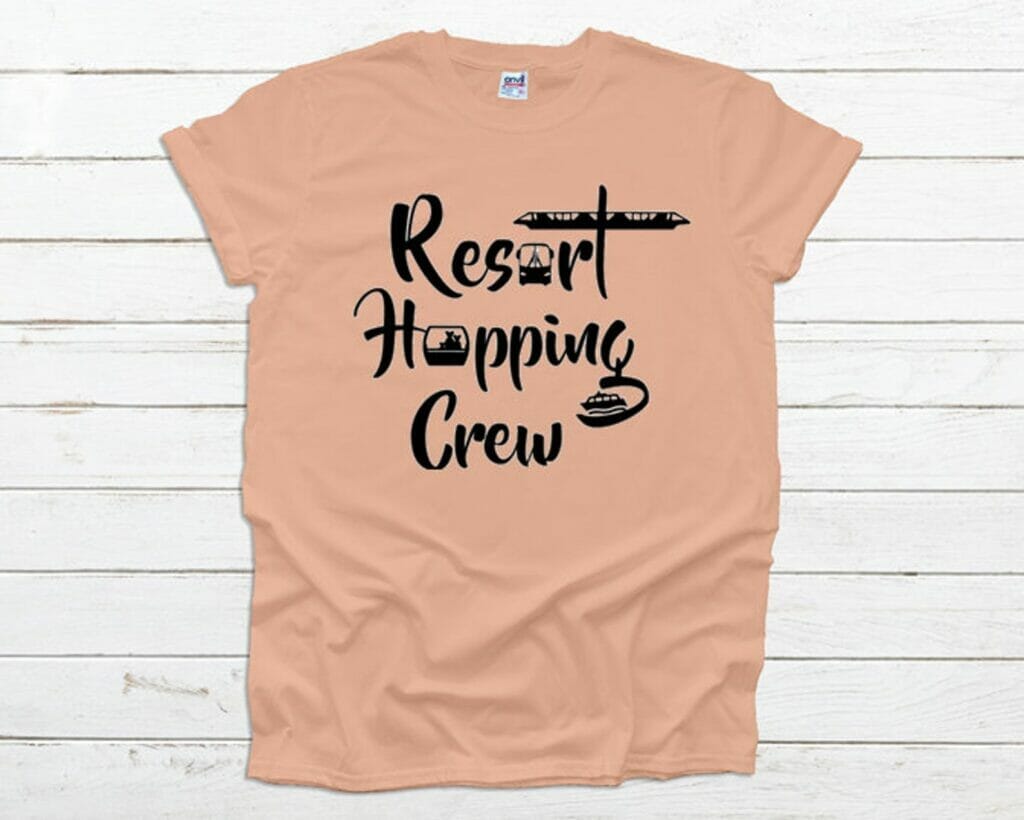 What is the Disney World Resort Hopping Challenge?
The name of the game is Disney resort hopping – to get to the lobby of every Disney World resort in one day only using Disney World transportation.
Currently there are 21 in total, and 23 if you include the Swan and Dolphin (which aren't technically Disney resorts but we included them because they're so easy to get to while doing the other Crescent Lake resorts).
You can use Disney buses, the Skyliner, your own two feet, the monorail, and boats.
You cannot use an Uber, Lyft, or Minnie Van.
The challenge comes because, well, 21 is a lot of resorts to visit in one day!
If you're hoping to embrace your competitive side even more, you can set yourself a time limit to complete the challenge, or you can just see if you can even hit all 21 in one day (it was a struggle at the end, let me tell you!)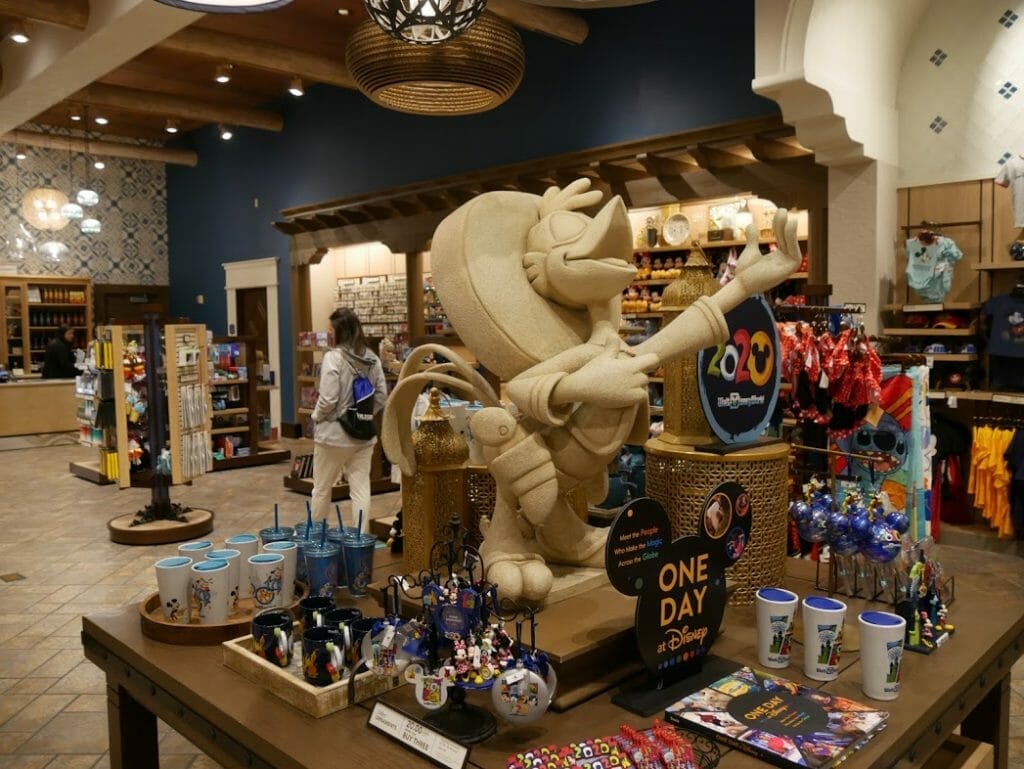 You can also set your own mini challenge when it comes to what you do at each resort.
For us, it was to take a picture in each lobby (or wherever the check-in desks were if it was a spread out resort).
You might try getting a snack at each place, buying a resort-specific souvenir at each place, taking a photo with a cast member at each place, etc.
This challenge is perfect for people who have "done it all" at Disney and want something new to try, or if you're planning some team bonding activities where you can do an "Amazing Race" style day and see who can do it fastest.
Which Disney Resorts are Included in the Resort Hopper Challenge?
The list of resorts we have included in the challenge are below.
The official challenge includes 21 resorts, but you can do the bonus 2 at the Swan and Dolphin, and if you're really into it, you could add Shades of Green.
We didn't include Shades of Green as you're not able to book it unless you're a military family and we only wanted resorts you could book through the Disney website and that had regular Disney buses and transportation to them.
Deluxe or DVC Resorts:
Wilderness Lodge
Grand Floridian
Contemporary
Boardwalk
Beach Club
Yacht Club
Polynesian
Saratoga Springs
Old Key West
Riviera
Animal Kingdom Lodge
Moderate Resorts:
Port Orleans French Quarter
Port Orleans Riverside
Coronado Springs
Fort Wilderness Cabins (and Campgrounds we're including as one with Fort Wilderness)
Caribbean Beach
Value Resorts:
All-Star Movies
All-Star Sports
All-Star Music
Art of Animation
Pop Century
Our Experience with the Disney Resort Hopper Challenge
Now that you know the ground rules, make sure to tag us on Facebook or send us an email at allamericanatlas@gmail.com when you complete the challenge – we'd love to see your pictures!
And without further ado, here is our experience with this challenge so you can see how we did and laugh (and cry) along with us.
Part of the challenge is coming up with the best way to get around to each resort while saving the most amount of time.
Our itinerary was planned by my aunt who did an awesome job, but you can also shake it up depending on where you want to start and end up.
Challenge Start
We started at Disney Springs, since you can park for free and, conveniently, there are Disney Springs area resorts that were on our list!
It wasn't until a bit after 10 that we began, but it was still quiet in Disney Springs as we first made our way through.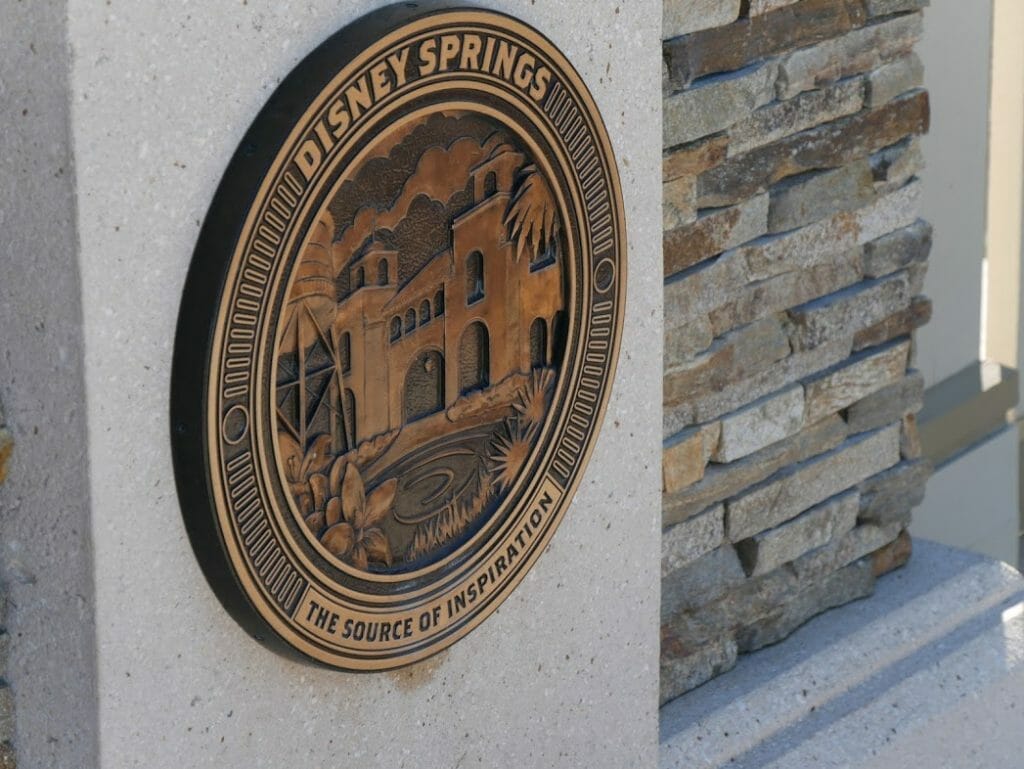 Stop 1: Saratoga Springs Resort
We first started by walking across the Disney Springs bridge to Saratoga Springs Resort.
It was a beautiful and peaceful walk, but the problem came when we realized that our challenge was to get to the lobby, which was even longer of a trek from the start of the resort area than we had hoped.
After walking around and getting lost for a bit (losing precious time!), we found the lobby and so it began!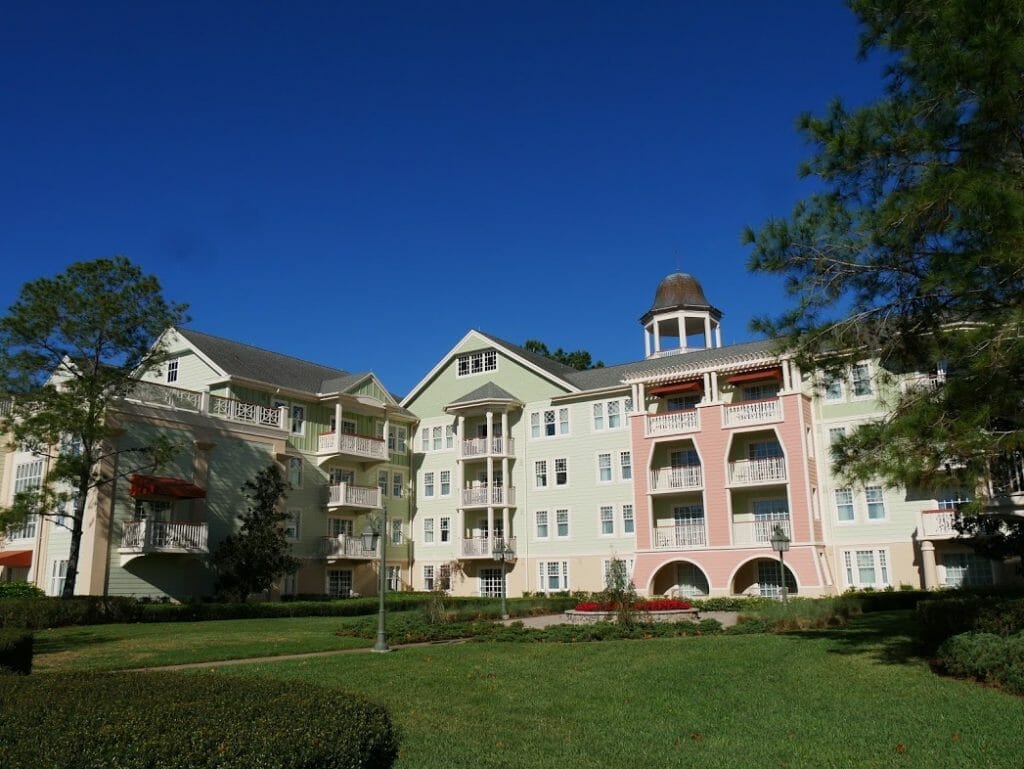 Stop 2: Old Key West Resort
From Saratoga Springs, we chose the walking path to Old Key West which took us right through a golf course and a golf tournament.
Once we figured out the walking path, it wasn't too long until we were in the lobby of this gorgeous DVC resort.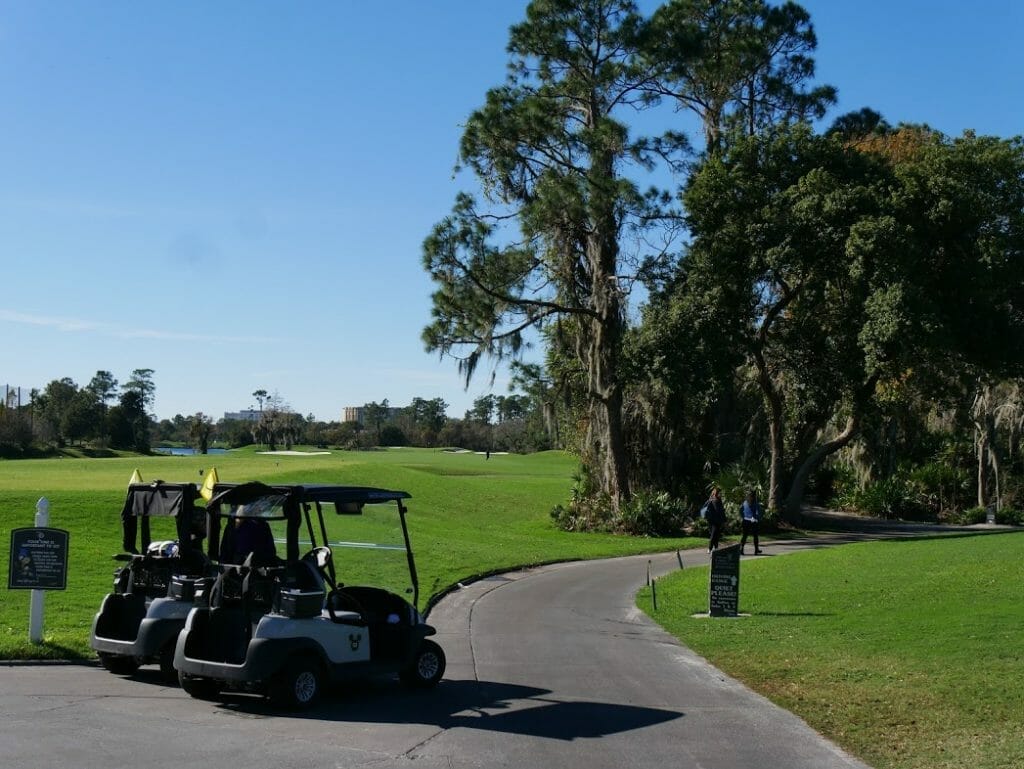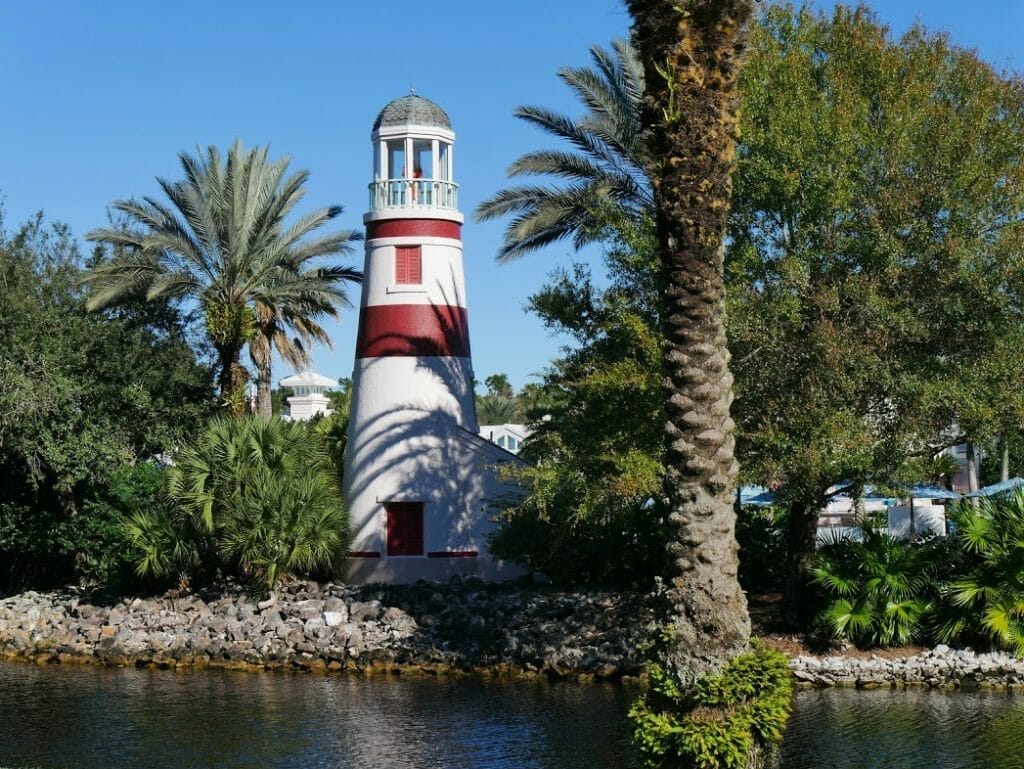 From Old Key West, the idea was to take the boat back to Disney Springs as we needed to head there to then get to the Port Orleans resort, but it wasn't to be.
One had just left, and we didn't want to wait the 20 minutes for another one, so we saw a bus to Disney Springs coming and hopped on that.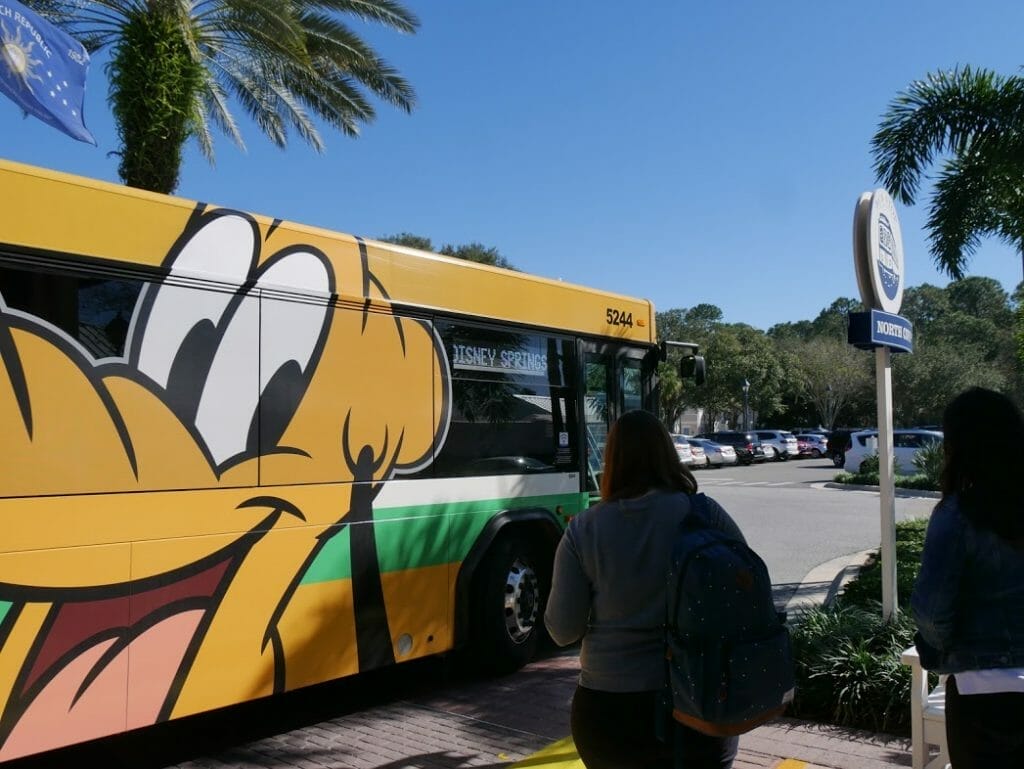 In hindsight, the boat probably would have been better as it would have dropped us off closer to the boat to Port Orleans instead of on the opposite side of Disney Springs, but we were frantic and in the middle of an epic challenge and so we went with our gut.
Finally, we got off at the bus stop, ran through Disney Springs to catch the Port Orleans boat, and were on our way on the 20 minute boat ride to these awesome resorts.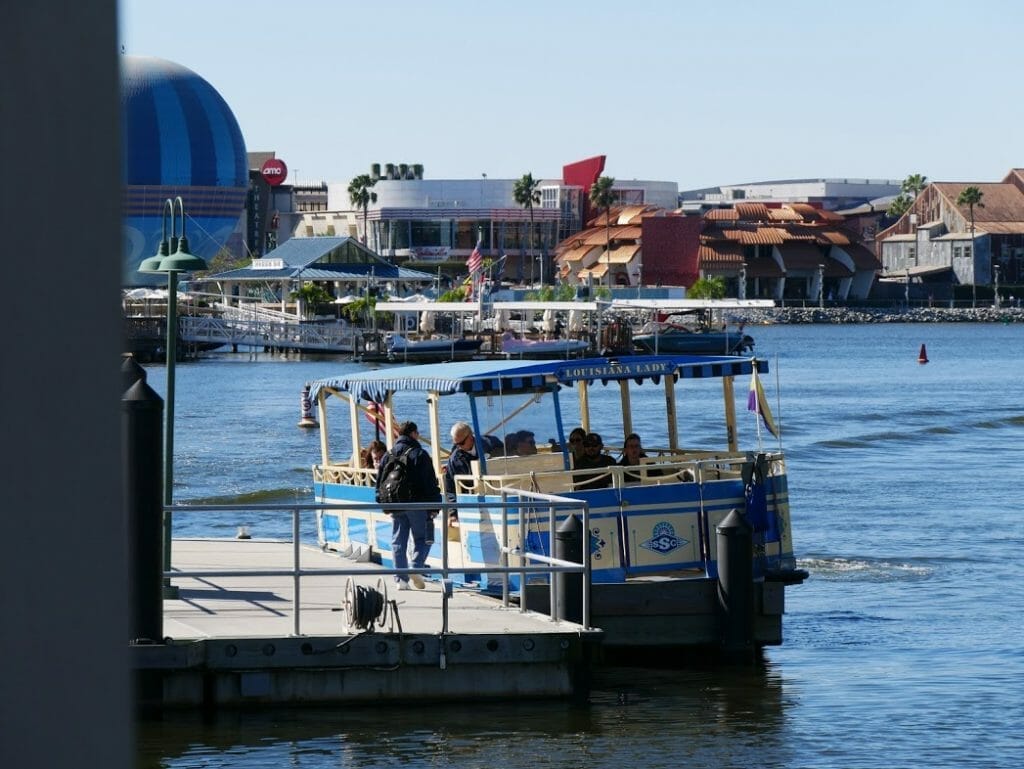 Honestly, this was the most relaxing part of the day for me, as it's about to get hectic!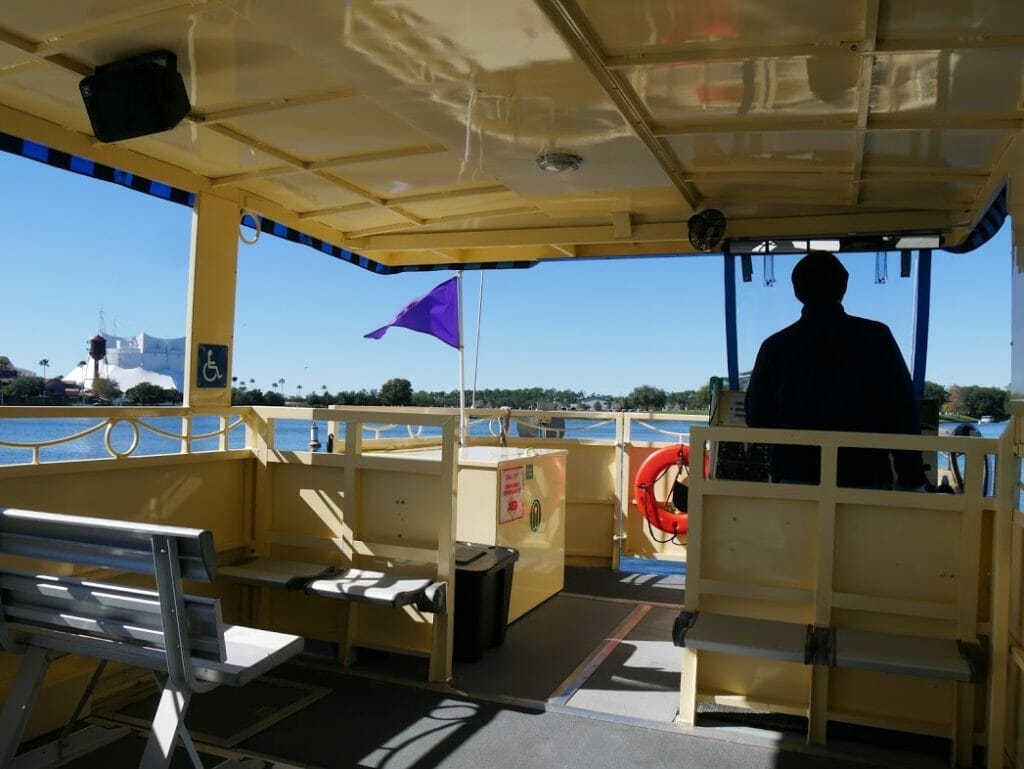 We lost some time here as we decided to try our first beignets, but we were so thrilled to be stuffing our faces with fried dough that we didn't mind.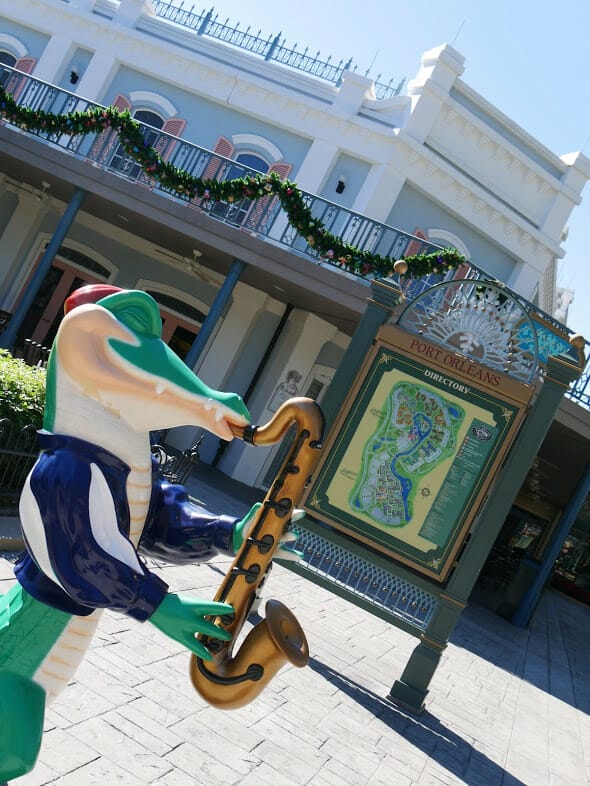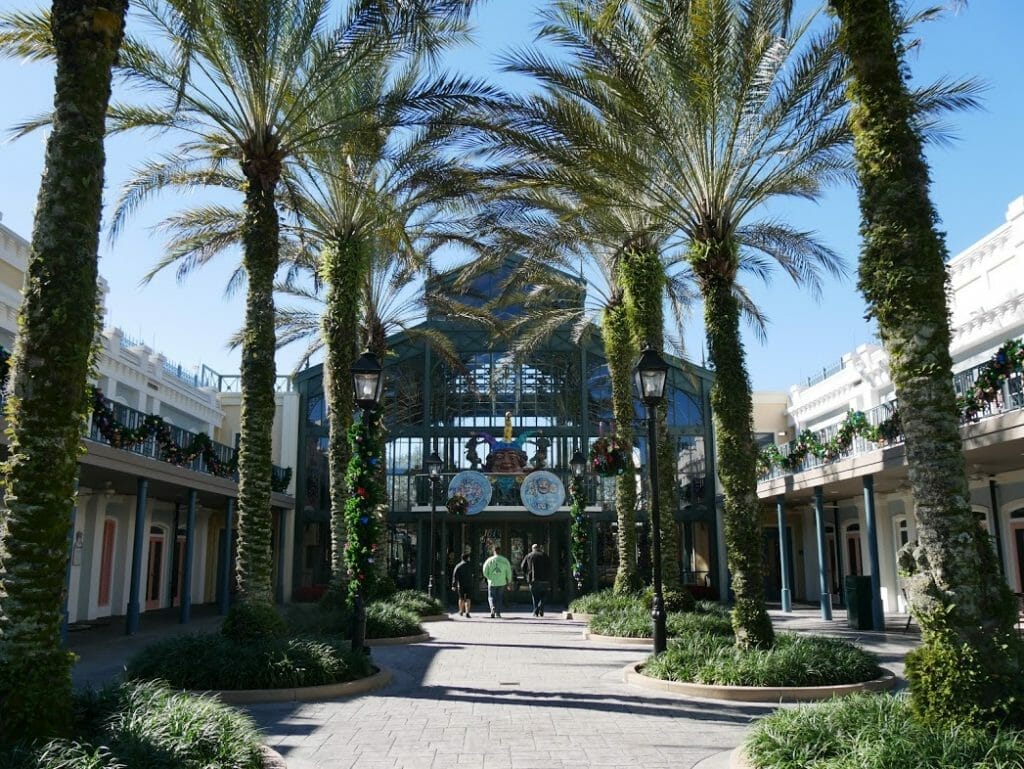 Stop 4: Port Orleans Riverside
From French Quarter, we took the walkway to Port Orleans Riverside (read our full review of Port Orleans Riverside) and were there pretty quickly.
It was off to the lobby to take the picture, and then back to the Port Orleans Riverside boat launch back to Disney Springs.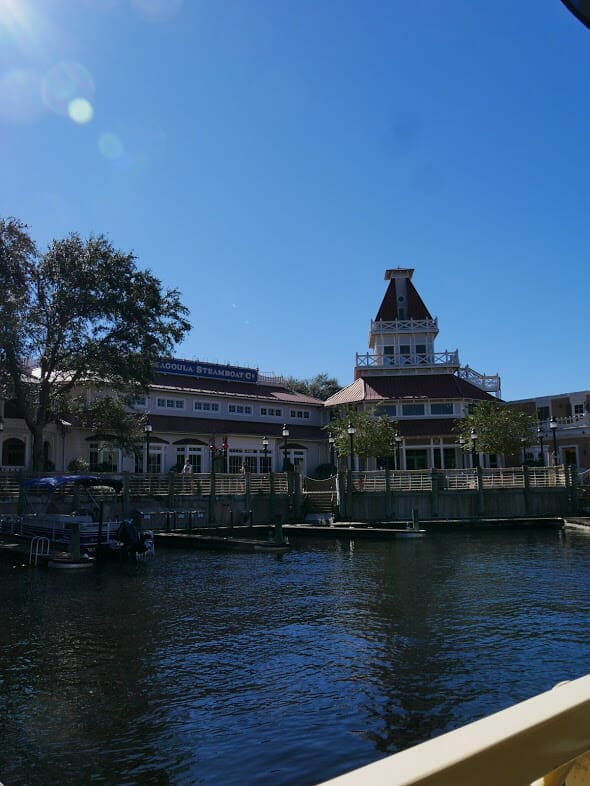 Stop 5: Fort Wilderness Campgrounds and Cabins
Once we got back to Disney Springs, we headed over to the bus stop and waited what seemed like an eternity for a bus to Fort Wilderness Campgrounds.
There are multiple stops on these buses, but as we were trying to get to the check-in area, we needed the "Outpost" stop.
Once the bus finally arrived, we got off, ran to the lobby building, took a picture, and raced back to see a bus waiting for us to get to stop 6!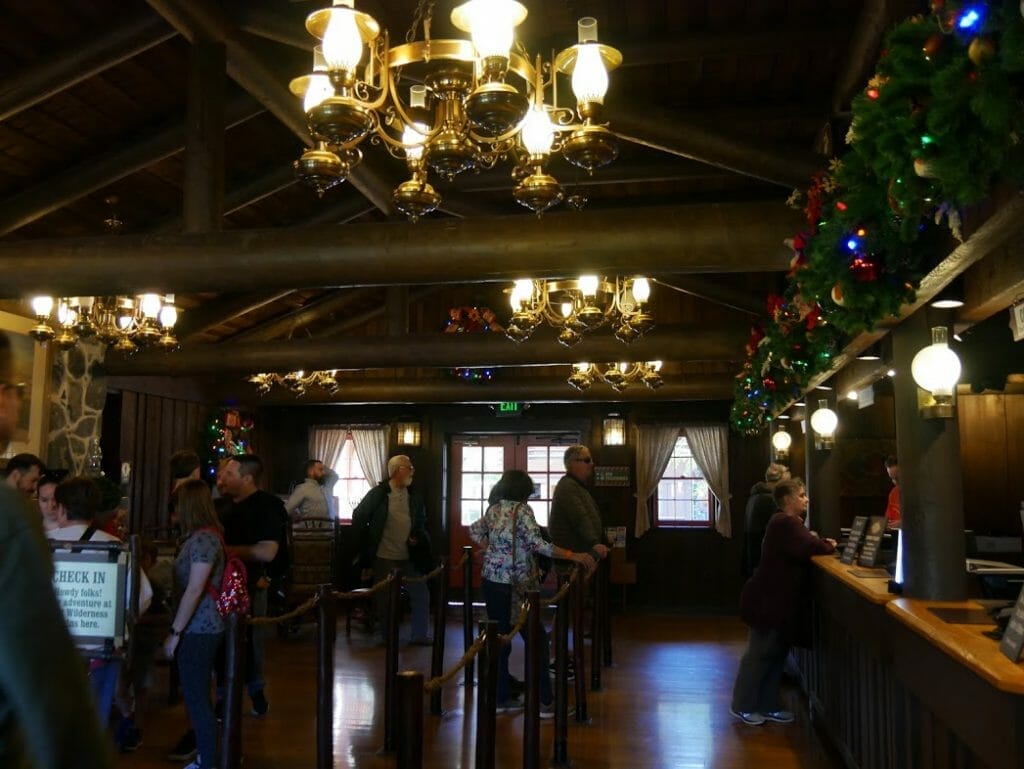 Stop 6: Wilderness Lodge
The bus from Fort Wilderness only took a couple of minutes and the dropped us off at the beautiful and gorgeous Wilderness Lodge.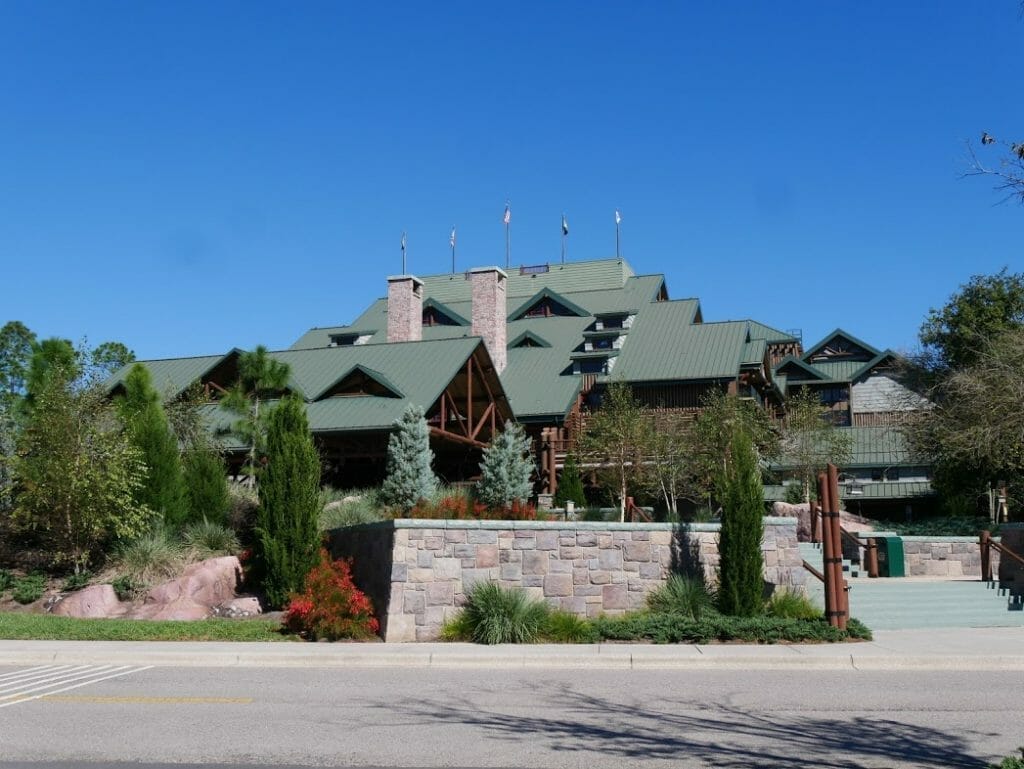 This is one of my favorite resorts and I was sad we couldn't stay for longer, but a crazy challenge had to be done!
If you want the full review of Wilderness Lodge, we've got that too!
Stop 7: Disney's Contemporary Resort
From the Wilderness Lodge, we walked out back and to the boat launch to take a boat to the Contemporary.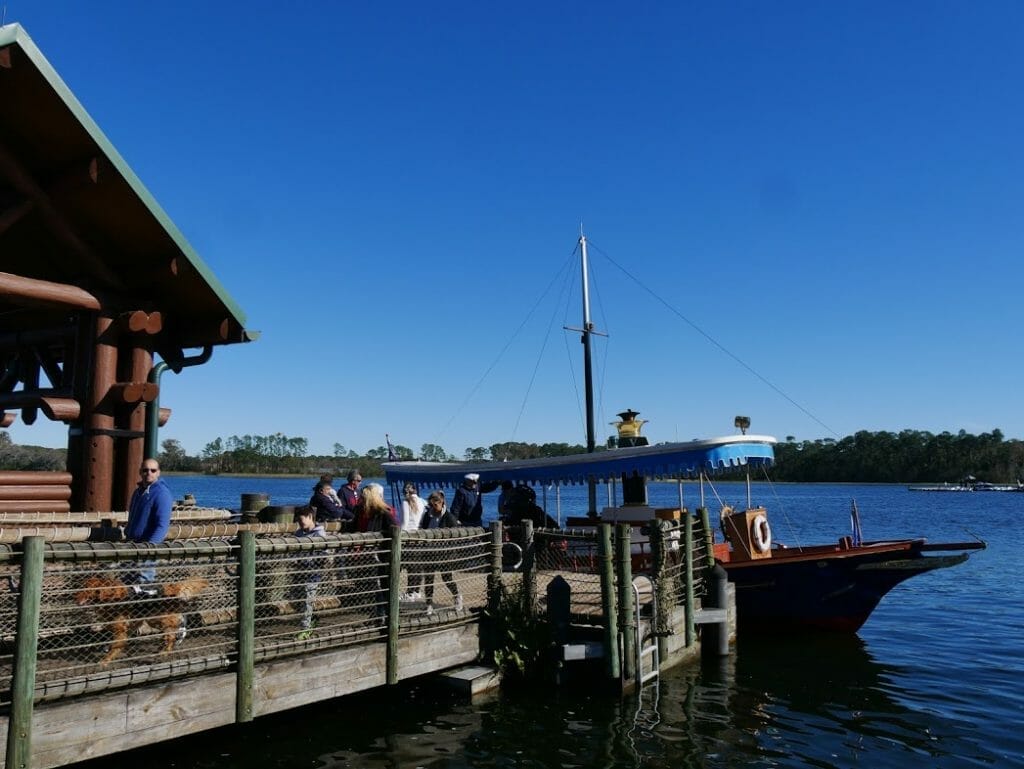 Unfortunately, we managed to hit it at a time when the boat to the Contemporary was first stopping at Fort Wilderness, so we went back on ourselves a bit before reaching our next destination.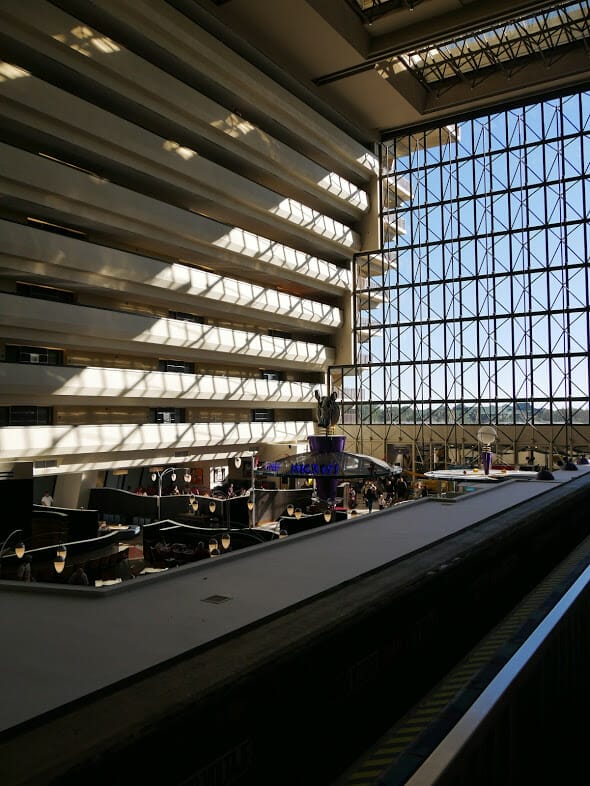 Stop 8: Disney's Polynesian Resort
From the Contemporary, it was an easy jump onto the monorail (which is located a few floors above the check-in desks) to the next stop.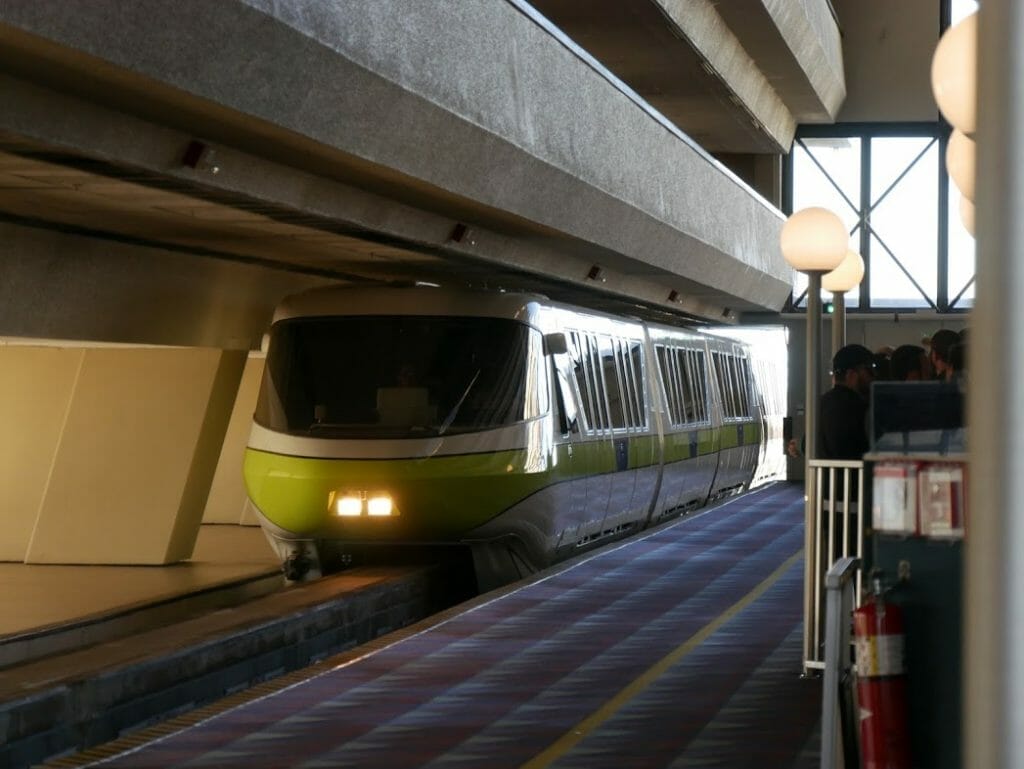 This was one of the easiest of the day, as the Magic Kingdom area resorts seemed to be flying by due to how close they are to each other.
It was this speed that was giving me hope that we might actually finish, though we still had a LOT of resorts to go!
Stop 9: Grand Floridian
From the Polynesian, the shortest way to us seemed to be to walk to the Grand Floridian, which meant we didn't have to wait for any boats and just used our own two feet to enjoy the views.
We did end up stopping for a quick service lunch at the Grand Floridian as we were starving and hadn't packed lunch.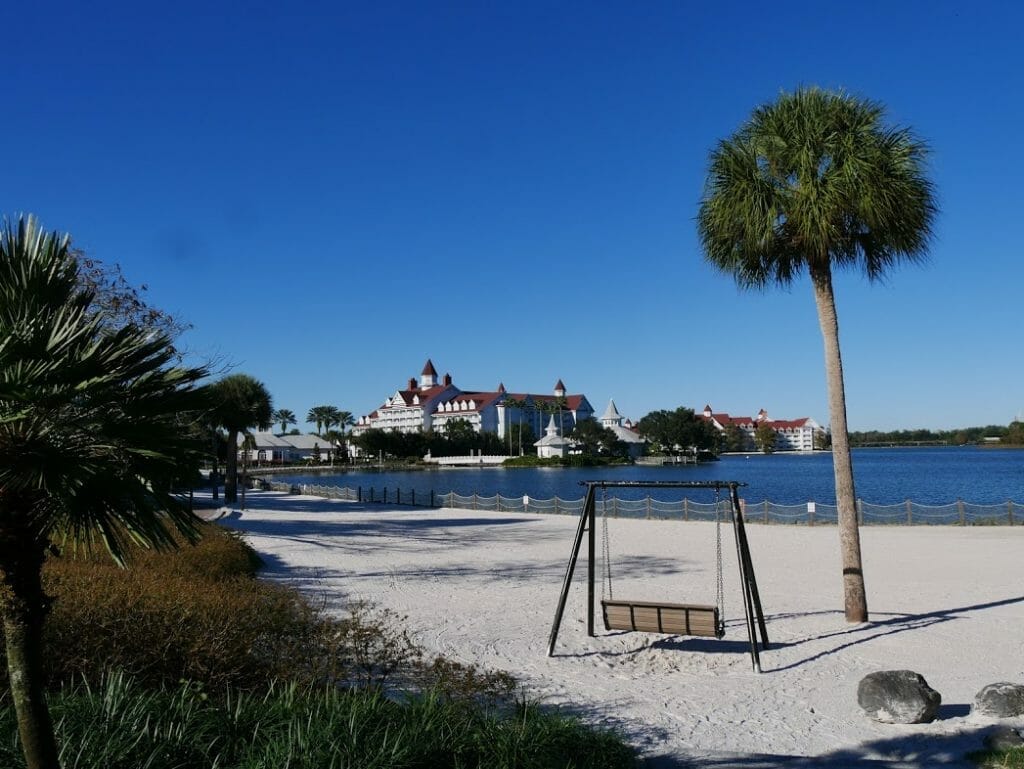 We knew this would mean our time would be stretched out, but if we were going to finish the second half, we needed some fuel.
The Disney Springs resorts took it out of us, and from the Grand, we had some not-so-fun transfers coming up.
These resort hops would be a really fun idea at the holidays, as the Grand Floridian at Christmas is truly a sight to see.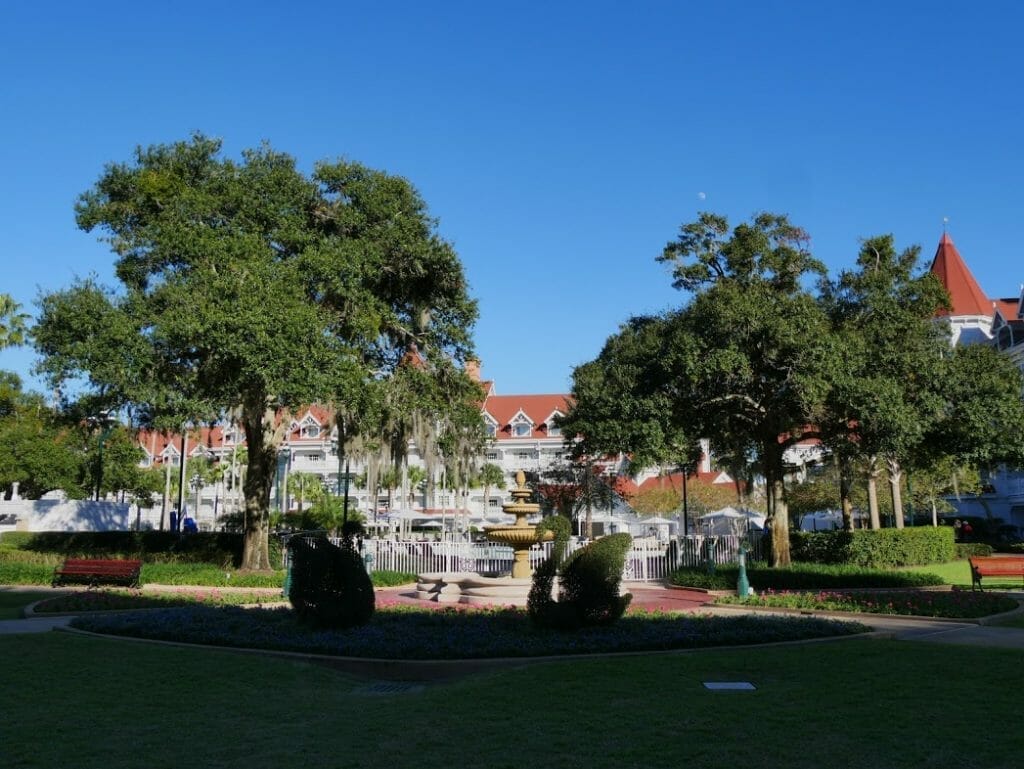 Stop 10: Animal Kingdom Lodge
In one of the more frustrating transfers of the trip, we had to take the boat from the Grand Floridian to the Magic Kingdom.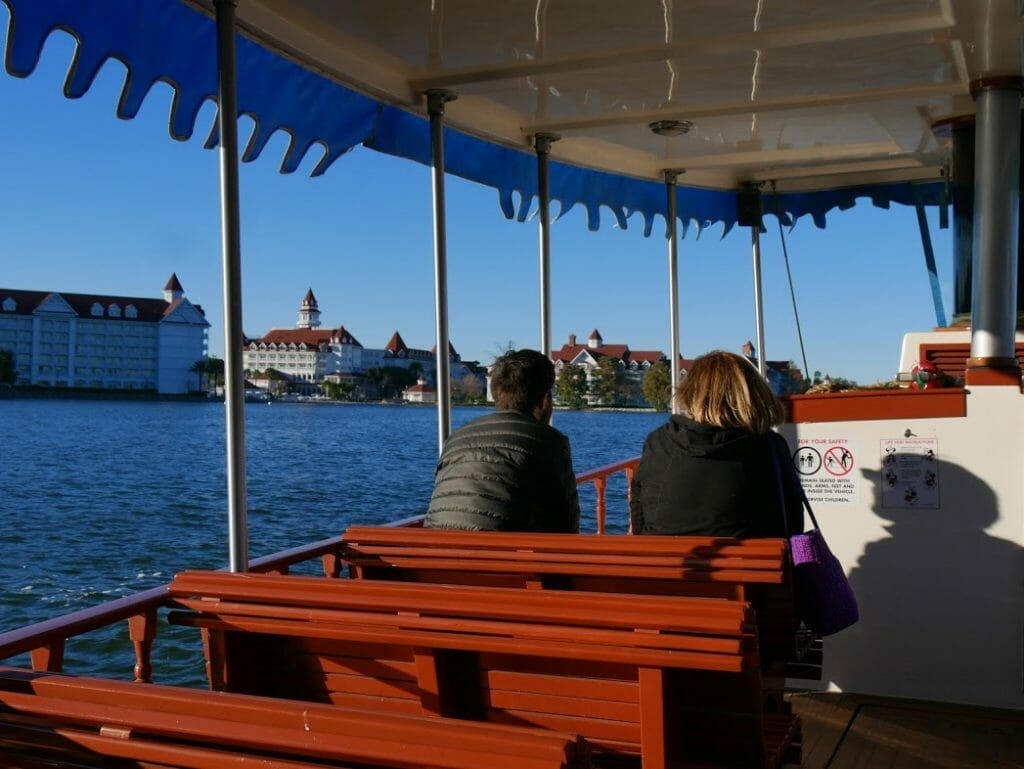 From there, we walked to the bus stop and waited for the bus to Animal Kingdom Lodge.
This also seemed to take forever, but finally we got there and RACED in to take a picture and RACED back out because…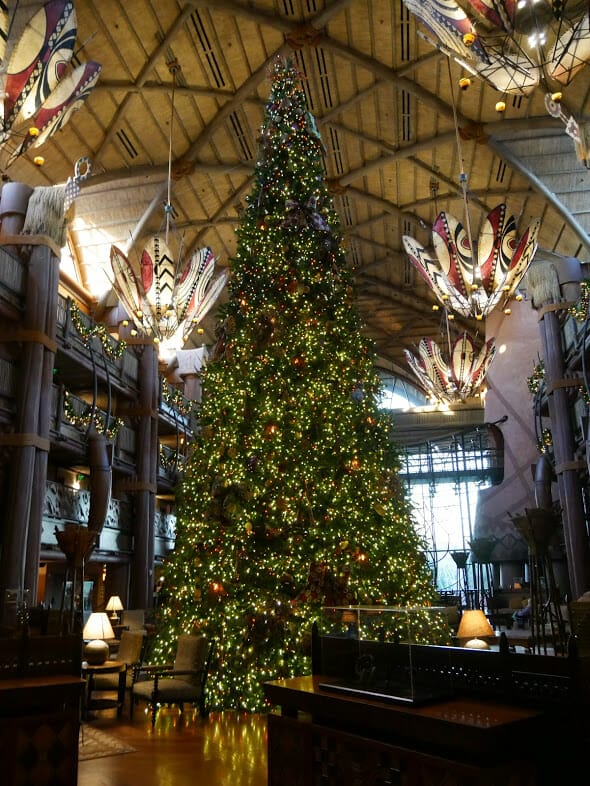 Stop 11: All-Star Movies Resort
We saw a bus from Animal Kingdom Lodge to Animal Kingdom pulling up as we were getting off.
We needed to get on that bus to get to Animal Kingdom so that we could transfer buses to All-Star Movies, and we ran and made the Animal Kingdom Lodge cast member think we were crazy, but we did it!
We got off the bus at All-Star Movies Resort and celebrated. By this point, we were losing the light in the day with quite a few stops left.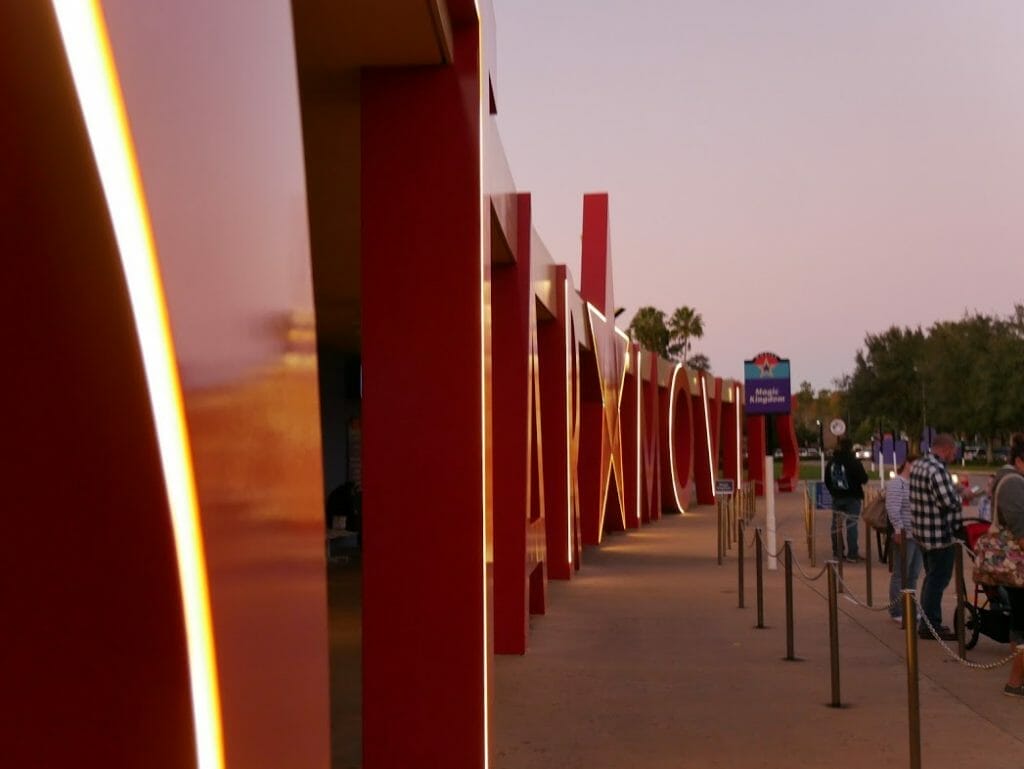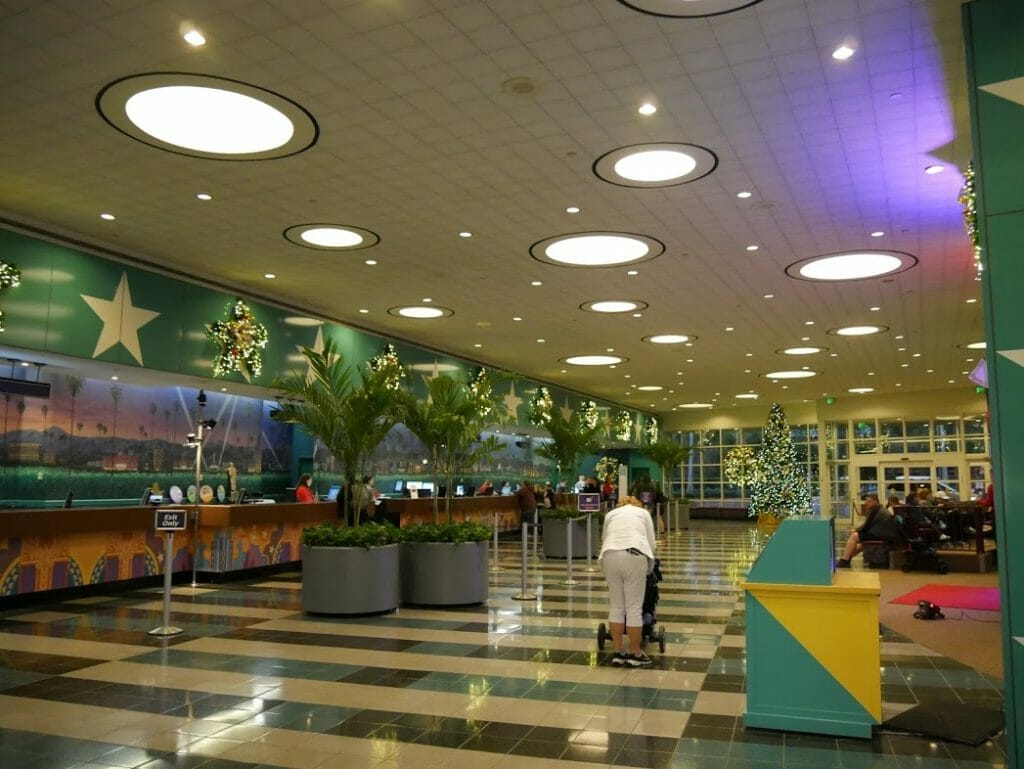 Stop 12: All-Star Music Resort
We walked from All-Star Movies to All-Star Music Resort, which took no time at all.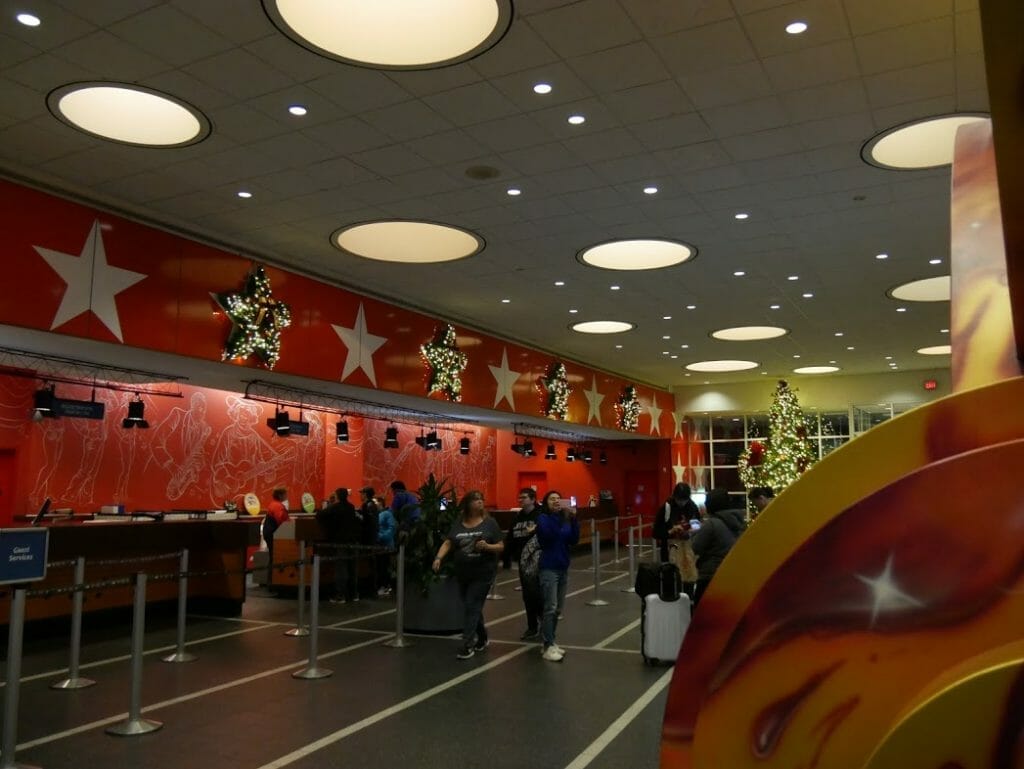 Stop 13: All-Star Sports Resort
We also walked to All-Star Sports Resort, which again, is very close and we were there in no time.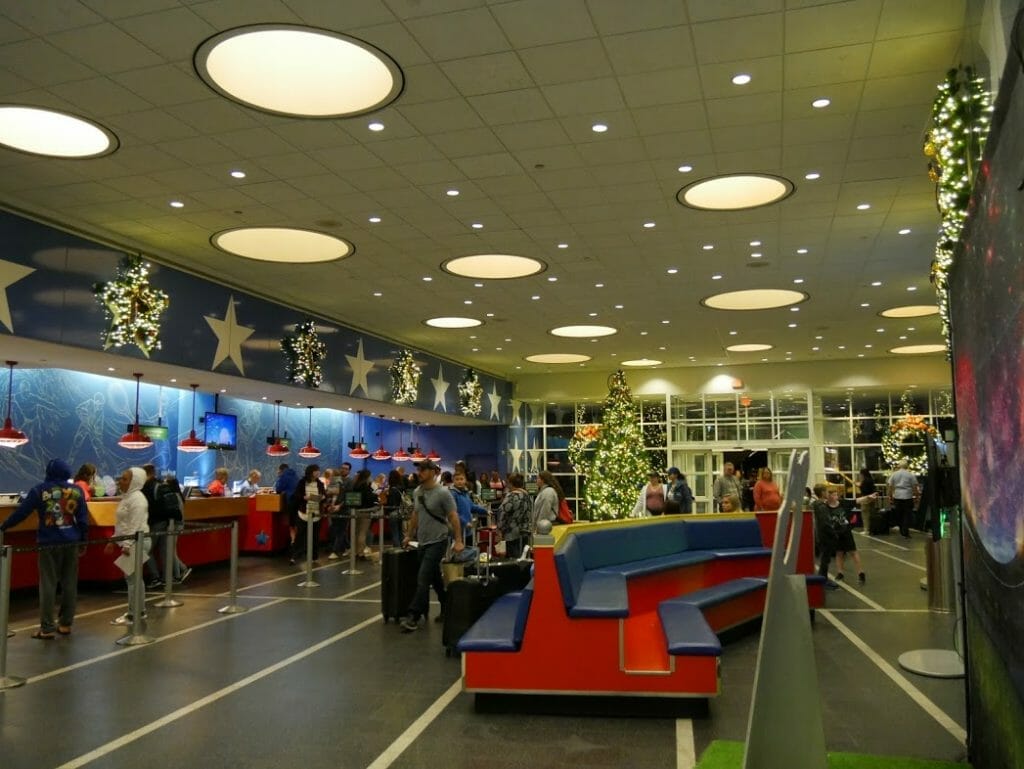 From there, we went out to the buses and waited for a bus to Disney's Hollywood Studios or Animal Kingdom.
Stop 14: Coronado Springs Resort
The bus to Animal Kingdom came first, so we jumped on that one and once at Animal Kingdom, transferred again to Coronado Springs Resort.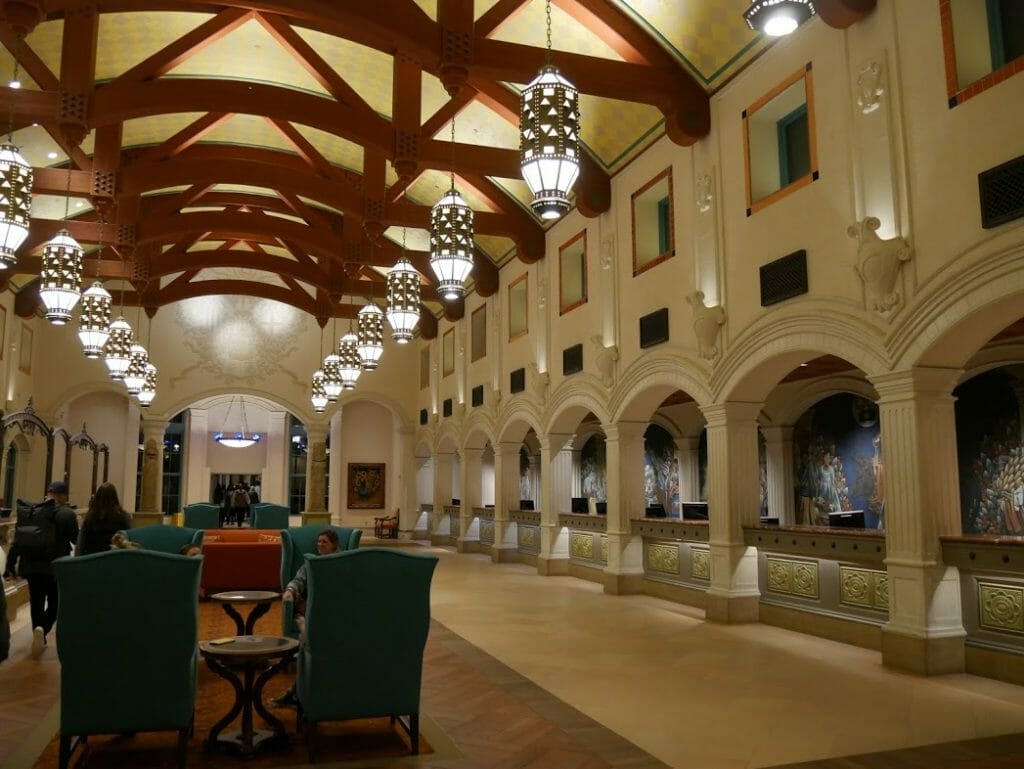 There is a way to walk from the All-Stars to Coronado, but we had lost the light.
If you did this earlier in the day, you may choose to do that instead, though I do think we were able to transfer to Coronado quicker than you can walk.
The one thing about taking the bus to Coronado was that, as it's a large Moderate resort, it has multiple bus stops.
The one for the lobby was the last stop.
Stop 15: Art of Animation
Once we were finished at Coronado Springs, we took the bus to Hollywood Studios and from here were SO relieved it was time for the Skyliner.
Finishing the challenge with the Skyliner was the way to go, as there is no way we would have been up for the earlier walking and boat transferring at this point.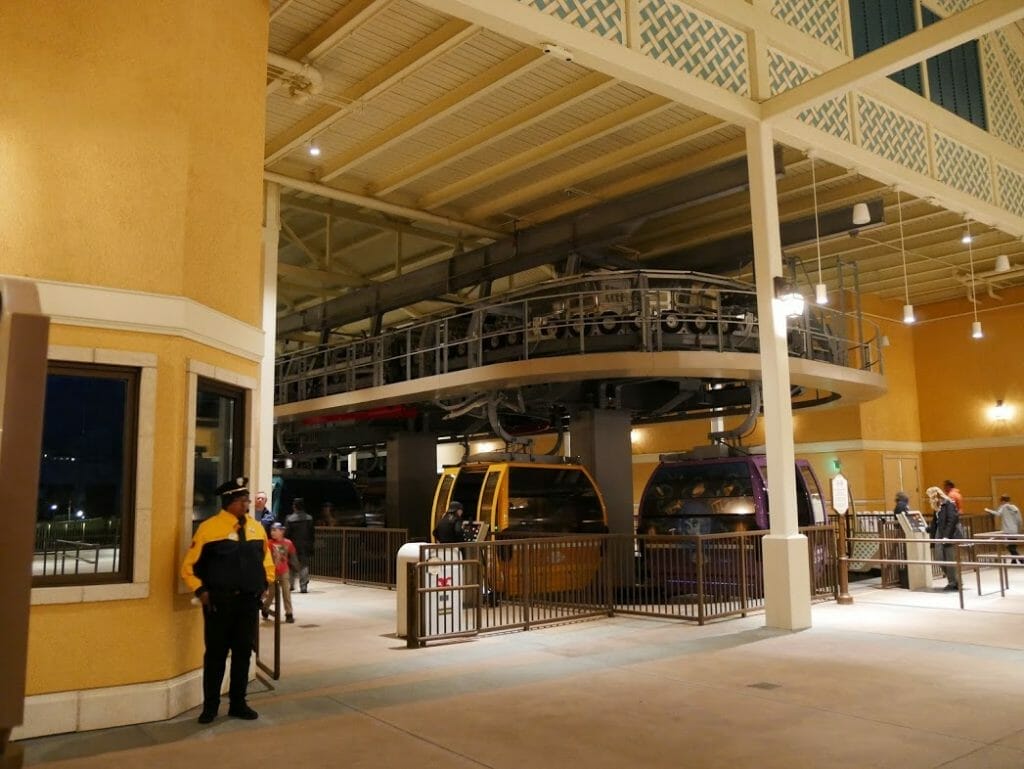 We took the Skyliner from Hollywood Studios to the main hub, but immediately got on the line to Art of Animation and Pop Century.
Art of Animation was first on our list (here is the full Art of Animation review if you're interested in staying there).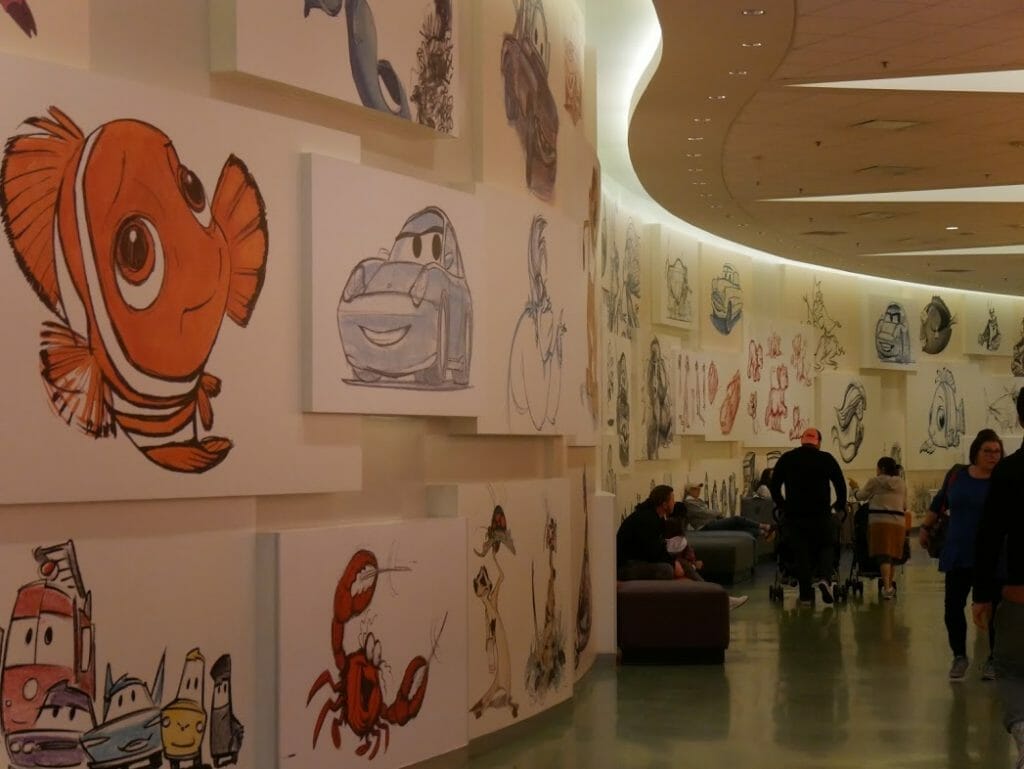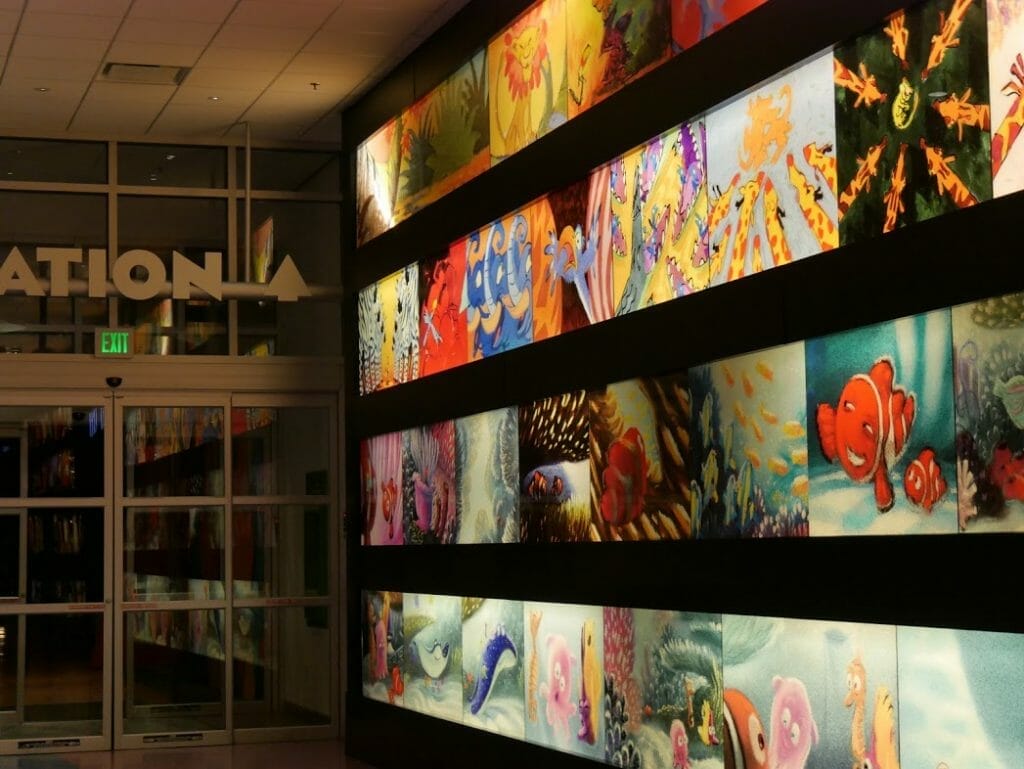 Stop 16: Pop Century
From Art of Animation, we walked over to Pop Century and then back to the Skyliner to take it back to the main hub.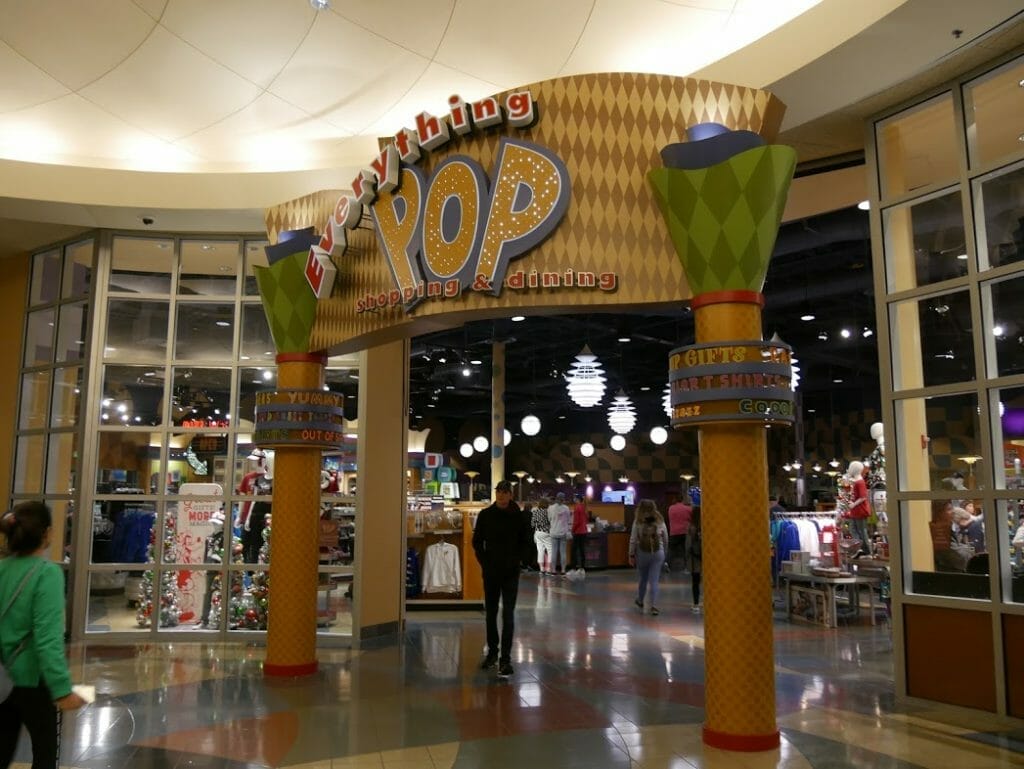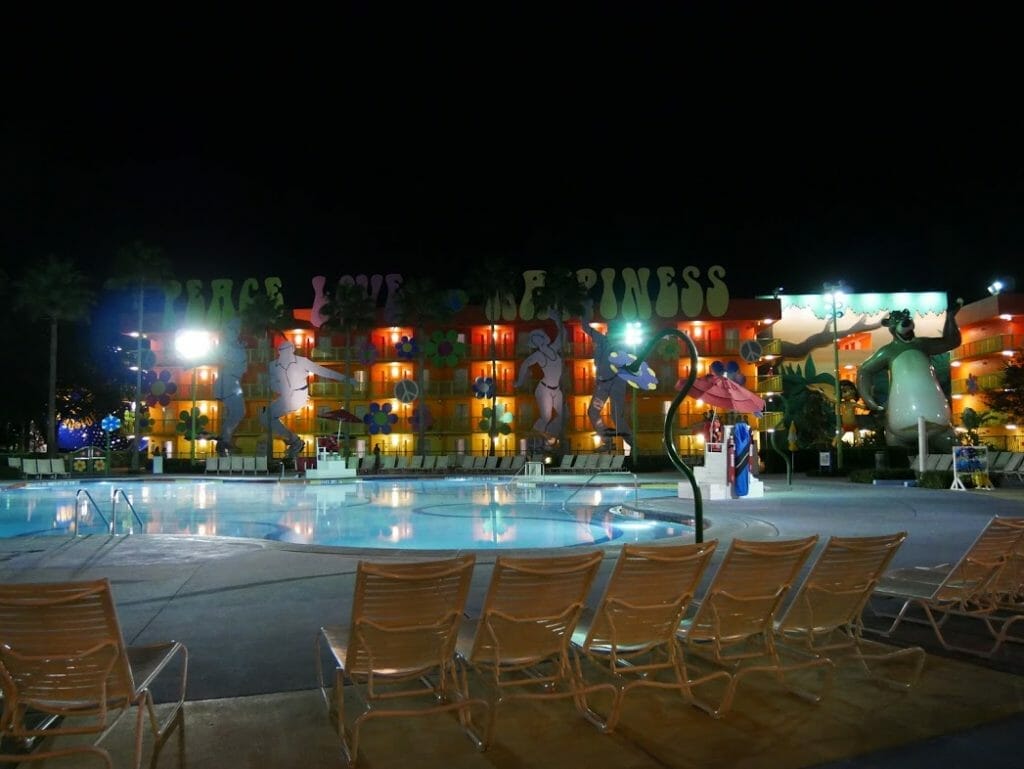 Stop 17: Caribbean Beach
Once we got off the Skyliner at the main hub, we walked to the lobby of Caribbean Beach.
It was a short walk, though pay attention to signs as Caribbean Beach is also a large moderate resort so easy to get lost.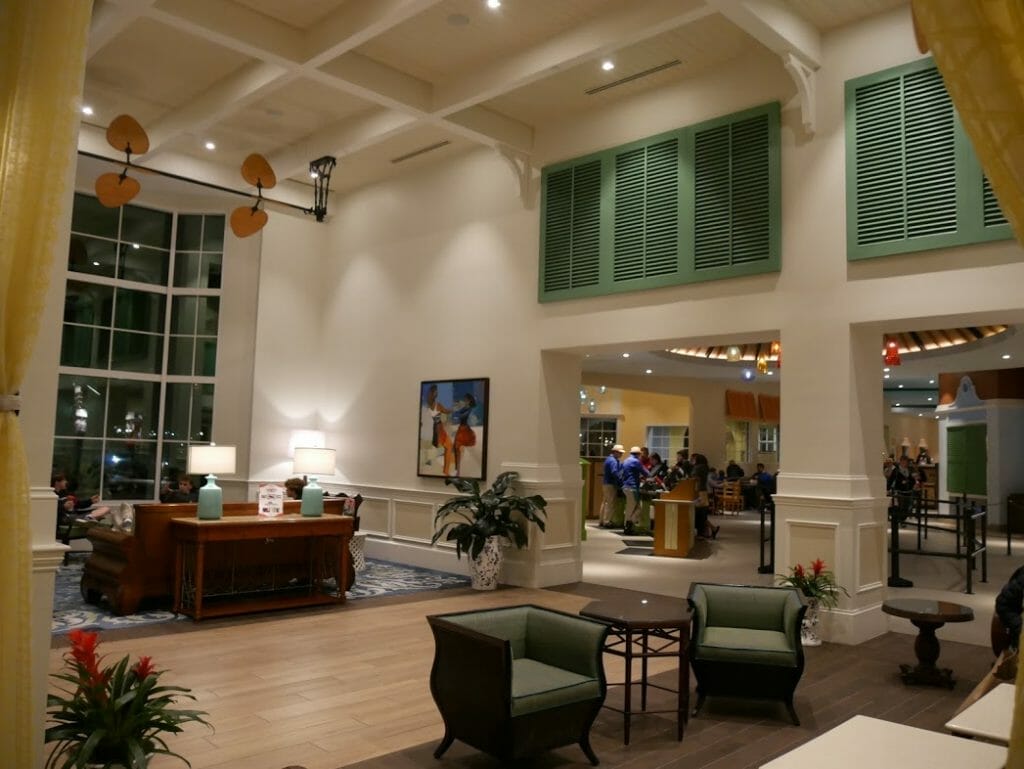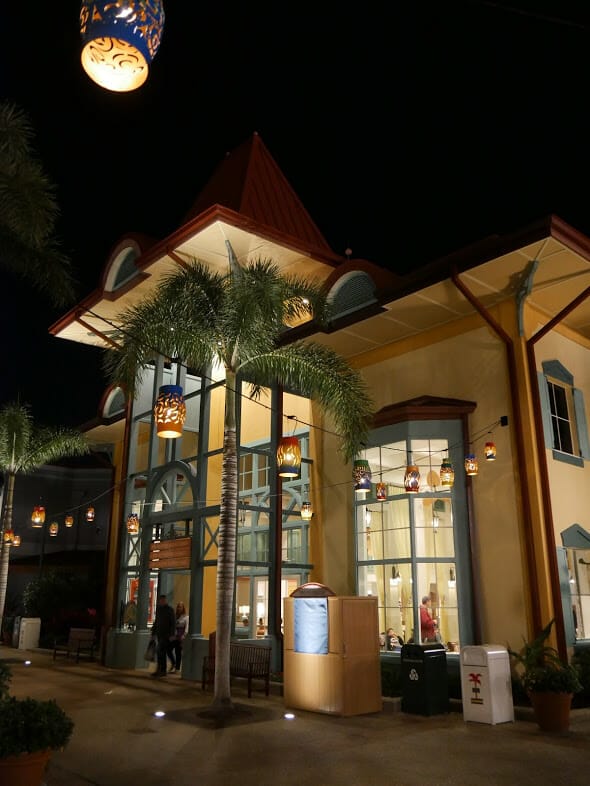 Stop 18: Riviera
From Caribbean Beach, we decided that instead of going back to the Skyliner, we'd just walk to Riviera.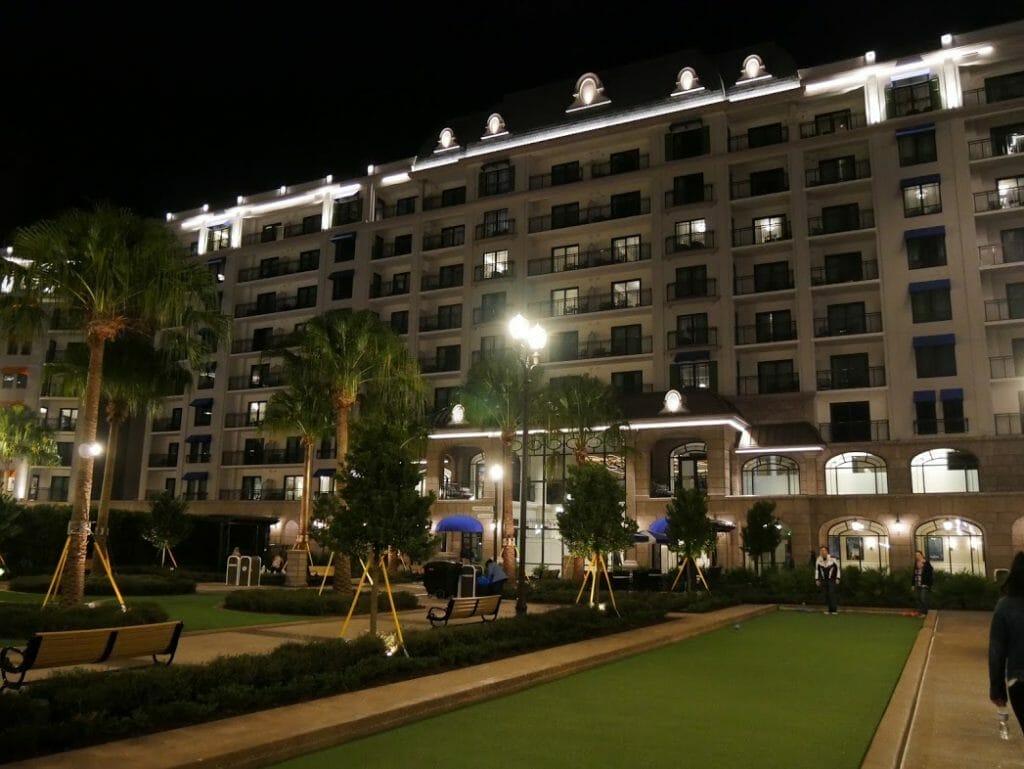 There is a walkway around a lake that takes you to Riviera and this ended up being a great idea.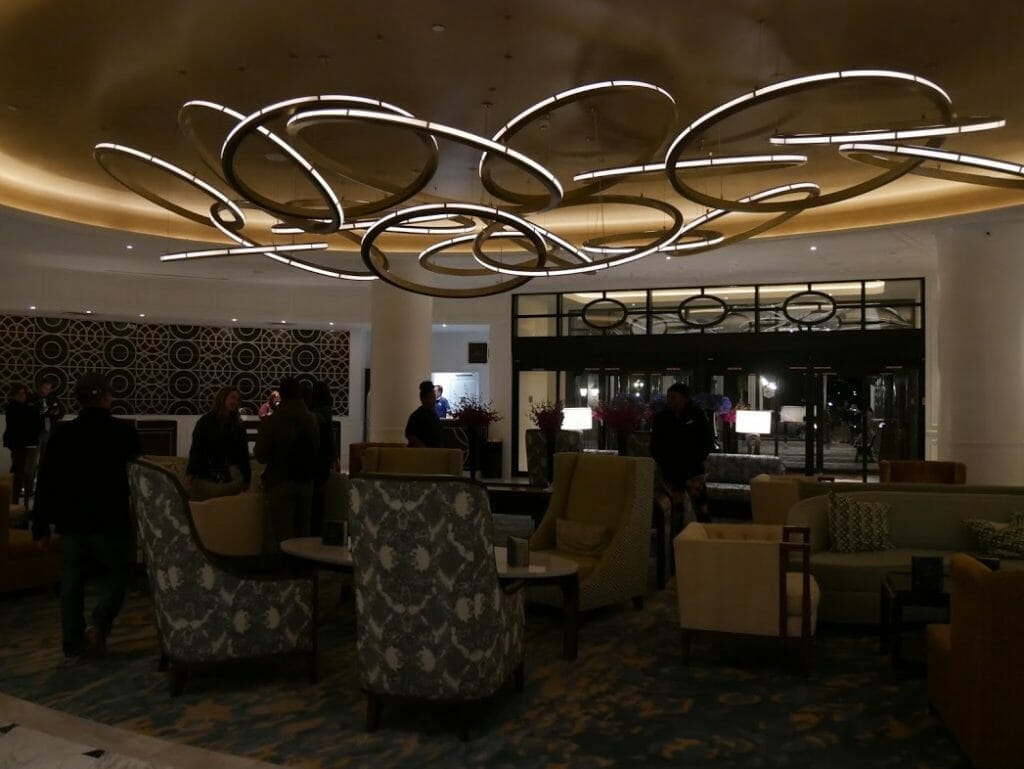 This is a gorgeous resort and we spent a few minutes exploring as we hadn't been here before.
Oh yeah, that's one thing about this challenge – it will make you want to book a lot of future Disney vacations to try all of the hotels!
Stop 19: Boardwalk
From the Riviera, we jumped on the Skyliner on the way to the back entrance of EPCOT.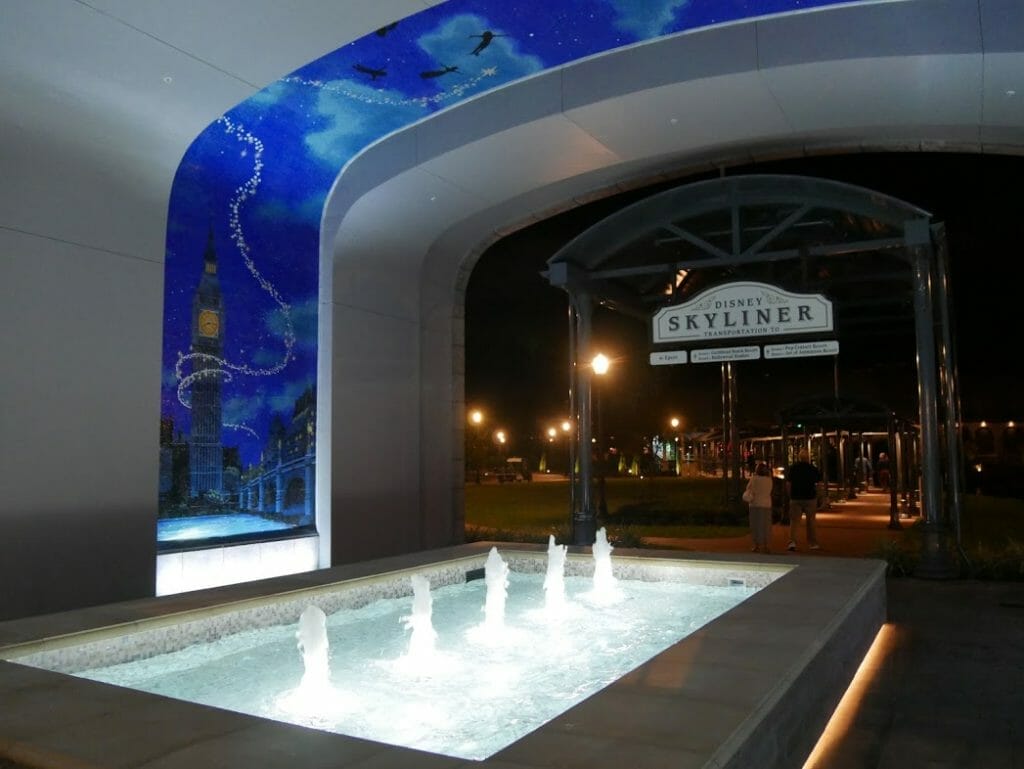 Of course we went the wrong direction at first so ended up back at the main hub – we were weary travelers by this point!
But finally we got it figured out and to the EPCOT Skyliner stop.
From there, we walked a short distance to the Boardwalk to find the lobby and take a picture, but not before seeing some beautiful fireworks from the bridge.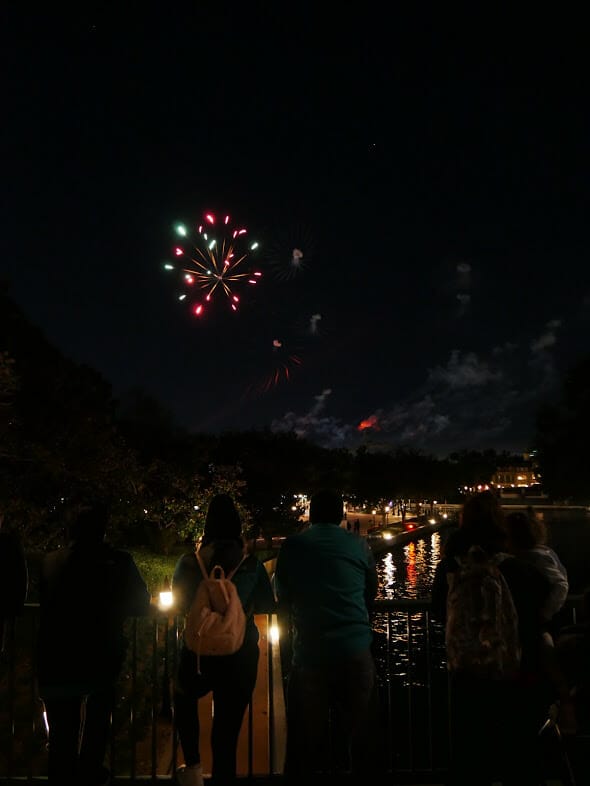 Stop 20: Yacht Club
From the Boardwalk, we actually ended up walking to the Swan and then the Dolphin.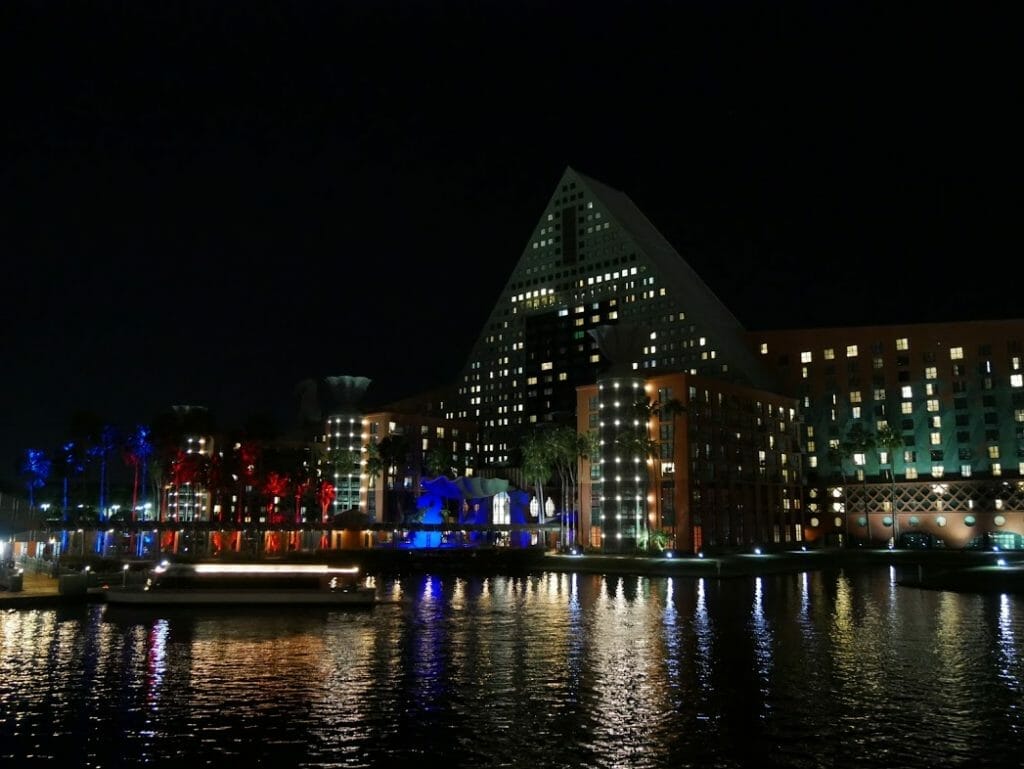 However, I'm not including these as stops because we don't think they're part of the official challenge, though do them if you wish!
After the Swan and Dolphin, we carried on around Crescent Lake to discover the Yacht Club! It was gorgeous at night and seemed to welcome us in.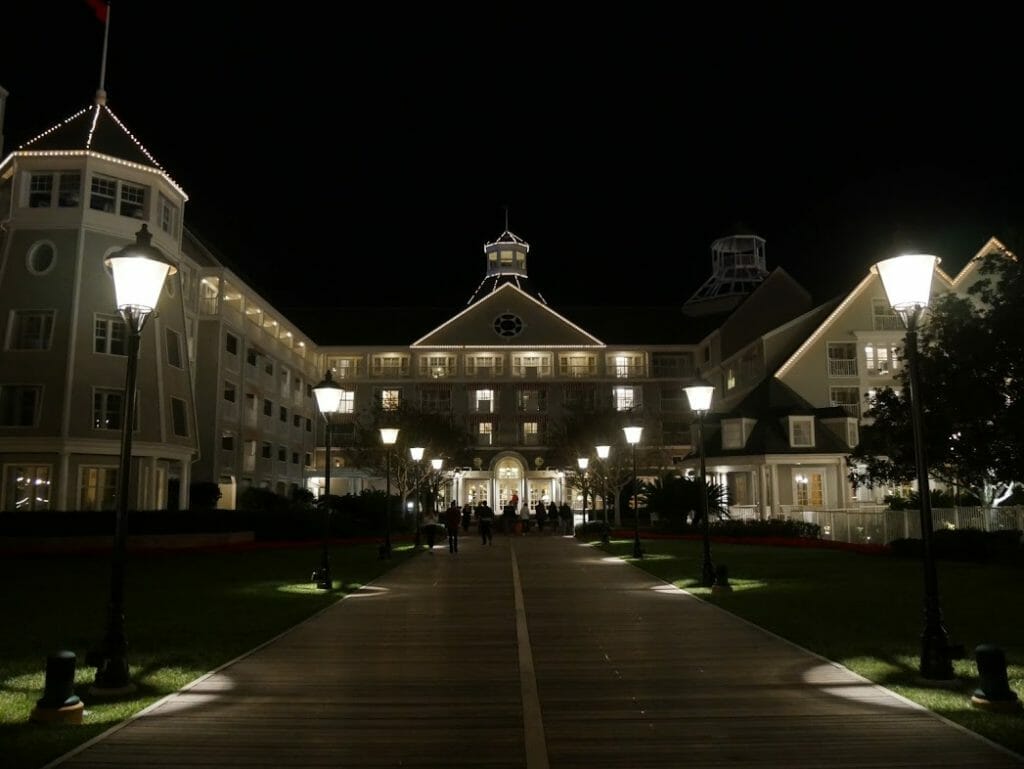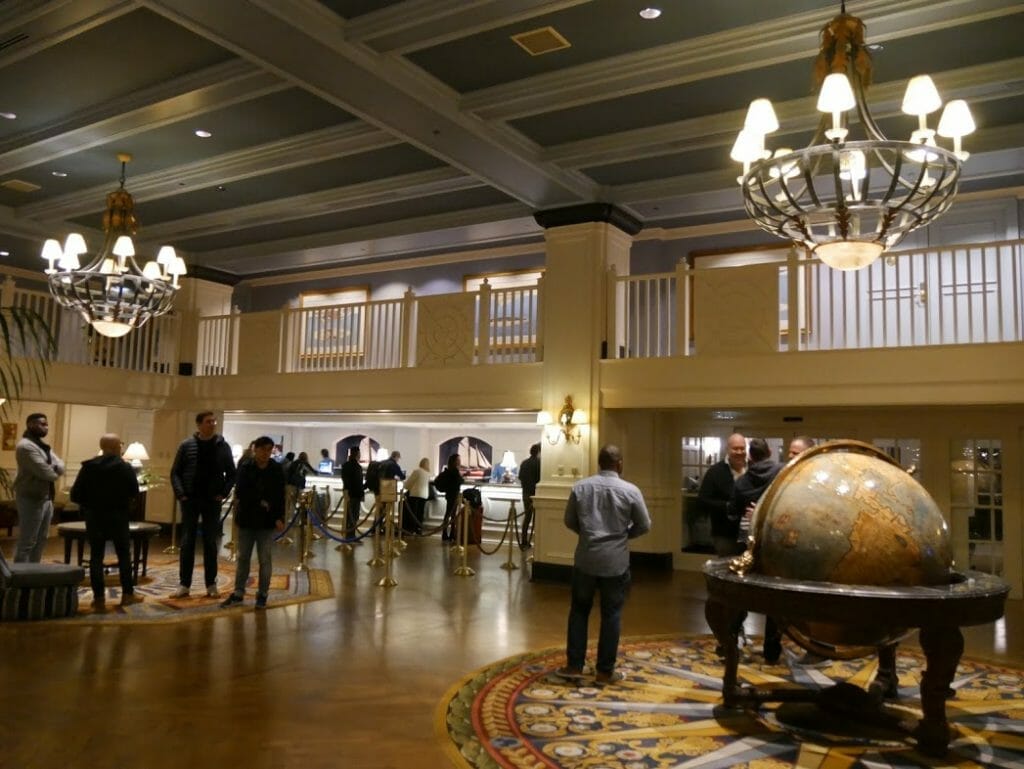 Stop 21: Beach Club
We finished our crazy challenge at Disney's Beach Club resort, about 10pm so 12 hours after we had originally started.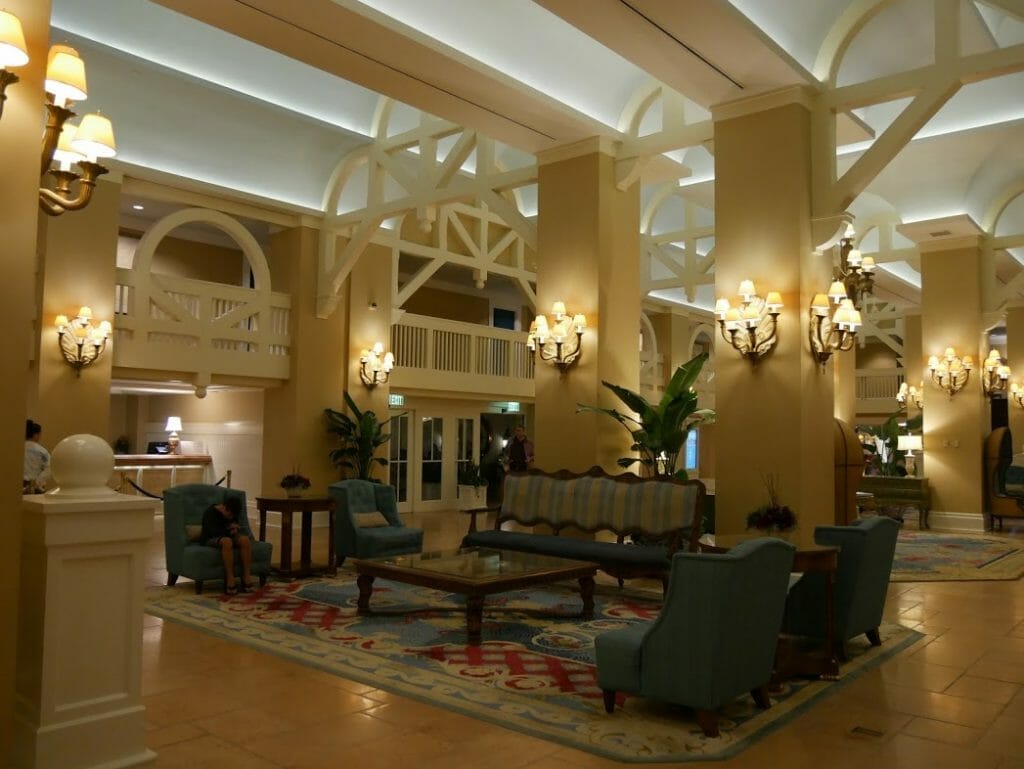 We love Disney's Beach Club (read our full review of Disney's Beach Club for more of our photos) and it was a nice resort to end on as we could walk out to the beach and sit for a moment, reflecting on everything we had done and also vowing to never do it again anytime soon.
Tips for the Disney Resort Hopper Challenge
After having done the challenge and making notes of where we went wrong or succeeded, I've put together some tips in case you try it so you can finish thinking about how happy you are instead of how much your feet hurt (which they will, you just wont' be thinking about it).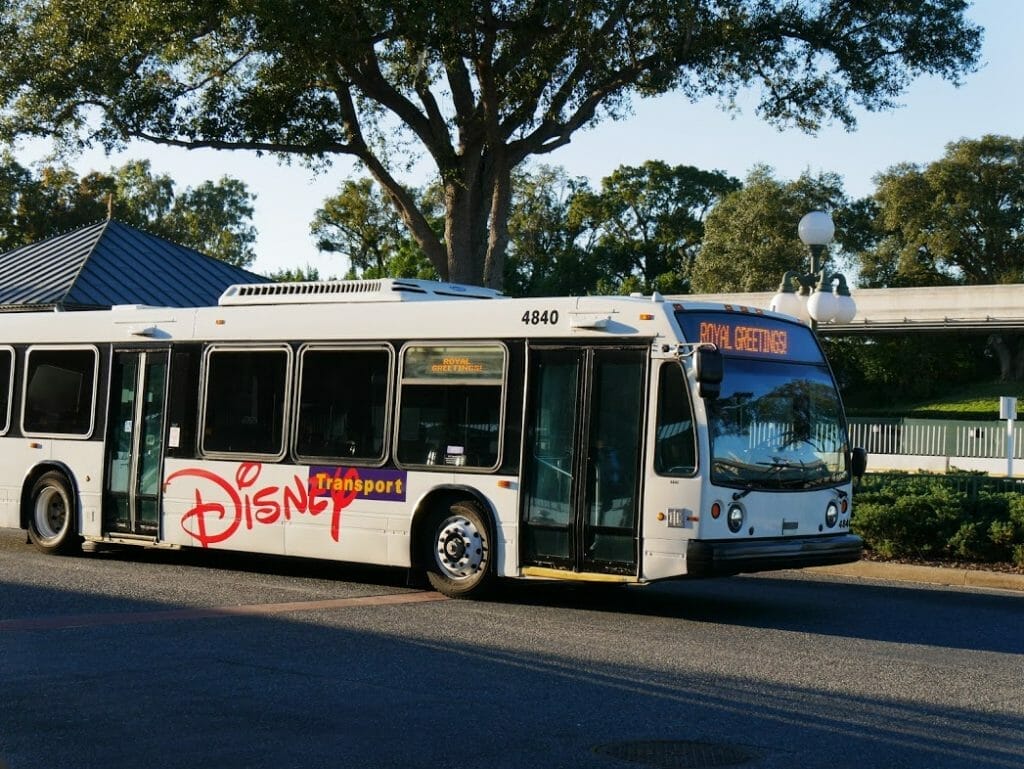 Tip 1: Plan Rewards Along the Way
As much as we wanted to complete the challenge in the shortest time possible, we also needed things along the way to get us excited and ready for the next resorts.
You underestimate how much it takes out of you, and I really do credit the beignets at French Quarter as saving our day!
We also had cupcakes later on, and stopped for a quick service lunch which was something to look forward to.
Whether you want a drink, a cupcake, or a french fry, pick your poison and which resort you're going to have it at so you can keep yourself moving.
Tip 2: Save the Best Transportation for Last
Sitting on Disney buses isn't the most fun we've ever had, though it's still better than being anywhere else not at Disney.
However, I would either finish with the Skyliner or Monorail/boat resorts because ending the day sitting on buses back and forth to parks and resorts makes you question your life a little bit and why you're doing what you're doing.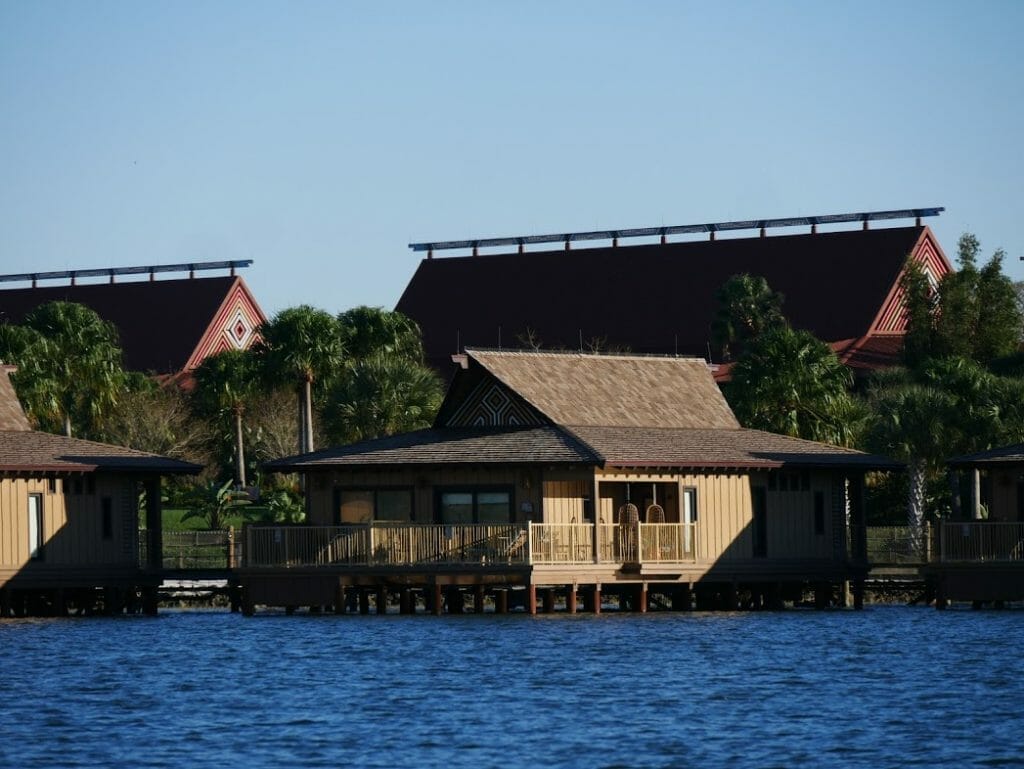 Tip 3: Don't Forget to Walk
Quite a few times, we found it was just fastest to walk.
We still used all methods of transportation throughout the day, but if you are fast walkers, transfers like from the Polynesian to the Grand Floridian can easily be done by walking and the transfers through the All-Star resorts should definitely be done by walking.
Tip 4: Make Sure Everyone is on Board
This isn't an easy challenge.
By resort 8 or 9, you may be ready to give up and in that case, making sure everyone is on board to continue is the best thing you can do.
If you're the only one in your family who wants to do this and the rest of them hate the sound of it, there's just no way you're going to be able to drag them around to all 20+ resorts.
Do this challenge with people who are into it and excited, because even we needed to keep pushing each other on when it got late in the day and we were the ones who came up with it!
Don't forget – if you do the challenge, tag us on Facebook at All-American Atlas or send us an email at allamericanatlas@gmail.com!
Hey! Want more of our expert Disney guides? Check these out!
Get the All-American Travel Secrets!
Don't miss out on America's hidden gems!