If you haven't already heard, Disney World isn't just for kids!
It's also a paradise for adults and childless couples, no matter what the haters might say.
An adult Disney trip is a trip to remember.
Tons of people celebrate their honeymoons in Disney World every year at the best resorts for honeymoons at Disney, and even more choose to come to celebrate anniversaries, Disney World date nights, babymoons, and more.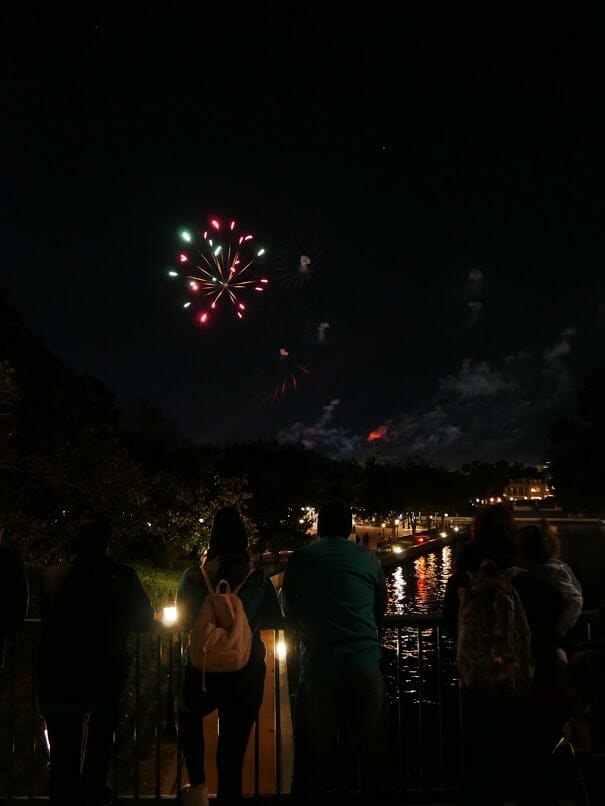 Whether you're a couple traveling on your own or you're looking for a Disney World date night idea for when you have the kids with an in-hotel room babysitter, here are some of the most romantic things to do for couples at Disney World so you can embrace the magic of this amazing place in your own way.
(Oh, and don't forget the Disney World proposal ideas for when things get really serious!)
Everyone get their Carl and Ellie shirts or Mickey couple's shirts on and let's get started!
1. Mini Golf at Winter Summerland
It's a surprise to many people that Disney World has two putt putt golf courses!
Putt putt golf is just a way of life in Orlando, and Disney has gone the extra mile to make sure their courses are fun and engaging.
You've got two to choose from: Winter Summerland and Fantasia Gardens.
Winter Summerland is a twist on the seasons, of course, and you'll find lots of snowmen and sunshine. Fantastia Gardens is themed off of Disney's classic, Fantastia (like the pool at All-Star Movies resort!) and is great if you're a Disney classics fan.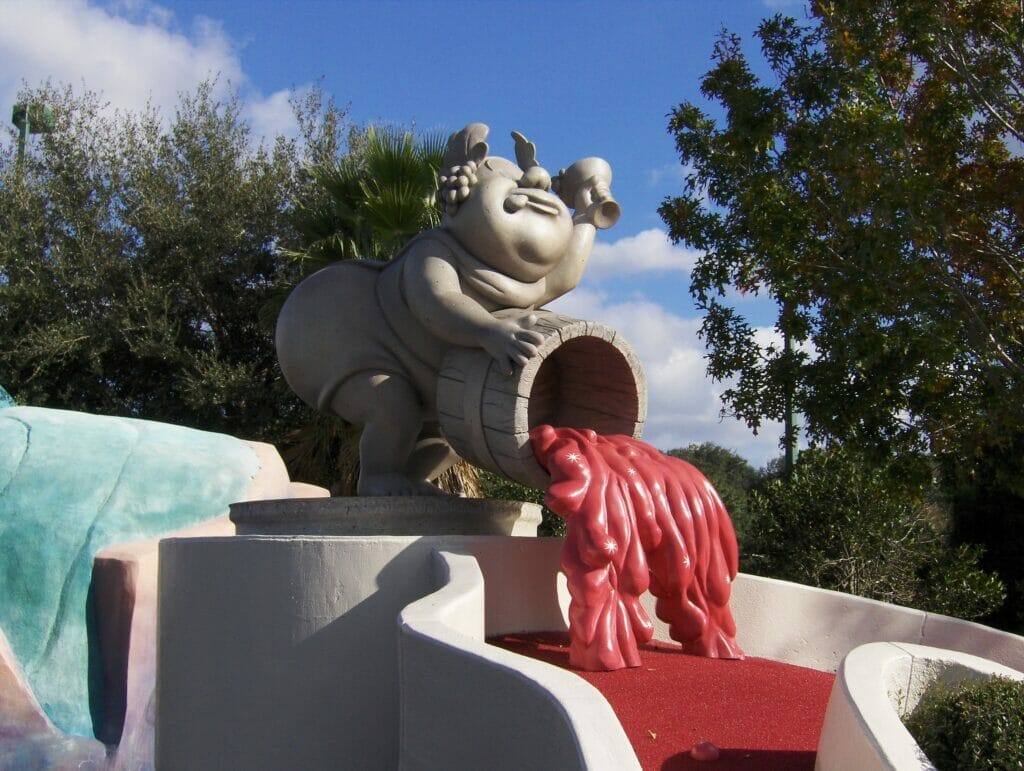 This is a great thing to do at Disney for couples because you get to be your own little team, wandering around the golf course at your pace.
The crowds are lower than in the parks, so you get a bit of breathing room, and who doesn't love a fun game of putt putt?
2. Dinner at Victoria & Albert's
Victoria and Albert's is one of the most popular Disney World restaurants for dates, and while it's also one of the most expensive, this is somewhere that has to be experienced by every Disney fan at least once (use my guide to getting hard-to-find Disney dining reservations here).
The restaurant is in Disney's Grand Floridian, and no kids are allowed, which already makes it a great place for a Disney proposal or an anniversary celebration with your sweetheart.
Victoria and Albert's is fine dining, so you should expect to dress up appropriately and to experience multiple fine dining courses as part of your evening.
It's a truly magical experience that has an elegance and charm about it that you can't find in other places on Disney property.
Particularly during the holiday season, the Grand Floridian at Christmas is a site to remember.
For an extra bonus, there are additional wine lists and menus that you can access if you pay for the upgrades, which some people do for truly special occasions.
3. Watch the Fireworks from California Grill
There's nothing more romantic than watching the Magic Kingdom fireworks together, but nothing ruins the mood quite like a lot of kids at your feet and parents yelling about saving spaces.
Skip all of that and enjoy the Disney World date idea that will never get old – dinner at California Grill.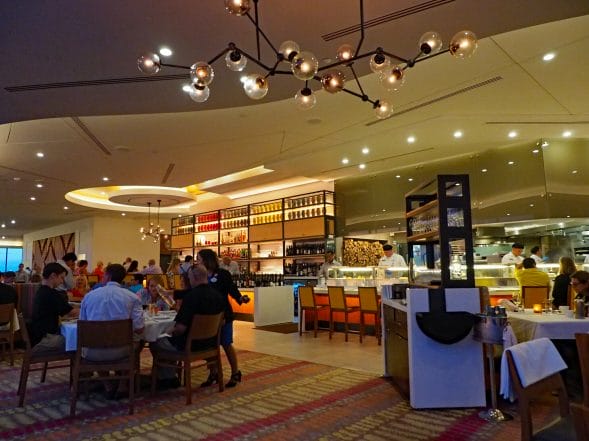 This restaurant, on top of the Contemporary Resort, is a signature dining experience so you can dress up and expect fantastic tasting food and a great drinks list.
And, time your dinner right and you could be watching the Magic Kingdom fireworks out the window as you eat.
If you don't, though, that's fine too – you'll get a slip that lets you come back in for the fireworks later in the night!
Another option if you're looking to watch the Magic Kingdom fireworks together on a budget is to watch from the walkway between the Contemporary and Bay Lake Tower.
They pipe in the music here, and while you will also be among kids in their pajamas, it's a fun way to see the fireworks from a new angle. You can even grab a drink at the Contemporary bar afterwards instead of a full meal.
4. Visit the Animals at Animal Kingdom Lodge
Animal Kingdom Lodge is one of the most romantic Disney World hotels there is.
It feels so secluded and exotic, and there are plenty of spaces for non-resort guests to walk around and enjoy the views.
Spend some time on a Disney World date checking out the animals on the savanna here, including giraffes, gazelles, and lots of other African animals.
The lobby itself is beautiful, and you can spend time enjoying dinner or breakfast at Boma while you're out at the lodge.
If you're looking for the best Disney World resorts for a honeymoon, this is one of my favorites.
Book a savanna room and wake up every morning to the sunrise over the savanna and soon you'll discover why this resort is seriously top notch.
Don't forget to tell them if it's your honeymoon as well.
One of my top tips for getting upgraded at Disney World is telling them what you're celebrating.
5. Stroll Hand-in-Hand on the Boardwalk
The Boardwalk was basically made for couples on dates at Walt Disney World.
From getting ice cream together at Ample Hills Bakery and watching the world go by on the lake to singing the night away at Jelly Rolls with its dueling pianos, there is a ton to do and see here.
There are also romantic signature restaurants at the Boardwalk like the Flying Fish, where seafood lovers can get their fix of some of the best seafood options in Disney World.
And, if you time it right, you can usually see some Epcot fireworks if you stand in the right location.
Not bad for a free date!
You will also come across street performers in the evenings, which is a super fun way to finish out your date – you may even be picked to participate and join in on the fun which will make for great stories for years to come.
Combine this date with a trip to the Beach Club to sit on the Beach (one of my favorite free things to do at Disney World), as they're right across from one another.
You could also do the next idea on the same day, as Epcot's back entrance takes you right to the Boardwalk and the Beach Club.
6. Eat and Drink around the World
Eating and drinking around the World at Epcot has gained popularity in recent years for visitors of all types, but it's a great Disney World date day for couples.
You can make matching T-shirts like these, wander your way around the pavilions, and try a drink and food item in each country.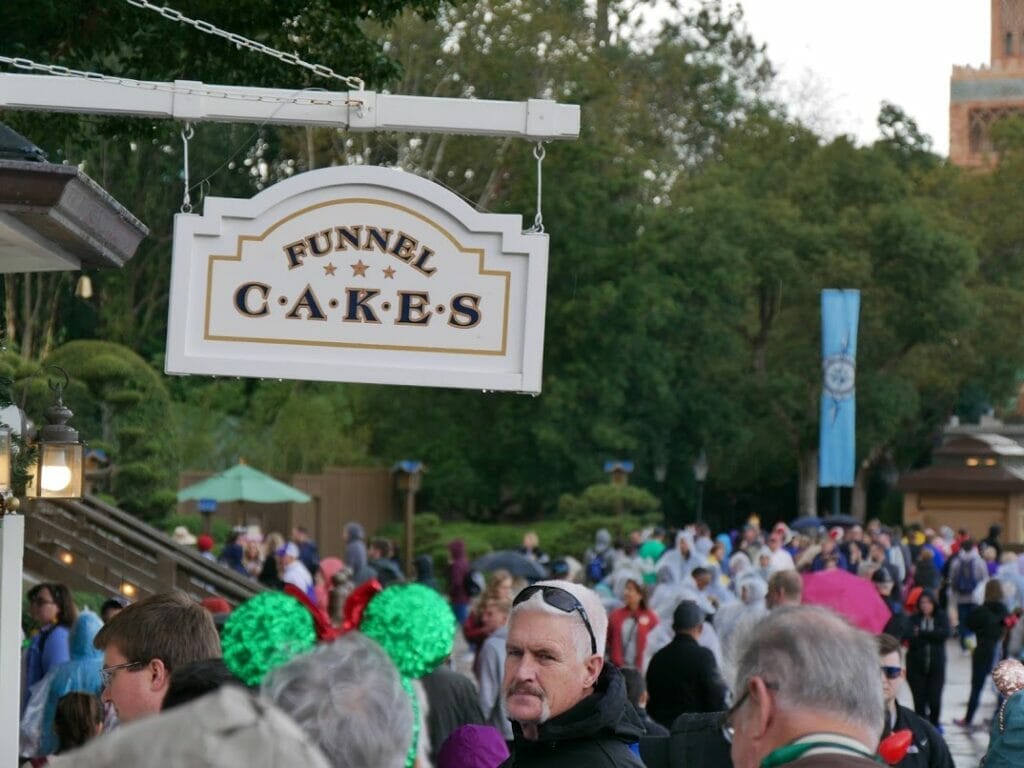 You can also do an abbreviated version or an alternate version, like the cookie walk where you try a different holiday cookie in each country or you can buy a souvenir in each pavilion to take home.
Epcot is adult-friendly and really embraces couples.
There's enough space to spread out a bit, and if you visit during one of the festivals like the Food and Wine festival, you can spend all evening chatting and watching the sunset while enjoying some fantastic food from around the world.
Of course, make sure to drink responsibly and actually enjoy your time at Epcot. The revelry can catch up to your fast in the heat.
7. Go on the Safari Trek at Animal Kingdom
If you're planning a Disney World date for an animal lover, there's nothing more romantic than letting them go on the safari trek at Animal Kingdom.
And I don't mean the regular Kilimanjaro Safari Ride, I mean the Safari Trek that requires an extra cost for a whole lot of extra fun.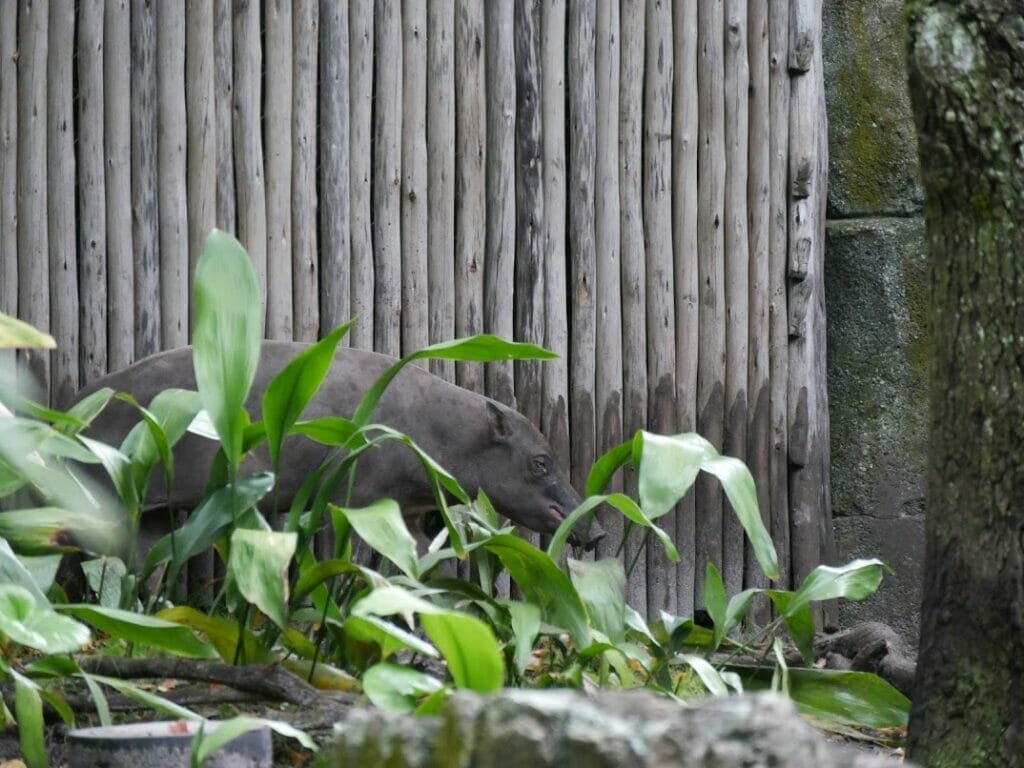 You'll get to enjoy your own private safari around the savannas while basking in the Florida sunshine, and get up close and personal to a lot more of the animals than you would if you were just visiting Animal Kingdom as a regular visitor.
There's also the option to enjoy a special meal as part of this experience, which is a really special way to say "I love you" or pop the question!
8. Shop at Disney Springs
Take a fun Disney World date to Disney Springs, where you can enjoy the magical things to do in Disney Springs or just get your shop on.
Set a budget and hit the stores to see what Disney treats you can buy.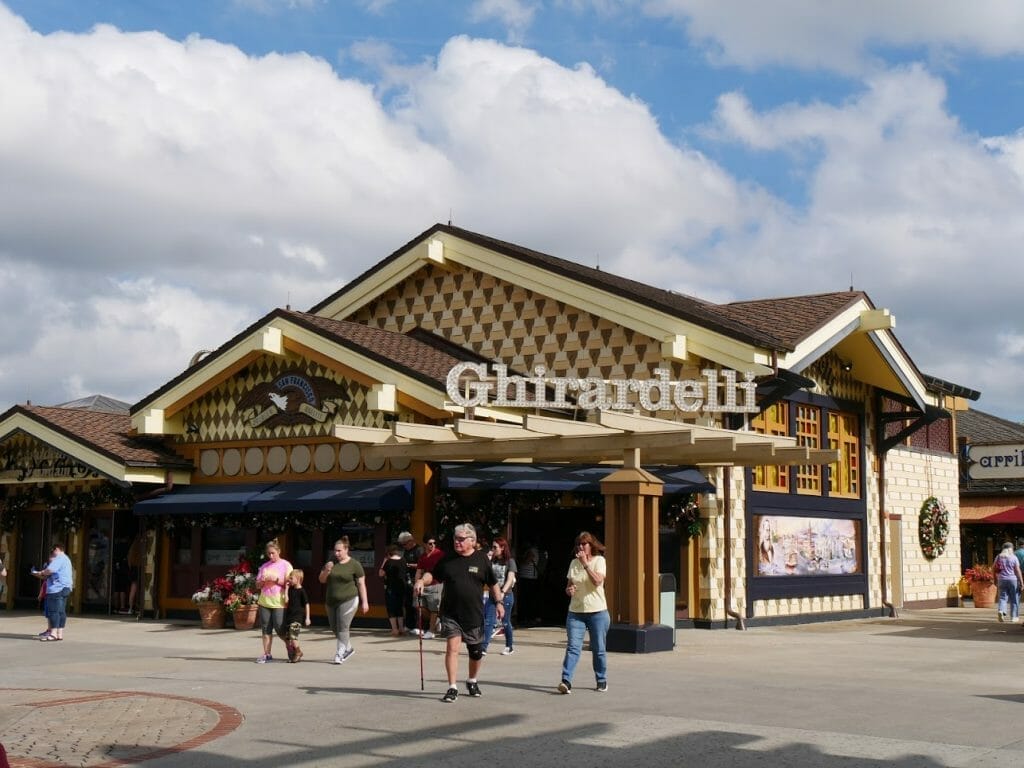 There are so many stores and things to do in Disney Springs that have way more than the usual theme park merchandise.
You'll find speciality kitchen items, beautiful photo frames, awesome backpacks, and quirky things like churro pencil cases.
This may be one of the more expensive Disney World date ideas once you're finished, but the entire atmosphere of Disney Springs is so friendly and romantic as you can be in your own little world while walking around.
Finish your day at Disney Springs with shared milkshakes from Ghirardelli while looking out at the lake, or take a relaxing 20 minute boat ride from Disney Springs to the Port Orleans French Quarter resort for some delicious beignets and New Orleans vibes.
During Christmas, you can also stroll through the Disney Springs Christmas Tree Trail hand in hand.
9. Do the 4 Park Challenge
If you're theme park junkies, you've got to plan a date to do the 4 park challenge.
This challenge involves you riding at least one ride in all Disney parks in one day, and often people do it so that you have to ride THE current most popular attraction in each park.
It makes for a hilariously exhausting day of running around Disney World, but is a great memory to create on a Disney date and a fun way of spending time together if you're true commando theme park types.
If your dates ideas of Disney fun is relaxing by Bay Lake with a drink in hand, then possibly skip this one.
But if you love planning your Disney trip down to the second, then this one's for you.
If you're super Disney resort fans and want to have another full day of fun, you could also do the Disney resort hopper challenge which takes you to every single Disney resort in one day.
I would say this is for true Disney fans who want to soak in all of the atmosphere and say they've done a challenge not many have done!
10. Sit on the Beach at the Beach Club
Disney World dates can be free, while still being a fun experience.
It costs nothing to sit on the beaches in front of the Beach and Yacht Club and watch the boats go by, but it's a super relaxing experience and great for getting to know someone better.
In fact, this is one of the most romantic things to do in Disney World due to the rocking benches, beach chairs, and breeze across the water.
You can see the Boardwalk on the other side of the lake, but you're removed enough from the action that you feel as if you're on your own little tropical paradise.
There's also a fantastic pool bar right near the beach at the Beach Club, which sells drinks and food.
You can sit on the tables outside and watch people stroll by, or you could instead go inside to the Beach Club food court and walk around the beautiful grounds of this stunning resort.
11. Have Afternoon Tea at the Grand Floridian
The Grand Floridian makes this list again with another Disney World date idea, but this time, a bit more casual than Victoria and Albert's!
Try having a Disney date at afternoon tea at the Grand Floridian, where you'll enjoy tiny finger sandwiches, tea, and cakes and scones served on a traditional afternoon tea platter.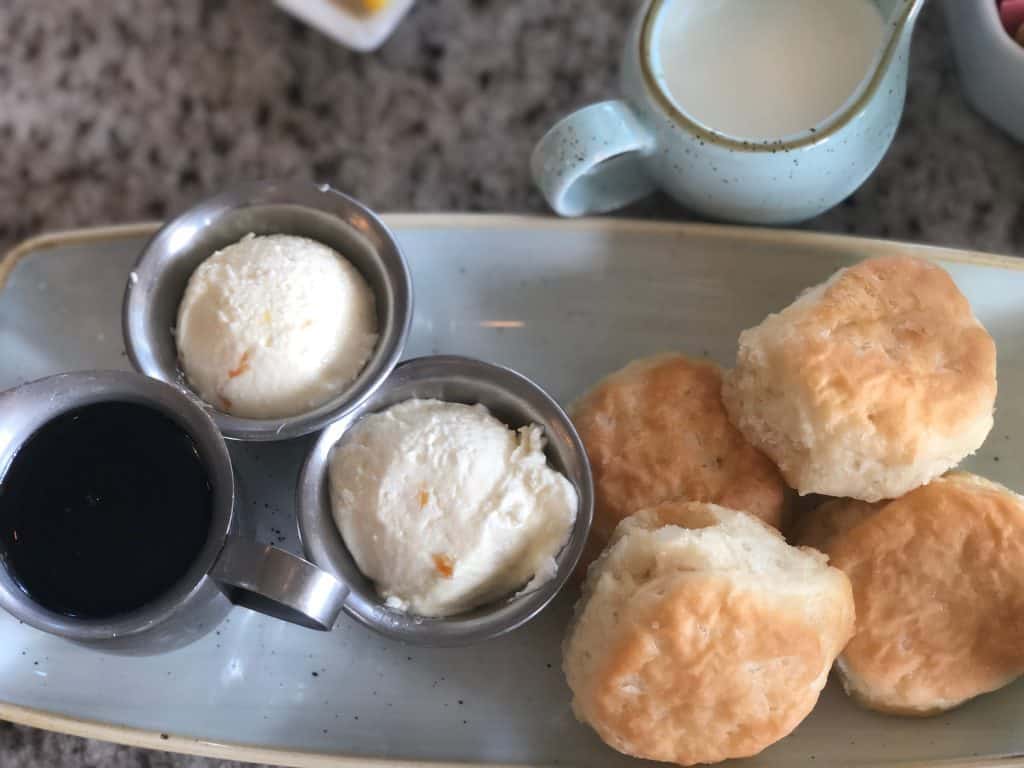 This experience is open to both kids and adults, but everyone is encouraged to dress for tea and the platter is built for 2 people sharing – great for couples!
Embrace your inner British sensibilities and spend the afternoon indulging in wonderful tea blends and freshly made pastries.
The Grand Floridian is also an amazing resort to simply roam around before or after your tea, as the lobby is magnificent and the grounds are stunning.
Walk in a loop around Bay Lake, sit on the Grand Floridian beach and watch the clouds roll by, or admire the fantastic decor inside which really draws on its Victorian theming.
You could even spend the whole day at the Grand Floridian, with afternoon tea in the afternoon and Victoria and Albert's in the evening and lots of shopping and relaxing in between.
Hey! Want more of our expert Disney guides? Check these out!
Get the All-American Travel Secrets!
Don't miss out on America's hidden gems!