While Orlando is definitely not the "city that never sleeps," the Orlando nightlife is a vibrant and diverse scene offering everything from bars and clubs for the partying set to dinner and evening shows for families.
Whether you're on Disney property, hanging out on IDrive or wandering around Church Street, you'll find locals and visitors alike enjoying themselves after the gorgeous Florida sunset has finally sunk below the horizon.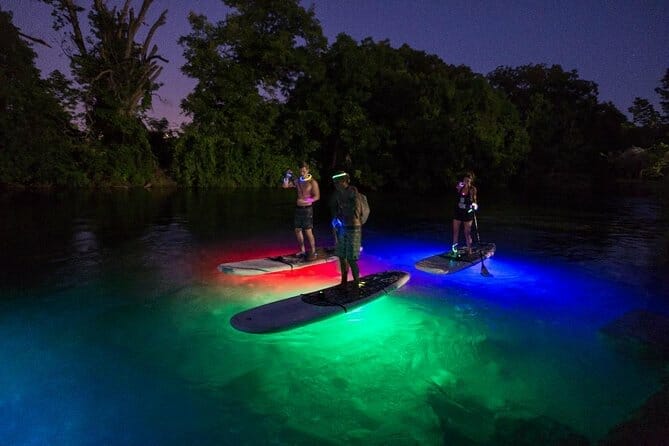 The weather in Orlando means people aren't bundled up inside away from the snow, but wanting to make the most of the warm evenings and ability to show off their favorite evening attire.
Enjoy this guide to the best things to do in Orlando at night and make sure to plan some late evenings in your Orlando itinerary so you can take in as much as possible!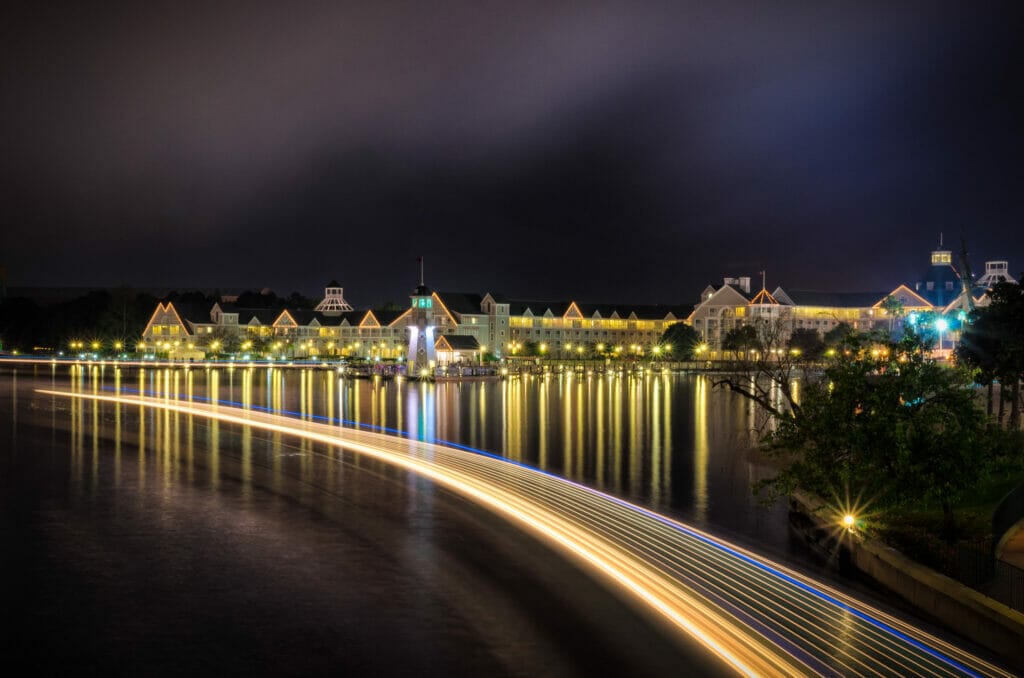 Where to Stay in Orlando
Budget: Splashing Out ($250+ per night)
Orlando is full of luxury hotels to choose from, and while more obvious options might be the Ritz Orlando, the Waldorf Astoria is at a bit of a cheaper price point (though not cheap, this is still a splash out) and offers some spectacular amenities.
Firstly, it's set on over 400 acres, and in addition to plush rooms that will rival any resort you've stayed in, there is also a full golf course, 2 swimming pools, kid's clubs, a lazy river, an on-site spa AND free transportation to the Disney parks.
Oh, also there are 12 restaurants, so, there you go, decision made!
Budget: Mid-Range ($150-$250 per night)
I've stayed in this hotel so many times, I've lost count – and every single time, I want to stay forever.
The Wyndham Bonnet Creek is a great mid-range option with spacious rooms, beautiful pools, a lakeside location with plenty of recreational opportunities for kids and adults alike, and some rooms even have Disney fireworks views.
Relax by the fire pit in the evening, or put on your plush robe and check out the spa. The location is top notch, the price is reasonable for Orlando, and the memories you'll make here will last a lifetime.
Budget: Uh…on one! ($150 or less per night)
If you'd rather spend your vacation money on things to do in Orlando while still being comfortable and happy at your resort, Hilton at Tuscany Village is for you.
The whole resort is sleek and modern, with awesome views from many of the balconies and well-designed outdoor pools (yes, this is Orlando, even the cheaper hotels have a pool!)
Choose from studios or suites, and appreciate the great location that makes you a 4 minute walk from the Outlets and a less than 10 minute drive from Disney, SeaWorld, Universal, and other Orlando attractions.
Things to Do on I-Drive at Night
International Drive, also known as I-Drive is one of the most visited parts of Orlando and it exists solely for entertainment purposes – perfect for finding things to do in the evening!
Enjoy this guide on what to do on International Drive at night, ranging from family dinner shows to thrill seeking adventures.
1. Mango's Tropical Cafe
If you want Latin and Caribbean inspired entertainment, Mango's Tropical Cafe is the place to go.
Enjoy delicious dishes, colorful entertainment, and a generally upbeat feel that will help keep you moving and grooving well into the evening.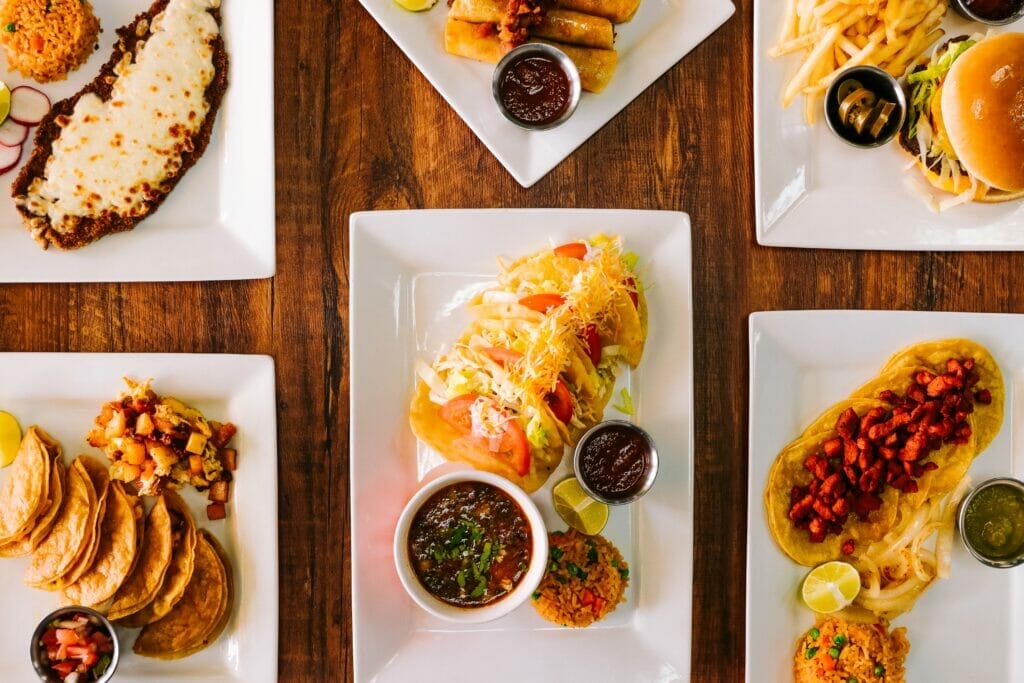 2. Sleuths Mystery Dinner Show
If an interactive dinner show sounds like your idea of fun, come to Sleuths Mystery Dinner show on I Drive where you spend the night mingling with other guests and attempting to solve the crime.
The mysteries rotate and there are over 10 of them, which means you can come on a different night during your trip and try your hand at solving a brand new mystery!
3. ICON Park
From arcades to restaurants to the Star Flyer to Orlando's iconic Wheel, ICON Park is a dining and entertainment district on International Drive that is fun for the whole family.
If you're just wanting some atmosphere, plan to have dinner in the area, otherwise you can take advantage of attractions like the Orlando Aquarium and Madame Tusseuds during the day and then take a spin on the iconic Wheel at night to get incredible views of Orlando.
The best way to see it all is to get the GO Orlando Pass, which is a great deal.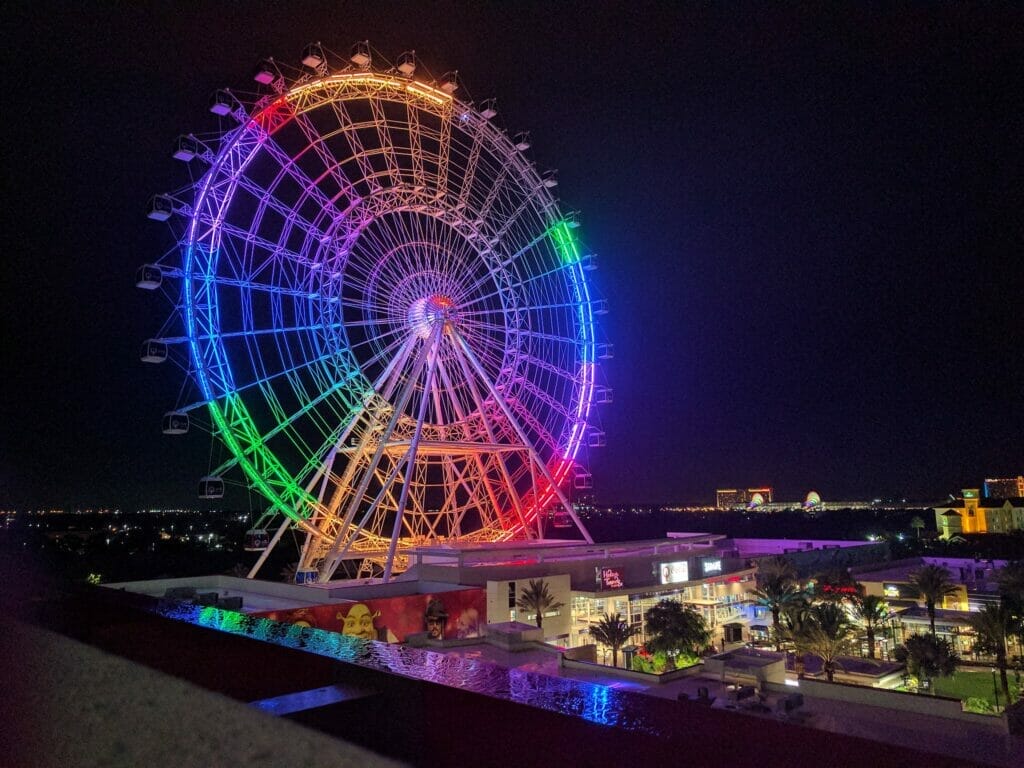 4. Titanic Dinner Event
Hop on board one of the most famous voyages around at the Titanic Dinner event.
Recreating the feelings of being aboard the Titanic, this immersive experience is a unique thing to do in Orlando that features a cast of characters and a range of guests, from the first class sophisticated socialites to the captain and crew.
There is a children's menu if you want to take the little ones on board, but the subject matter is more fit for adults.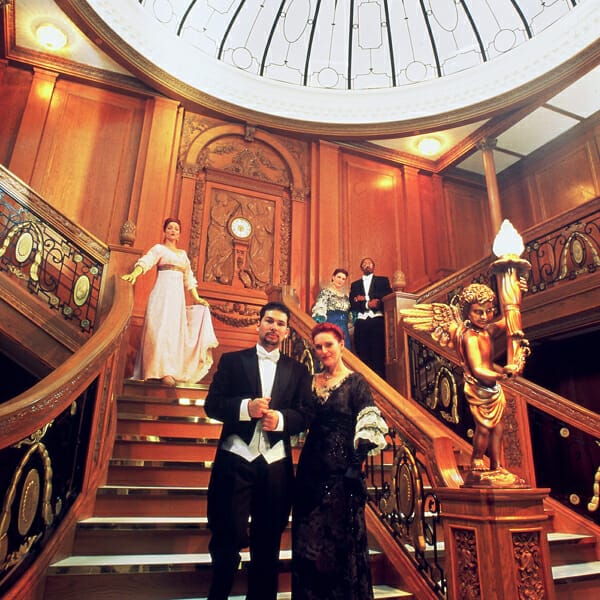 5. TopGolf Orlando
If you're a golfing fan and want a chance to spend the evening in one of the most unique golfing experiences in Orlando, try TopGolf.
The Orlando location features virtual bays where you can choose from golf courses all over the world or choose a competitive golf game.
Spend the night hitting trick shots – virtually, while dining on classic dishes like pizza and burgers and enjoying a flow of drinks to your golfing bay.
Sometimes, the amount of things to do in Orlando can be overwhelming, but this is a great option that checks a lot of boxes for a group of adults who want something fun to do in the evening without having to hop from bar to bar.
The World's tallest swing ride, this attraction in ICON Park is absolutely a must-do for thrill seekers of all kinds.
You'll be strapped in and then flung up to the stratosphere, definitely while screaming your head off.
You'll then be rotating around the over 400 foot pole.
The views from the top are incredible, if you can keep your eyes open long enough to see them!
The seats are in pairs of 2, so you can ride next to a friend or family member, and there's just a height limit, not an age limit, so as long as your child is over 44 inches they can get in on the adventure.
This is definitely one of the best things to do in Orlando for teens!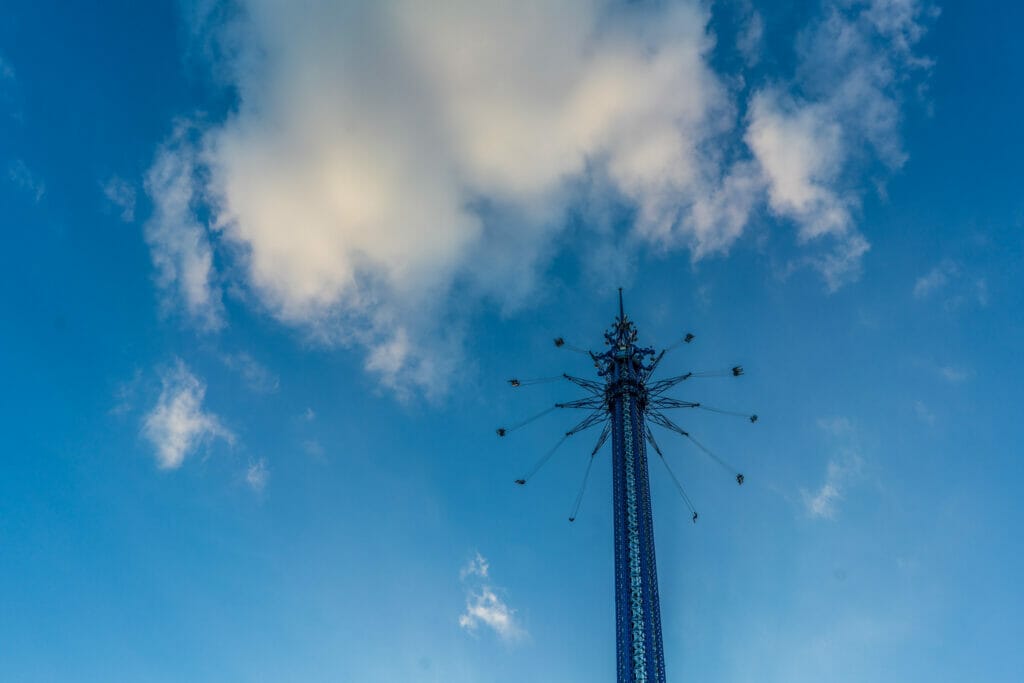 Things to Do in Orlando at Night for Couples
Whether you're on a date night in Orlando or you're just looking for something to do on a couple's trip, this guide to nighttime activities in Orlando that cater to couples will see you grooving, drinking, eating, and swan riding your way through the city.
7. Take a Swan Ride on Lake Eola
Lake Eola is such a beautiful destination for all visitors to Orlando, but especially couples wanting to take a romantic Swan Boat ride on the lake.
Paddle your way around, enjoy views of Orlando's skyline and reflect on your trip to Orlando.
There are plenty of restaurants surrounding Lake Eola as well so you can fit in dinner after you're done.
You can also check out this Lake Eola art tour – an awesome Orlando tour.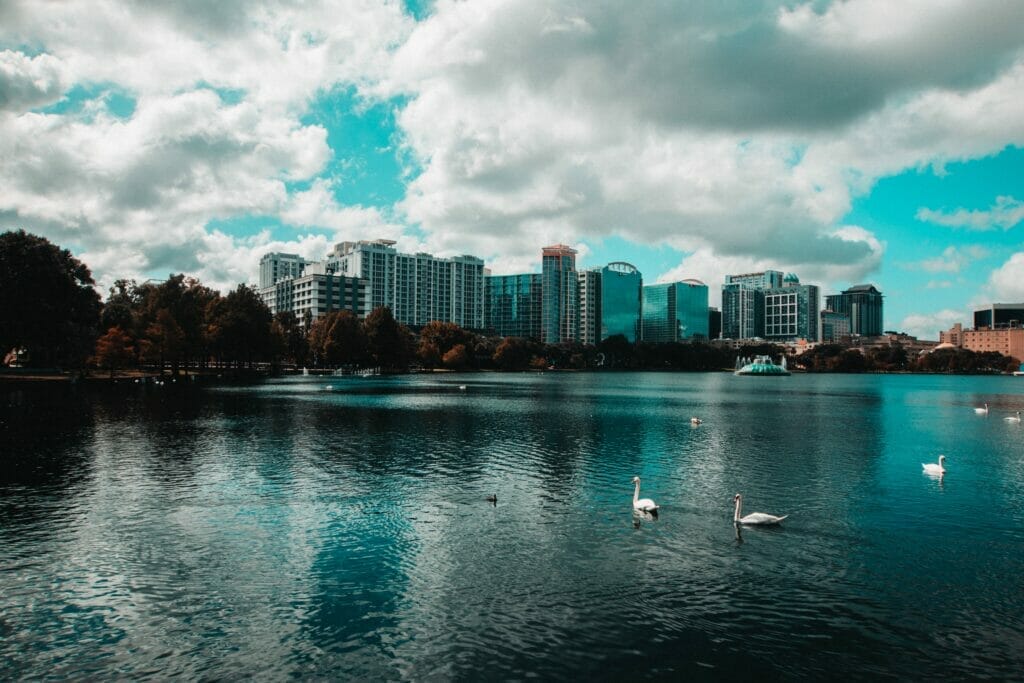 8. Get Drinks on Church Street
Orlando's premier nightlife destination, Church Street features plenty of bars and restaurants that mean you can go bar hopping together or enjoy a nice dinner out and then stop in for drinks afterward.
It's walking distance from the Amway Center, where the Orlando Magic play, and known for popular restaurants like Hamburger Mary's.
You'll also find comedy clubs, hotels, and a thriving residential area with high rises which attracts locals to the downtown area.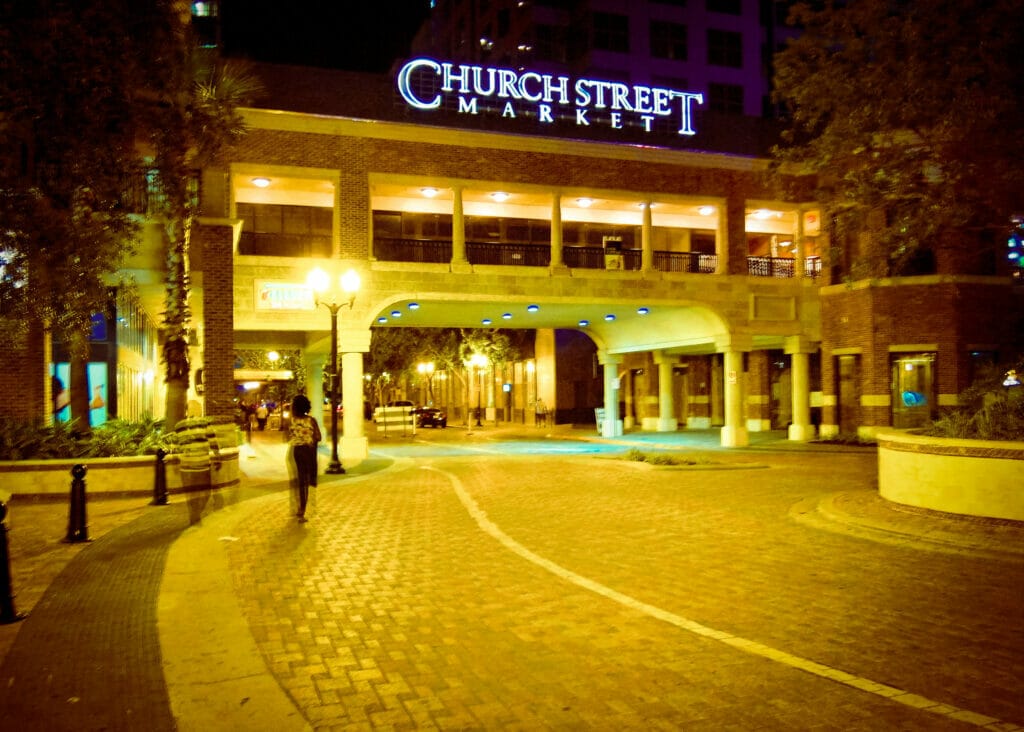 9. See a Movie
When you want to see the latest release, do it in style at either the Regal Cinema at Winter Park Village which features seats that you can adjust to go as far back as you want so you can literally lay down and watch a movie OR go to the AMC at Disney Springs which will be the easiest to get to if you're staying on Disney property.
Floridian's love their movie theaters because it can be a great source or air conditioning on a hot summer's night!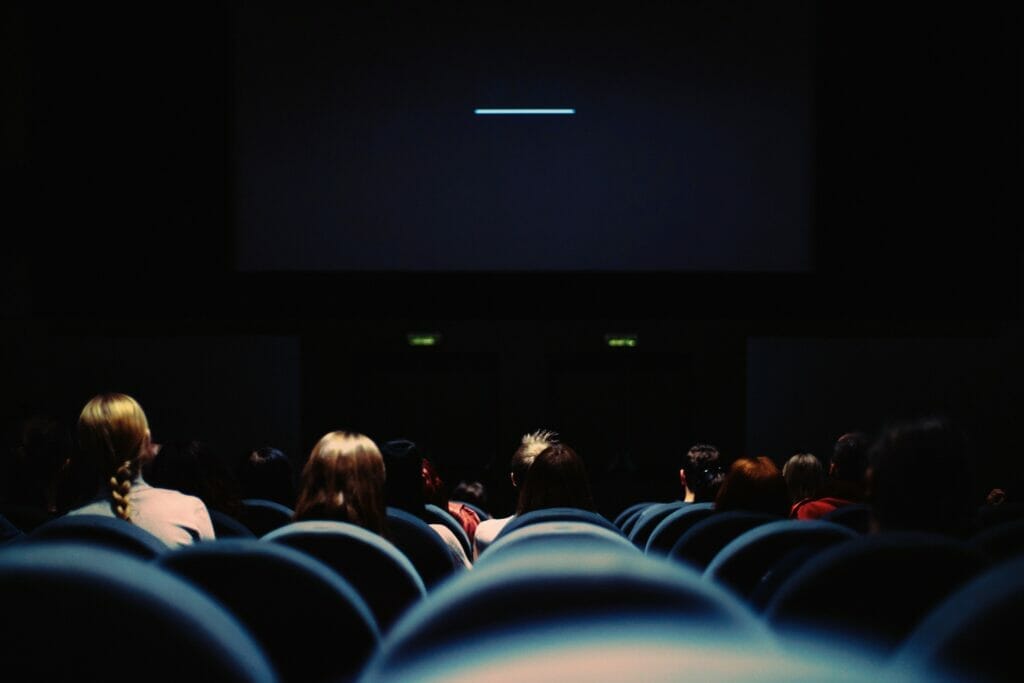 10. Wine Bar George
Head to Wine Bar George in Disney Springs for a fun evening together, sampling wines from around the world and indulging in a variety of light snacks to go along with your wine pairings.
This is one of the best destinations in Orlando for couples staying on Disney property who want a date night, and the upscale is sophisticated and welcoming all at the same time.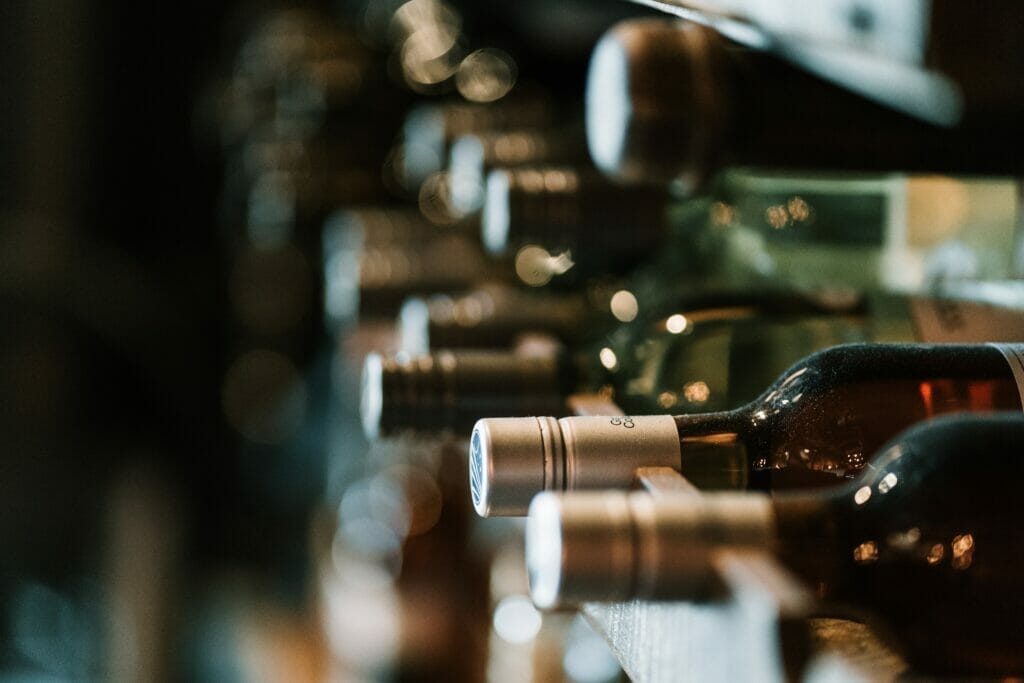 11. Enjoy the Citywalk Vibe
From grabbing a donut at Voodoo Donuts to dinner at Margaritaville, Universal Studio's Citywalk is a couple-friendly destination situated right in between Islands of Adventure and Universal Studios.
It really comes alive at night as an entertainment district after the theme parks have closed, and you can enjoy live music as well as the restaurants and bars on property.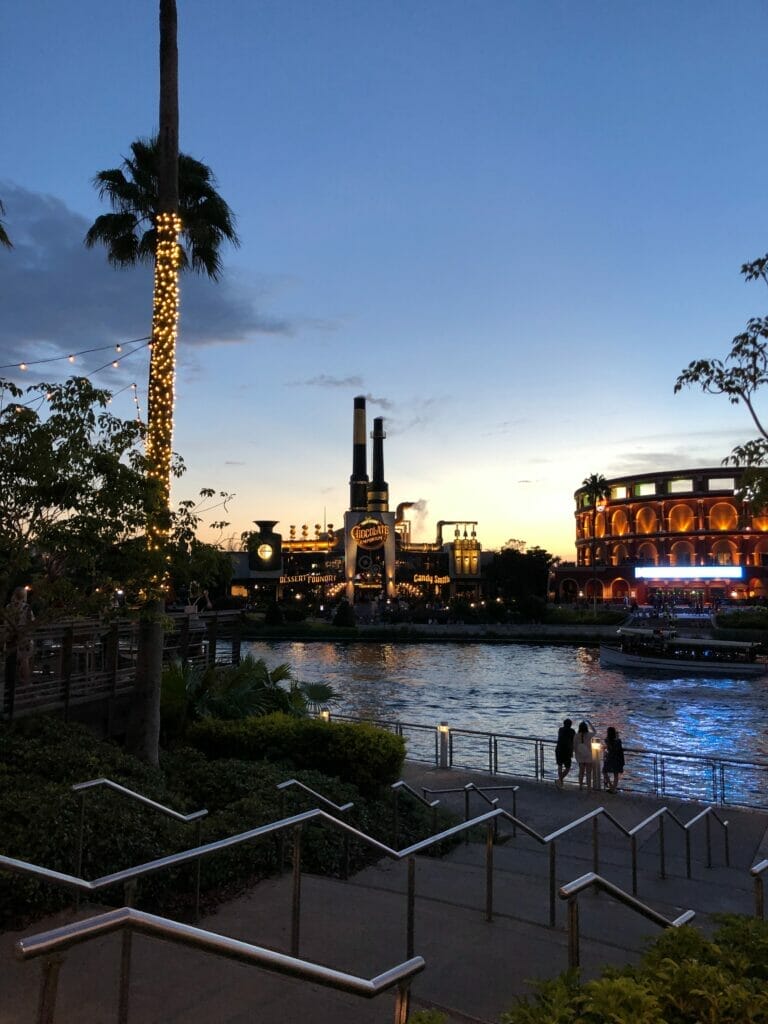 12. See a Concert at the House of Blues
The House of Blues at Disney Springs is open as a restaurant every night with live music, but it also often holds concerts of visiting bands to Orlando.
It's fun, it's funky, it's a you-know-what-you're-getting kind of place and they have an event's schedule so you can plan ahead of time to decide who you're going to see play during your trip to Orlando.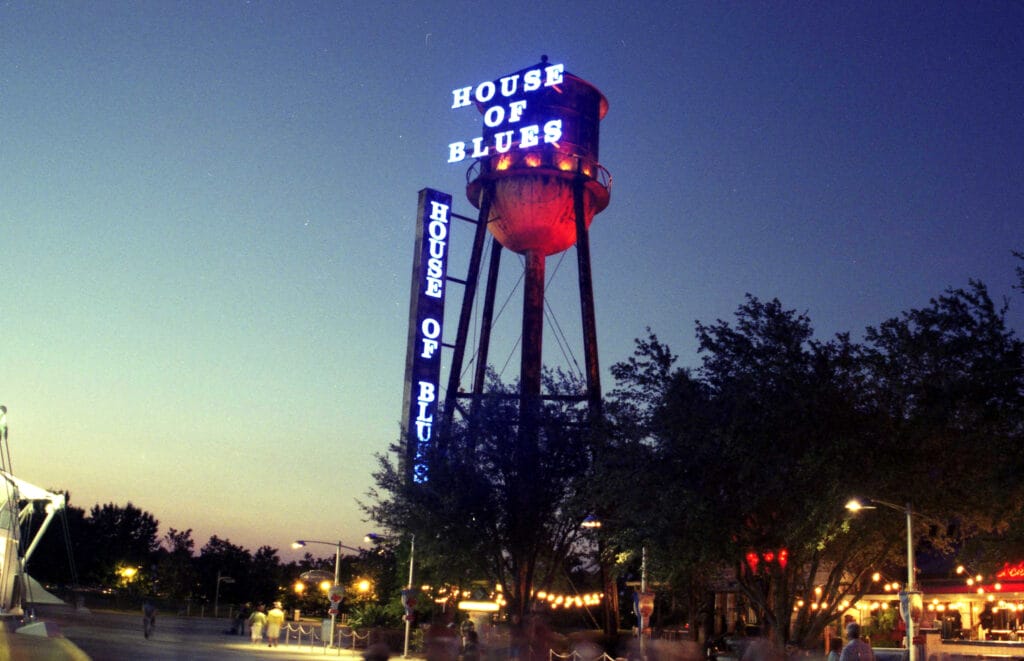 This craft beer bar and brewpub specializes in innovative recipes and being involved in the local brewing community.
The "half barrel" name comes from the smaller batches they make in order to mix up the flavors more often.
Enjoy amazing pizzas and craft beers while spending a fun night out in Orlando.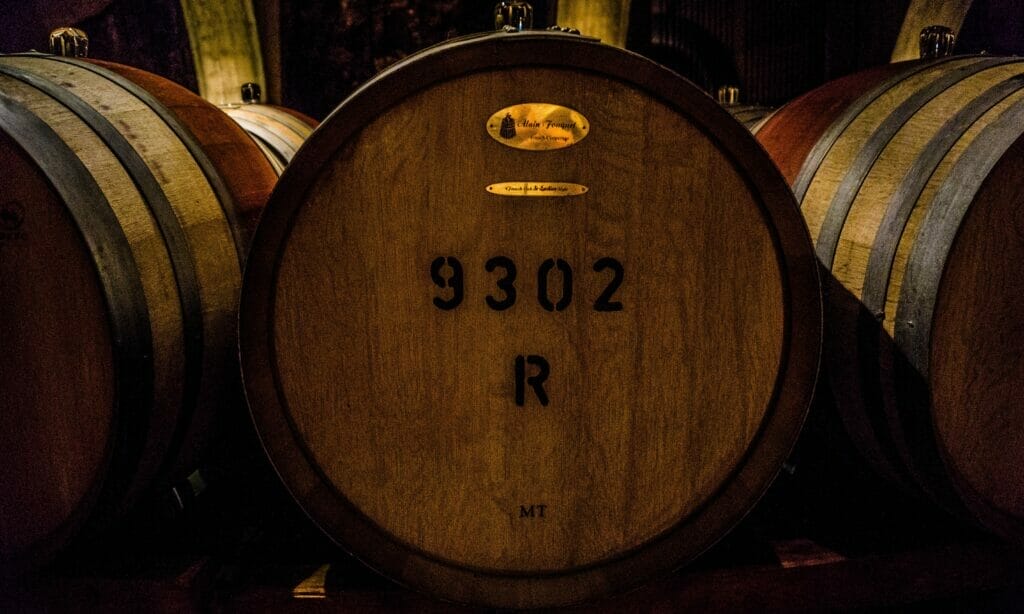 14. Lazy Moon Pizza
There are some things in life that we can all agree on make a great night out: craft beer, pizza, and…bocce ball!
Lazy Moon Pizza is one of the best places to get pizza in Orlando.
The care and attention they bring to their pizzas, from the dough to the homemade sauce to the rich variety of toppings, is top notch.
If you're not in the mood for pizza (what?!) you can still stop by for salads, calzones, and soups.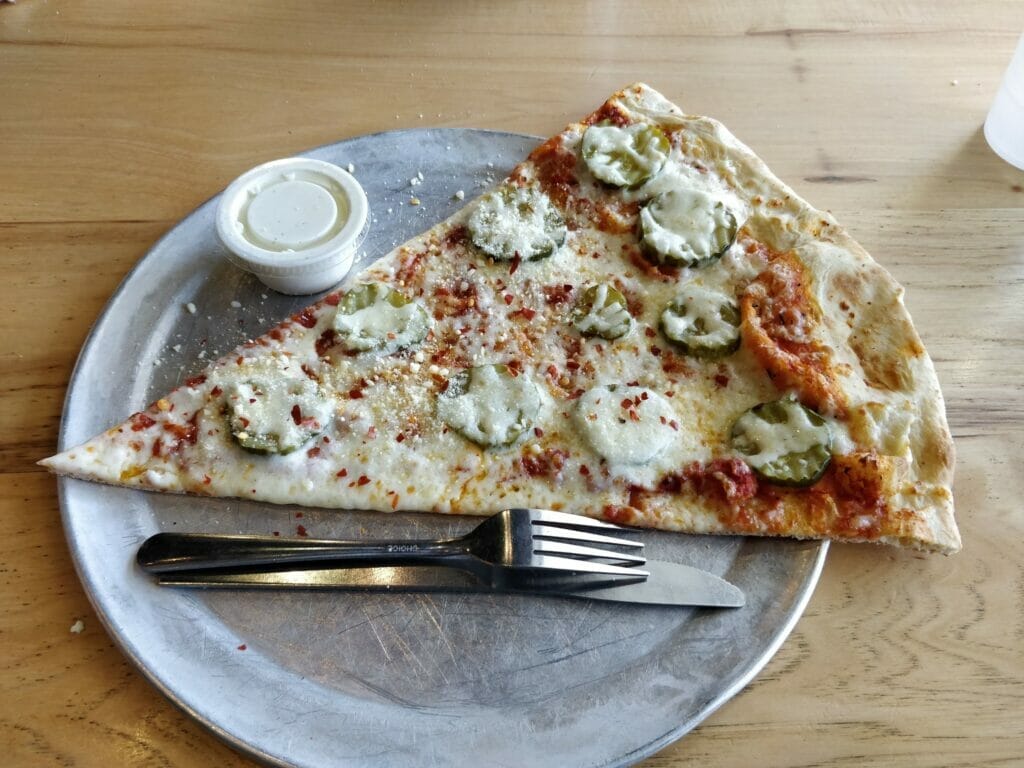 15. ICE BAR Orlando
The largest permanent ICE BAR in the world, ICE BAR Orlando is a great way to escape the Florida heat where you'll go from baking to literally freezing!
Step inside this gorgeous ice sculpture bar and enjoy a unique chilled cocktail while you bundle up in thermal coats and gloves.
If you get too cold, don't worry, the adjacent Fire Lounge can help you warm up while sipping on more drinks.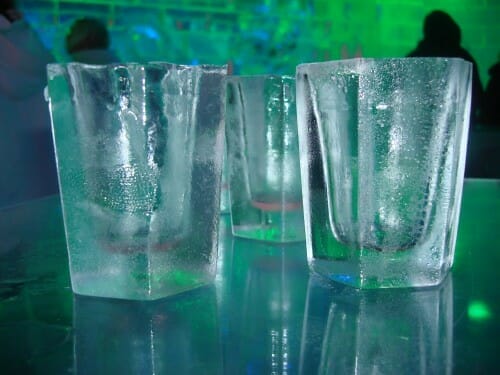 Things to Do in Orlando at Night for Families
Orlando was built for families, which means evening entertainment for them is never in short supply.
Check out the best things to do in Orlando with kids at night, both on theme park property and throughout the rest of Orlando.
16. Watch the Fireworks at Disney World
Whether you're in the parks or not, you can still find places to watch the fireworks at Disney World.
Use this resource on where to watch fireworks at Disney World for free, as there are hidden places around property that will give you a great view of the fireworks parts of the show.
My personal favorite is this way to watch the Magic Kingdom fireworks, which includes going to the Wilderness Lodge and taking a free boat ride so you end up watching the fireworks from the water.
Watching fireworks from outside the parks can also be a great idea for little kids who are hesitant about the loud fireworks noises inside the park.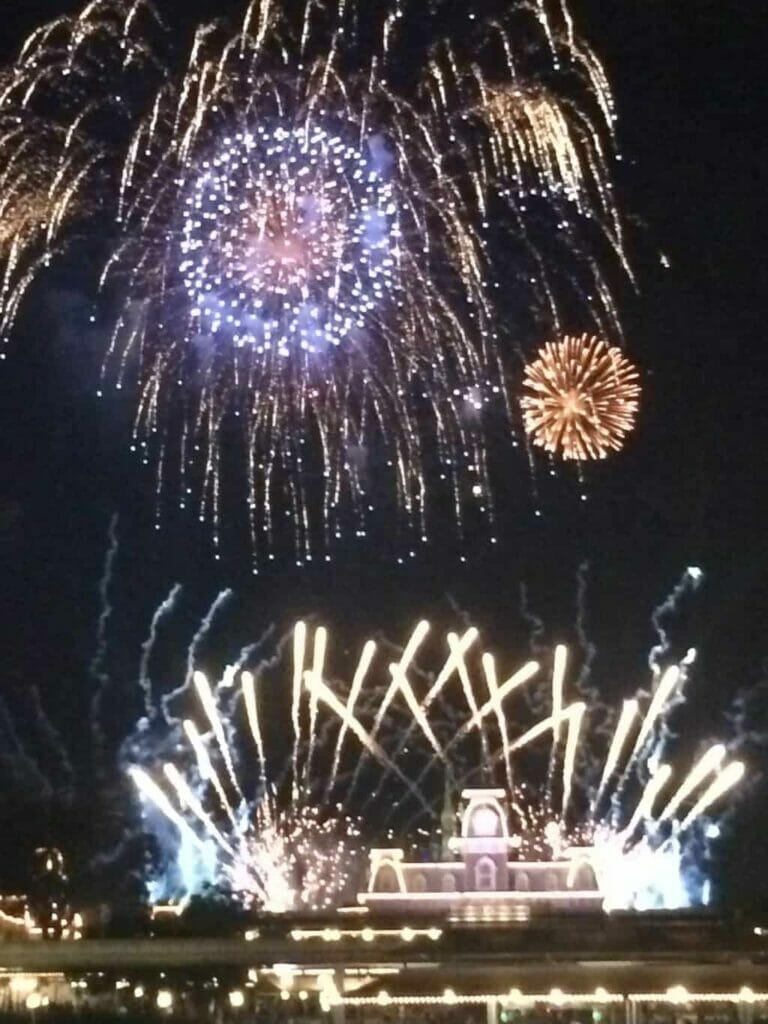 17. See the Blue Man Group
Down at Universal's CityWalk is a world famous evening entertainment show, the Blue Man Group.
Filled with music, humor, and antics, the Blue Man Group is a fantastic option for older children and teenagers who will appreciate the jokes and the crowd participation.
Come prepare to have things fall on you and be splattered on you as getting messy and getting in on the action is all part of the fun.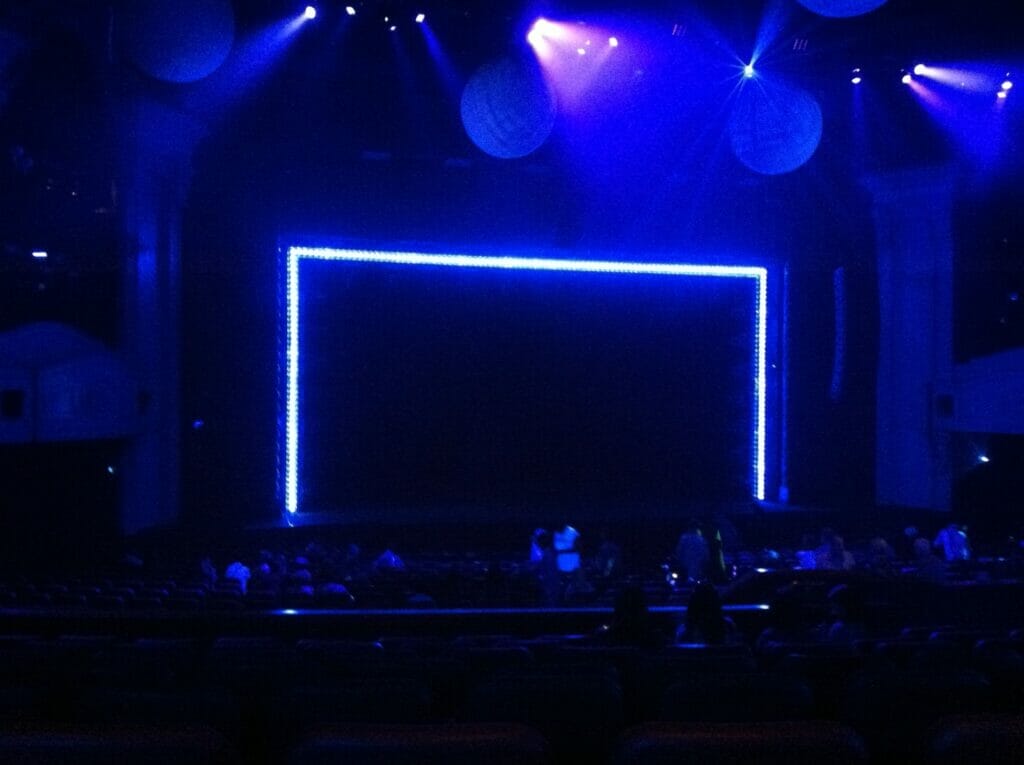 Head to Disney's Polynesian resort for a dinner show that will transport you to the tropical paradise of Hawaii, which isn't too hard to believe with the Orlando weather.
This dinner show includes performances and a luau, along with a delicious Polynesian inspired menu.
You'll see hulu dancing, fire juggling, and the food is all you can eat so even the heartiest of teenage appetites are catered for.
19. Medieval Times
Got kids who want nothing more than to be able to eat with their hands?
Medieval Times is one of the best dinner theater options in Orlando for kids who would be interested in cheering on their team's knight and digging into their dinner with the same lack of manners they would have used in medieval times.
Watch the jousting, enjoy the fun and games, and get fed as part of the deal.
This is a great package way to spend an evening in Orlando where the entertainment and the food are all included in one price.
20. Wonderworks Dinner Theater
The Outta Control Magic Show at Wonderworks is one of Orlando's hidden gem dinner theaters.
This is a fantastic option for families with kids who want some old-fashioned fun, incredible magic drinks, and unlimited pizza and drinks.
It's not fancy, it's not upscale, it's not dull, it's just plain entertainment and fun with family-favorite pizza flavors and an excellent way to spend an evening.
Get cheaper entrance by using the GO Orlando Pass which you can find more about here.
21. Have a Character Dinner
Disney excels at character dinners, meaning that your family can meet and greet their favorite characters.
Try the Winnie the Pooh character dinner at the Crystal Palace in the Magic Kingdom, or head over to the Grand Floridian for 1900 Park Fare, where you can often find the Evil Stepsisters and Cinderella herself.
These dinners tend to be more expensive than non-character dinners, but it means you don't have to wait in lines in the parks to meet them as they will come to your table and take pictures with you as part of your dinner fee.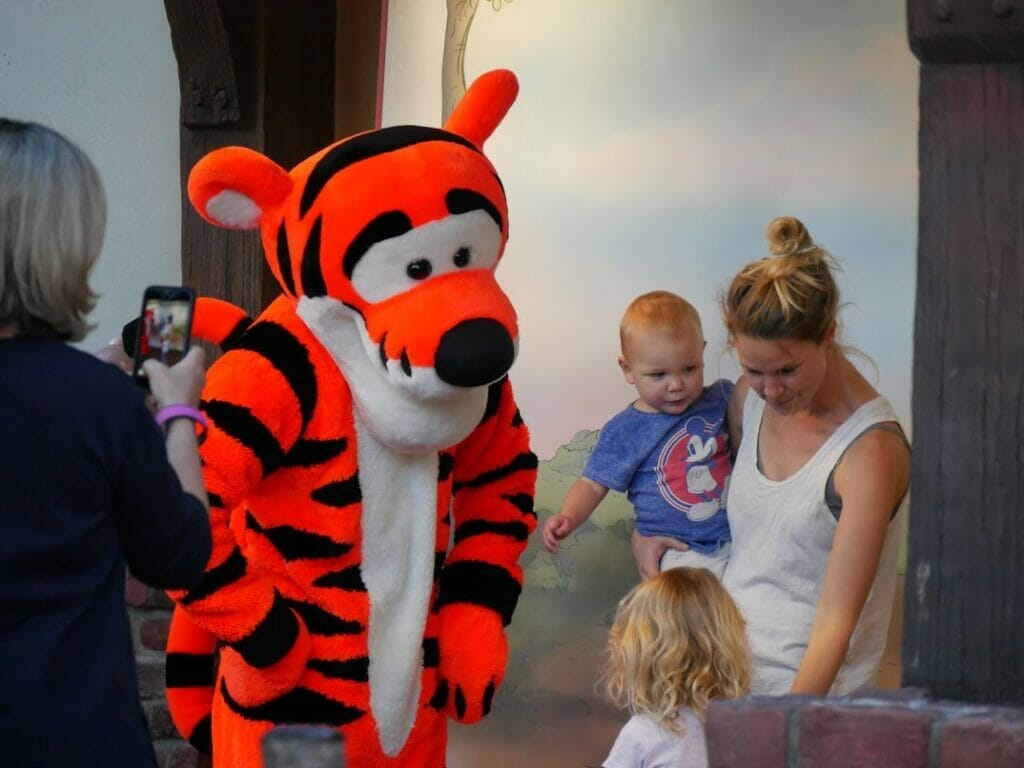 22. Putt Putt Golf at Congo River
Orlando is filled with putt putt golf.
Seriously, around almost every corner, you'll spot the classic bright green putt putt fairways, as well as incredible theming because this is Orlando, we don't do normal putt putt golf!
My favorite putt putt golf in Orlando is Congo River, which you can find in Altamonte Springs.
You'll play putt putt amongst waterfalls, plane crashes, caves, and so many more obstacles that make this a wonderful family night out.
You can also feed the baby alligators and see a movie at the Altamonte Mall afterwards.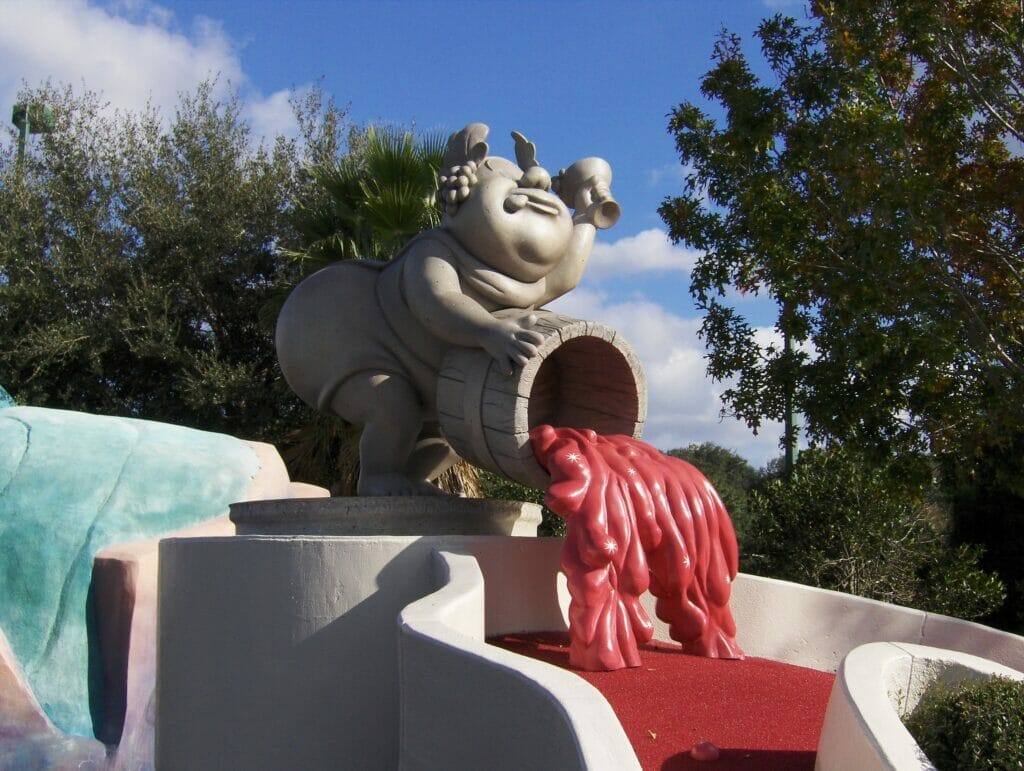 23. See a Musical
If you're hoping for more passive evening entertainment where you can just watch and enjoy after a long day at the parks, check what's playing at the Dr. Phillip's Center for Performing Arts, where many visiting plays and Broadway musicals come to town.
You can also see what's on at the children's theater, the Orlando Repertory Theater, which is a fantastic option for family-friendly professional shows ranging from Christmas classics like Elf to Junie B Jones.
24. Lil' 500 Go Karts
If you want a relatively low cost family-friendly thing to do in Orlando in the evening, why not spend it go-karting around the Lil' 500 tracks?
With three track options depending on the child's age, this go-karting destination is a popular local favorite and is a fun way to embrace your family's competitive streak and zoom around the tracks.
There are special go-karts to allow a parent to ride with a child who isn't old enough to drive, as well as a large family track where everyone over the age of 5 can drive by themselves.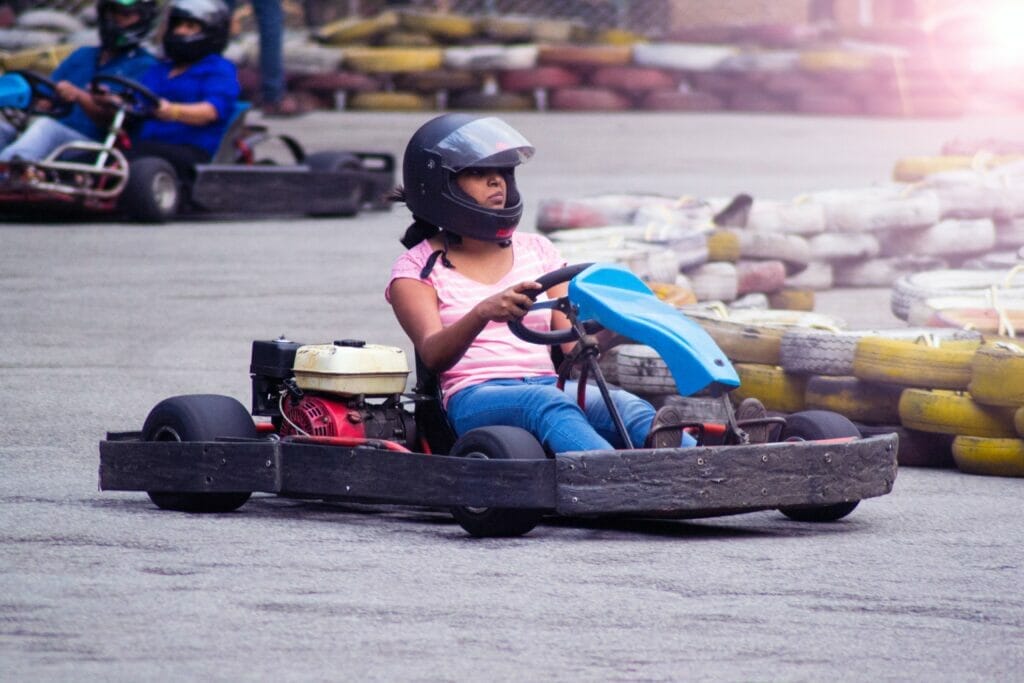 What to Do in Orlando at Night Under 21
Whether you're a group of teenagers or early college students looking for what to do in Orlando at night if you're not 21 yet, here are some great options that will let you explore the city and have fun with your friends.
25. Enjoy the Evening Atmosphere of Disney Springs
From Rainforest Cafe to taking a ride in the amphicars, there is plenty to do in Disney Springs for the under 21 crowd.
Visit Goofy's Candy Company for some freshly made cupcakes, or take a stroll around the lake and stop in the boutique shops for some brand name and Disney shopping.
Grab a table at a casual restaurant like the Polite Pig and dig into some barbecue, or try a Disney Springs scavenger hunt to see how many hidden Mickey's you can find.
If you're wanting a nice night out to celebrate something like Prom or Homecoming, try the Boathouse.
Sit out by the lake and enjoy a bit of a splurge dinner, but still with reasonably priced options.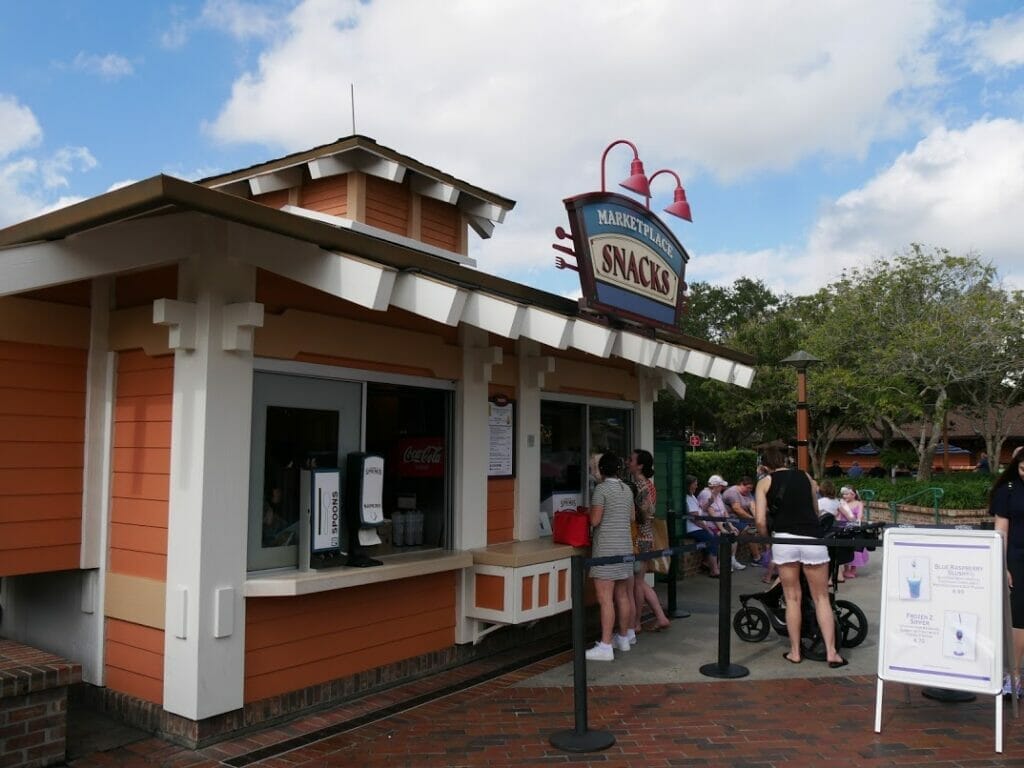 26. Walk around the Boardwalk
Disney's Boardwalk, situated next to Disney's Boardwalk resort resembles the fun and games of a Boardwalk in the northeast of the US.
You'll find live entertainment, live music, plenty of shopping options, and gorgeous views across the lake to Disney's Yacht and Beach Clubs.
If you want to just catch up, there are plenty of places to sit looking out over the water and eat your ice cream while getting to know each other.
27. Go Bowling
There are still plenty of places to bowl in Orlando, most notably at Splitsville in Disney Springs.
This isn't just a bowling alley, but a casual restaurant as well so you can enjoy delicious food while you bowl.
Book a lane ahead of time to make sure there's space for your group and then bowl the night away.
Other Orlando bowling alleys also offer nightime entertainment like Glo Bowl, where your bowling ball glows in the dark as you bowl with the main lights off!
28. Head to the Mall of Millenia
Walking around the mall may not be as popular as it used to be, but it definitely is at the Mall of Millenia.
This upscale mall features everything from Burberry to Hollister, so you can do some window shopping or some actual shopping depending on your budget.
There are plenty of restaurants at the Mall of Millenia, not just a food court, which makes it a great thing to do in Orlando at night as the mall won't close until after dinner time, giving you plenty of time to eat and shop after the sun goes down.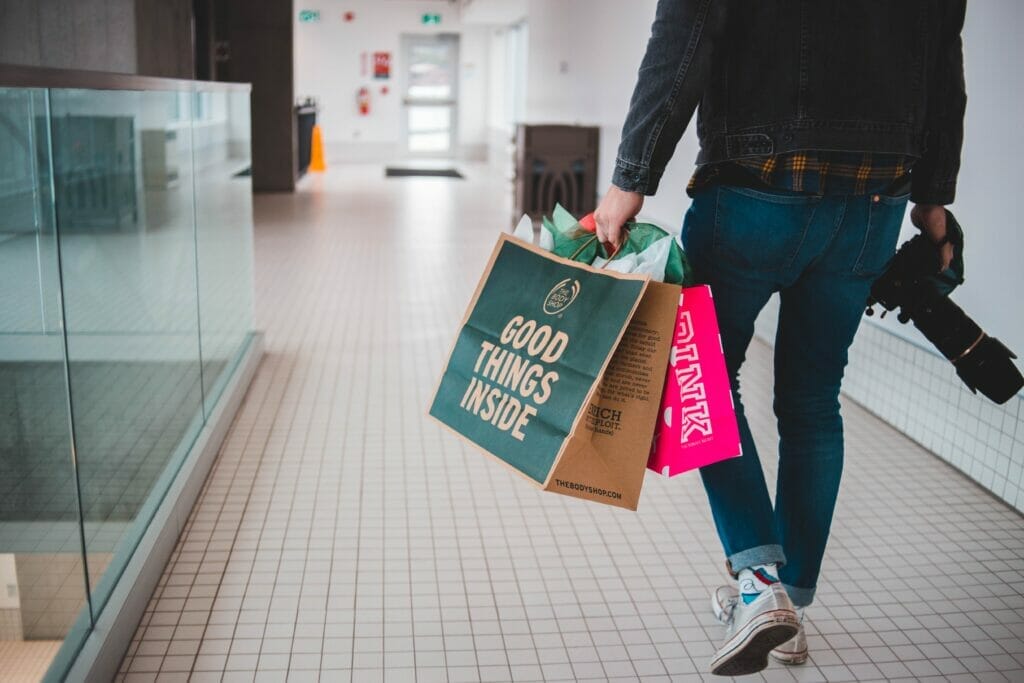 29. Ripley's Believe it or Not
Did you know Ripley's Believe it or Not in Orlando opens until late?
This weird and wonderful exhibition of the world's strangest oddities is a fun Orlando must-do if you've never been to a Ripley's before.
Stand next to a replica of the tallest man in the world to see how you compare, and travel the world through the interactive exhibits bringing you fascinating facts from all over the globe.
30. See a Magic Game
The Orlando Magic play during season at the Amway arena, with the games happening in the evening.
This is a great option for the Under 21 crowd to still have a vibrant and entertaining night out.
Grab yourself some snacks from the stands and cheer on the hometown team.
Sponsored by Disney, there is always plenty of entertainment and hype in the crowd.
Keep an eye out for discounted tickets, as the Magic often release promotions which can make it a cheap thing to do in Orlando.
One of the best way to get cheap tickets is actually to get the GO Orlando Pass, which includes select games and lots of other Orlando attractions.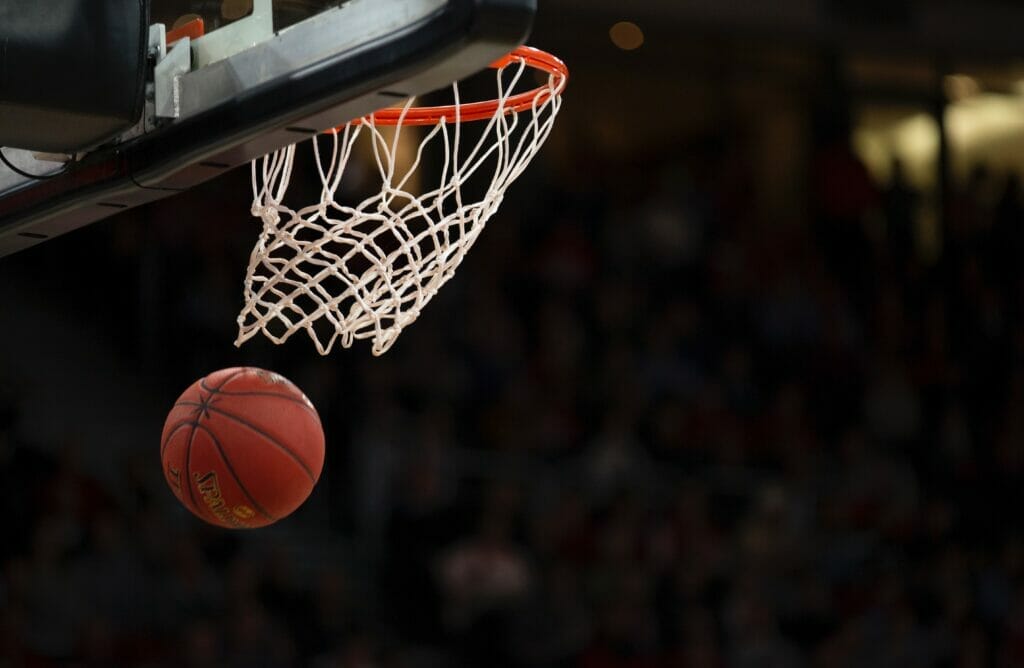 31. Get Ice Cream at Kilwin's in Winter Park
Kilwin's is one of the best ice cream chains in the US, and you can enjoy your very own scoops of this delicious ice cream at the Winter Park location.
Winter Park does cater to a slightly older crowd, not necessarily teenagers, so college students who want to do some shopping and get dinner out will find themselves right at home in this area.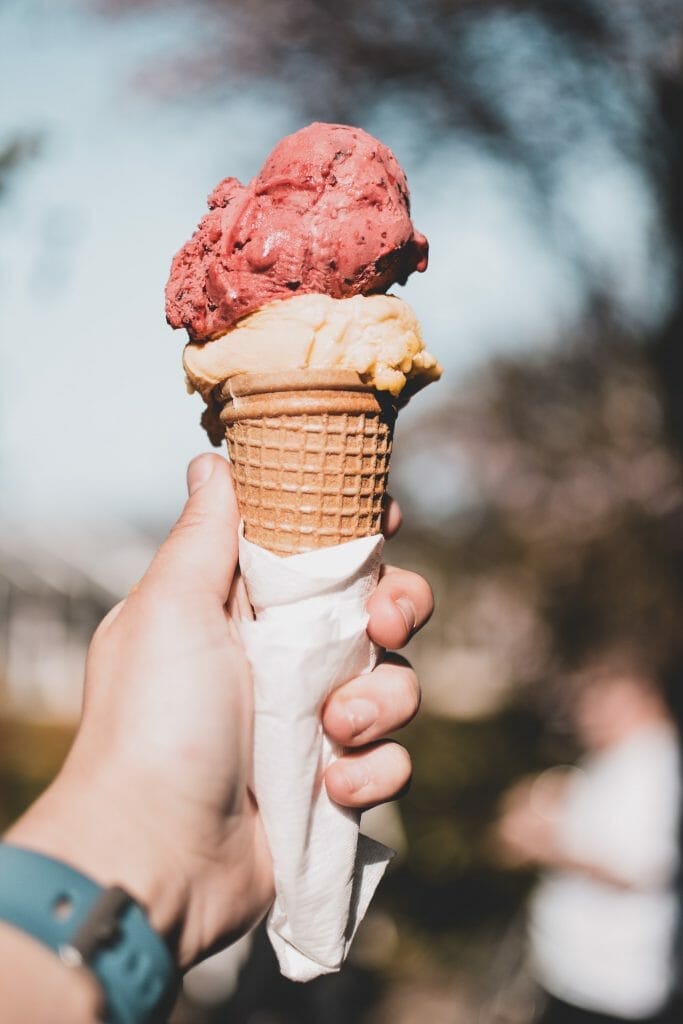 32. Fun Spot America
From rollercoasters to splash pads to go-karts, Fun Spot America is an amusement park focusing on rides and carnival games (get cheaper entrance using the GO Orlando Pass)
It stays open until late at night so you can enjoy some cotton candy as you walk around listening to the happy screams.
Find your way through the Fun House or take a ride on the Ferris Wheel for some old school amusement park fun.
What else should I not miss in Orlando?
If you're visiting Orlando soon, here's a very brief rundown of a few of my other favorites to make sure you don't miss anything!
Hey! Want more Orlando content? Check out these guides!
Get the All-American Travel Secrets!
Don't miss out on America's hidden gems!