When you want to maximize the fun you're having, what better way to do it than check out the fun things to do in Orlando?
Sure, there are educational things to do in Orlando (and some of those are also fun!), there are things to do in Orlando for history lovers, there are things to do in Orlando with babies, but "fun" is a universal language and these things to do in Orlando for fun are going to make sure that your family and friends are smiling their heads off in your pictures and reflect on your trip knowing that you've taken in the maximum thrills, spills, and fun ways to spend the day.
If you want more thing to do in Orlando, check out the guide to the best things to do in Orlando as well.
WANT TO CONQUER THE ALL-AMERICAN BUCKETLIST?
Join 4,000 others in weekly guides to the most beautiful places and hidden gems in the USA.
What to Bring to Orlando
If you're not used to the Orlando heat, here are just a few suggestions on what to make sure you have with you, almost year-round.
Getting around Orlando
Don't forget that it's much easier to see Orlando by car so you can get around on your own.
Rental cars are perfect if you're flying into the area.
We recommend using Discover Cars price comparison to find the cheapest deals.
Where to Stay in Orlando
Budget: Splashing Out ($250+ per night)
Orlando is full of luxury hotels to choose from, and while more obvious options might be the Ritz Orlando, the Waldorf Astoria is at a bit of a cheaper price point (though not cheap, this is still a splash out) and offers some spectacular amenities.
Firstly, it's set on over 400 acres, and in addition to plush rooms that will rival any resort you've stayed in, there is also a full golf course, 2 swimming pools, kid's clubs, a lazy river, an on-site spa AND free transportation to the Disney parks.
Oh, also there are 12 restaurants, so, there you go, decision made!
Budget: Mid-Range ($150-$250 per night)
I've stayed in this hotel so many times, I've lost count – and every single time, I want to stay forever.
The Wyndham Bonnet Creek is a great mid-range option with spacious rooms, beautiful pools, a lakeside location with plenty of recreational opportunities for kids and adults alike, and some rooms even have Disney fireworks views.
Relax by the fire pit in the evening, or put on your plush robe and check out the spa. The location is top notch, the price is reasonable for Orlando, and the memories you'll make here will last a lifetime.
Budget: Uh…on one! ($150 or less per night)
If you'd rather spend your vacation money on things to do in Orlando while still being comfortable and happy at your resort, Hilton at Tuscany Village is for you.
The whole resort is sleek and modern, with awesome views from many of the balconies and well-designed outdoor pools (yes, this is Orlando, even the cheaper hotels have a pool!)
Choose from studios or suites, and appreciate the great location that makes you a 4 minute walk from the Outlets and a less than 10 minute drive from Disney, SeaWorld, Universal, and other Orlando attractions.
1. Magic Kingdom
There's nothing more fun to do in Orlando than the Magic Kingdom.
This is Orlando's postcard worthy attraction, the original Disney theme park in Orlando, and what everyone thinks of when they think of Orlando.
From thrilling rides like Space Mountain and Big Thunder Mountain to more tame rides like Dumbo and the Carousel of Progress, the entire family can have a jam-packed day of fun at the Magic Kingdom without ever wanting to go anywhere else.
In fact, you might not even be able to finish seeing the Magic Kingdom in just one day, so make sure you're planning for at least 2 Magic Kingdom days in your Disney World itinerary.
For dining options, the most fun you can have at Magic Kingdom is either at the Be Our Guest, Beauty and the Beast themed dinner, or you can dine in Cinderella's Castle with the princesses!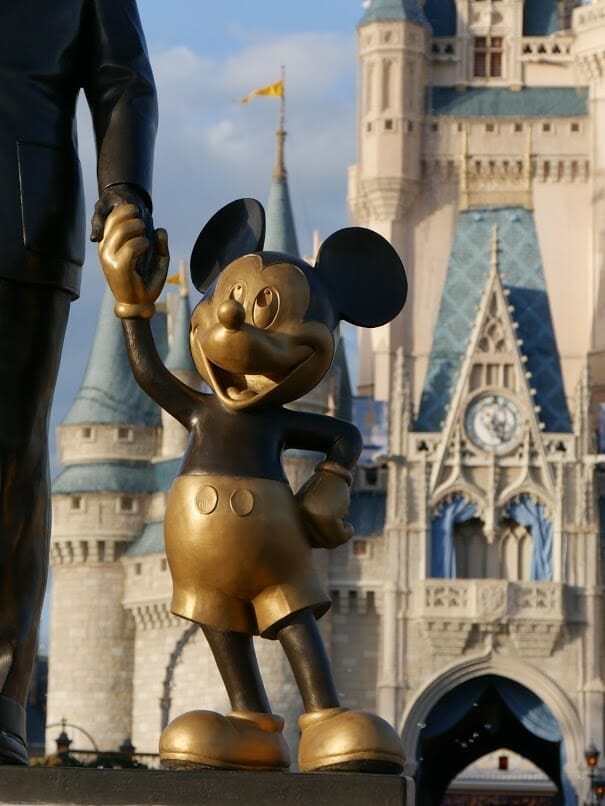 2. Animal Kingdom
From the incredibly themed Pandora, World of Avatar where you can take flight on a banshee to the very real Kilimanjaro Safari ride (yes, those are actual animals!), Animal Kingdom is an enchanting world of Orlando fun for those who love the natural world and animals.
You can take it easy and walk through the animal exhibits, seeing adorable gorillas, beautiful tigers and so many birds your head will spin, or you can go for the action-packed day including a ride on Expedition Everest (watch out for the Yeti!) and a very wet ride down Kali River Rapids, the park's water attraction where you're bound to get wet.
For fun dining options, check out Tusker House where you can dine with Donald and friends, or try some quick-service food in Pandora where the blueberry cheesecake is both very fun to look at and delicious to enjoy!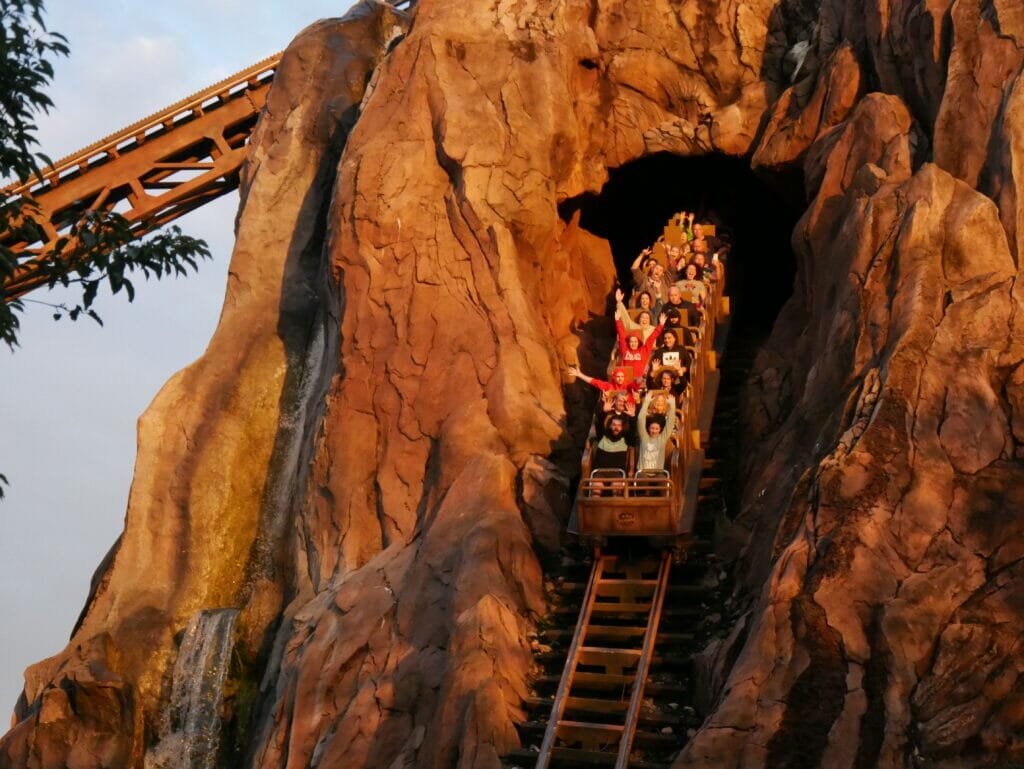 3. Hollywood Studios
What can be more fun in Orlando than heading off to Galaxy's Edge where you can make your own droid, build a lightsaber, or just immerse yourself in the world of Star Wars?
Any Star Wars fan will fall in love with the two rides, Rise of the Resistance and Smuggler's Run where you're piloting the Millenium Falcon.
The whole family will also love Toy Story Land where you've got the iconic Slinky Dog Dash, a family-friendly rollercoaster that lets you zoom your way through Andy's room, as well as Toy Story Mania which will be fun for the competitive people who want to try their hand at winning virtual carnival games while you zip around through the ride with your 3D glasses on.
Hollywood Studios has a super fun dining option at the Sci Fi Dine In, which is one of the most immersive dining options in Disney and makes you feel like you're at a real drive-in movie!
4. Universal Studios
Got time in your day for classic rides like ET and Men in Black, where you can introduce the kids to your favorite movies from yesteryear!?
Or want to go on a daring rollercoaster that has an almost vertical drop?
Universal Studios Florida is one of two theme parks that make up the Universal parks, and this is a great option for those looking for some classic entertainment.
Here, you'll find Revenge of the Mummy, a thrilling indoor coaster, as well as some of the best playplaces for kids with Barney's Backyard and Woody Woodpecker's Nuthouse for the older ones.
Harry Potter fans will also find something to love, as the newest Harry Potter ride, Harry Potter and the Escape from Gringotts, is a Universal ride, connected to the other Harry Potter adventures at Islands of Adventure by the Hogwarts Express that you can take between parks if you have a two-park ticket.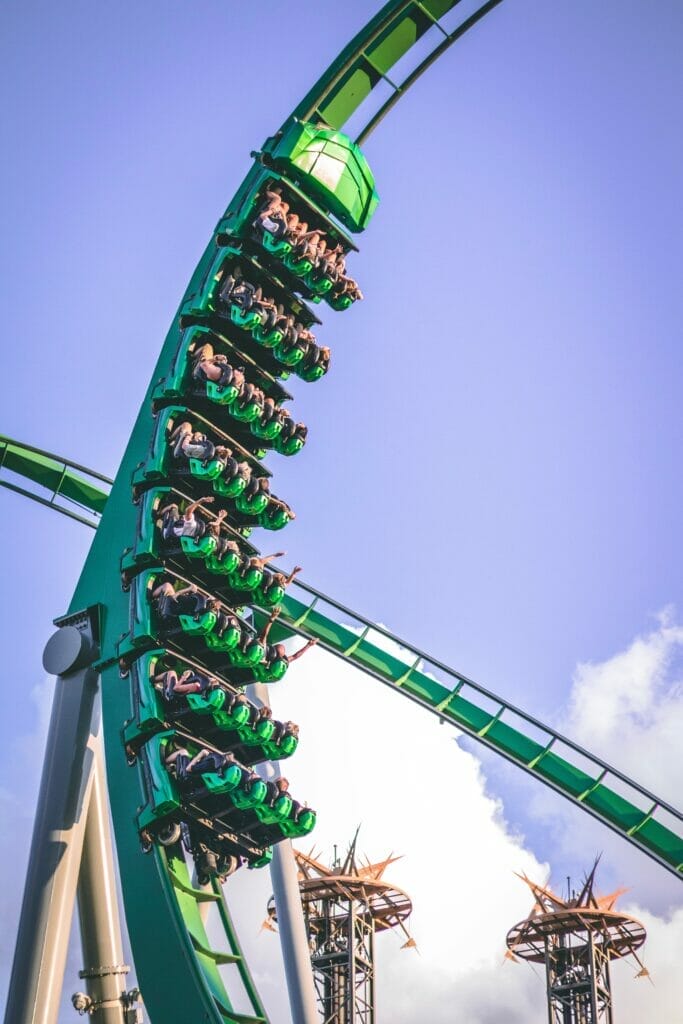 5. Islands of Adventure
One of the most fun things to do in Orlando for action hero gurus is Islands of Adventure.
Fight crime with Spiderman, soar over the park with the Hulk, or of course get your magic on at Hogwarts where you can take pictures in front of the Hogwarts Express, battle with your dragons on fun rollercoasters or stroll down Hogsmede.
Islands of Adventure is also family-friendly with its Dr. Seuss themed rides and play areas, including the cutest Cat in the Hat ride around where you become a part of the story.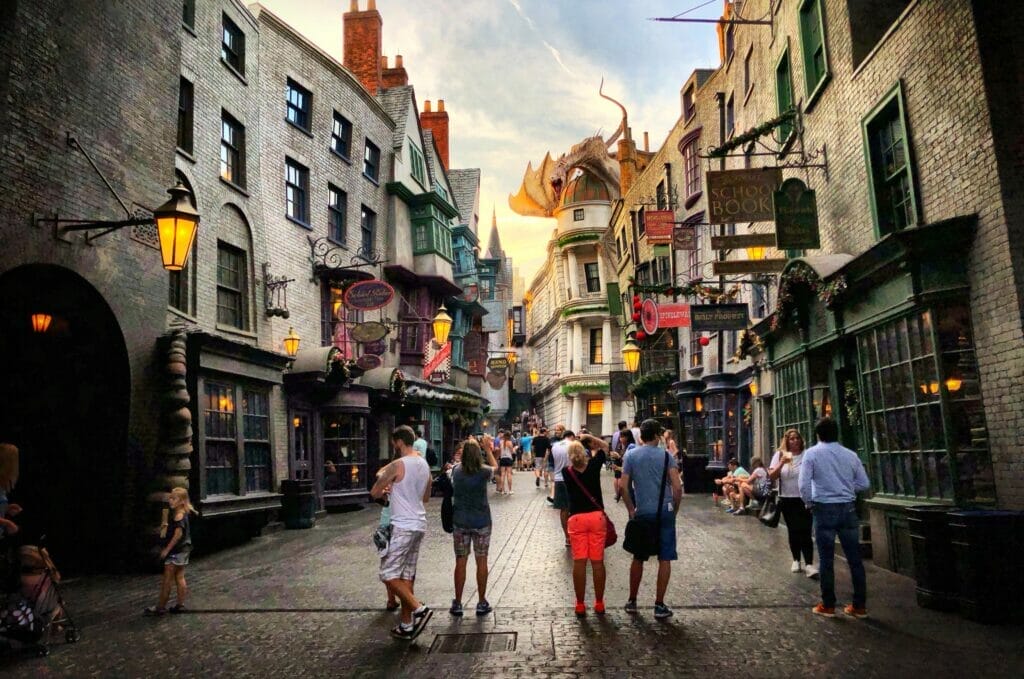 6. SeaWorld
From orcas to dolphins to penguins, SeaWorld Orlando is dedicated to the care and conservation of marine animals and idea that the park will help future animal lovers to fall in love with these amazing creatures as well.
Visit the animal exhibits to watch feeding times, head to one of the regularly scheduled shows to learn from the trainers and how they interact with the animals, or take it a completely different direction and spend your day on SeaWorld's thrill rides.
That's right!
From Kraken, the mega coaster, to the log flume ride Journey to Atlantis, SeaWorld is filled with things to do for all members of the family whether you want to be up close to the dolphins or up close to the man in front of you as he screams his head off plummeting down a rollercoaster track.
7. Epcot
Epcot is a huge favorite for birthday fun in Orlando as people try to drink or eat their way around the world, but you can also go on family-friendly rides like Test Track and Mission Space or take it a bit easy by taking a boat around the World Showcase.
This is a fun way to see how many countries you can visit in one day without ever leaving Florida, and Frozen fans will love the Frozen Ever After boat ride.
If you're visiting during one of Epcot's many festivals like the Flower and Garden or the Festival of the Arts, you can spend a lot of time at each individual stall selling everything from mac and cheese to Disney art!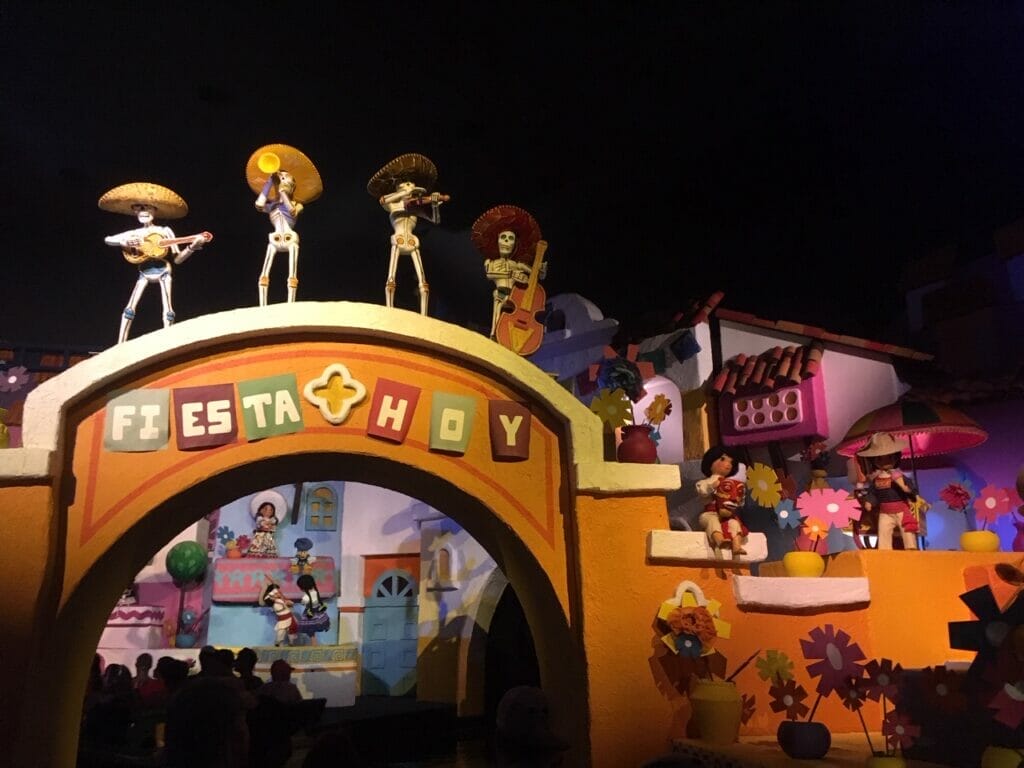 8. Blizzard Beach or Typhoon Lagoon
What's more fun in Orlando than going to a water park?
Even in Florida in winter, the water parks are still open and ready for you to spend a day of slipping and sliding down thrilling slides, floating in the lazy river, or crashing into the waves at the wave pool.
If you're not into the water rides, you can enjoy a relaxing day with your feet in the sand and laying under an umbrella, and there are plenty of areas for kids to play at every Orlando water park that have shallow waters and lots of lifevests available.
Disney's water parks are called Blizzard Beach and Typhoon Lagoon, or you can opt for Volcano Bay (Universal) or Aquatica (SeaWorld).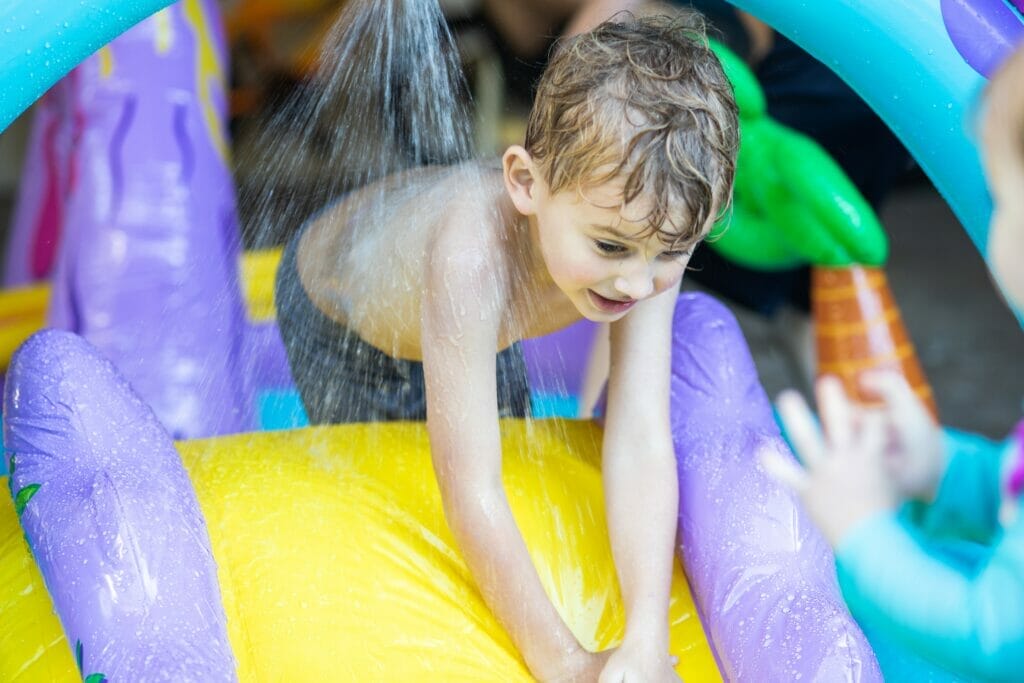 9. Orlando StarFlyer
See Orlando from a bird's eye view as you sit in a swing flying high above the clouds (or so it feels like it).
The Orlando StarFlyer is an awesome Orlando thing to do, though not for those with a fear of heights!
Pick a buddy and sit side by side as you get swung around this massive, giant swing and enjoy the dazzling lights of Orlando at night or see how far you can see through the city if you swing on the StarFlyer in the daytime.
You may be screaming, but you'll be smiling too!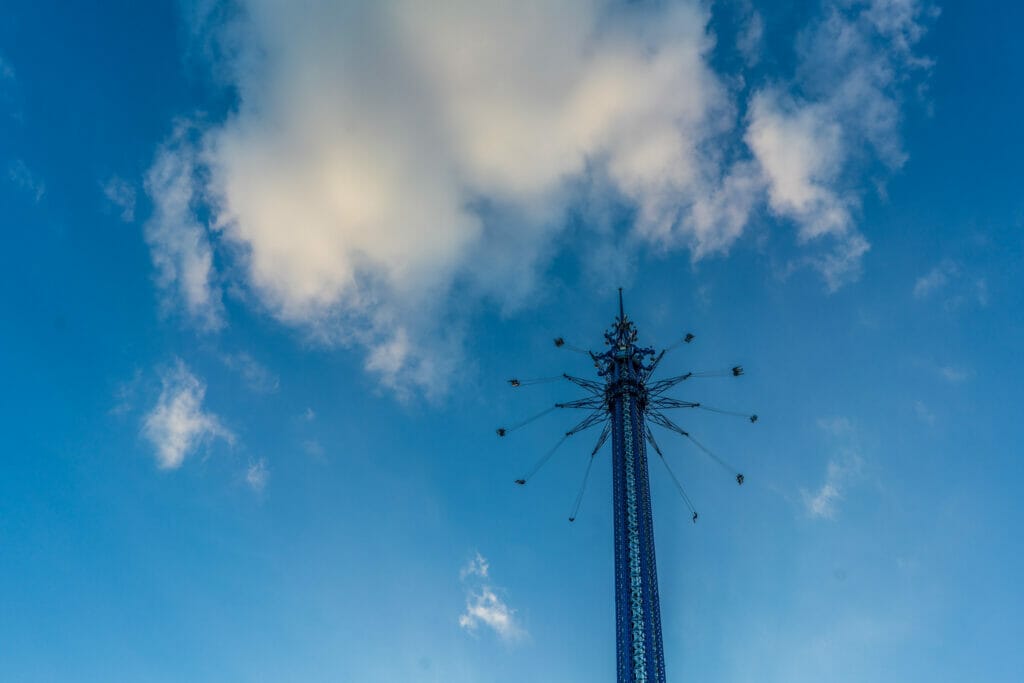 10. The Wheel
After a tamer version of the StarFlyer that involves a more traditional Ferris Wheel and is a bit easier for the little ones?
Take a ride on the Wheel in ICON park, a rotating Ferris Wheel with enclosed capsules that allow you to get a 360 degree view of Orlando.
ICON Park, in general, is a fun place to hang out in Orlando and has other attractions there as well like the Sea Life Aquarium.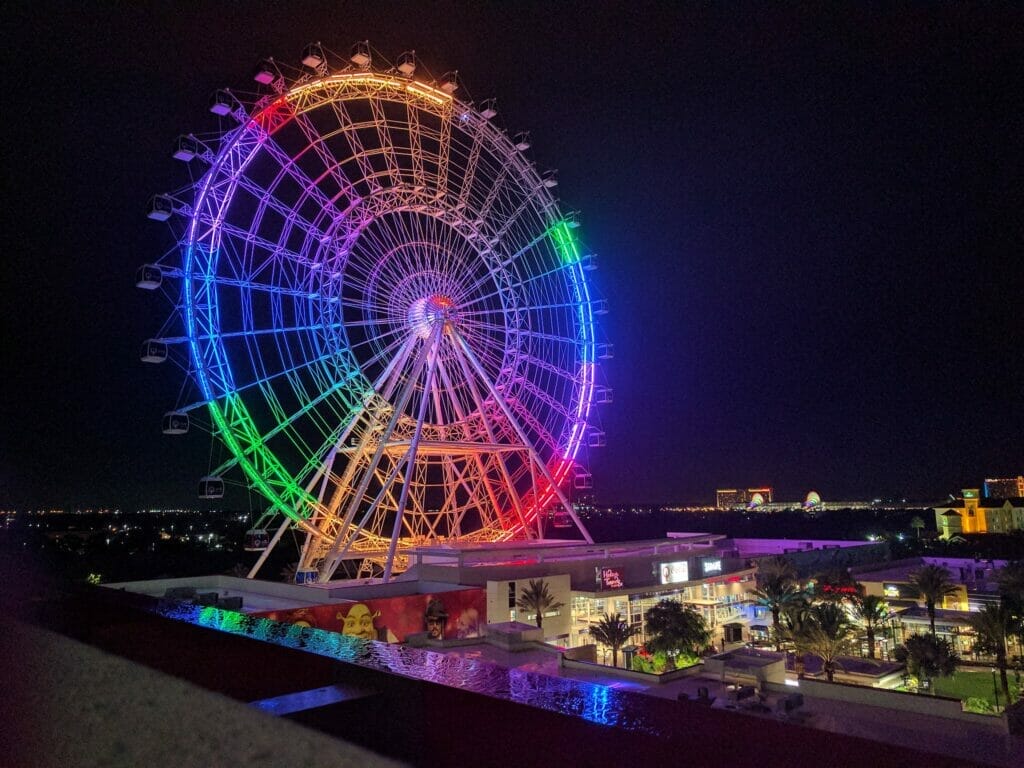 11. Wonderworks
Step one foot in this upside down house and you'll soon see why Wonderworks is an Orlando classic.
There are locations around the US, but since Orlando is such a spot for families looking for fun things to do, the Orlando location fits right into I Drive.
You'll be able to immerse yourself in weird and wacky science experiments surrounding light, sound, physical touch and so much more.
The name, Wonderworks, really drives home the edutainment aspect of this Orlando attraction that keeps both kids and parents engaged as they explore together.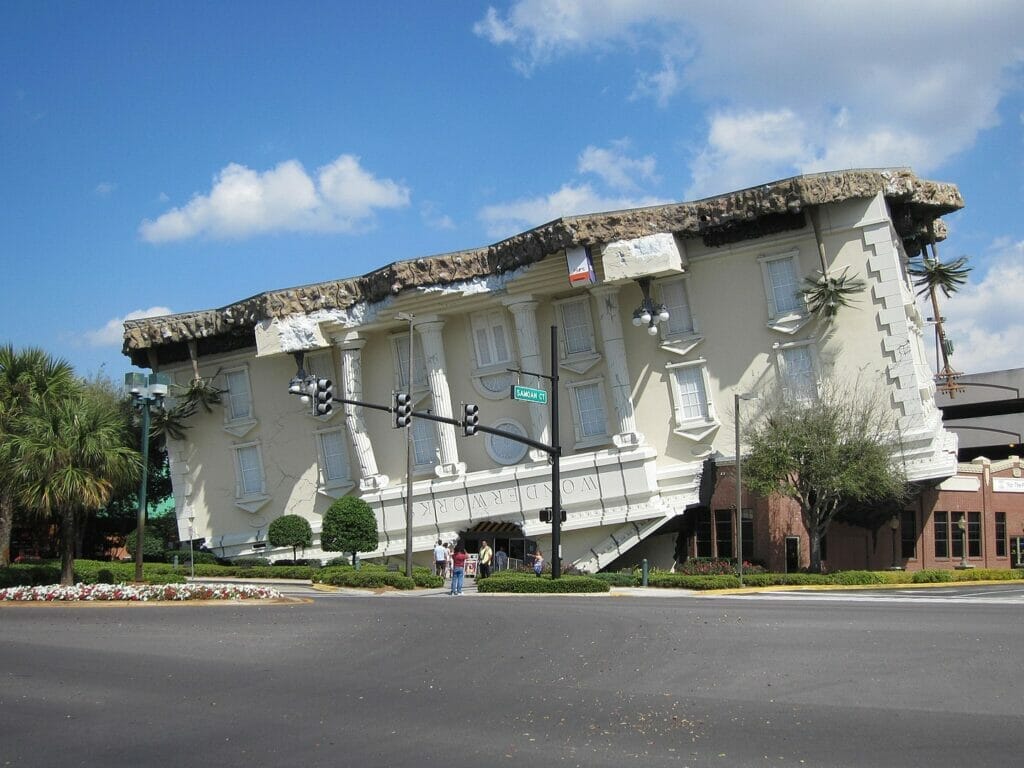 12. Discovery Cove
Ready to swim with dolphins, snorkel with sting rays, or just lay out by the beach?
Discovery Cove is in Central Florida and about an hour from actual beaches, but you wouldn't know you're not in your own tropical paradise when you're here.
This is a theme park where the theme is, well, relaxing.
And swimming with dolphins, if that's something you're interested in.
And unlimited food.
And gorgeous family photos.
There are no rollercoasters, thrill rides, or long lines at Discovery Cove.
Just a day of fun in the sun interacting with animals and making memories with your family.
13. Mall of Millenia
The Mall of Millenia isn't like any other mall in Orlando (and there's a lot of them).
No, it's the upscale mall, the mall where the fancy people go, the mall where you'll stumble across Burberry and Prada and other high end names that will make you envious of the people walking out with purchases.
There are also other shopping options too, if those brands aren't in your budget, but for people who love shopping, the Mall of Millenia is a must-visit.
It's a shopping experience, not just a quest to buy things, and during the holidays the window displays are on point.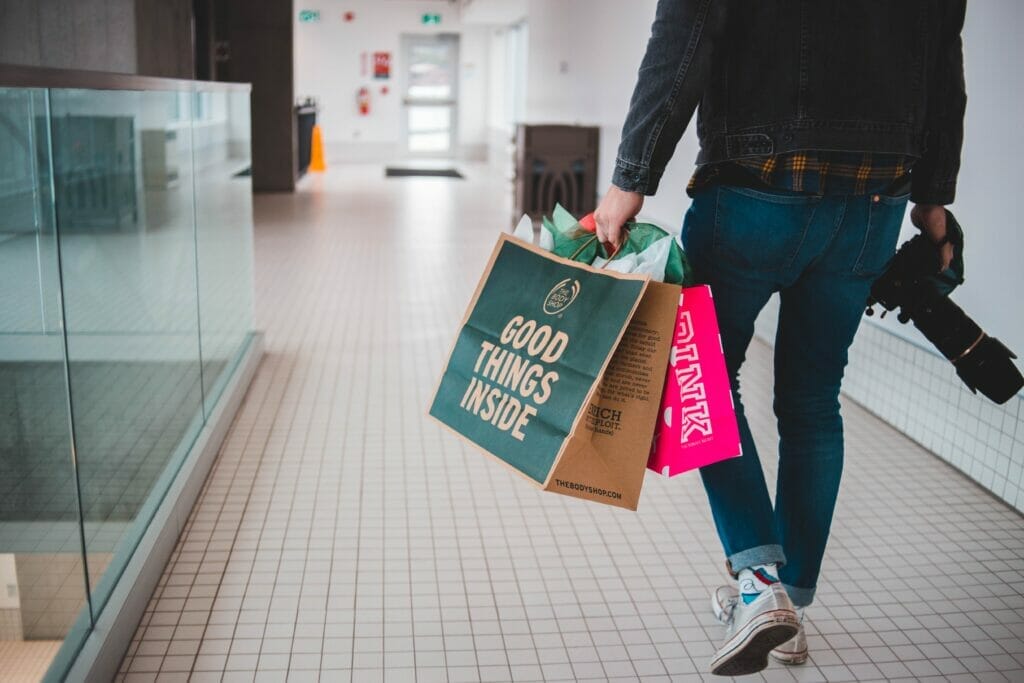 14. Disney Springs
This free shopping and entertainment district is on Disney property, but has so much more than just Disney stores.
There are some of Orlando's best restaurants, including the Boathouse (try the rolls, you'll thank me later) and plenty of shopping options with brand names like Sperry's.
Come during the holidays for festive entertainment at the bandstand as schools from all over the state come to perform at Disney Springs, or spend some time people watching while sitting outside Goofy's Candy Company.
It's one of the best free things to do in Orlando!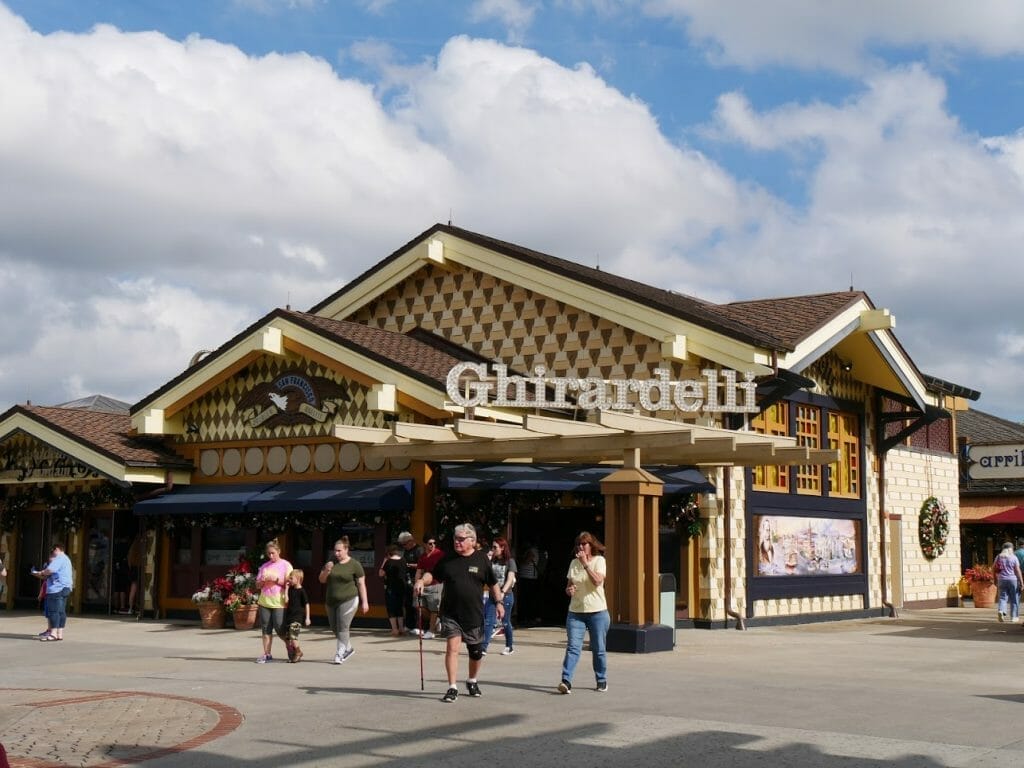 15. Citywalk
Universal's answer to Disney Springs, Citywalk is a really fun thing to do in Orlando for couples or families with older teens.
Everyone is welcome, but particularly at night the bars are hopping with friends and couples hanging out or families attending the Blue Man Group show.
During the day, start it off right by grabbing a donut from Voodoo Donuts or doing some shopping for your favorite Universal memorabilia.
Don't spend your time shopping when you're in the parks – do it for free at Citywalk the day after!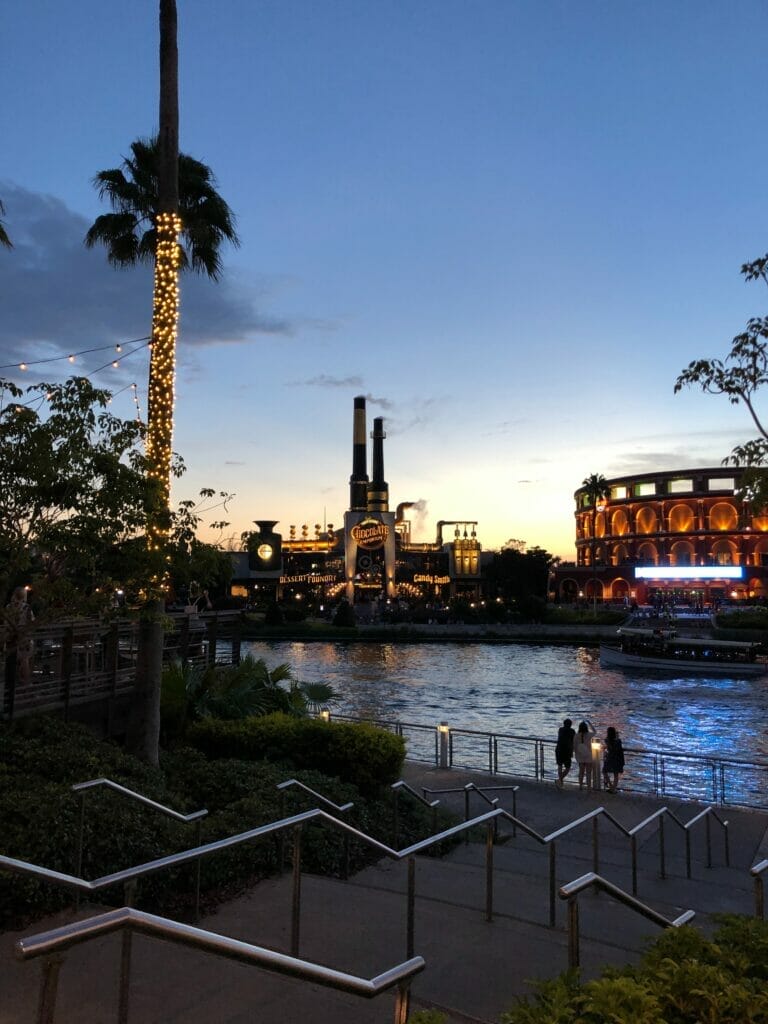 16. LEGOLand
Technically LEGOLand is just south of Orlando by about an hour, but it's one of the most fun things to do near Orlando for kids and even as an adult who went with my mom, I highly recommend it!
From an entire cityscape of LEGOs to relaxing walks through the old Cypress Gardens area to the LEGO themed rollercoasters, this is a full day out and a magical world for the little ones who live and breathe LEGOs (and you don't even have to worry about stepping on them!)
There is also a waterpark attached, which is an additional entry cost but well worth it in the summer if you want your kids to spend some time in the wave pool or riding down water slides to cool off when the Florida heat gets to be too much.
There are also plenty of live entertainment and shows, which immerse the kids in a LEGO world and give the parents a break to read the map and pull the peanut butter sandwiches out of the bag!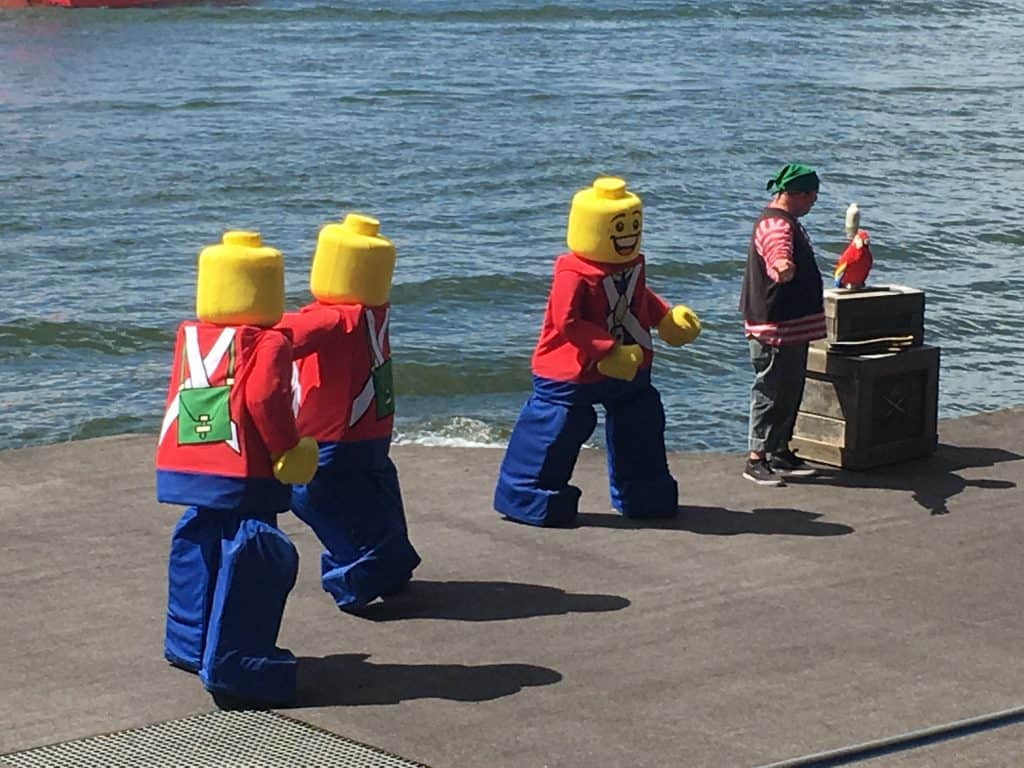 17. Gatorland
An Orlando gem and one of the most unique things to do in Orlando, Gatorland is one of the most fun things to do in Orlando if you feel like you've done it all.
This is a theme park dedicated to gators and their conservation.
Here, gators from across the state who are in danger find a new home and a new life where they can live it out happily being fed by keepers who are passionate about their species.
In addition to gators and gator-themed shows like the gator feeding experience, you can also take part in a zipline over gator infested waters, go riding on a four wheeler through gator waters (see a theme?), take a ride on their railroad line or see some other animals that reside here of the insect and mammal variety!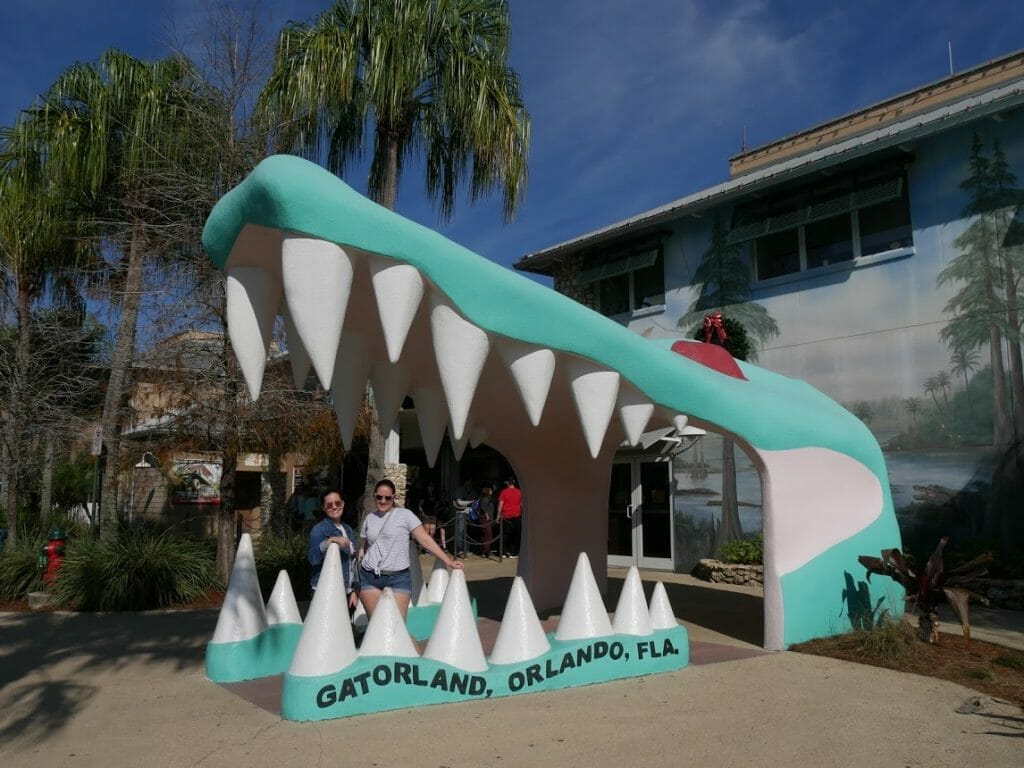 18. Swan Boats at Lake Eola
Take a trip to Lake Eola, Orlando's favorite lake, to ride the swan boats around while enjoying a great view of downtown Orlando.
There are plenty of places to eat and drink in the local area, so you can park, spend some time at the lake, and then go get something to eat to finish off your evening downtown.
This is a great atmosphere for families in the afternoon, while after dark it turns into a more popular activity for couples in Orlando.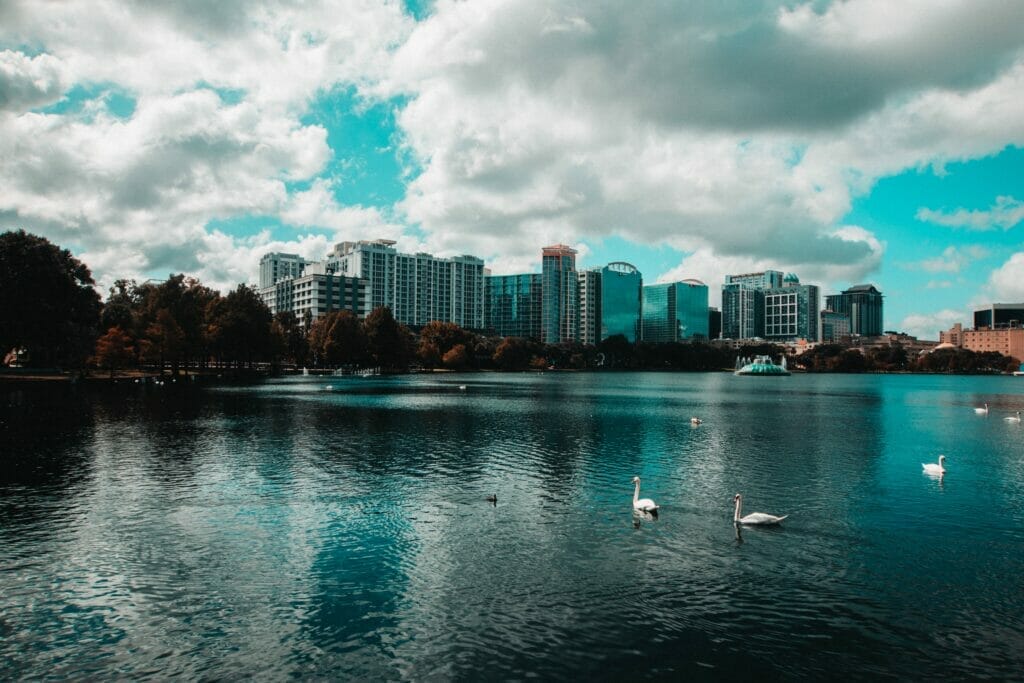 19. Orlando Rep Theater
The Orlando Rep Theater specializes in family theater, making their shows accessible to everyone from toddlers to grandparents.
These shows are heartwarming, professionally done, and a much more budget friendly option than some of the shows that come to the Dr. Phillips Performing Arts Center in Orlando.
20. Ripley's Believe it or Not
Ready for one of the most fun things to do in Orlando with teens?
Ripley's Believe it or Not gathers crazy records and insane stories from around the world and puts them all in one place.
Test your height against the tallest man in the world or see some of the weird and wonderful collections people have started over the years (hello, fingernails…?).
It's funky, it's fun, it's wacky, and it's all part of Orlando's fun.
21. Disney's Boardwalk
Whether you want some ice cream and a wander along the boardwalk to the sounds of laughter or you want to enjoy the sideshow entertainment, Disney's Boardwalk is another free shopping and dining option that has great views of the adjacent Beach and Yacht Club, as well as a good view of the Epcot fireworks from various points.
Get dinner at the Flying Fish, see the dueling pianos at Jelly Rolls, or spend the evening with the kids taking in the night air (hopefully in the winter as in the summer it's going to be pretty humid) and appreciating the sights and sounds of this boardwalk area.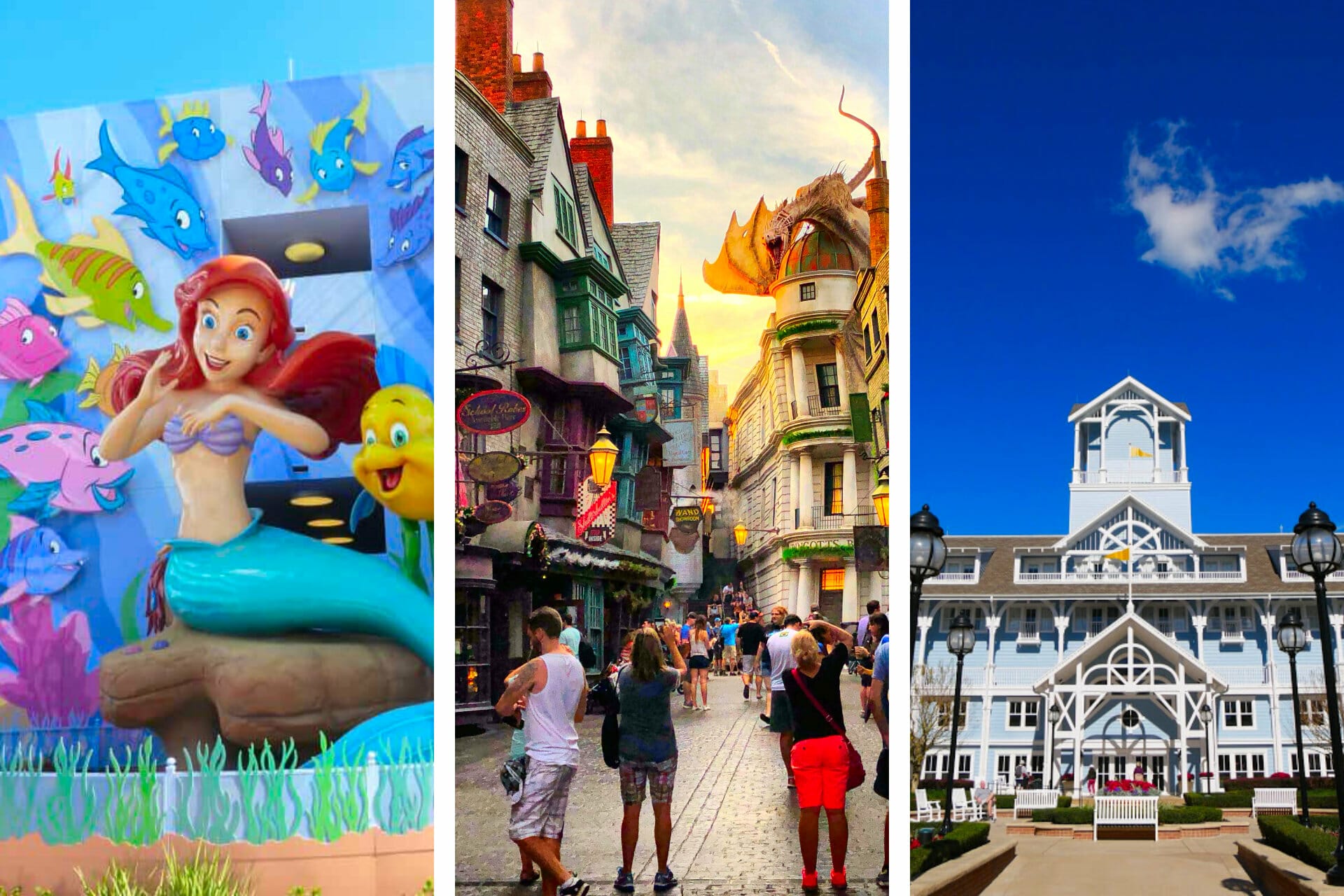 Enjoyed this? Share it!