Have you ever wanted to hold a sloth?
Have you ever wanted to feed a sloth?
Have you ever wanted to be in the mere presence of a sloth while it goes about its daily routine while you sit awed at its adorable toes and face and little body?
Have you ever wondered, "where can I hold a sloth in Florida?"
If the answer to any of the above is yes, this Wild Florida VIP Sloth Experience review is especially for you (and you should definitely bring this drawstring bag to show off while there, just trust me).
If you answered no to any of the above, please see yourself out because sloths are amazing.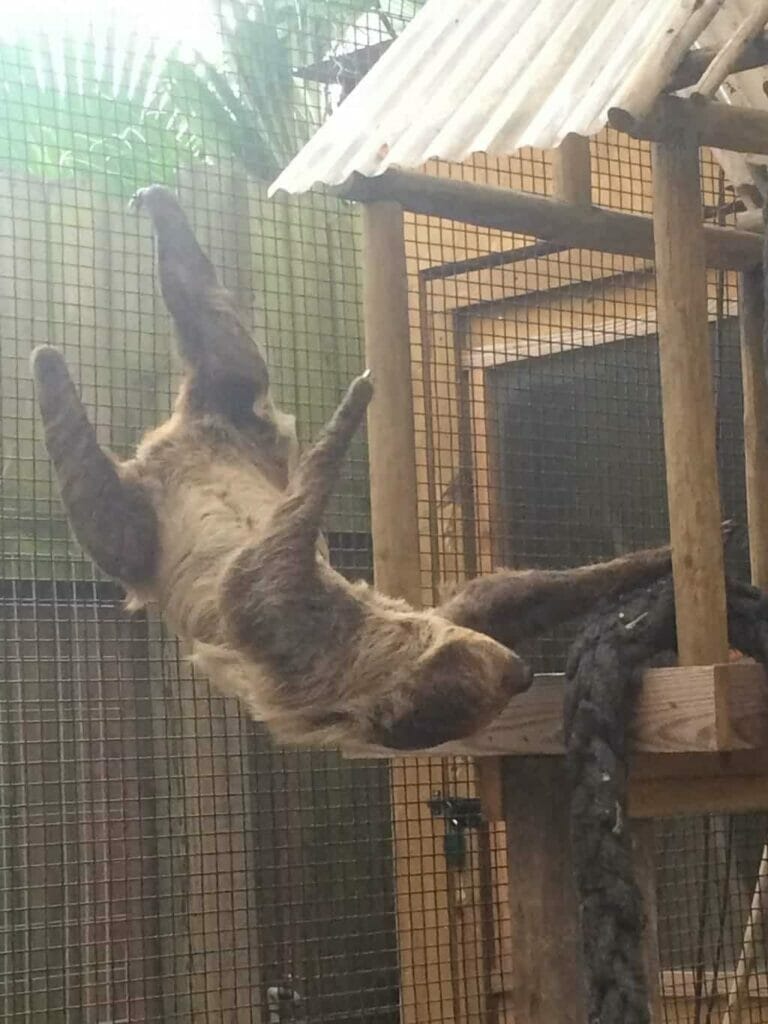 I have to admit that I have lived in Florida my entire life, and I had no idea that Wild Florida existed.
Not one single clue.
It wasn't until I was searching places in Florida for sloth encounters to find the best Florida sloth experience, and then I finally found it, which to me says that this is a real hidden gem of my home state like LEGOLand Florida and Gatorland (also, they advertise themselves as being in the "Middle of Nowhere," if that tells you anything about how secluded it is!)
Wild Florida is a wildlife and adventure park in Kenansville, Florida that aims to preserve, well, wild Florida!
While this is a drive away from Orlando, I would say this counts as the nearest orlando sloth encounter.
Click here to purchase tickets to Wild Florida itself.
They offer a variety of activities, including airboat rides (click here to book), animal encounters, a moonlight swamp experience, and the chance to walk around the park to see the animals.
From bobcats to lemurs to zebras to sloths to gators to porcupines, the diversity of the animal inhabitants make it a great educational day out.
For locals, Wild Florida should be on your list as a place to try something new, and for visitors, it exists as an option to take a break from the theme parks and really discover an authentic side of Florida.
Anyway, we visited Wild Florida for one main reason: the Wild Florida VIP Sloth Experience.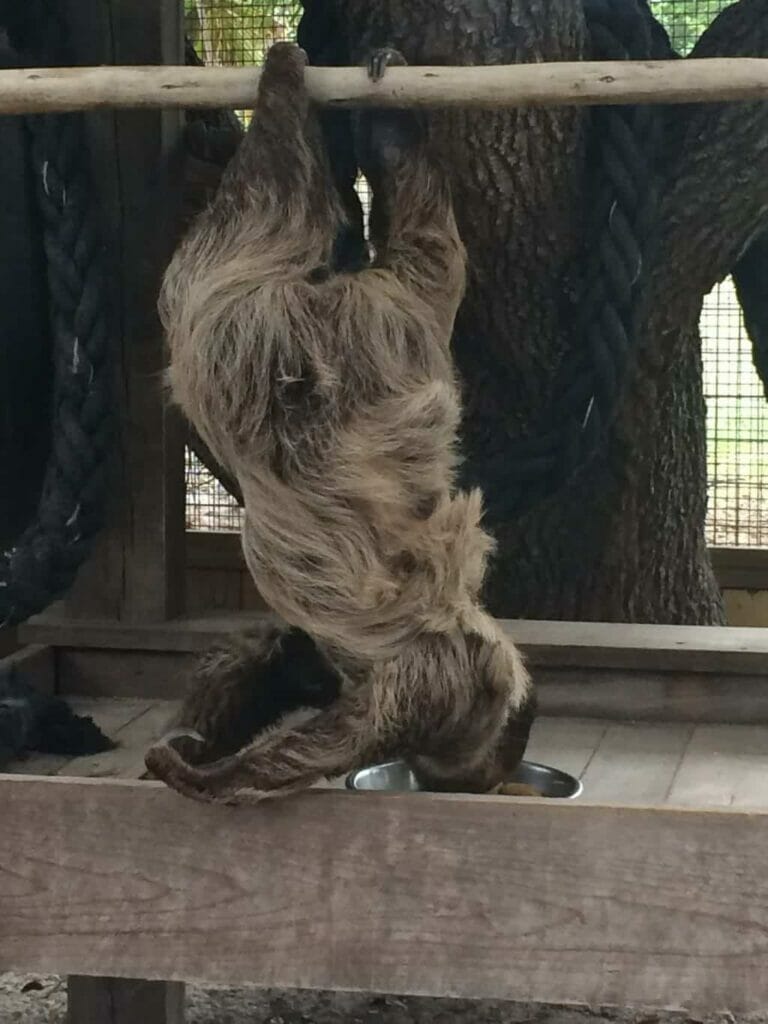 There are two types of sloth encounters at Wild Florida: the VIP experience and the sloth encounter.
The sloth encounter Wild Florida is limited to 10 guests and involves taking a picture with a sloth.
I don't have a Wild Florida sloth encounter review because we didn't participate in this version, but you can see the reviews online which as very possible.
The Wild Florida VIP Sloth experience, however, actually involves holding a sloth, feeding it, and taking pictures with it.
This experience is limited to 4 people so as not to overwhelm the sloth and give you quality time with your new best friend.
How Does the Wild Florida VIP Sloth experience work?
The first thing you need to do is make a booking.
As only 4 people are allowed per day, you want to make sure that you make the booking as soon as it's available for the day you want so other sloth enthusiasts don't take your place.
Once you've booked and paid, you will be given a time to report to the main gift shop and reservation desk at Wild Florida.
Turn up at your allotted time, and you will then be given a wristband and the official meeting spot for the experience.
What Happens in the Wild Florida VIP Sloth experience?
Once you meet the keeper at your meeting spot, he or she will take you to the sloth enclosure and sit you down along the bench on the side of the enclosure.
They'll tell you a little about the sloths, including which one you'll be meeting with (oh my gosh, I just imagine a sloth in a business suit, TOO CUTE!)
Anyway, so our sloth's name is Aerie, and she's the most perfect two-toed sloth to ever exist.
We each got a turn to hold her, probably for around 5-7 minutes, making this a wonderful way to hold a sloth in Florida.
We were taught how to properly support her head as she ate, and then she would cling her little toes onto your sides, stretch back, and enjoy.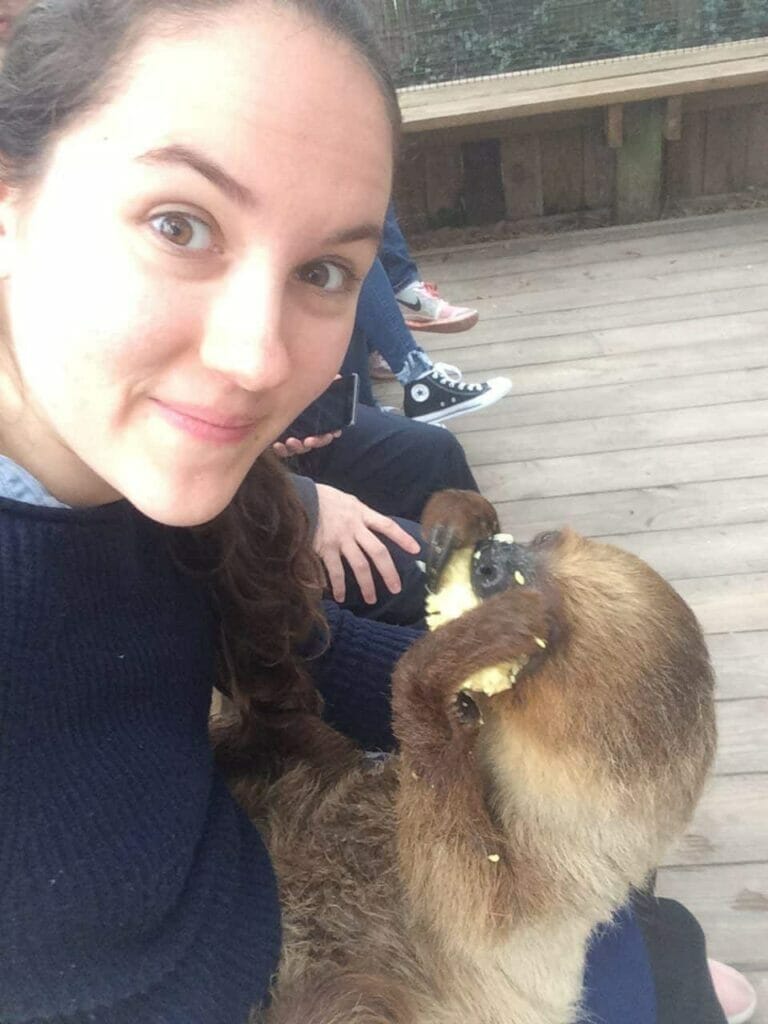 While we were there, she was fed corn and grapes, which she enjoyed immensely.
As you are holding the sloth, you're encouraged to take #slothies because who doesn't want all of their friends to be jealous?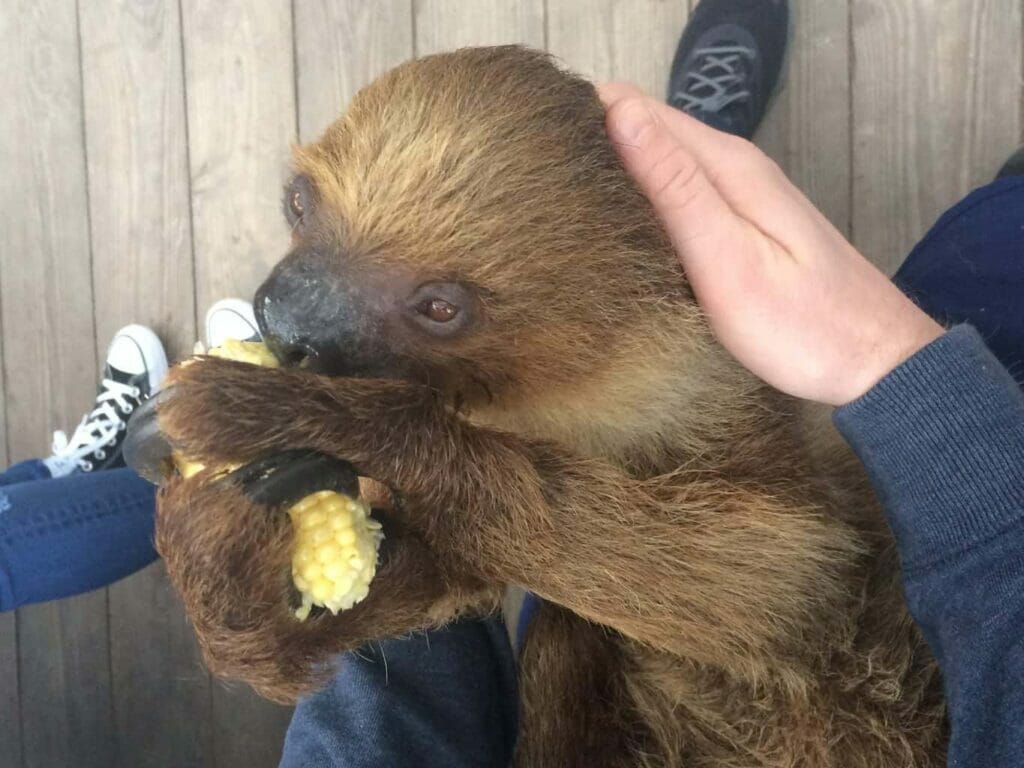 As we held her, the keeper continued to educate on sloth behavior, both in captivity and in the wild.
She answered every question we had, and at times we were joined in the background by Guy the sloth, another sloth who was sleeping in a terracotta pot at the time of our visit who decided to crawl up under the heat lamp and get cozy.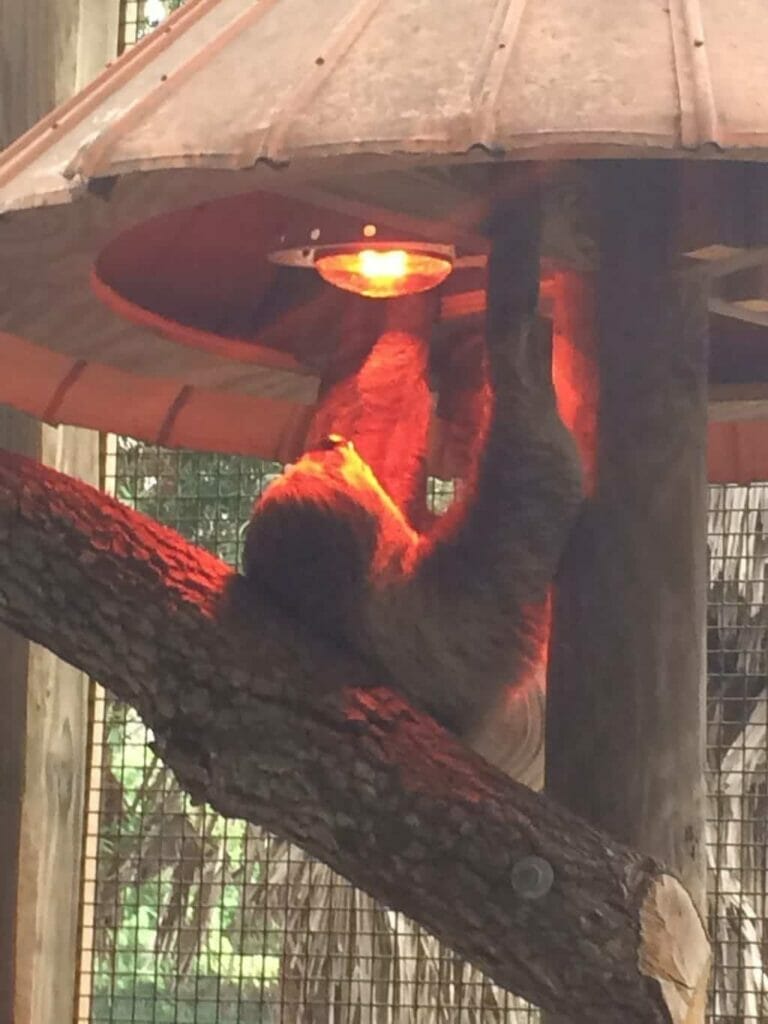 Wild Florida VIP Sloth Experience Pricing
The current pricing as of February 2023 is $230 per person.
It's a lot of money, definitely, but as a once in a lifetime experience, it's worth it.
We did it as a Christmas present, not just a random spend, which made the cost more justifiable and gave us some great memories.
According to the Wild Florida website, a portion of the proceeds go to the Sloth Sanctuary in Costa Rica to help support their research and conservation of sloths in the wild.
Wild Florida VIP Sloth Experience Review Overall
It's been six months and we still talk about our sloth experience almost daily.
Our keeper was super friendly, very knowledgeable about both the particular sloths we were working with and sloths in general, and the limit to 4 people really meant that you got almost a private experience where you could ask as many questions as you wanted.
Holding the sloth was OF COURSE amazing.
She was more prickly than I expected, with coarse hair rather than smooth.
I also didn't realize how much her toes would be digging into my sides as she clung on and stretched back to eat her food, but I was all too happy to endure a slight pinch so she could get comfortable.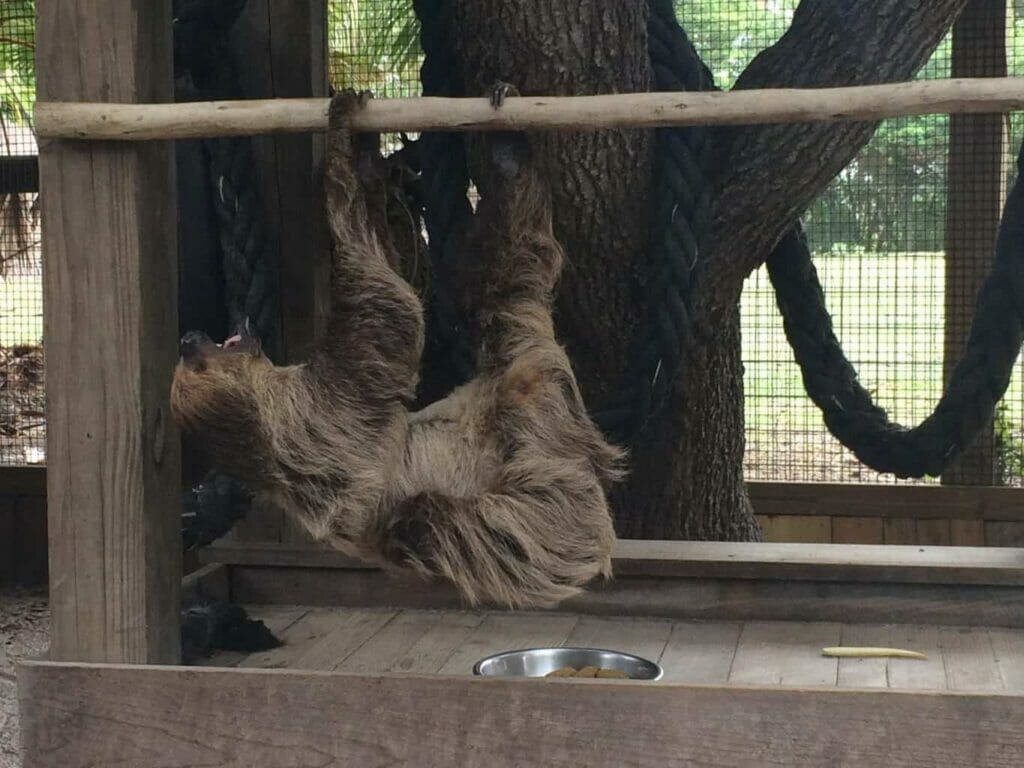 Another thing that was really important to me was the handling of the sloths.
She was never forced to be held by us.
A few times, she wandered off up the enclosure, and the keeper allowed her to roam around while continuing to talk to us about sloth behaviors and likes and dislikes.
Then, when she was ready to return for more food, she would sit away in our arms and chow down again.
I would recommend the Wild Florida VIP Sloth Experience to anyone interested in doing it, at least once.
The experience itself lasted about 30 minutes total, but there is plenty to explore at Wild Florida, so we spent the rest of the morning wandering around the grounds.
There's also a restaurant, the Chomp House Grill, where you could stop for lunch in between all of your activities.
Get the All-American Travel Secrets!
Don't miss out on America's hidden gems!