Whether you're a Florida resident or just visiting, one of the lesser talked about attractions is the Kennedy Space Center.
Everyone seems to focus on Disney and Universal, while missing out one of the most fascinating attractions in all of the US – the Kennedy Space Center.
This is truly where the magic happens when it comes to the American Space program.
Countless astronauts have blasted off from their launchpads, and history has been made thanks to NASA's work (and now private companies) at the center.
In this Kennedy Space Center review, we're talking all about the visitor complex where you can get up close and personal to giant rockets, retired shuttles, and hear from astronauts about the day to day experience up in space.
As we'll talk about later, the KSC is located about an hour's drive away from Orlando (the main hub of tourist attraction in Central Florida), but that journey is well worth it for anyone who has ever dreamed of walking in the footsteps of the explorers who have raced to the moon, landed rovers on Mars, or discovered new planets.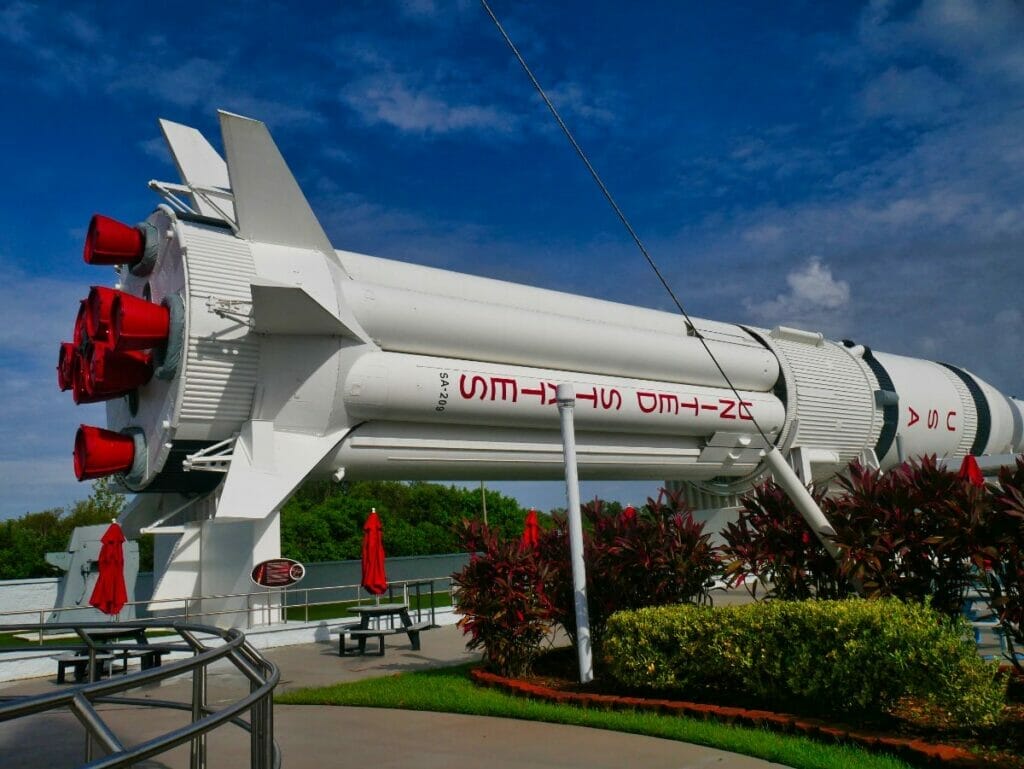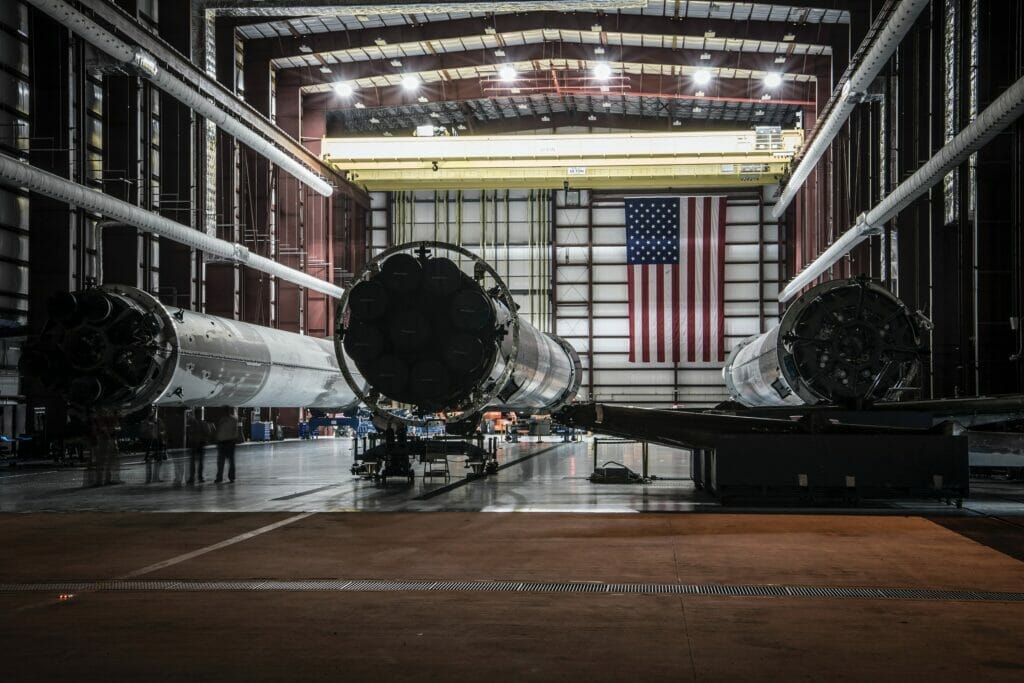 Practical Tips for KSC
Below are some of the more need-to-know tips about the Kennedy Space Center.
Address: Space Commerce Way, Merritt Island, FL 32953, USA
The Kennedy Space Center Visitor Complex is a full-day experience (mostly self-guided)
KSC is typically open every day except Thanksgiving and Christmas Day, and the hours are typically 9am to 5pm
Bring lots of sunscreen and check out my Florida packing list to make sure you are actually prepared for a day in the sun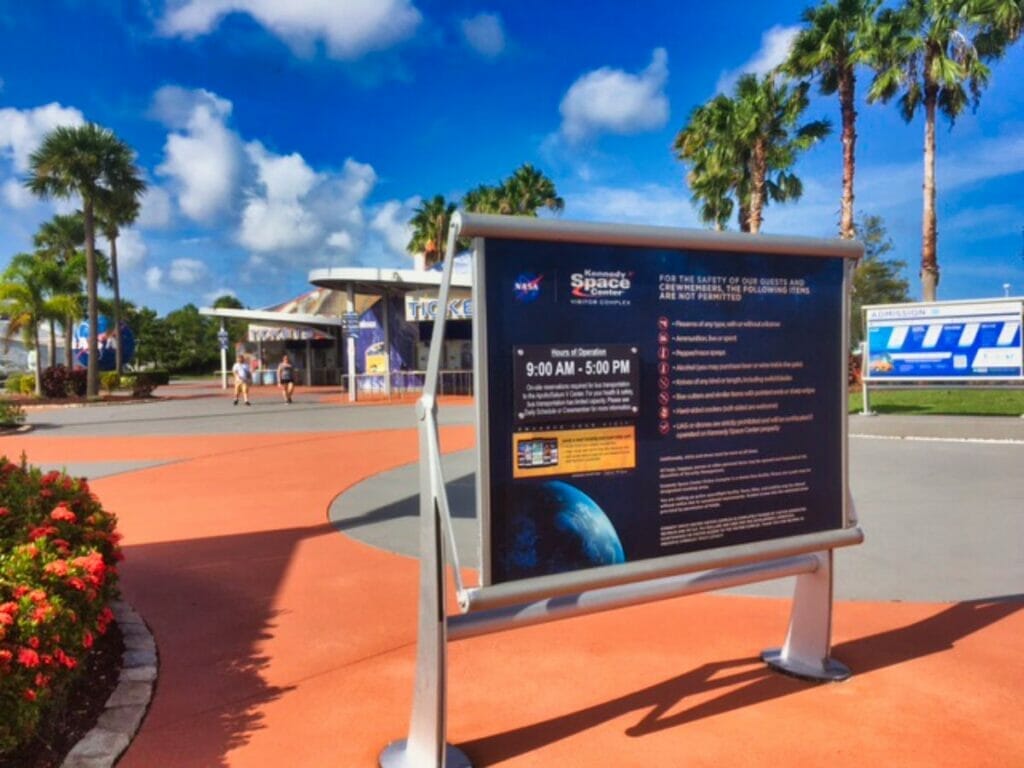 Is Kennedy Space Center Worth It?
Before you go on reading about the Shuttle Launch experience or astronaut talks or any of the amazing things that the Kennedy Space Center offers, the main question on your mind might be, "Is the Kennedy Space Center worth it?"
While it's close to some beaches, it is a commitment to visit from Orlando if that's where you're based on your vacation, and in the late 90s and early 2000s, KSC was not necessarily known for its quality.
It was fun, but maybe not a full day experience.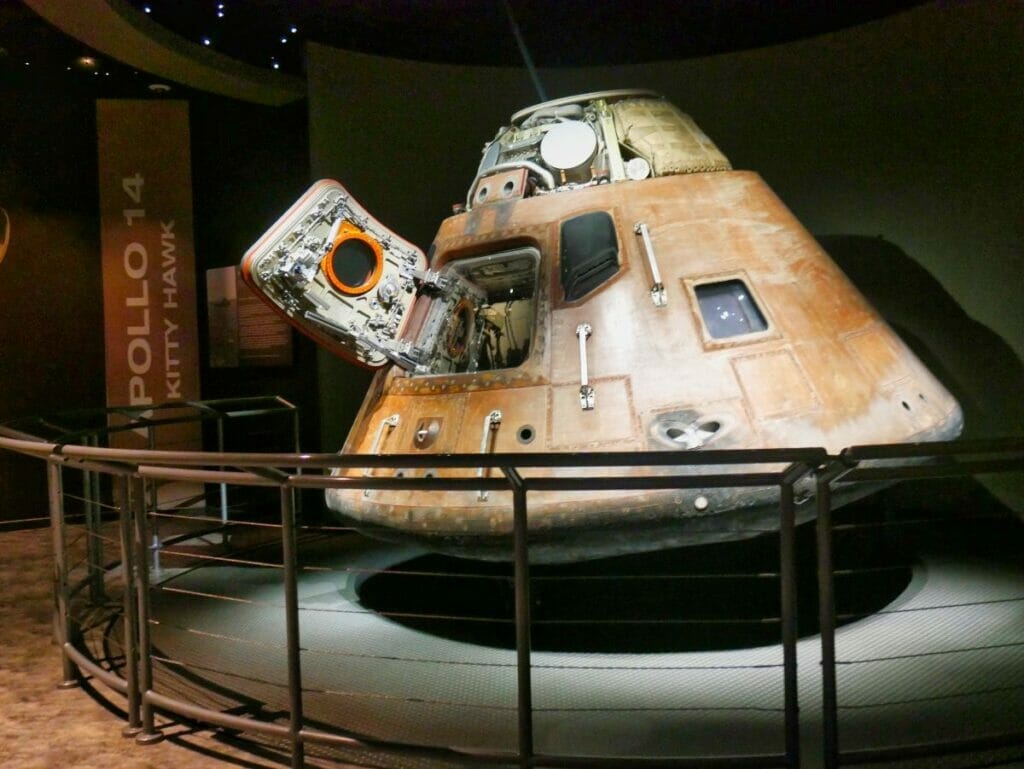 Nowadays, in 2023, a lot has changed at the center and the Kennedy Space Center is not only completely worth it, but should be a must-do on your Florida bucketlist.
Who Should Go to the Kennedy Space Center?
Who is the Kennedy Space Center for?
Is it too advanced for small kids?
Too many kiddie activities for adults?
Luckily, Kennedy Space Center is for everyone.
Genuinely, everyone.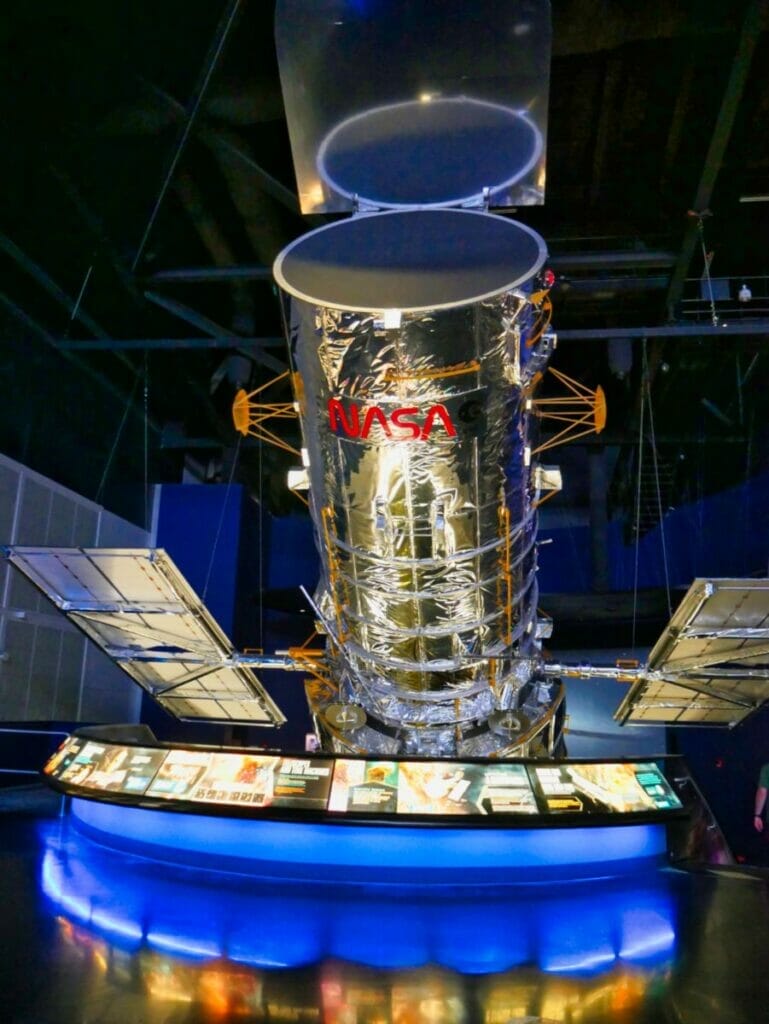 For adults, there are plenty of fascinating space-themed exhibits.
For kids, there are interactive games and an awesome play area and IMAX movies.
For the teens, there are some cool simulators and the general awe of standing under a space shuttle.
You don't need to know much about space or NASA's missions to visit Kennedy Space Center, as they do a great job of explaining everything and helping you get immersed in this incredible world of spaceflight.
Kennedy Space Center Visitor Complex Overview
The Kennedy Space Center Visitor Complex is located within Kennedy Space Center. Kennedy Space Center itself is where all of the American rocket (and past shuttle and other) launches takes place.
The Visitor Complex is very much for-visitors, so you aren't being given extra security access to some of the more important NASA buildings (as if!), but you do get to see them from the outside, and NASA has built out the visitor section with plenty of artifacts, preserved mission control rooms and space mobiles, and other information so you can learn about what they do without getting in the way of the astronauts about to launch.
The park is big enough to take up a whole day, but not so massive that it's hard to get around, so you don't have to worry about getting lost like you might at some of the bigger Disney theme parks.
Walking through the entrance is an experience unto itself, where you'll see one of NASA's launch countdown clocks used until recent years, as well as the beautiful "EXPLORE" letters.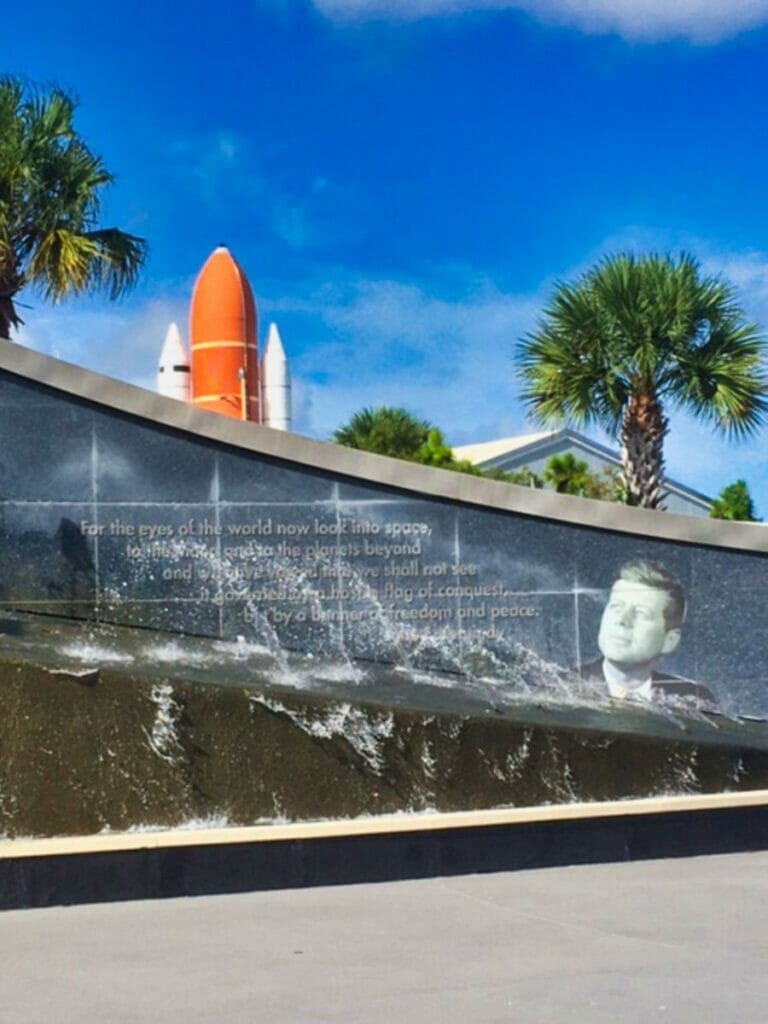 Once you're in the park, the first area is the Heroes and Legends exhibit, which has a movie intro and then takes you into the Astronaut Hall of Fame.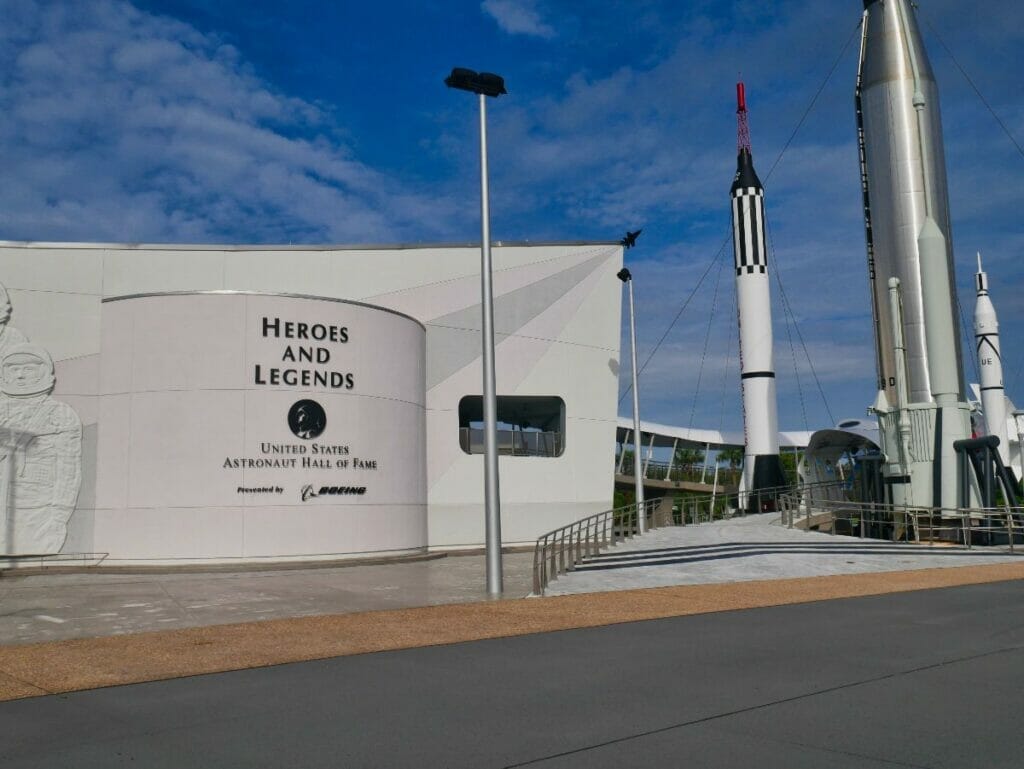 It's worth it to take a quick look inside, but it isn't the best that KSC has to offer.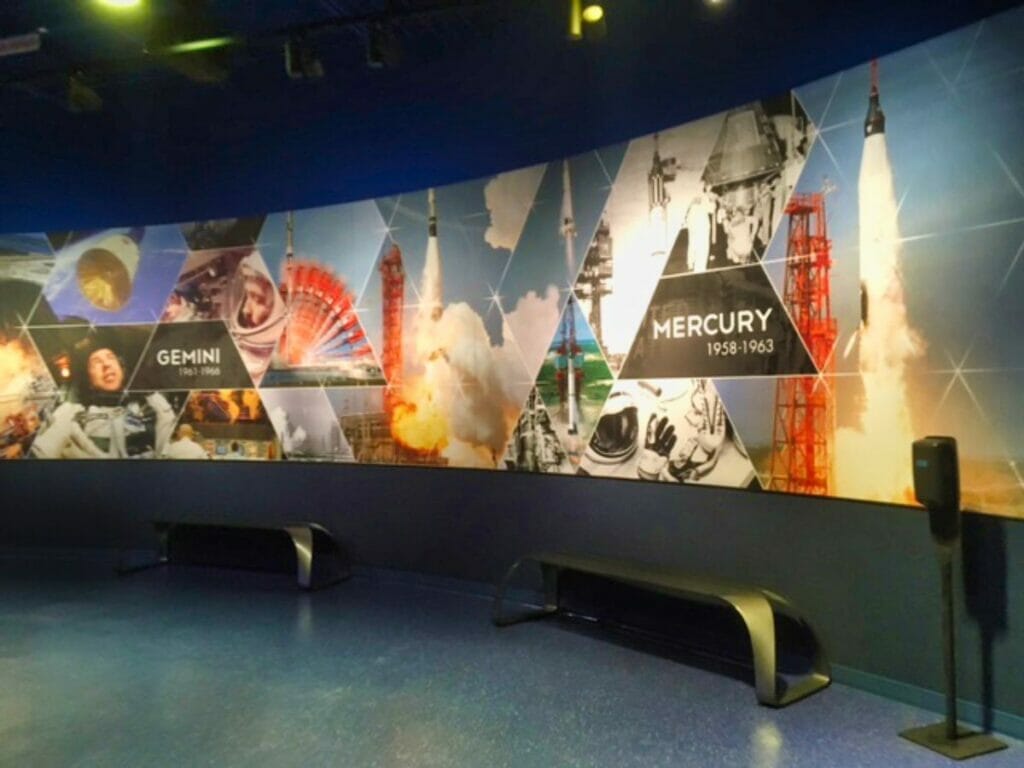 Further on you'll find the Rocket Garden, which is exactly what it sounds like and is one of the best chances at the center to get really up close to some of the most famous rockets in NASA history.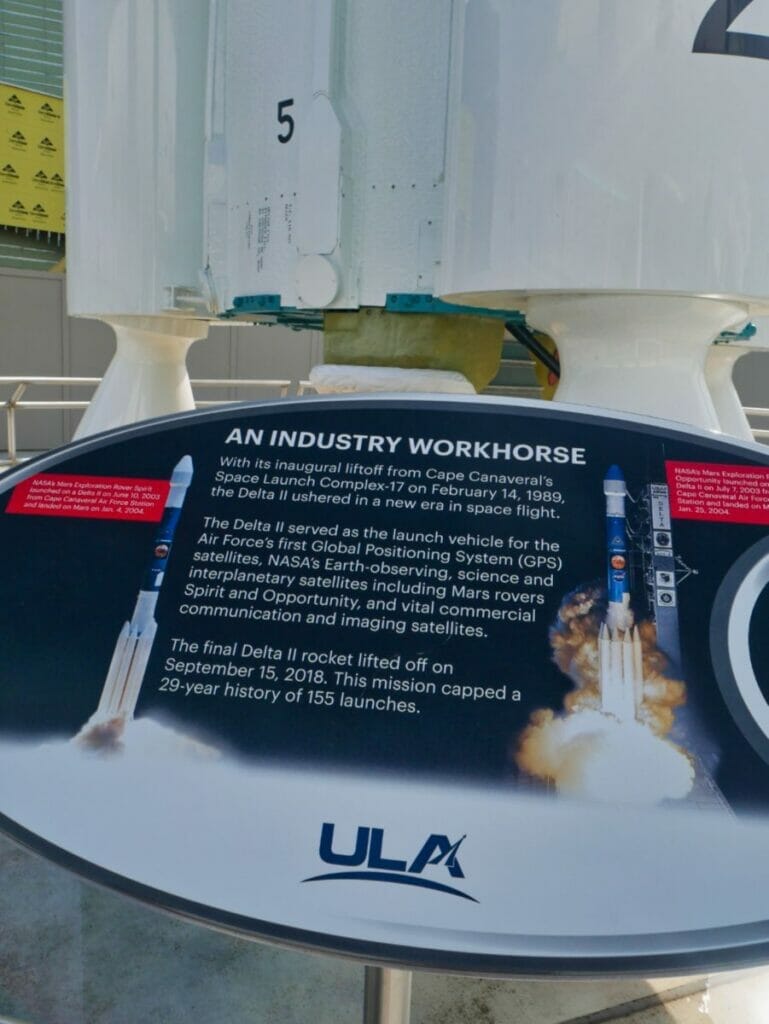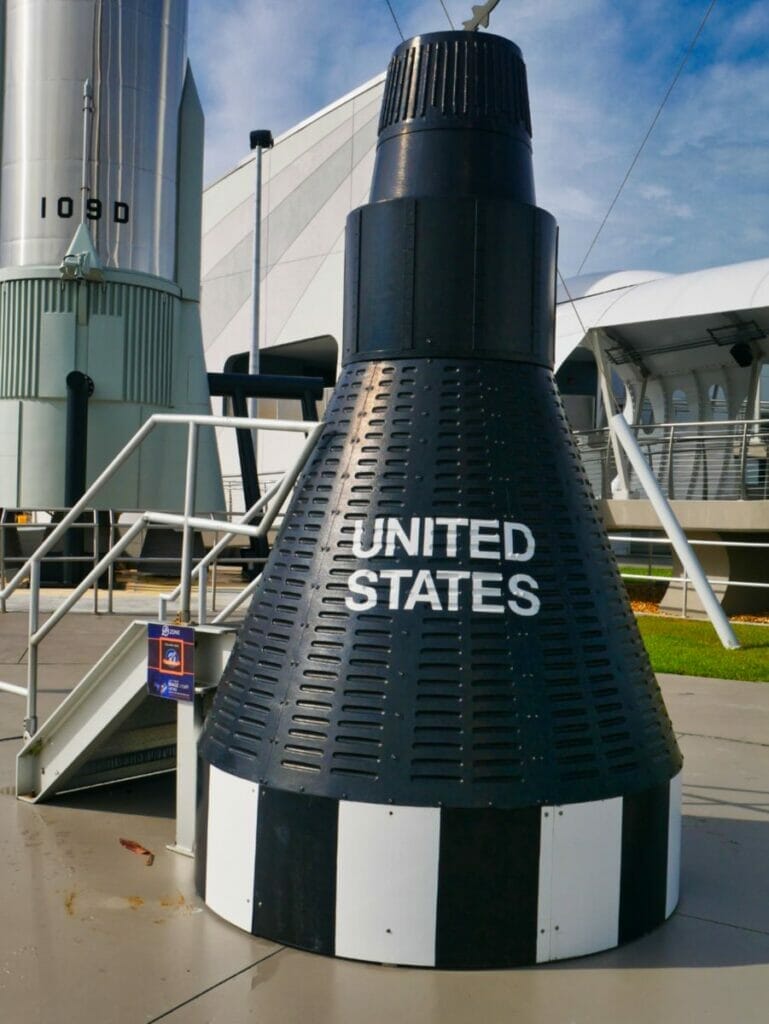 Keep walking and head to the right and you'll find the hub of Kennedy Space Center, including Mission to Mars (an exhibit all about how NASA is trying to both take humans to Mars and learn more about this mysterious planet), as well as the Universe theater where they hold astronaut talks and some movie showings throughout the day.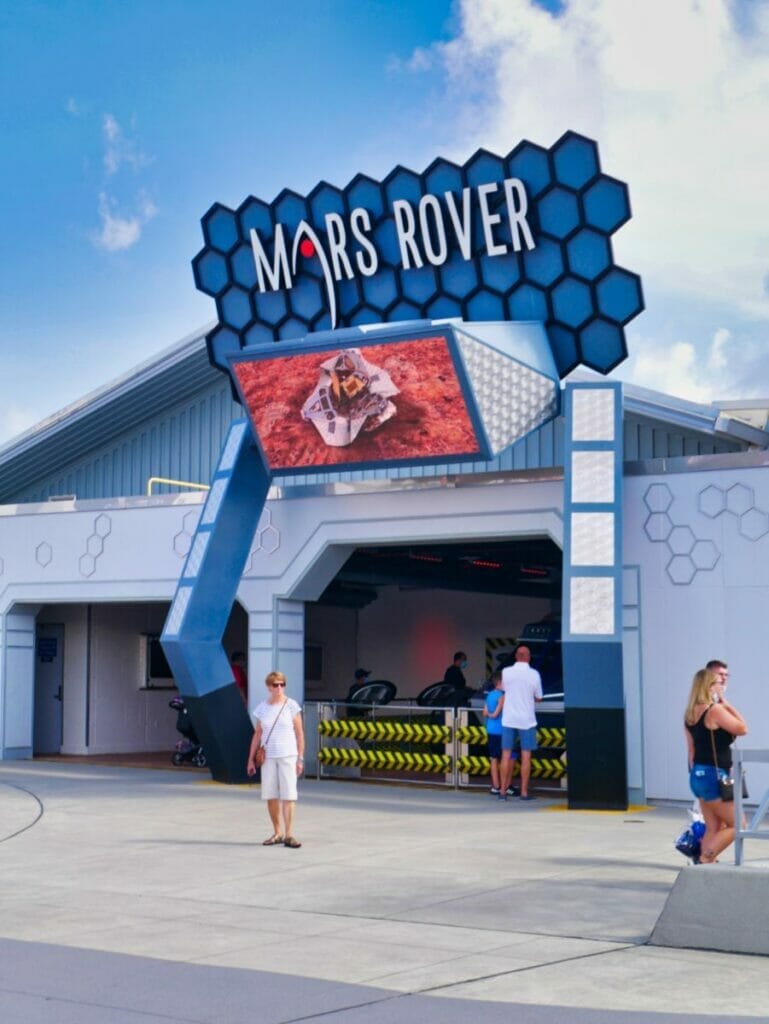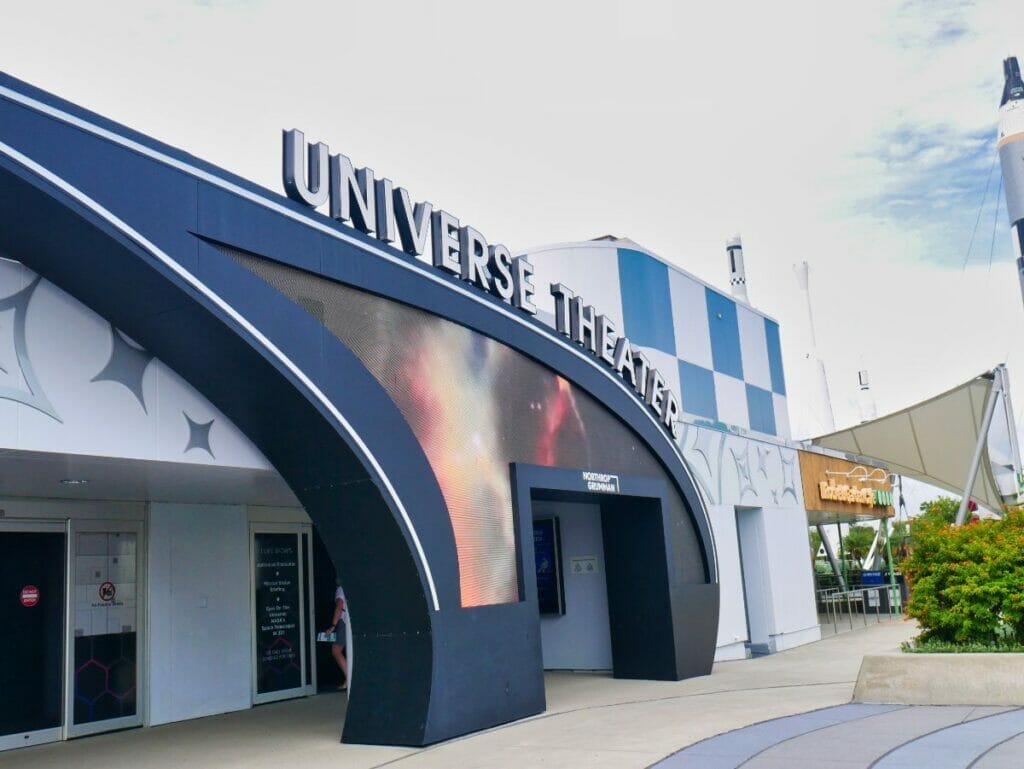 Under the awning there are plenty of tables to sit and enjoy your lunch, as well as entrance to the Kennedy Space Center store, which we'll cover later.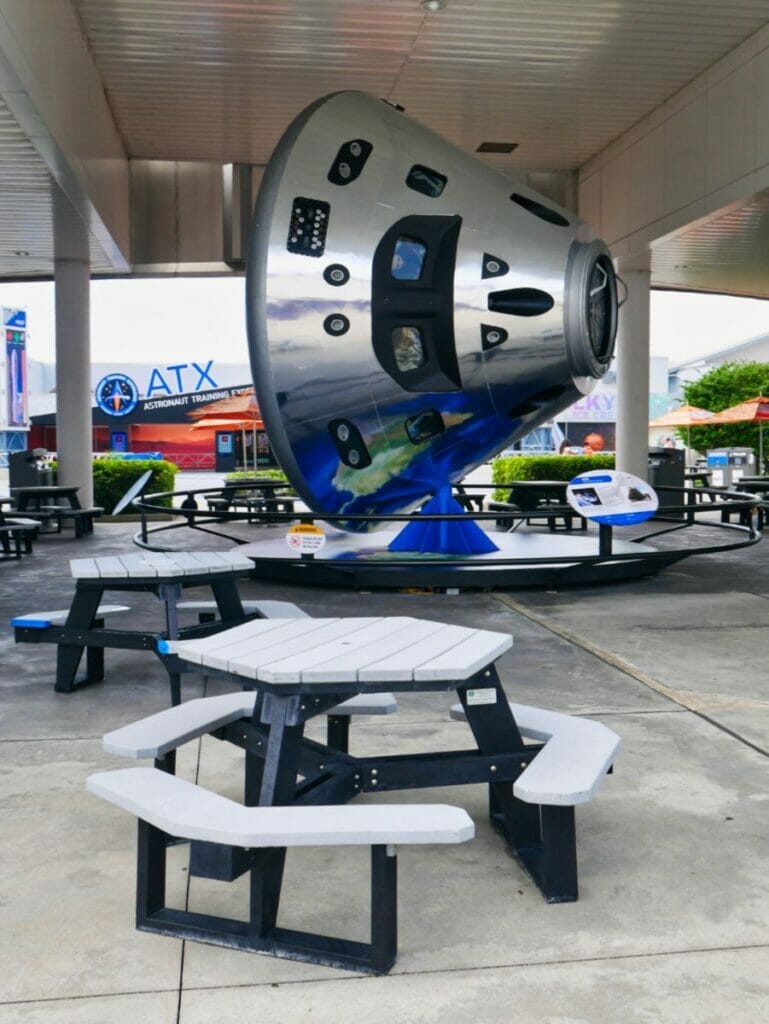 You'll also find some really cool exhibits, including interactive walkway exhibits where you step on the tiles to make energy, as well as International Space Station memorabilia and the iconic NASA logo over the rotating Earth.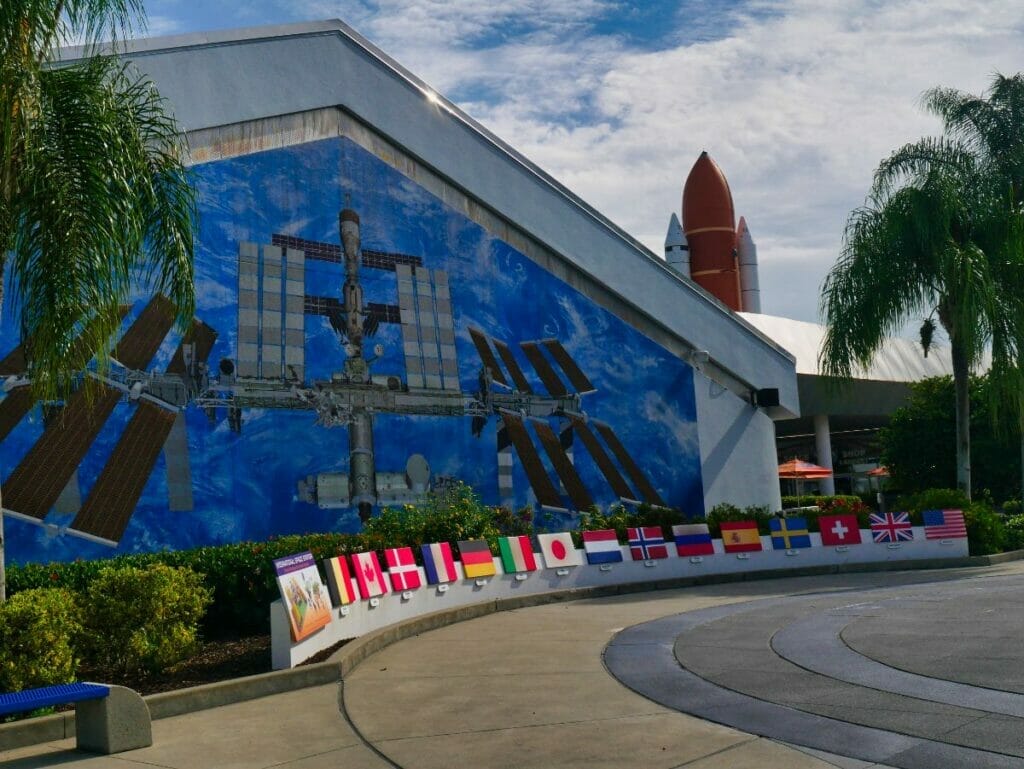 Follow through to the Bus Launch area, which will take you on the Kennedy Space Center bus tour that we'll cover in a minute.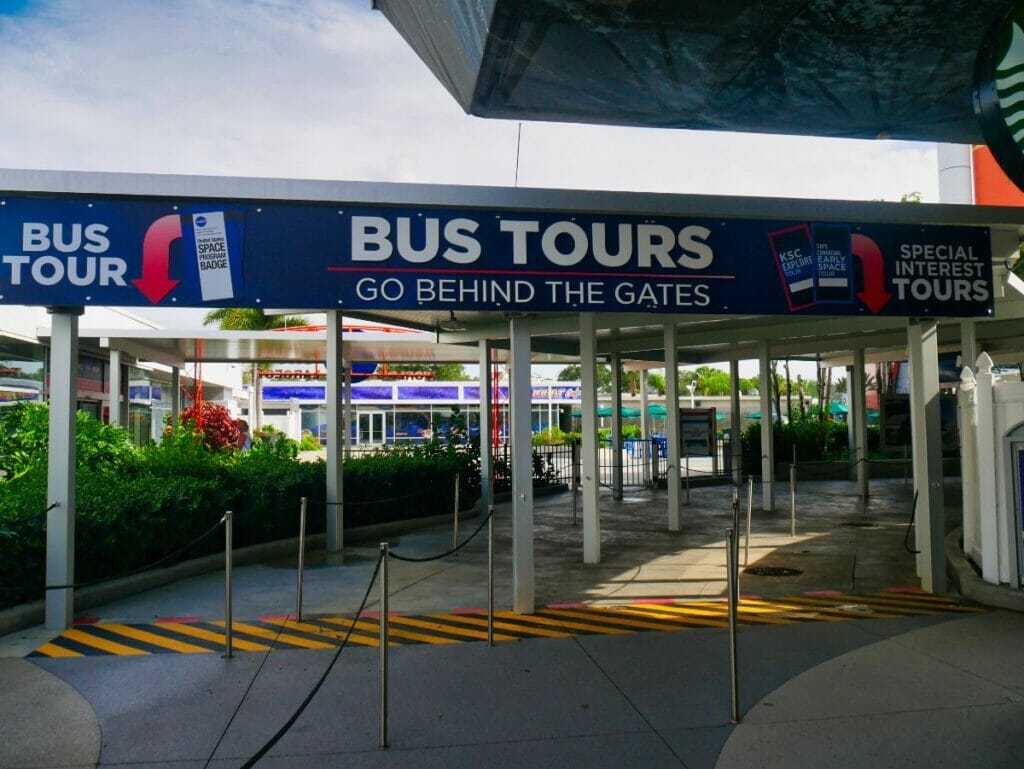 Or, keep heading through the awning and you'll find the IMAX center (seriously worth seeing one of their IMAX movies – this is NASA, they've got the original space footage!) as well as the kid's play area called Planet Play which they basically won't want to leave.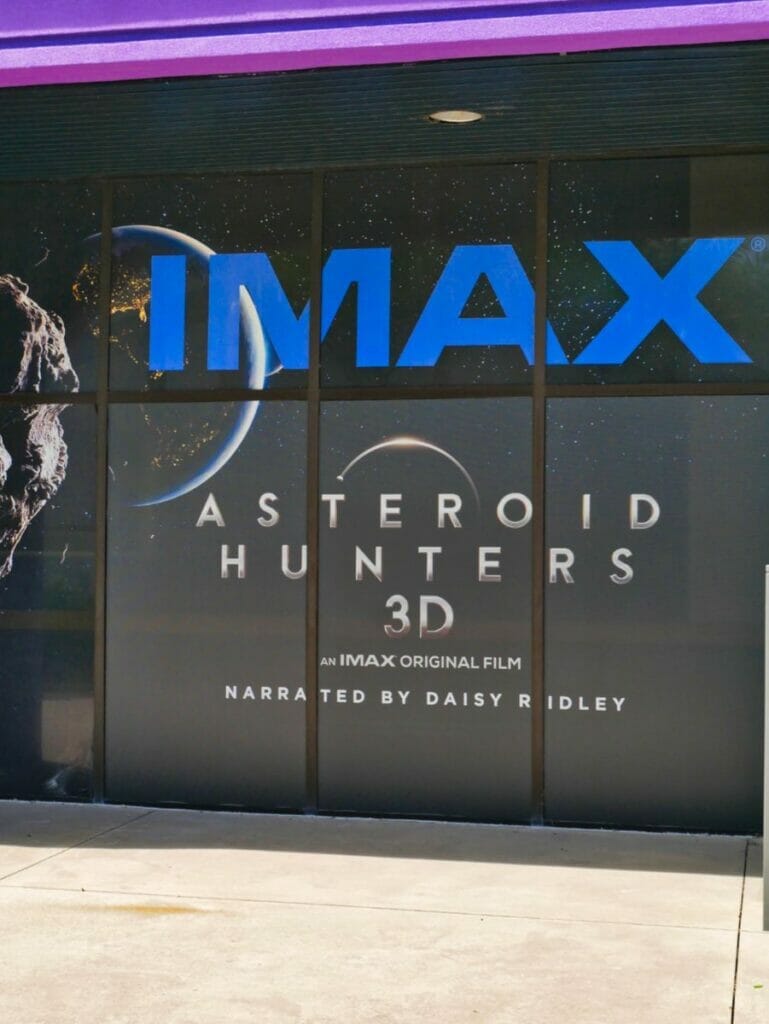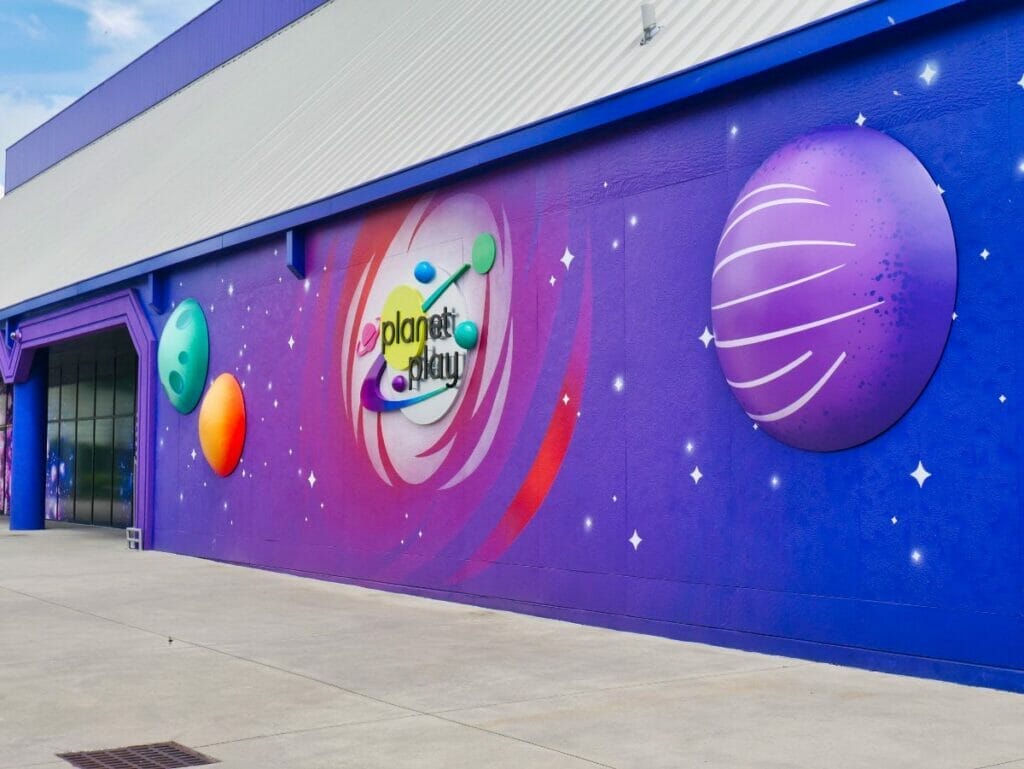 You'll pass some restaurants and bathrooms and arrive at the far corner of the park where the Atlantis exhibition and Space Shuttle Experience is found.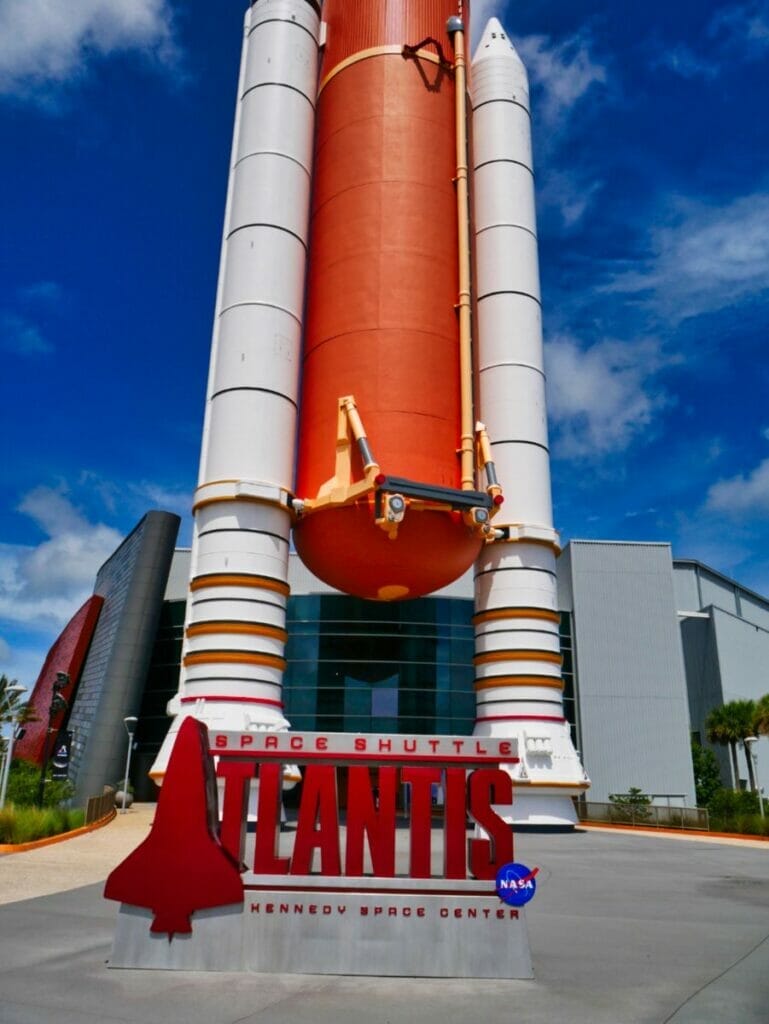 The Atlantis exhibition is for anyone who has ever wondered what it would be like to see a space shuttle up close.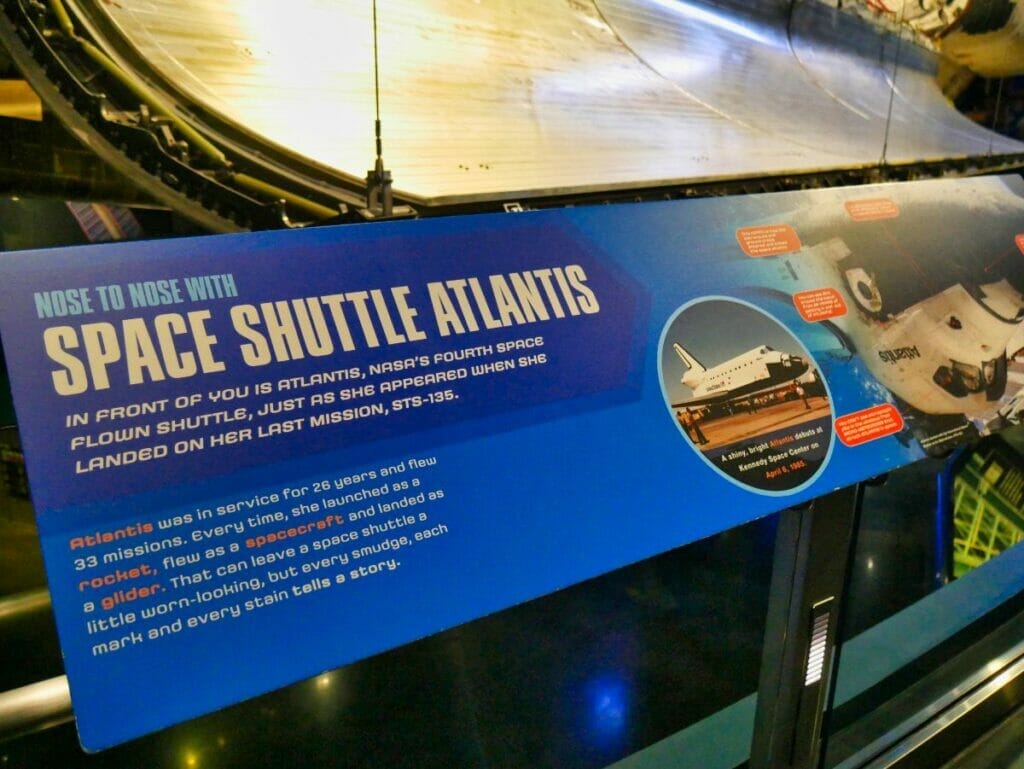 While the shuttle program is no longer active, the spirit of the shuttle and all of the innovations it brought to NASA are celebrated in this fantastic and large exhibit.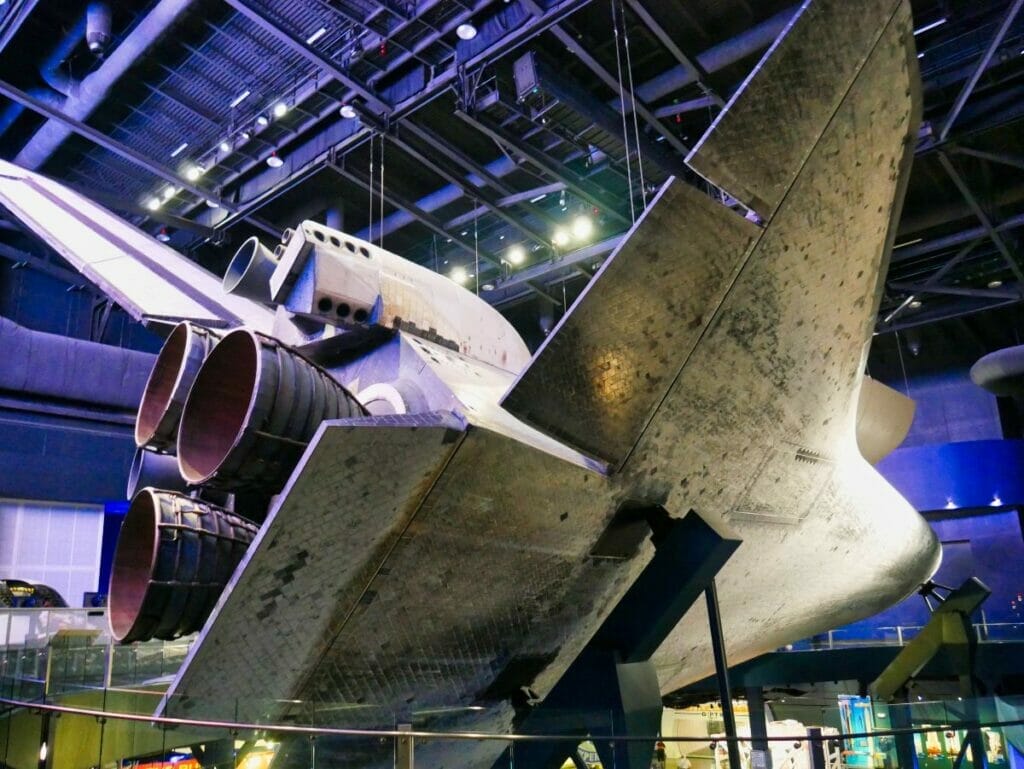 There's a brief movie as you enter, and then the doors open and you see Atlantis right in front of you, no longer in space but showing off here on Earth.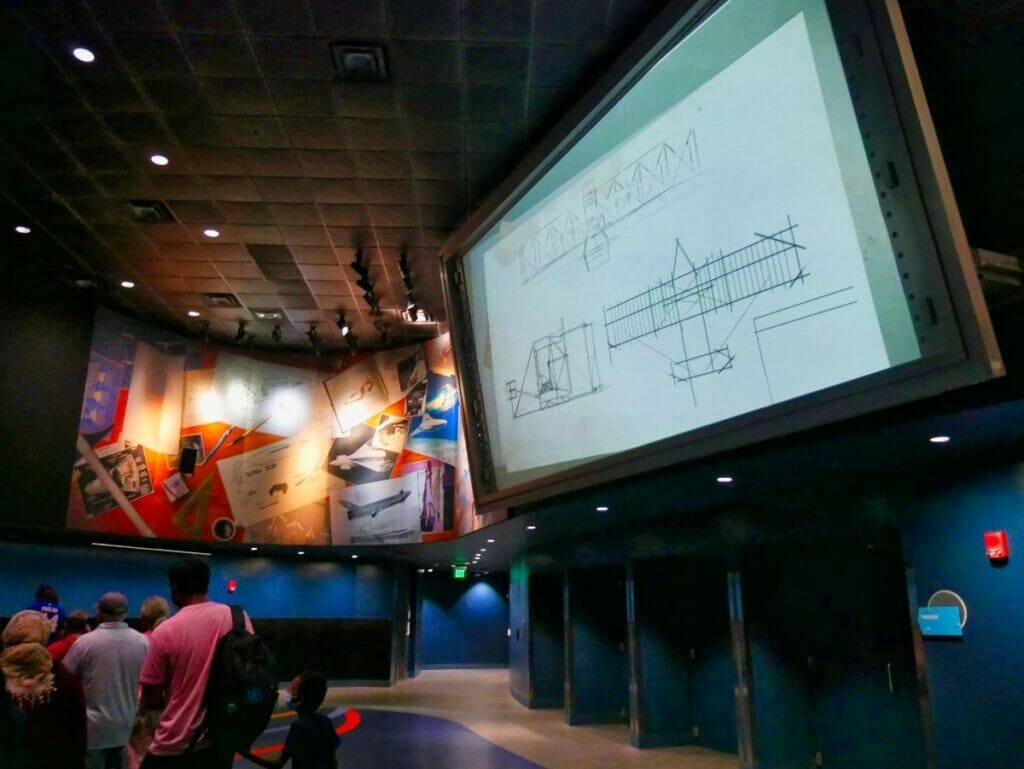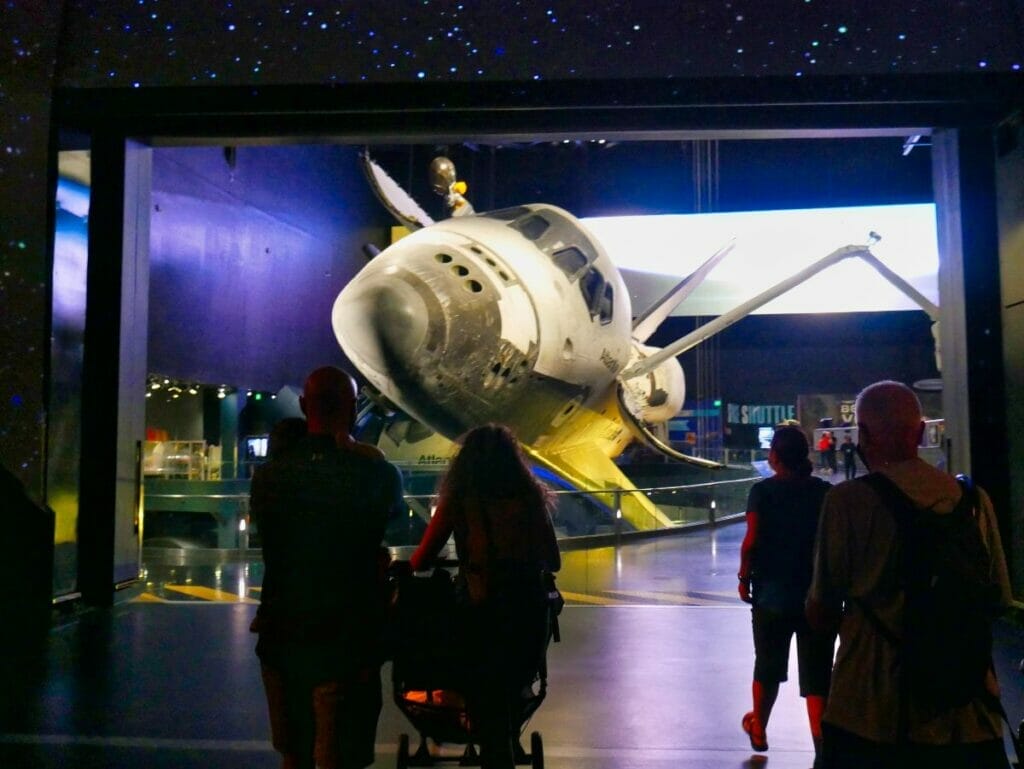 Throughout the exhibit there are fun kid-friendly interactive activities to see how well you could pilot the shuttle, as well as a replica of the space station made out of clear plastic tubes for toddlers and children to crawl in.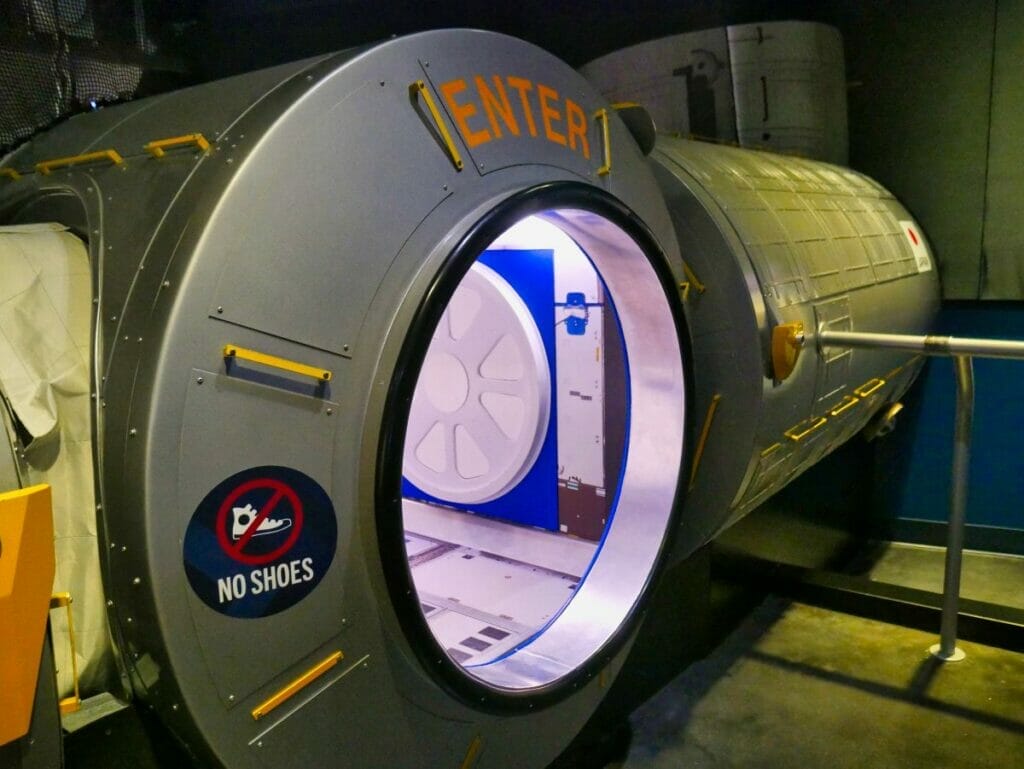 There's also a fun slide to take you from the top to the bottom (but there are also stairs, don't worry).
Adults will love the sheer amount of information about the shuttle, including exhibits on its boosters, how the shuttle is transported to the pad, and how it lands.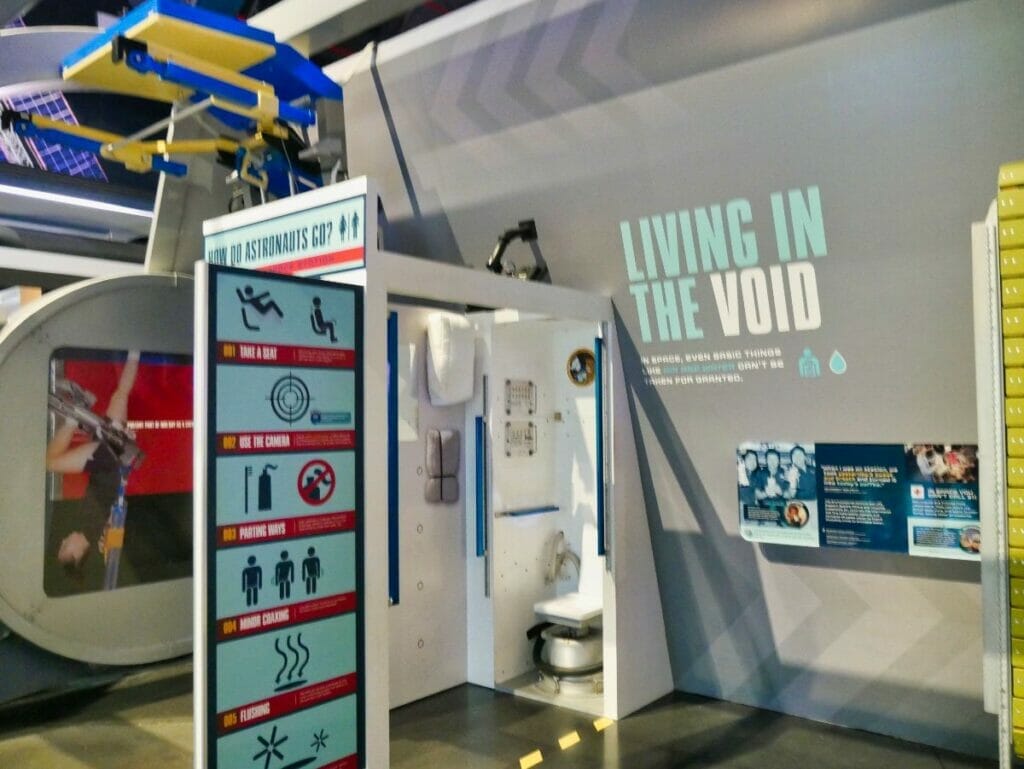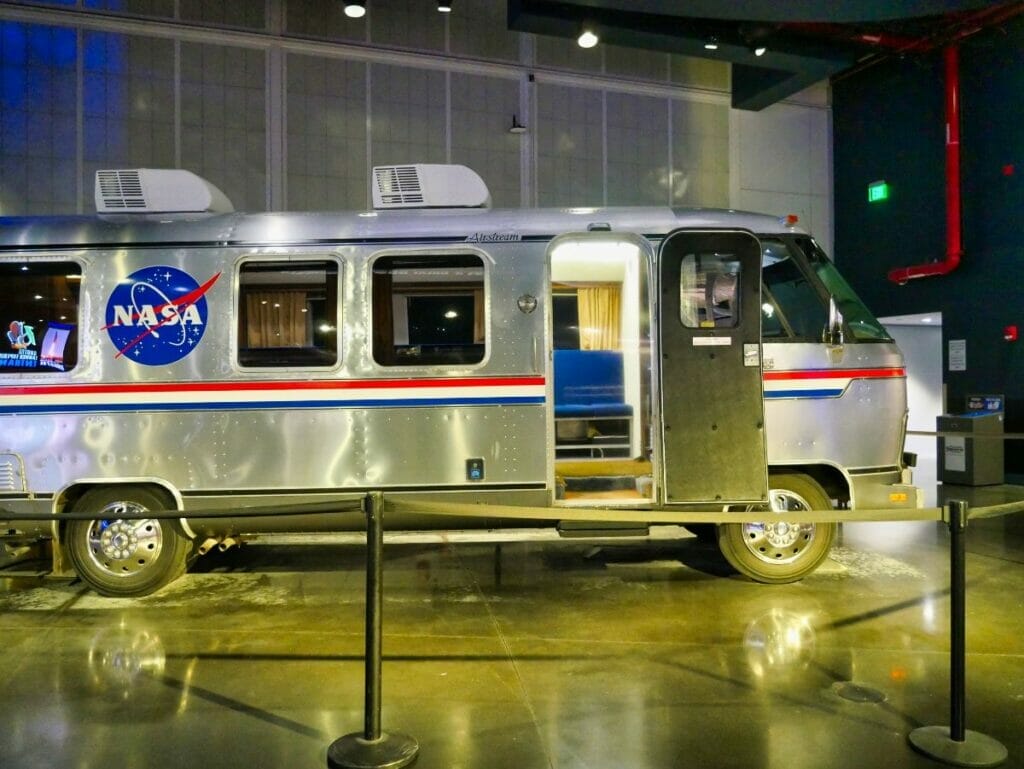 On a more somber note, there is a memorial for the two shuttles lost during the program: Challenger and Columbia. Each astronaut on these missions are celebrated and remembered, and there is a piece of wreckage of each that has been recovered.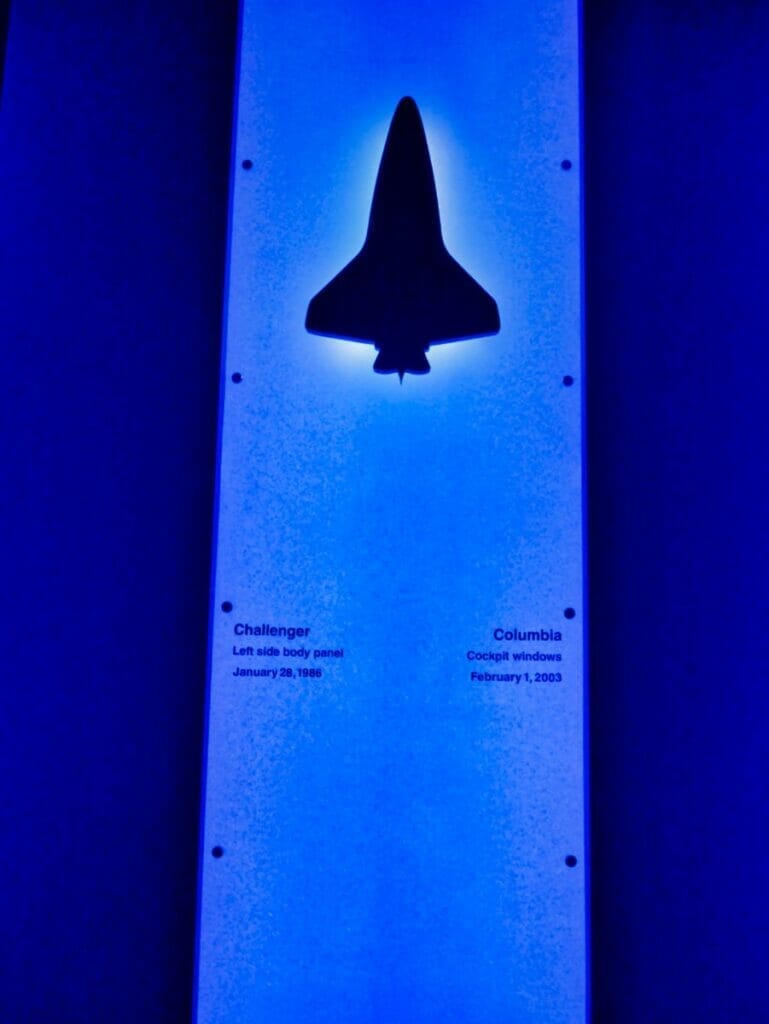 It reminds you of the dangers of space flight and of the absolute bravery of each astronaut who pushes the boundaries to go beyond for the advancement of humankind.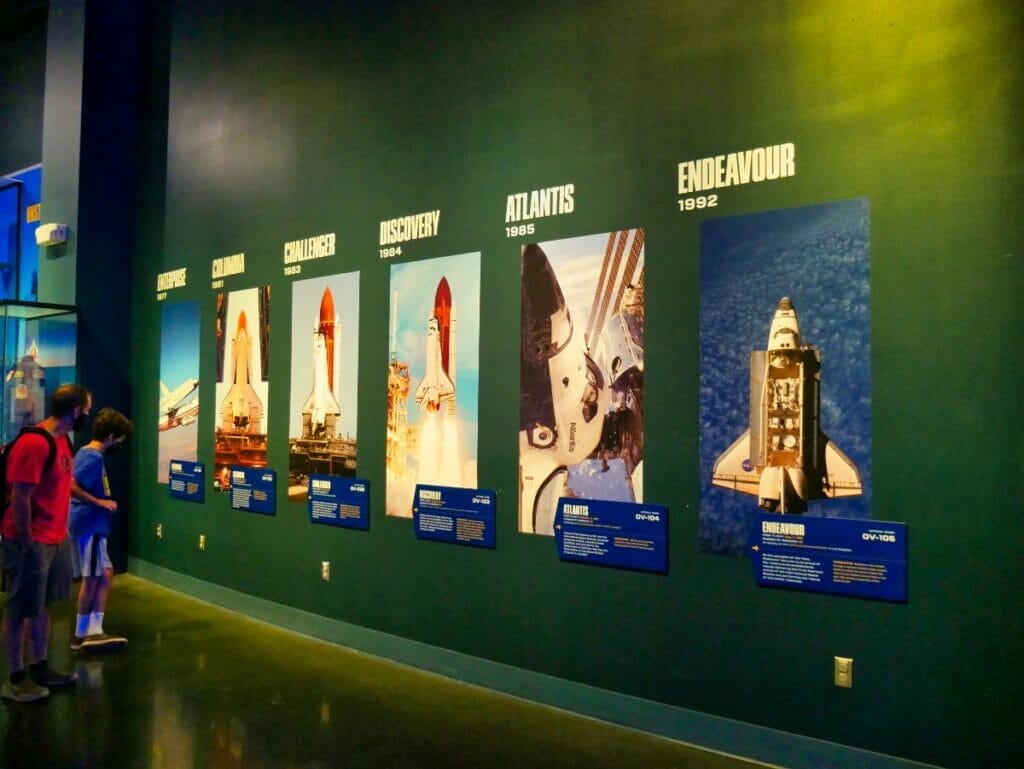 Within the Atlantis building is the Shuttle Launch Experience, which we've dedicated its own section to below.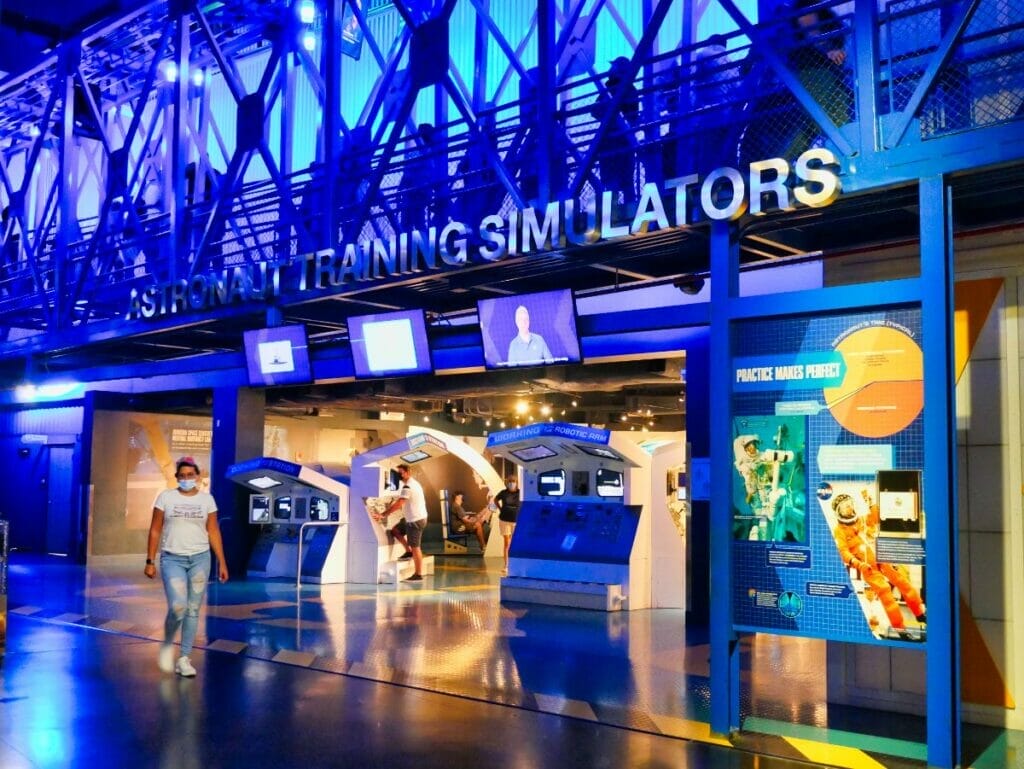 The final section of the park is the Apolo/Saturn V center, which we have included as part of the bus tour review since you can't walk to it from within the park and must take the bus transportation.
Shuttle Launch Experience
One of the most popular things for KSC to advertise with on commercials is the Shuttle Launch Experience. They promise that you'll feel what it's really like to get on a shuttle and launch into outer space.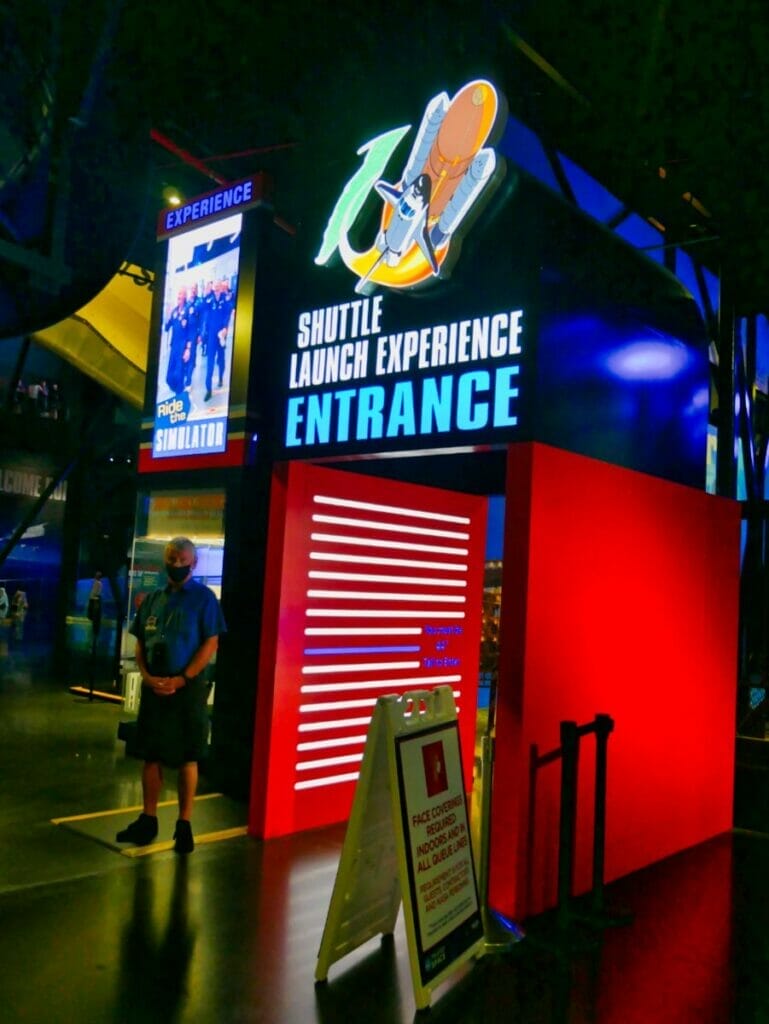 The reality is that the simulator at Disney's Epcot, Mission Space, is far more intense than the Shuttle Launch Experience, but that means the experience is more family-friendly here.
No backpacks or purses can be taken on board, so you use the free lockers provided and then get in line and weave your way up to the entrance. Staff members should be able to tell you how long the wait is, but we only waited 10 or so minutes on a week day.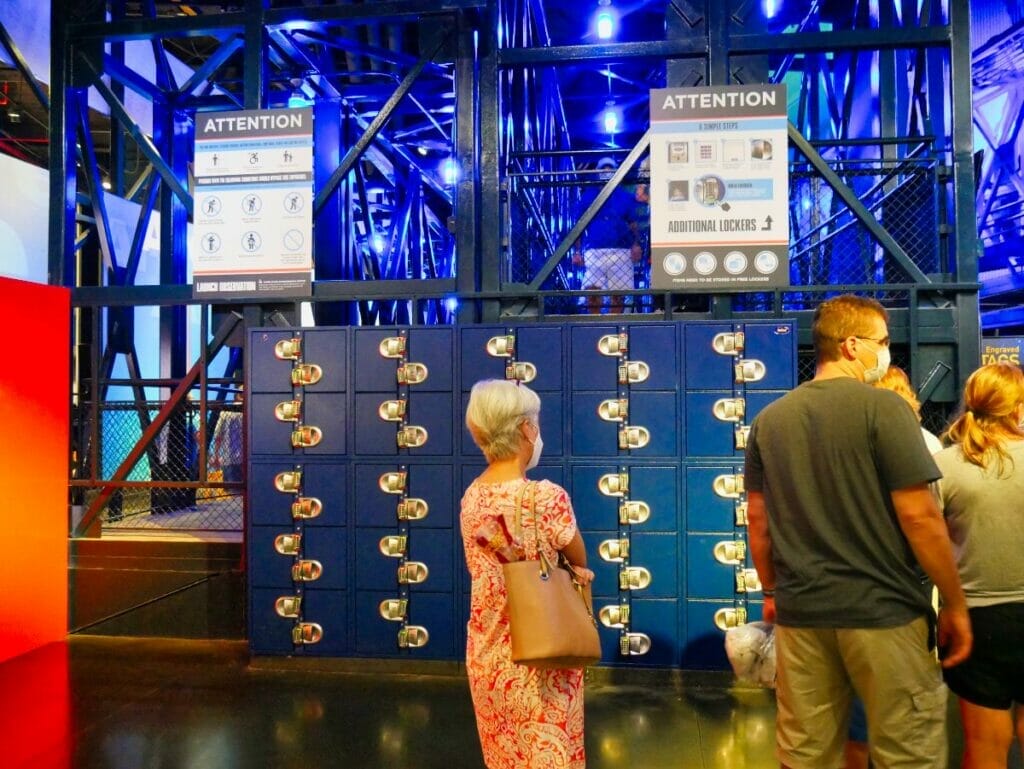 You'll experience a prelaunch briefing, then get strapped into your seats for around an 8 minute experience where the simulator tips you so you are "laying" on your back in your seats, and then it's off to space!
If the line is short enough, everyone should do it just to say they've done it, but if it's relatively long, it's really only worth doing if you have kids who will definitely enjoy themselves.
You do feel some "forces" on you and the simulator will shake and rattle around, but somehow I doubt this is actually how the astronauts feel!
Kennedy Space Center Bus Tour
The KSC bus tour and Apollo/Saturn V center is the crème of the crop for what the visitor complex has to offer (the Atlantis exhibition is a close second).
It's also included with the price of your ticket!
The traditional bus tour is usually about an hour experience that takes you throughout the Kennedy Space Center complex, including launch pads, the famous vehicle assembly building, and to landing facilities and the Cape Canaveral lighthouse.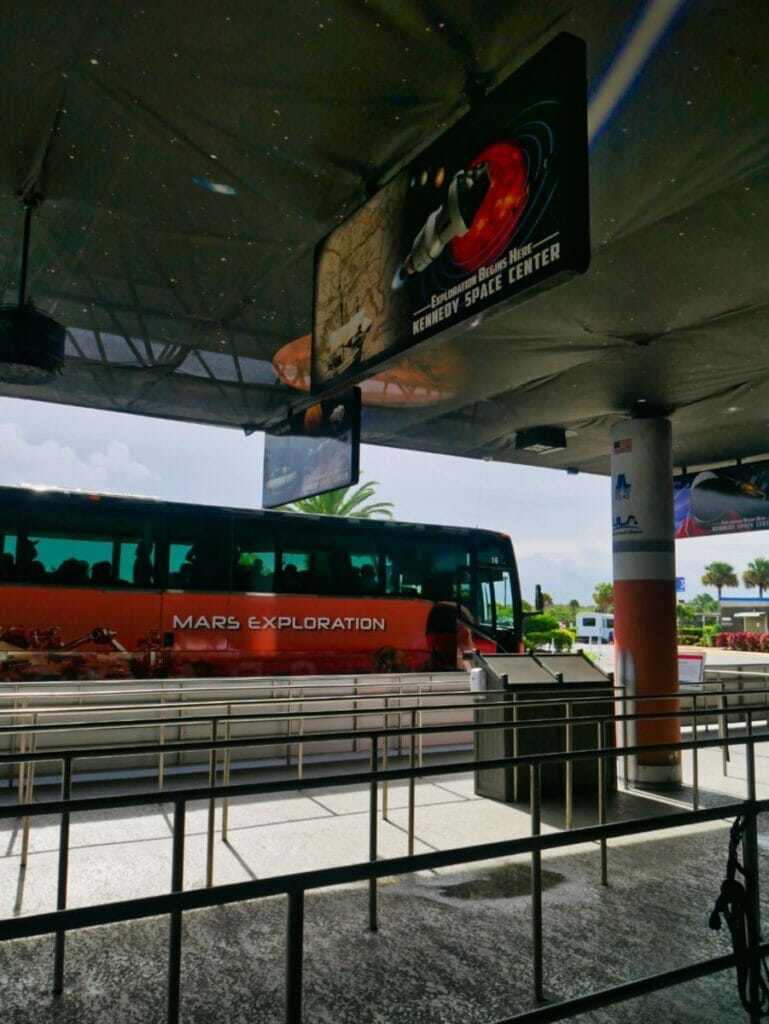 Unfortunately, as of January 2022, the full bus tour is not operating due to COVID-19 and there is no clear date of when this will be brought back.
However, a shortened bus tour that takes about 20 minutes will take you from the Kennedy Space Center Visitor Complex out to the Apollo/Saturn V center, and along the way you will see the Vehicle Assembly Building and some launch pads.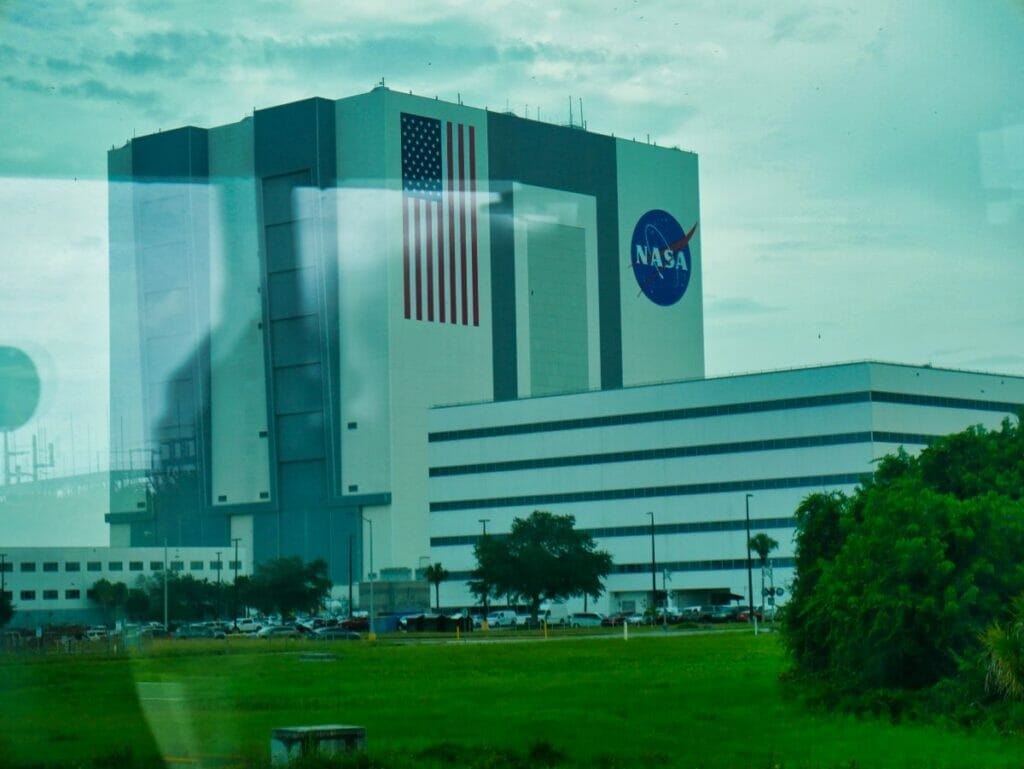 To get to be roaming around NASA's grounds with your bus driver is truly an experience of a lifetime for many who can look out to the launch pads and imagine a rocket blasting off or finally get a feel for just how massive the Vehicle Assembly Building is (it had to fit a whole Space Shuttle!)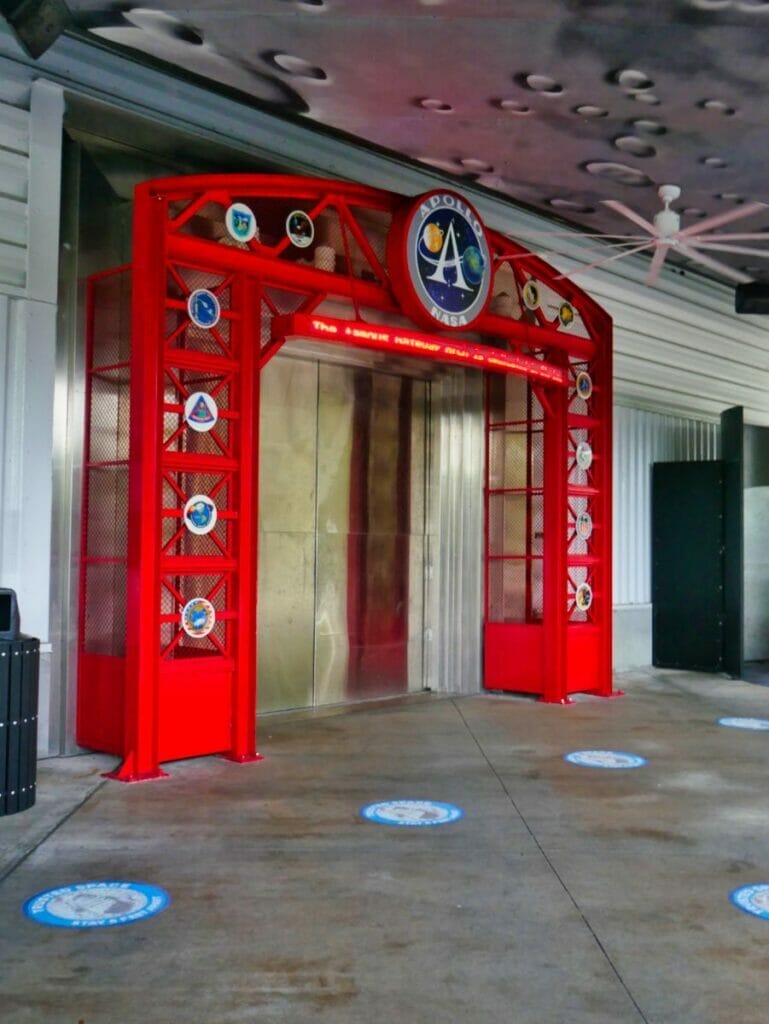 Once you get to your destination, the Apollo/Saturn V Center, you take a self-guided tour through this fantastic exhibit which includes everything from information on the moon landings to an actual Saturn V hanging over your head for you to get a real sense of scale.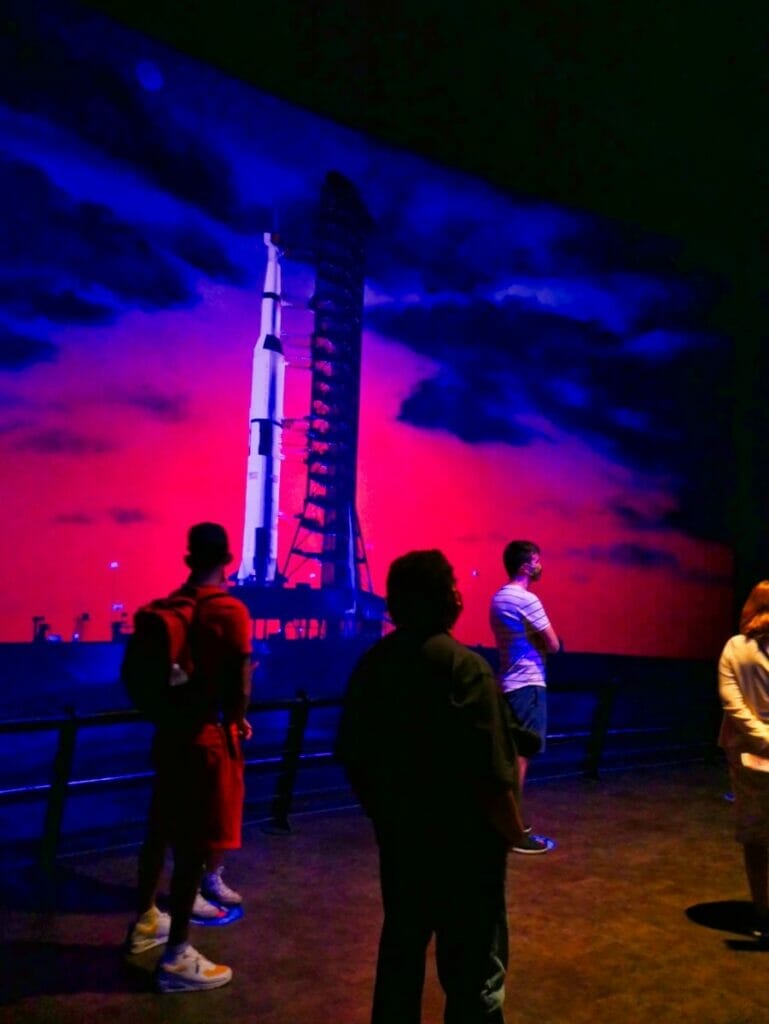 There's a fantastic "experience" where you get to see the original Mission Control room for the first crewed Apollo V mission, and there are memorials to astronauts who lost their lives during missions during this time.
If the Atlantis exhibition is NASA's more recent past, then the Saturn V/Apollo center is its real history, taking you back to a time when landing on the moon sent shockwaves around the world and rockets and capsules were much less advanced than they are now.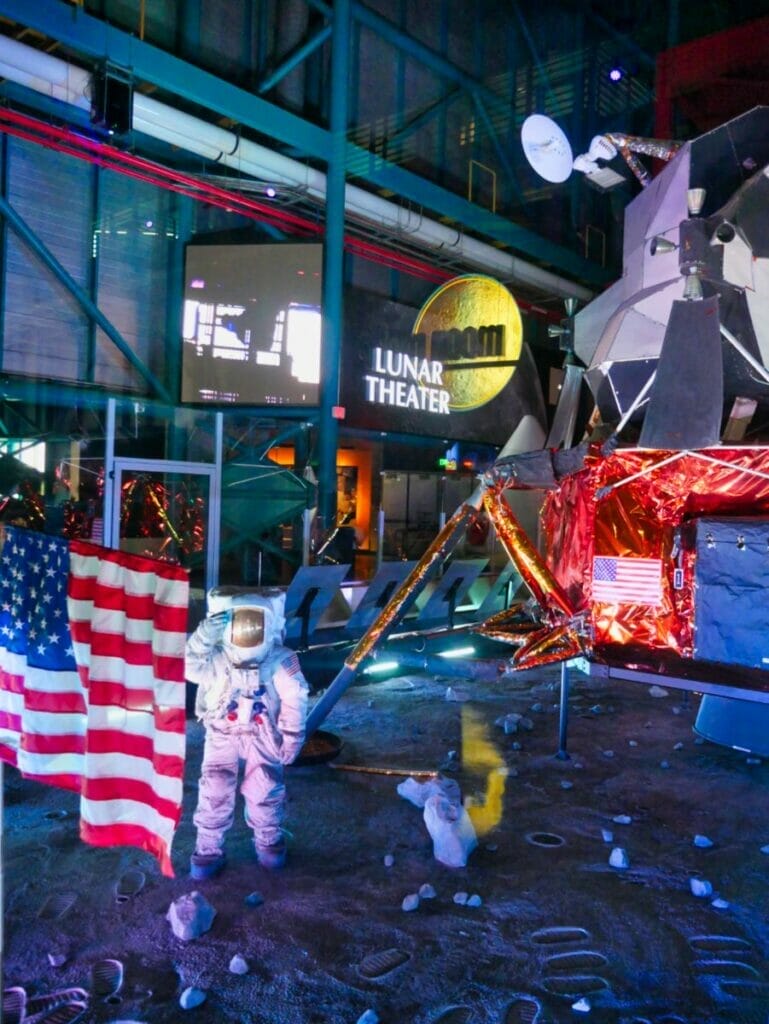 You can even walk across one of the arms to get to the rocket that actual crews walked across on the launch pad.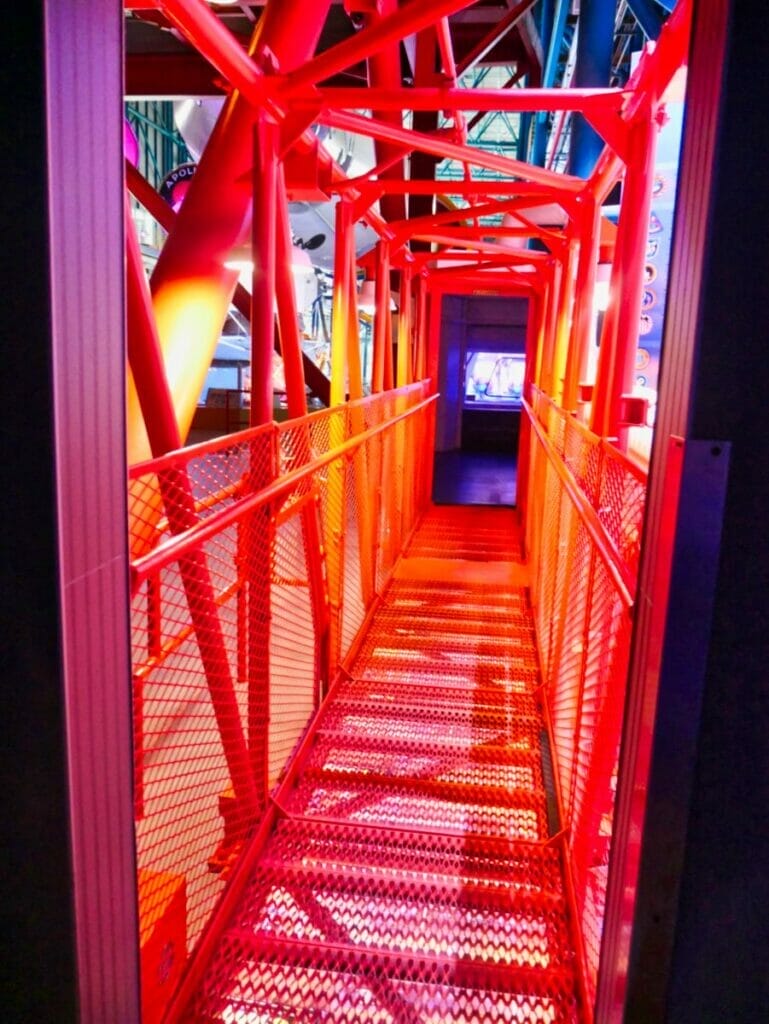 When you're finished with this area (you could spend a solid couple of hours here, but there is a lot of other park to see so about an hour to an hour and a half should be good), you hop back on the next waiting bus which takes you directly back to the Visitor Complex.
Astronaut Talks, Events, and Movies
In between all of the exhibits, the Kennedy Space Center puts on a daily schedule of events that ranges from the IMAX movies to talks and Q&A sessions from astronauts (you would be surprised how many astronauts you've never heard the names of who just want to give back and share about their experiences at KSC).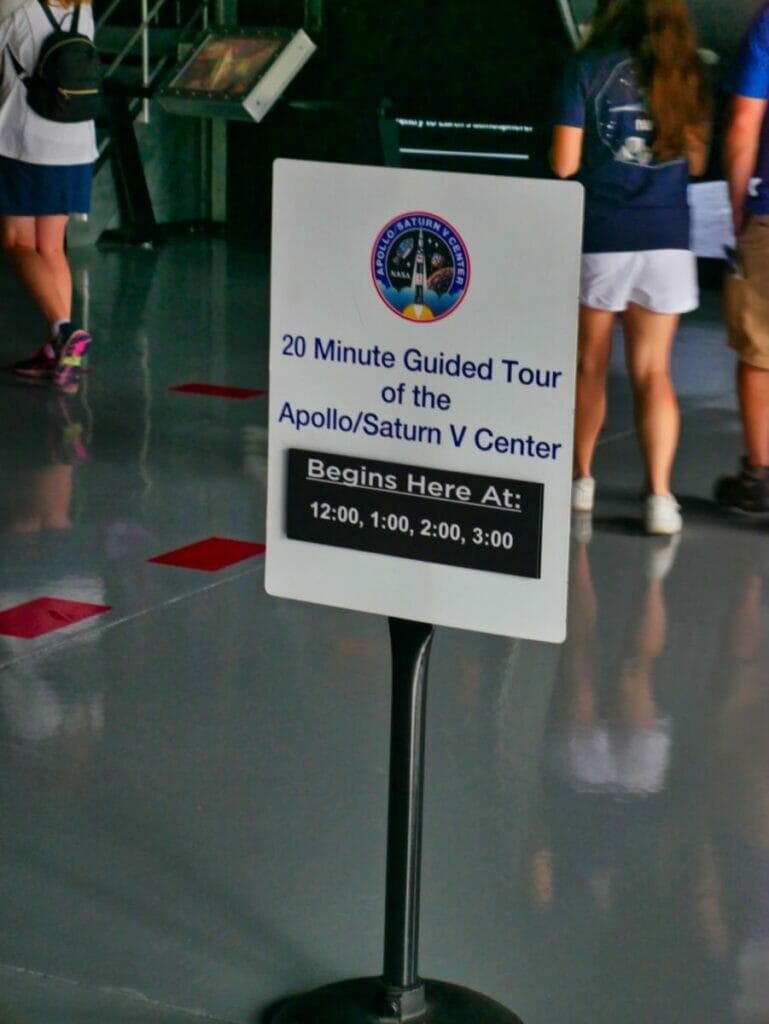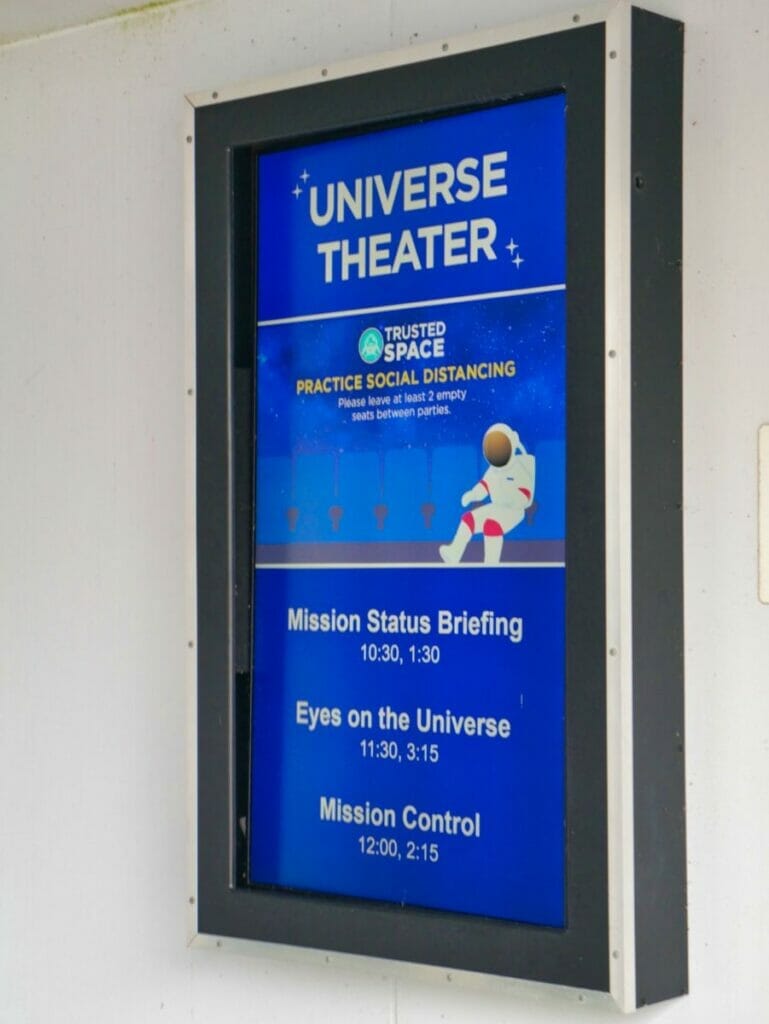 These are well worth going to, and for many the highlight of the day as you can take some time to cool off in a dark theater or lecture hall and actually hear from the people who know spaceflight best.
Food at the Kennedy Space Center
There are no waiter-service restaurants at the Kennedy Space Center, but there are a few sit-down restaurants where you order and then get your food and find a seat.
If you're out at the Saturn V/Apollo Center, Moon Rock Cafe has some options including chicken salads and pizzas.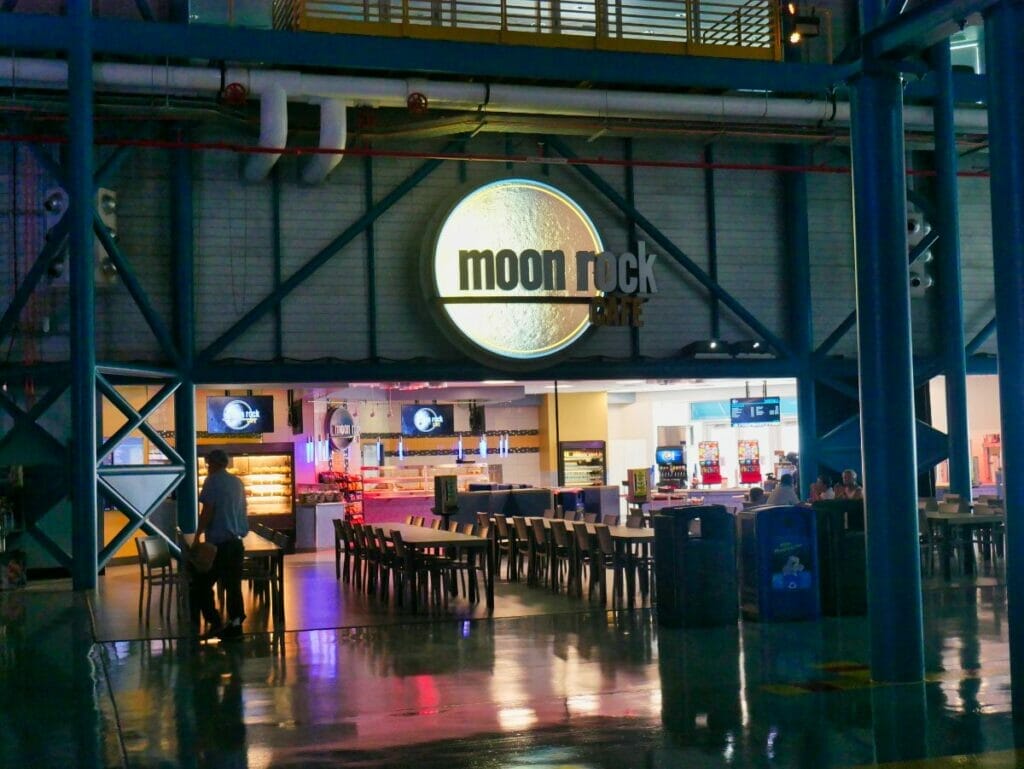 Back at the visitor complex, Orbit Cafe is probably your best bet with the most options like pulled pork, burgers, pizza, salads, and more.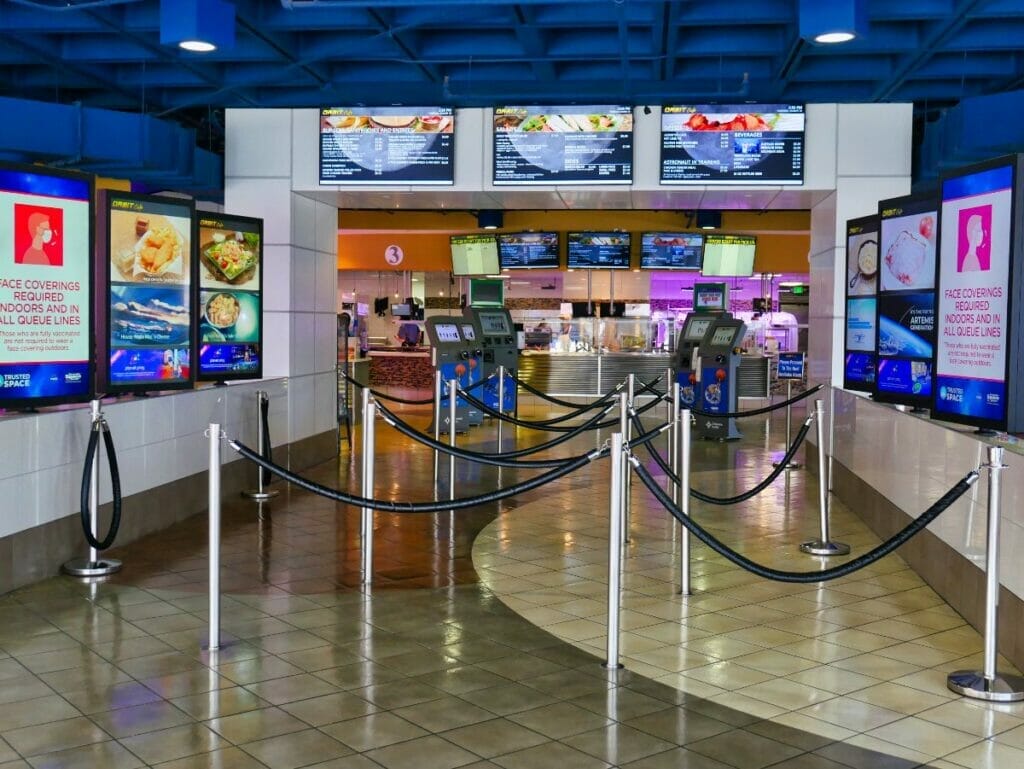 There's also the Red Rock Grill (again, more of the same), which wasn't open during our visit.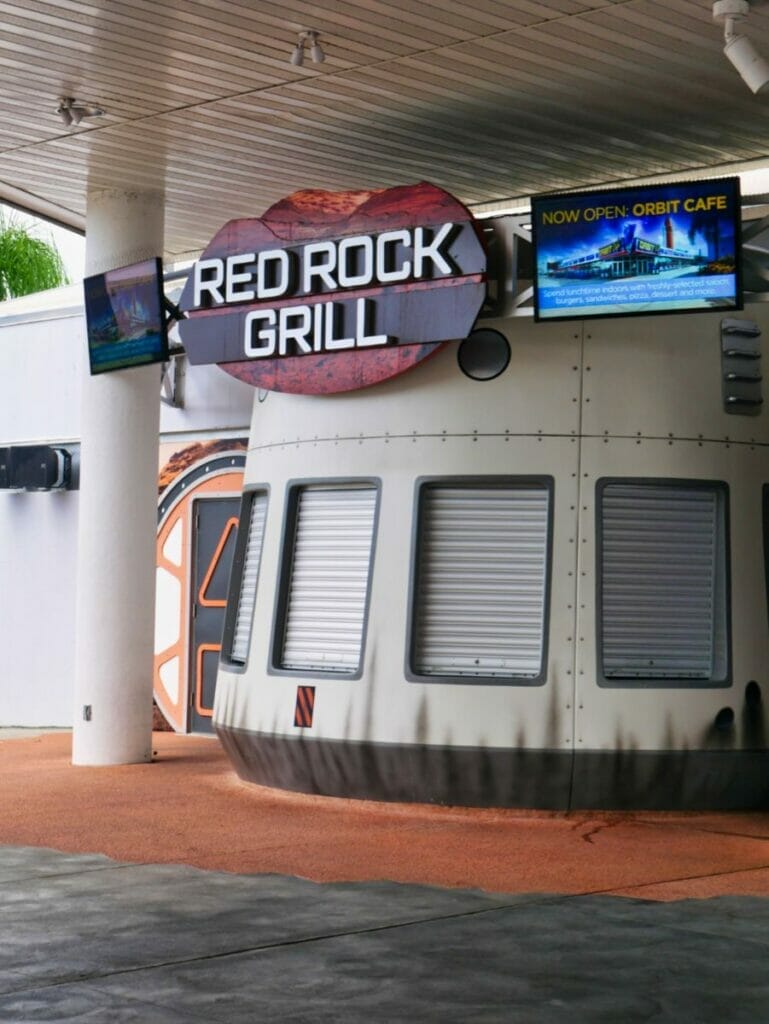 None of the food is gourmet, but it's not bad for theme park food.
You can bring your own lunch in, however, which is what we'd recommend if you're visiting from somewhere where it's easy to pack your own lunch.
The snacks at KSC are definitely the real treat, with everything from hand-dipped ice cream to Dippin Dots to everyone's favorite "astronaut" food (ie, dehydrated food that really should only be eaten if you're in outer space, but many kids find fun to try).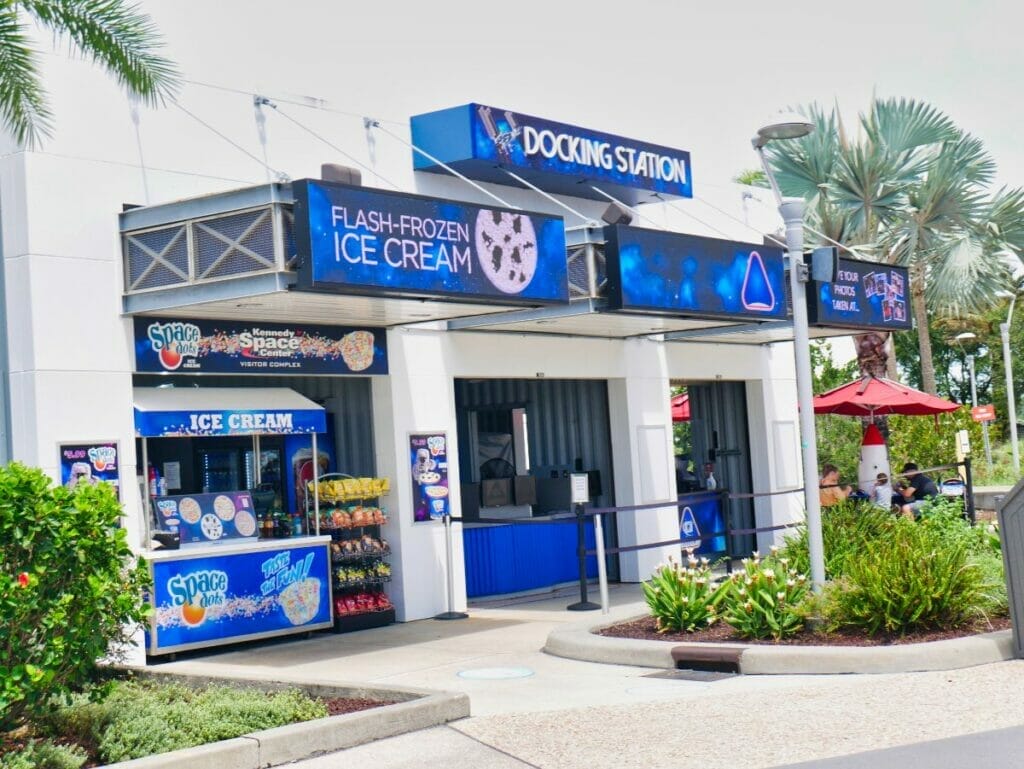 Kennedy Space Center Store
Space lovers will be happy to know that the Kennedy Space Center store is two storeys full of memorabilia, T-shirts, mugs, toys, and so many space-themed items that your Christmas shopping for the year can basically be done all in one go.
It's not just tacky stuff, either (though they do have things like shot glasses and bottle openers), but some really cool merchandise like flight jackets that can make you feel like you're really a part of something.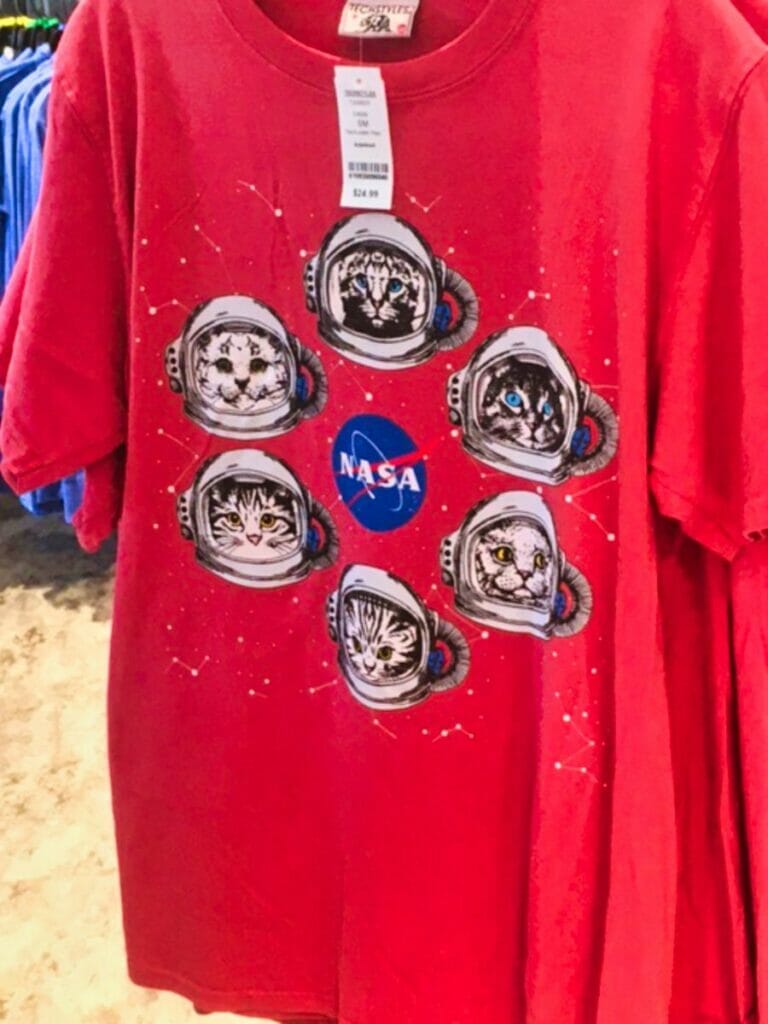 There's also a store out at the Saturn V complex if you end up spending more time out there.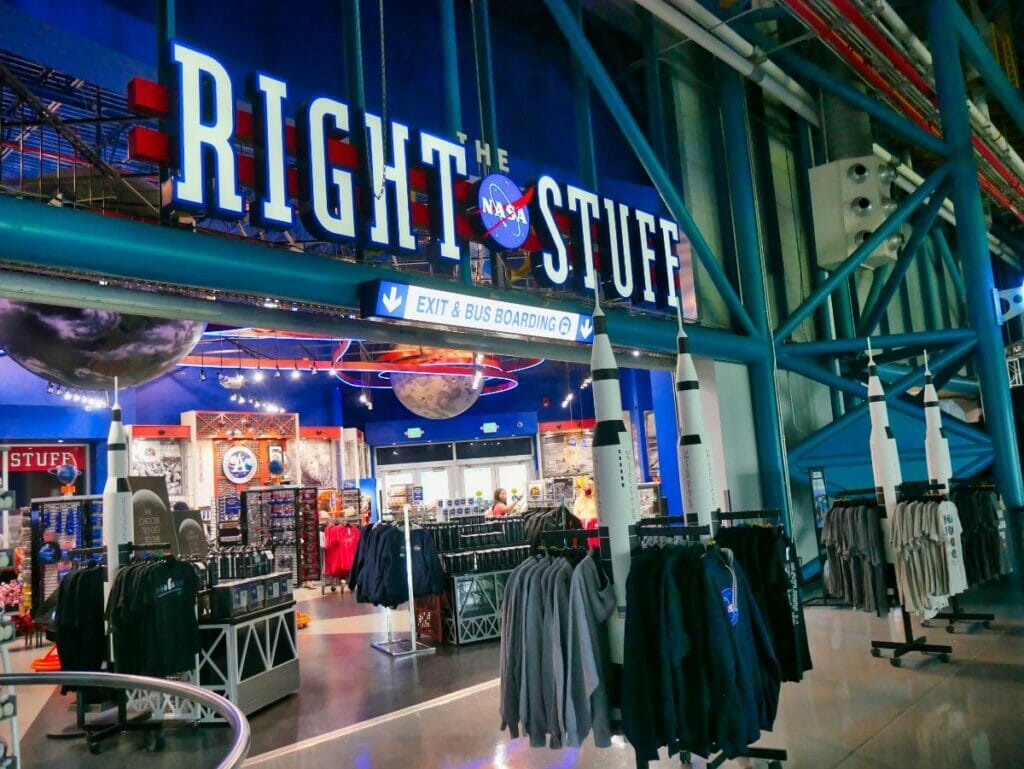 How to Get to Kennedy Space Center
Kennedy Space Center is on the east coast of Florida, about 50 minutes to an hour from Orlando in good traffic.
The easiest way to get there is to rent a car and drive, but if you're visiting Orlando and you don't have a car, there are day trip options from Orlando to the Kennedy Space Center.
In fact, it's one of the best day trips from Orlando, full stop.
The best tour of the Kennedy Space Center from Orlando is this one (you will be self-guided when you arrive at the Kennedy Space Center, like other visitors, but you can add-on the transportation from Orlando that would be near impossible or prohibitively expensive otherwise if you don't have a car of your own).
Best Kennedy Space Center Tour from Orlando
Need transportation to the Kennedy Space Center from Orlando? The best tour option is here.
Parking at Kennedy Space Center
Parking at Kennedy Space Center is plentiful, but is an extra $10 per car ($5 per motorcycle) on top of your ticket price.
Kennedy Space Center Tickets
Kennedy Space Center is one of those places where the ticket price on the day costs just as much as online, so really the only benefit to buying online is so you don't have to stand in line at the ticket booth (which, honestly, is a great reason, but I'm just saying if you forget to do that then you can still purchase them there).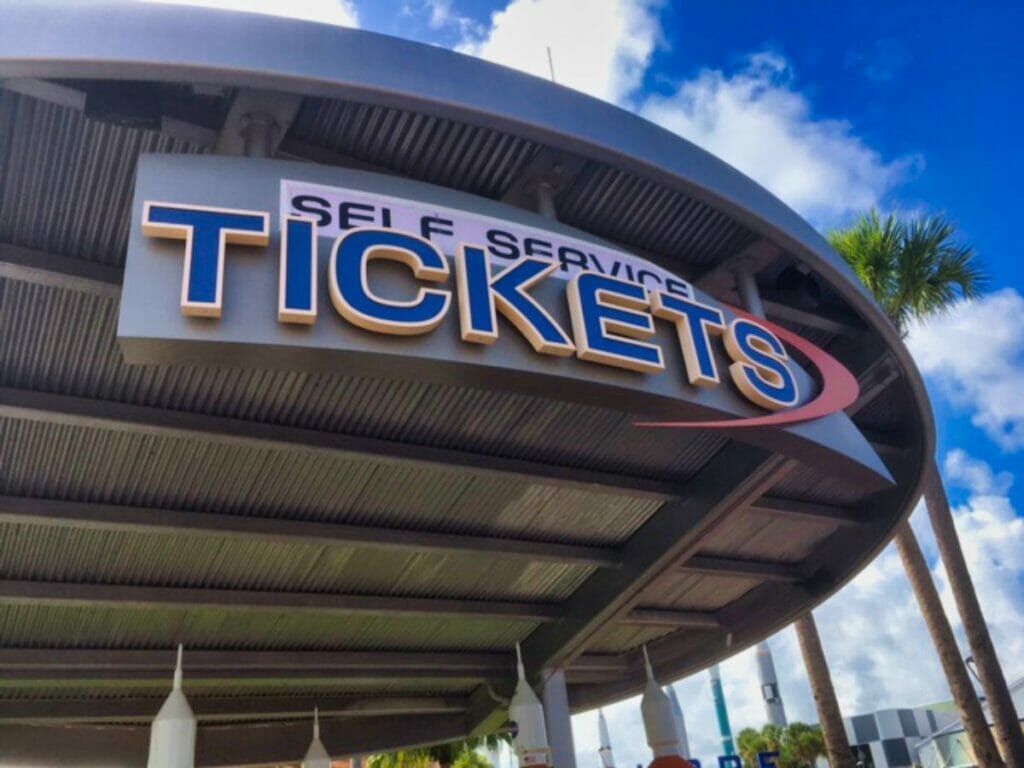 For adults, the cost is $57 per person, and for children it's $47.
If you do want to buy online, you can buy tickets here.
If you're looking for Kennedy Space Center discounted tickets, the best places to check out are buying them via Undercover Tourist here, or if you're a military member, you get discounted entrance.
You can also buy multi-day entrance for $82 per adult where you can come buy as many times as you want during the year, so if you're local or planning on coming back, it's not too much more expensive to add this on.
Pin for Later!
Get the All-American Travel Secrets!
Don't miss out on America's hidden gems!