From walking along the shore of Lake Superior to gorgeous railroad experiences to sharing an ice cream sundae, these are the most romantic things to do in Duluth, Minnesota.
This city is prime real estate for couples to enjoy, as the things to do for couples in Duluth range from outdoor adventuring to candlelit dinners to night's out at the theater.
Some of these options are Duluth date ideas, while others are short stop-overs to incorporate into your romantic day.
Below you'll find a map of all of my favorite things to do for couples in Duluth if you're more visual and want to see how you can best plan your day!
Don't forget that it's much easier to see Duluth by car so you can get around easier.
We recommend using Discover Cars price comparison to find the cheapest deals.
Romantic Places to Stay in Duluth
There are a few considerations when it comes to booking somewhere romantic to stay in Duluth, including budget and what part of the city you want to be in.
Here are a few suggestions of where to stay in Duluth with your special someone, broken down by budget.
Budget: Splashing Out ($250+ per night)
The grounds and gardens of this luxurious bed & breakfast are seriously stunning, but when you walk inside, the eclectic, but romantic interior will take your breath away. This isn't one of those modern luxury places that all blend together with similar IKEA furnishings, though. The unique design and almost Victorian look means that whether you're enjoying the bath spa or lounging in the room, you'll feel totally relaxed.
Budget: Mid-Range ($150 – $250 per night)
One of the most popular hotels for couples in Duluth, Pier B Resort features the only waterfront restaurant in Duluth and offers incredible access to the marina area. Book a harbor view for a romantic proposal, or enjoy the indoor swimming pool any time of the year.
Here, you're within walking distance of Canal Park, and if you specify ahead of time and book the right type of room, you could have a relaxing soaking bathtub with views of the aerial lift bridge. Yes, please!
Budget: Uh…on one! ($150 or less per night)
If you're hoping for a more budget romantic hotel option, the Park Point Marina Inn is the place. Not only is the location right on the marina a perfect location in Duluth, but it's also got an indoor pool, hot tub, and sauna.
Also, there's a daily buffet breakfast and if stuffing your face with buffet breakfast together isn't true love, then I don't know what is.
1. Walk through Enger Park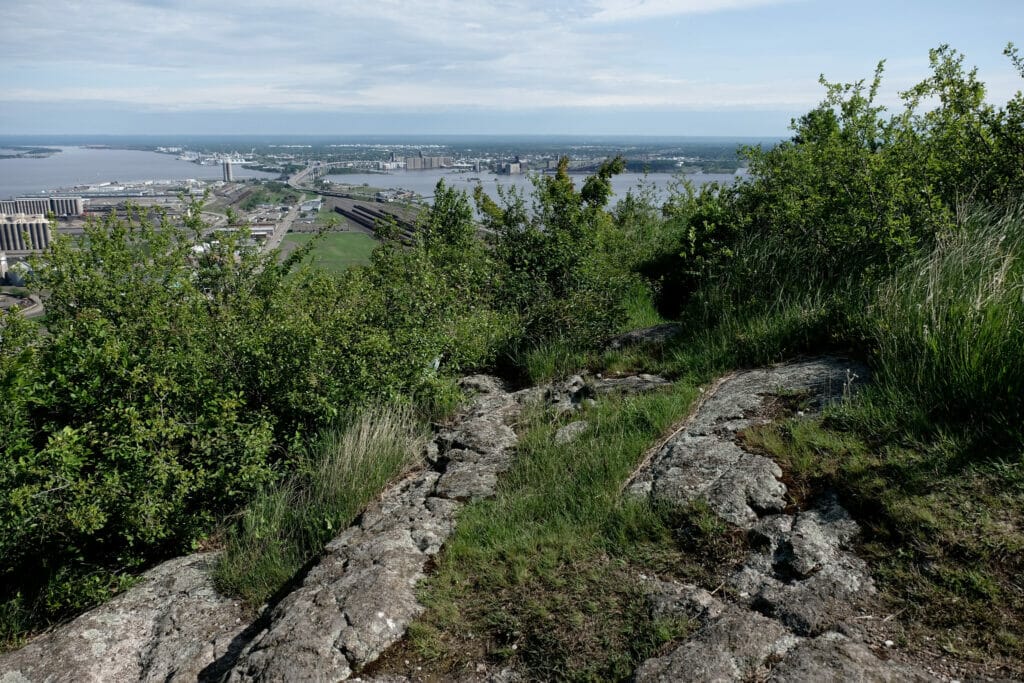 Stroll hand in hand through Enger Park, one of the best parks in Duluth that offers expansive green spaces to get some fresh air, as well as wonderful views of Duluth.
Summer date nights in Duluth are popular here, as the food trucks line up with the smells of freshly cooked burgers, veggie kebabs, and more, but even in the winter months you can still get gorgeous views of the Aeriel Lift Bridge from the Enger Park Tower.
Bring a picnic to enjoy on the grass as you escape from the hustle and bustle of city life and enjoy each other's company.
2. Hop on the North Shore Scenic Railroad
With "scenic" in the very name, the North Shore Scenic Railroad is a popular romantic thing to do in Duluth as you can travel in style as you appreciate the stunning views.
The railroad services here are open from about April until October, and depart from the Duluth Union Depot.
Opt for the audio guide along the way that explains the history of Duluth and points out important landmarks, or simply take the chance to soak in the views of the shores of Lake Superior, the woods, and downtown Duluth.
For special date nights, check their schedule for special events as you can often find live music and other celebrations on board.
3. Visit the Bent Paddle Brewing Company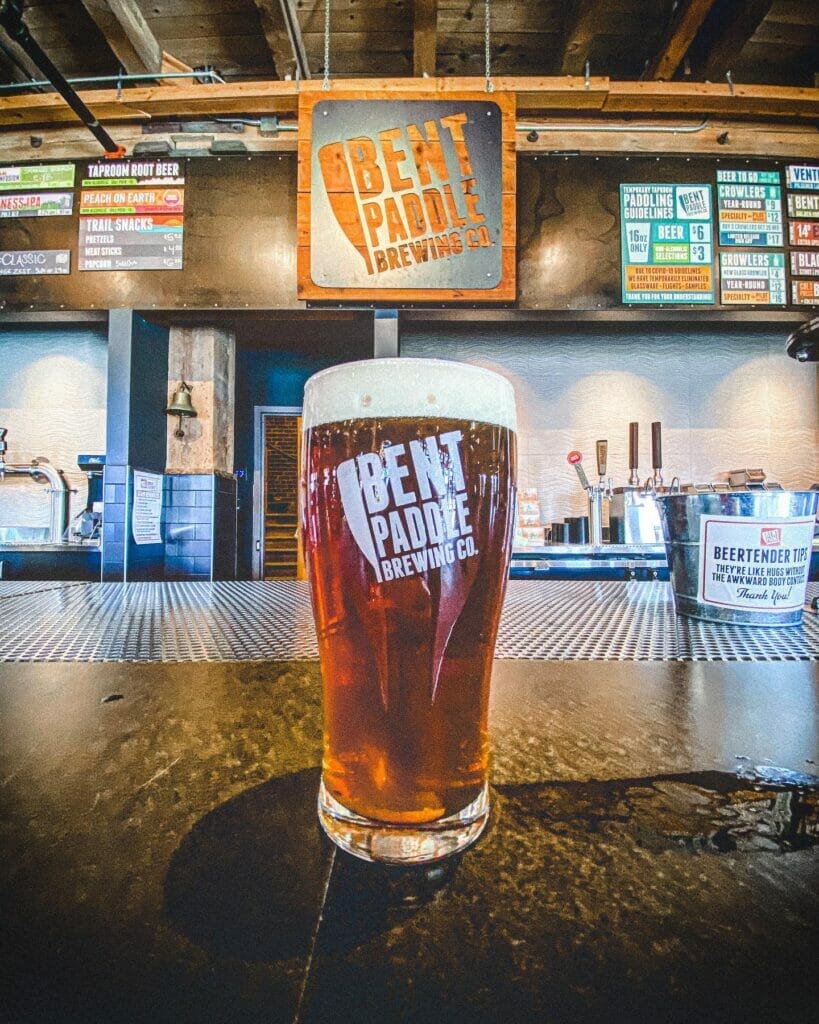 If craft beer is a shared love between you and your partner, why not head to the Bent Paddle Brewing Company, one of Duluth's best breweries.
Here, you'll find a mecca of craft beer, including a taproom for you to try out all of your favorites.
There are also tours of the brewery on a weekly basis so you can have an educational date in Duluth if that's your thing.
Bent Paddle provide craft beer to restaurants and bars across the city, and you should go find out what the hype is all about (worth it, trust me).
4. Enjoy the Views from Canal Park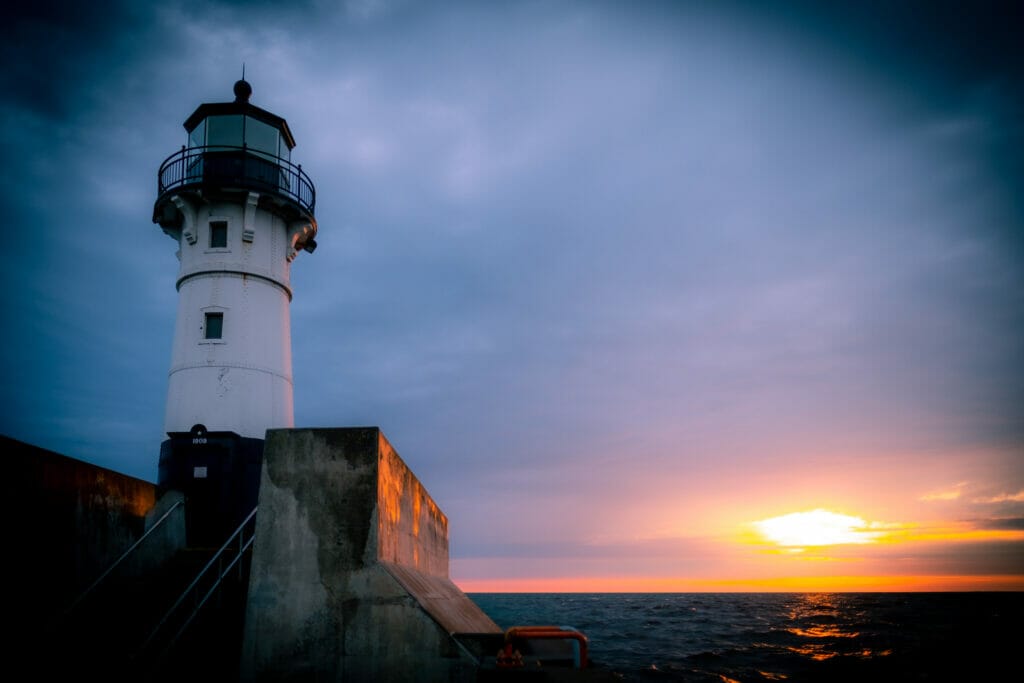 Canal Park is a smaller park in Duluth, but also one of the best places in Duluth to propose given the views of the boats going under the Aerial Lift Bridge.
Because it's within walking distance of so many other Duluth restaurants and attractions, it's a nice little stop to spend some time appreciating the view.
In Canal Park, you'll find the Lake Superior Maritime Visitor Center, which can help point you in the right direction if you're new to Duluth.
5. Take the North Shore Scenic Drive
America is a land for driving, and it's one of the best ways to see the Duluth area with a loved one while you get to talk, laugh, and play your favorite soundtracks together.
The North Shore Scenic Drive starts in Duluth and takes you around the banks of Lake Superior, crossing gorgeous natural landscapes like hills, cliffs, waterfalls and the shore.
There are plenty of little towns you'll pass on the way where you can stop in to a family-owned restaurant for a bite to eat, or pack your road trip picnic and spend time keeping your eyes peeled for wildlife including deer and moose.
This is another great option for a proposal, as you can spend time on the drive and then pick a point overlooking the lake for a special and private chance to pop the question!
6. Smell the Roses at Leif Erickson Park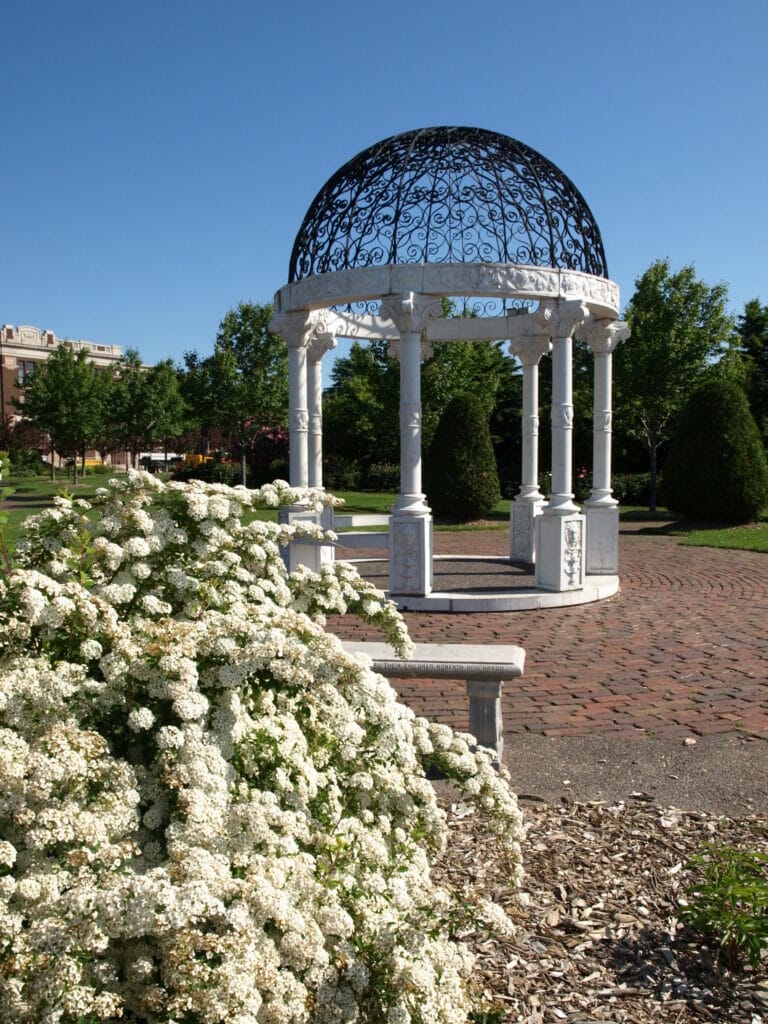 Situated off of the Lakewalk around Lake Superior, Leif Erickson Park is a popular park with a Leif Erickson statue (hence the name) and gorgeous views out to the water.
There is also a rose garden that you can appreciate, and don't be surprised if you come across other couples in the park having wedding photos taken in this gorgeous place.
7. Go Swimming at Park Point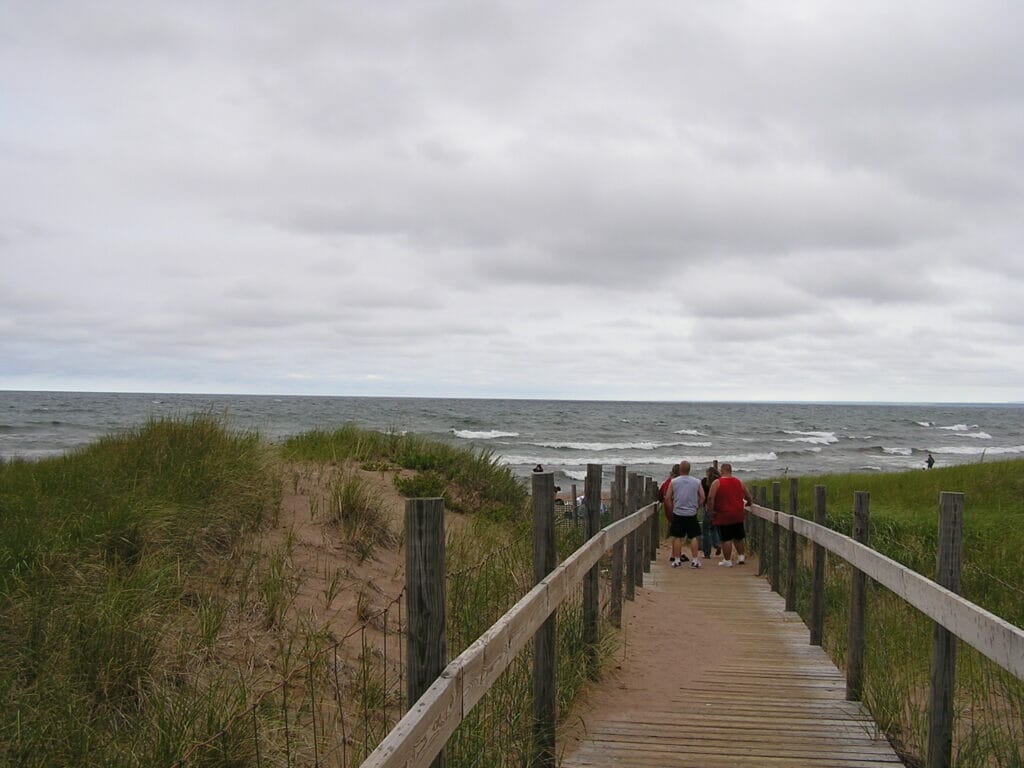 If you're in Duluth in the summer and looking for something romantic to do, head to Park Point which is a huge expanse of sandy beaches along Lake Superior.
Sit and watch the waves rolling in, put your feet in the sand and stroll along the sand dunes, or bring your bathing suit and go swimming while the lifeguards are out.
There are also plenty of summer activities happening to get involved in, including barbecues and beach volleyball depending on how you like to spend your time as a couple.
8. Spend the Morning at the Duluth Farmer's Market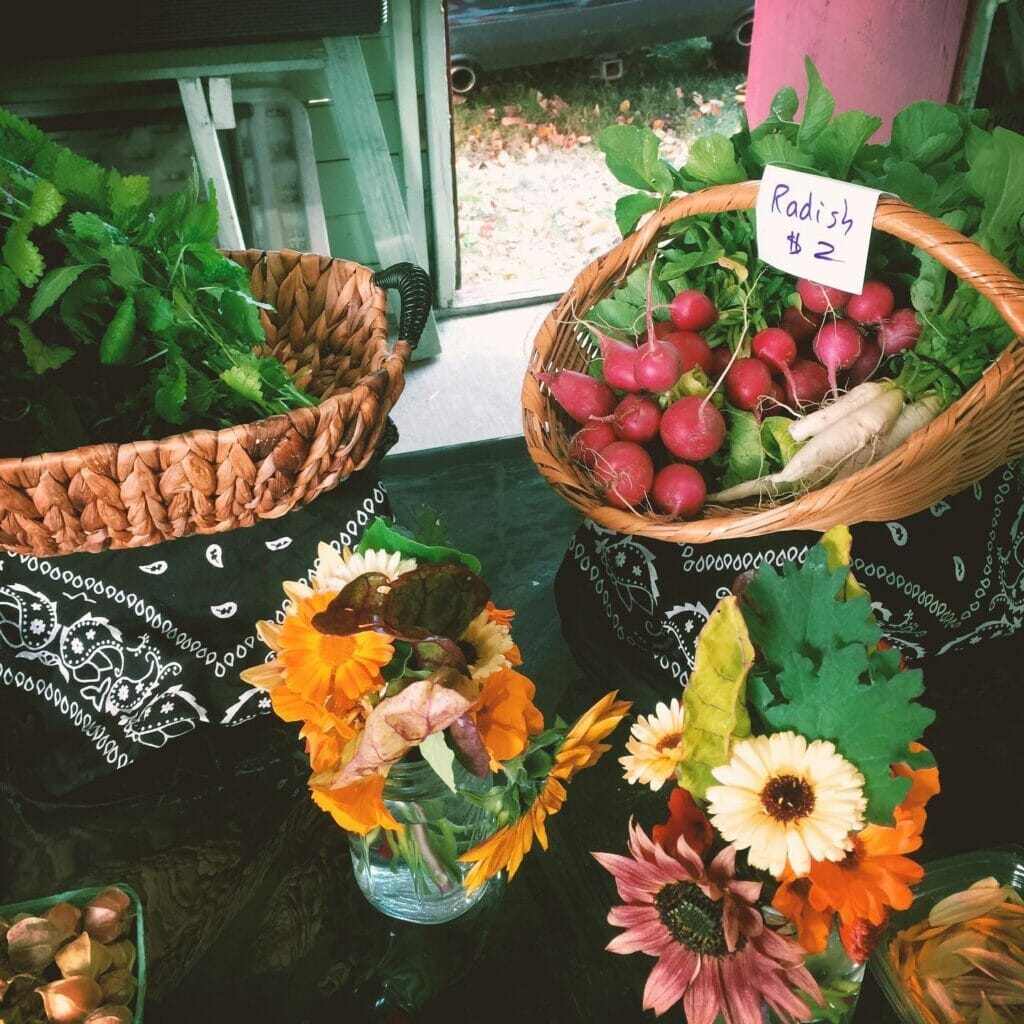 On Wednesdays and Saturdays from May to October, the Duluth Farmer's Market is alive with activity and the chance to shop from local vendors in the iconic red market building.
It's covered, meaning that you can shop no matter what the weather, and in the winter months in Duluth, the Farmer's Market operates special hours and shopping activities so you don't miss out on some chances for holiday fun.
Whether you prefer to just browse the produce or meet and greet the locals, it's a quintessential Duluth thing to do, and can be a part of a Duluth date where you're shopping for the ingredients to cook a freshly prepared meal at home later that evening.
9. See a Show at the Duluth Playhouse
The Duluth Playhouse is a staple in the Duluth creative sphere, and a wonderful place to go on a date night with your loved one.
There are three stages that make up this fantastic theater, and you can see everything from Broadway musicals to children's story books brought to life to holiday classics.
A night out at the theater can be a great way to end a Duluth date night after getting a bite to eat, and it's always a nice way to support the arts.
10. Get Breakfast at the Duluth Grill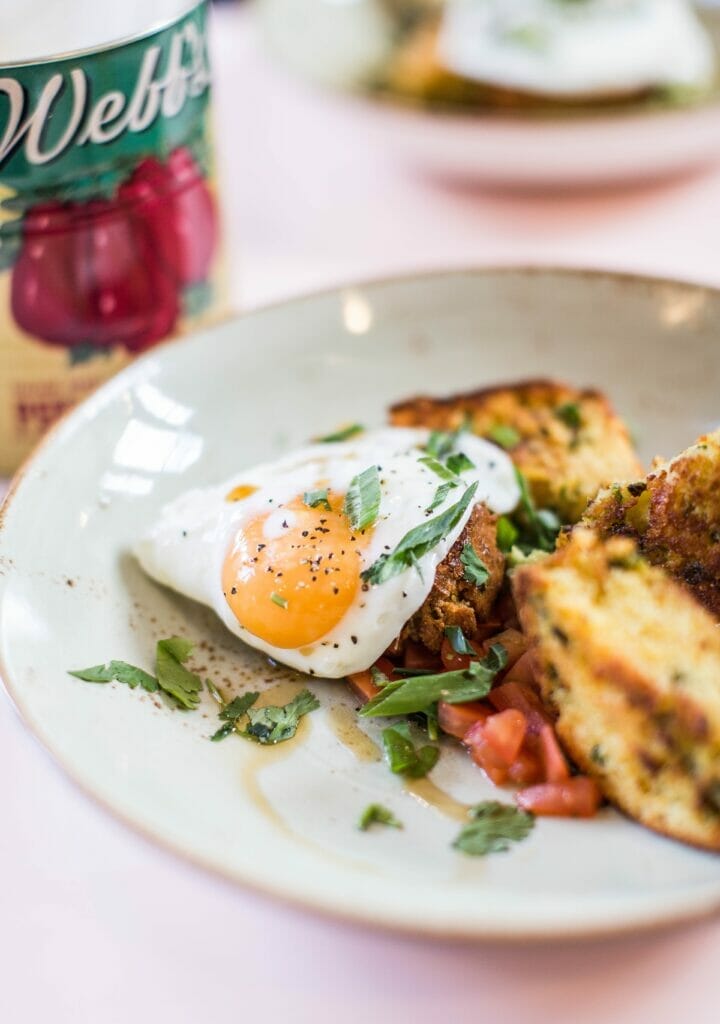 Serving up the most delicious breakfast in Duluth as well as popular lunch and dinner favorites, a meal at the Duluth Grill is a fun things for couples to do in Duluth and one of the best places to eat in Duluth.
Try out the breakfast classics like biscuits and gravy or eggs benedict, or get inspired with the vegan options including a plant lovers skillet.
Other savory options for later in the day include top notch burgers, curry bowls, and the bibimbap, a midwest take on this famous Korean dish.
With friendly service and a fantastic location in the Lincoln Park Craft District, this restaurant is not to be missed.
11. Enjoy Dinner at Black Woods Grill and Bar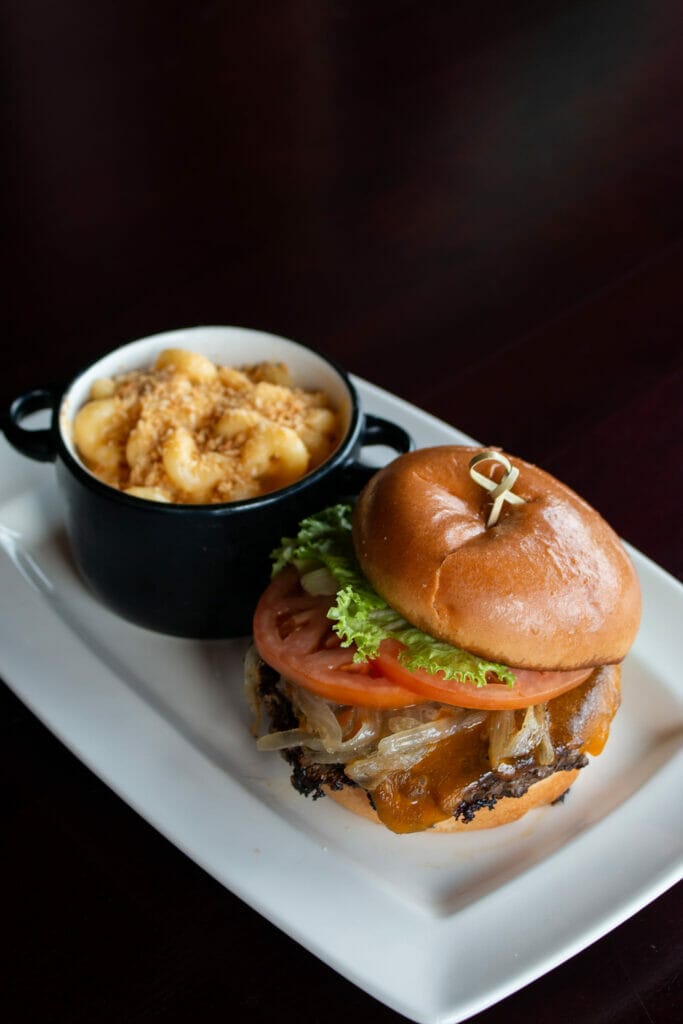 Black Woods Grill and Bar Duluth is a shining example of what happens when you combine family-owned restaurants with fresh ingredients that are locally sourced: perfection!
This is a great place for a romantic dinner in Duluth, and you can choose from unique flatbreads like Thai Chicken flatbread or lobster and shrimp flatbread, or try the North Dakota bison burger.
Vegetarians will find plenty of options as well, including gorgeous salads and build-your-own mac and cheese (yes, please).
12. Get Fresh Air at Hartley Park
This 600+ acre park is a natural refuge for both Duluth residents and wildlife alike.
Adventurous and outdoor-loving couples will love going for hikes along the winding trails, snowshoeing through the wild landscape in the winter months, or exploring the network of streams and ponds throughout the park.
In the winter, equipment rental for snowshoeing and other snow fun is available if you don't have your own, and in the summer you are more than welcome to pack a picnic to enjoy during your visit as long as you leave no trace behind!
While some city parks in Duluth do offer that green space with great views of the city, Hartley Park is the place to go when you want to really escape from the hustle and bustle of it all and feel like you're miles away from the outside world (and you are!).
13. Share Ice Cream at Love Creamery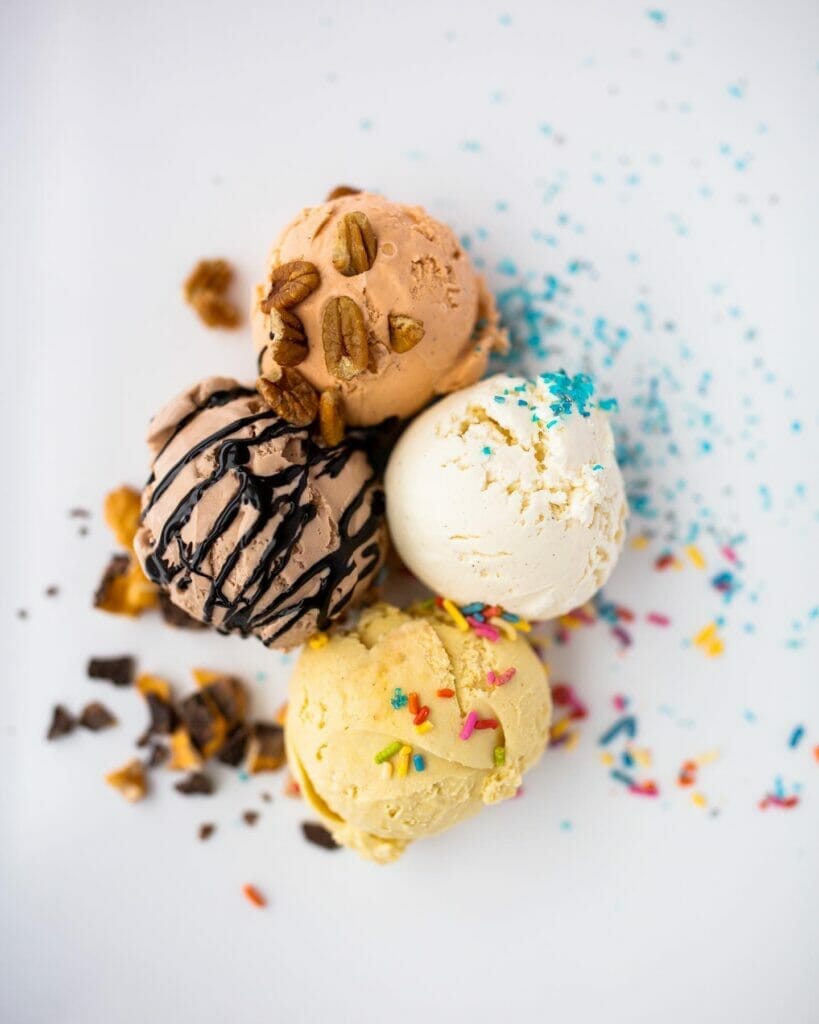 Whether you're starting your Duluth date or finishing it (or both, ice cream twice in a day is definitely acceptable), try the homemade ice cream at Love Creamery, Duluth, for the best homemade ice cream in town.
Not only do they have unique flavors and traditional options like dark chocolate, mint chocolate chip, and nutella, but they also cater to dietary requirements and have plenty of gluten free and vegan options, including things like vegan chai and vegan rocky road.
The commitment to local ingredients and sustainability at Love Creamery makes it hugely popular in the local area, and the ice cream is made in small batches to ensure the highest quality that you don't get when you're mass-producing.
Get the All-American Travel Secrets!
Don't miss out on America's hidden gems!