Snowshoeing. Hot chocolate in bundled up hands. Christmas lights everywhere you look.
Duluth in winter is a magical place, if a bit cold (okay, more than a bit), and this city does an amazing job at transforming their lake city into a true winter wonderland.
From things to do in Duluth in the winter for nature lovers to things to do for people who want nothing more than to be inside at all times next to a heater, these are the best winter things to do in Duluth to ensure you have an amazing trip (or weekend or day out if you're local!)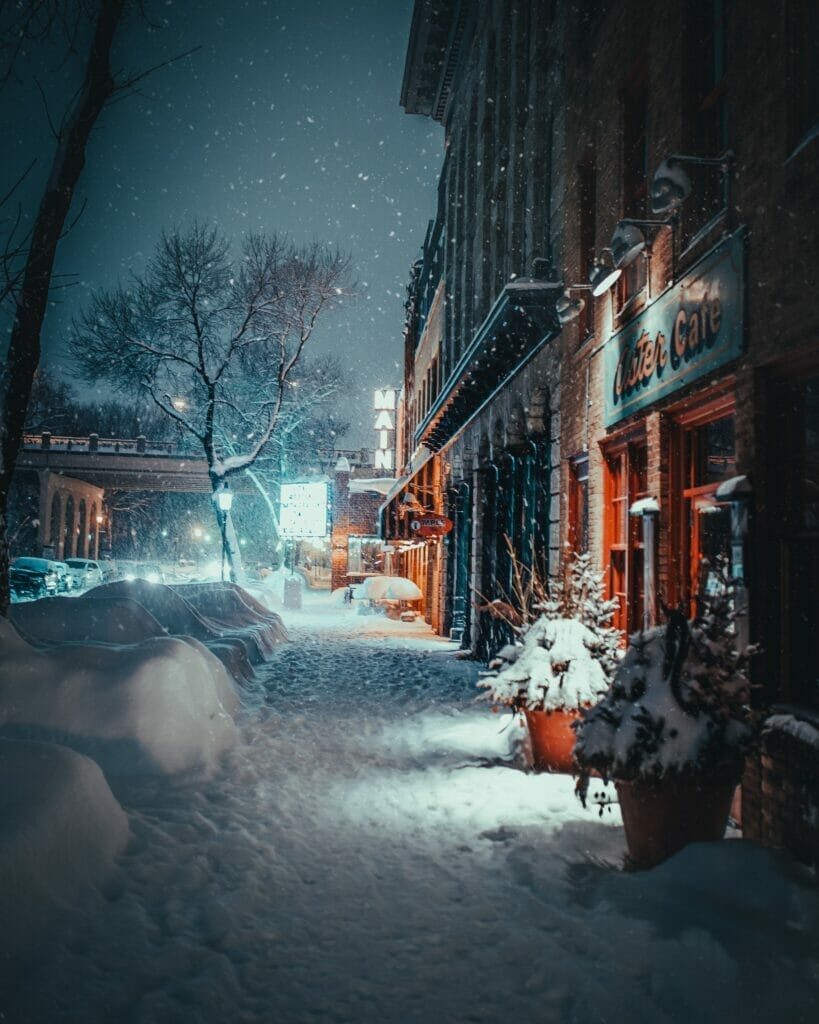 Don't forget that it's much easier to see Duluth by car so you can get around easier.
We recommend using Discover Cars price comparison to find the cheapest deals.
Duluth Winter Temperatures
It's impossible to talk about Duluth in the winter if we don't talk about Duluth winter temperatures.
Not only is Duluth in Minnesota, which is known for its intense winters, but it's also right off Lake Superior, which adds to the wind!
From December to February, the average high is around 25 F, with the average low being around 7 F.
Yes, you read that right – constantly below freezing!
January is the coldest month, and snow is incredibly common throughout the winter – so much so that skiing and snowshoeing is all but a guarantee.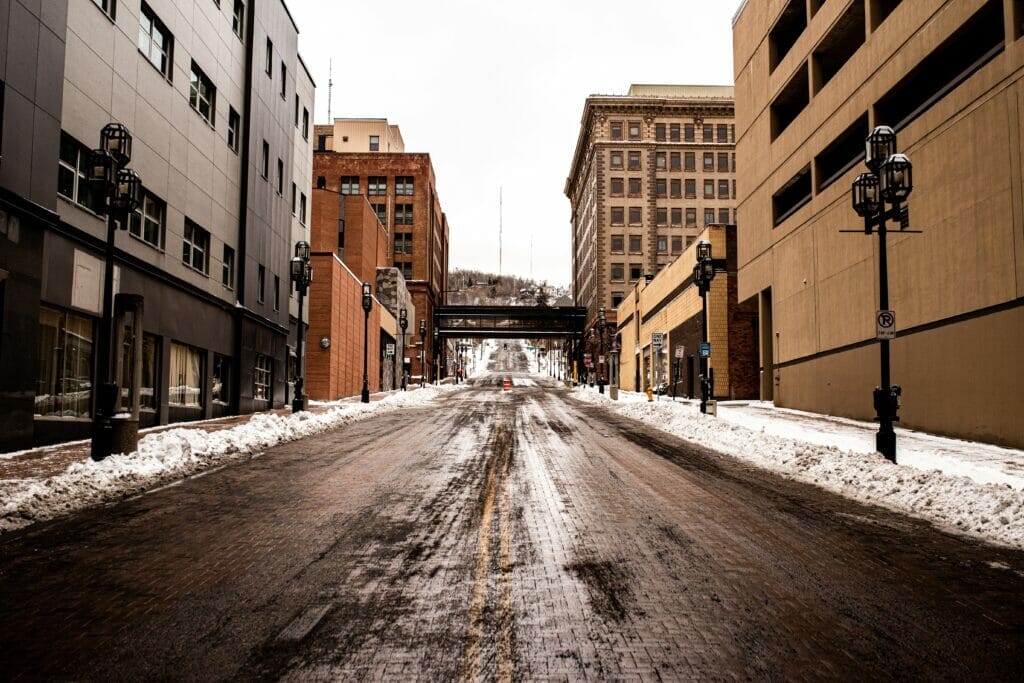 What to Wear in Duluth in Winter
If you're not familiar with freezing winter climates, there are some essentials you'll want to know before you just show up to winter in Duluth in your short sleeve shirt with a thin pair of gloves.
Here's what to wear in Duluth in the winter to both survive and look good while you're handling the cold temperatures like a boss.
Sturdy pair of winter boots – your feet are one of the most important places to keep dry and warm in a Duluth winter, and they're going to be exposed to a lot between the salt, the slush, and the bitter cold. Make sure to invest in a quality pair of winter boots like these for women and these for men.
Warm beanie – beanies are all the rage in Duluth when the cold comes, and you can get them in so many different colors. Get a fun pattern like this one, or go plain with ones like these.
Warm socks – did you know that you also need to think about your socks? Yeah, leave your short summer ones at home. Invest in a pair of warm socks like these to give you an extra layer of protection.
Wool or fleece leggings – for the girls who are wanting to keep extra warm underneath your jeans or are going bare-legged in your dress for a night out on the town, invest in fleece leggings like these to keep your legs extra warm.
Gloves with touchscreen technology – there's nothing worse than having to constantly take your gloves off to text or dial phone numbers or look up directions, so invest in a warm pair of gloves with touchscreen technology like these.
Warm coat – you want a super warm, down coat or sturdy coat through a brand like North Face to get you through the Duluth winters. Your thin hoodie isn't going to cut it!
Turtleneck – turtlenecks are totally in fashion in a Minnesota winter, especially layered underneath all of your other clothes. The key is to bundle up from bottom to top, so don't leave your neck out and try a fashionable turtleneck like this.
Thick scarf – no matter who you are or what kind of fashion you're into, you're sure to find a thick scarf that makes sense for your wardrobe, and this is a fantastic way to add another layer of warmth and act as a shield against the biting winds.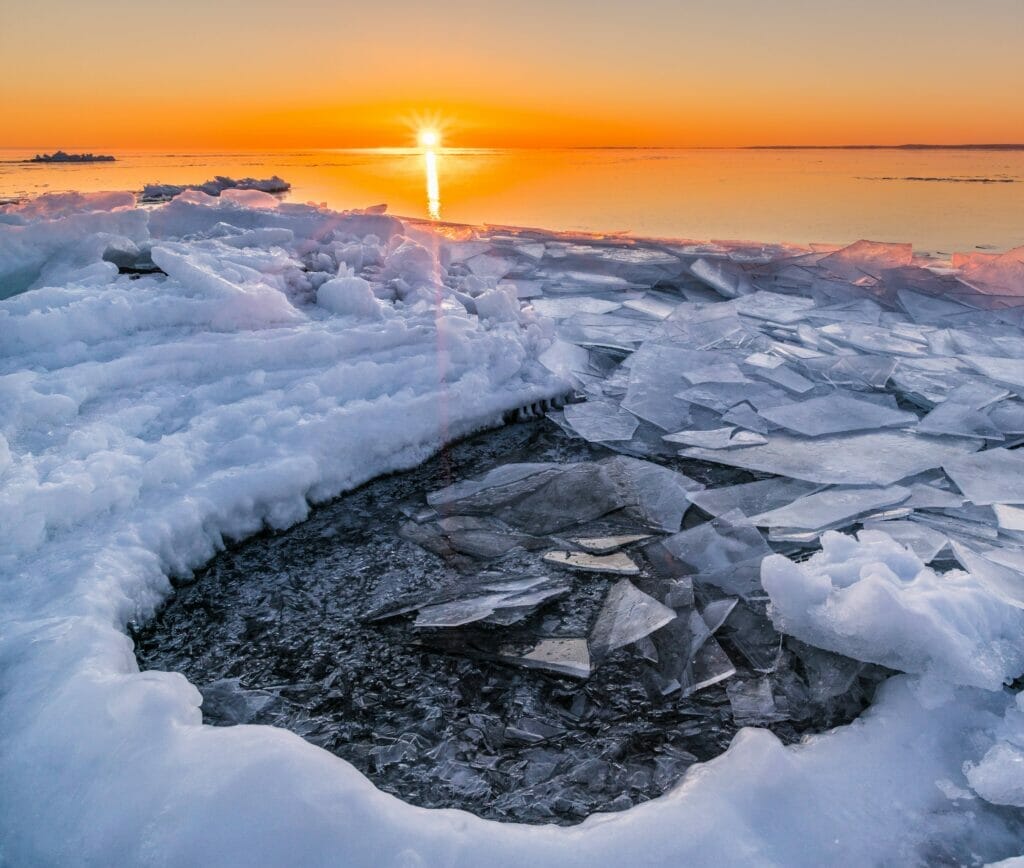 What to Do in Duluth in Winter
Sometimes, you show up to a city in the winter and are like…"where is everyone?"
But this is a Minnesota winter, and that means that life continues on, just a lot more snowy and cold than the rest of the year.
Duluth isn't resting or retreating when it comes to the cold: they're embracing it!
Check out the best things to do in Duluth in the winter months below.
1. Bentleyville Tour of Lights
The Bentleyville Tour of Lights is a staple in downtown Duluth, lighting up Bayfront Park with thousands of dazzling Christmas lights and decorations.
There's also the iconic Bentleyville Christmas tree, standing tall in the center of it all at 128 feet.
Typically, the Bentleyville Tour of Lights runs in the evening in November and December, and it's a great way to get involved in some holiday cheer with the family, even if you're quite a few weeks away from Christmas in Duluth.
This is an iconic Duluth event, and everyone should bundle up, grab themselves a hot chocolate and a scarf and experience this winter wonderland.
2. Christmas at Glensheen Mansion
Glensheen Mansion, a historic site in Duluth, is open year-round to visitors who want to see the beautiful interior or explore the grounds, but in the winter, it gets an overhaul.
A festive one, that is!
Not only do they offer tours of the mansion all decked out for Christmas inside, but they also decorate the grounds outside in lights and decorations which is free for visitors to explore.
If you're really wanting to get in the holiday spirit and prefer to do it indoors, why not try one of their candlelit tours of the mansion decorated for Christmas?
Sometimes, the best way to see the trees and the lights and the elegant ornaments is the old-fashioned way, letting the glow of the flame flicker across the room.
3. Skiing at Spirit Mountain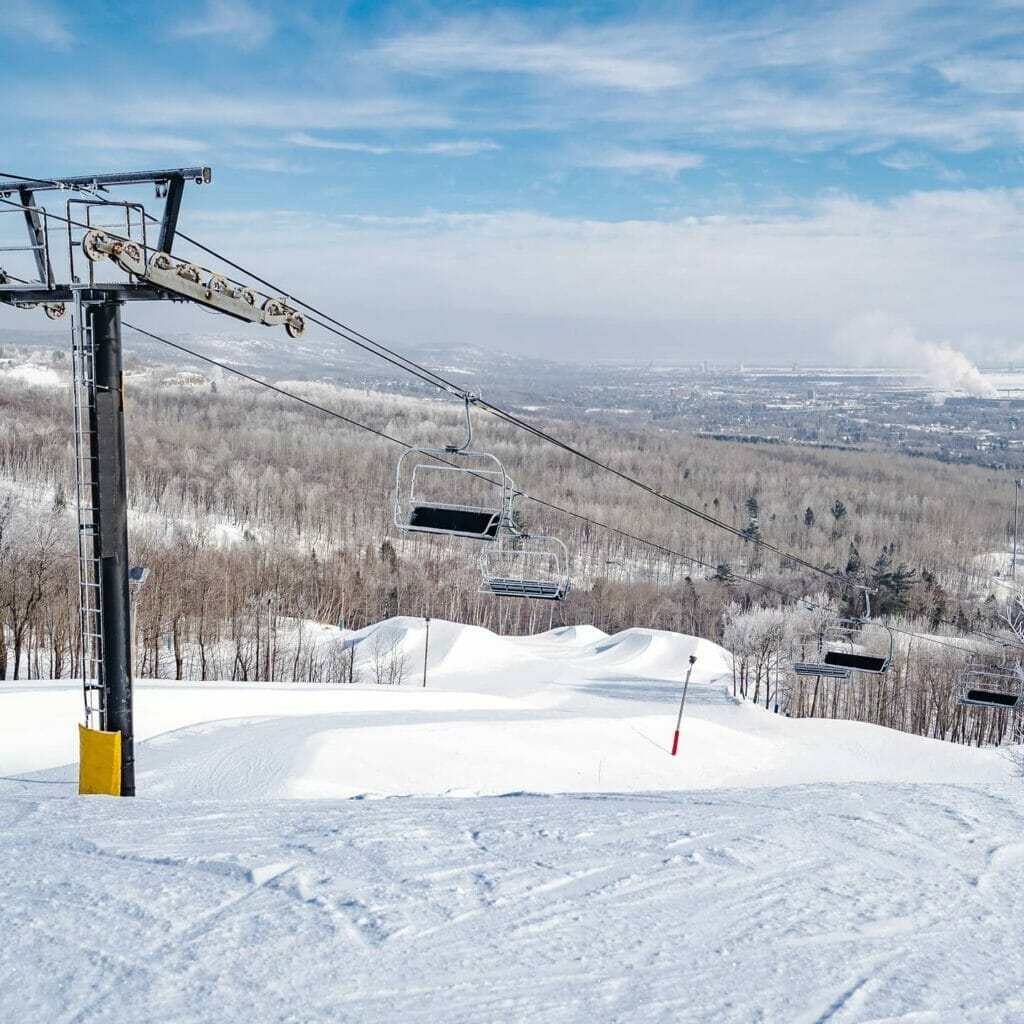 Whether you want to hear the whoosh of the snow as it flows behind you as you zoom down the mountain or you prefer the more peaceful option of cross-country skiing, Spirit Mountain has it all.
This is Duluth's nearest and most popular winter-fun mountain resort, built in 1974 to attract winter visitors to the area.
There are plenty of easy runs if you're a beginner, and there are plenty of lesson options you can take part in if you want to increase your skills or feel confident on a pair of skis.
There are also a couple of difficult runs for those who are really advanced and want to test their skills, as well as plenty of intermediate options in between.
You'll find multiple cafes on-site so you can warm up with a cup of coffee or get a bite to eat before getting back out on the mountain, but don't miss Spirit Mountain in the winter.
4. Snowshoeing at Miller Creek Interpretive Trail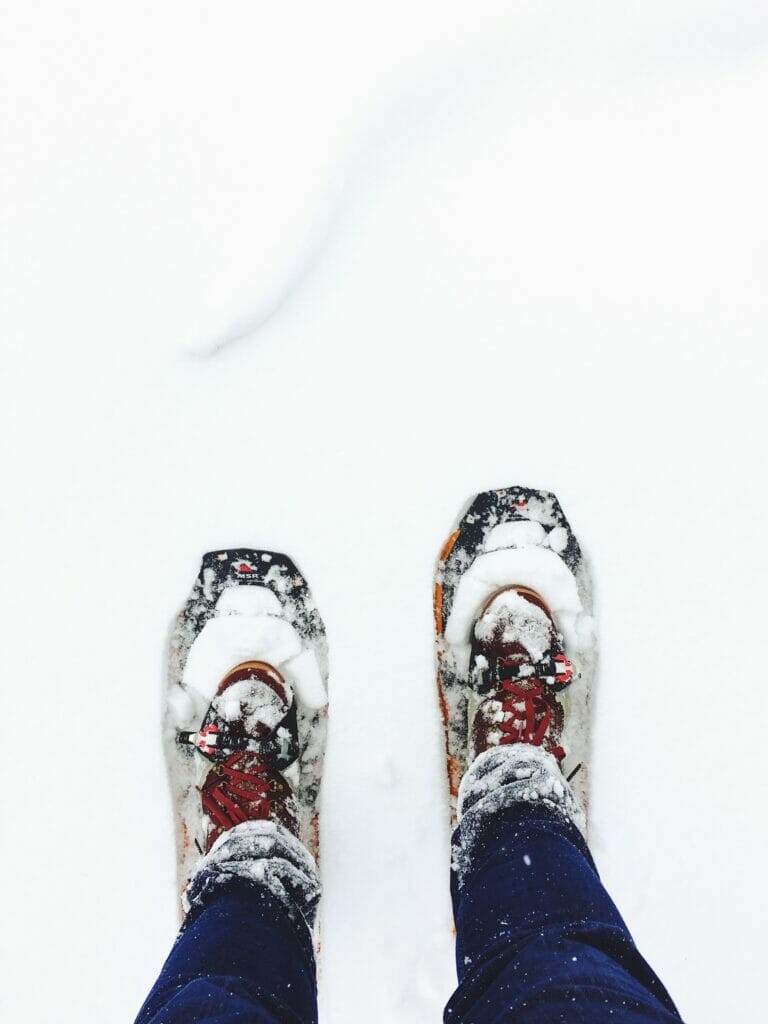 During hiking season, Miller Creek Interpretive Trail is a fantastic option for a short hike through various Minnesota ecosystems, but in the winter months, it becomes a gorgeous place for beginner snowshoeing!
Snowshoeing, which involves strapping some claw-like tennis racket looking contraptions to your feet to make it easier to walk through the snow, is a delightful winter activity to help you essentially go hiking in the winter without sinking too deep into the drifts.
They welcome snowshoeing at most trails around Duluth, but I really love this one for an introduction to snowshoeing because the trail is less than a mile.
5. Snowmobiling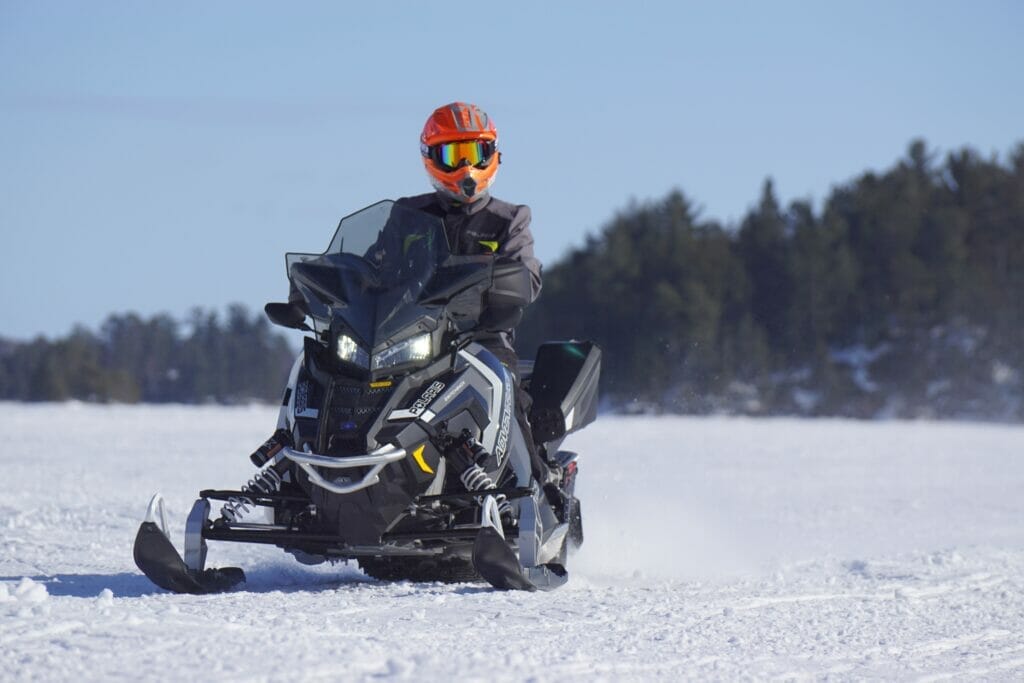 Snowmobiling is another huge pasttime in Minnesota winters and one of the most fun things to do in Duluth, and there are plenty of snowmobiling trails to explore, including off of the Lake Superior Trail.
There are a few snowmobile shops in town, but the nearest rental shop is Beaver Bay, about 1 hour away from Duluth's downtown area (but obviously you would be exploring the area surrounding Duluth, so will cut down on that travel time back).
6. Christmas City Express
What could be better than listening to Christmas music while on a Christmas train traveling along Lake Superior?
Not much, that's for sure!
The Christmas City Express is one of the most popular winter events in Duluth, starting in November, and it starts at the Lake Superior Railroad Museum with a story and some special visitors, and then continues on as you yell "all aboard" and take the festive train ride you won't soon forget.
From Christmas snacks to holiday music while on board, this is an all-family activity that many people do every single year.
Because it starts in late November, usually right after Thanksgiving, any visitors to Duluth in December should be able to take advantage of this event.
7. Bayfront Festival Park Ice Skating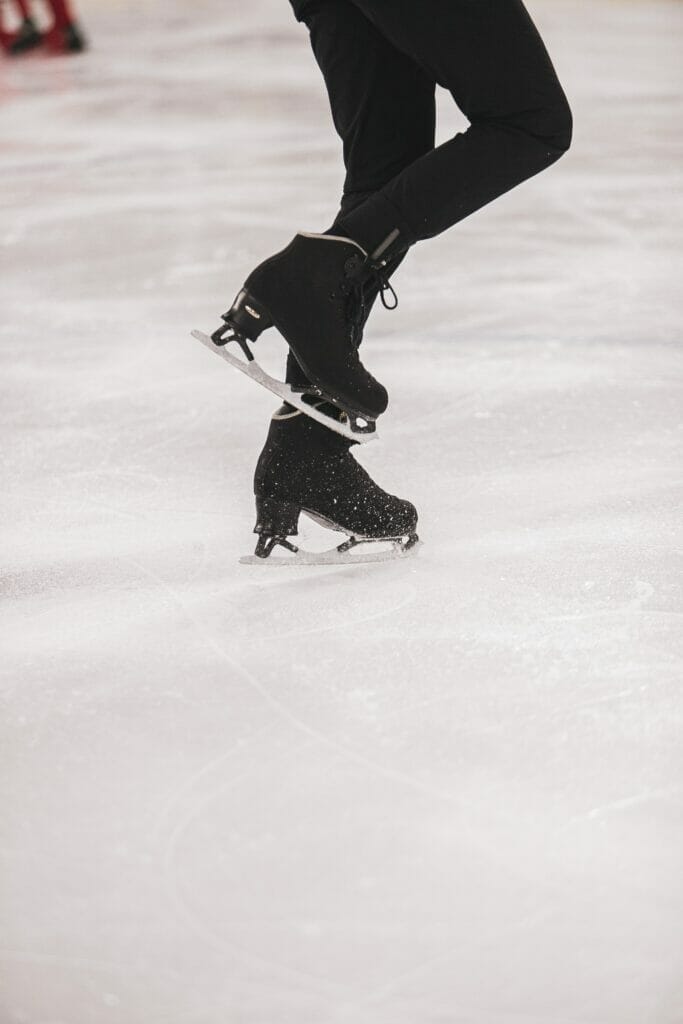 There's nothing like ice skating in the open air during winter, and Bayfront Festival Park offers just that around the winter season. It's one of the best things to do with kids in Duluth!
This ice rink is perfect for putting on a pair of skates, enjoying the crisp air in your face, and zipping around the ice rink trying not to make a complete fool of yourself.
There's really just something about winter and outdoor ice rinks that are classic Minnesota, and the gorgeous views of Lake Superior don't hurt either.
8. Bundle Up for the Lake Walk
Lakewalk, over 7 miles of paved walking and biking trails along Lake Superior, is a well-trafficked area at all times of the year, but in winter, it's a local favorite for an option to get you out of the house or hotel and onto a safe, smooth, and easy to navigate walkway.
Along the way, you'll come across plenty of mom and pop restaurants as well as local Duluth attractions, but I love that you don't have to worry about the uneven ground on a slushy day in the woods or tripping over branches covered in show.
It's smooth, it's open to all ages, it's free, and it's a great way to stay active in the winter.
9. North Shore Scenic Drive
Sometimes, a Duluth winter is best enjoyed from inside your car with the heat cranked up and some holiday tunes on.
The North Shore Scenic Drive takes you along the north shore of Lake Superior, from Duluth all the way up to the Canadian border.
You'll enjoy beautiful nature views for part of the drive, including forests and lakes, as well as more populated areas where you'll see the hustle and bustle of city life in the winter.
10. Christmas at Duluth Farmer's Market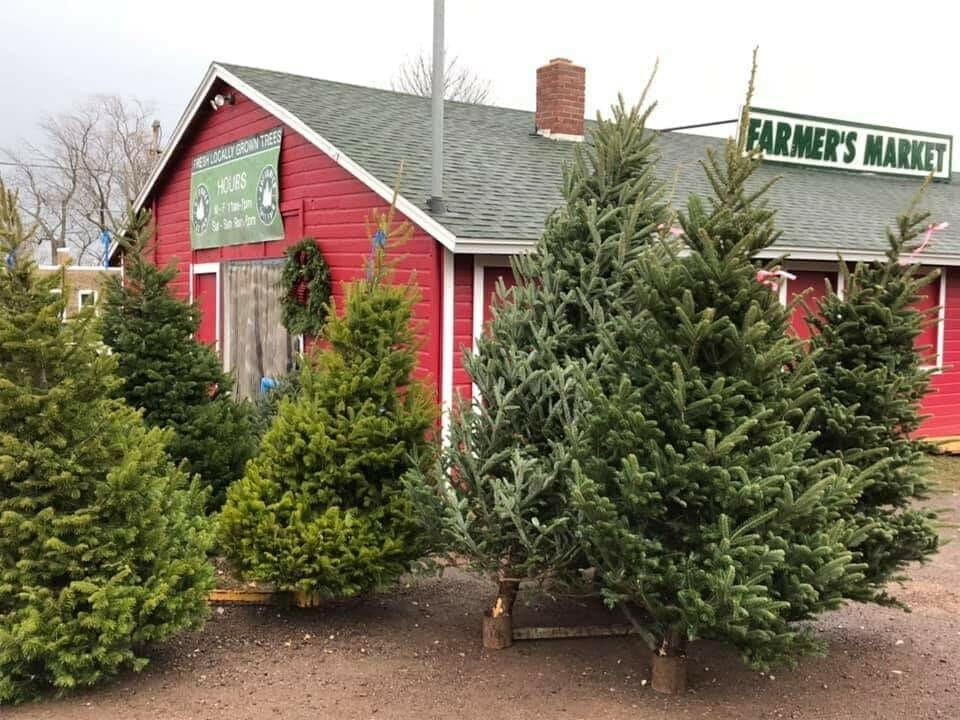 Duluth Farmer's Market, in its iconic red building, is hugely popular in the summer months, but what happens to this covered area in the winter?
Well, it transforms into a Christmas one-stop shop for trees, wreaths, and other Christmas greenery!
Don't miss a stop here to stock up on your Christmas decorations and consider taking part in their Christmas tree sales days to choose the perfect one for your home.
11. Duluth Waterfront Shopping
The shops at Duluth Waterfront don't shut down for the winter!
From boutiques selling Christmas gifts to clothing stores, the holiday spirit is alive and well in Duluth shops and you'll be welcomed inside to browse, think about your holiday purchases, and hopefully buy something to treat yourself!
12. See What's On at the Duluth Playhouse
The Duluth Playhouse, a lovely theater in Duluth, is always dreaming up new ways to keep audiences warm and entertained when the winter hits.
You can count on them for everything from classic Christmas shows to winter-themed musicals to dance events, so grab the whole family, get dressed up in your best theater outfits, and enjoy a night out in Duluth and away from the wind and cold.
13. Have a Winter Brunch at Lake Avenue Restaurant and Bar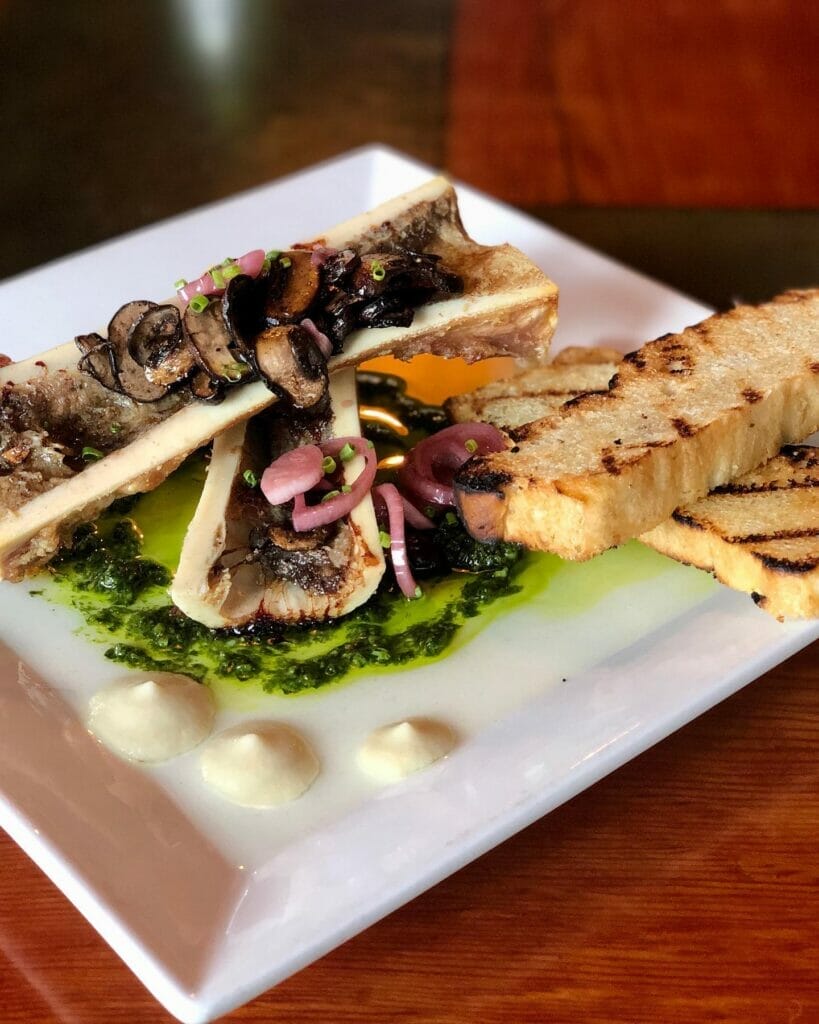 Located on South Lake Avenue, Lake Avenue Restaurant and Bar is one of the top choices for a winter meal in Duluth and best places to eat in Duluth.
Not only do they change their menu up to cater to what your stomach is hoping for (comfort food, here we come!) but they also offer a fun winter brunch on the weekends, complete with mimosa options and fun twists on classic dishes like Mediterranean biscuits and gravy and butternut squash grits.
With dinner options that often range from delightful vegetarian risottos and pizzas to smoked pork chops, perfectly cooked chicken, and Minnesota trout, everyone will find something on the menu to love and you can feel like you're really embracing the winter months in Duluth instead of staying cooped up.
Bonus: Take a Helicopter Tour
See Duluth from the sky with a stunning helicopter tour around the area.
You'll see 30 miles of Lake Superior from your private helicopter tour and you'll get unobstructed views of Lester River and other landmarks like the aerial lift bridge.
To find out more about the tour and book, click here.
Get the All-American Travel Secrets!
Don't miss out on America's hidden gems!