Whether you're visiting Duluth with your toddlers or teenagers, these things to do in Duluth with kids will make sure that everyone is happy and not constantly asking "how long do we have to stay here?"
From old-fashioned ice cream to zoos to aquariums to options for thrilling winter adventures to beaches, there is plenty to do in Duluth with kids.
In fact, Duluth is a really family-friendly place where connecting with your family and friends is seen as one of life's biggest priorities – and they make it easy!
This map below will show you what to do with kids in Duluth if you prefer to have a more visual approach to your itinerary.
Don't forget that it's much easier to see Duluth by car so you can get around easier.
We recommend using Discover Cars price comparison to find the cheapest deals.
Kid-Friendly Things to Do in Duluth Outdoors
The great outdoors is alive and well in Duluth.
From snowshoeing in the winter months to hiking to swimming, this Minnesota city is right on the shore of Lake Superior and has tons of green space and forests surrounding it.
Let the kids burn off some energy and get fresh air away from the screens with these outdoor activities for kids and best hikes in Duluth.
1. Swimming at Park Point
Right in the heart of Duluth is a stretch of sandy beaches, completely for free, that so many people don't even know exist when first planning a trip to Duluth.
The beaches are along Lake Superior, which is not exactly a warm lake, so swimming is most popular in the heat of the summer months and even then it may be a bit chilly – but your kids can handle it!
You'll also find plenty to do on the beaches from picnic grounds to quiet places to sink your toes in the sand.
Look out for the pine trees and the driftwood that really gives Park Point a unique look.
2. Skiing at Spirit Mountain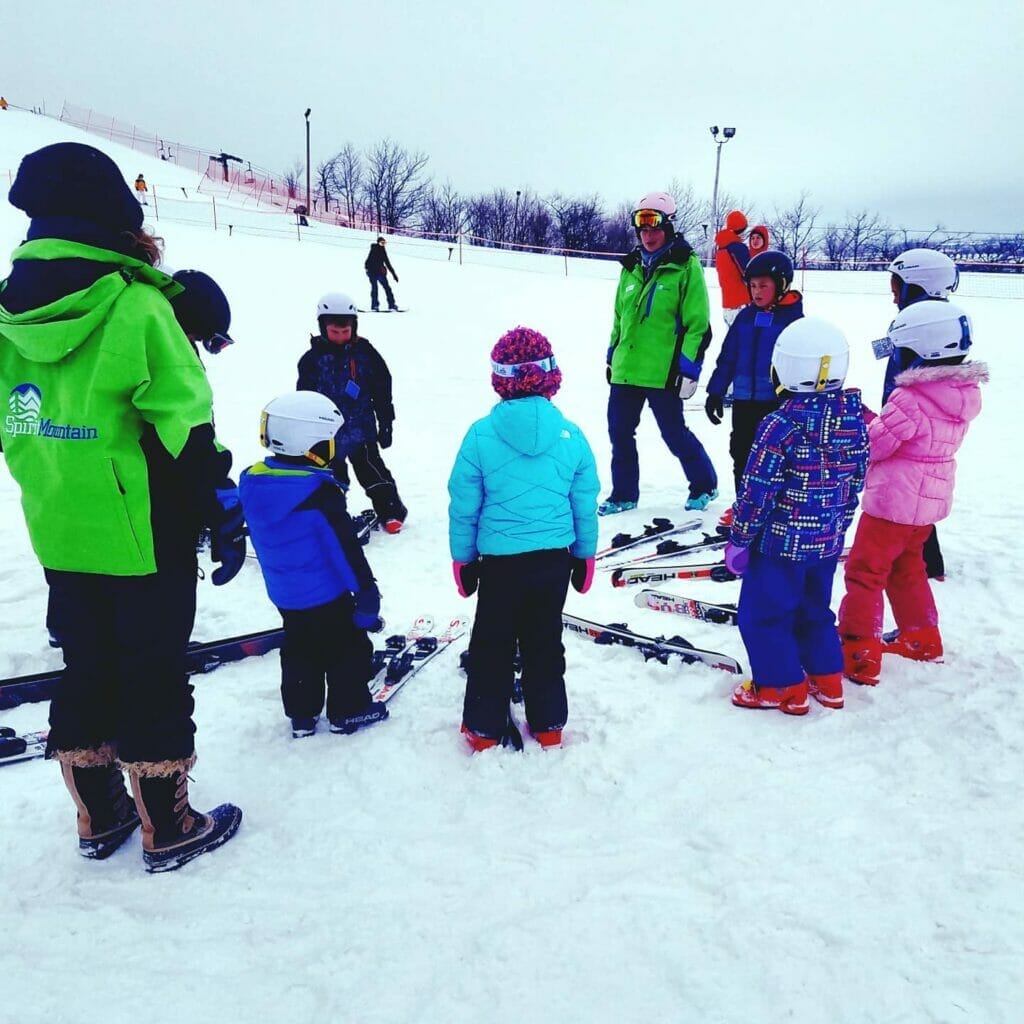 Whether your kids are skiing experts or have never strapped on a pair in their life, Spirit Mountain is the place to go for winter fun.
From downhill skiing to snowshoeing to cross-country skiing, this is where to go to embrace the freezing and snowy winter in Duluth.
There are plenty of easy runs if you're a beginner, and there are plenty of lesson options you can take part in if you want to increase your skills or feel confident on a pair of skis.
There are also a couple of difficult runs for those who are really advanced and want to test their skills, as well as plenty of intermediate options in between.
Cafes are also on-site so you can keep everyone stocked up on food and drink as they take turns zipping down the mountain.
3. Enger Park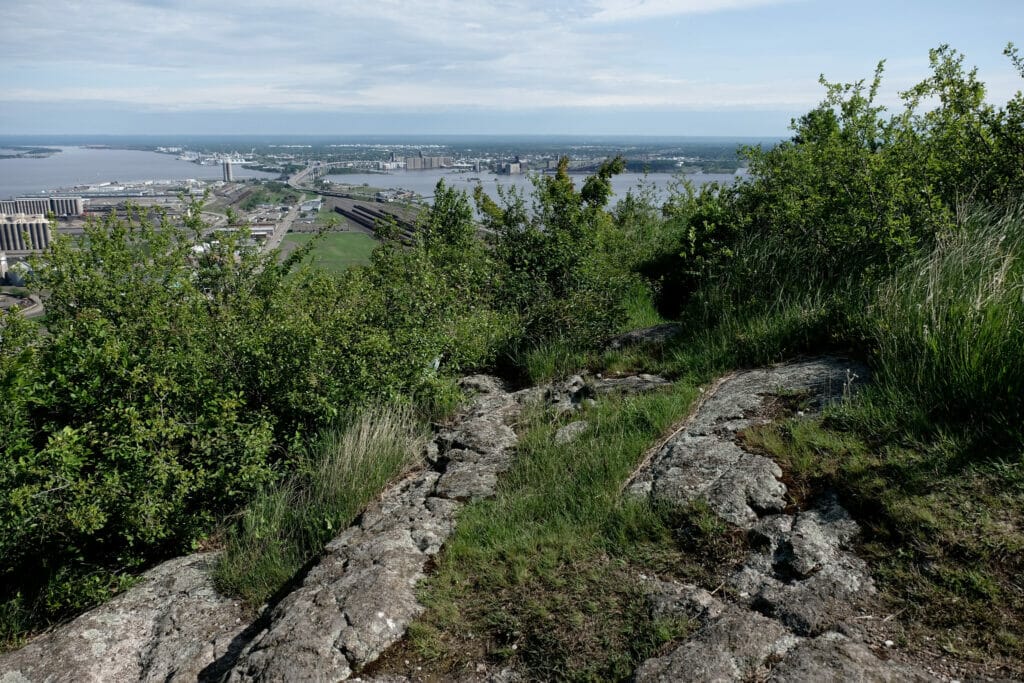 I love Enger Park because of how close it is to so many of Duluth's most popular attractions and how calm it can be.
Not only can you spend some time burning off energy using the walking paths, but there are also picnic spots so you can pack your own lunch and make a day of it, as well as bathrooms so there won't be any restroom emergencies.
When everyone has eaten and is up for the climb, climb up Enger Tower, one of the best vantage points in Duluth, where you'll get great views of the surrounding area including the iconic Aerial Lift Bridge.
4. Lakewalk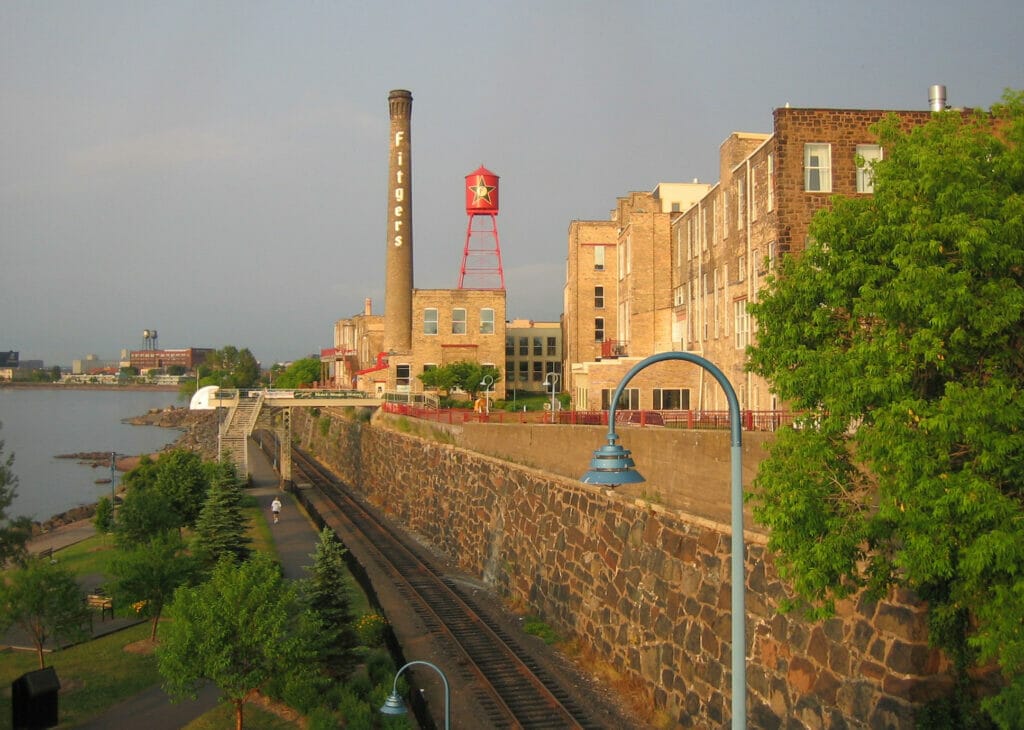 With over 7 miles of paved walkways, the Lakewalk is a great place to walk, run, bike, or even inline skate your way along Lake Superior.
Because it's paved and there isn't the opportunity to stray like there is on a forest hike, the kids can go a bit ahead of you and really have fun on the Lakewalk without getting lost.
This is a really popular Duluth spot all year round, and there are plenty of places to stop along the way to get some ice cream or get some great pictures of the kids in front of Lake Superior.
5. Jay Cooke State Park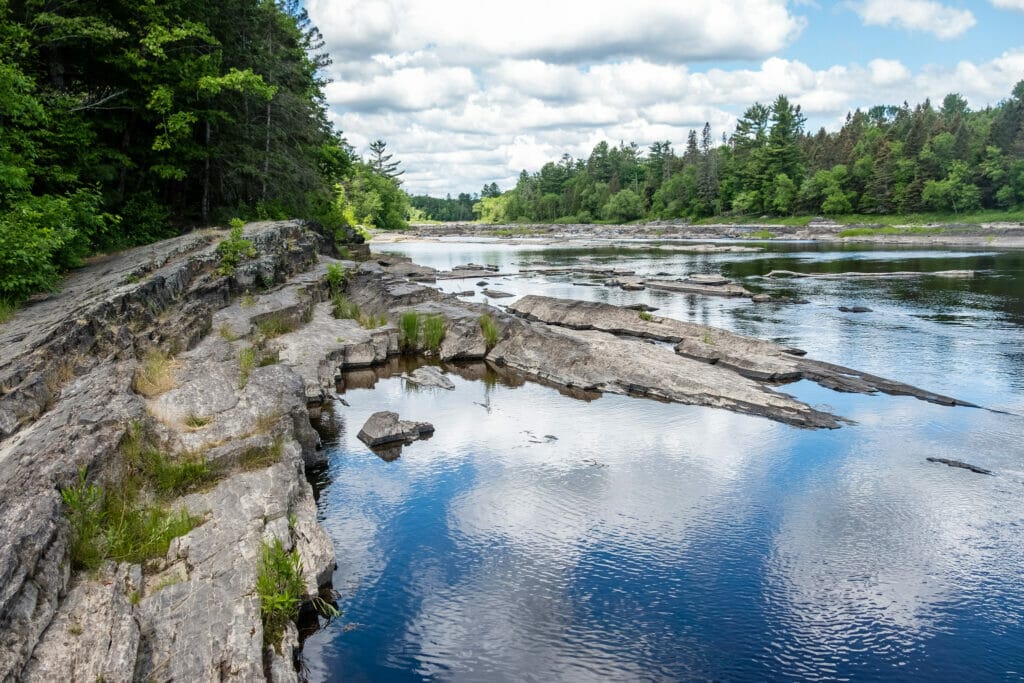 One of Minnesota's premier state parks, Jay Cooke State Park is just about 10 miles from Duluth and is the ultimate place to go with kids when you need to really feel like you've escaped into the fresh air and untouched nature.
You'll find 50 miles of trails, including hiking and mountain biking options if the kids prefer to explore on two wheels.
Regular kid-friendly activities in the park include things like archery lessons, talks around the campfire, kayaking, and even camping if you want to make a weekend out of it.
Best Museums in Duluth for Kids
The word "museum" can strike fear in the heart of any kid, wondering if they're going to be dragged through boring display after boring display.
Fear not, kids (and parents!).
These are the best museums in Duluth for kids to keep them engaged and excited during your trip.
6. Lake Superior Railroad Museum
If you've got kids into trains, look no further than the Lake Superior Railroad Museum for some truly engaging and exciting railroad equipment collections.
In the site of the original Historic Union Depot, this museum in downtown Duluth has the real rolling stick and trains that helped build Minnesota and other parts of the country.
Many of the exhibits are hands-on (and climb-on), so you can really get involved and explore the museum alongside your kids.
7. Duluth Children's Museum
Every city with a children's museum is an A+ in my book, as nothing beats the interactive nature of a good children's museum for helping your kids explore the world and enjoy their time in Duluth.
From dinosaur exhibits to play stages to toddler zones, the Duluth Children's Museum is a beloved part of this city for families and offers so many ways for them to learn and grow while having fun.
Because it's built for children, it's all hands-on, and you'll find everything from the Ore Boat section where they can take the helm or climb the Aerial Lift bridge to the STEM learning section to give the little ones their first introduction to playing with physics and engineering.
The Duluth Children's Museum is best for toddlers and elementary aged children.
8. William A. Irvin Museum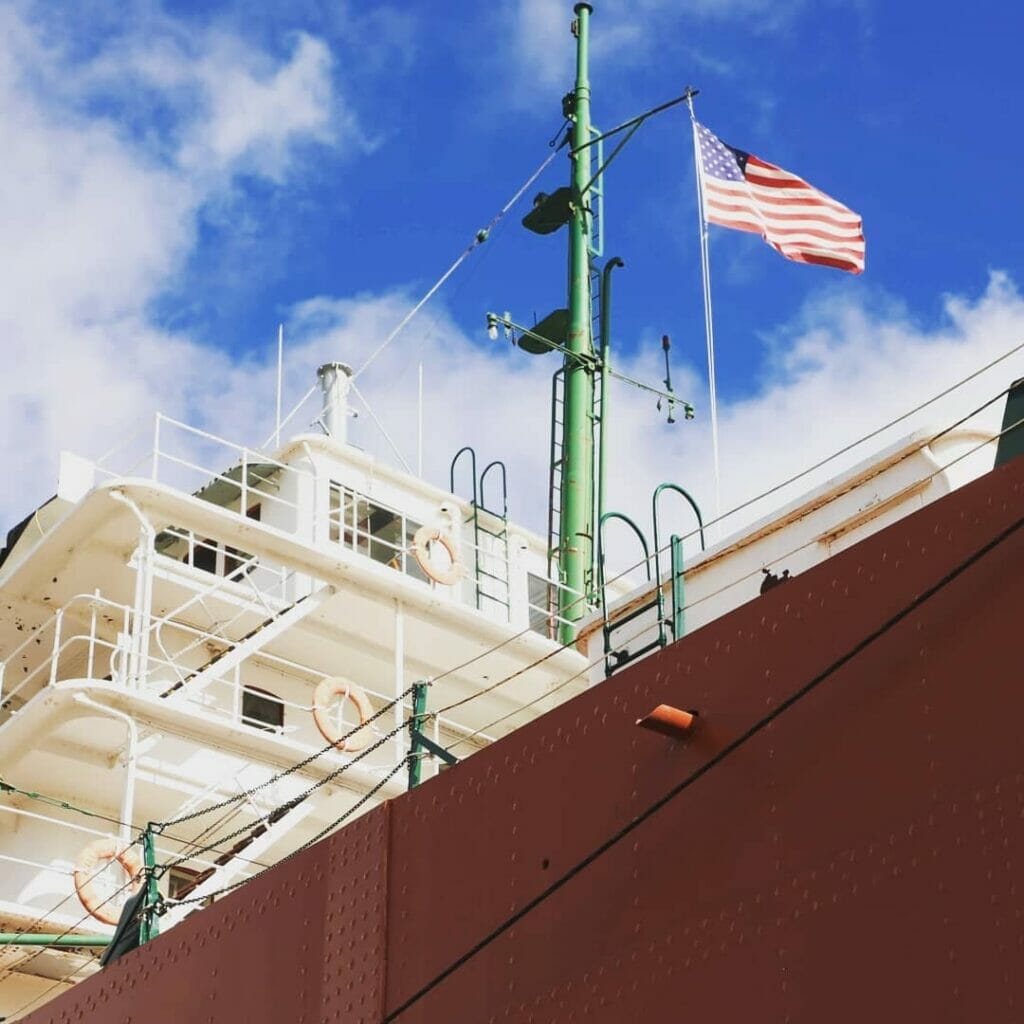 Let the kids explore the S.S William A Irvin boat at this museum inside the lake freighter that sailed the Great Lakes from 1938 to 1978.
You can go right into the ship's working and living quarters and expert guides will take the whole family on a tour of the nooks and crannies while explaining how life used to work for those who called the ship home.
For kids interested in all things nautical, this is a super fun experience, and adults will love the sheer amount of information provided to really show you why this ship was so essential to the Great Lakes.
9. Lake Superior Maritime Visitor Center
One of the best free things to do in Duluth, this museum in Canal Park is a great place to check out the story of Lake Superior and how Duluth sprang from a history of cabins and trading.
Interactive models will keep the kids entertained, and the three story steam engine is really a sight to behold, as well as the historically accurate replica cabins you'll find to help you imagine what the shores of Lake Superior used to look like.
Canal Park, in general, is a great place for amazing views of Lake Superior, so stopping into this free visitor center is icing on the cake!
Fun Things to Do in Duluth with Kids
Sometimes, you're just looking for some old-fashioned fun with your kids in Duluth. It doesn't need to be educational and it doesn't need to be outdoors – it just needs to be fun.
No worries, we've got you covered with these kid things to do in Duluth.
10. Great Lakes Aquarium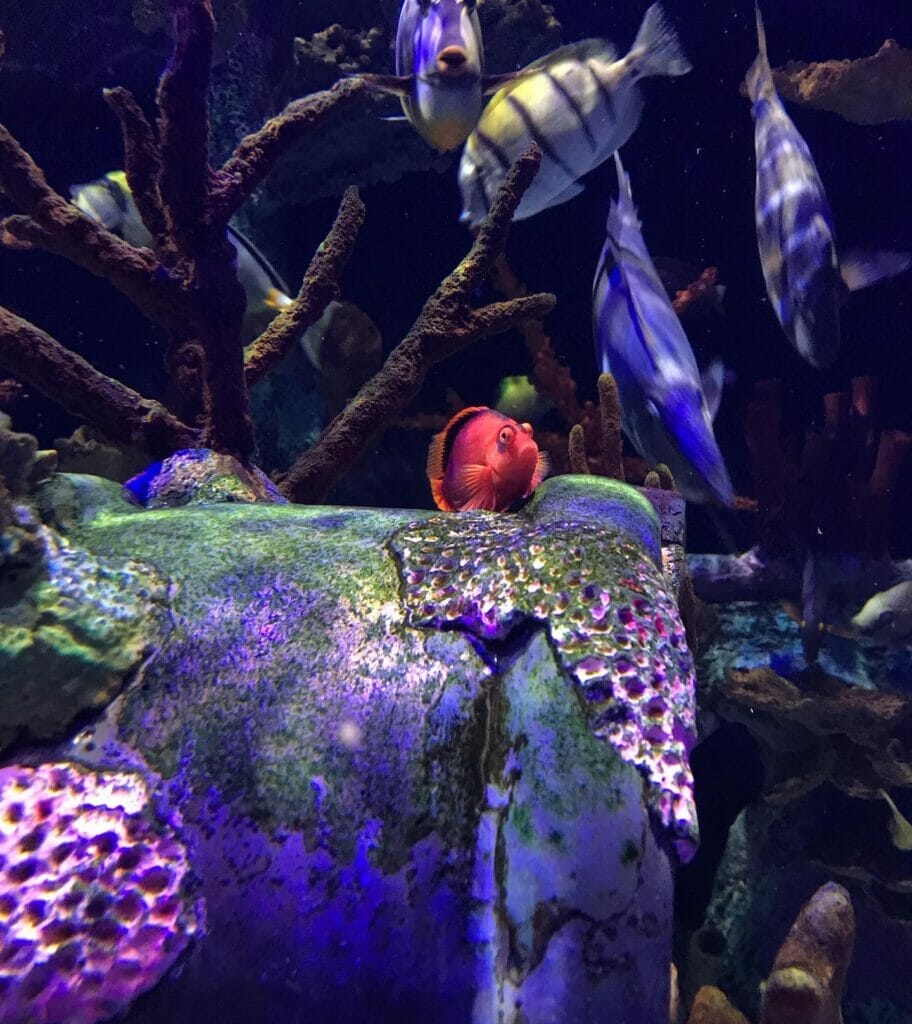 Whether it's a windy Duluth winter or a hot summer's day, the aquarium is always open no matter the weather for the whole family to enjoy.
The kids will love the habitats featuring everything from freshwater forests to the Amazon to otter coves, and animal encounters and feeding times help break up the day with expert talks and the chances to get hands-on.
This is one of the best indoor things to do with kids in Duluth, so make sure to add it to your itinerary.
11. Lake Superior Zoo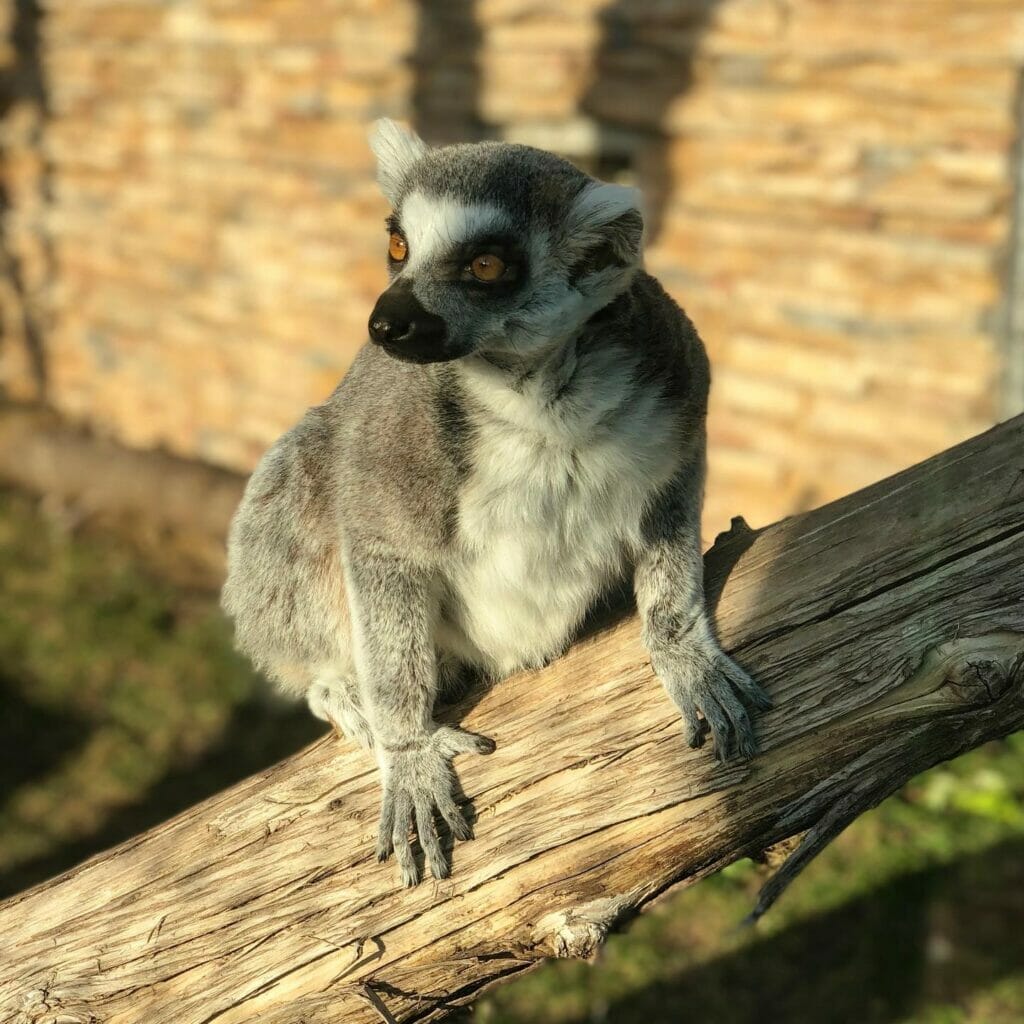 With over 400 animals, the Lake Superior Zoo is a fun place for animal-loving kids to get up close to their favorite natural creatures.
You'll see a two-toed sloth (probably sleeping, let's be honest), as well as bigger animals like a tiger and lion and of course plenty of squawking birds.
There are also brown bears new to the zoo, Tundra & Banks, so be sure to stop by and say hello in between taking part in the many keeper talks and enrichment activities (for both the kids and the animals!)
12. Marshall Alworth Planetarium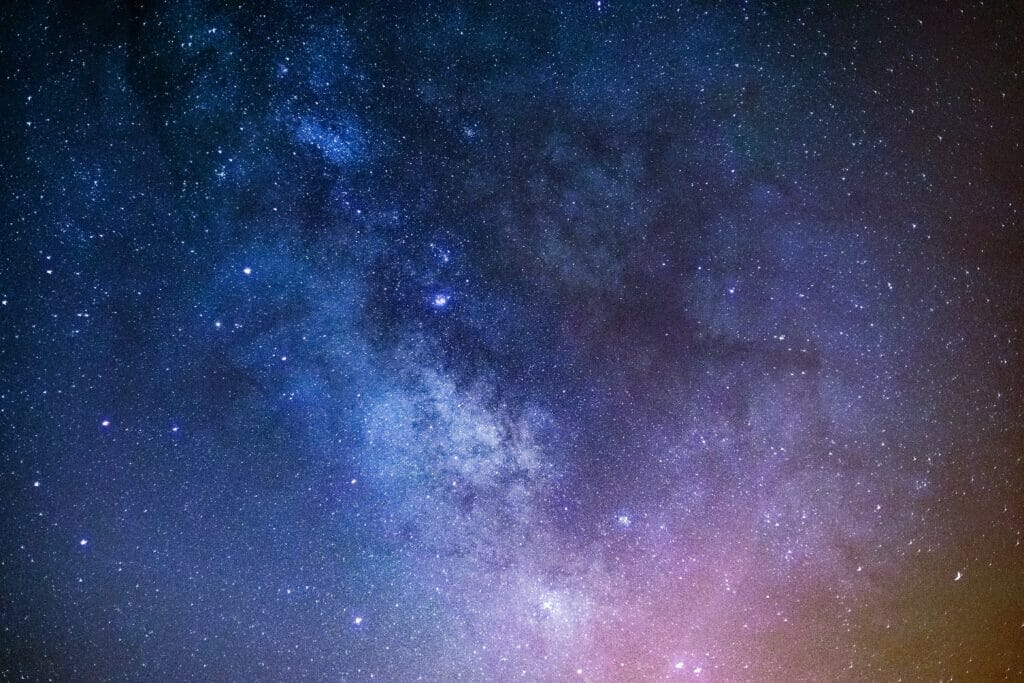 Are we alone in the world?
It's time to find out at the Alworth Planetarium in Duluth!
Learn about the importance of telescopes, marvel at the night sky in a way you never have before, and give the kids something to do to spark their interest in space and exploration.
13. Playfront Park
Kids in Duluth are obsessed with Playfront Park, and it's easy to see why.
This is the largest playground in Duluth, right on Lake Superior, and the innovative creative playground design encourages all sorts of learning, climbing, balance, and interacting with others in new ways.
There are the classics, of course, like playground slides and opportunities for the smaller ones to play, while your older kids can try their coordination on the climbing structures in a safe and soft environment.
The park is free and open to all children of all ages.
14. Zero Hour Escape Rooms
Everybody loves an escape room these days, and Zero Hour Escape Rooms are the best in Duluth and the surrounding area, offering up three different rooms.
If you're got teenagers with you, try the Prison Break room, while younger kids will love the boat-themed escape room, the Wheelhouse, which puts you on a sinking ship and just an hour to solve the puzzles.
These games are done with the lights on and aren't horror escape rooms, so are not meant to be scary.
Kids 8 and up can participate, but you know your child best and whether they'll be overwhelmed or entertained by an escape room.
15. North Shore Scenic Railroad
There's nothing like taking an old-fashioned train along a historic rail line next to Lake Superior, and the North Shore Scenic Railroad allows you to do just that.
From about April until October, you can take the train departing from the Duluth Union Depot.
Opt for the audio guide that helps point out important landmarks along the way, or just let the kids gaze out the window in awe of the shores of Lake Superior and the sights of downtown Duluth by train.
16. Duluth Public Library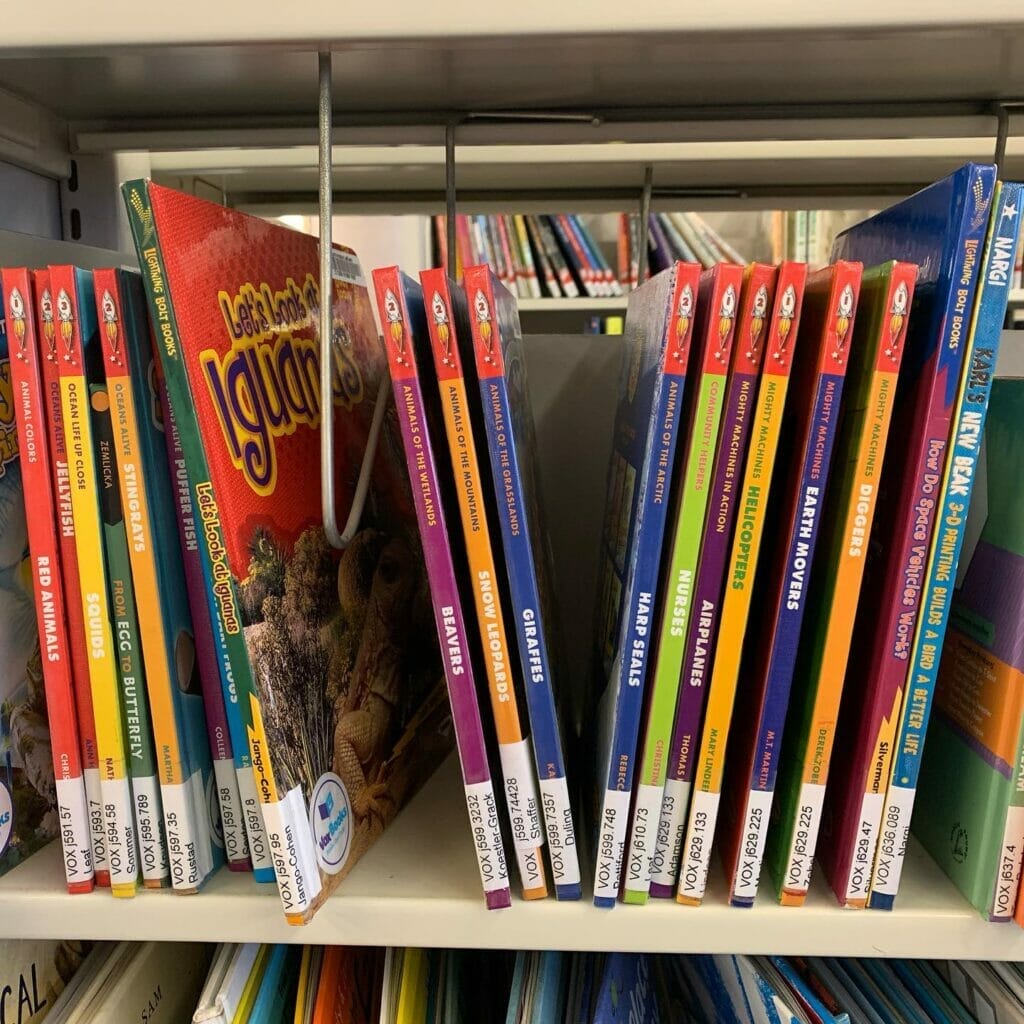 Not only does the Duluth Public Library have an absolute treasure trove of children's books that they can check out or just spend time reading in the library, but they also have regular children's events.
From toddler storytimes to children's crafts, there very well may be some fun group activities happening during your time in Duluth.
Where to Eat with Kids in Duluth
Most of Duluth's many restaurants have kid's menus and are perfectly happy for family diners to enjoy, but here are some of my favorite particularly kid-friendly places to go (yes, most include lots of dessert because there's nothing better than using your kids as an excuse to indulge in your favorite treats).
17. Portland Malt Shoppe
Watch the ships go by while enjoying your malt or ice cream at Portland Malt Shoppe, one of the quaintest and most delicious things to do in Duluth.
They open in the summer months for the flocks of visitors wanting to try their incredible root beer floats, butterscotch toppings and unique ice cream flavors like coconut almond fudge and black raspberry truffle.
The kids will have so much fun choosing their scoops and toppings for their sundaes, or try the kid kone for a single serving of ice cream to satisfy the little ones without going overboard.
18. Johnson's Bakery
There's nothing more fun as a kid than being allowed to start your day with a donut, muffin, or other sweet breakfast treat.
Johnson's Bakery is the perfect place to stop to get the whole family loaded up on delicious pastries (and coffee for the parents) before embarking on a hike or active day out in Duluth.
They've got everything from blueberry bagels to chocolate chip muffins to cinnamon sugar donut holes, and for the pickiest eaters, there are always delicious breads you can spread some butter on and plain bagels.
19. Love Creamery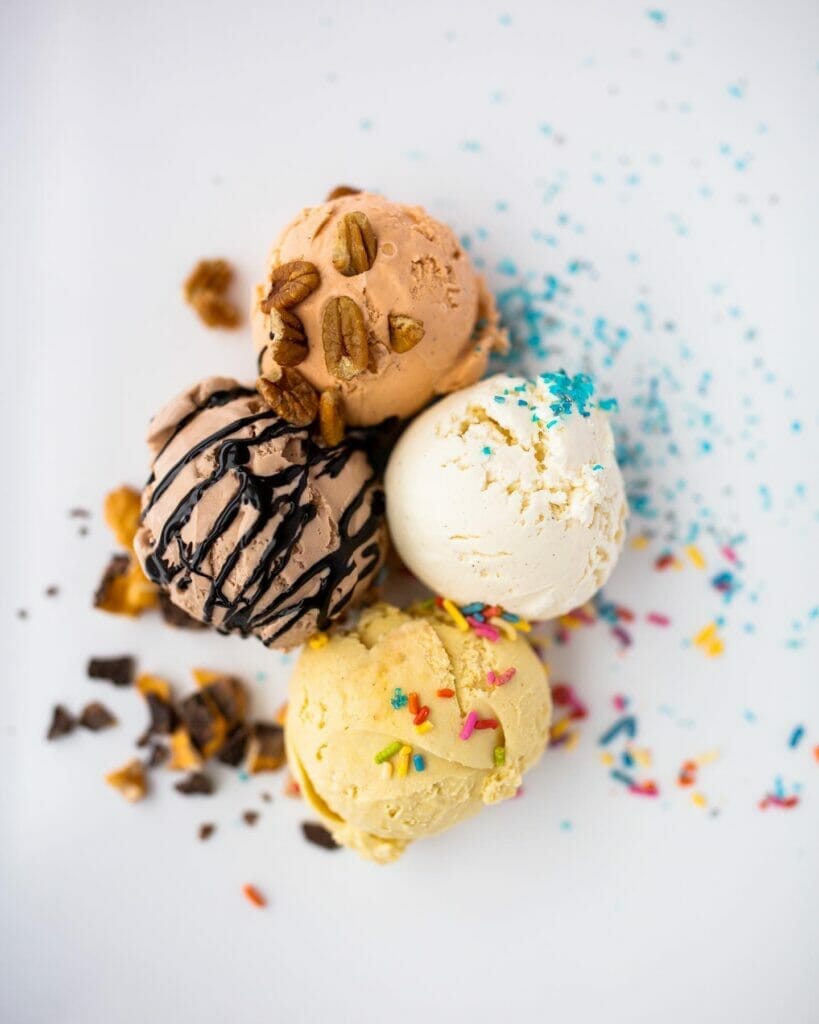 Ice cream in Duluth is a must-do with kids, and Love Creamery is one of the best options if you're looking for homemade ice cream in tons of different flavors (including some to cater to your dietary needs).
Not only do they have unique flavors and traditional options like dark chocolate, mint chocolate chip, and nutella, but they also have plenty of gluten free and vegan options, including things like vegan chai and vegan rocky road.
This is a great place to go to make sure no one in your family is left out.
You can also be sure that you're feeding your kids local ingredients and quality ice cream – none of the cheap, fake stuff here!
Love Creamery is all about sustainability and making ice cream in small batches to make sure the quality is top notch.
20. Rocky Mountain Chocolate Factory
The Duluth branch of the Rocky Mountain Chocolate Factory is packed full of wonderful candies and treats to satisfy every sweet tooth and give the kids something to smile about.
Choose from caramel apples to truffles to fudge to molded chocolates, and keep this Duluth favorite in your back pocket for when you want to treat the kids to something sweet (or bribe them to climb up to Ely's Peak with you, whatever works).
21. Pizza Luce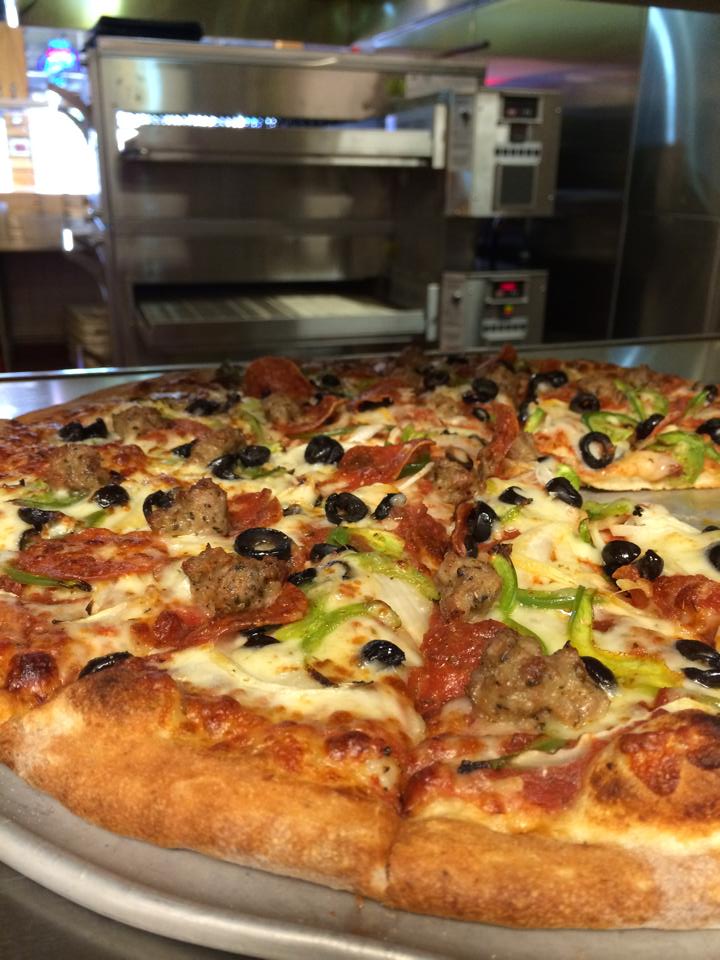 The Duluth location of Pizza Luce is one of the best places to head for dinner with your kids, as it has so much Minnesota heart combined with innovative pizza toppings and fresh sandwiches, pastas, and salads so everyone can find something to enjoy.
The kids can keep it simple with just cheese if they prefer, or you can all try the Luce, topped with Italian sausage and fresh garlic, or options like the Spanish Chicken.
Check out the local art on the dining room walls, featuring gorgeous scenes of Duluth and beyond.
Address: 11 E Superior Street Ste 100, Duluth, MN, 55802
Get the All-American Travel Secrets!
Don't miss out on America's hidden gems!