Duluth, Minnesota.
A diverse Midwestern port city with an industrial history and future that runs on jobs in science, education and more.
This is the home to the University of Minnesota Duluth and a thriving town with a college, but not a "college town" in the normal sense.
The college fits into the fabric of a much larger breadth of life here.
It's a place where participation in activism and community is key, a place where you can run into people you know at the bar while still meeting new friends, a progressive place that celebrates humanity and kindness and being there for each other.
The winters are cold, the roads are hilly, and the red brick of many buildings are lit up in the summer sun.
Whether you're coming to Duluth on work, business, or visiting family and friends who live there, this guide to the best things to do in Duluth, Minnesota will help you plan your itinerary and not miss out on the best things to do in this All-American city.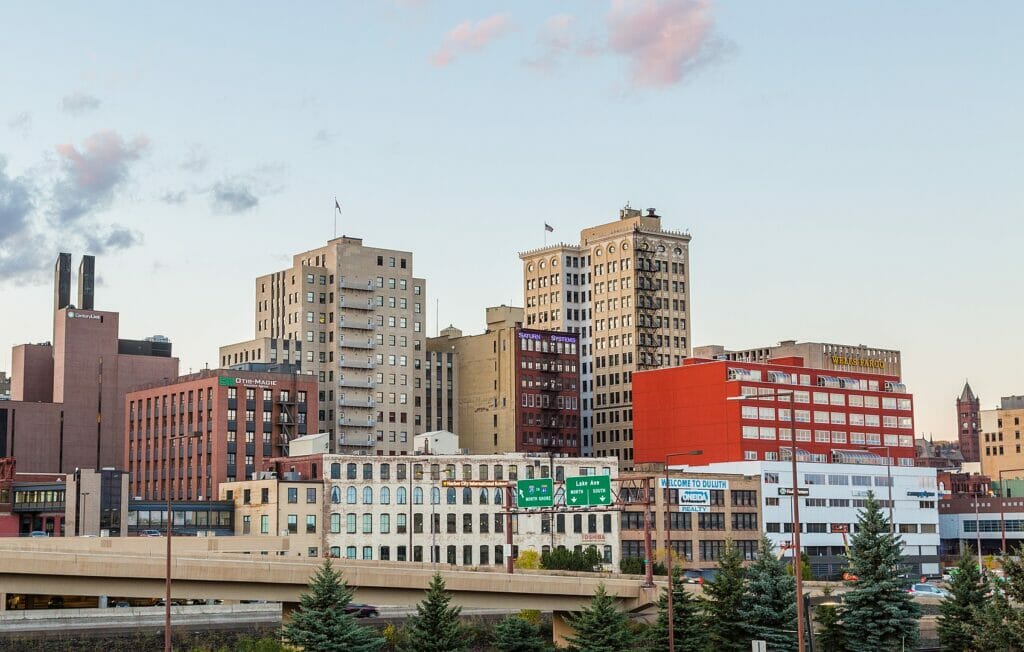 Sidenote! If you want more tips on US travel and to chat about all of the wonderful places to see in the USA, consider joining my Ultimate USA Travel Chat group on Facebook. Just click here and I'll add you!
Best Things to Do in Duluth
There are some attractions in every city that are the creme of the crop, the best of the best, the must-dos.
Enjoy this list of the best things to do in Duluth for ideas of where to start your planning and what to priortize if you don't have much time.
This free museum in Duluth's Canal Park is a fantastic collection of exhibits telling the story of the history of Duluth and Lake Superior.
Visit the historically accurate replica cabins, see the three story steam engine, and use interactive models to engage with the local area.
Donations to the museum go to the upkeep of the building and staffing, and this is a great way to learn a bit more about the commercial trading on Lake Superior and the settlers around it over the years.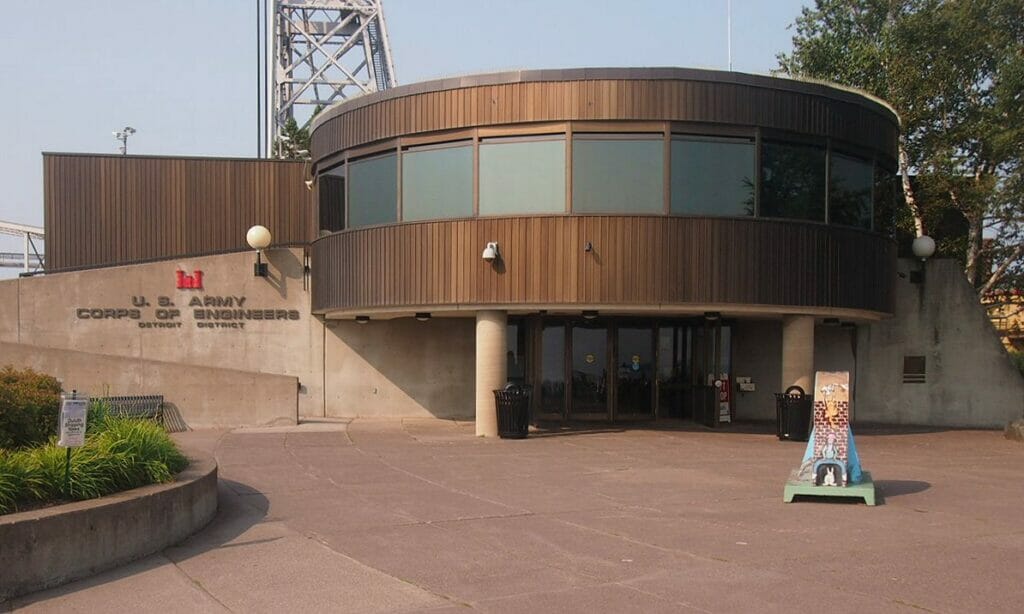 Aerial Lift Bridge
One of Duluth's most memorable landmarks is the Aeriel Lift Bridge, the US's first transporter bridge.
It hovers above Lake Avenue and dominates the Canal Park skyline.
It opened in 1905 and was added to the register of historic places in 1973.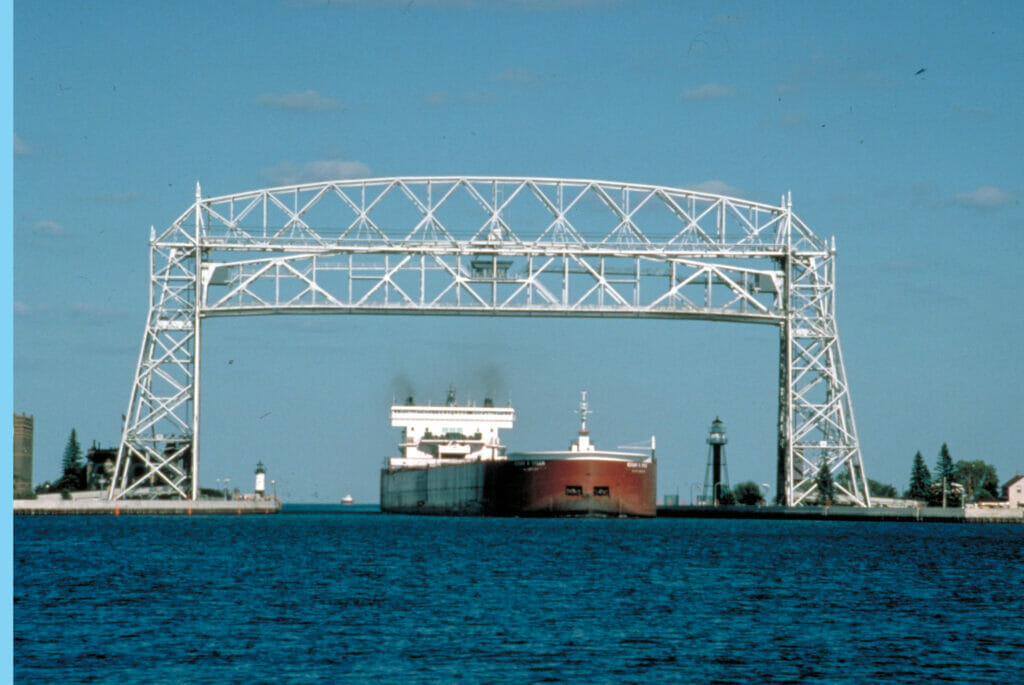 This historic train station is a true gem of Duluth and served the community from 1892 to 1969.
Afterwards, after a couple of years of redevelopment, it reopened as a Heritage and Arts Center, boasting three museums, three performing arts organizations, and a departure point for the North Shore Scenic Railroad.
You can buy just one ticket and enjoy all of the museums, which is a fantastic way to spend the day out with all generations of the family.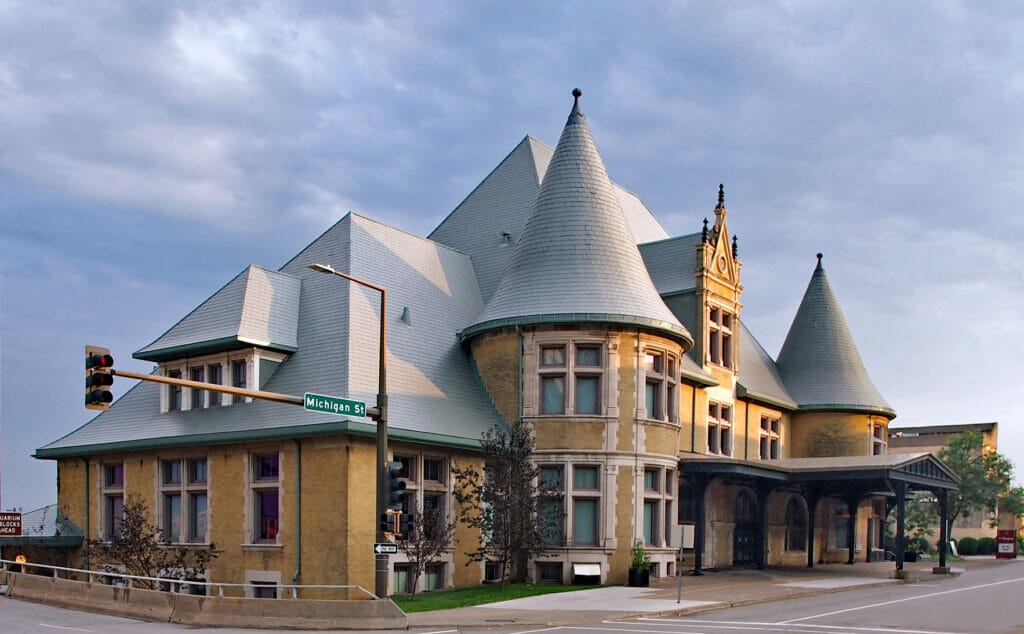 Enger Park and Tower
Enger Park is one of the most beautiful green spaces in all of Duluth, and it offers unparalelled views of Duluth and its history.
You can simply spend time having a picnic in the park or enjoying one of the gardens, or you can climb up the tower to get amazing views of the Aeriel Lift Bridge from the highest point in Minnesota.
In the summer, you can eat from food trucks or use the grills to have an All-American get together.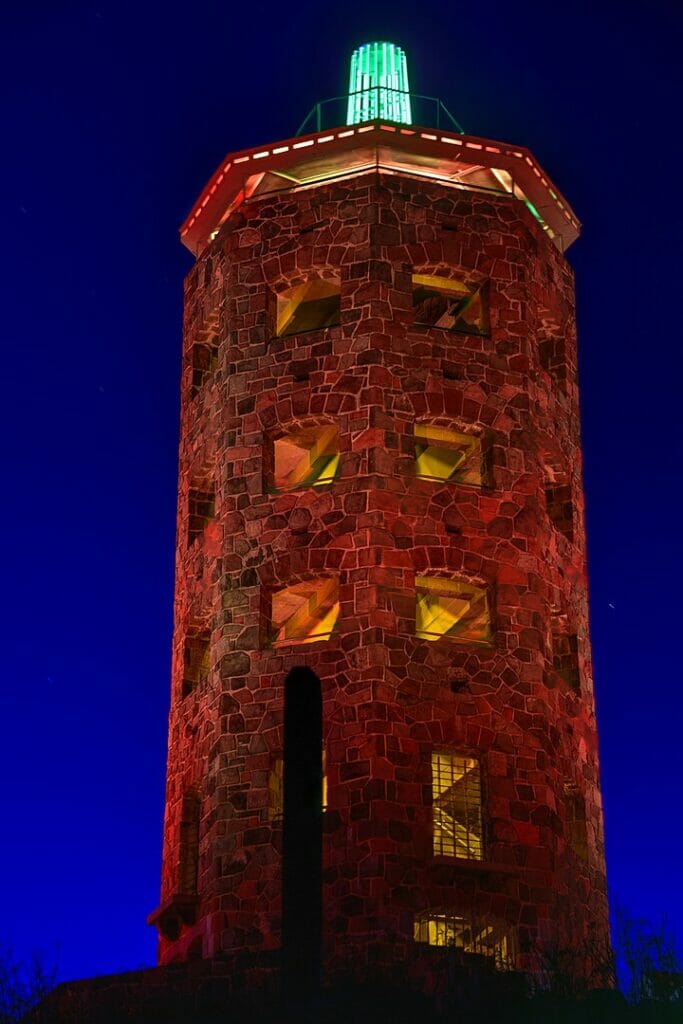 Hop on board the S.S William A Irvin to explore this museum ship.
This lake freighter was used from 1938 until 1978 in the lake fleet that sailed the Great Lakes.
Today you can discover its history by taking a tour on the ship where guides will allow you to walk around the ship and through its different components and living quarters.
You'll see how the first class lived compared to the rooms for crew members and get to understand why the ship was so essential to the Great Lakes.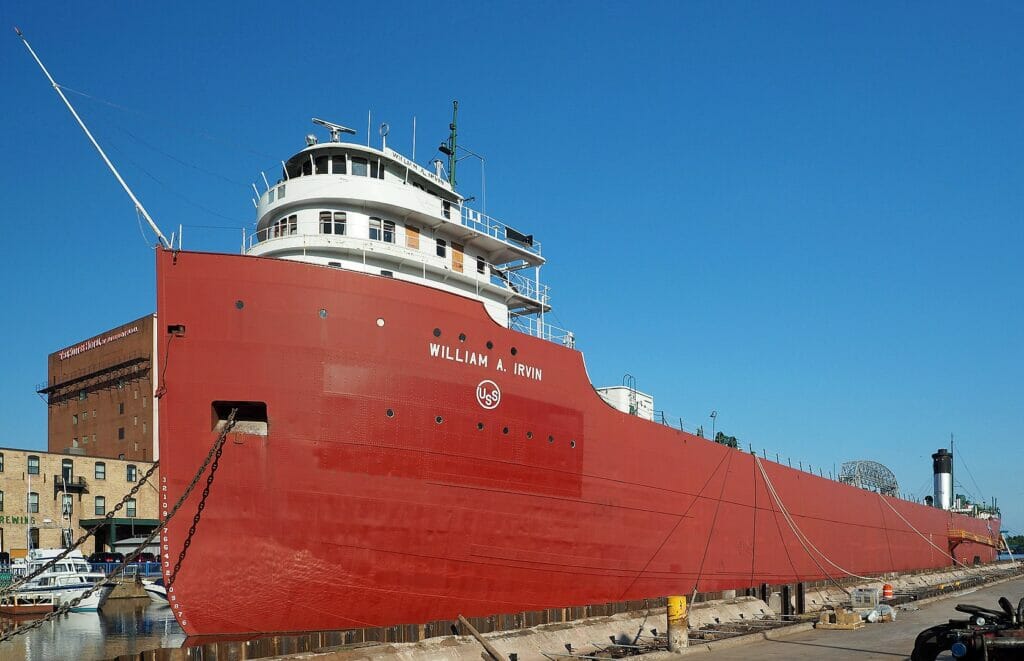 Ready to see a mansion like no other?
At just about 20,000 square feet, this historic house, known as Glensheen, is a fascinating look at craftsmanship and life in the early 20th century.
Today, it is operated by the University of Minnesota Duluth and you can take tours inside to get a glimpse at what life would have been like on this waterfront home.
The property sits on 12 acres and has over 30 rooms, as well as serving as the filming location for movies and TV shows.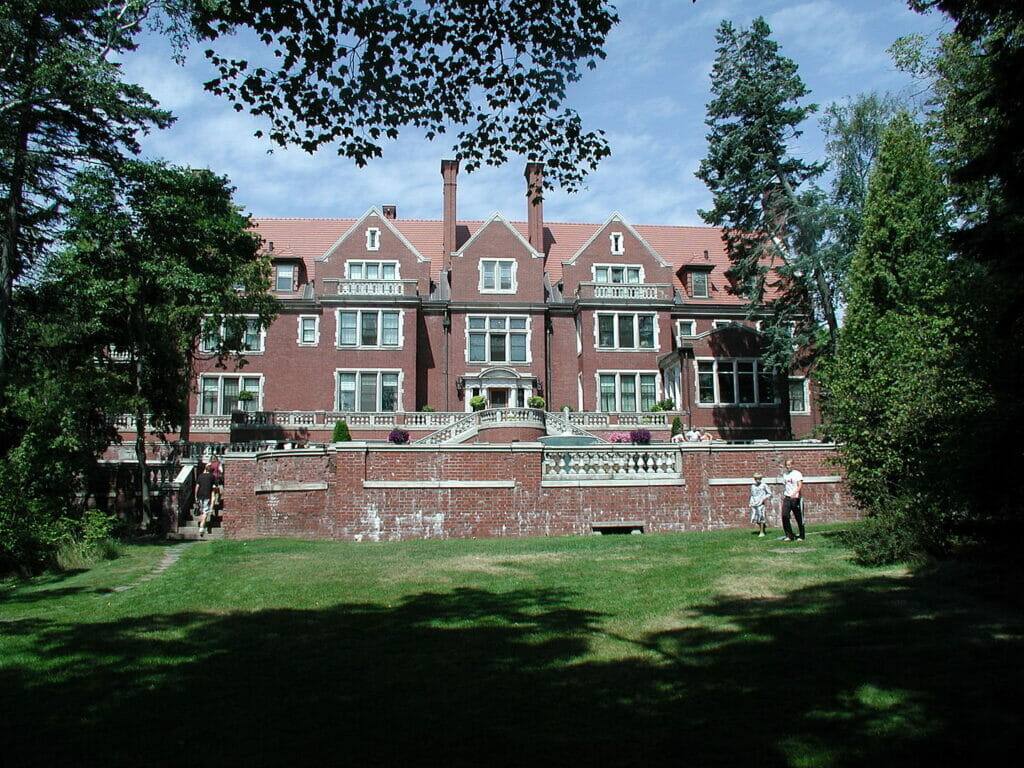 Things to Do in Duluth with Kids
Got the little ones with you on a trip to Duluth?
Good thing Duluth is a family-friendly city perfect for taking the kids to explore everything from the aquarium to awesome nature walks.
Check out these things to do for kids in Duluth so they'll want to put down the iPads and never once complain they're bored.
No matter the weather, you can always take advantage of the fantastic things to do at the aquarium.
From habitats featuring freshwater forests to the Amazon to otter coves, there's always something new to explore and animal encounters to take part in.
This is a fantastic family day out, and plenty of the exhibits are interactive so you can teach the kids about the world underwater without losing their interest.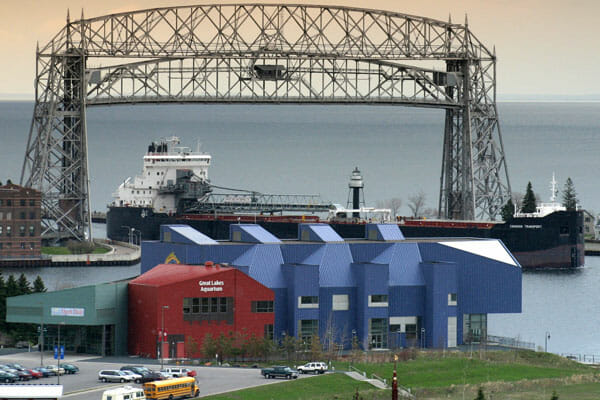 All aboard!
This is train travel like you've never experienced it before.
From April until October, you can jump on one of the scenic railroad services from Duluth Union Depot and wind your way through woods, downtown Duluth, the shores of Lake Superior and more.
Along the way, there is an audio guide explaining the history of Duluth and what you're seeing.
There are also plenty of special events including pizza nights and live music on board the train if you're wanting something a bit different.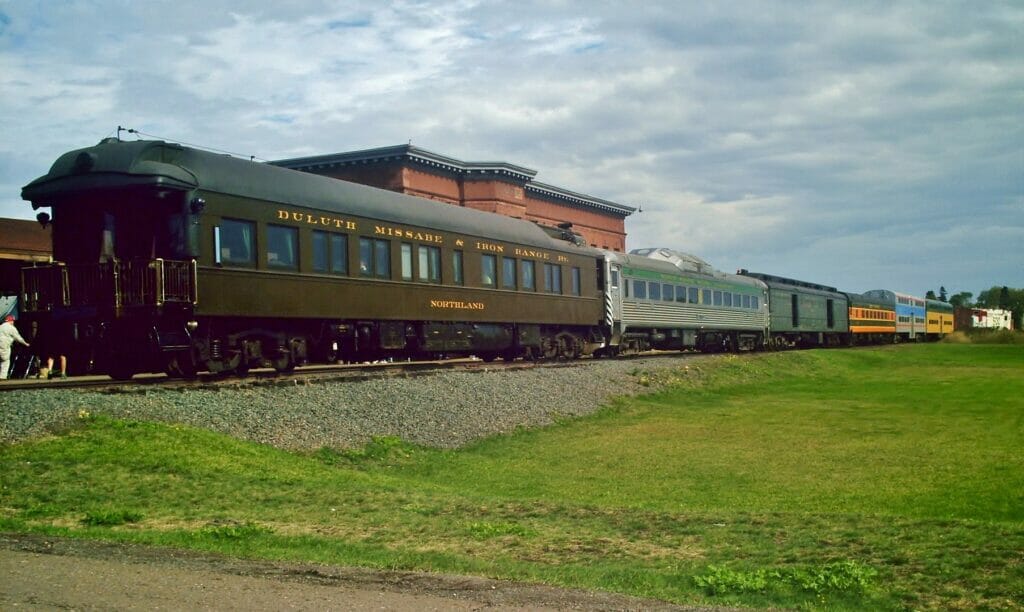 New Scenic Cafe
If you're got teenagers and want to have a sophisicated family night out, New Scenic Cafe is for you.
This is often considered to be the number one restaurant in Duluth, and you'll be amazed at the delicious American food on offer, cooked fresh by expert chefs who have a penchant for new and exciting flavors combined with some All-American comfort food.
The views of the lake are stunning and the peaceful garden atmosphere make this truly a night to remember.
Spirit Mountain
Embrace the great outdoors and get active at Spirit Mountain, Duluth's awesome ski area that features the second tallest ski hill in Minnesota and lots for skiers and snowboarders to do, including a terrain park.
If you're visiting Duluth in the summer, head over to Spirit Mountain for some mini golf, zip lining, and walking trails with gorgeous views of the lake.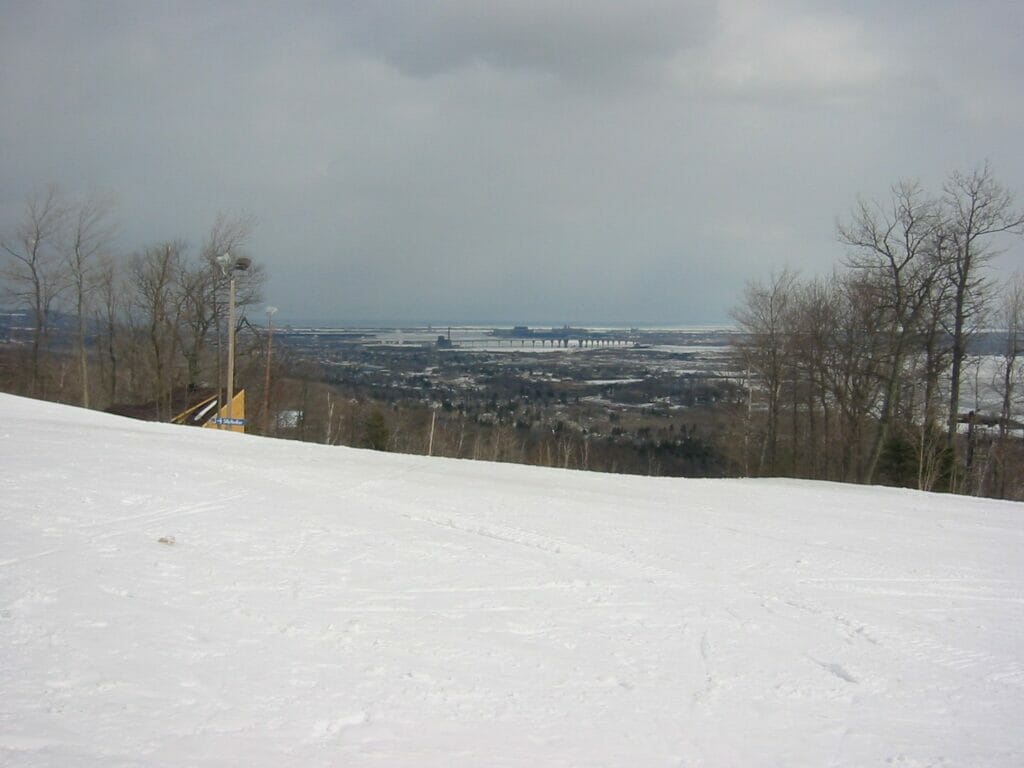 What to Do in Duluth at Night
When darkness falls on Duluth, the nightlife starts up with hundreds of bars and restaurants to choose from, as well as tourist attractions and cultural events taking place in the evening.
Enjoy these things to do in Duluth at night to make sure you're making the most of all of the hours you have here.
Dark History Tour Bus
From hauntings to Duluth's dark history and some of the historic tragedies that have happened here, the Dark History Tour Bus takes you through downtown Duluth and surrounding areas while explaining the stories that local residents would prefer you didn't share.
They pride themselves on not being a gimacky ghost tour – these are the true, interesting stories of Duluth told to you by local experts who want to share the Duluth legends that come out after dark.
You'll also get a sample of a local beer as well as some snacks to keep you going as you enjoy the comfortable seats.
Fitger's Brewhouse
Grab some friends and head down to Fitger's Brewhouse, a Duluth gem that's located in the historic Fitger's building.
This brewpub is famous in Duluth for their home brews and amazing atmosphere, as well as classic pub food that will keep you full.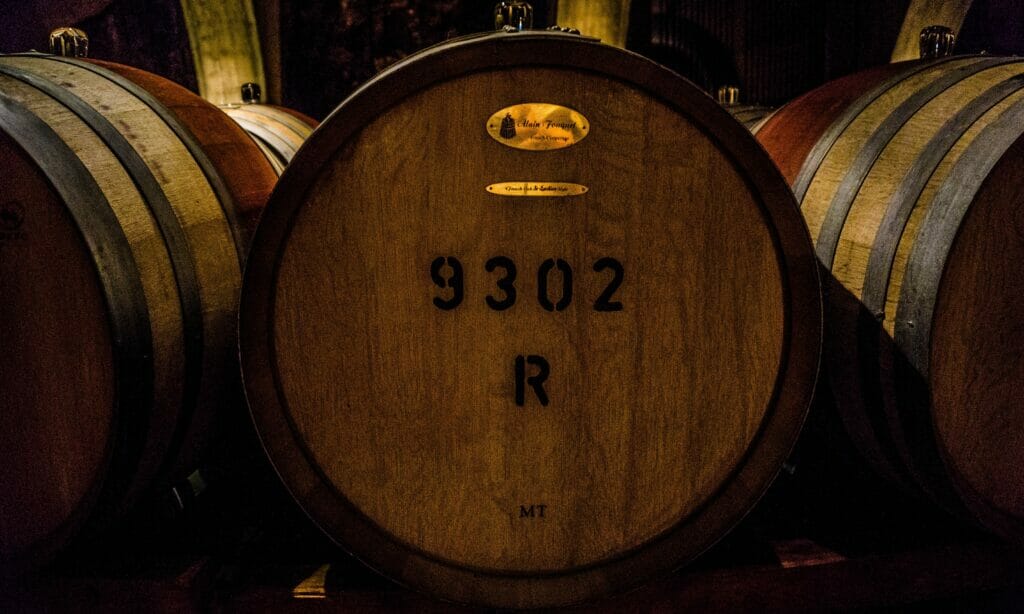 Everything about Fitger's comes down to the ingredients they use and the authenticity with which they prepare meals.
The ales and lagers use pure Lake Superior Water and the food ingredients are also sourced locally, including the fish that's smoked in house!
Duluth Waterfront Shopping
Ready to shop until you drop?
After dinner, head to Duluth's waterfront shopping area to browse boutique stores selling everything from artwork to candy.
This is a great chance to support local businesses and purchase things you can only buy in Duluth instead of heading for the local mall.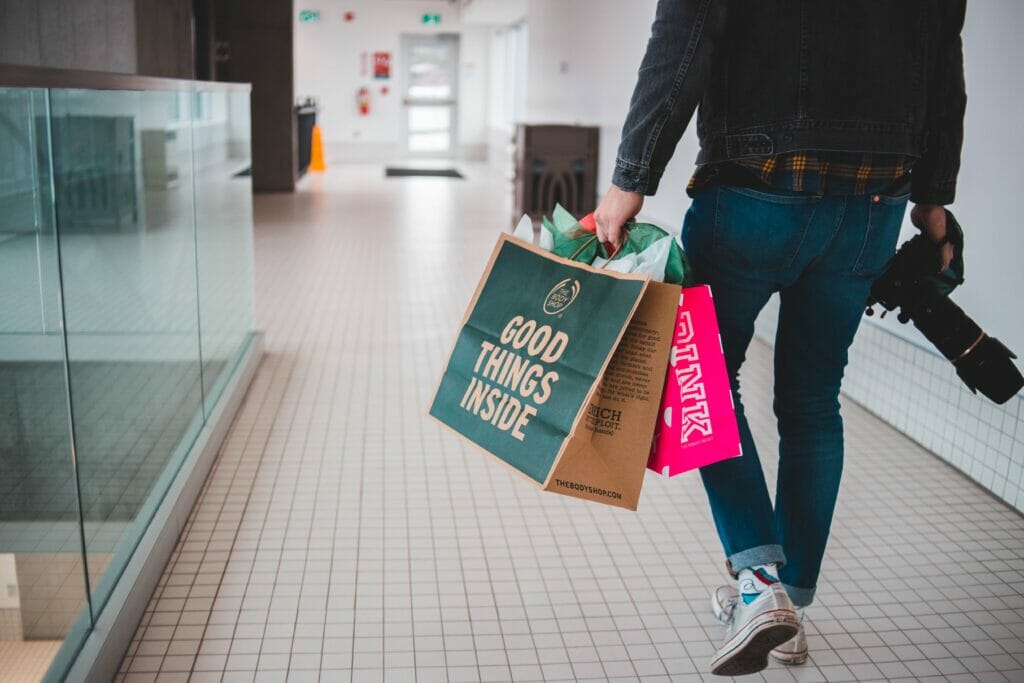 Romantic Things to Do in Duluth
Whether you're looking for date ideas in Duluth or just want something more romantic to do, these are some great things to do for couples in Duluth that will give you time and space to talk and get to know each other (for the first time or all over again!)
Bent Paddle Brewing Company
Many couples share a love of craft beer, and if that sounds like you and your loved one, Duluth's Bent Paddle Brewing Company is a great place to spend a fun Duluth date day.
This brewing company and taproom use the waters of Lake Superior to brew incredible craft beer, and they provide this beer across the city and beyond to restaurants, bars, restaurants and more.
You can just visit the taproom to try some favorite craft brews, or book onto one of the weekly tours of the brewery to learn more about the process and get an inside look at what goes on behind the scenes.
Canal Park
One of the best parks in Duluth, Canal Park is a small city park that offers great water views and views of boats going under the Aeriel Lift Bridge.
It's walking distance from plenty of Duluth attractions and restaurants, and is a nice place to stop for a quick lunch or rest.
And if your relationship started in Duluth and you're looking for a place to propose, you can't go wrong here!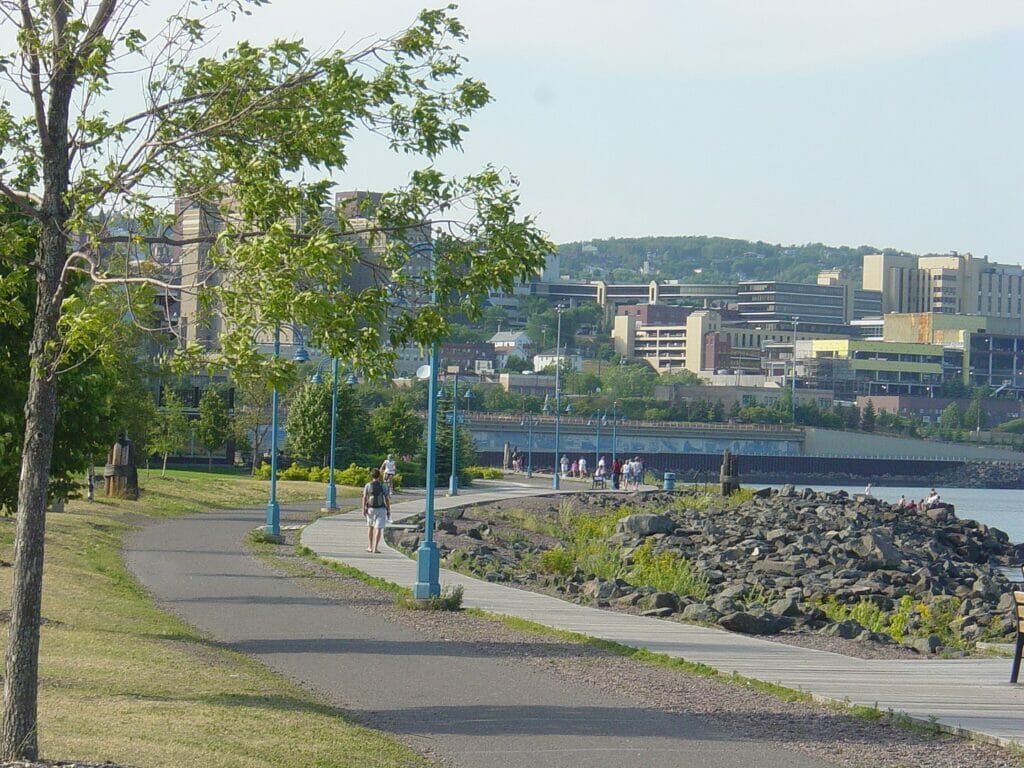 Apostle Islands Cruise
If you're looking for a romantic day trip from Duluth, take about a two hour drive to the Apostle Islands cruise station, which is actually in Wisconsin.
The Apostle Islands are some of the most enchanting and visually stunning islands on Lake Superior, and the cruise takes you around and up close to them so you can appreciate their beauty.
If you're into being active and want a fun challenge, you could also have a kayaking date day among the islands as you can also rent a kayak and explore that way.
Count how many lighthouses you see as you pass, as this area is chock full of them!
Things to Do in Duluth, Minnesota Outdoors
Duluth is a city that absolutely thrives on the outdoors.
You can reach awesome natural wonders and beautiful scenery just a short drive out of the city center, and like many midwestern cities, residents are more than prepared to venture outdoors in proper gear no matter the weather.
These are the best things to do in Duluth outdoors for when you need some fresh air.
North Shore Scenic Drive
One of the most All-American and scenic drives in all of the US, North Shore Scenic Drive is a Duluth must-do.
Start in Duluth and work your way around the banks of Lake Superior to see the rugged natural landscapes, including waterfalls, cliffs, hills, and the shore of the lake itself.
Keep an eye out for wildlife as you may see everything from deer to moose.
You can stop at plenty of delicious mom and pop type restaurants along the way and meander through small towns on the banks of the lake if you need a break from your drive.
Leif Erickson Park and Rose Garden
One of the most well-kept parks and gardens in Duluth, Leif Erickson Park connects to the Lakewalk and has stunning views of the Lake as well as well-maintained rose gardens that are breathtaking when all in bloom.
You can also see the Leif Erickson statue, and you very well may seem couples having wedding photos as this is a popular spot for couples in Duluth to get married and to use as a backdrop for photos for their special day.
Lakewalk
Ready for over 7 miles of outdoor recreational walking trails and plenty of fresh air?
Take on the Lakewalk, which begins in Canal Park where you can see the Aeriel Lift Bridge and watch ships sail by.
Along the way, you'll go through multiple parks and areas of natural beauty, as well as encounter some breathtaking views of Lake Superior.
This is a great option if you want an outdoors day without getting too rugged, as most of the lakewalk is on asphalt or boardwalks.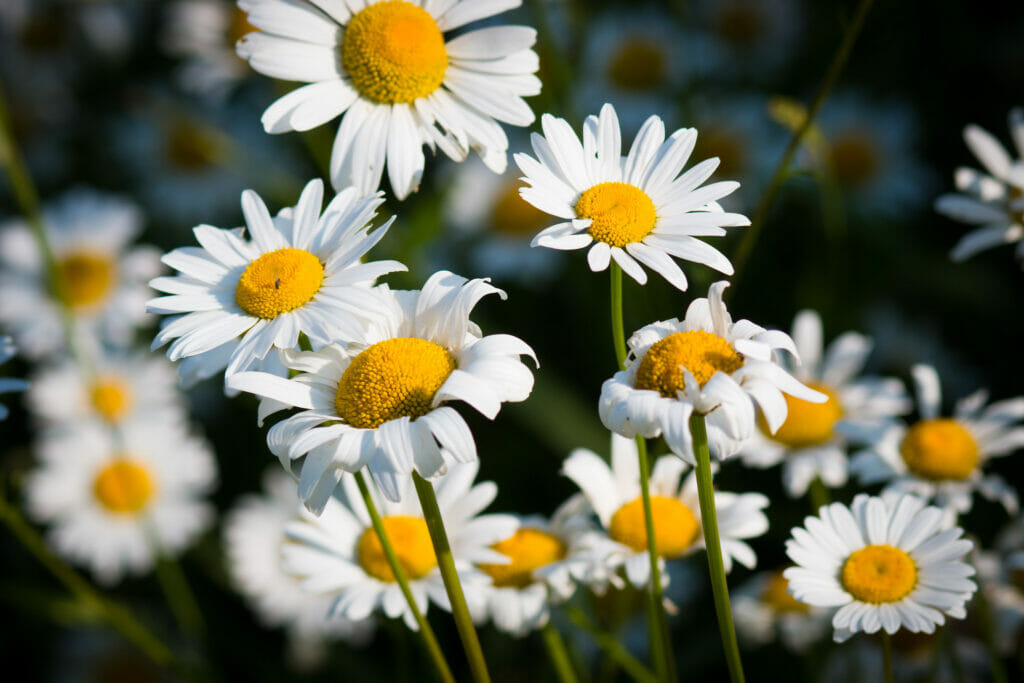 This massive expanse of sandy beaches along Lake Superior is the perfect place to have a "beach" day out, as you can stroll through the sand dunes and watch the waves crashing against the shore.
In the summer, when it's warm enough, swimming is encouraged when the lifeguards are out, and there are also plenty of things to do on land including beach volleyball and BBQs.
Enjoy this slice of "seaside" on the shores of the Great Lakes.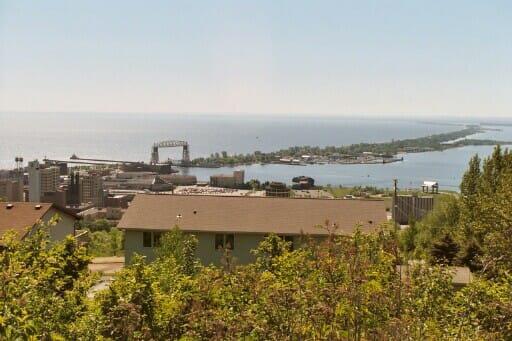 Oberg Mountain Loop
Ready for some more moderate hiking besides just walking on sidewalks?
Drive to the Oberg Mountain Loop near Tofte, Minnesota, for a three mile hike that is easy enough to take on for anyone in your family in relatively good health.
Along the trails, you'll experience fantastic views of Oberg Lake, Lake Superior and Moose Mountain.
There are some steep parts at the top where you will want to be extra careful with small children, but otherwise pack some snacks and take your time conquering this wonderful hike.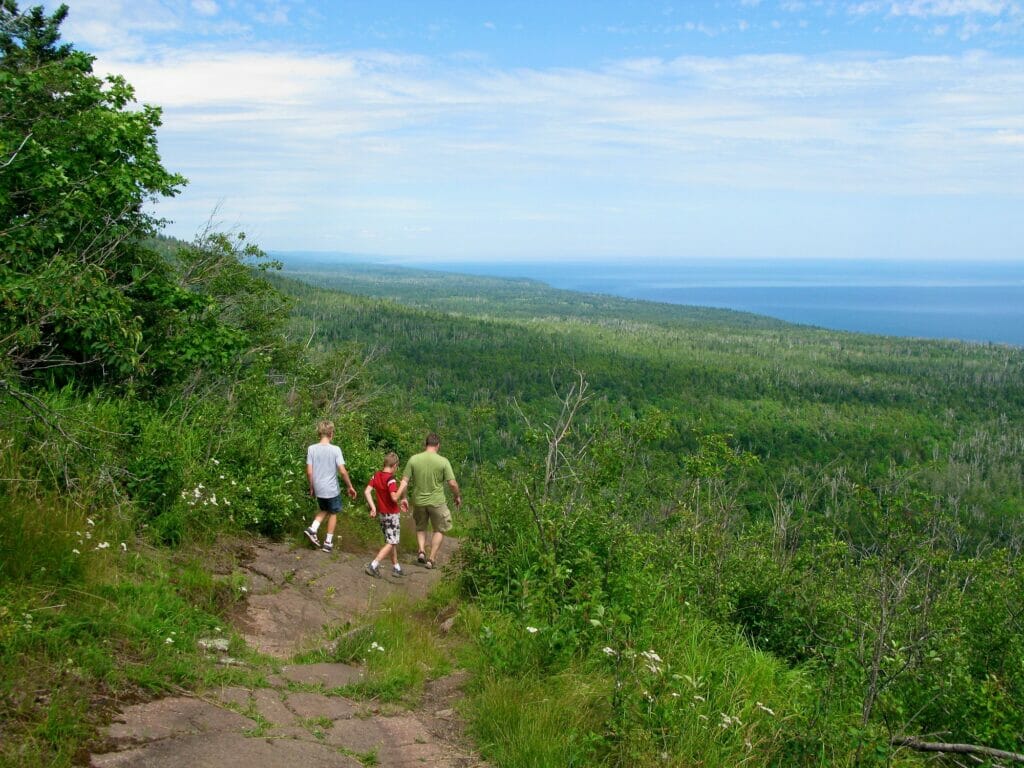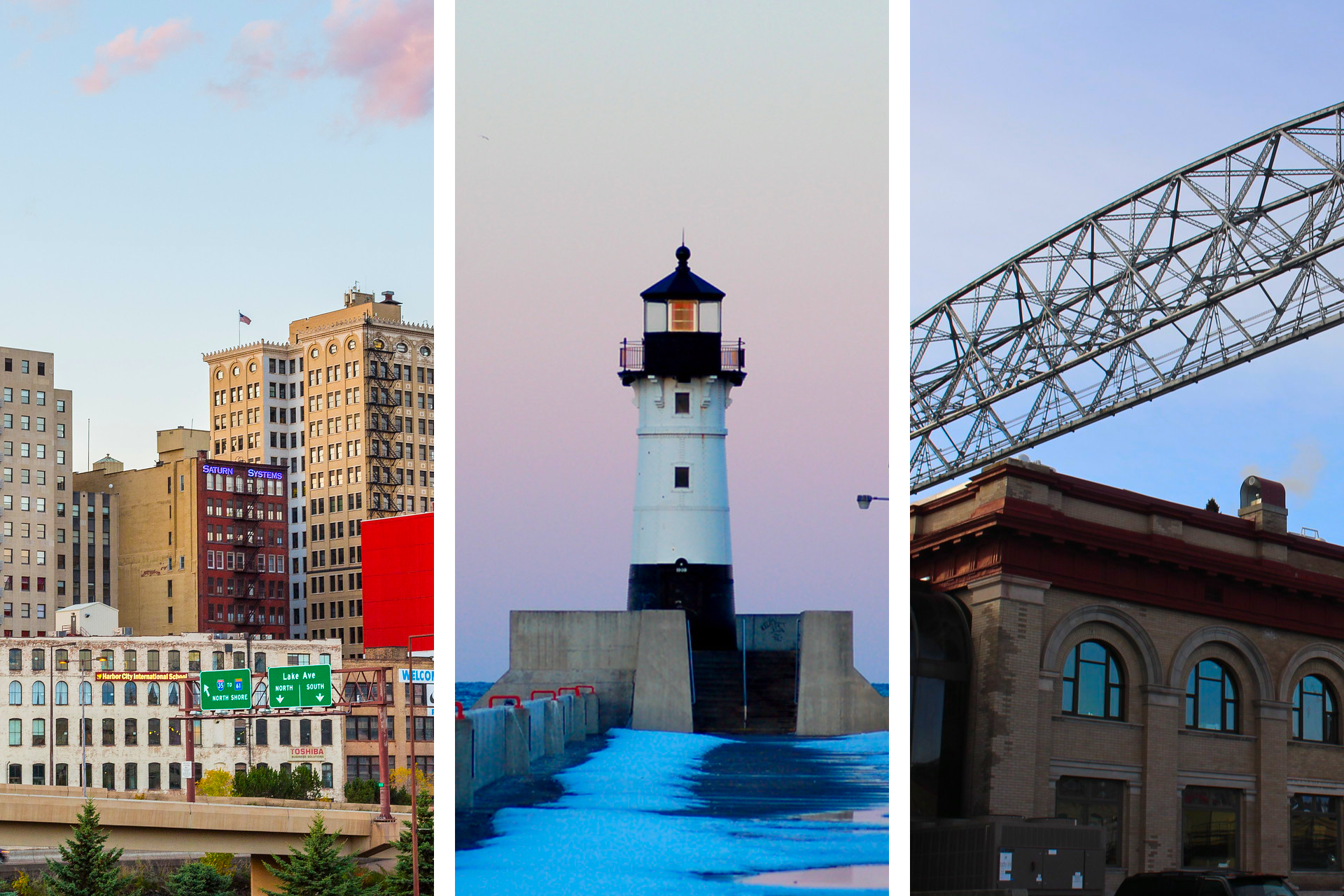 Enjoyed this? Share it!