With such a great array of outdoor options and alternatives to expensive activities, when you're looking for free things to do in Duluth, Minnesota, you're sure to find plenty.
After all, this is a city that loves snowshoeing, hiking, swimming, and enjoying their historic landmarks, free of charge!
In this list of what to do in Duluth for free, we're uncovering everything from free children's activities (thank you, Playfront Park for being awesome), things to do for couples for free if you're on a Duluth date and trying to save some cash, as well as things to do for free in the great outdoors in Duluth to take advantage of the city's location on Lake Superior.
Below you'll find a map of all of the free things in Duluth listed here, in case you're more of a visual person and want to plan your free Duluth day out that way.
Don't forget that it's much easier to see Duluth by car so you can get around on your own time.
We recommend using Discover Cars price comparison to find the cheapest deals.
Free Things to Do in Duluth With Kids
There's nothing worse than taking kids somewhere where everything seems to cost a million dollars (Orlando, I'm looking at you) because knowing kids, they'll want it!
These options will help make your time in Duluth fun without breaking the bank, and in the case of somewhere like Playfront Park, you can literally spend hours making memories and having fun with the children for $0.
Yes, please.
1. Duluth Public Library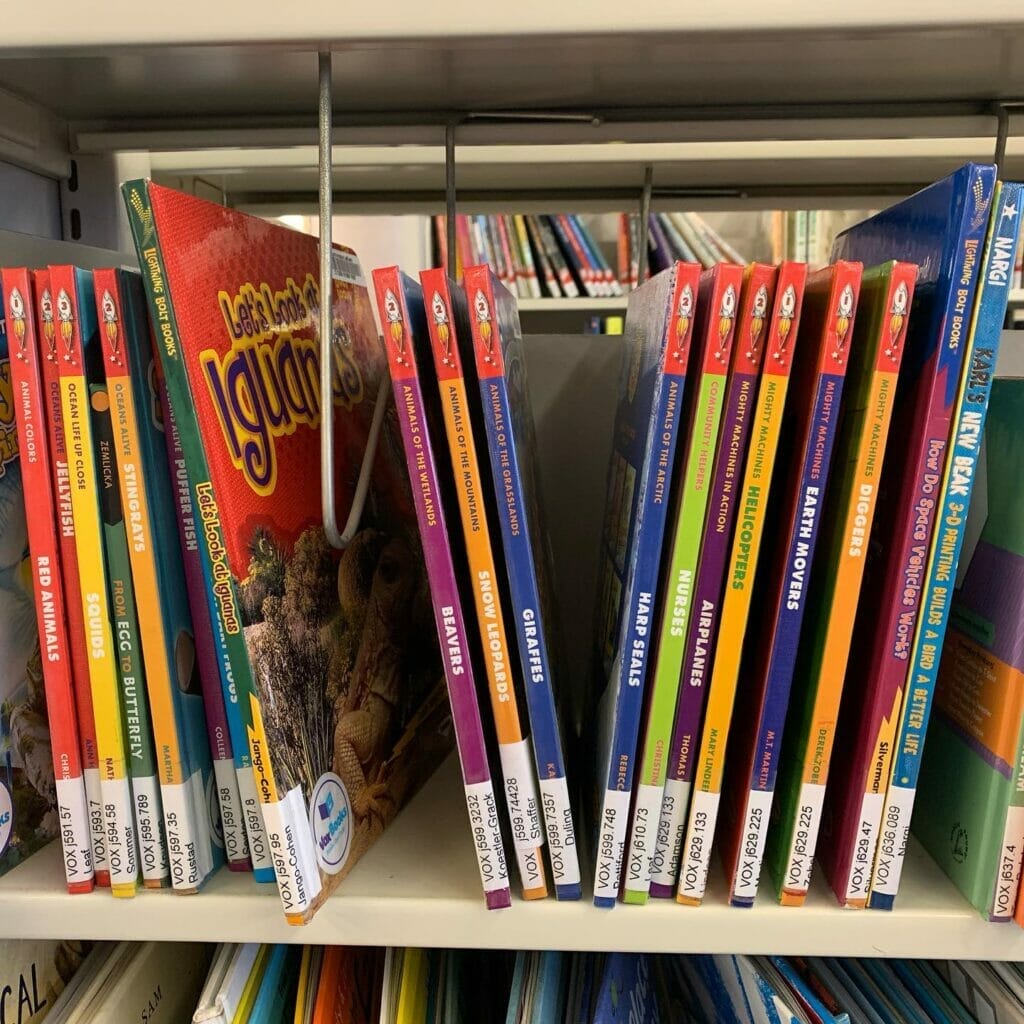 Not only does the Duluth Public Library have an absolute treasure trove of children's books that they can check out or just spend time reading in the library, but they also have regular children's events.
From toddler storytimes to children's crafts, there very well may be some fun group activities happening during your time in Duluth.
So many people forget about public libraries as a free educational and entertaining option to get the kids wrapped up in stories and exploring the world through their favorite characters.
Pay Duluth Public Library a visit and support their mission to open up reading for everyone and keep kids engaged in storytelling and learning.
2. Alworth Planetarium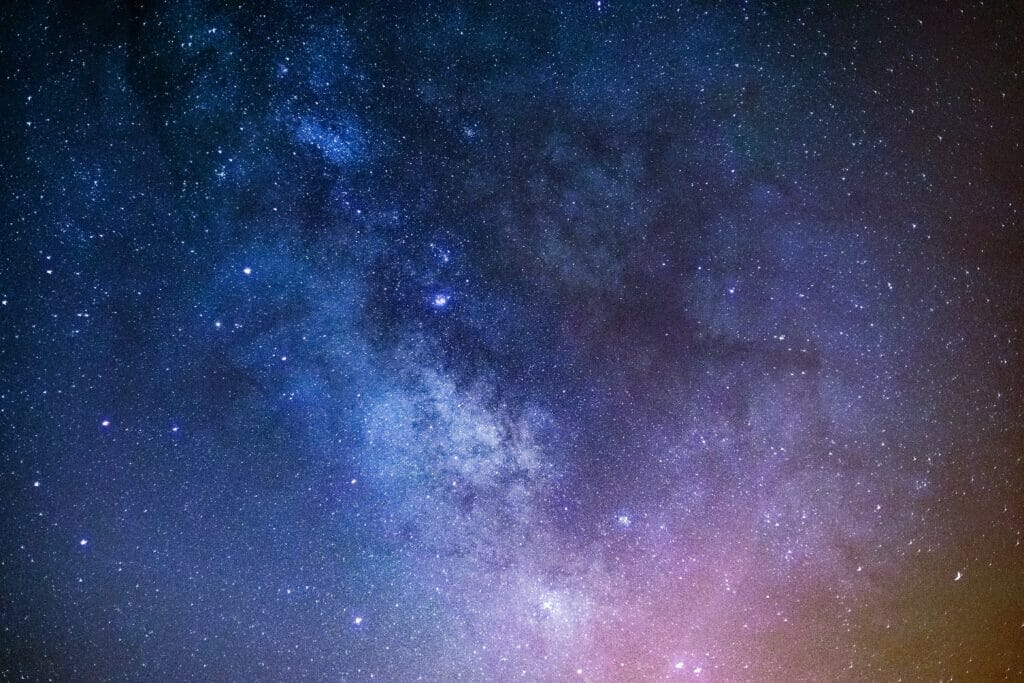 Are we alone in the world?
It's time to find out at the Alworth Planetarium in Duluth!
While this is usually a paid entrance, they do offer regular free events as well as free days for visitors to come and check out what it's all about.
Learn about the importance of telescopes, marvel at the night sky in a way you never have before, and give the kids something free to do to spark their interest in space and exploration.
3. Playfront Park
The largest playground in Duluth, Playfront Park is a fantastic example of what happens when you combine creative playground design with the energy and joy of a child.
There's lots of playful screaming to be heard here as children can test their balance and coordination on the climbing structures or simply enjoy the good old-fashioned feeling of zooming down a playground slide.
The park is free and open to all children of all ages.
4. Port Town Trolley
Okay, technically the Port Town Trolley isn't completely free – it costs $.50 per ride, but it's really cheap enough that you could have fun as a family of four for literally $2.00, so we're counting it.
In the summer months, this trolley goes on a 30 minute loop around Duluth, including downtown and the waterfront attractions.
This is a fantastic way to see the city for not much money, as well as keep the kids entertained because who wouldn't like riding on an old-fashioned trolley right down the street?
Free Things to Do in Duluth Outdoors
Duluth really shines with its outdoor activities, and due to the nature of them, most are completely free!
Enjoy this list of the outdoorsy free things to do in Duluth when you want to burn off some energy, feel the great outdoors on your skin, or just have a cheap picnic in a park where you don't have to pay for an expensive lunch.
5. Enger Park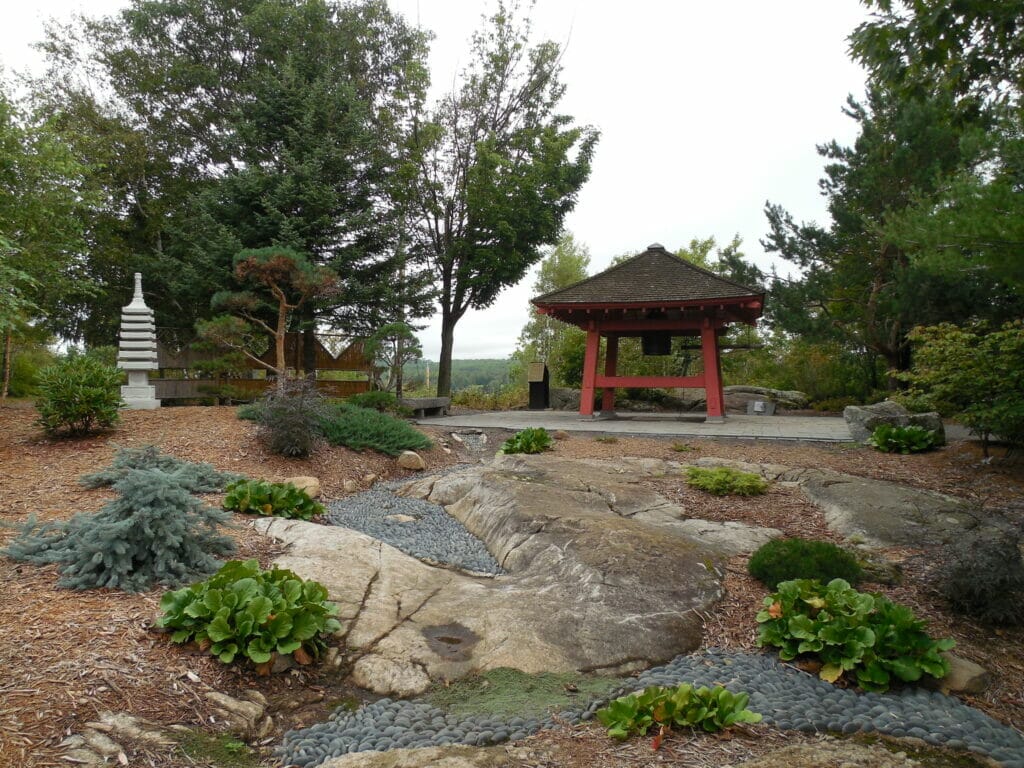 There's something really enchanting about Enger Park, as this park offers the chance to get a great view of the Aerial Lift Bridge from the Enger Tower.
It also has plenty of walking paths and a Japanese peace garden for when you need a little bit of time to sit and reflect.
Bathrooms and picnic spots are available as well, meaning you can make an afternoon of it before or after climbing the Enger Tower.
6. Canal Park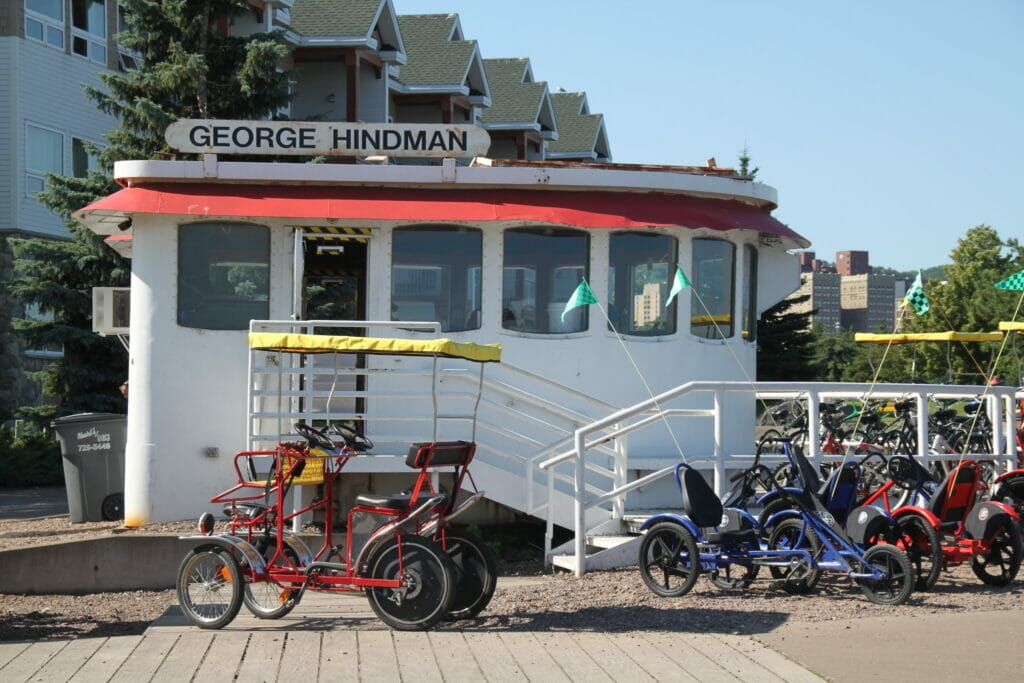 While Canal Park is admittedly very small and made up of the land on either side of the Duluth Canal, it's one of the best vantage points to see the water and is also home to the Lake Superior Maritime Visitor Center, which we'll talk about later in this post.
It is big enough to house your picnic blanket and lunch if you want to eat near the water and the hustle and bustle of the canal.
7. Leif Erickson Park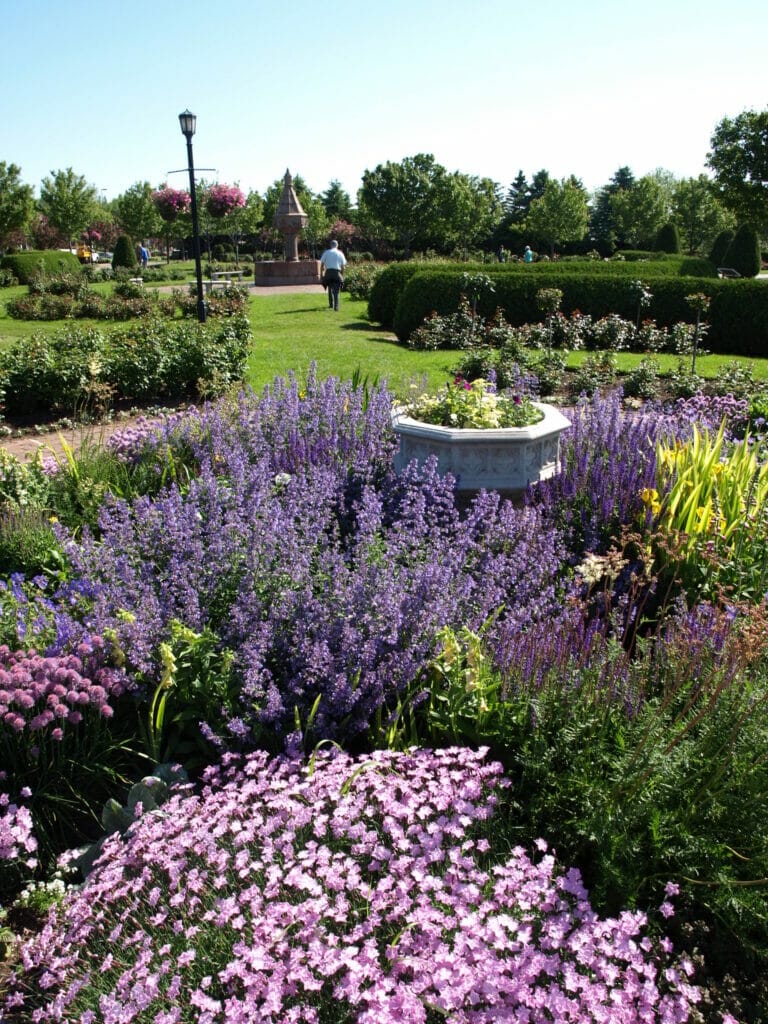 Home to Duluth's Rose Garden, the Leif Erickson Park is actually a historic park in Duluth as it was renamed in 1927 after Burt Enger purchased the ship, the Leif Erickson, which sailed from Norway to Duluth.
The plan was to have the ship sit near Leif Erickson Park, but it now sits in storage near Bayfront Park.
Regardless, this is a popular venue for weddings and large gatherings due to its beauty, and there are plenty of walking trails to enjoy as you weave your way around the park.
As mentioned, it is also home to Duluth's Rose Garden, which is kept in pristine condition and well-worth a visit, especially as it is on a hill overlooking Lake Superior so you get great views in the background.
8. Park Point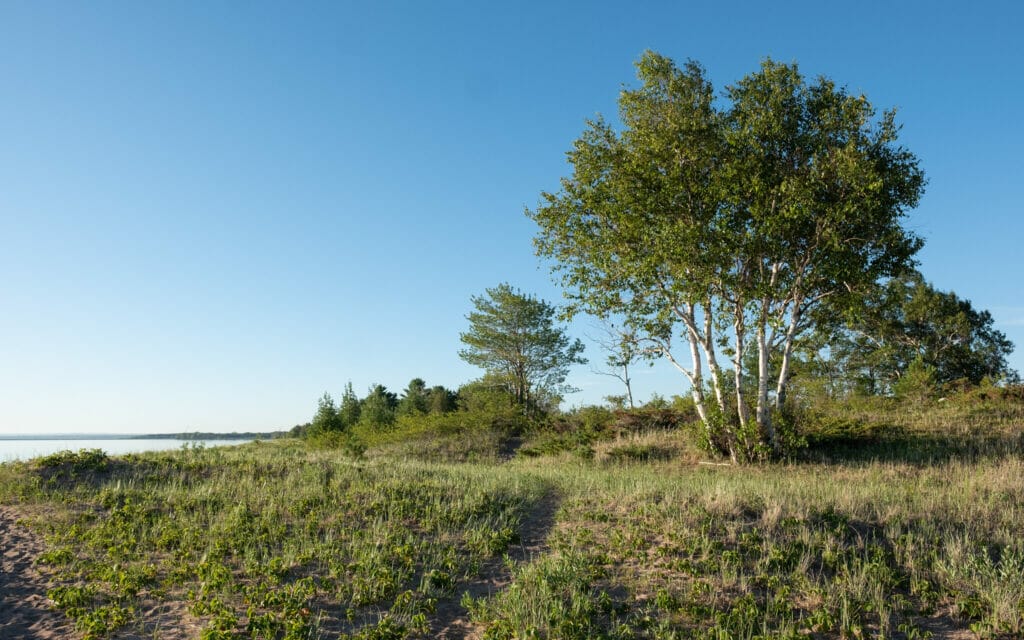 Looking for sandy beaches?
Did you know you can find them in Duluth?
Park Point is a free stretch of sandy beaches for all to enjoy, though obviously the swimming isn't going to be quite as popular except in the summer months as Lake Superior is pretty cold year-round.
There's everything from picnic grounds to pine trees, places to grill to places to sink your toes into the sand, and the driftwood on the beach gives it that exotic, remote feeling so you and your family can pretend like you're off on a treasure hunting adventure instead of just dipping your toes in Lake Superior.
9. Magney-Snively Nature Area
When you're looking for somewhere to really get out in nature, whether it's hiking in the summer or cross-country skiing in the winter, the Magney-Snively Nature Area in west Duluth is your new home away from home.
This is one of the best free days out in Duluth for people who are happy to pack their own food, strap on their outdoor gear, and spend the days exploring over 700 acres of undeveloped land.
Named for some former Duluth mayers who supported the creation of the park and nature area, this is a Duluth gem and a great way to see a diverse natural landscape of everything from wetlands to rock outcrops.
10. Hartley Nature Center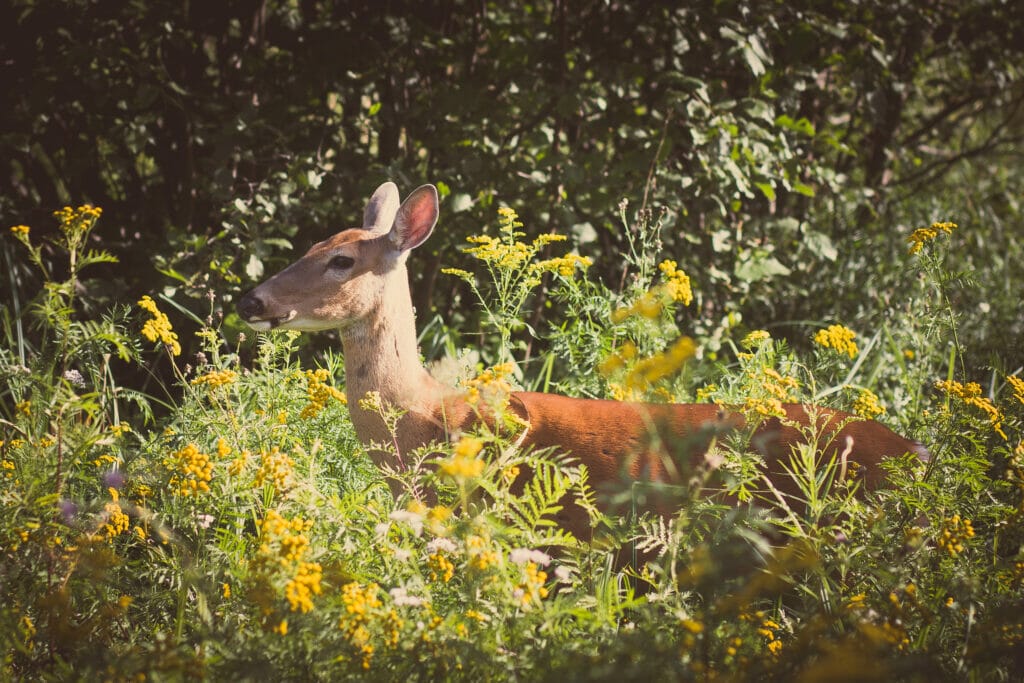 Another option when you're searching for a place to escape from downtown Duluth is Hartley Nature Center and Park.
Here, you've got the actual Nature Center to explore, but most importantly, you've got over 600 acres of actual nature.
From snowshoeing to cross-country skiing, this area really comes alive at the winter and you'll see frozen ponds, streams, and other winter wonderland features.
In the summer, go mountain biking or just put on your tennis shoes for some nice, relaxing walks through the trees and on the hiking paths.
11. Lester Park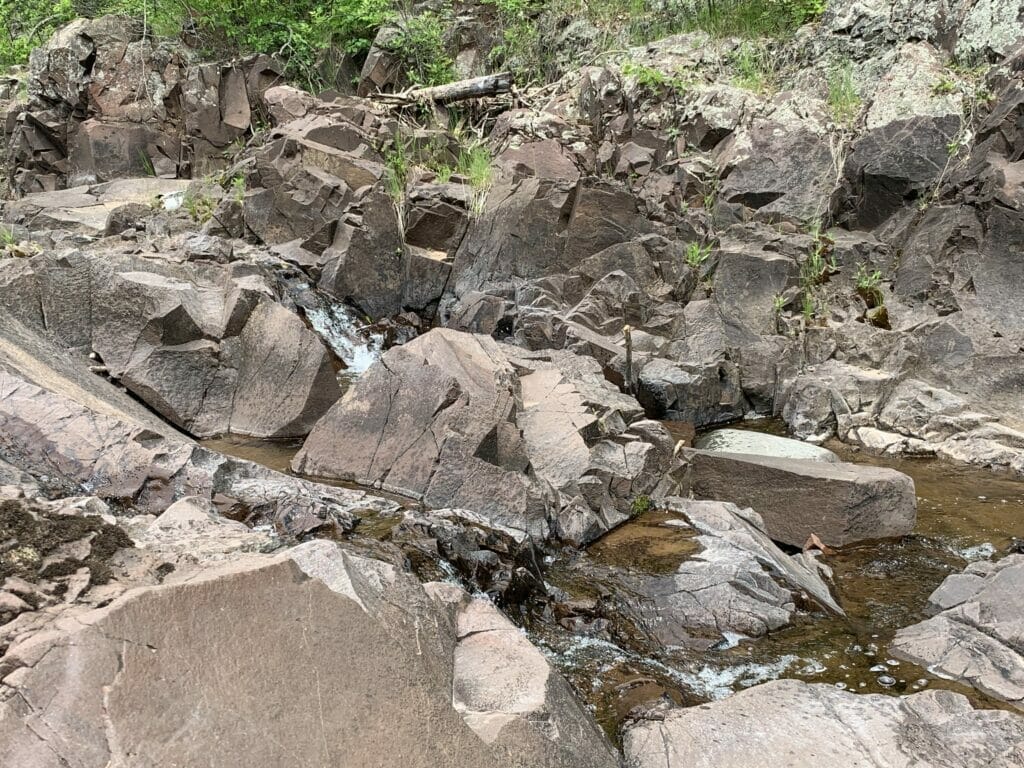 At the eastern part of Duluth, you've got one of the most family-friendly parks: Lester Park.
Here, you'll find picnic tables, playgrounds, grills, and pavilions for people to hold weddings, birthday parties, and so much more.
Biking and mountain biking are both popular on the paved and unpaved trails, respectively, and wildlife lovers really enjoy Lester Park for its birdwatching opportunities.
You'll find it at the crossroads of Superior Street and 61st Avenue East.
12. Jay Cooke State Park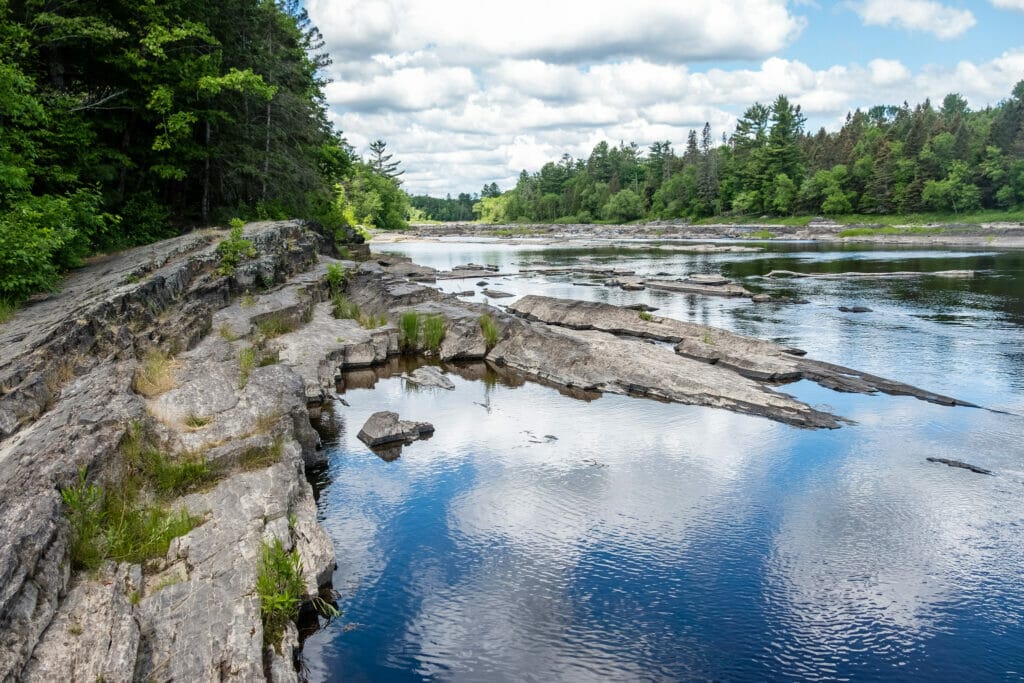 Jay Cooke State Park is a Minnesota state park about 10 miles from Duluth with plenty of history from original fur trading to early canoe routes.
You'll find over 50 miles of hiking trails, as well as mountain biking options.
At certain points, you'll find gorgeous views of the Duluth harbor.
You can also take part in kayaking, snowshoeing, camping, and plenty of events like campfire talks and archery lessons.
13. Lakewalk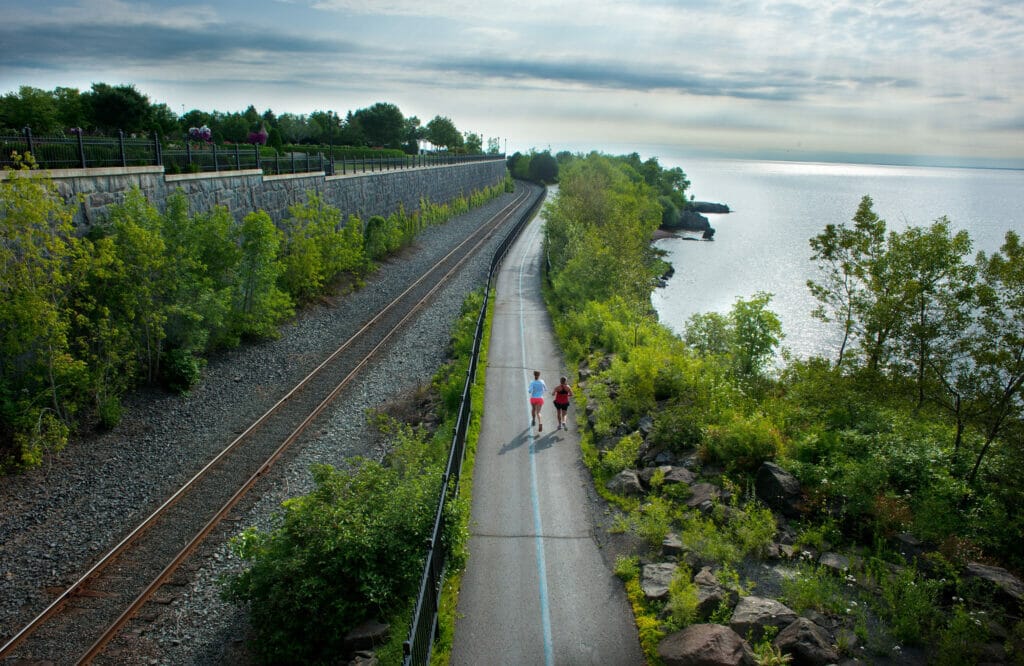 This free expanse of outdoor walking trails lasts for over 7 miles, and begins in famous Canal Park.
Start there to watch ships sail by and get a picture of the Lift Bridge, and then wind your way through multiple parks and areas of natural beauty.
You'll come across the most stunning views of Lake Superior along your way, and this is a fantastic option for people who want to go walking without the intensity of true hiking, as most of the Lakewalk is paved.
If you're planning on doing the whole thing, make sure to pack some snacks as it's quite the trek!
Free Historic Things to Do in Duluth
Duluth's history isn't all hidden behind paid museum entrances.
There is so much of it both out in the open and in free attractions that it's well-worth scoping out some of these more educational free things to do in Duluth.
14. Lake Superior Maritime Visitor Center
This free museum in Duluth's Canal Park is a wonderful places to see exhibits that tell the story of Lake Superior and the modern history of Duluth.
Here, you'll find historically accurate replica cabins, use interactive models to explore the local area, and check out the three story steam engine.
If you do want to donate, then donations to the museum go to the upkeep of the building and staffing.
This is a great, free, way to learn a bit more about the commercial trading on Lake Superior and the settlers around it over the years.
15. Aerial Lift Bridge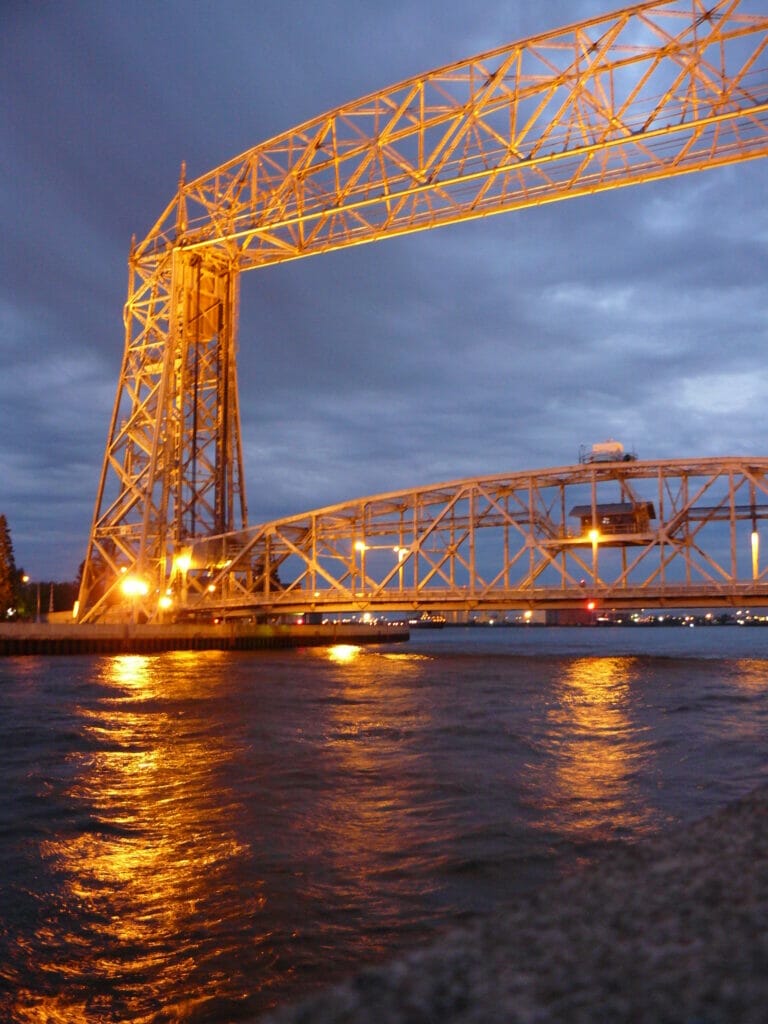 I'm including the Aerial Lift Bridge on this list of what to do for free in Duluth because it's obviously free to look at, and it's also free to cross over!
This is the first transporter bridge in all of the US, and it dominates the Canal Park skyline.
It's also a free historic thing to do in Duluth, as it was added to the register of historic places in 1973 and opened in 1905.
16. North Pier Lighthouse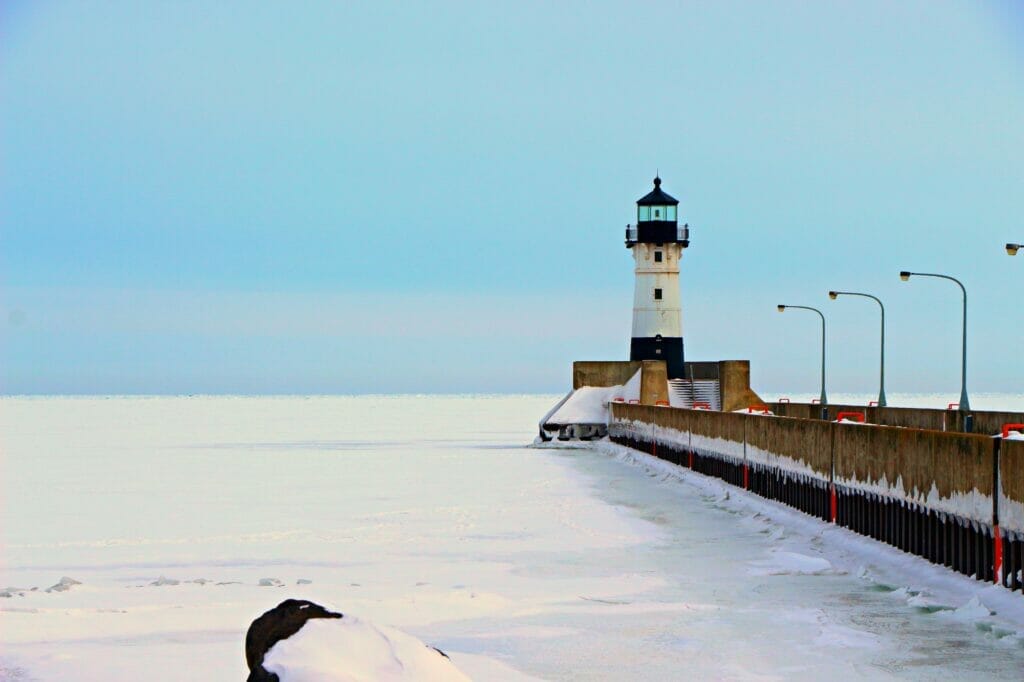 The Duluth North Pier Lightouse is a beautiful lighthouse on the north breakwater of the Duluth Ship Canal.
First built in 1910, it has played a huge role in advancing lighthouse engineering and navigational efforts around the Great Lakes.
Put on the National Register of Historic Places in 2016, you can walk out to the lighthouse and get a close up look at its architecture.
Free Things to Do in Duluth, MN for Couples
Whether you're trying for a cheap Duluth date or just something free to do on a couple's getaway to Duluth, here are some fun options where you don't have to worry about entry fees or the need to spend.
17. Duluth's Farmer's Market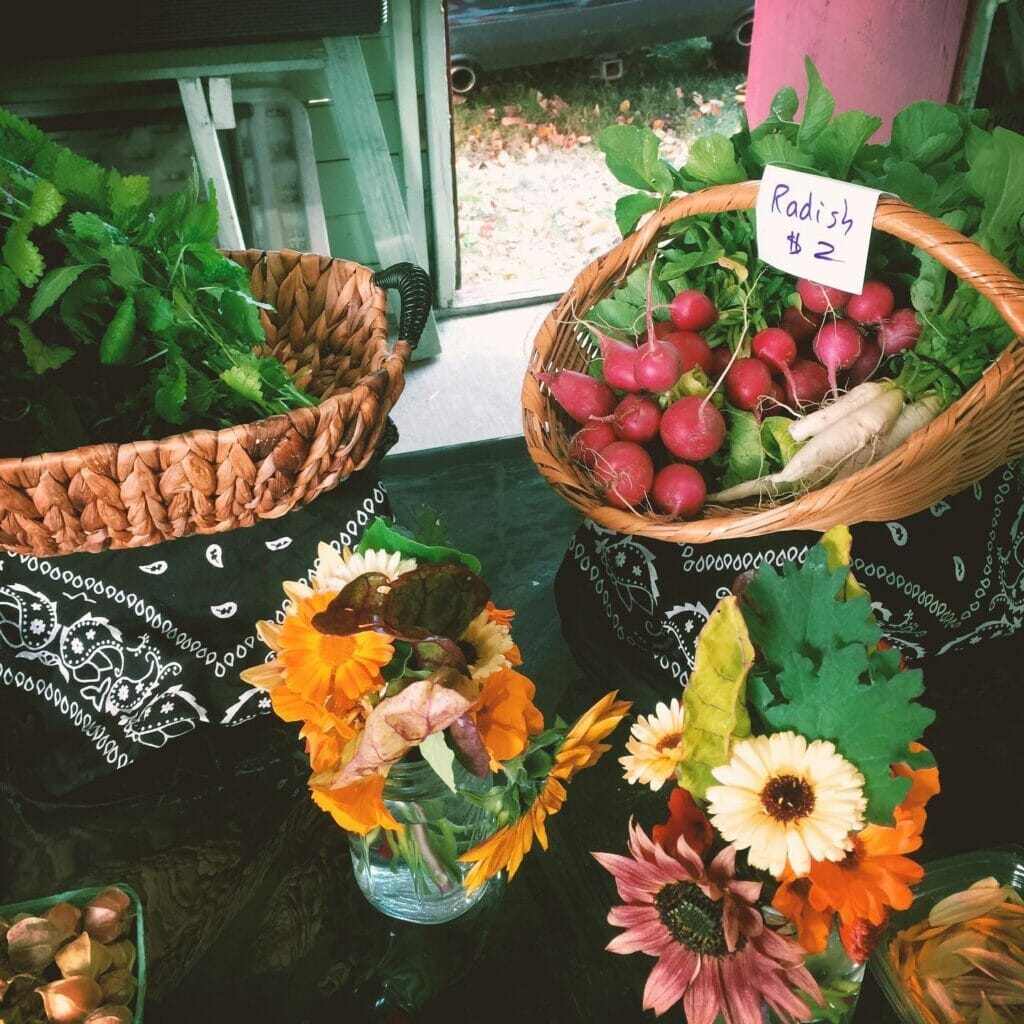 Okay, so obviously the point of a Farmer's Market is to buy things, but entrance into the Duluth Farmer's Market (Wednesday and Saturday hours for the bulk of the year, and varied events in the winter) is free and it's a really fun place to go to look around, meet some local vendors, and get some cute Instagram snaps.
This is a historic Farmer's Market in Duluth that has been bringing together the community for many years, and it's covered, which means that you can visit no matter the weather.
18. Tweed Museum of Art
Part of the University of Minnesota Duluth, the Tweed Museum of Art is free entrance and has a beautiful collection of art ranging from student exhibitions to paintings by local artists.
Currently, the museum is closed to the public and only open for UMD students, but hopes to be able to open to the public again in Spring 2021.
19. North Shore Scenic Drive
Hop in the car and take part in one of the most beautiful drives in all of Minnesota, the North Shore Scenic Drive.
Starting in Duluth, this drive will take you along the banks of Lake Superior and through lots of wilderness and gorgeous natural landscapes, including hills, pine trees, and more.
At 154 miles in total, there's a lot to explore, and you can find out more about the route here.
20. Window Shopping at Duluth Waterfront Shopping
On the Downtown and Canal Park streets in Downtown Duluth, you'll find plenty of boutique stores perfect for doing some window shopping in good weather.
From florists to art galleries to jewelry shops and clothing stores and candy shops – the list goes on – you'll find plenty going on around this area and lots of opportunities for adding things to your Christmas list.
21. Free Events in Duluth, MN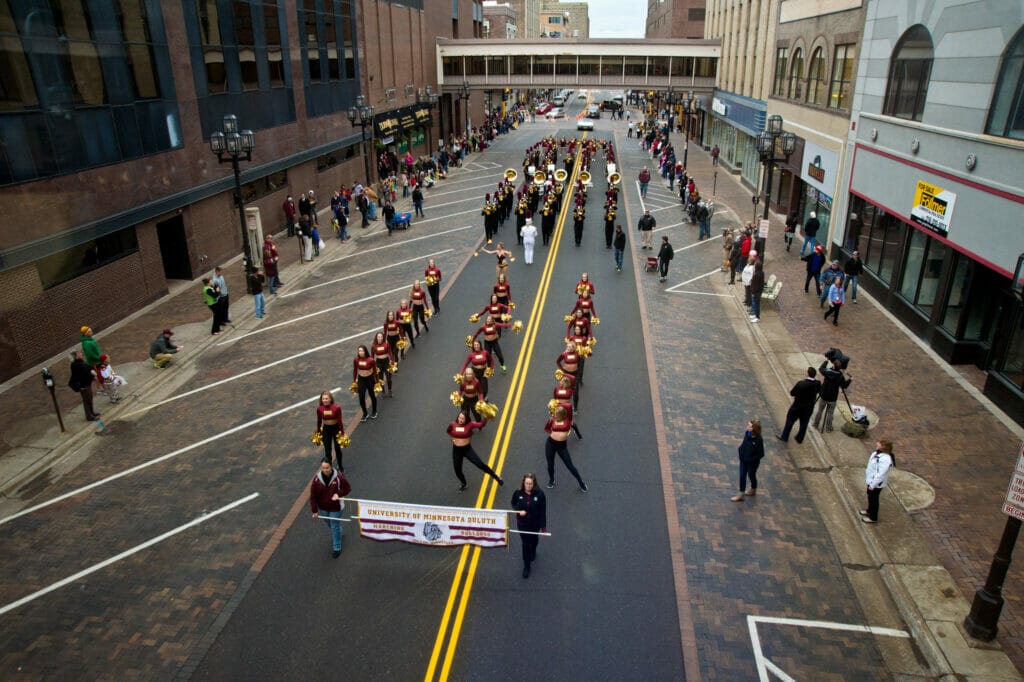 Duluth loves a free event, which means you should always check for them before your visit as there could be a whole range of option from holiday festivals to classes to outdoor yoga instruction by the lake.
The most popular event of all is called Grandma's Marathon (yes, you heard that right).
A Duluth staple, this marathon takes place in June each year as participants run from the city of Two Harbors into Duluth alongside Lake Superior.
It's free to watch and cheer them on, and truly gets the whole city out to enjoy summer weather and be a part of one of the city's real "heartbeat" events.
Get the All-American Travel Secrets!
Don't miss out on America's hidden gems!