Stunning views of shining turquoise waters. Historic lighthouse lenses. Nature trails through untouched Florida.
Tucked away in the quiet town of Ponce Inlet just a short drive from Daytona Beach, the Ponce Inlet Lighthouse and Museum is a fascinating look at Florida's tallest lighthouse and the families that once lived here.
Standing at 175 feet tall, the lighthouse was a necessary beacon for seafarers in between St. Augustine and Cape Canaveral.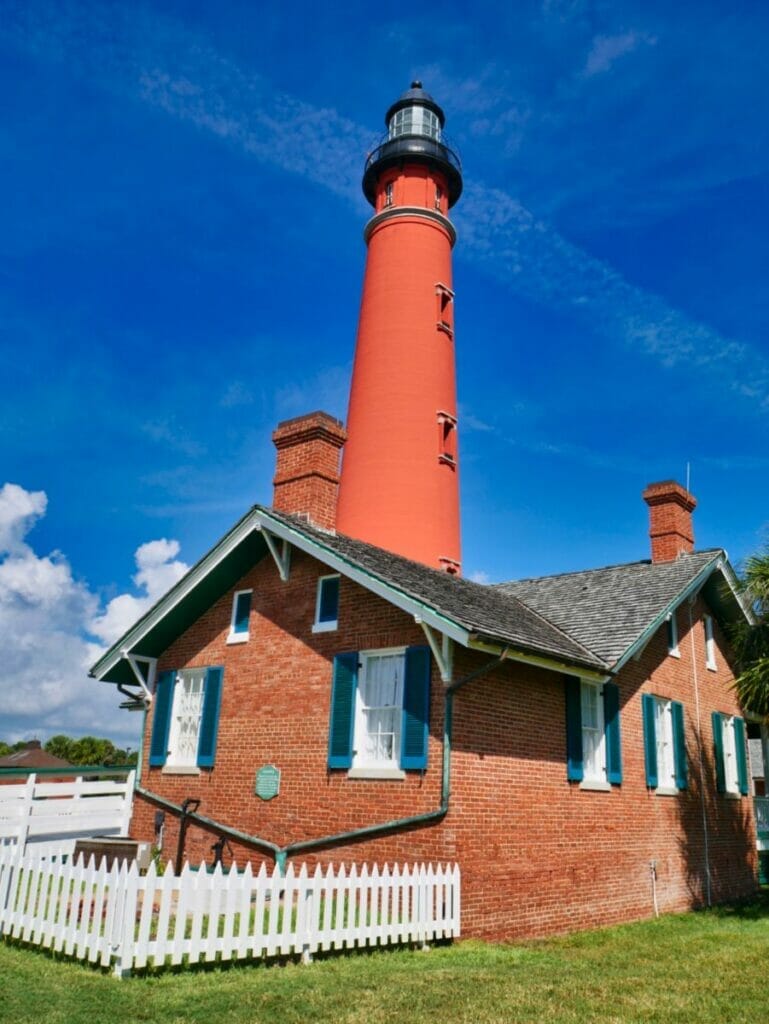 Over the years, it's undergone some serious change (including being broken, abandoned, and restored multiple times), but today it is open for visitors to climb.
In addition to the lighthouse itself, there are quite a few buildings surrounding the lighthouse that were lived in by families of the lighthouse keepers (the area was too remote for them to essentially commute in, so a family would live there together).
Bring the family or take a couple's day trip to the lighthouse to give yourself a different vantage point of the gorgeous beaches of Ponce Inlet and the surrounding area.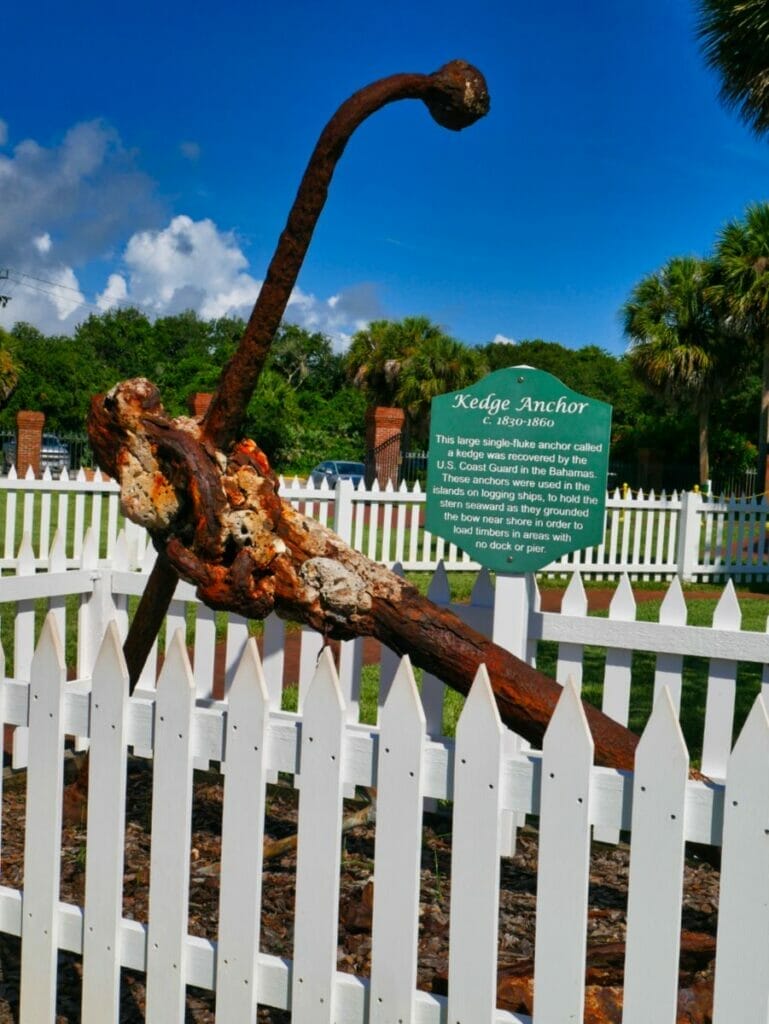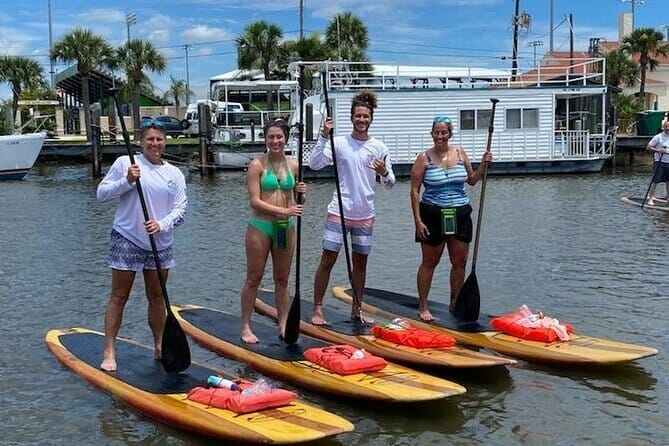 Practical Tips for Ponce Inlet Lighthouse
Before we dive into the review and a little bit of what to expect from your visit, let's get the practical stuff out of the way.
Ponce Inlet Lighthouse is located at: 4931 S Peninsula Dr, Ponce Inlet, FL 32127
Admission is only $6.95 for adults and $1.95 for children, with military and other discounts
The lighthouse is open every day except Thanksgiving and Christmas Day, and hours are from 10am to 9pm in the summer months and 10pm to 6pm the rest of the year
Plan to get there are least one hour before closing for entrance
What You Need to Know Before You Visit
Let's talk about some other need-to-knows that might impact your visit, like who will enjoy the lighthouse and museum the most, the amount of time to leave yourselves, and more.
We spent about an hour and a half at the lighthouse, including climbing it. If you want to really spend your time exploring and reading every plaque, leave yourself 1.5 to 2 hours.
Older children and adults will enjoy the lighthouse and exhibits the most based on the types of information and interactivity. Younger children may find it challenging to climb the lighthouse and find it difficult to engage with some of the exhibits.
There are both indoor and outdoor sections to the lighthouse museum, but everyone spending any amount of time in Florida for most of the year should always make sure to wear a hat and use eco-friendly sunscreen.
Food and drinks are not allowed on the property to avoid any spillages ruining historic artifacts. Leave them in the car!
Speaking of cars, there is free parking out front.
There are restrooms on the property for visitor use.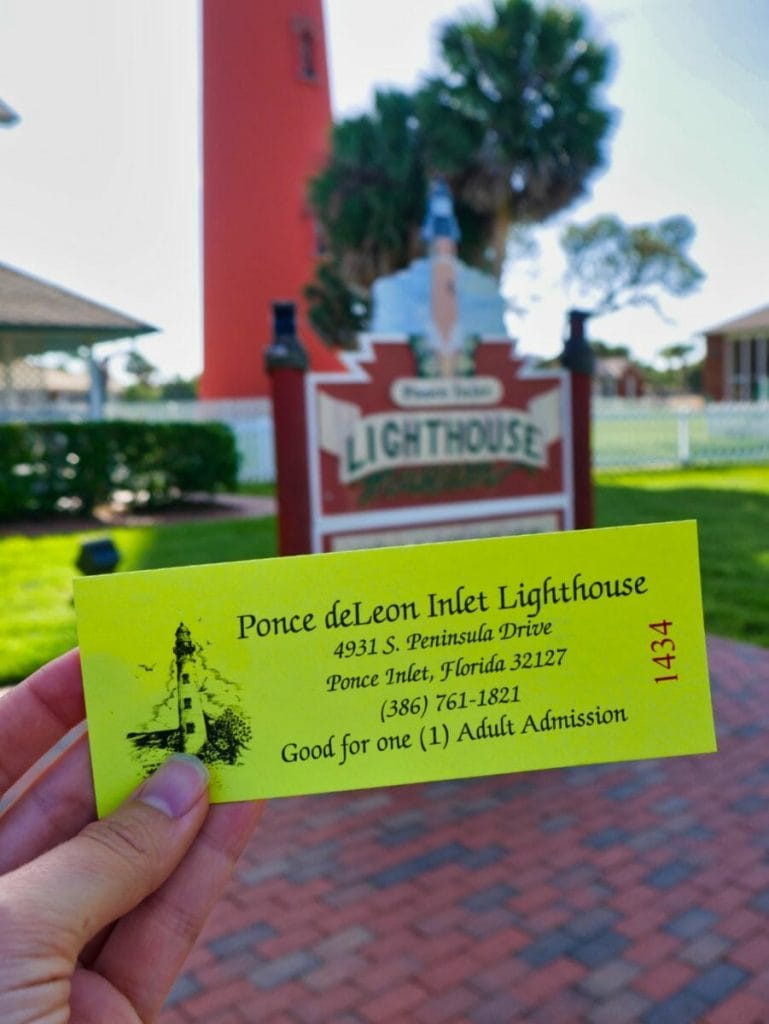 The Lighthouse Climb
The Ponce de Leon Inlet Light (named for the famous Spanish explorer who landed in Florida, Ponce de Leon), is the main attraction for many people visiting the museum area.
Visitors are allowed to climb the lighthouse during opening hours, and you should be prepared for both amazing views as well as 203 steps.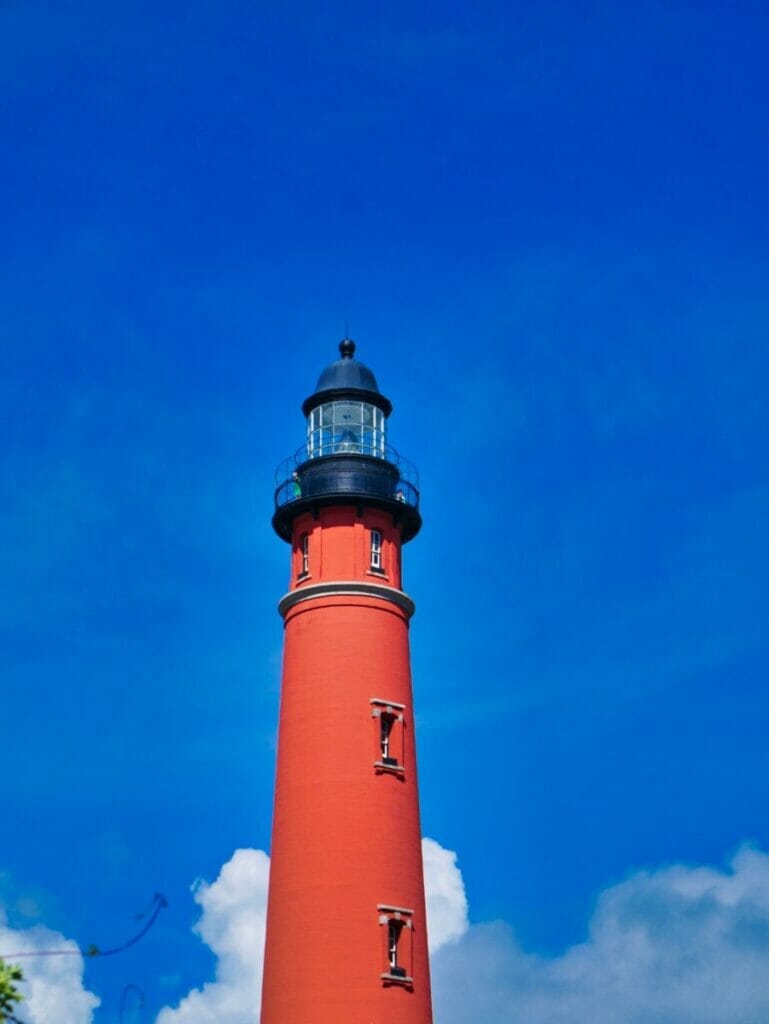 The steps are metal and grated, rotating up the spiral staircase all the way to the top.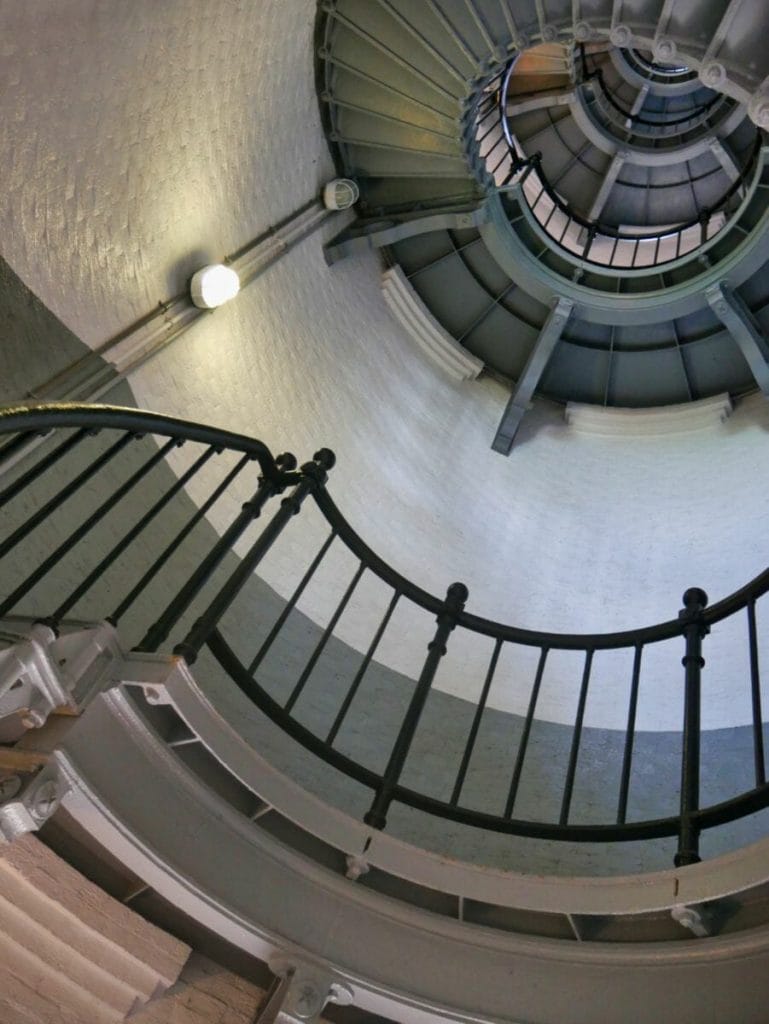 There are some passing points throughout, as well as some areas where you can stop and look at the view from the windows.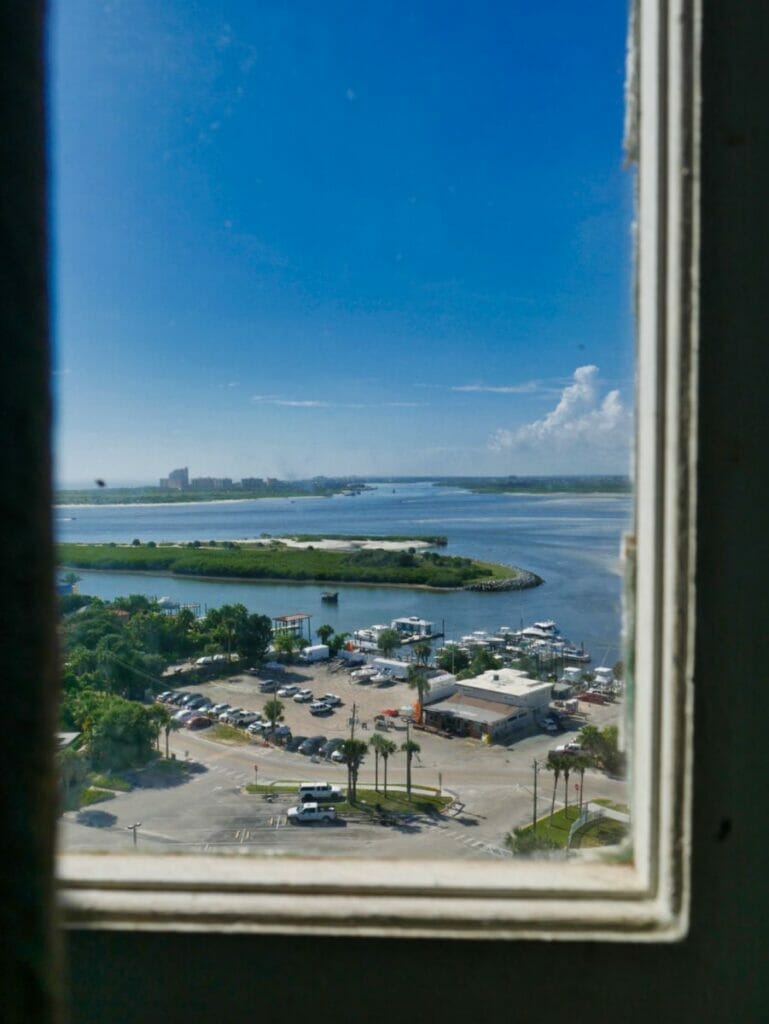 There are also a few plaques with information about what you're looking at.
Once you get up the steps, there are a few artifacts to look at and then you step out onto the lookout point and then – behold!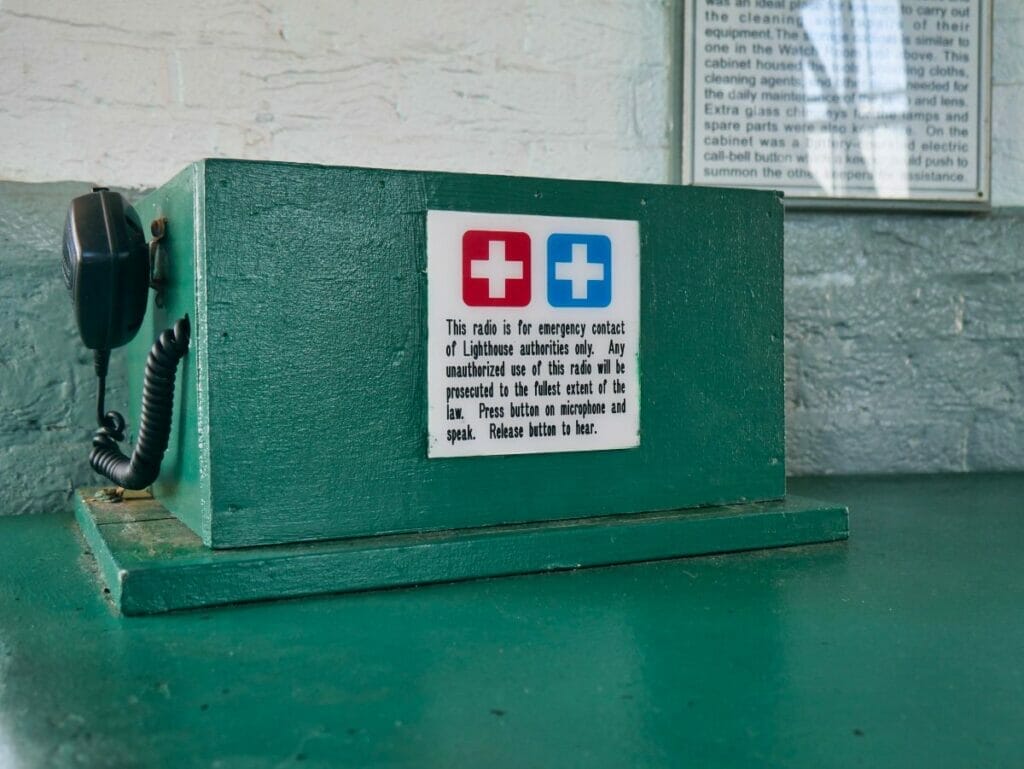 Some of the most stunning views.
You can walk all the way around the outside of the lighthouse to get the 360 vantage point (though if you're afraid of heights, try to look out and not down!)
You can take your time climbing (and climbing back down) and stop for people to pass you, but if you are physically able, it is so worth the experience.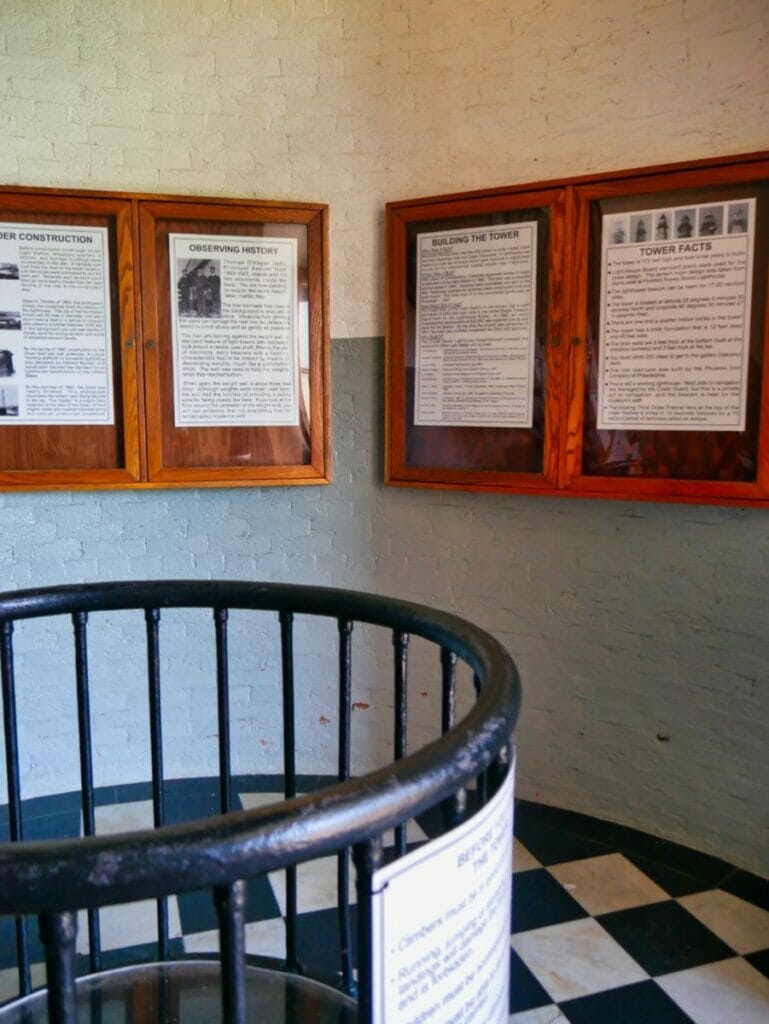 It will get busier as the days go on and you have people going up and down, but if you're the first ones up, you won't have people climbing down!
Ponce Inlet Lighthouse Museum
When I first heard about the "museum," I wondered what to expect.
Was it one big building?
A museum within the lighthouse itself?
For all of you future visitors, you should know that the museum component is essentially multiple buildings (historic and retained from the early days of the lighthouse) spread around the area surrounding the lighthouse.
The buildings, themselves, as part of the artifacts and have been preserved through the years.
There are plenty of indoor exhibits, including quite a few relating to how the lighthouse keepers and their families would have worked and lived.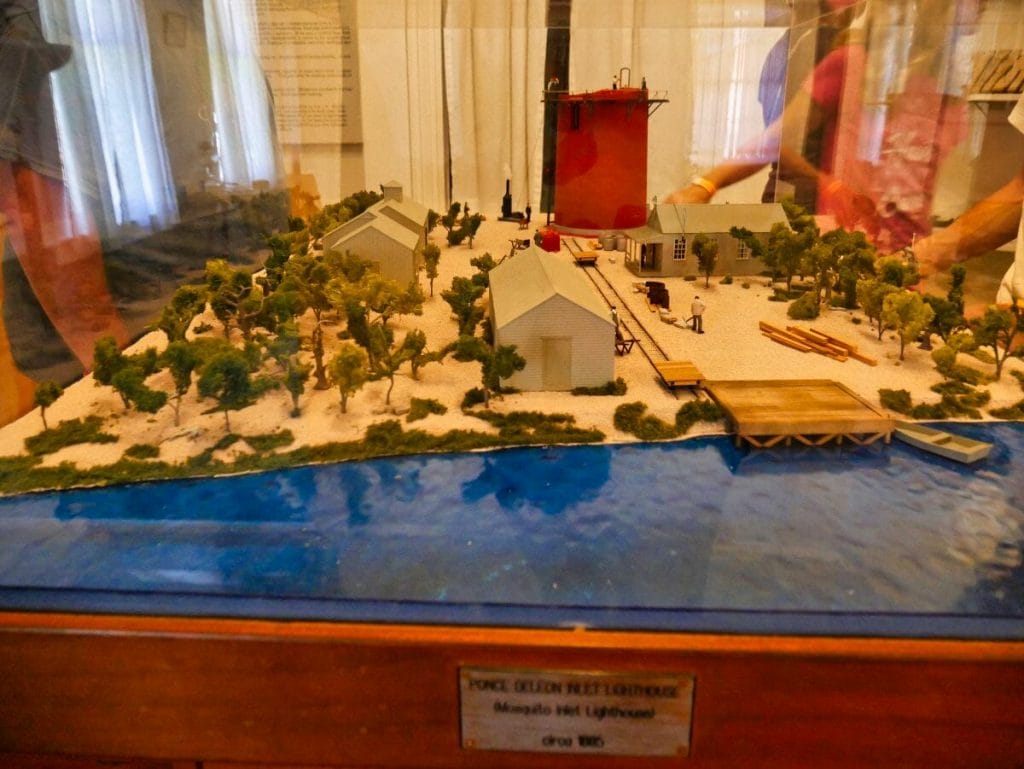 Then, you've got an indoor exhibit on lighthouse lenses which is fascinating for any techy gurus or lighthouse fans out there.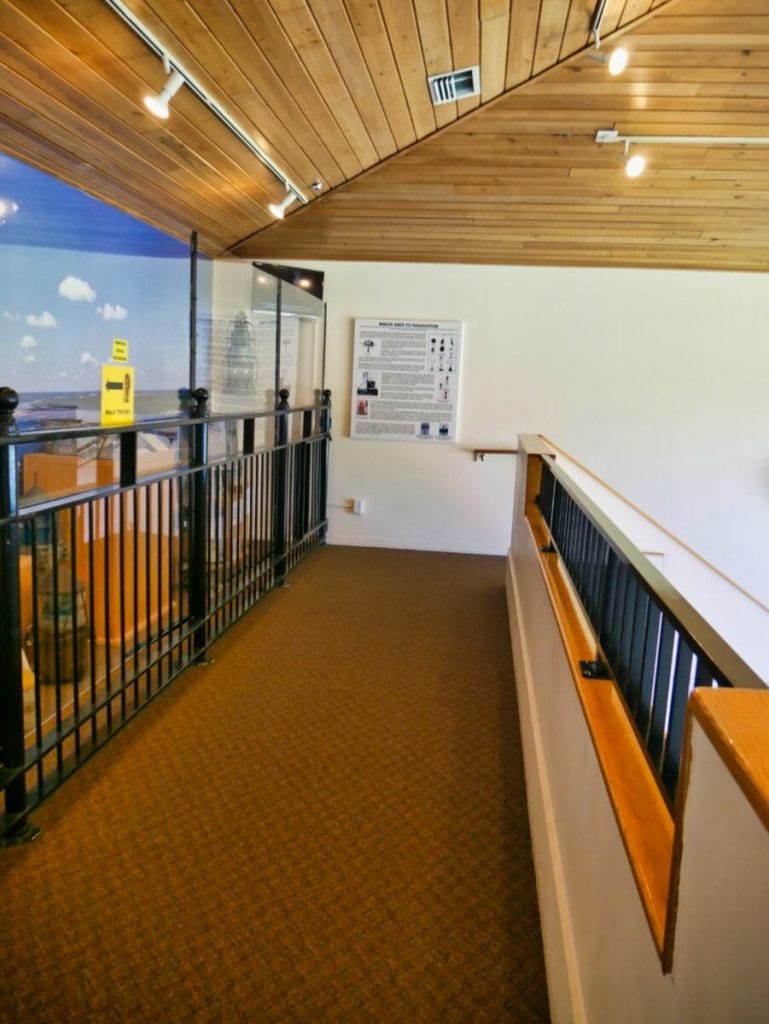 But there are also some "museum" artifacts to see outdoors, including historic laundry facilities and historic anchors.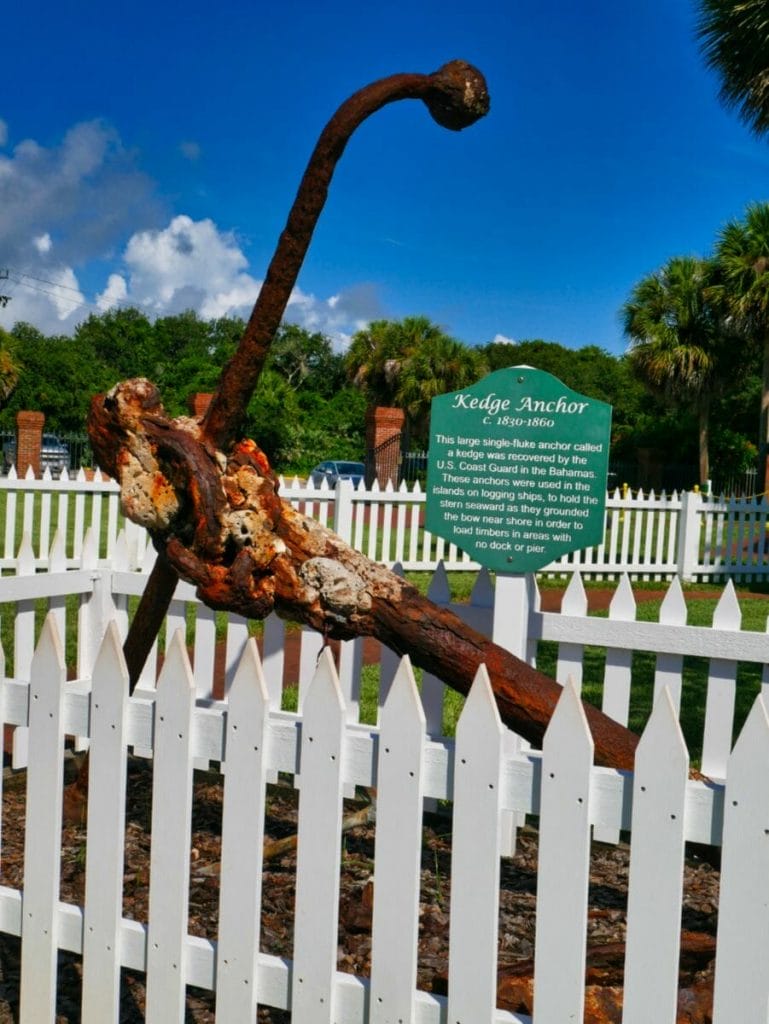 Other Things to Do at Ponce Inlet Lighthouse
In addition to the lighthouse and museum area, there is also a nature trail!
It goes around the back of the property and retains some of the natural plants and animals (including mosquitos, make sure to always wear insect repellant in Florida!) that the lighthouse keepers would have been surrounded by.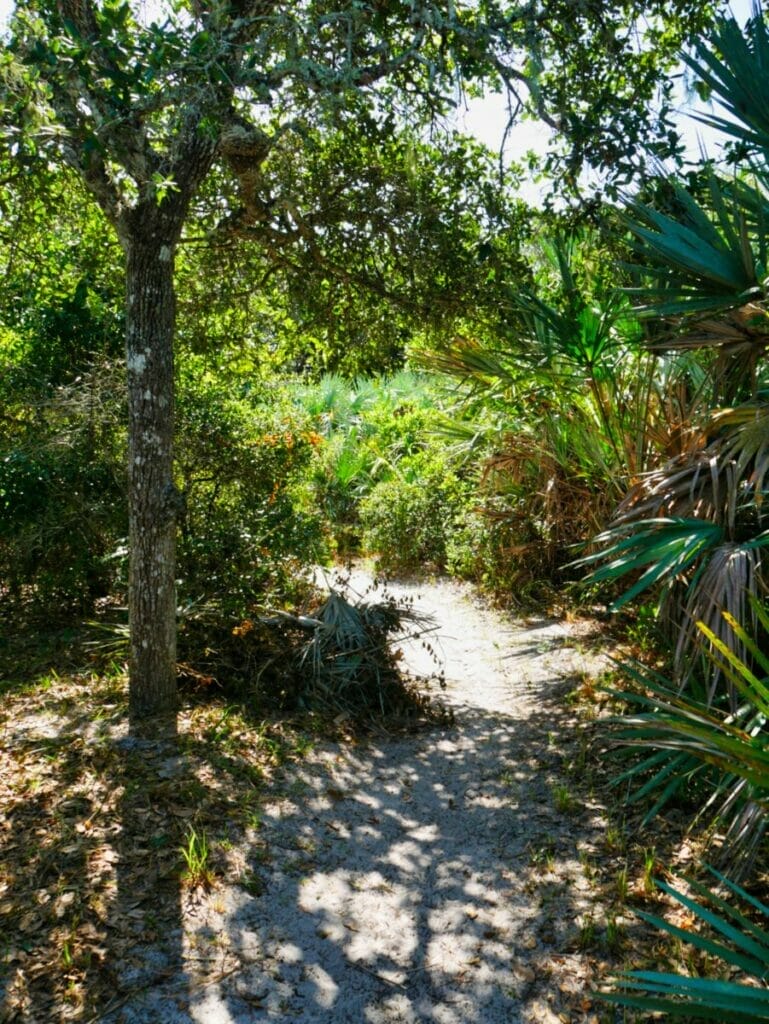 In addition to a nice little walk, you may be treated to a sight of one of the gopher tortoises!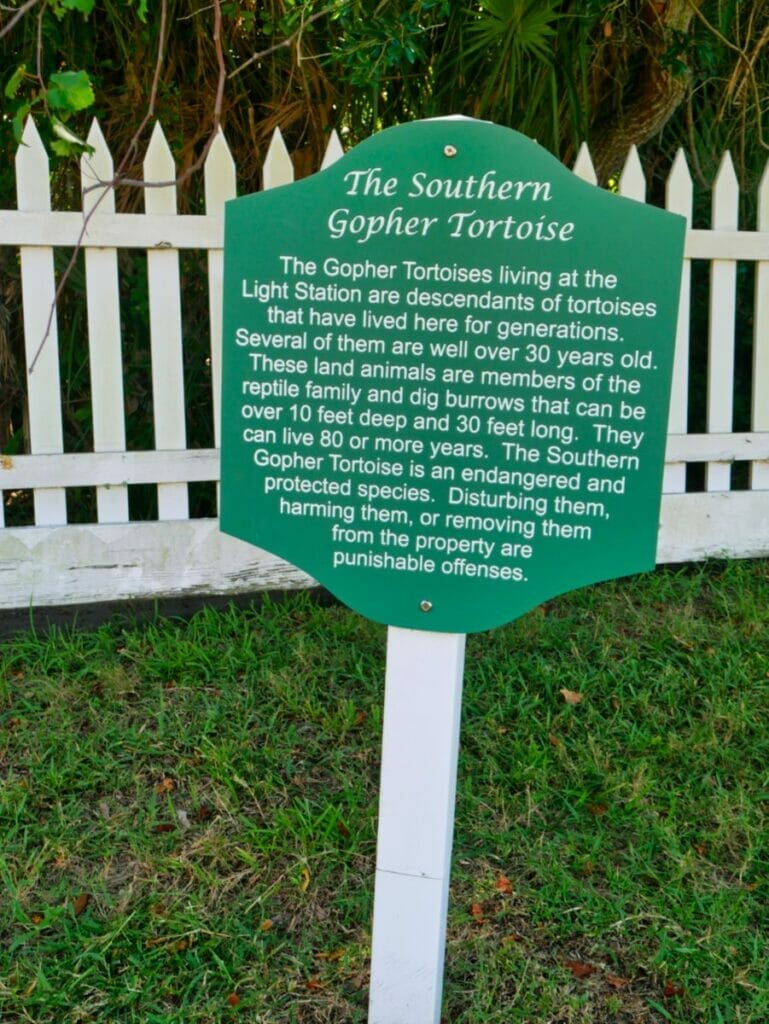 The walk isn't long, but especially if you're not a Florida native, it's a great way to get up close to some of the types of ecosystems that exist outside of the beaches.
There is also a section of Cuban refugee rafts with more information about the tragedy and history of the Cuban flight to freedom in the US and the lengths that Cuban refugees would go to to escape.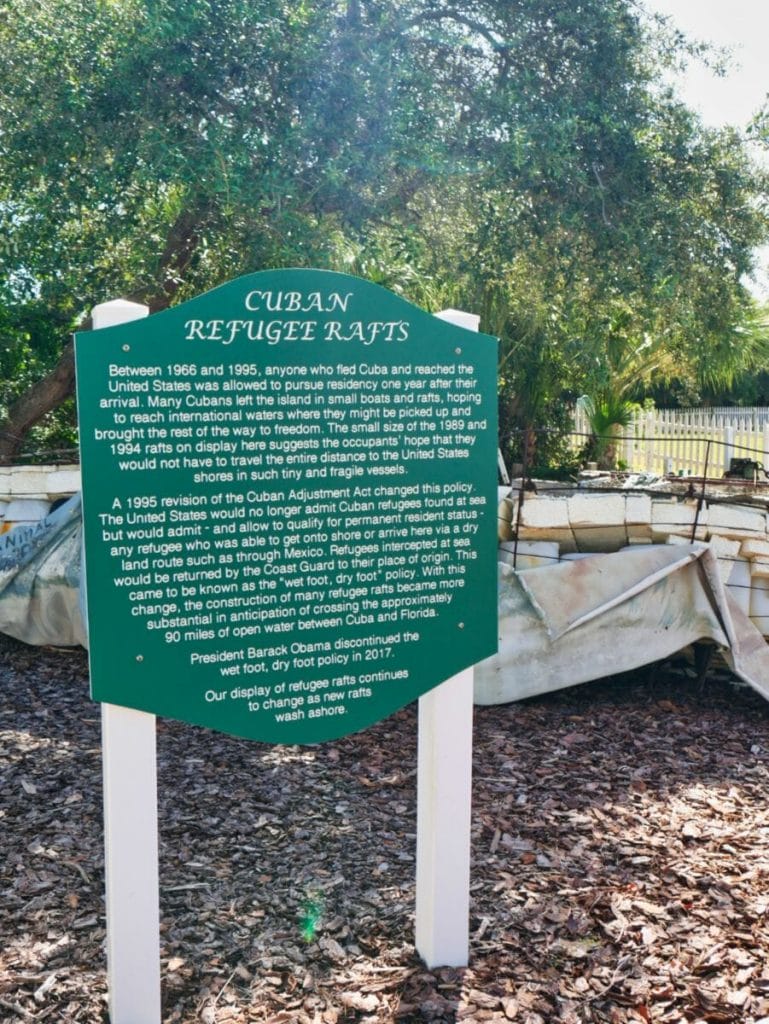 There are also some beautiful plant gardens.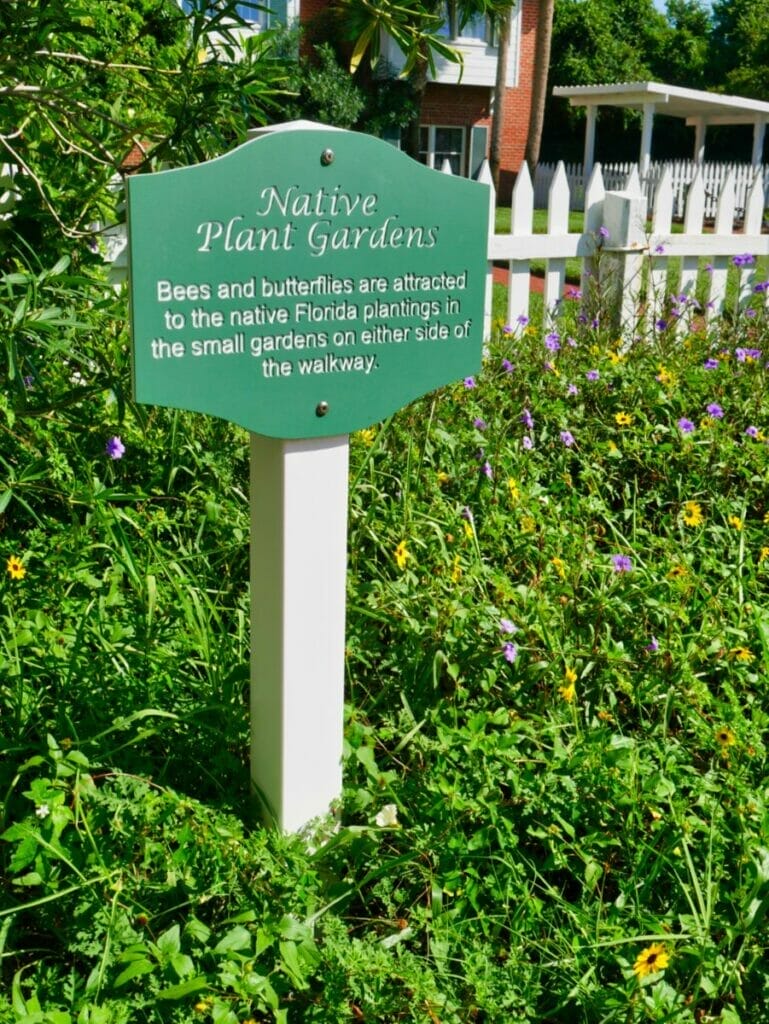 And finally, on your way out, a fantastic gift shop with plenty of lighthouse themed and nautical themed options!
What to See Nearby
If you're planning a trip to Ponce Inlet Lighthouse, there are a couple of surrounding experiences to check out!
Marine Science Center – this is literally just a 5 or so minute walk around the corner, and is a great resource for anyone interested in marine conservation efforts. Check out their turtle hospital and their aquariums.
Ponce Inlet beach – the beach in Ponce Inlet is known for its amazing surf conditions, and it feels much more natural and real-Florida than some of the surrounding beaches with high rises everywhere.
Museum of Arts and Sciences – about a 25 minute drive away, north to Daytona, is the Museum of Arts and Sciences which is a fantastic museum with Coca-coca memorabilia, historic American furniture, Chinese art, a planetarium, and more!
Cici and Hyatt Brown Museum – in the same complex as the Museum of Arts and Sciences, this art museum has the largest collection of art depicting Florida in the world!
Get the All-American Travel Secrets!
Don't miss out on America's hidden gems!