In the past couple of years, Animal Kingdom has seen more and more Christmas decorations, though traditionally this hasn't been the park you think of when you think "Christmas at Disney."
However, that has all changed, with a ton of Christmas overlays now coming to Animal Kingdom that make Christmas at Animal Kingdom and Christmas Day at Animal Kingdom an event not to miss.
Overall, I think Animal Kingdom also does a fantastic job of a present, but not overwhelming Christmas season.
You'll definitely feel in the holiday spirit with everything on offer, including snacks and treats at the best restaurants at Animal Kingdom, but it's not quite as in your face as other parks like, say, Hollywood Studios.
It's a nice contrast and really shows how Disney is committed to providing something for everyone.
If you do want to find out more about the other parks at Disney at Christmas, you can find our guides to Magic Kingdom at Christmas, Hollywood Studios at Christmas, and Christmas at Epcot.
We've also got a great guide on the Disney Springs Christmas Tree Trail and what to do at the Grand Floridian at Christmas!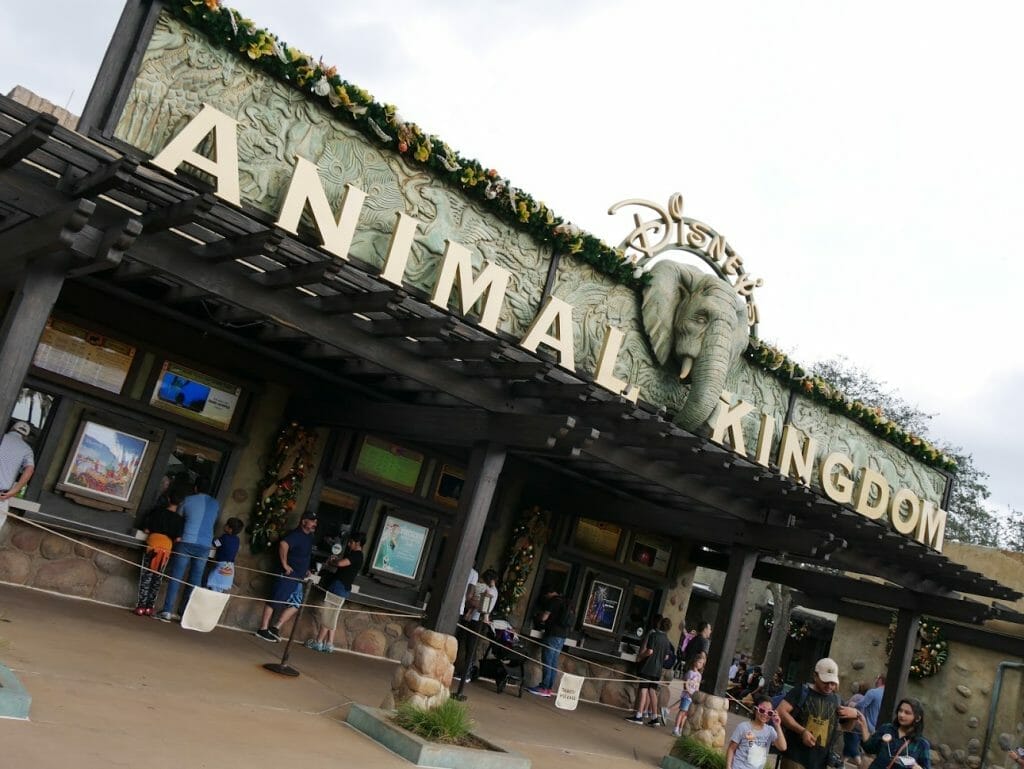 Want insider Disney tips from an expert?
Join 4,000 others in weekly guides to Disney's hidden secrets, gems, and money-saving tips!
Pssst – this printable Disney scavenger hunt is amazing
Since you're already looking up Disney guides, I just wanted to make sure you knew about this printable Disney World scavenger hunt created by a lifelong Orlando native and Disney World fan.
There are over 60 challenges with a full answer key and both Family and Grown Up versions and a bonus Disney Springs hunt for your non-park day!
What to Wear to Animal Kingdom at Christmas
It's alway super fun to get in the holiday spirit at Disney, and I've picked out these Christmas shirts that tie in with Animal Kingdom fun.
For instance, you could try this Stitch Christmas shirt that makes you wonder if he should be on the naughty or nice list or try this Bambi and candy cane Christmas shirt.
Throw on some Christmas antlers and you're good to go!
Also, this Animal Kingdom Christmas shirt is a must-see.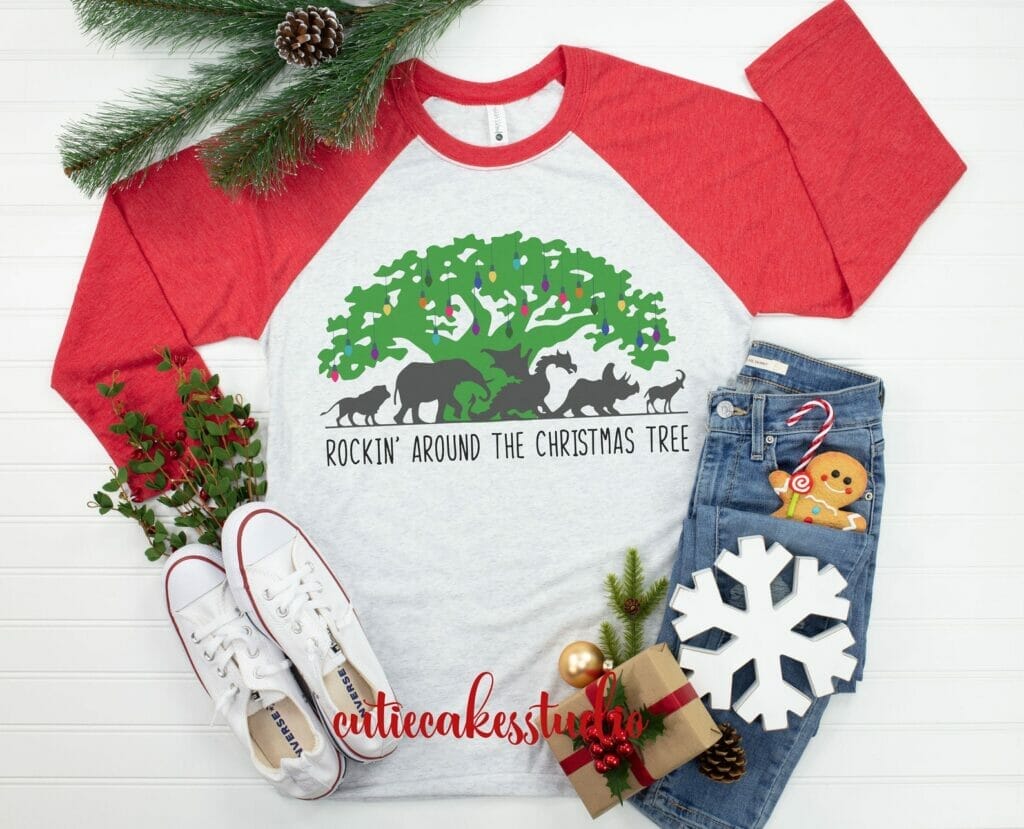 Christmas Decorations at Animal Kingdom
Animal Kingdom is comprised of a few "made-up" lands like Dinoland and Discovery Island, and other more representative lands like Africa and Asia.
As many countries that are represented at Animal Kingdom have their own holiday celebrations other than Christmas, you'll find a more multi-cultural Christmas event at Animal Kingdom.
It's not all drummer boys and tinsel, but tributes to holidays like Diwali and other festive winter events.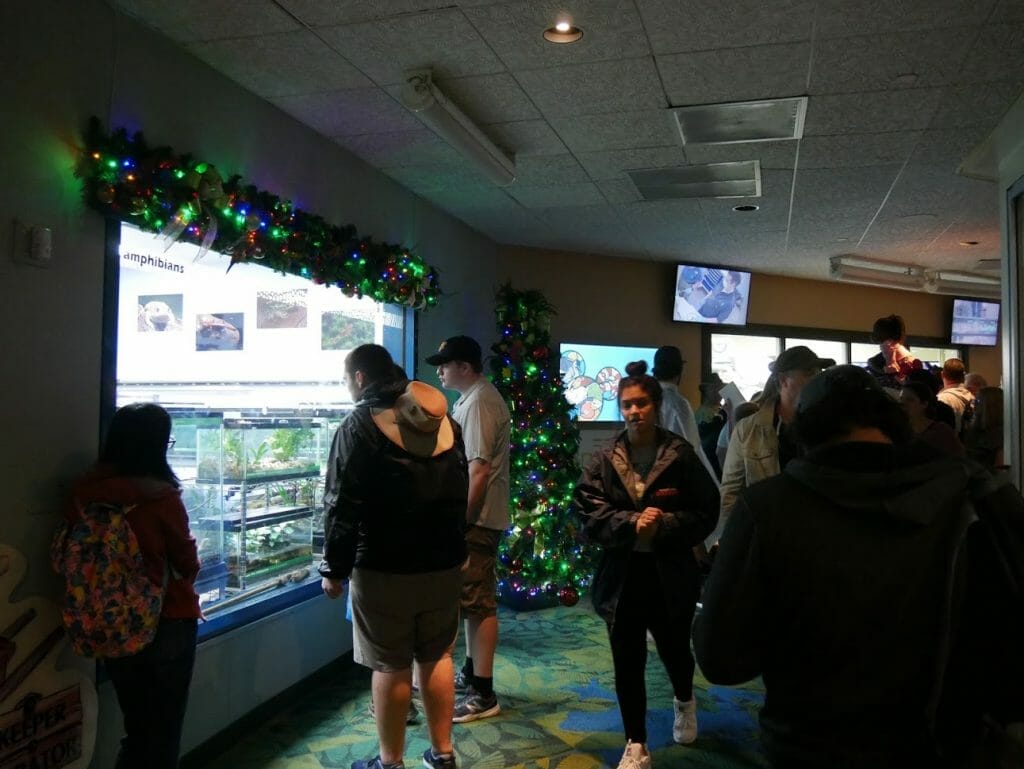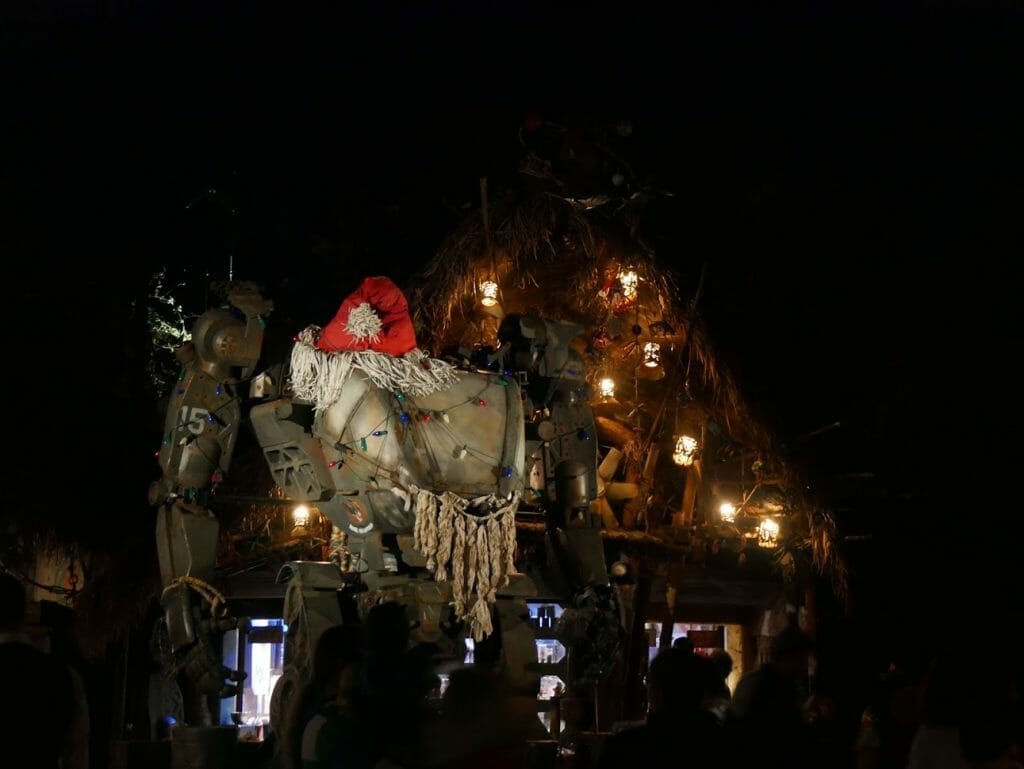 That being said, there is a massive Animal Kingdom Christmas tree that sits outside Animal Kingdom park, before you get to the turnstiles, and this tree is decorated with ornaments that represent the park, including the beloved animals and the countries they call home.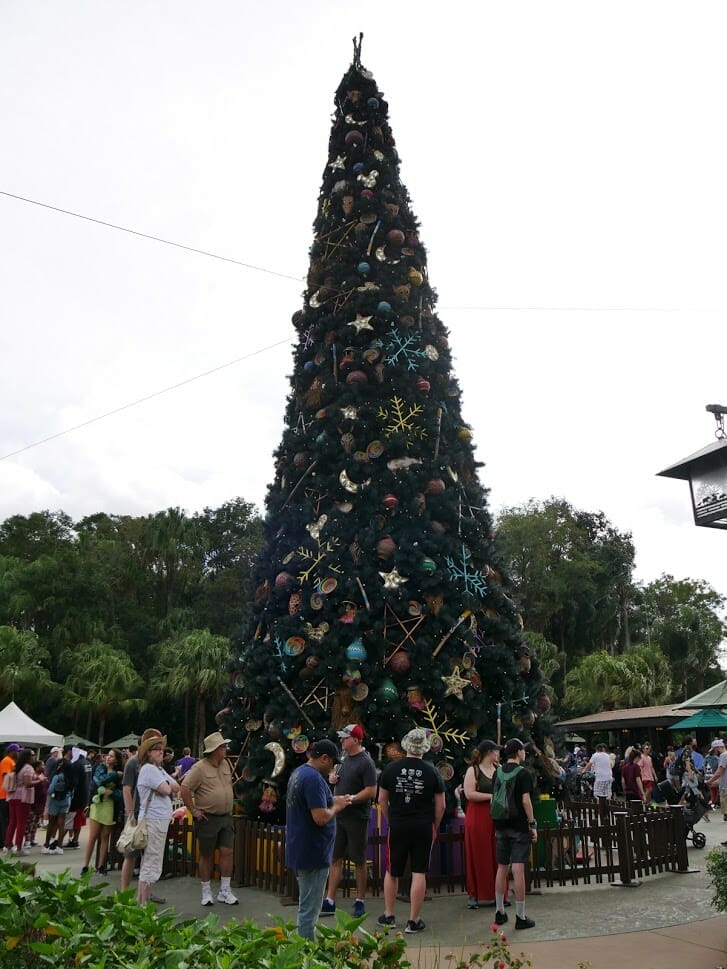 As you walk into the park, you'll notice Christmas themed decorations in the entrance, usually wreaths and green garlands, keeping with a natural feel.
The first land, Discovery Island, will be one of the most decked out for Christmas at Animal Kingdom, as it will have holiday luminaries, hand-crafted decorations, and more.
This is to help celebrate winter, more generally, and you'll find lots of animal-inspired decor.
Animal Kingdom during Christmas also has a few jokes up its sleeve!
Head over to Dinoland and you'll find unique Christmas decorations that are a bit kitschy, on purpose.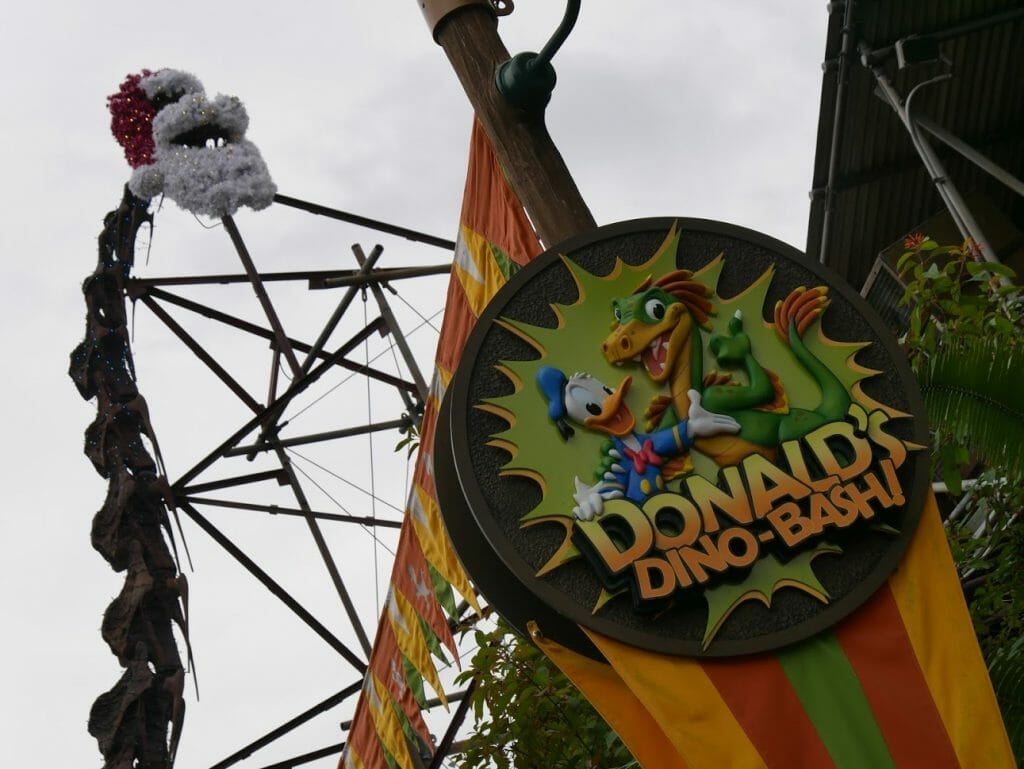 This land will be celebrating Christmas in other ways, but I just love the unique holiday-inspired decorations they've got over here, including dinosaurs dressed up like Santa!
As you walk through Asia, you'll notice that it's decorated for Diwali, a festival of light in Asia.
This means lots of glowing lanterns and other sculpted items like flowers and animals.
It really brings a shine to this part of Animal Kingdom Park around the holidays, and makes it even more beautiful than it already is (if that's even possible).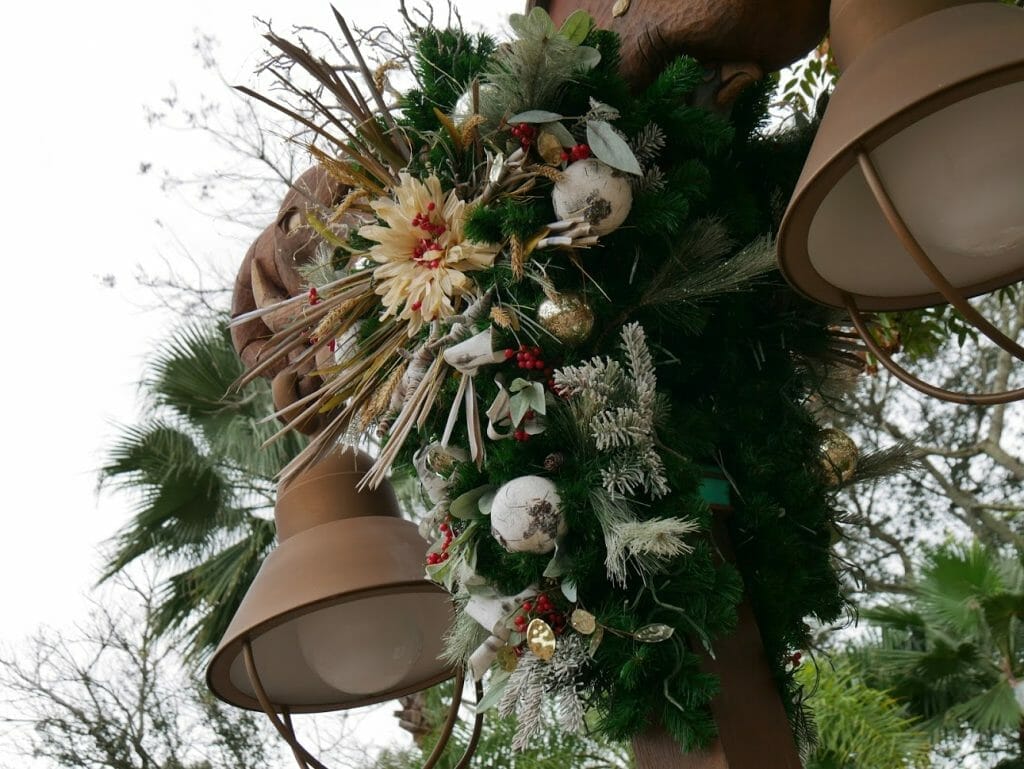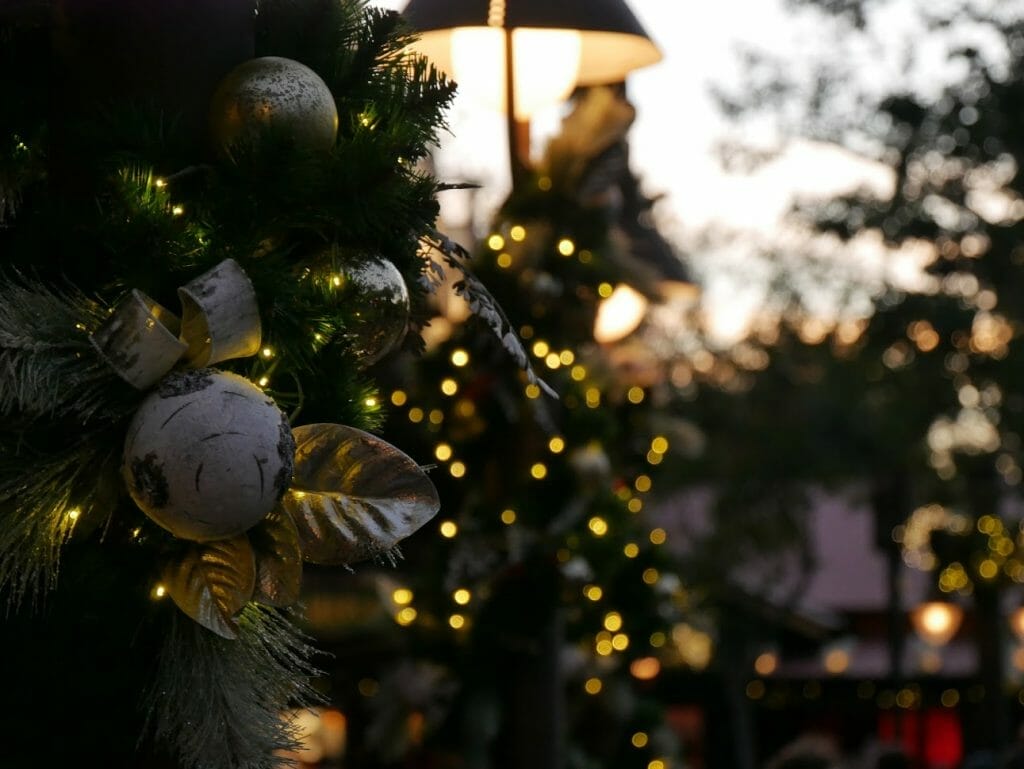 Africa also has its own decorations, which celebrate traditional African celebrations around the holidays.
Again, these are more natural decorations with earth-tones and handcrafted items.
Finally, in Pandora, the World of Avatar, you're not going to have holiday lights and wreaths ruining the theming and ambiance, but you will notice in Pongu Pongu that the residents of Pandora have created their own holiday decorations to add a little festive cheer to the place.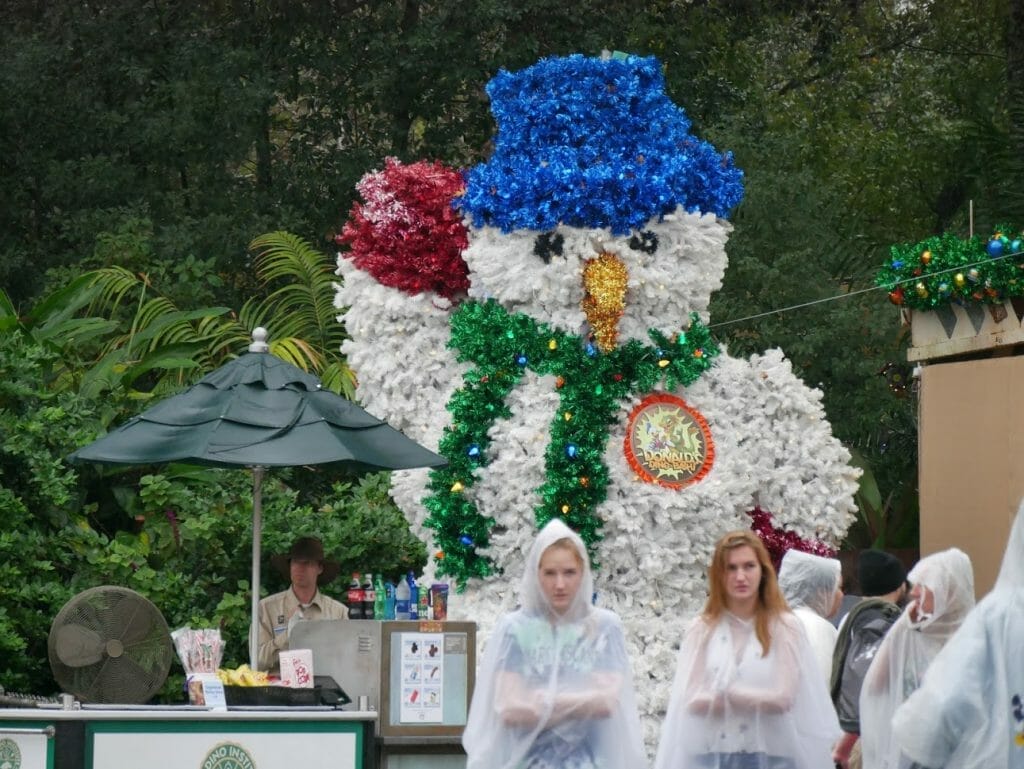 Christmas Rides at Animal Kingdom
In general, the rides at Animal Kingdom aren't ones to really be changed for Christmas or have Christmas overlays, as it wouldn't fit with the ride or would ruin the authentic feel.
You may spot some extra Christmas decorations in the queues of these rides, but you aren't going to find the elephants on the safari wearing Christmas hats.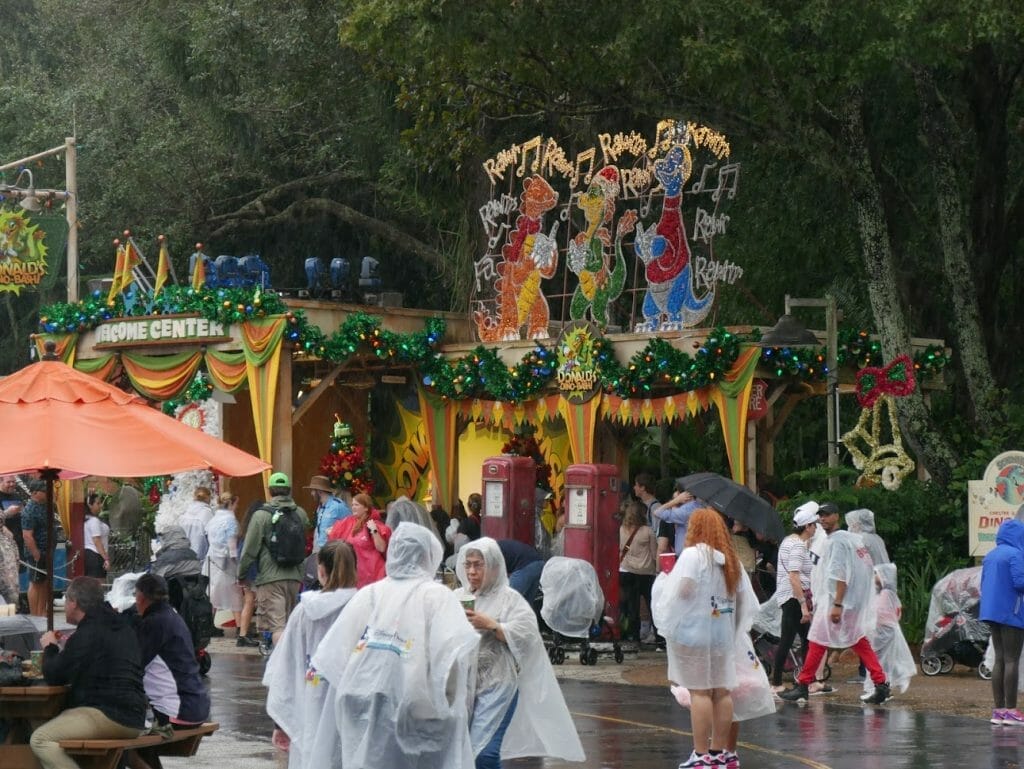 Christmas Shows at Animal Kingdom
When it comes to the holidays, Animal Kingdom shines with its Christmas shows.
For example, you have UP! A Great Bird Adventure in Asia that incorporates the celebration of Diwali into its Christmas show, which is a great way to learn more about this holiday.
Then, you've got the street entertainment, which is perhaps the most exciting.
For example, new in 2019, as you walk down Discovery Island, you may very well come into contact with some beautiful animal and winter-themed puppets accompanied by live music.
Similar to how "Kevin" from UP has been roaming around the park and interacting with guests, these puppets (and the humans attached) will be creating a joyful atmosphere as you start your day in the parks and you'll get to get up close and personal with some of Disney's most beautifully imagineered puppets.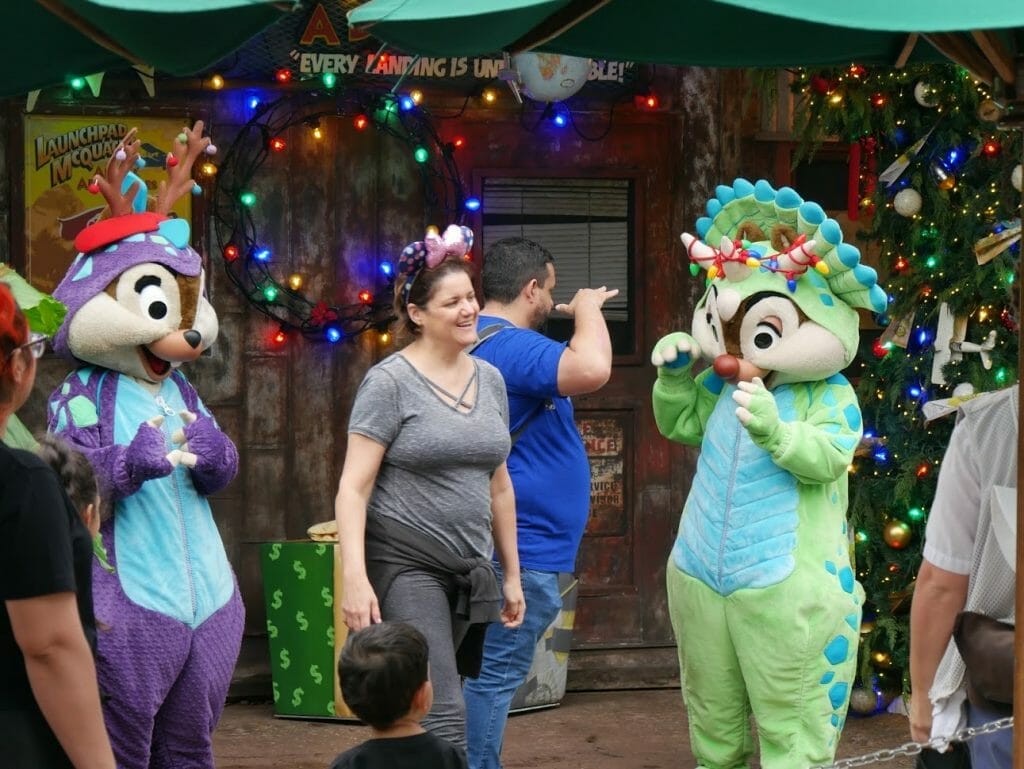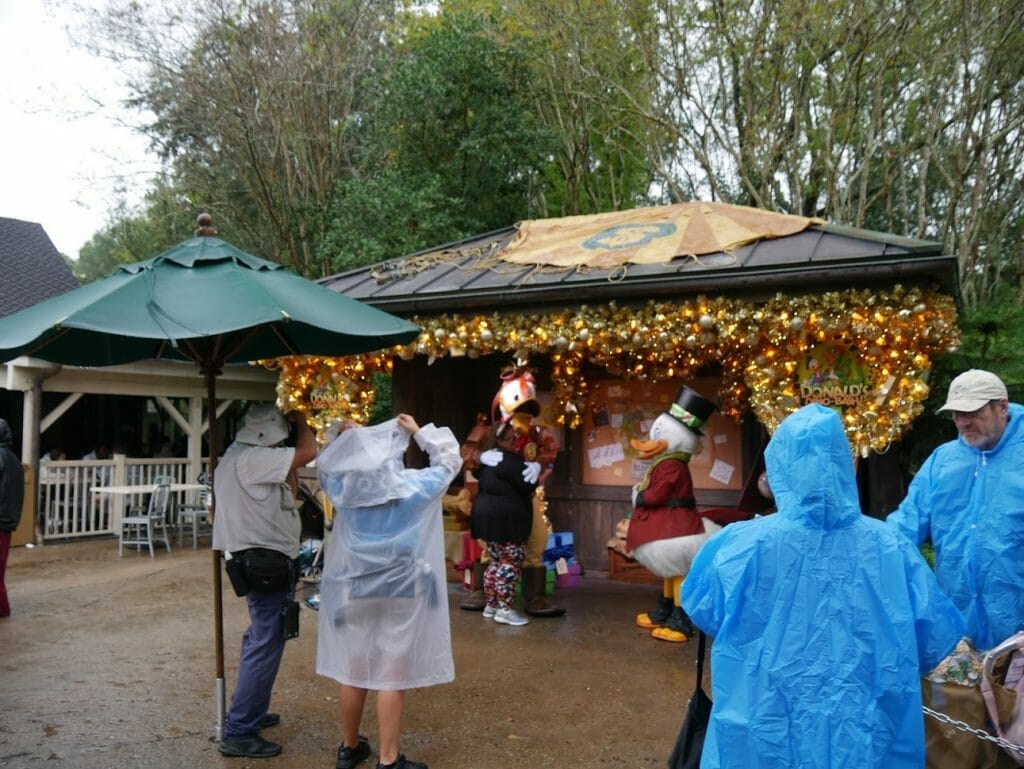 In Dinoland, Chip and Dale host their ever-present dance party, but in the spirit of the holidays, it's now the "Holiday Hoopla Dance Party" complete with holiday music and costumes.
This is a big hit with the little kids who can get some great character interaction in a land that feels like it was made just for them.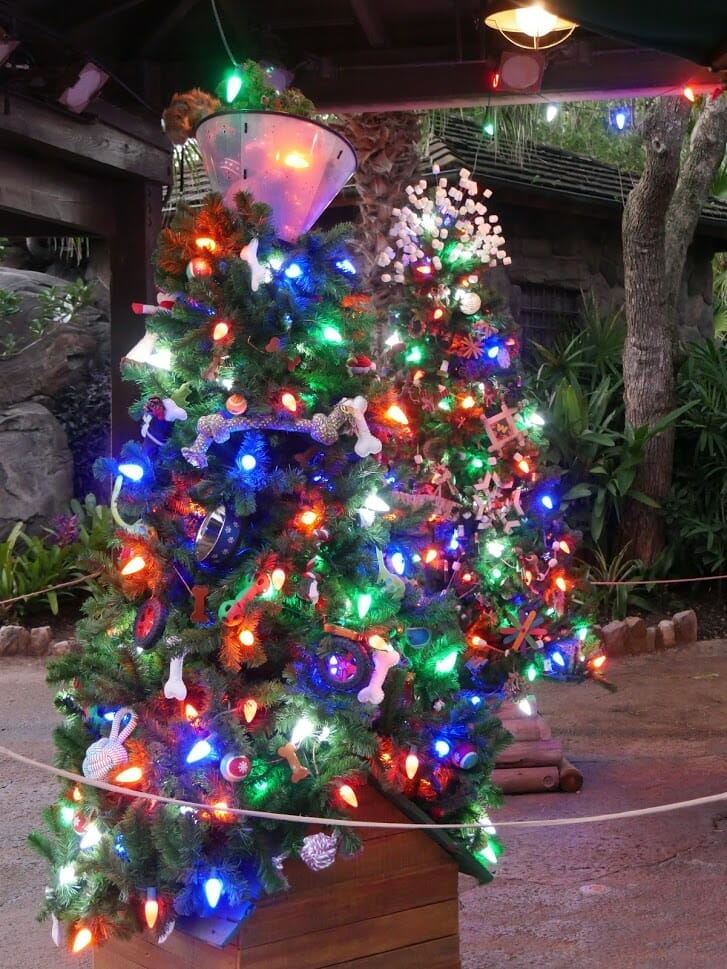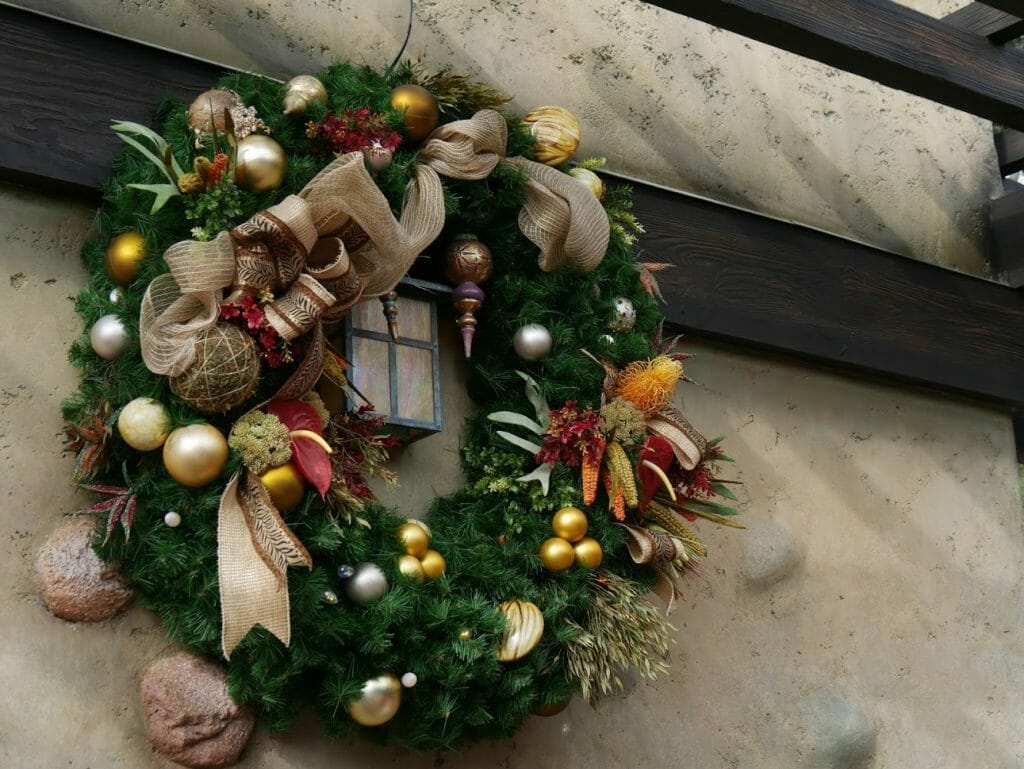 In Africa, you'll also have live holiday entertainment in Harambe as Disney performers put on a combination of a holiday and African traditions show, blending different parts of each culture to present an Animal Kingdom original.
These performances are consistently amazing, engaging the audience and providing something to watch and enjoy while you're sitting and taking a break in between other shows or rides.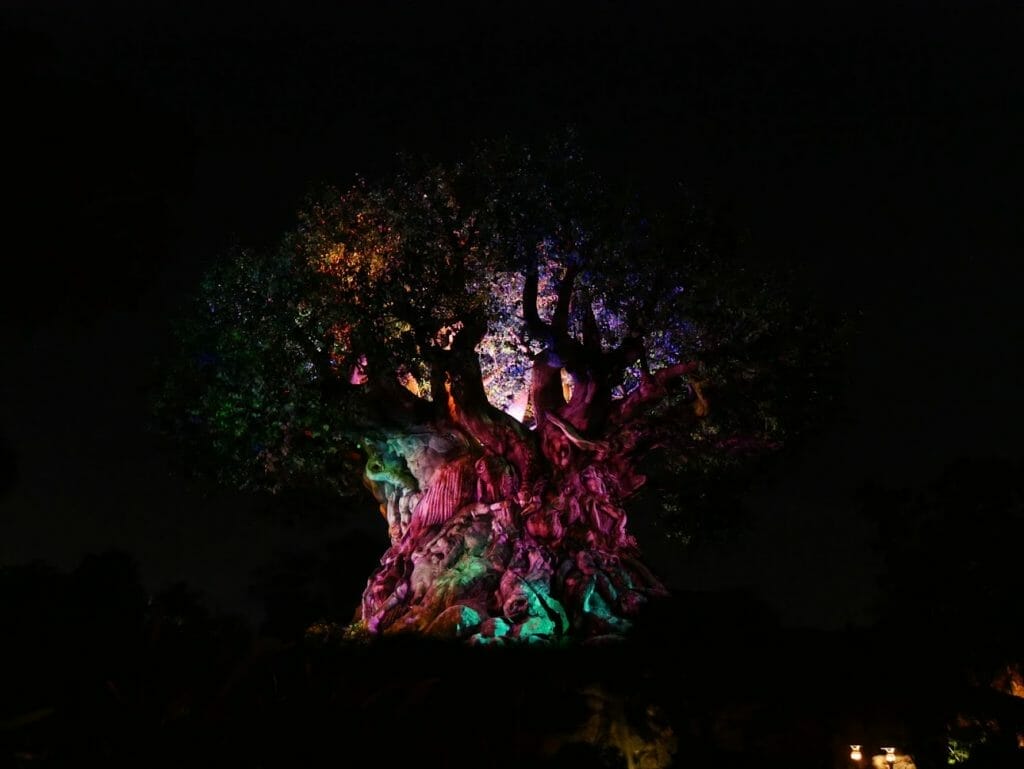 Finally, to end the night, the Tree of Life Awakenings show on the Tree of Life (projection based) is going to have a holiday twist and feature classic holiday tales and stories.
Projections seem to be all the rage at Disney World these days, but for good reason.
It's a beautiful way to bring something extra to the Tree of Life, and the holiday-inspired nighttime show is sure to put you in the holiday spirit.
Animal Kingdom at Christmas is also an amazing park to explore if you go to Disney by yourself as you can really take the time to soak in all of the atmosphere.
The main nighttime show, Rivers of Light, remains the same show with its gorgeous soundtrack and water-based glowing entertainment.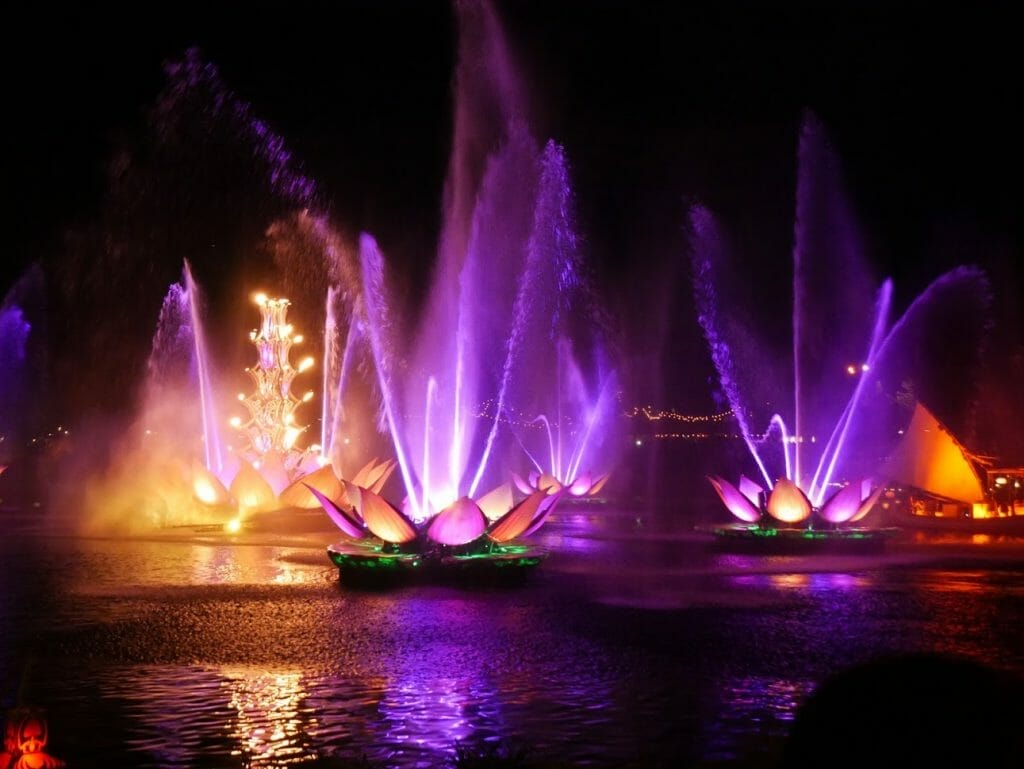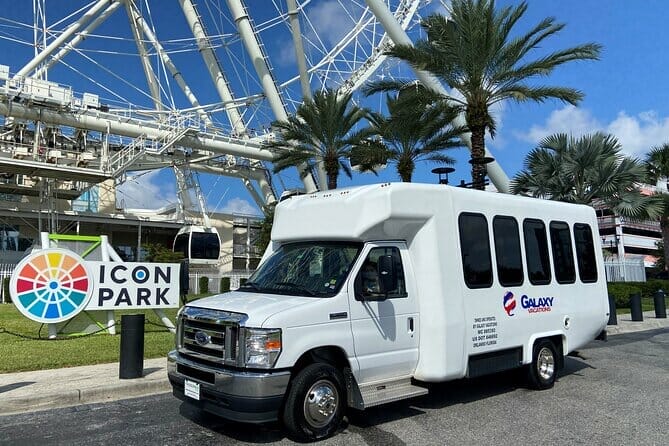 🚌Not renting a car in Orlando?
My favorite shuttle to get from the Orlando airport directly to Disney World is this one with a ⭐⭐⭐⭐⭐ rating.
Animal Kingdom's Characters at Christmas
What Disney character wouldn't want to dress up in their holiday best?
At Disney's Animal Kingdom's Christmas, you can meet Mickey and Minnie at the Adventure Outpost wearing their Christmas outfits, and Chip and Dale in Dinoland will also have holiday inspired outfits for their dance party.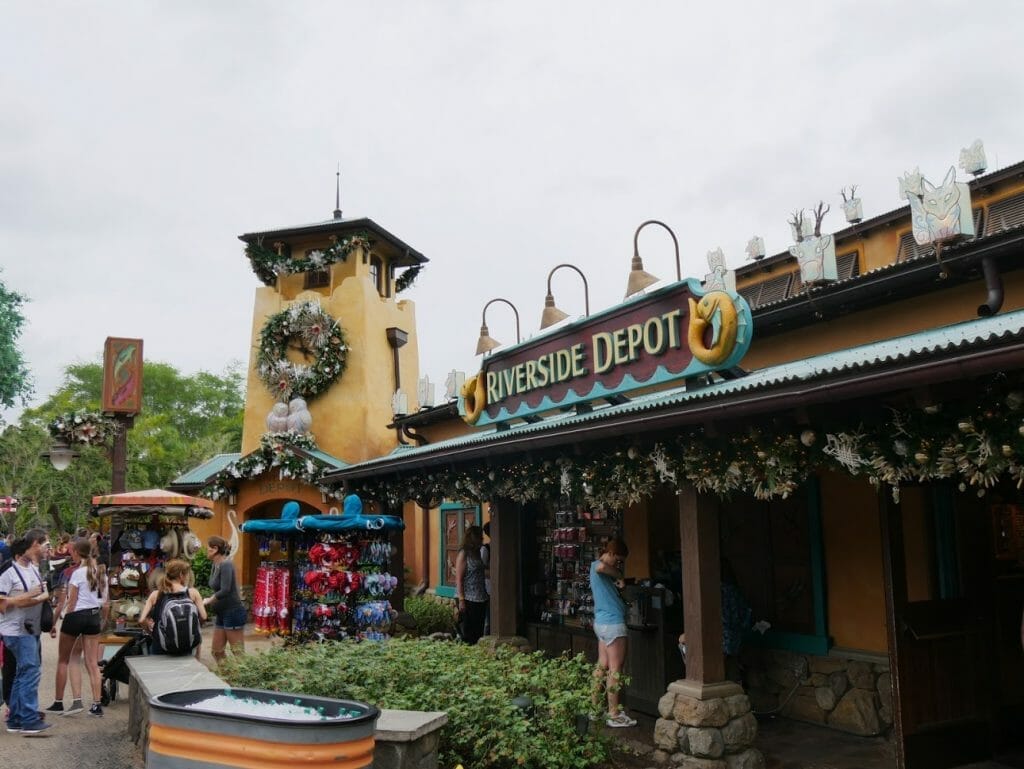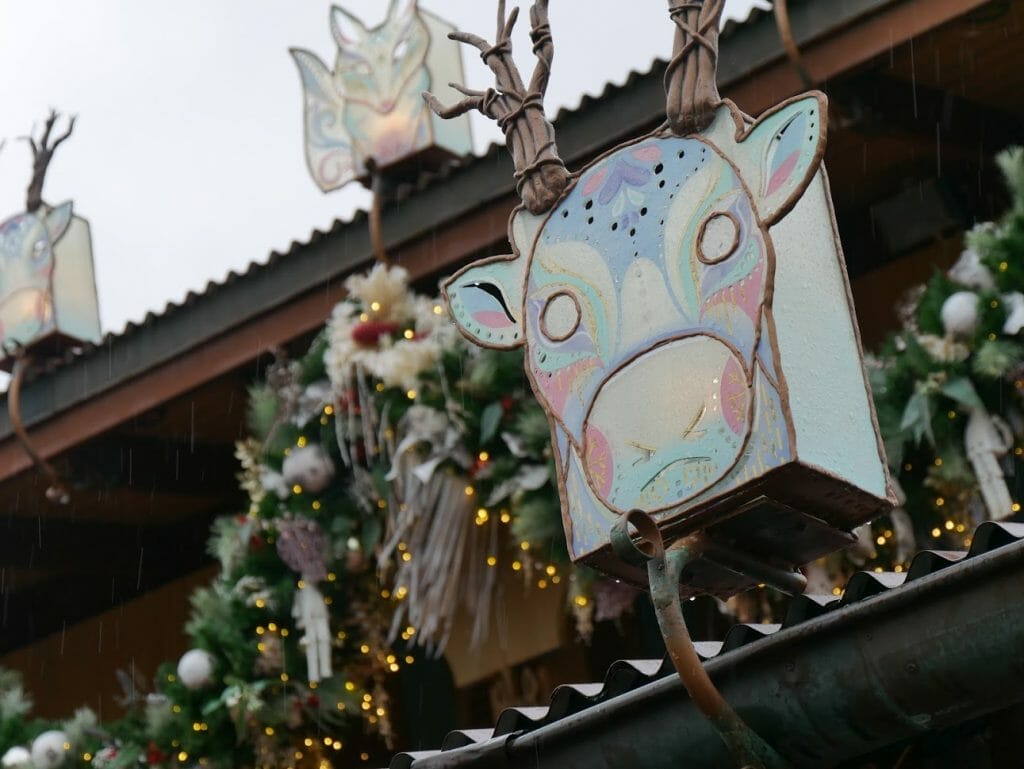 Christmas-Themed Dining at Animal Kingdom
Again, Animal Kingdom has a fine line to walk with Christmas celebrations as there are many restaurants where over-the-top Christmas overlays just wouldn't work and would detract from the authenticity and natural beauty of the restaurant.
However, Tusker House, the sit-down buffet, is getting a Christmas overlay and so you'll find holiday decorations and characters dressed up in their holiday outfits.
This is a nice option for people who want the Christmas-inspired everything, while others can stay dining at places like Yak and Yeti and Tiffins for much more subtle holiday decorations, if any.
All table service dining at Animal Kingdom does book up quickly during the peak Christmas weeks, though, so make sure to use this guide on how to make hard-to-get Disney dining reservations to make sure you get a booking.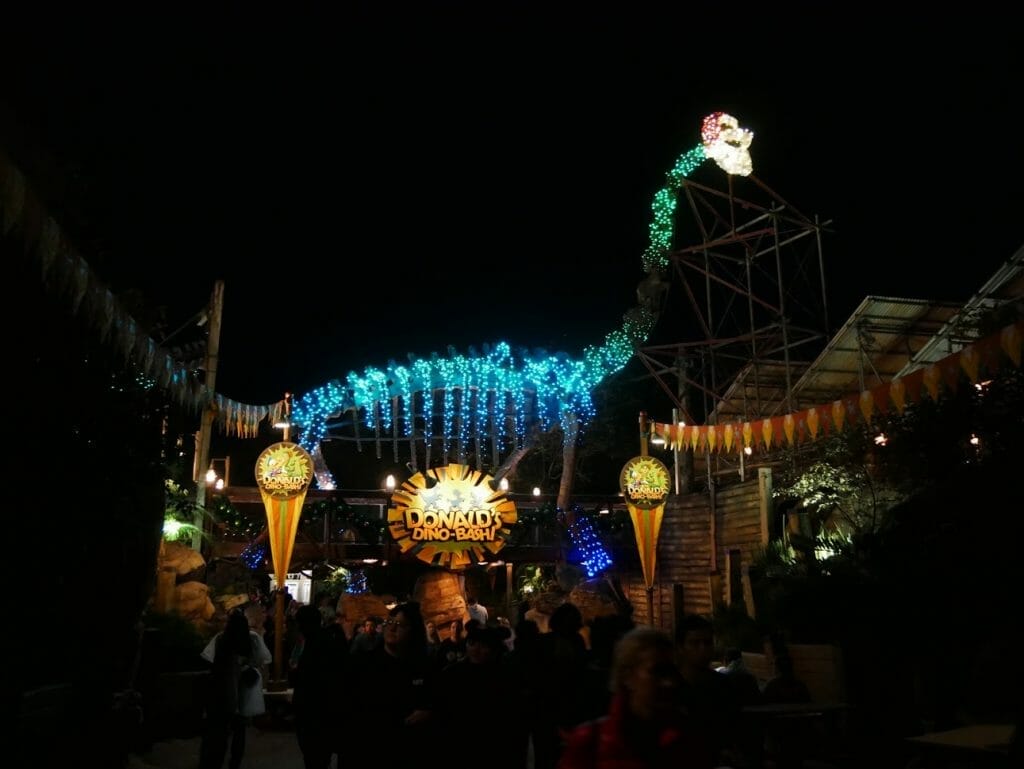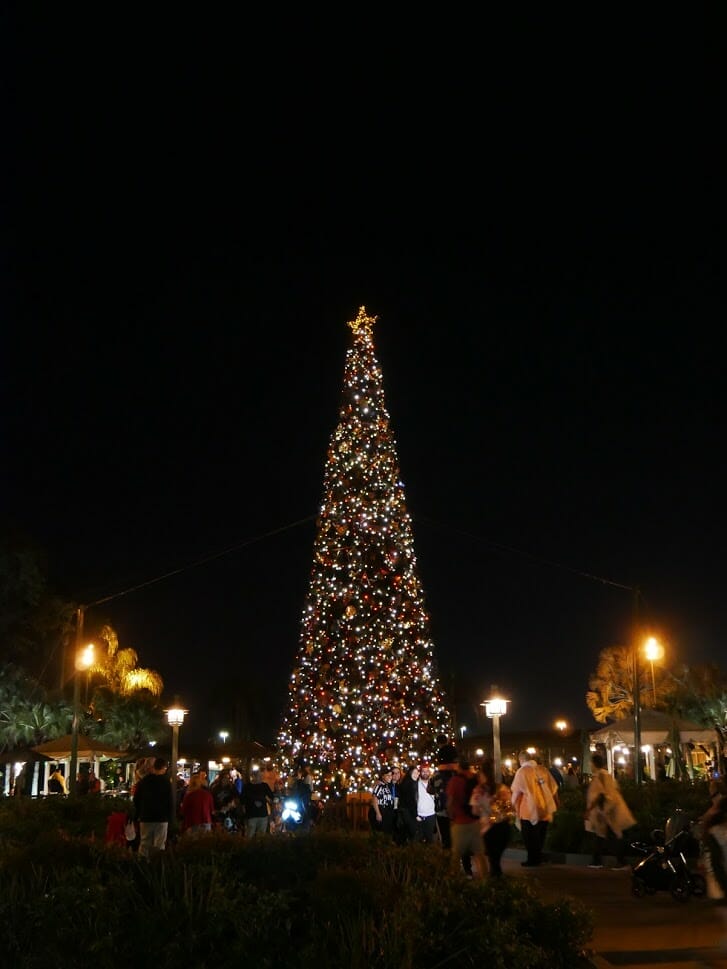 Get the All-American Travel Secrets!
Don't miss out on America's hidden gems!