When Halloween is done and it's time to deck the halls, one of the best parks to visit at Disney World is Epcot for Christmas.
Every holiday season, Epcot begins celebrating the "Festival of the Holidays," where each country pavilion is transformed into its holiday best and the authentic Christmas snacks and treats come out in full force (especially at the best Epcot restaurants).
Read on for the full guide to what to expect at Epcot at Christmas, complete with gorgeous festive photos we've taken from inside the park.
If you're interested in visiting other park at Christmas, check out our resources on Magic Kingdom at Christmas, Animal Kingdom at Christmas, and Hollywood Studios at Christmas, as well as Christmas at Disney in general and things to do at the Grand Floridian at Christmas and the Disney Springs Christmas Tree trail.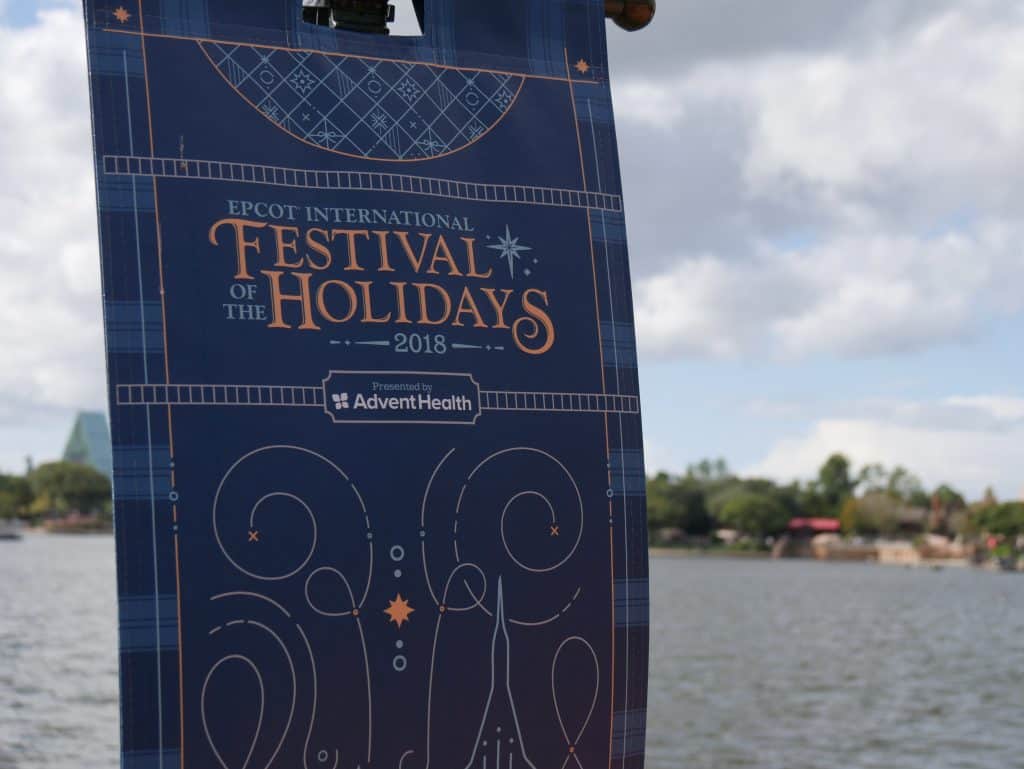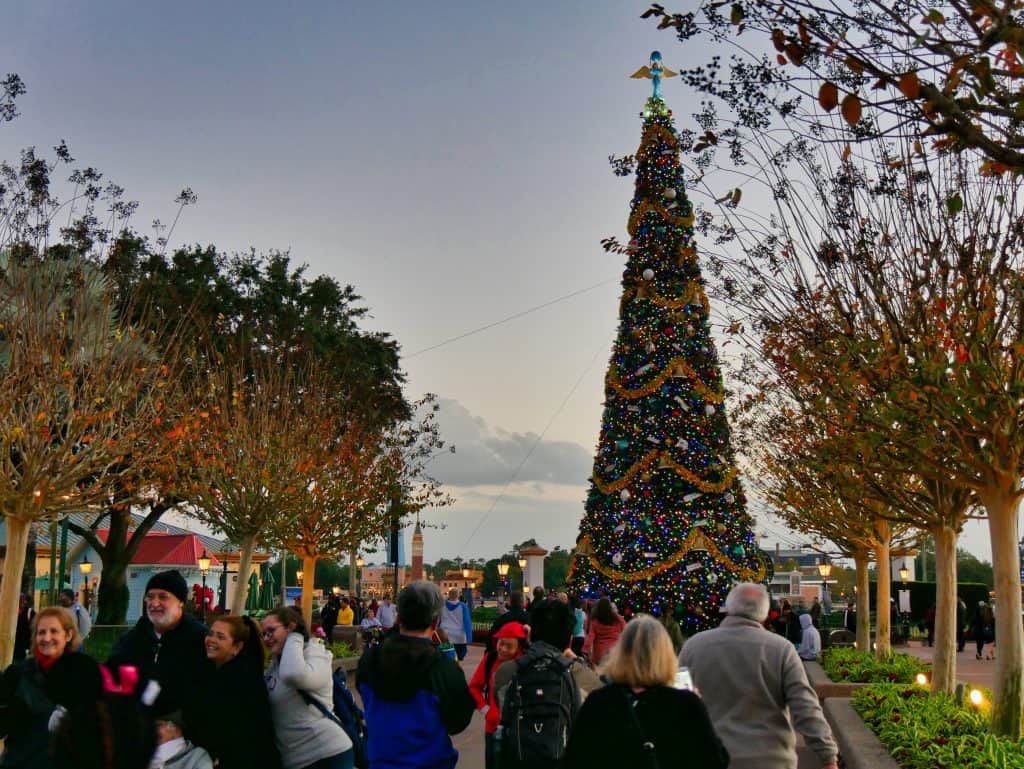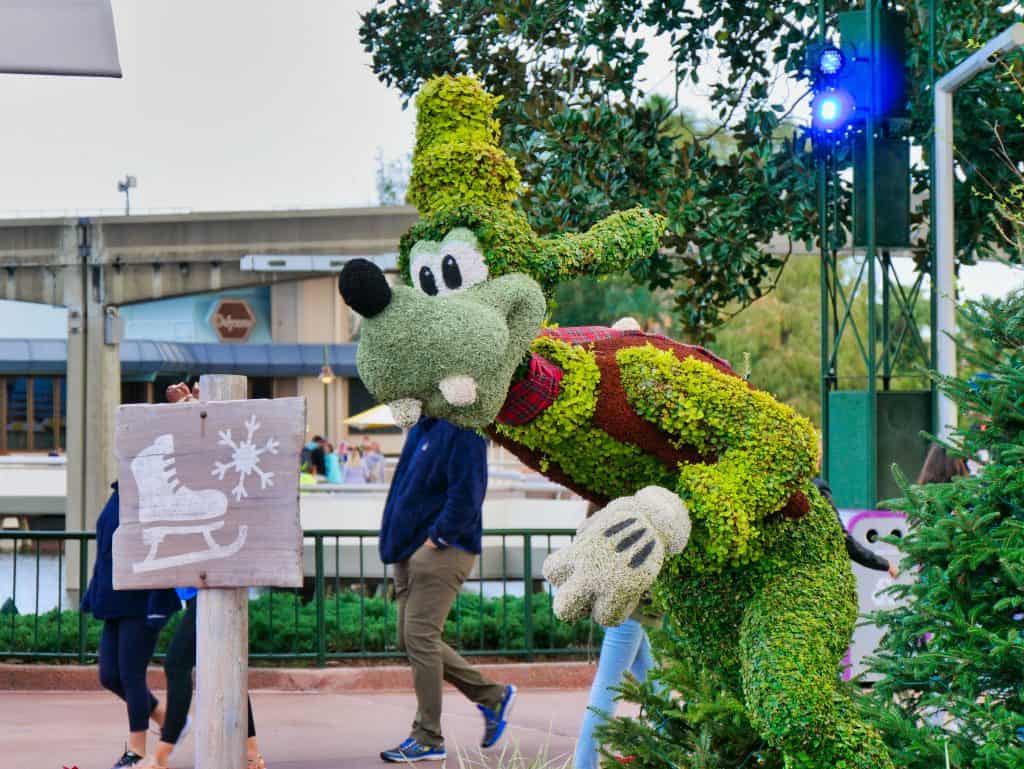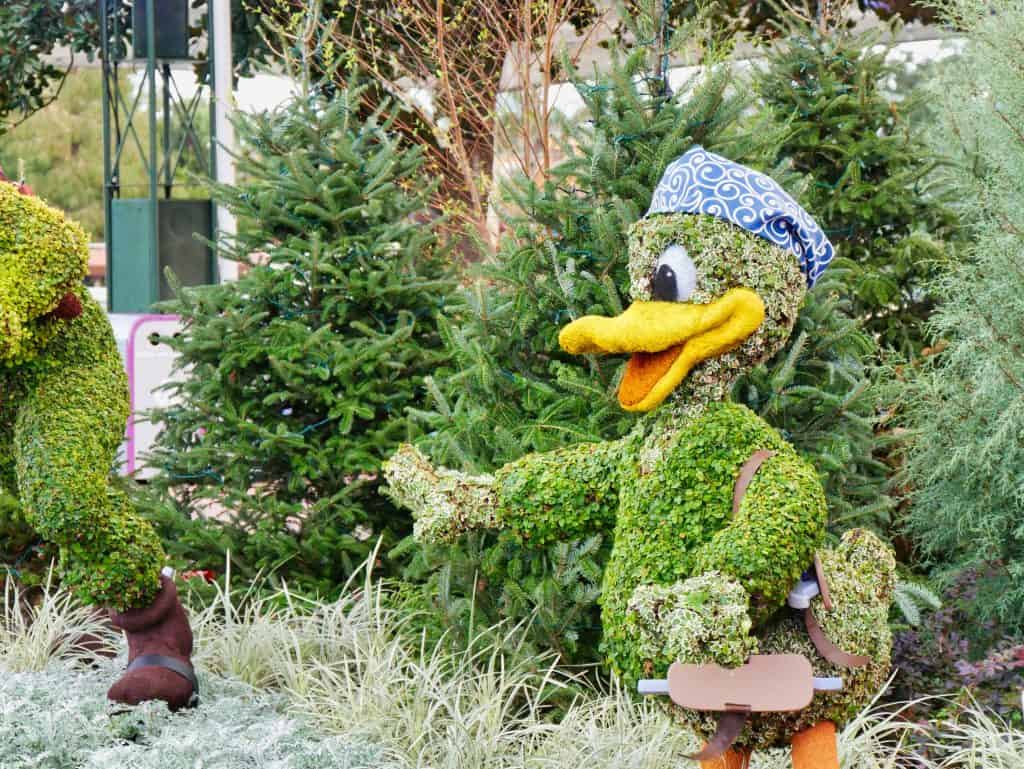 Want insider Disney tips from an expert?
Join 4,000 others in weekly guides to Disney's hidden secrets, gems, and money-saving tips!
Pssst – this printable Disney scavenger hunt is amazing
Since you're already looking up Disney guides, I just wanted to make sure you knew about this printable Disney World scavenger hunt created by a lifelong Orlando native and Disney World fan.
There are over 60 challenges with a full answer key and both Family and Grown Up versions and a bonus Disney Springs hunt for your non-park day!
What to Wear to Epcot at Christmas
It's always fun to come to Epcot at Christmas with some festive attire on.
Of course you can buy Christmas shirts from Disney itself, but there are plenty of options when it comes to buying ahead of time.
For example, this shirt of Minnie Mouse holding Christmas presents is a must-have.
Check out these cute "Ho Ho Ho" shirts featuring red, green, and Minnie Mouse.
And of course, if you need a Disney Christmas sweater for the colder weather, you can't go wrong with my favorite one.
These are also great Disney Christmas shirts for any park.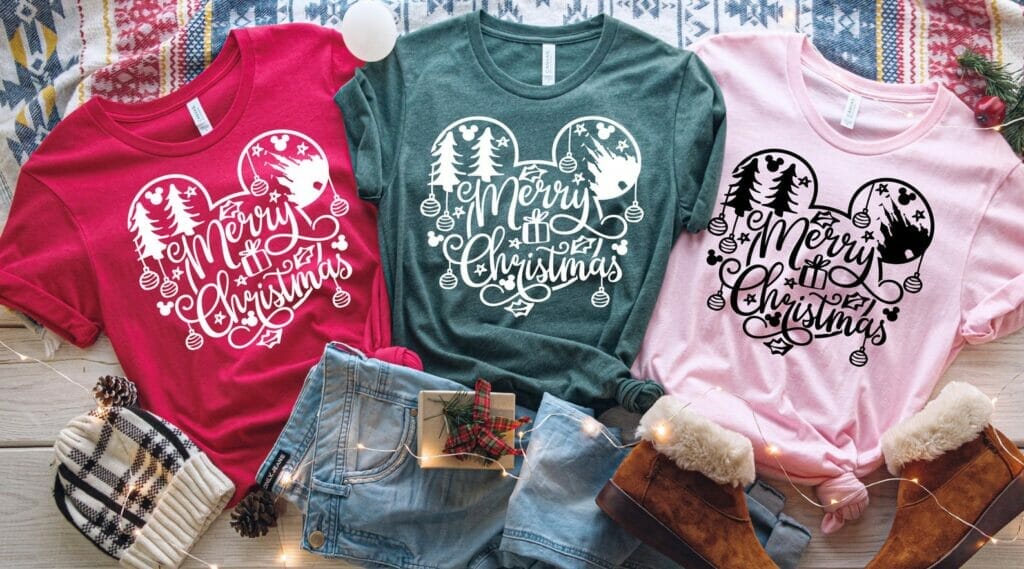 Christmas Decorations at Epcot
The Epcot Christmas decorations start as soon as you walk in in the planters in the front of the park.
Here, you'll find festive topiaries featuring some of your favorite characters celebrating Christmas and handing over presents, singing carols, and waiting for Santa to come.
Epcot's Future World isn't too decked out, usually, but this all changes when you get to the real draw of Christmas at Epcot: the World Showcase.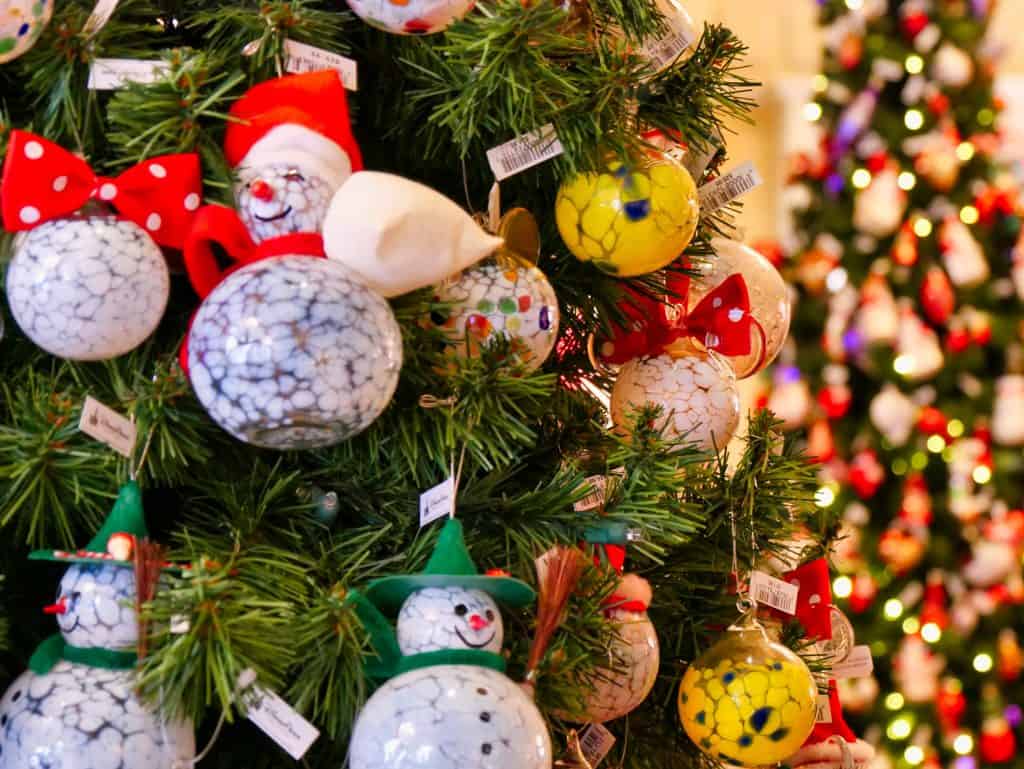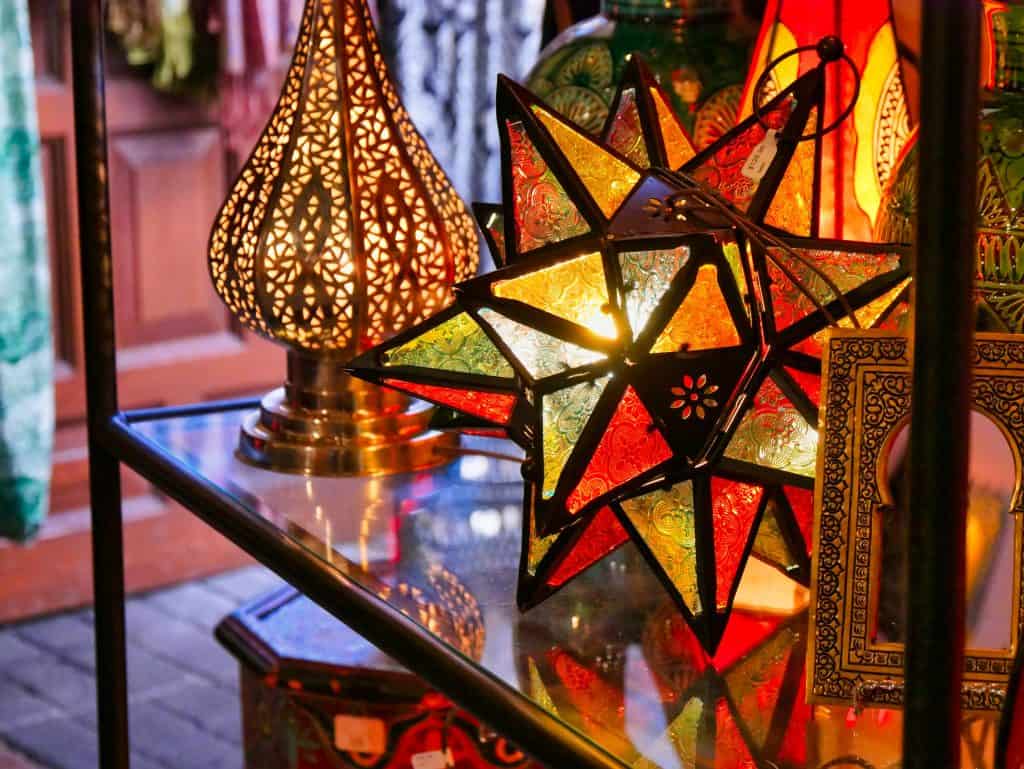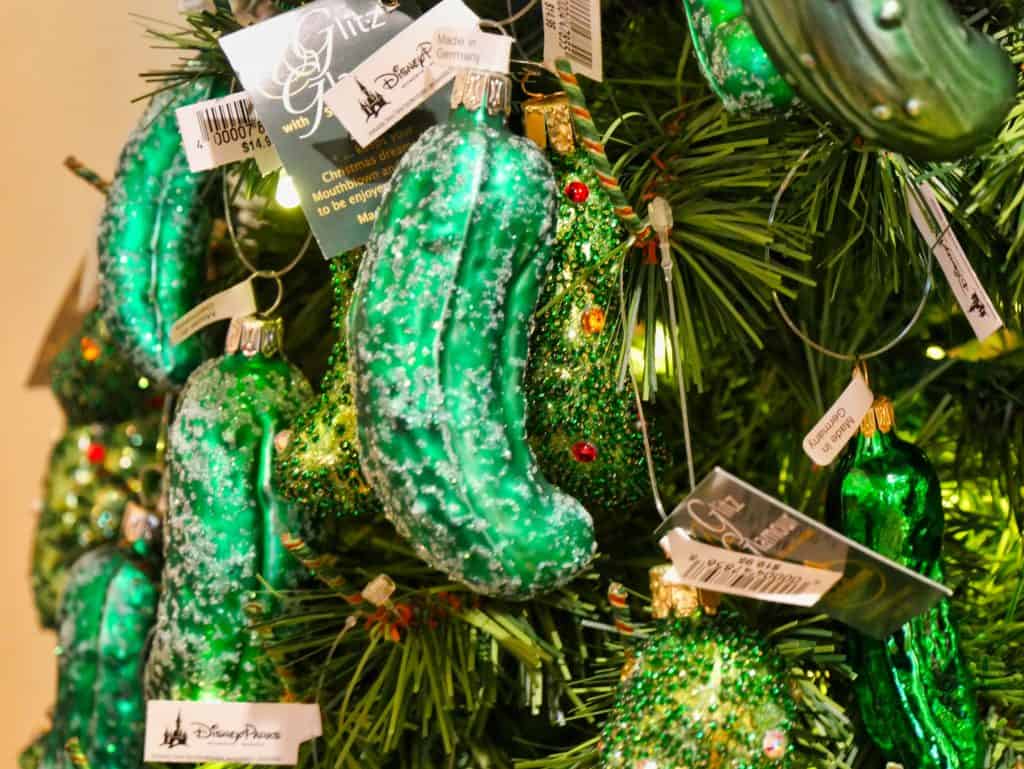 Christmas at the World Showcase
As you start making your way around the World Showcase, you should take one of the handy Festival of the Holiday guides which will show you exactly what entertainment is taking place in which pavilion and what festive treats you can try.
There is something happening in every country, from Father Christmas telling stories in the UK pavilion to a mariachi band singing Christmas tunes in Mexico.
In this Epcot at Christmas review, I'll take you around the World Showcase with us to see what's in store.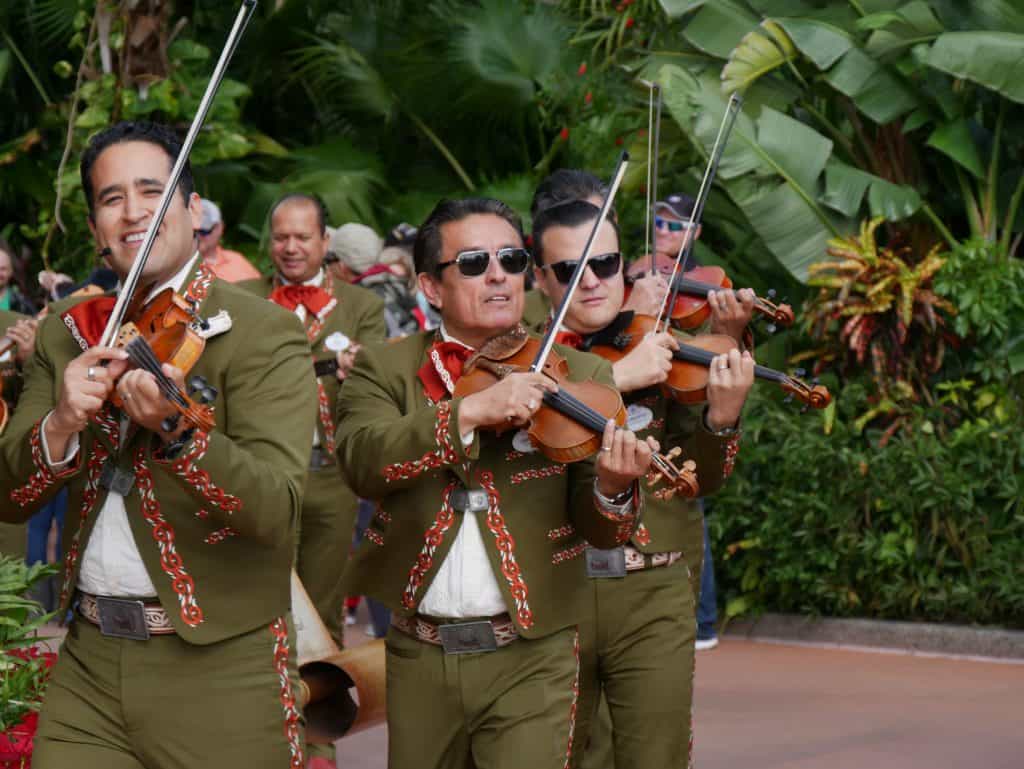 First, there's Mexico, where you'll find Christmas decorations in the interior of the Mexican temple amongst the classic Mexican colorful skulls.
Do some shopping for Christmas ornaments or take a ride on the Three Caballeros boat ride.
Outside, there are regularly scheduled performances from the festive mariachi band who sing Christmas songs like you've never heard them before, including some Spanish favorites like "Feliz Navidad"!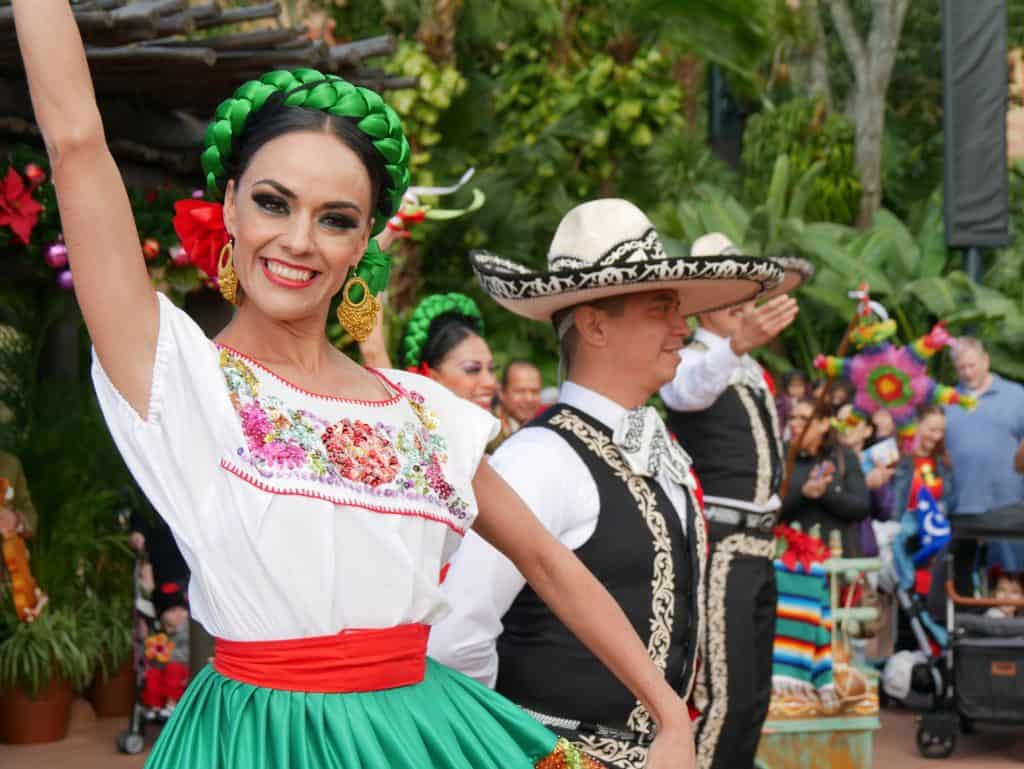 Then, head over to Norway which already seems in the Christmas spirit all year round due to the rustic wood and cozy atmosphere.
For Christmas, they decorate the outside of the pavilion with some gorgeous Christmas decorations, and then there are shows put on that tell the story of Norway's festive trouble-making gnome.
This is a cute, interactive experience that's great for kids.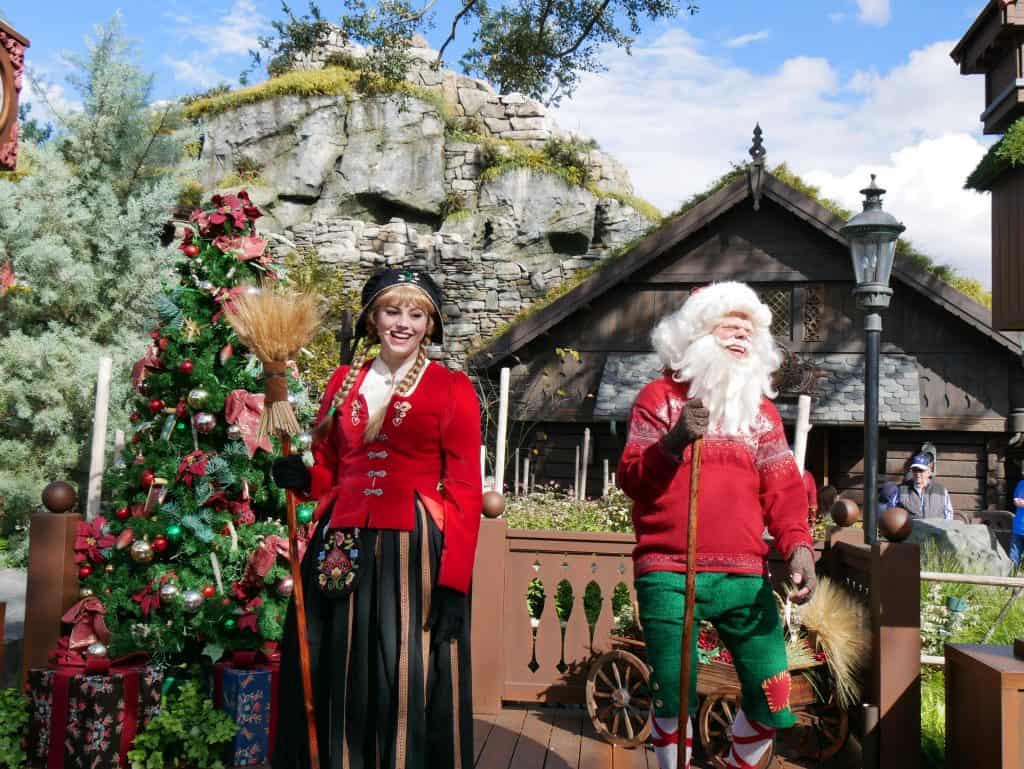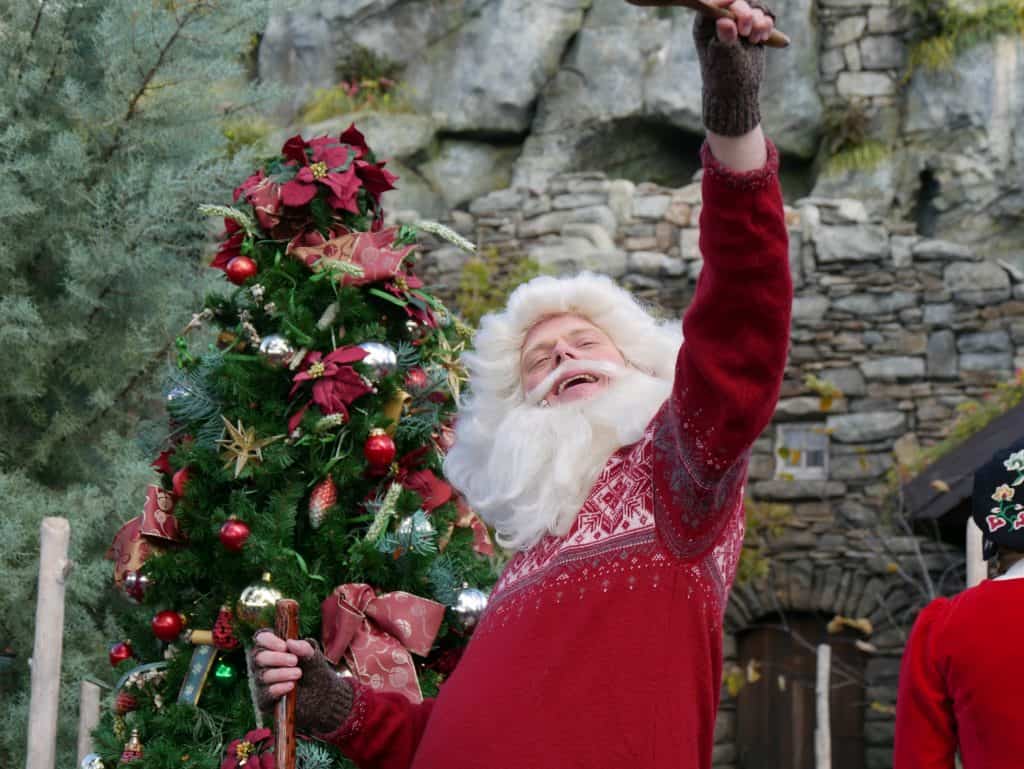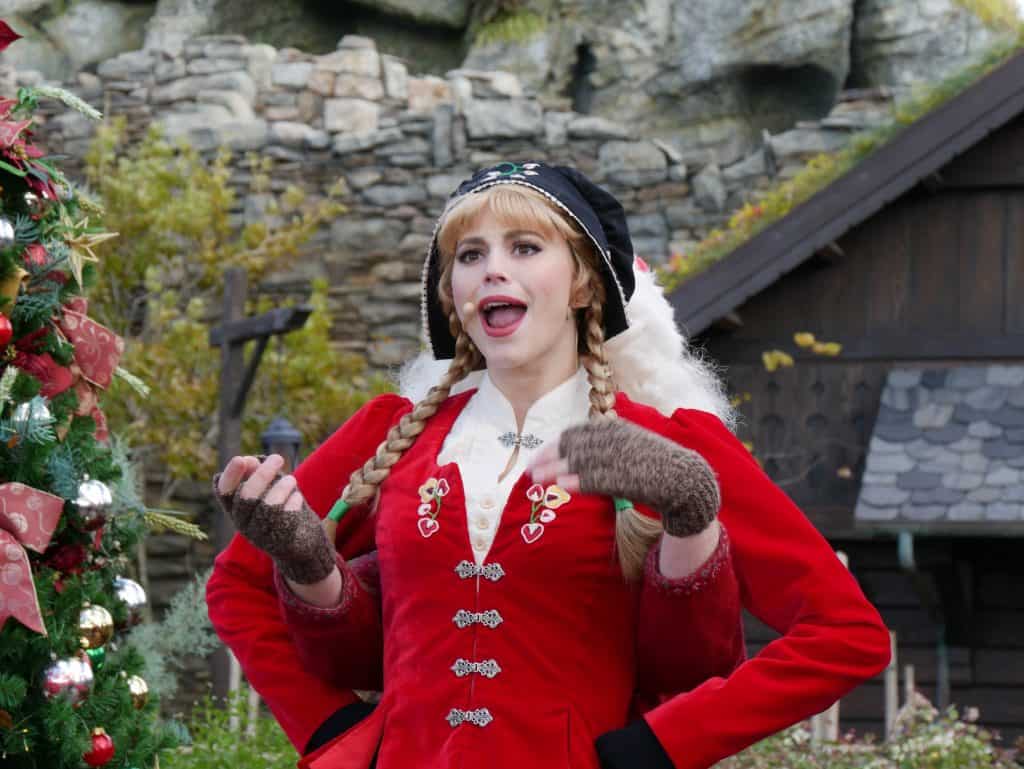 In China, you've usually got some dancers or storytellers telling the Chinese folktale of the Monkey King.
In keeping with the traditions of the country, China is not decorated for Christmas as such because most of the population doesn't celebrate it!
Move on to Germany, and you'll find lots of food and gift stalls (doesn't everyone love a German Christmas market?), as well as a live band playing Christmas favorites.
Also in Germany, you can learn the tale of the Christmas pickle and learn why German families hide a pickle ornament on the tree at Christmas time.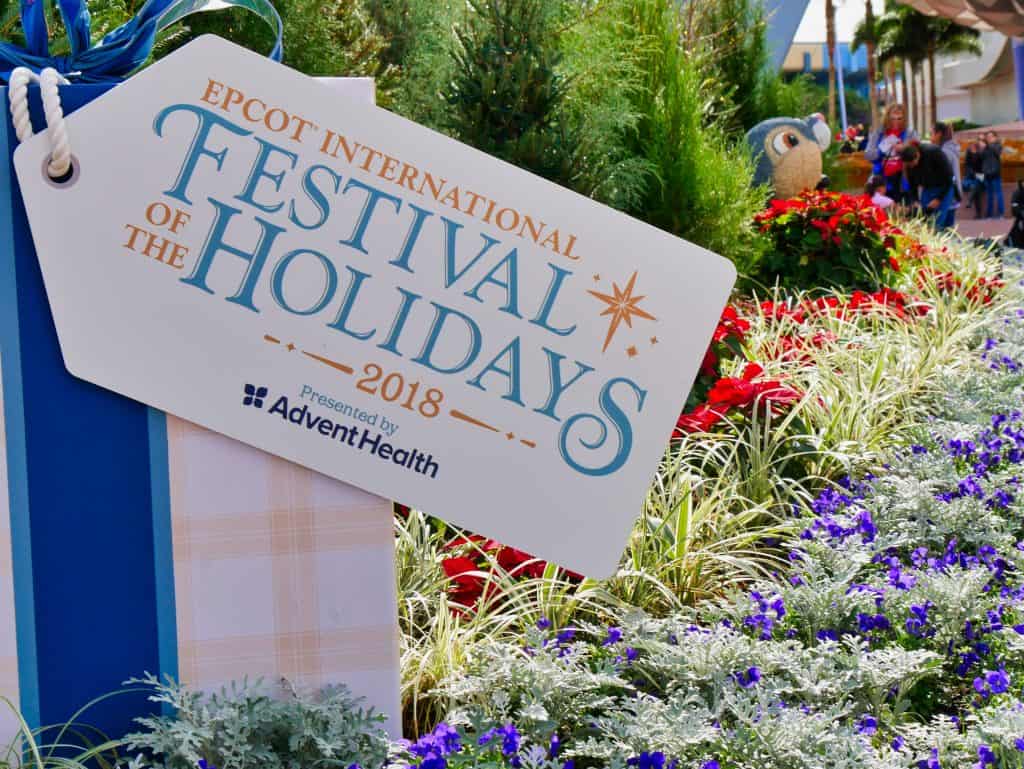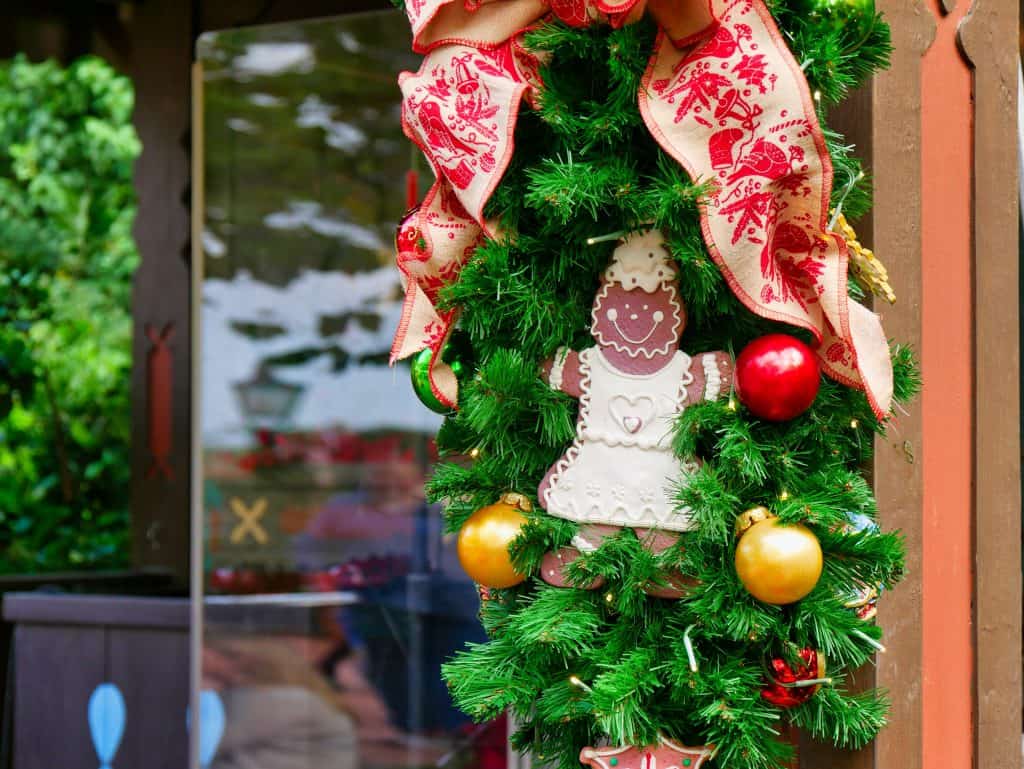 Moving over to Italy, you'll find some nice Christmas decorations draped outside and storytelling by a Christmas storyteller telling the folklore of the "holiday witch."
After Italy, you're in the American pavilion, and in addition to the halls being well and truly decked with decorations, you'll see the stage for the Candlelight Processional (more on that in a bit), and hear storytellers talking about the different holiday traditions in the USA, including Hannukah and Kwanza.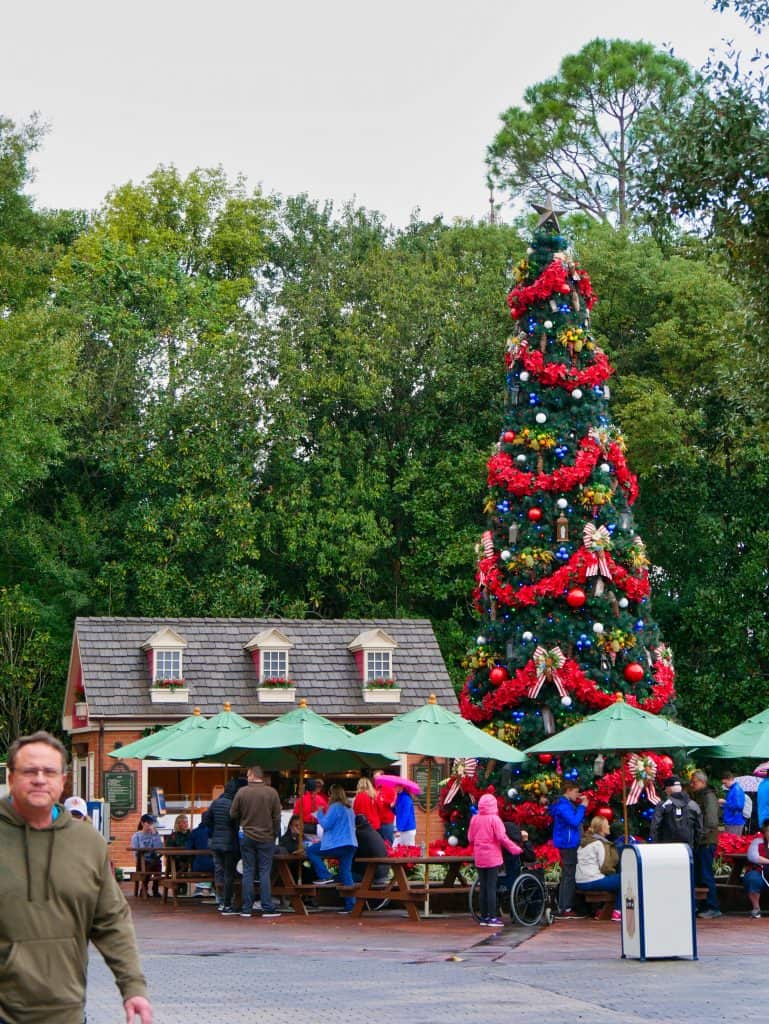 The "Voices of Liberty" inside the American Adventure will also be performing Christmas songs rather than just patriotic ones, and you can find some fantastic gingerbread displays.
There's also an Epcot Christmas tree decorated with beautiful red garland and colonial themed decorations.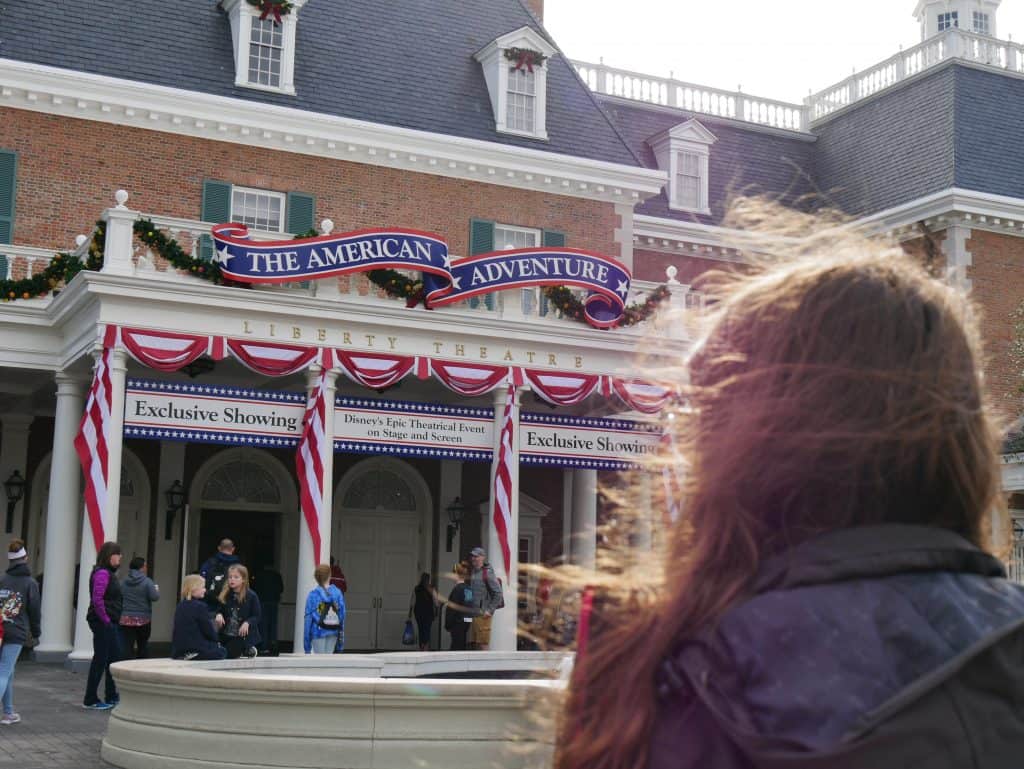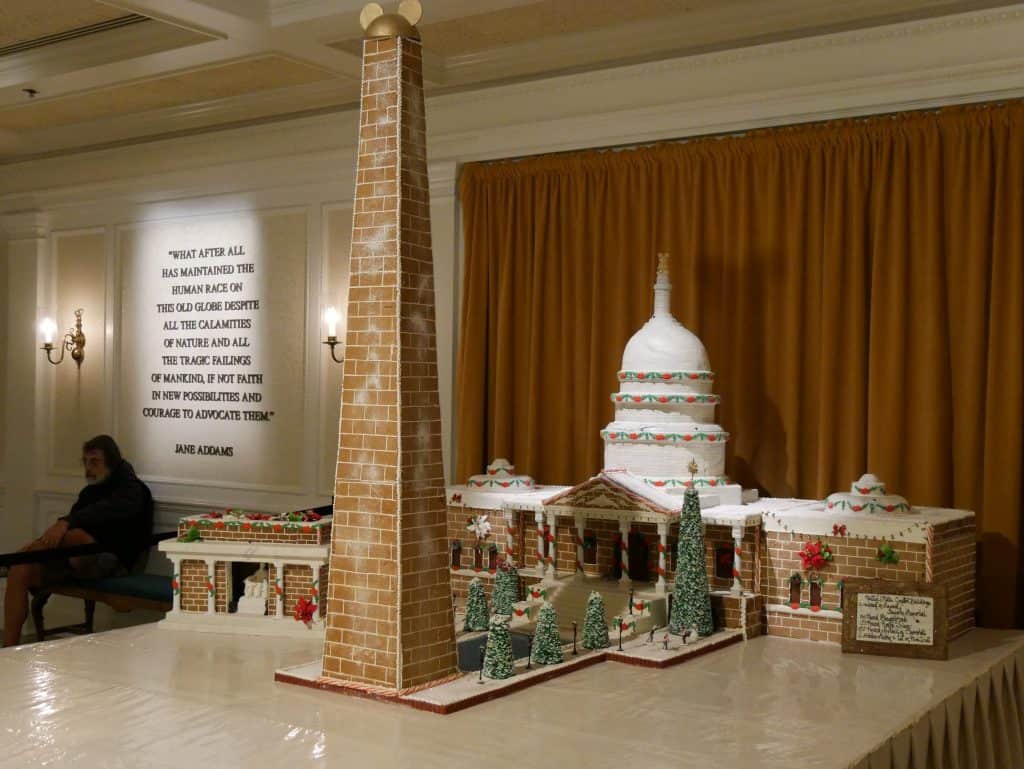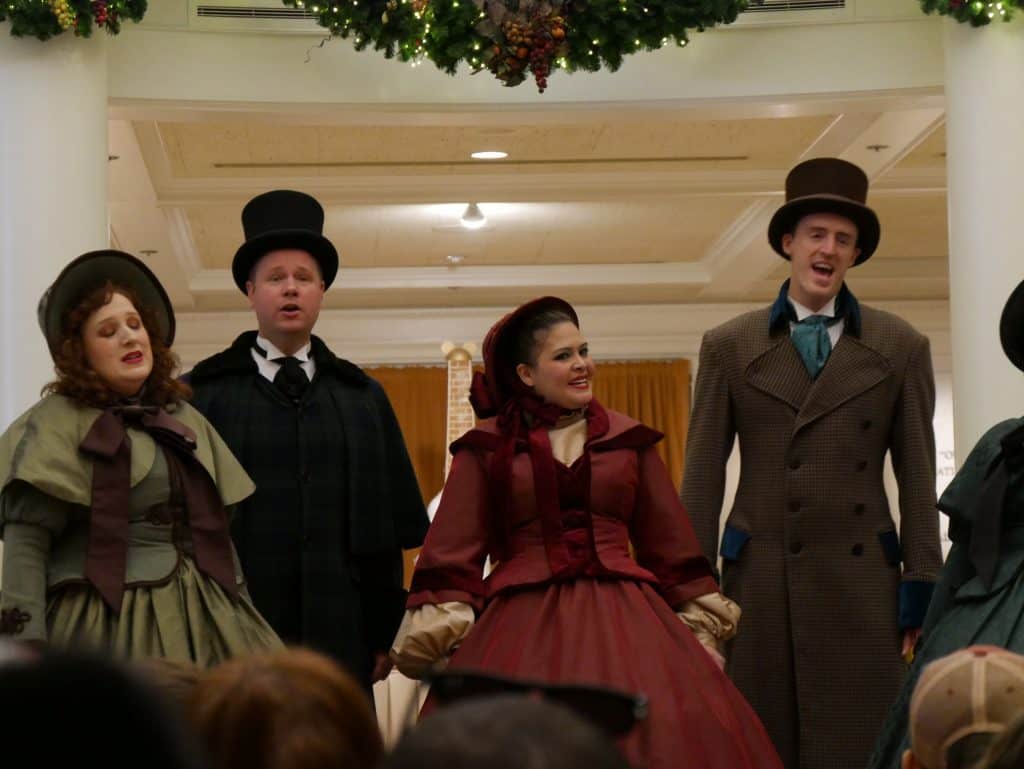 Next is Japan, where the storyteller will share with you the story behind Japanese New Year and talk about how the Japanese celebrate it.
You won't find many decorations here.
Next is Morocco, where the entertainment is a live band singing festive songs and recreating the feel of a Moroccan street festival.
The sounds, colors, and spices of Morocco truly stand out during Festival of the Holidays and it's a fun way to spend some time wandering through the market and finding gifts for your friends.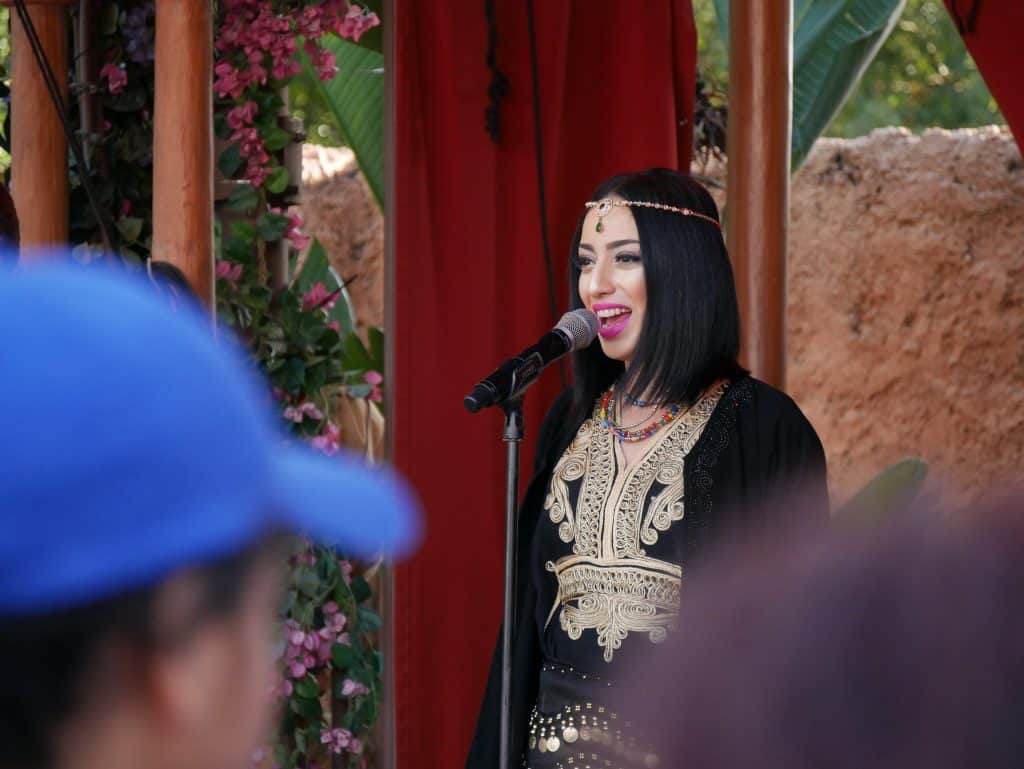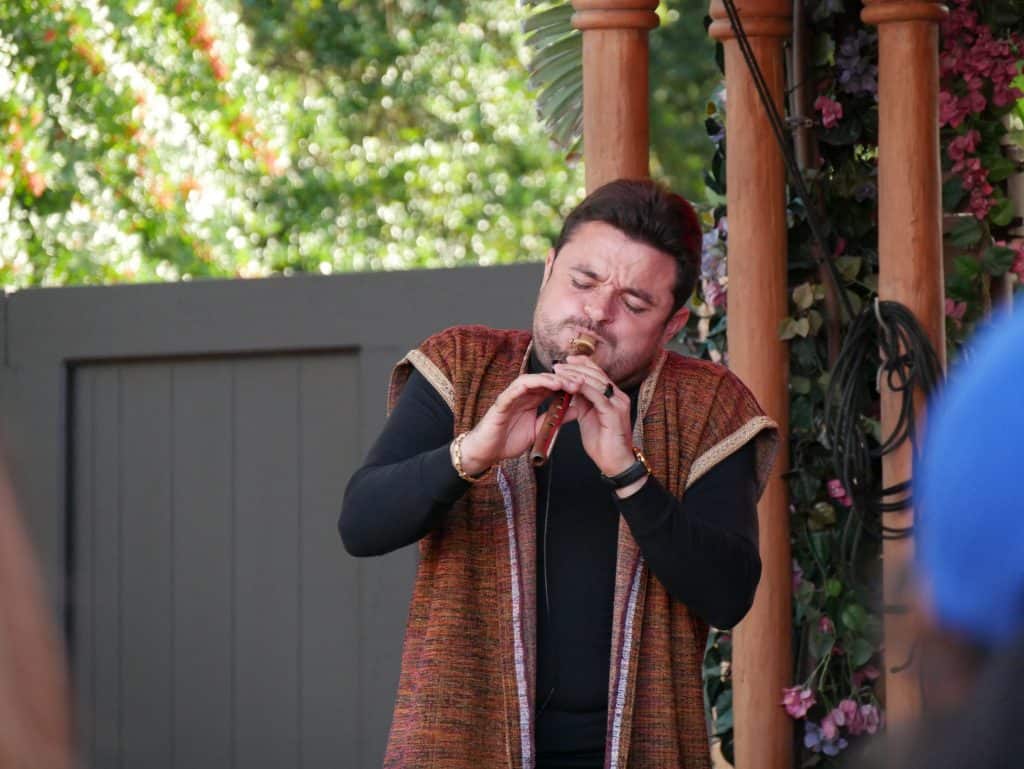 After Morocco is France, where "Père Noël," the French version of Santa Claus, tells stories and entertains.
France is also beautifully decorated for Christmas (though did you know that the more popular day to have a Christmas feast in France is on Christmas Eve, not Christmas Day?)
After France, it's England.
Here, you'll find more topiaries and very British inspired Christmas decorations.
You can also listen to Father Christmas tell UK Christmas stories and delight kids with his British accent!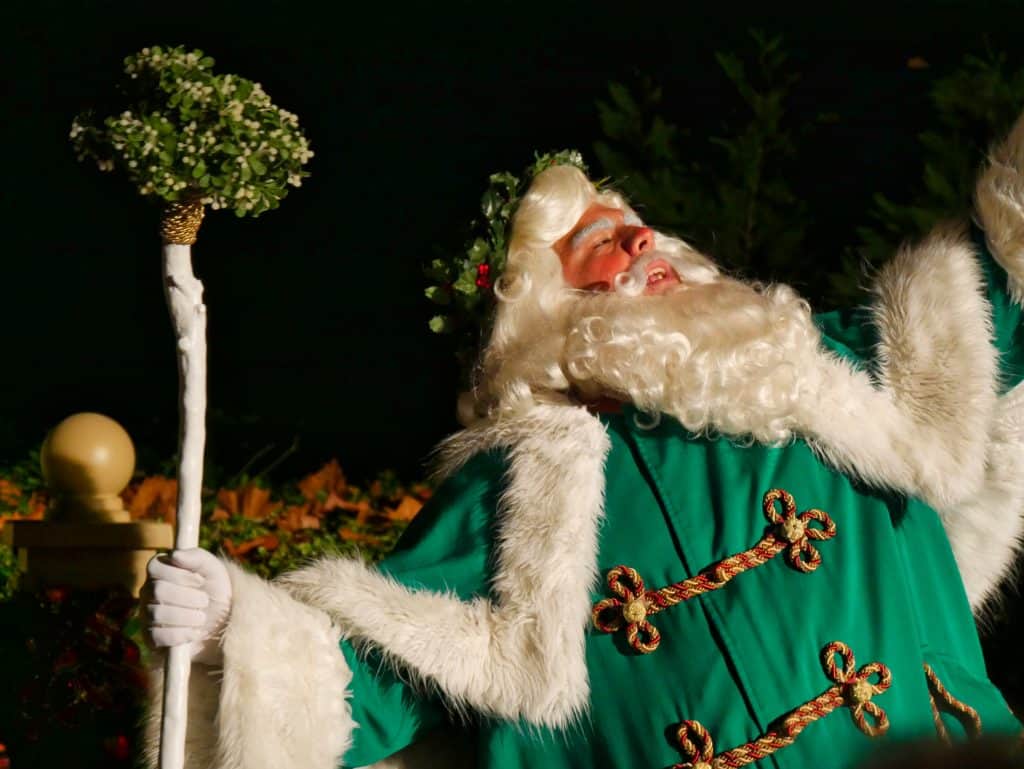 Finally, before embarking back into the rest of Epcot, you can sit and enjoy the live music in Canada. Canada knows how to do Christmas, and the Canada pavilion at Epcot is no different.
Learn about Canadian Christmas customs and enjoy the holiday cheer oozing from this part of the park.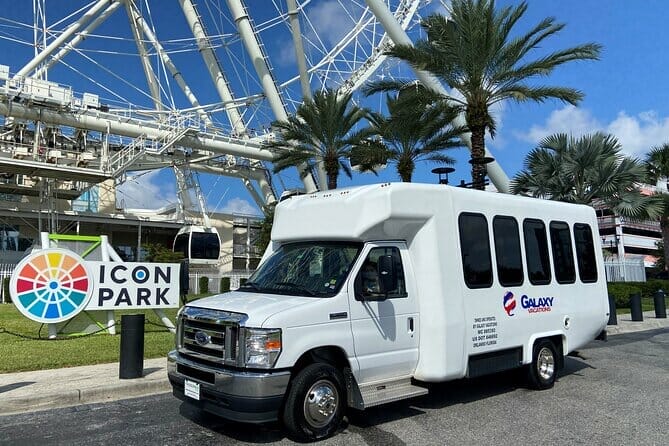 🚌Not renting a car in Orlando?
My favorite shuttle to get from the Orlando airport directly to Disney World is this one with a ⭐⭐⭐⭐⭐ rating.
The Candlelight Processional at Epcot at Christmas
One of the most popular shows at Epcot, and in fact, all of Disney World, around Christmas is the Candlelight Processional.
This fantastic show brings together the story of Christmas as told by a celebrity narrator (past ones include John Stamos, Neil Patrick Harris, and others!) combined with classic Christmas music sung by a choir.
For guaranteed seating, you can purchase the Candlelight Processional dining package, or you can line up early to get a seat.
If you don't manage to snag a seat, you're allowed to watch from behind the rope barriers.
You'll still be able to enjoy the atmosphere, just not from a seating position!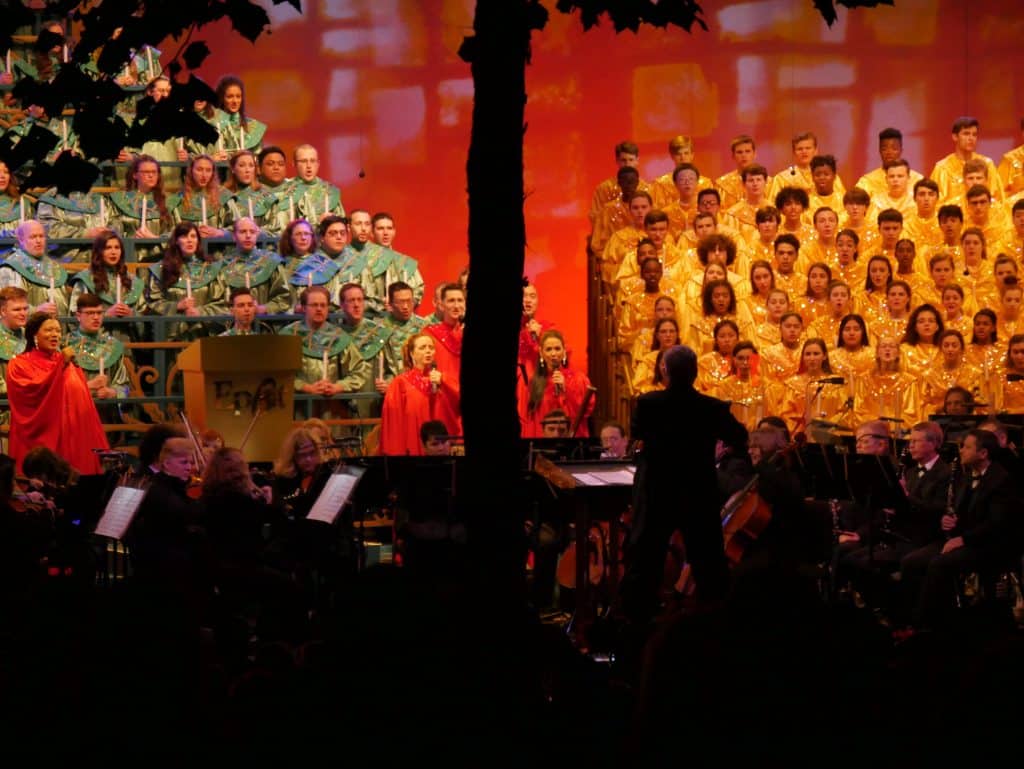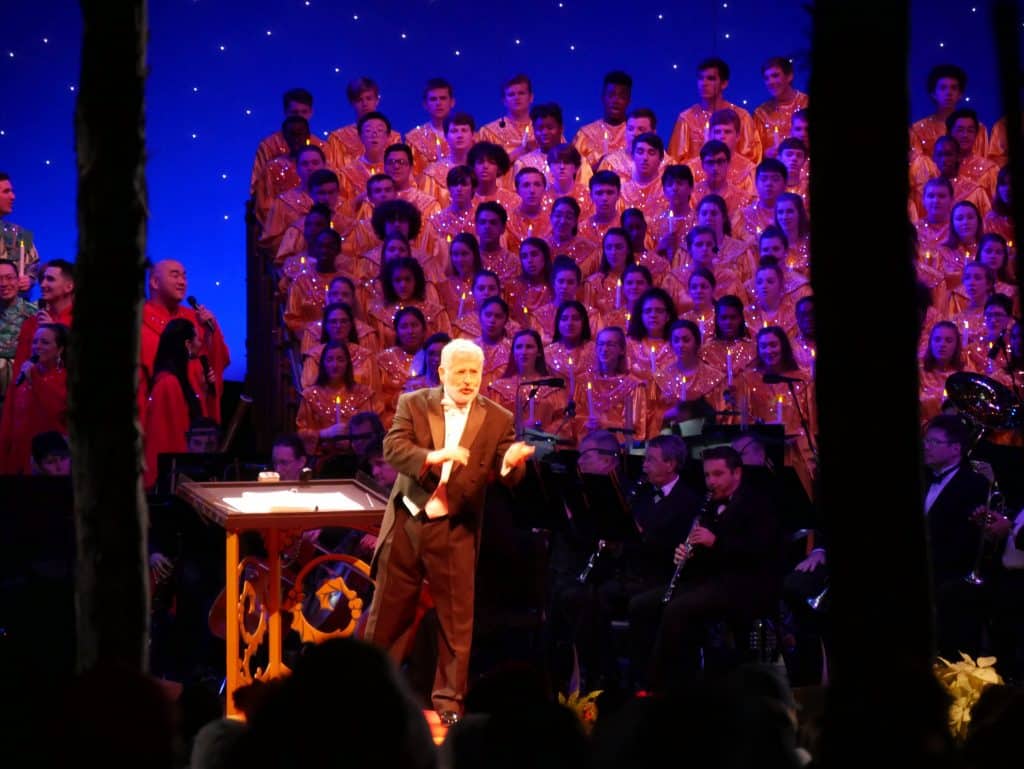 Christmas Food at Epcot
One of the most fun thing about Epcot at Christmas and the Festival of the Holidays is the festive food available as you walk around the World Showcase and even at certain spots in Future World.
Many of the festive food option are geared towards the country that you can find them in, so you can try new festive foods in addition to having a wonderful Christmas day in Epcot.
You can also use my guide on how to book hard-to-get Disney dining reservations to eat at table service restaurants.
Christmas Fireworks at Epcot
In the past, Epcot would have put on Holiday Illuminations for its Christmas fireworks show, but as Illuminations finished in October of 2019, there is doubt as to whether Epcot will have a special themed Christmas fireworks show for the time being.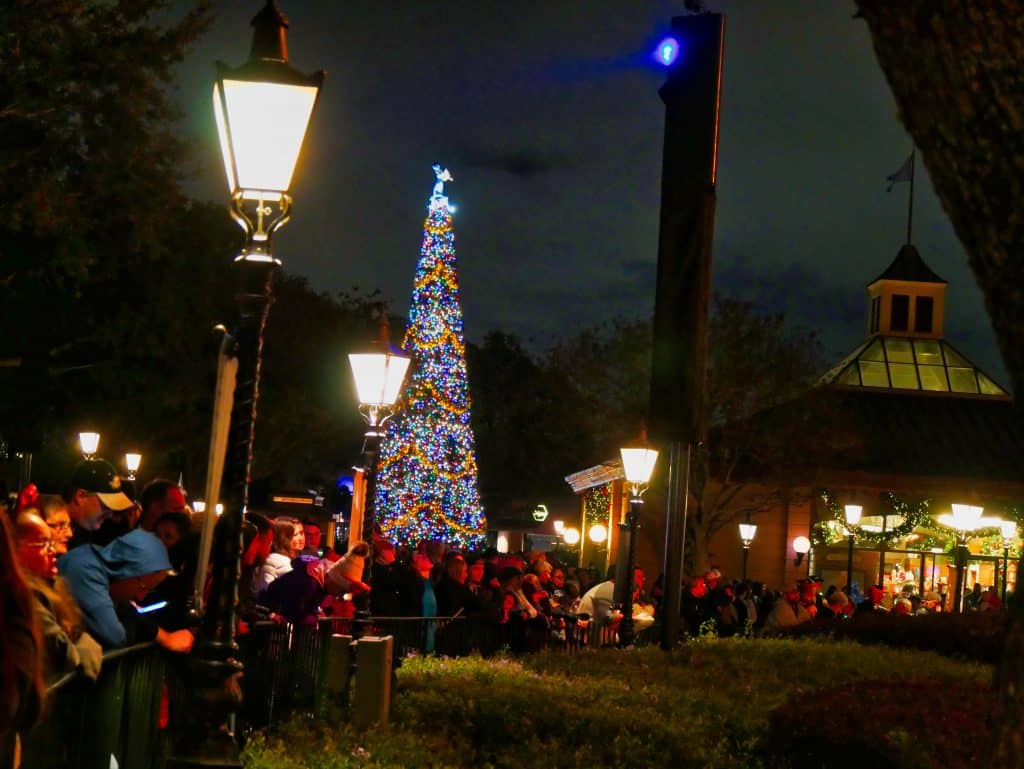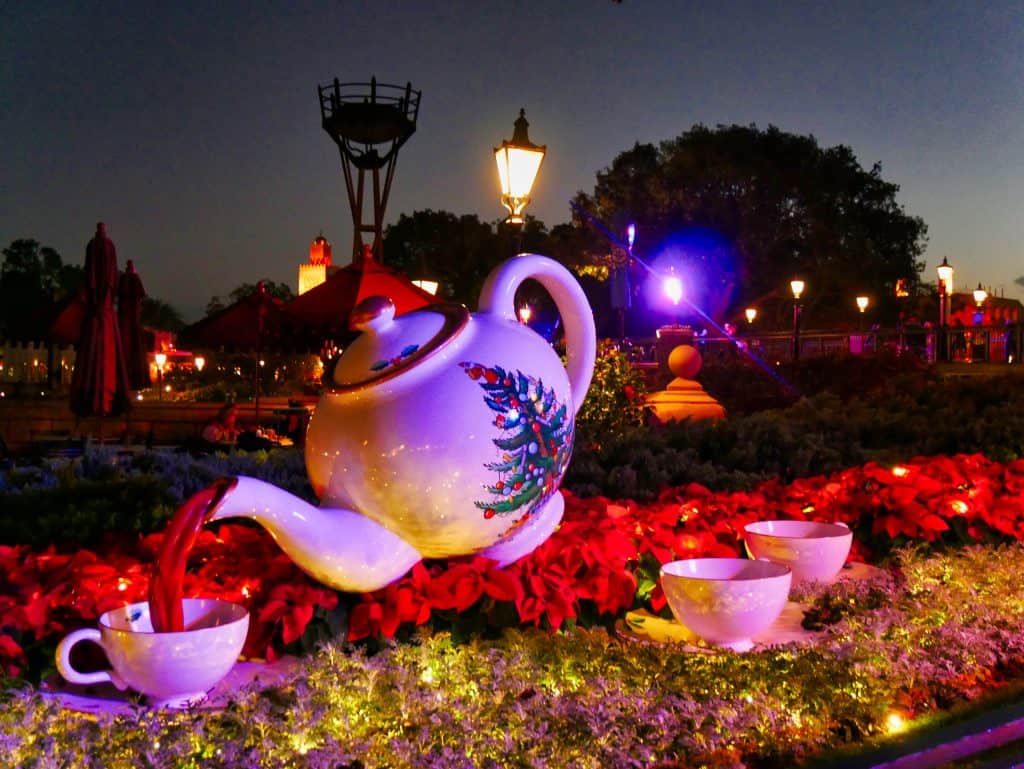 and of course, don't forget to check out the best rides at Epcot for adults if you're on an adults-only trip to Disney World!
Get the All-American Travel Secrets!
Don't miss out on America's hidden gems!