Whether you're thinking of booking a Southwest flight or looking for a Southwest airlines review to see if your experiences match up, you've come to the right place!
This unique airline that serves domestic destinations in the USA has distinctive branding and colors, as well as some offers and procedures like 2 checked bags flying free and a first-come, first-served boarding process that set it apart from other airlines.
In this review of Southwest, we'll go through the booking process, Southwest flight experience, Southwest safety record, and other things that you need to know before deciding that this airline is a good fit for you.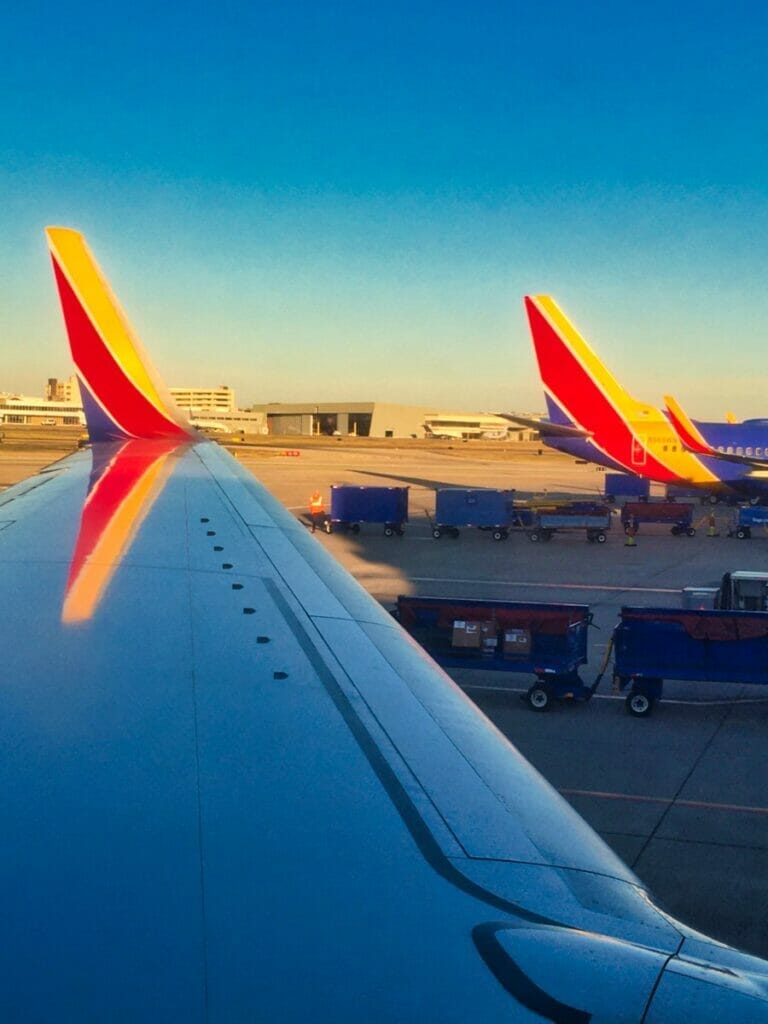 Before we get too far in, if you just came for the quick reassurance, you should know that Southwest is an incredible airline that I would always recommend, but you should keep reading for some quirks that may make the flying experience more stressful for you if you don't know what to expect.
History of Southwest
Southwest began as an idea to offer a low budget airline within Texas by only flying to Texas destinations.
The idea started in 1966, and it got off the ground (get it?) in 1971 after overcoming various lawsuits from competitors.
They branched out to other states in 1979 and since then have grown to over 100 destinations across the USA, with headquarters in Dallas, Texas.
Over the years, the airline has been known for its sense of humor and has said that it hires people with a "servant's heart, warrior spirit, and fun-LUVing attitude."
Southwest Airlines Booking Experience
Booking a Southwest flight using their website is very ease and intuitive.
Their site is colorful, nicely designed, and doesn't look like it was designed by someone who just learned about web coding unlike some other budget airlines.
To book a flight, simply head to their homepage where you'll see the "Book" option already up and ready for you.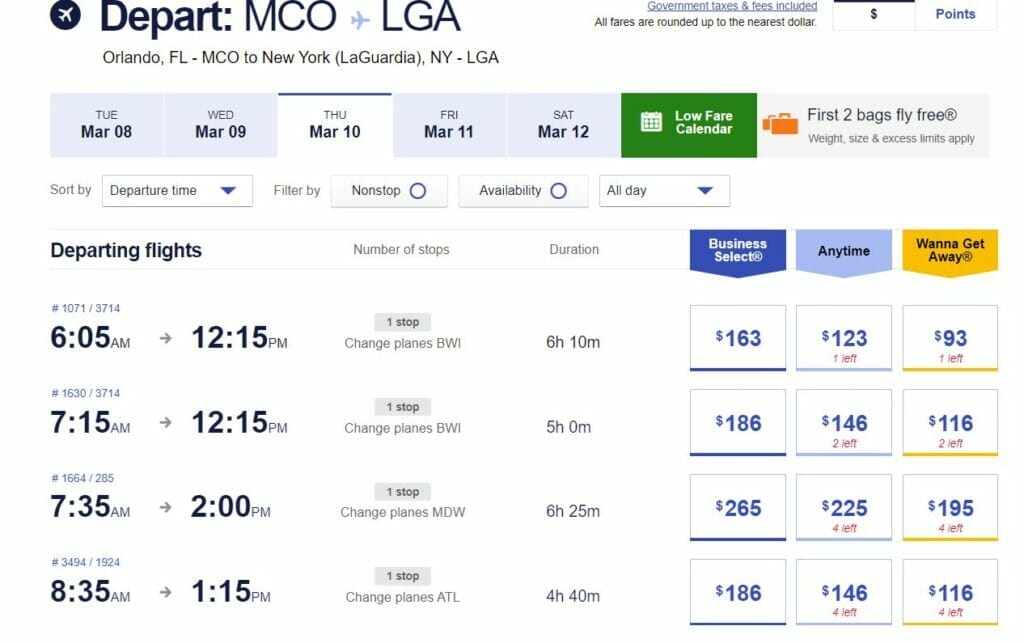 Type in your destination and dates and whether it's round trip or one way, and you'll be presented with a range of options to choose from, including prices for each flight.
When it comes to the fare type, you can choose between Business Select, Anytime, and Wanna Get Away.
We'll talk more about each below, but most travelers will simply opt for the Wanna Get Away fare.
You don't pick your seats on Southwest at the time of booking, so there's not much else to do in the booking process unless you need more luggage than the allotted 2 checked bags per person!
What to Pack for a Flight on Southwest
Some of the best things to bring on a Southwest flight are tried and true flight essentials (like the ear plugs in case you get stuck with a crying baby), but make sure to read the first thing on our list because it's Southwest-specific!
Tablet with downloaded movies and TV shows and headphones: I love this tablet for air travel and these noise-cancelling headphones, and this is super important on Southwest because the only in-flight entertainment can be accessed via your phone or tablet, not in the back of your seat. There is so much to love about this airline, but at the end of the day, it's still a budget airline so you should make sure that you prepare your own entertainment especially if it's going to be a long flight.
Sleep mask like this one: you're not going to sleep, let's be honest, but shutting out the light on an early morning flight is still a better way to travel
Ear plugs like these silicone ones: if you're using regular foam ear plugs, you've already lost the battle of the crying baby
Compression socks like these ones that don't look ugly: no one will even know you're wearing them, and they can go a long ways towards keeping your circulation healthy in the sky
Reusable water bottle like this one: did you know you can bring a reusable water bottle through security, then fill it up with water at the gate? Boom, thirst quenched.
Carry-on that counts as a personal item like this one: some people use backpacks or duffels like these.
How to Get the Best Seat on Southwest
Getting the best seat on Southwest all comes down to the boarding number you get on check-in.
You'll learn more about how it's used in the boarding process below, but you should know that there are 3 categories, A, B, and C, with each one having 60 numbers.
The best is A1, then if you get B1 you've got all 60 people in A ahead of you, etc.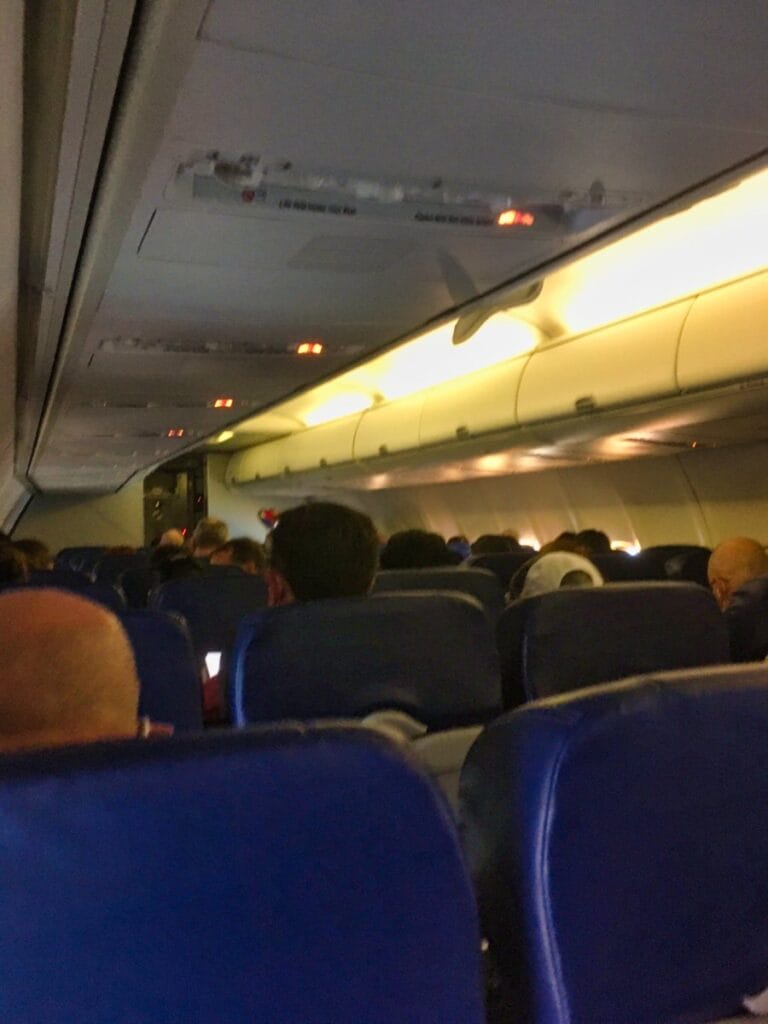 You cannot prebook your seat on Southwest, no matter how much you pay or how hard you beg.
However, you can do a couple of things to ensure that you get as high of a boarding number as possible, which would then ensure that you get the best seat possible (and really what the best seat is is all up to you and where you prefer to sit on a plane, because the seats are identical with just a little bit of legroom more in the exit rows).
If you want a guaranteed good boarding number, you can choose to fly Business Select which will make sure that you get from A1 to A15 and comes with other perks like priority security and a separate boarding lane.
You can also often choose "Early bird check-in," which doesn't come with all of the perks of Business Select but just means that you'll get a guaranteed high boarding number without having to check-in at any particular time.
If you don't want to pay for guaranteed boarding positions, you need to check-in to the flight exactly 24 hours ahead of time.
This is a well-known technique among Southwest fliers, so I don't mean you need to check in 2 minutes after your 24 hour window or 10 minutes after.
I mean if your flight leaves at 12:30pm on Tuesday, then at exactly 12:29pm on Monday you should have all of your details in the box and get ready to click "Check-in" for my flight when it turns 12:30pm.
I do this every time and have always gotten Group A, which gets you in the first 60 passengers and plenty of options on the plane.
Southwest Airlines Boarding Process
The boarding process for Southwest is one of the main things that travelers disagree about.
Is it super easy and straightforward, or does it leave you anxious the whole time?
Based on the number that you got during the check-in process (either categories A, B, or C with numbers from 1-60), you will be called to line up at the silver poles in order.
The poles are numbered so you can tell roughly where you should stand, and from there it's a quick glance at people's boarding passes or short conversation to ask what number they are to figure out where you go.
The boarding then happens in order, from A1 to A60, then B1 to B60 and so on.
Once you get on the plane, you can sit anywhere you would like to if it isn't already taken.
The later in the boarding groups you are, the more chance you have of being stuck with a middle seat since most people will choose aisles and windows, and it can be difficult to find places for a larger group together if you're in Group B or C.
However, if you're in Group A or early B, it's likely that you'll have your pick of the plane and find a seat that suits you just fine.
For me, this boarding process is great.
As long as I check-in at exactly 24 hours prior to my flight, I'll likely get an A or early B boarding number and then I can get great seats without paying anything extra.
For my husband, who prefers to know exactly what is happening and doesn't enjoy leaving seats until the last minute, Southwest's boarding process can produce a wave of anxiety as you don't know what will be available until you actually step foot onto the plane.
If you're a first time flyer (check out my first time flying tips here), you may want to pay extra for the guaranteed A1-A15 boarding group to make sure you're not fighting anyone for seats.
Southwest Cabin Crew
There are some airlines that thrive on the reputation of their cabin crew, like Virgin Atlantic, and Southwest is the US domestic version of an airline known for friendly, upbeat, and funny flight attendants.
There have been so many instances of heartwarming and funny cabin crew moments on Southwest, like this pilot and flight attendant who danced a Tiktok video for their passengers, and this flight attendant who practically did a stand up comedy routine on the plane.
Both the pilots and the flight attendants are known for being personable, and while this is of course a generalization and not every single cabin crew member I've ever interacted with on Southwest has lived up to this reputation, most have.
Southwest Airlines Leg Room
Southwest only flies Boeing 737s, and this means that their seats are almost all standardized with 32 inches of leg room (2nd in the US when it comes to roominess!)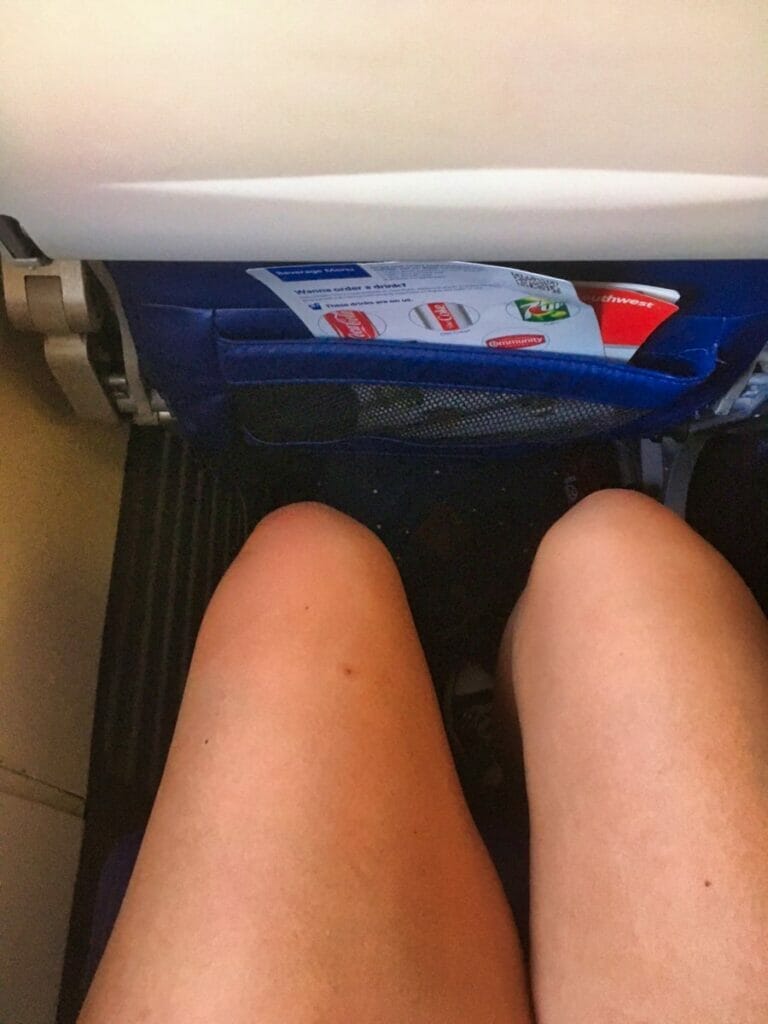 If you want more leg room, you're going to want to try to sit in the exit rows, the bulkhead (ie the very first row of the plane), or there is a window seat behind the exit row that doesn't have a seat in front of it, meaning you can stretch your legs out almost fully.
Does Southwest Have First Class?
Southwest Airlines doesn't have a first class option.
All seats are more or less identical, aside from a bit more leg room in some exit rows, and there are no first class seats, business class seats, or option for bigger seats unlike on a budget airline like Spirit (read my honest Spirit review here) where you have the option to purchase bigger seats up front.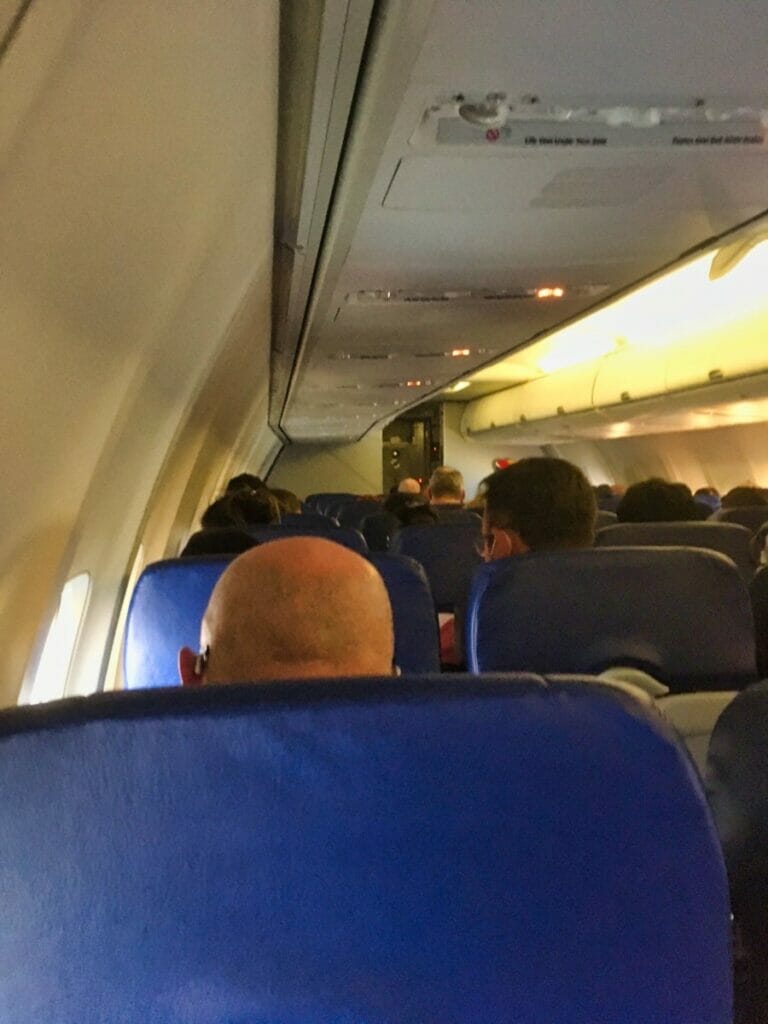 You can opt for the "business select" tickets which give guaranteed boarding numbers from A1 to A15, but this does not mean you will have a different seat.
You just will get on the plane first so get to pick which row and seat you sit in among the standard seats.
Is Southwest Airlines Safe?
Whether you're talking about Southwest, Frontier, Spirit, or one of the many other American air carriers, one of the main things people want to know is if it's safe.
Southwest has an incredibly high safety rating, a full 7/7 as given by a global ratings agency, and has only had 2 passenger deaths since the 1970s.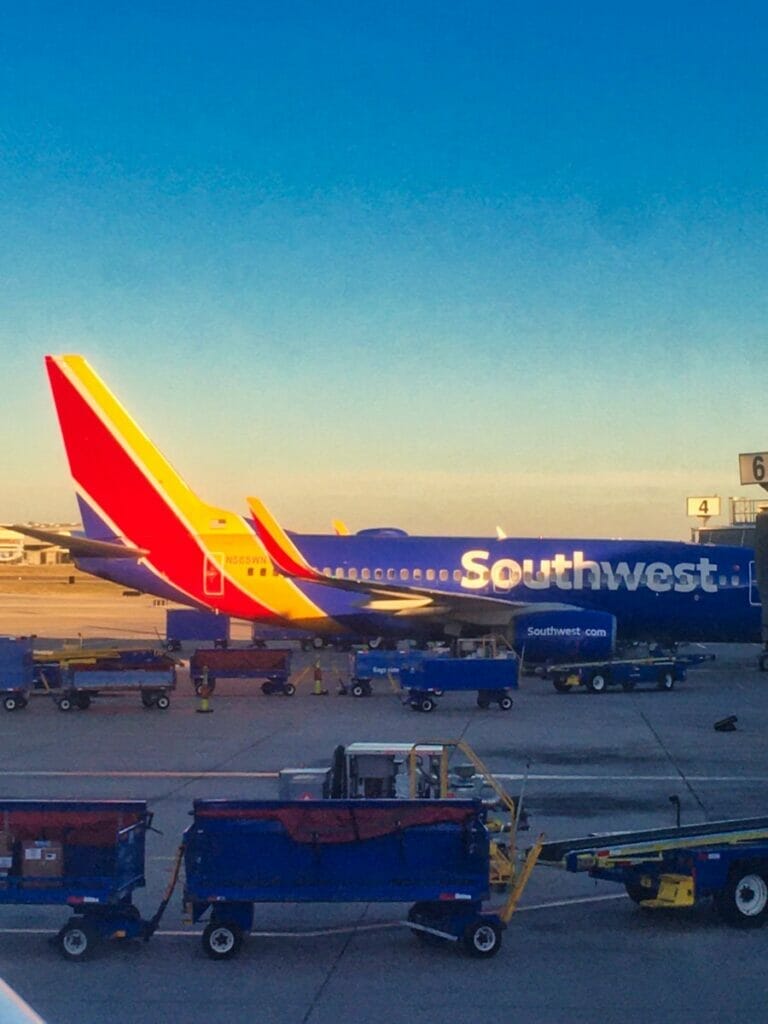 1 of those was from a passenger attempting to take over the cockpit, unrelated to airline safety, and 1 was from an incident where debris from the engine smashed a window on the flight.
Considering how many Southwest flights run every single hour and day, this is an incredible safety record and you should feel nothing but secure when choosing Southwest.
Southwest Airlines Food and Drink
Southwest is one of those great airlines that still provide free snacks and a non-alcoholic beverage on the plane.
This is all most people need for a domestic flight, and you can also bring your own snacks and food on with you.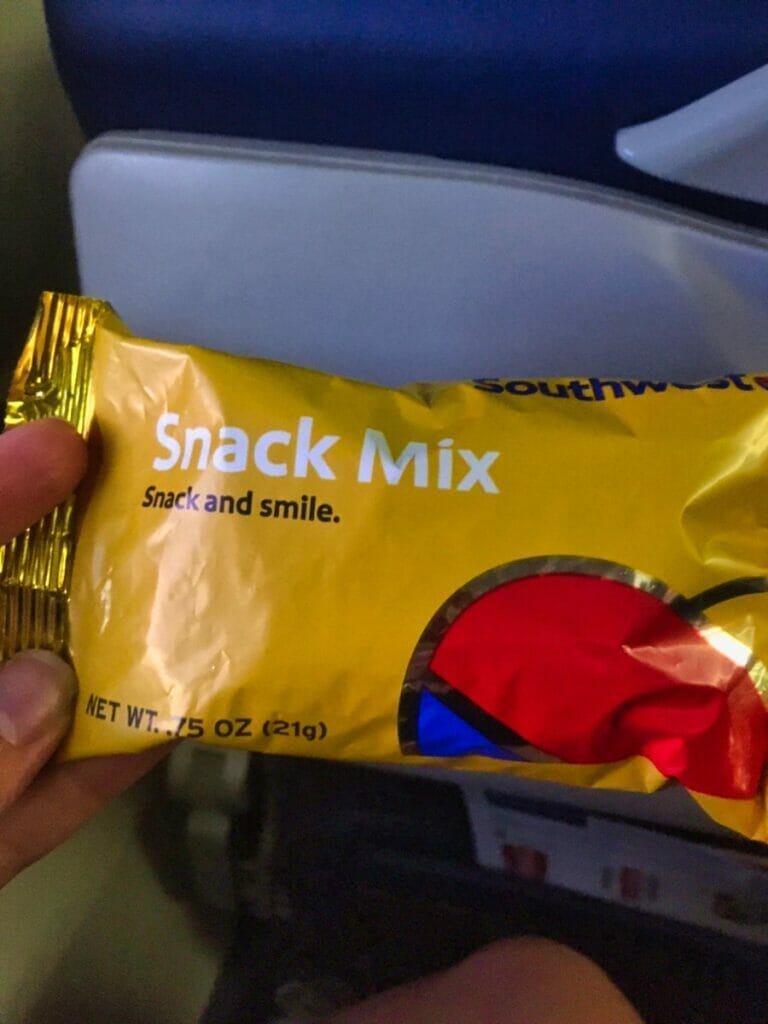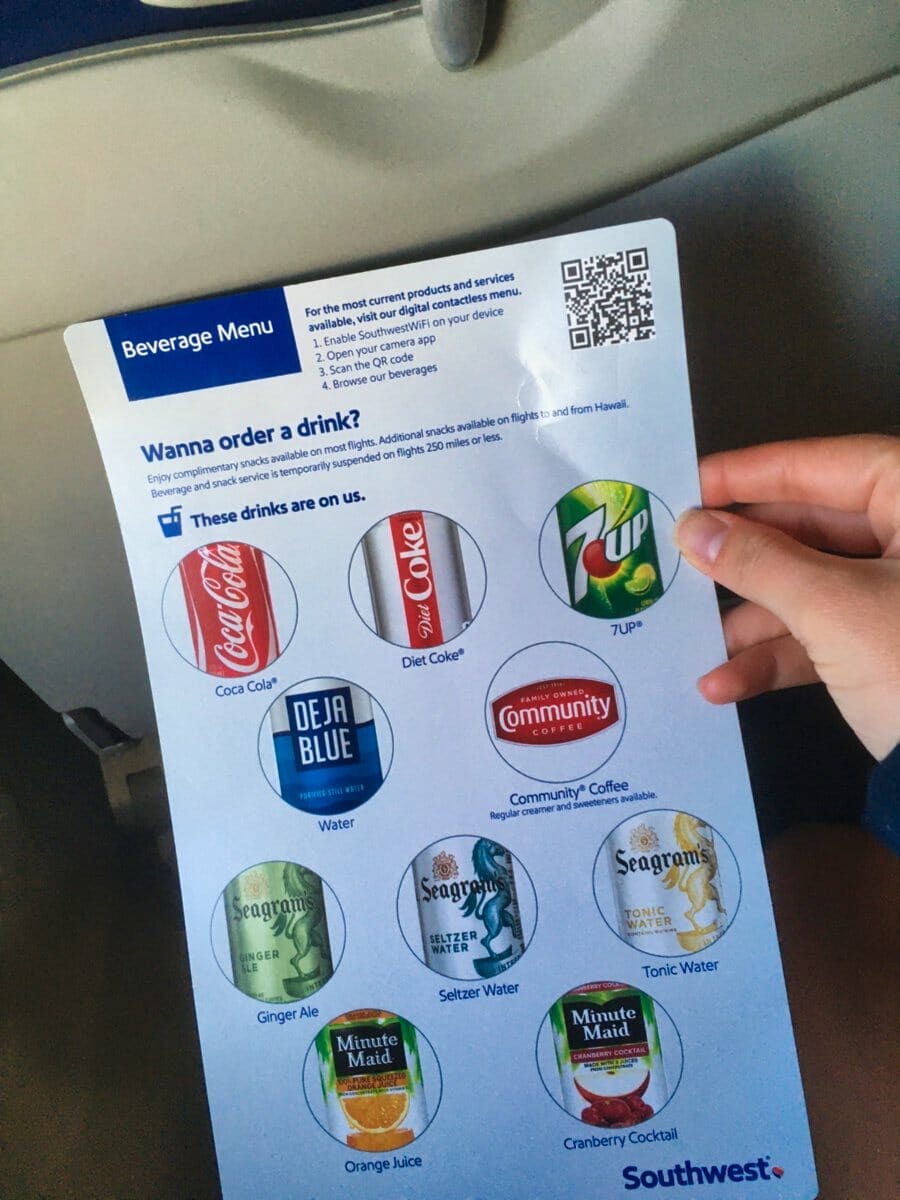 They do not operate an in-flight food purchasing service or menu.
What You Don't Get Included on Southwest Airlines for Free
Other things you should think about that don't come as standard are:
WiFi
That's about it, most things are included in the fare!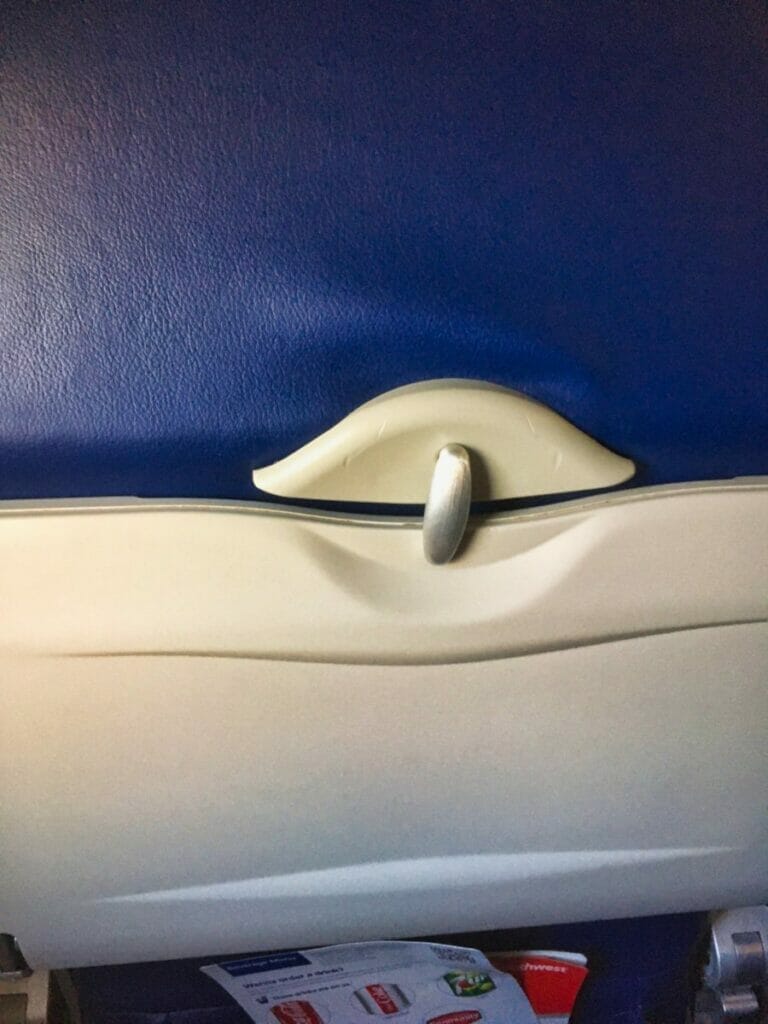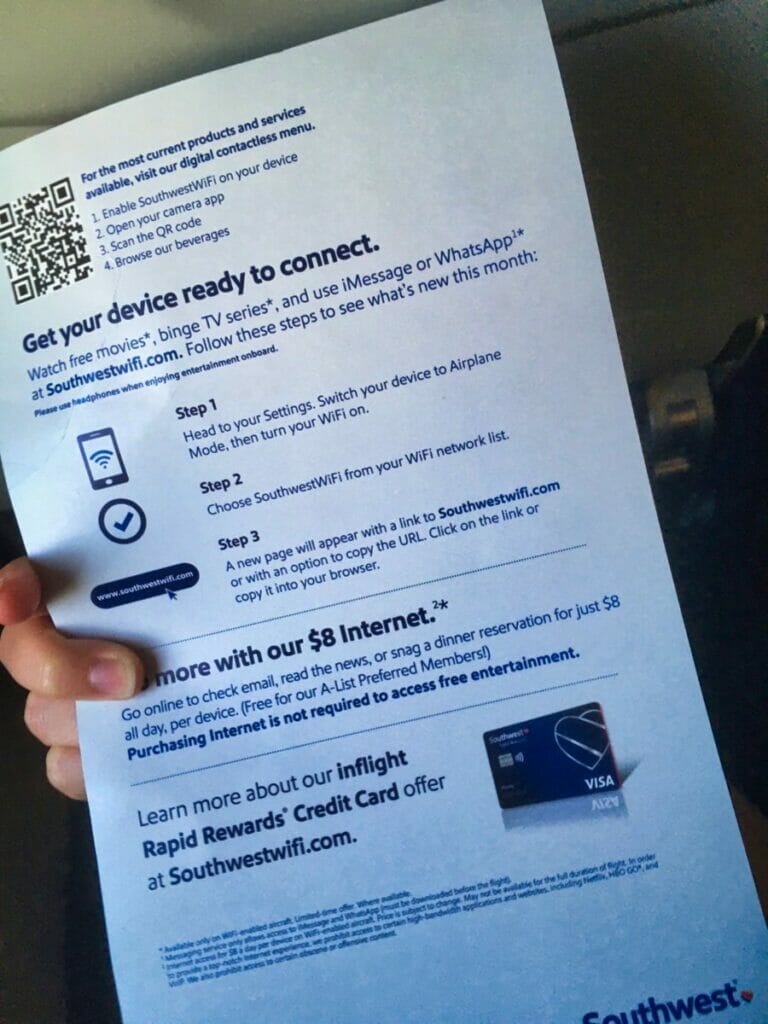 What You Do Get Included on Southwest for Free
On Southwest, you'll get the following included with the price of your base ticket:
Snack and beverage if flight is over 250 miles
2 checked bags per person
1 personal item (backpack) per person
1 carry-on per person
Boarding number (given upon check-in, based on how early you check-in) so you can pick your seats once you're on the plane
In-flight entertainment that you access via your phone
How to Save Money on Southwest Airlines
Southwest bills itself as an affordable airline in the first place, so often tickets can be cheaper than some of the Legacy carriers.
That being said, they run "Wanna Get Away" flight deals that are non-refundable, but the cheapest ticket option.
I always book this fare because although non-refundable, you can still change your flight free of charge to another flight any day before the actual day you depart.
You would still be responsible for paying any extra fees if your flight costs more, but there is no actual change fee.
You can also check out their Low Fare Calendar when booking if your dates are flexible, as they will very quickly show you which date combinations would be the cheapest.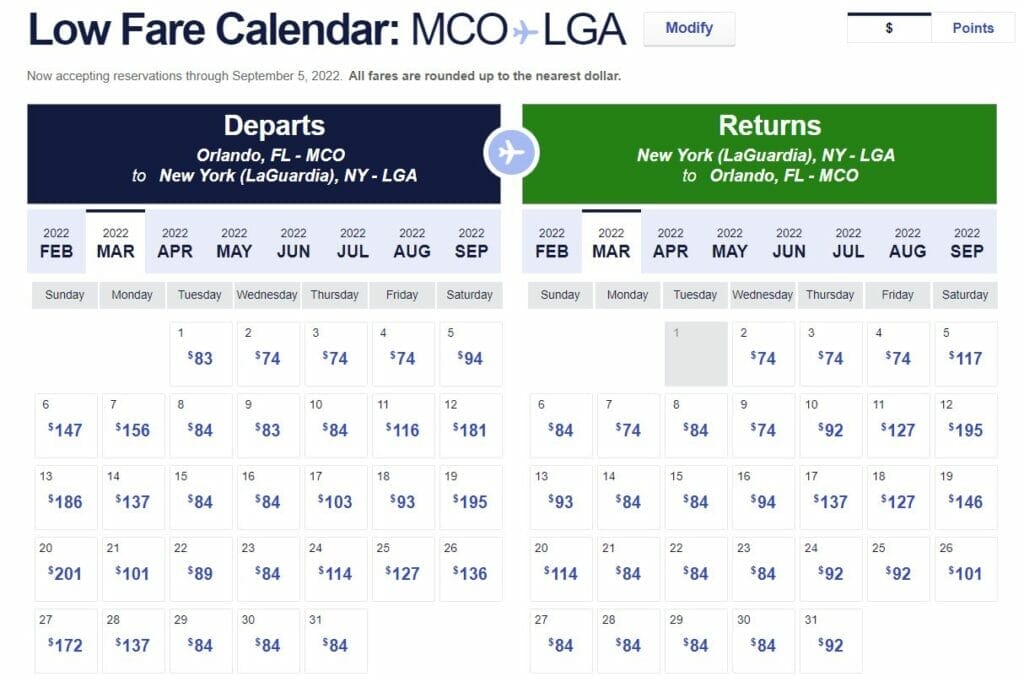 Southwest also runs a Rapid Rewards program, which is a great way to accumulate points and save on future flights.
Who Should Fly Southwest Airlines?
Southwest Airlines is a great option for most people, but who specifically should fly with them?
Travelers with a lot of luggage who can take advantage of the 2 bags flying free
Budget conscious travelers who don't mind the boarding process
Travelers who can easily check in for their flight 24 hours ahead of time
Those who enjoy a comfortable, casual flight experience with a more relaxed cabin crew and fun-loving culture
People who are happy to use their phones or tablets to access the in-flight entertainment and don't need back-of-the-seat screens
Pin for Later
Get the All-American Travel Secrets!
Don't miss out on America's hidden gems!