Golden ceramic roof tiles sparkling in the sun. California cuisine dripping with flavor and history. Historic churches.
If you're planning a day trip to Santa Barbara, expect all of those things, plus a healthy dose of sunshine, sea air, secret gardens, and world class wineries.
Santa Barbara has been called "Disneyland for adults," and it's easy to see why.
Not only does the entire city look straight out of a postcard, but the best things to do are eat, drink, and perhaps see a cultural attraction or two.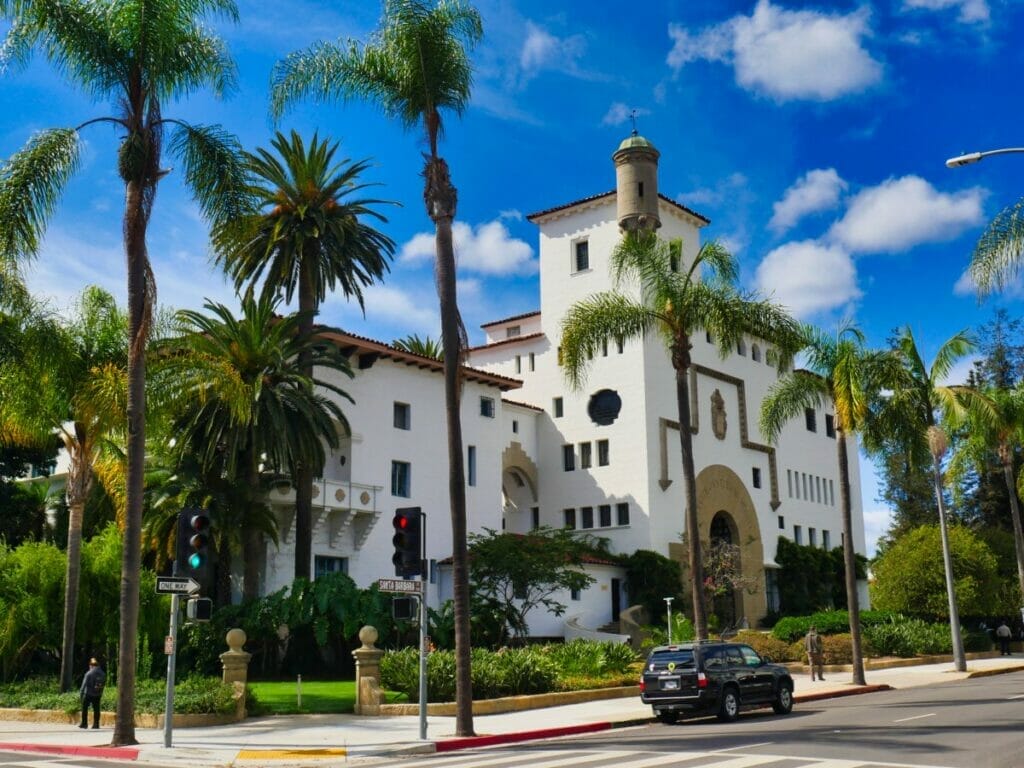 It's upscale but laid back in only a way a California city could be, and it's a fantastic choice for a day trip.
If you're not familiar with where Santa Barbara is or have only heard of it, it's north of Los Angeles, though still decidedly in Southern California.
In this Santa Barbara day trip itinerary, we've planned out one whole day to pack in as much fun as possible.
Follow it step by step, or check out some of our other ideas on what to do on a Santa Barbara day trip below.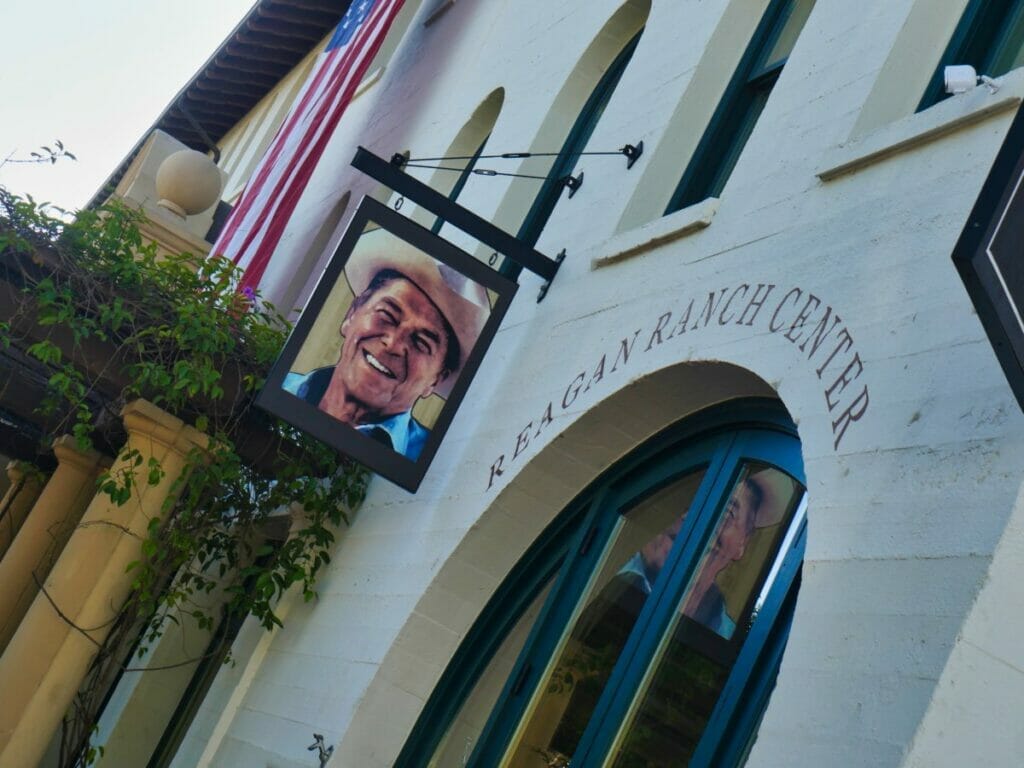 Note: Unlike some other itineraries that you might find online, this is actually a do-able itinerary, ie, we have put thought into how much time things take and how much you'll realistically get to do.
A list of everything there is to do here is nice, but not helpful, and we've really narrowed down the best so you can feel confident in this itinerary!
😎 Don't have time to read the whole article? Our top pick for what to include in 1 day in Santa Barbara is this Santa Barbara Trolley tour (⭐⭐⭐⭐⭐, 400+ reviews!)
Why Take a Day Trip to Santa Barbara?
Santa Barbara, an adult-friendly playground filled with sunshine, celebrity homes, and gorgeous Spanish revival architecture, is one of the best day trips in southern California, particularly for anyone on a Pacific Coast Highway road trip or people who want to take a day trip to Santa Barbara from Los Angeles.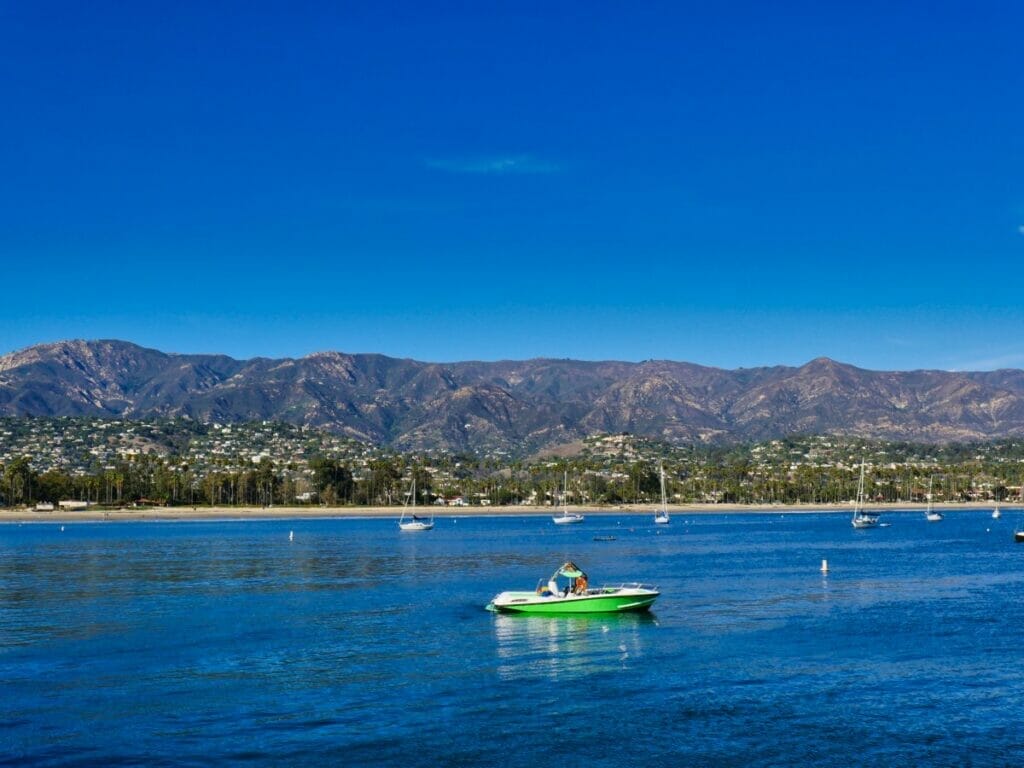 It's small enough (42 square miles) to feel like you've covered some major ground in one day, as much of it concentrated in the downtown area.
Now, is Santa Barbara one of those destinations where you really only need a day there?
No.
If you can spend longer, say 3-4 days, then there's still plenty to do that you won't get to on a day trip, but if all you have is one day in Santa Barbara, then we've put together the best itinerary to make the most of it.
When Should You Go?
Santa Barbara is in southern California, which means you're not going to need your parka any time of the year.
The weather doesn't vary as much as it does in other USA destinations.
However, it does have cooler winters (though sunny!), with the coldest month being December with highs in the 60s (F).
Summers can reach up to the high 70s and 80s, particularly in August and are the best time for water sports and taking advantage of the beach.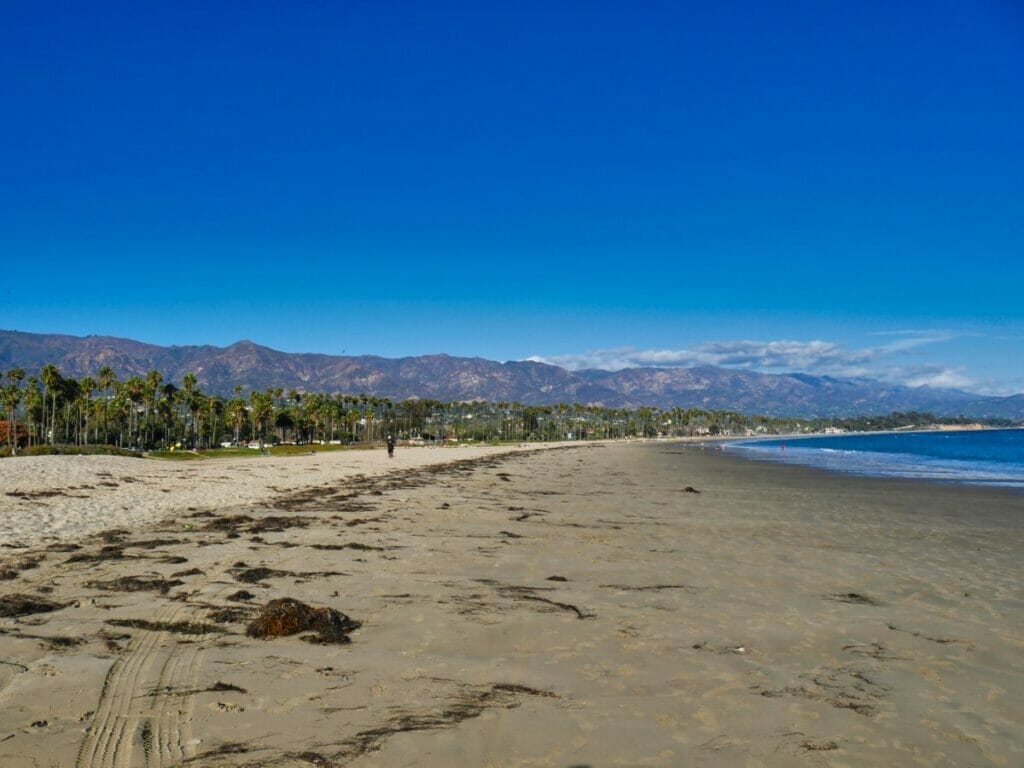 There are only around 38 days of precipitation each year, mainly centered around the winter months, so it's a good chance that your day trip is going to be sunny!
In other words, Santa Barbara is a year-round destination, but if you want fewer crowds and lower prices, you'll want to plan a late Spring or early Fall visit.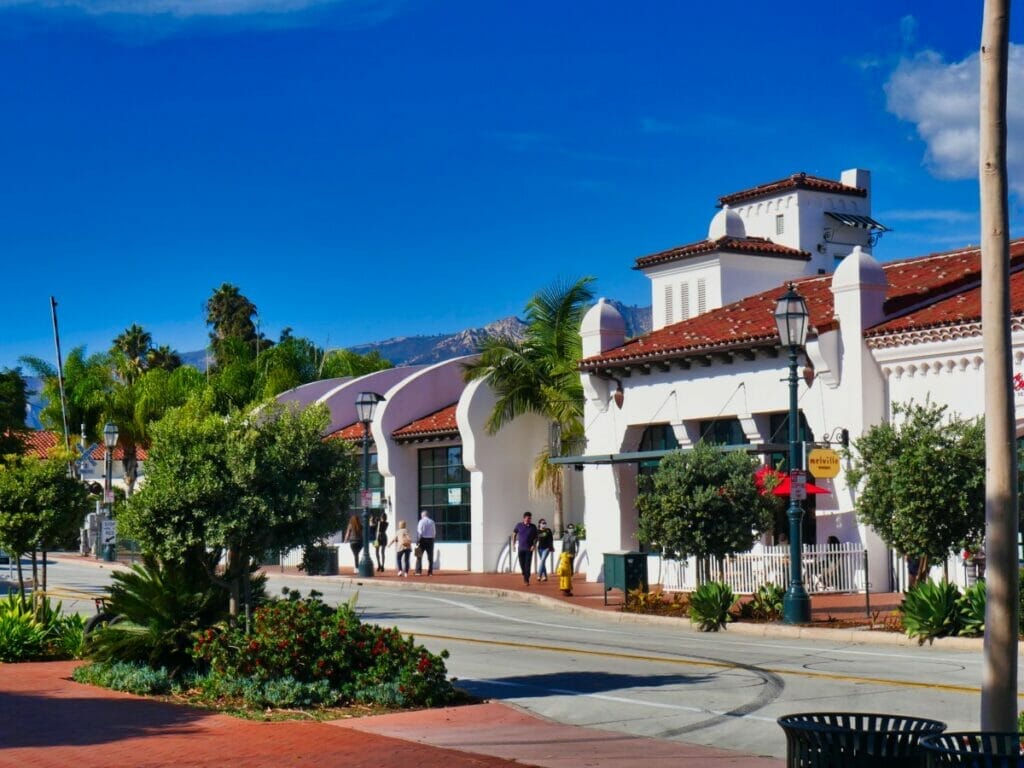 Beach bums and sun lovers will want to visit during the summer.
And if you want as much elbow room as possible and don't mind about the colder water temperatures and more want to take advantage of shopping and dining, then the winter months are for you!
Also keep in mind that there is a large student population in Santa Barbara (University of California Santa Barbara).
The student population dwindles in the summer and around the holiday months, but tourists and visitors peak in the summer.
Getting to Santa Barbara for a Day Trip
Unlike much of the US, which is really only connected by road, Santa Barbara has three different transportation options for a day trip: flying, driving, or taking the train!
The easiest, by far, is going to be driving, but take a look at our thoughts on the other options to decide how best to get to SB for your day trip.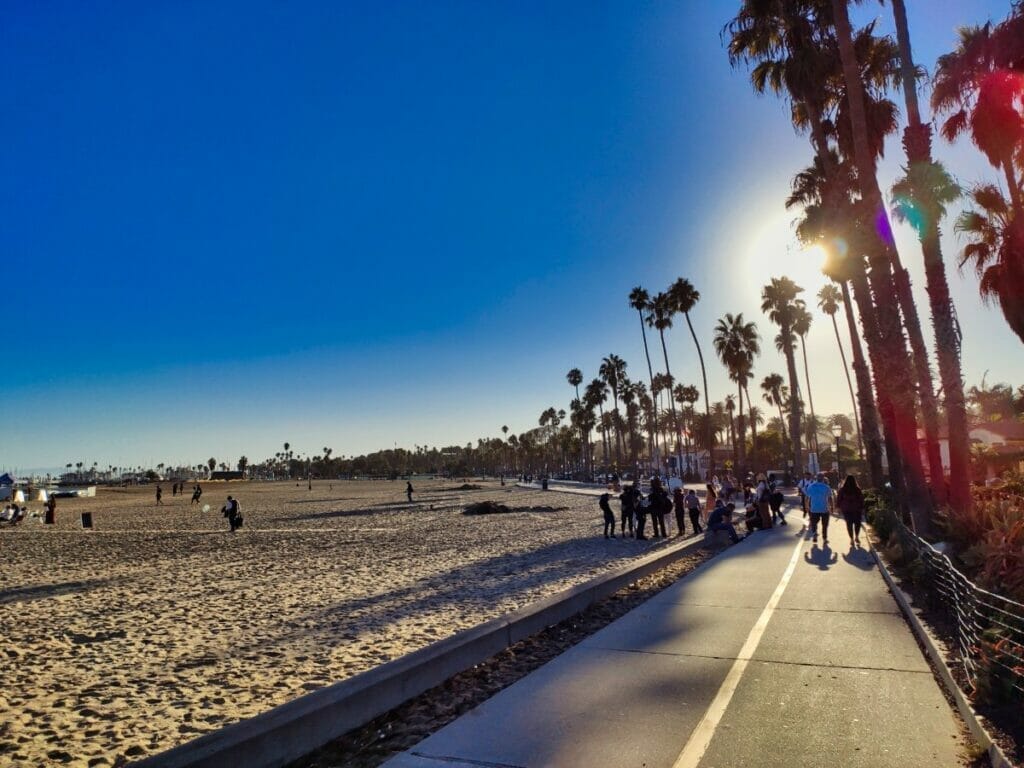 Flying into Santa Barbara
Did you know that Santa Barbara has its own airport?
The Santa Barbara Municipal Airport has connections via Southwest Airlines to destinations like Denver, Las Vegas, and Oakland (check out the route here), and United adds San Francisco and Los Angeles to that map.
Let's be clear: flying into Santa Barbara for a day trip may not be the best option depending on flight times, but if you live further away and want to try and soak up some of that California sunshine, it is possible.
The easiest way to get to and from the Santa Barbara airport is by taxi or Uber, or you can rent a car to have with you all day.
Driving into Santa Barbara
Driving to Santa Barbara is the easiest option for many people. If you need to rent a car, we always use Discover Cars which does a price comparison of all of the car rental options for you.
It means you have your car with you, and you can find parking for $1.50 per hour (first 75 minutes free).
Check out the Santa Barbara parking website for more parking information.
Taking the Train to Santa Barbara
Santa Barbara has an Amtrak station that is connected to the rest of the California coast, including to Los Angeles.
If you don't want to deal with traffic, this is a great option to consider with fun views and no concentration required – just hop on, put your headphones in, and enjoy!
The trip from Los Angeles takes about 2 and a half hours, so you would want to get started with the earliest train possible and book a late one home.
The train that takes you to Santa Barbara also goes to San Diego and San Luis Obispo, so those are other starting options.
Find out more about the Santa Barbara train here.
Getting Around Santa Barbara on a Day Trip
It's entirely possible to spend a wonderful day in Santa Barbara with no car and using taxis or Ubers where you need to get to and from the train station or airport, but the easiest way is with a car.
This will allow you to make the most of your time, as it would take an hour to walk between certain destinations like the Old Mission and Santa Barbara harbor.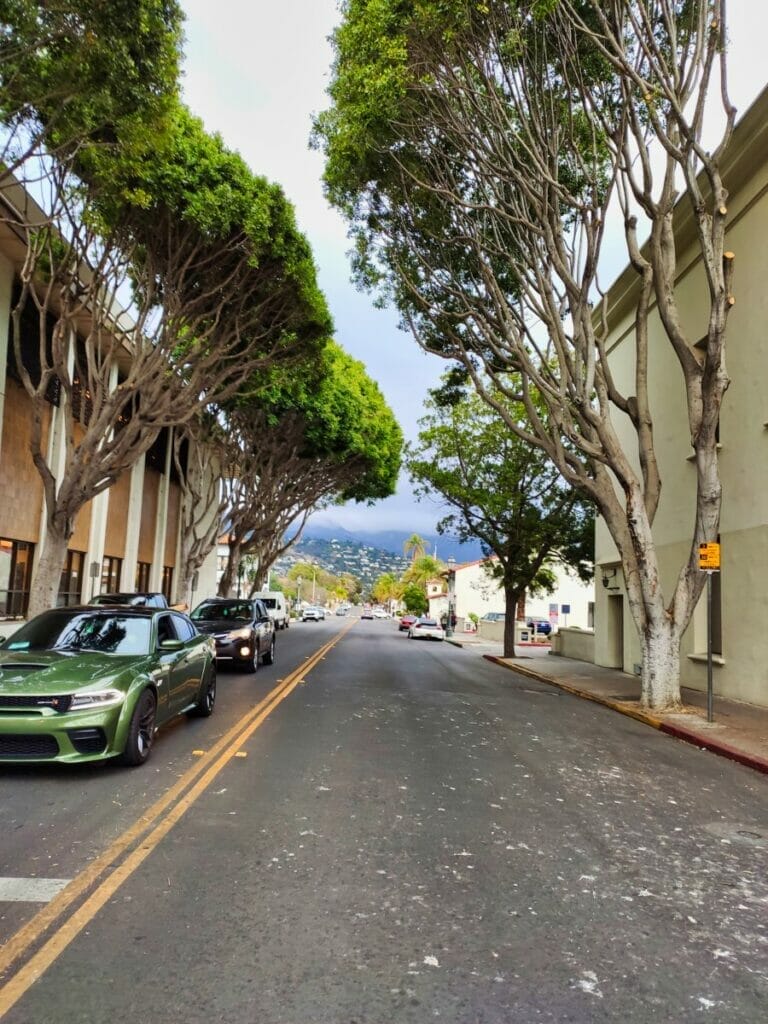 There is plentiful street parking in Santa Barbara, as well as a few parking lots.
Just be sure to read the signs to make sure you understand the charges and if they're in effect.
What to Pack for a Day Trip to Santa Barbara
If you're just in Santa Barbara for one day, you can pack pretty lightly! Just don't forget:
1 Day in Santa Barbara: the Morning
Breakfast
Regardless of what time you eat breakfast, your first stop on this Santa Barbara one day itinerary is Farmer Boy.
Open from 7am (so you early birds can get in there with the sunrise), this is one of the best American style restaurants in the city with an old school diner feel and omelets that you'll be dreaming about for days.
Try the chicken-fried biscuit sliders for some real comfort food, or enjoy the huevos rancheros for some California cooking.
Address: 3427 State St, Santa Barbara, CA 93105, United States
The Old Mission
From breakfast, it's off to one of Santa Barbara's most picturesque landmarks: the Old Mission.
This church, one of 21 California missions, was built in 1786 by the Spanish Franciscans and is one of the only ones that has been under the guidance of the Franciscan Friars since that date.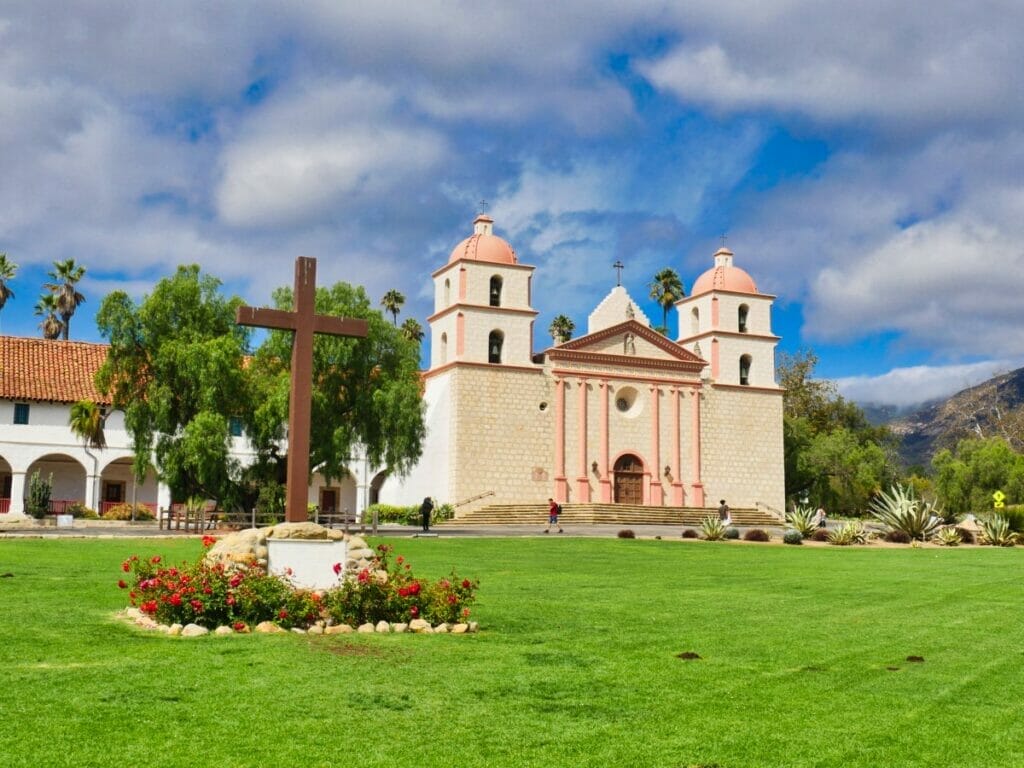 As a visitor, you'll first notice the striking architectural details of the exterior with a pink and beige facade and a large lawn out front.
Self-guided tours are available in the daytime, where you can work your way throughout the property and uncover secret gardens, historic artwork, a cemetery, and more.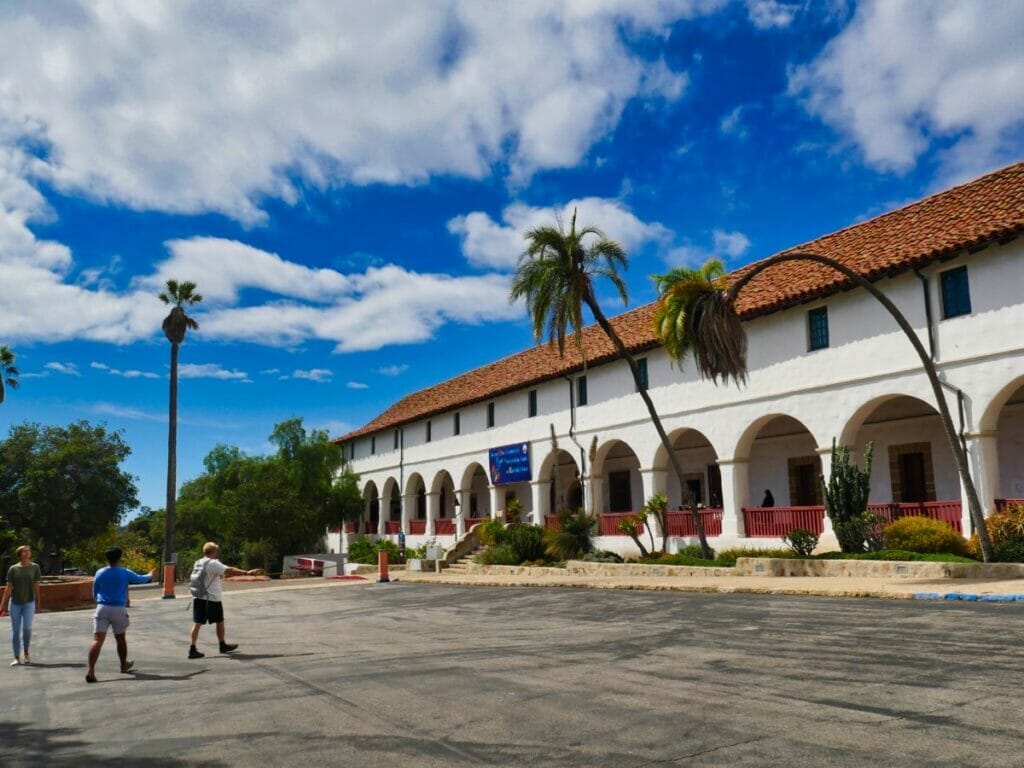 It's only fitting that your first stop on your Santa Barbara 1 day trip helps tell the story of the city and its past, and you can easily spend about an hour and a half here.
Address: 2201 Laguna Street
Santa Barbara, CA 93105
Tickets: $15 for adults, $10 for children
Hours: 9:30am to 4:00pm
Santa Barbara Day Trip: the Afternoon
Go Shopping on State Street
In the afternoon, after you finish at the Mission, head towards State Street, where State Street intersect with E Sola Street.
If you're taking an Uber, just get dropped off there, but if you're parking, you'll want to head off towards side roads or north of E Sola Street to find some easy on-street parking.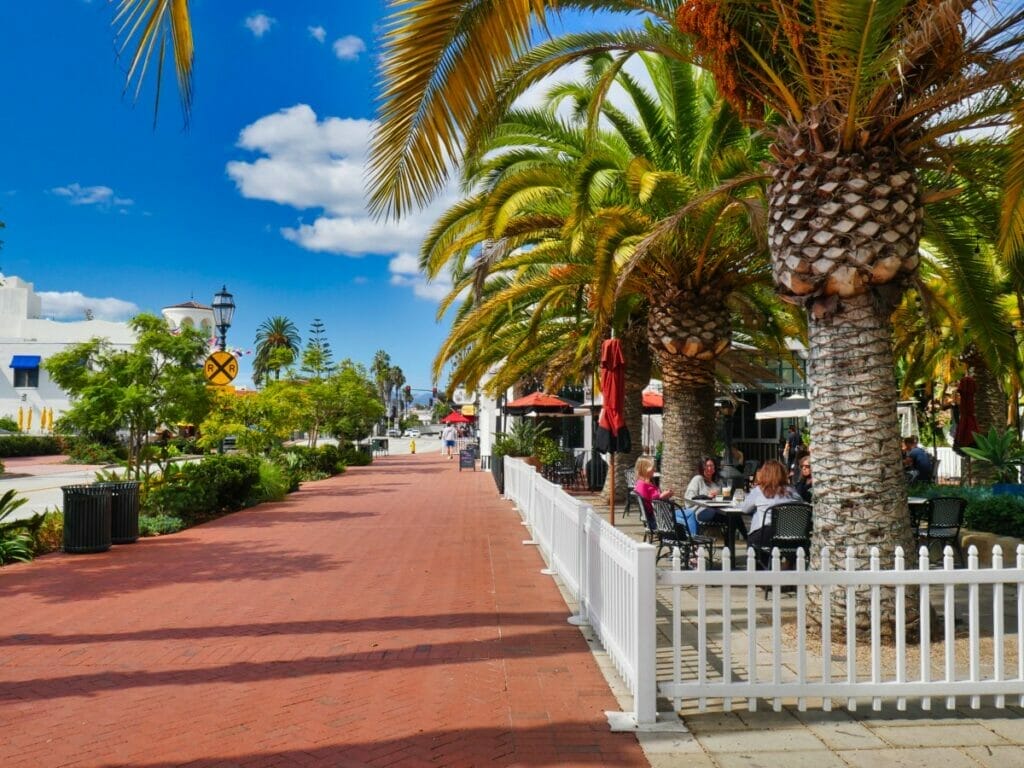 You'll be leaving the car there for the rest of the afternoon!
State Street is part of Downtown Santa Barbara, and this pedestrianized area is filled with super chic vibes, delicious food, boutique shops, and that classic Santa Barbara Spanish revival architecture (no buildings are above 3 storeys!)
Lunch at Finney's Crafthouse
When you're hungry for lunch, head to Finney's Crafthouse.
This is a California chain with a few locations, but the Santa Barbara one is one of the best and has incredible outdoor seating that you can use to really soak up the sunshine and people watch.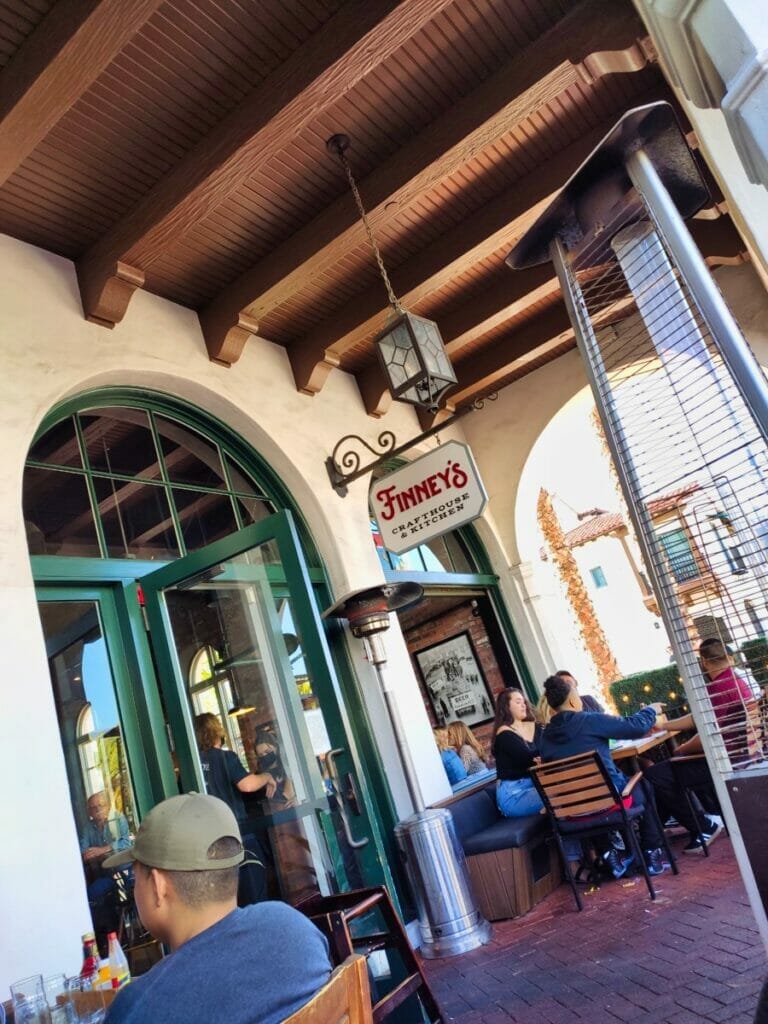 The industrial stylings create a fun, rustic atmosphere, just the way a gastropub should feel, and they've got such a fun vibe that you'll wonder why you've ever eaten anywhere else.
Try the Hickory BBQ burger if you're feeling like some comfort food, or dig into some mahi mahi tacos to celebrate the fusion of Mexican and California cooking and the restaurant's location right near the ocean.
Pro tip: Finney's Crafthouse is close to the end of State Street, towards the pier, so if you can hold off on lunch and do it a little bit later, you can do the Santa Barbara Museum of Art beforehand. Otherwise, it's all walkable, so just take in the people watching as you make your way to lunch down State Street.
Traditional Ice Cream at McConnell's
When we first got to Santa Barbara, all anyone could talk about was McConnell's.
Even on an October day, it was plenty hot in Santa Barbara and the lines inside this ice cream shop told us one thing: everyone loved it.
McConnell's ice cream is a third generation family business, started in Santa Barbara, and they have a 70-year old recipe that uses no preservatives, no emulsifiers, and nothing that you wouldn't know the name of.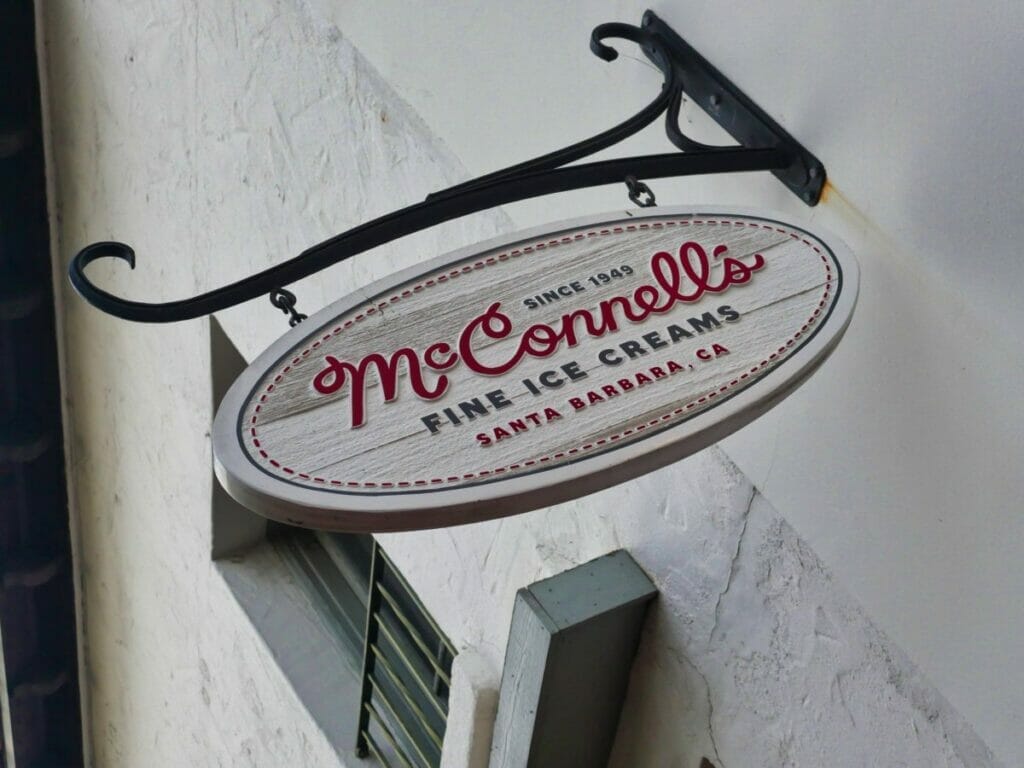 It's ice cream, made from scratch, and the original location is on State Street.
Stop in and grab a scoop of your favorite flavor in a cone for a traditional experience, or try one of their ice cream sandwiches with the flavor of the day sandwiched in between two warm cookies.
It's one of the sweetest things to do in this one day itinerary for Santa Barbara!
Address: 728 State Street, Santa Barbara
Hours: 12pm – 9pm/10pm (depending on the day of the week)
Santa Barbara Museum of Art
If you have time or are an art lover, the Santa Barbara Museum of Art is worth a stop.
Experience a collection that includes over 25,000 pieces of art and spans more than 5,000 years.
You'll find art from all over the world and by some very notable names, including Monet, and the collection is truly all-encompassing (not just paintings) with everything from antiques to photographs to drawings to jewelry and ceramic work.
The museum suggests about an hour to go around, so it can truly fit into a day trip in Santa Barbara and give you some much needed air-conditioning or shade on a really warm day.
Address: 1130 State Street
Santa Barbara, CA 93101
Tickets: $10 for adults, $6 for children
Hours: Open on Tuesday to Saturday from 10:30am to 6pm (8pm on Thursdays), as well as Sunday from 10am to 5pm. Closed on Mondays.
Evening in Santa Barbara on a Day Trip
As the late afternoon and evening roll around, it's time to finish off your day in Santa Barbara with some classic things to do.
Walk to Stearns Wharf on the Santa Barbara Pier
You can't go to Santa Barbara and not spend some time putting your feet in the sand and walking along the pier.
This coastal California city isn't just about the drinking and eating (okay, for some people it is, but you should make sure to see the beach as well).
Continue walking south on State Street until, boom, suddenly you're at the ocean, and you can walk along paved walkways along the sand for a little while and then turn around and walk down the pier towards Stearns Wharf.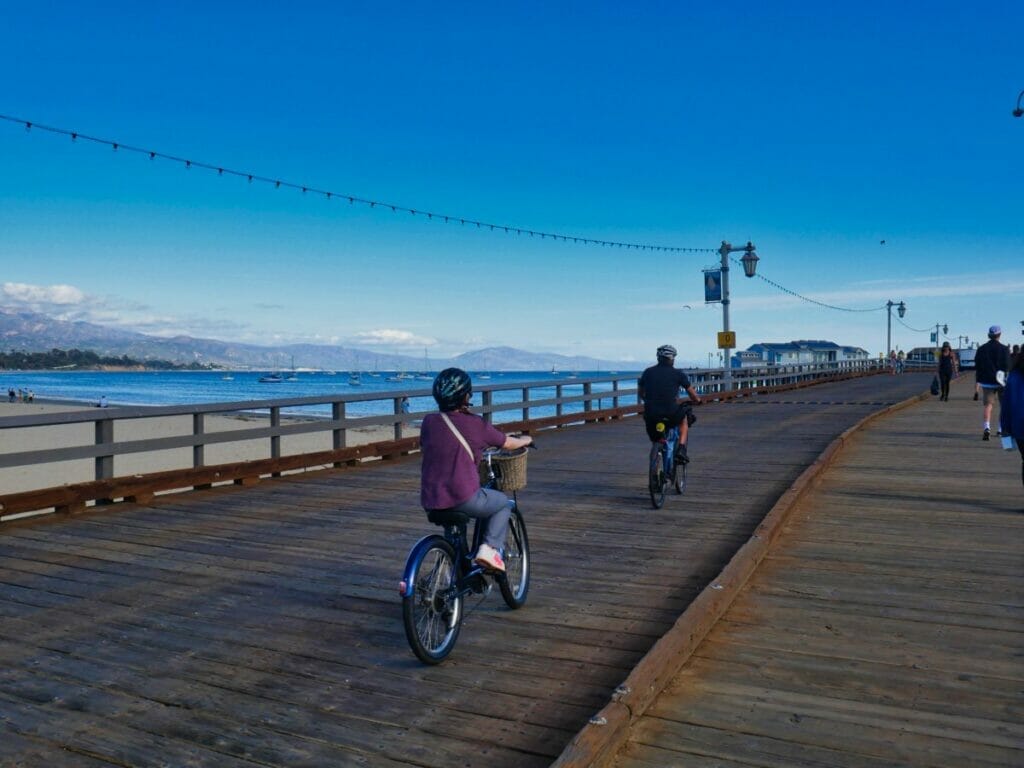 Yeah, it's a little bit touristy, but it's California's oldest working wharf and has incredible views of the Pacific.
There are some gift shops and restaurants here, but really you're there for the experience and salty breeze in the air before carrying on to your final adventure.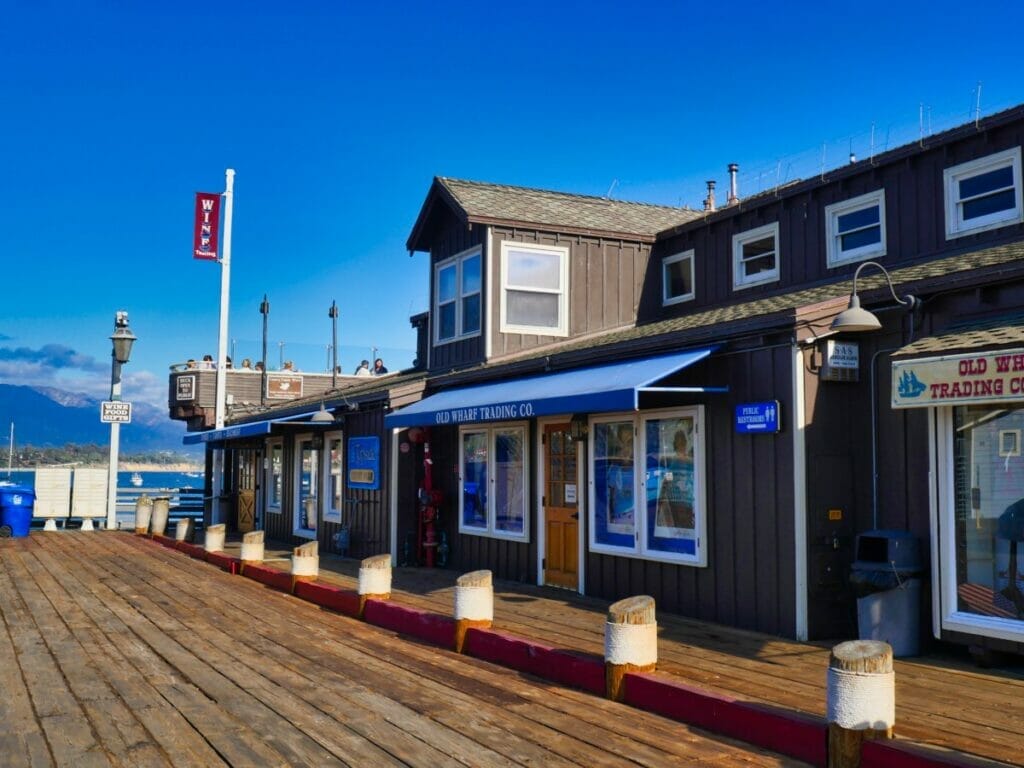 Get Your Wine Tasting on in the Funk Zone
Santa Barbara is known for its wine tasting, and there's no better place to experience it than in the "Funk Zone."
Why is it called the Funk Zone?
Well, it's funky. And hip. And contemporary.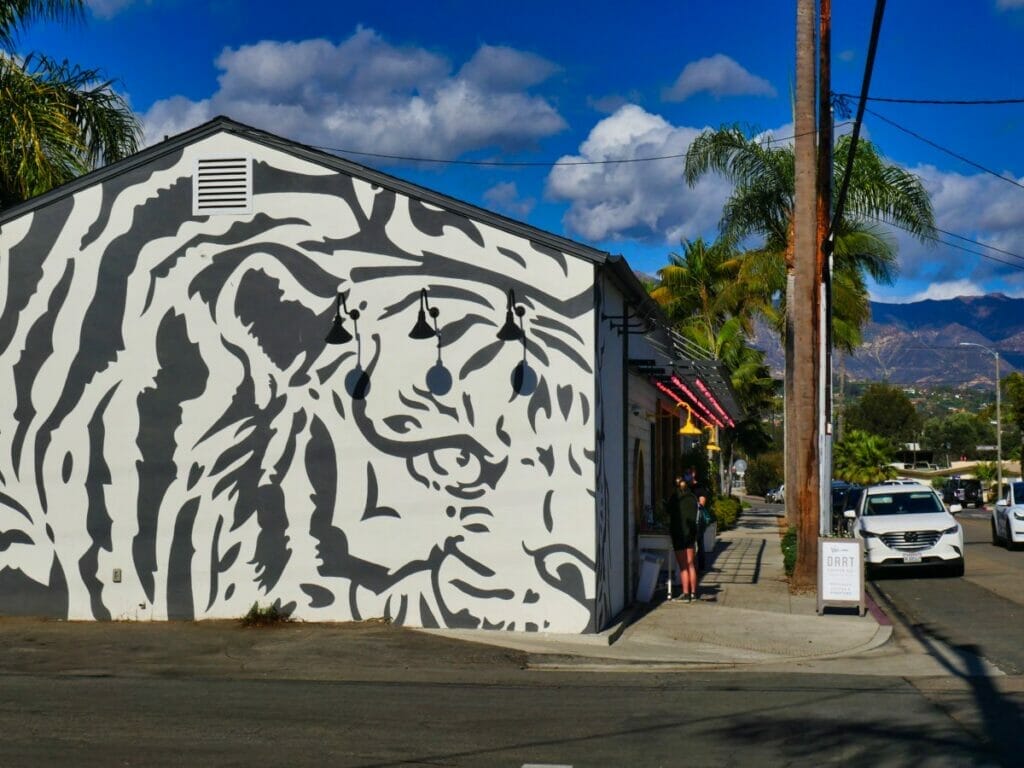 And all those words that mean, "lots of converted warehouse spaces and cool design choices that you'd never do in your house but look amazing in this winery."
In fact, this was really an area for the artists of the city with their studio spaces before the restaurant and wineries moved in.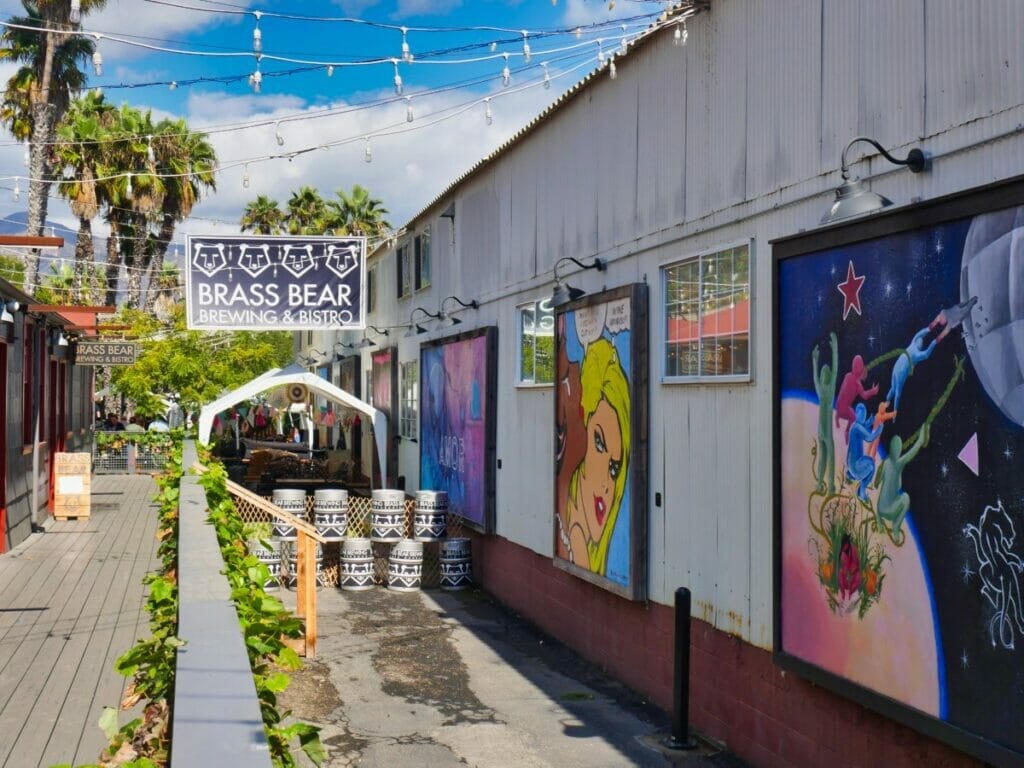 There is local discussion about whether the Funk Zone has been a good thing for the artists who are now priced out of many studio spaces, despite it having been them who gave the area its personality and creative vibes.
There are lots of boutique galleries and shops around the area, but you're here for some of the Funk Zone stops on the Santa Barbara Urban Wine Trail (check it out here – it's got 20+ wineries that you visit in a self-guided tour!).
There are plenty of options here, including some of our favorites:
Make sure you have a designated driver if you're driving, or call an Uber at the end of the night to take you to your hotel or on to your next destination!
Santa Barbara Day Trip Ideas for Foodies
For some other amazing Santa Barbara restaurant ideas if you're not feeling Finney's Crafthouse or winery tours, try: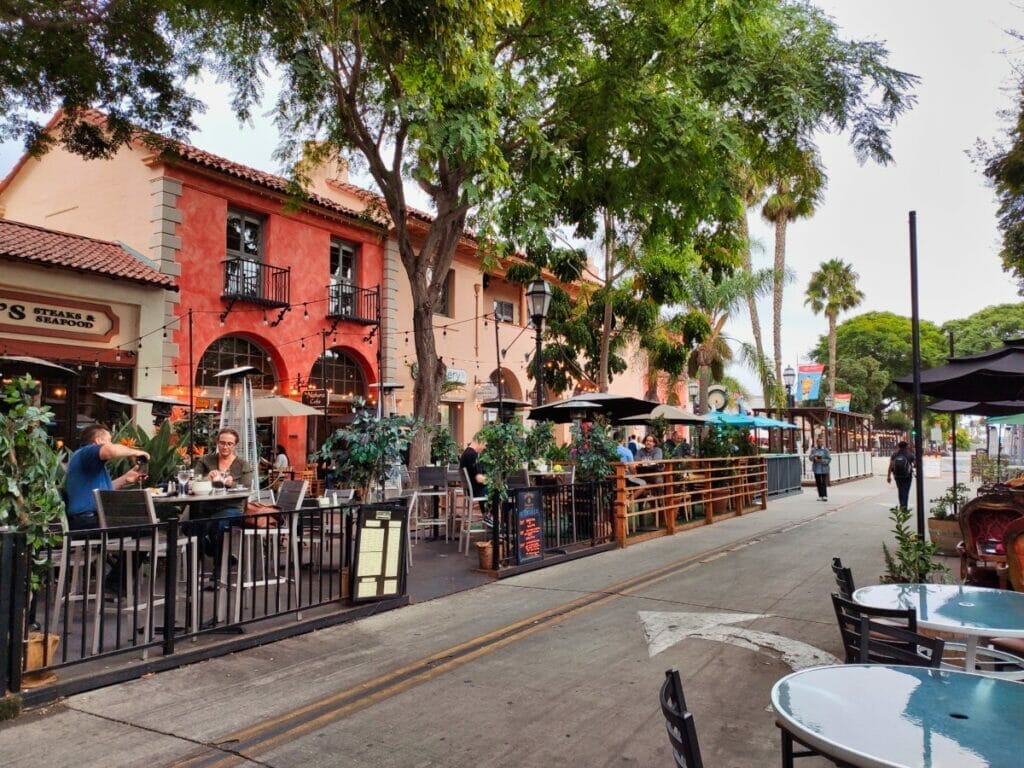 State & Fig – an upscale restaurant serving classic California dishes and featuring one of the best turkey burgers around. Great, relaxing meal and brick patio for sitting outside.
Mizza – an Italian menu that features separate vegetarian and vegan options for non-meat eaters, as well as gnocchi that's out of this world and an amazing butternut squash ravioli. Pizzas, pastas, and Italian chicken dishes are supreme. Lots of outdoor seating as well as firepits for the chillier nights.
Finch & Fork – an old timey American restaurant with a casual vibe and amazing customer service. Brunch is a great bet, but dinner is also a win. Try the local seabass for some coastal dining or keep it light with the black garlic Caesar salad. Top it all off with cinnamon sugar churros and prepare your move to Santa Barbara because you're going to want to come here every single day.
Santa Barbara Day Tour Ideas
If you'd rather have someone show you around Santa Barbara for a while instead of finding your own way, there are plenty of tours that you should definitely check out.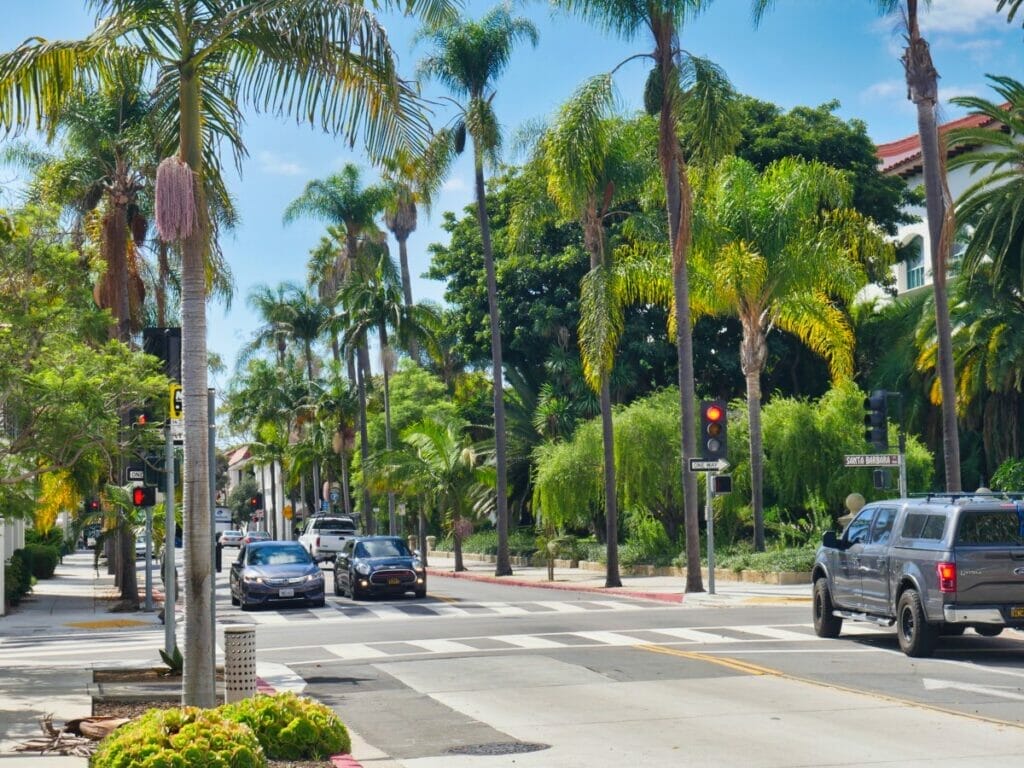 They range from active kayaking tours if you want to get your heart pumping to wine tours if you'd prefer a lazier day.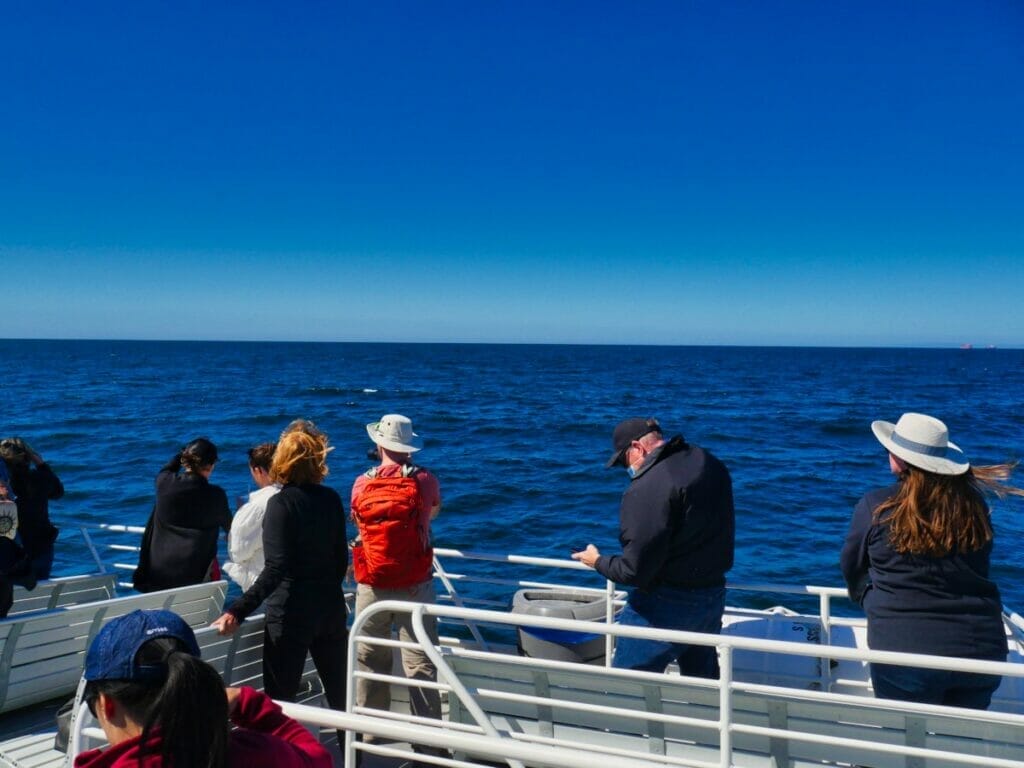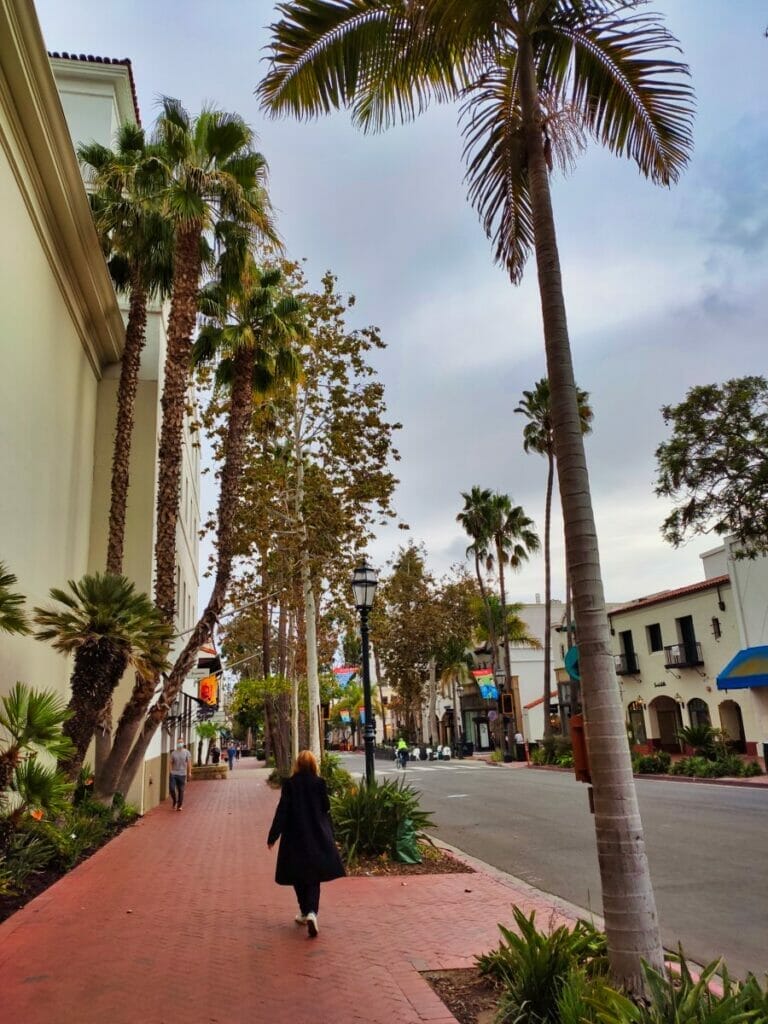 Santa Barbara Trolley Tour – hop on board the Santa Barbara trolley for a sightseeing tour that will only take a couple of hours, but will make sure you see it all. It's fully narrated by wonderful guides who know the history and culture of the city inside and out, and you'll see everything from the Old Mission to the Santa Barbara Zoo and Museum of Natural History. It picks up and drops off near the visitor center and is a great way to get familiar with the city before picking an area to explore (click here to check out the Santa Barbara Trolley Tour)
Santa Barbara kayaking tour – see the beautiful American Riviera coastline from the water on this kayaking tour. Guides will teach you everything you need to know about kayaking (it's relatively easy, even for beginners), and you'll paddle your way through the water with them as you spot seals and dolphins and appreciate the stunning mountain vista views (check out the kayaking tour here).
Pin for later!
Get the All-American Travel Secrets!
Don't miss out on America's hidden gems!